The Kuraoka Family Weekly Journal
www.kuraoka.org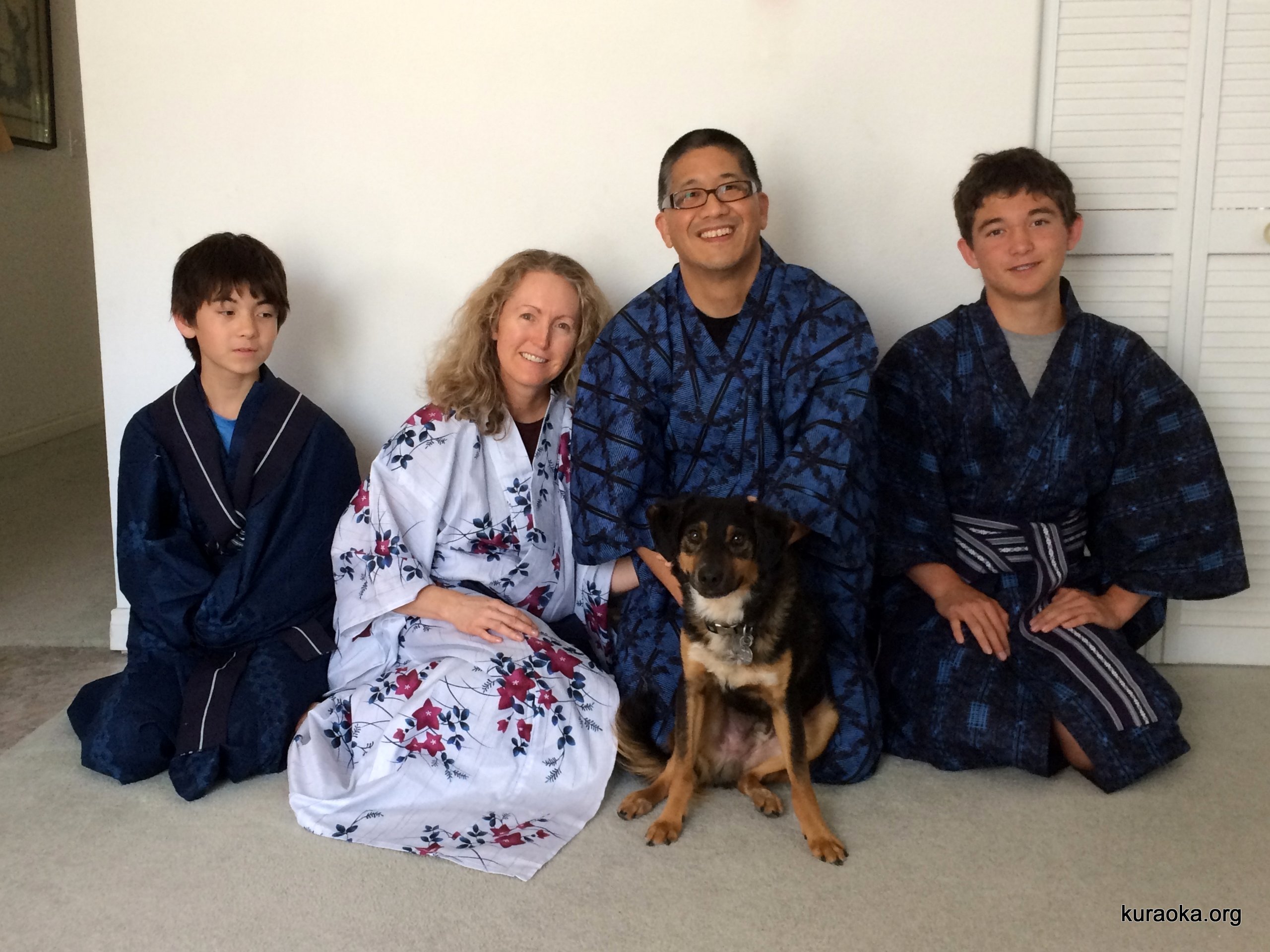 Us, June 7, 2015: Leo, Ondine, John, Roy, and Shadow
Friday, April 1, 2016
Arsenic and Old Lace! Takumi's stay with us! Belmont Park! Coronado! Easter! Anniversary! More! So much has gone on that two weeks ago feels like so last month ago. Oh, wait, it is!
Roy did lighting for three shows of Arsenic and Old Lace. We caught the first show Wednesday evening (what, two and a half weeks ago now), and it was excellent! All the actors were outstanding, but notable for their preturnaturally natural weirdness were the students playing Jonathan and Dr. Einstein. The director, Gabe/Alan, made a few changes to the usual Arsenic and Old Lace. First, since the play's directions call for it to be set in current time, with the house and two aunts reflecting styles from 30 years ago, Abby and Martha Brewster were dressed in 80s togs. Second, Dr. Einstein was a girl, which gave her partnership with Jonathan Brewster an additional layer of couple-like weirdness. (Actually, John had that same feeling seeing two men in the roles at Glendale Centre Theatre's production last year, so maybe it's intrinsic to the parts.) Here's Roy at the lighting board!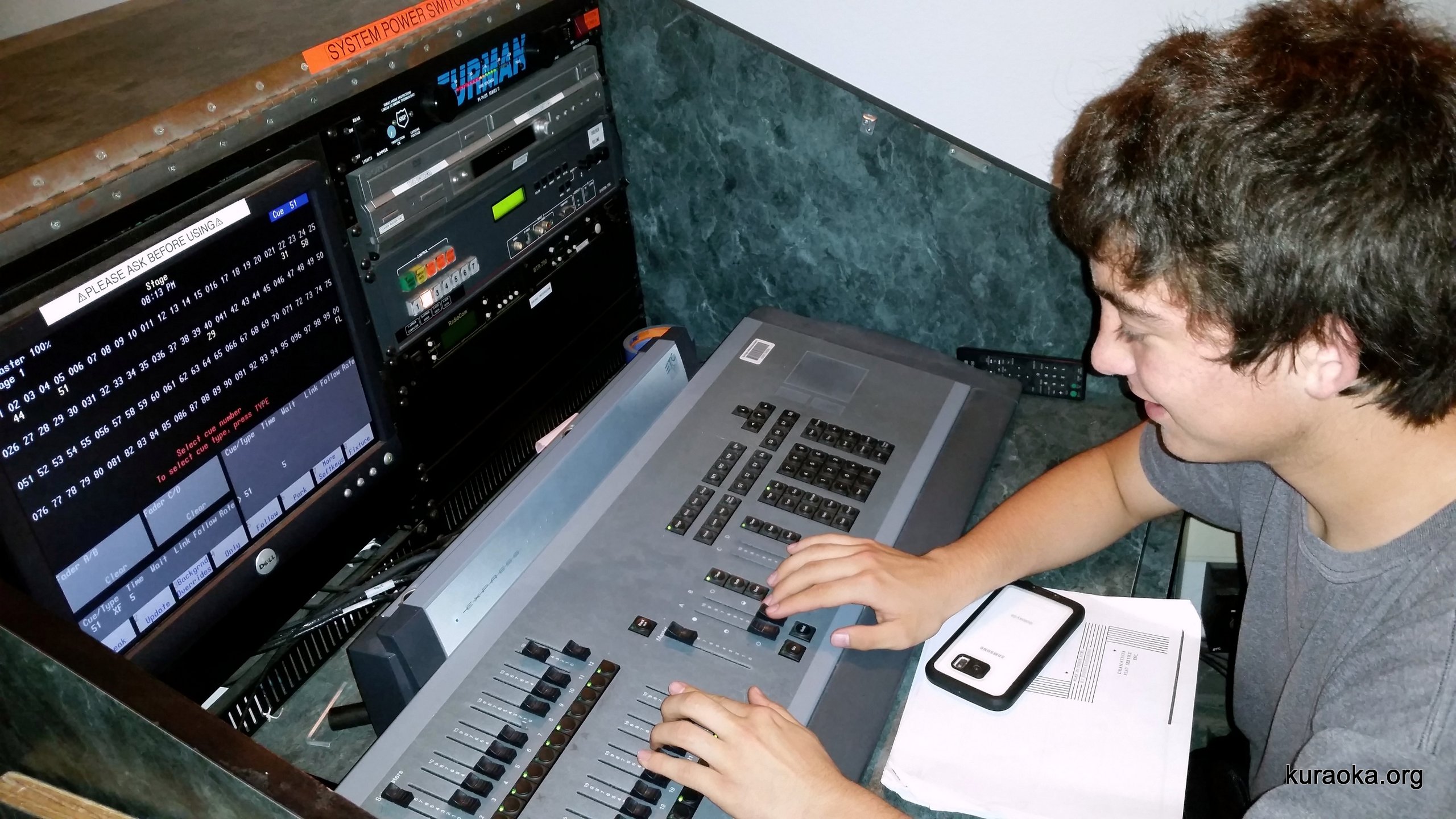 Takumi, our guest student from Yokohama International High School, arrived Friday, during the last show of Arsenic and Old Lace. The bus from LAX was delayed an hour by traffic, so he arrived after intermission. Fortunately, a side door was left open so John and Takumi could slip in to see the final 1/3 of the show, probably an especially mystifying experience for Takumi! Anyways, Roy had some post-show work to do, so he took Takumi backstage for a while while he bustled around. Then Takumi, Roy, and John headed to Denny's, where Ondine and Leo joined them for the now-traditional post-show dinner!
So, Takumi's first meal in San Diego was a Denny's Super Bird. Roy checked in with the cast and crew, who had rented the banquet room, returning to our table trying to get the taste of a packet of fake sugar out of his mouth. Apparently, it's an initiation rite when joining the cast and crew for dinner at Denny's, so now that's over with.
Saturday morning, John, Roy, and Takumi went to Sprouts for groceries because Takumi wanted to cook us dinner! Takumi said he was surprised at how big American fruits and vegetables were.
Then we reviewed the schedule for the YIS students, talked it over with Takumi, and ended up going to Mission Beach, to Belmont Park to ride the Giant Dipper roller coaster! It's mild compared to Japan's high-tech coasters, but it's an historic ride and a San Diego landmark. Afterwards, we walked to The Mission Cafe, getting a good look at the small shops along the street. Lunch was delicious!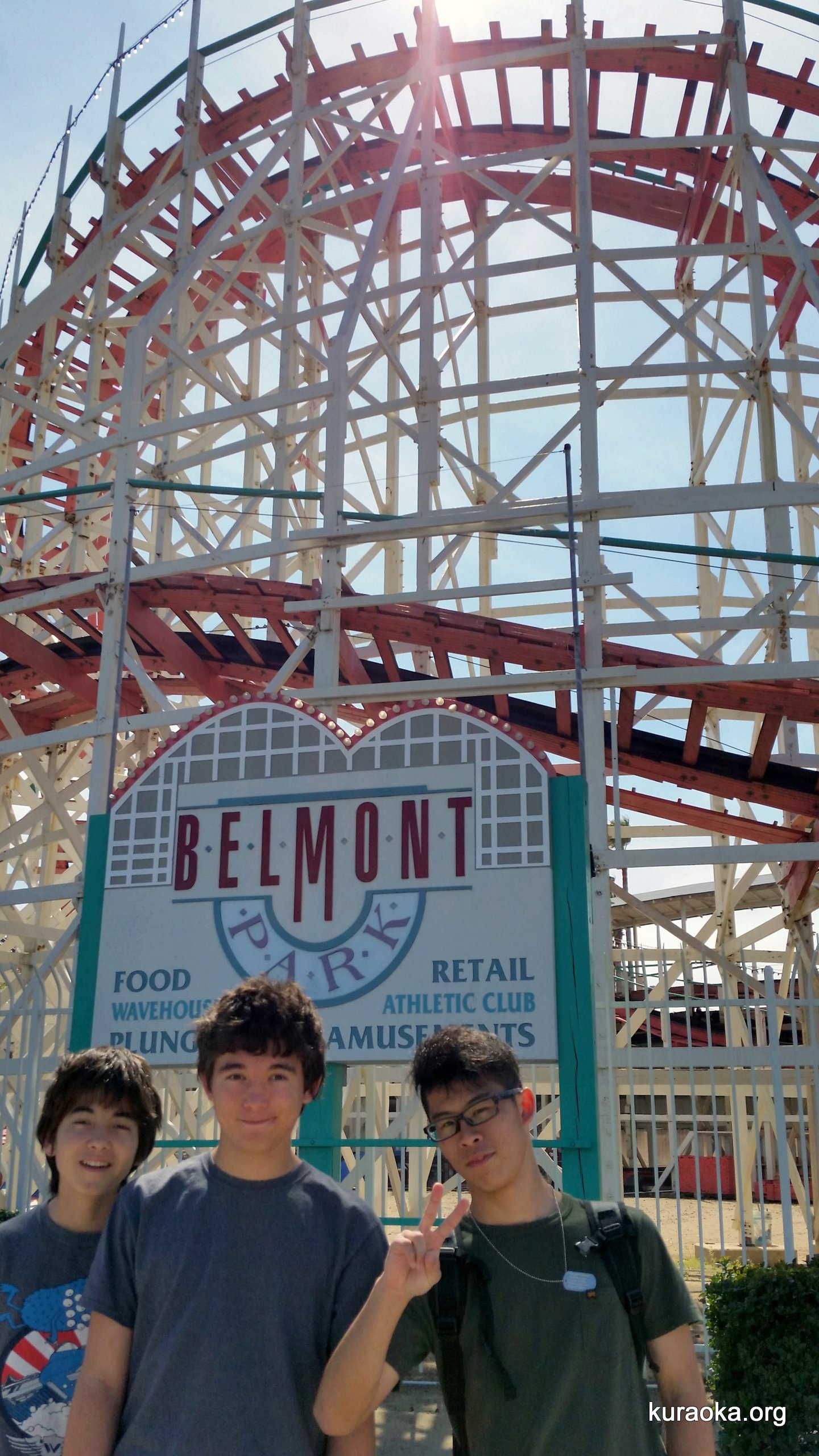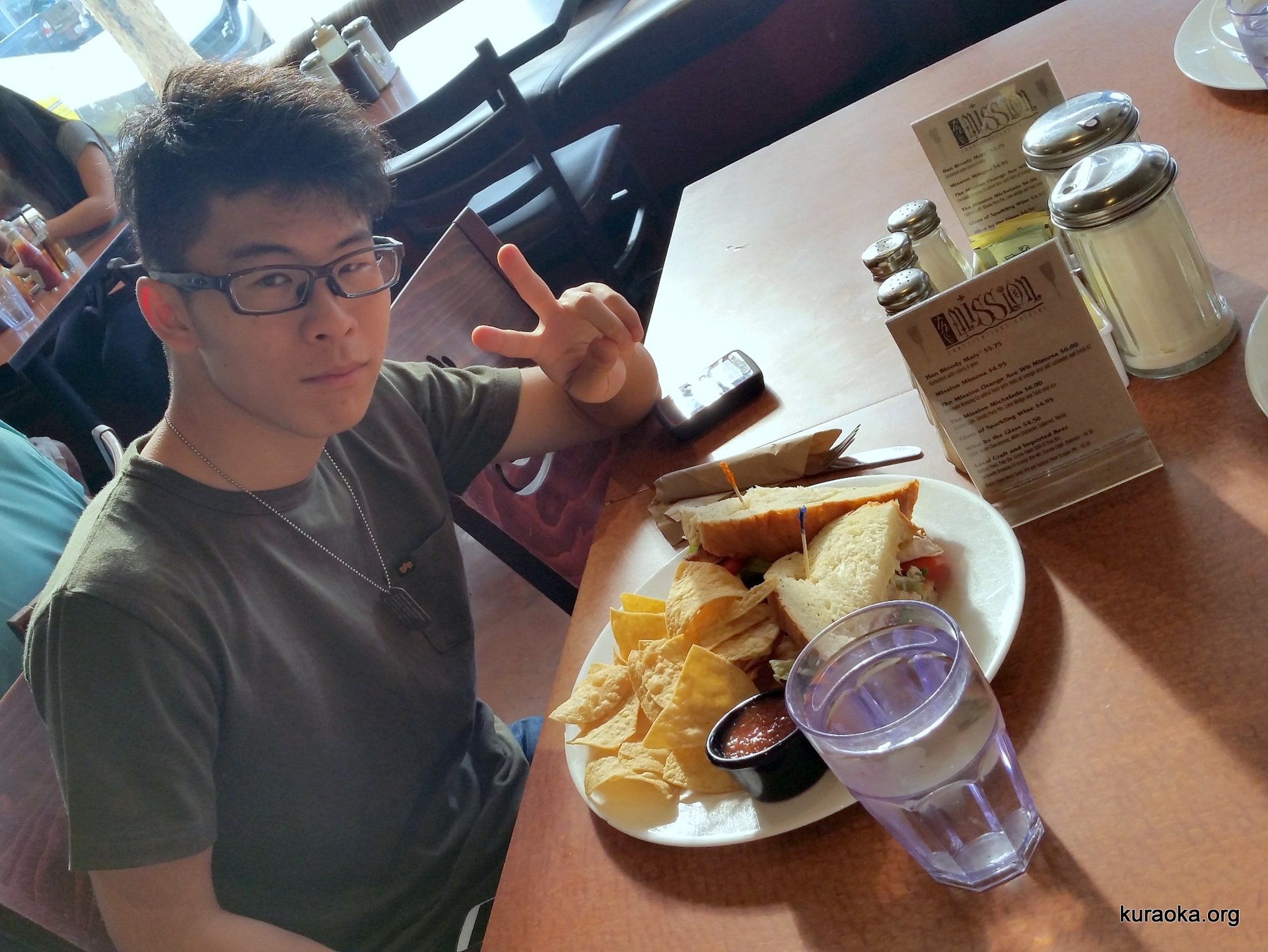 We walked back along the boardwalk, on the ocean side, enjoying the afternoon breeze and working off some of our hearty lunch.
When we got home, we rested a while, then Takumi started preparing dinner. He'd brought several ingredients from Japan, including Ajinomoto, some sort of fish-based dashi, and shoyu, plus rice in individual containers. He made oyakodon, a dish with eggs, chicken, and onions. It was delicious! Next he made a dish of his own creation, with julienned potato, bacon pieces, and onion. It, too, vanished into our eager snouts. Yum! Thank you Takumi! He said he ate these dishes for three days straight prior to leaving Japan, so he'd know how to make them for us.
Sunday we gave Takumi a choice between going to the desert or Coronado. He chose Coronado, which was fine with us because we could take the dog.
First stop in Coronado was the Dog Beach. Here's Shadow in full-tilt rocket dog mode! Plus, two with Leo. And one with Leo, Takumi, Roy, and Shadow by a particularly welcoming restaurant signboard.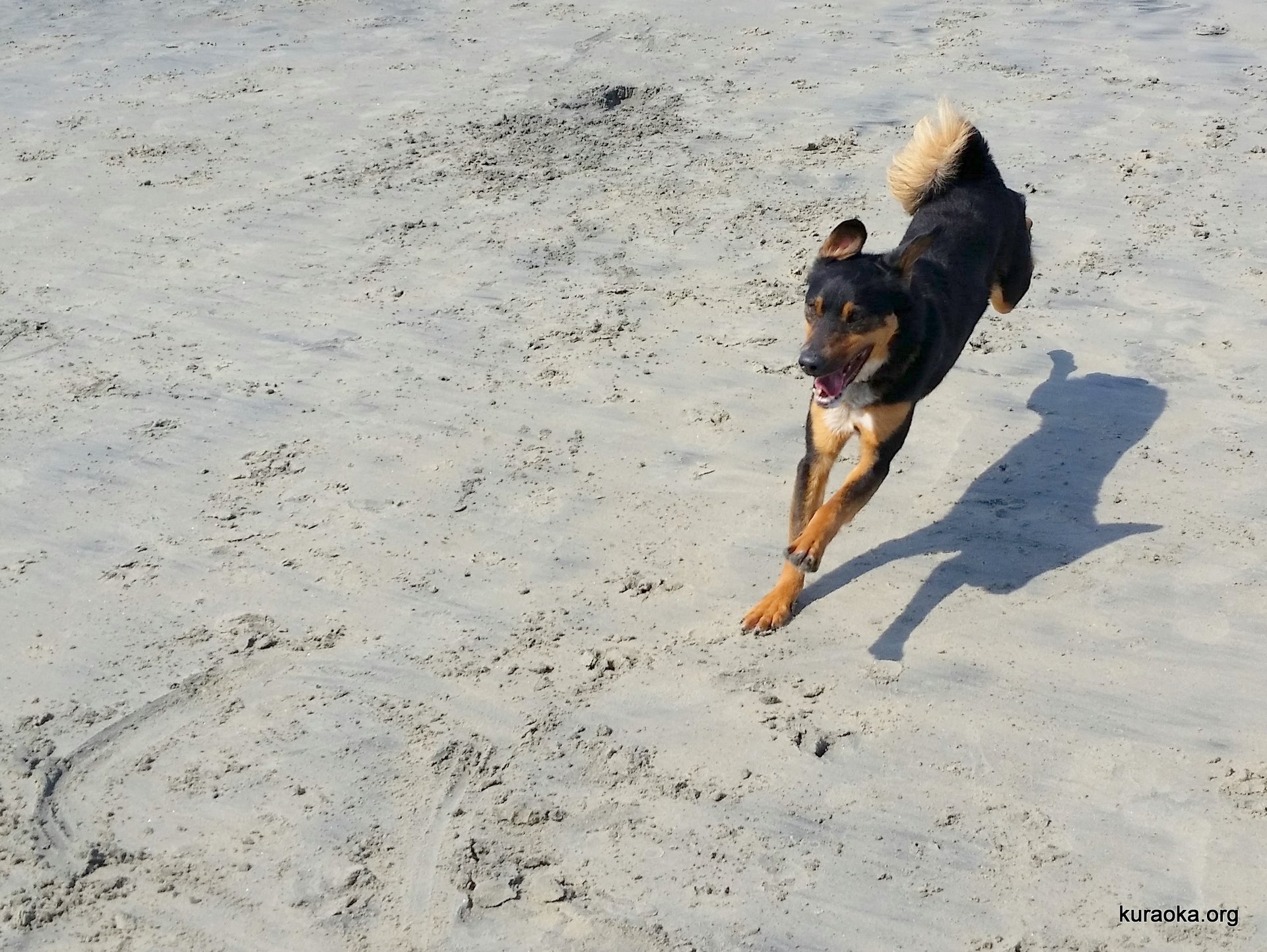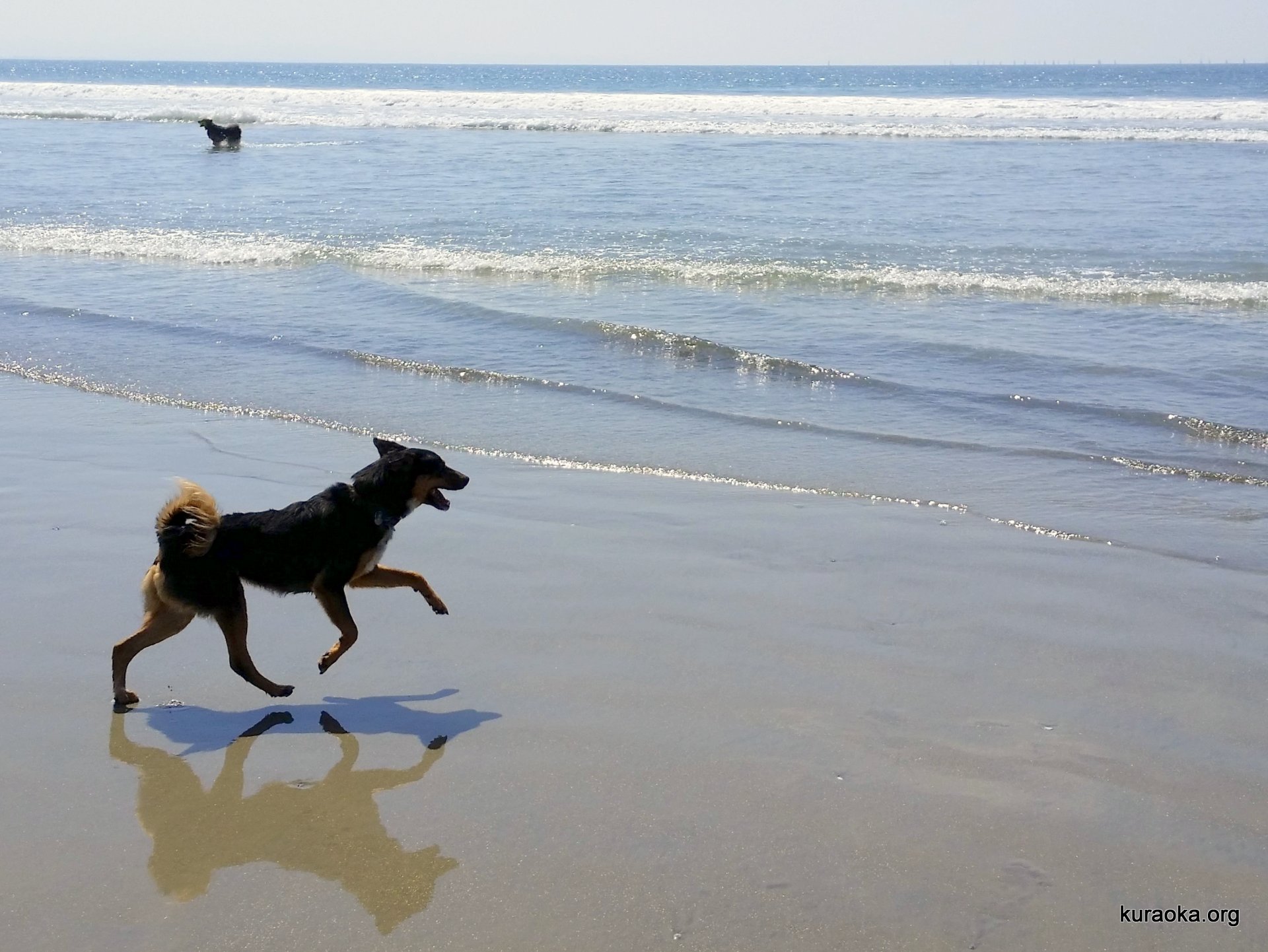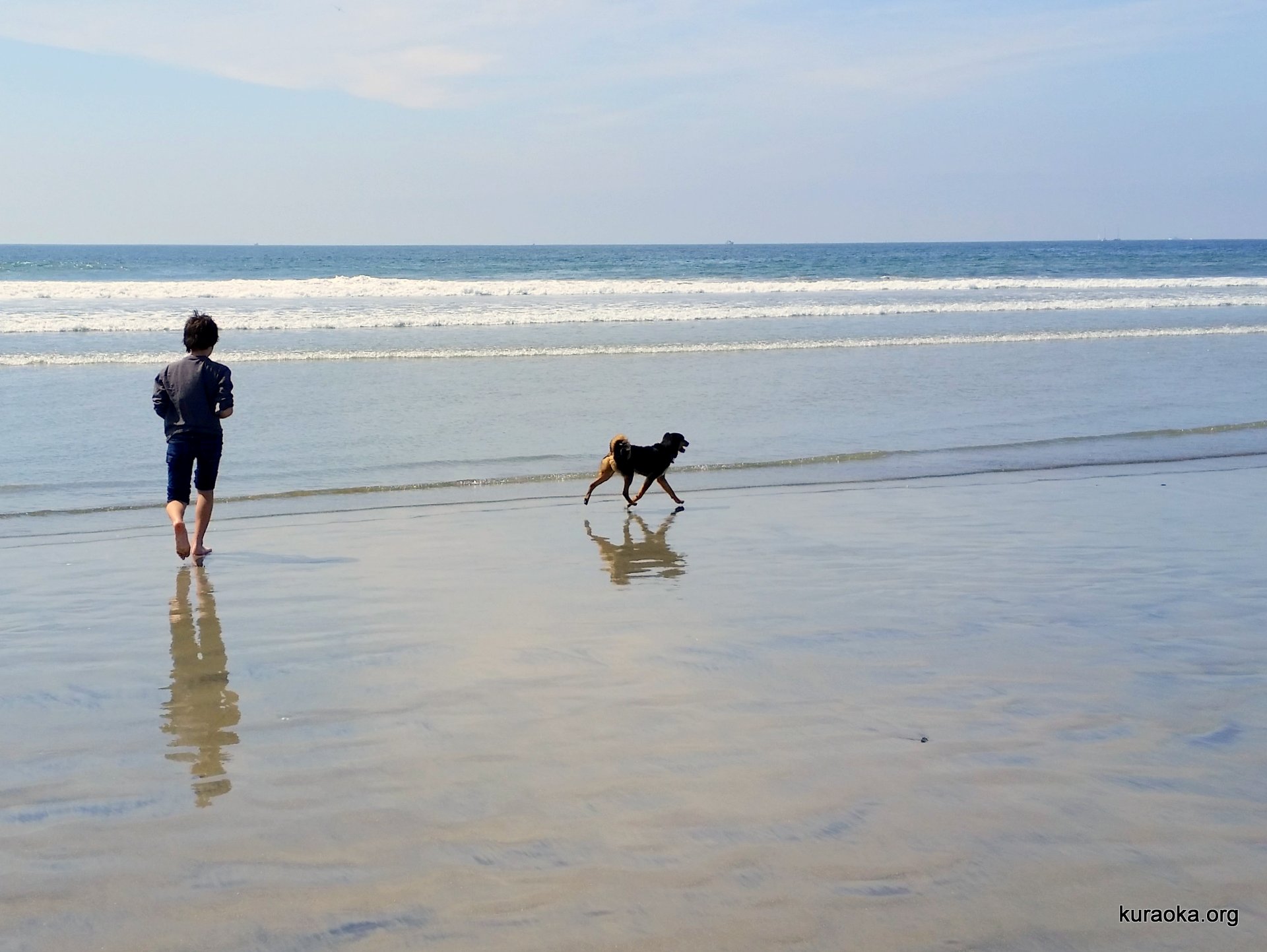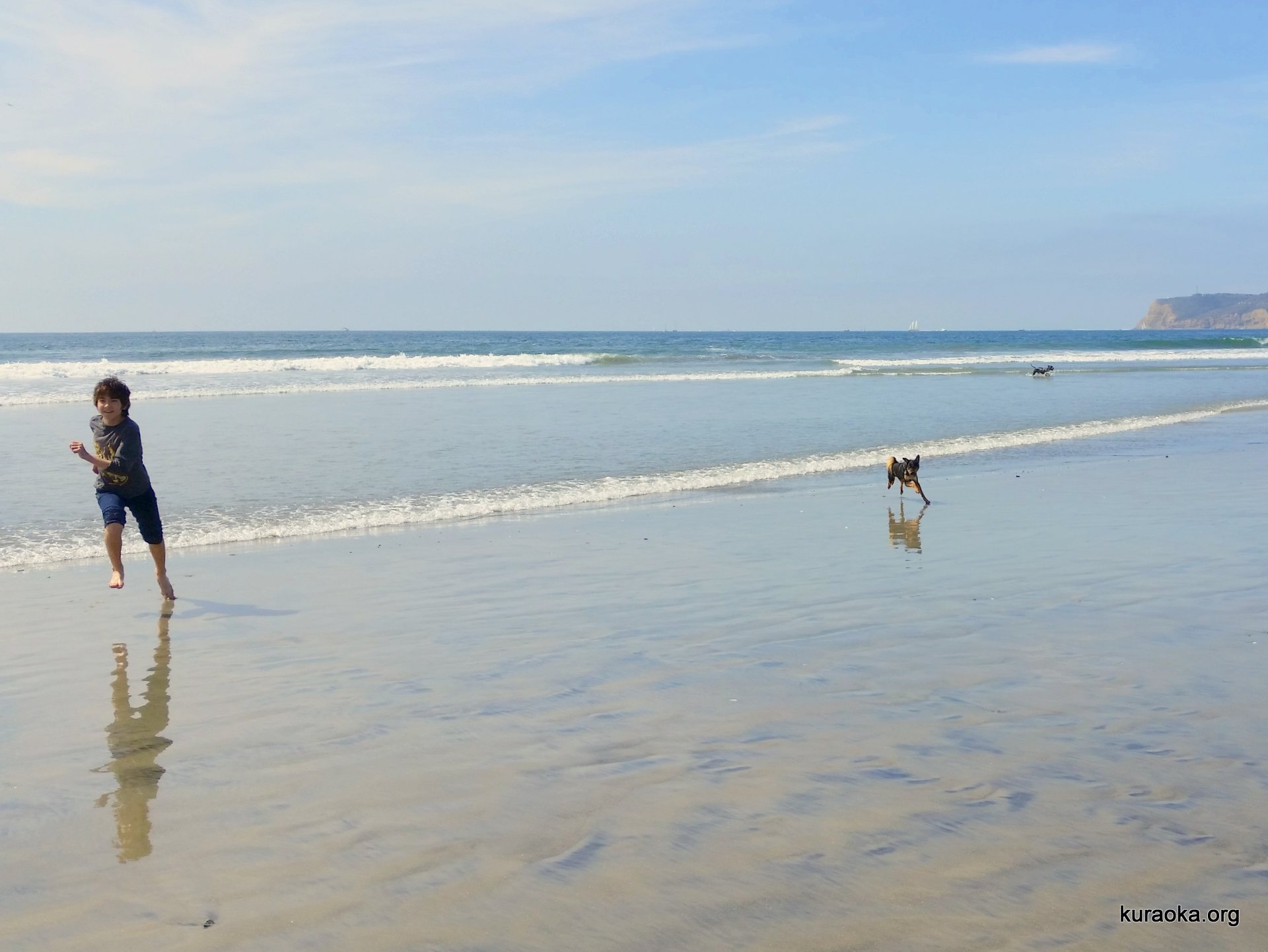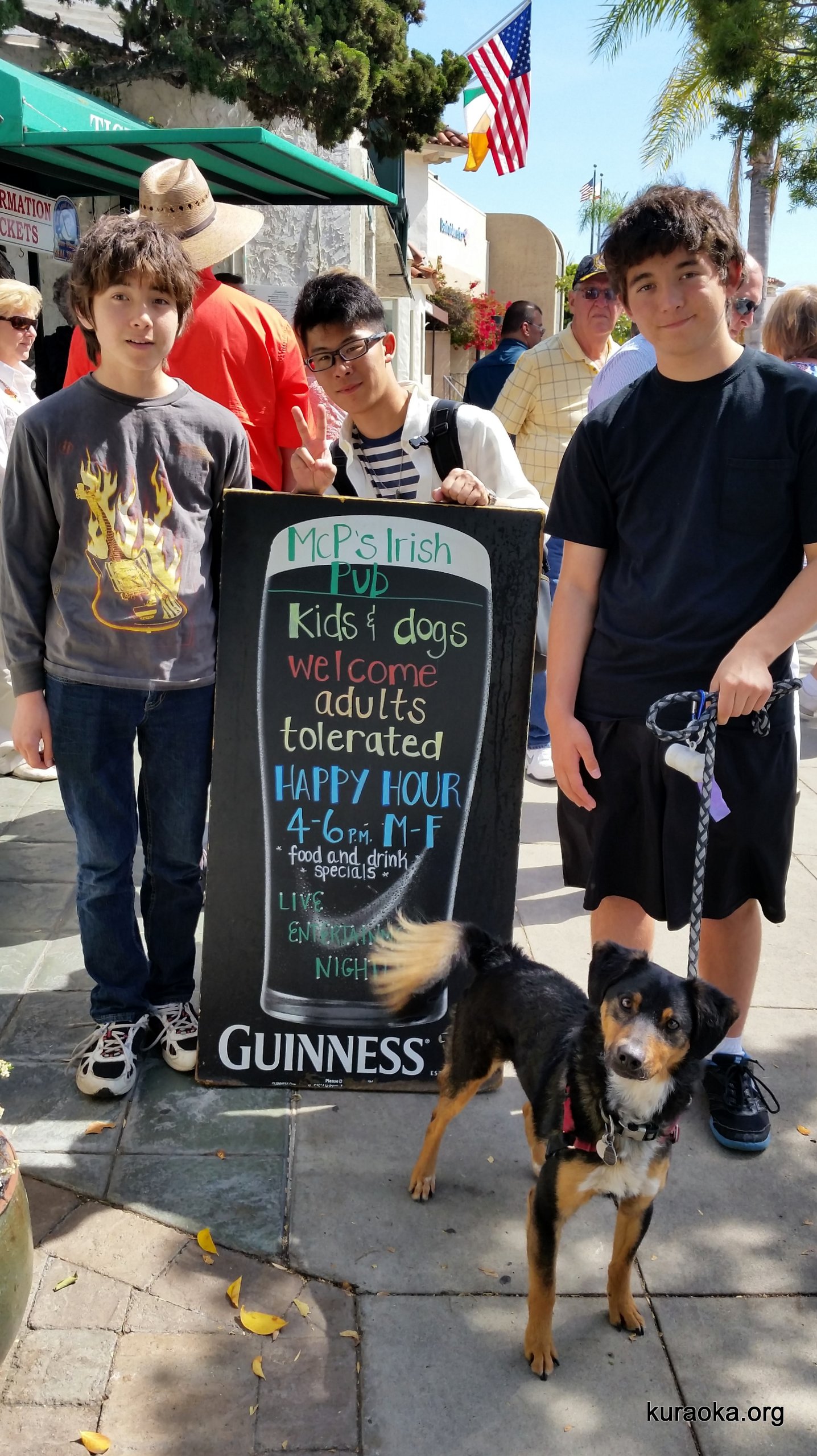 Welcome aside, we continued on to have lunch at Panera, always a good place for a meal and also a bit of family history: Roy and Leo often came to Panera for lunch with Baba and Grandpa Bill. We found a table outside, beneath which Shadow alternately sprawled and prowled for drops.
We stopped at a few shops along the main street so Takumi could look for souvenirs, then at Bay Books where Roy and Leo each got a book. We offered to get a book for Takumi, but he didn't find anything.
Our last stop was the Hotel Del Coronado (about to become owned by a Chinese hospitality conglomerate) and Moo Time Creamery for ice cream. Yum!
We paused at home, then trooped next door to Barbara's to introduce Takumi to Mexican food at Marieta's! Ondine had thought to make a reservation, wow, so we were seated right away. Barbara sat next to Takumi. Takumi had a shredded beef burrito with no beans or guacamole. We were worried that he might be overwhelmed by our food choices, but so far he's always found something to eat.
Monday morning Ondine went to Jazzercise, then worked from home for part of the morning. John took Leo to school, then looped back to pick up Roy and Takumi. Takumi Shadowed Roy through all his classes. In the afternoon, when John rounded up everyone, he seemed a bit overwhelmed by all he'd seen!
Tuesday and Wednesday Takumi was at Patrick Henry, and Thursday and Friday he and the other students from Yokohama International School toured San Diego. Somewhere in there we dropped him and Roy off at Parkway Plaza Mall to do some shopping for American fashion items. Takumi came home with bags of new shoes and clothes.
Wednesday was Open House at Lewis Middle School, where Leo goes. Ondine went with him, while John stayed home with Roy and Takumi. It was a real treat to chat with Leo's teachers, who almost all sang his considerable praises! Leo earned straight As on his latest progress report, a perfect 4.0! Wow!
Friday evening we invited some of Roy's friends to Mountain Mike's for a pizza party in honor of Takumi, and we were very happy that Mike and Stephen could make it on such short notice! They plowed through the better part of three large pizzas, and played some video games.
Saturday we had an at-home Easter. Then, Takumi wanted to go shopping again, so we dropped him off with Roy at Fashion Valley Mall. Ondine took Leo to Panera for lunch, but then Roy and Takumi were done with that mall and wanted to try Mission Valley Mall, where they mostly visited Target. Takumi really enjoyed shopping, so he introduced us to a different experience.
Saturday afternoon was the YIS Farewell Pot-Luck Party, where the students performed skits, played music, and had a lip-sync battle. Here's Takumi with his Easter basket and Shadow, and again later with his YIS t-shirt.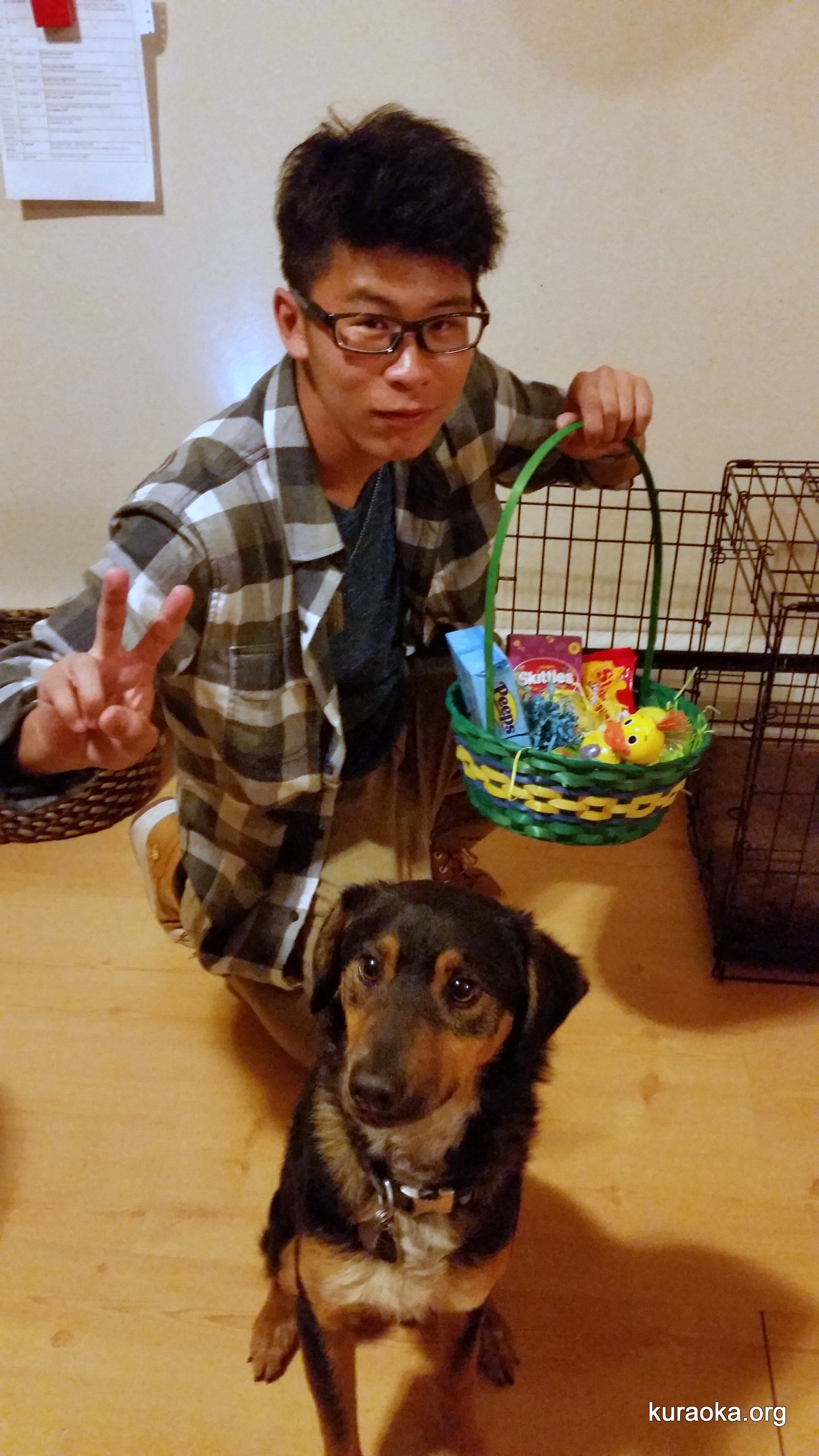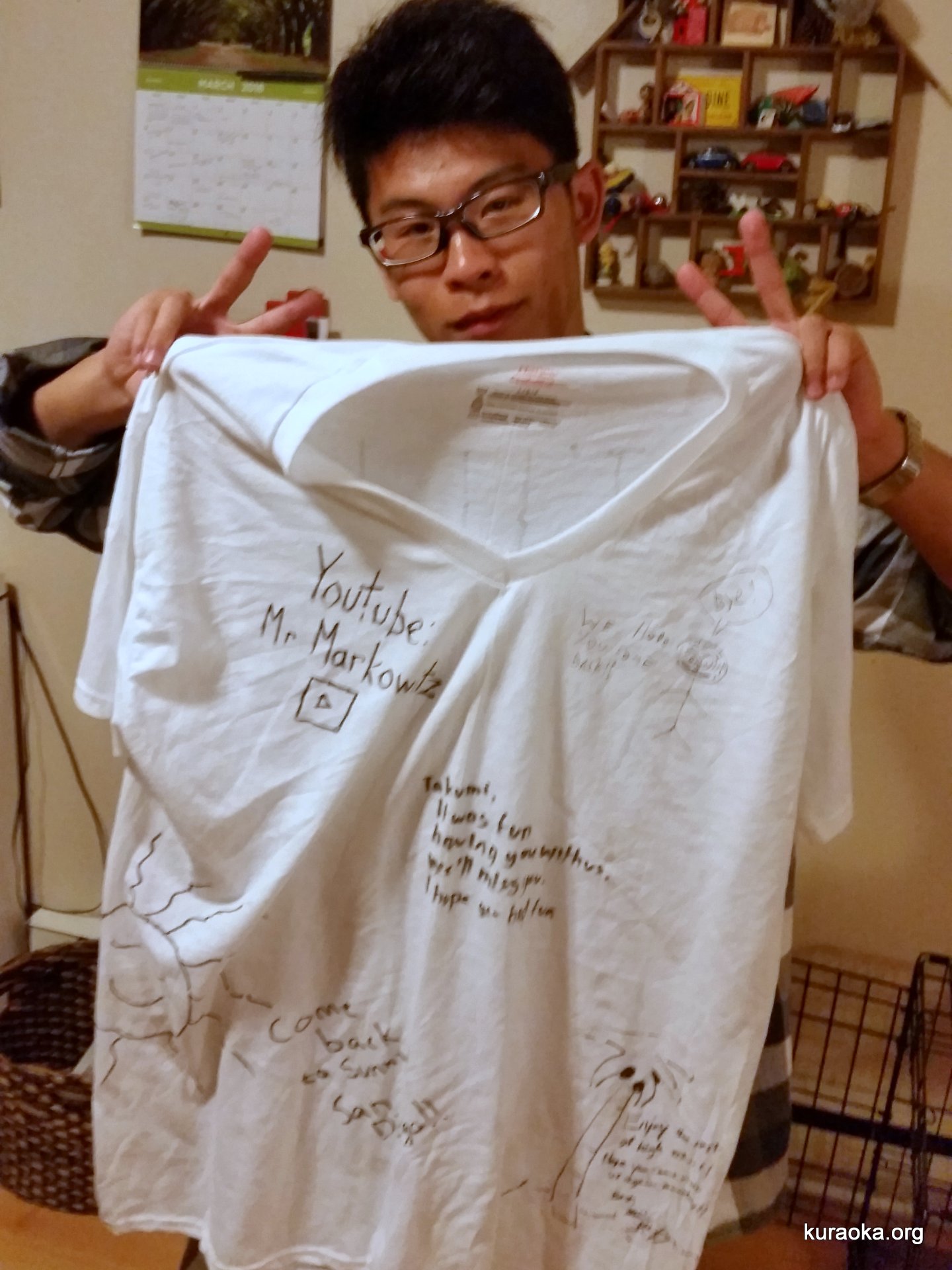 Sunday was Easter, and Takumi joined us for the drive up to L.A. to John's Mom's house for the big clan gathering. It was quite overwhelming for Takumi, who after doing more talking in English than he'd probably planned on, took refuge in a nap. On the drive home, we stopped at The Habit in San Juan Capistrano for burgers, a last full meal out in San Diego. The Habit has slightly better burgers than either In-N-Out or Beef & Bun, but much better fries and onion rings than either, making it a clear winner for cheap American road grub.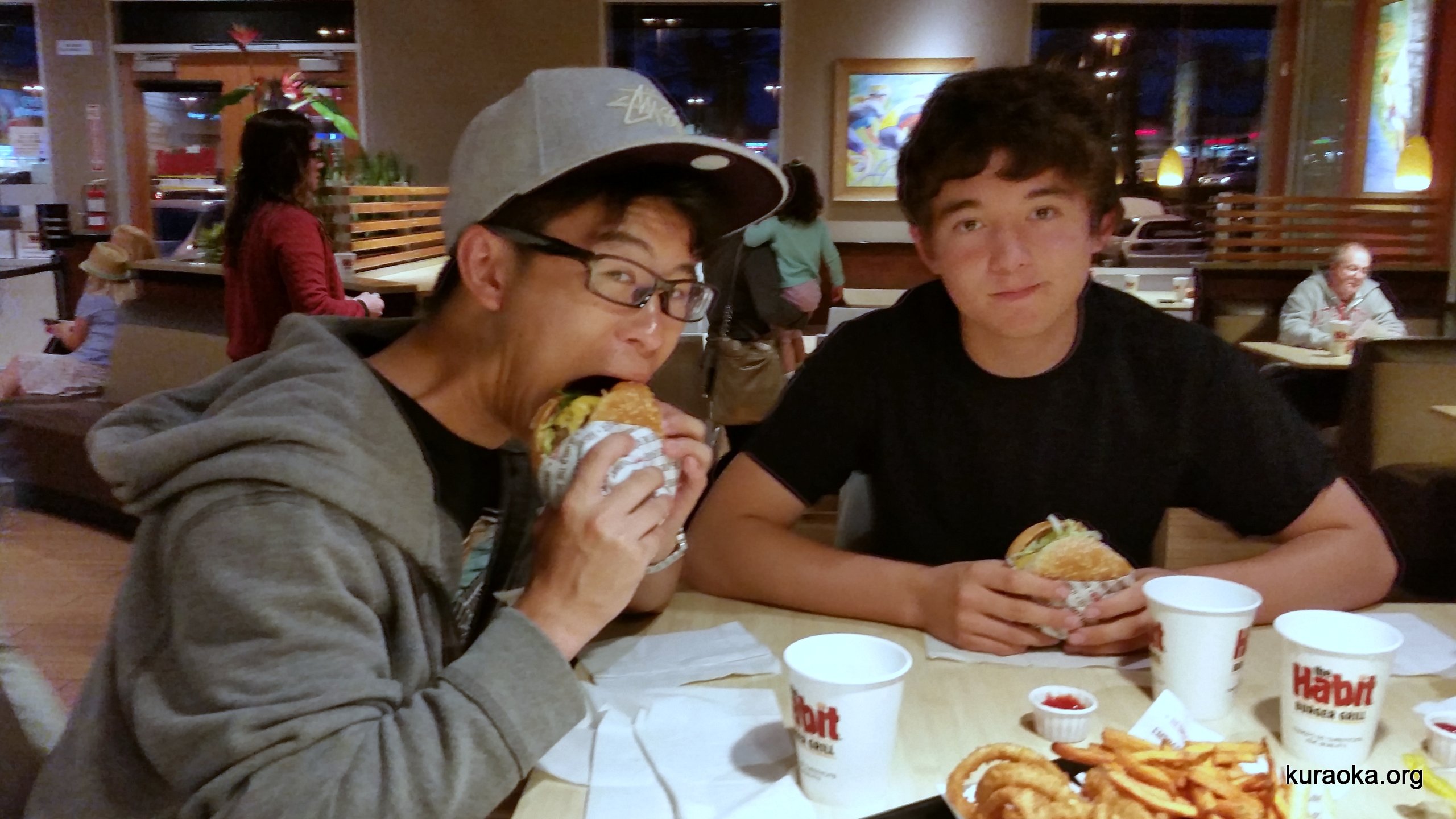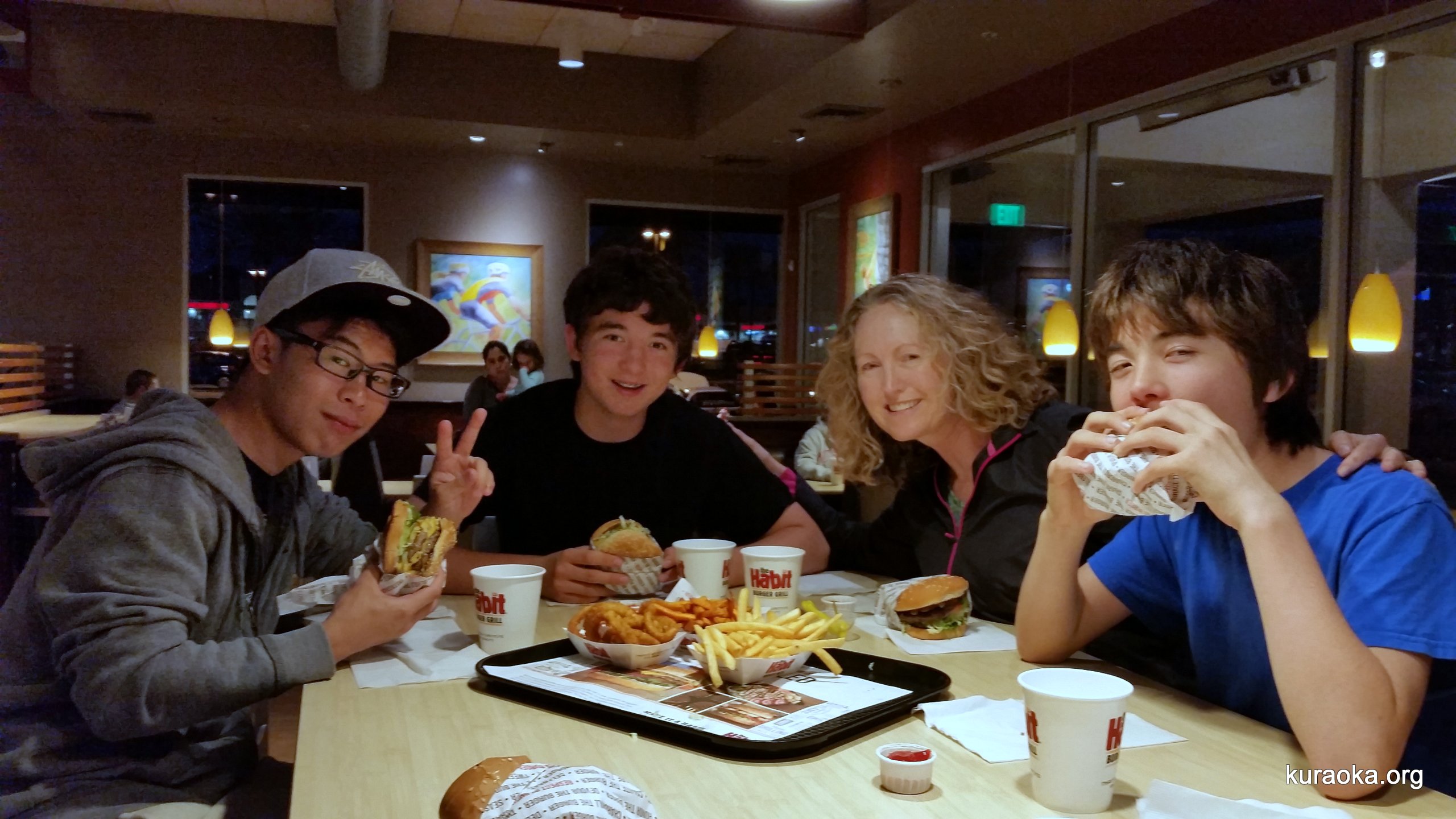 Monday morning John and Roy took Takumi to Patrick Henry High School, where the YIS students gathered to catch a bus to the airport. They were going to stop at San Francisco for a couple days before heading back to Yokohama.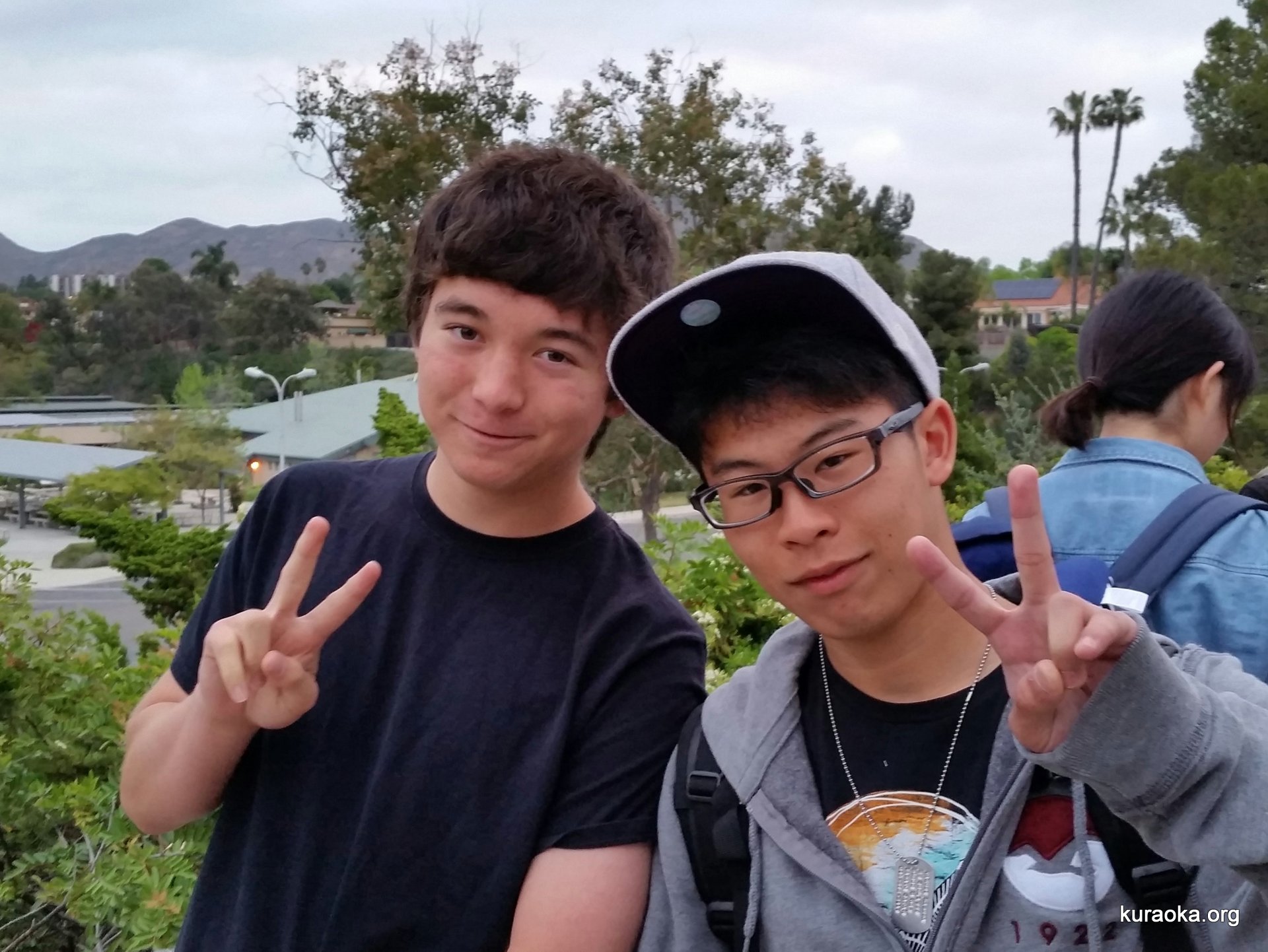 Monday was also our wedding anniversary! It's hard to believe it's been 18 years, wow! Our wedding rose tree (a gift from art and Judy Fink) in the back yard is in full bloom to mark the occasion!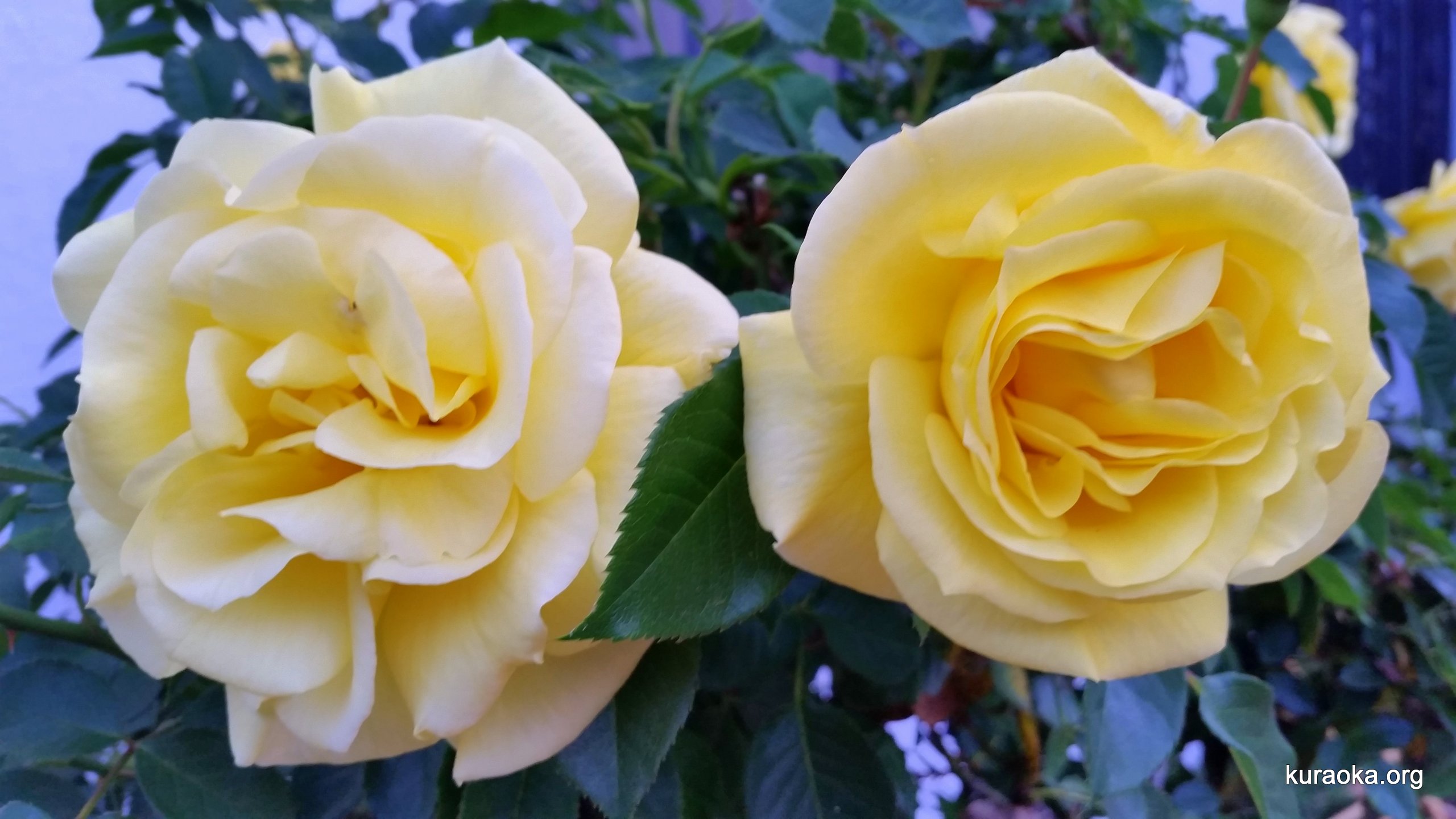 It's Spring Break so both Roy and Leo have been home all week. John has been working on projects, and also scheduling appointments left and right. Roy had an orthodontic appointment Monday afternoon and a Kaiser appointment later that day, Leo had a dentist's appointment Wednesday late morning, Thursday morning Roy had another orthodontic appointment to remove his braces. Wow! Somewhere in there, Barbara also borrowed them to do some yardwork, digging out roses and weeds, and digging a trench for new edging. So here's a photo of the boys at work, and the first photo of Roy without braces in over seven years!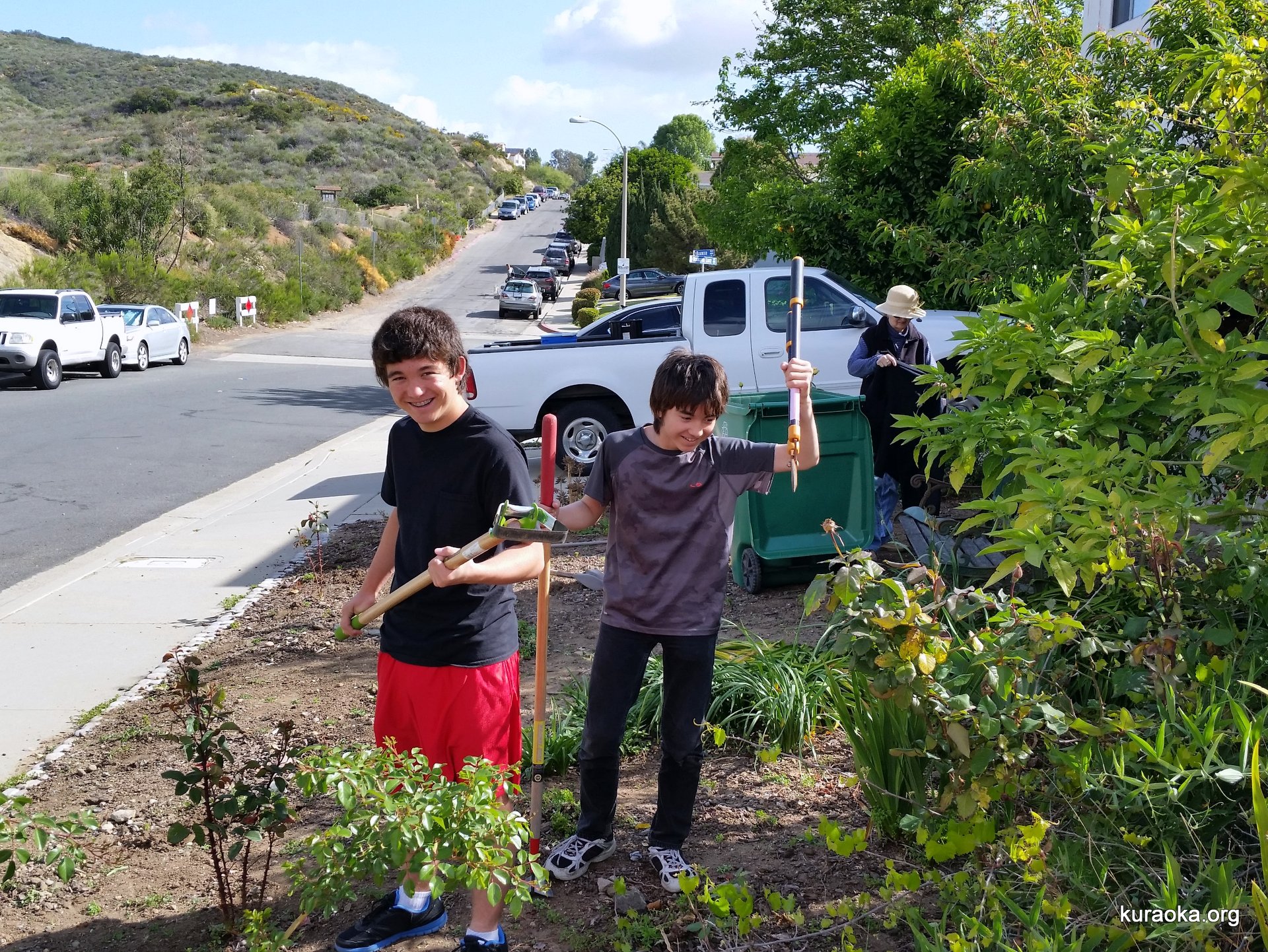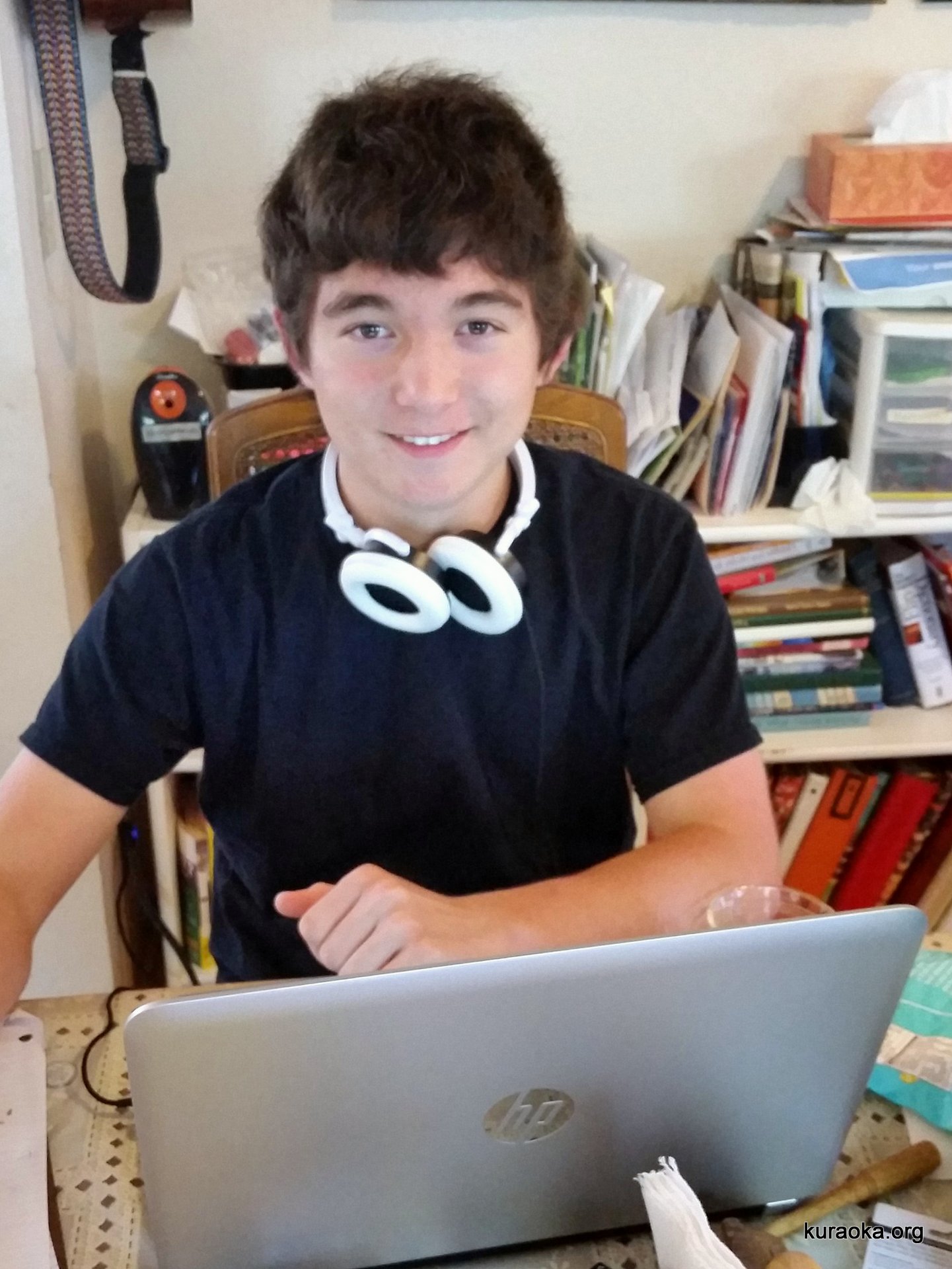 Thursday evening Roy timed a visit to Alex such that he got invited to go out with them out to dinner and an improv show! What fun! They ended up staying for two shows, they were having so much fun. Thank you Lucy and Ernesto! And Friday afternoon is Alex's birthday beach bonfire party!
Rain was predicted earlier this week, but didn't come until late Tuesday. We'd kind of hoped that our anniversary would be marked by storms sort of like those at our wedding!
John wrapped up his MOOCs on Othello and Mindfulness. He has a couple big projects he's working on plus he's working his way through the online beginner guitar course at JustinGuitar.com.
Neighborhood gas prices are $2.95 per gallon.
Back to the Archives page
Back to the Kuraoka Family main page
Forward to the current Weekly Journal.