What's in John's wallet?
www.kuraoka.org

A peek into my pants, so to speak. Last updated February 2018.
The first wallet I ever owned was a buckskin souvenir from Canada. It was amazingly soft and fuzzy. I loved it. I was a small child, though, and never used it; it's probably around, somewhere, in a box of memories.
The photo archive starts here, with my first real wallet. It had no name but was a quality item, given to me by my eldest sister and brother in law as a wedding party gift. It lasted about 18 years, possibly because it spent its life mostly empty. A driver's license, school ID, one credit card, barely any cash; a simple life and pretty easy on a wallet. As life increased its demands, it gracefully wore out. Next came a Buxton Cardex in "oily buffalo," which cost about $15 and lasted about five years. Next was a stab at luxe, a Johnston & Murphy Slimfold in tumbled brown leather. It cost about $48 shipped, and lasted nine years almost to the day. It was replaced, not because it was falling apart (although its exterior patina had worn to a nearly shabby sheen), but because I wanted an RFID-blocking wallet.
My new wallet is a Hammer Anvil, a company based out of Los Angeles. The wallet itself is made in India. It has an RFID blocking layer, which is supposed to protect the card information from being accessed by random card readers. The leather feels soft but seems thin, perhaps because the RFID lining gives it an ever-so-slight crinkly feel. It is finely stitched and impeccably finished. It cost $26 from Amazon, and went into service late May 2016.
It's slimmer and more compact than the previous wallet, perhaps because it has more slots, so cards are staggered rather than stacked atop one another.
Let's look inside.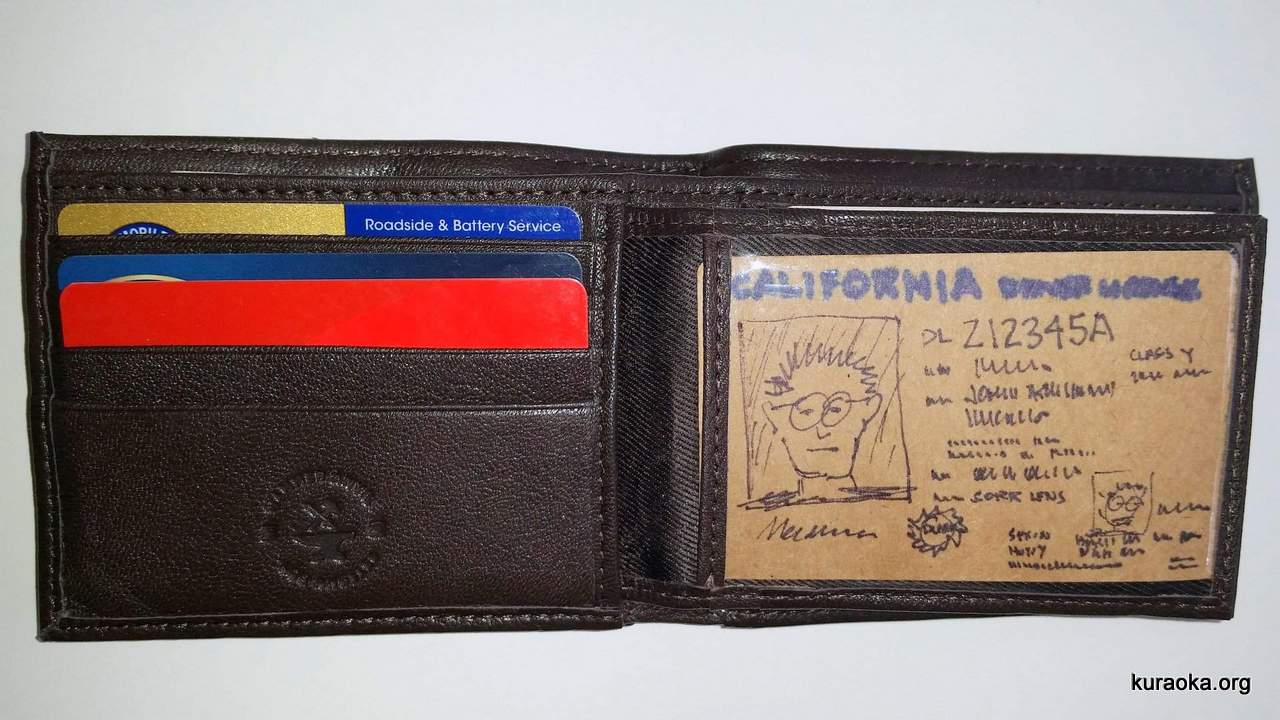 Here is the view with the driver's license flap flipped open. I think that may be my best driver's license picture ever, because it bears only a vague resemblance to the actual me. I tried, but, like a true artist, seem to have revealed the subject's inner magnificence. Hence the somewhat smug expression.
In the slots on the left are membership cards to the Auto Club and AARP. As our cars have aged, we've found the "AAA Plus" membership offers longer tows and more peace of mind. According to the "Years as Member" notation, I have been a AAA member for slightly longer than I have been alive. This modest bookkeeping oddity is because I've been a member since birth, having been born into an Auto Club-insured family. As for the AARP card, discounts!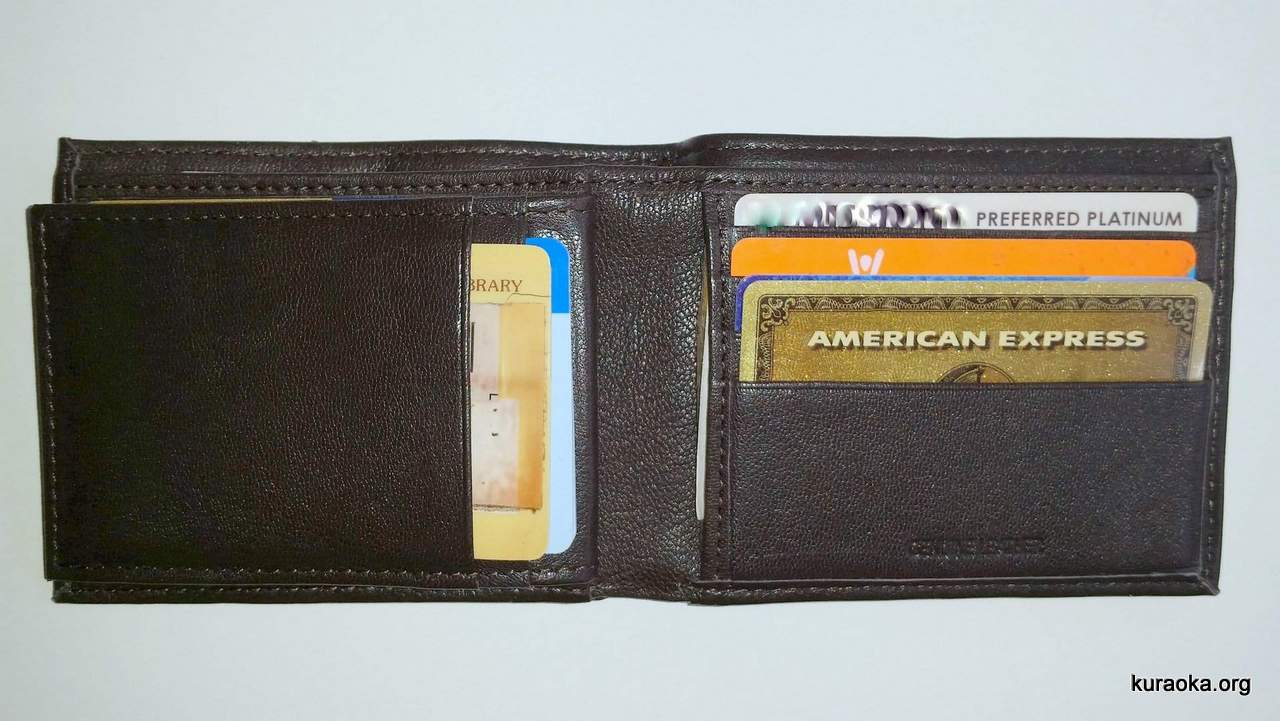 This is the view with the ID flap flipped the other way. There are two sideways slots in the flap, which hold a much-used and taped-together library card, and medical insurance cards for me and the kids. On the right are a plain old credit card, our health care FSA card, and an American Express card. There's actually another credit card behind the American Express. It's in its own slot, but the slots bottom out at the same height.
There are side pockets on the left and right too. One holds a Five Star Rewards Points fob and a spare key to my car. The other holds my Eagle Scout card issued in 1980. Once, when the world was young, that card was used as a bona-fide when I had to write an out-of-state check. Also, a Windmill Farms sandwich card with two stamps, a Regal Crown Club card, a Panera Rewards card, a Panera gift card, and a Target gift card.
There are also some dried carp scales. I married into this tradition. On New Year's Eve, we have a carp as part of our traditional German dinner. The scales of the carp are cleaned, dried, and pressed flat. Then, you put them with your money, to ensure you will never want for more. Do they work? Well, when money is good I'd say that's proof they work; when money is tight I'd say I wouldn't want to risk being without them. So there you have it, another superstition upheld by the superstition itself.
In the cash section: Ooo, a ten, a five, and two singles. And coupons for CVS and Panda Express.
Back to the Kuraoka Family main page.