The Kuraoka Family Weekly Journal
www.kuraoka.org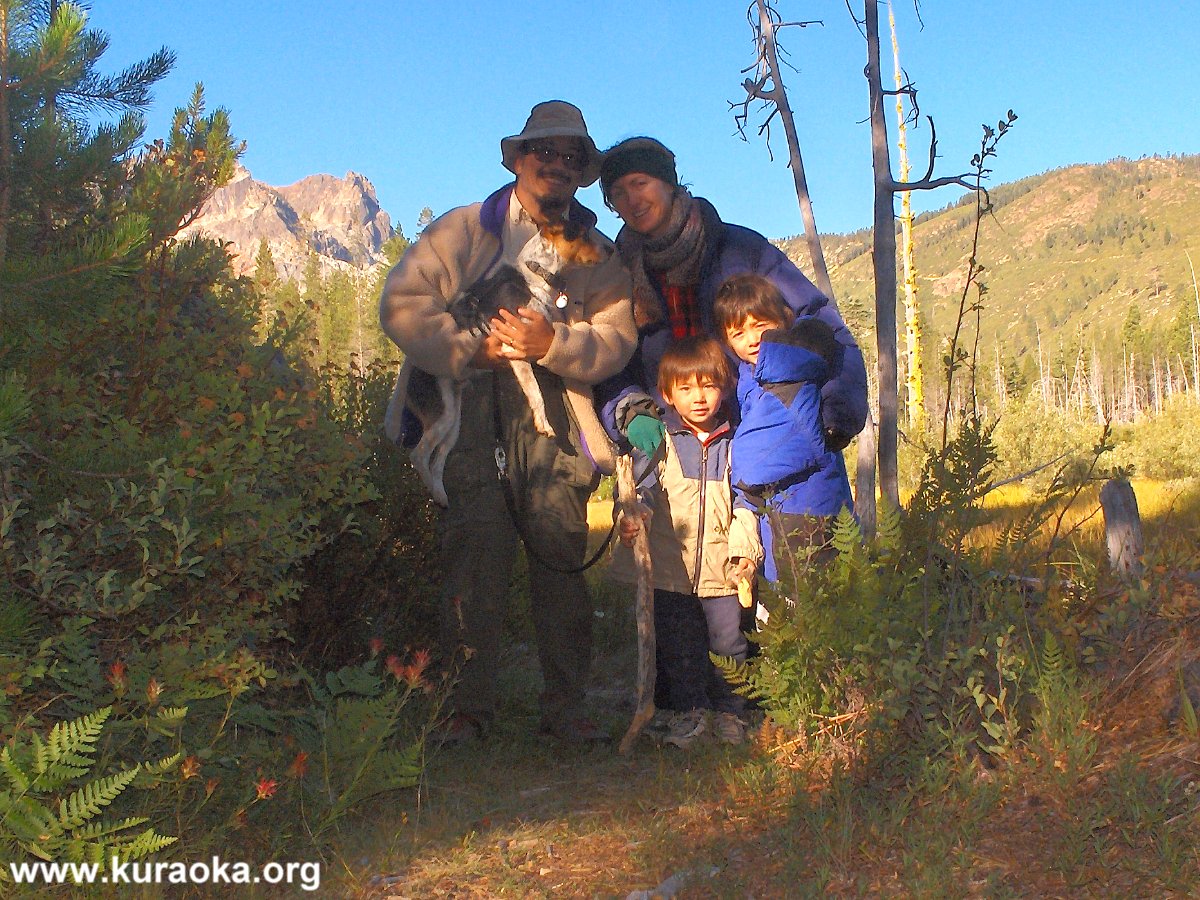 Us, August 10 2007: John, Ondine, Buddy (being held), Leo (5), Roy (7)
UPDATE: Friday, 02 November 2007
For the most up-to-date fire information, the San Diego Union-Tribune is maintaining a Fire Blog that U-T staffers update continually through the day. Bad words to look for in news entries include Santee, Tierrasanta, or La Mesa – those are neighboring communities. Really bad words include Mission Trails Regional Park, Cowles Mountain, or San Carlos.
---
Friday morning, 02 November: The latest fire statistics: The Witch Creek Fire burned 197,990 acres, and the Poomacha Fire burned 49,540 acres. The Rice Canyon Fire and the Horno Fire numbers stayed the same. The Harris Fire was adjusted downward to 90,440 acres. The fires are now fully contained except Poomacha, which is at 85%.
---
Monday morning, 29 October: Despite dire predictions, the fires of 2003 were worse than these. Here are the numbers as of Monday morning: the Witch Creek Fire burned 197,000 acres, the Poomacha Fire burned 49,150 acres, the Rice Canyon Fire burned 9,472 acres, the Horno Fire burned 21,084 acres, and the Harris Fire burned 90,750 acres. When you figure in the 400-acre McCoy Fire and 300-acre Coronado Hills Fire, that totals roughly 368,156 acres (or a bit more than 575 square miles). 1,588 homes were destroyed, 320 were damaged, and 640,000 people were evacuated. Still plenty big, and a lot bigger than we want to see again.
---
Sunday, 28 October: The Rice Canyon and Horno fires are now fully contained. The air outside was dry and smoky, though, because of a mild Santa Ana-like condition, so we had to keep the doors and windows tightly shut until early evening.
---
Saturday morning, 27 October: The fires are all coming under control: The Witch Creek Fire is 60% contained, the Poomacha Fire is 45% contained, the Rice Canyon Fire is 80% contained, the Horno Fire is 90% contained, and the Harris Fire is 50% contained. The total acreage has not changed significantly since yesterday's posting.
This morning, we let the boys outside to play for the first time in five days! They were gleeful to get out of the house. We opened the front and back doors to let air in. We closed everything back up after an hour, but the house feels a lot less stuffy now. The boys had showers and the dog had a bath. John's cold is on the mend. We'll now return to our usual update schedule. See you Monday!
---
Friday morning, 26 October: Everything is quiet here, like any other Friday except there's no school and the air is too smoky for the boys to go outside and play. The trash and recycling pick-up is going on as-scheduled, and the gardener is here! Amazing.
Numbers! We got numbers for ya! Here's the latest fire map from this morning.. We're in box 1250. There are still five fires actively burning in San Diego County. Witch Creek, Poomacha, Rice Canyon, and Horno/Ammo are all north of us, and the Harris Fire is southeast. The Coronado Hills Fire (to the north) and McCoy Fire (to the east) are both fully contained. In total, roughly 350,000 acres, or nearly 547 square miles, have burned in San Diego County. To put that in perspective, all the California fires put together total about 493,000 acres so far (or about 770 square miles), so the fires here in San Diego County account for 70% of that. The last big San Diego fires, in 2003, burned about 425,000 acres (or about 664 square miles).
John has a cold, and Roy has been coughing and wheezing because of the smoke. We had put a cool-mist humidifier in Roy's room when the fires first started, and that has eased his cough, either because of the moisture or the air filtration. Speaking of which, Bill went to the fire station yesterday and got some filter masks for all of us – thanks, Bill! Later this morning. Leo's friend James (from pre-school) is coming over to play! But the boys' soccer games this Saturday have been cancelled.
John's email server has been down for the past several days, which he discovered when clients called and said their emails to him were bouncing. Some other emails had simply vanished. Fortunately, he has a back-up email address! Our dot-org email server is fine.
---
Thursday evening, 25 October: Thankfully, there's nothing going on in our part of town. San Diego City Schools will re-open next Tuesday, and the Gage Elementary School Halloween Carnival the boys had been looking forward to this weekend has been postponed. Ondine called Desiree in Germany, and talked to Paul because Desiree ... was in Barcelona! John went out for the first time in four days to get groceries from Windmill Farms. The boys and dog are getting cabin fever!
Here's the latest fire map from this afternoon. We're in box 1250. There have been about 344,000 acres burned so far. President George Bush came to town for a tour of the fire areas.
---
Thursday morning, 25 October: Everything continues to look hopeful here. The weather is helping now, with cooler sea breezes blowing from west to east.
About 337,000 acres and 1,470 homes have burned. There are five main fires now: Harris (10% contained), Witch Creek (20% contained), Poomacha (10% contained), Rice Canyon (20% contained), and Horno (40% contained). The Horno Fire is one of two in Camp Pendleton.
Here's a fire map from late last night. We live in box 1250. You can see that the Witch Creek Fire, north of us, threatened to get into Santee, right over the mountain from us. But the winds shifted and it never came close. The Harris Fire, southeast of us, is reported to be the priority today. The fires are all currently burning away from us.
---
Wednesday night, 24 October: A quick update for Jürgen und Dax, and Gregor und Patty und Veronica, und Klaus und Marlies, und Peter, und Paul und Erika, und Ilka und Hendricks (und Lulu), und Horst, und die Hocevars, und Desiree und Martin und Paul und Till (und Seppl), und andere ...
San Diego mayor Jerry Sanders called today "the first good day." The total burned is up to 317,000 acres, with some 1,300 homes destroyed. About 400,000 people remain evacuated. The report earlier today that the Poomacha Fire had merged with the Witch Creek Fire turned out to be wrong. And, winds seem to be blowing the fires back eastward. All is quiet on Cowles Mountain. Ondine heard a rumor that there were fire companies staged at Grossmont College, which we took to indicate serious protection for the Mission Trails area. So, alles ist gut as we head to bed tonight.
Bon Voyage to Jason, in Mülheim. Jason is heading to Rome and Paris!
---
Wednesday, 24 October: Here's an update because Jürgen called us from Germany and said we must do it, so we must!

So far, we haven't been evacuated and everything is fine here. All our grab-and-go stuff is by the door, though, because we live next to a large open area with lots of dry brush that didn't burn in 2003. We still have electricity, internet access, water, and mail service, although we're in Group 1 on SDG&E's list for rolling blackouts. As the afternoon wears on, more evacuees are returning to their homes as the fires threaten other parts of the county.

At least 305,000 acres have burned. The fire mentioned yesterday (the one by Palomar Mountain and the La Jolla Indian Reservation) was named the Poomacha Fire, and today it merged with the Witch Creek Fire several miles to the north of us. The Harris fire continues to burn to the southeast. The Rice Canyon Fire grew, and a new fire in Camp Pendleton shut down the I-5 and Amtrak for a while.

Here's a fire map from this morning, which gives a snapshot of the situation. Our house is located in box 1250. The Mission Trails Regional Park is roughly boxes 1230 and 1250; it's all dry chaparral to both sides of Highway 52. There are some small mountains just north of the word "Navajo" in box 1250; a low range that includes Cowles Mountain. Those mountains are our view out our front window; we are across the street from the park boundary. In 2003, the firefighters stopped the fires on the other side of those mountains. So, while the Harris Fire is the closest fire front, it's probably less of a threat to us than the Witch Creek Fire because of the terrain and brushland to the north of us.

Notes on the firefighting efforts: Coordination seems much better this time around. The military is a lot more active this time, putting tremendous resources into the air. Local officials are a lot quicker on the trigger on evacuating areas than last time, so while it sounds really horrific with a peak of more than 560,000 people evacuated, clearing vast areas of people seems to have helped the firefighting efforts to be more effective. It's still going to be bad, and for some the worst is still to come, but everyone here is doing the best they can.

If you hear that Mission Trails is burning, then you know we're outta here! But for now, things are quiet. Smoky, but quiet. For the boys, it's just a bonus week off school!
---
Tuesday, 23 October: Late last night we heard the distinctive rumble of a fire truck going up Barker Way, and a bunch of us popped out of our houses like prairie dogs to see what was going on. A knot of neighbors, Barbara, John, Doris, and Meg gathered in a driveway and Brett, up the street, emerged to start up his motorhome. Someone had heard on the news that a fire had broken out in Tierrasanta along the 52, which alarmed us, as that would be very bad for us indeed. We saw a helicopter pass overhead, over Cowles Mountain. After some quiet mutual reassurances, we all resignedly returned to our respective homes to pack up in earnest. We packed in about 20 minutes. By then, the U-T Fire Blog had updated with the information that the rumored fire in Tierrasanta was just that: an unfounded rumor. Relief! At least enough to sleep on. We immediately called Barbara, who called Meg and Doris.
Several fires are burning in San Diego. The two major ones are the Harris Fire and the Witch Creek Fire; there's also the Rice Canyon Fire, McCoy Fire, Coronado Hills Fire, and a new one in Pauma Valley near the La Jolla Indian Reservation and Palomar Mountain. More than 241,000 acres have burned so far, and 1,000 homes. This fire event is expected to be worse than the Cedar and Paradise Fires in 2003. It has already been the largest evacuation in San Diego history, with more than 300,000 people ordered to leave their homes! We know several people who have been evacuated.
The Santa Ana winds are driving the fires to the west-southwest, and some fire experts are saying that it could burn all the way from the mountains to the beaches. Fortunately, there seems to be a light, humid sea breeze developing which, the theory goes (cool, moist air being denser than warm, dry air), might lift the Santa Ana up and over, taking the wind power away from the fire.
There are other fires burning all over Southern California, including Malibu and Santa Barbara, but the San Diego fires are the state-wide priority. Military firefighting aircraft have been pulled into the firefighting effort, along with military firefighting forces, and our Calee-fornia Governator, Arnold Schwarzenegger, came to town for a briefing and press conference in which he hugged San Diego mayor Jerry Sanders and promised state and federal aid.
Right now where we are in San Carlos, we're okay. The Harris Fire is southeast of us and the Witch Creek Fire is several miles north of us, with Santa Ana winds pushing them from east to west. However, with new fires starting up and winds shifting, that could change in minutes. We're packed up and ready to go.
---
John's Mom was down for the excitement. She came down on the train Friday afternoon and left Monday at noon. She extended her stay to go to the pumpkin patch on Sunday and watch Roy and Leo running on Monday morning. As it turned out, both of those things got scrubbed!
Oma's Pumpkin Patch, in Lakeside, was closed Sunday and Monday, so we went to Sea World. Saturday, we went to the boys' soccer games, all grandparents in attendance.
Sunday afternoon, as Ondine prepared to go to Kirsten's graduation party, her car battery was dead! AAA came, but her battery failed the charging test. About $110 later, Ondine was on her way with a brand-new battery in the Mazda.
More fire stuff. Early Saturday morning, we were startled awake by a huge boom, followed by the sound of a car or truck driving away. It wasn't until later that we found out what it was: an SUV up the street had blown up! Neighborhood rumor is that it was set afire. A BMW parked next to the SUV in the driveway was scorched and caved in by the blast. John walked up to look at the scene after his run on Saturday; it was like a little piece of Beirut right here on Barker Way.
Monday we spent much of the morning watching the fire coverage on TV. Barbara and Bill came over for a stunned kaffe trinken with Frances. Ondine went to Windmill Farms and then took Frances to the train station since the trains were still running. Frances reported that the ride through Del Mar was awful, what with the smoke and views of people evacuating. Ondine later went to the library, to lay in some videos for the kids, and Target and Wal-Mart to look for small room air filters, but they were sold out. We set up a humidifier in Roy's room Monday night, and that eased his coughing.
All the schools in San Diego County are closed today (Tuesday), and we haven't had word on when they'll reopen. Soccer practice has been cancelled, probably for the week.
Hello to Ondine's cousin Jason, who's with Dax und Jürgen in beautiful Mülheim! Big thanks go out to Barbara's cousin Kani, who graciously offered all of us the use of her rental house in the Bay area, and also to Peter and Katrin, who offered us lodging in Montana!
The last big fires, we were evacuated! Here's a look at our experience with the 2003 fires.
What are we up to now? Check out our weekly journal, updated at least twice a week since 1998!
Back to the Kuraoka Family main page, with lots more stuff, including photos!