2005 in photos
www.kuraoka.org
Just posts from our virtual refrigerator door.

12-04-2005: Family holiday photo, 2005. Here we are in the front yard! Leo is 3-1/2, Roy is 5-1/2.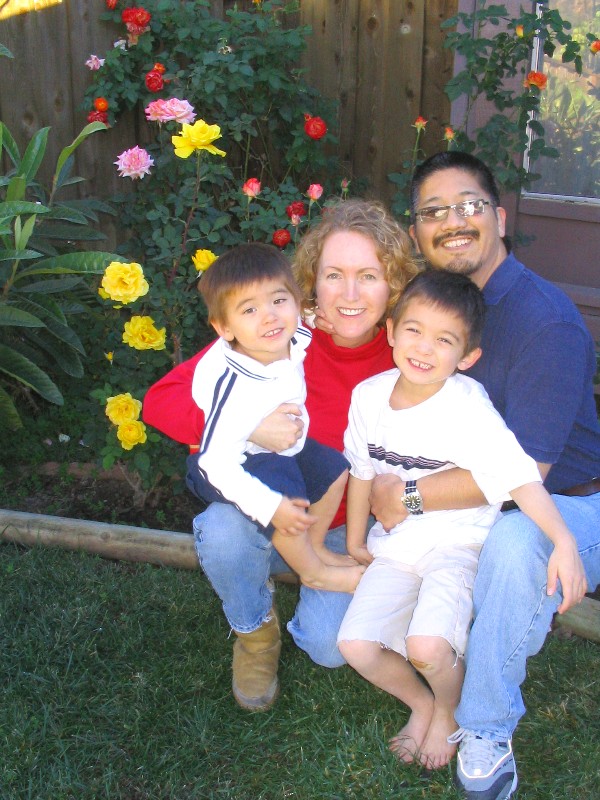 10-22-2005: Leo's first soccer game. Here's Leo on his very first Game Day, in his Blue Dragons team uniform. Note the FC Schalke 04 colors! (Schalke is John's adopted Bundesliga team from our stay in Muelheim). Go Blue Dragons!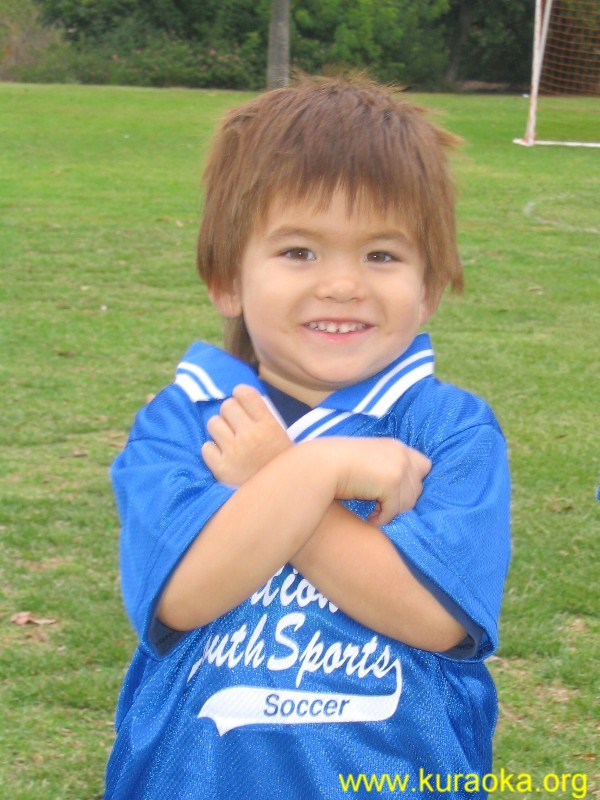 09-06-2005: Roy's first day at Kindergarten! Here's Roy receiving his zückertüte, Roy on his way to school (no, we didn't make him carry the zückertüte to school), and Roy at his desk in the classroom looking slightly amused at all this first-day hoopla.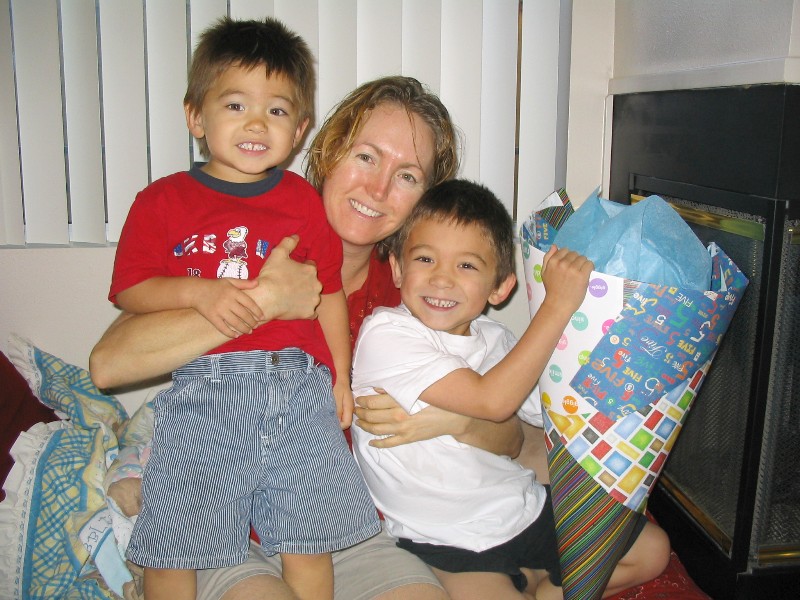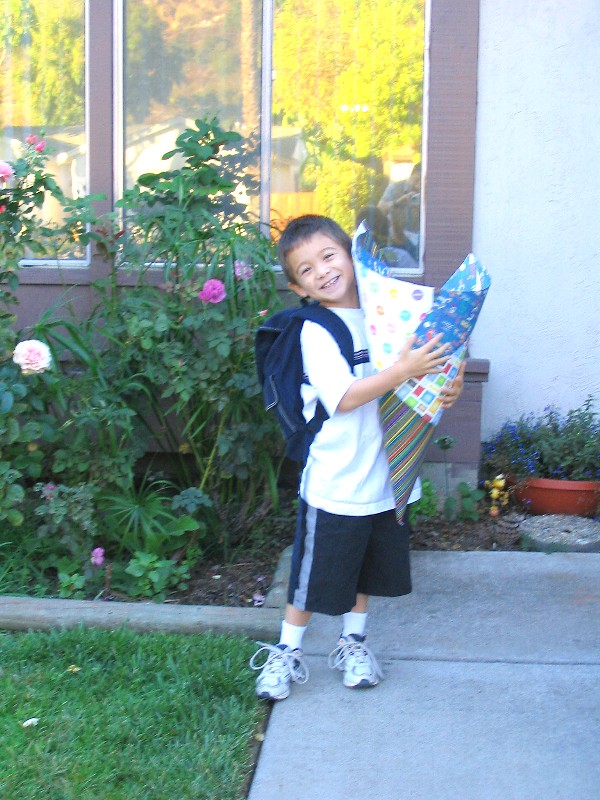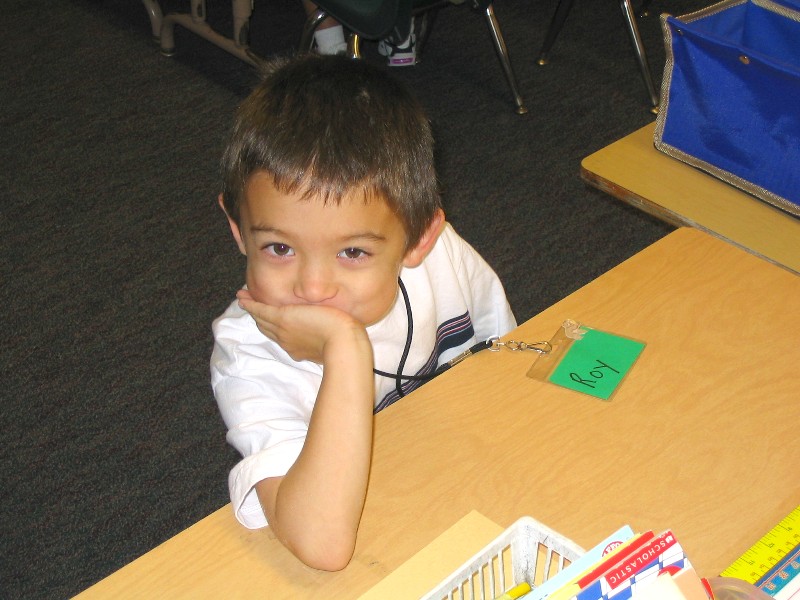 08-31-2005: Roy and the chickens! The first one shows Roy with Second Hand (that's the name of the chicken), and the next one shows Roy with Puffy Cheeks. Photos by Barbara, and the date is approximate.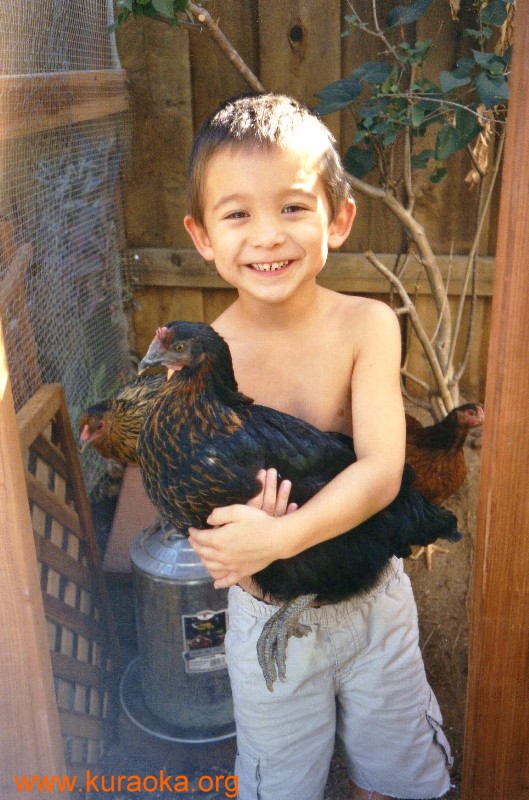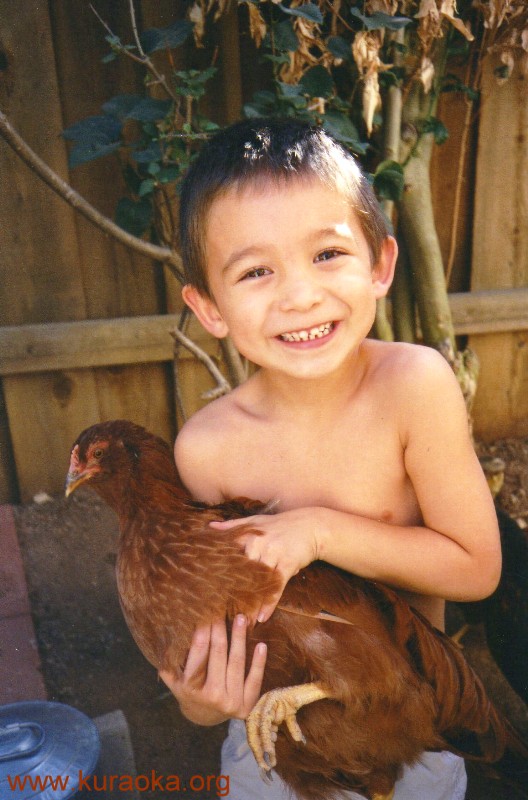 08-19-2005: Leo at the park. Leo rides the lizard triumphant. Look at that cute face!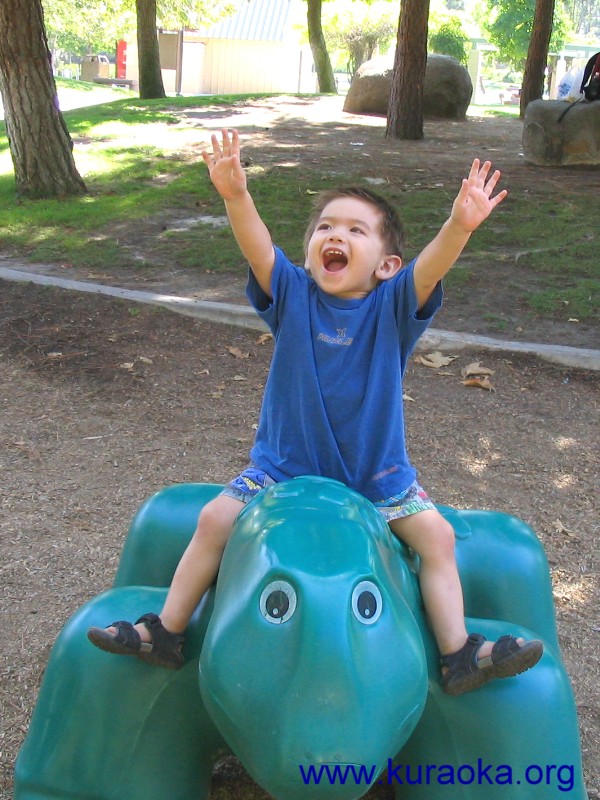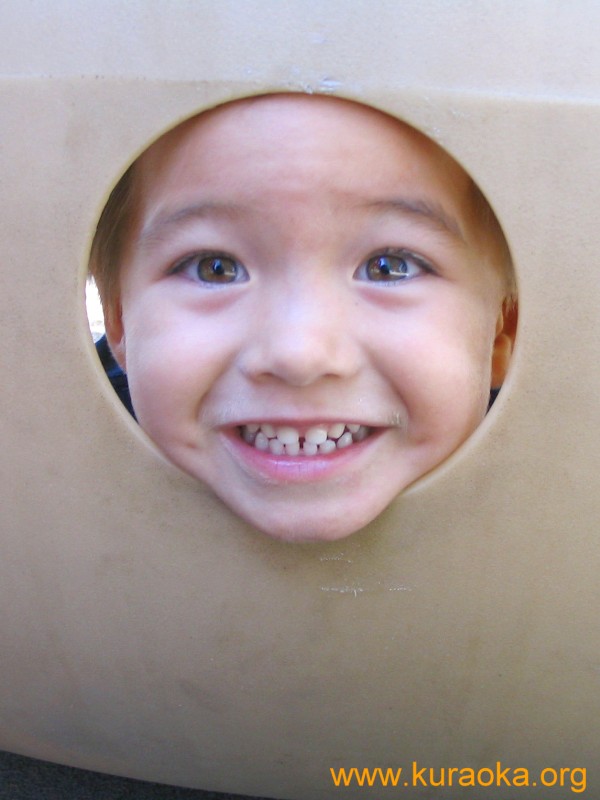 08-08-2005: Alyssa visits! Here's Roy getting buried by women. And, Leo, Alyssa, and Roy enjoying ice cream at Mission Beach!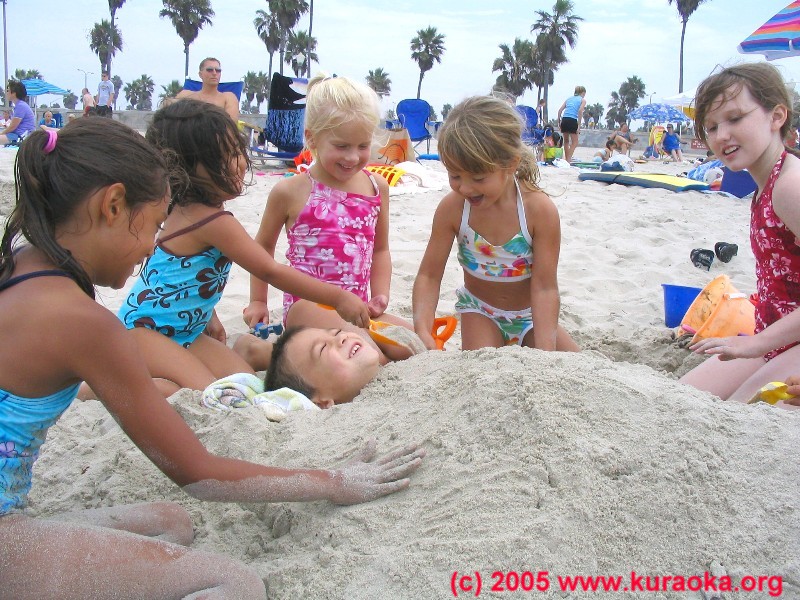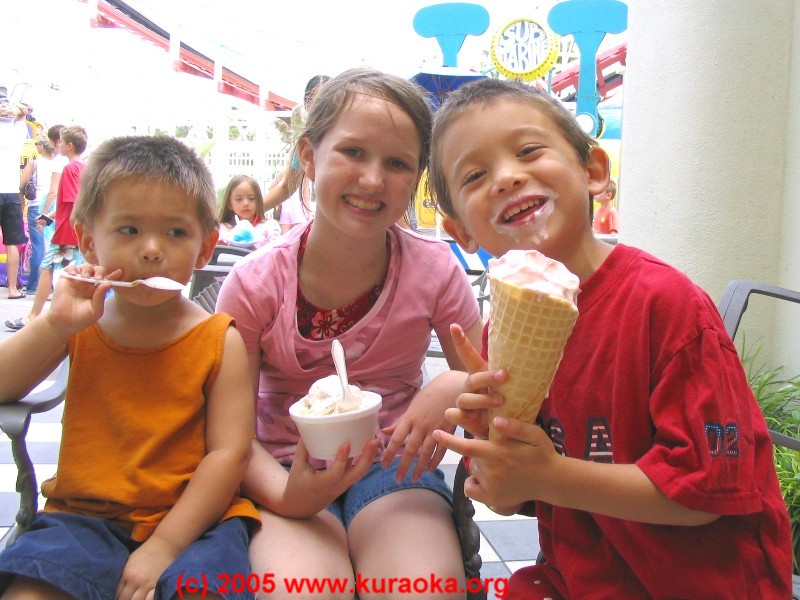 08-02-2005: John's Birthday and the boys. Here's Leo, John, and Roy showing off the telescope Roy made John for his birthday. When you look through it, you can see planets!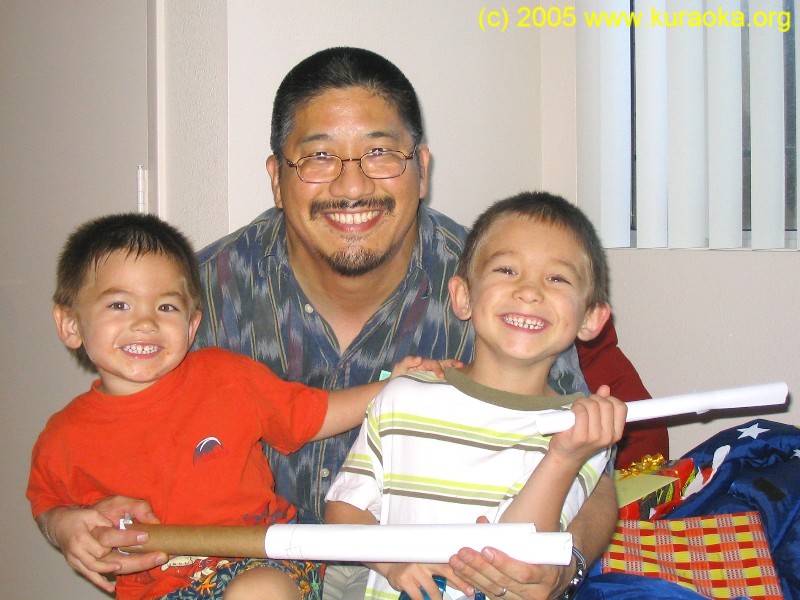 07-31-2005: Roy and John at Swami's. Here's Roy gathering wet sand, with John looking on, at Swami's beach in Encinitas where we enjoyed a picnic dinner in the evening.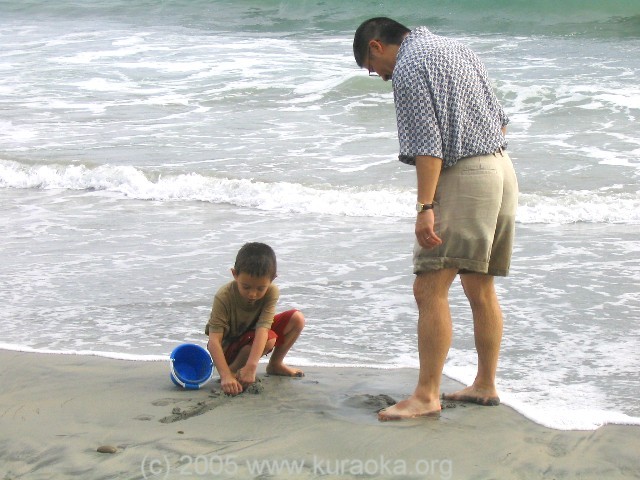 07-03-2005: O'Fest. We go to Oceanside for the O'Fest! Roy anbd Leo had a great time playing together and working as a team at the drinking fountain along the Strand. But, first up is this video clip on the Ferris Wheel (25 seconds, 1.97 MB, mpg format); the band you hear playing down on the stage is The Boogiemen.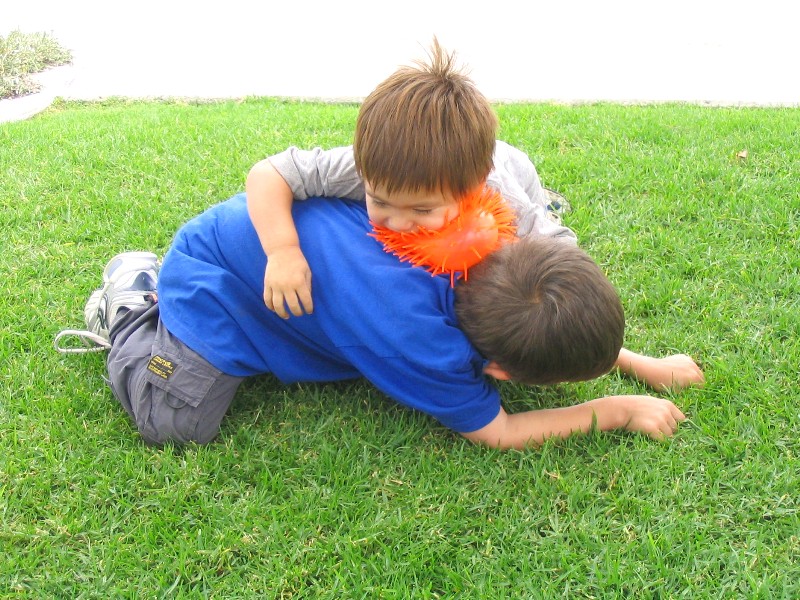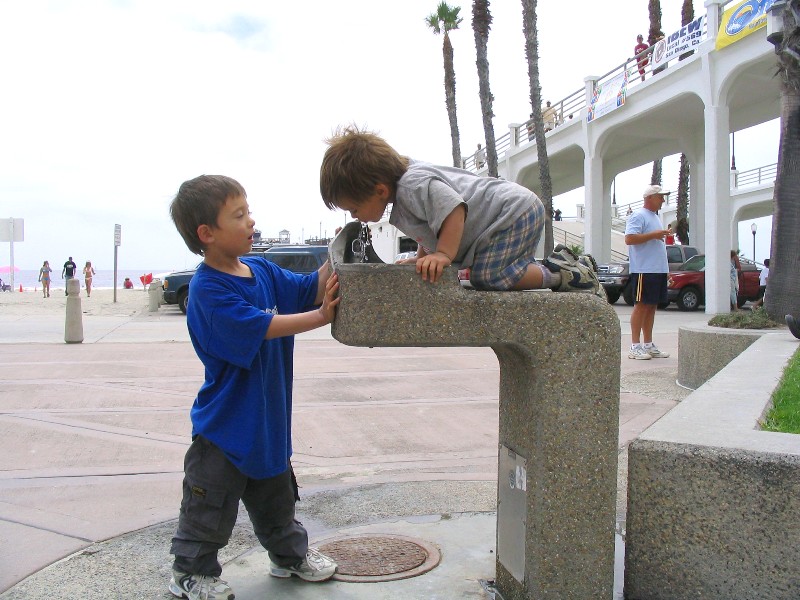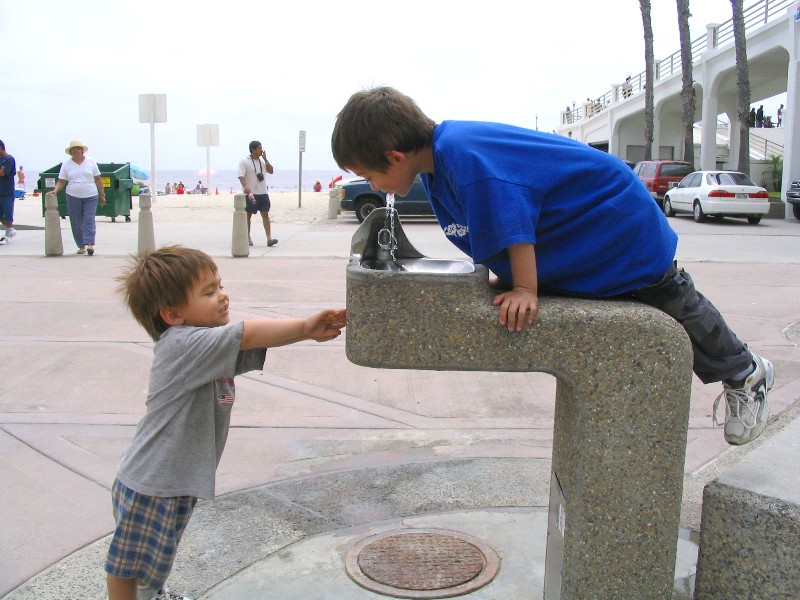 06-29-2005: Pony rides! Here's Leo and Roy, riding the ponies at Victoria's Gardens.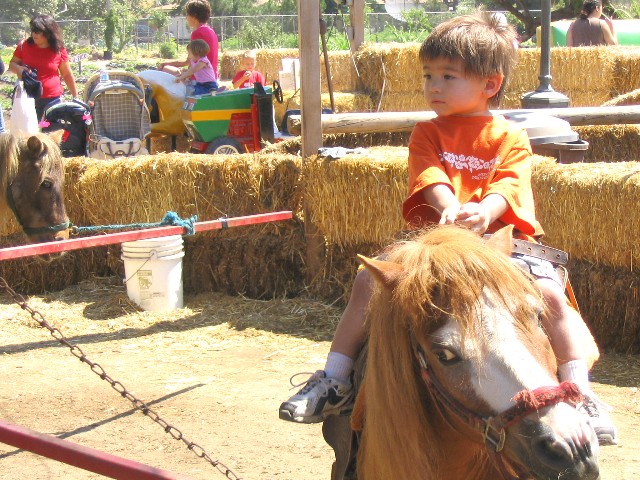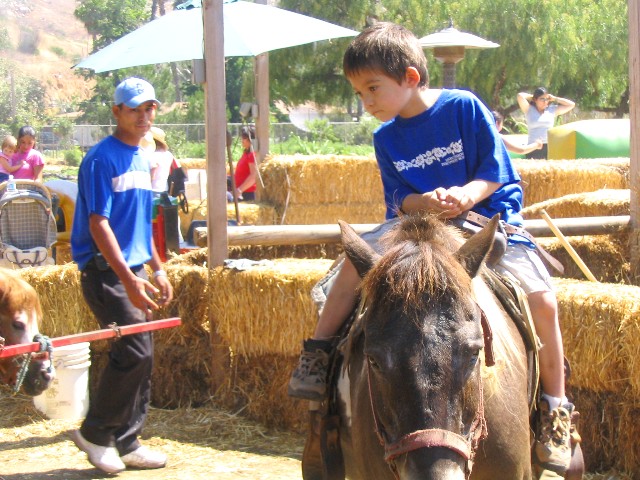 06-26-2005: Old Town State Park. Here's Roy, Leo, and Ondine at Old Town. You can read the whole story (and see more photos) here on our Old Town State Park page.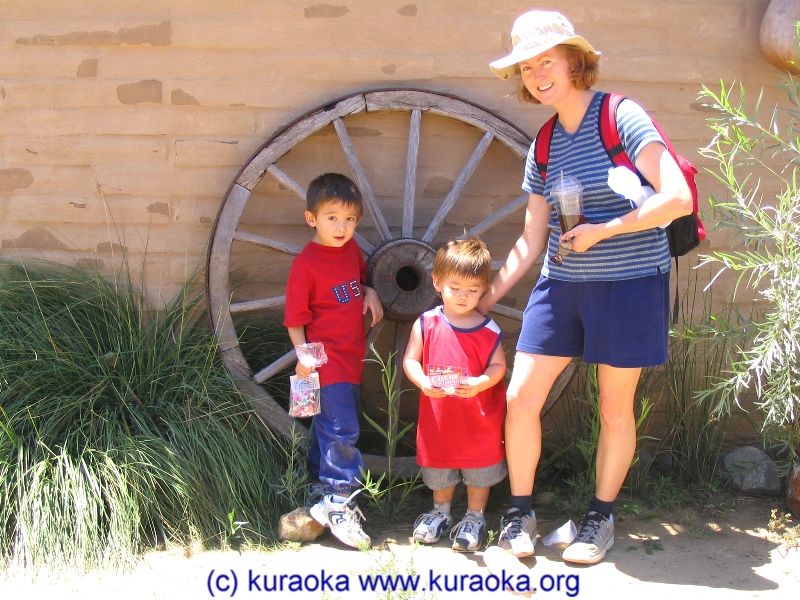 06-15-2005: Doughnuts with Dad. Here's Roy, John, and Leo at Montessori Discovery School's Father's Day event.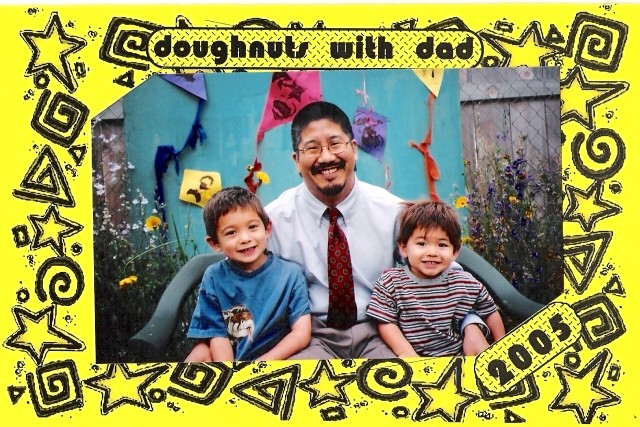 06-12-2005: A walk on the mountain. Here's Roy, Leo, and John taking a snack break on Cowles Mountain, where the flowers were just amazing.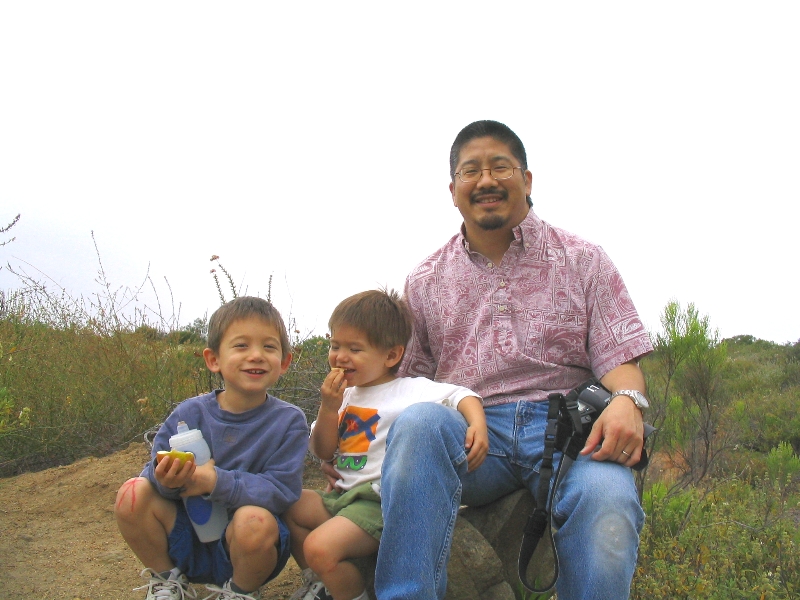 06-05-2005: Roy's Birthday. In keeping with the "volcano" theme, Roy's party featured three outdoor activity stations where kids could make their own volcanoes, lava lamps, and "lava" goo. The cake was an erupting volcano cake. We'd have more photos, but, since we were the parents and hosts, we didn't take many. We're lucky to have this one!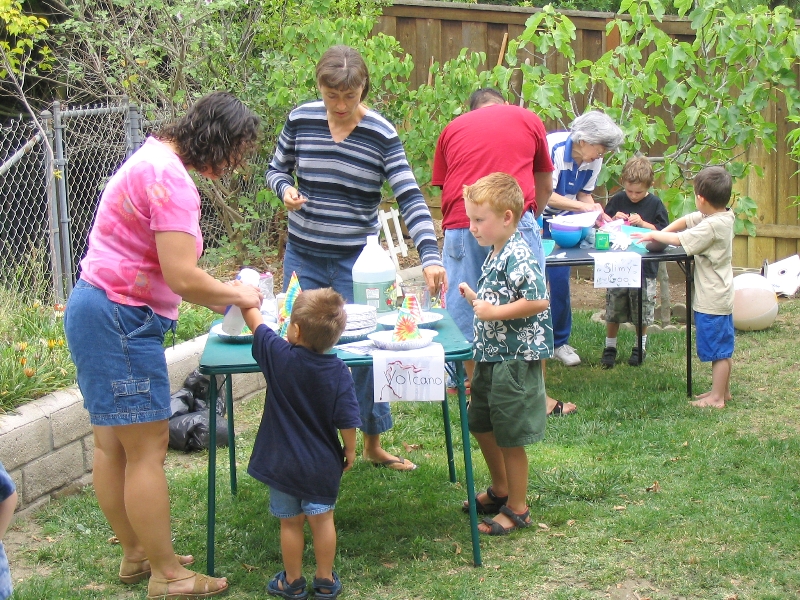 05-06-05: Leo gets his new guitar. He was delighted! Here he is with it, and then John showing him the sounds he can make, and then Roy with his guitar. We're a five-guitar family. Anyone coming into our house would think we were serious musicians!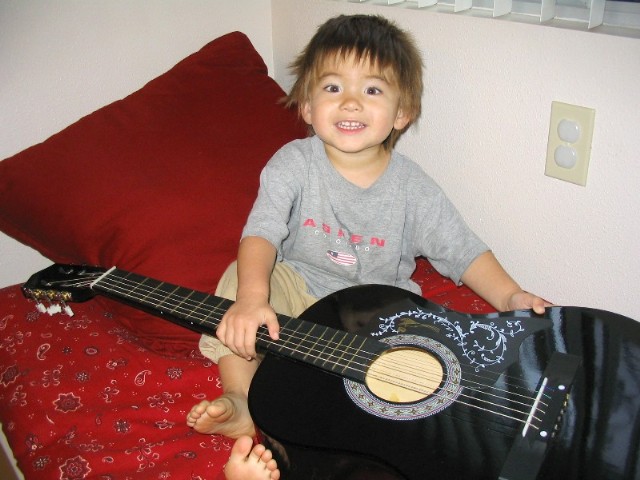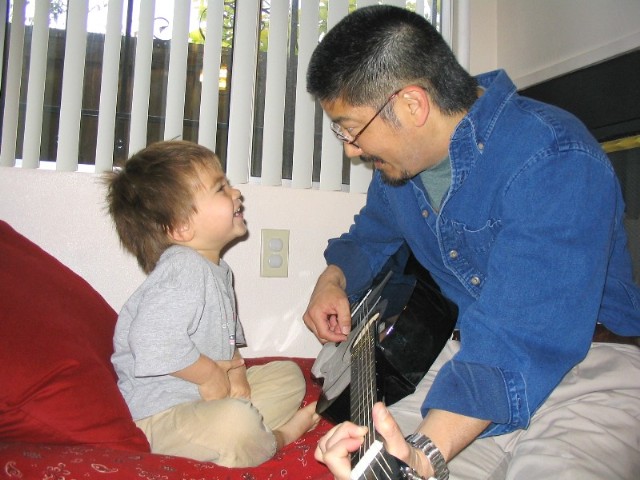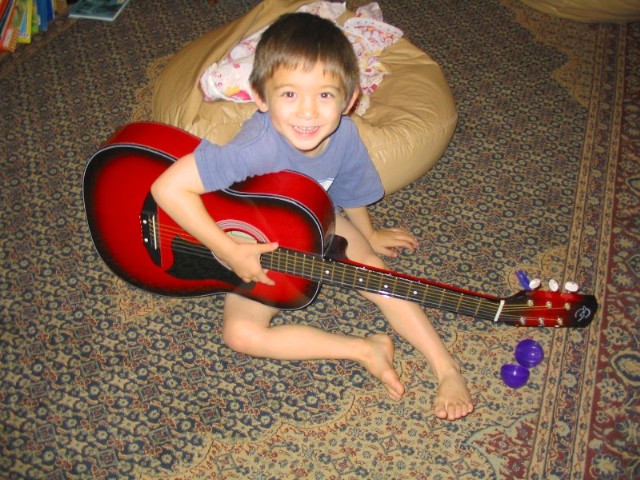 05-04-2005: Muffins with Mom. For Mother's Day, Montessori Discovery School had the kids serve muffins to the moms.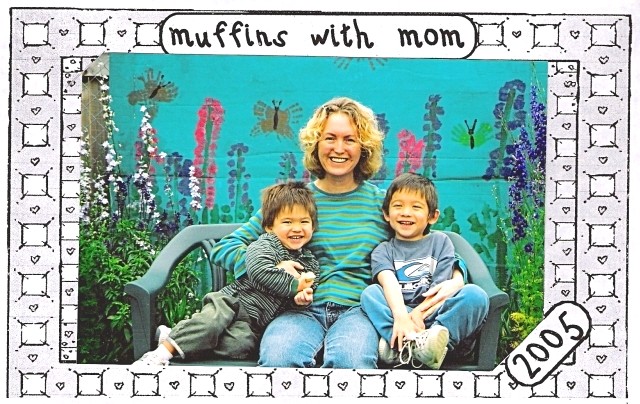 05-01-2005: A day trip to the desert. We packed up the car and the kids and went to the desert for the day. The complete Desert Jaunt Story is on its own page. Here are a few photos, though, as a preview: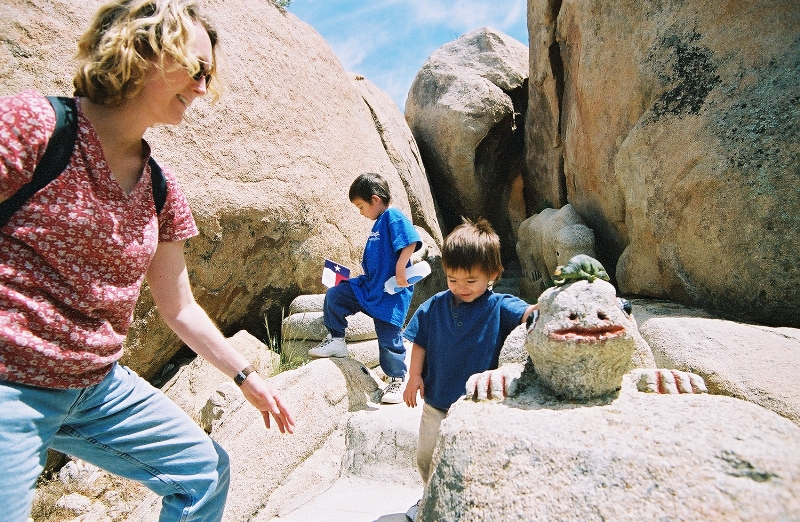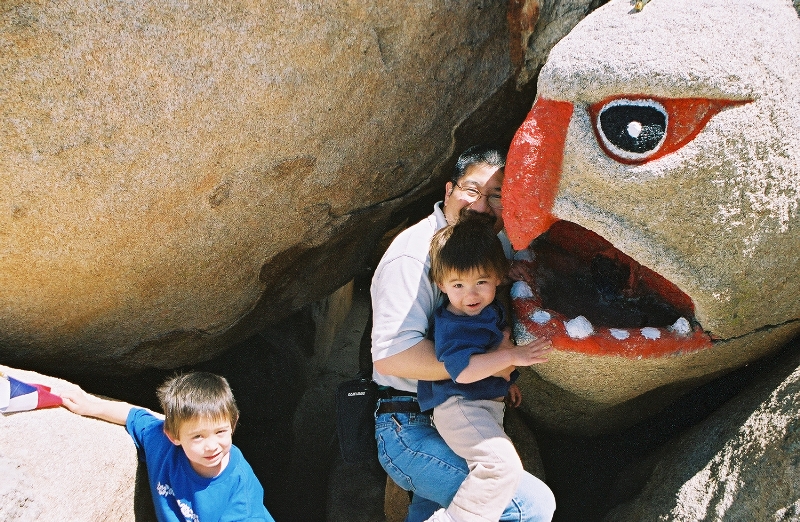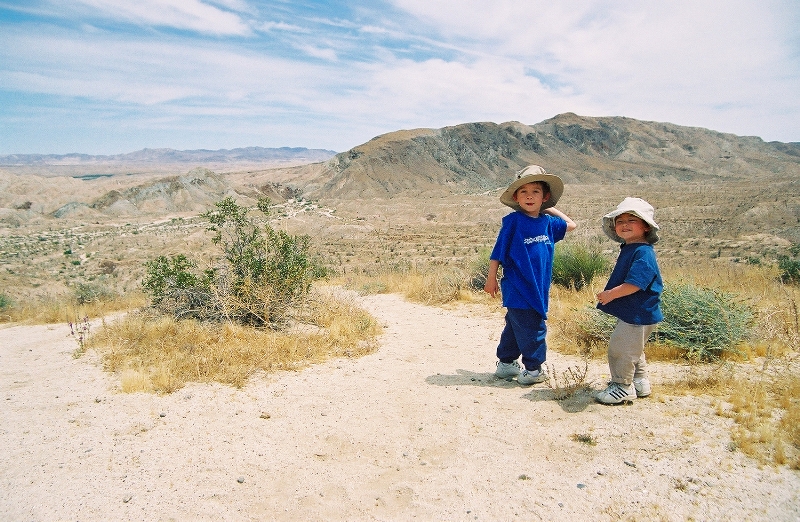 04-26-2005: Ondine on television. The Channel 8 Morning News featured one of Ondine's San Diego Family Magazine articles, about getaway camps for moms. And here she is, her three minutes of fame!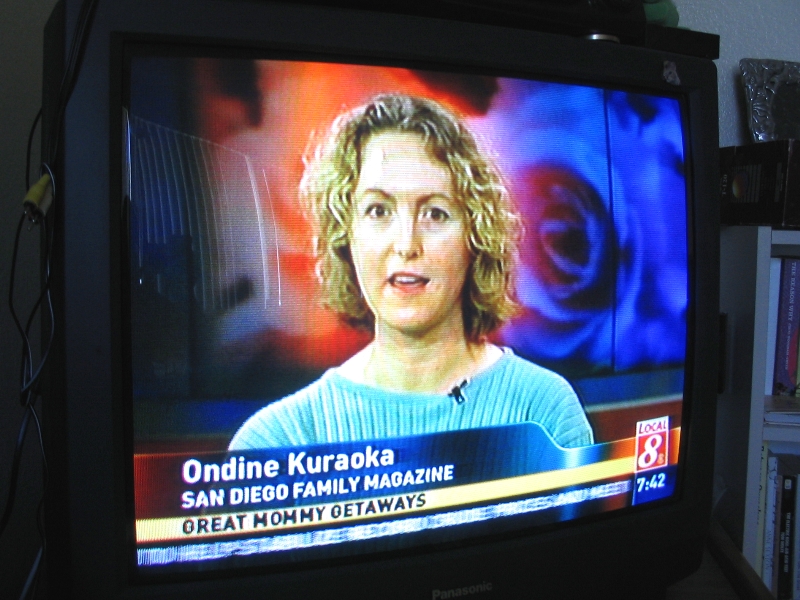 04-22 through 04-24-2005: A Solana Beach Getaway! We left Roy and Leo with Barbara and Bill, and headed off on a posh weekend getaway courtesy of Ralph's. Our complete Solana Beach Getaway Story has more photos. But, here are a few: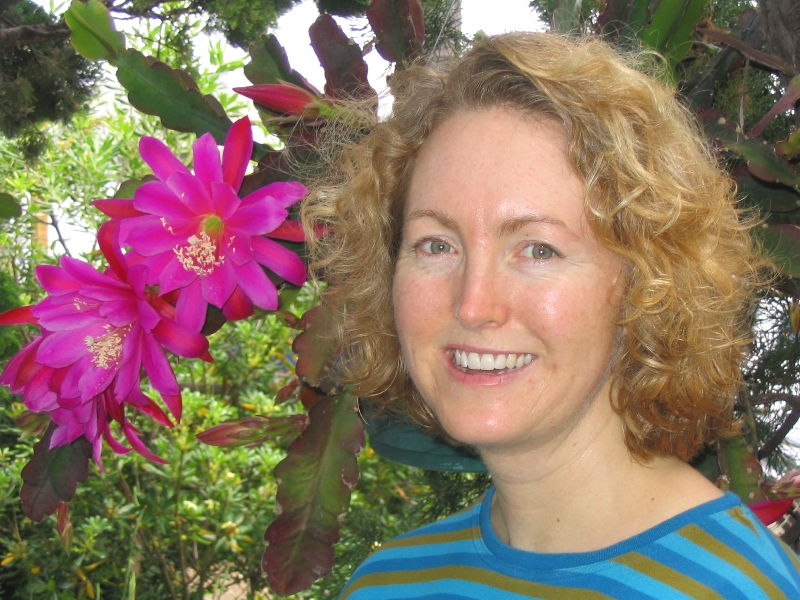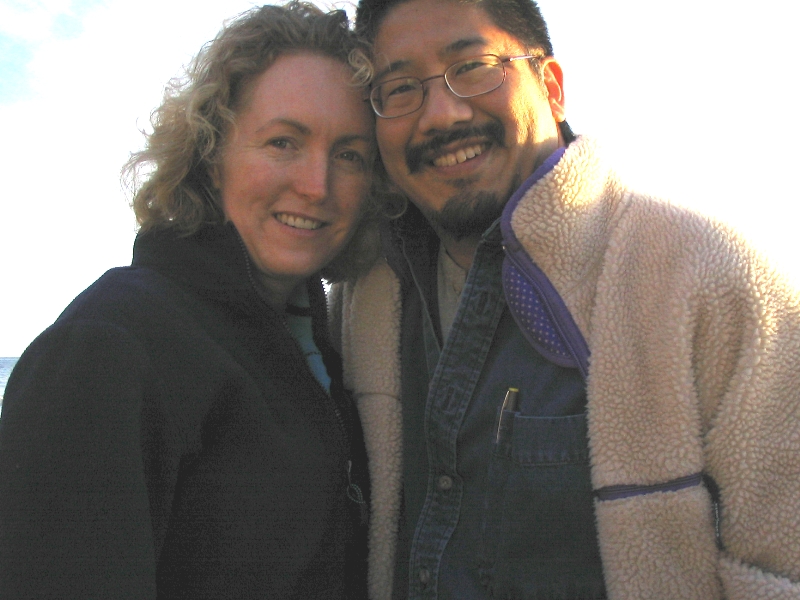 04-21-2005: Happy Birthday to Ondine! Here are some photos. On the far left is Ondine, Barbara, and Bill. Then comes Ondine and John. Then, there's Ondine, Roy, and Leo making their monster faces.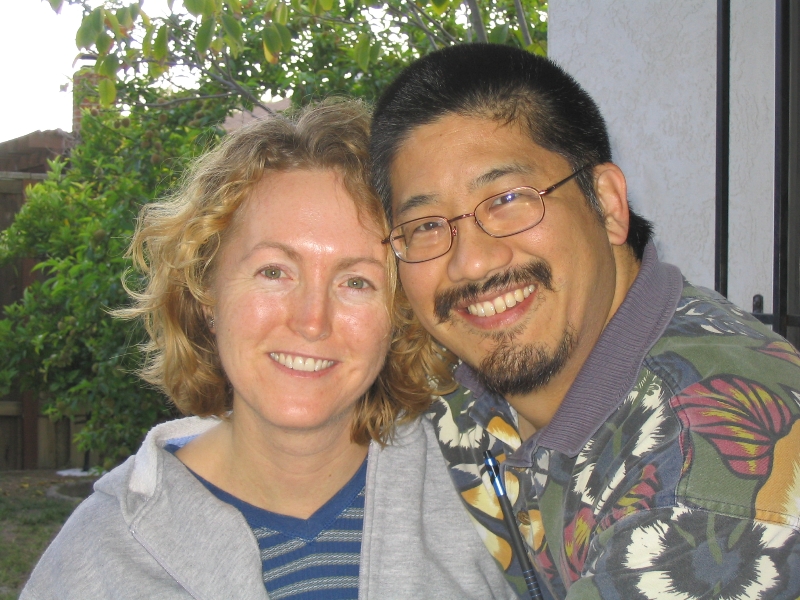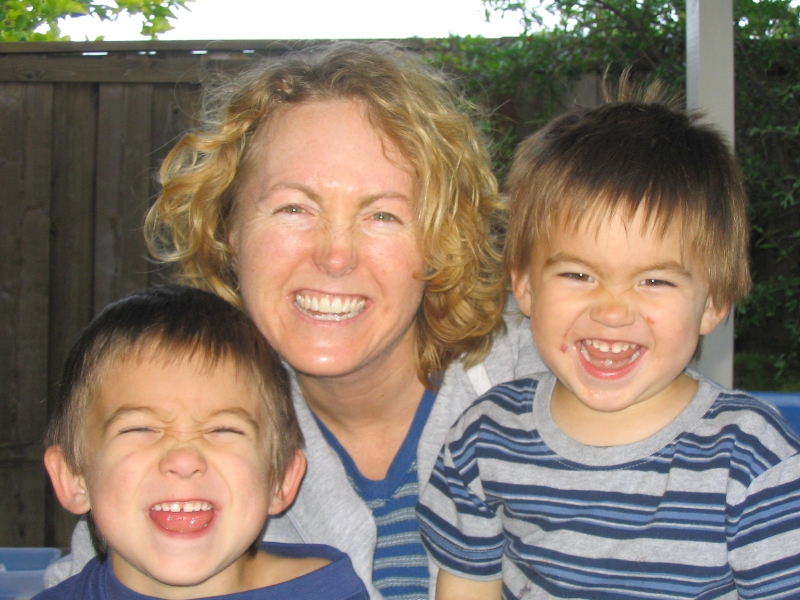 04-19-2005: Happy Birthday to Barbara! On the far left is Barbara with Ondine. Then come Roy and Leo, enjoying the heck out of their ice cream cake.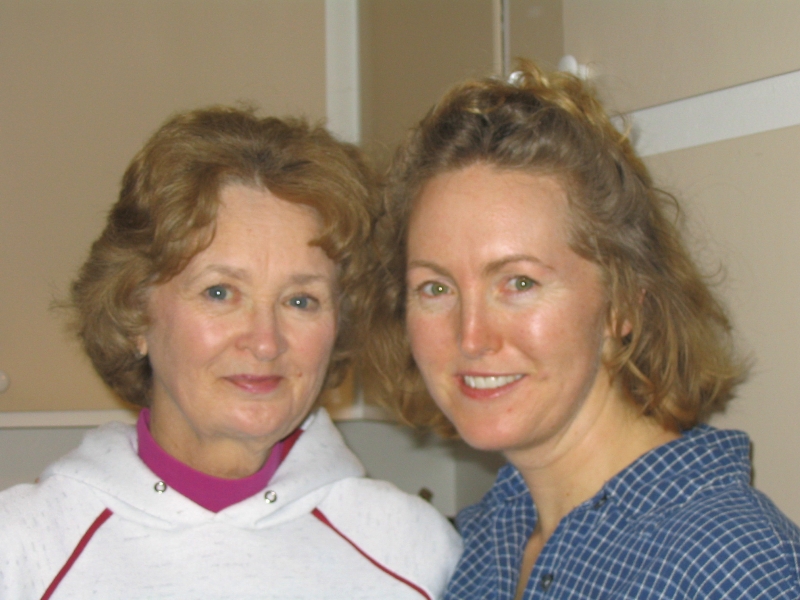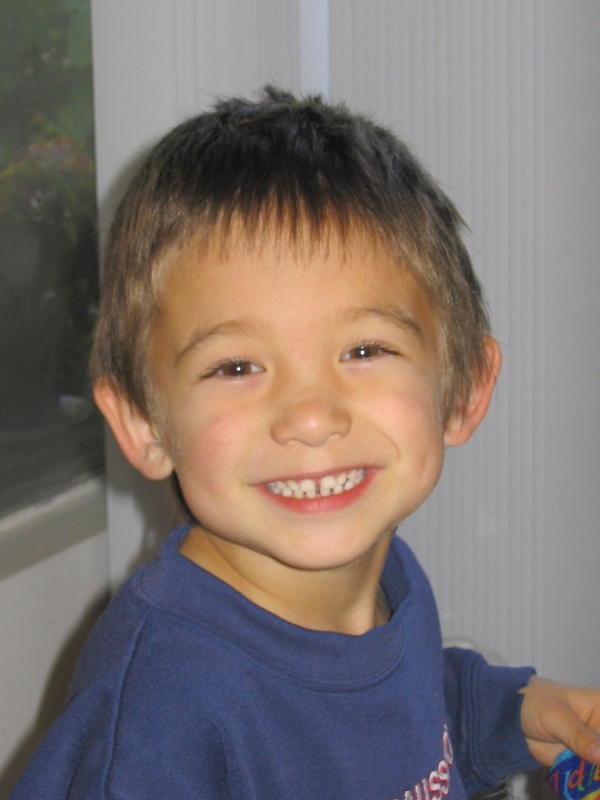 04-18-2005: Grammy and Leo at play. Grammy was visiting! While Roy was at pre-school, Grammy spent some time in the back yard with Leo.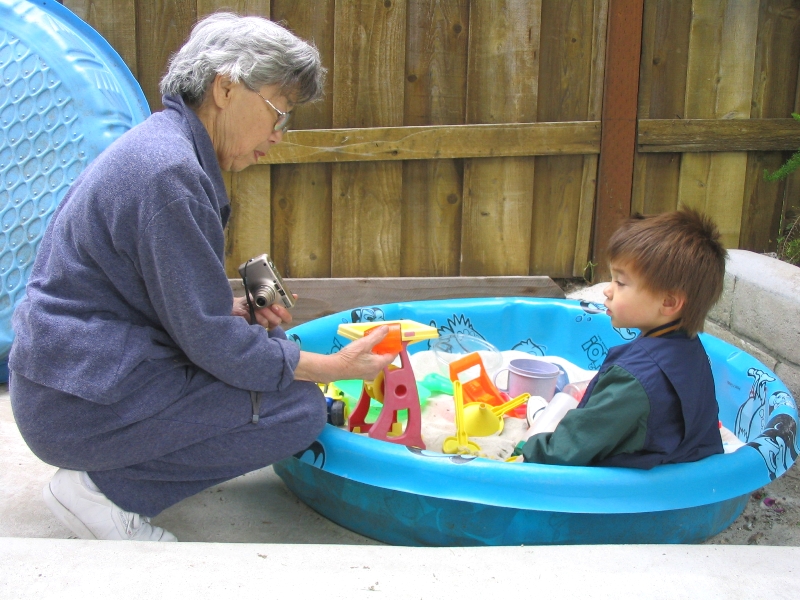 04-14-2005: Leo "takes a nap." As you can see by this short video clip, Leo does not always go straight to sleep when we put him down for his afternoon nap. Sometimes he has ambitious projects to do first, like dismantling his furniture. Click here to open the door and peek in for yourself (a 1.4 MB .mpg file).
03-27-2005: Aunty Merry's birthday at Easter. We celebrated Aunty Merry's birthday party at the Easter get-together at John's Mom's house in La Cañada. She shares her birthday with our wedding anniversary! Here's Aunty Merry and click here for a movie that'll put you in the middle of the singing (a 2.3 MB .mpg file).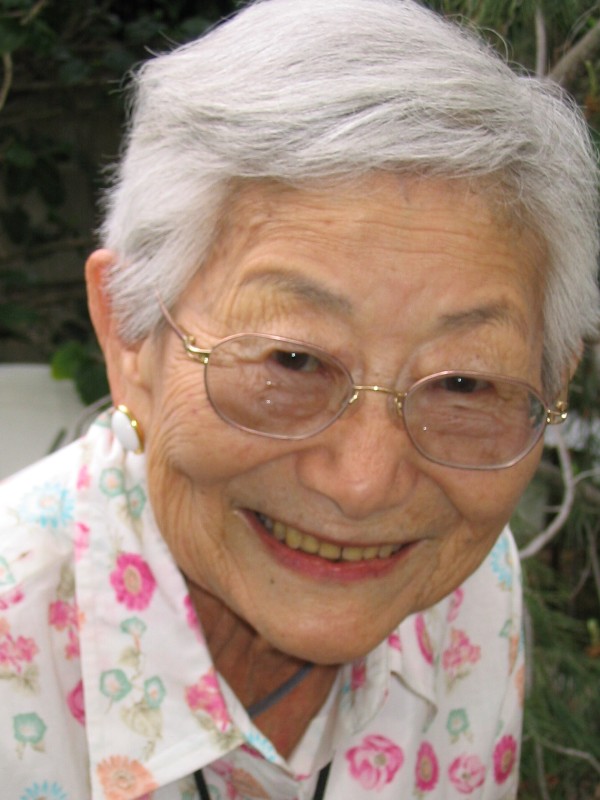 03-19-2005: Grammy, Roy, and Leo build a house. Grammy was visiting! Leo was under the weather, so Grammy and Roy made a gingerbread house from a kit Grammy brought. Leo perked up when he saw the candies, though. Ha!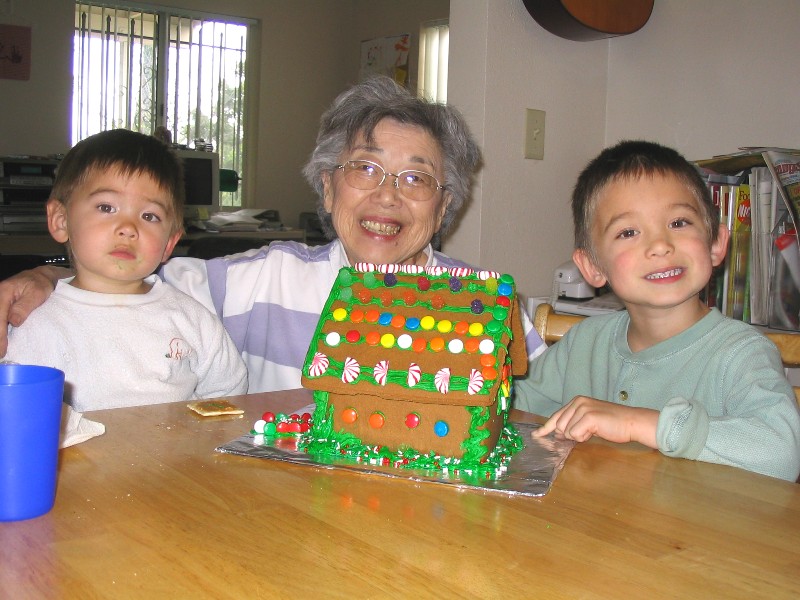 02-24-2005: Catarina, Garrett, Roy, and Leo on the mountain. This is the first sunny day after a week of steady rain, which catapulted us into the record books as the third-rainiest year in San Diego history (since records started being kept in 1850, anyway). A rain year runs from July 1 through June 30, and we've had 19.64 inches so far. Look how green everything is!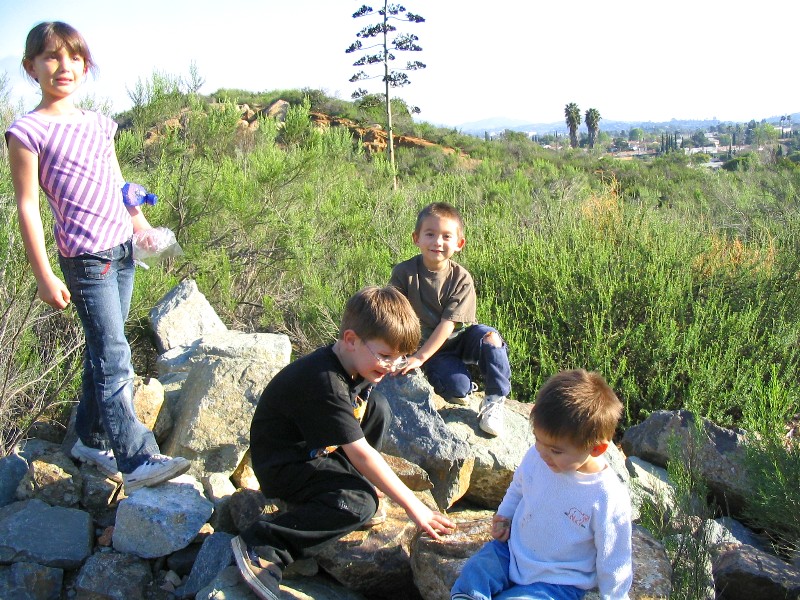 02-04-2005: Athena, Nick, and Alyssa visit! Here, Alyssa, Leo, and Nick are easy riders. Next, is Ondine and Athena.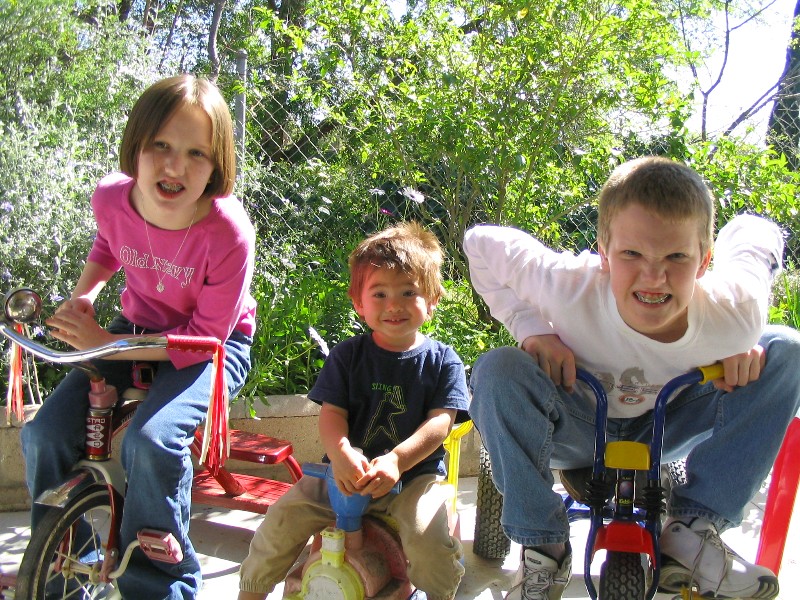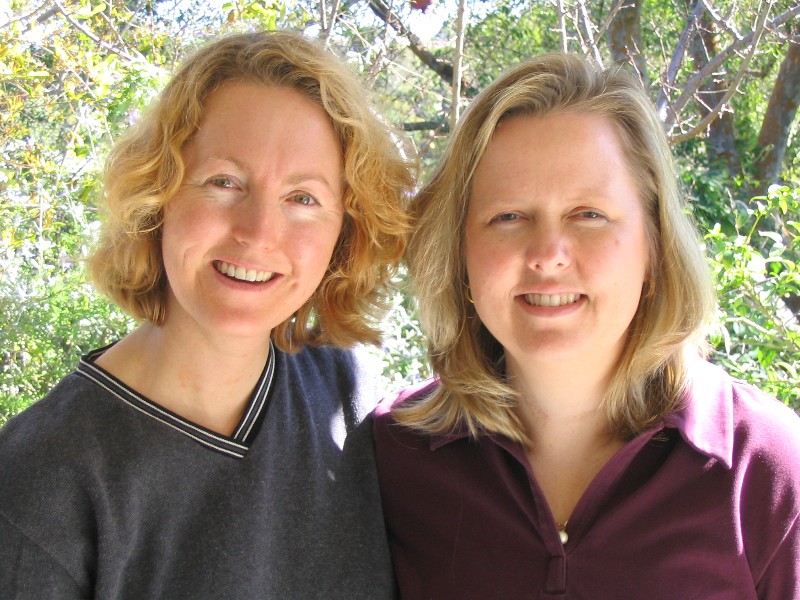 02-03-2005: Backyard matsch. Greg, Roy, and Leo frolic in the February sun, turning the back yard into a swampy, squishy, squelchy mud-fest. What fun!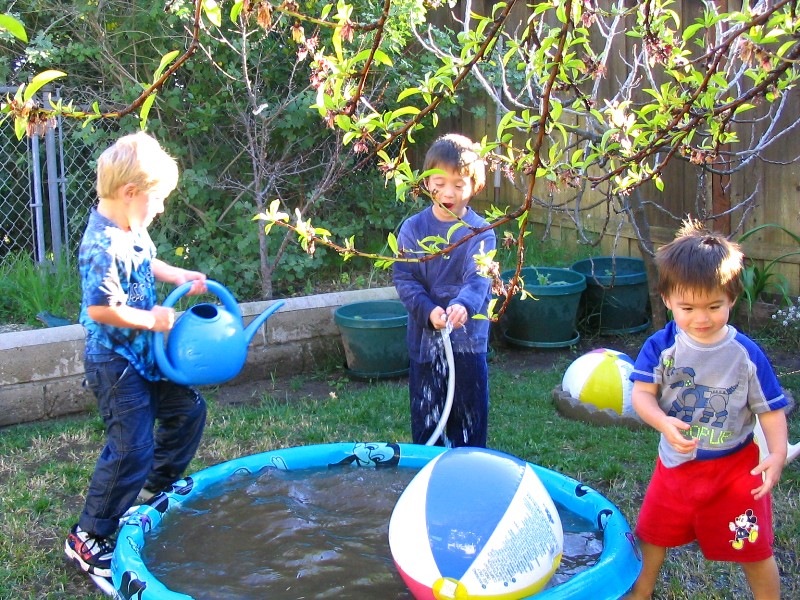 12-30-2004: Winter in San Diego. You know it's winter when the kids are wearing long pants. Still going barefoot, though.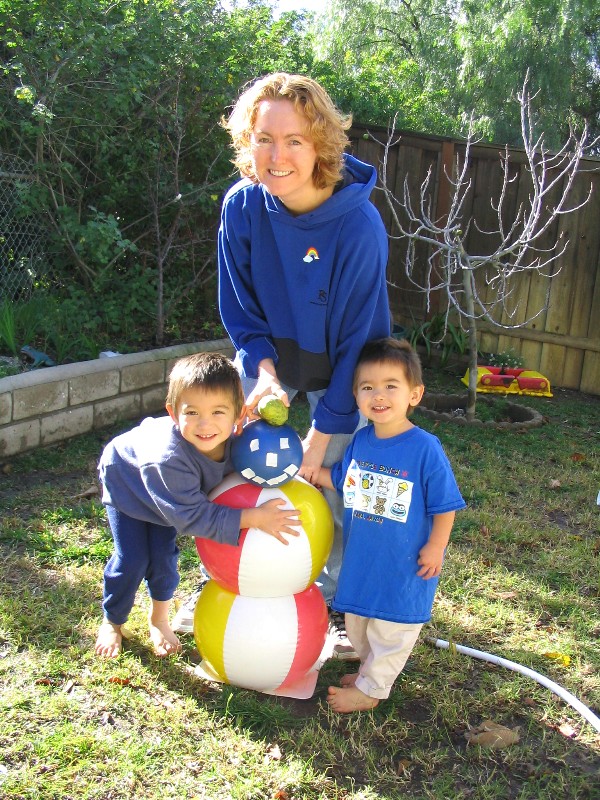 12-26-2004: Visit to Grandpa Mas. His partial namesake (Leo Masaharu) is asleep in the car, so here's the rest of us visiting John's Dad's grave. John's Mom Frances, John, and Roy are in front. Then Roy's cousin Daryl behind John. And John's sister Patty (Daryl's Mom) behind Daryl.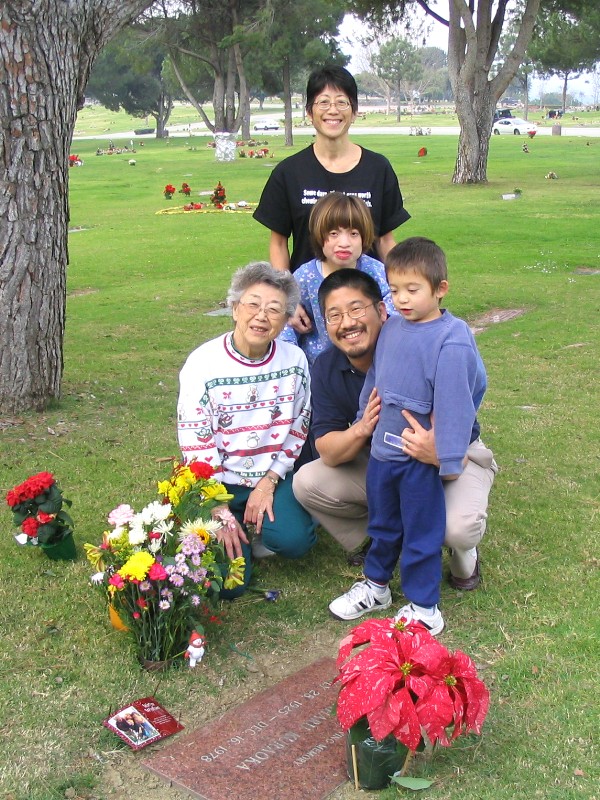 12-23-2004: Leo has a cold. He's a wreck! This photo amuses us because he never looks this out of it. Of course, it only slowed him down for the day. But what a nice, quiet day it was.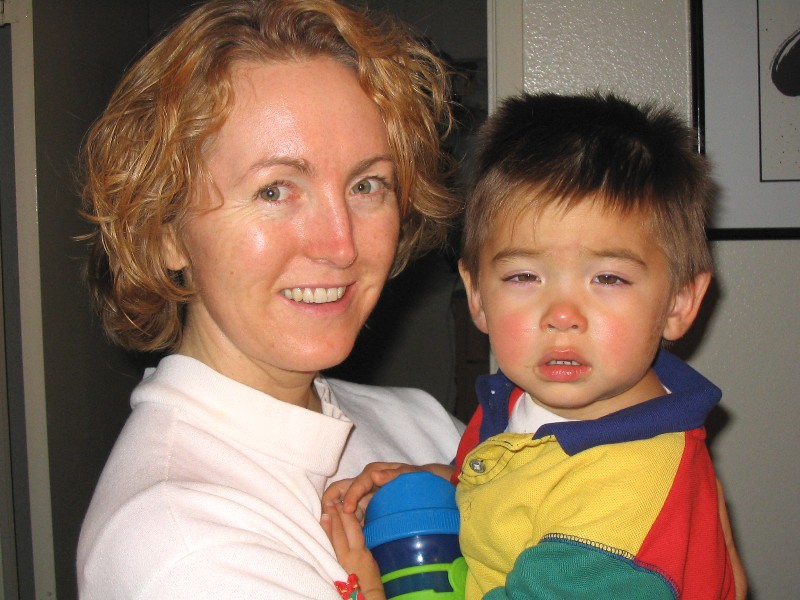 Archived Photos from 2004
Back to the Kuraoka Family main page