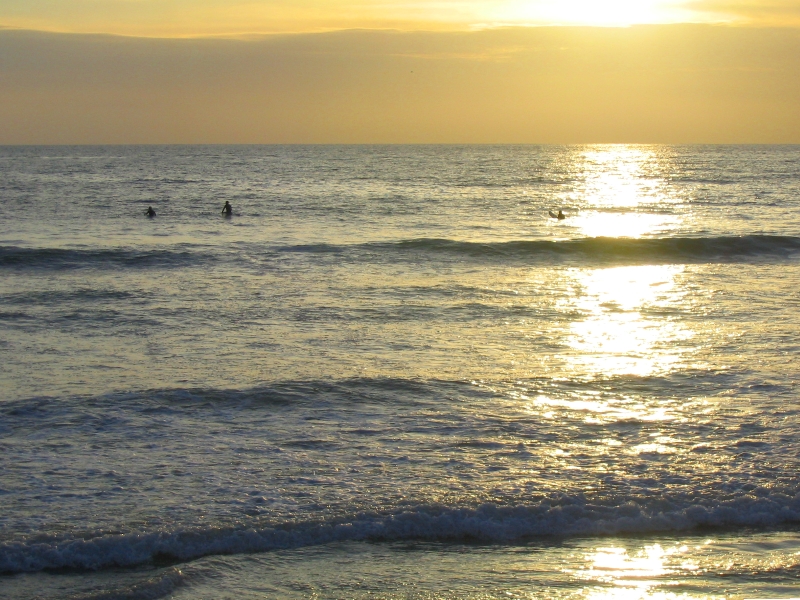 22-24 April 2005
All photos copyright John or Ondine Kuraoka.
Thanks to Barbara and Bill, we had a kid-free weekend getaway! And, our boys Roy and Leo got to spend the weekend next door, with Grandma Baba and Grandpa Billy. Woo-hoo!
A bit of background: We had earned two Ralph's Club Getaways a couple years ago by buying $300 worth of groceries for each free weekend getaway. This was back when we were buying baby food and two sizes of diapers, so the grocery bills really racked up. But, Ralph's ran out of vouchers, and many people, including us, didn't receive trips. There was a class-action lawsuit, and in the end we got two vouchers for two-night stays at any Marriott property.
We chose Solana Beach because we could get there quickly (less time traveling, more time resting). So it was that, Friday afternoon, we dropped off the boys next door and packed up our things for a weekend getaway.
For dinner, we stopped at Fuddruckers in Grossmont Center. We had a buy-one-get-one-free coupon on 1/3-pound burgers! Ondine had a Portobello mushroom horseradish burger and John had a Southwest burger with guacamole, pepper jack, and smoky bacon. Yum! After dinner, we stopped at Windmill Farms to get some apples for our hotel room.
We found the Marriott Solana Beach on Highway 101, no problem. We parked in the garage, but we had trouble finding the lobby. We walked around, went back down into the garage to start again, and walked around some more until we found the lobby. See, what you're supposed to do, is pull your car to the front door to check in, then park. Anyway, we had been upgraded to a beautiful ground-floor room with a king-sized bed and a giant-sized whirlpool bathtub. The room also had a small kitchenette, with a refrigerator and microwave. The pool was right outside our patio door. Here's our little patio.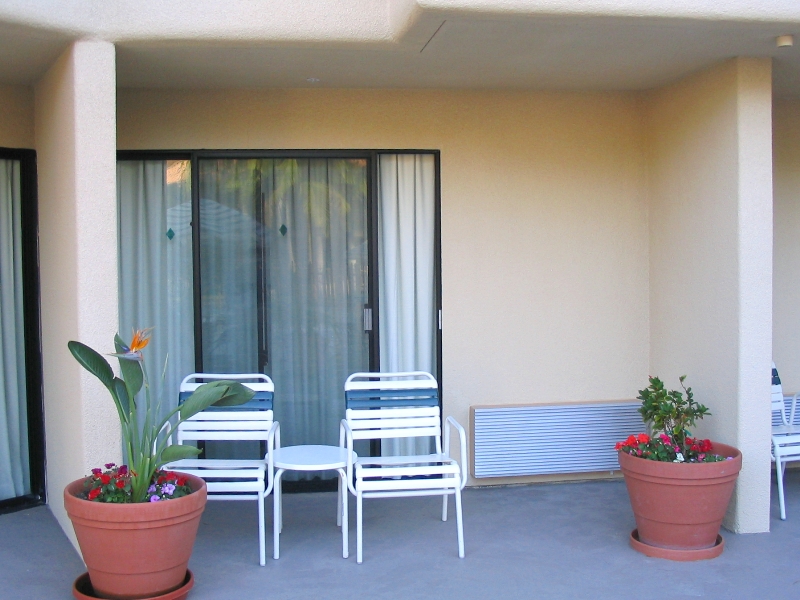 We settled in, adjusting the temperature of the room (a novelty to us) and exploring the various channels on the TV that we don't get at home. Ahh! Some kids storming up and down the hallways knock-ditched us, which was funny.
Saturday morning we awoke at our usual time (5:45), then rolled over and – sweet decadence! – went back to sleep for an hour or so. John got up and wandered to the business center to check his email. Ondine slept in a bit. Our getaway voucher included the breakfast buffet: eggs with grilled vegetables, bacon, sausage patties, waffle bar, melon, pastries, oatmeal, juices, and more. Yum!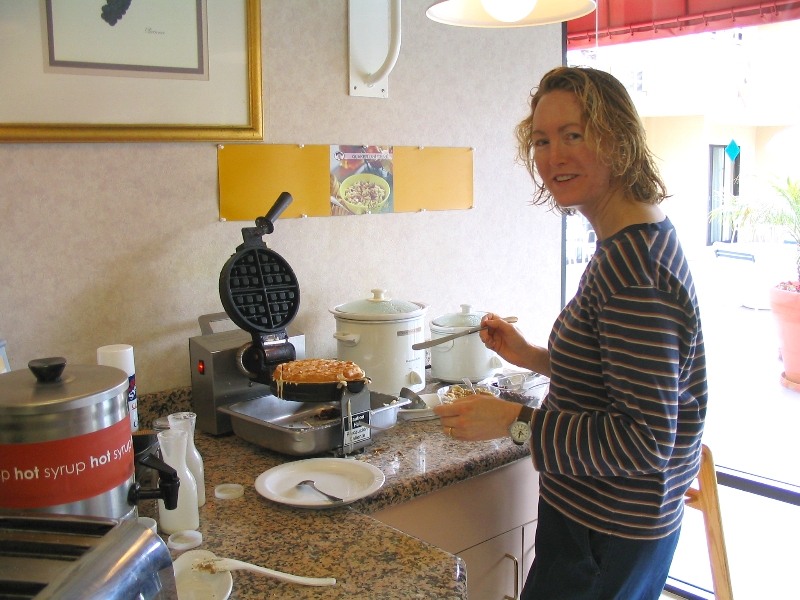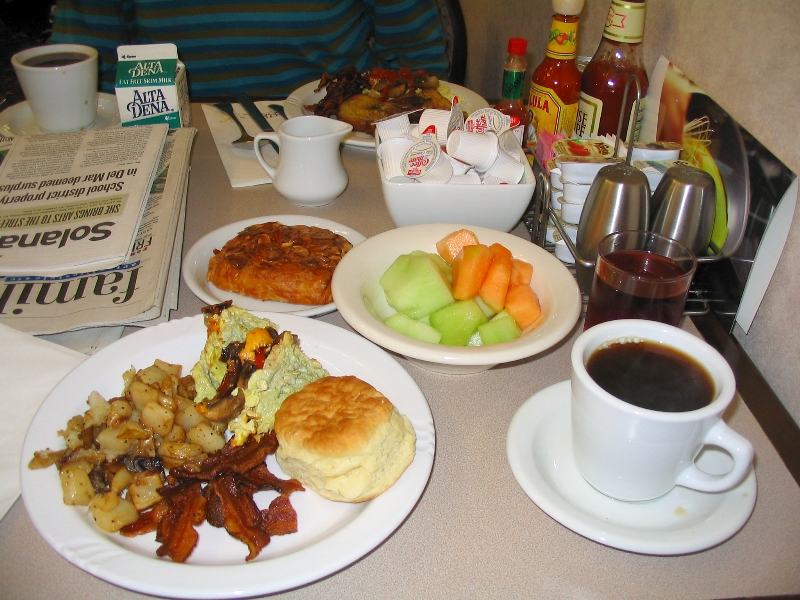 Well-fortified, we drove to Encinitas and found ourselves in the midst of the Encinitas Street Fair! We walked through the fair listening to music on our way to the Self-Realization Fellowship garden. It was such a beautiful place, alive with the peaceful energy of flowers in bloom.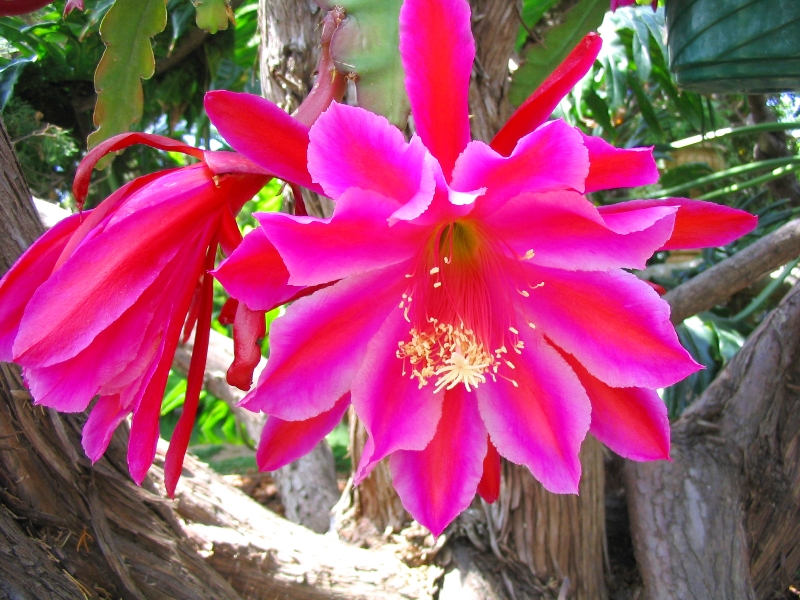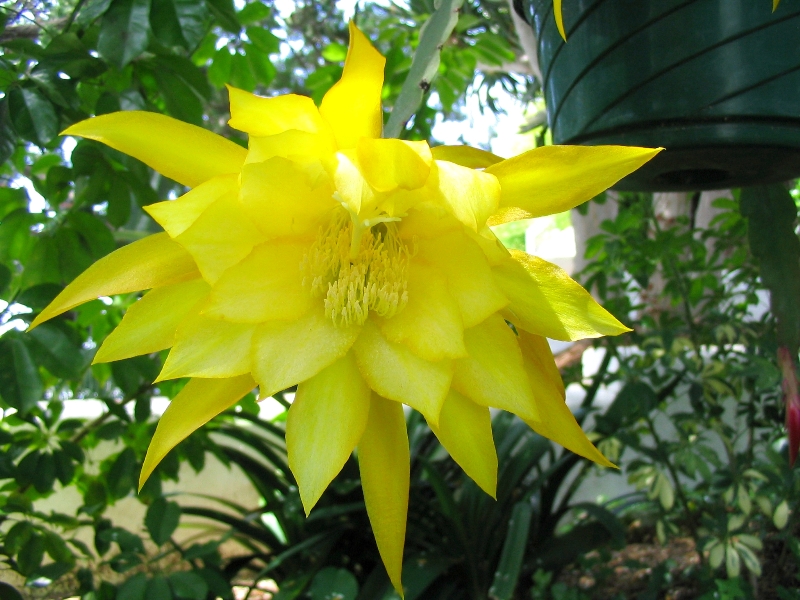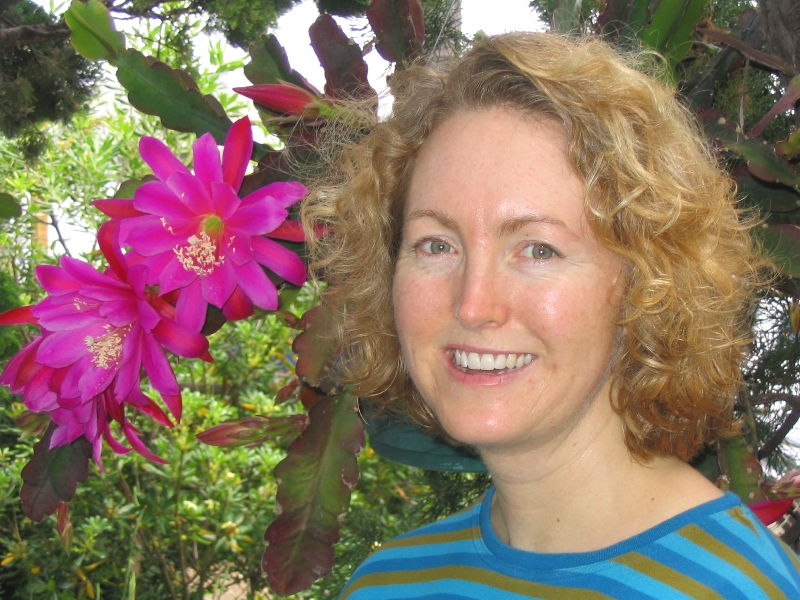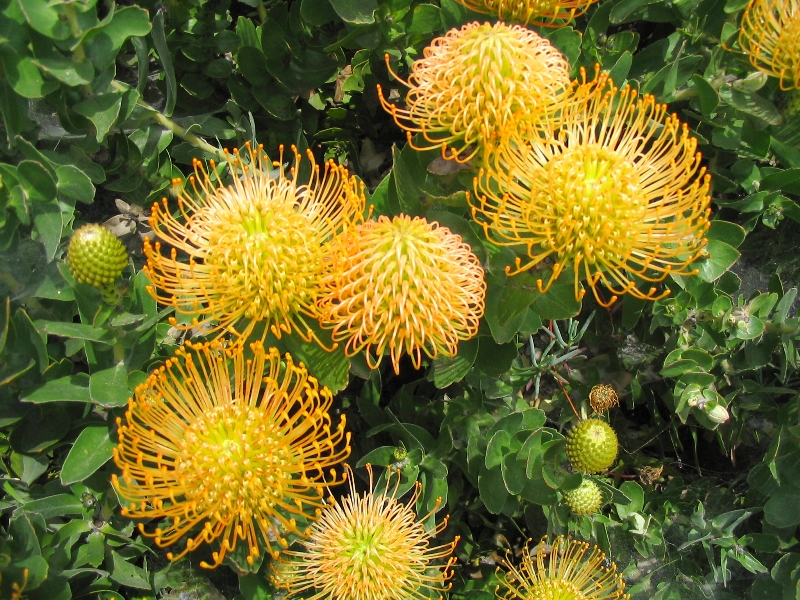 Then, we made our way back through the street fair, looking at booths and sampling various lotions and bath salts. Ondine bought some home-made cherry-grapefruit bath salts and a dozen succulent plants, plus something special.
We paused at a small beach in Encinitas to watch the waves roll in. It was high tide, so we couldn't walk along the sand. Here's Ondine, and here were both are, looking relaxed. And, here's the sunset, with surfers catching waves.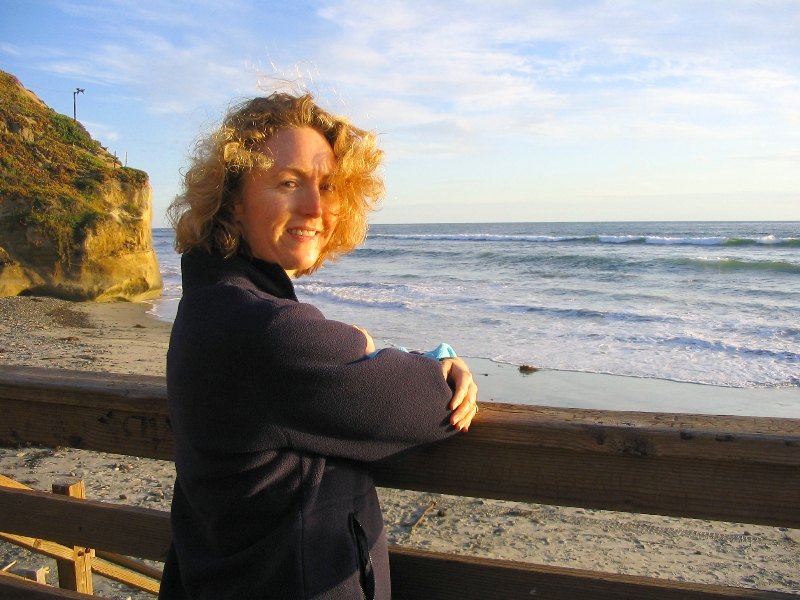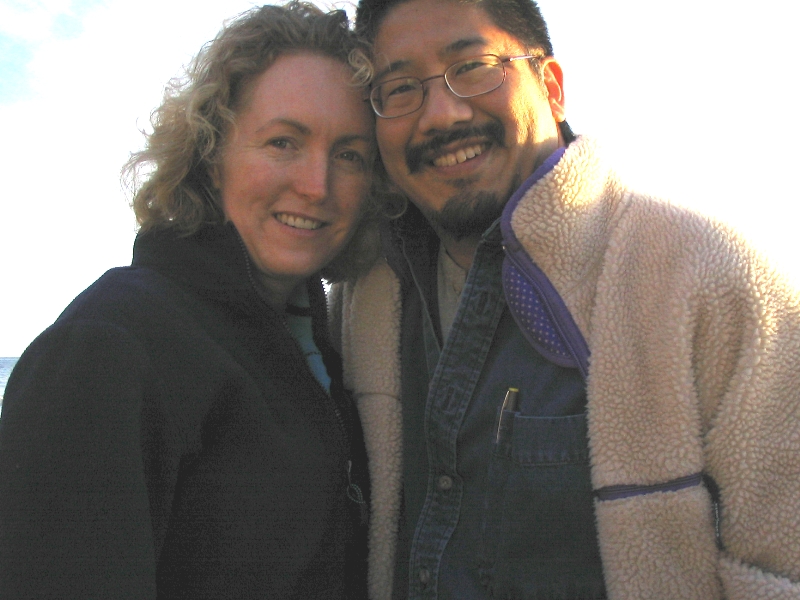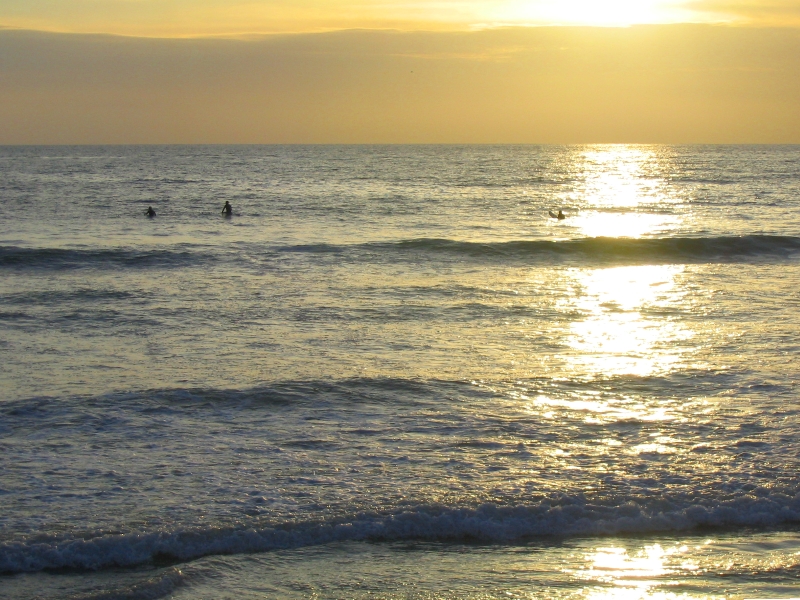 Back at our hotel room, we had a nice relaxing soak in the bathtub. John turned on the whirlpool jets for Ondine. We learned that if the water in the tub isn't high enough, the jets become fountains, arcing streams of water high into the air and eliciting squeals of dismayed surprise from the tub's occupant.
For dinner, we went to Siamese Basil, a Thai restaurant on Highway 101 recommended by John's friend and business associate Blaise – it was very good. We brought containers of our red curry and mint pork back as leftovers for lunch.
Sunday we had the breakfast buffet, then one of us (we're not telling whom) came back to the room and ate her leftover curry, a second breakfast! We scrambled to enjoy the whirlpool (with the water filled high enough this time) before checking out at noon. The bill, by the way, would have been a bit over $300.
We drove over to Del Mar, parked the car on a side street, and walked through the main drag.
A heavy drizzle started coming down as we made our way to the beach. Still, we had a nice long, damp walk. Ondine collected colored stones and John took pictures.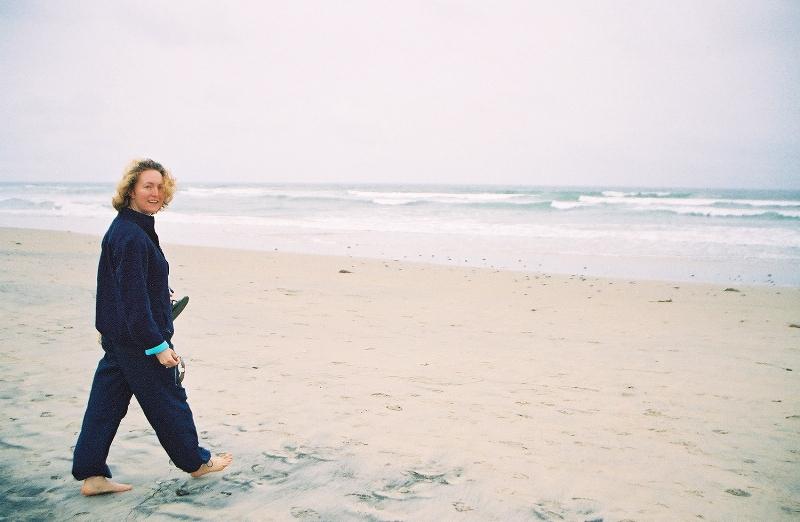 The drizzle was driven by a brisk onshore wind. We got soaked as thoroughly as we'd have been in a real downpour, only just on our sides facing the water – the lee side of us stayed relatively dry. We had lunch at Sbicci's in Del Mar, another recommendation from Blaise – excellent. We shared paella and arugula salad – delicious!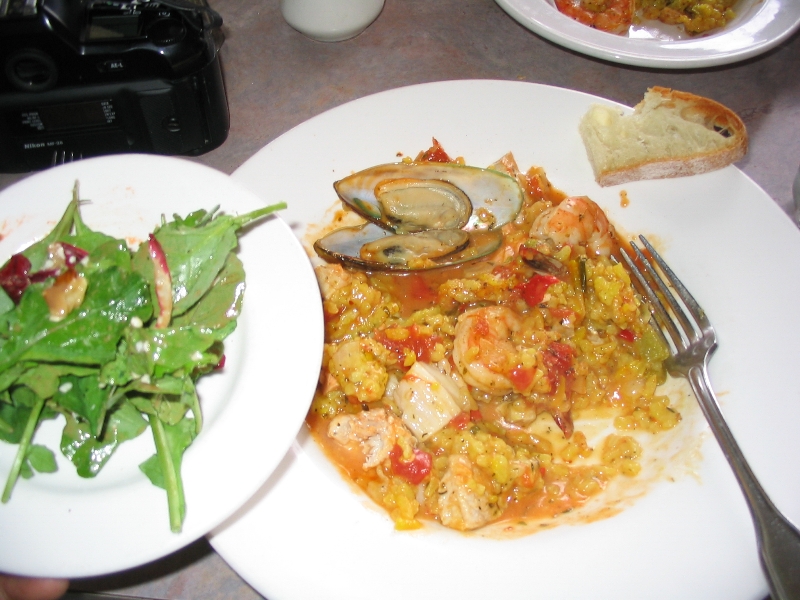 Finally, relaxed and sated, we headed home. Roy and Leo had had a great time too. What a wonderful weekend!
What's going on with us now? Check out our Weekly Journal for the latest, updated at least once a week since 1998.
Back to the Kuraoka Family main page, with more stuff including other travel journals!