The Kuraoka Family Goes Downtown
www.kuraoka.org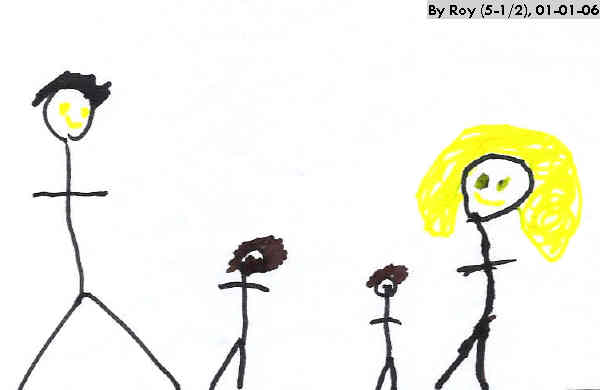 Us: John, Roy (5-1/2), Leo (3-1/2), Ondine
A family outing to downtown San Diego, March 25 2006
Saturday afternoon, we all went downtown for a family daytrip. We parked at Horton Plaza, and bought a car charger for Ondine's cell phone. With that purchase came 3 hours of parking (worth $18). Parking validation accomplished, we crossed the street to the Downtown Information Center.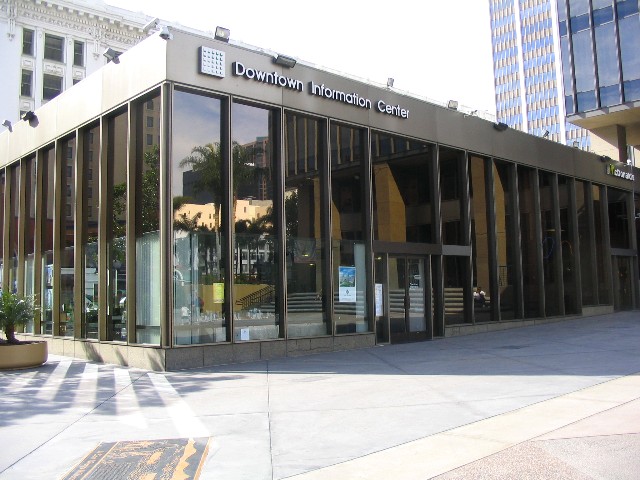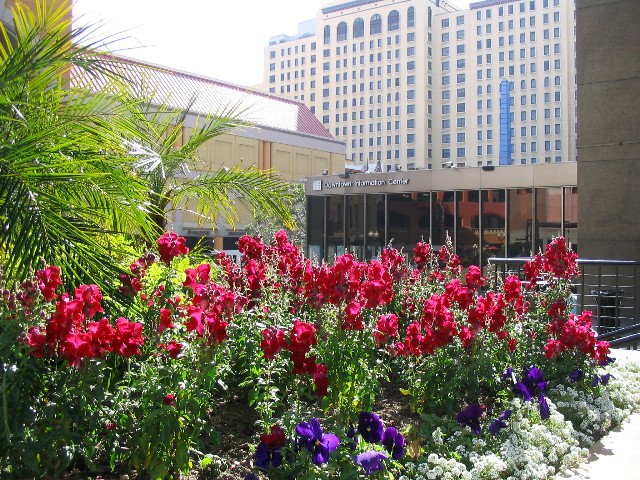 It has a sprawling scale model of downtown, with all the buildings. To get building permits, developers must provide a model of their building for the layout. The boys were fascinated by the tiny cars lining the streets and freeways. A fun challenge: find the truck going the wrong way on the I-5! (You can't see it in the photos.)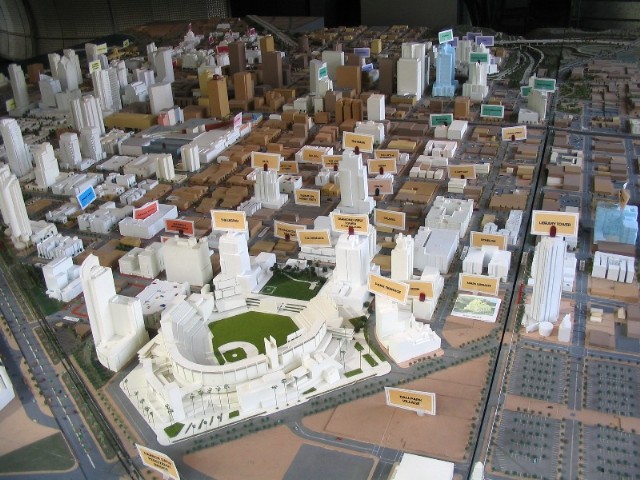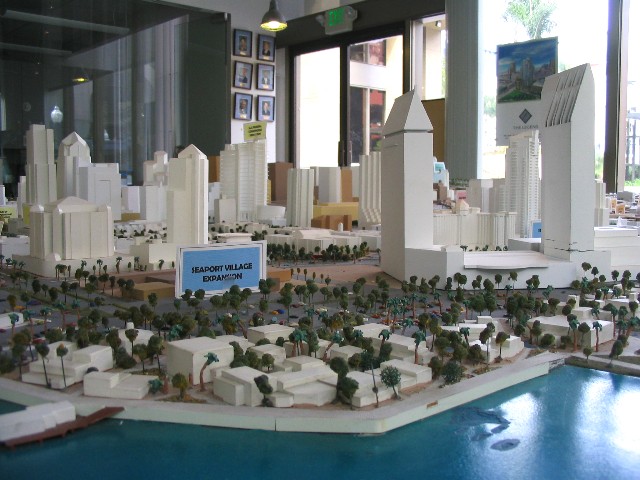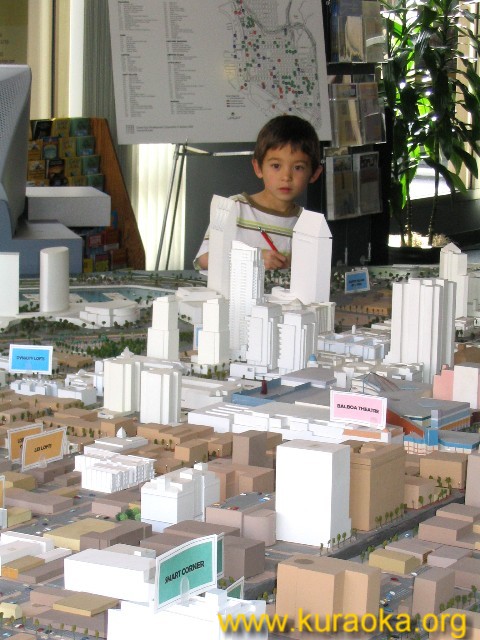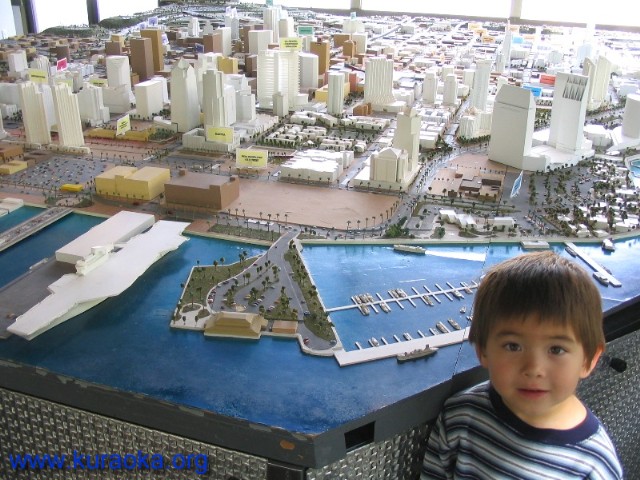 After that, we pounded the pavement – in circles – looking for the Urban Art Trail. Instead, we found VIP Classic Cars at 861 Fifth Avenue, an indoor showroom packed with gleaming vintage and exotic cars. After a quick look around (John's pick: a red Ferrari 400i for $44,950), we continued our quest.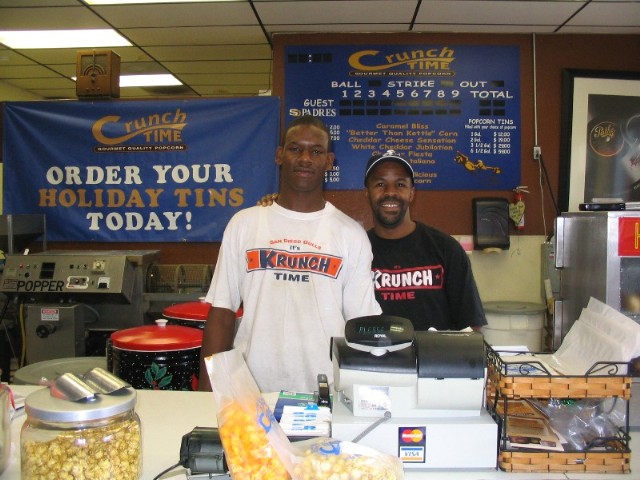 The aroma of fresh popcorn and hot buttery caramel drew us into Krunch Time, at 640 Broadway. David, the co-owner, gave Ondine an interview and the boys a sample of hot caramel popcorn fresh from the kettle. It was like nothing else we've eaten; chewy but soft, like fluffy toffee. We bought a bag of caramel popcorn and a bag of cheese popcorn. Yum! The ample "single" bags cost $2 each.
We strolled out munching handfuls of light, crunchy popcorn, and soon found the Urban Art Trail, a string of colorfully painted and mosaic-covered utility boxes, tree curbs, murals, and trash containers.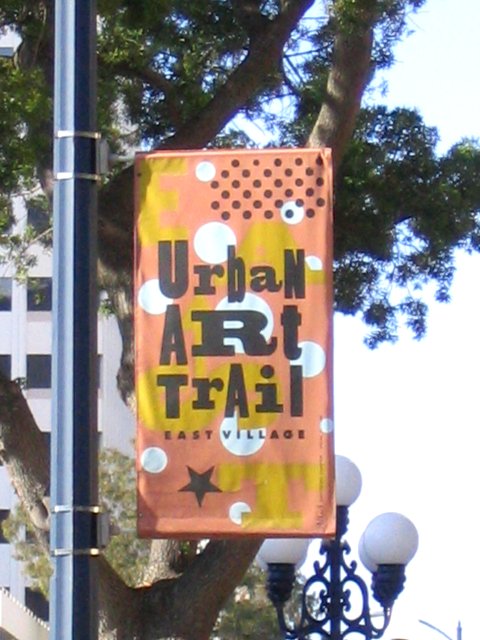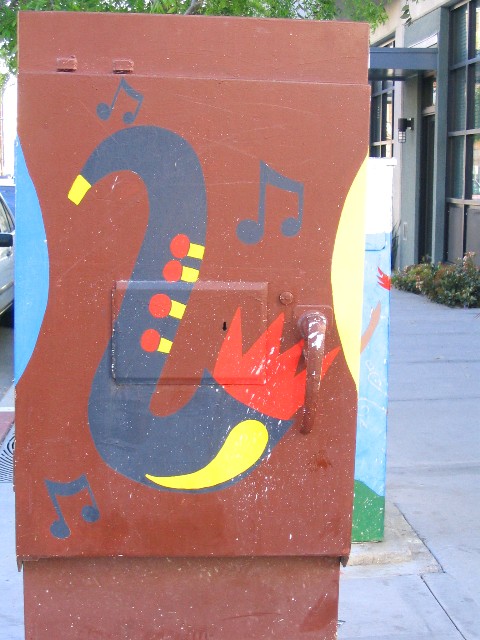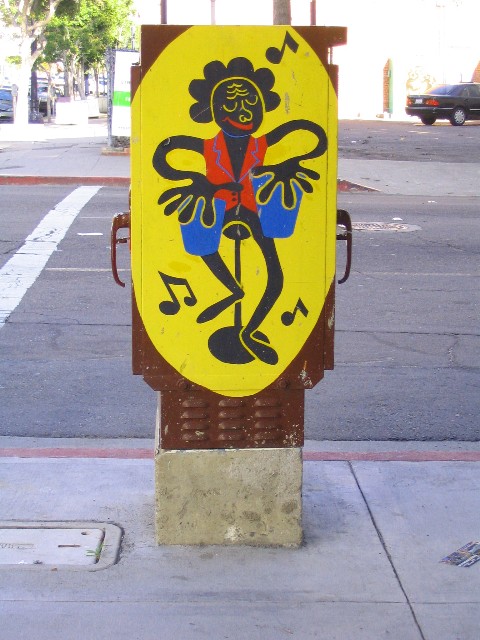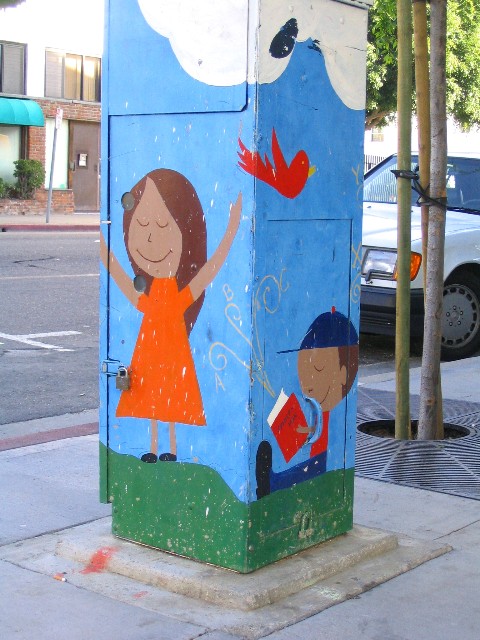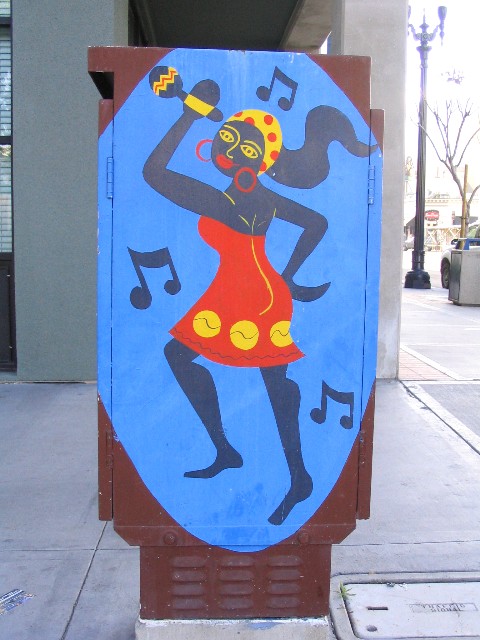 Later, we stopped at a hole-in-the-wall pizza place, where we each had a slice of 99-cent cheese pizza. It was surprisingly good, with a chewy crust of medium thickness and stretchy mild cheese atop tangy tomato sauce. The boys were delighted. By then, our three hours were nearly up. We hurried back to Horton Plaza, stopped at the restrooms, and made it out of the parking lot with no time to spare!
Ondine wanted to see the Many Hands Crafts Gallery at 302 Island Avenue, across from the Horton Grand Hotel. It claims to be San Diego's oldest arts cooperative. John circled the block in the car with the boys while Ondine went in.
On the way home, we asked the boys to tell us their favorite part of our daytrip. Roy immediately chose the model of downtown. Leo chose the animals. Animals? He continued with the casual, sincere air of a born con man. He said he liked the tiger and the elephant, but also saw a frog and a lizard. Animalss, he says. Lissard. He was fast asleep when we got home.
This downtown getaway was also research for one of Ondine's articles. Our total tab was $4 for the popcorn, $4.27 for the pizza, and nothing for parking at Horton Plaza (but we bought a cell phone charger). The cheapest ways to get your parking validated at Horton Plaza are souvenirs (postcards are 2/$1.00 and keychains start at $2.99) or food from the food court. There's also a Longs Drugs for more-prosaic items, like sunscreen or notebook paper.
Back to the Kuraoka Family main page, with lots more stuff, including photos!