Barbara's Notes from Japan, May 2015

www.kuraoka.org
May 2015
This page holds selected photos and messages from Barbara during her month-long sojourn studying Japanese at Coto Language Academy in Tokyo, Japan, May 2015.
Friday, May 1
Hi dear family!
Here I am in Tokyo. All is well, found hotel via airport bus and then taxi. The hotel is basic, VERY small room, clean & ok. Will have to put one of my two suitcases on the bed. Tomorrow the adventure continues, will find the train station. Love you all
Baba

Saturday, May 2
Hi dear family,
The Coto language school is convenient by partly walking and then by train. Went west on the train first, not correct, had to double back east, but now know how! Bought a month pass for the train. The Tokyo Dome with amusement rides is very close, thought of Leo and Roy! It is all definitely big city, lots of traffic and people!
Love to all!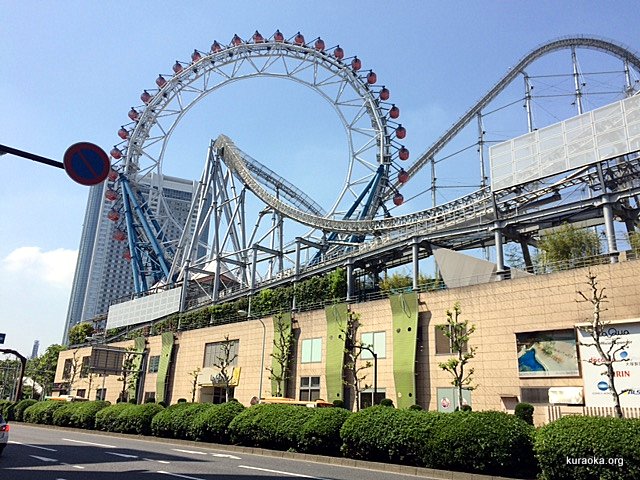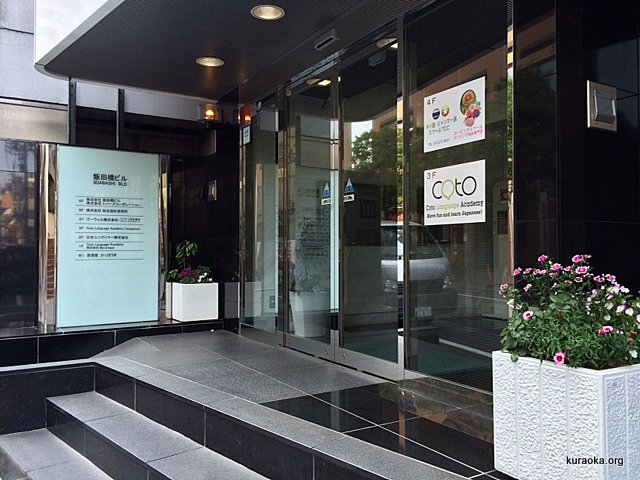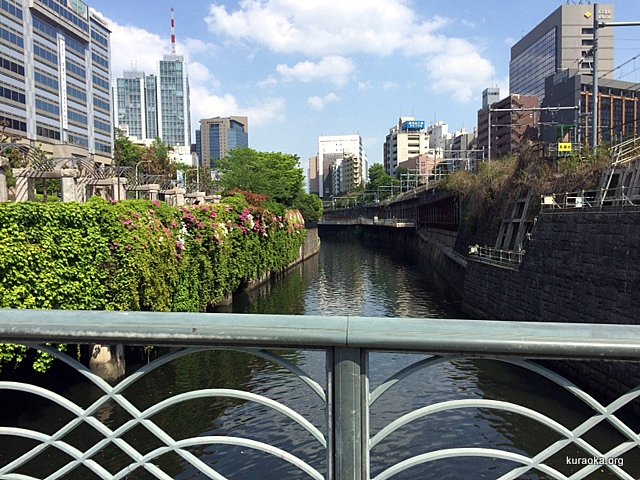 Sunday, May 3
(Sent to Summit UU Fellowship congregation)
Hello from Tokyo!
I'm settling in well, off and running. Arrived Friday evening at Narita airport, then found my way to the hotel. Yesterday I practiced the train route to the Coto Language Academy (Japanese) which starts on Monday, 9:30-12:30, daily M-F. Today I attended the Sunday 11 a.m. service at the Dojin Christian (Universalist) church and met very nice people. I listened to the children and youth choir practice before the service. The minister, Rev. Iikawa, is in the center. The congregation has 35 members. Frank, your letter was much appreciated. Mary, I presented the RE-child crafted chalice to the Dojin church children and the congregation. To me, the chalice represents the earth with the colors of flowers. I purchased a blue glass and blue candle votive for it, the sky. It looks just perfect in its new home, see the second photo. The children and adults really enjoyed the gift.
After the church Service, had a delicious lunch with a lady from the church. The man behind her in the photo looks like he did NOT want to be in the picture! Ha! I was being silly making a peace sign with my chopsticks.
Greetings for now from Tokyo,
Barbara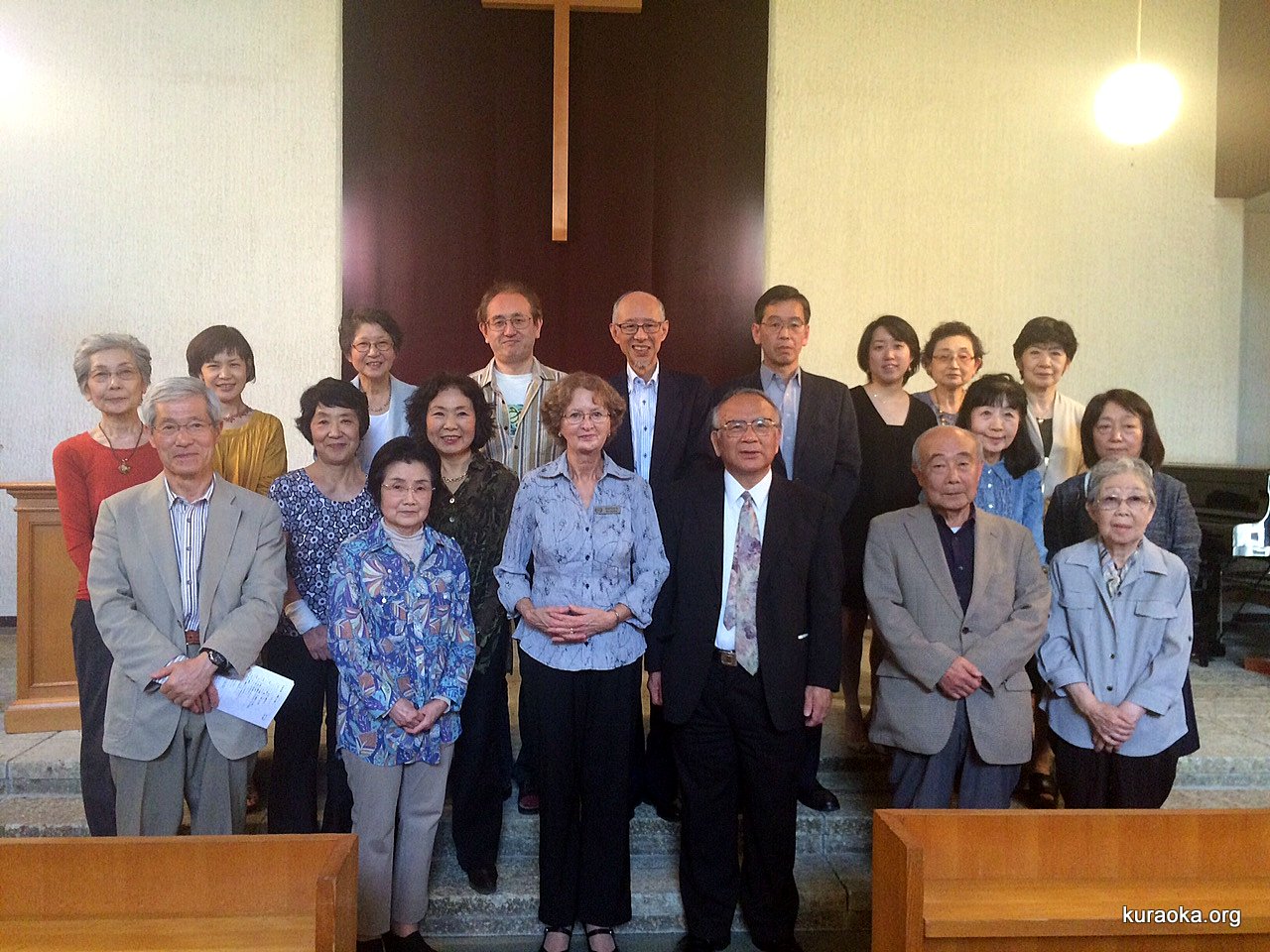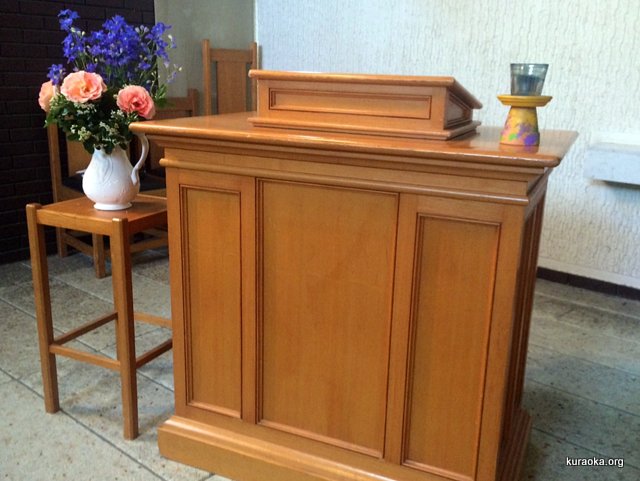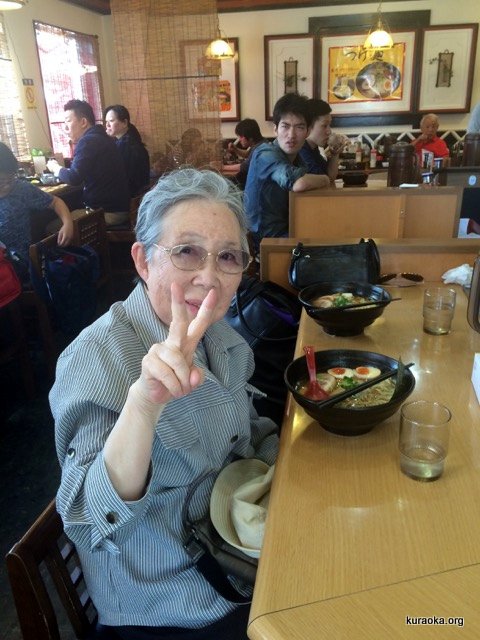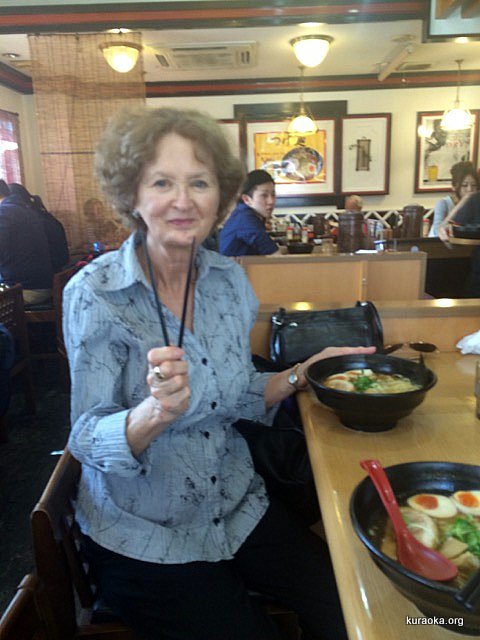 Monday, May 4
Hurray, starting classes at the Coto school. Great first class. Focused on conversation with a good teacher, named Usui. There are 8 people in the class. They are from England, Australia, Belgium, Russia, Germany, can't remember the other countries right now. Class is 9:30 till 12:30. The German man and I had fun speaking Deutsch. I had no trouble getting there on the train because I had practiced on Saturday, yay. Tomorrow after the class, we will walk approximately 10 minutes, all together, to have lunch at a restaurant, with Usui.

The people I had lunch with today, after the Coto lesson, Nobuko and Hidehiko, are the sister (Nobuko) and brother-in-law (Hidehiko) of the Japanese tutor I worked with in San Diego, Toshiko Hasegawa. (Toshiko is a Japanese Language teacher at a SD City Schools high school.) Nobuko and Hidehiko live here in Tokyo and Toshiko put us in touch with each other.

So odd to think when I am typing here at 7 p.m., you are sleeping at approximately 3 a.m.

Last night, there was a small earthquake here! I woke up with the hotel building gently rocking!!! I believe the magnitude was 3. something. I debated jumping up, but it was over very quickly. At lunch today, Nobuko and Hidehiko reminded me to duck under a table if an earthquake happens. I have the big desk/table here in the room so I could do that.

The man sitting next to me in the small breakfast room was wearing a new Apple watch, so of course I had to check it out and speak to him. He spoke excellent English. He had the Mickey Mouse model. There are mostly Japanese people here, quite a few families with children too. The staff are friendly and helpful.

Hugs to all, including Shadow!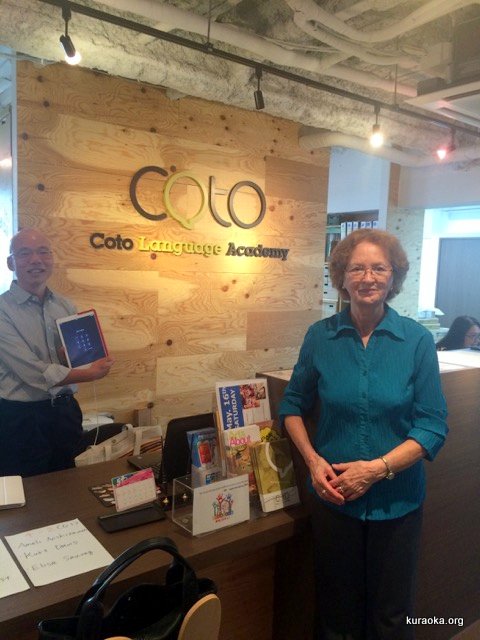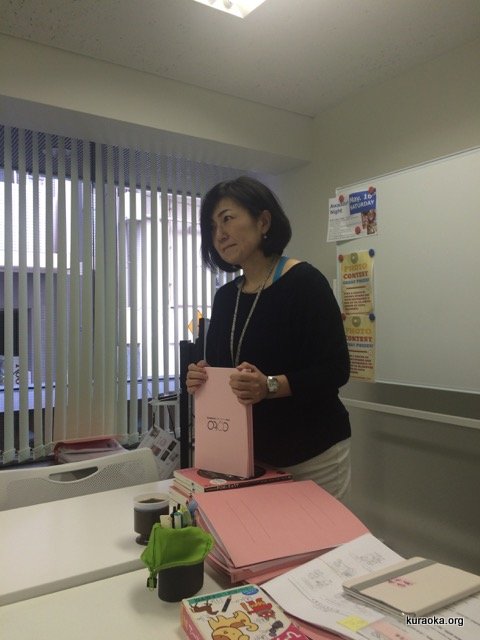 Tuesday May 5
Hi dear family,
Well, 5th day in Tokyo, feeling pretty comfortable. Here are photos of the hotel breakfast bar, have "onsen tamago" with bright orange yolks (normal here), various little rolls, etc. Also the teacher, white board, room at Coto Akademie. Train station where I go back and forth to the school, Suidabashi station to Iidabashi station, one stop.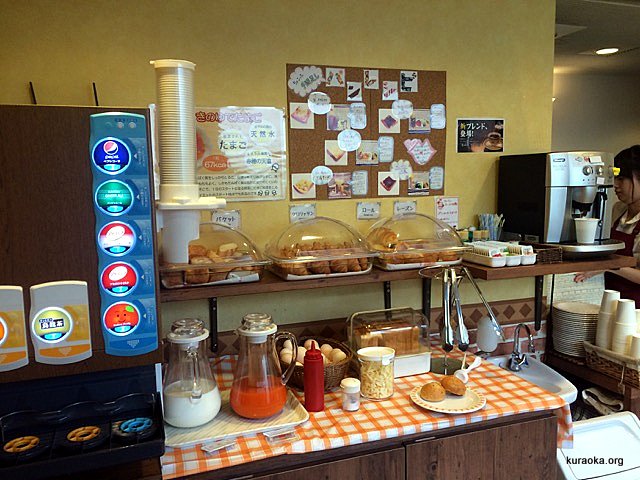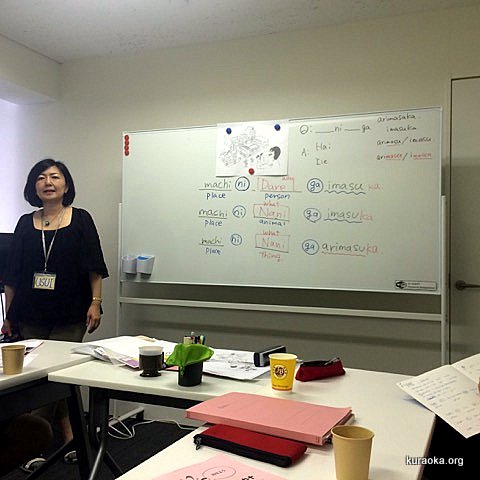 We students went to lunch sponsored by the Coto Akademie, well sort of, we did have to pay for the lunch, at a nice restaurant on floor sitting mats. $14.50 for lunch.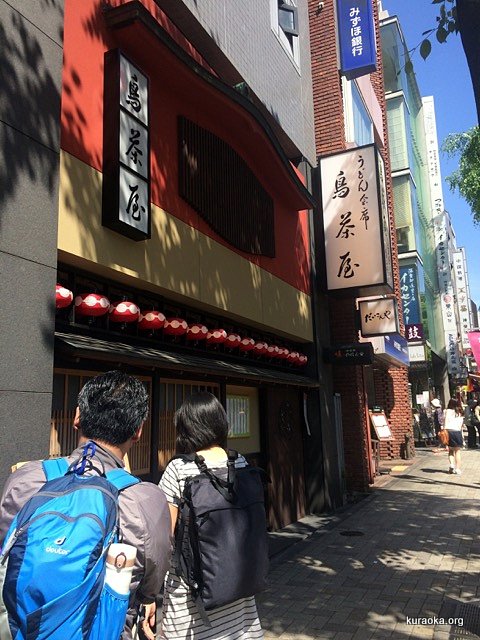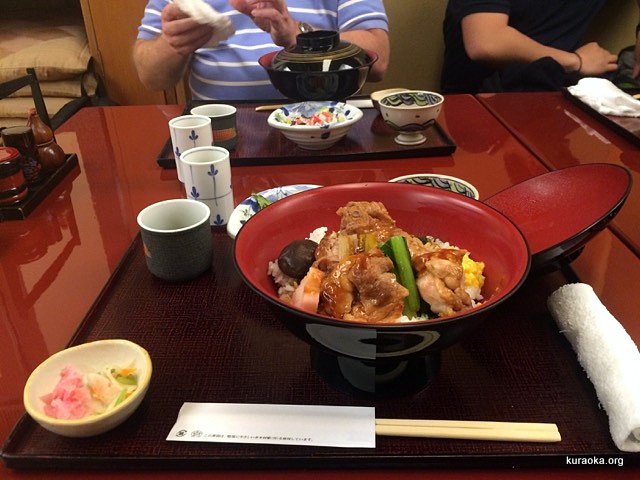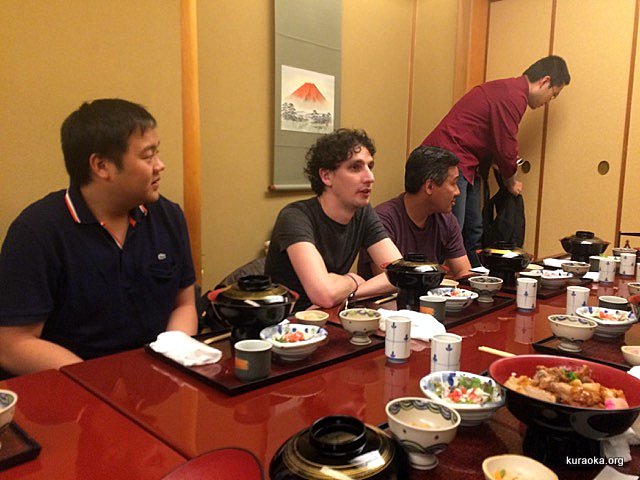 Wednesday May 6
Hi dear family,
Had lunch in a small restaurant near the hotel, with plastic food in the window. The menu itself was all in Japanese text. Delicious bowl of shrimp, cabbage, nori, peppers, carrots, broth, noodles. I'm having a noodle dish now and then, won't bother me in the immediate time, we'll see. Rice dishes are often kind of dry and not very exciting. Seems to be mostly noodles everywhere.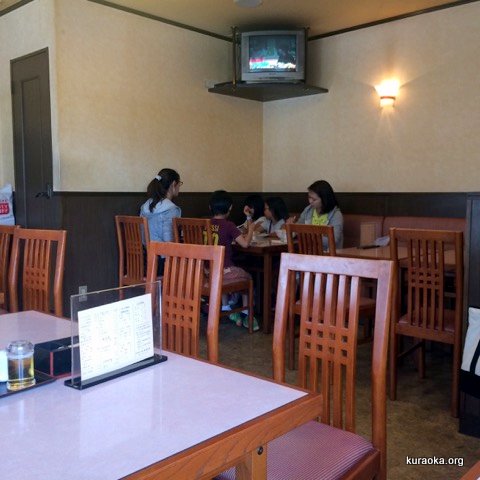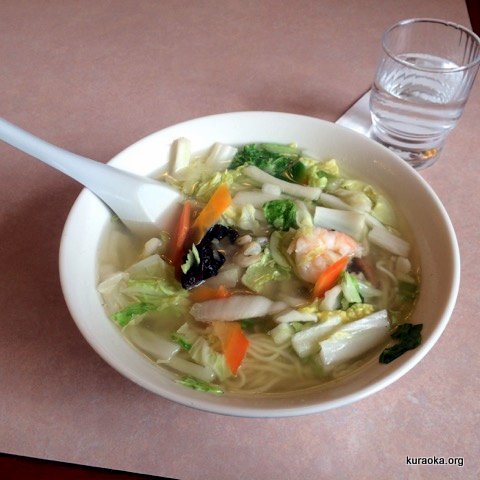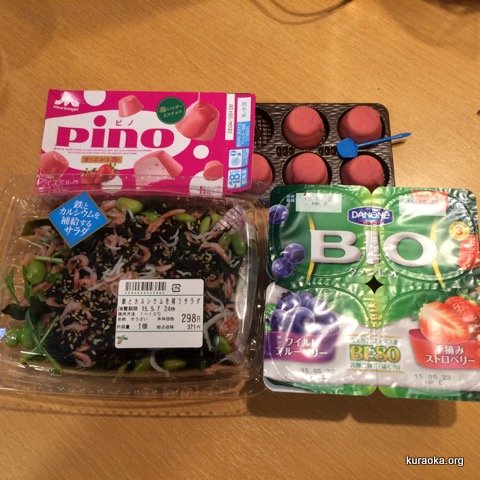 A restaurant meal usually costs between 700 and 1400 yen. I usually save money by buying lunch and dinner at a Target-like store. My meals purchase is around 500 to 600 yen, depending on what I buy, and covers my lunch and dinner, so is a good way to save Yen. The store has a great variety of food. Also, lots of everything else, is a two story place, just one block from my hotel.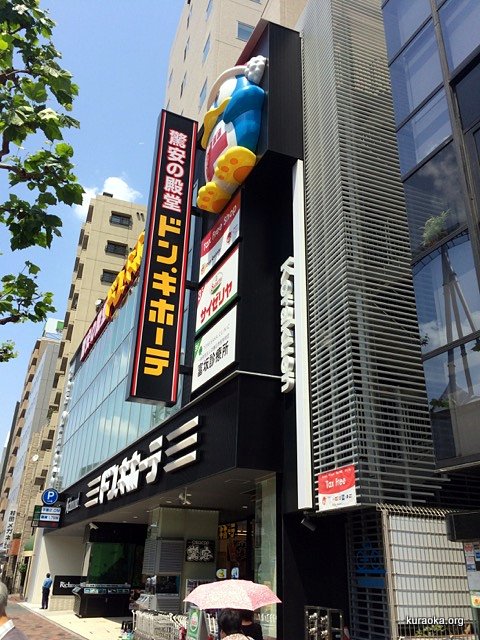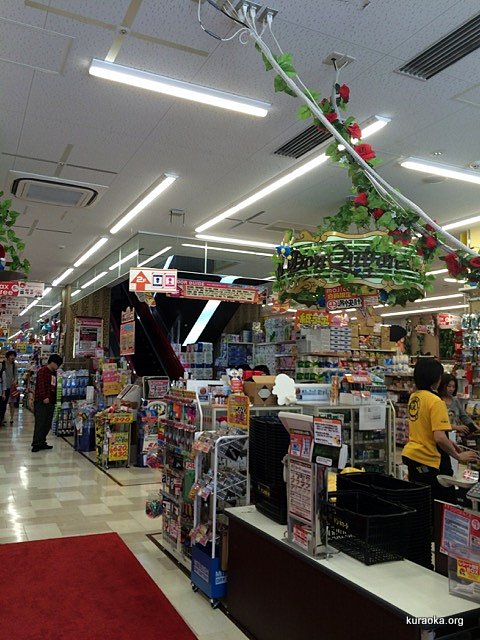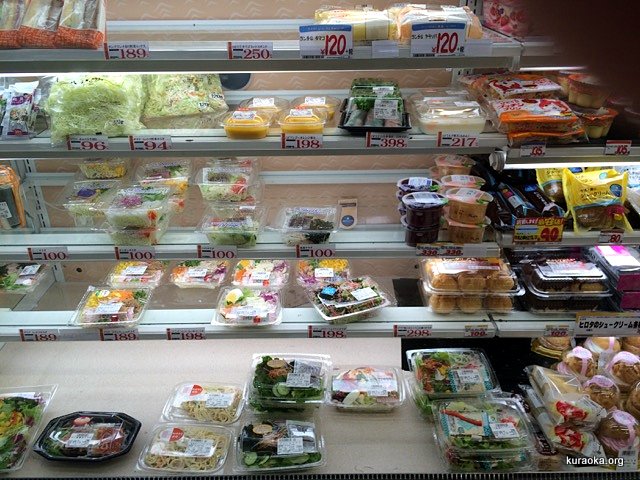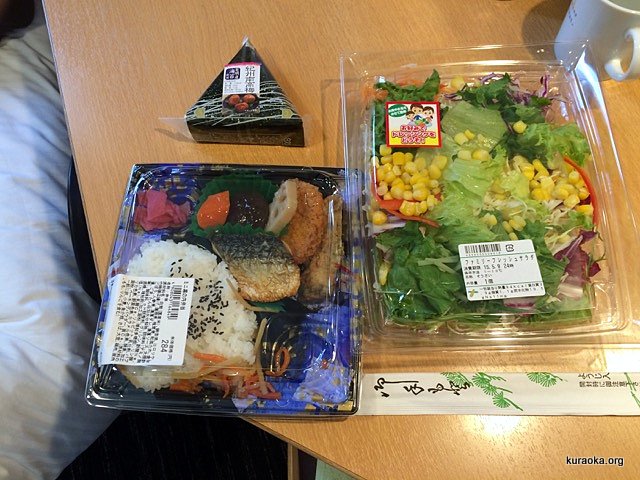 Hi Leo and Roy,
I bought these Pocky for you. Will give them to you as omiyage when I come home, unless I eat them first! Ha, just kidding, will save them for you!!!
Love,
Baba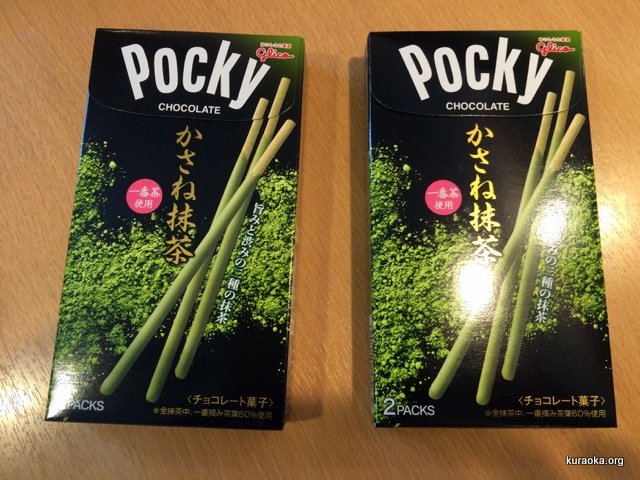 Thursday May 7
Hi again,
Photo of Line advertisement in the breakfast room. Cute!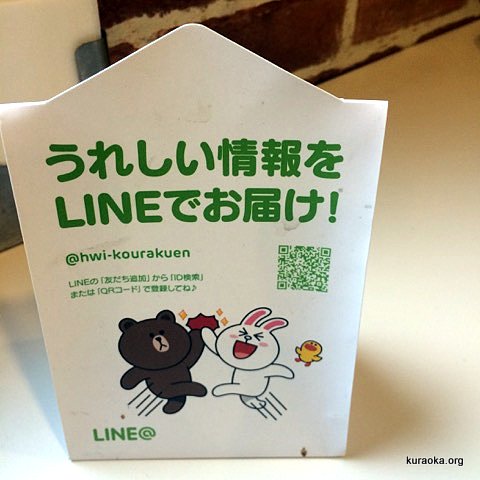 Also photo inside the train I take to the Coto Language Akademie. I feel like a regular commuter now, know how.

Then yesterday afternoon I walked from the hoteru to the Koishikawa Korakuen Garden, established approx. 1629 by the Edo clan and Mito Tokugawa. The garden is only about 10 minutes walking away, but the trick is finding the correct streets to get there. I did great and arrived at the ticket office, entrance fee 300 yen.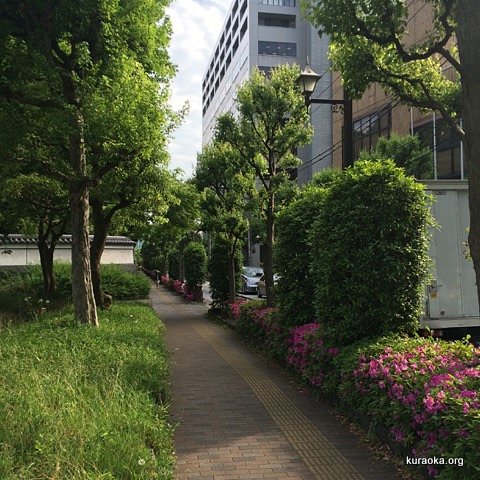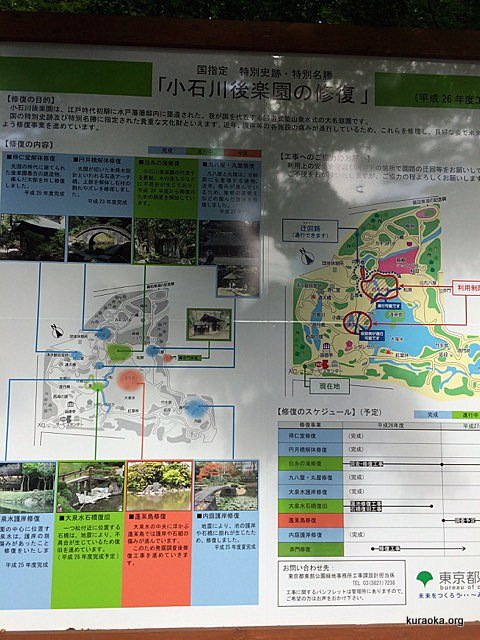 The park is in the middle of skyscrapers and next to Tokyo Dome City. A very beautiful garden, glad they saved it. Buildings in it were destroyed in WWII. The large dark grey blocks in the surrounding wall are from the original Edo castle. One can see actually Chinese chiseled symbols on the blocks.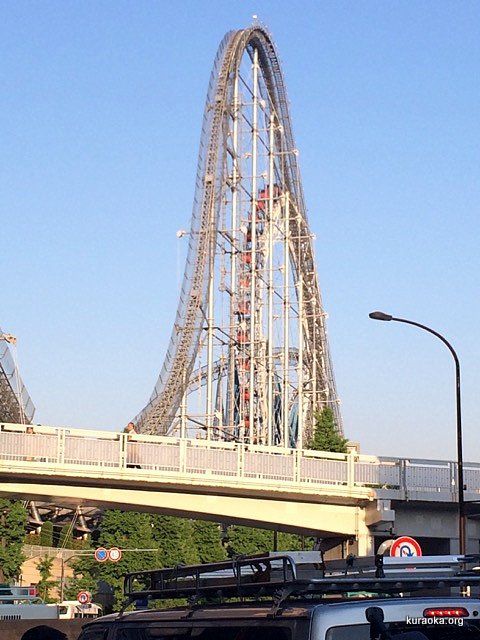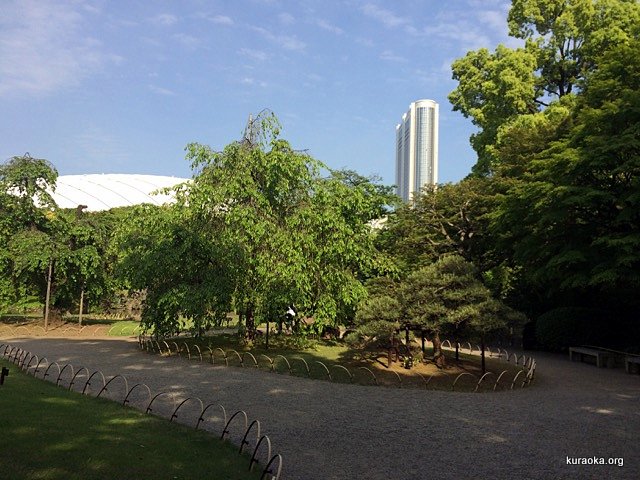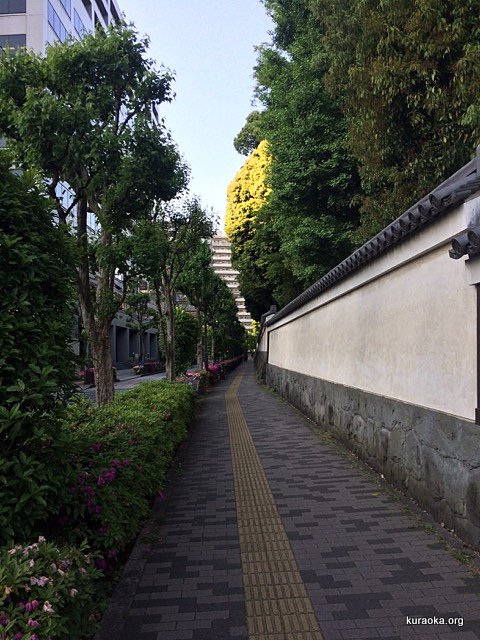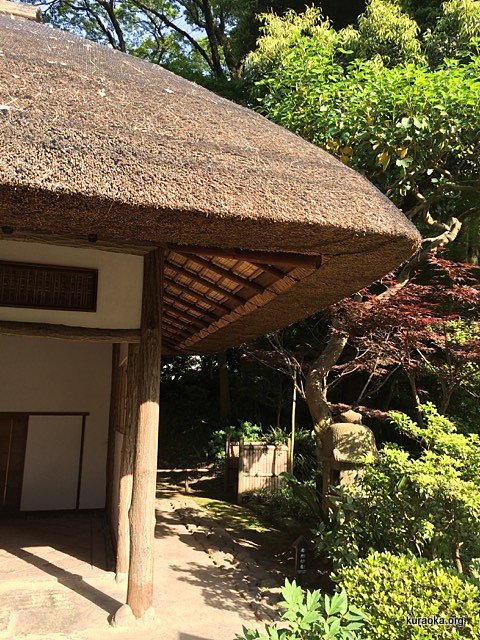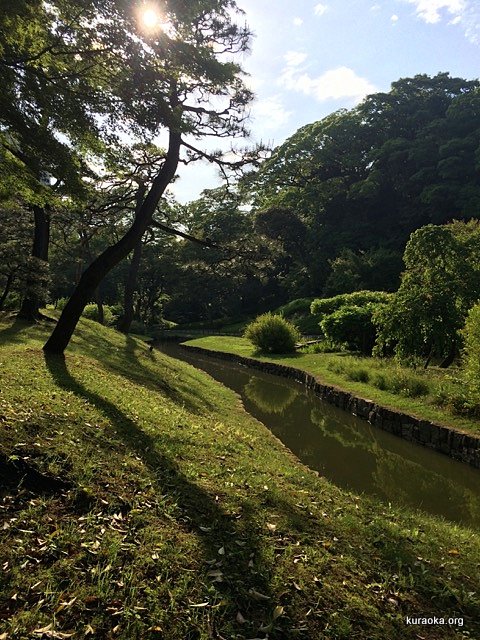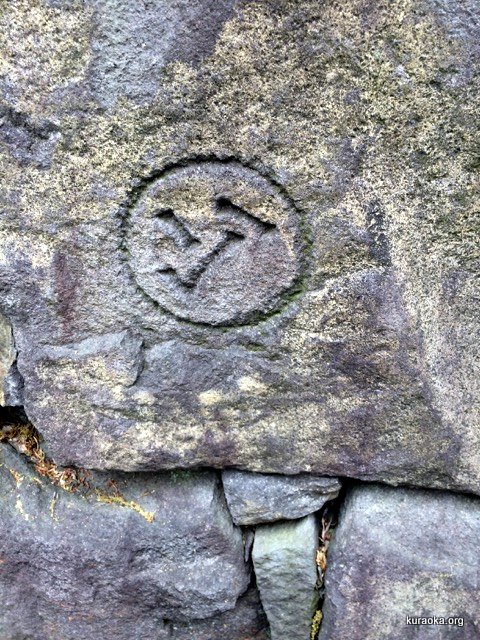 A very nice gentleman, see photo, started talking to me at the K. garden. He was interested where I was from and turned out to speak English and German!!! Very knowledgeable about all the history of the park. He pointed out the original Chinese symbols chiseled on the dark grey blocks. He also knew WW II history for both Japan and Germany. Kind of fun coincidence. He was very proud of the park.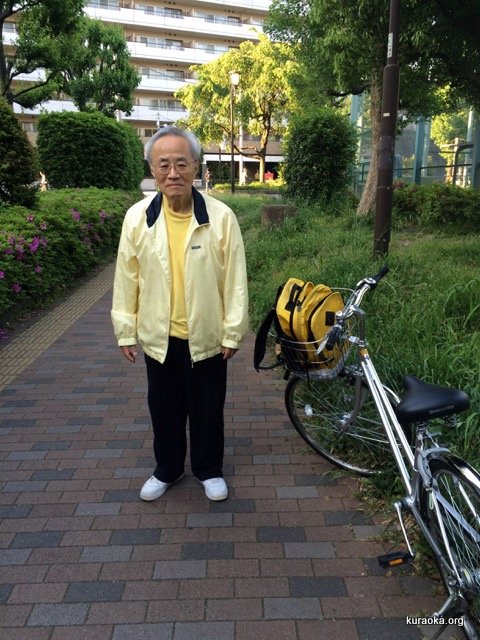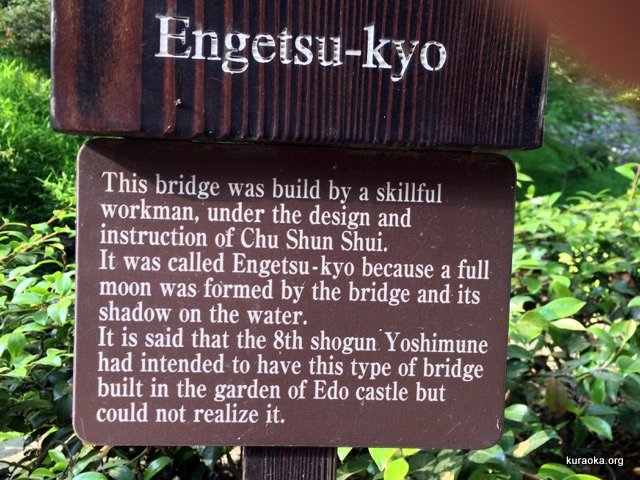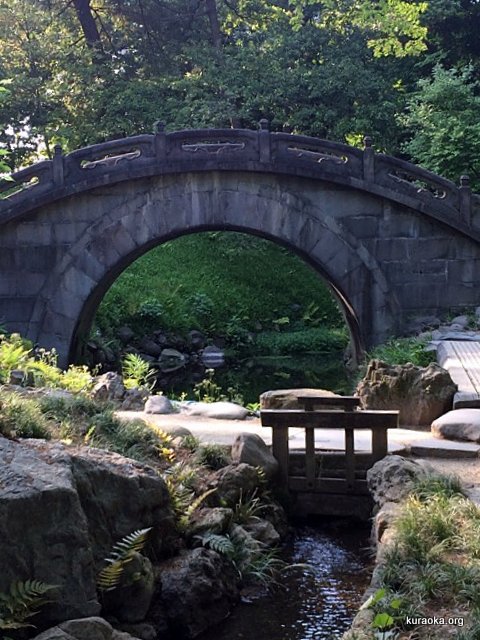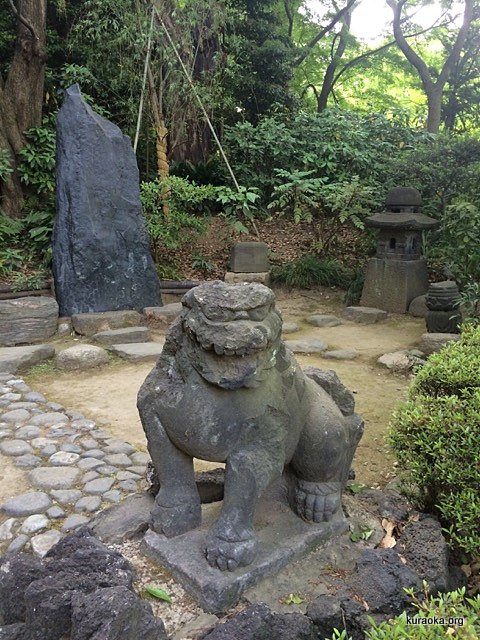 The small summer house that stood here was destroyed in WW II, fire.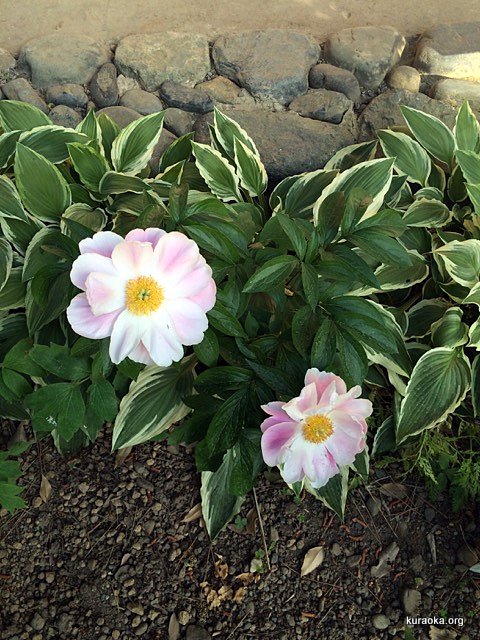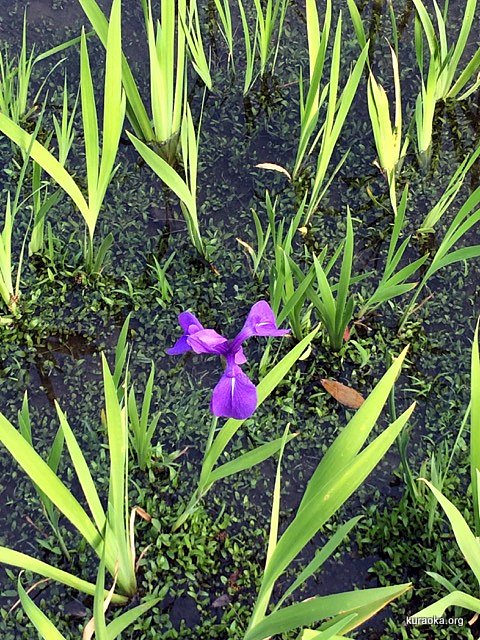 Friday May 8
Enjoying delicious lunch at a nice restaurant with the Coto Akademie class!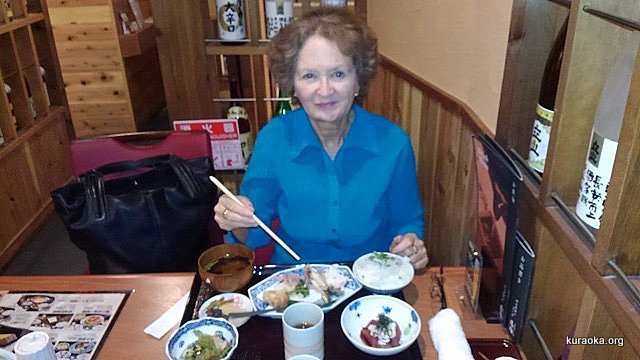 Sunday May 10
Hi dear family,
Sunday morning I again went to the Dojin Christian Church. They are so friendly and welcoming, a very warm group of people. They had little presents for me which I can show when I get home! After the Service, they make tea for the group (because I am visiting) and we all sit and chat. The Dojin Church was founded by Universalist missionaries to Japan, 1890 to 1942. The minister gave me a historical book with lots of photos of the early founders. The text of course is in Japanese. Here's a photo showing the outside of the church.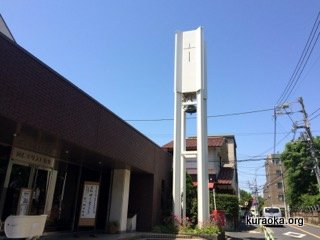 Tuesday May 12
I pass a McDonald's every day on way to train to Japanese lessons. Couldn't resist a Big Mac today!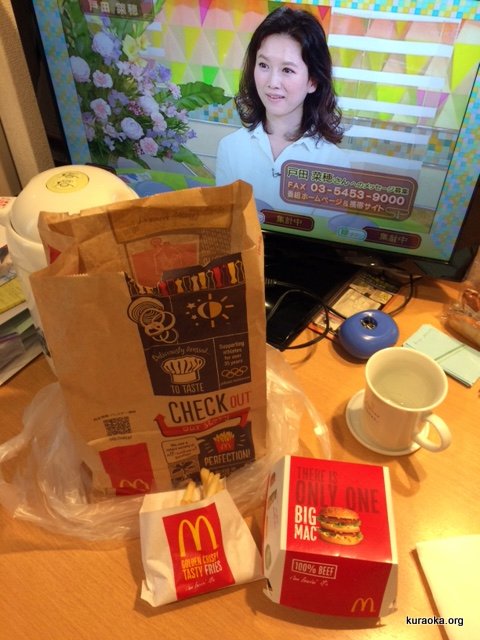 Wednesday May 13
Hello dear friends and family (there are 12 of you, but I used the bcc option since I'm not sure if you all wanted your email address shared),
Time to catch up with you about my trip to Japan! I had been studying the Japanese language, just for fun and to stretch my brain, for a while already at home. Recently I had the wild idea to travel to Japan and attend a language school there for one month. I researched Nihon go schools on the internet and found the Coto Language Academy in Tokyo, which has excellent reviews. Peggy Mikuni's wonderful travel agency, Yamato Travel made the arrangements for my trip, including a reasonably priced, nice hotel in Tokyo, the Wing International Korakuen Hotel. It is just a short walk from the hotel to the JR train station (or the subway). I get on at Suidabashi Station and get off in one stop at Iidabashi Station. The Coto Akademie is just 3 minutes (really!) away from the Iidabashi Station. The Nihon go class is Monday-Friday, 9:30-12:30.
I have been here now for 1-1/2 weeks and am feeling very comfortable. Breakfast is included at the hotel. For lunch or dinner I buy either prepared food/salad at a convenience store or at the large Japan discount chain Don Quijote, go to small local curry or ramen restaurant, or at a buffet or food court. The people are friendly and helpful. I have made new Japanese friends. A sweet husband and wife this past weekend took me to the Ginza shopping area for "yukata hunting" followed by dinner at a special kaiten sushi restaurant (conveyor belt style) where one can watch the chefs prepare the very fresh sushi.
I am visiting a small church, the Dojin Christian Church on Sundays, which has historical ties back to the 1890's with Unitarian Universalist Fellowships, via missionaries at the time. Note: I attend the Summit UU Fellowship near my home. It is an interesting community of 180 members where I enjoy the intellectual stimulation, the Services, and friendships.
The first week was intense in terms of finding everything, riding the train, etc. but went very well. I bought a month's pass for the train, which makes boarding very easy.
I now realize that I should have added all of you, at the beginning, to my email reports that I send to the Kuraoka family. However, John has been posting most of my email and photos on the Kuraoka family website. Huge THANKS TO JOHN K., you are an energetic hero!
From now on, I will add you all to my email reports as I write them. (Please let me know if you don't want them.) In the meantime, I am alive and well here in Tokyo, having a great adventure and I recommend it. Very glad I am doing this!
Love and best wishes to all,
far away Barbara
Sunday, May 17
Hi dear family!
I think I have some catching up to do on my daily life in Tokyo! Everything is still going very well. I have settled into a routine of going to the classes, then lunch either at a restaurant or from the Don Quijote (Donki) store. I usually take a long walk, 45 minutes to an hour, in the late afternoon for exercise. I just stay on the main street and keep going straight ahead so that I don't get lost! Here are photos from the past week.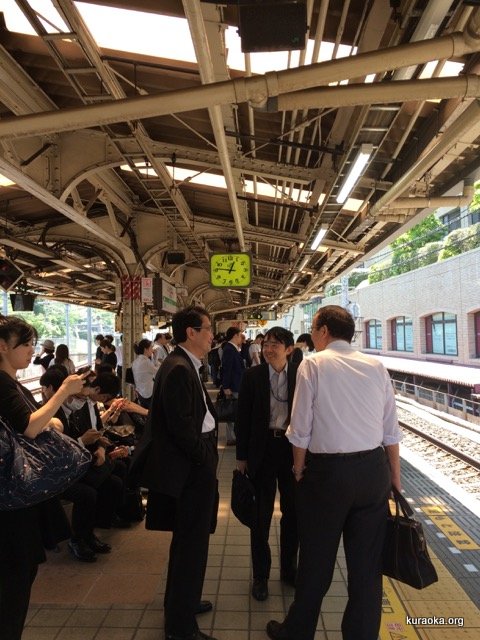 Relaxed noon time JR train commuters waiting for my train, a big contrast to the morning commute.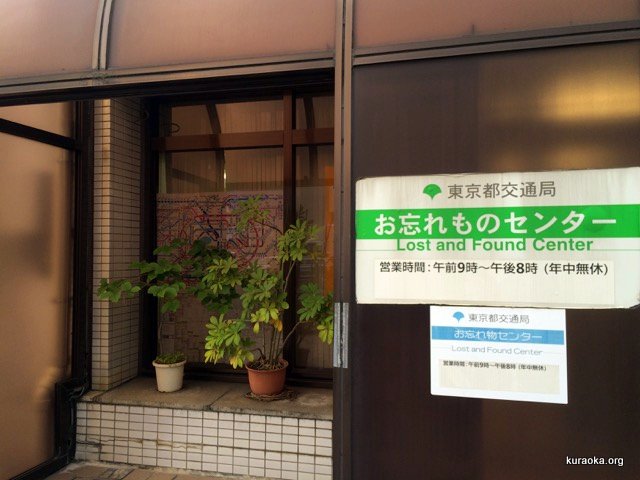 I had read on the web before my trip that Tokyo has public lost and found offices. I was excited to see one on my afternoon walk. If anyone finds an object on the street or wherever, they can turn it in at such an office and Tokyo folks know to check there, if for instance, they lose their umbrella or phone, book etc.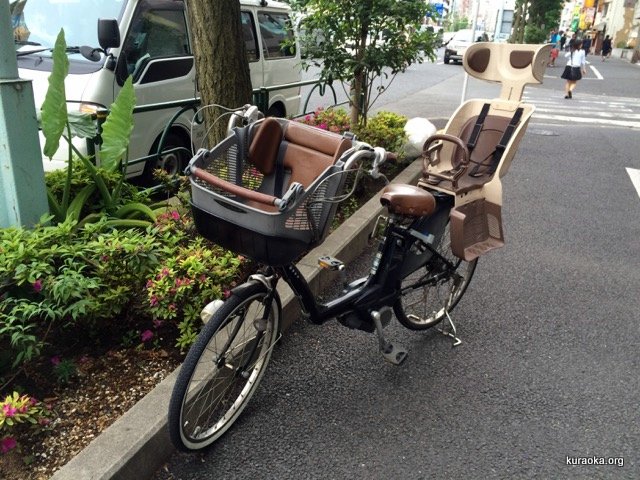 BICYCLES ARE EVERYWHERE IN HUGE NUMBERS! No kidding!!! Young, old, any kind of people, with kids, no kids, two kids, groceries, whatever, ride them VERY FAST, HIGH SPEED on sidewalks, yes, on SIDEWALKS! I had to get used to not suddenly changing my walking direction without looking for bicycles. So far, I have not seen any pedestrians run over. The bike people are very agile.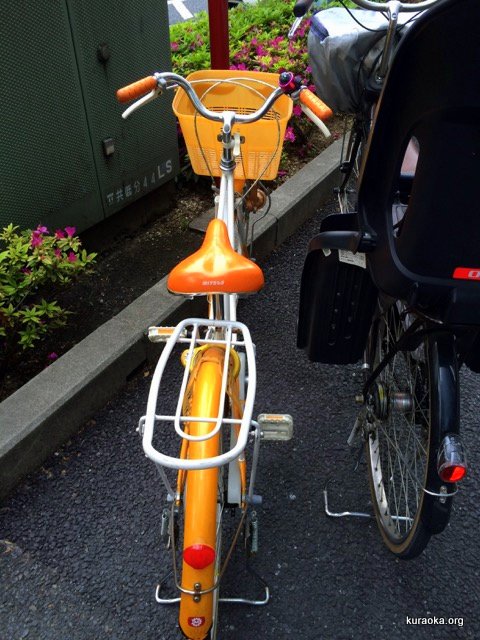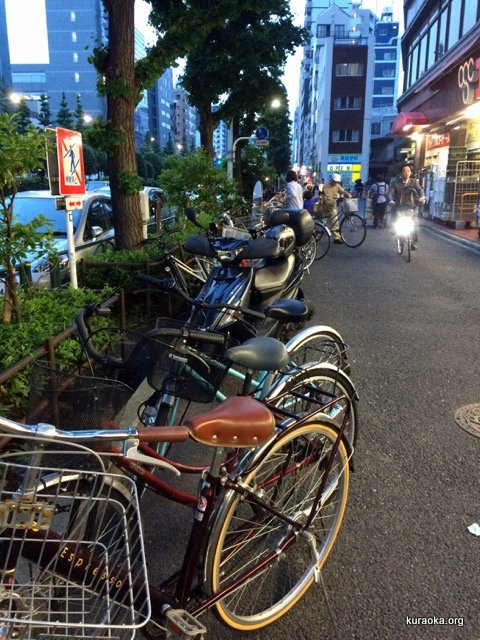 Also, traffic is very orderly. Almost no honking, have heard only one honk despite tons of traffic in the past two weeks. Drivers making turns always allow the pedestrians to cross, even if they are standing on the curb. There is always much traffic on the main streets.

Can't remember if I sent these photos before. I don't seem to see them in my sent emails. Sorry if they are duplicates. Had a wonderful Sushi meal with Nobuko and Hidehiko (sister and brother in law of my tutor in San Diego) at a Kaiten revolving sushi restaurant. The sushi was delicious! The soup was a surprise with a large fish head in it with the eye looking out at me. Also very tasty.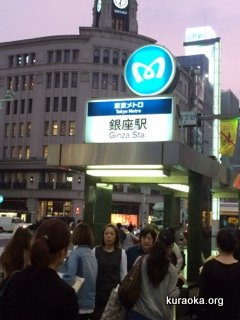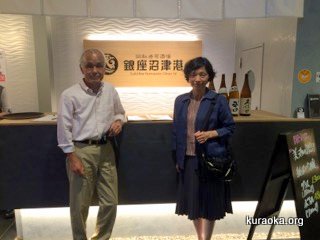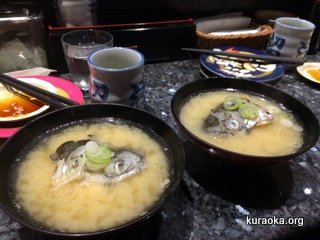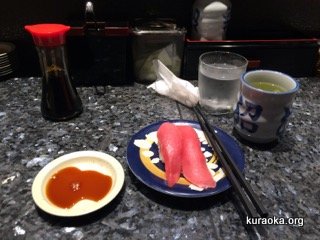 Conveyor belt sushi movie #1, .MOV format (65 MB)
Conveyor belt sushi movie #2, .MOV format (28 MB) There is a yummy small restaurant about half a block from my hotel. It has the ticket machine to choose food. The miso soup had excellent flavor and 6 little clams in it.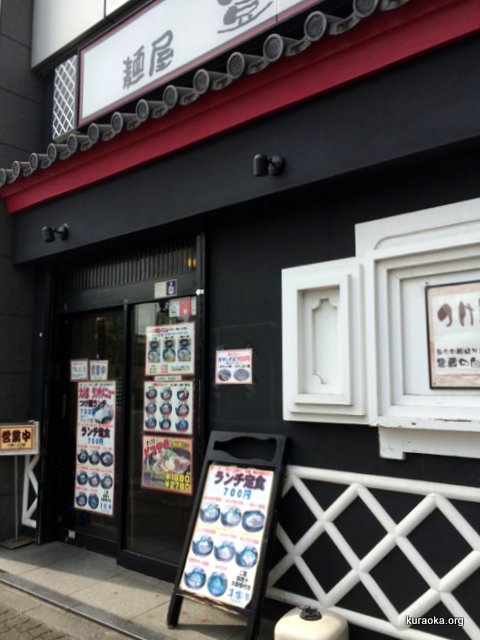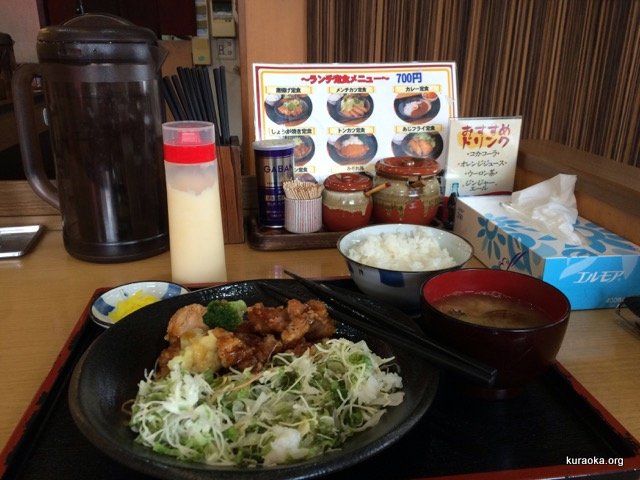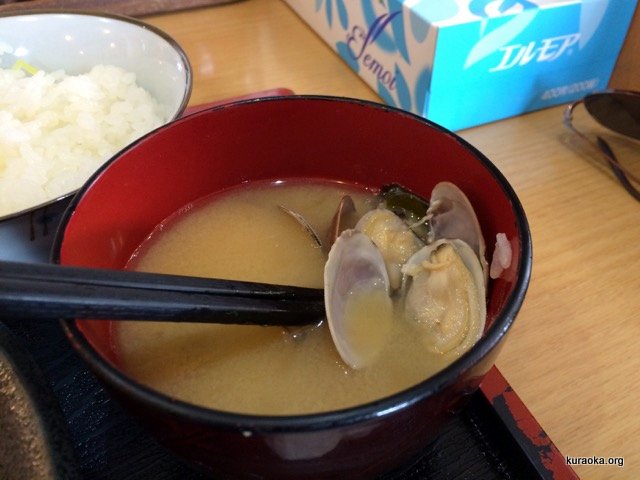 Tokyo has green landscaping and/or flowers almost on all streets. Lots of trees every where. Very pleasant and beautiful.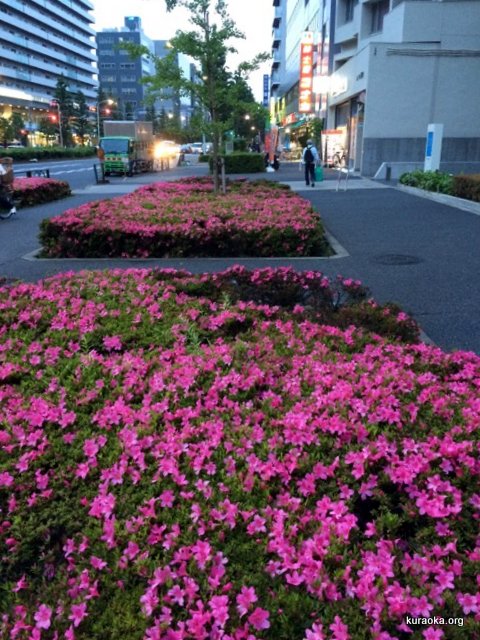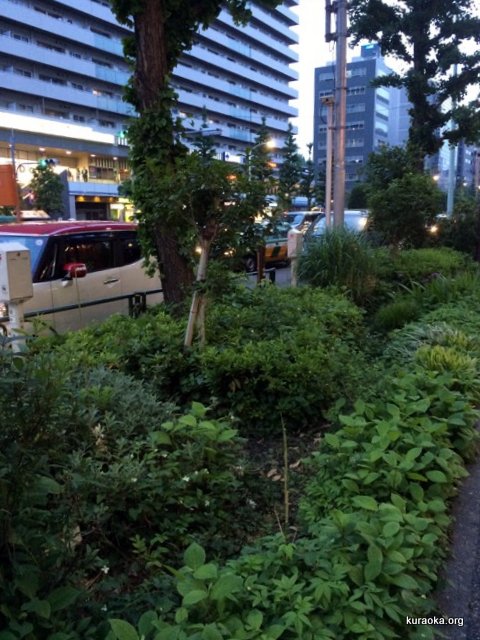 Here's the adorable penguin of the Don Quijote (Donkin) store lit up at night. Very, very cute!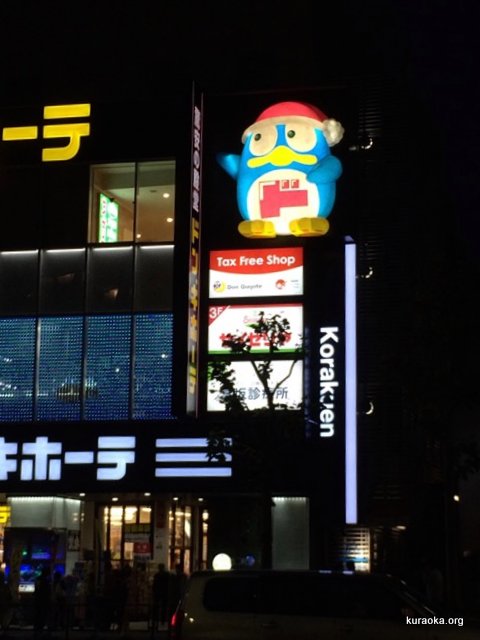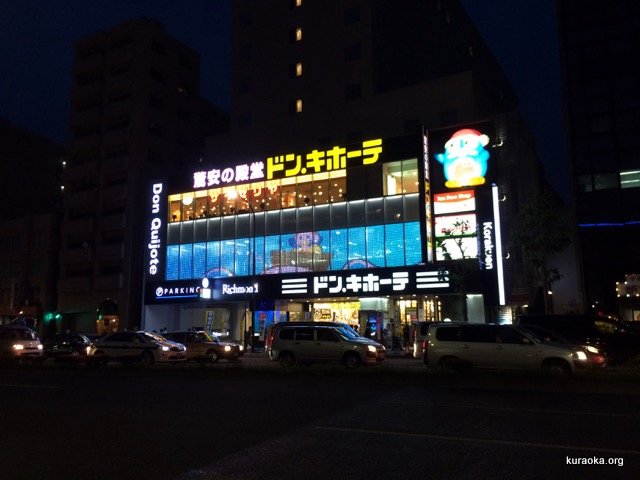 Tokyo Judo Center a few blocks from my hotel, discovered during my afternoon walks.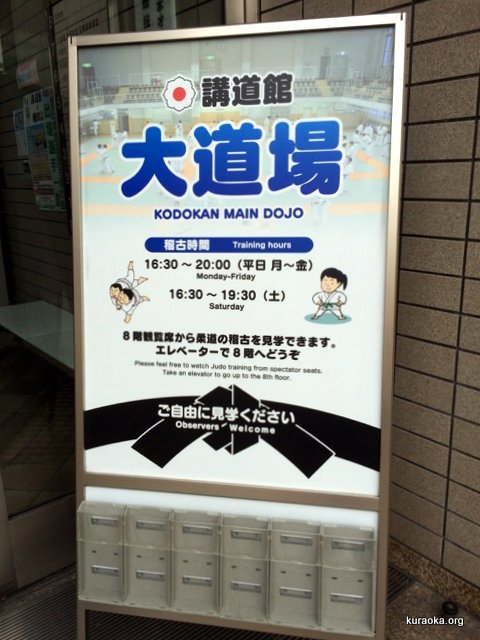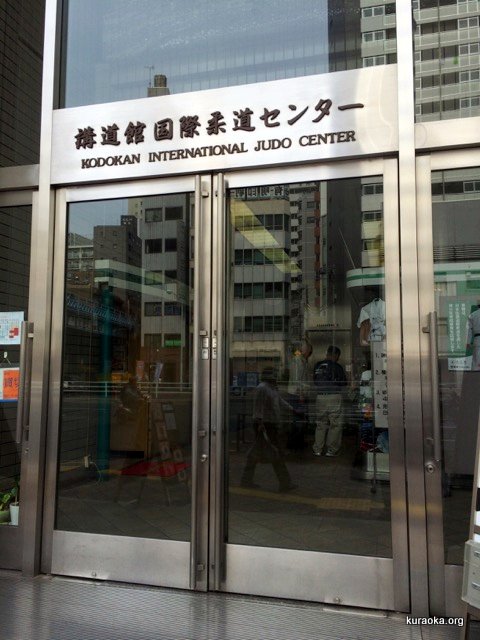 Again, just a few blocks from my hotel, is this very large, sort of Starbucks, with coffee and pastries, etc. People, including me, are able to just sit and hang out indefinitely. I brought my study materials, had a coffee and a mocha cream cake confection. Oddly, I'm as excited about finding this place as being in the famous Ginza district!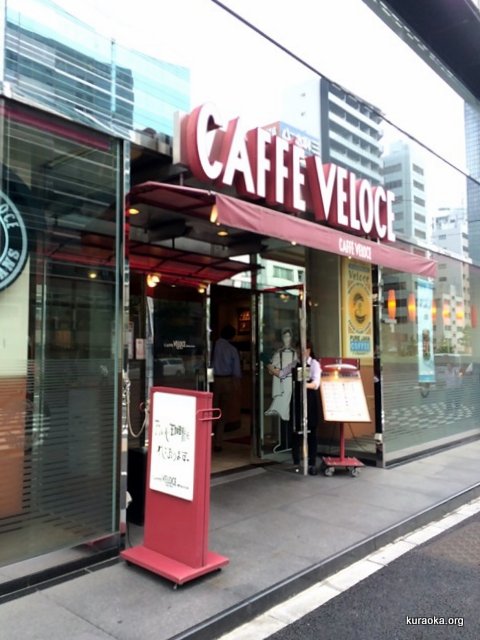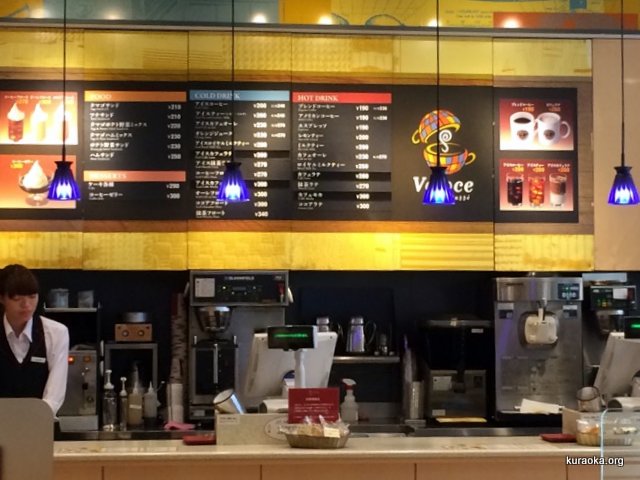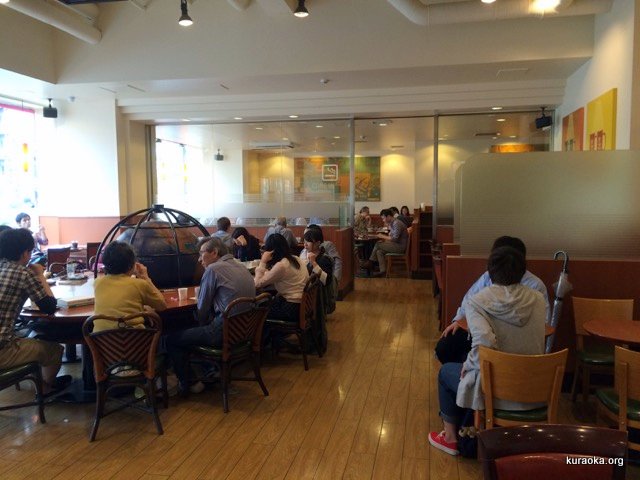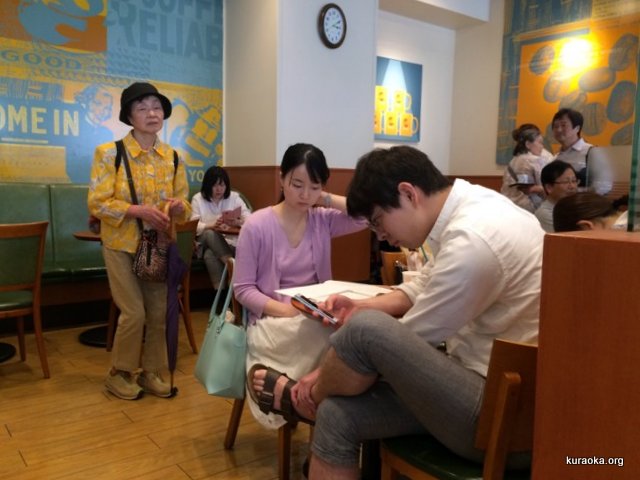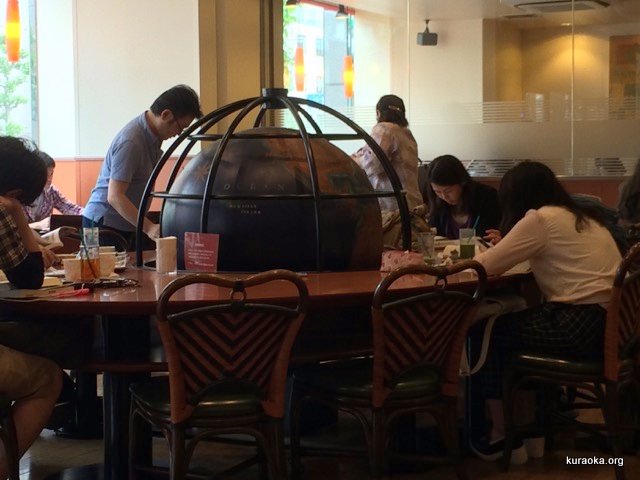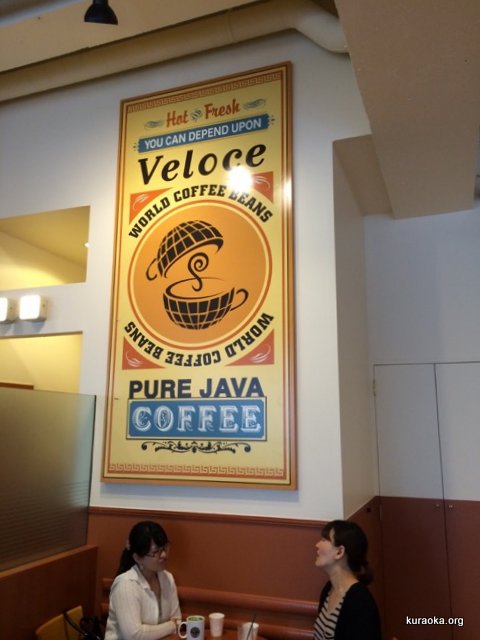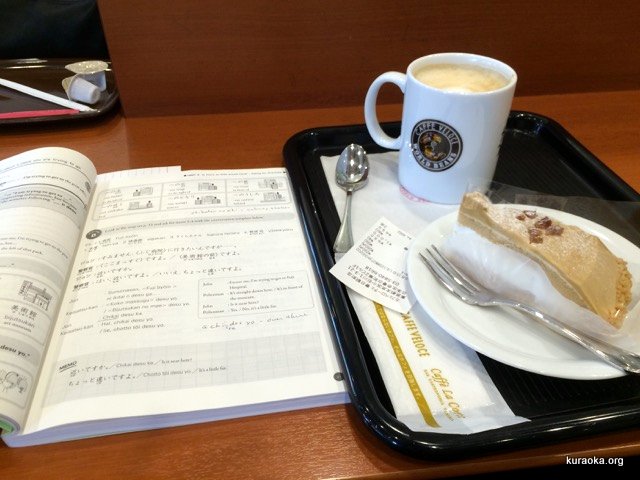 Last but not least for tonight! At breakfast this morning, in the hotel, a wonderful family with 4 children came in and sat next to me at the counter. After I greeted them, all 4 of the kids chimed in exactly together, "ohayo gozaimas". Very sweet! The plates look nearly empty because I took the photo as they were almost finished eating. Breakfast is a hard boiled egg and croissants, bread, various muffins. Some people put grated cheese and ketchup on a slice of bread and heat it in the toaster oven.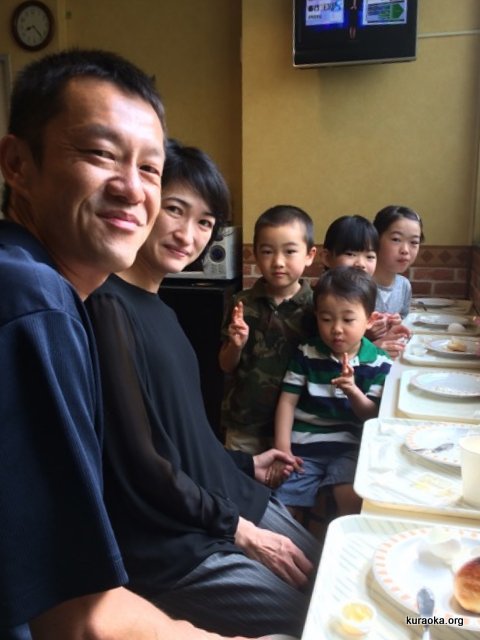 Thursday, May 21
Hi dear family,

The other morning, when I walked into the breakfast room and got a paper cup for my coffee, a woman who was also a hotel guest, jumped up from her chair, and indicated with gestures that she would help me with my coffee. I didn't have a chance to tell her that I could do it myself. She knew a little English like "hello" and "coffee," so we were about even with my "ohayo gozaimas" and "kohi". Very sweetly, but insistently, she took the empty paper cup from my hand and motioned that I should sit down. Realizing that this was going to be inevitable, I sat down.
I looked at her tray of food, noticed that she had orange juice, not kohi, and thought, hmmm! The kohi machine is somewhat intimidating, at first glance, with several buttons, some taped over with red tape, others not. She proceeded to punch a sequence of wrong buttons and waited. Nothing happened, no kohi. Then she gave the machine a little tap on the forehead, so to speak, and waited some more. The evil machine refused to part with the kohi. A sharp tap on the side did not produce results either, nor did punching the buttons again, in a new creative sequence. She looked over at me with a concerned smile, and spoke words that probably meant "don't worry!"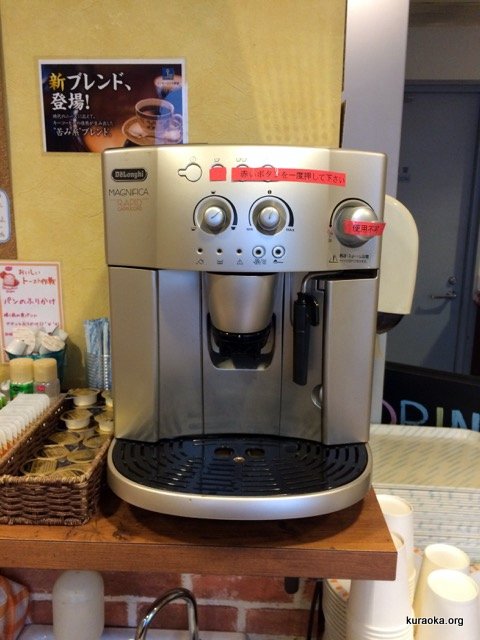 At that point one of the hotel staff came in and the two had a conversation (three, if the evil machine was listening). The hotel employee punched a corrected sequence to reset the machine. And, finally, the whirring sounds began, grinding of coffee beans, sounds of water and then, hurray, the kohi poured into my paper cup. The determined woman, now with a big smile, brought me kohi. We sat side by side, "clinked" our paper cups, orange juice and kohi. She said cheers and I said kampai! The hotel employee took our photo. Take that, evil machine!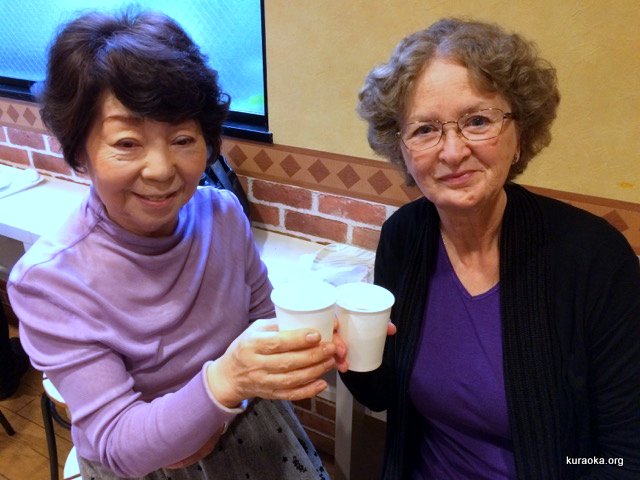 PS: normally only ONE button needs to be pressed for a cup of coffee. Strangely, it is ONE of the ones taped over with red tape. Once you know, you're good to go!
Friday, May 22
The day after the slaying of the kohi machine, it had received another piece of tape, apparently to lessen the confusion. The only correct button for a cup of kohi is the one with the single short piece of red tape, i.e. not the ones under the long strip of red tape, or the previously untaped one. Now the previously untaped button has a piece of yellow tape over it. There is writing on all tapes, except the one red taped single one, which ideally should say "press for kohi." I'm guessing the writing says "don't push these buttons."
Very good kohi though! And helpful, patient, excellent hotel staff.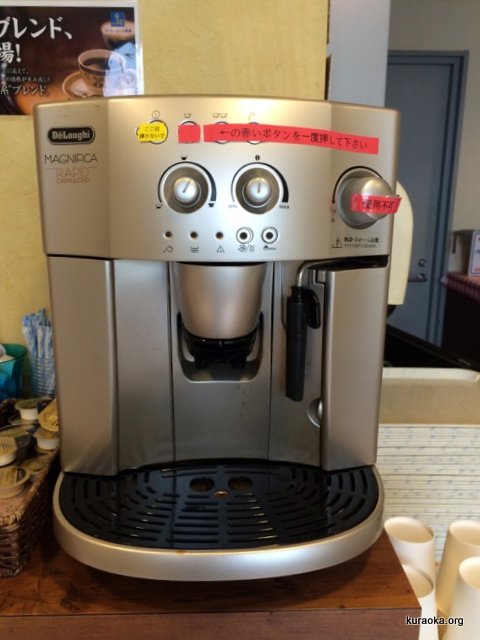 Tuesday, May 26
(In response to an email about the earthquake in Tokyo.)
Hi dear family,

Yes, all is well indeed! Cousin Bea is here at the hotel now for the week. I have been busy and pleasantly distracted. The "big" earthquake happened while Bea and I were at a restaurant having lunch with Kimiko, a friend that I had met through the UU Tokyo Fellowship. Amazingly, my Phone did the emergency sound alert and text re earthquake, the text being in Japanese, as did Kimiko's phone. It was quite the rock and roll, but somewhat brief, not enough time to head for the stairs out, or to get under the table. Yes, I heard that the subway stopped for a few minutes. Tokyo is used to the earthquakes, so life immediately resumed. This is the 4th earthquake, and the biggest at 5.5, since I have been here, the others being 3.0 or so.

More photos soon. Today we are going to Meiji University at 10:45. Another friend is a tenured lecturer at Meiji University and had asked me to come and speak to her class, answer questions from the students regarding cultural diversity. Bea will be going with me of course.

Love to all,
Barbara (and cousin Bea)

Wednesday, May 27
Hi dear family,

I've been extra busy since cousin Bea in Tokyo on May 22. Bea stayed at the Tokyo Hilton on the first night and then came to my hotel. She will be leaving on May 31. The day before she arrived, I had dinner with Marie, a new friend, at the Bubba Gump restaurant, quite near my hotel. The theme at this restaurant is based on the movie "Forrest Gump" which was and is still popular in Japan. Marie is a tenured lecturer at Meiji University here in Tokyo in the School of Business Administration. Meiji University is one of the best universities in Japan. Marie speaks excellent English having spent 2 years in Great Britain. Behind us in the window is the pool in the shopping and entertainment center of Tokyo Dome City.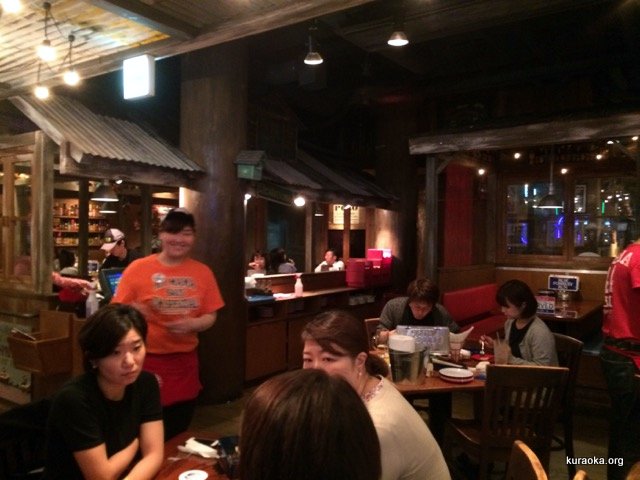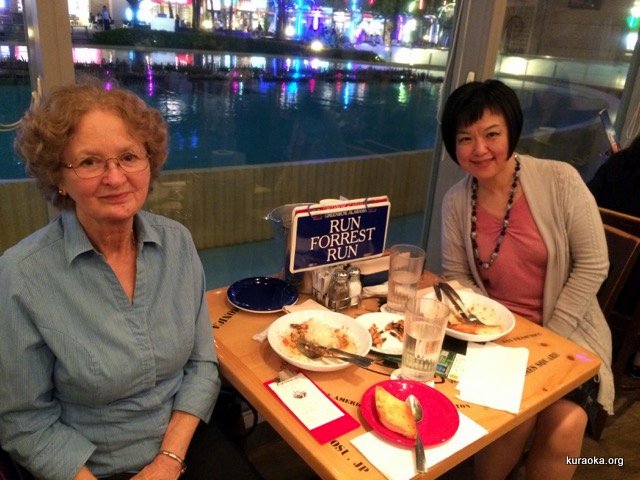 The following are photos of Bea in her giant room at the Hilton and the view out the window, skyscrapers!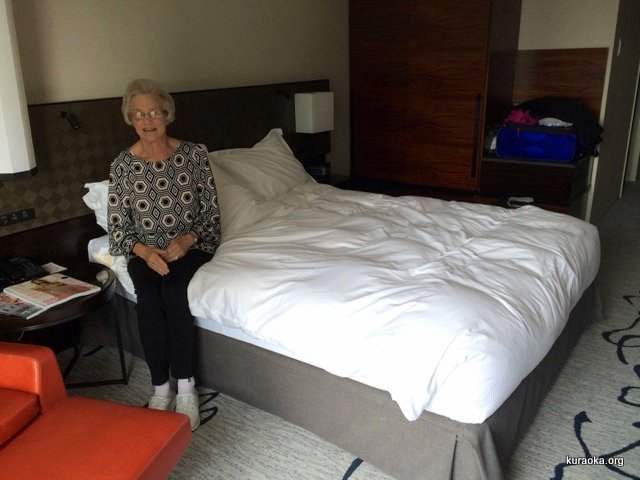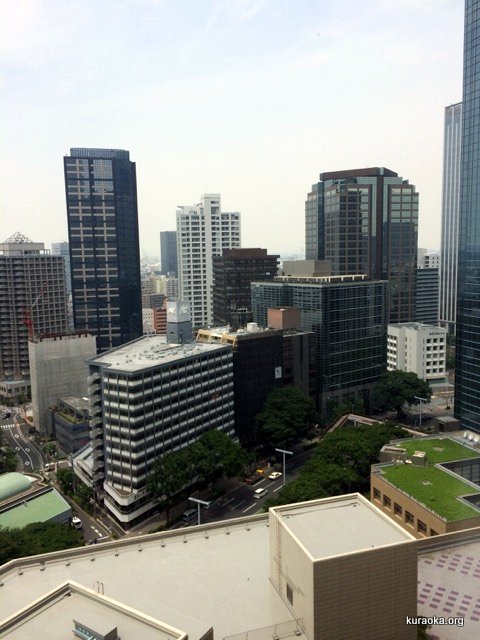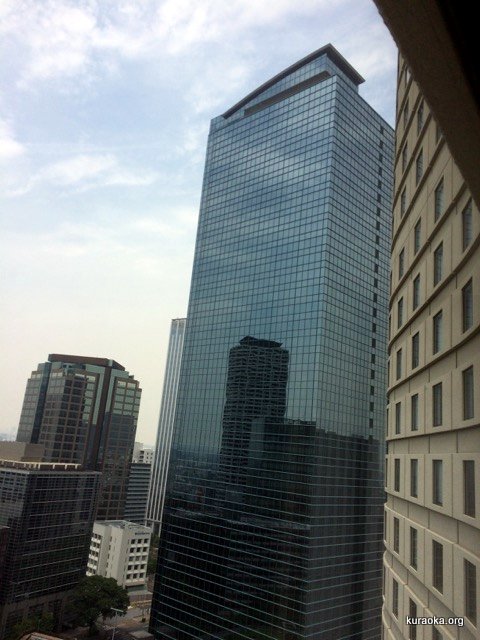 I have been enjoying the street manhole covers on the sidewalks of Tokyo, see photos. The gingko tree is the official tree of Tokyo and the gingko leaf is the symbol of Tokyo. The gingko tree has a long honored history in China and Japan, with much symbolic meaning. The design of the current metal manhole cover won in a design competition. The first cover photo shows stylized gingko leaves with sakura (cherry) tree blossoms. The last photo shows real gingko leaves. There are many, many gingko trees in Tokyo, including where I walk.

Also shown on the other type of manhole covers is the crest of the Tokyo metropolis. The crest shows the sun with six rays, representing Tokyo as the center of Japan.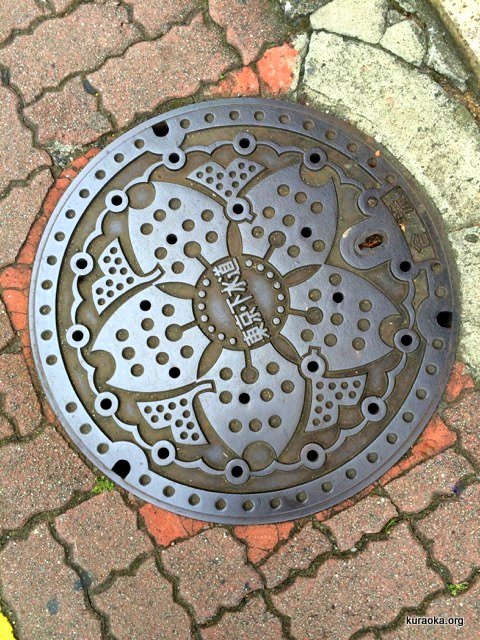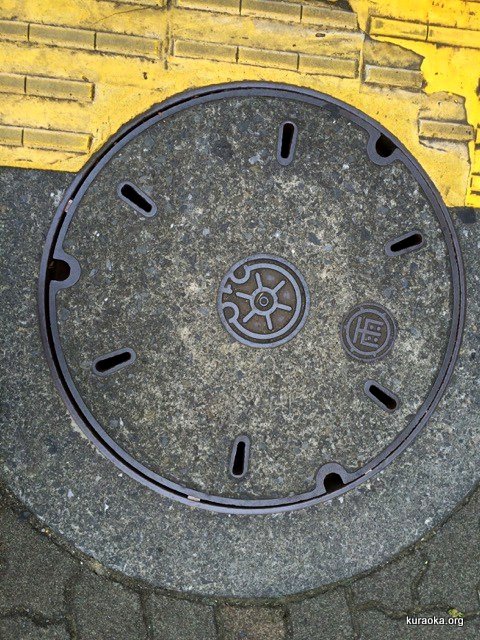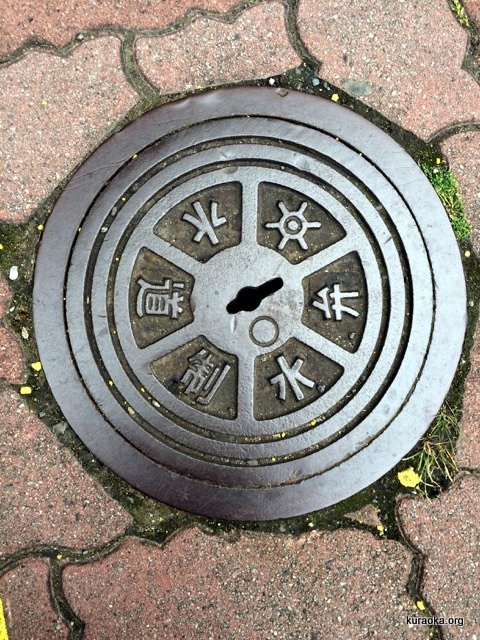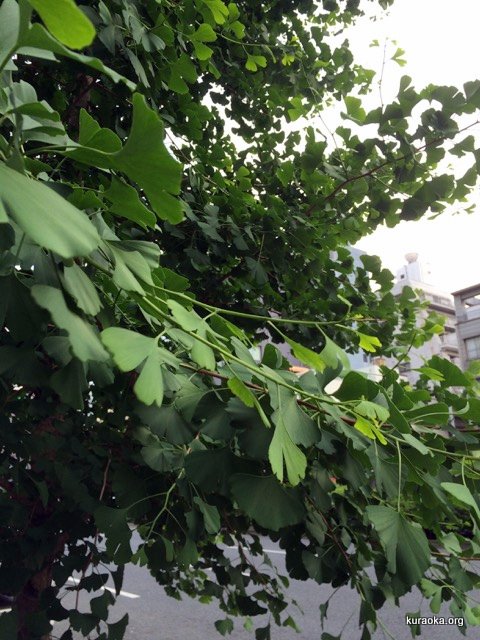 On Friday, May 29, Bea and I will be taking a tour bus to Mt. Fuji, yay! We had to go to the giant Tokyo Dome Hotel to make the tour reservations. The Dome complex includes a huge sports stadium, movie theaters, the roller coaster etc., many restaurants and much more. It is within a 5 minutes walk of the Hotel Wing Korakuen.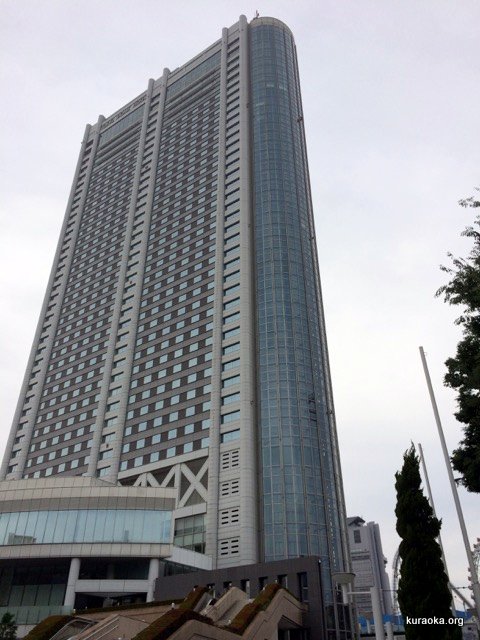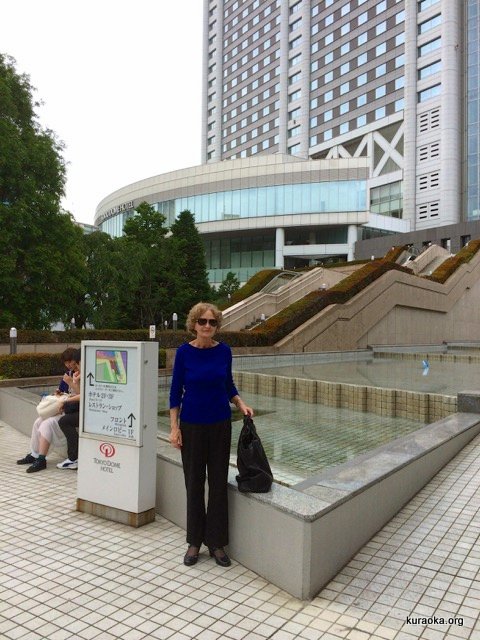 And here's Bea shopping at the Donkin/Don Quijote (Penguin) store.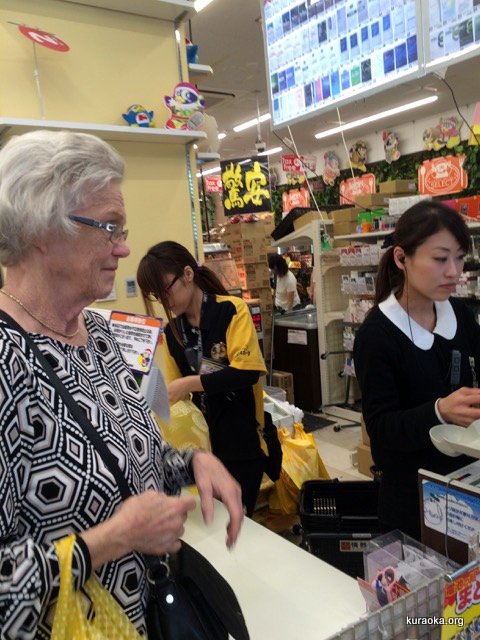 Thursday, May 28
With friends to help us with the subway, we went to see Hachiko, the very famous faithful dog, who, after his owner died, continued to go to the train station every day, where he normally met his owner coming home from work. Google "Hachiko." Movies have been made about this sweet dog. LOTS of people taking photos with the Hachiko statue.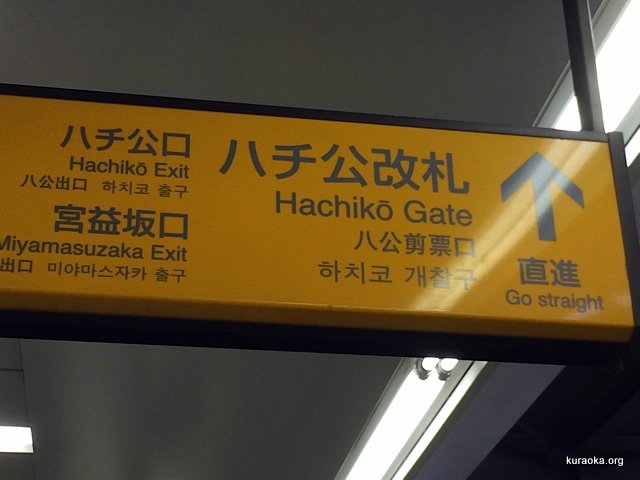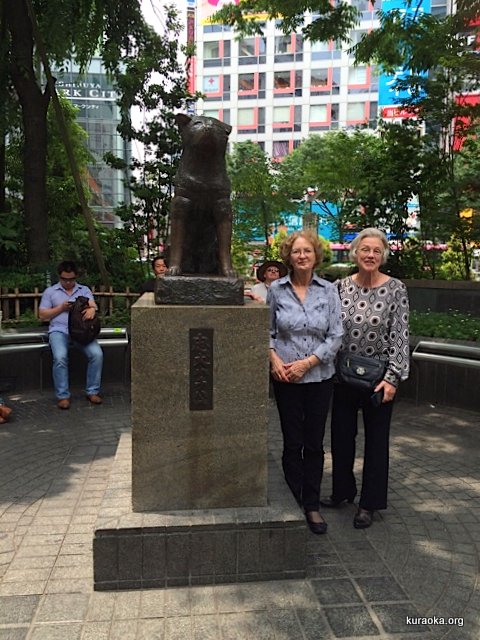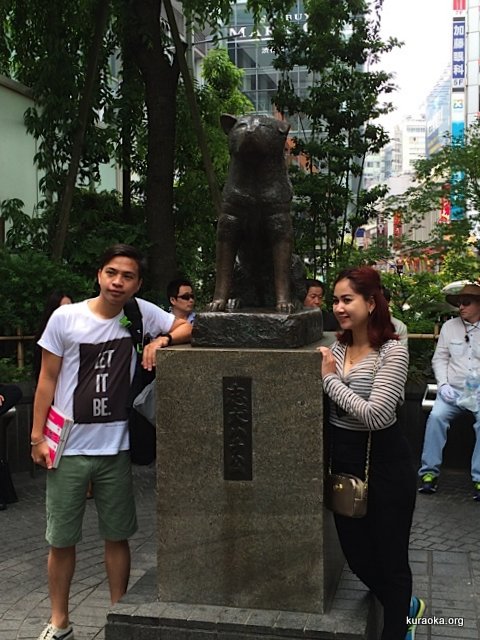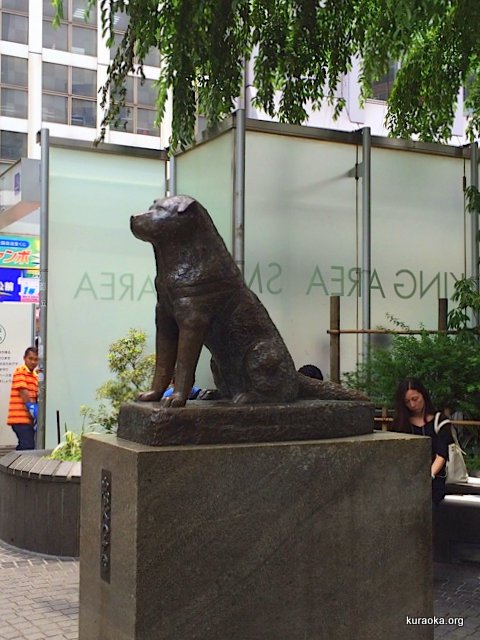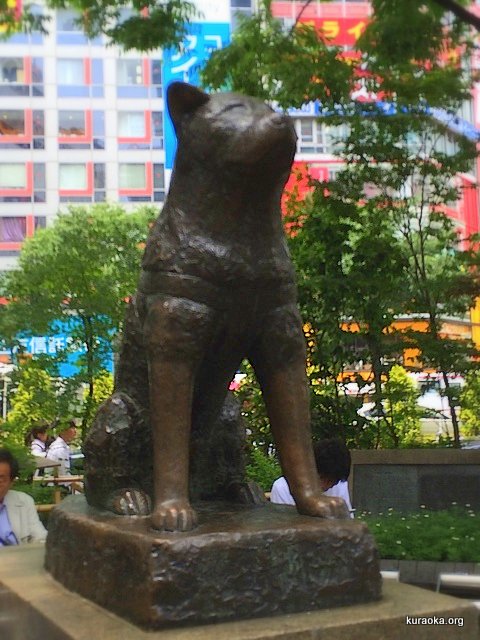 Famous intersection hub of 5 large streets, lots of pedestrians. Google "Scramble intersection Tokyo" and it should come up.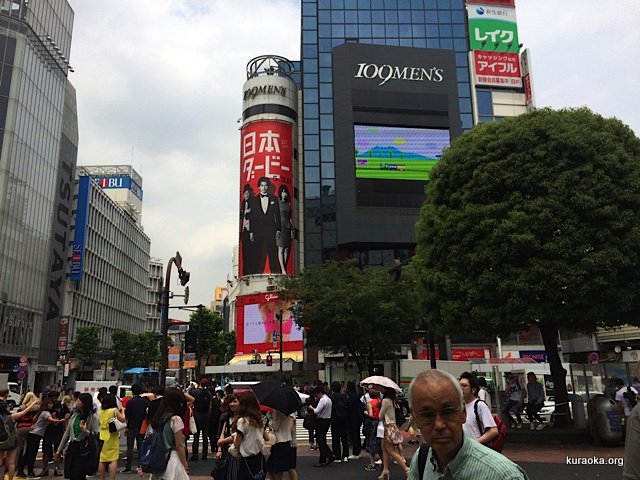 Another wonderful lunch with Nobuko and her husband Hidehiko.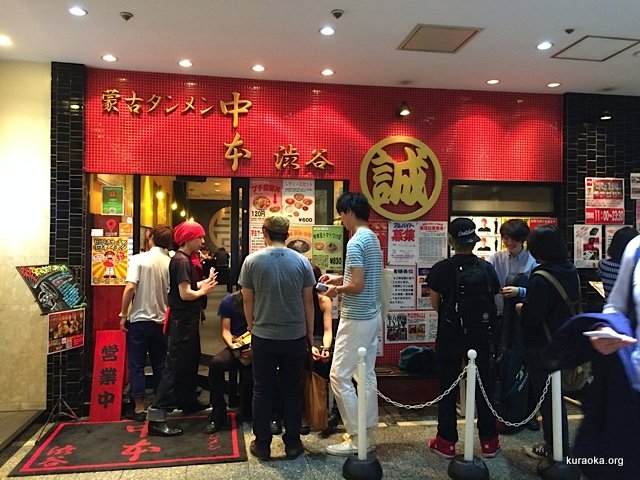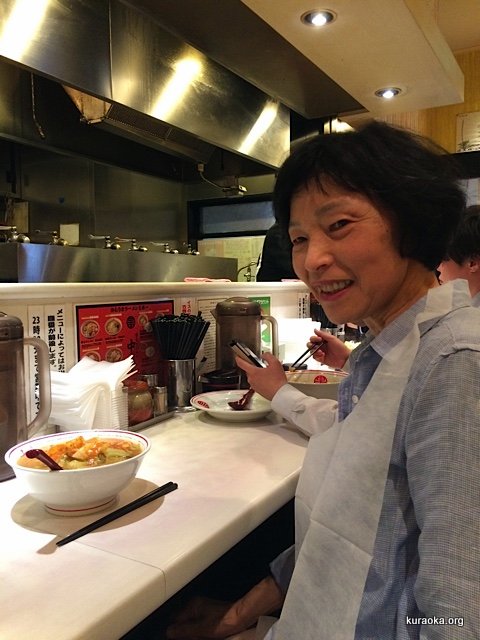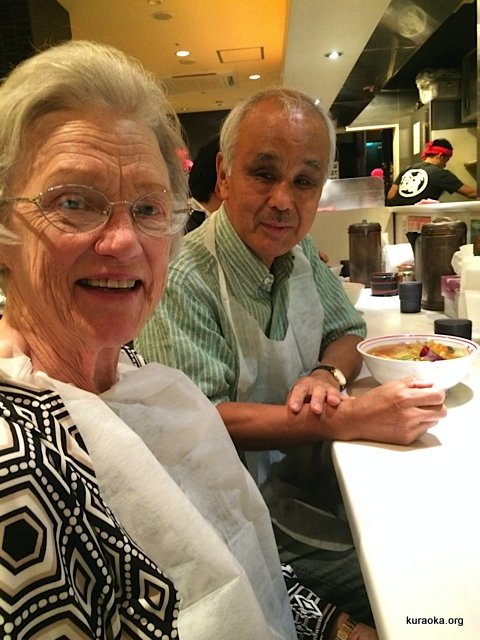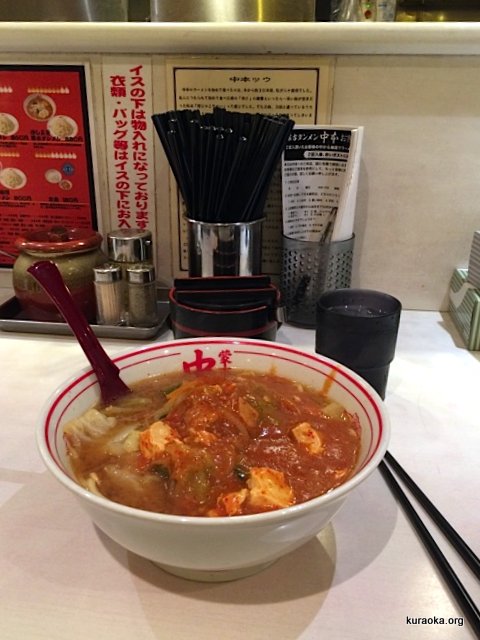 No clue what these cute guys represent, but fun to see!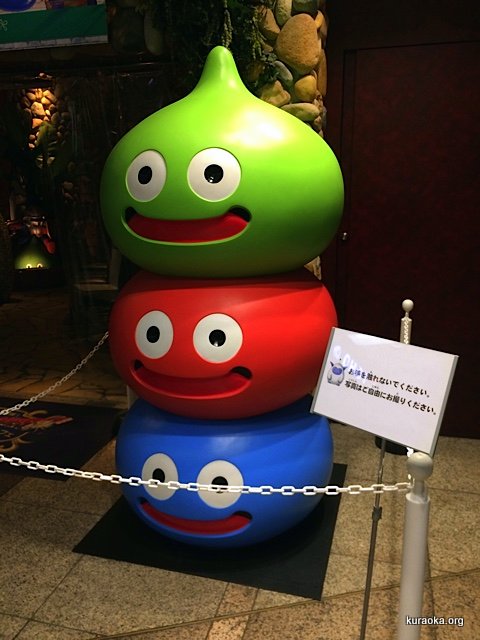 Friday, May 29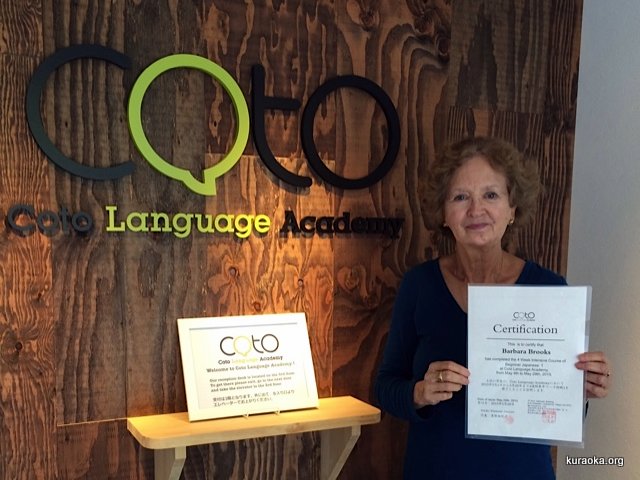 Certificate of completion at Coto Akademie, 4 week course.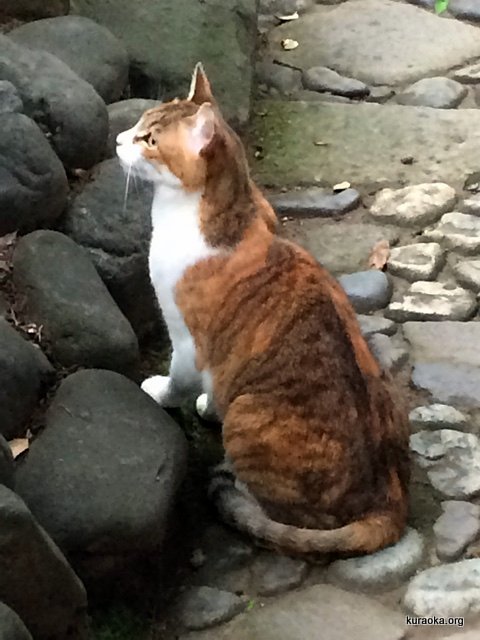 Japanese cat in Koishigawa Korakuen Park garden.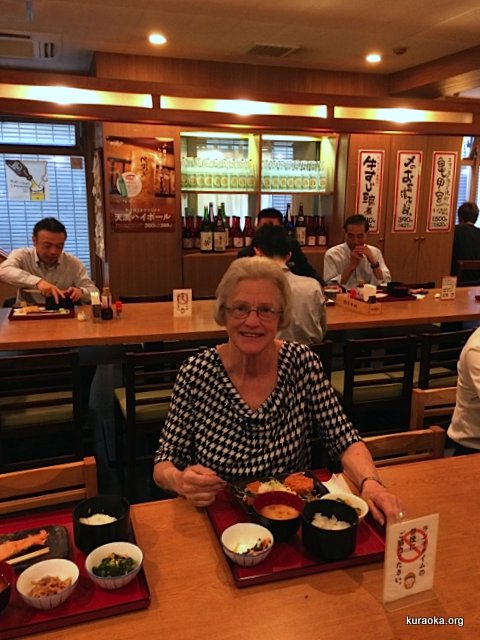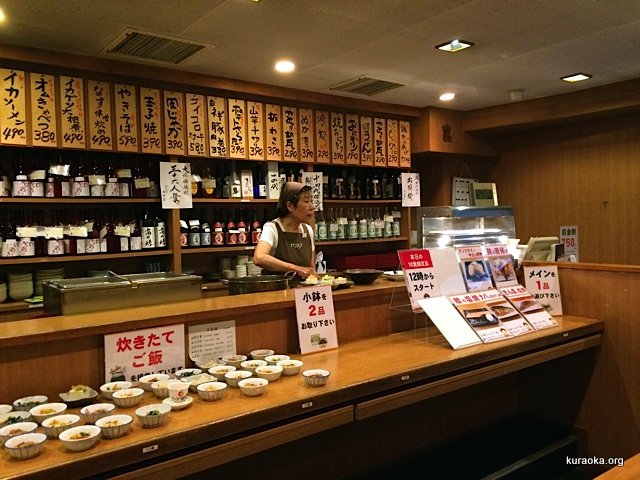 Delicious lunch with Bea at a great restaurant near the Coto School.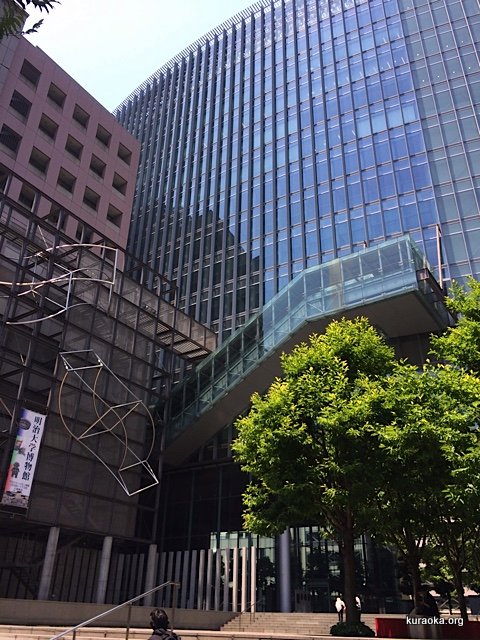 Meiji University where I was asked to speak to a class of business management students (Tuesday) regarding cultural diversity in my life in San Diego. New friend Marie is a tenured lecturer at Meiji, quite an accomplishment.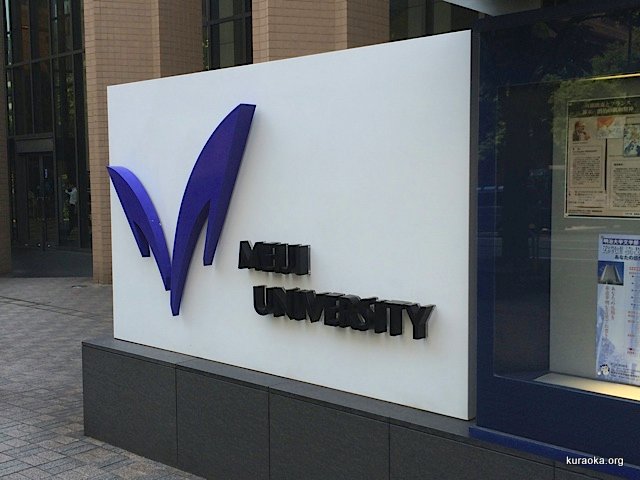 The campus is quite large. This is the building where I spoke to the class.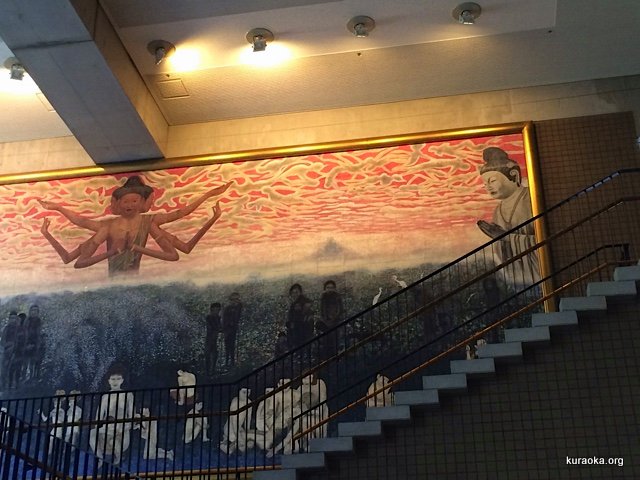 Hallway at Meiji University.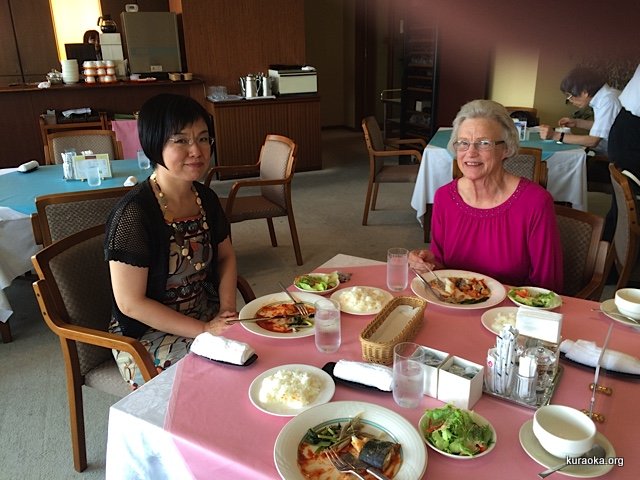 Lunch with Marie and Bea at Meiji U.
Sunday, May 31
Hi dear family,
Just leaving the hotel. Bea left yesterday. Sad to leave Tokyo, great time! Good to come home though.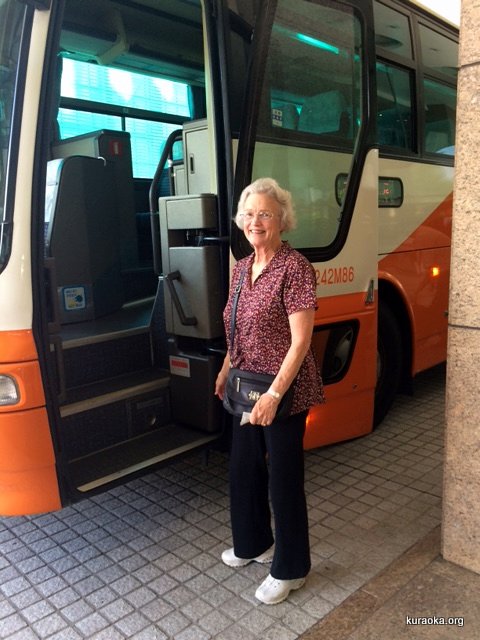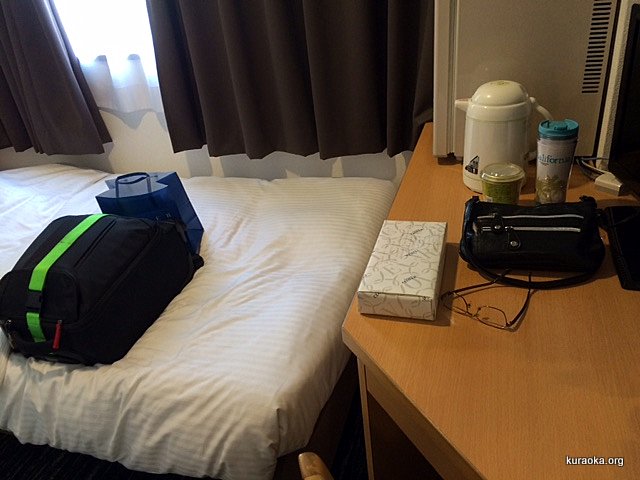 Soba curry at the airport, stylish in the bib provided by the restaurant for splashy splattery noodles!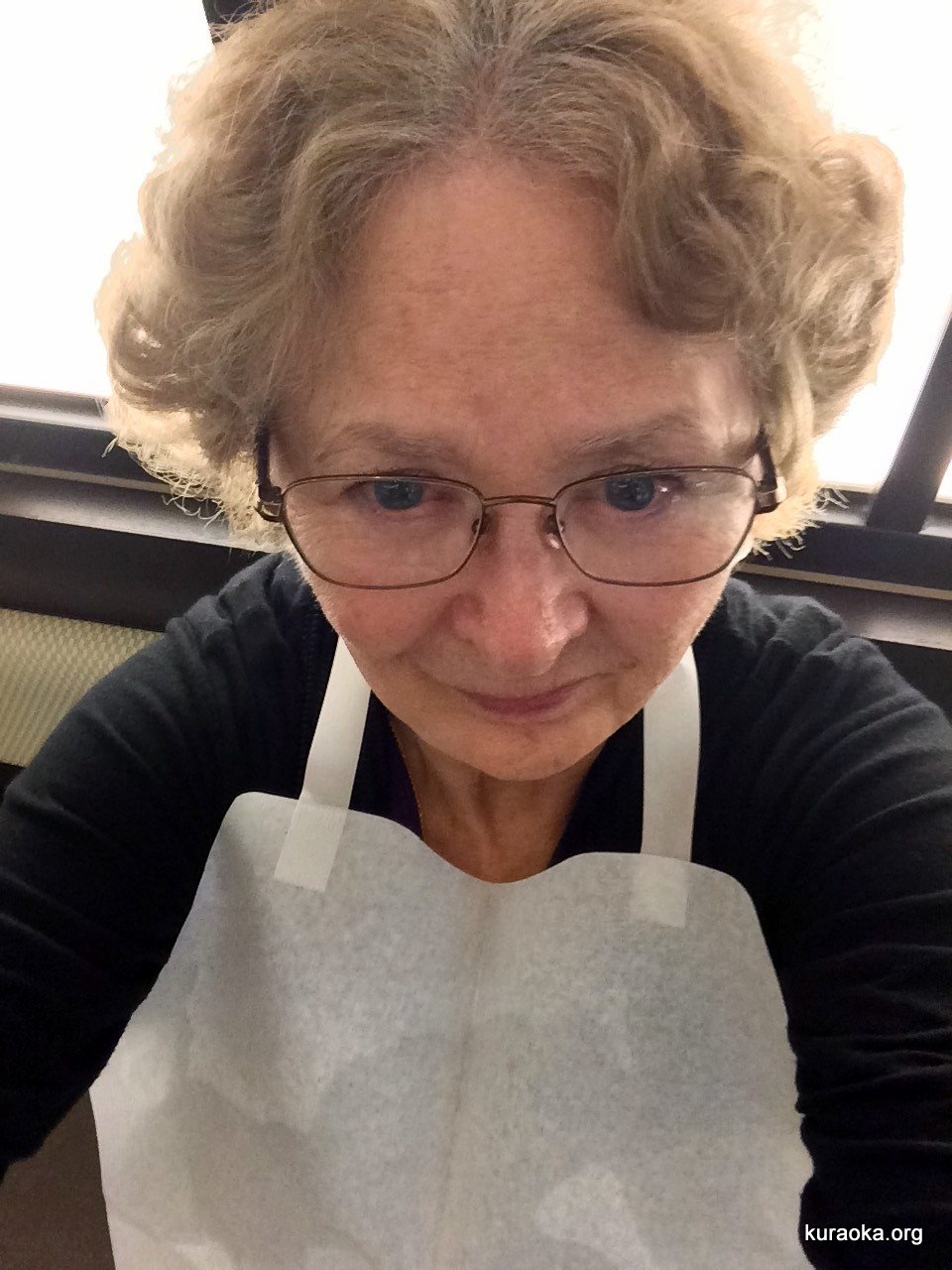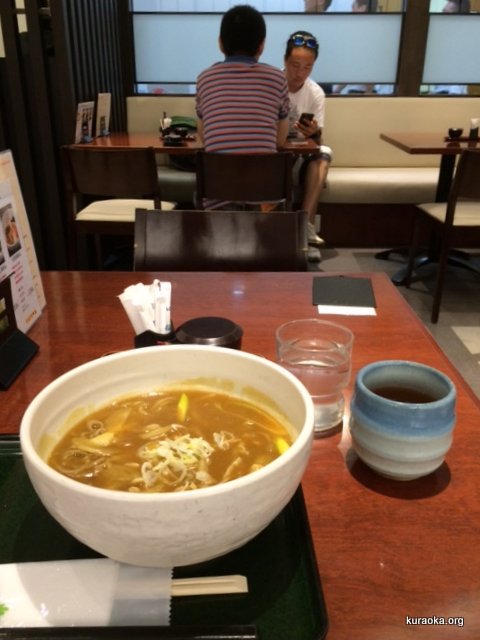 At Narita: dayrooms & showers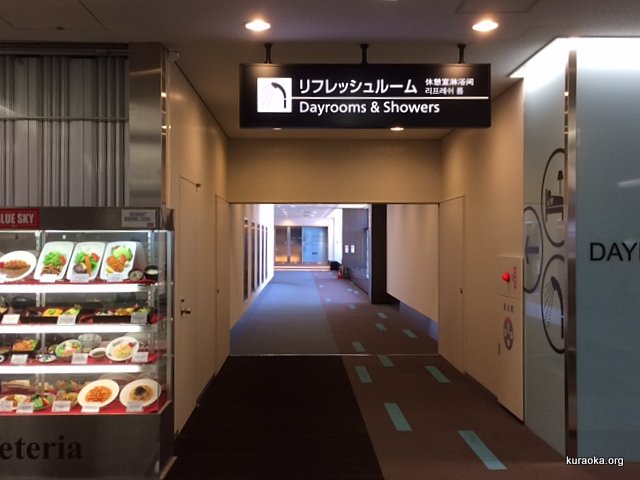 Traveling back in time---
Lots of love, hugs soon
Baba
Back to the Kuraoka Family main page
Visit our Archives page
Check out our latest Kuraoka Family Weekly Journal.