The Kuraoka Family Weekly Journal
www.kuraoka.org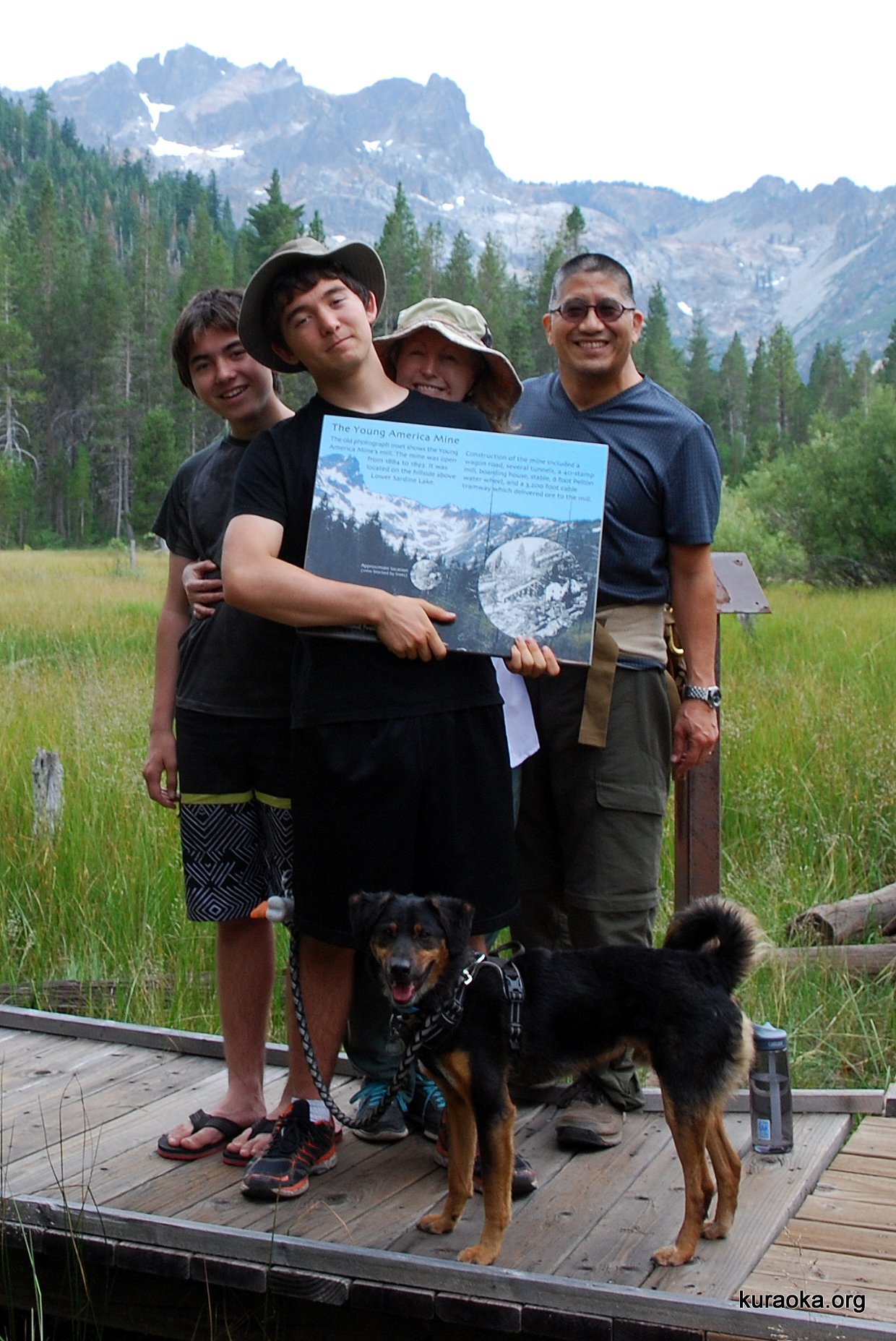 Us, August 5, 2017: Leo, Roy, Ondine, John, Shadow
Monday, October 16, 2017
The weather continues hot and sunny. We're all wilting under the heat, the more so because it teased us a while back with nice cool fall temperatures and now it's as if summer has come raging back, whooping in on the backs of the Santa Anas and roasting the poor persimmon tree in Barbara's yard, let alone our cherimoya. Fortunately, the forecast calls for possible rain around the weekend, whew!
Our weekend was packed. Saturday John dropped Roy off at Patrick Henry first thing in the morning to work on theater stuff, and took Leo to judo. While Leo had his workout, John enjoyed a long, dusty walk on the dirt field. Sensei George had brought Halloween doughnuts from Krispy Kreme for everyone! Leo, of course, had one (try and stop him from getting a free doughnut), but there was enough left over that Leo brought two home, one for Roy and one for Ondine.
In the afternoon we left Leo doing homework (ahem) on his laptop and went off on our own to see Loving Vincent at the Ken. It's an amazing film about Vincent Van Gogh, using his paintings as starting points for beautiful, swirling, vibrating animation. The story takes place a year after Van Gogh's death, and follows a young man trying to get a letter to Van Gogh's nearest living relative. The movie was unexpectedly gripping, turning Van Gogh's final days into something of a murder mystery, and the animation - all hand-painted frame by frame - was fresh and disturbing, like something Van Gogh himself might have created.
We had some time between our arrival and the start of the movie, so we visited the Kensington public branch library where the Friends of the Library book sale carts were out. Ondine found a contemporary novel, and John got a translation of Lysistrata for himself and a hardcover book about steampunk for Leo. $1.50 for everything, such a deal!
The timing coming home from the movie that evening couldn't have been more perfect. We swung by Patrick Henry on our way home and picked up Roy, who had just finished his work. At home, we had a clear-out-the-refrigerator dinner and watched a Midsomer Murder. It's funny that Roy and Leo are into DCI Barnaby (both of them), and were horrified that both DS Nelson and the dog Sykes were written out of the show this season. Actually, Roy still misses DS Troy.
Sunday morning the boys were up bright and early. Ondine emerged a bit later - she likes to sleep in on the weekend - and took Shadow for a walk. Shadow did amazingly well, only exploding in barks at one dog behind a door. As for the other dogs on the street, he actually stayed quiet for a change, and used Ondine to block himself from seeing them lest he get all spinny flaily barky at them.
Leo went to Grossmont Center to meet up with his friend John. They saw a movie: Happy Death Day, which sounds like a horror version of Groundhog Day. They weren't impressed with the story, per se, but still thought it was scary. They ate lunch at the food court.
In the afternoon we went next door for kaffeetrinken with Barbara. Then, over dinner, we watched a stage production of the musical Heathers on YouTube, a macabre story sandwiched between darkly upbeat music and dance numbers, perfect for Halloween season.
Monday morning Ondine made it out to the early morning Jazzercize before going to work. John finalized the move closing one retirement account and transferring it to another. No more having a broker! He also got all our bookkeeping up to date, a herculean task given how long it had been deferred. But now it's all in order, and by the December statements he'll have a fresh slate moving forward. He also completed his MOOC on Wordsworth, yay! To celebrate, he bought his first two FutureLearn Certificates of Achievement, one for the Wordsworth course and another for a course on Much Ado About Nothing in performance, and he's considering buying the one for the course on Robert Burns. They're kind of expensive, though, considering that they carry no accredited academic credit.
Neighborhood gas prices rose to $3.15 per gallon.
Visit us often - this journal has been updated at least once a week since 1998! Our friends at Digits.net say you are visitor number

since then.
Back to the Kuraoka Family main page, with lots more stuff, including photos!