The Kuraoka Family Weekly Journal
www.kuraoka.org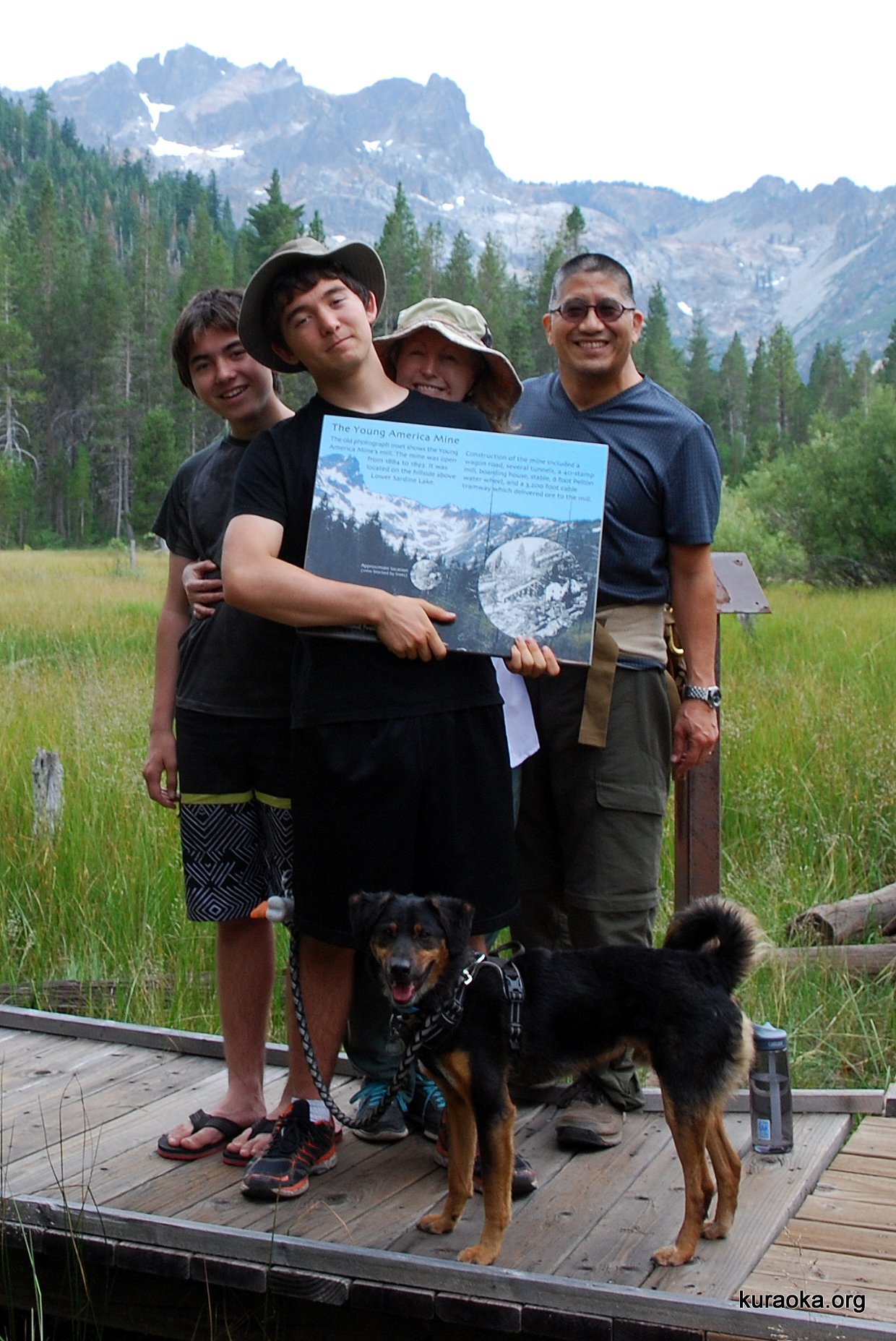 Us, August 5, 2017: Leo, Roy, Ondine, John, Shadow
Tuesday, September 19, 2017
We've had cooler weather the past few days, thankfully, with temperatures in the mid to upper 80s and cool moist nights. Fall is coming!
Leo received his promotion to 6th degree green belt at judo a couple weeks ago.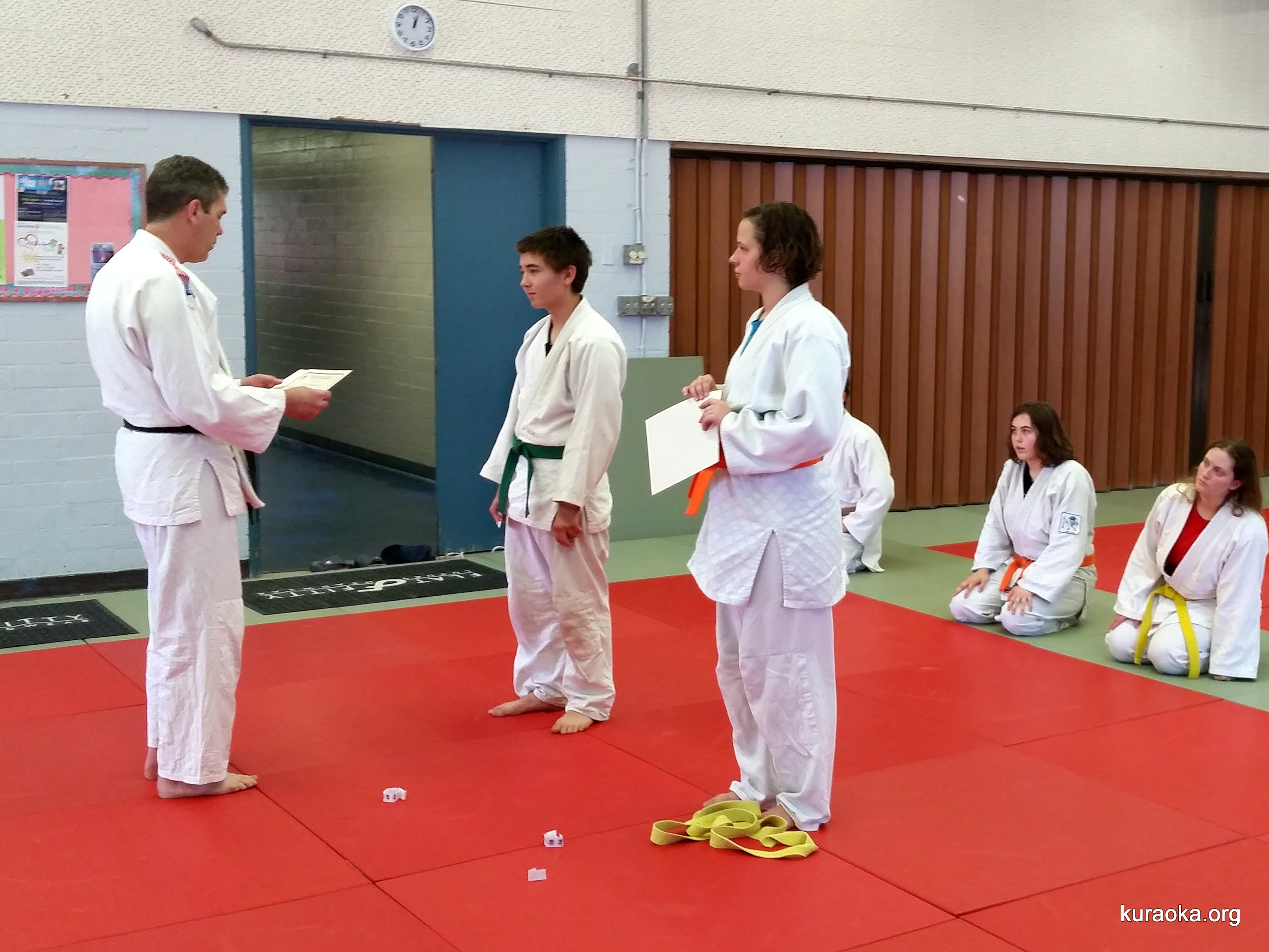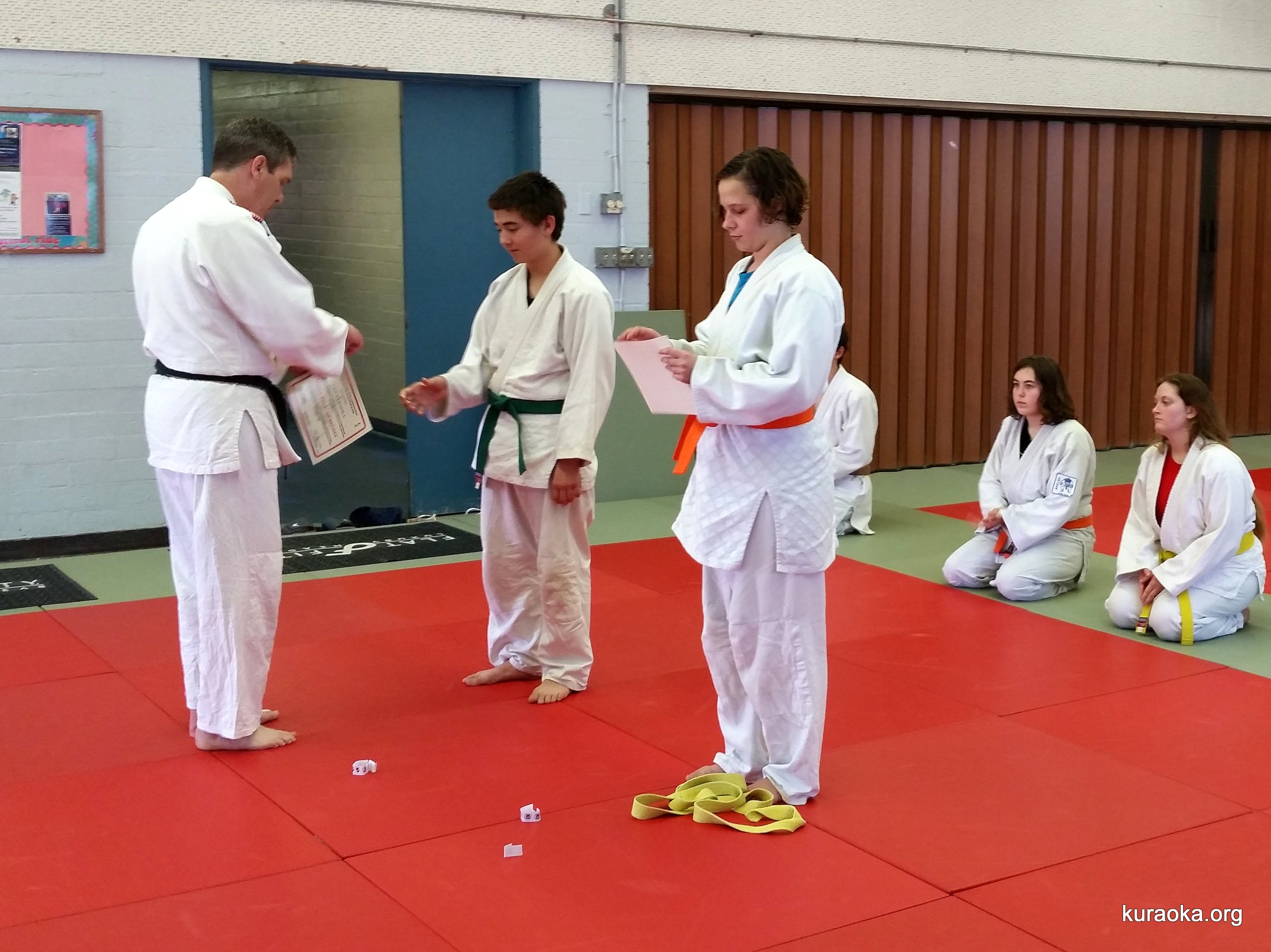 We celebrated with his choice, lunch at the New Century Buffet on Fletcher Parkway. Barbara joined us for the celebratory meal. The sushi there is surprisingly good, and there's also excellent salmon, fried fish, and fried wontons, and decent crispy chicken, teriyaki, and chow mein.
Then the boys went next door for a while, while we went out to see An American in Paris at the San Diego Civic Theatre! This was the first show of our season tickets. Our seats aren't the greatest (we're up near the middle of the mezzanine), but, hey, binoculars are easy and we see the same show as the people in the best seats! Plus, we'll be seeing Hamilton early next year!
This production of An American in Paris was changed quite a bit from the old MGM musical, with some swapped songs to better suit the spectacular dance sequences. What a fun evening!
While we were there waiting for the doors to open, we visited the box office and bought tickets to see Les Miserables and Phantom of the Opera when they come to town.
The next show is The Little Mermaid, which Roy wants to see, having worked on the Patrick Henry production last year.
Sea World! We went to Sea World, finally using our passes for the first time in a couple years. Roy chose not to join us. It had been so long since we'd been there, that Leo's two-year pass had expired! (The rest of us have recurring one-year passes.) We pet the bat rays, and Leo rode the Manta roller coaster twice! Ondine rode it once, and that was enough. We also spent some time watching the otters get fed. The best part was the bundts, one pound of frozen shrimp or clams, frozen solid in a bundt cake mold. The otters each get one bundt, then race off to a quiet corner of the pool to break it open and devour their seafood treats. One otter finished first, then raced over and snagged what remained of another otter's bundt! That didn't prompt a fight, though. Staying well out of the melee was hand-raised Coco, who retreated into the nursery pool, where she'd been raised. She's fully grown now, but returns to the nursery because it's her safe, comfortable space. We also watched the Pets Rule show. Here are Leo and Ondine petting the velvety soft bat rays.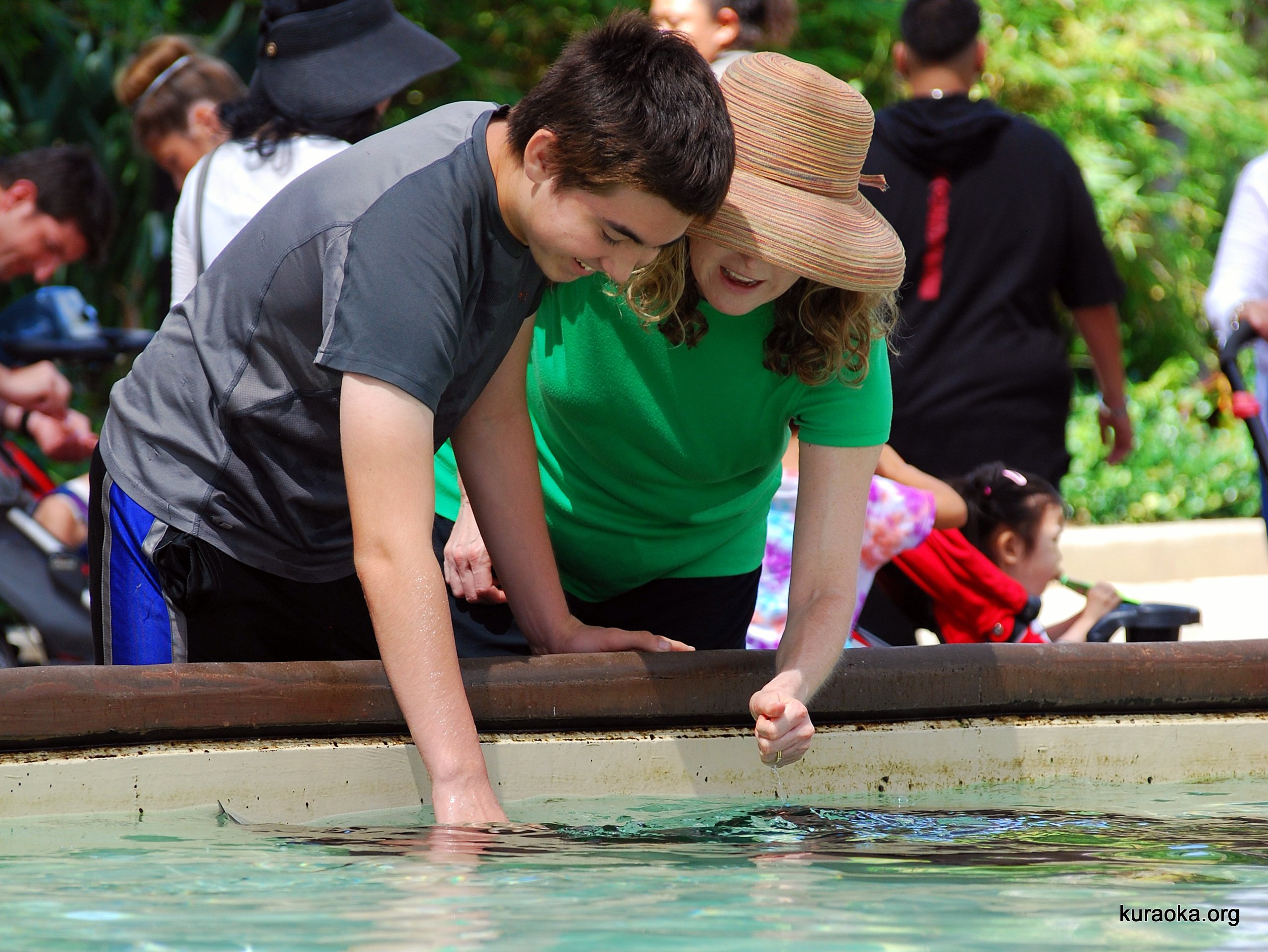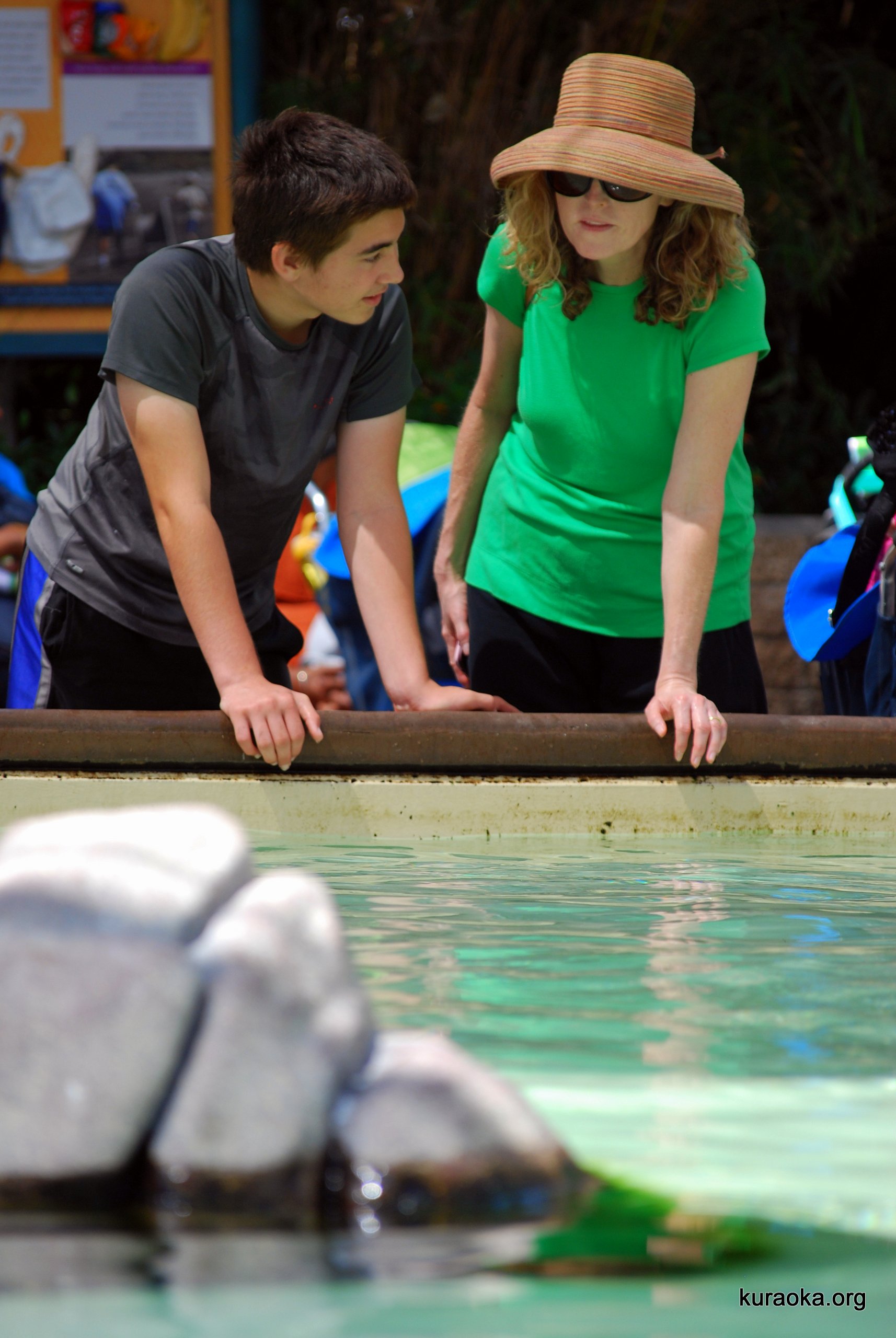 Barbara is finished with prison! The volunteer program was an 18 month commitment, and it at last reached its end. She won't miss that long hot drive out to the prison, but may miss the connections her group of inmates developed. It was a very rewarding program to be involved in, but also exhausting!
John took his car went in for a passel of repairs: new front brakes, a new rack and pinion, a new radiator and hoses, sigh. In the meantime, he's renting a Hyundai Sonata, a much larger car. The kids like the stretch-out room! He'll be heading out soon to Las Vegas soon to connect with some buddies from his days on staff at Camp Whitsett, a Boy Scout camp in the Sequoia National Forest. He worked there four or five summers!
Neighborhood gas prices are about $3.29 per gallon.
Visit us often - this journal has been updated at least once a week since 1998! Our friends at Digits.net say you are visitor number

since then.
Back to the Kuraoka Family main page, with lots more stuff, including photos!