The Kuraoka Family Weekly Journal
www.kuraoka.org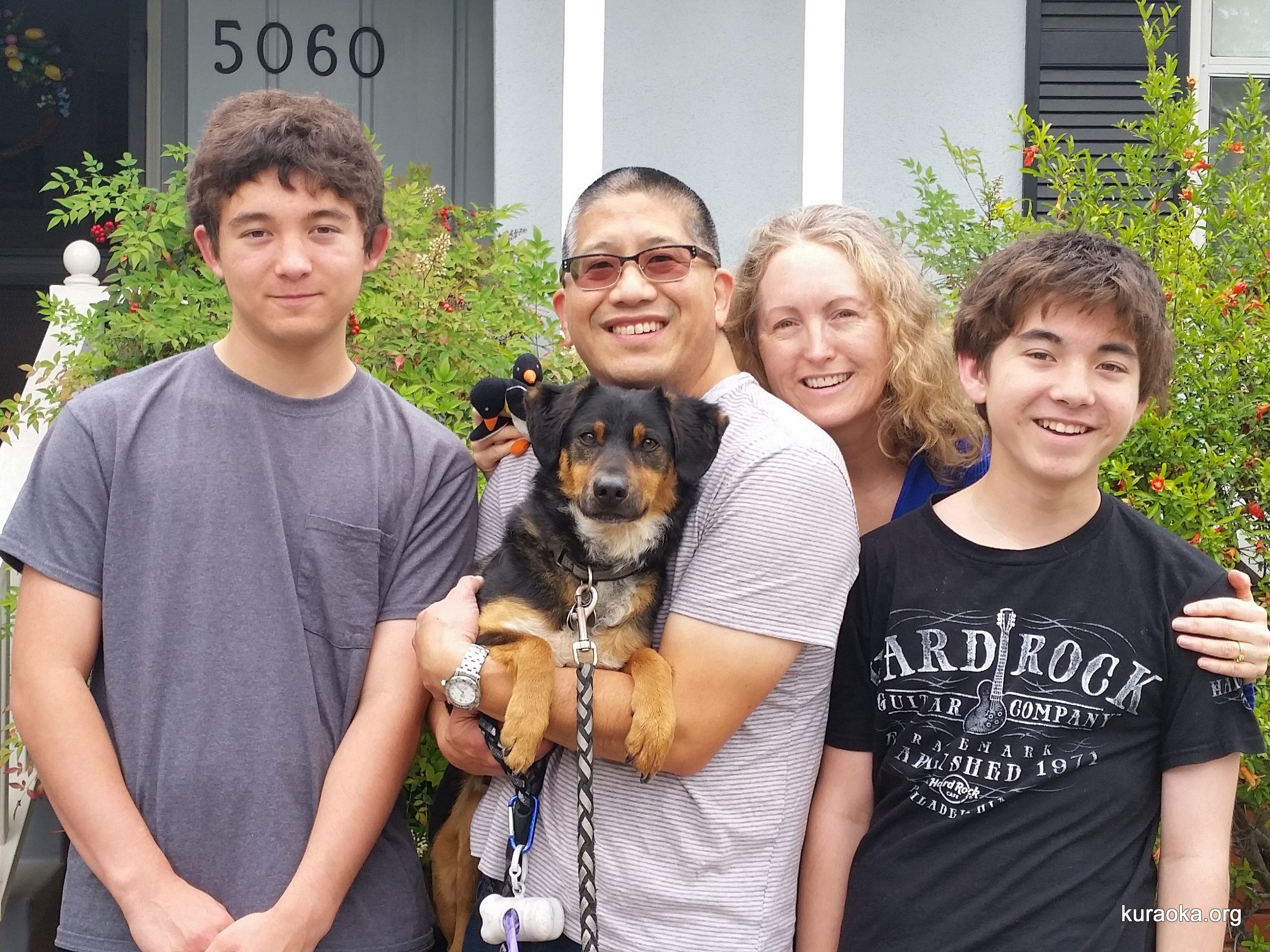 Us, May 8, 2016: Roy, Shadow, John, Ondine, Leo
Friday, June 23, 2017
This weekend, John will be batching it! Ondine, Roy, Leo, and Barbara are flying to Oregon for Sam and Jess' wedding, leaving John and the dog behind. They're heading into a record-setting heatwave!
And now, a bit of history. The first time John was off-leash for any length of time was pre-kids, when Ondine, Barbara, and Bill went to Sand Pond for a week. It rained all week in camp, and John got shingles.
The next time John was home alone was a couple months ago, when Ondine and Lucy took Roy and his buddies camping in the desert. John got a flat tire and Ondine got dehydrated and ended up in the ER via ambulance.
Third time's the charm though: we're all hopeful for a fun trip for the family connecting with Liz & Les and Co., and a placid weekend of Shakespeare and solitude for John and the dog.
Speaking of the dog, John and the boys have settled into a summer routine. Right after breakfast, while it's still cool out, they walk the dog. If one of the kids is up before the other, then the dog gets two walks. What's interesting is that we all have different routes. Ondine's route includes the butt hill, down the street to the dead end and back up. Leo's route goes the other way, veering in and out of a cul de sac and continuing toward the Jewish Temple, before crossing the street and coming back. He occasionally extends his walk by turning up one of the many side streets before heading home. Roy's walk is the shortest: up the hill to Gage Elementary and back via one of the hill streets. He extends his walk by circumnavigating Gage.
Because the boys take the dog for a walk in the morning and Ondine takes the dog for a walk in the evening (except when she can join a morning walk), the dog, and usually John, gets two solid walks in every day. On a couple days this week, the dog got three walks! John has racked up well over 11,000 steps a day for the past week. Woo hoo!
Of course, after that Roy and Leo spend an awful lot of time on either their phones or laptops, although Roy says he's writing and Leo says he's either making music or working on his AP Bio summer packet. But at least they've kicked off the day with a spot of exercise.
Last weekend, Barbara was in Blythe, where she's a volunteer in a program for prison inmates. She got back home late Saturday night after a 7-hour drive.
And, just this week, John's Mom Frances returned from a week-long trip to Hawaii with his sisters and their families! We'd have gone too, but what with Roy going to Japan and our Sand Pond trip already booked, we just couldn't manage it. It sounds like they had a great time!
The first day of summer, June 21st, set heat records throughout San Diego County, with temperatures of 120+. It was close to 100 degrees here, and will be again early next week. However, there is a bright spot: our electric bill has been running backwards the last few months, thanks to all the sunshine! So far, we've managed the heat thanks to strategic opening and closing of windows and blinds, cool nights, and fans.
Ondine got her Qualified Bilingual Staff Level 2 badge Friday! That means she can now use her Spanish clinically. It was a hard-earned accomplishment!
John recently bought a clothes drying rack, an energy-saving throwback. It holds several of Ondine's wraps and tops, and collapses for storage. And, he finally replaced his Philips rotary shaver, which he's disliked for years, with a Braun regular style shaver. He likes the new one a lot more.
Leo just got FL Studio Signature Edition music production software! He installed it on his laptop. It's a professional music production studio suite that allows him to compose and edit music tracks.
Neighborhood gas prices are about $2.95 per gallon.
Visit us often - this journal has been updated at least once a week since 1998! Our friends at Digits.net say you are visitor number

since then.
Back to the Kuraoka Family main page, with lots more stuff, including photos!