The Kuraoka Family Weekly Journal
www.kuraoka.org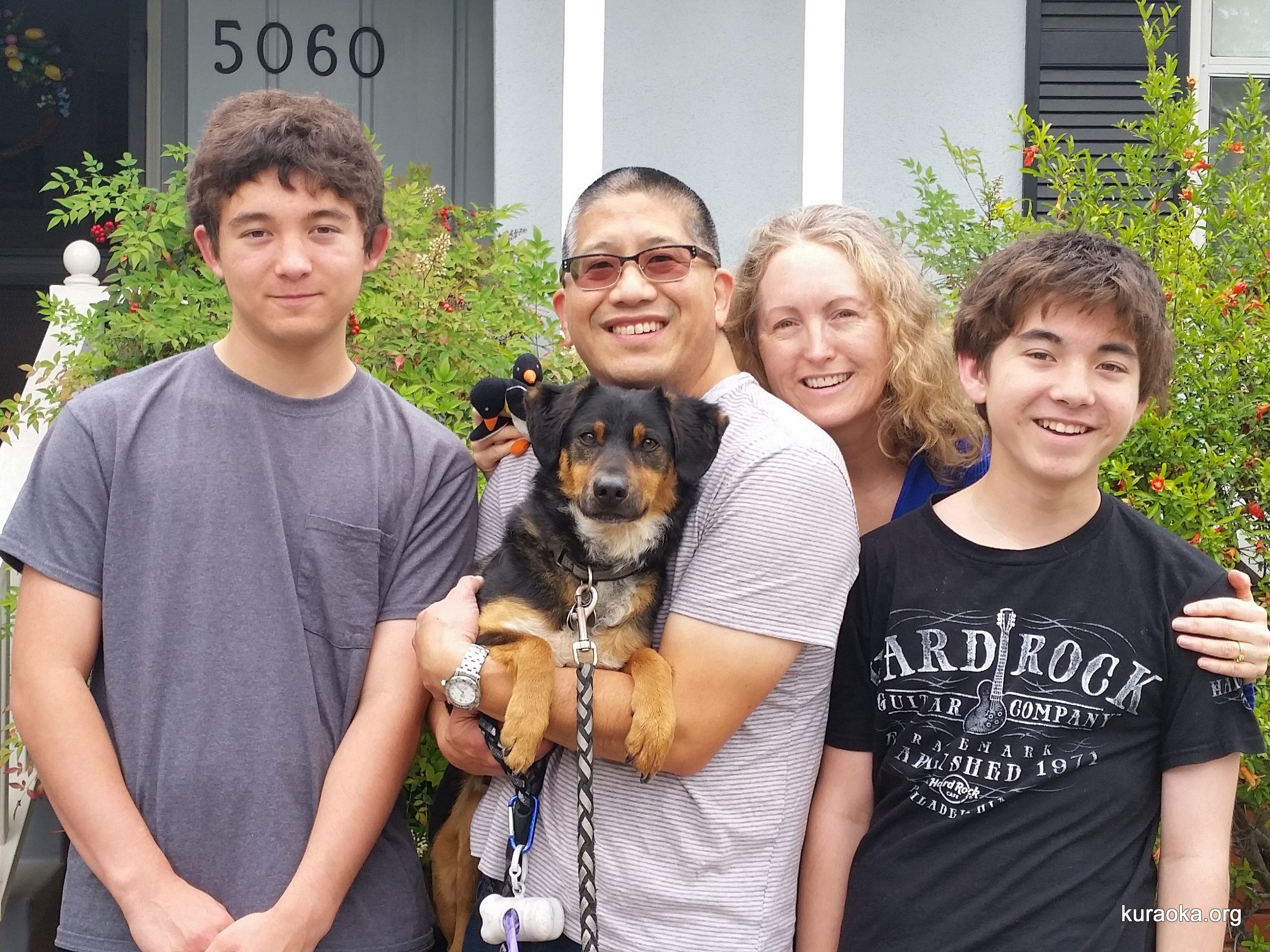 Us, May 8, 2016: Roy, Shadow, John, Ondine, Leo
Monday, May 22, 2017
BIG NEWS! Ondine took her interpreter certification test for the second time last Thursday. Her test machine kept giving her error messages, and she had to start her test without the usual practice test portion. So, on one entire section, she thought her machine had crashed again when in fact it had gone into screensaver mode, which was totally distracting. Then, when it came time to start interpreting that section, she just went on what she could recall - she forgot that she could replay sections! And, she didn't remember about the replay function until after the test was over! Nonetheless, she felt much more fluid this time thanks to her weekend immersions at the Pacific Language Institute in Ensenada. Well, she got the results this very afternoon and SHE PASSED! Hooray!
This is a HUGE accomplishment! She's now Interpreter Level 2-certified, the highest level, which means she can now handle a bilingual caseload at Kaiser, as she has done at her previous jobs. Yay!
Saturday morning, while John and the boys were at judo, she took a walk around Lake Murray with Lucy. Then she went out clothes shopping, in part a necessary replenishment and in part a celebration.
Roy helped out at the theater building after school today, and will be running lights for a show tomorrow and possibly Wednesday. And, he may have an opportunity to go to Japan this summer!
Leo is working on an ASL presentation with a classmate. This last weekend was very busy for him: he went to judo Saturday morning, went to his friend Garrett's house overnight, then John picked him up early Sunday morning to take him to meet on the ASL project at a local Jack in the Box. Wow, we barely saw him! He was done in time for kaffeetrinken with Baba though. Today he's working on the project at the library, and tomorrow he and his class partner may be getting together again at Jack in the Box.
John got tickets for a Friday evening performance of The Taming of the Shrew at the Stagehouse Theatre at Grossmont College, just one hill over. Here we are! (See, this is why the kints refuse to be in our selfies any more.)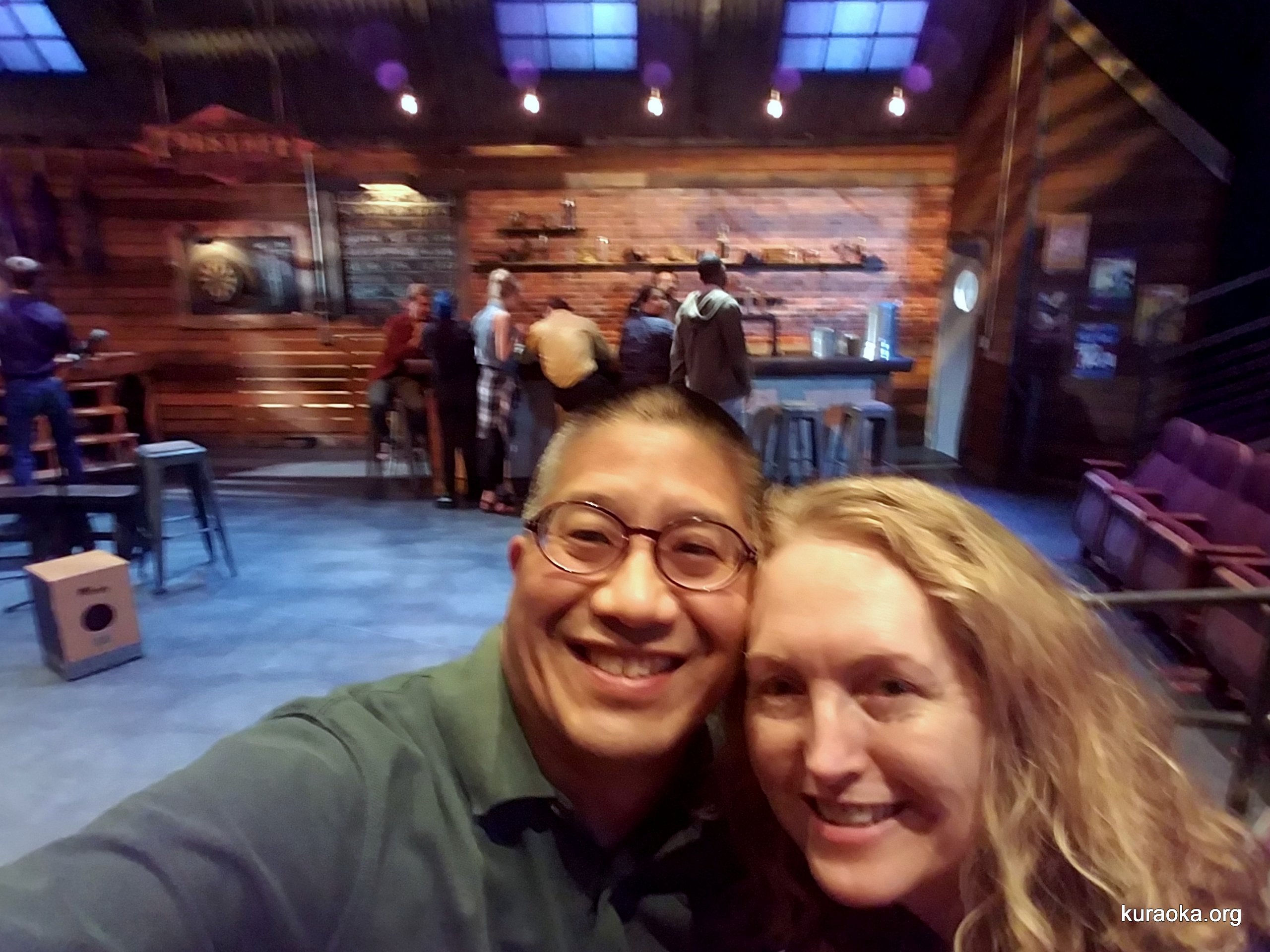 As you can see from the stage behind us, the setting - and the meta setting for the play, replacing the Induction - was a modern brew pub. The performances were excellent, with a wonderfully two-faced Bianca and a tart, tattooed Katharina.
He spent much of the weekend on the road, shuttling Leo to his various social and school engagements.
Barbara just returned from two trips. The first one was to Muelheim for Juergen's birthday and Dax and Juergen's wedding anniversary! We watched some of the videos during kaffeetrinken Sunday afternoon, and it was wonderful to see some familiar faces: Dax and Juergen of course but also Peter, Klaus and Marlies, Guido, Jule, and others. We also saw Barbara's photos from the trip, which included many familiar sights: the matsch-spielplatz, the Gasometer, and Dax and Juergen's flat.
She got home from Germany and almost immediately turned around and headed out on the road to the prison for her volunteer project. Whew, a busy time!
Frances, meanwhile, recently returned from a trip through Santa Fe with John's sister Patty. Busy, busy grandmothers!
This afternoon a wildfire started in Santee, on or near the other side of Cowles Mountain. We can smell the smoke in the air, but understand that it's getting under control.
Neighborhood gas prices rose to about $3.25 per gallon.
Visit us often - this journal has been updated at least once a week since 1998! Our friends at Digits.net say you are visitor number

since then.
Back to the Kuraoka Family main page, with lots more stuff, including photos!