The Kuraoka Family Weekly Journal
www.kuraoka.org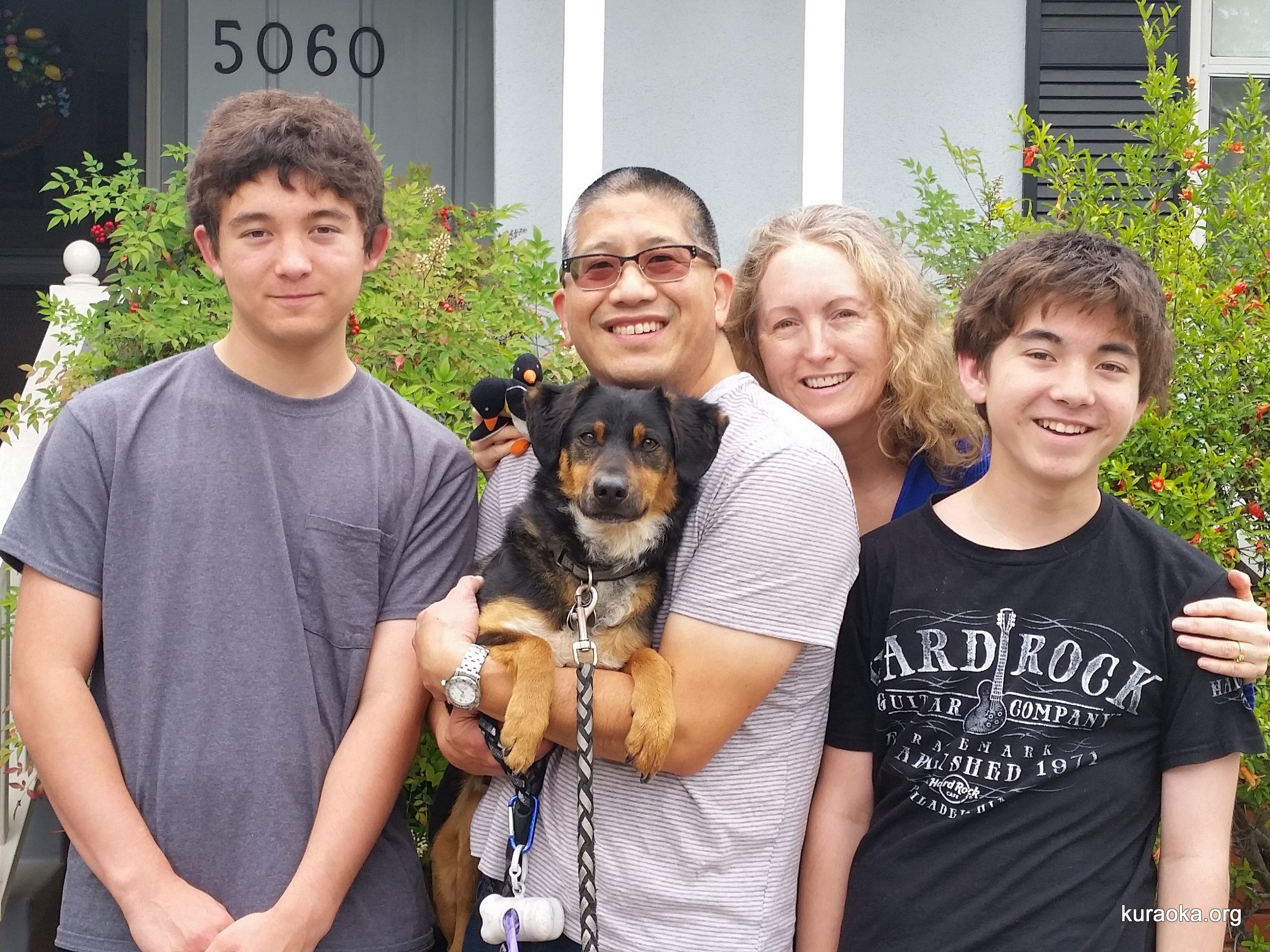 Us, May 8, 2016: Roy, Shadow, John, Ondine, Leo
Monday, April 24, 2017
We had a rather more exciting weekend than we'd planned, or wanted!
Friday afternoon, right on schedule, John's new all-plastic waterproof campin' uke arrived. It's a Makala Waterman, bought online, on sale, and with a coupon, for under $30 shipped. Sweet! The top is cream-colored and the body is a yellow-orange swirl reminiscent of a 1960s Formica tabletop. It seems to have the updated fret paint (the plastic fingerboard has molded-in frets painted silver, and early models had paint that wore off in minutes), although the side marker dots have almost completely worn off. The strings are settling in as they stretch.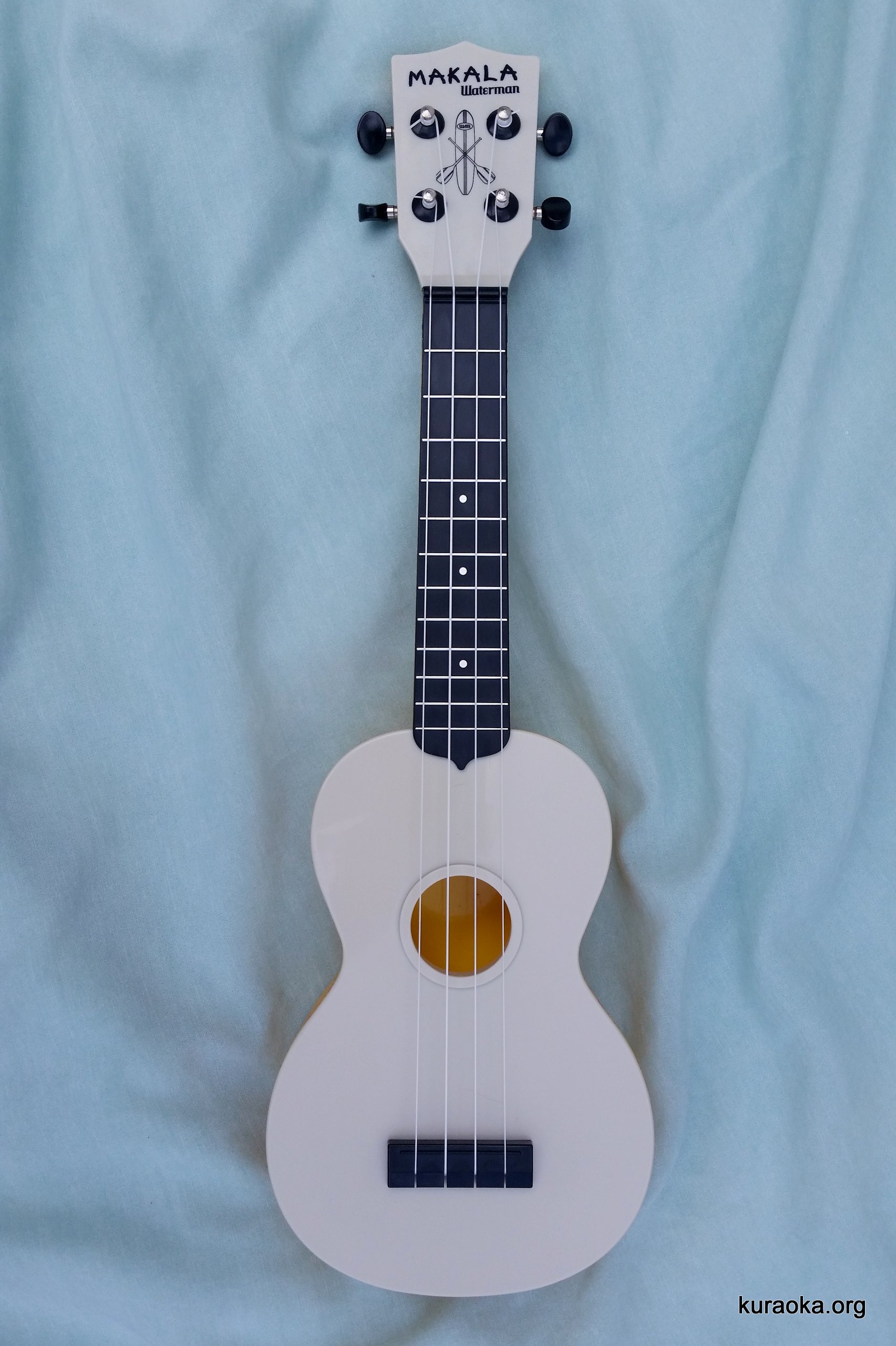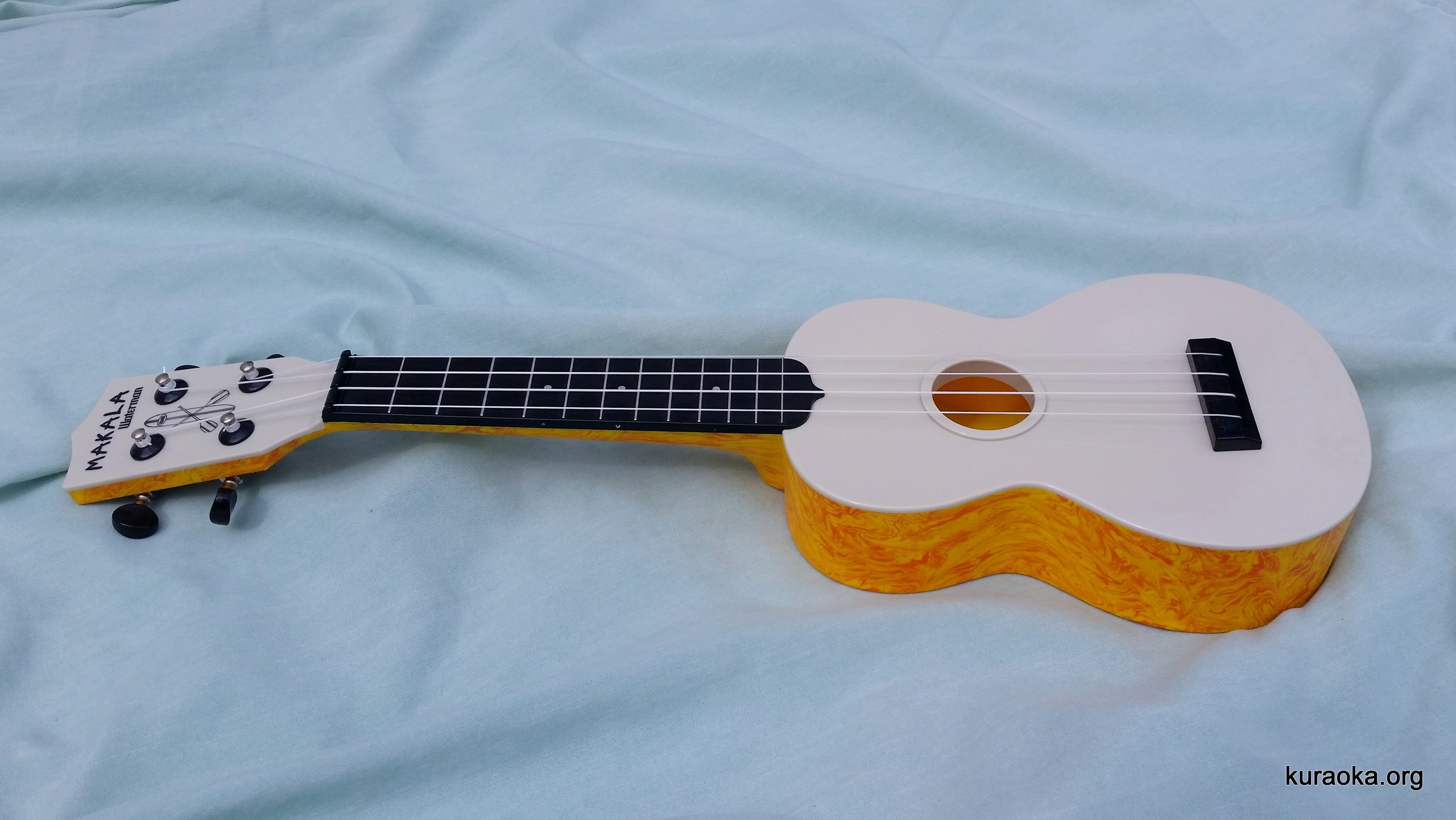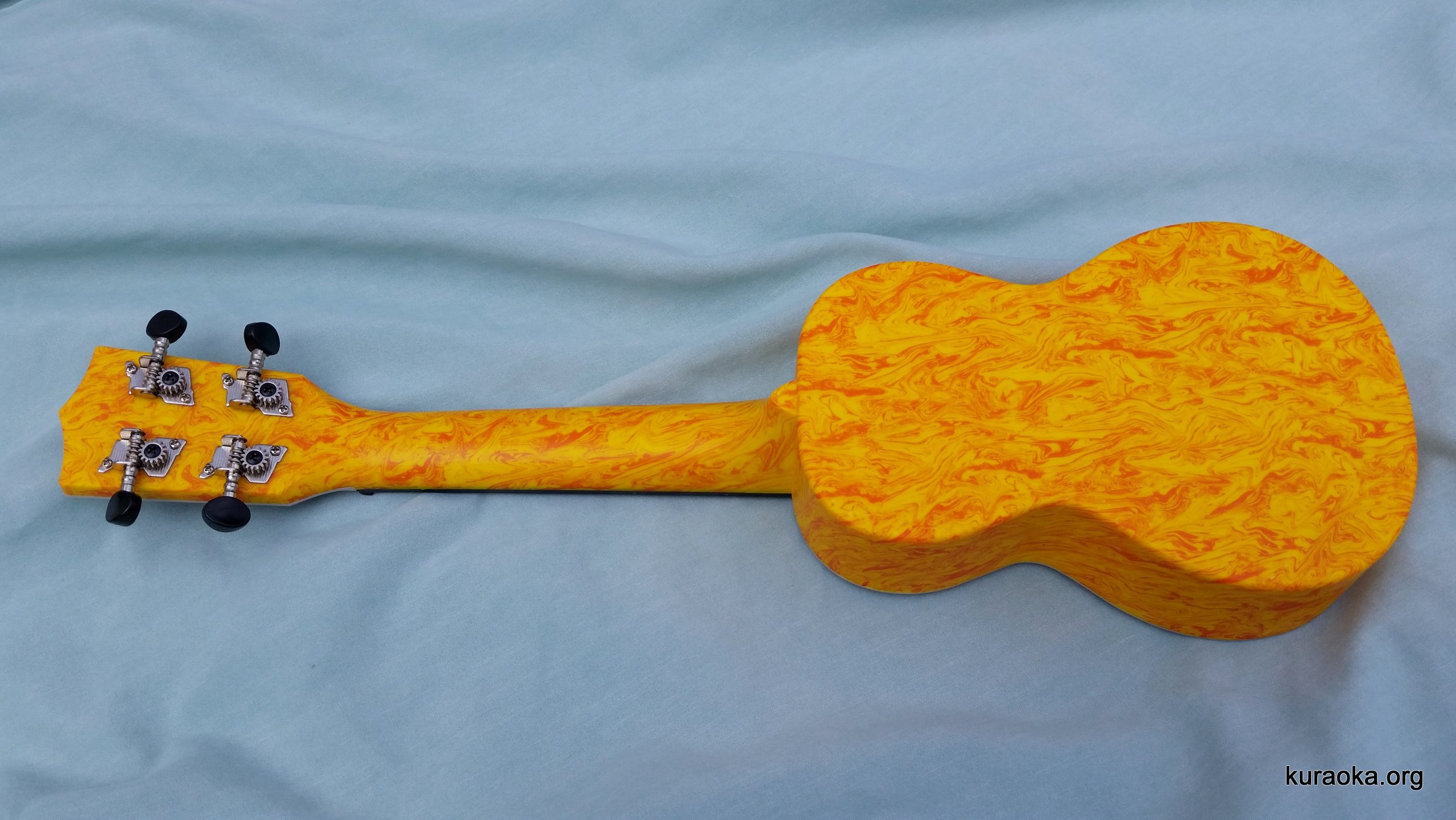 It's a little harder to play than his other ukuleles, because the action is higher and not adjustable. But it's still very playable, and probably will sharpen up his chord shapes. It's slightly smaller than his wooden soprano ukes, making it an even better travel instrument. The sound is fittingly buoyant and quite loud.
When Roy first saw it, a couple days later, his reaction was, "What, another ukulele?" John tried to explain the cheerfully busy reproductive habits of ukuleles, but Roy remained skeptical.
Friday after school John took Leo to his friend Garrett's house for an overnight. John returned just as Ondine and Roy were leaving for an overnight camping trip in the desert with Roy's buddies, Alex, Michael, and Stephen. Lucy would be there too, with Carmen and her friend Lily.
Saturday morning John thought he'd get some videos Ondine wanted to see, and went to the library. He also picked up a book he'd put on hold, Dr. Helen Castor's She-Wolves, about the women who attempted to rule England prior to Elizabeth I. He emerged from the library to a flat tire! He managed to fill it, and headed to John's Automotive, calling ahead to see if they had time to fix his flat. They were booked solid, so he diverted to Discount Tire Center and settled in for a couple hours of reading She-Wolves.
It was so loud at the tire shop that he missed Roy's calls, but when he checked his phone he picked up a semi-comprehensible voice mail, of which he caught that Ondine, Roy, and Co. were on their way home from the desert, somewhere near Julian, and that someone had called 9-1-1!
A flurry of texts and phone calls followed, the gist of which was that Ondine had pulled over and called for emergency services because she thought she was having a heart attack!
Good news/spoiler alert: she wasn't having a heart attack. But she was suffering from something just as dangerous: a sodium and phosphorus deficiency! She drank plenty of water on the two short morning hikes they took, but with heat and exertion the body needs other stuff to keep going and lots of plain water tends to dilute that stuff even more. When elements like sodium and phosphorus drop too low, they cause the body to start shutting down, and her levels were very, very low.
The paramedics started an IV and loaded her in the ambulance, leaving Lucy to drive Ondine's Prius with Carmen, Lily, and Stephen, who she thought was familiar with Priuseses, while Alex drove their Subaru with Michael. See, Lucy had never driven a Prius before. Unfortunately, neither had Stephen! And by then Ondine had zoomed off in the ambulance! A few burly, truck-driving firefighters kindly tried to puzzle it out too, but no one quite knew for sure what the heck those buttons and knobs did, let alone the touchscreen.
Anyways, logic and willpower prevailed and they got the strange car in gear and followed the ambulance down the mountain roads, eventually separating to drop off everyone and let parents know what was going on.
John, meanwhile, had already arrived at Pomerado Hospital, having gotten the name and address from Roy. But, when the ambulance got there, they wouldn't let him in for quite a while because Ondine wasn't in a bed yet and there was a backlog of gurneys in the hallway. So he had to cool his heels while Roy stood by Ondine holding her hand, until the hospital needed more information than Roy could provide, and John and Roy swapped places. Roy would be stuck in the waiting room for about five more hours while Ondine got a couple injections, blood tests, a chest X-ray, a second round of blood tests, and more IV solution to bring her body back into whack.
Meanwhile dear Lucy faced yet another challenge: parking the Prius! She figured it out, though, doing absolutely everything to double and triple secure the car in our garage for the night. Shadow was very excited to hear the first activity in the house for hours and hours, and barked frantically for someone, anyone, to come throw a ball, give him a pat, or even just let him inside for his comfy pillow! The dog was to be disappointed.
John arranged for Barbara to retrieve Roy at Pomerado Hospital, and for Garrett's mom to drop off Leo at Barbara's house where Roy and Leo would spend the night. As events turned out, Ondine was discharged just as Barbara arrived, so there was a Welcome Back to the Land of the Living committee for her as she wobbled into the ER waiting room.
The Julian Cuyamaca paramedics and fire department were absolutely wonderful, as was the ER team at Pomerado Hospital. Roy did great managing to hold Ondine's hand and keep information flowing to John. Lucy triumphed over the strange controls of a hybrid car and kept everyone together.
Sunday, needless to say, we had a very low-key time. The boys hopped on their laptops "doing homework" for most of the day, while John got used to his new ukulele. We got together for kaffeetrinken at Barbara's, and heard about her upcoming trip to Muelheim for Juergen's birthday. And Lucy came by to drop off Ondine's keys and check in with her. She brought Gatorade and Vitamin Water, what a sweet friend!
So, a flat tire and an ambulance ride to the ER for sodium depletion: that was our weekend! How was yours?
On the plus side, we're all fine, Ondine learned about essential elements in the body, Roy proved a cool head in a crisis, John played his new plastic ukulele and read a chunk of She-Wolves, and the roadside honey farm where Ondine pulled off got a lot of business from the firefighters. By way of comparison, the last time John was left off-leash for any length of time was pre-kids, when Ondine went to Sand Pond with Barbara and Bill. At camp it rained almost all week, and at home John got shingles. Yeah. When we're not together, things sort of fall apart.
As for Roy and the gang, after this adventure and the drowning off the OB pier during Alex's beach birthday party, Roy, Alex, Michael, and Stephen made a pact never again to get together outside of school, for the safety of others. We'll give it a few weeks and then see if they'll make an exception for, oh, pizza or something.
Monday Ondine is taking a day off from work to fully recuperate, as she's still a bit tired from the ordeal. Over lunch (stuffed salmon and steamed red kale for two), John introduced her to a new British sitcom called Parents, and later she watched The Lives of Others. She plans to return to work tomorrow.
Neighborhood gas prices are about $3.15 per gallon.
Visit us often - this journal has been updated at least once a week since 1998! Our friends at Digits.net say you are visitor number

since then.
Back to the Kuraoka Family main page, with lots more stuff, including photos!