A Christmas Cruise to Mexico, Page 1
www.kuraoka.org
19-26 December 2010
Most photos © John or Ondine Kuraoka
We're back from a wonderful cruise to Mexico, thanks to Barbara and Bill! We had such a great time!
December 19 - Sunday Our shuttle arrived mid-morning, and our getaway began! We all went next door to Barbara and Bill's. Our luggage dwarfed their compact rolling suitcases. We had bags. We had tote bags, duffle bags, CPAP bags, laptop bags, and shopping bags. We had John's go-bag and Ondine's Hawaiian rolling bag. We had satchels and briefcases and packs. It all went into the shuttle van, with us following into the seats. Here we are!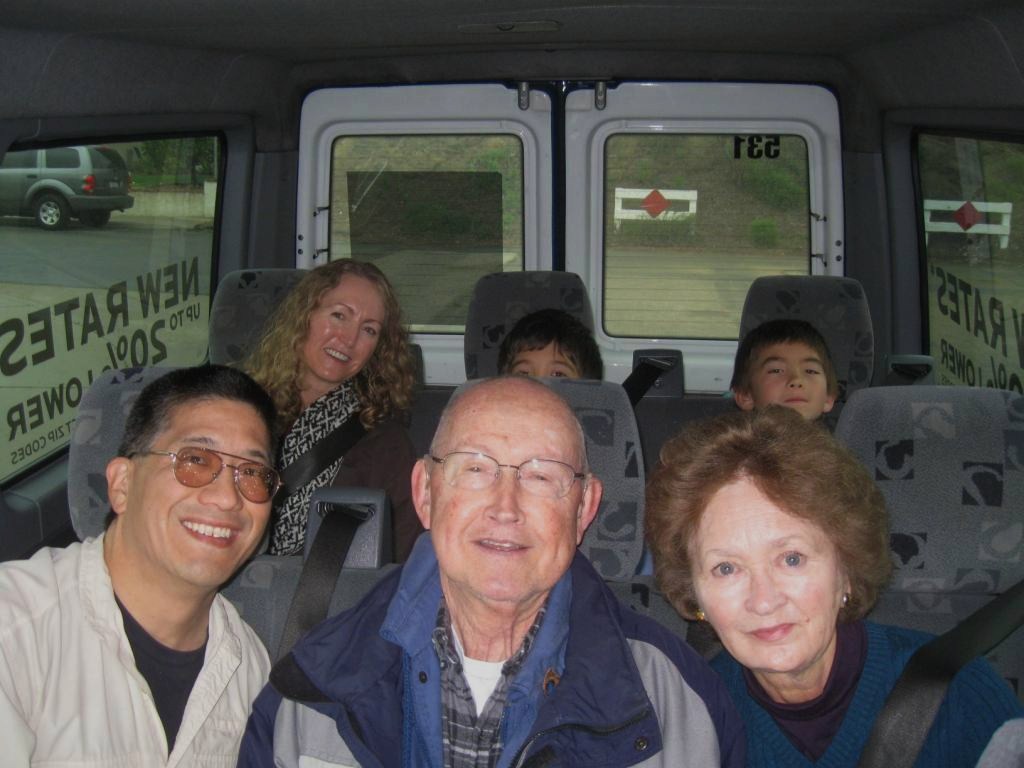 Unfortunately, the shuttle wasn't allowed into the boarding area, so we had to lug everything by hand through check-in. Pedicab drivers offered to take our bags for a "donation," and we accepted only to find that the "service" consisted of moving the bags about 20 feet to a spot near the entrance of the boarding area. From there we were on our own.
Thankfully, our bags were light and mostly carryable. We lugged our freight of bags through check-in lines, health-check lines, security lines, and finally, the line for the porter, at which we shed perhaps half our load. Here are Roy and Leo in the holding area, waiting to be called to board, and all of us ready to set sail!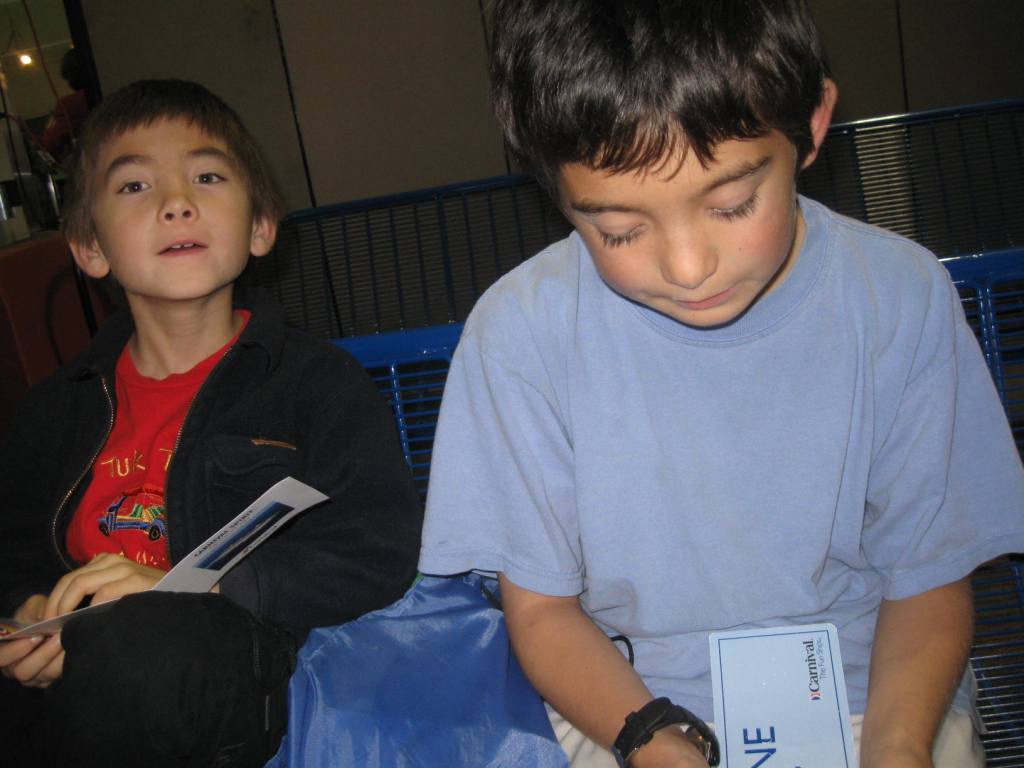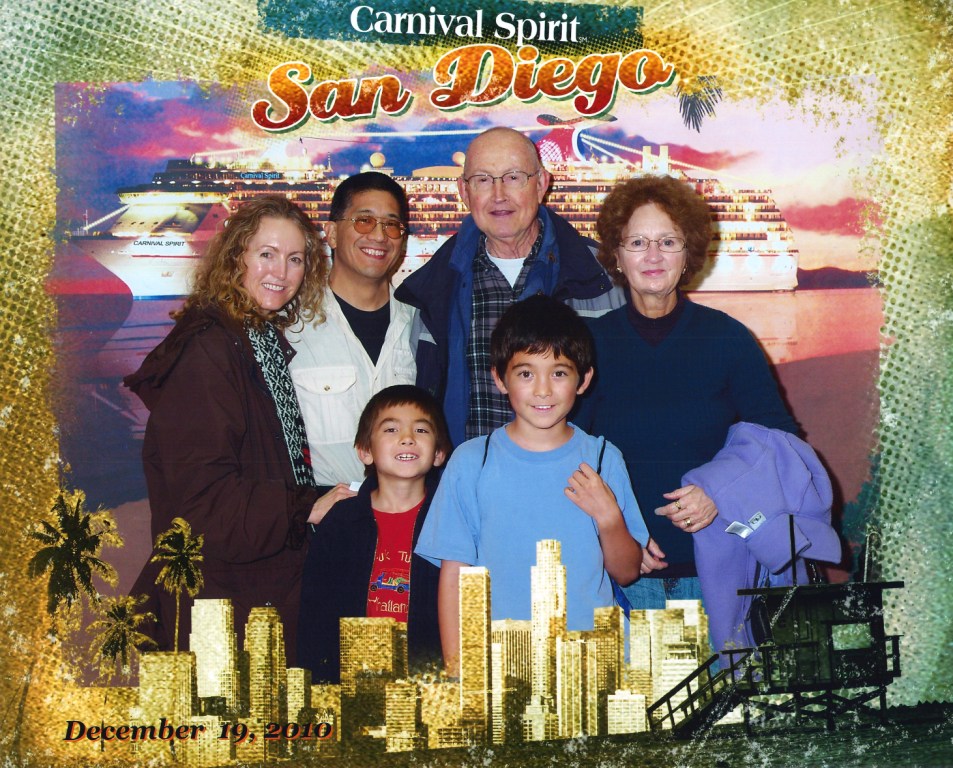 Boarding was actually very smooth – we were glad we'd arrived early. The ship looked huge – it towered over the gangplank, itself suspended high over the black, still water. The Carnival Spirit is one of four sister ships built in Helsinki, Finland. An even larger ship, the Carnival Splendor, is currently enjoying the attentions of San Diego's shipyards as it recovers from its headline-making, disabling engine fire during an almost identical cruise a few months ago. The Spirit is 963 feet long (as long as three football fields), 106 feet wide, and 88,500 gross registered tons, which is not weight but an archaic and highly variable measure of interior volume. It carries 2,124 passengers and 930 crewmembers, and can make 22-24 knots. By way of comparison, the Titanic was 882 feet long, 92 feet wide, and 46,328 gross registered tons. Titanic could carry 2,690 passengers and 860 crew, cruised at 21 knots, and had a maximum speed of 23-25 knots. Finally, the aircraft carrier USS Midway was one pier over. It's 972 feet long, 136 feet wide, carried a complement of some 4,100 officers and crew, and could make over 33 knots.
We couldn't go to our staterooms yet, so we lugged what bags we still had with us to the buffet – the "La Playa Grille" – for lunch. There were about eight buffet stations, including fresh fruits, salads, Asian cuisine, a grill, and desserts. There's a 24-hour pizzeria and a deli serving sandwiches made-to-order. There are also two outdoor grills with hot dogs, hamburgers, fries, and ice cream. Roy and Leo loved the Asian buffet station, as well as the unlimited desserts and ice cream! All of us overindulged with glee!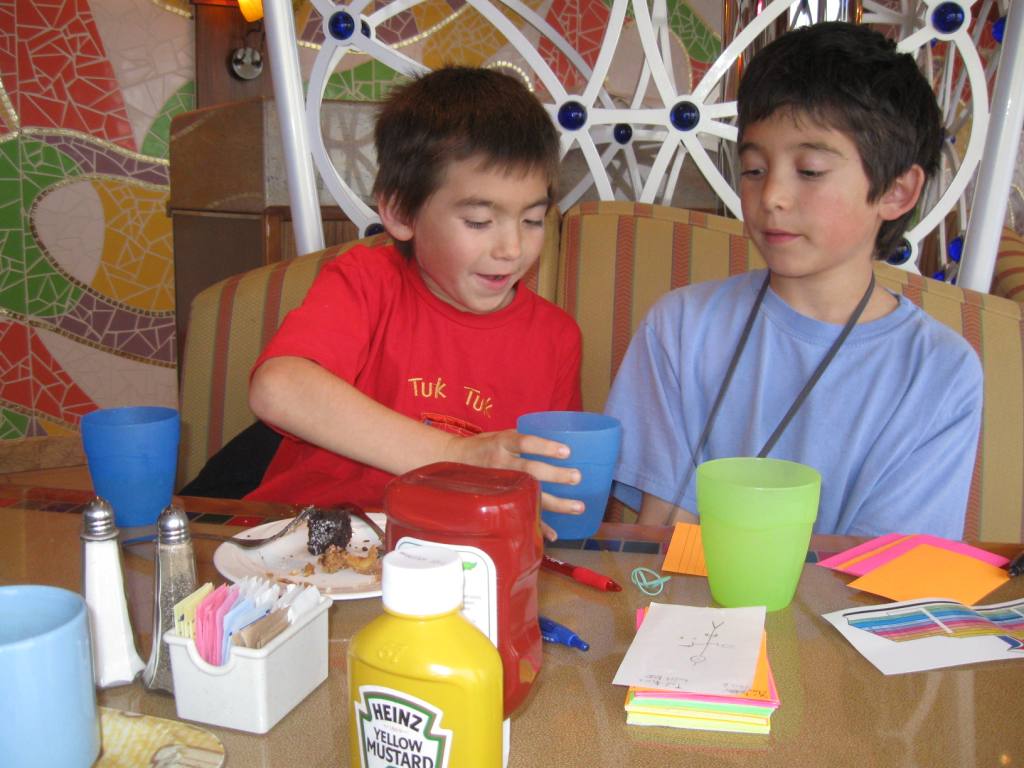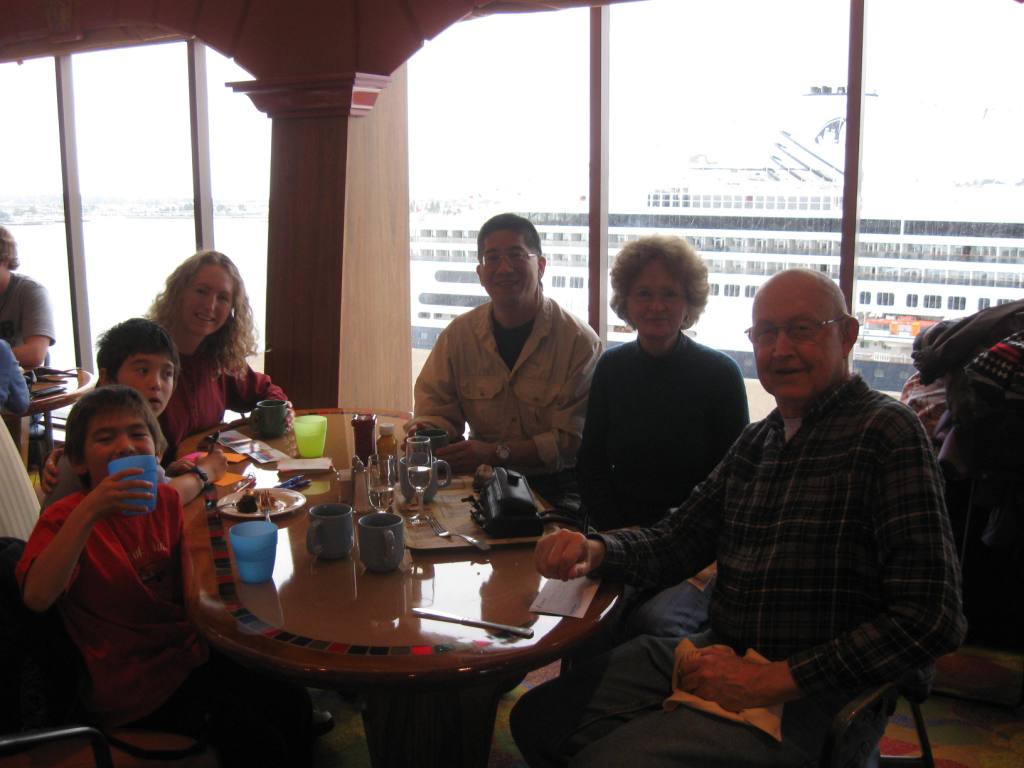 With time to kill before we could go to our rooms, we checked out the deck outside the buffet. The buffet opened up to the pool areas, each with a whirlpool. One deck up was the Sun Deck with the walking track; each lap was a little over a quarter-mile long. That's where the photos below were taken. The jogging track is forward and one deck up from the Sun Deck. It had tall windscreens on the outside and a small basketball court and mini-golf course on the inside. A mile was a hard-to-track 15 laps, but the track itself was nicely cushioned and textured.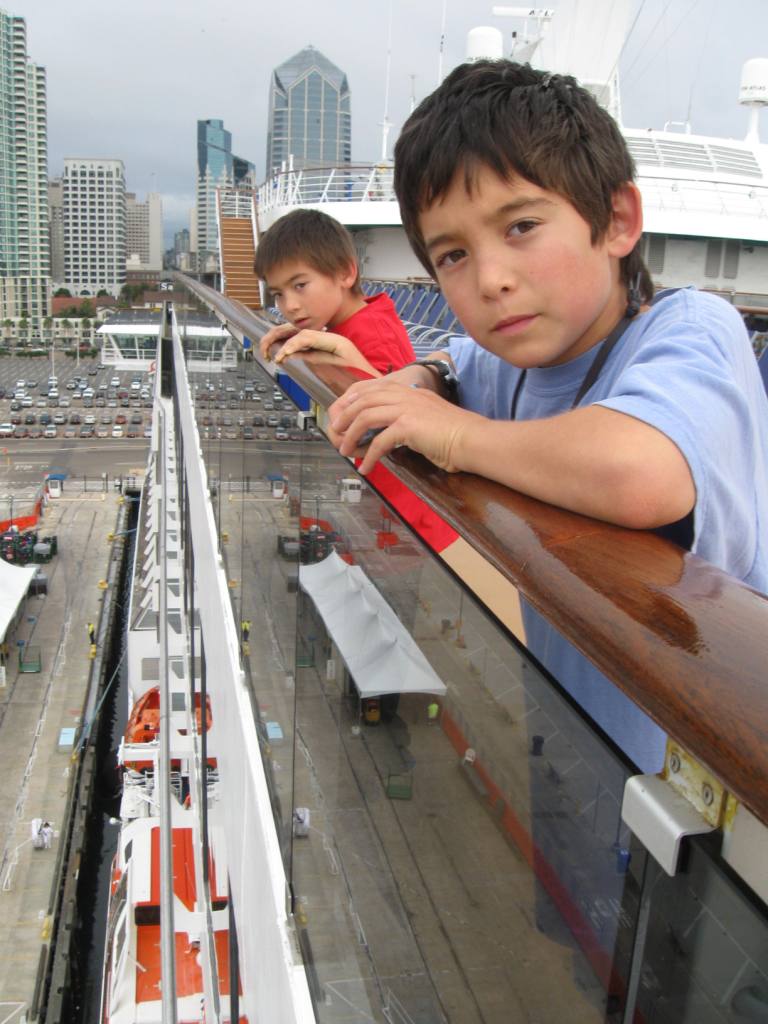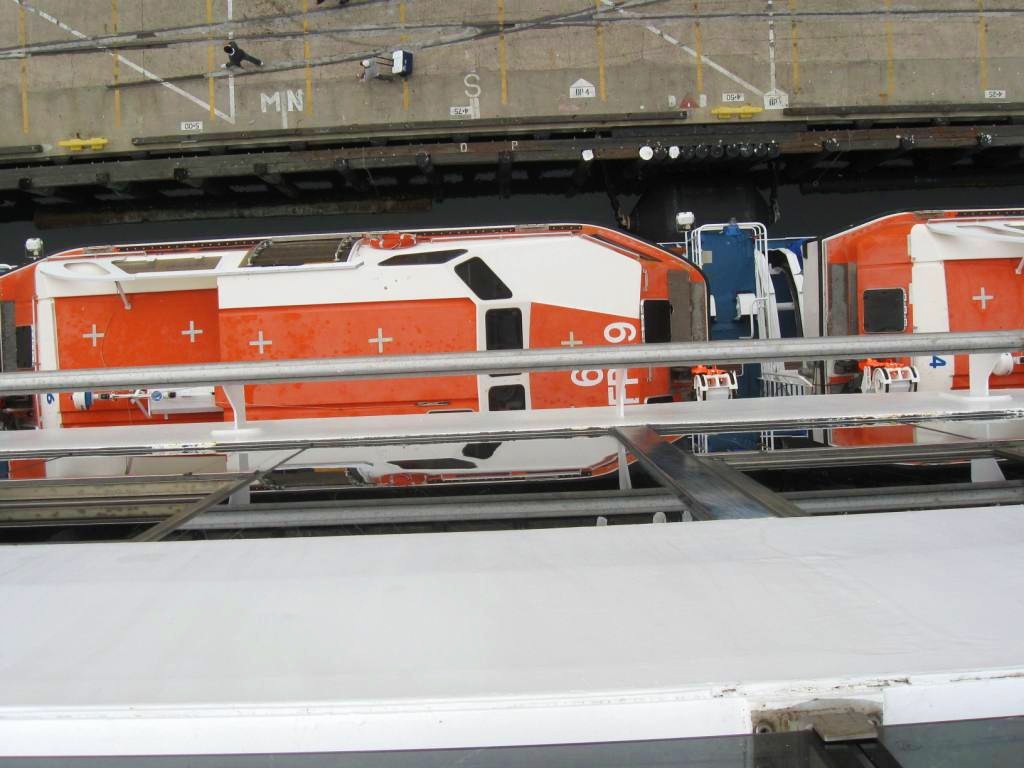 We also checked out the ship itself. One of our favorite lounge areas was "The Jungle," which ran the perimeter of one of the main decks.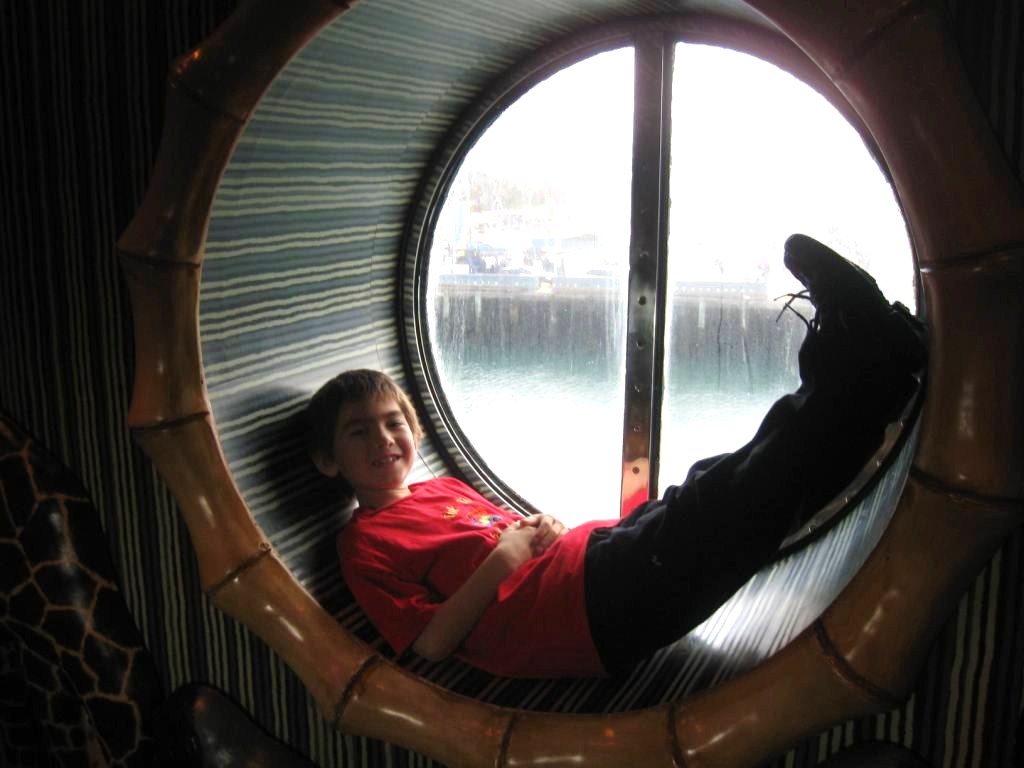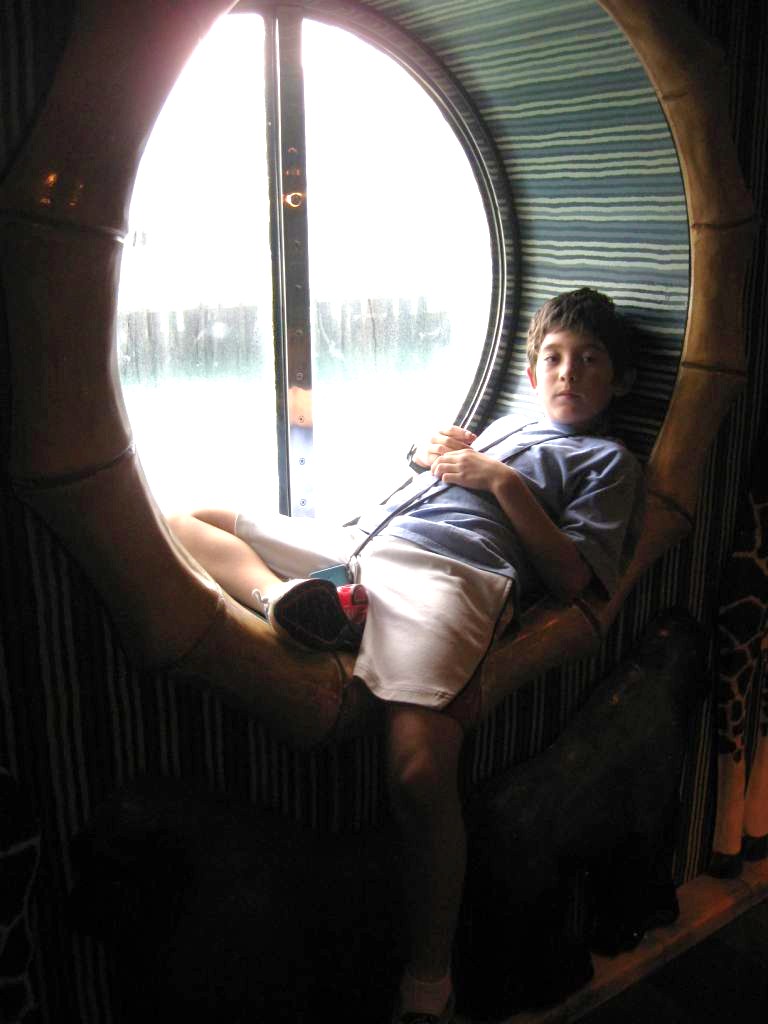 There was a mandatory muster drill that afternoon before getting underway. Our muster group was Group A. John was exploring the decks with the boys when the claxon rang out, so Ondine made her way separately to our designated muster station and John herded the boys. Roy and Leo each got bright green wristbands that identified them as being connected to muster station A – if anything happened, ship staff would make sure all the kids got to their assigned stations to be reunited with their parents.
Our stateroom was on the starboard side of the Veranda Deck, deck 7, room 269. What a great room! It had a comfy king-sized bed, a single, and an amply sized pull-down bed that might have been the most-exciting thing about it. We especially loved the balcony – a million-dollar view right outside our bedroom door!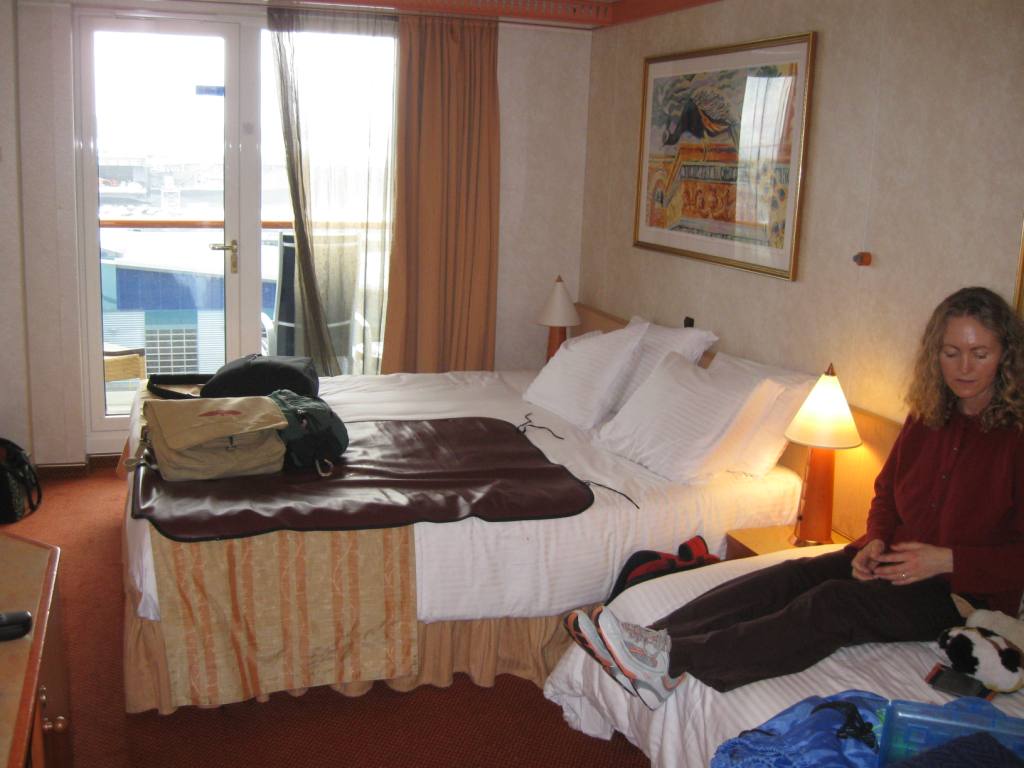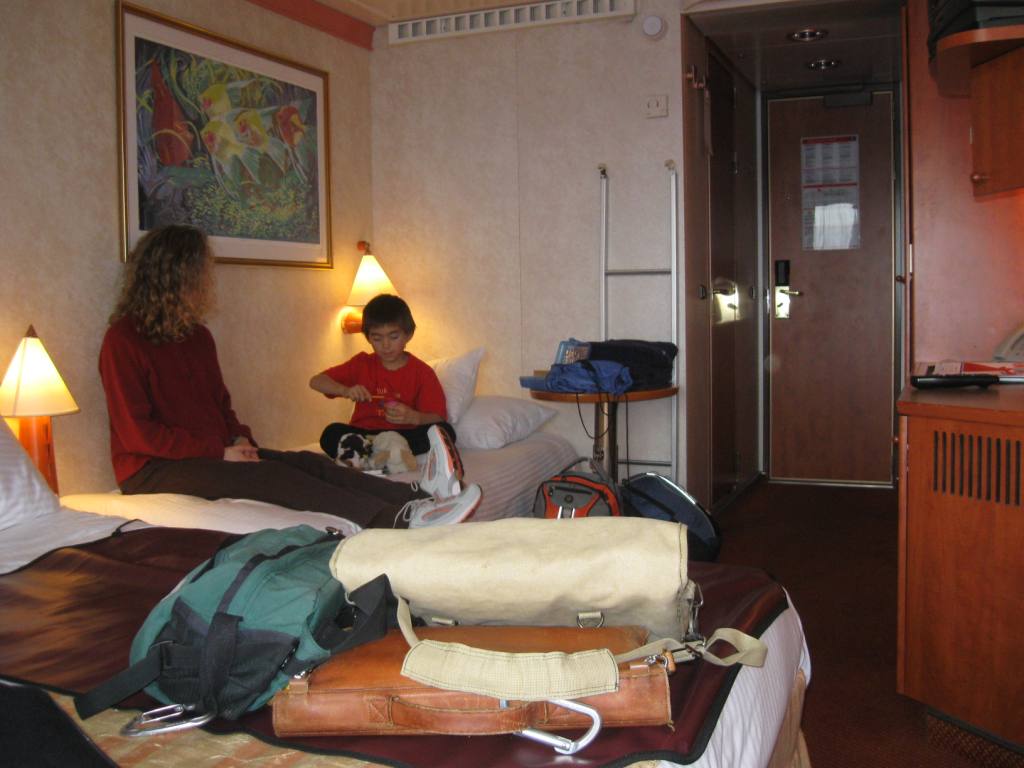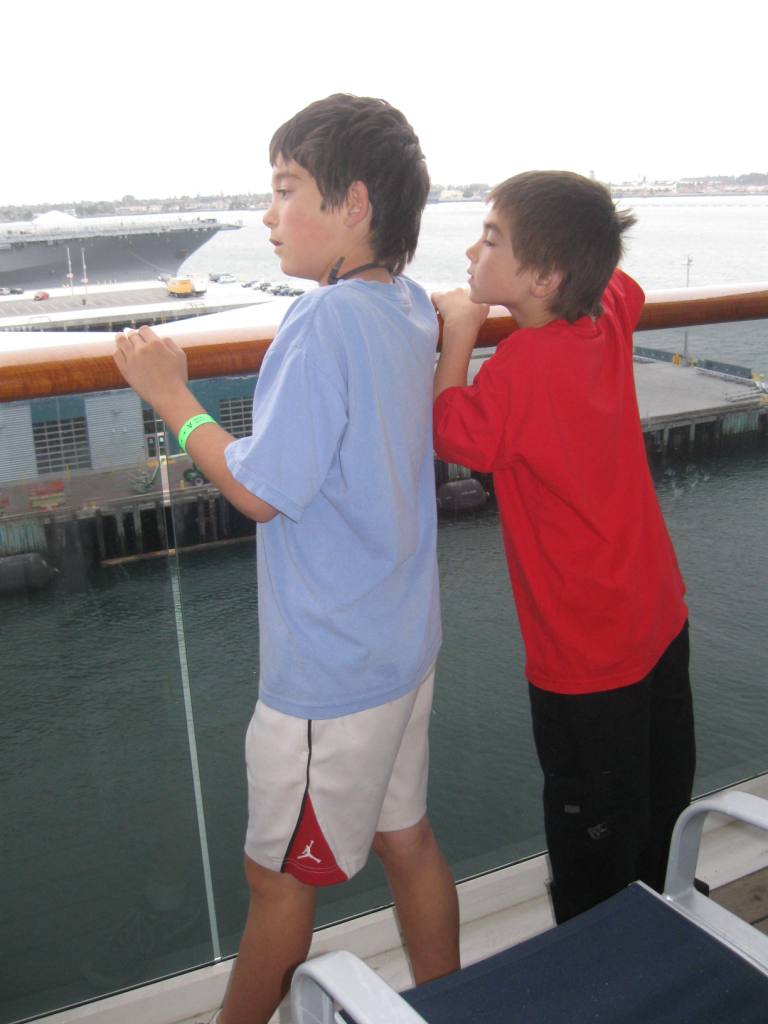 Camp Carnival had an orientation that afternoon in the "Pharaoh's Lounge," one of two big on-board stage theaters. Other kids were down at stage level yelling, cheering, flinging their arms out wide for the prizes and gifts "Fun Ship Freddie" was tossing to the eager crowd. Roy and Leo: upstairs, silent, watchful. Neither wanted to have anything to do with the cheers, or the camp, or, for that matter, Fun Ship Freddie (who, as John unhelpfully pointed out, resembled a red white and blue hammerhead shark). We signed them into the program anyway, much against their will, so that they'd at least be registered.
We met Barbara and Bill at the Empire Room for dinner. (We later learned that "Empire" should be pronounced "Om-Peer," as it refers to the French Imperial period of décor.) Dinner was superb! Once again, we ate far too much, enjoying various starters, an entrée (of which we could have as many as we wanted – we restrained ourselves to one entrée each), and dessert. Yum! We ordered several fresh fruit plates, though, throughout the meal. Our waiter, Kostadin, spoke four languages.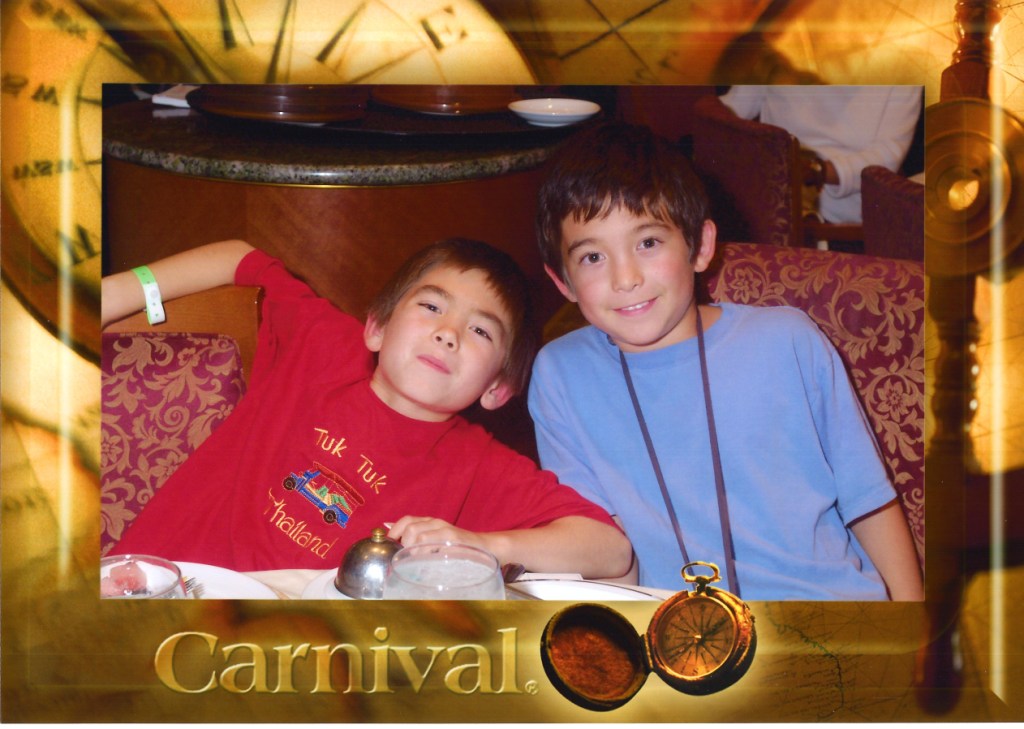 We turned in at 9:30 – a very late night for the boys. On our bed we found the first of the towel creatures made by the housekeeping staff, a floppy dog! Aww, it was Buddy in spirit! Roy bagged the top bunk for the first night, but the boys took turns so they each got to experience sleeping in the bunk. It was surprisingly roomy – an adult could easily stretch out, sit up, and move around. For the boys, it was practically a loft!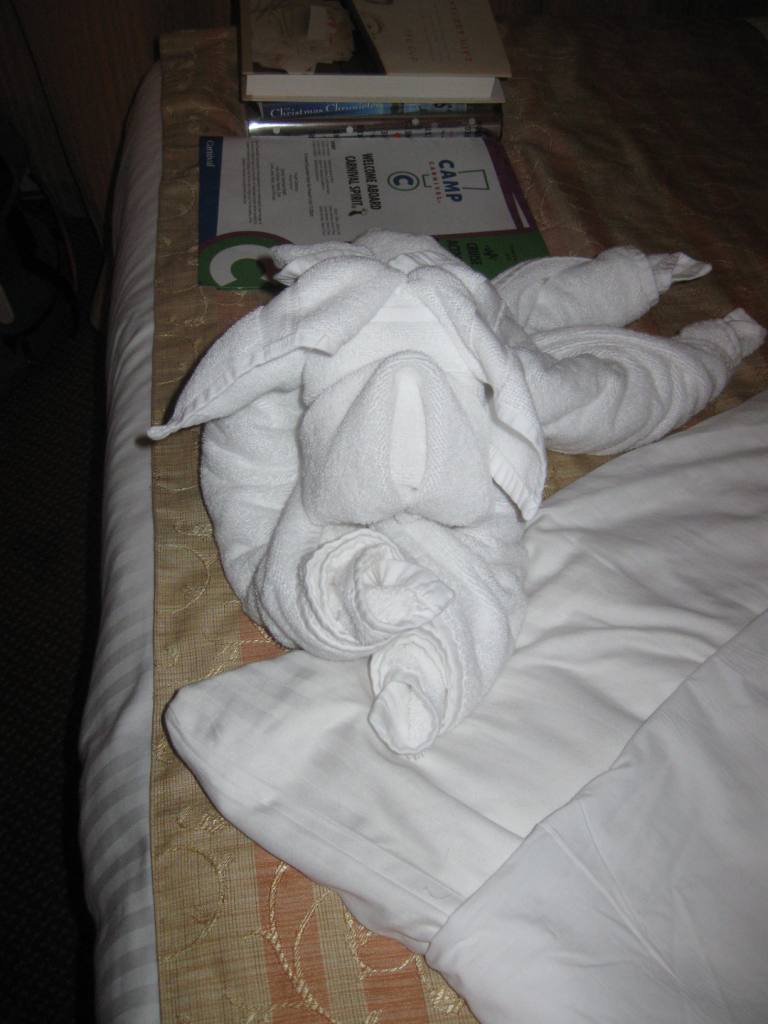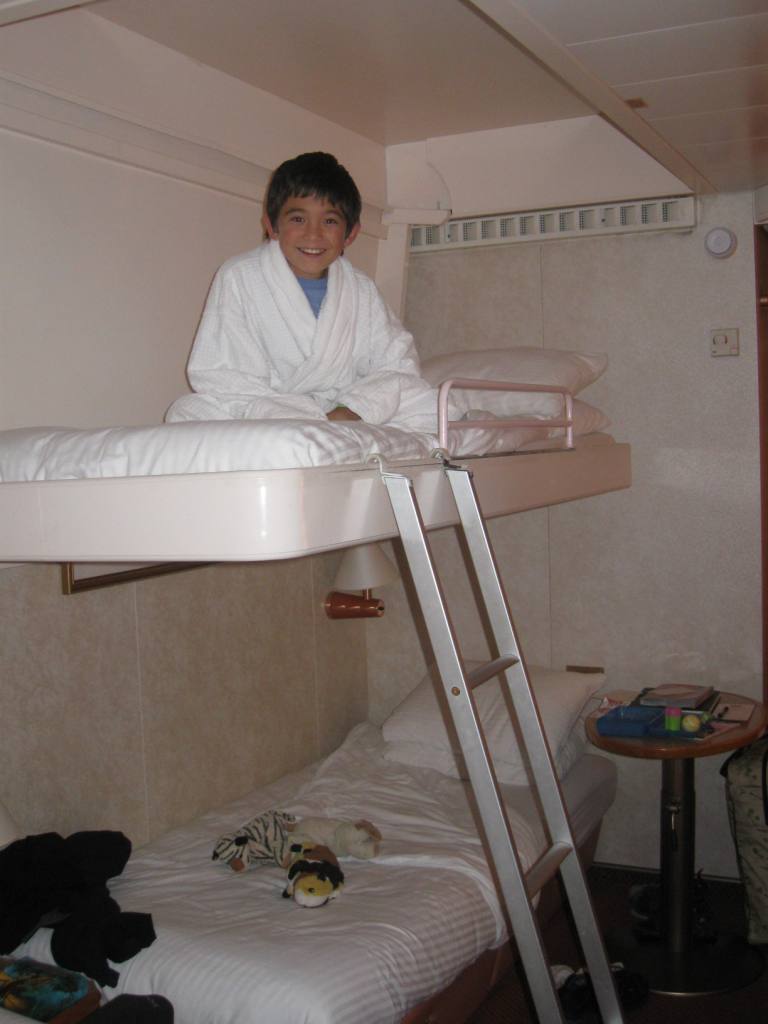 December 20 - Monday was our first "Fun Day at Sea." That's what it said on the "Fun Times," the daily schedule of activities. Ondine ordered room service for a pre-breakfast breakfast, and John tried to get out for a run. Unfortunately, the jogging track was closed "due to high winds," but he found a way to the Sun Deck and ran around that for a while. Ondine tried to go to a yoga class, but discovered there was a $12 charge so she didn't stick around for it. Meanwhile, John and the boys went up for mini-golf, but found the wind and a slight list added to the challenge. Still, Roy managed a hole-in-one! Here we are enjoying our wonderful stateroom.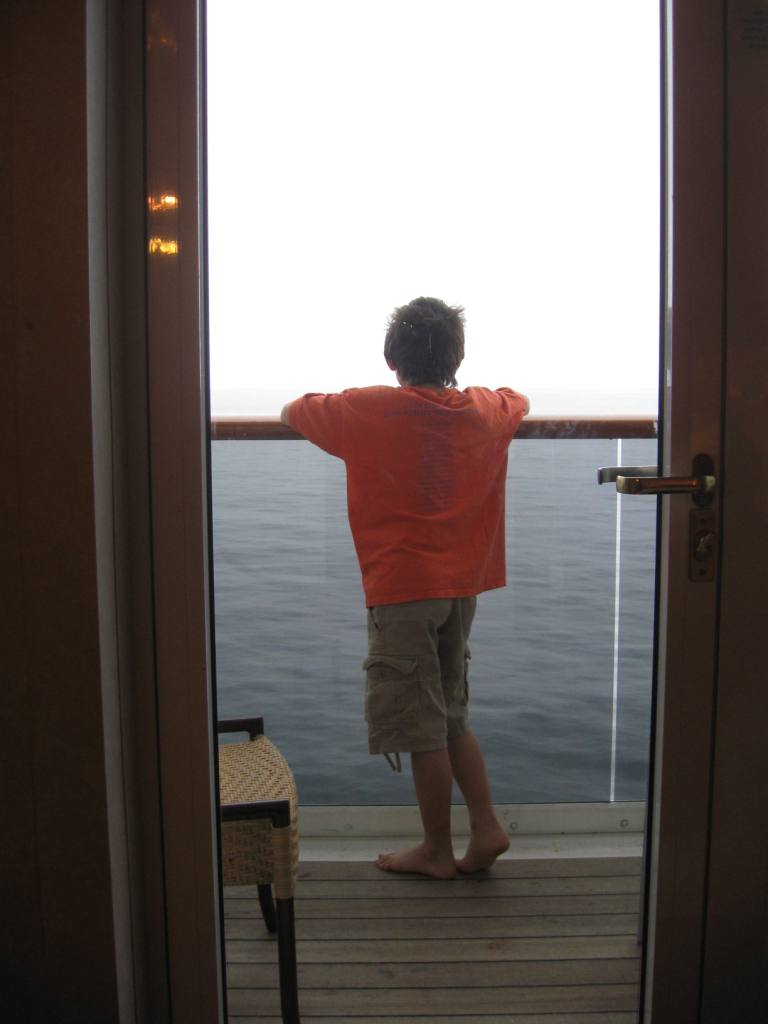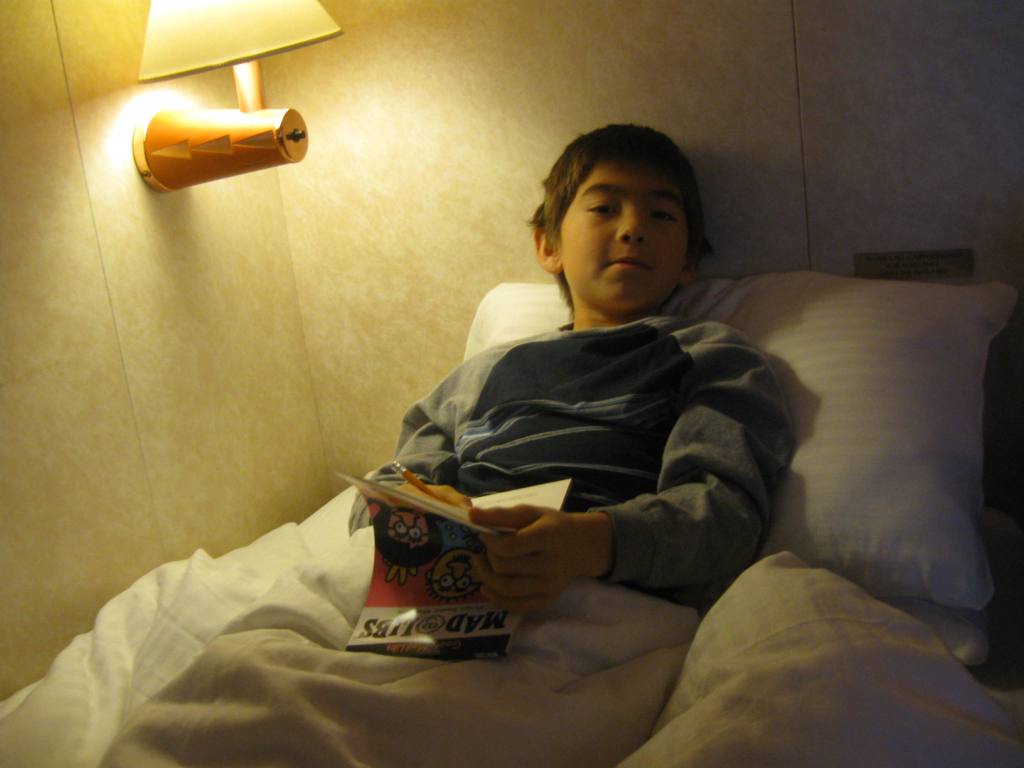 We went to the buffet for breakfast – John was delighted to find nonfat plain yogurt to which he could add raisins and chopped walnuts! We saw dolphins dancing and taking flight in our ship's bow wave and wake. Later, we saw whales launching themselves with crashes and the sound, Barbara says, of a locomotive chuffing.
We "made" the kids go to Camp Carnival for "graffiti T-shirts," at which they'd get T-shirts and color them with markers. Ondine took Leo to the "Fun House" on Deck 5 forward, and John worked his way – very slowly, as the crew kept telling him to go to the Fun House – to the Disco on Deck 2 aft. He found Ondine and Leo there, Leo practically in tears. Apparently, when they'd peeked into the Fun House, Leo was horrified to see a bunch of little girls, dancing! It was a nightmare come true! He cried that he didn't want to dance, and Ondine relented. John, though, is made of sterner stuff, or he'd seen more of the Fun House than Ondine had, having been directed there four or five times. He knew that there were other activities going on, so he took Leo up and signed him in. Sigh.
With all the back-and-forthing, we got about 10 minutes of kid-free time before it was time to start working our way back to pick up first one kint then the other.
We went to lunch at the buffet again. Once again, we glanced out the window to find our journey escorted by at least a dozen whales! We tried to take photos, but it's much better to enjoy the magic in the moment, when the marine animals loom large in the eye, rather than miss them for a meager photo showing a smattering of indefinite specks amid the waves. Here, instead, are even rarer photos of Roy and Leo with Fun Ship Freddy!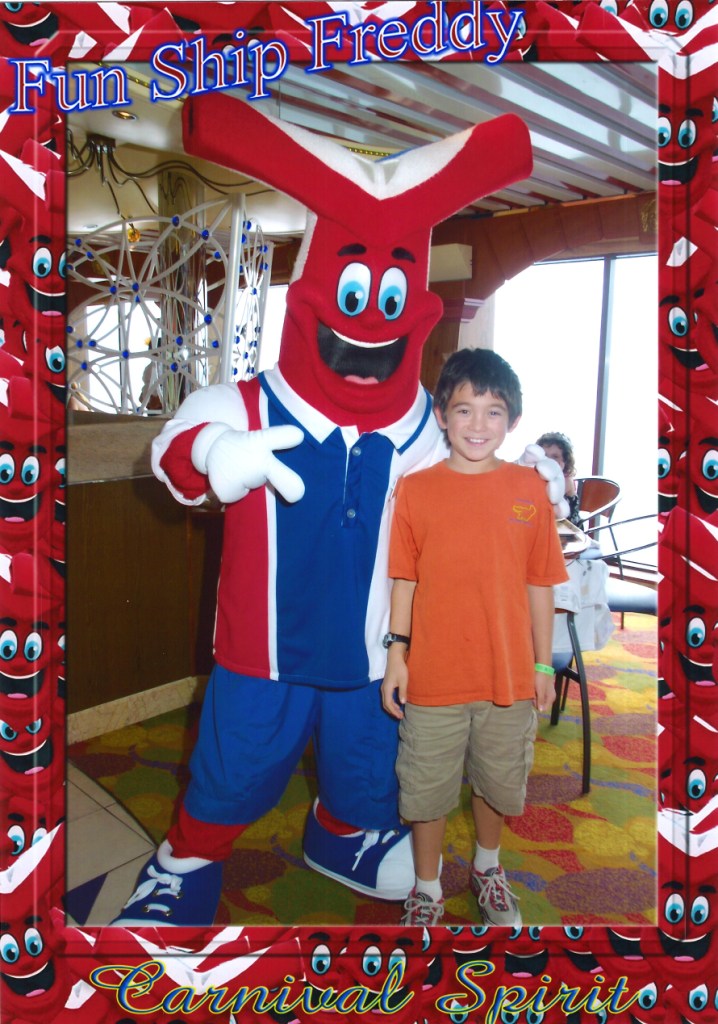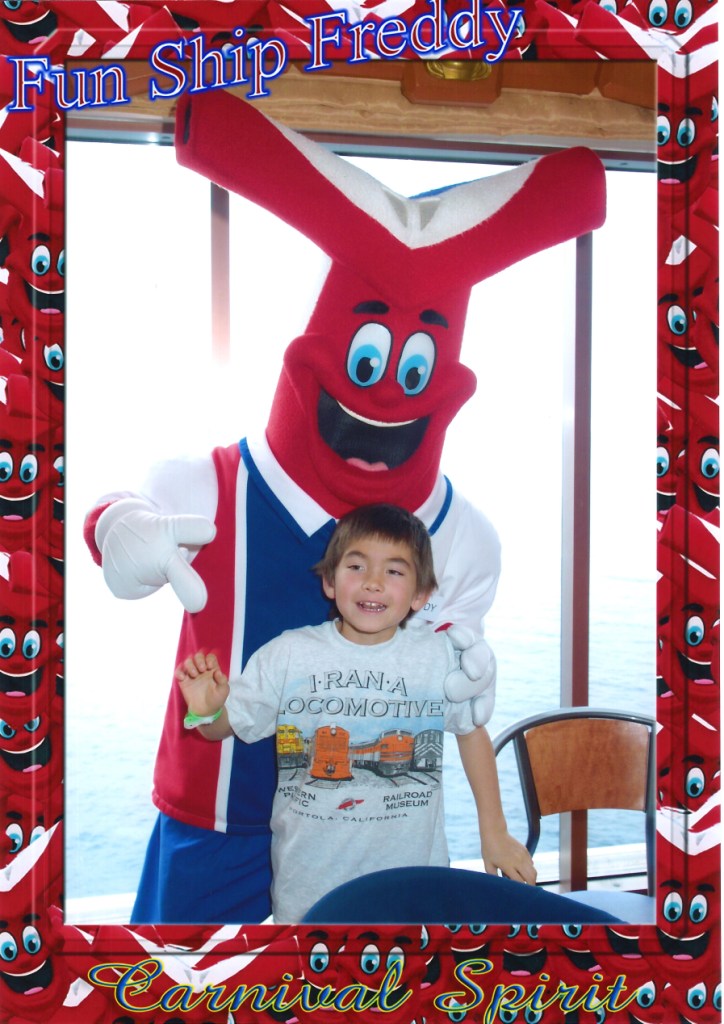 After lunch, Ondine took Leo swimming (whirlpool-hopping, actually), and John and Roy enjoyed some separate time in the cabin.
When we went to dinner at the Empire Room (that's "Om-peer"), Barbara and Bill were nowhere to be seen. Ondine called their cabin from a nearby phone and rousted them out of their cabin – they were still on San Diego time, having forgotten to set their watches ahead an hour. Dinner was spectacular, once again. Our waiter this time was Gabor, from Hungary.
Onward to Cabo San Lucas
Back to the Kuraoka Family main page