A Christmas Cruise to Mexico, Page 2
www.kuraoka.org
19-26 December 2010
Most photos © John or Ondine Kuraoka
Back to Our first days aboard the Carnival Spirit
21 December - Tuesday we made Cabo San Lucas. In the morning, John ran and Ondine took the boys to the buffet. John enjoyed watching the ship pull into Cabo San Lucas. He wasn't alone; the railings were festooned with photographers.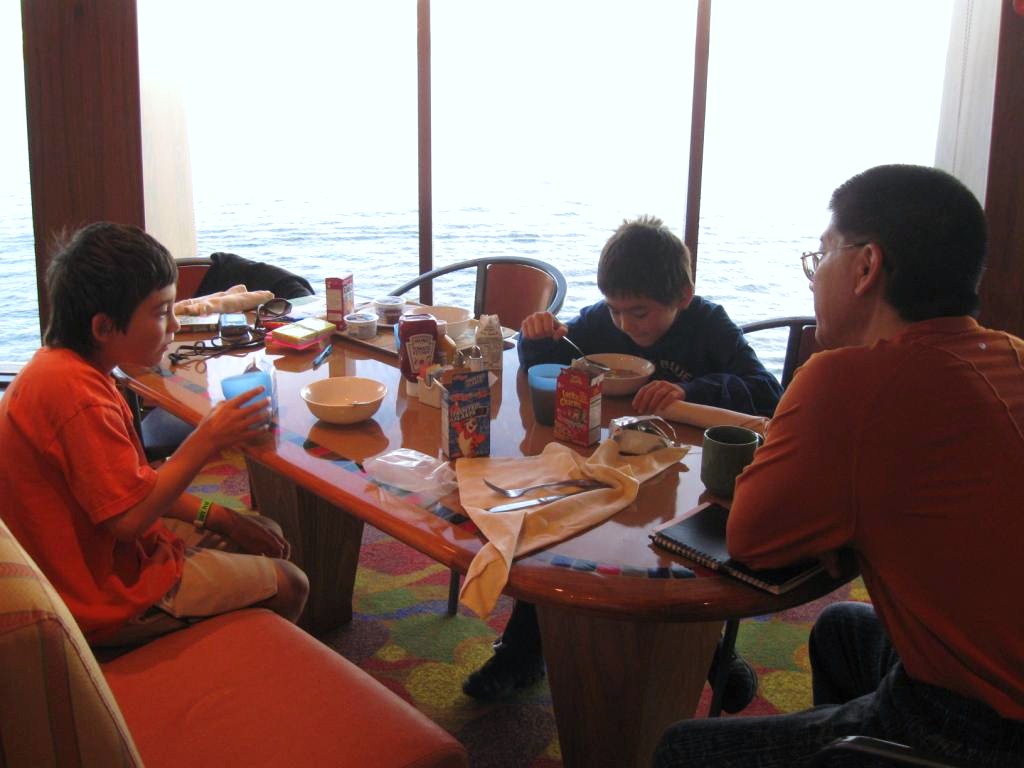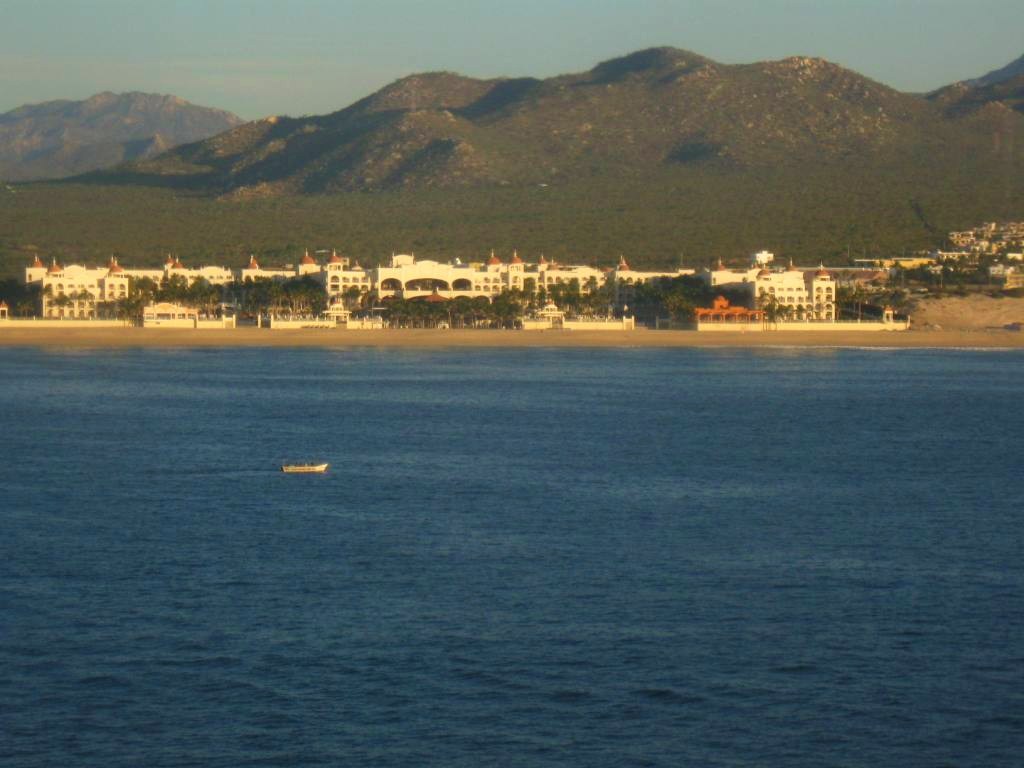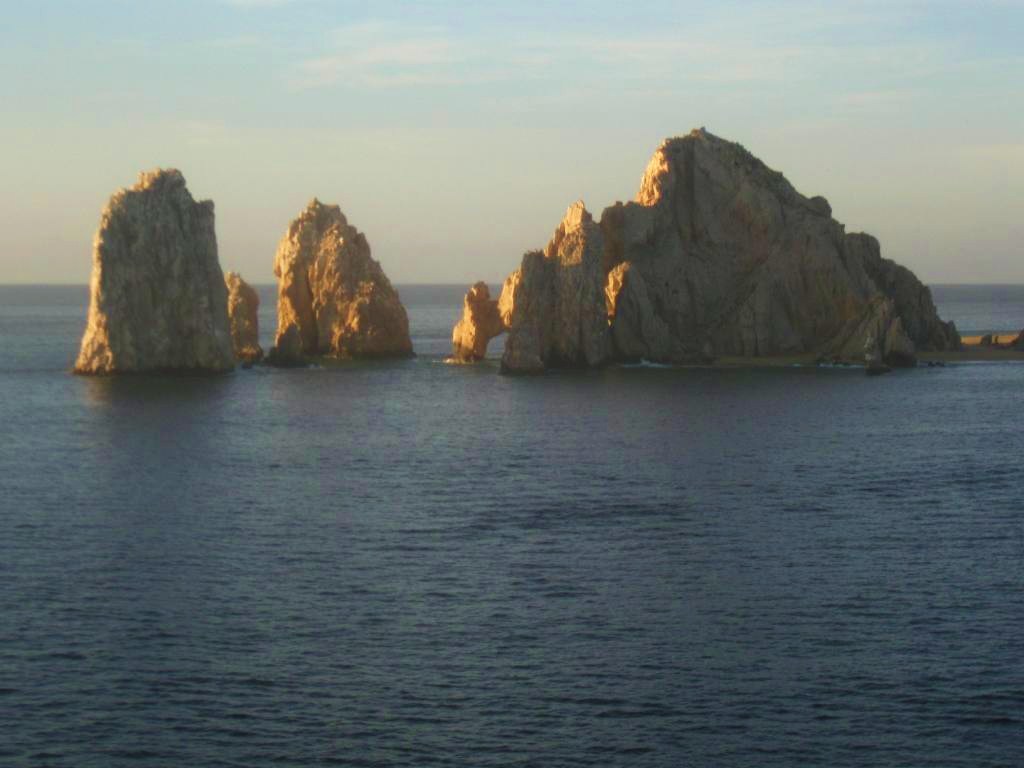 Speaking of which, John really missed his Nikon 35mm gear on this trip. There were several great shots he claims to have missed because the Canon Powershot digital responds too slowly, doesn't always focus where he wants, and can't bracket exposures quickly.
Barbara and Bill had caught a tender to shore before we'd gotten the kints and all our documentation together. (None of our meticulously assembled documentation was asked for, by the way.) Tenders were assigned by number on a first-come-first-assigned basis. We got number 18, a short wait because by that time the rush had pretty much passed. The short tender ride was choppy, but everyone did fine!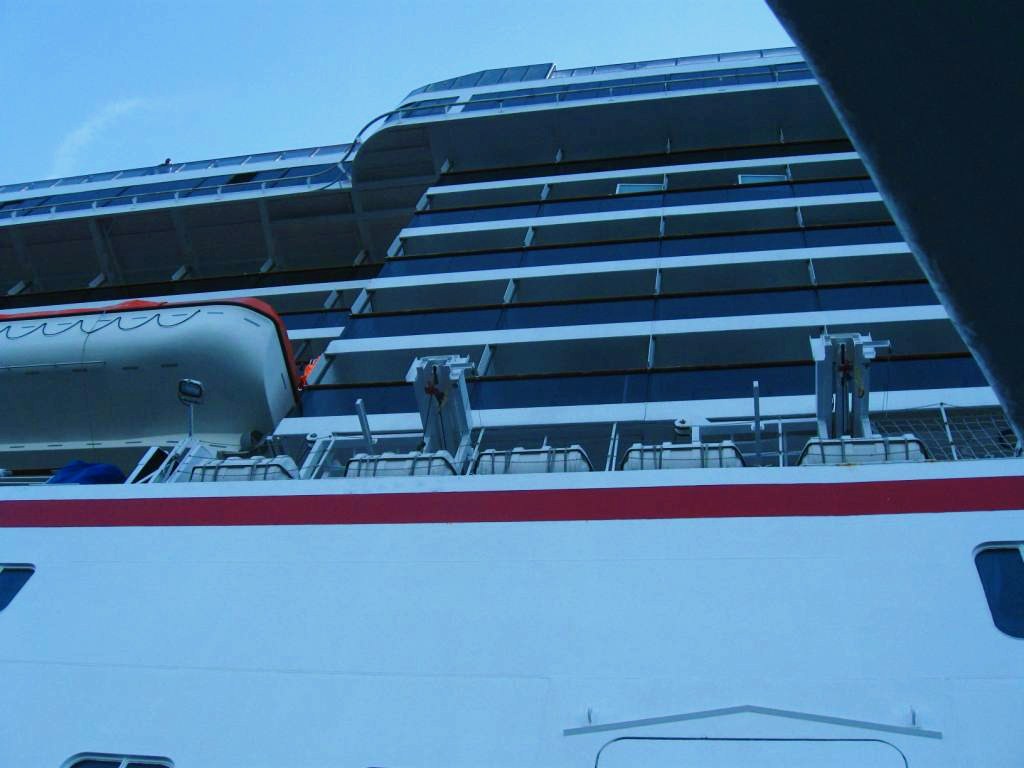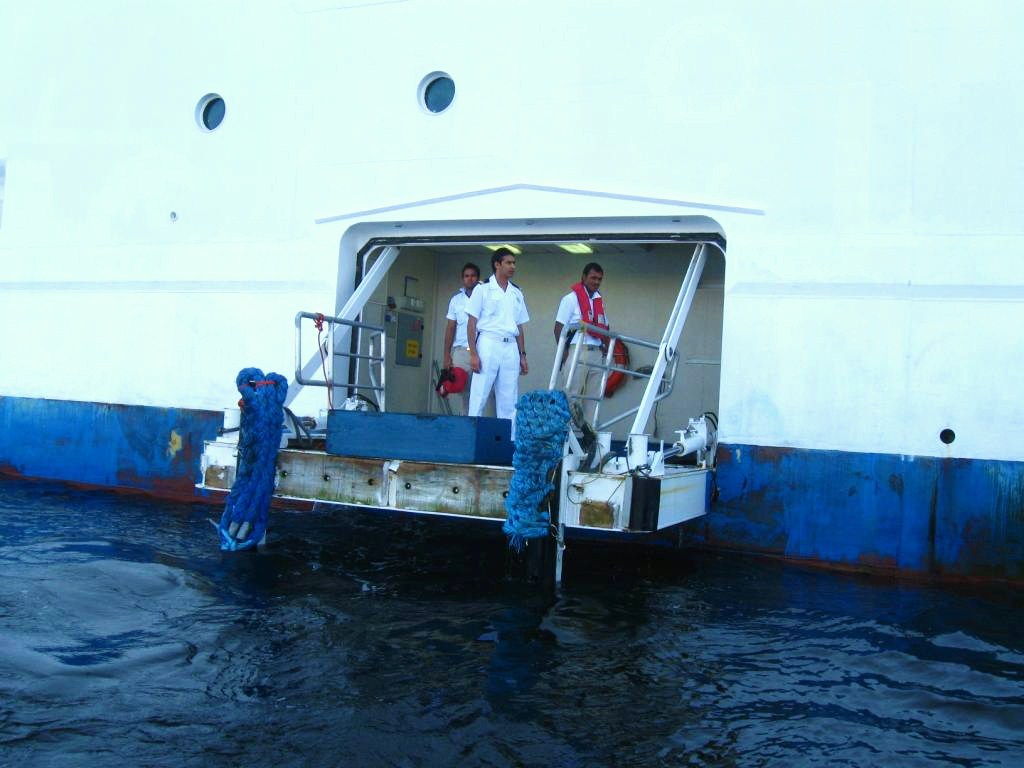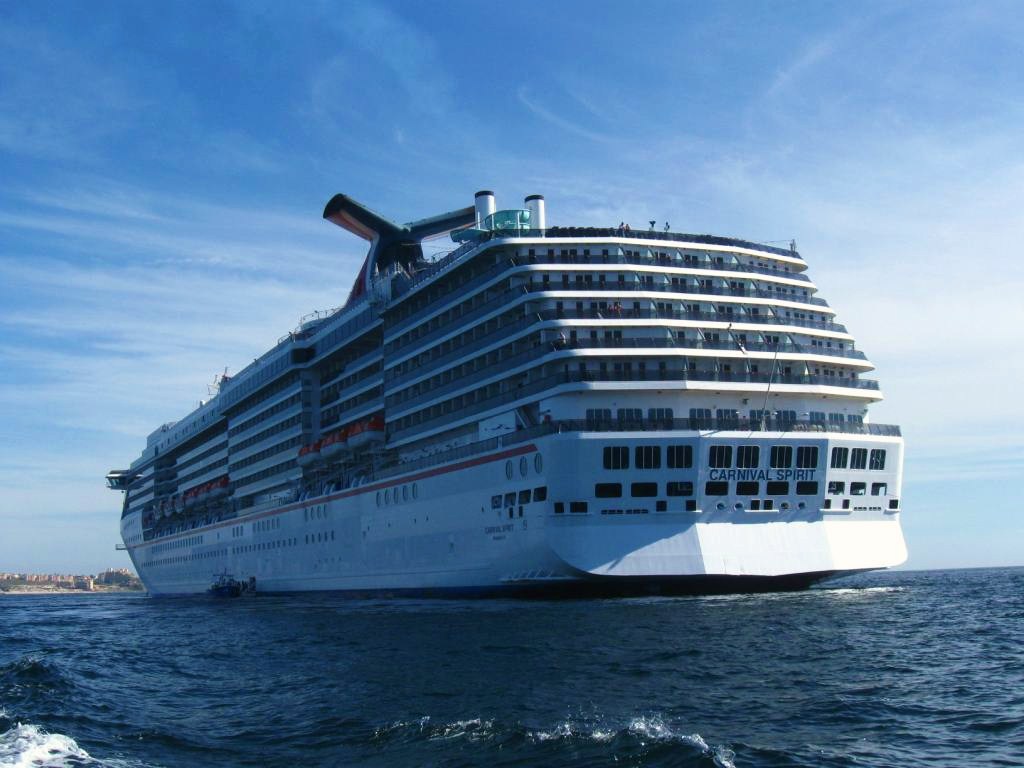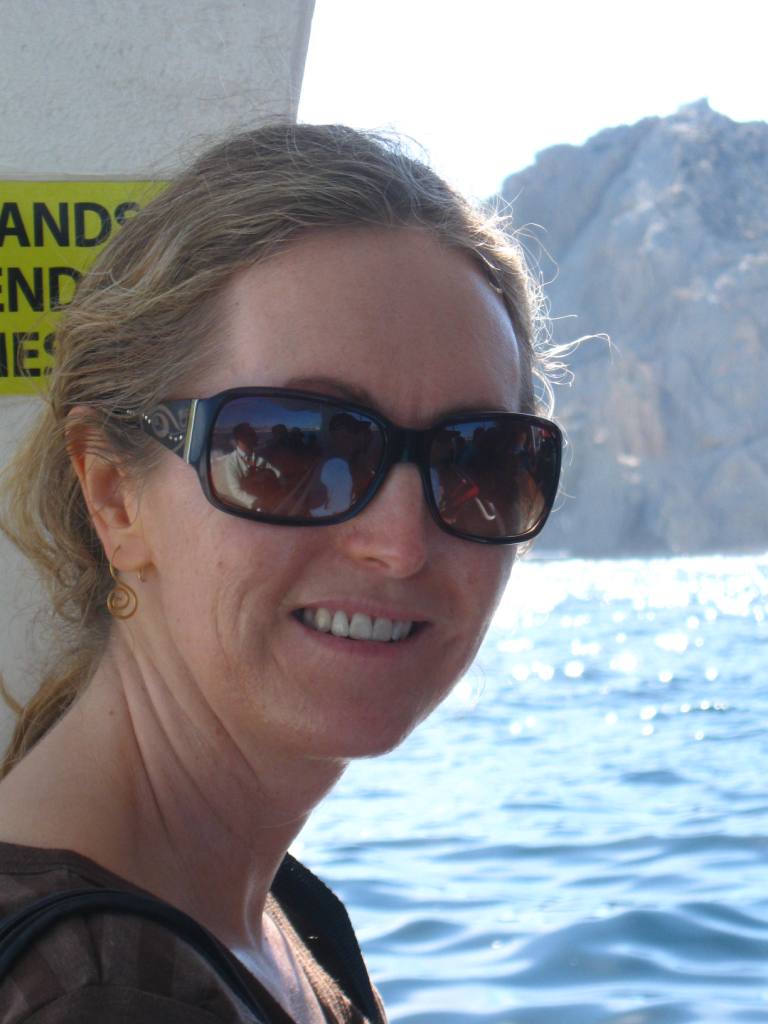 We saw a massive cruise ship pull in and anchor nearby: the Mariner of the Seas. That would be the only other cruise ship we'd see in port (besides the Zaandam, which we saw in San Diego when we left) – we saw others at sea including the Amsterdam and one of the Princess liners.
When we got onto land, the kints were both amused by the idea of being "landsick," and weaved their way up the pier and into Cabo San Lucas.
Cabo San Lucas was a ghetto of commerce. Small children sold Chiclets in the shade of derelict, half-built "luxury resort living" condos. Tagger's marks stood out like bruises, vivid against the faded logos of defunct builders.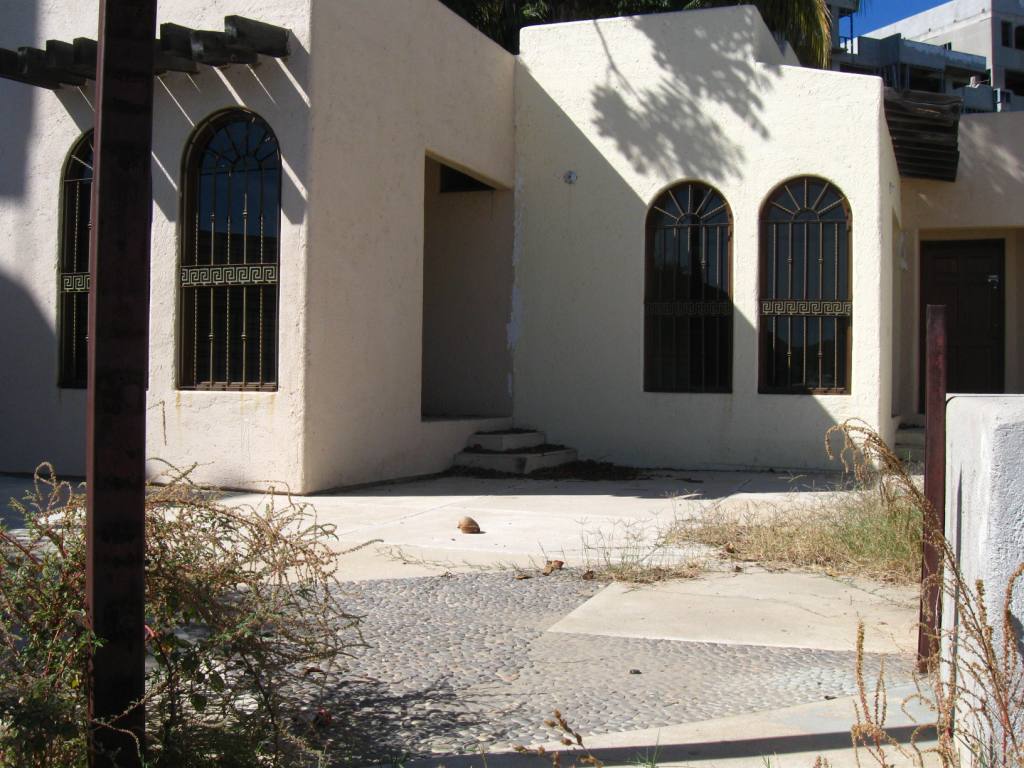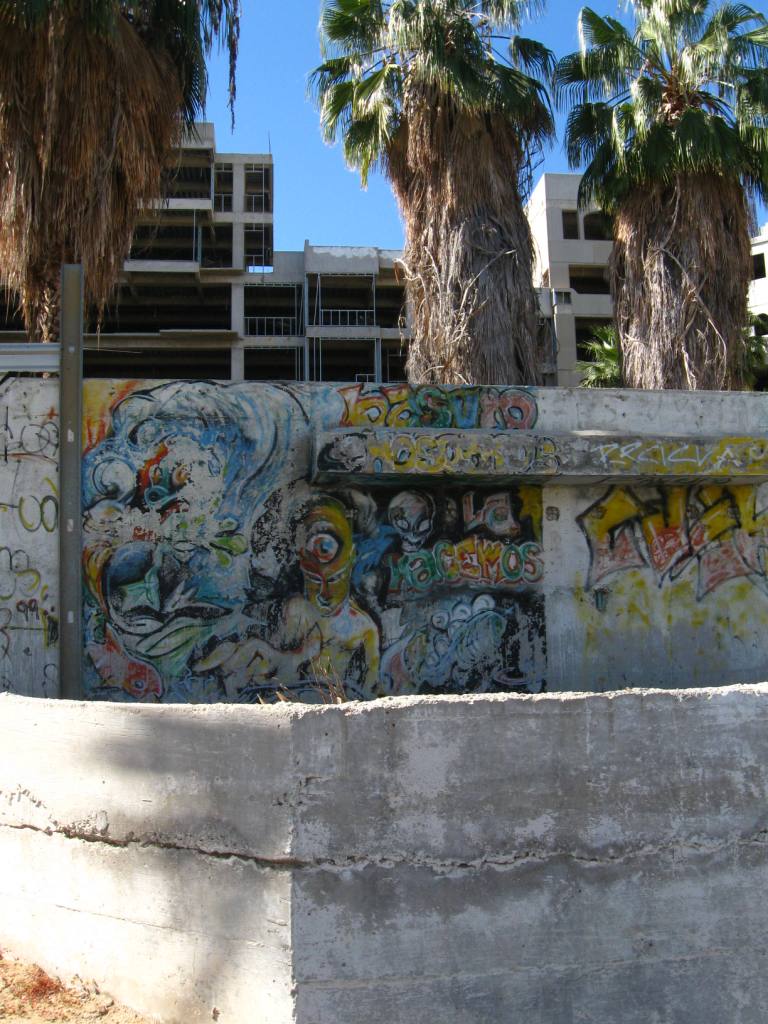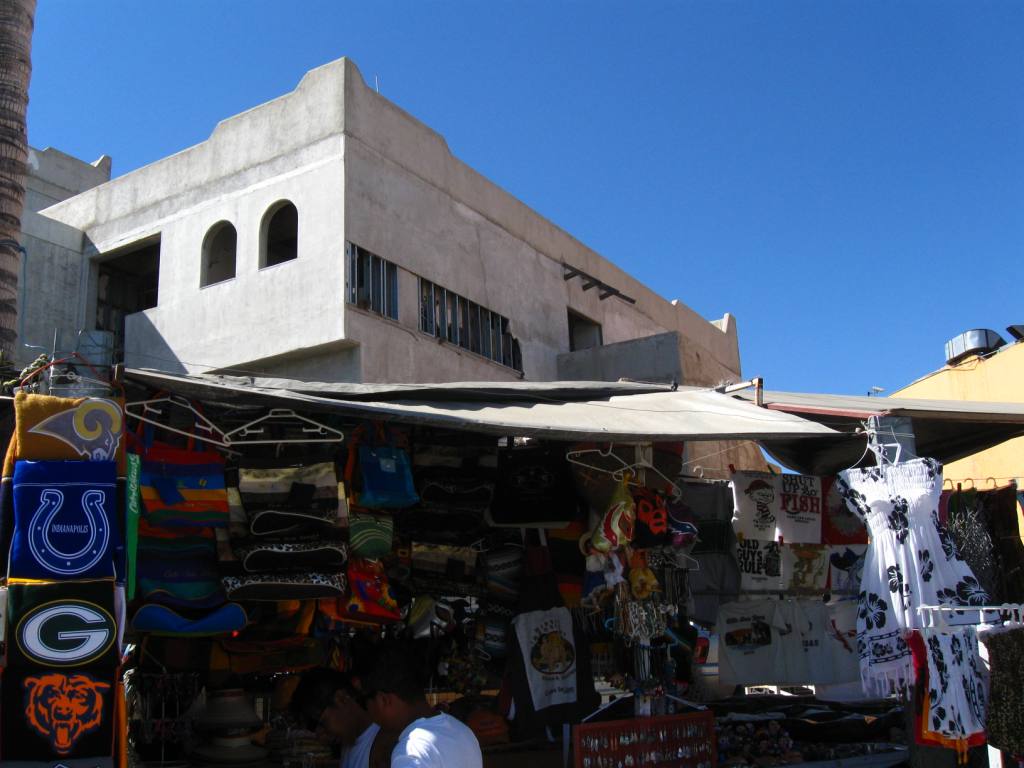 We went to the "flea market." And, whom should we meet there, on their way back to the ship, but Barbara and Bill! It was an amazing coincidence to run into them, a blessing (they might disagree) that was repeated throughout our voyage.
In this case, our paths crossed at one of perhaps a hundred small booths packed within a warehouse-like building. Roy and Leo were anxious to go straight back to the ship, but we enjoyed a nice long walk around the waterfront, frequently interrupted by hawkers selling silver jewelry, carved boxes, and papier-mâché puppets. Ondine bought a necklace, and Leo bought seven little bobble head creatures for $5.
We caught the next tender back to the ship – it was an even bumpier ride, and the step from the tender to the ship had a rise and fall of at least a foot. Roy leaped, but Leo was all but picked bodily up and hefted over.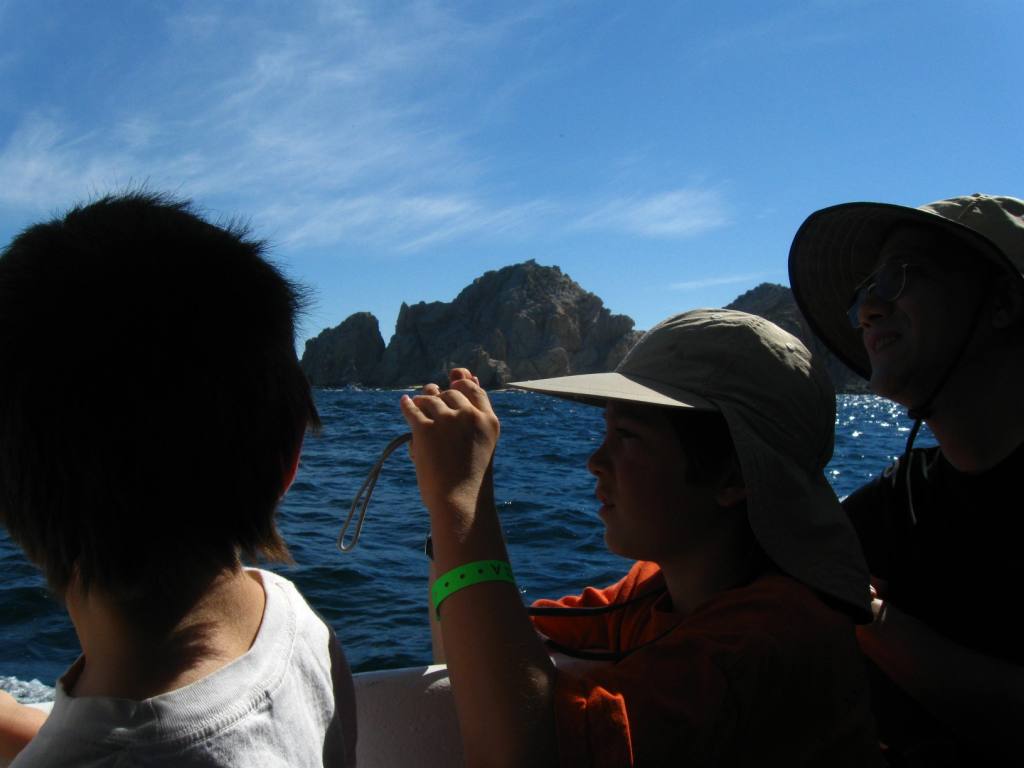 We went straight to the buffet, and immediately encountered Barbara and Bill! After a prodigious lunch, we placed the kints in Camp Carnival for an hour or so. John used his free time in taking a shower and reading; Ondine wrapped herself in her warm, fluffy white robe and sat out on the balcony reading her book. What luxury! Ondine was almost giddy, intoxicated by the freedom from kints. Too soon, it was time to pick them up.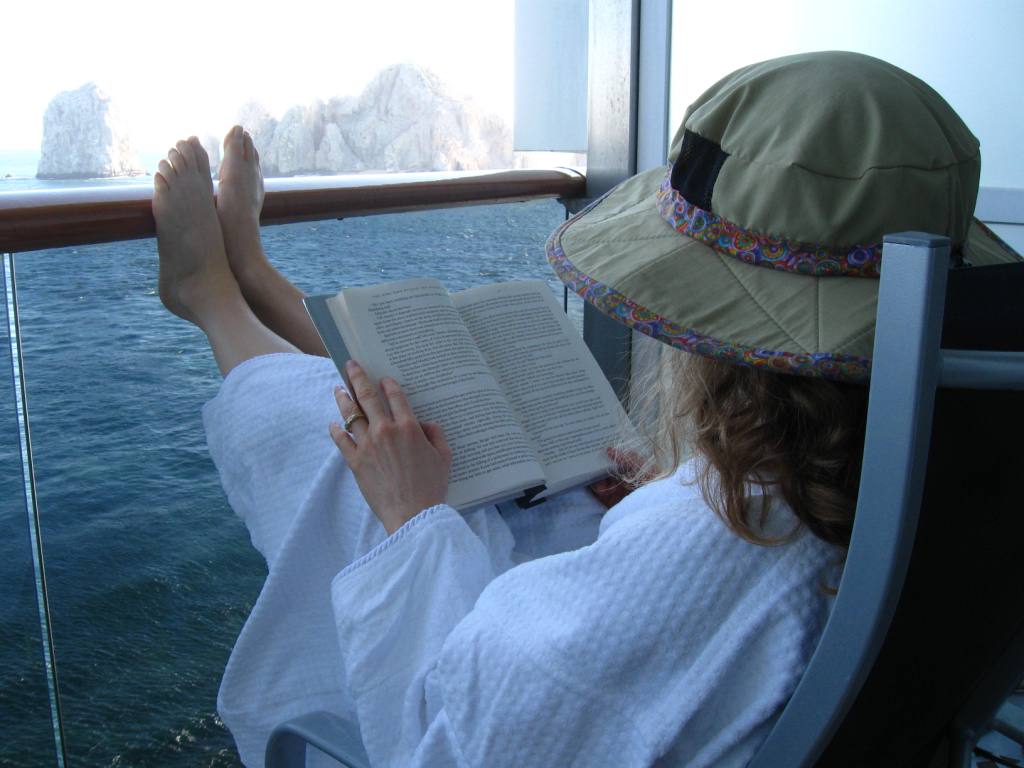 John retrieved them and decided to take them to the boat deck to watch let them watch our departure from Cabo. From their perch directly above the gangway, they watched the last shuttle race to the boat carrying a sparse, reeling cargo of very sunburnt young men. The huge steel hatch dipped under the choppy water, sending a wave of seawater coursing over the shoes of a crewmember, who scampered away. Two crewmembers hauled aboard the wet, heavy bumpers by sheer muscle power. Then, the hydraulics took over and the hatch closed, gliding shut so smoothly that its movement, while rapid, was almost imperceptible.
John, Roy, and Leo found that they stood almost in the middle of the ship, so as the "azipods" spun the ship 180 degrees in place, the entire panorama of land and sea and ship seemed to rotate around them.
"Everything revolves around us!" John exclaimed. "Pull! Push!" And Leo pulled on the railing on one side, John pushed on the other, and Roy pulled with his right arm and pushed with his left. People in decks above peered down at their activity with puzzled curiosity. But slowly, laughing, the Kuraoka boys spun the Carnival Spirit on its axis, with no help from the other guests, the lazy sods.
They returned happily to the cabin to get ready for dinner. They found Ondine slumped over in a chair on the balcony in her fluffy robe, seasick! She weakly swallowed a Bonine, and John called for saltines to be delivered to the room. Since we'd planned to meet Barbara and Bill for dinner at the Empire Room, John called them and arranged for them to go ahead with Roy and Leo. He stayed with his mate, calling for a Sprite and going to the buffet for some dry bread. Ondine had a second Bonine, and started to feel a bit better, so John went to check in with Barbara, Bill, Roy, and Leo at the Empire Room. Our waiter, Gabor, was concerned, and asked if he could get anything. By the time Roy and Leo returned to the cabin after dinner, Ondine was feeling well enough to try a little broth from room service and some sliced turkey John brought from the buffet.
After putting the boys to bed, John went to the buffet by himself, and when he returned he was proud that he remembered to fill out the room service card for the next morning, so Ondine could have some fresh fruit in bed. And here is the view forward from our balcony as we leave Cabo, heading for La Paz.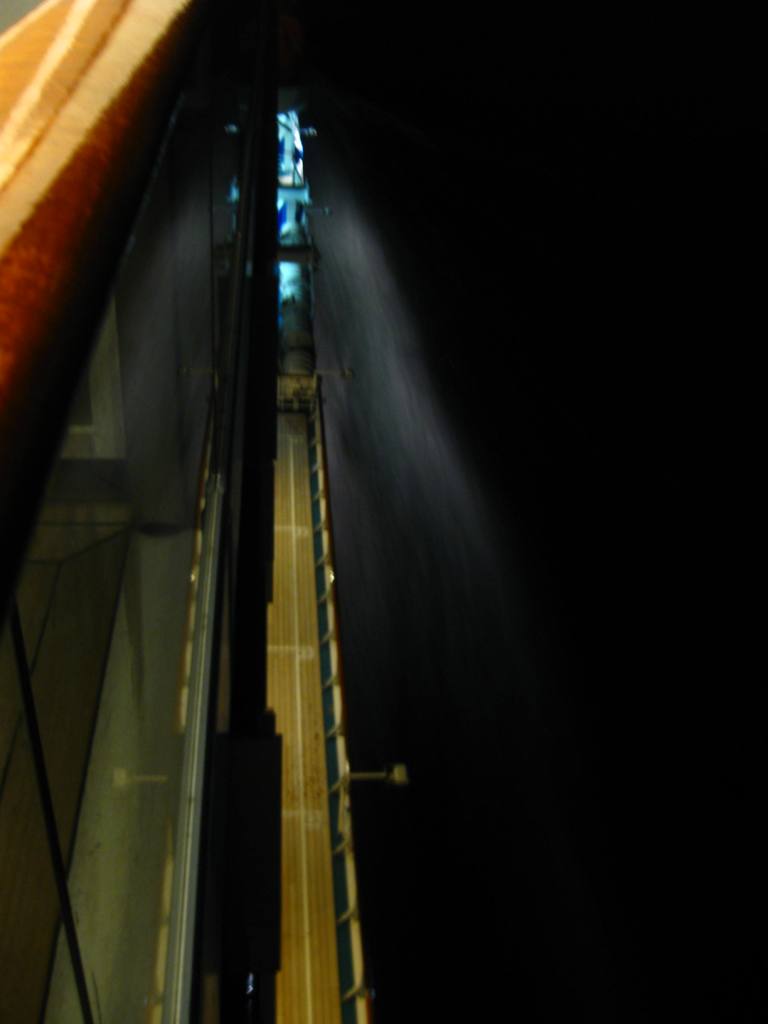 22 December - Wednesday was La Paz! We had room service at 6:15 … and room service again at 6:30! In addition to the order John had placed, Ondine had dragged herself out of bed to place an order too! So, we had lots of fresh melon and citrus – and ate it all, too!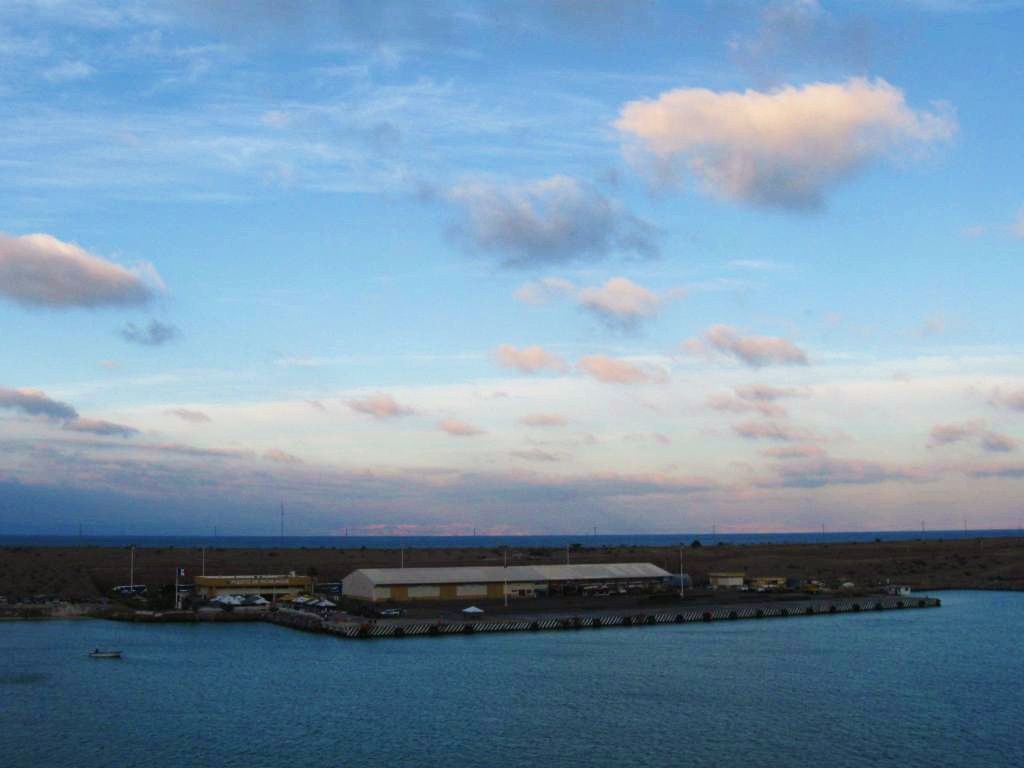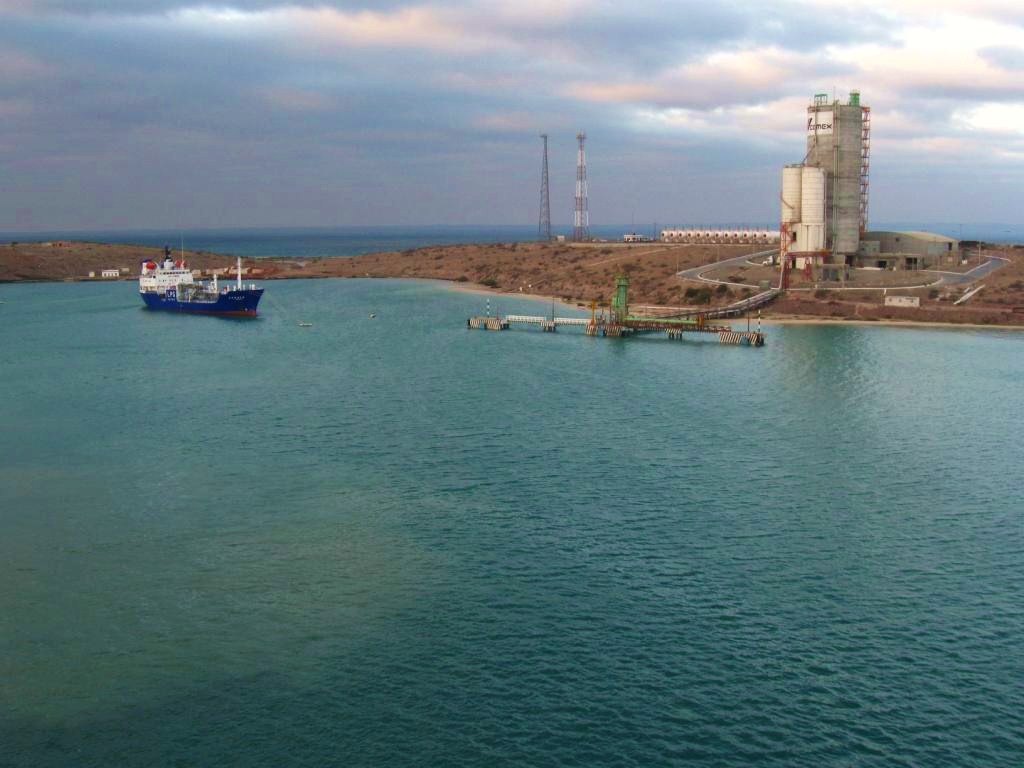 Ondine was still feeling a bit woozy, and wanted to sleep. John took the boys up to the buffet. Once again, entirely by chance, we ran into Barbara and Bill, and attached ourselves to them. We arranged to go into La Paz together – just a quick trip to the cathedral. Here too is our second towel animal of the cruise: a monkey swinging gaily from the light fixture!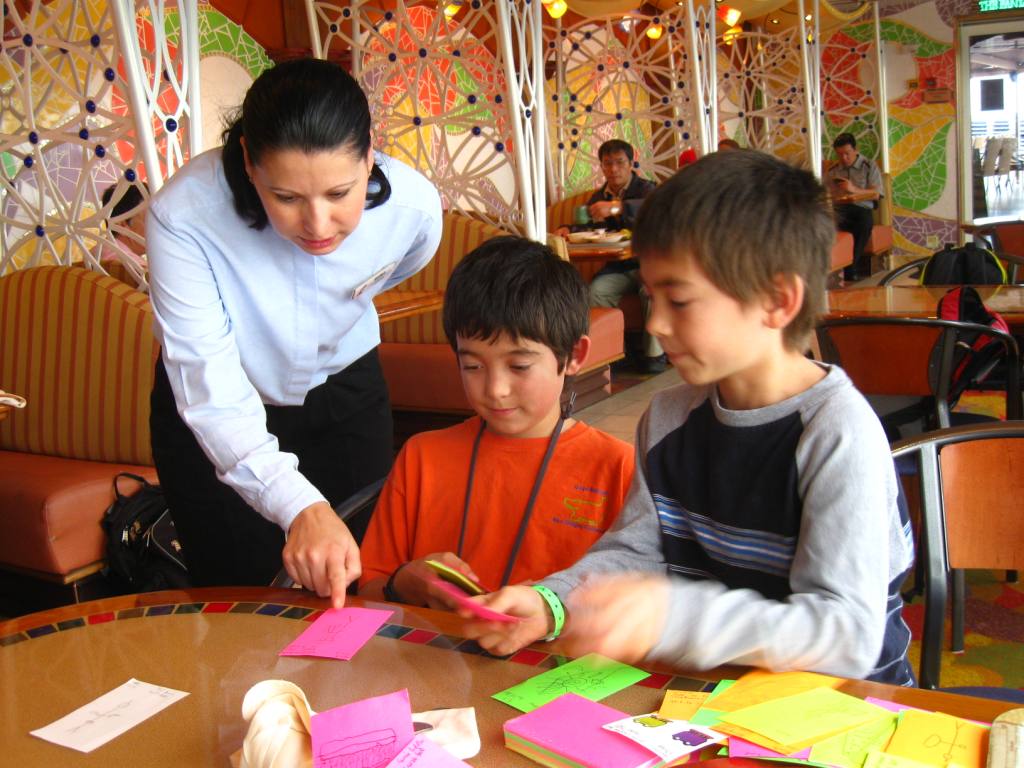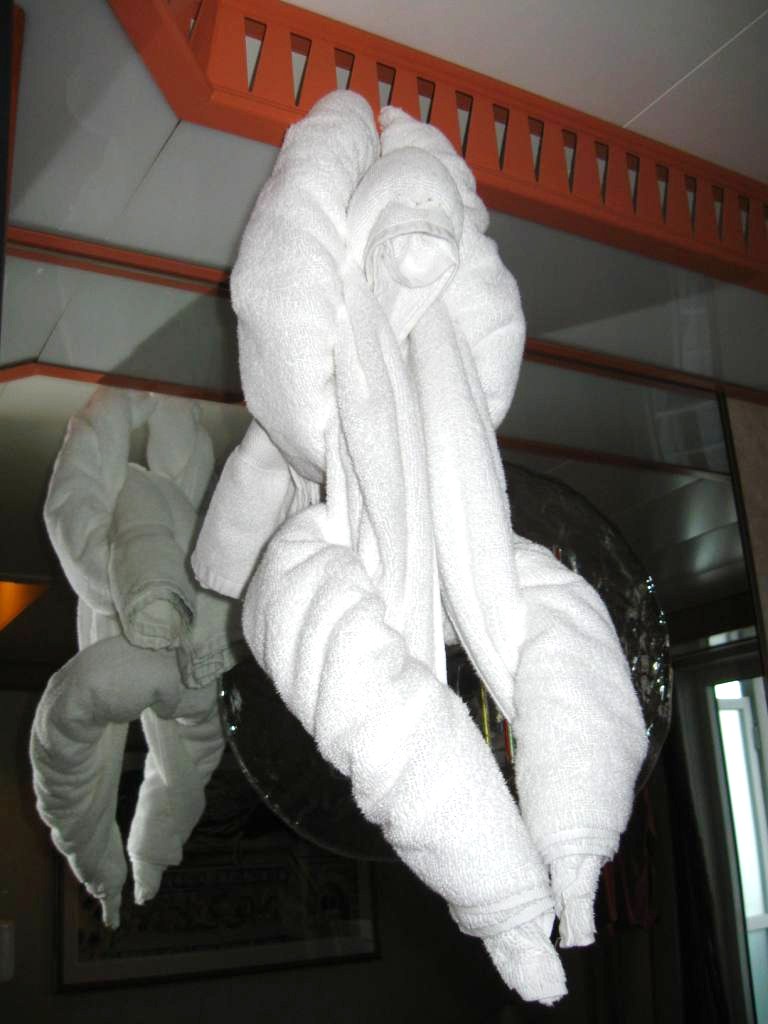 As we headed down the stairs to the gangplank, who should come wobbling down the stairs but Ondine! So, we all got to go to La Paz together!
The wide concrete dock at Pichilingue was packed with vendors selling "authentic" Mexican souvenirs beneath neat awnings. From Pichilingue, we took a bus ride into downtown La Paz.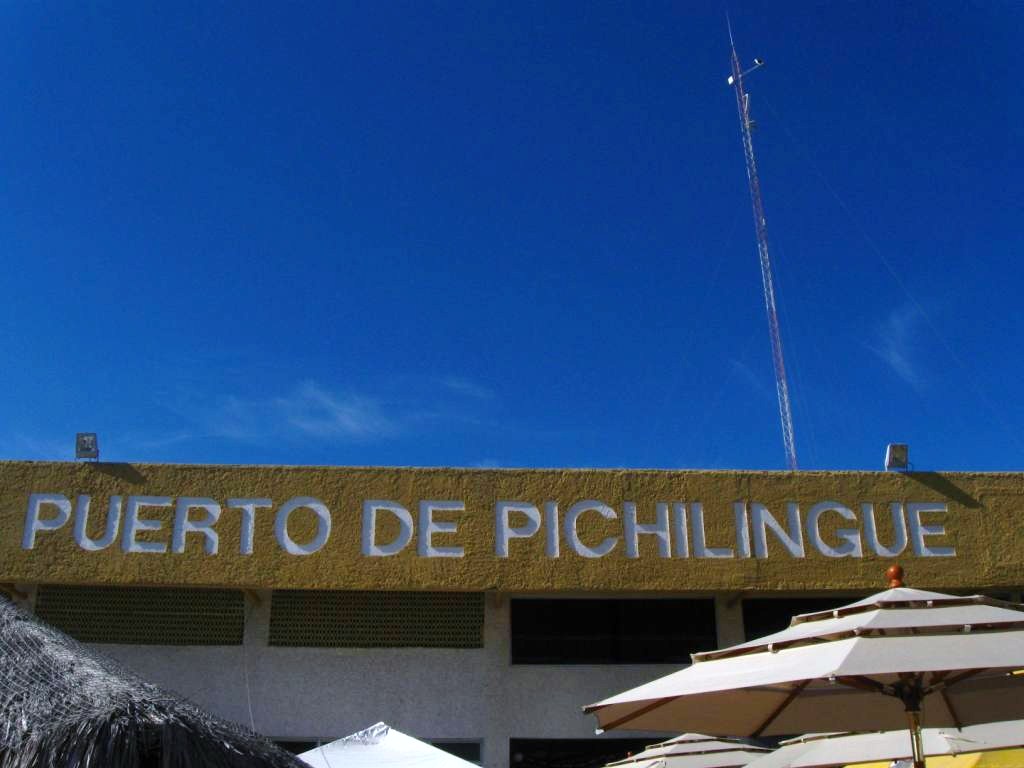 La Paz is the capital of the Mexican state of Baja California Sur. Sebastian Vizcaino named it in 1596; prior to that, Hernan Cortes had named it Santa Cruz Bay when he landed in 1535. We found a small art exhibition, and Ondine and Barbara went into a bookstore.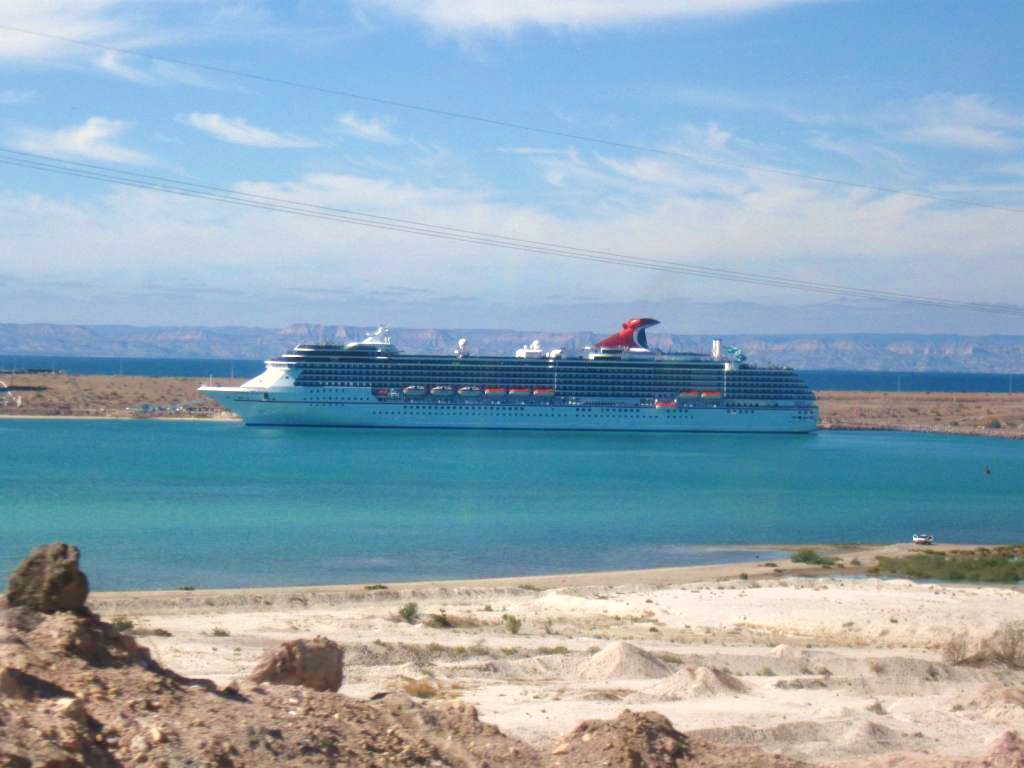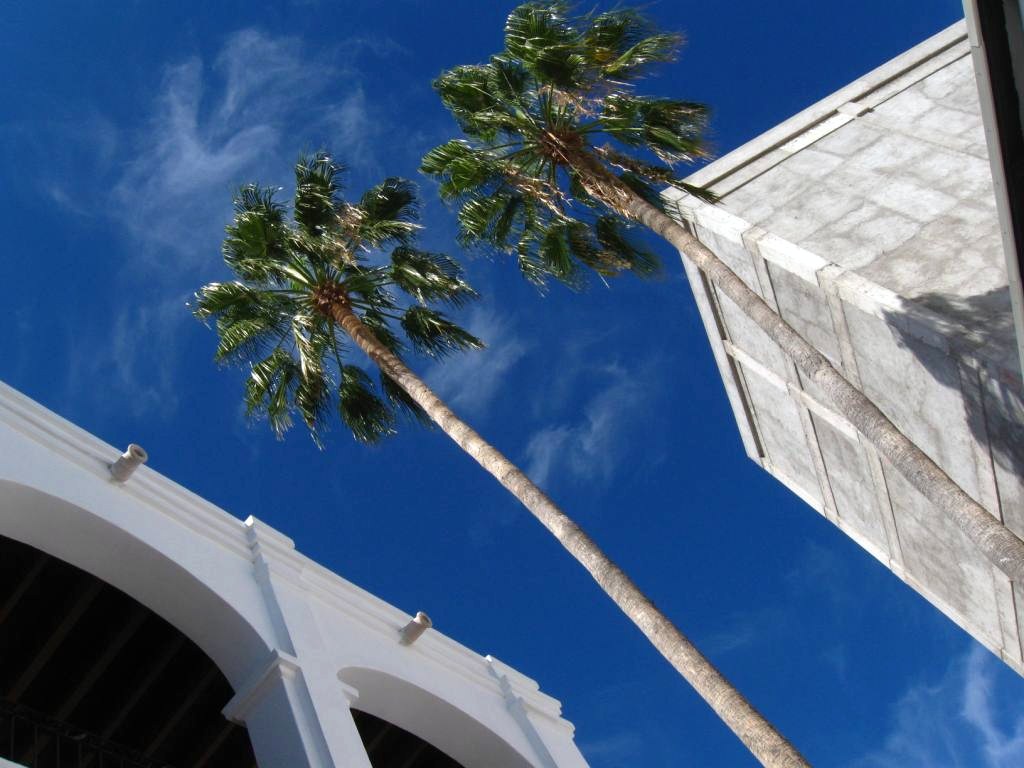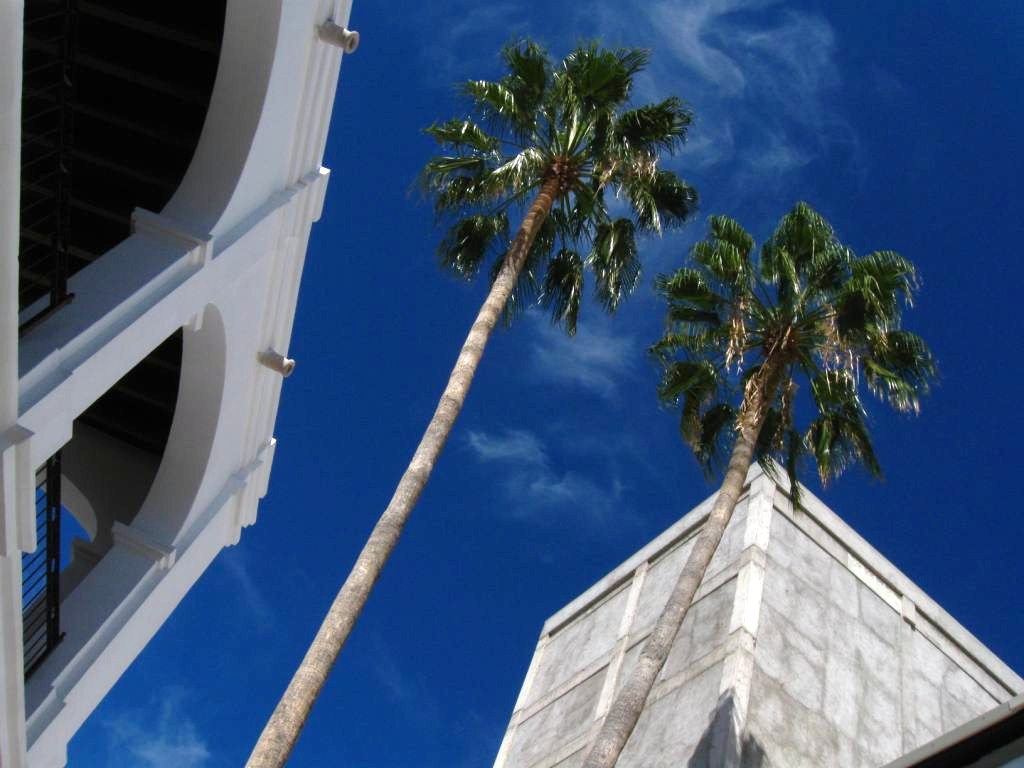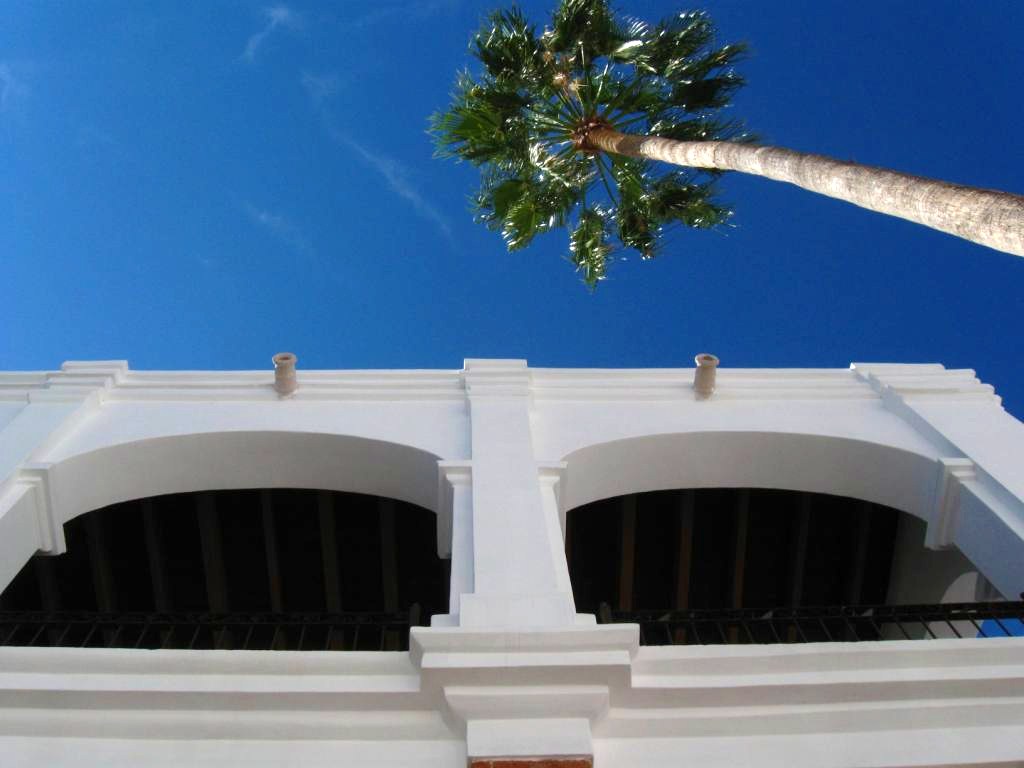 The traffic was anarchic but for a few tourist-safe intersections controlled by whistle-blowing traffic police. We worked our way to Plaza Constitución, directly across from the cathedral.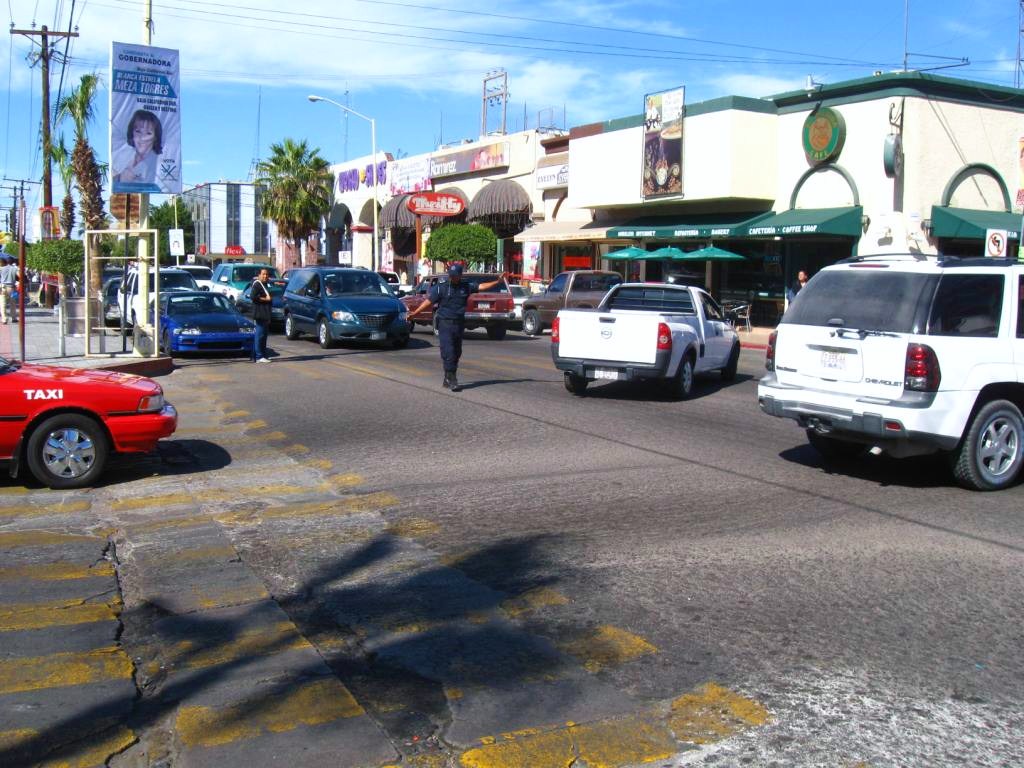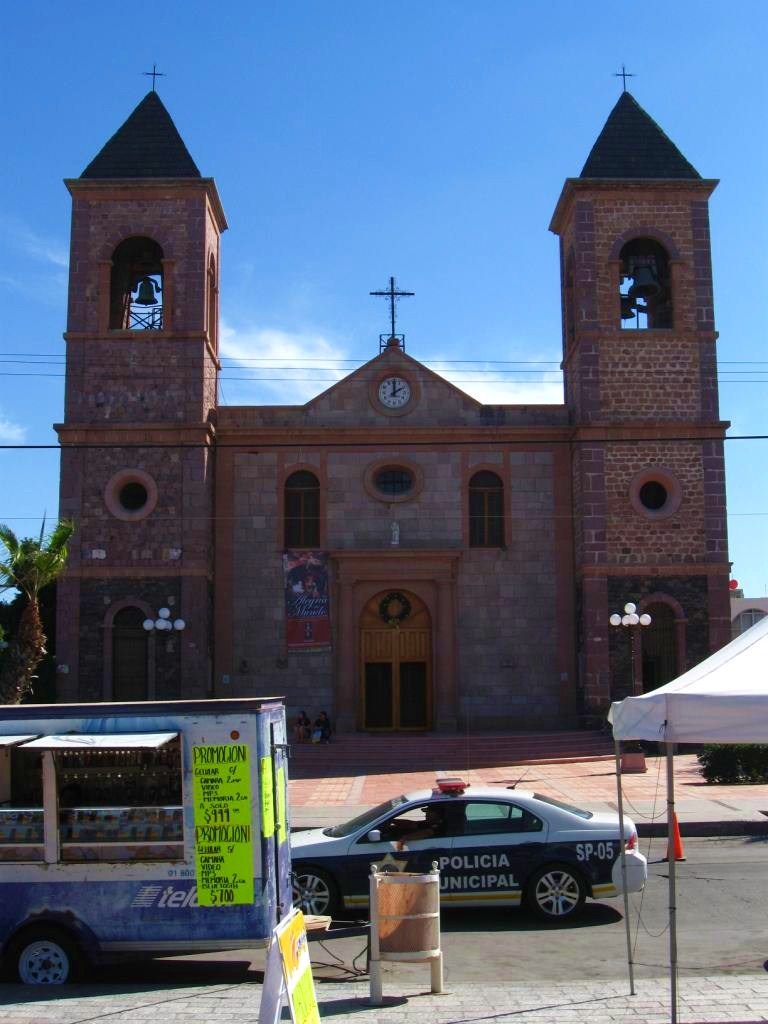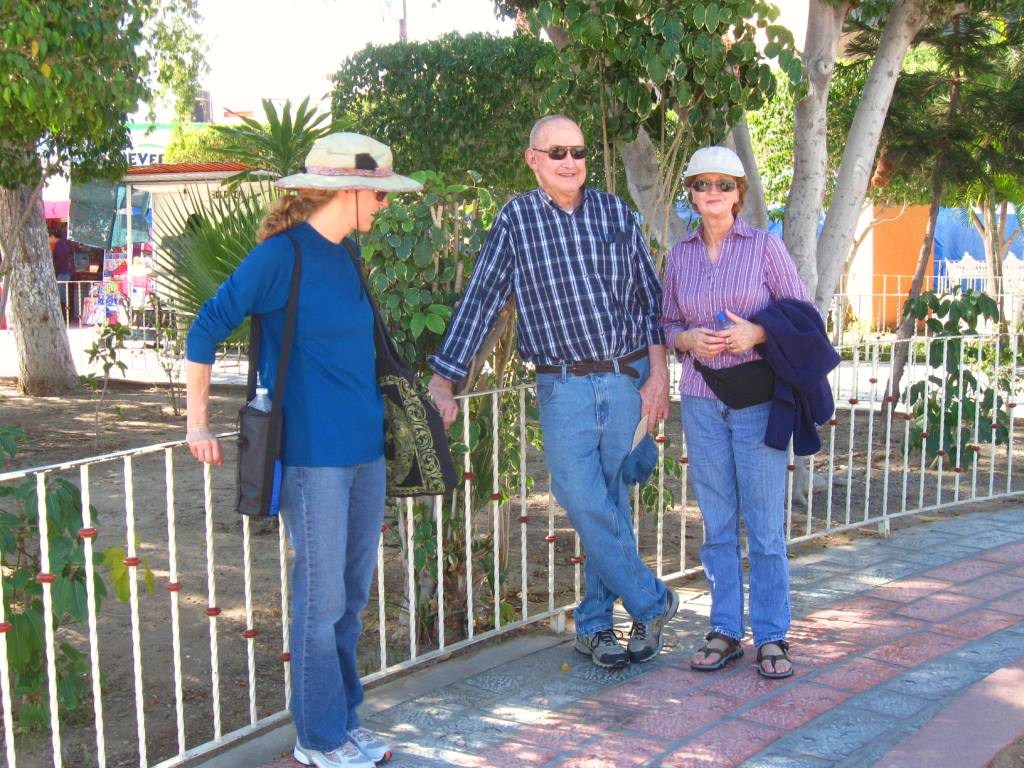 The "cathedral" is actually the Misión de Nuestra Señora del Pilar de la Paz Airapì. It was established in 1720, and is still very much the working community church. The altars and stained glass windows were draped with boughs and Christmas lights. A lit nativity scene in the transept showed the three kings nearing the manger. The crib was empty but for a pillow, awaiting Christmas Day.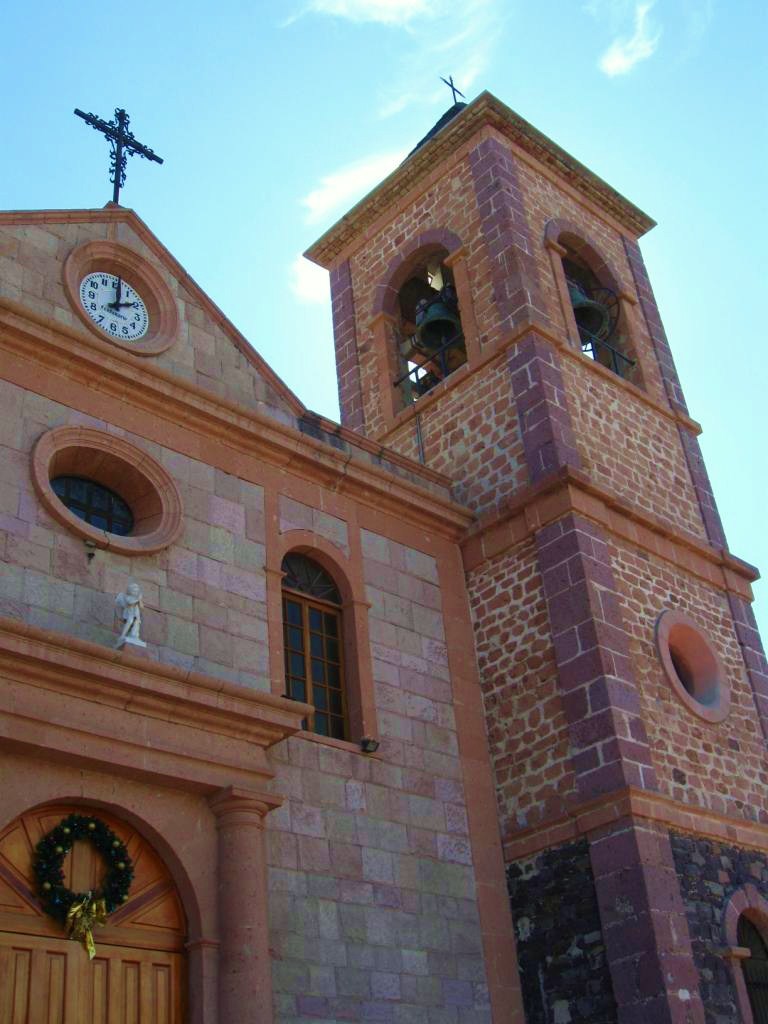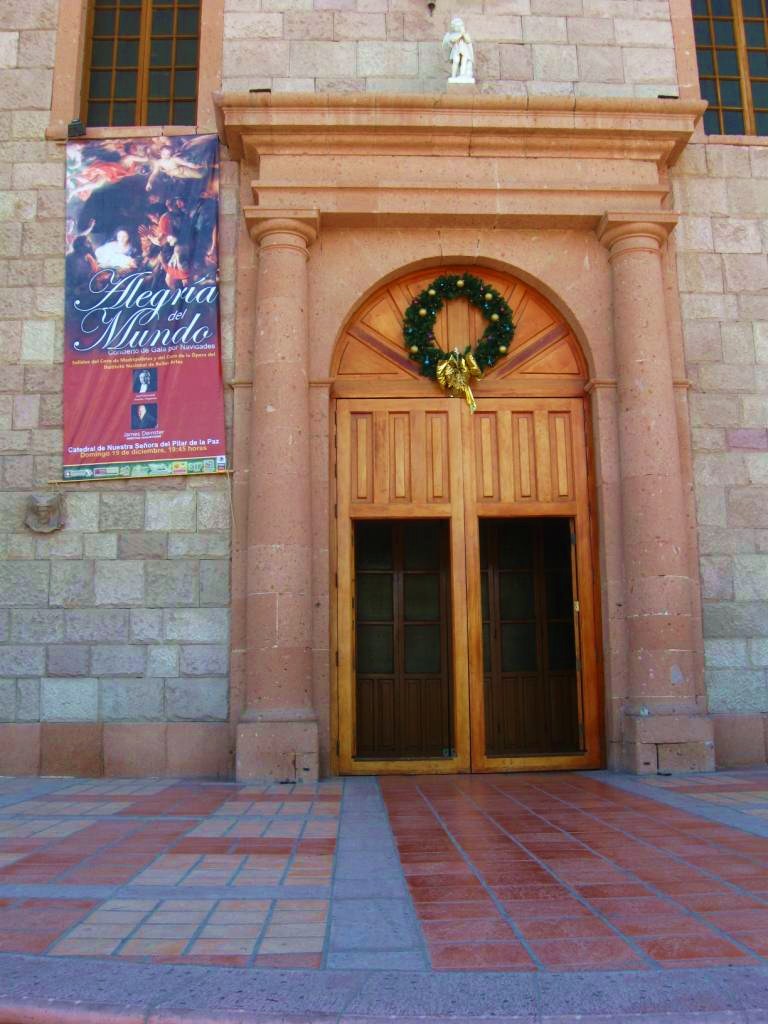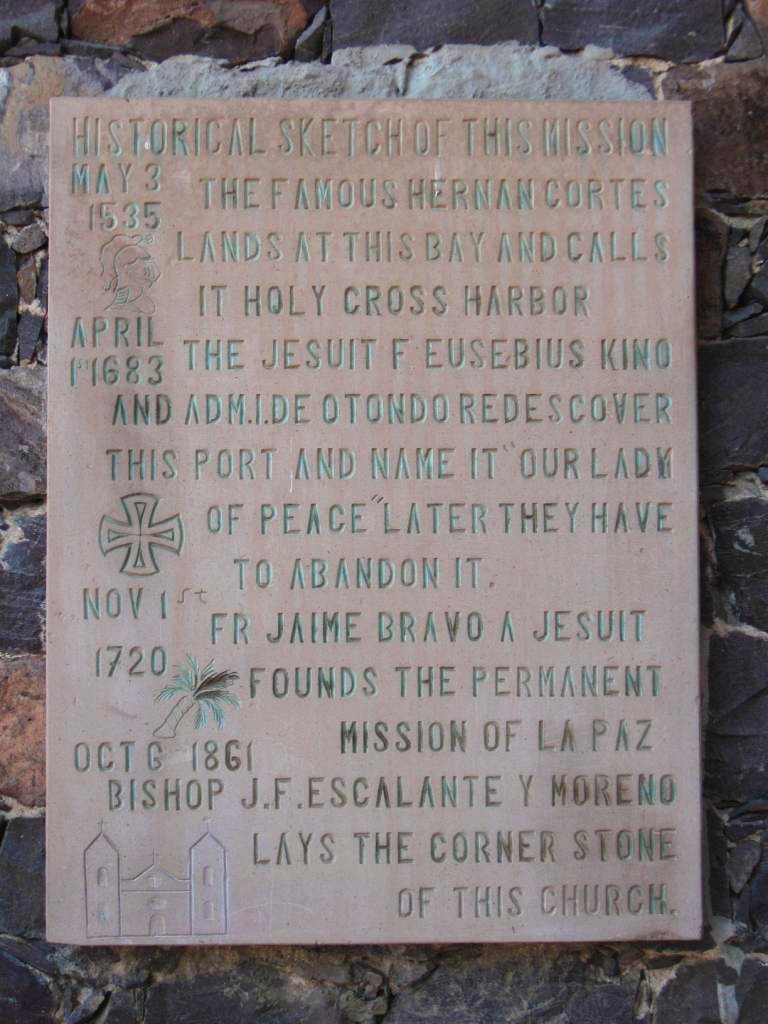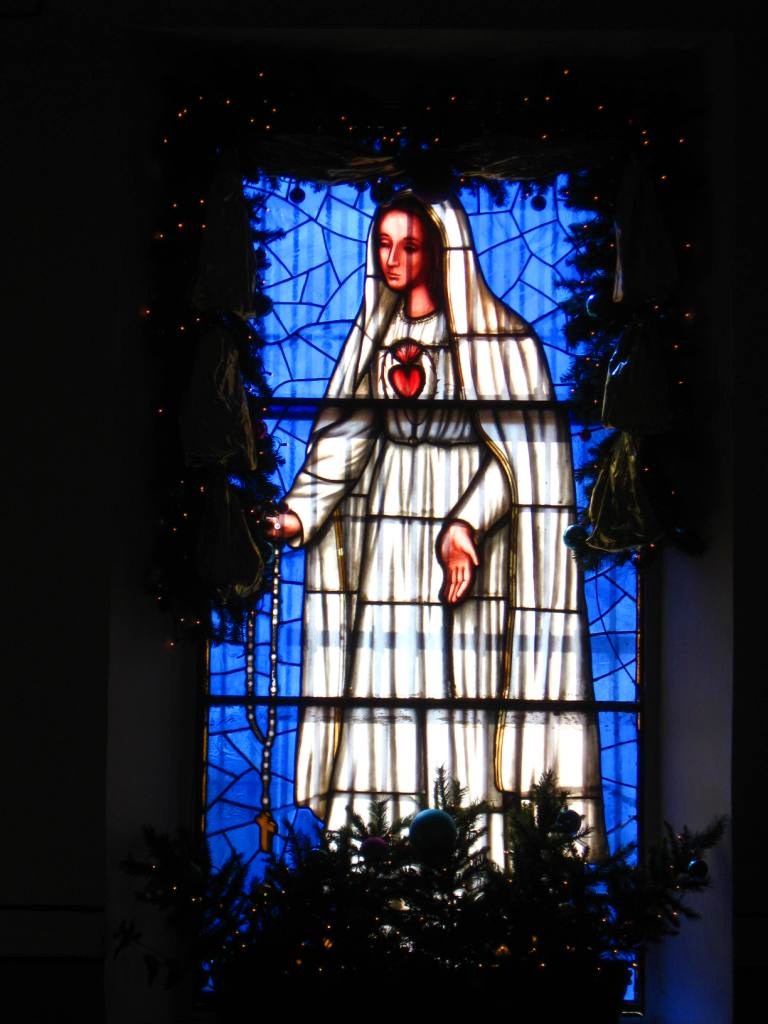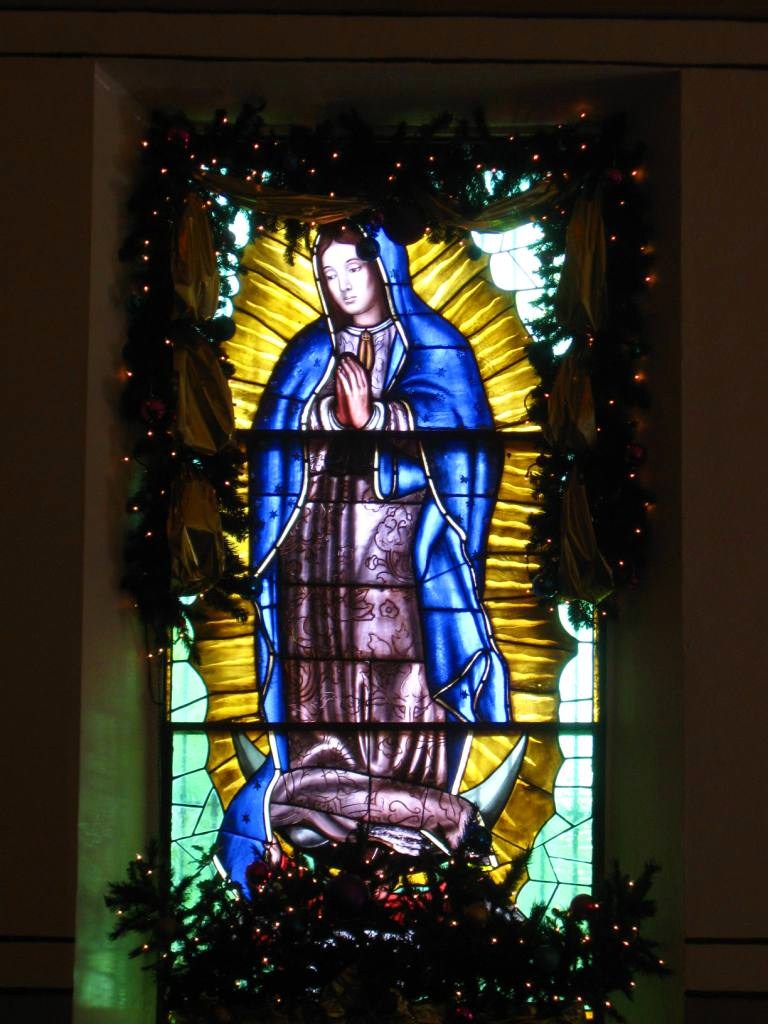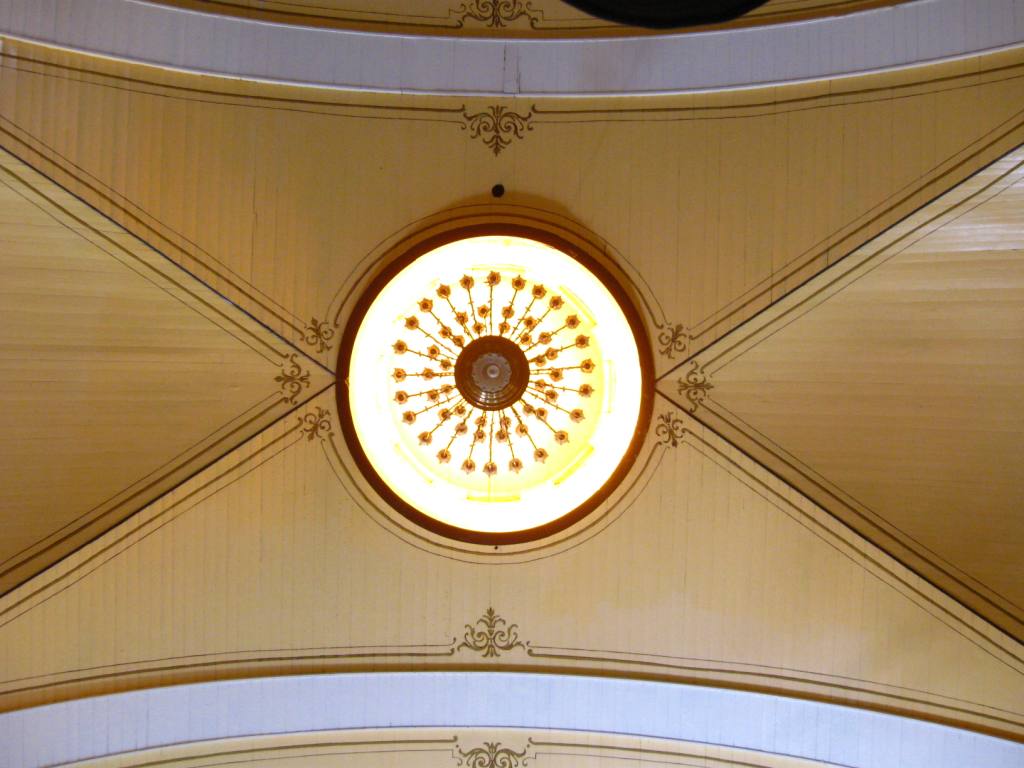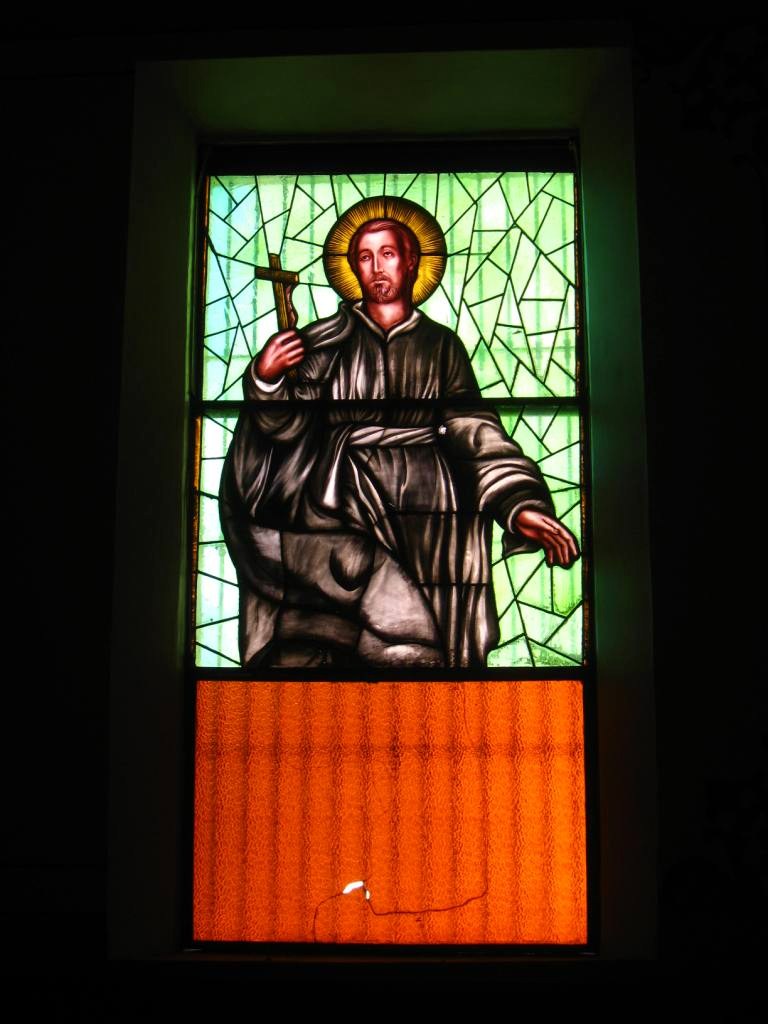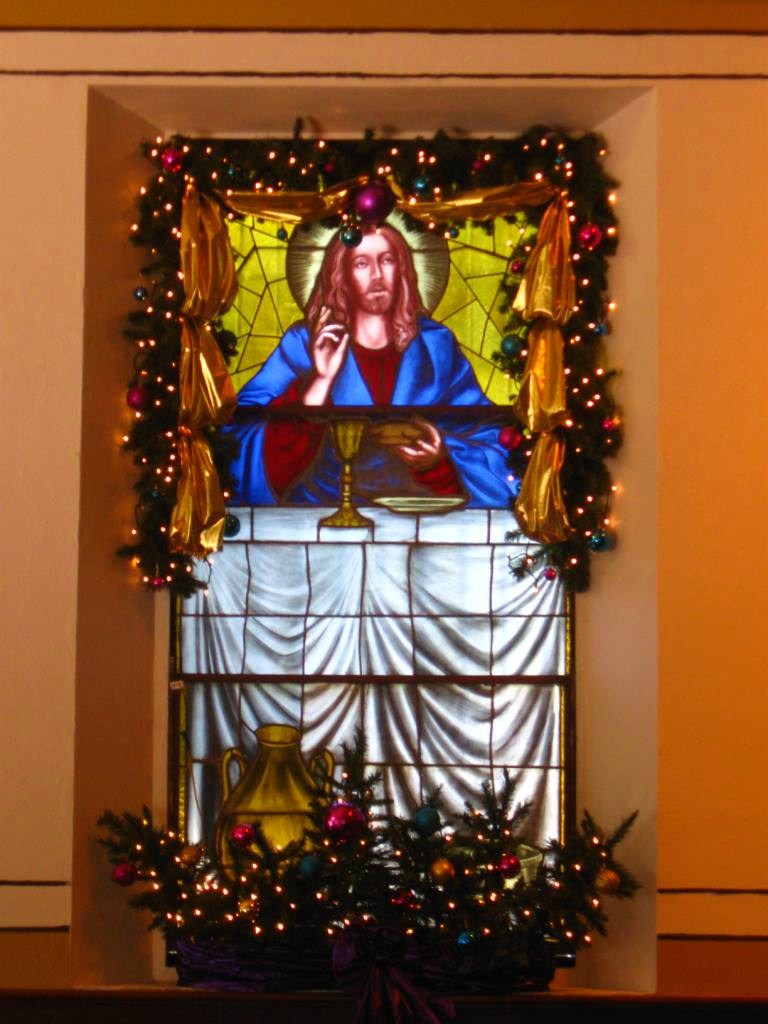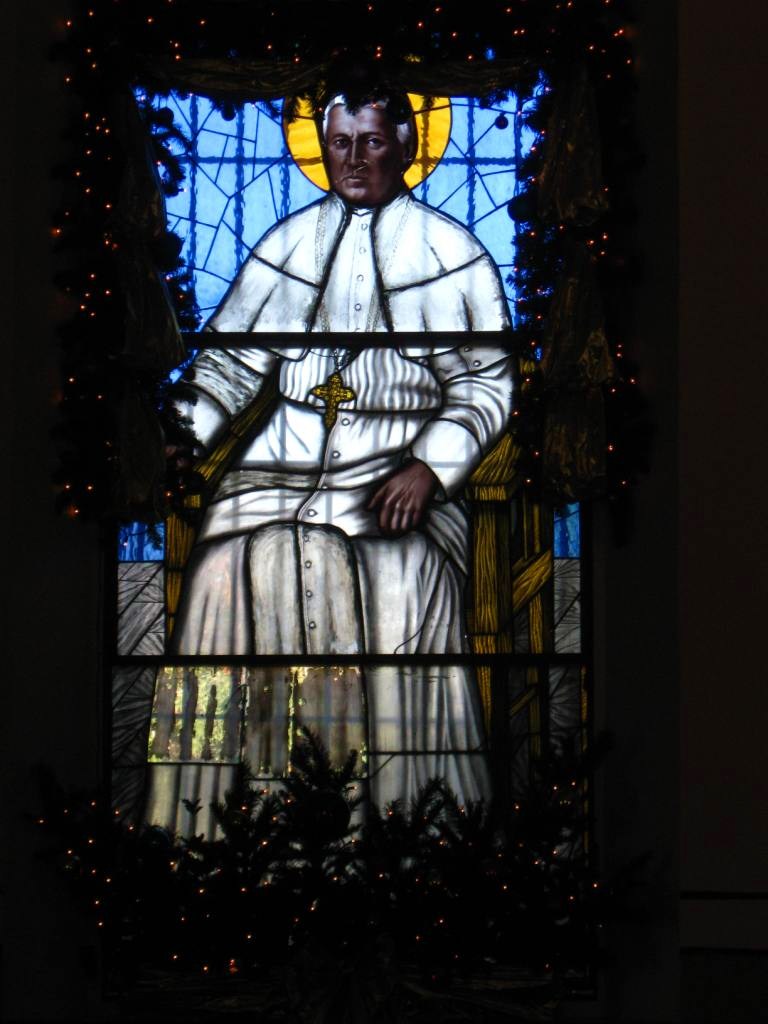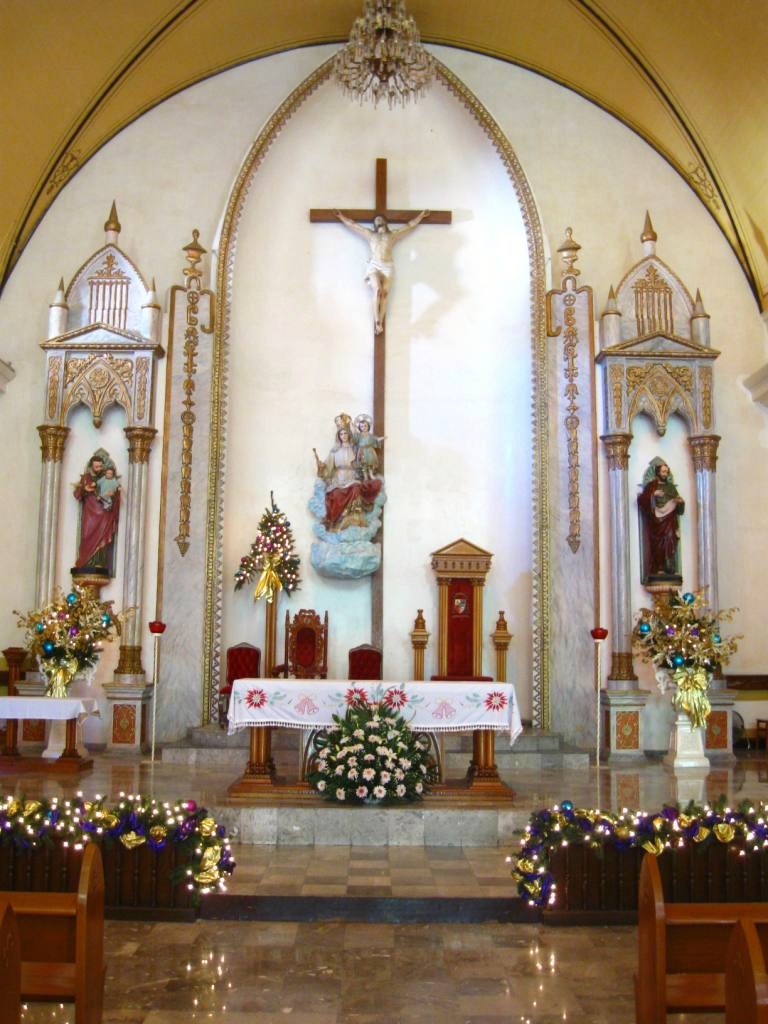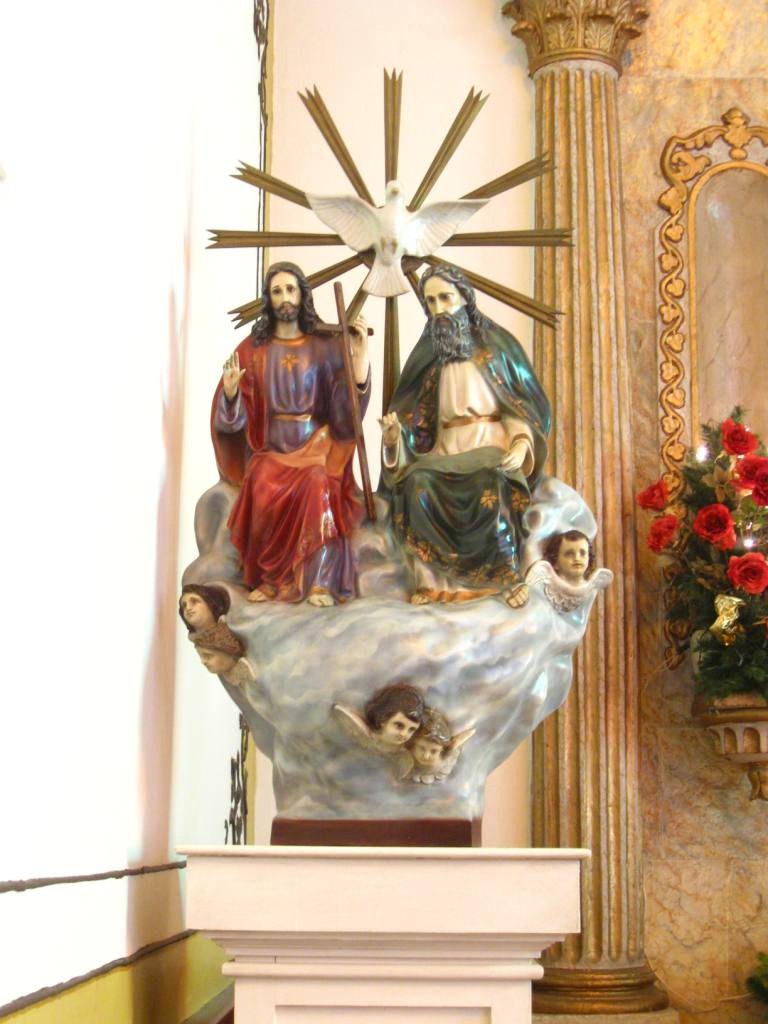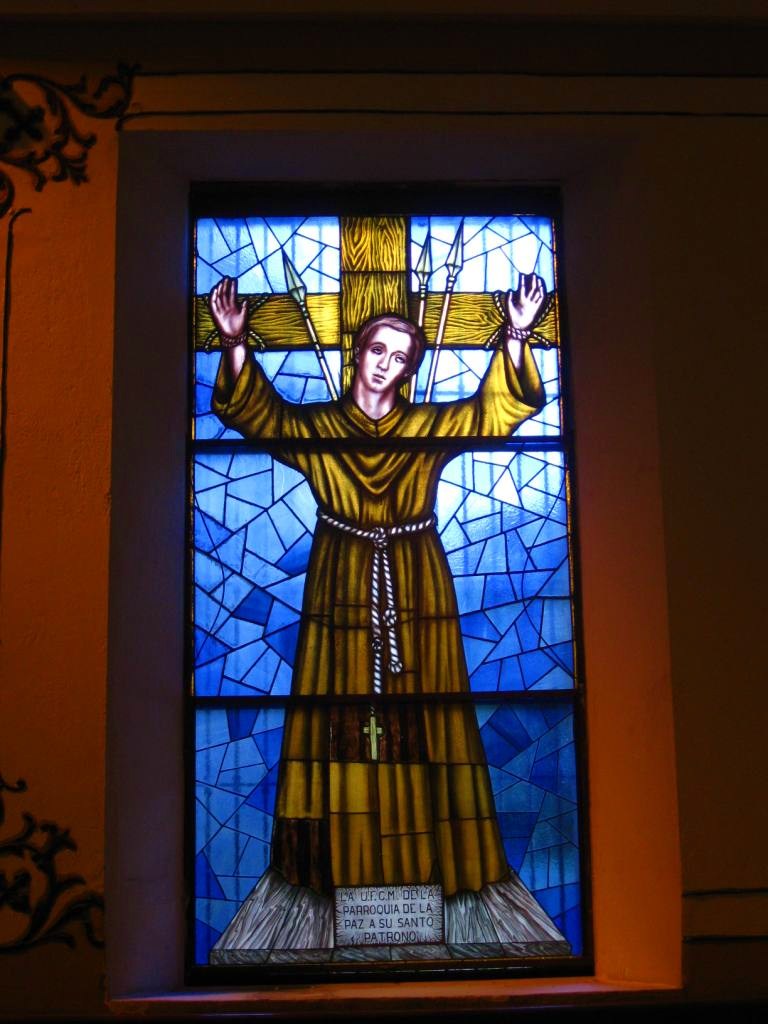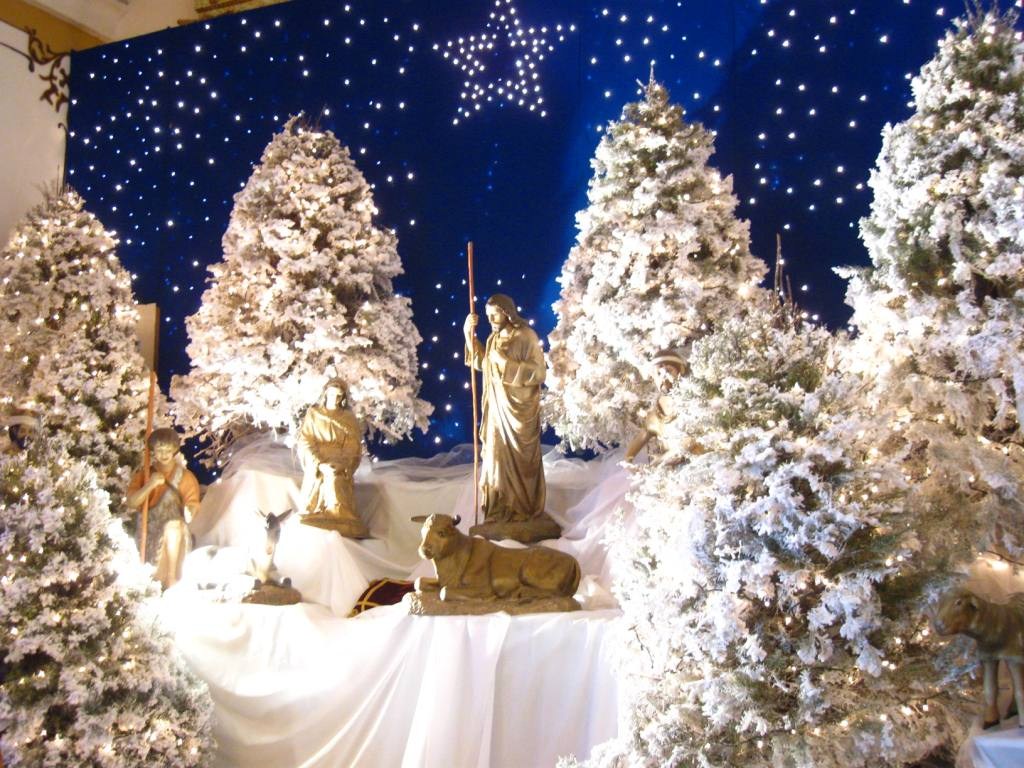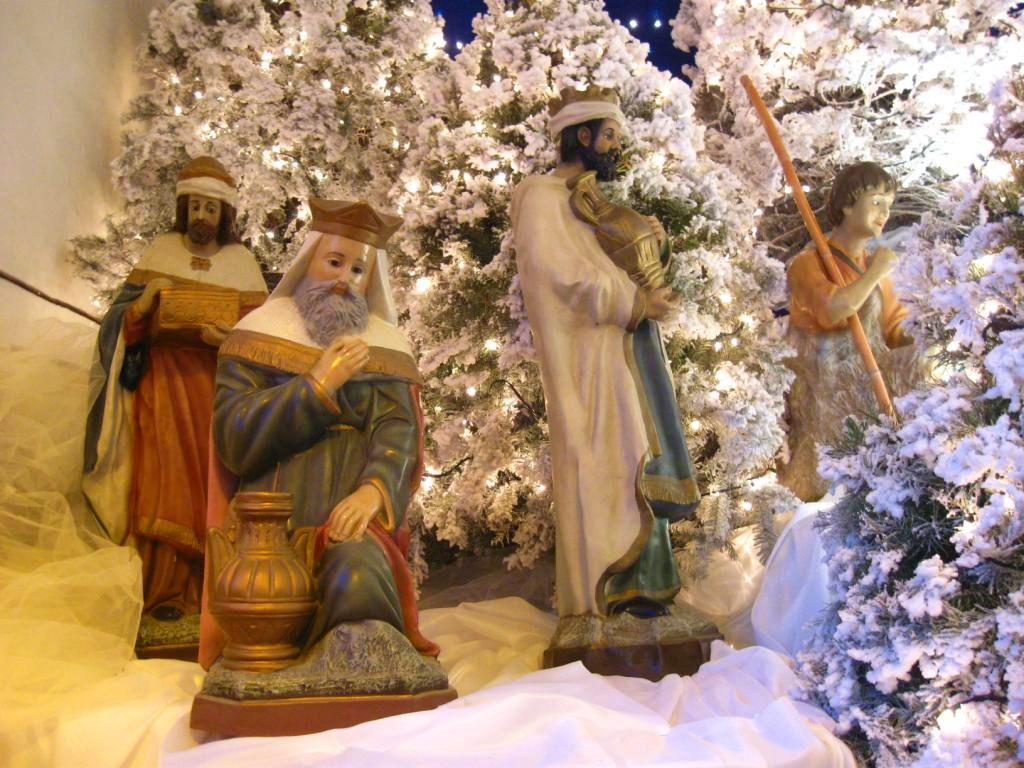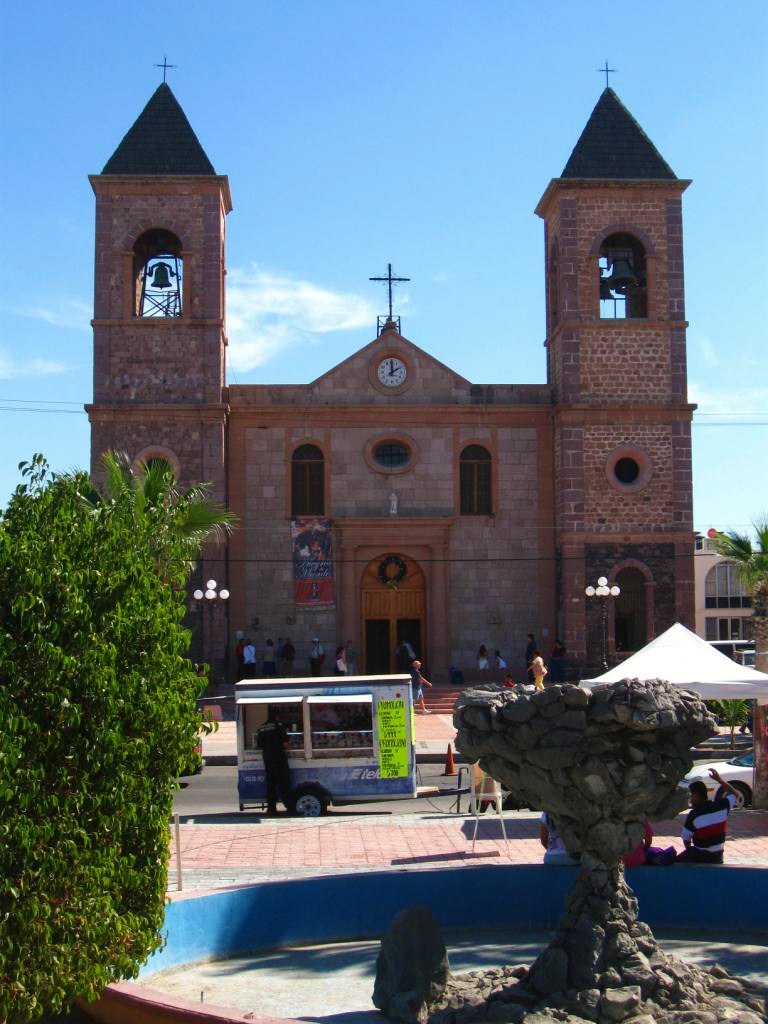 We walked back to the bus terminal, passing a very narrow hotel, but paused at the beach. Here you see the huge sculpture of a dove, La Paloma by Juan Soriano. Ondine and Leo walked the shoreline, Leo hunting bottle caps and shells. When it was time to meander back to the bus, we crossed by a traffic cop, who stopped cars for us.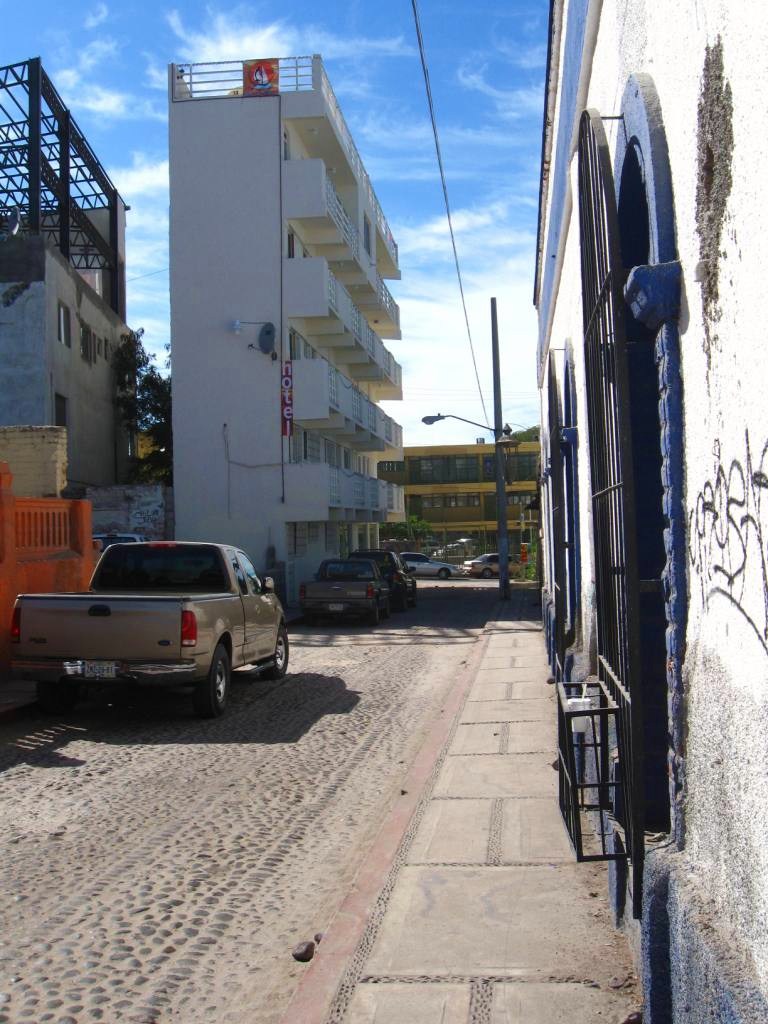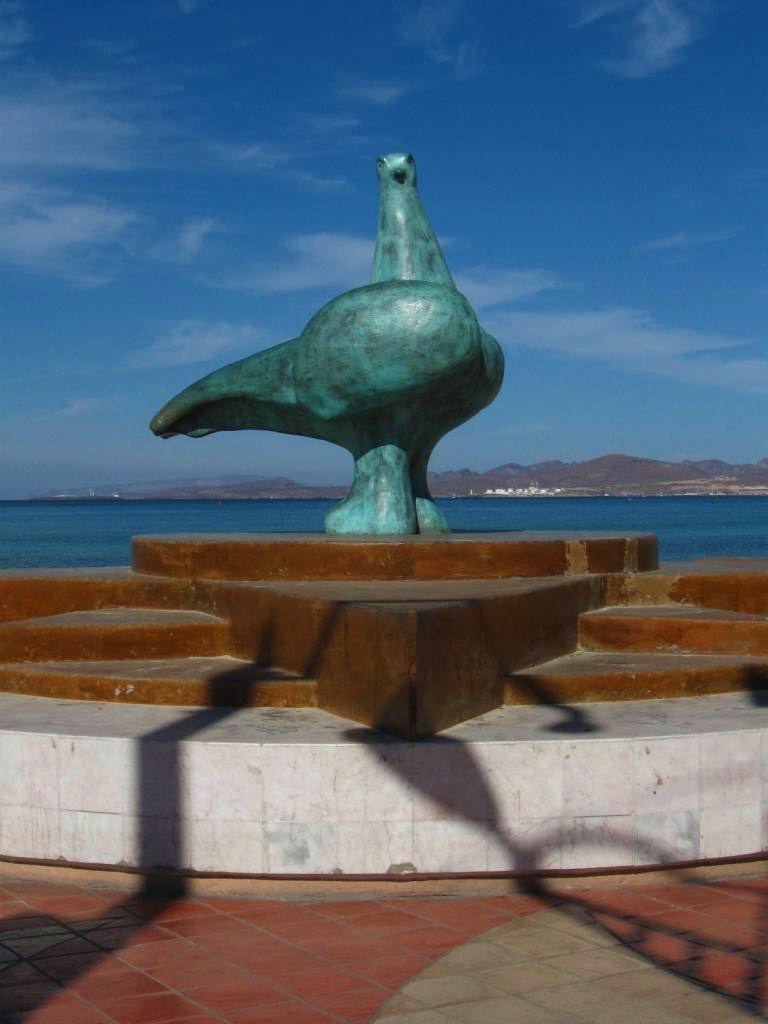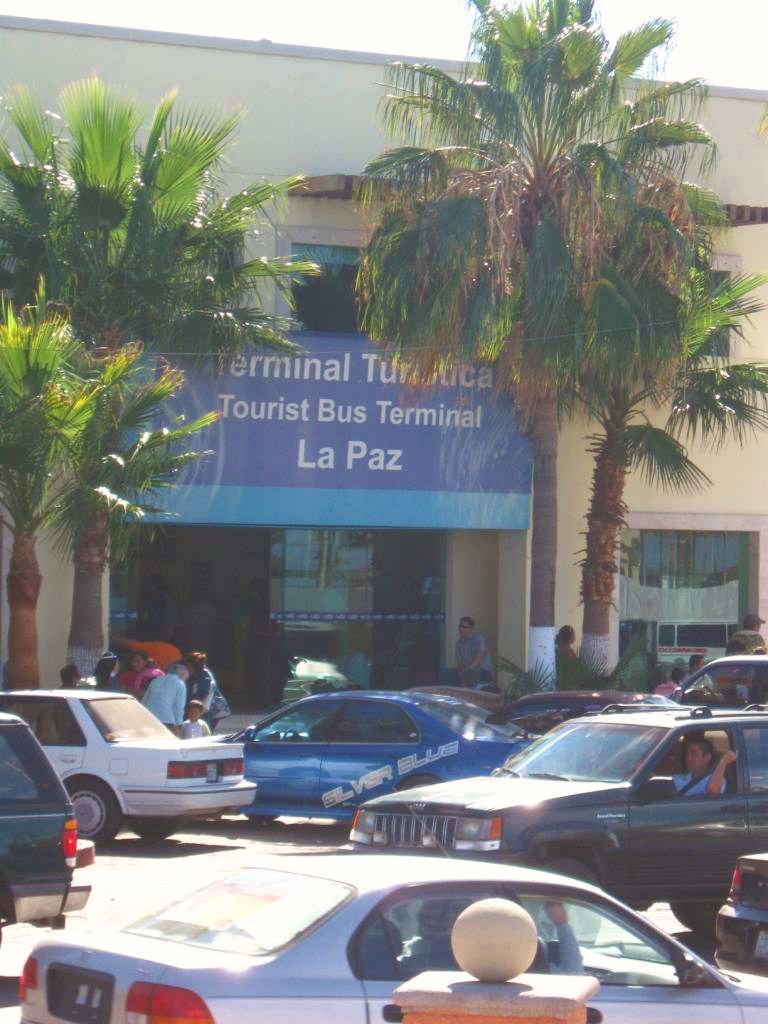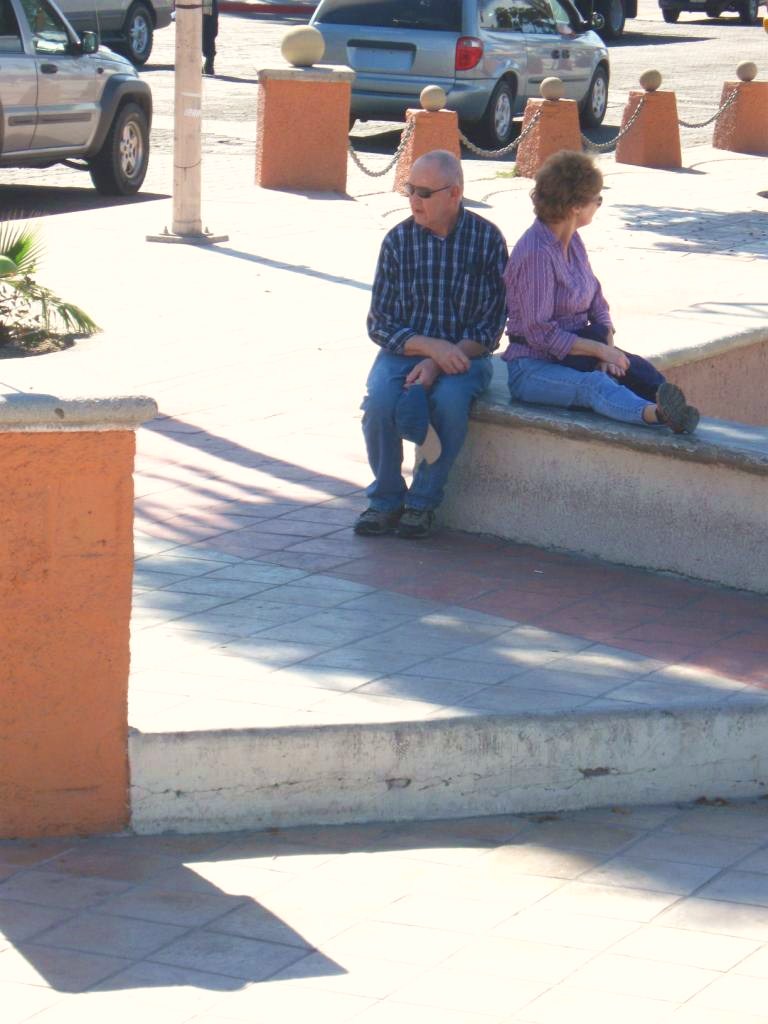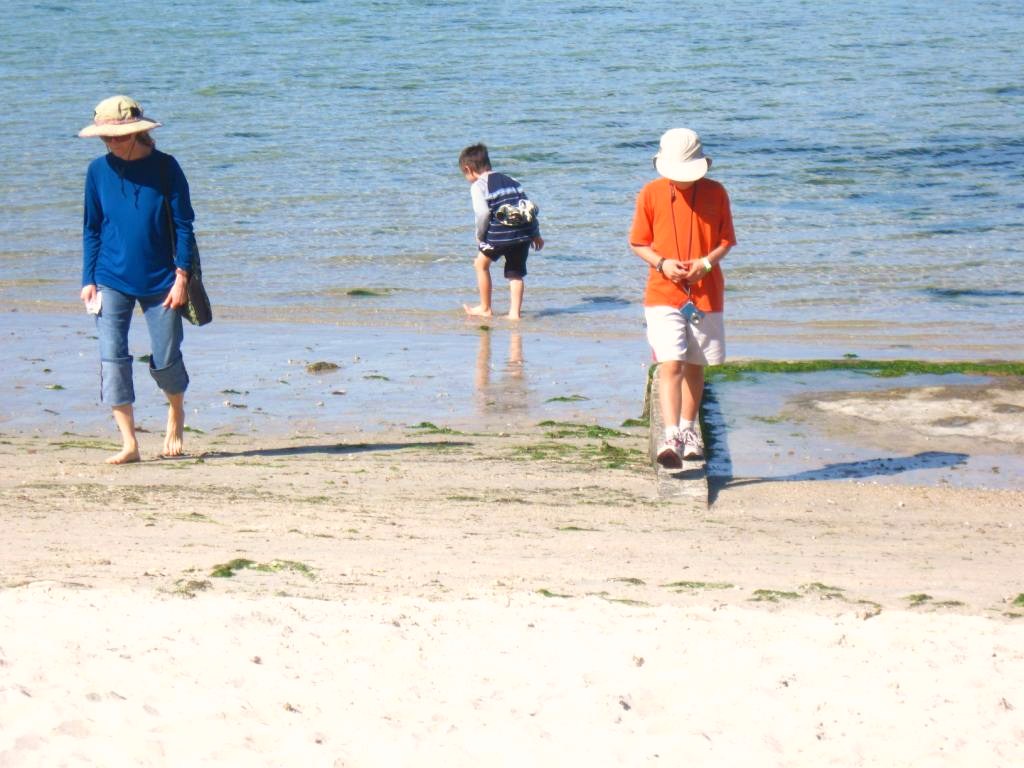 The bus ride back was uneventful, but Leo was delighted to discover that the seats in the back row of the bus reclined! It's always fun to spot our floating home.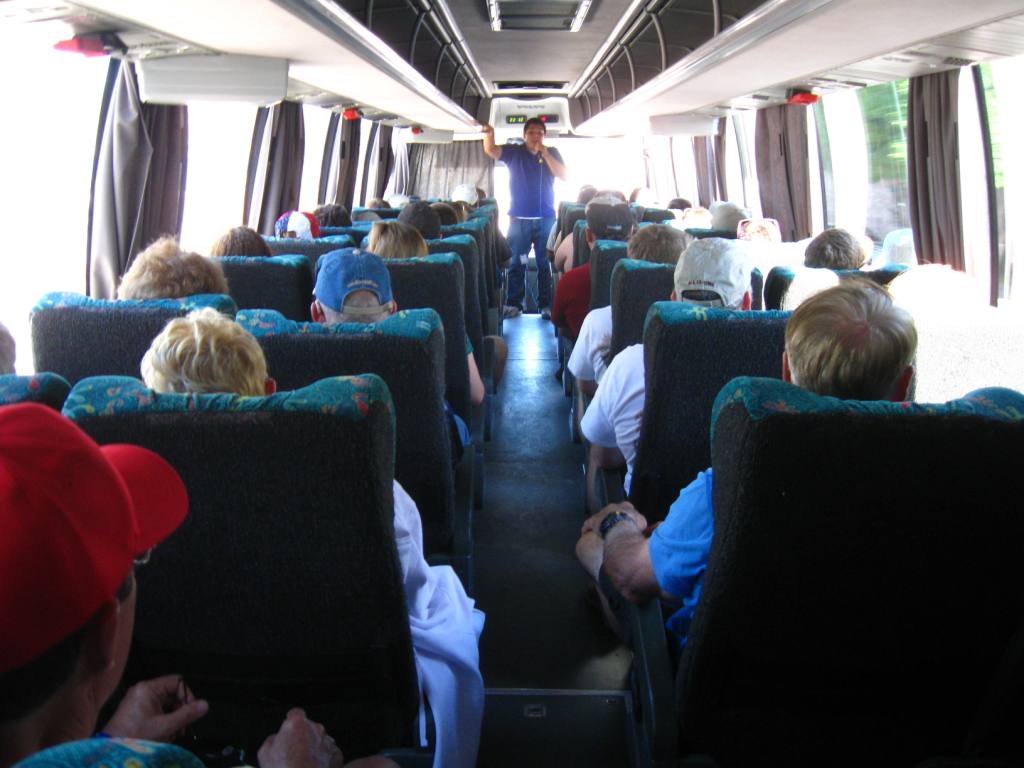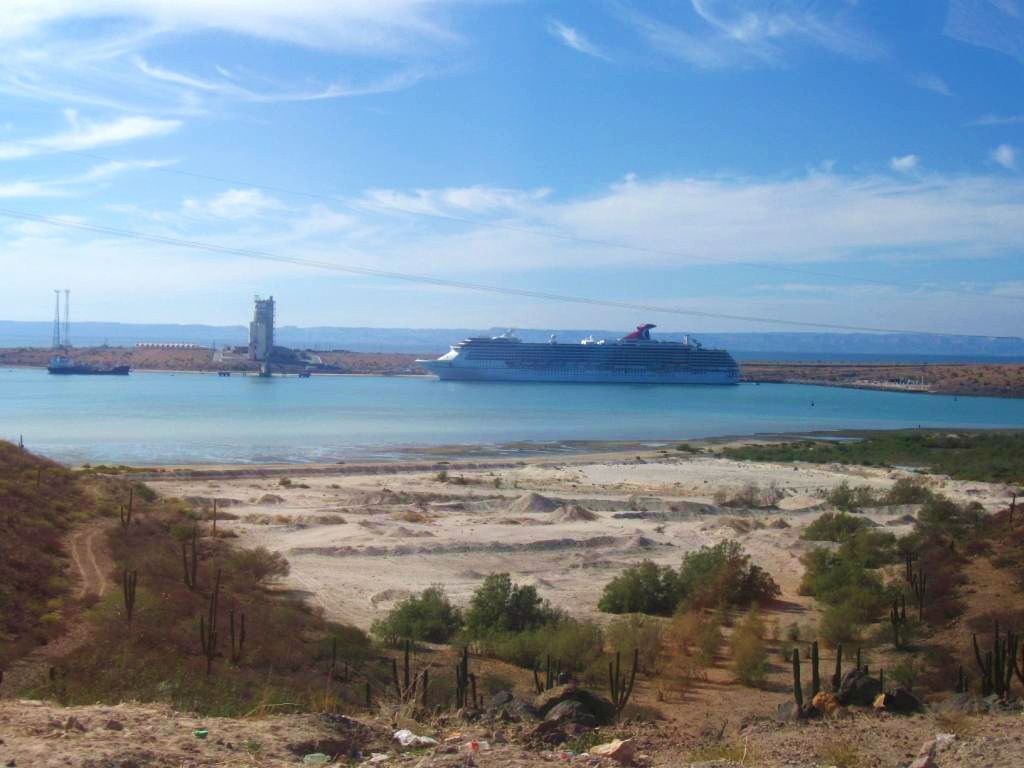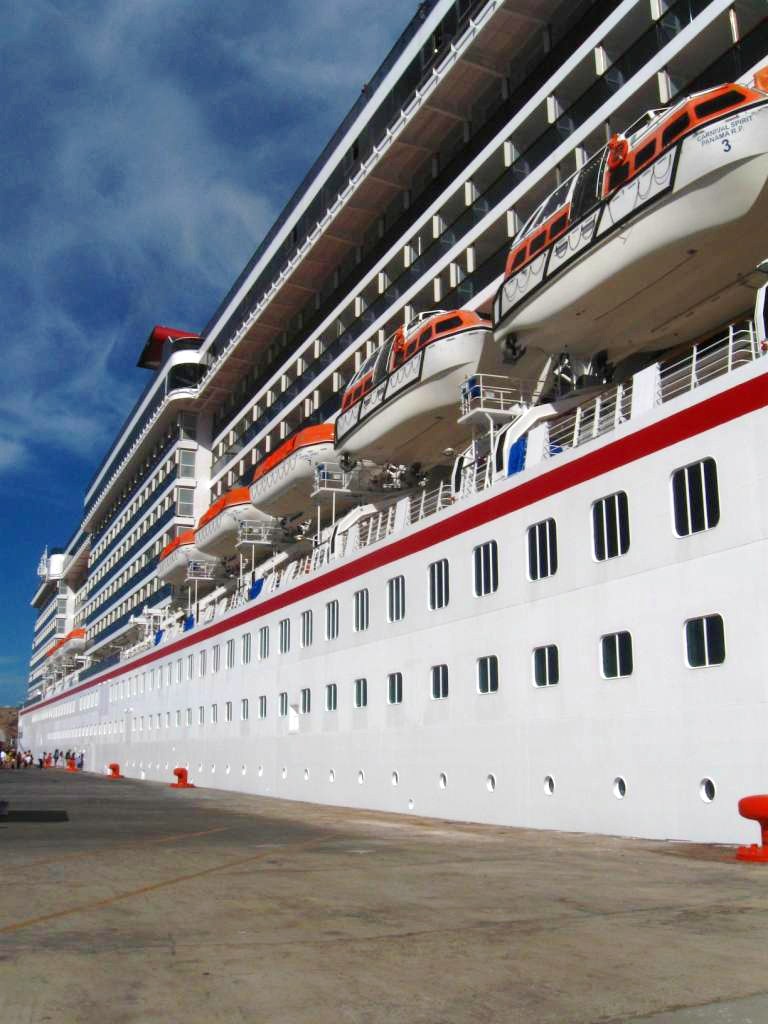 Upon returning to the ship, Barbara and Bill headed to their stateroom while we headed straight for the buffet. All that walking on a relatively empty stomach had made Ondine hungry – so she was feeling fine again. We'd just settled in with our first tray of food, when Barbara and Bill joined us! Yay!
Roy and Leo went to Camp Carnival for about 45 minutes, after which Ondine tried to take them to the water slide but it was closed. So, Roy and Leo swam in the pool (Leo soaking in the whirlpool), Ondine lay reading on a chaise longue, and John ran some laps. The reddish photo is taken from the top of the main atrium, looking down through the red glass skylight to the steakhouse below.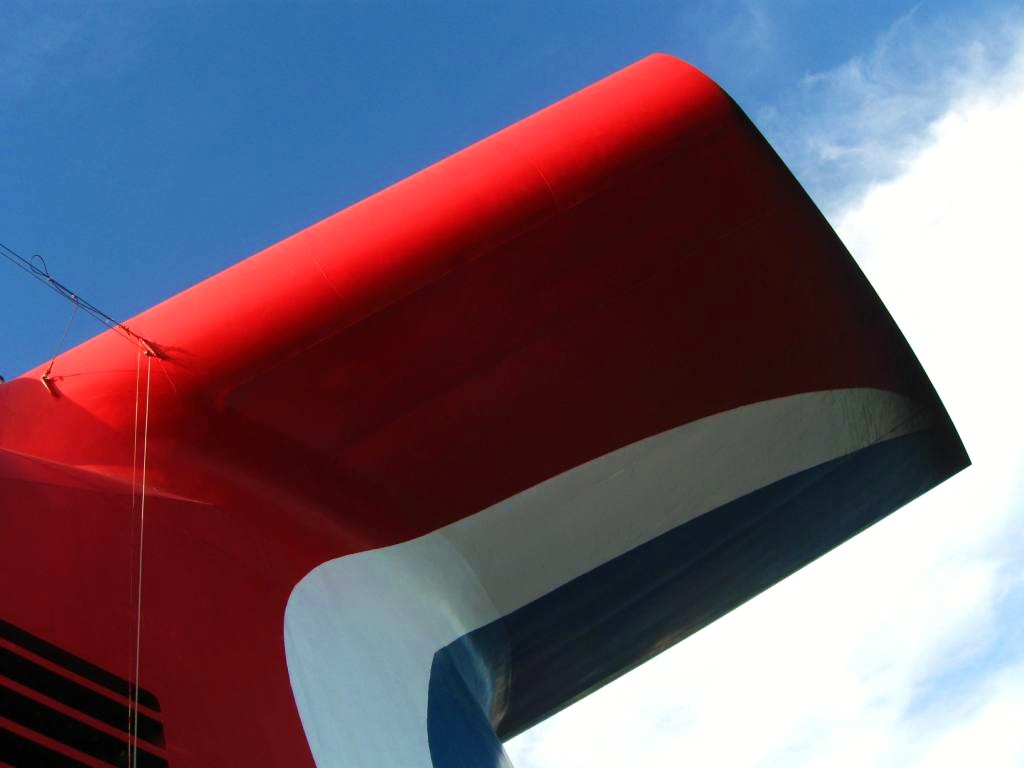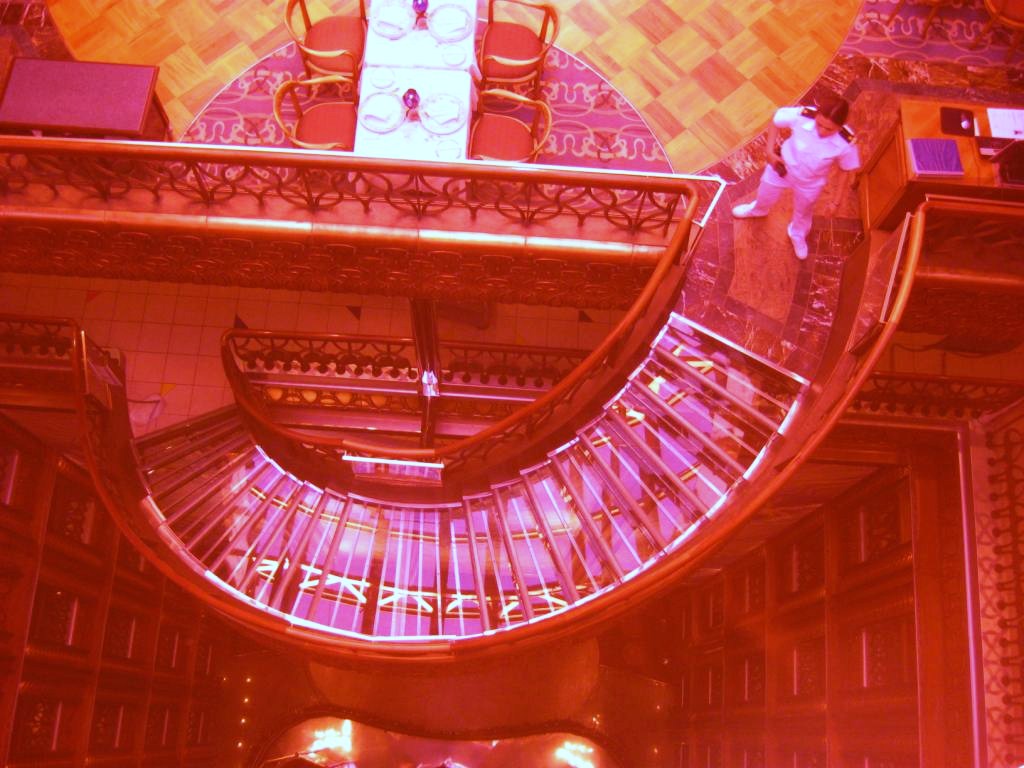 We watched as we left La Paz. The vendors were breaking down their stalls, and only rapidly crumpling awnings remained of the bustling market scene that had greeted us in the morning. The ship moved majestically away from the dock, the dock receding perfectly sideways as if the ship were gently pushing away a persistent suitor with a ghostly, gracefully extended arm. A few people the dock waved as we headed for open waters once again.

Our choices for dinner at the Empire Room included a roast duck starter, rack of lamb with herb crust, and tiramisu, Yum! The boys had chicken nuggets and a cheeseburger. We returned to our stateroom to find our third towel animal: a frog!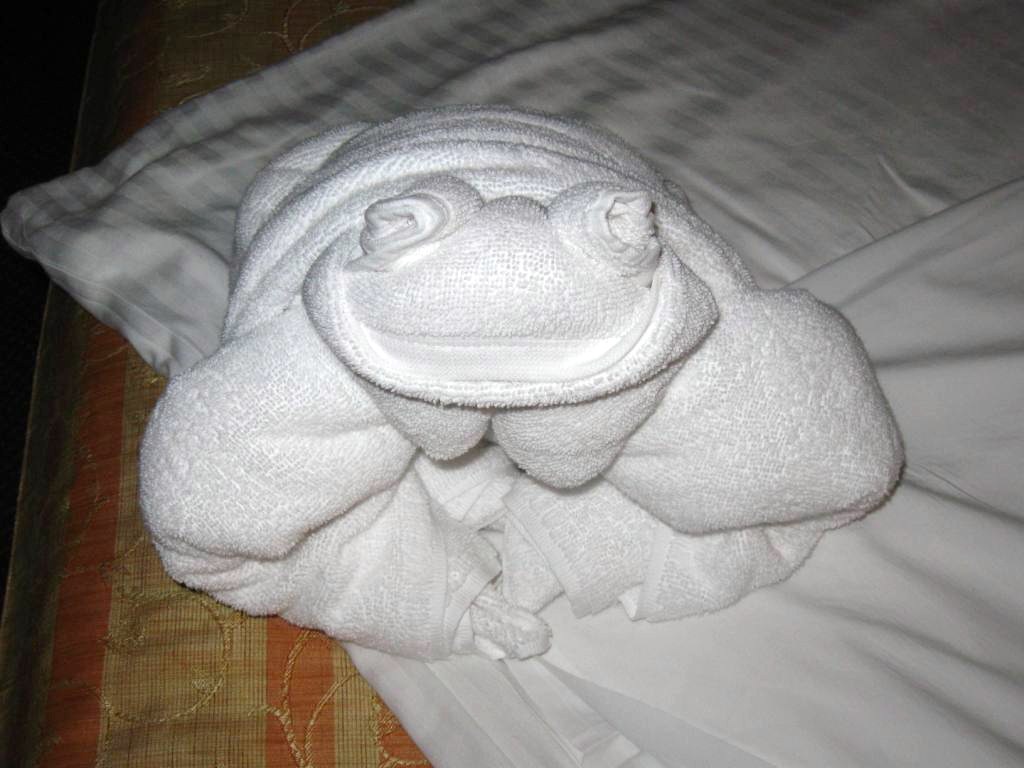 Onward to Mazatlan, Malpica, Concordia, and Copala
Back to the Kuraoka Family main page