Our New Roof and Solar Power Project
www.kuraoka.org
October 31 2016 to November 25 2016
These are edited excerpts from our weekly journals documenting our journey into the world of solar power, plus getting a new roof.
A bit of background: Our all-electric house was built in the early 1970s. Since then it's had a room addition and at least two rounds of electrical upgrades that we know of. It has two peaked roofs and two flat roofs, most with a full complement of old asphalt/shingle roofs that had to be completely stripped. Mostly, we needed a new roof. But installing solar wasn't going to be a simple plug-and-play.
---
September 30, 2016: We're getting a new roof and solar power! Our roof is actually actively falling apart, shedding brittle, sunburnt shingles with every Santa Ana. We'd gotten quotes last year, when El Niño seemed like a real threat. (It all but missed Southern California, indicating a possible significant shift in cyclical weather patterns; John predicts that this year's La Niña will bring higher-than-average rainfall here instead of the usual lower). We were about to call in the only two roofers who were honest about the condition of our roof last year (Sully-Jones and Benton) for new estimates, but Ondine spotted an ad in the Mission Times Courier for a free roof with solar installation from Secure Roofing and Solar. We hadn't heard of it, but it's a somewhat local company (based out of San Marcos), and Yelp and BBB reviews seemed to be legitimately good, so we called for a quote. The president of the company, Dave, came out to talk to us.
The idea is, we'd have no more electric bill, or a very small annual one, but for the next 12 years we'd be paying off a loan with monthly payments about twice as much as our current monthly bill (we're an unusually energy-efficient household, with no pool, no air conditioning, and typically using a little over half our Tier 1 Baseline Allowance). After 12 years, we'd have no loan payments, free electricity, and a roof with 38 years to go on a 50-year warranty, all for not much more than paying off a loan for a new roof. So we put down a deposit and we're doing it! Work won't start for another month.
One thing that impressed us was that Dave, after reviewing our electricity bill, downsized the project from 22 panels to 20. He suggested there's really no benefit to overproducing solar power; paying an extra $10-20 a month for the solar system vs. paying an extra $20 or $30 a year for electricity is a no-brainer. If John gets an electric car, then new panels can be fitted later. Meanwhile, as our kids grow up and potentially move out, and older appliances get replaced by new, more-energy-efficient models, our electricity consumption will likely go down, not up.*
---
October 10, 2016: We started the process on our new roof and solar, filling out the initial financing application. So wheels are turning! We've been told it'll be three weeks to a month before we have a start date for construction.
---
October 17, 2016: Last week we were jumping through hoops on the financing part. John being self-employed complicates things considerably. But it looks like things are falling into place, and we may have a start date soon!
---
October 21, 2016: The domino effect. The process of getting a new roof led us to a free roof with solar deal. And the financing for that led us to look again at our trusts, which led to a quick review of our property title and life insurance coverage. We saw no need to change anything, but it did make us pause and review stuff we hadn't looked at in a while, which is good. Of course, once the roof gets underway, we're braced for some unpleasant finds under the three layers of existing roof material. So far, though, everything appears to be proceeding on-schedule.
---
October 28, 2016: It looks like all the financing stuff is taken care of and finalized. The check, as they say, is in the mail. Work on our new solar power system, complete with new roof, may start on Halloween, quite a trick and a treat!
---
October 31 2016: The demolition process on our roof has begun! A crew of two from Secure Roofing and Solar arrived at 9 sharp, and immediately started removing the old roof shingles with broad shovels and pitchforks. About 15 minutes later, reinforcements arrived in the form of two more workers and a large open truck to haul away the debris. A little over two hours later, the roof was all but stripped bare, and by 4 pm, after lots of pounding that shook dust off the ceiling, creating a slight indoor haze, the underlayment was tacked in place and clean-up had started. The crew left around 4:25, and the yards looked very clean. Cleaner, in fact, than our gardeners leave them, although our gardeners aren't very good, just cheap. Check it out!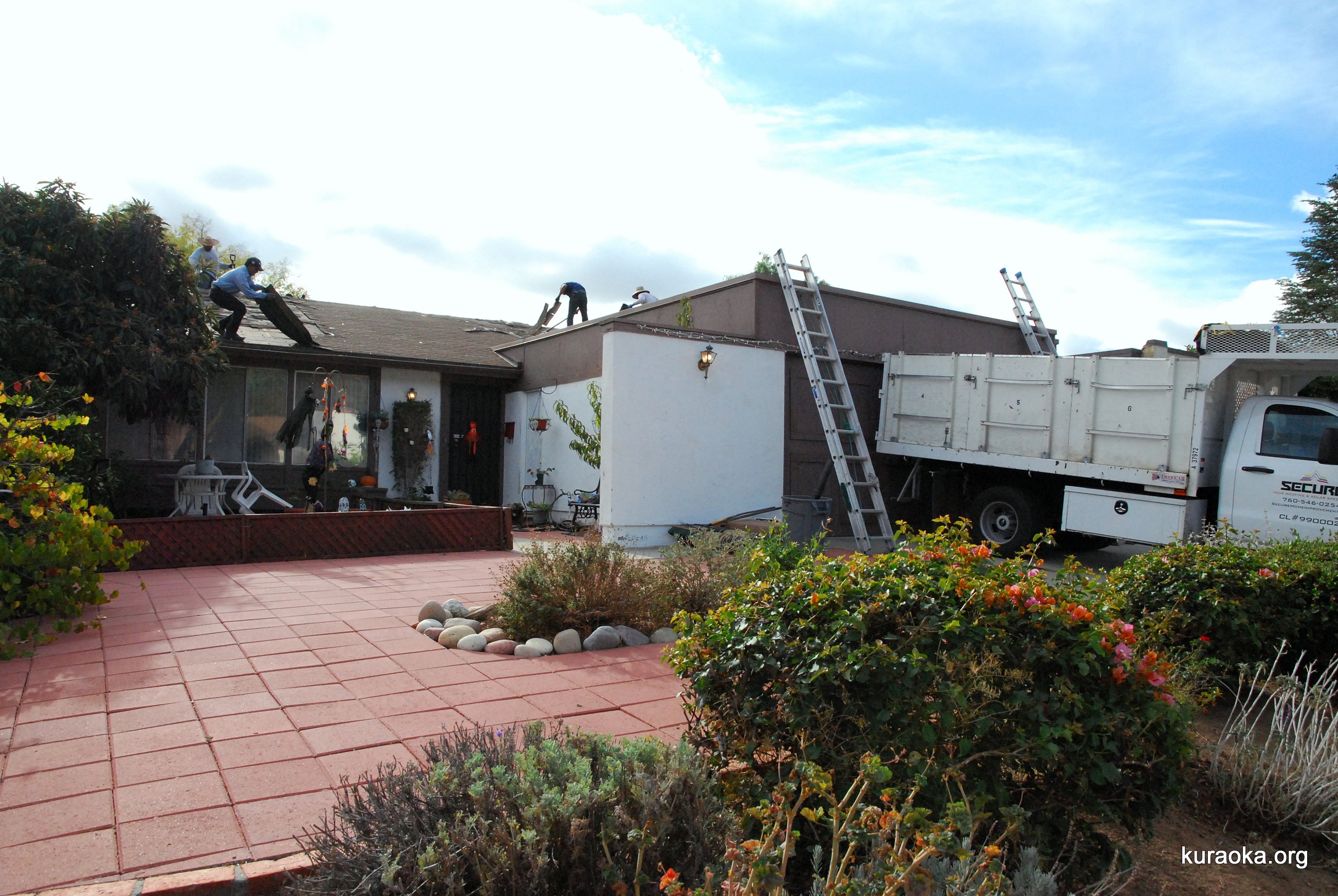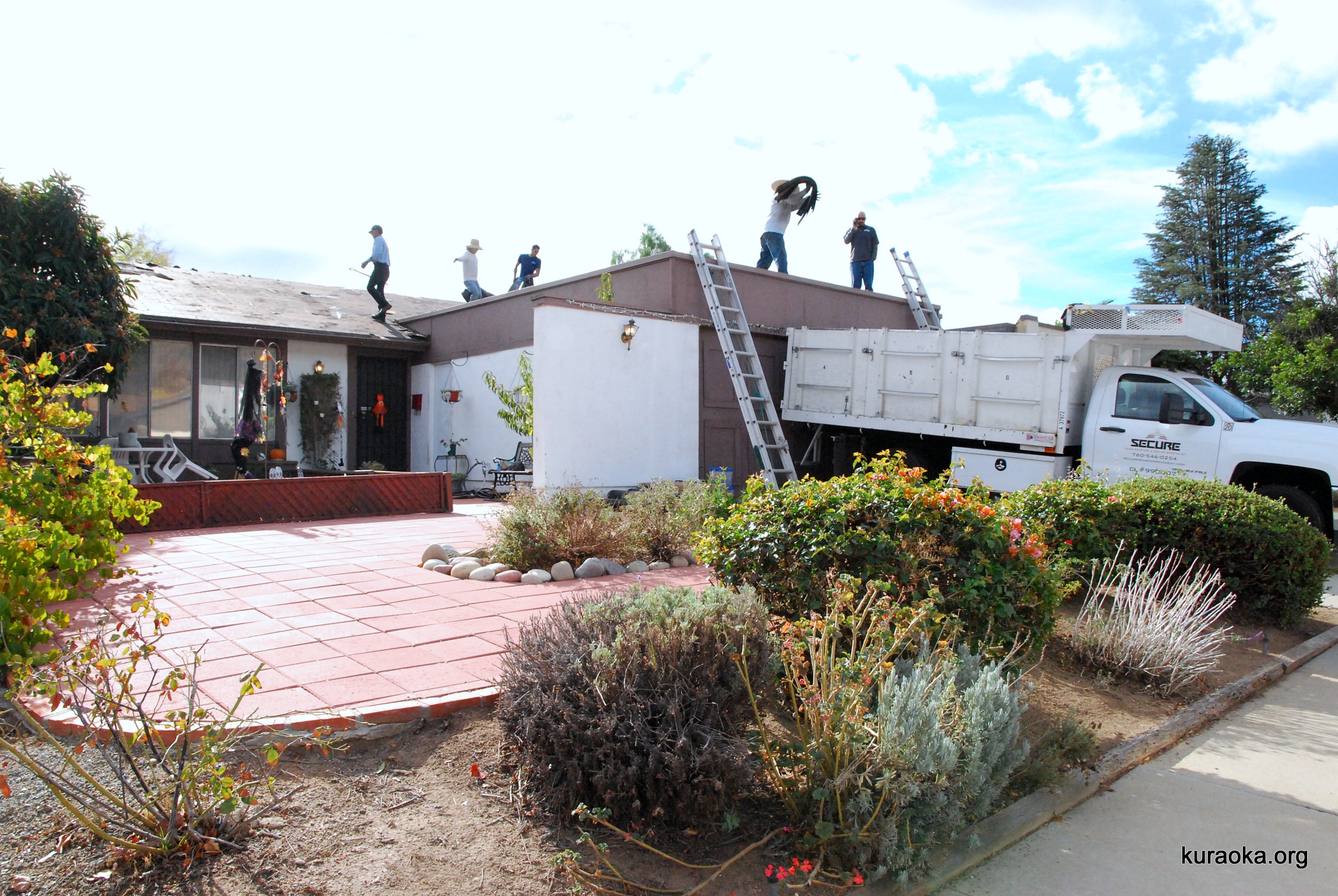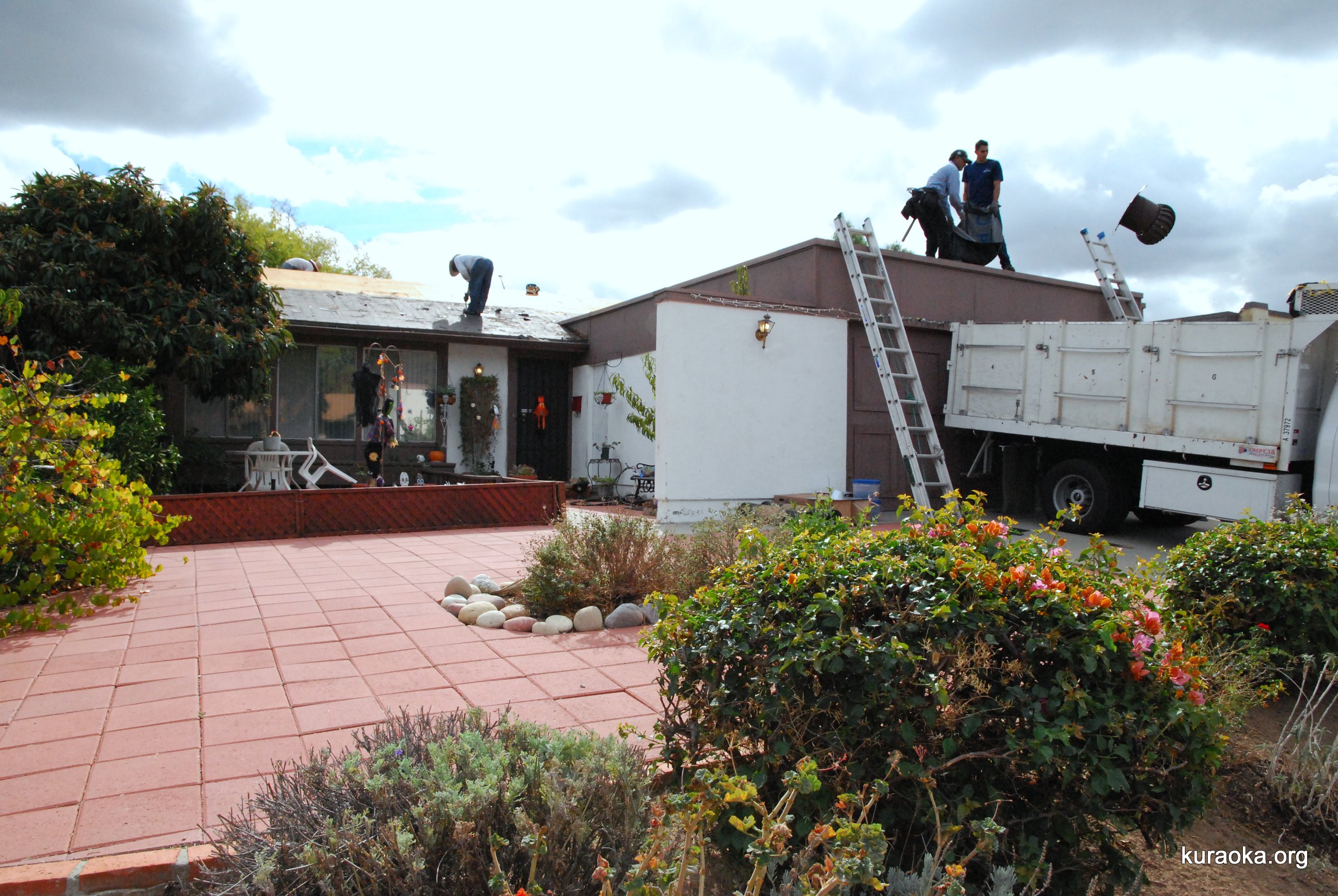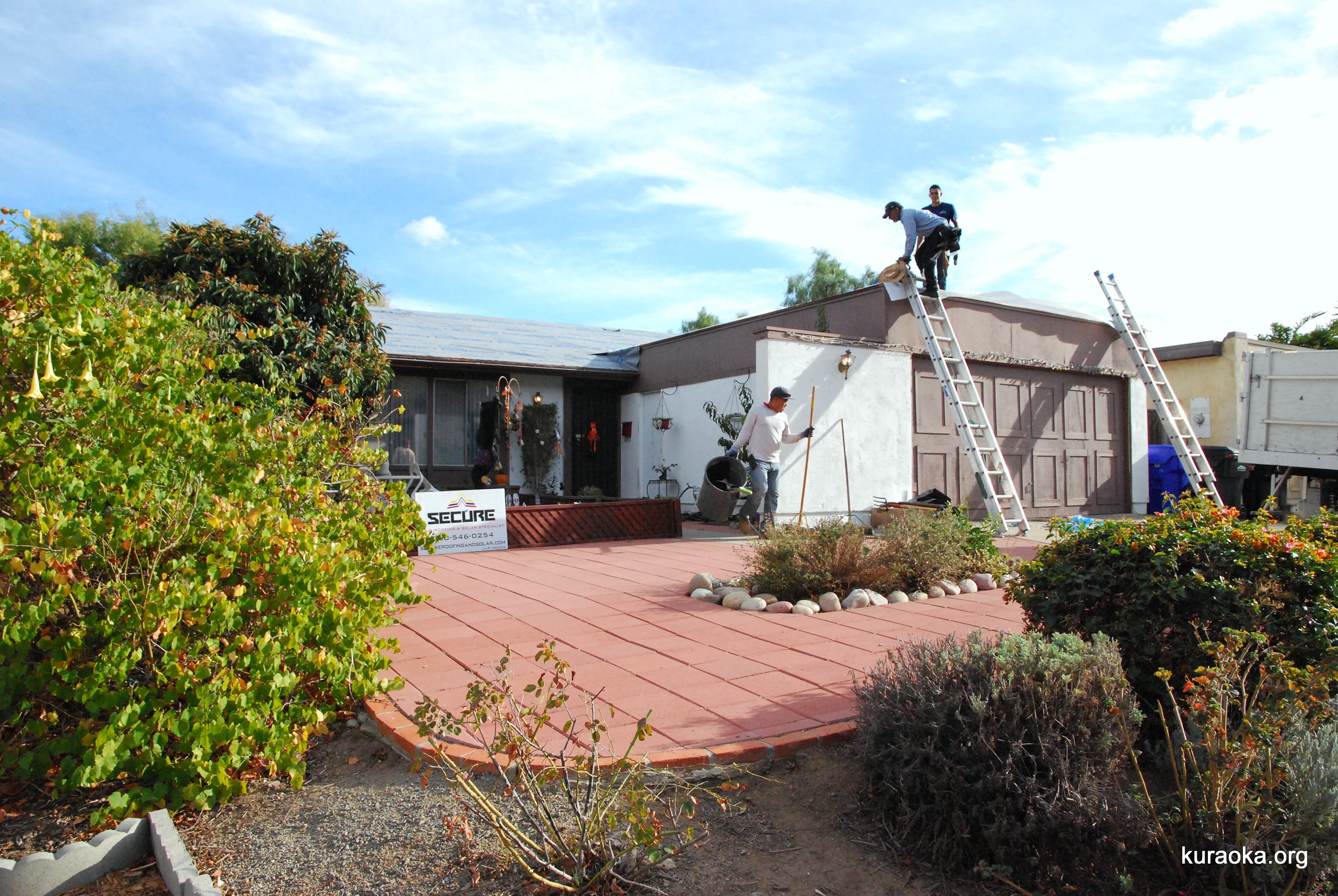 We also met our project supervisor, Abel (in the second photo above, on the far right). Abel talked to John about the coming week's work schedule, answered questions, and picked up the first check for the work, after John had picked it up from the post office. The credit union had mailed three separate checks covering the entire loan amount in one certified delivery envelope, but no one was home Saturday when the mail came, so it languished at the post office over the weekend.
---
November 4 2016: Our solar power system installation kicked off with a bang Monday with a crew from Secure Roofing and Solar tearing off our old roof to prepare it for a new roof. The materials arrived Tuesday early evening.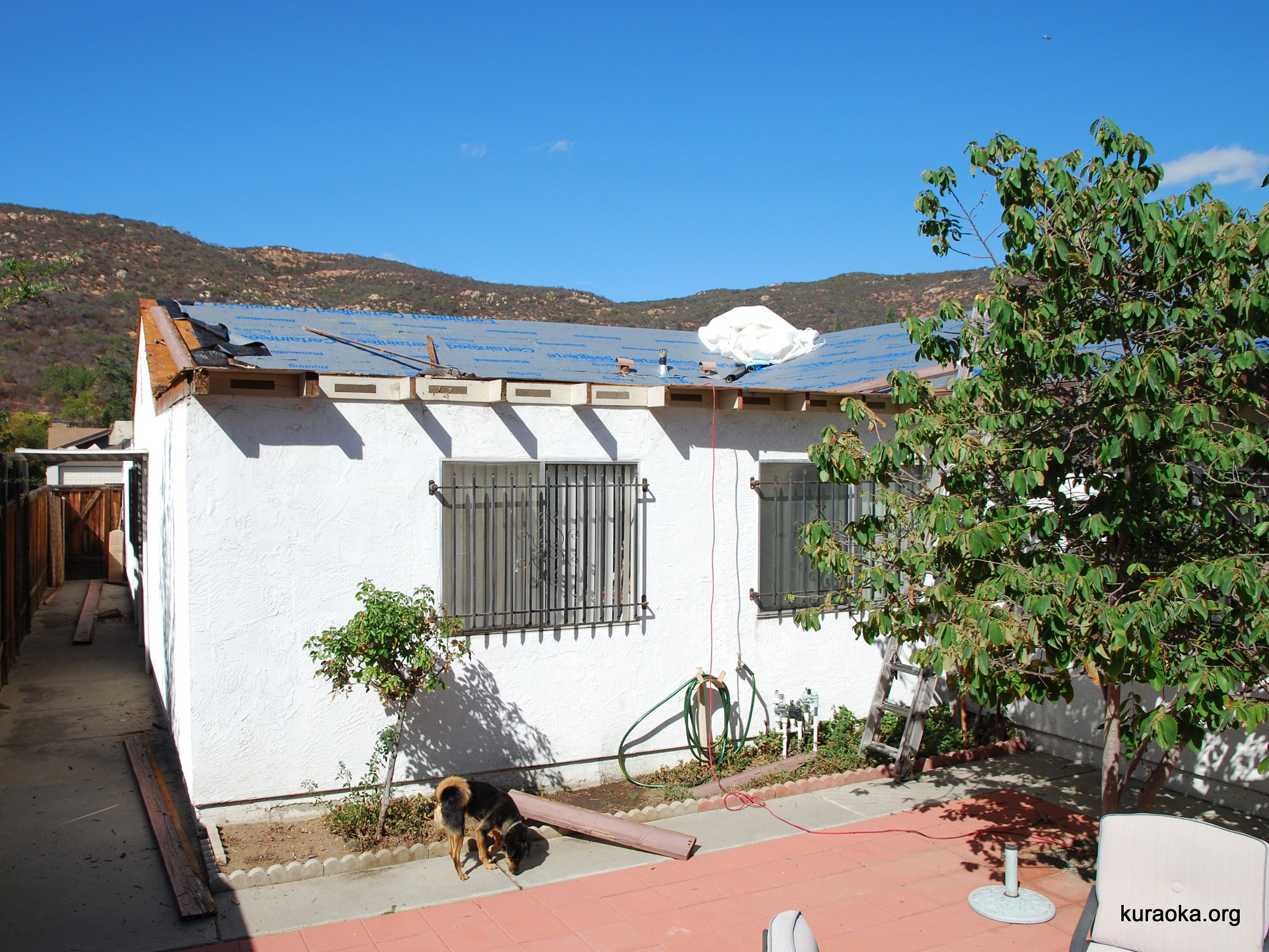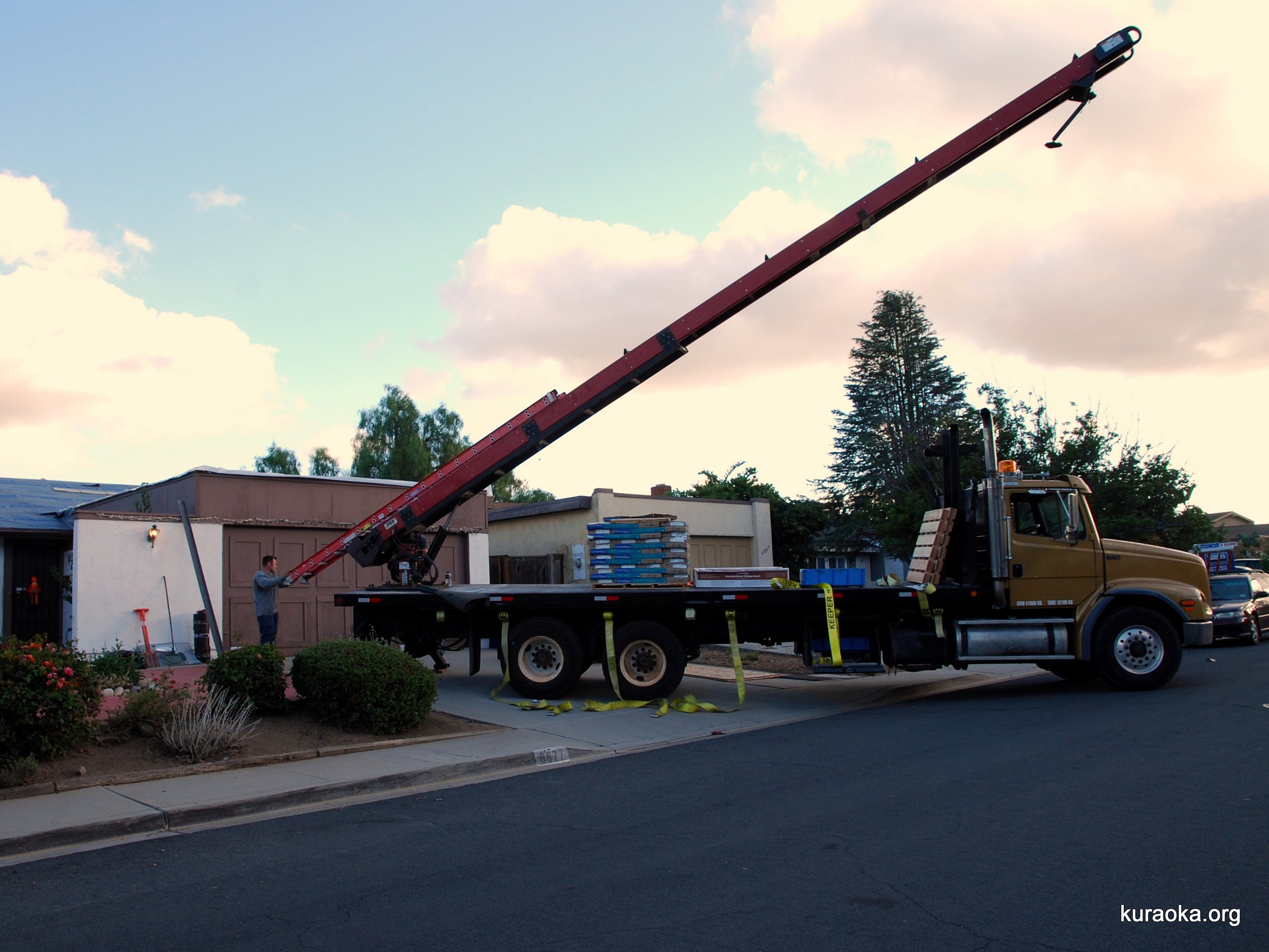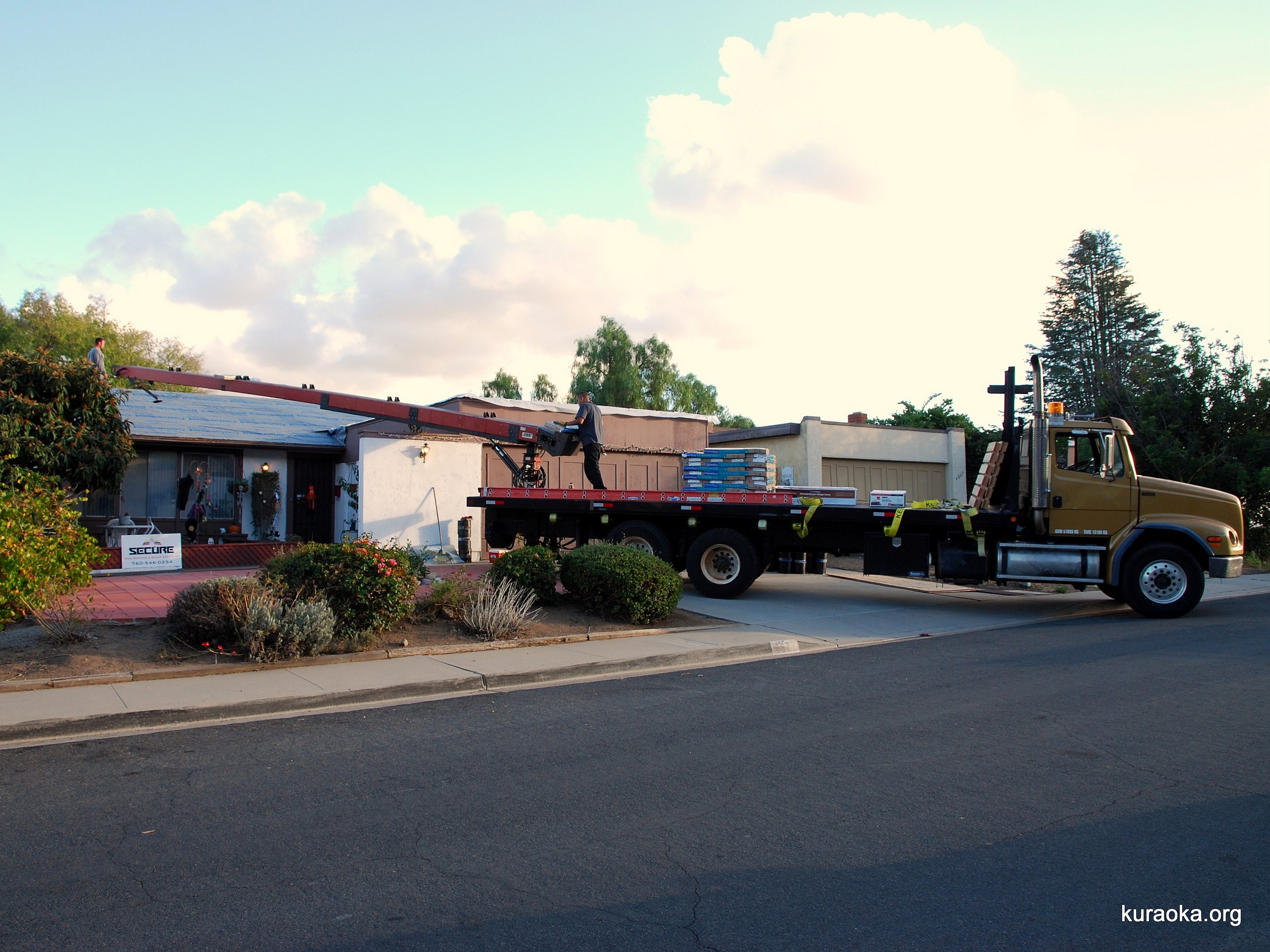 As you can see, our wood was in pretty good shape for a 45-year-old house, but some repairs were needed.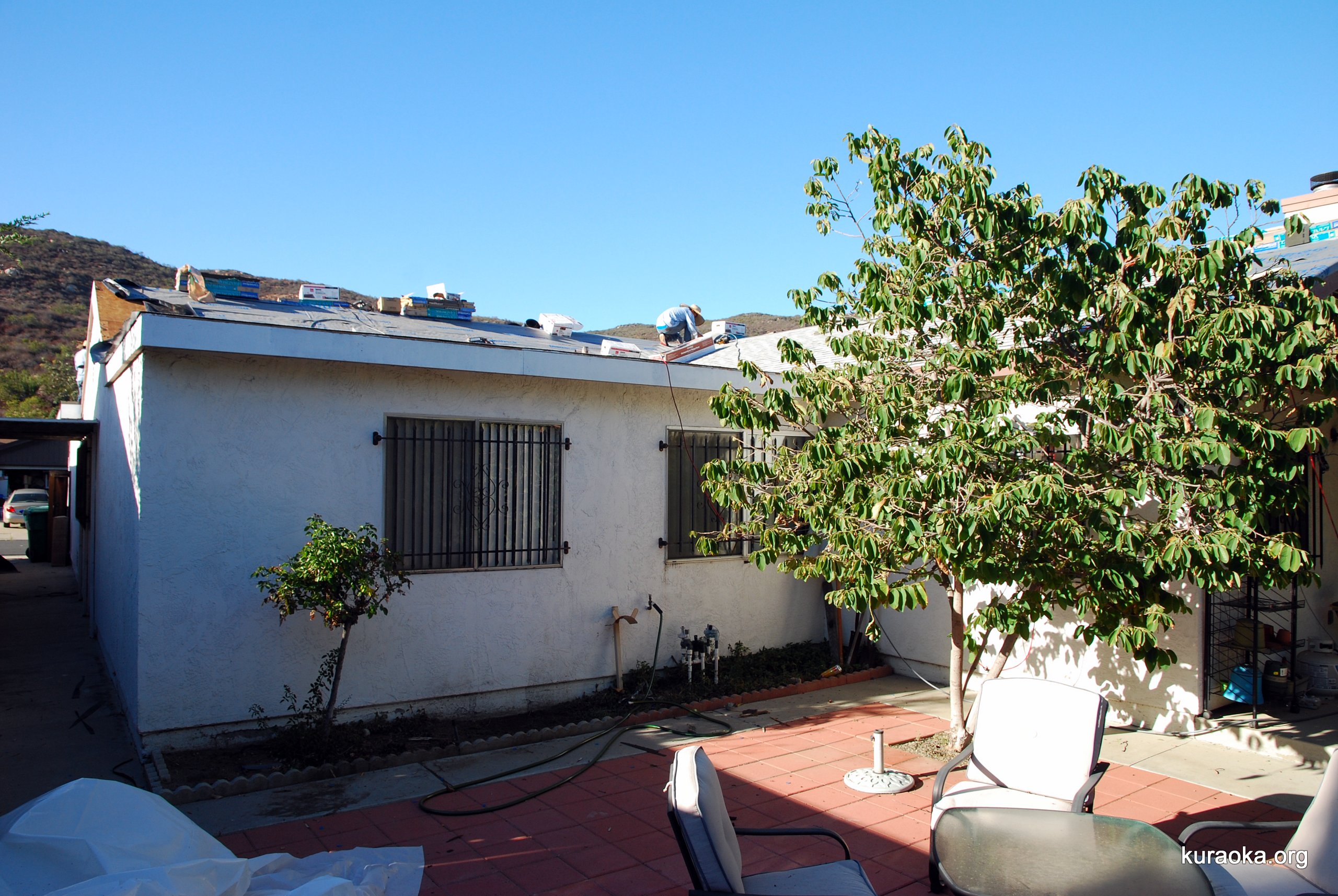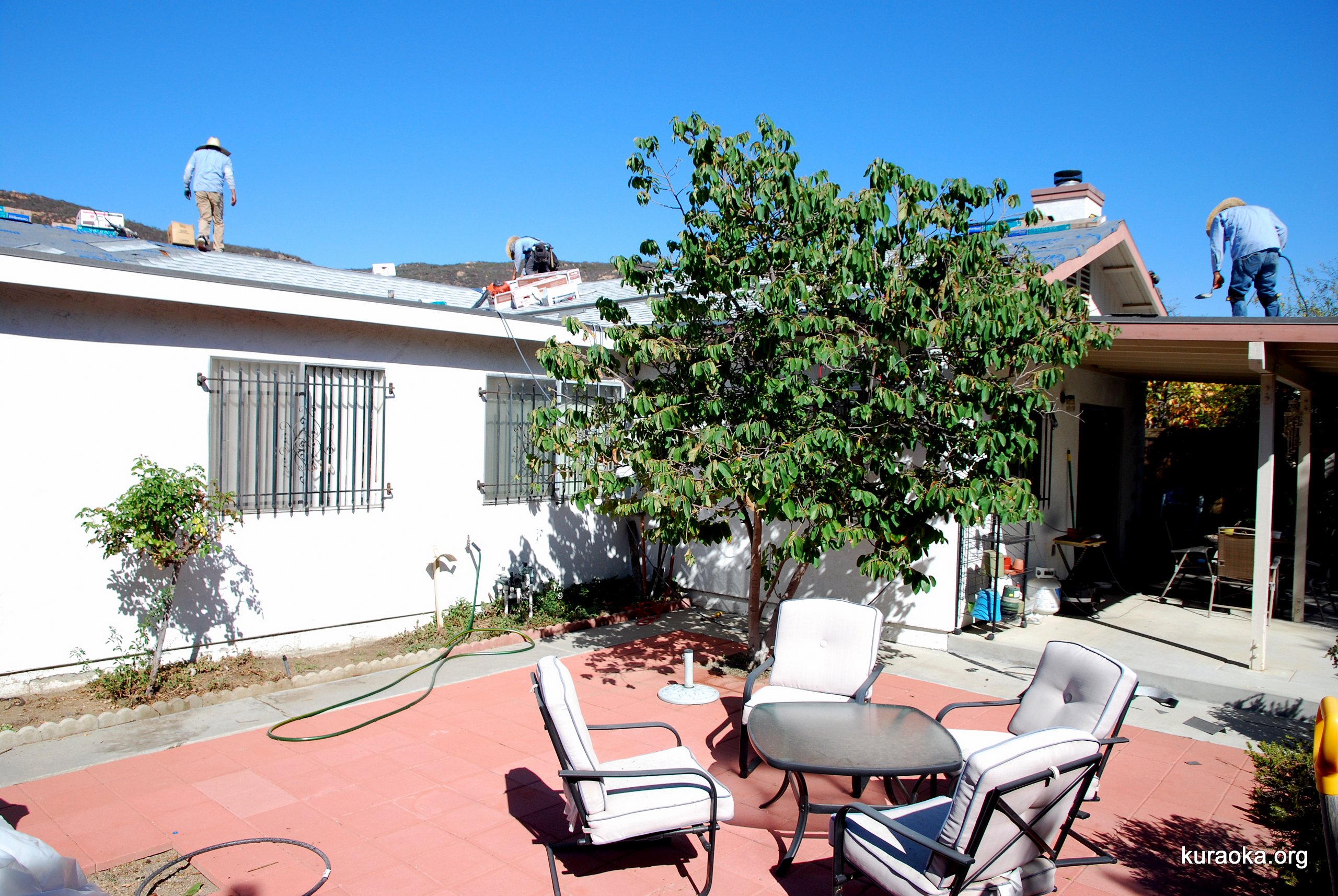 This afternoon, Friday: the roof is all finished! Note the square O'Hagin vent and the continuous ridge vent.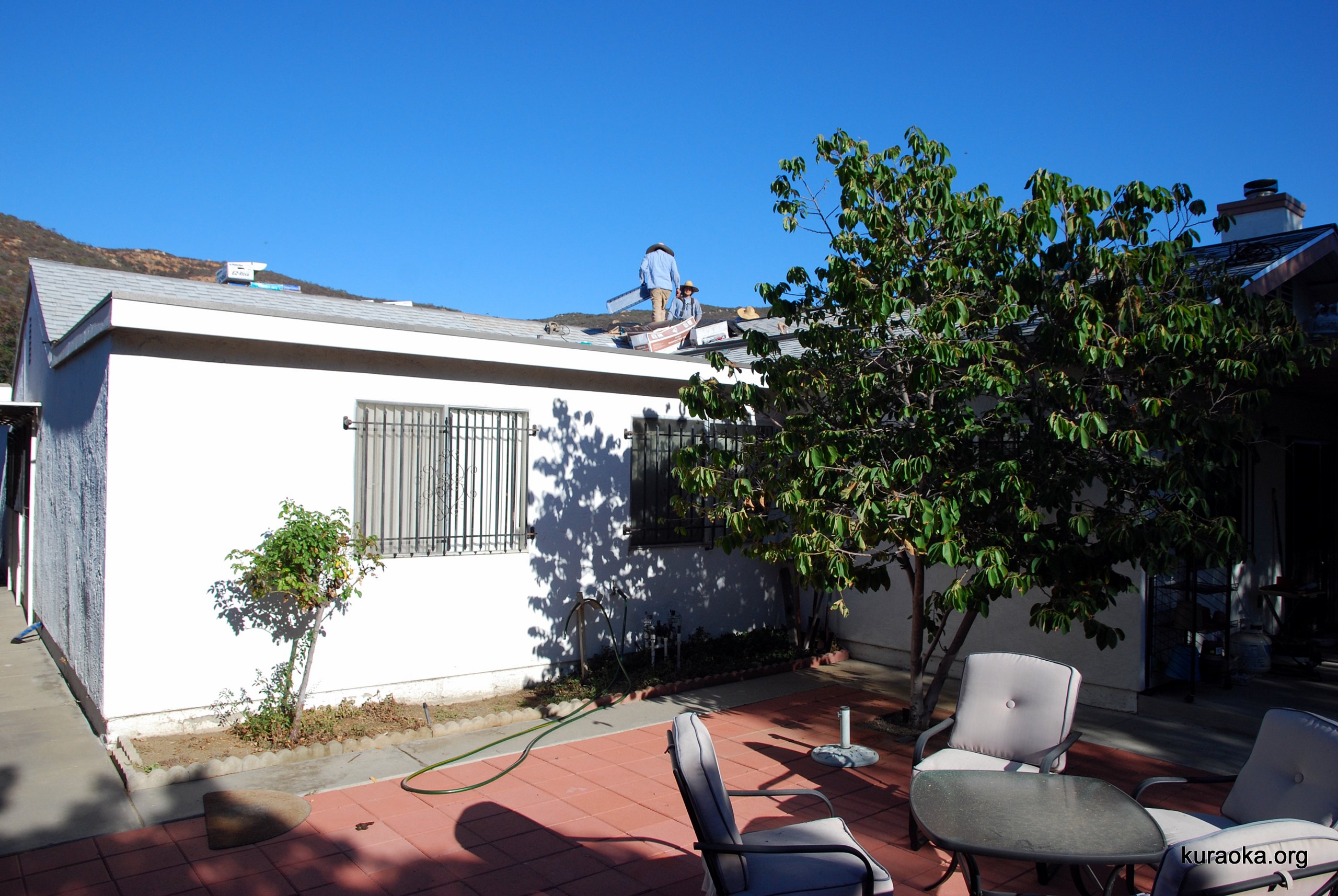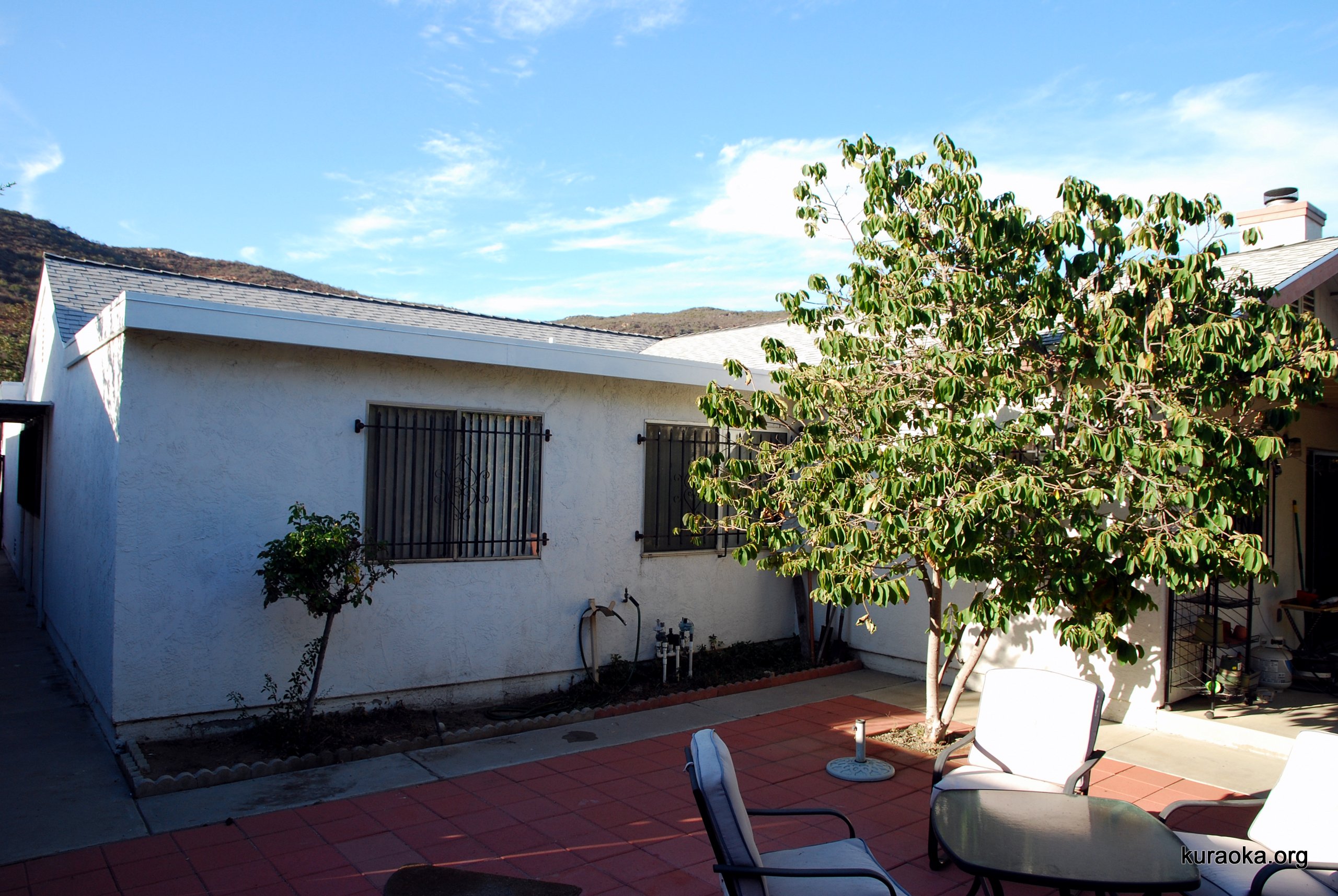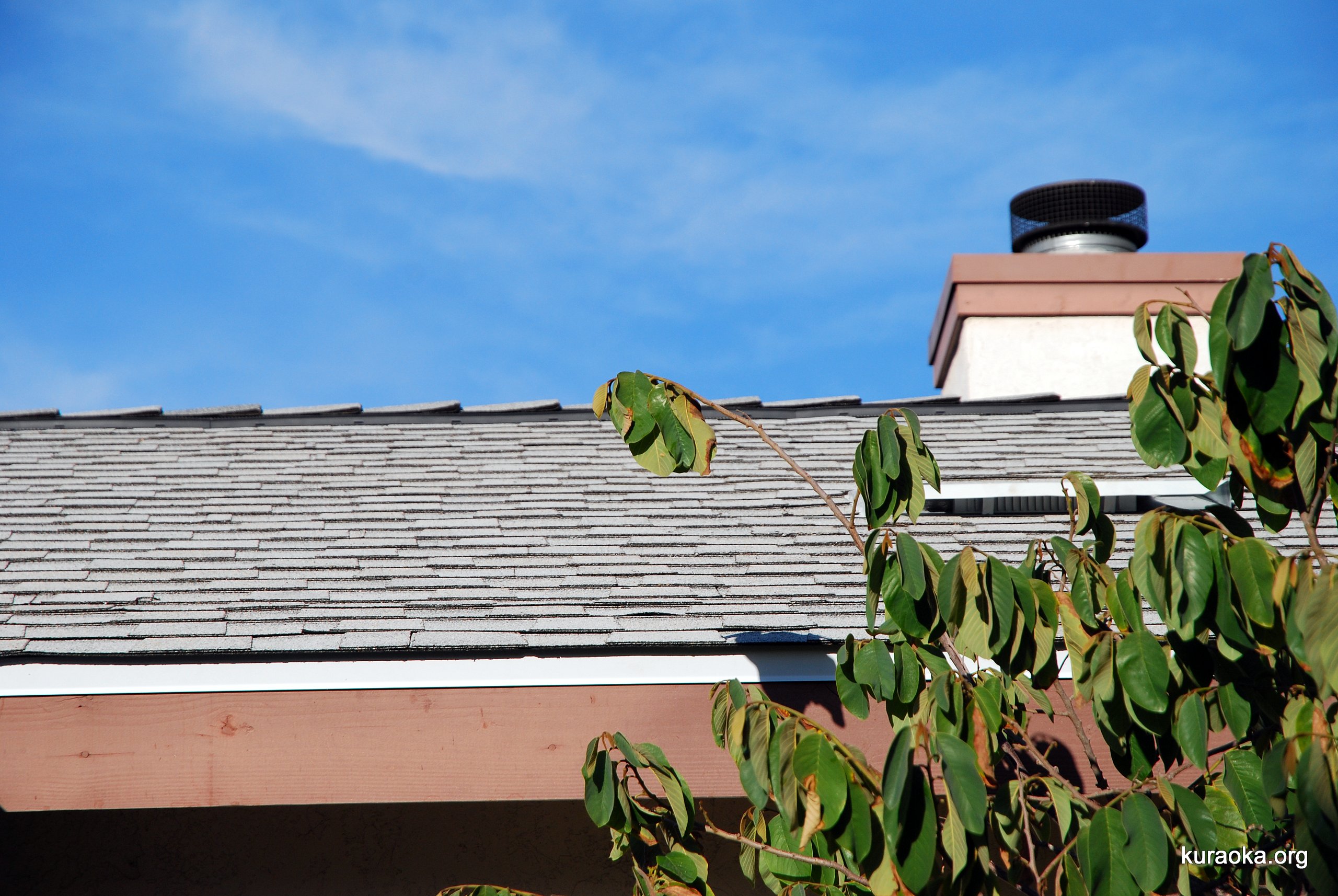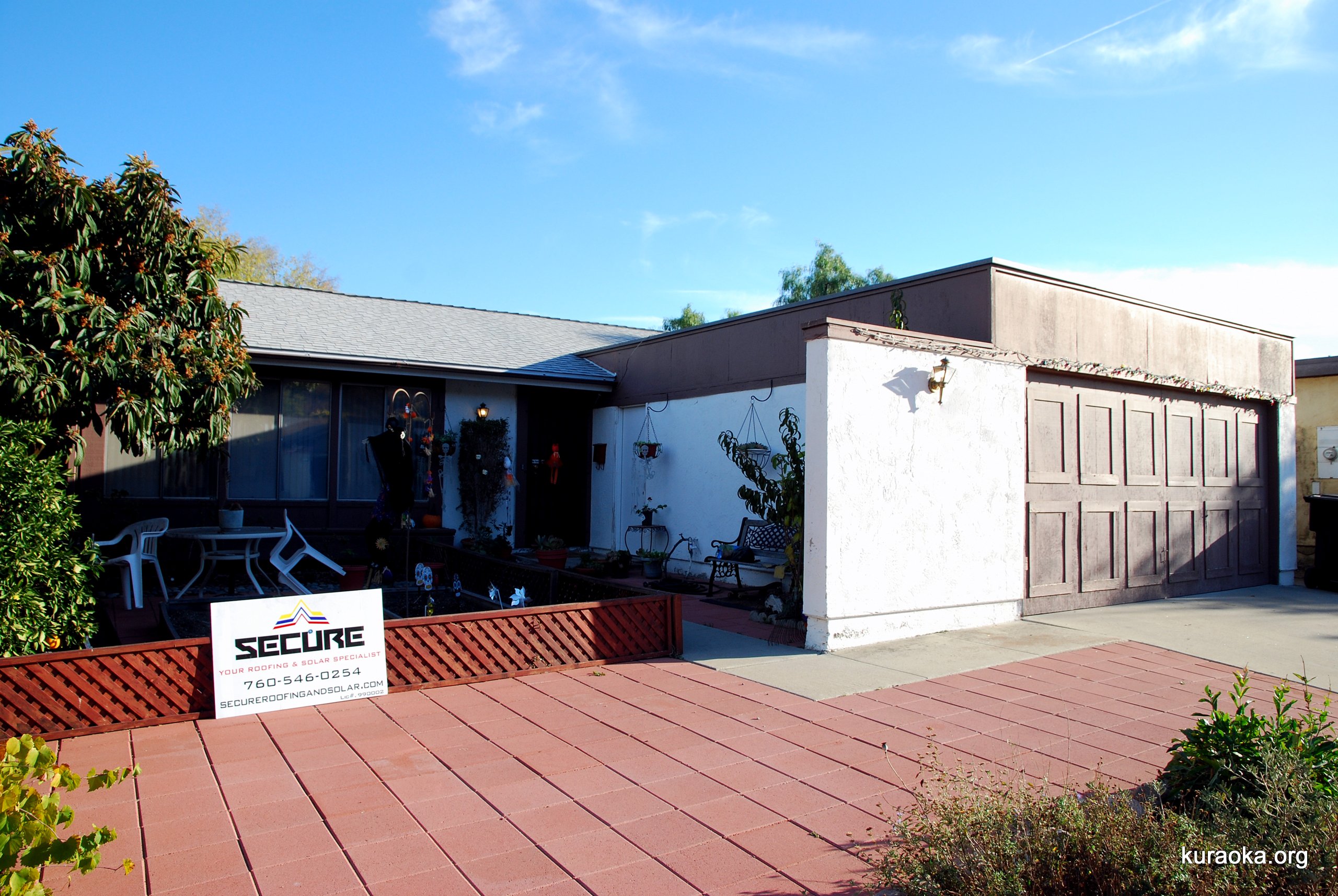 The whole thing went very smoothly, with a few minor hiccups that were quickly and easily resolved. One was that the roof shingles (Certainteed Landmark series) we'd signed off on were White Mist instead of the Silver Birch we'd originally wanted (White Mist wasn't even in the catalog we'd picked from; it's apparently a brand-new color). The difference turned out to be small: White Mist has a faint sprinkling of beige granules among the white and gray, and Silver Birch has an equally subtle touch of blue-gray granules. According to Certainteed, White Mist and Silver Birch are both Energy Star rated colors, and the finished roof looks white, which was the main thing. The shingles are flat asphalt-on-fiberglass shingles, but they have irregular edges that emulate the look of shake.
Removing the front gutter led to an unpleasant find: our front fascia was rotted and needed replacement! But since a change order had already been submitted for $1,800 in other roof repairs, our project manager Abel said they'd just take care of the front fascia at no additional charge. Wow!
Another late discovery was that our addition had been built with a hefty roof beam, which blocked the ridge vents in a section of roof. So two additional O'Hagin vents were installed in the sides of the roof.
You'll notice that we had the new trim painted white. That's because we're planning to repaint the whole house, and the trim will definitely be changed from dark brown to some kind of white.
We're very happy with the job Secure Roofing and Solar did on the roof! The yard was cleaned up every day, so it always looked tidy. Today, the last day, they even swept out the garage! They were a robustly jovial crew, and we already miss their cheerful singing from the rooftop. Our manager, Abel, was always accessible via text, and responded super quickly.
The next step: scheduling the solar installation!
---
November 11, 2016: Our solar system is almost in! We're very happy with Secure Roofing and Solar, a local company that handled the whole project. The entire installation is in the back of the house, where it'll actually provide some shade over the (brand-new!) roof on the back two bedrooms. Our project supervisor Abel came by Wednesday to check on the job, and decided to have the painters return to give the fascia another coat of white paint. Check out our solar system as of Thursday!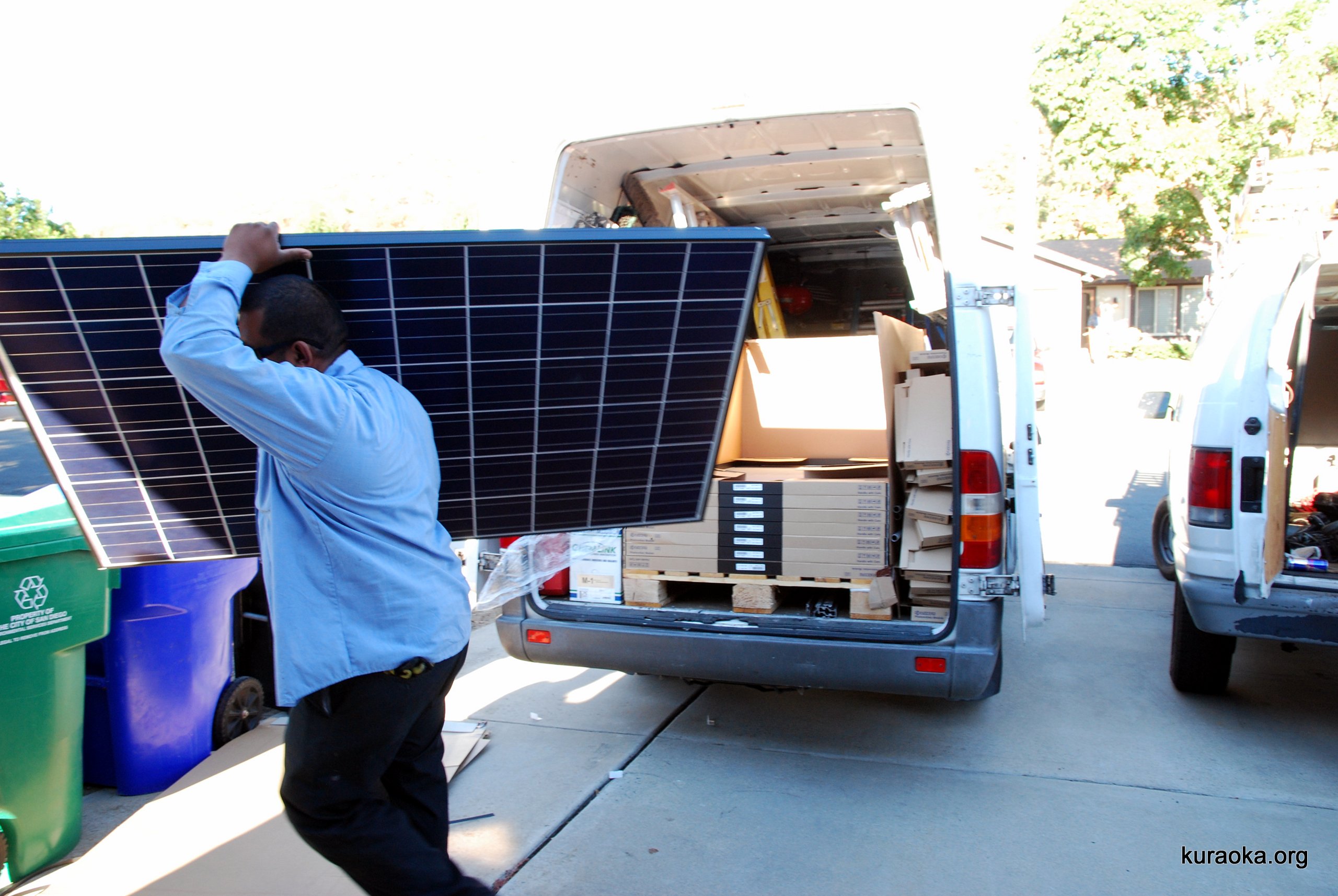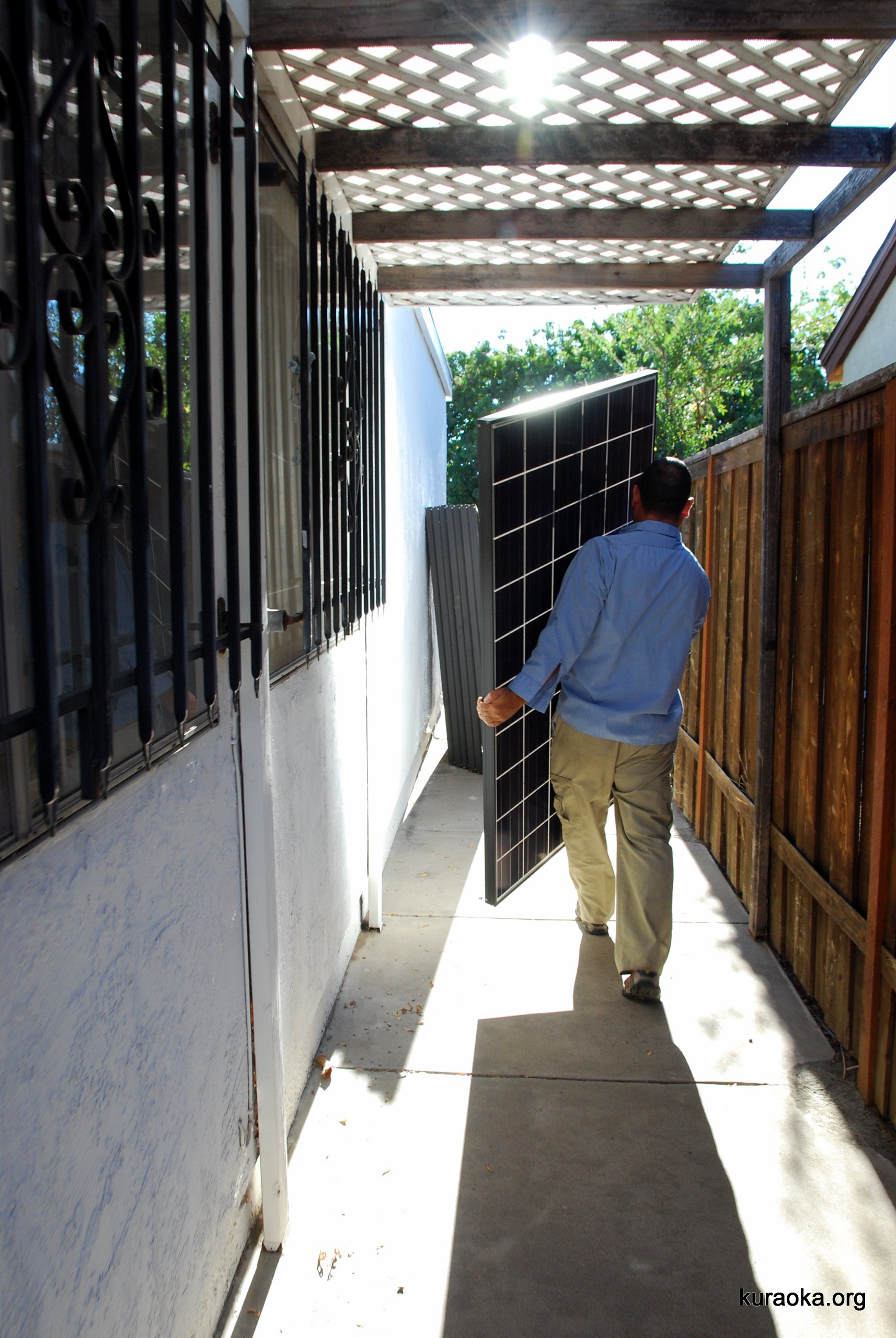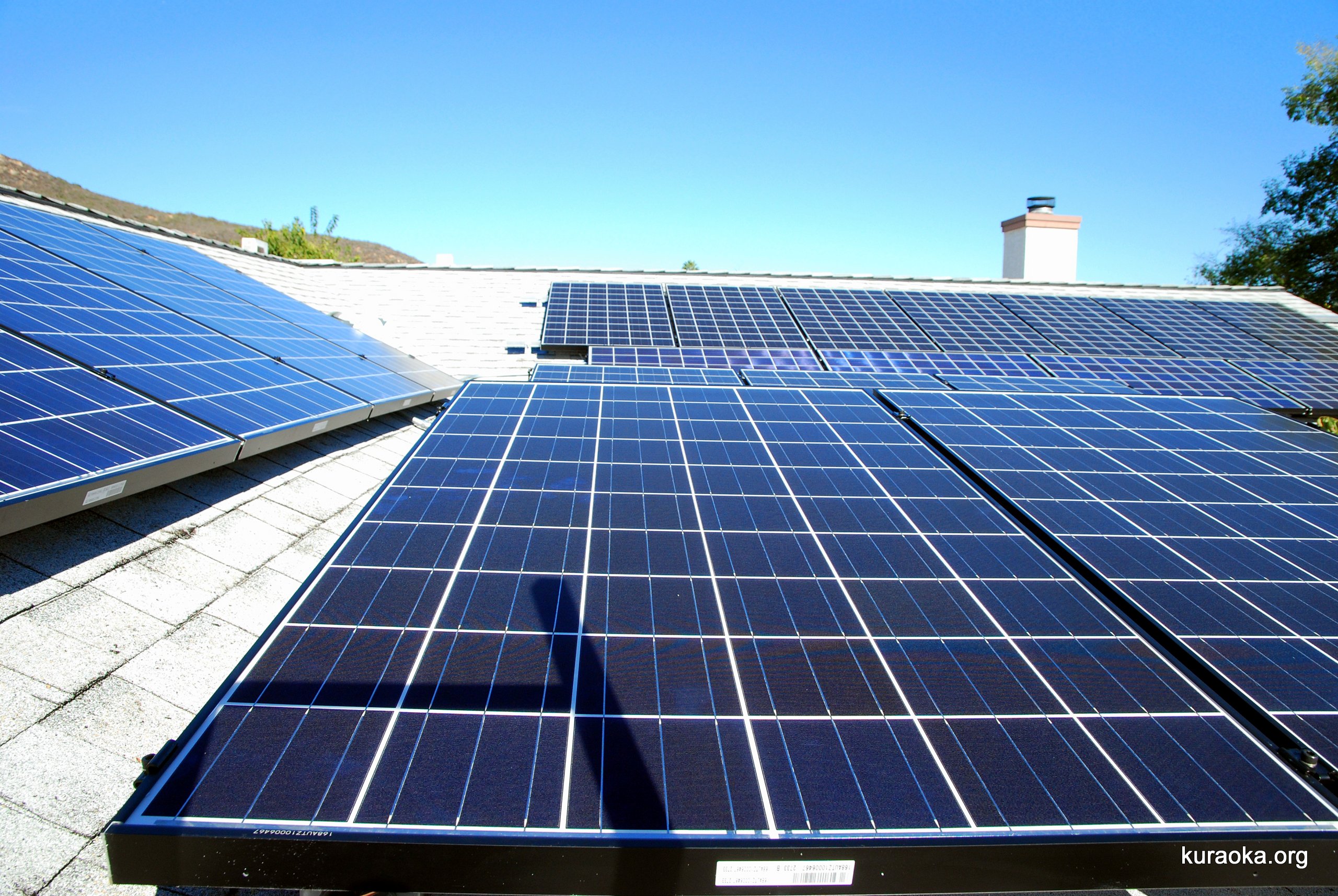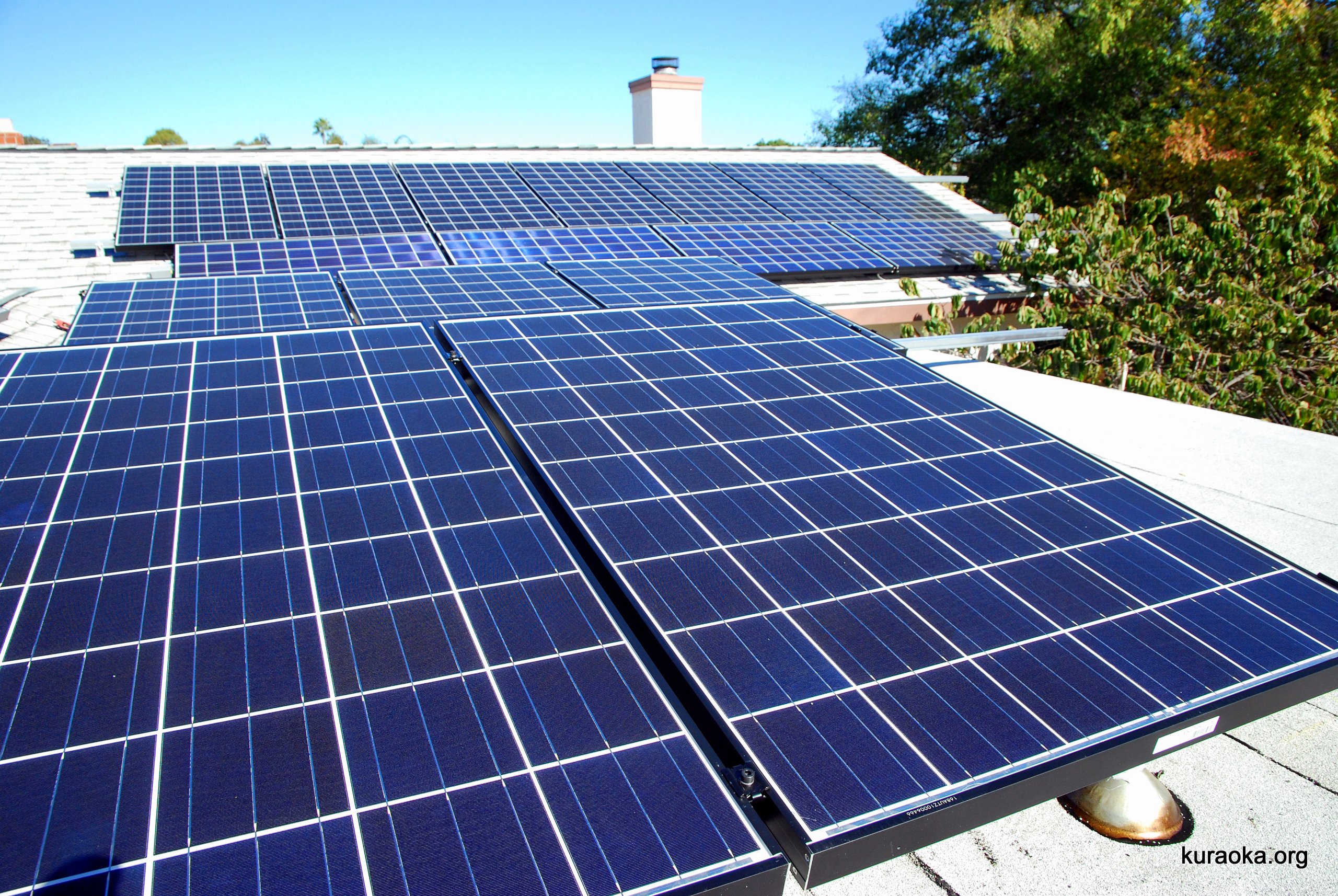 What you see are 20 Kyocera panels that should produce about 8,900 KwH per year. Last year, we used a total of 8,560 KwH, so there's a little bit extra to cover our heavier-use months and give us a bit of a credit for nighttime use.
However, there was a major glitch, and that's why this journal is late being posted. Early Thursday afternoon, the solar crew was putting in a grounding rod and struck the main electrical service lines coming into the house! Inside, working in his office, John heard some deep pops coming from the walls, and his uninterruptible power supply went into alarm mode. He saved his files and shut down his computer. The weird thing was, some of the house was working fine and some of the house was without power.
Outside, the service handhole by the street was smoking. SDG&E was called, and it turned out that the grounding rod shorted or cut one of two service lines, plus the return neutral line. John went around unplugging everything he could, since without a neutral line completing the circuit to the grid, the power was very spiky. We could see lights flicker when we turned them on. Meanwhile, the acrid smell of electronic burning slowly filtered through the house. It took John a while to locate the source: the surge protector for the TV, DVD player, cable box, Fire TV, and Roku player had just about blown up!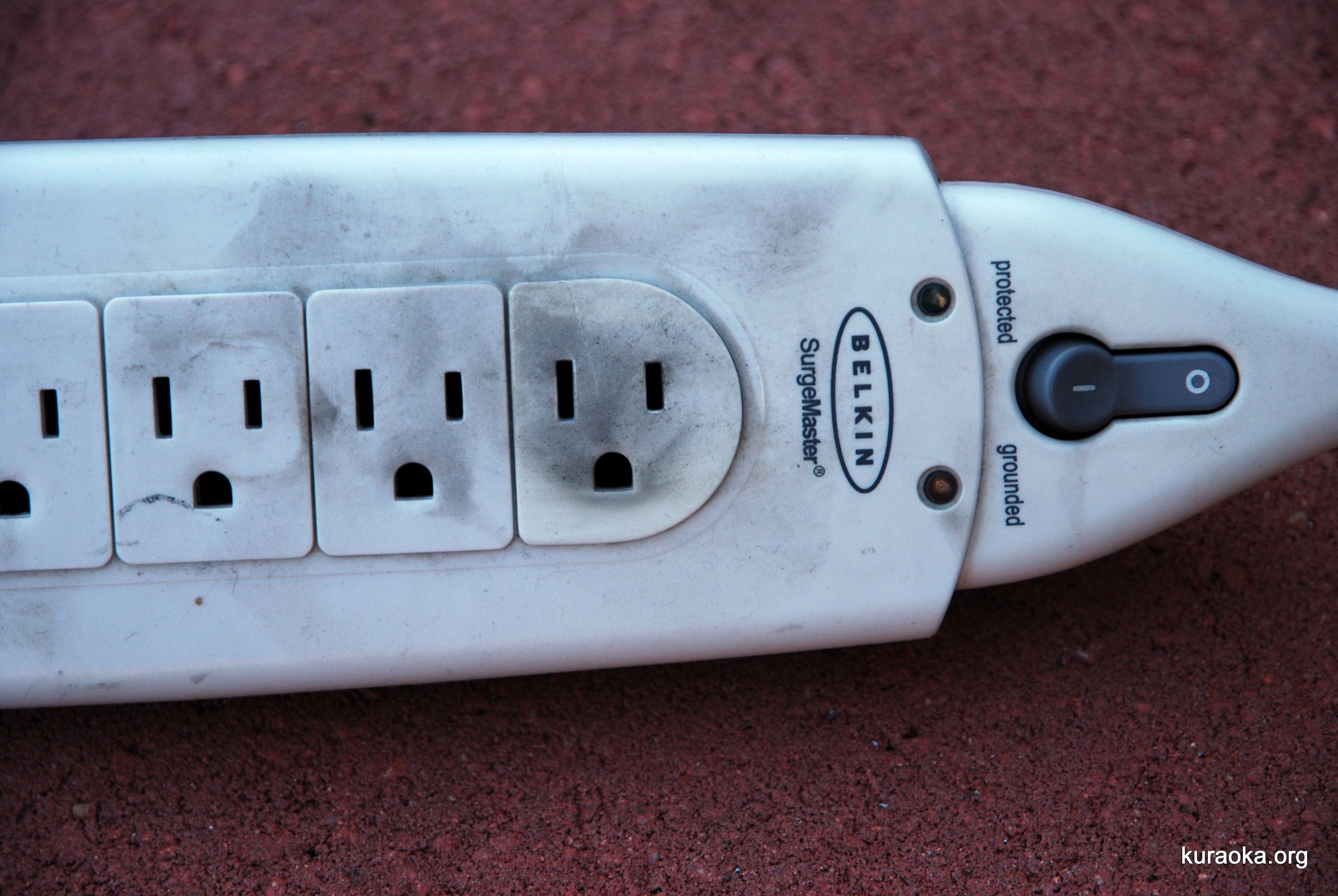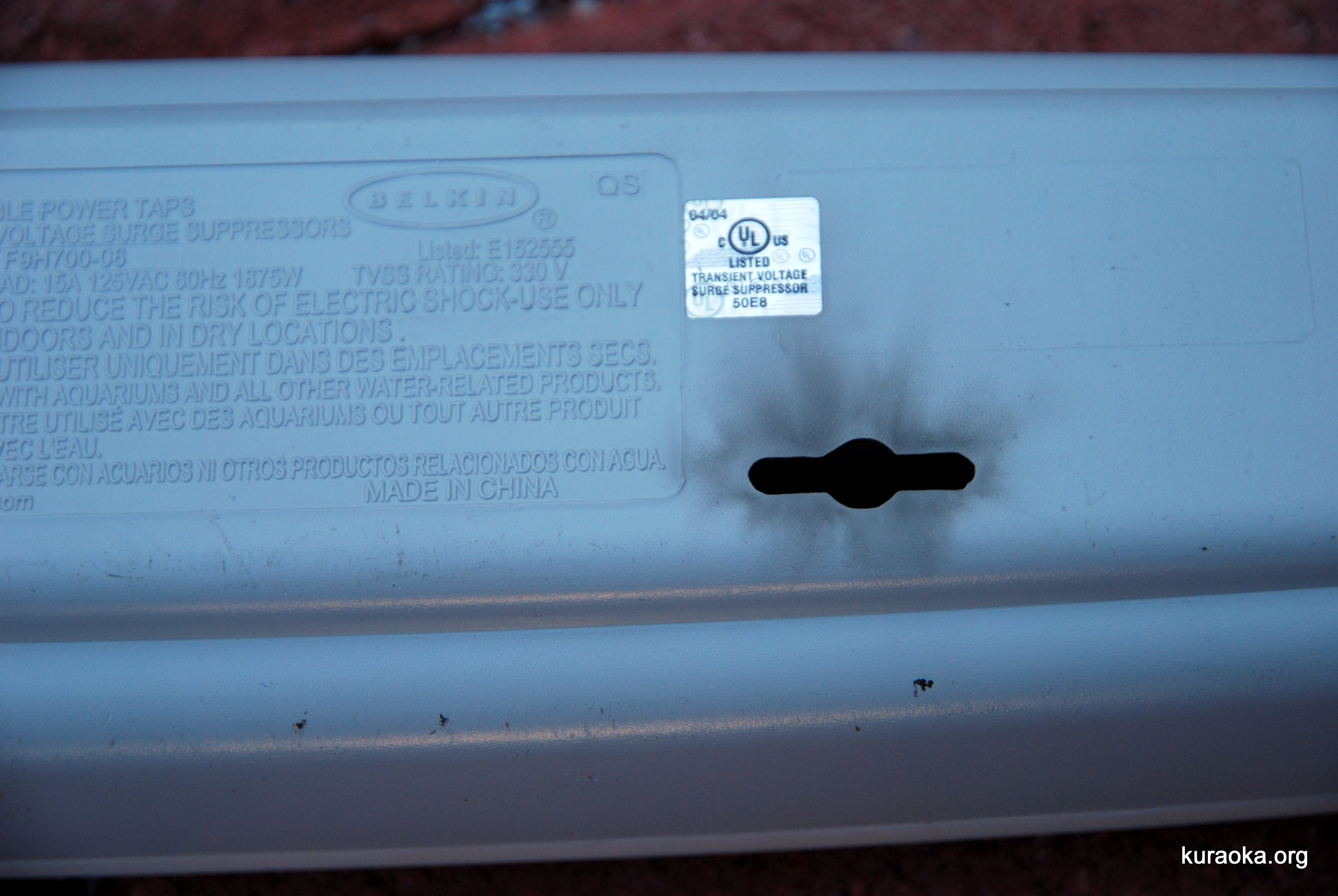 SDG&E ultimately sent four trucks and crews to work the problem. They needed a gas crew to dig out and secure the gas conduit and the conduit for the electrical crew to place new service lines. Like our orange LED candle? It was bought that very morning, from the 90%-off Halloween clearance bins at CVS, and carries a message that seems perfectly appropriate.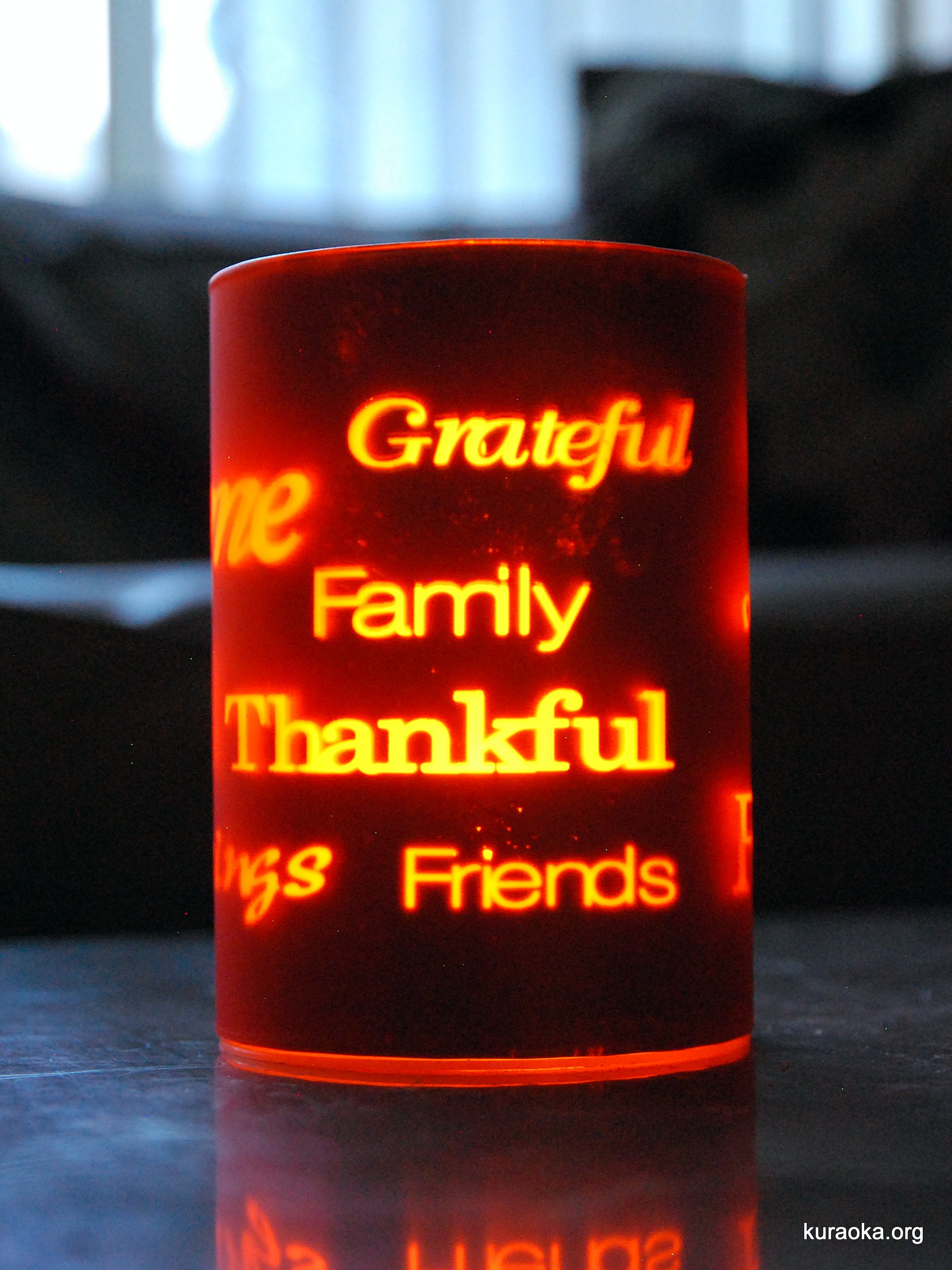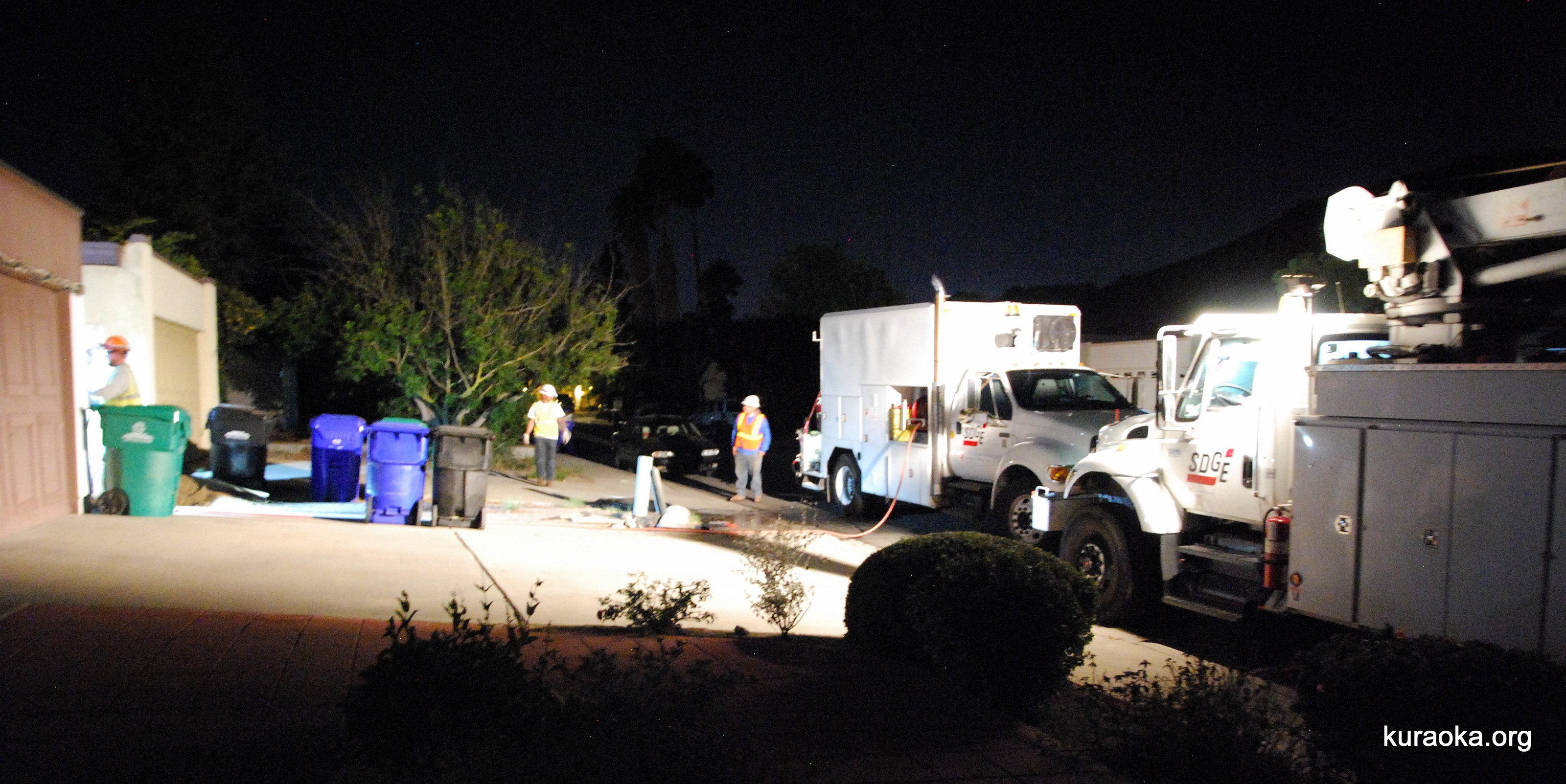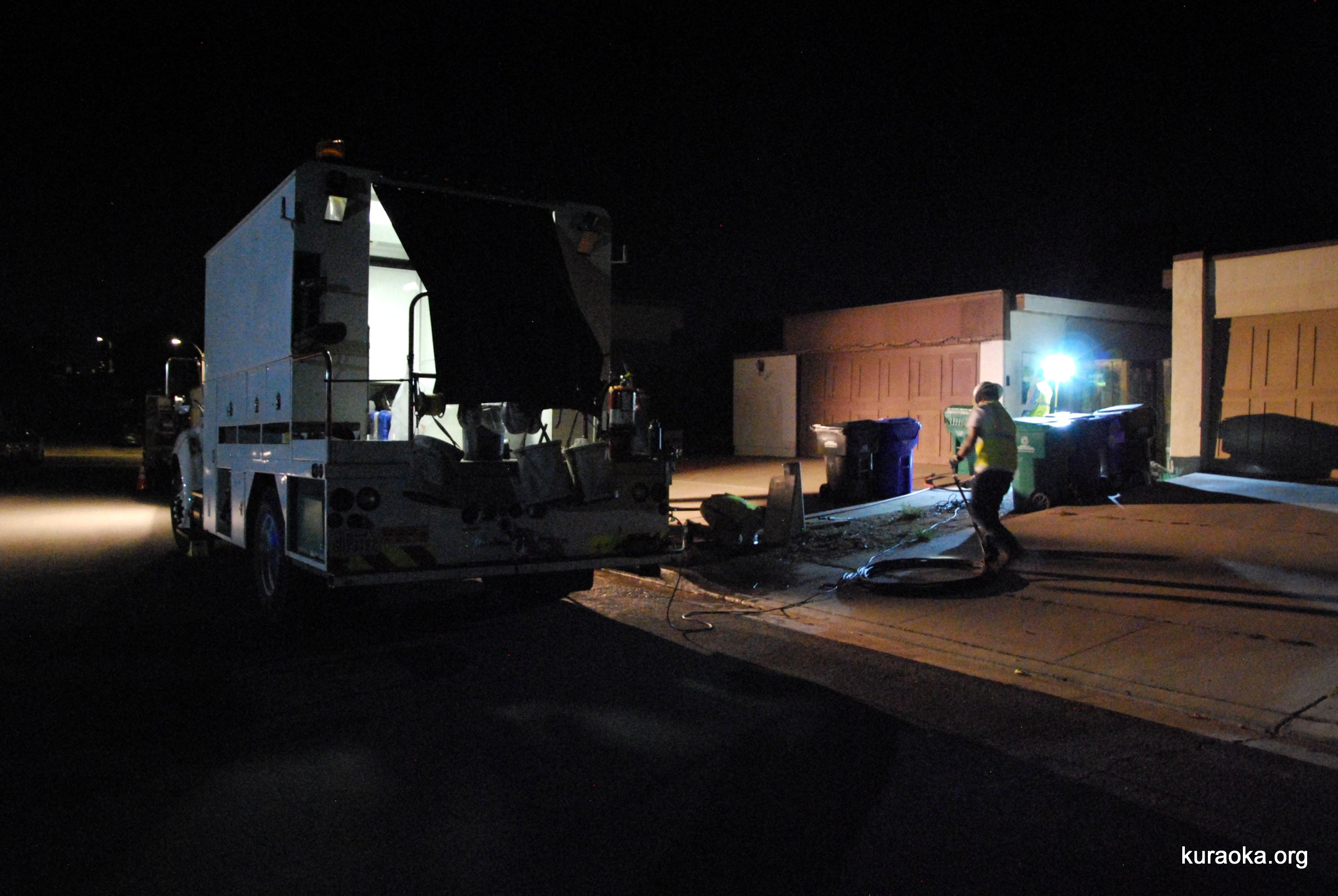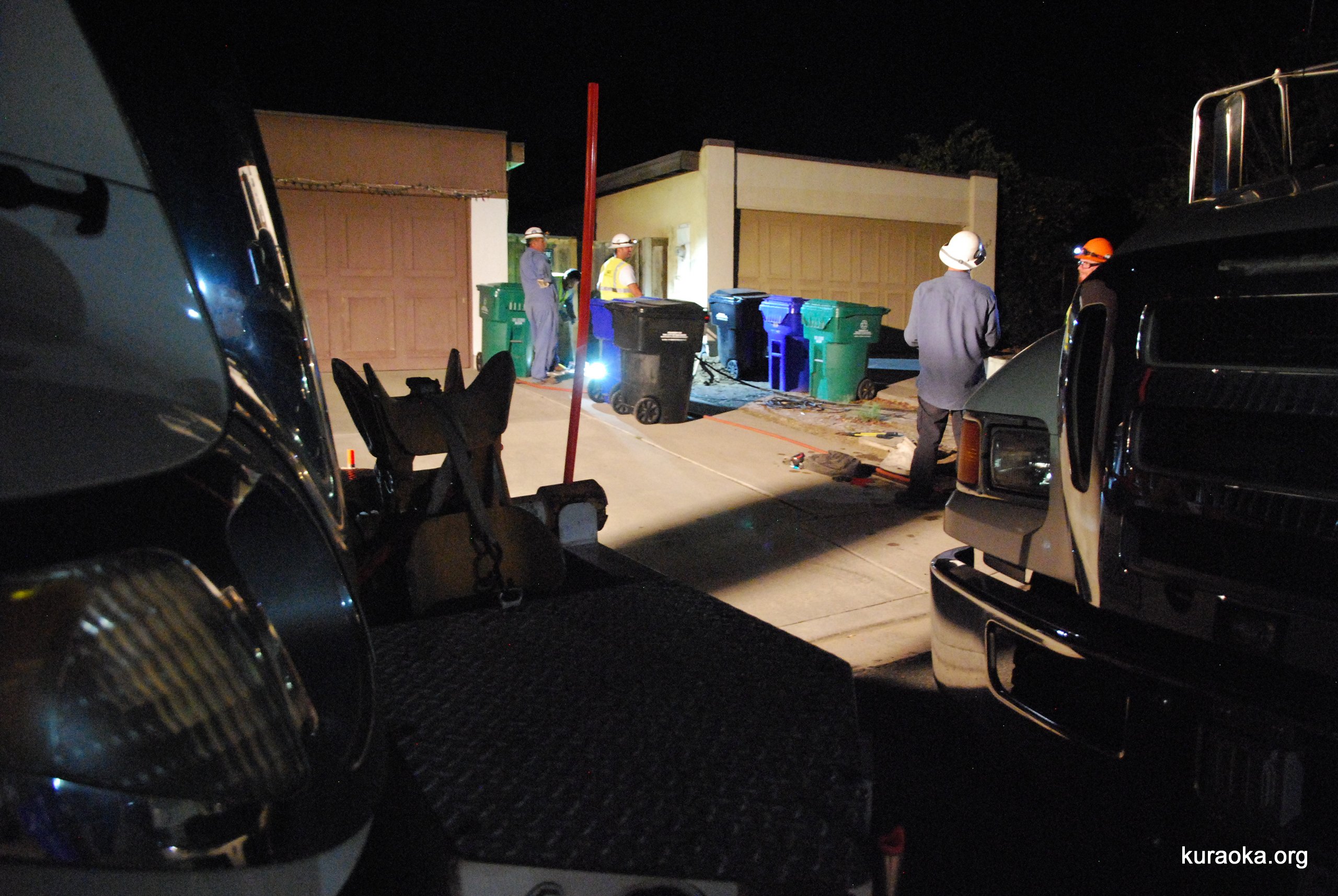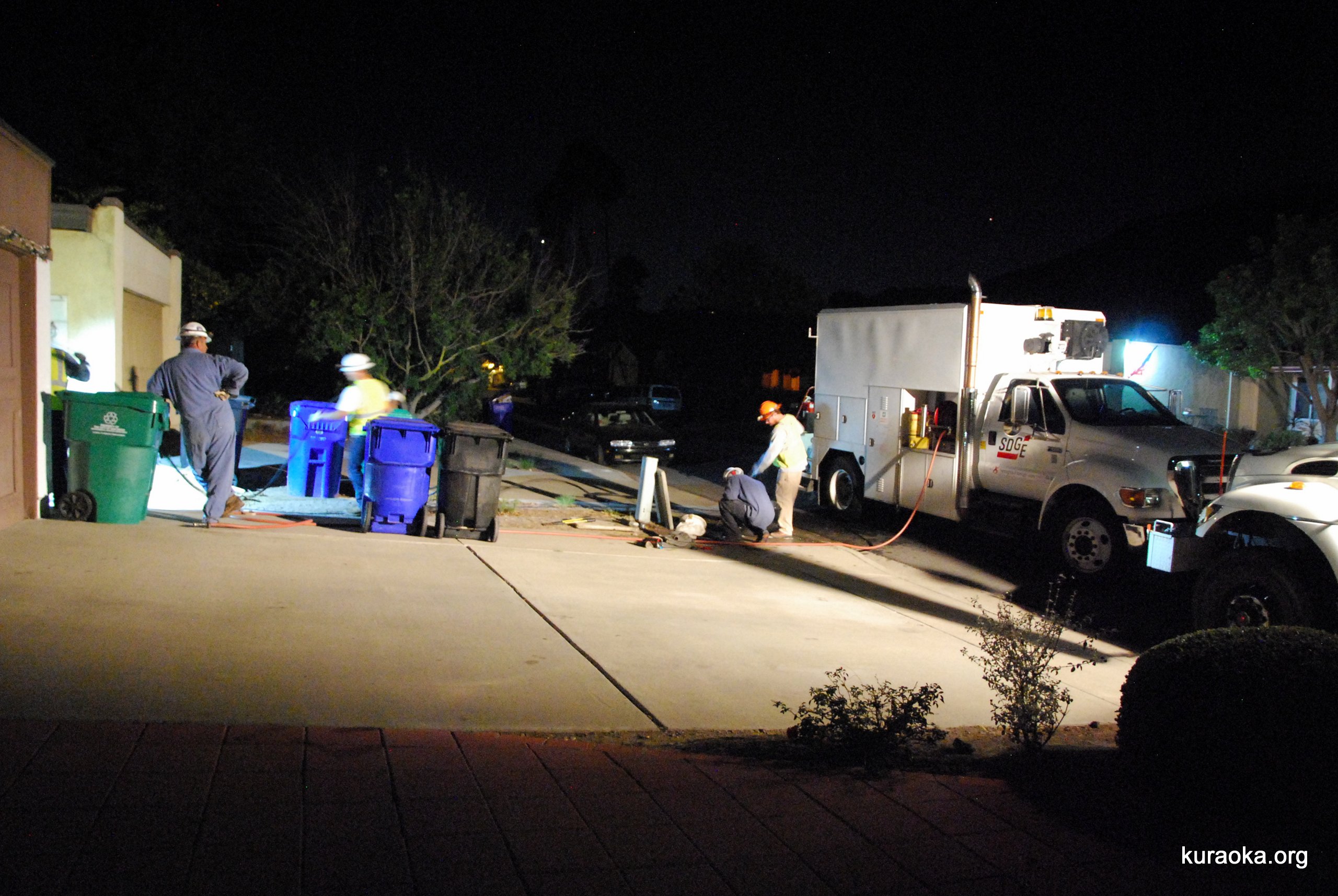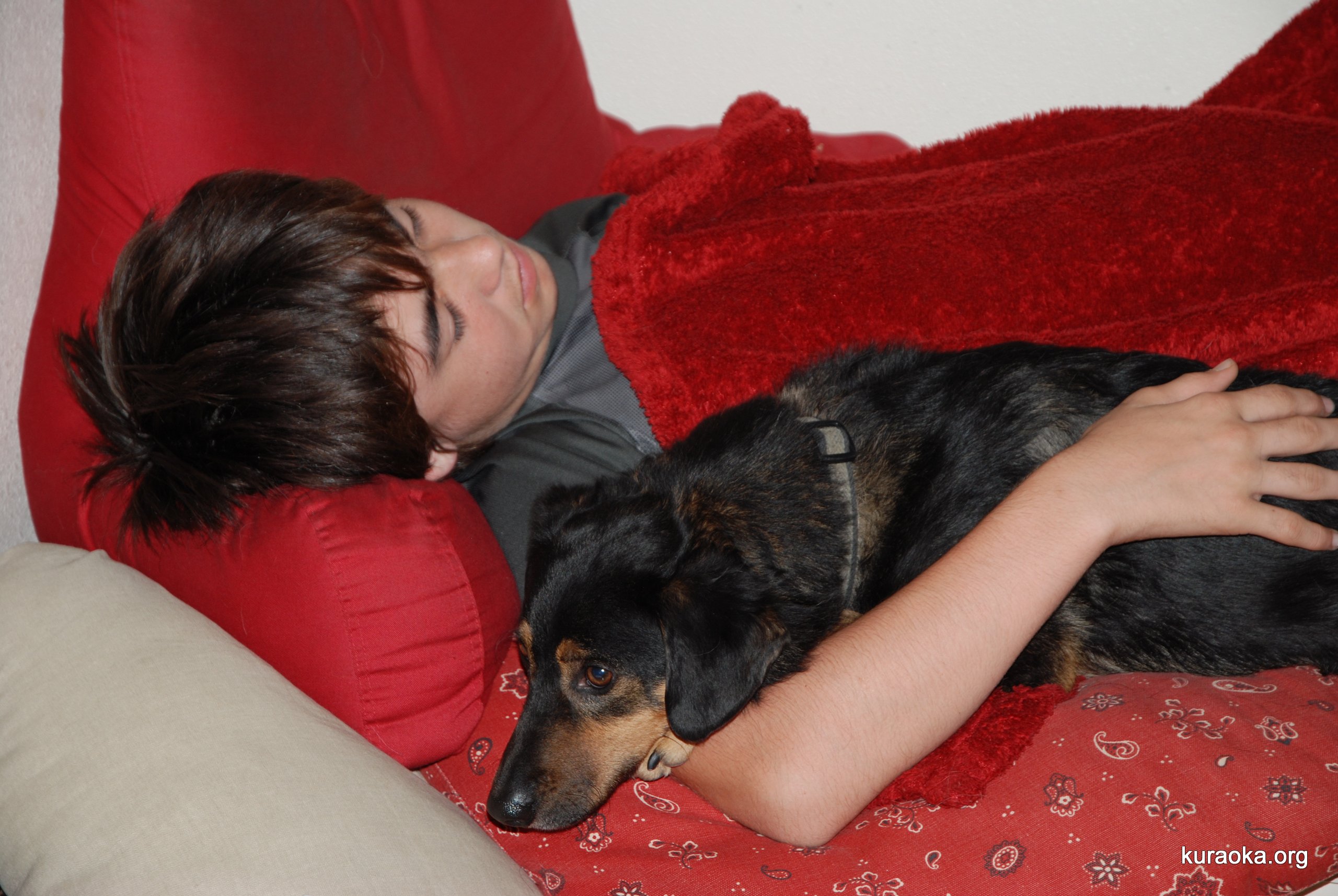 In all, power to the house was shut down for about five hours, so Ondine brought home bean burritos for dinner. That's always a hit, plus it was bean burrito day at Cotija Taco Shop!
The photos make it look really late, but power was restored as she arrived with dinner at about 6:45. However, power remained off in John's office, Roy's bedroom, and parts of the garage, with the result that we had no internet access or wifi and John's business phone line was down.
Secure Roofing and Solar electricians were on the job early Friday morning, plus specialist reinforcements arrived that afternoon, so for a while there were two teams of electricians working on our house. It was determined that the Cox line from the house to the street was also damaged, so John called Cox. But the solution to the electrical problem eluded everyone that day.
Rummaging around in the first attic, though, revealed that the ridge vent over the living room couldn't be opened all the way to the gable, so another O'Hagin vent will be installed to ensure adequate ventilation.
Saturday morning, a Cox technician arrived and had our internet, TV, and phone service up and running again. We ran an extension cord from the living room to power John's office. So he's up and running again, although still with no lights.
---
November 21, 2016: We're up! We're running! All the electrical issues have been resolved. Secure Roofing and Solar sent Dendy Electric to sort out the problems, and they were here last Friday and Monday. Two of John's three massive full bookcases had to be moved to reach outlets behind them, throwing John's office into disarray for most of Monday. But, everything got fixed! Yay!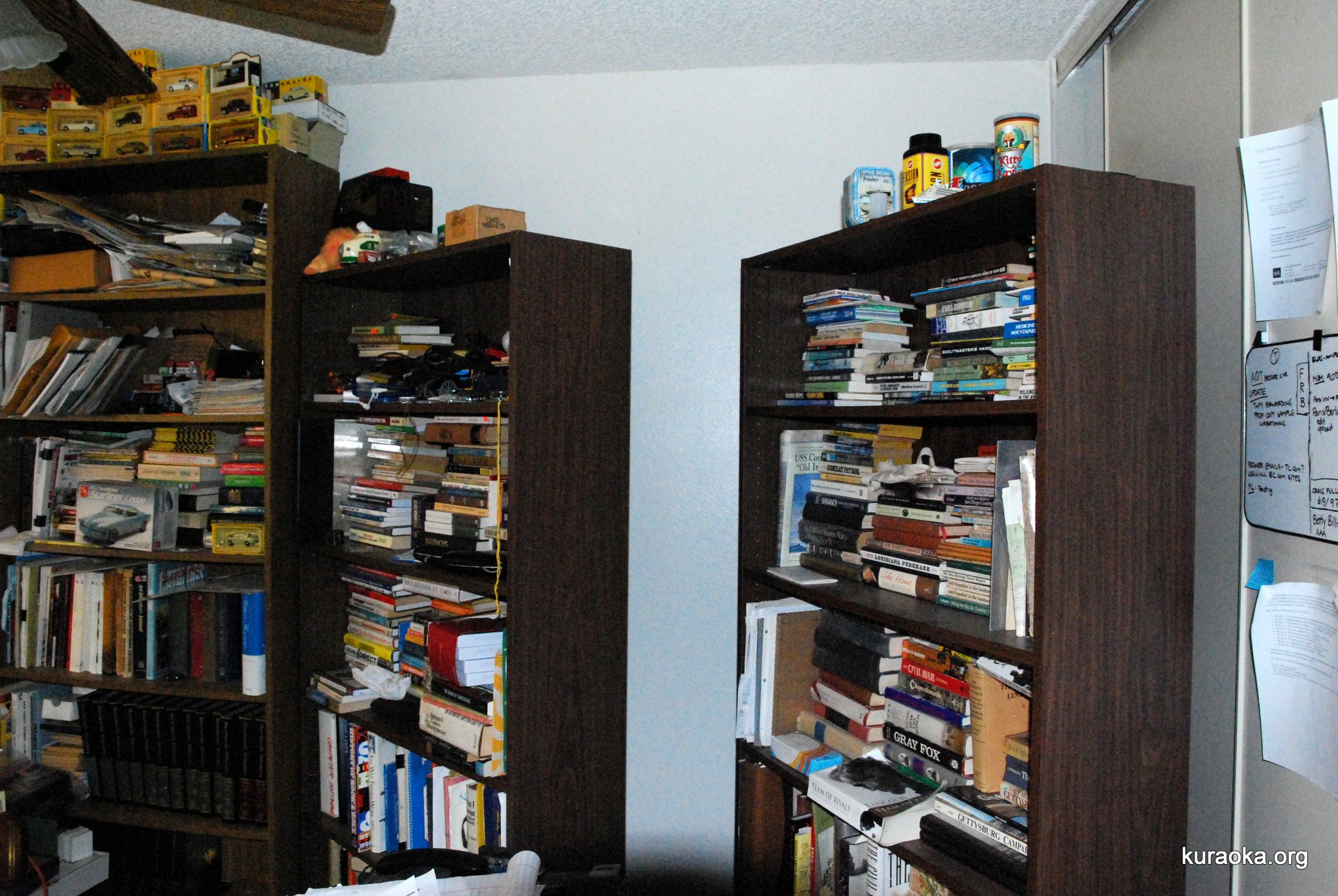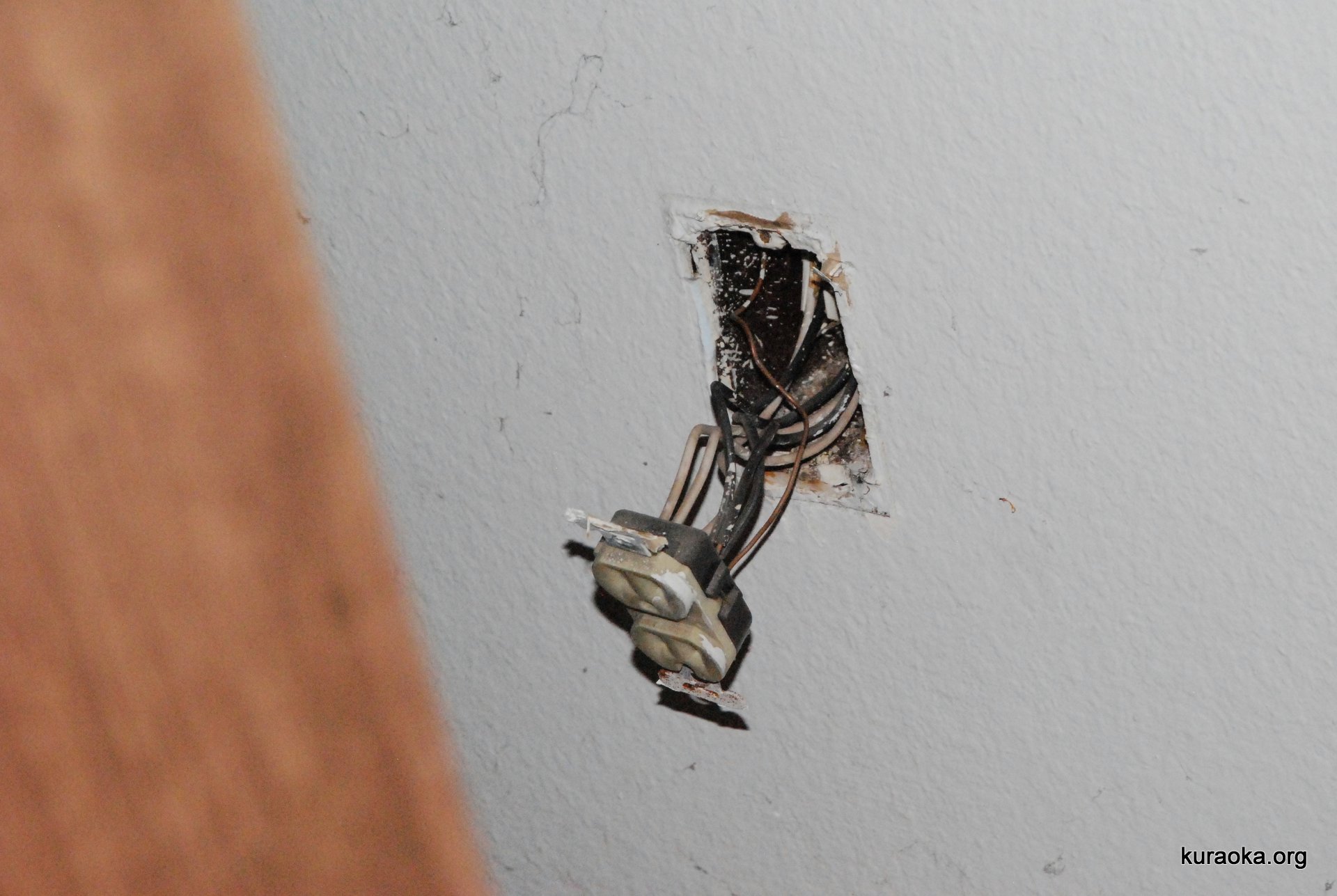 Also, a new O'Hagin vent was put into the roof at the back of the house, to improve the attic ventilation. And, at some point after the electrical problems were sorted, our solar system was switched on.
Our old Genie garage door opener was burned out in the spike, so Secure sent their garage door contractor to install a new 1/2HP Liftmaster screw drive. It's a lot quieter than our old one, maybe because it's about 20 years newer!
The city came out this morning, Monday, for final inspection. The official paperwork is still pending, but it passed inspection. Here's a detail shot of our meter, showing it essentially running backwards. See the tiny triangular arrow indicator? If it points left we're on solar and if it points right we're using power from SDG&E. As you can see, it points left! And that's with both kids home, laptops in use, John's office going full-blast, and the washer and dryer running. Also, note the negative number showing electricity use. Woo hoo!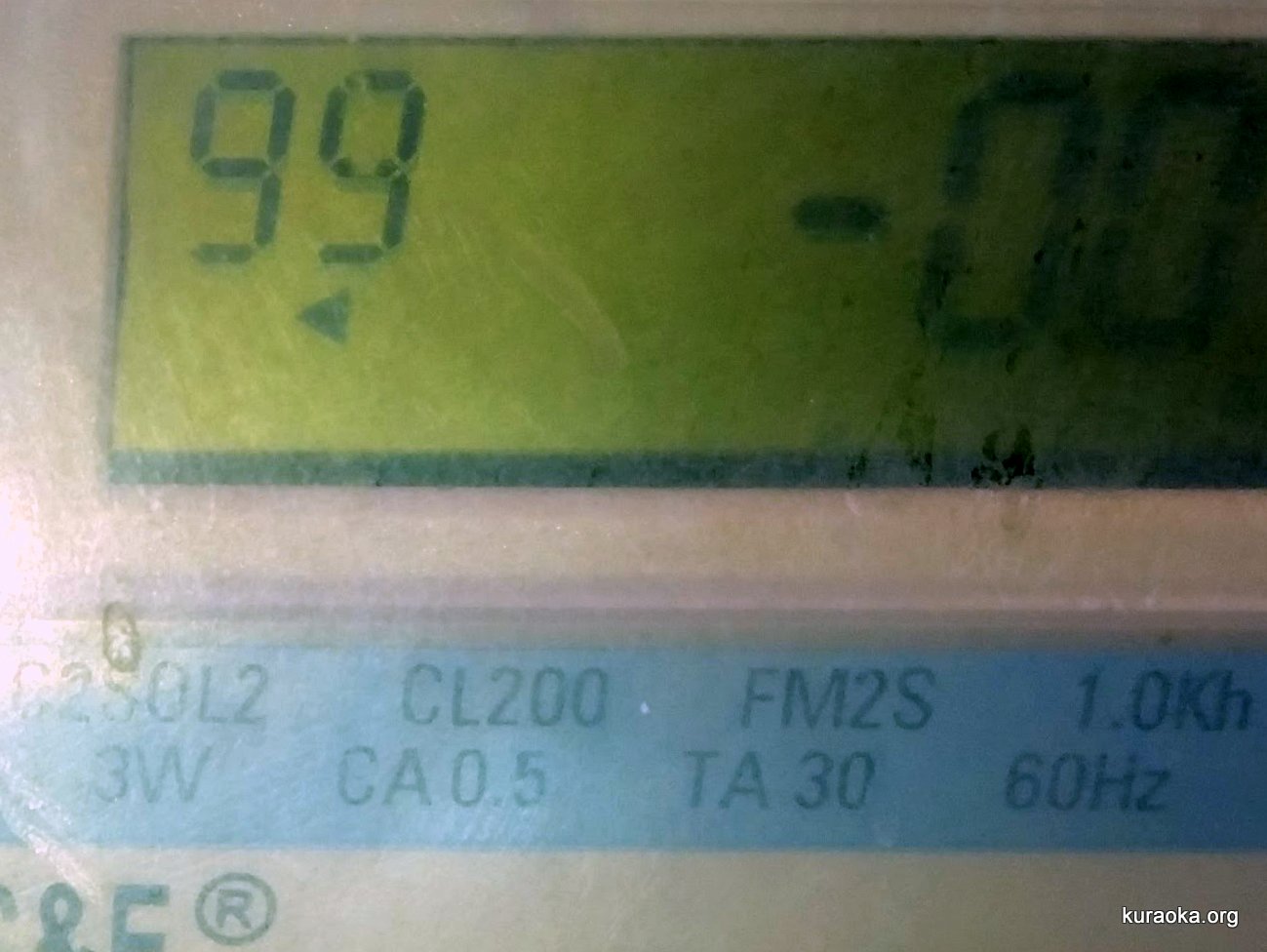 ---
November 25, 2016: Tuesday we received our final PTO: permission to operate. (Monday we'd received approval from the City, Tuesday's approval was from SDG&E, two separate approvals.) So we're all connected and official, although our solar system has been operating for nearly a week now. We also made the last two bank payments to Secure Roofing and Solar, leaving just one change order for the roof repairs (less damages) still to pay.
Tuesday afternoon, Secure's power wash crew came by to clean the driveway, and ended up washing the entire back and front yards! Wow! The last bonus is window washing, which remains to be scheduled.
We couldn't be happier with Secure Roofing and Solar and our project manager Abel! How a company responds when things go wrong is a powerful testament to its whole corporate culture, and Secure really got it right!
---
December 2, 2016: Monday our project manager Abel came by with a beautiful gift basket for us from the company, plus a special personal gift of an unusual Lithops succulent for John! Wow! We paid the last remaining invoice this week and everything is done!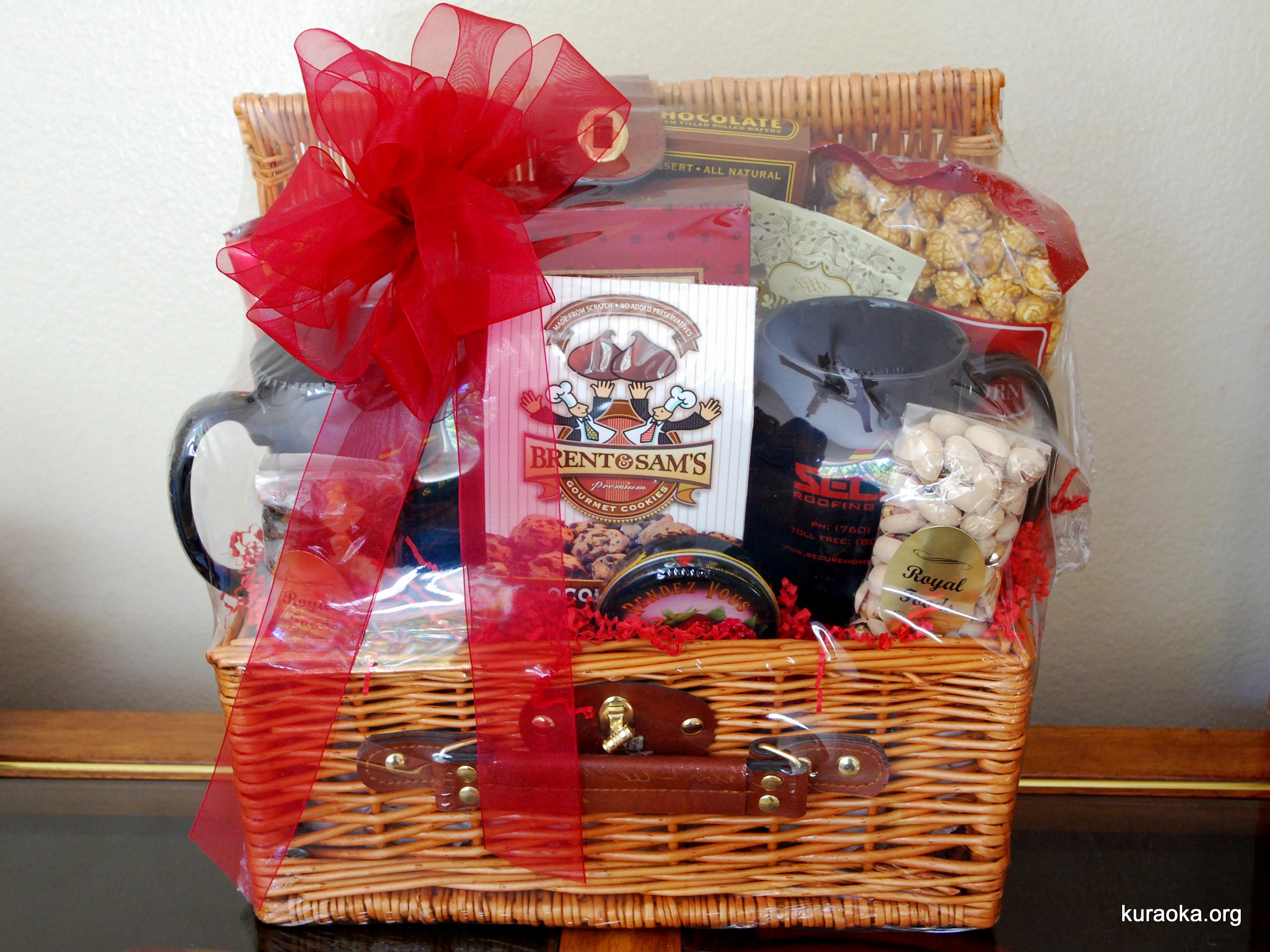 The power wash crew came last week and did our entire front and back yards, and then this Wednesday cleaners from Blue Ocean Window Cleaning came out and cleaned our windows inside and out! All that was included as part of the package for the solar/roof deal. Wow! We also had Blue Ocean take our sliding patio screen door for repairs. We love our clean new windows, it's amazing what a difference they make in the house.
---
A wish-we'd-thought-of-it-before tip! Before you start any roof work, get some plastic sheets and put them over everything in your attic! All the boxes in our attic are now covered in sawdust; we wish we'd thought of that before starting, as it would've made clean-up a snap.
Conclusion: It took about three and a half weeks from starting the roof demolition to having a new roof, solar, and final permission-to-operate. Even on gray November days, we get the thrill of seeing our electrical meter essentially running backward, and that's with the washing machine and dryer running!
Again, we're absolutely thrilled with Secure Roofing and Solar for a job well done. Throughout the project, we were impressed with how clean and buttoned-up everything stayed. The work crews were friendly and unfailingly thoughtful. And, we were downright ecstatic with our project manager, Abel, who was communicative, responsive, and nothing short of wonderful. Secure Roofing and Solar's phone number is (760) 546-0254.
---
* A final grace note: The first old appliance to get replaced post-solar was our clothes dryer, which was on its last legs months before the power spike and limped along for a couple weeks afterwards before giving up the ghost in early December. So its death was due to old age and exhaustion (a load a day every day, plus four or five on weekends, plus countless more loads per day when our teens were babies), and can't be blamed on the power spike. The new model, an open box special from Best Buy that, by great good fortune matches our washer, is an Energy Star rated Whirlpool Duet WED72HED high-efficiency dryer. It should use about half the energy of the old one.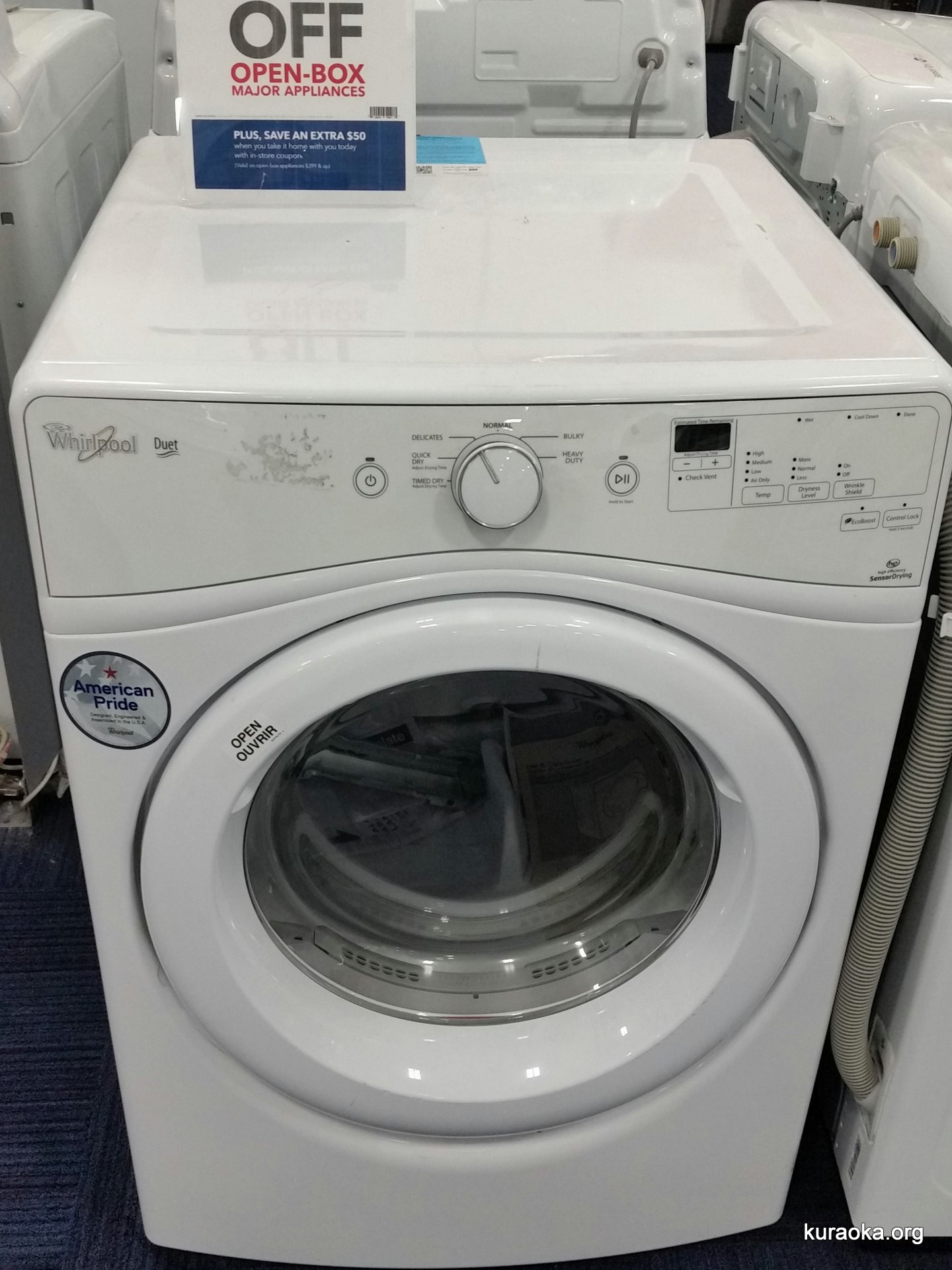 Back to the Archives page
Back to the Kuraoka Family main page
Forward to the current Weekly Journal.