The Kuraoka Family Weekly Journal
www.kuraoka.org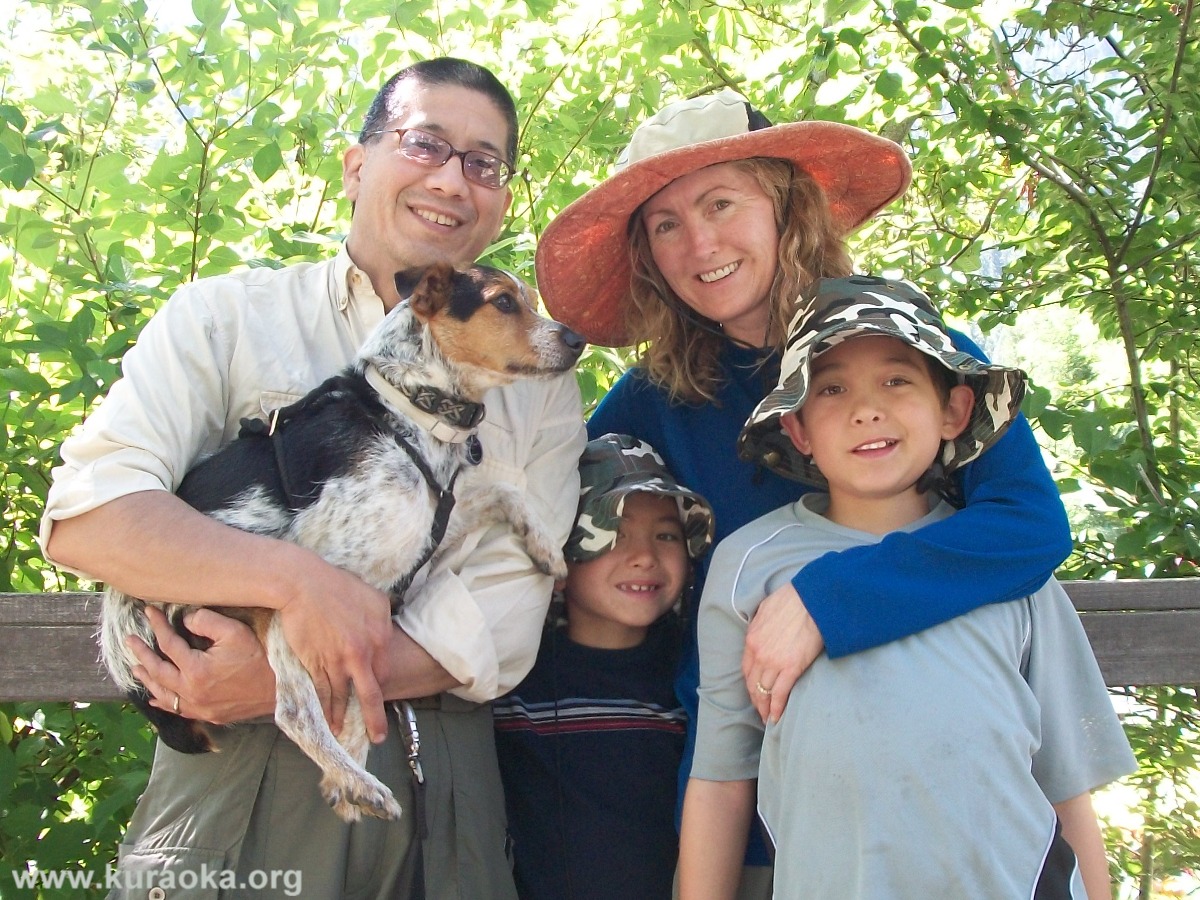 Us, August 11, 2010 (clockwise): John, Ondine, Roy, Leo, Buddy
Sunday 20 February 2011
This is a much-belated journal because we've been so busy! Let's see, now, we have two full weekends to cover, plus the week.
Last weekend was the Centennial of Naval Aviation celebration at NAS North Island! The whole gang went: Alex, Michael, Roy, and Leo, plus Ernesto, Vlado, and John.
John was at Alex's house with Roy and Leo at 7:15 in the morning. Vlado arrived with Michael at the same time. From there, Ernesto drove Alex, Roy, Leo, and John while Vlado (thinking he could get in some surfing after the air show) went separately with Michael.
Meanwhile, Ondine had a full day to herself, to organize, garden, write, and edit her novel! Ahhh!
Traffic was pretty heavy getting onto North Island on Coronado. It took over an hour to cross the bridge and get onto the base, and at least a half-hour to park. The line wound around two sides of the airfield; by the time we got onto the airfield it was 10:15. We looked at the schedule and saw that the tours of the John C. Stennis ended at 10:30! Everyone wanted to do that one – the Stennis is an active-duty nuclear-powered Nimitz-class aircraft carrier, the top-of-the-line warship in the U.S. fleet.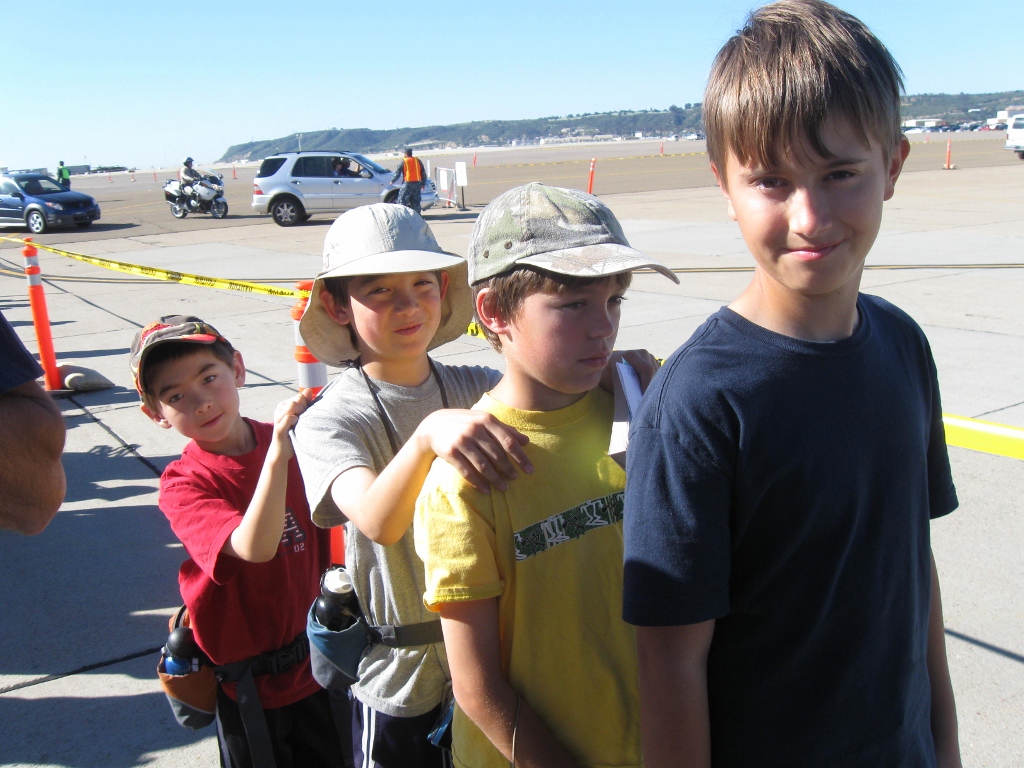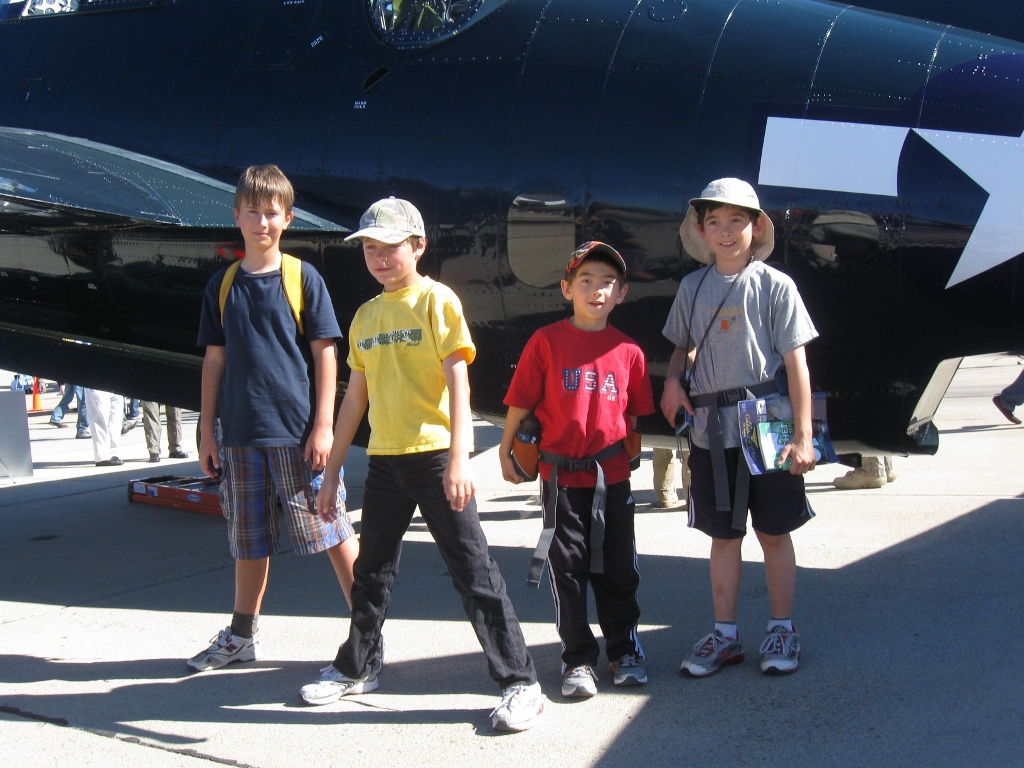 We walked briskly to the shuttle bus area, where we received red bus tickets that would also allow us back on-base through the shuttle bus gate. We also were told we could walk to the Stennis so we hurried out!
When we got in line, one of the staff was walking down the line saying that he didn't know if we'd make it on board – they had to have everyone off by noon. We considered pushing the boys to the front and having them make doe-eyes at the Navy personnel, but it turned out not to be necessary. The line was cut off, though, not 20 people behind us, so we were very fortunate!
We climbed steel mesh gangway steps to the hangar deck, and the crowd swept us to an immense opening in the side of the ship. It was the flight elevator! An alarm sounded twice, and then went off continuously as the blacktop beneath us soared to the flight deck taking a hundred or more people on the same ride the aircraft take into battle.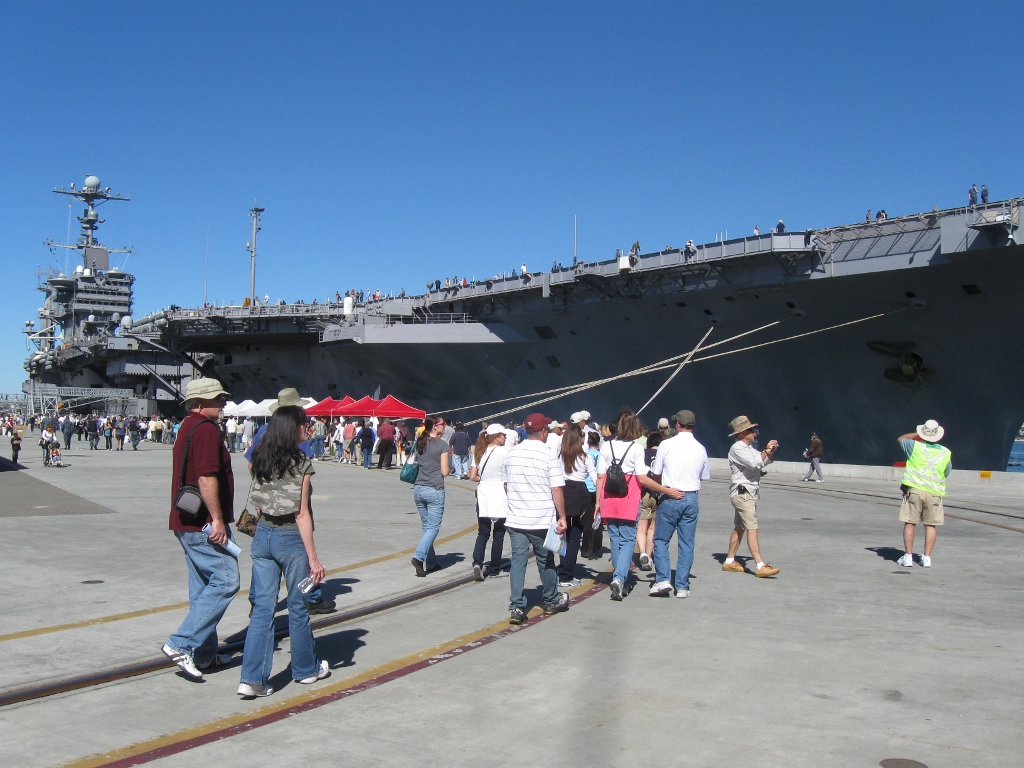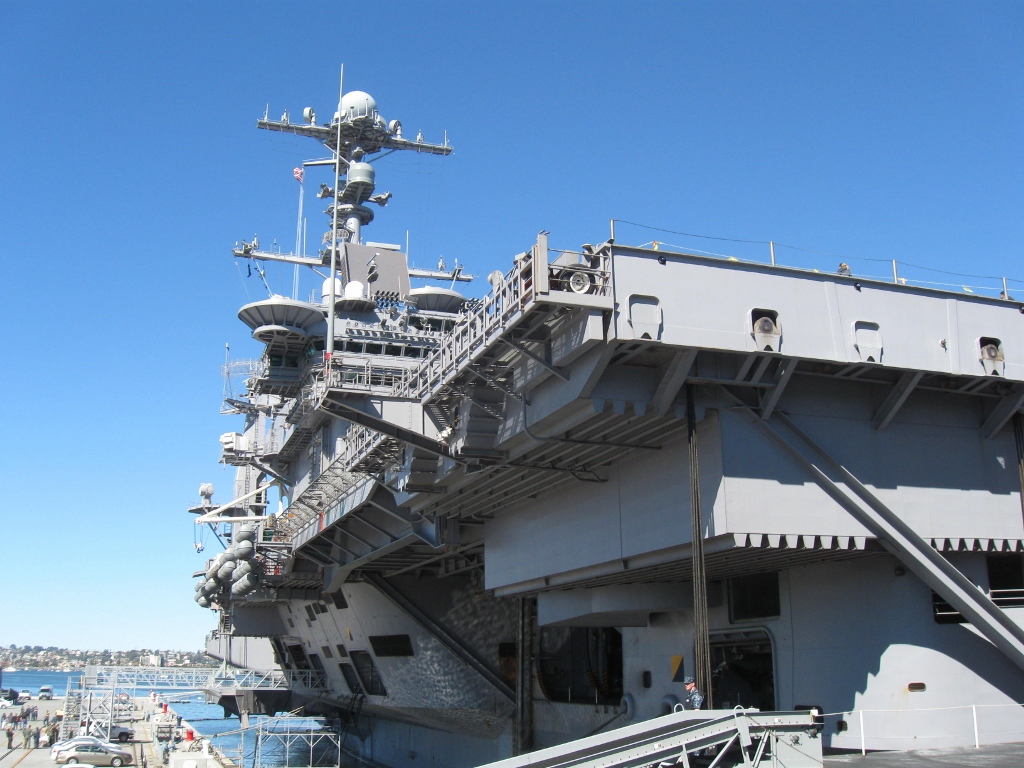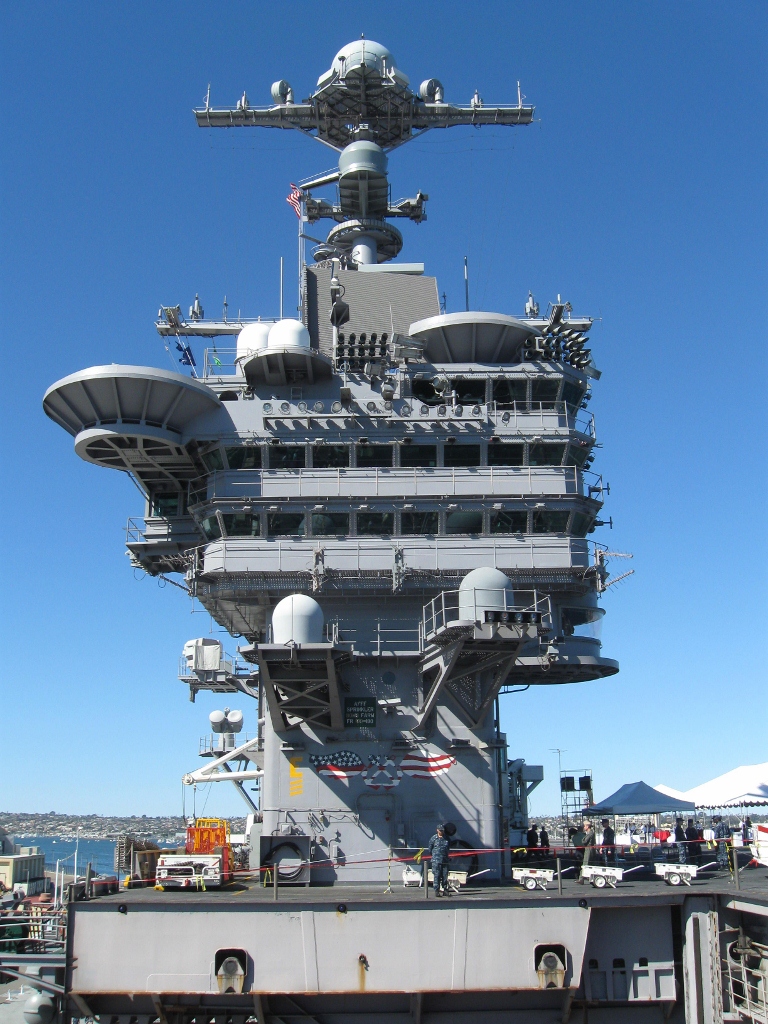 The Stennis is 1,092 feet long and 252 feet wide, or 120 feet longer and 14 feet wider than the Korean War-era Midway in its current, latest, configuration. (When the Midway was launched, in 1945, it was about half as wide as the Stennis.) On the Midway you feel like you're on a huge ship. On the Stennis, you don't feel that you're on a ship at all – the edge of the ship merges with the sky as if you were standing on land.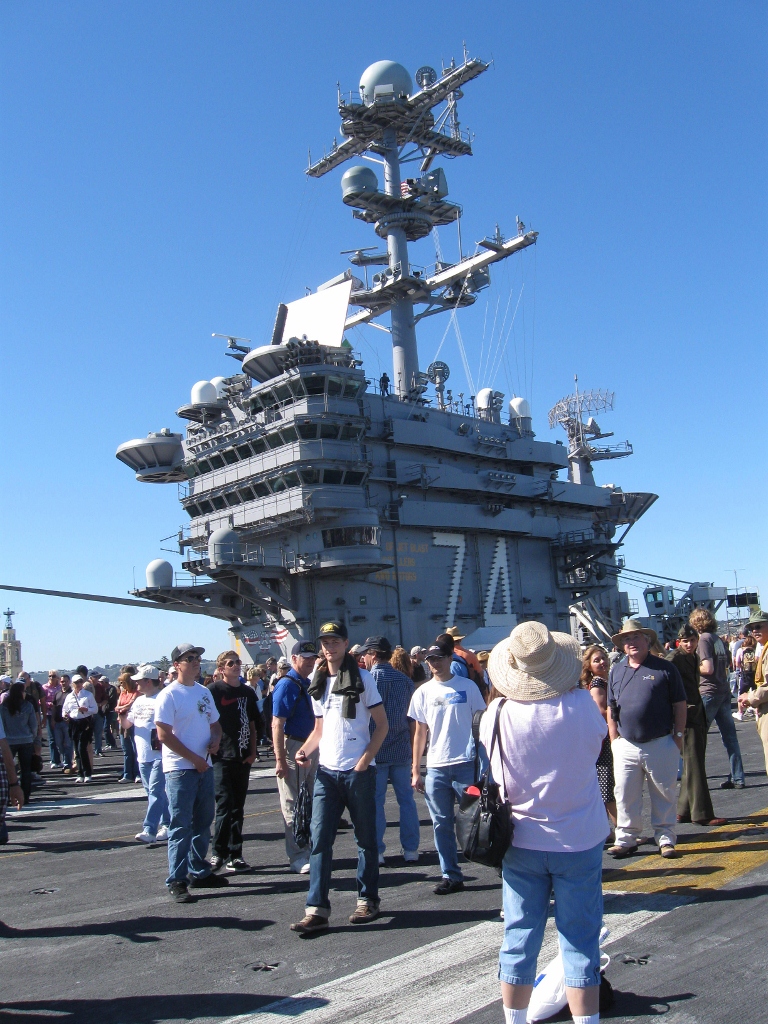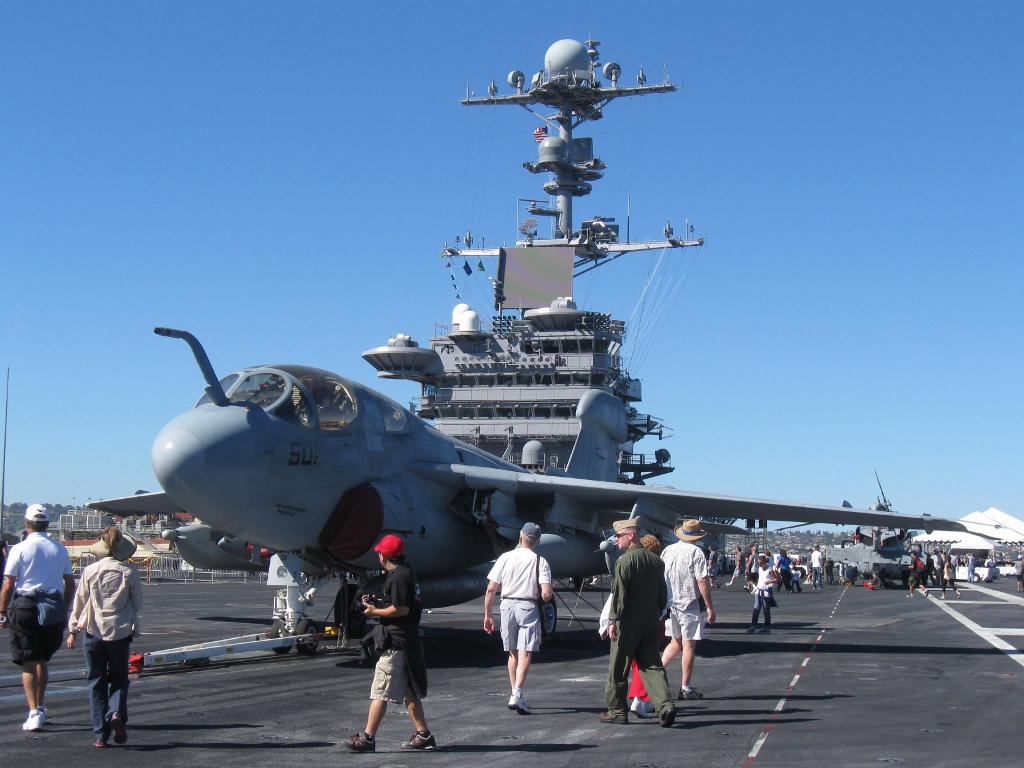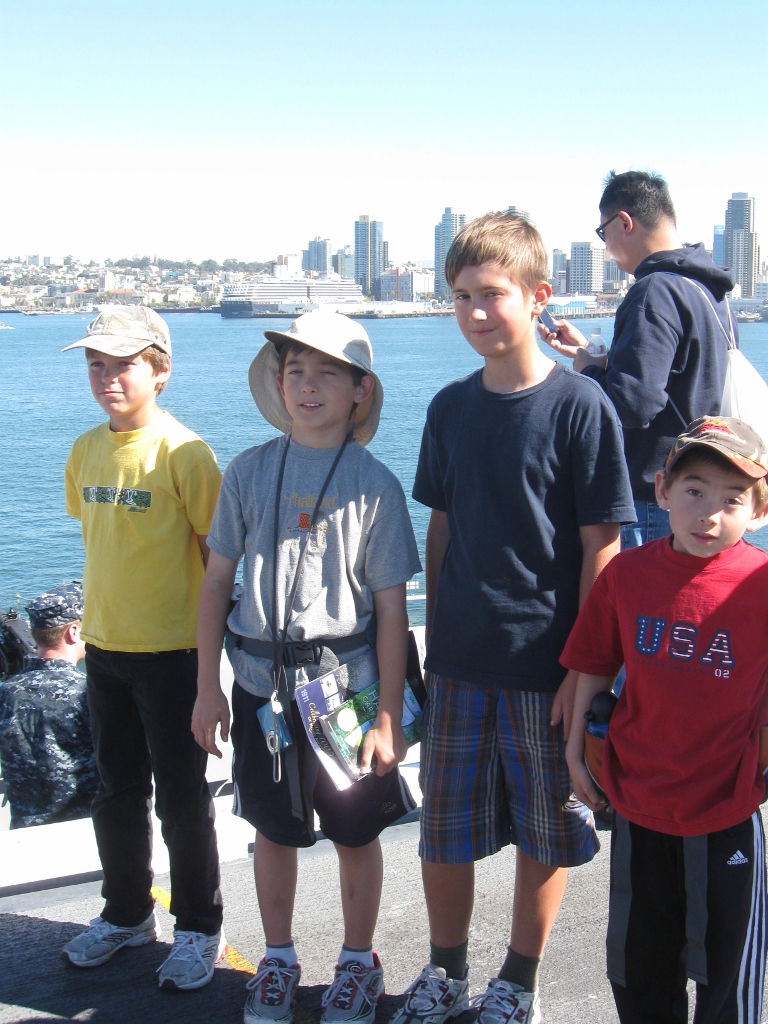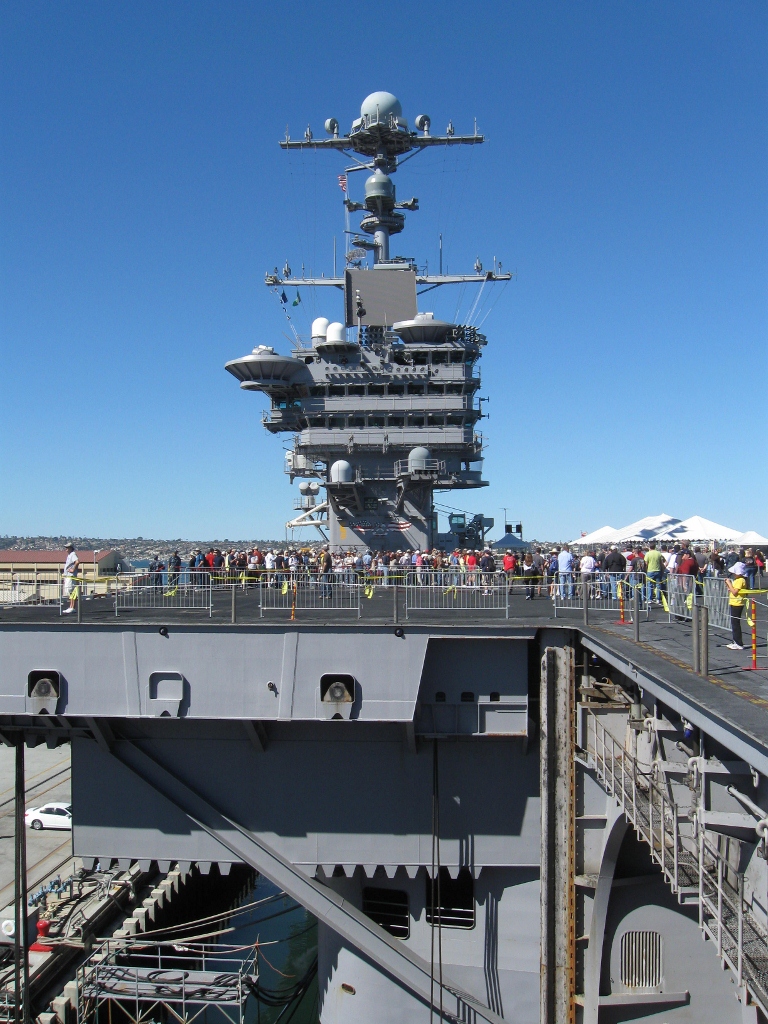 Sailors manned 50-caliber machine guns and gray Navy security boats patrolled the perimeter. They occasionally veered, their twin outboard motors sending up disproportionately massive plumes of water as they accelerated toward errant pleasure boats. On deck, the sailors trained their machine guns and watched warily. A Navy hovercraft came by and gave a demonstration, rotating on the water in a mist of spray and roar of turbines.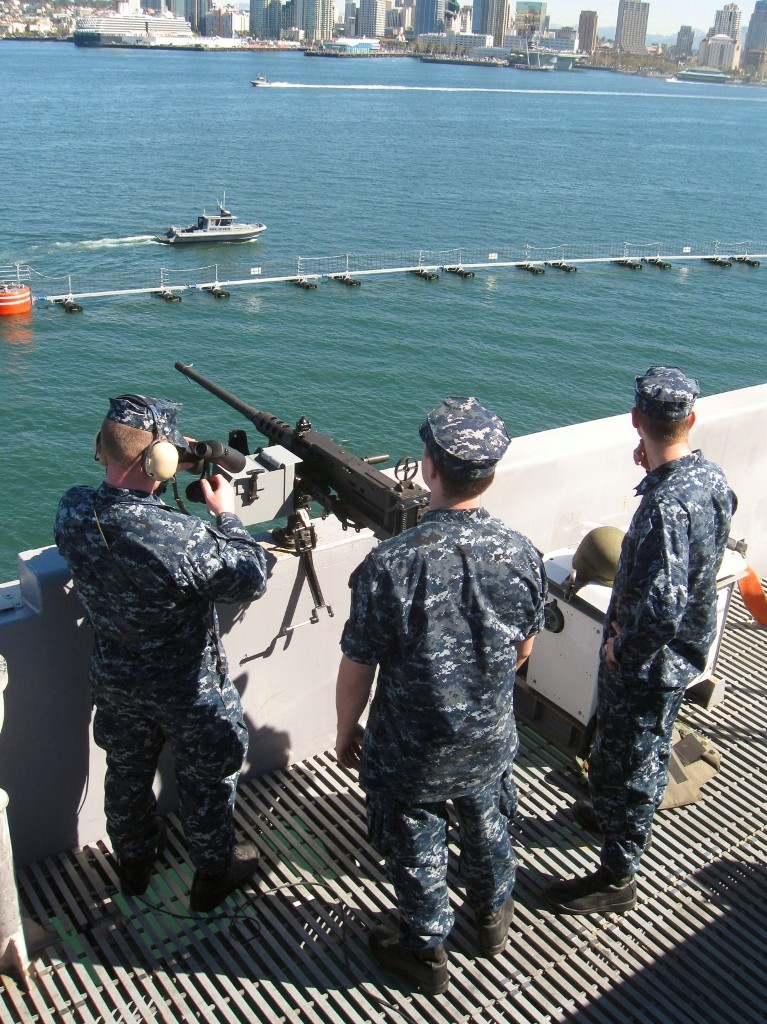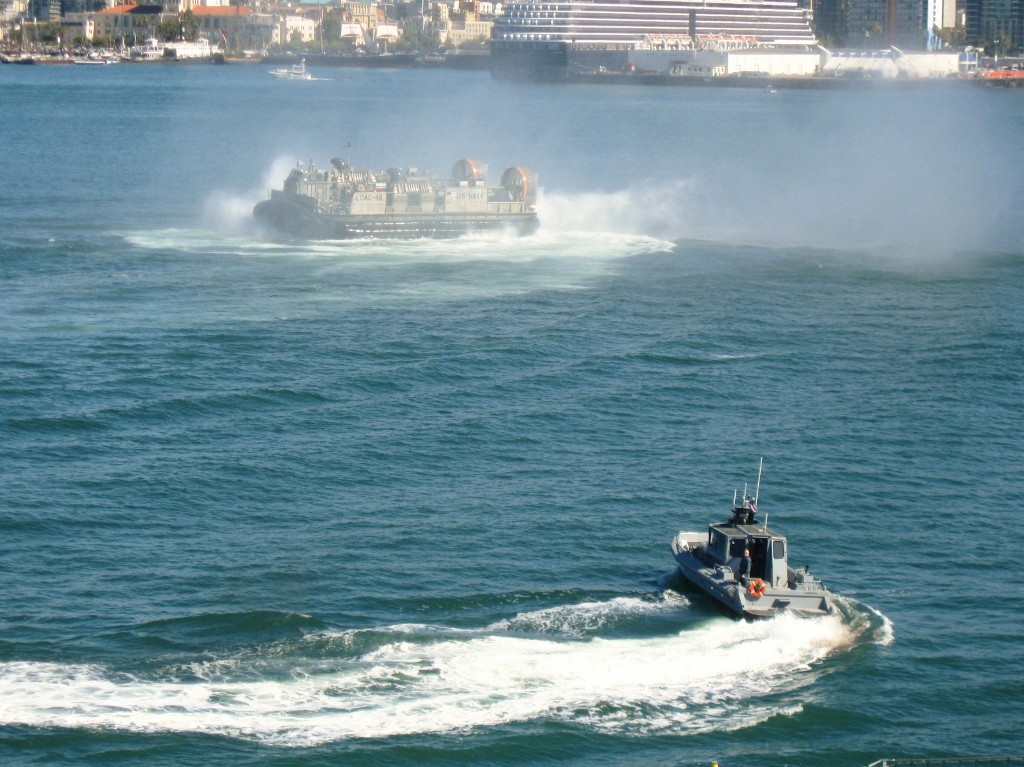 We took one of the last flight elevators down and off the ship, leaving right before we'd probably have had to enlist. By then it was well into lunchtime, so we opted to forgo the other two ships and pick up something to eat.
We bought burritos at a taco shop and found a shaded spot in a park to eat, directly in front of the Stennis. Precisely at 1:00, the show began! A Navy paraglider team spun out of a helicopter and came down, trailing streams of colored smoke and a huge American flag.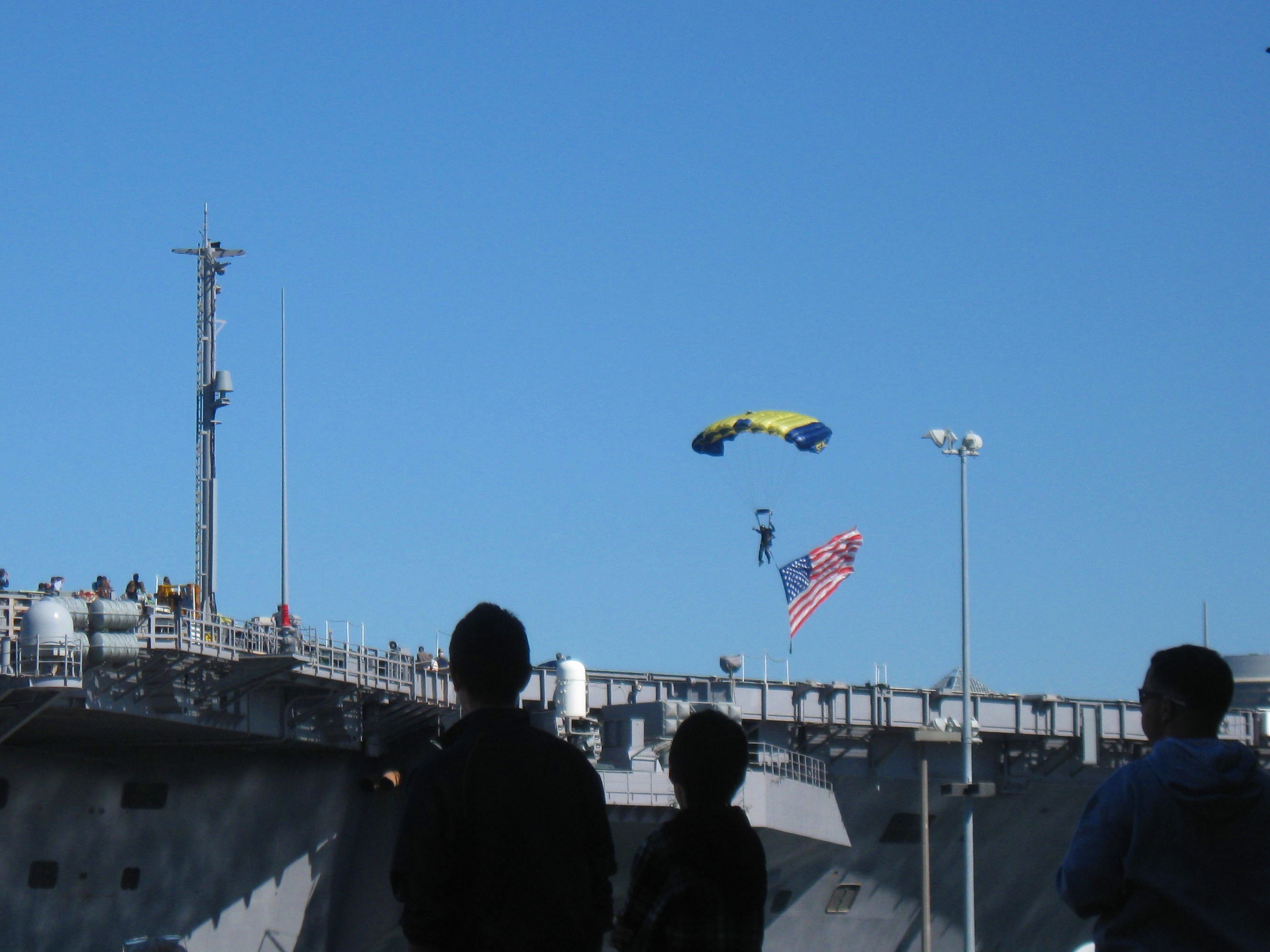 After lunch, we walked back towards the base. But, before we got there we found a perfect viewing spot, directly across from "Center Stage" – it was the media area! The parking lot was lined with TV vans, and there was a narrow, sandy beach below a short sea wall. The kids dropped down to the sand below, and we enjoyed the show from front-row seats!
It was a spectacular day for an air show, with a clear blue San Diego sky. The fly-bys went in chronological order, starting with the earliest planes available to fly. John enjoyed seeing his favorite – the F4U Corsair – fly by, and Alex seemed partial to the Dauntless dive-bombers. Helicopters thrummed by, and one dropped a diver into the water to be picked up later by a Coast Guard copter. The Osprey flew and hovered right before us, as did the AV-8B Harrier jump jet. Formations of fighters streaked by, wingtip-to-wingtip, and the whole air show culminated in a massive flyover of the Stennis air wing, which filled the sky over downtown from horizon to horizon. It was, as the Navy had promised, a once-in-a-lifetime show.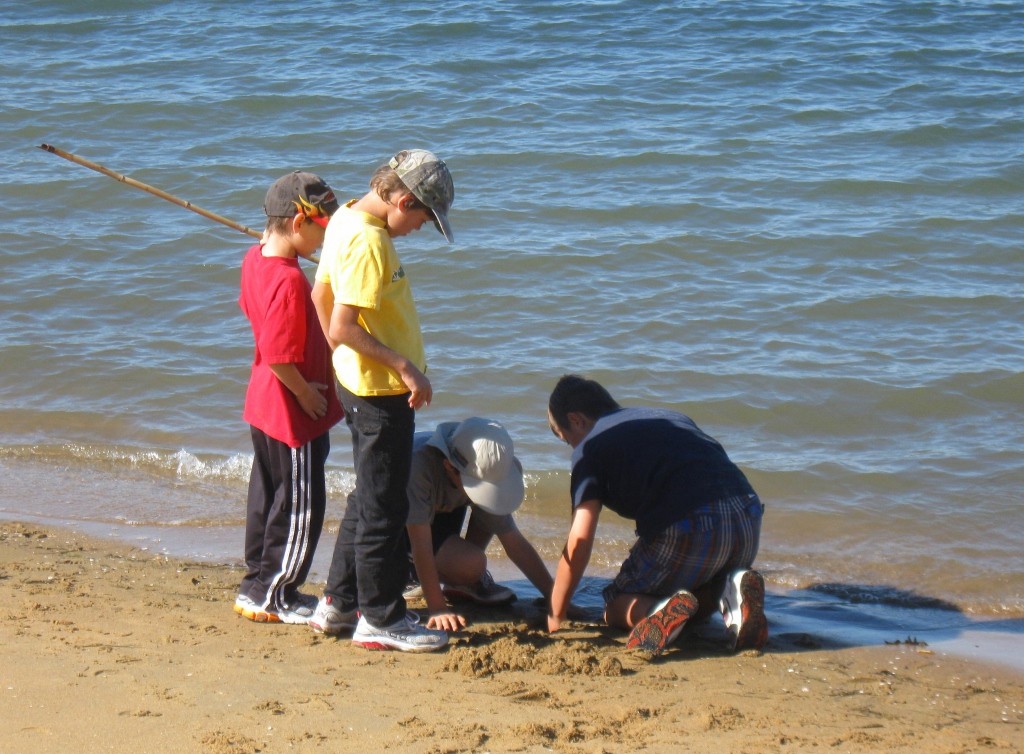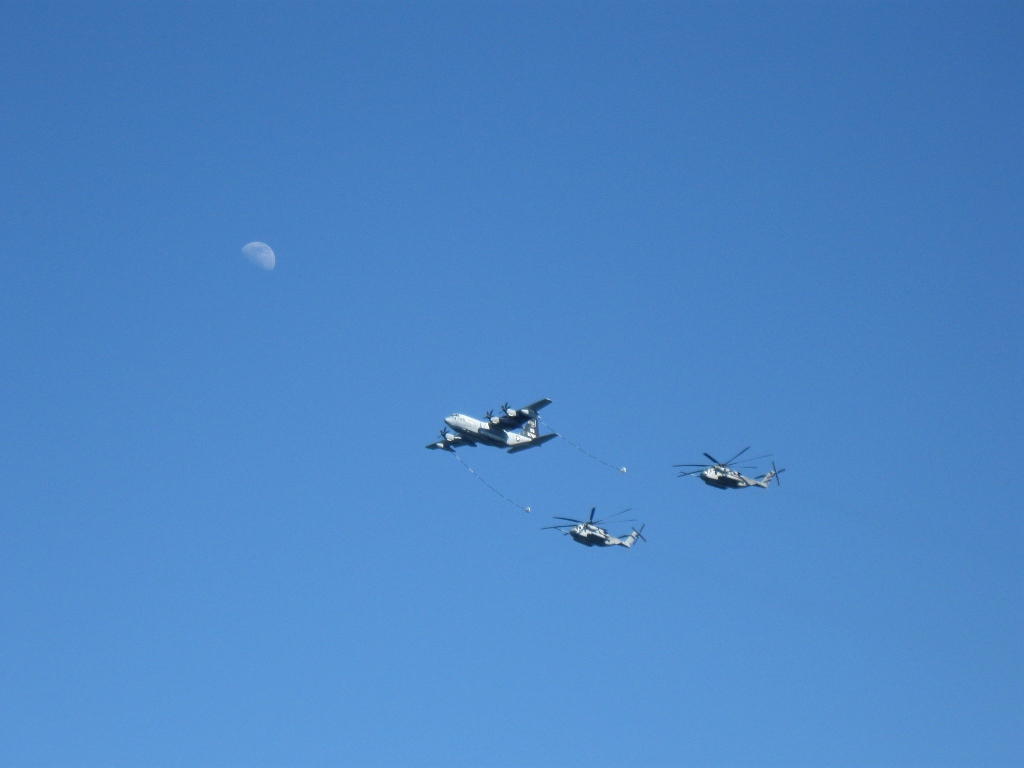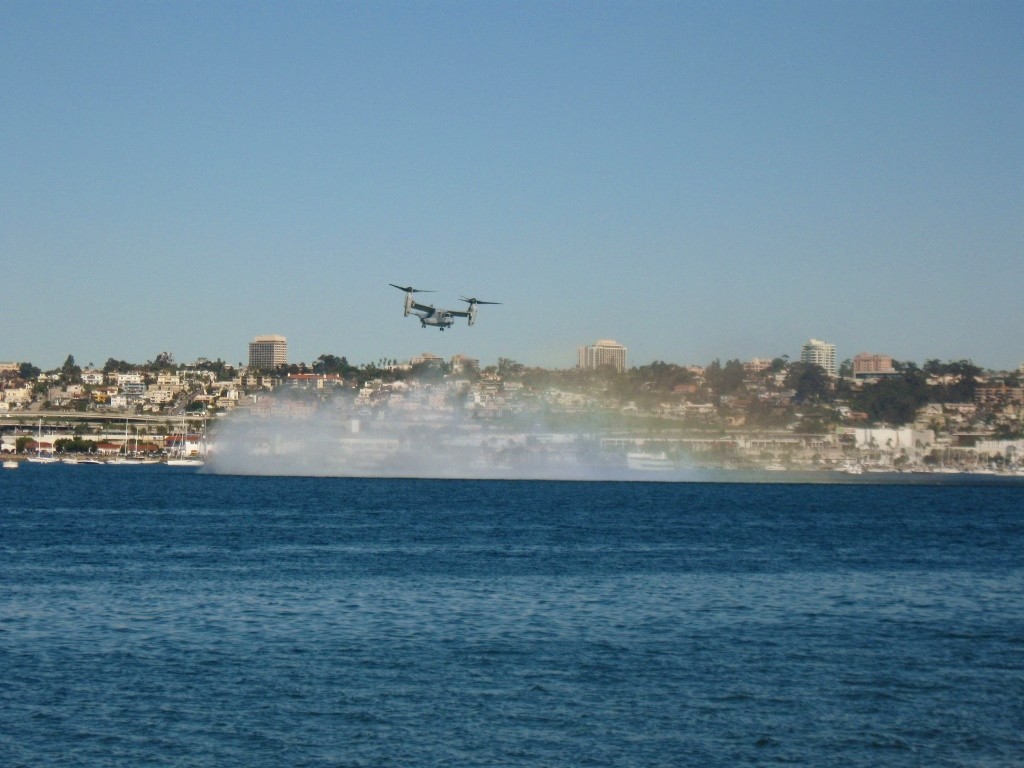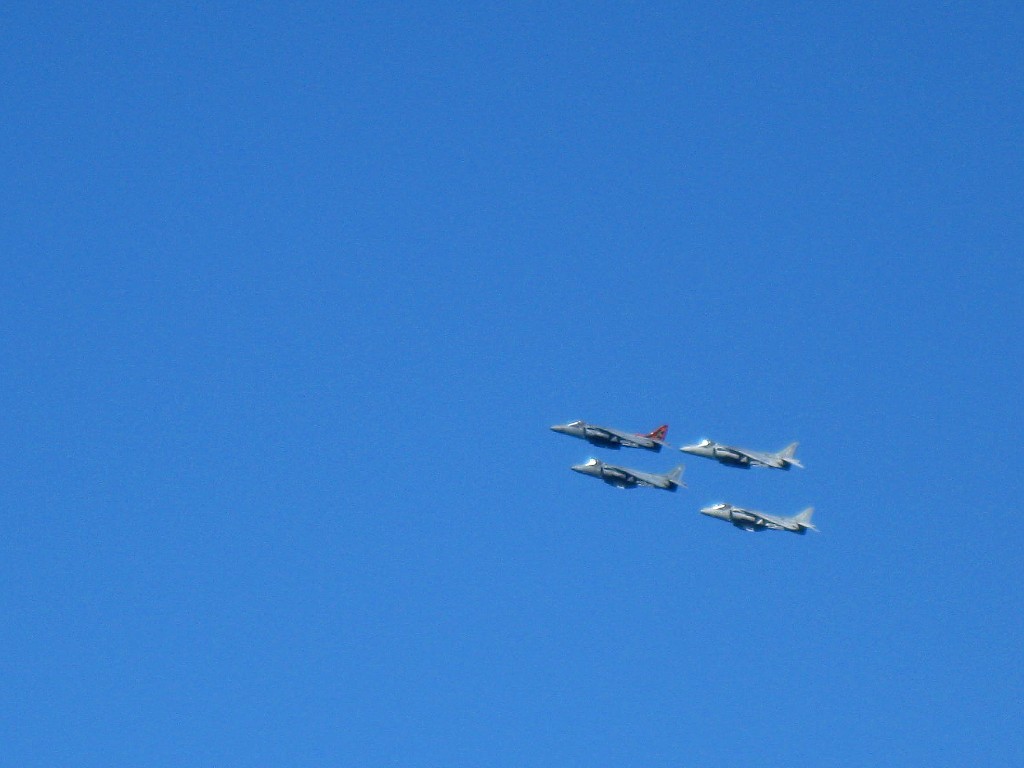 Afterwards, the media focused its attention on the onlookers. Local TV news station KUSI interviewed Roy, Alex, Michael, and Ernesto! They aired Alex and Ernesto. Were they just more photogenic? Or did the news team just not want to pronounce "Kuraoka" or "Vyzinkar" on-air? Ha! Then, right before we left, the local ABC affiliate, Channel 10 News, interviewed Michael, who also made it on-air!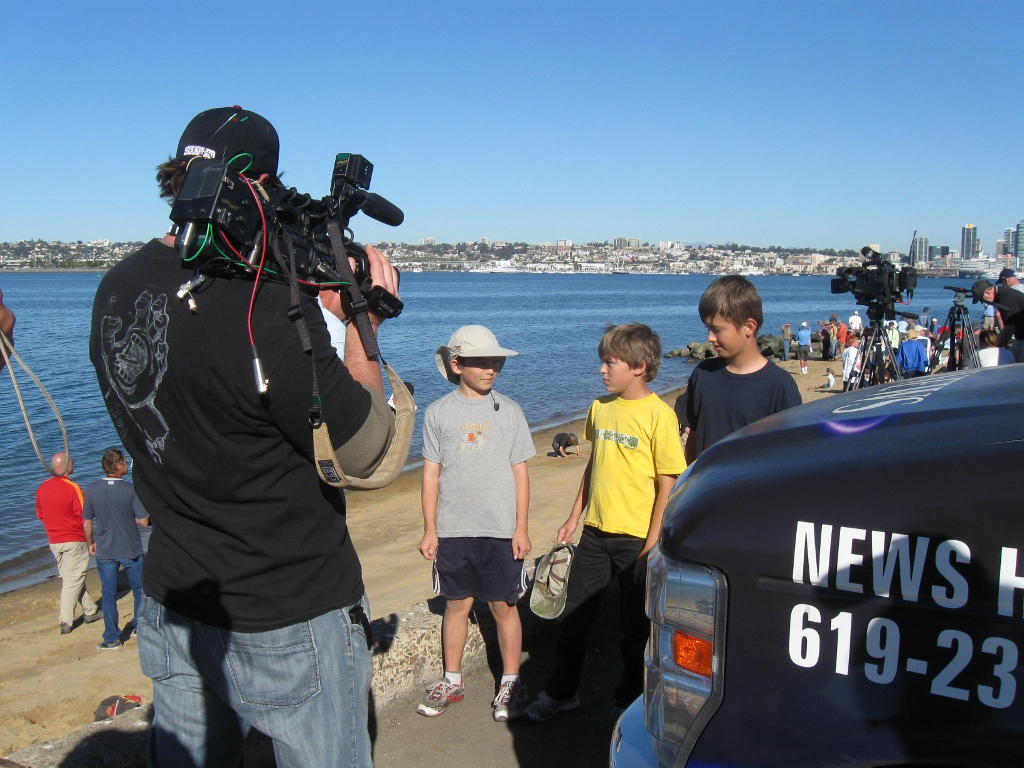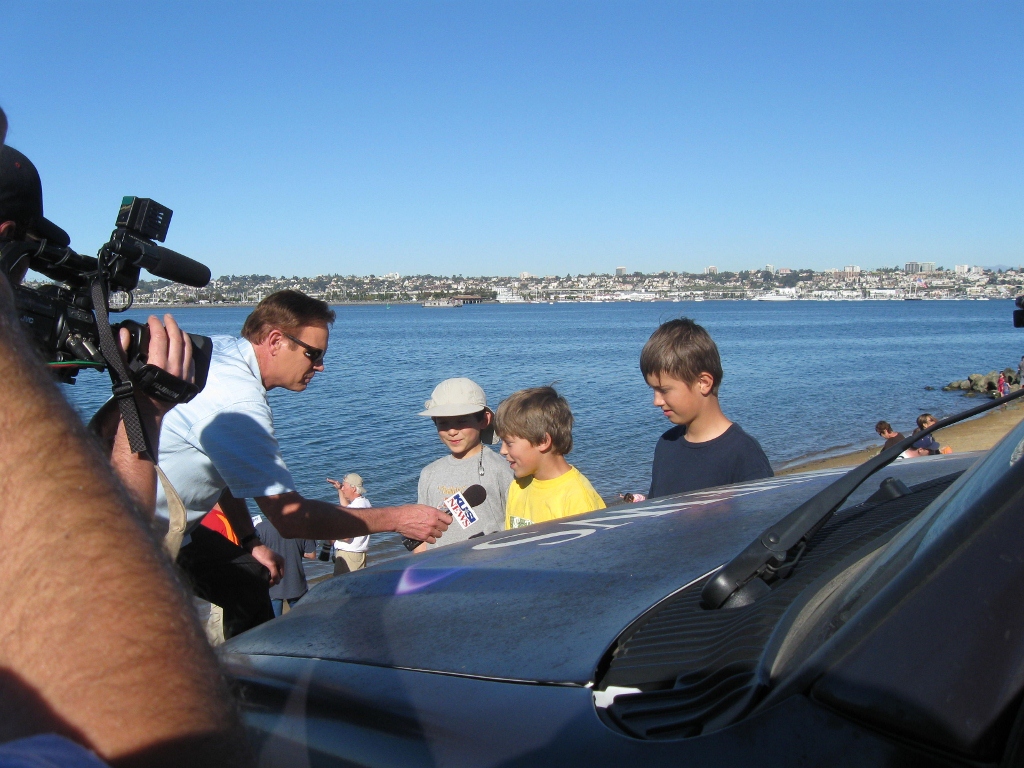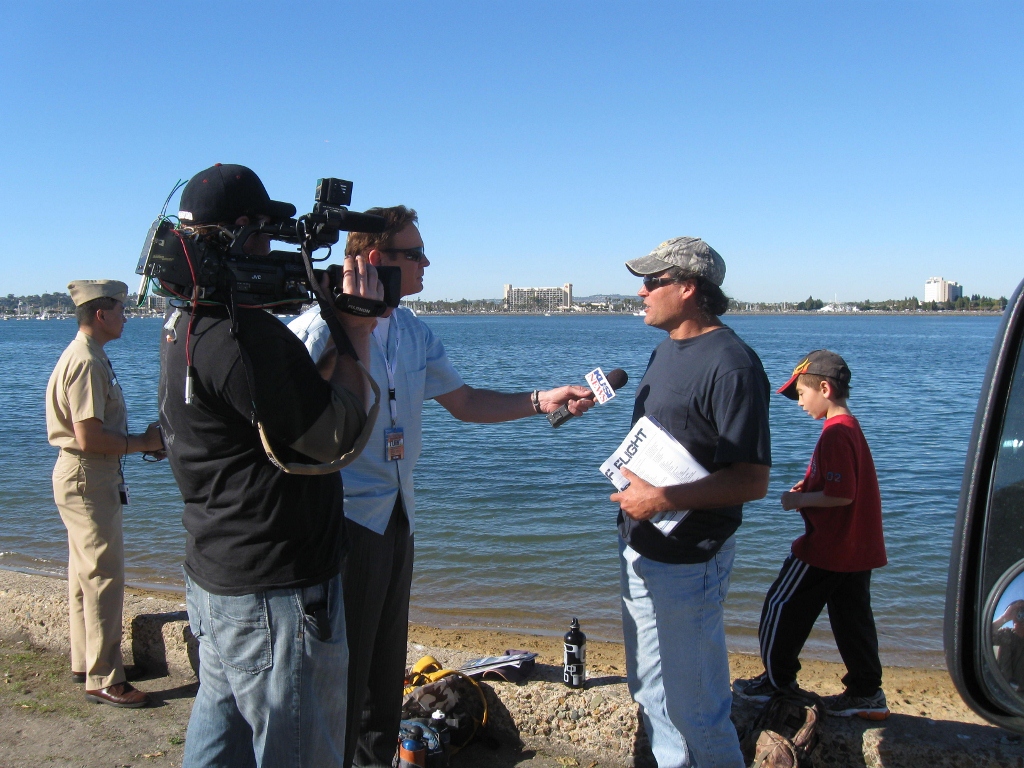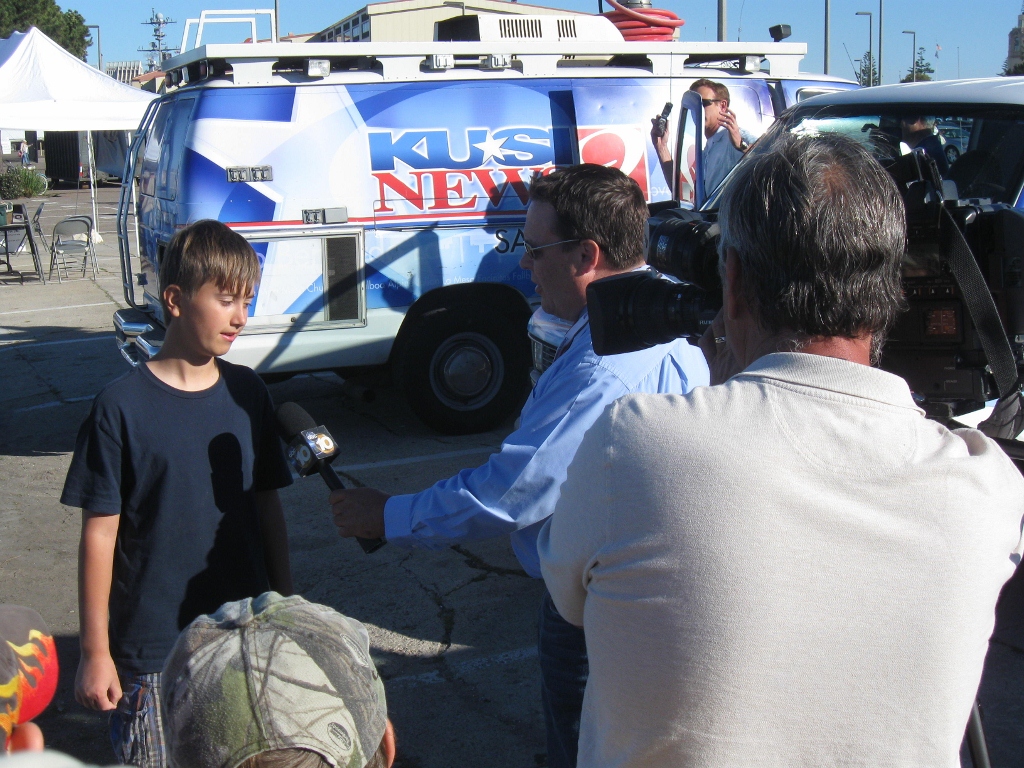 We walked back to the base, where people were being turned away from the gate. "How will we get to our cars?" they asked, desperately. "You'll have to walk all the way around," said a heavily armed sailor, his equally heavily armed partner remaining stonily silent. "You can't come this way without a pass."
John raised his red bus ticket over his head. The sailor acknowledged it. "Like that one," he said. We fumbled to gather all our passes, making sure the boys had theirs, and we filed through the gate under the envious eyes of the uncredentialed.
We paused to take a few photos and look at a few more planes, but Ernesto and Alex needed to get home for a dinner invitation and Vlado and Michael wanted to get in some surfing. So, we left a little after 3:00.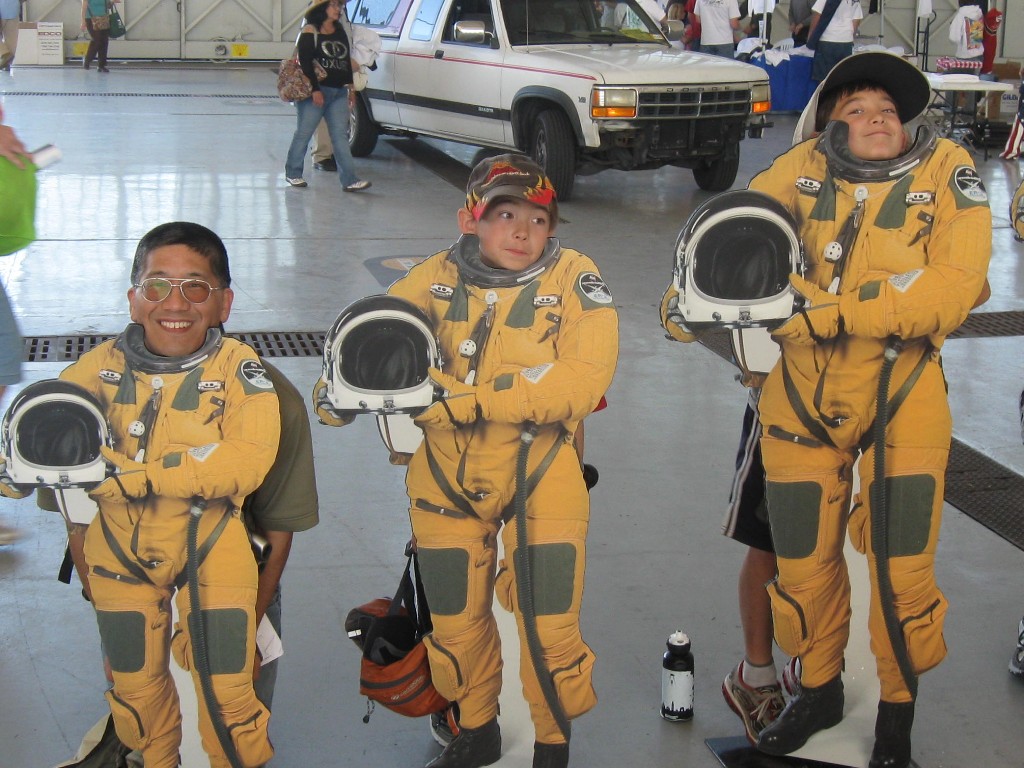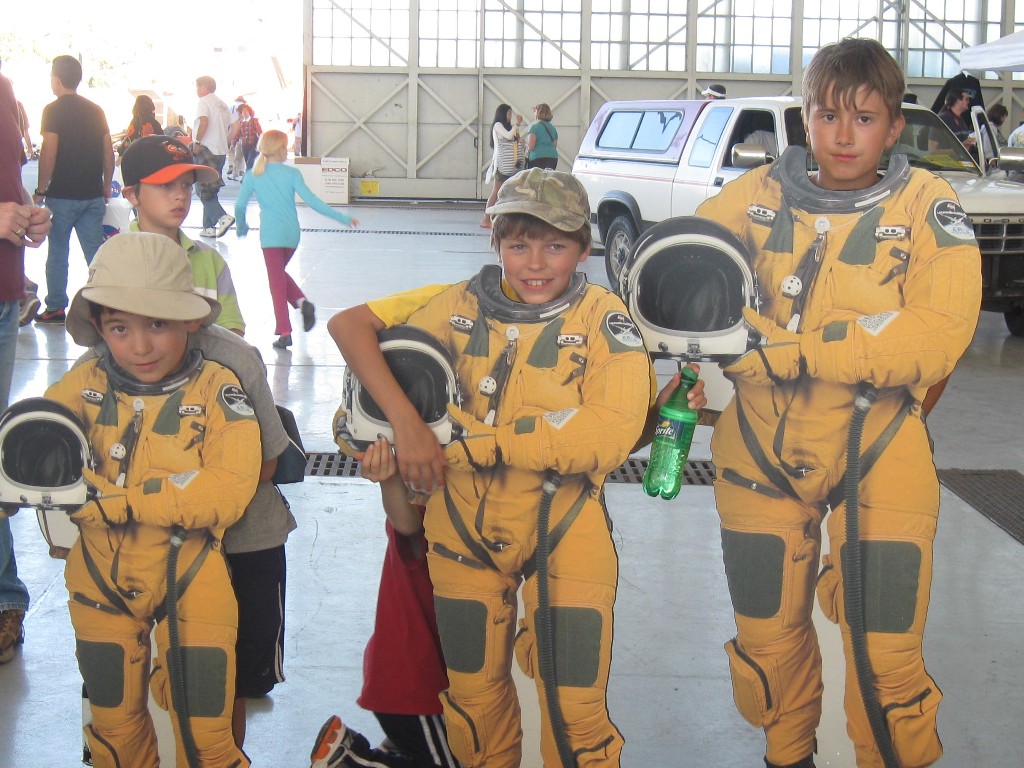 As we walked to the cars, we found ourselves winding our way through stalled traffic. Uh-oh. In the car, John thought to bring his ice chest to the front where he could pass out sandwiches. It was needed: it took over an hour to move perhaps 300 feet, and another hour to get off the base. Once we hit Coronado public streets, traffic was heavy but flowing smoothly. We decided the Navy was much better at directing planes than cars. During the three-hour drive, Roy and Alex made video "traffic updates."
So, Ernesto and Alex were very late for their dinner engagement, and Vlado and Michael never made it to the beach that day. John, Roy, and Leo returned home around 7:00, happily exhausted from walking and sun.
Sunday we had a quiet day at home. Ondine worked in the garden. Here's how the front garden looks, now that Frances and Ondine weeded it and Ondine did some planting!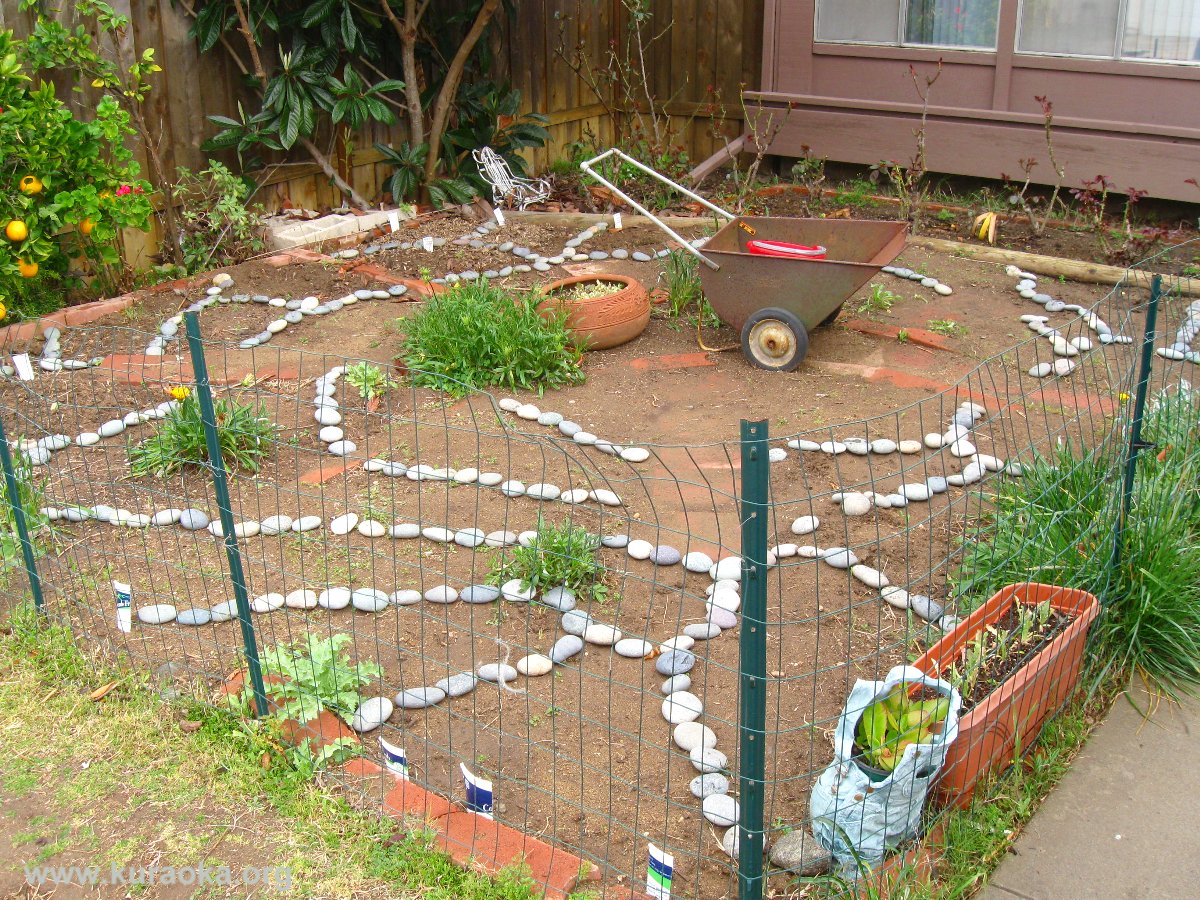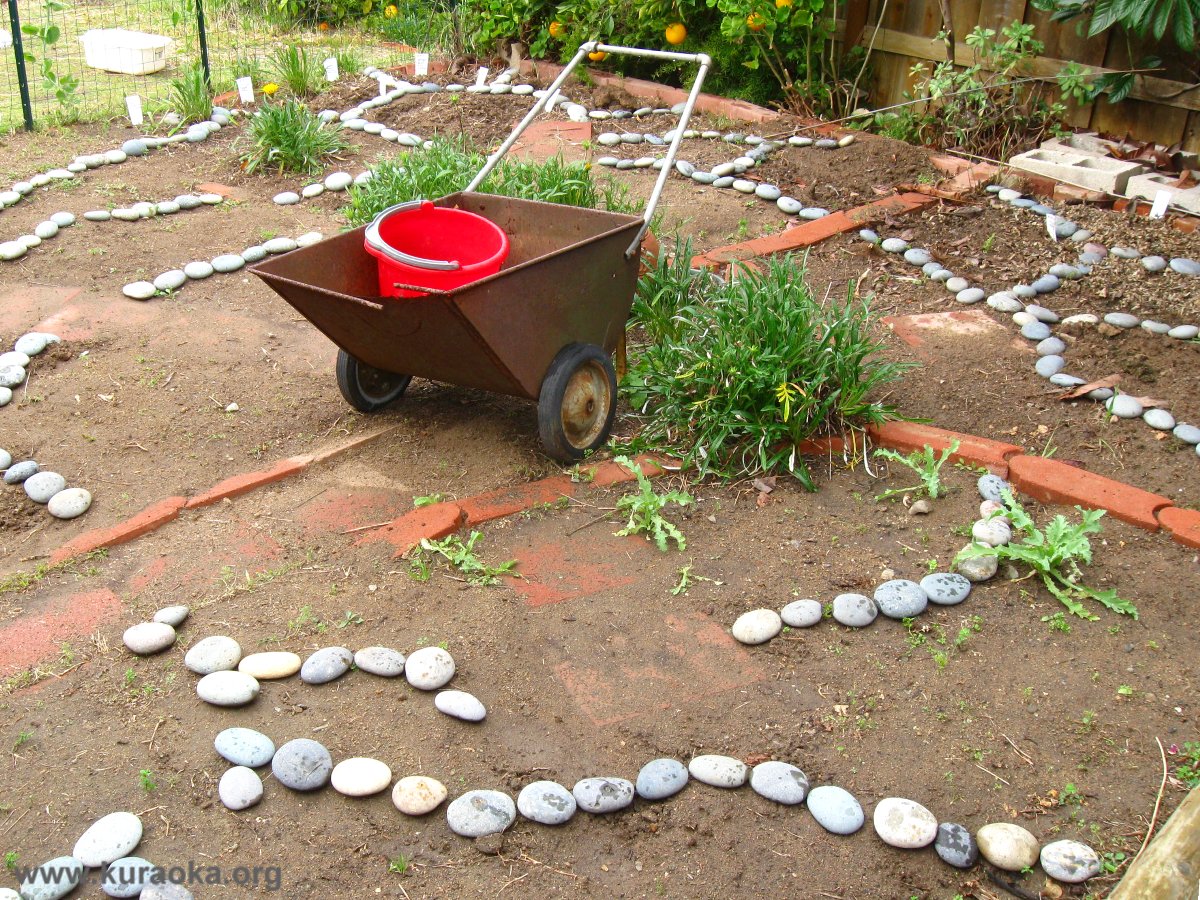 Speaking of garden events, there is a hummingbird nest in a tree in Barbara and Bill's yard by the sliding gate! There are two little hummingchicks in it, and you can see their needle-like bills pointed skyward as they wait for their mother to return. when the hummingmother sits on the nest, her tiny body fills it perfectly.
Monday was Valentine's Day! Ondine was busy baking all day, and we had an early dinner so we could have Barbara and Bill over for kaffeetrinken in the early evening. Here we are, with the delicious fruits of Ondine's labors!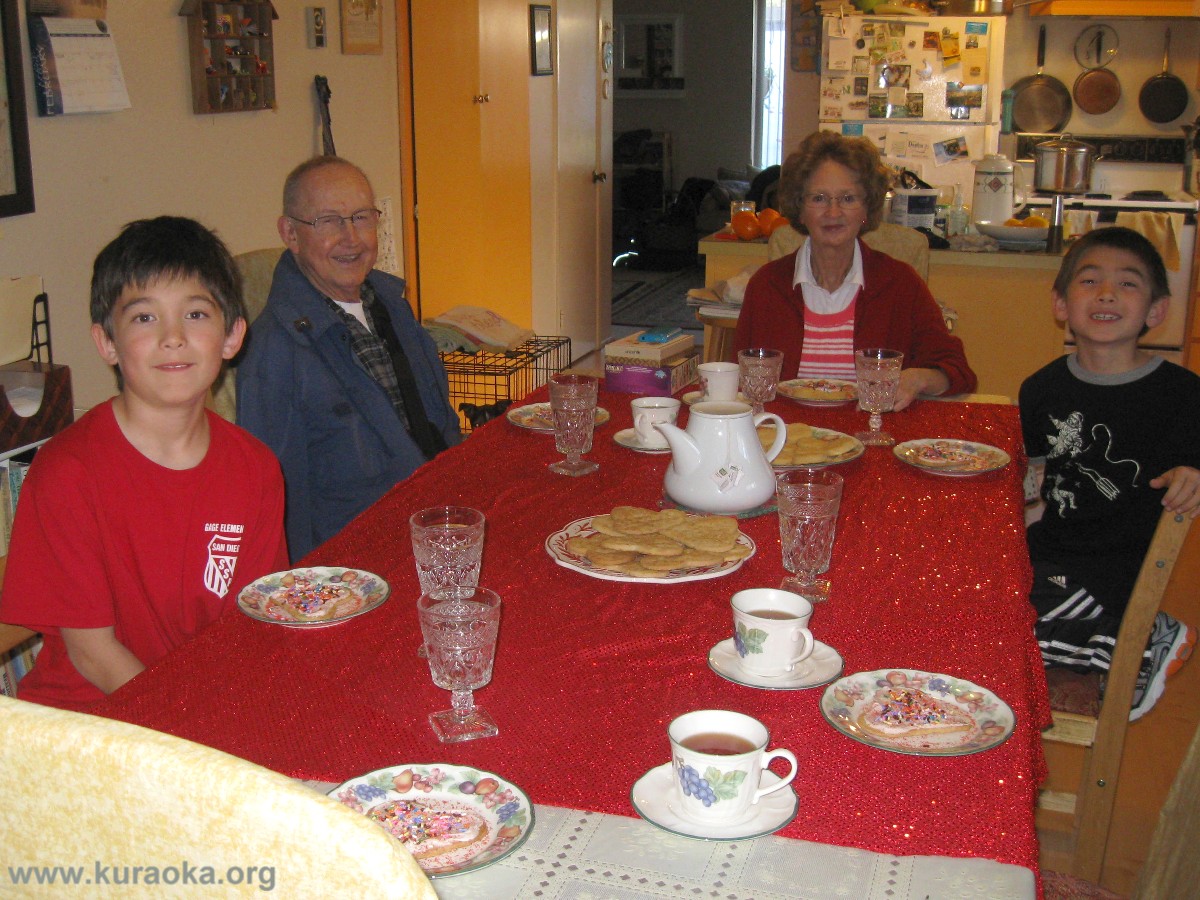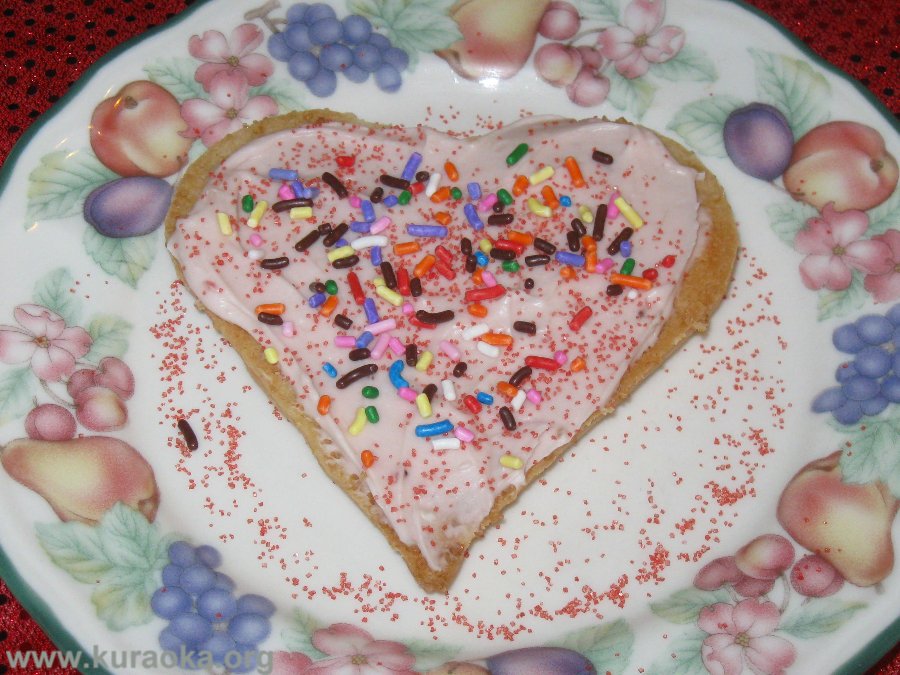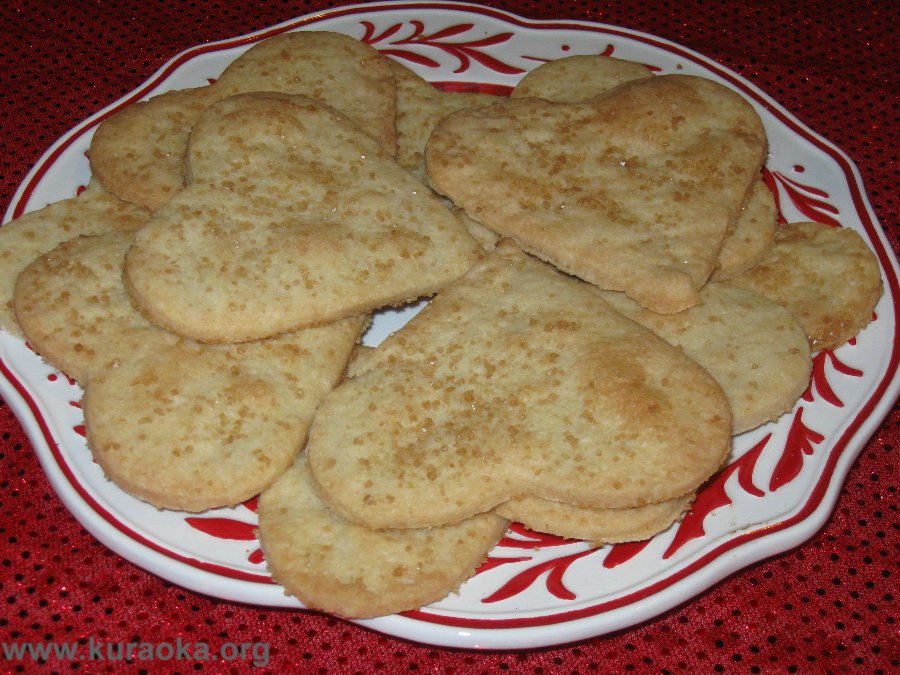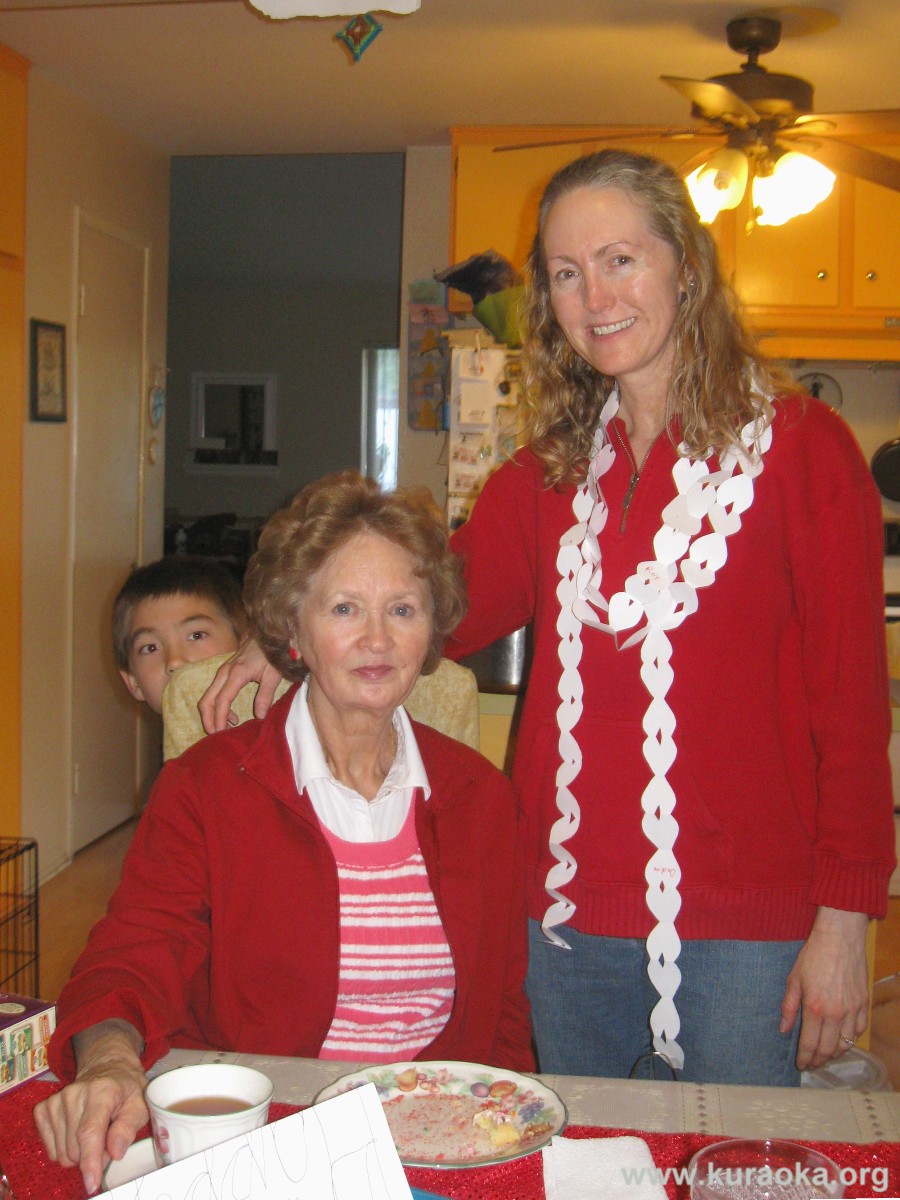 Monday evening, John took Roy to judo. While Roy did judo, John ran until it got too dark.
Tuesday was the Boy Scout meeting. Lucy and Tim had both been to the Scout Shop, and had bought all the accessories for all of us. The "0" patch with which to replace the "1," turning Pack 951 into Troop 950. The green epaulet loops. The Boy Scout handbook. The merit badge sash. The Scout belt and buckle. Wow! What with the upcoming outings to pay for, the checks were just flying out of our checkbooks. Roy got up his courage and asked the Assistant Scoutmaster, Ed Keim, for a Scoutmaster conference, the last thing he needs to earn his Scout rank.
As for the rest of this week, we've been very busy – a positive problem! John has been working on a massive project – ads and brochures – for Telos Systems, a maker of broadcast telecommunications equipment, as well as ads for Plus Diagnostics. Ondine has been working on editing her novel.
Old Business Dept. We'd mentioned that we had Roy re-tested for the GATE Seminar program, at the urging of several of his teachers. We received the results last week: he's continuing in the GATE cluster.
Weather! We had some late this week! A storm came through mid-week bringing occasionally heavy rain. Then, Friday, another storm hit, dropping 4-10" of snow in our local mountains and about 3-6" of rain here!
Because of the weather, a planned Boy Scout campout to Ocotillo Wells in the desert was cancelled. That left Roy and John without plans, while Ondine and Leo had already made plans for the weekend on their own.
That brings us to Saturday, a wet, cool day with gusts of heavy rain. Because the campout was cancelled, Roy's patrol, the "Ruby Searpants," had its first patrol meeting, at Max's house. Roy had scheduled a Scoutmaster's conference with Mr. Keim for his Scout badge. He passed with flying colors! John had told Ed that all the Scouts from Pack 951 should be ready for their Scout rank, and since Roy had done so well Ed called up Michael, Alex, and David for conferences. They passed too! So now they are fully fledged Boy Scouts, working toward their Tenderfoot rank.
Buddy went to the Kahoots vet for a heartworm test and to get a prescription for his flea/tick/heartworm drops. Then Ondine and Leo went to Balboa Park for the day, where they spent hours lingering at the Reuben H. Fleet Science Center. John and Roy, meanwhile, stopped at the grocery store after the patrol meeting, and then went out to get pizza at Mountain Mike's to celebrate Roy's passing the Scout rank especially by asking for his own Scoutmaster conference! Then, Roy and John settled down with their pizza in front of the TV and watched Titanic.
When Ondine and Leo came home, they were both tired and happy. They'd had pizza for lunch too! And, we had pizza for dinner – yum!
Sunday the rain stopped and the sun is peeking through the clouds. Leo's schoolfriend Ben came over to play, and Roy went to Alex's house. After Ben left, the doorbell rang. It was Ekrem and his mother, who now live in Sacramento! They were in the neighborhood, and stopped by to return a ball of ours that they'd apparently been meaning to give back to us for years.
President's Day is Monday, and there is no school, so the boys will be home all day. But, it's a regular workday for us! Sigh.
Neighborhood gas prices are about $3.55 per gallon and expected to rise.
To see what we're up to now, visit our regularly updated weekly journal!
Back to the Archives page
Back to the Kuraoka Family main page
Forward to the current Weekly Journal.