The Kuraoka Family Weekly Journal
www.kuraoka.org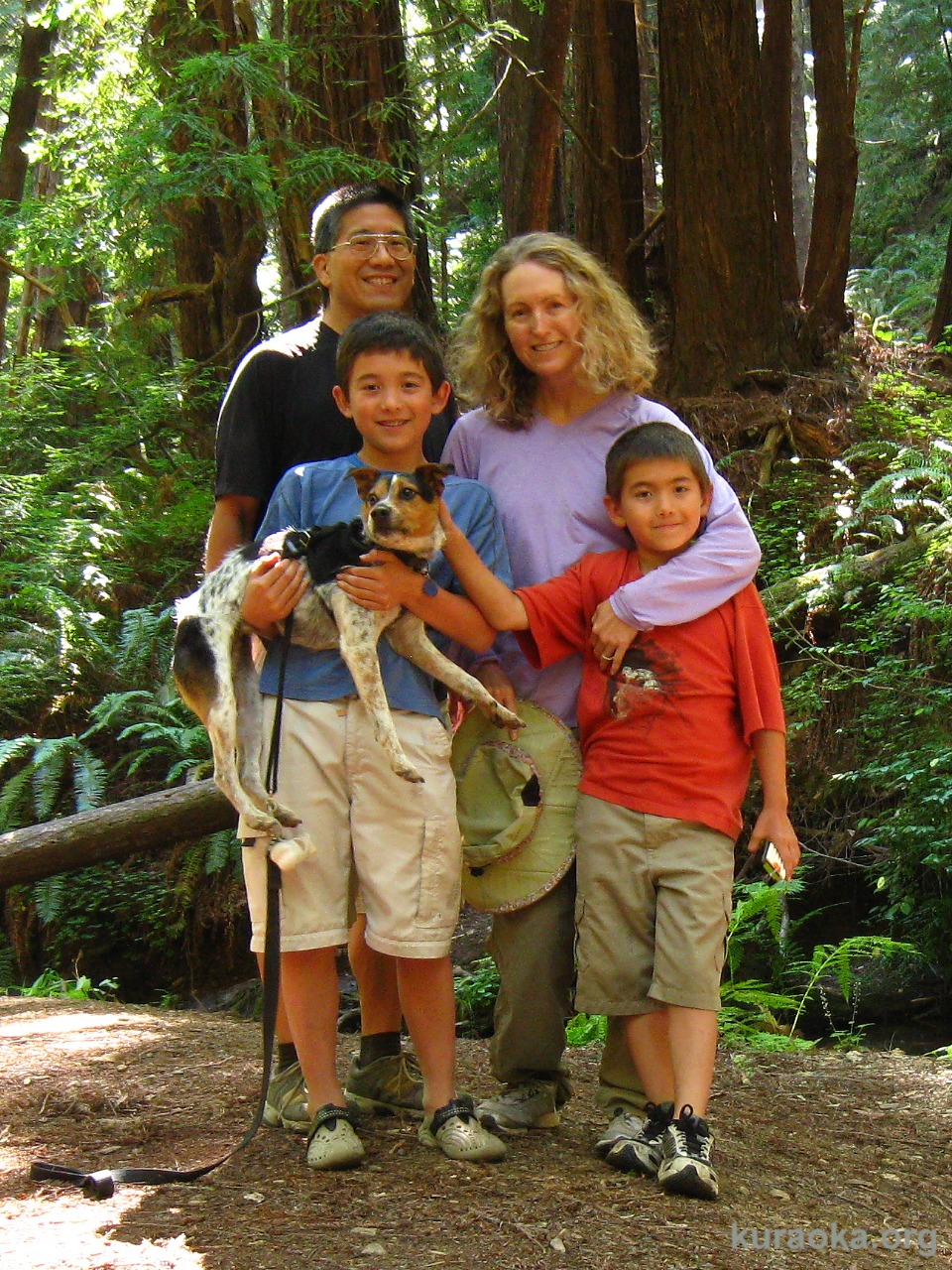 Us in the Redwoods, August 14, 2011: John, Ondine, Roy, Leo, and Buddy
Wednesday, February 29 2012
Happy Leap Day! As if we held off posting Monday's update to celebrate. Looking back at past journals, Leap Day 2000 was week 26 of our pregnancy with Roy - his estimated due date was May 29. On Leap Day 2004, the longest grocery store workers strike in US history ended, gas was $2.21 per gallon, and we had committed to going to Germany for six weeks. Leap Day 2008 saw Bill returning from a ski trip to Alta, Utah with his cousin David (516" of snowfall that season, atop a 145" base!), and gas prices around $3.39 per gallon.
We know we had a busy weekend but we can scarcely remember what we did. John took the boys to judo Saturday morning as usual, while Ondine cleared house with Barbara's help. After lunch Ondine gardened in the front yard (and Barbara again pitched in) while the boys played outside.
Storymakers. Saturday evening Ondine went with Lucy to Storymakers, the women's writing group, to hear a friend do a presentation based on a book Ondine had recommended to her! It was one of those "Writer's Book of Days" books, with daily writing exercises. Ondine's friend had faithfully followed the book, and talked about her year of self-discovery.
Leo had a yard sale on Sunday, ridding his room of a bunch of books, toys, and odds and ends. He had his usual generous customers in Grandma Baba and Mr. Hanna, but also attracted a family with kids who bought a lot of stuff.
Roy made hot cocoa to sell, splitting the proceeds with Leo. And, Roy got the book he's been wanting, Catching Fire, the sequel to The Hunger Games. He plowed through it in a couple days. Now he wants the third book, Mocking Jay.
Tuesday Roy had an appointment with the orthodontist. All was well, and some adjustments were made to his braces. That evening was Troop 950's meeting and birthday celebration - with cake!
John ordered a new laptop! It's a 14" Dell Vostro 3450, ordered from the Dell Outlet. It has an Intel Core i5 2430M two-core processor running at 2.4 GHz with Turbo Boost 2.0 to 3 GHz, 6 GB of RAM, a 320 GB 7200 RPM SATA II hard drive, and Windows 7 Professional. It was an "Outlet New" model (it was ordered and built but never shipped) for $469 - or $505 after tax and environmental disposal fee. John is looking forward to a non-glare screen, smaller footprint, and better keyboard - all improvements to his current 15.6" consumer-grade Dell Inspiron 1525 (which works fine except for a sporadically balky power-up). The Inspiron was also bought from the Dell Outlet, as a Certified Refurbished unit, for about $400 in September 2008; it has an Intel Celeron 550 2.0 GHz processor with 2 GB of RAM, a 120 GB hard drive, and Windows XP.
John has a long history of mobile computing: an IBM ThinkPad T22 (Pentium III 900 MHz, 512 MB RAM, 30 GB hard drive, and Windows XP, bought used for $400 in mid-2004), a Hitachi E100-D (Pentium-100 MHz, 32 MB RAM, 3 GB hard drive, used, $250 sometime around 2002), an IBM ThinkPad 500 (486-SLC-50MHz, 12 MB RAM, 160 MB hard drive, used, $950 in 1996), a Zenith SuperSport 286 (12/6 MHz, 2 MB RAM, 20 MB hard drive, used, $1,250 in 1991), and a "portable" Commodore SX-64 (64 KB RAM, 5-1/2" floppy disks and program cartridges, bought used for about $800 in 1987). His Dell Vostro was shipped and is scheduled to arrive Friday; according to online tracking it just left Nashville, TN.
The Dow closed Tuesday over 13,000 points for the first time since 2008, a financial milestone.
Weather! We had a rocking thunderstorm roll in late Monday evening. The peals of thunder rolled from one side of the house to the other, making Buddy come scampering into the living room for Ondine's protection. The boys slept right through. But the storm dropped over an inch of rain in the city, and a foot of snow in the local mountains! We caught some tail-end gevitter Tuesday morning, and the Hearst running field was squishy and puddly - there was no running club that morning! A second, smaller storm may hit this evening.
Car stuff! Tuesday, John took Ondine's car to have its oil changed, a process that means she has to move all her stuff from her car to his. He double-booked the morning, dropping off the car and then walking to a nearby Coco's where he met with Jose for a couple hours. He paused at Kaiser for over-the-counter stuff. When he picked up Ondine's car, he booked his car's oil change.
Today after school Roy plans to audition for a part in Pershing Drama Department's Spring production of Grease - he wants to be stage crew again. Leo has a minimum day, but an after-school Spanish class. Ondine is working mostly from home, making and waiting on calls, and organizing.
Neighborhood gas prices continued to rise, and are the nation's highest at around $4.45 per gallon.
Back to the Archives page
Back to the Kuraoka Family main page
Forward to the current Weekly Journal.