The Kuraoka Family Weekly Journal
www.kuraoka.org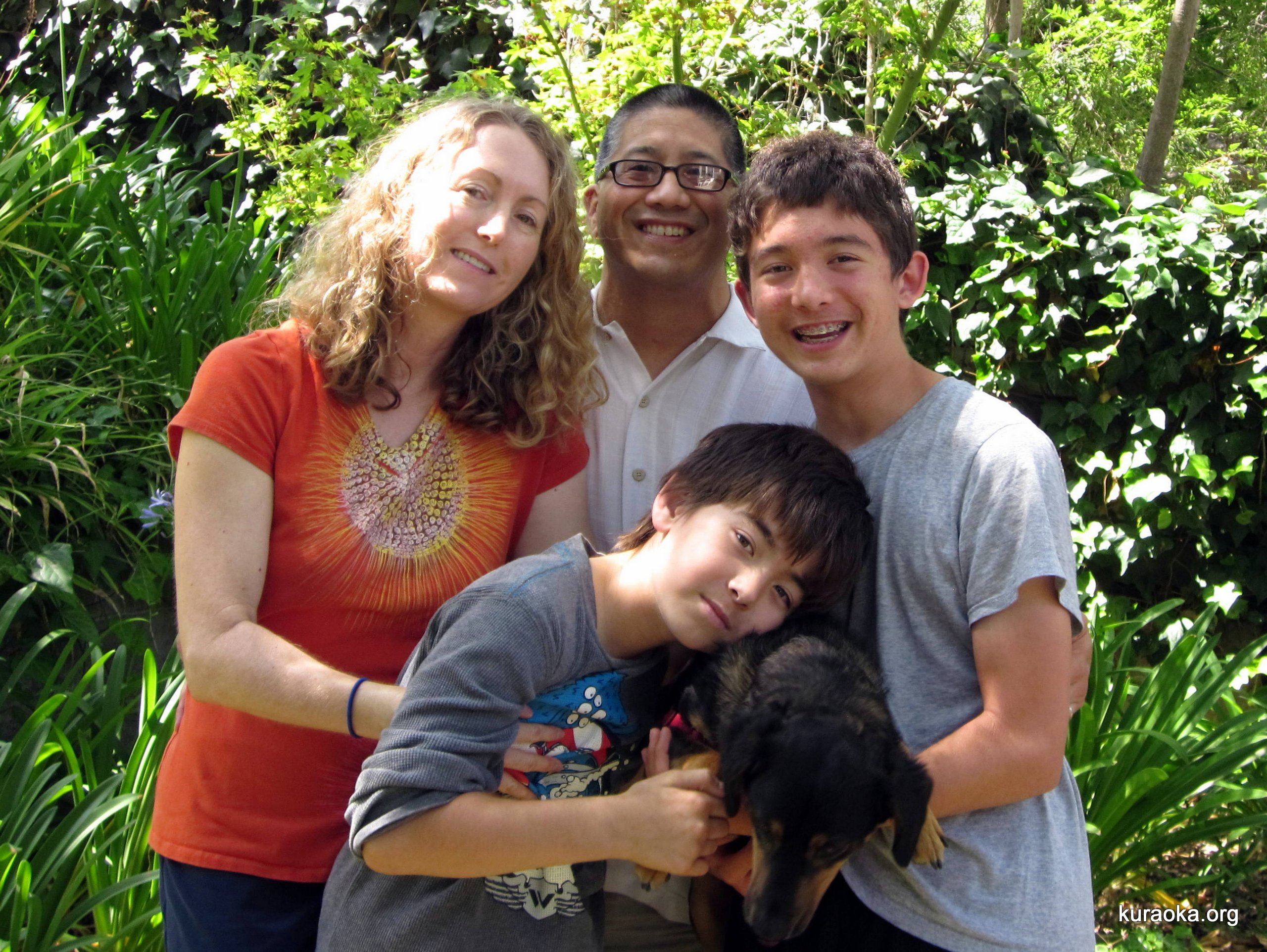 Us, June 16, 2014: Ondine, John, Roy, Leo, and Shadow
Wednesday, March 18, 2015
Hibiki is here! We're hosting a high school exchange student for ten days, and time is really flying. Hibiki came in Saturday evening, so we had a pretty typical Saturday. John took the boys to judo and Ondine went on a cleaning rampage. The house looked great at 6:00, when John and Roy went picked up Hibiki at Patrick Henry High.
Hibiki had turned 16 two days before arriving here. The group had flown into L.A., had burgers for lunch, then got on a bus from L.A. to San Diego. The bus arrived right on time, and a crowd of Japanese high schoolers emerged with rolling suitcases in tow, mostly girls, but a few boys at the back. Hibiki was one of them. John, Roy, and Hibiki stopped at Cotija Taco Shop to pick up an assortment of burritos and rolled tacos before coming home, and that was Hibiki's first meal here.
He was very jet-lagged and tired, of course, but seemed to enjoy the burritos and salsa. He has a 12-year-old brother named Takuma, so he's accustomed to a young kid like Leo! He also connected with Shadow, who for his part loved having another person in the pack.
Sunday Leo made waffle batter, so we had waffles for breakfast. Then, we discussed various things to do. Hibiki looked on his phone and decided he wanted to go to the U.S.S. Midway, and we're always happy to go there!
We arrived not too long after opening, had our picture snapped, and took in the sights, including the flight deck, hangar deck, the mess halls, and the island tour. Immediately after lunch on the fantail, the younger set opted for a virtual fighter mission in Afghanistan. We enjoyed watching them on the monitors outside. We also checked out the pilot's ready rooms. Here we all are: Ondine, Leo, John, Roy, and Hibiki. Then, Ondine, Roy, Hibiki, and Leo in ejector seats! Hibiki and Leo climbed into a military jet trainer on the flight deck. Last, Leo, Hibiki, and Roy on the whisker at the bow.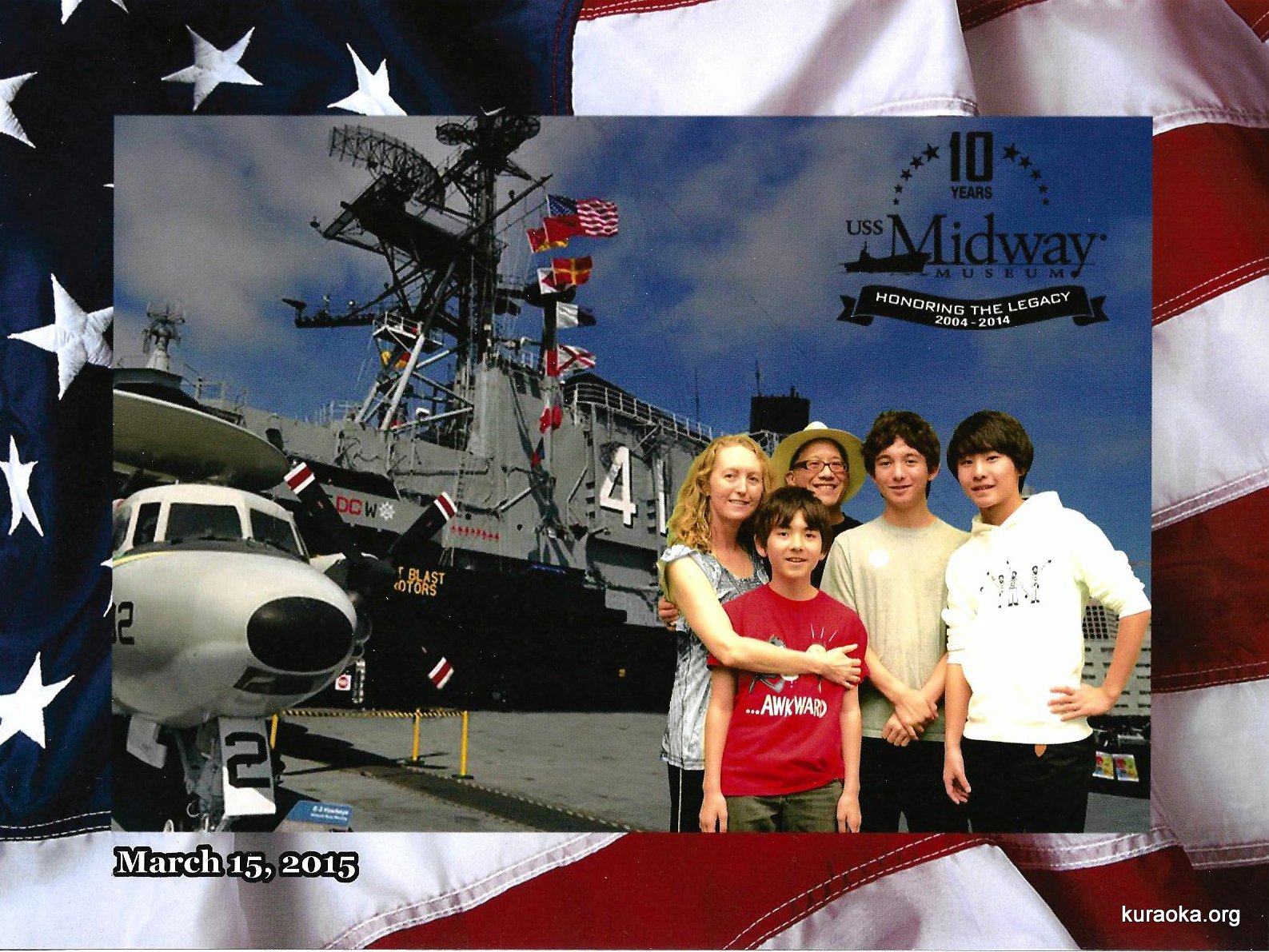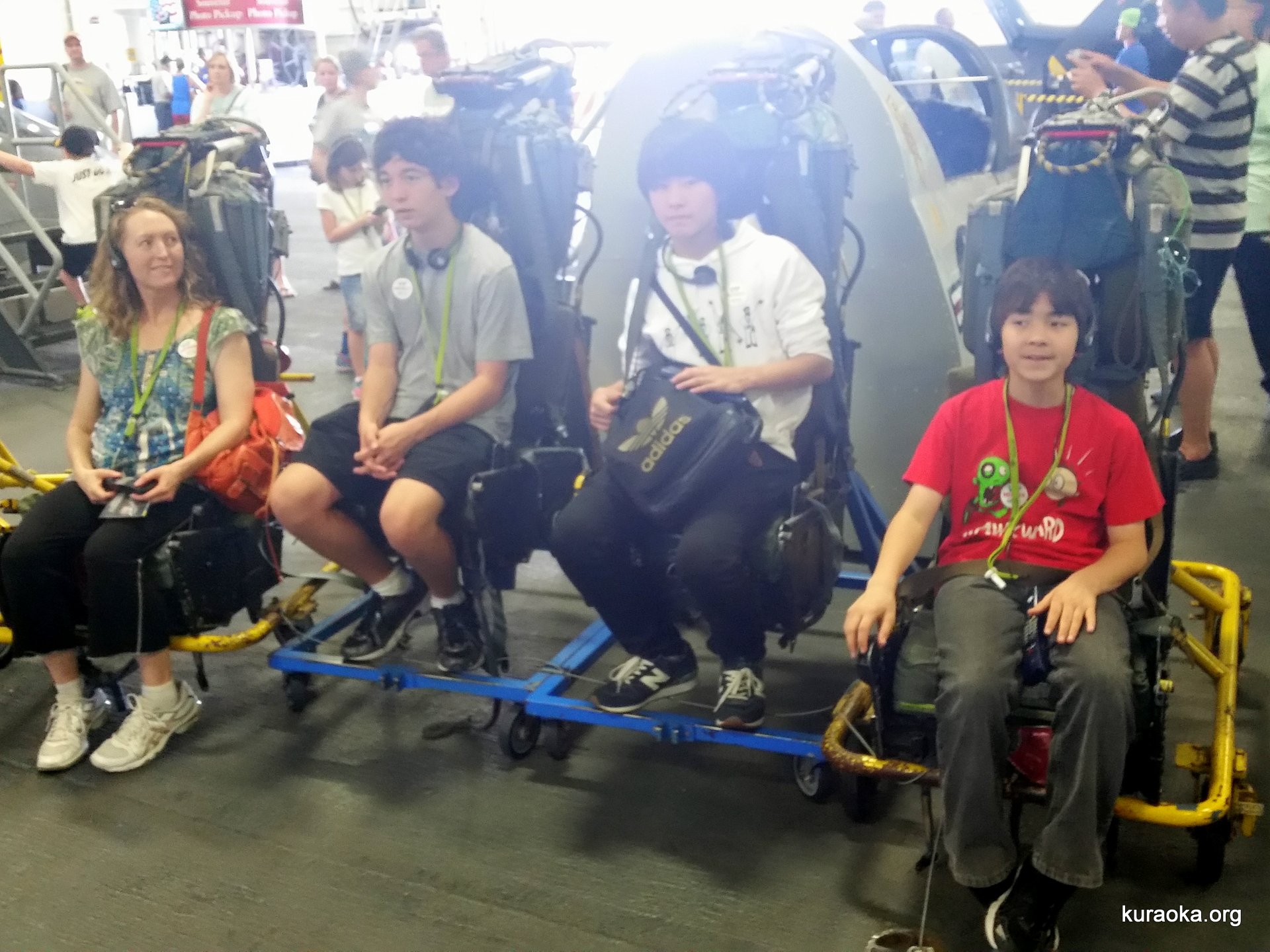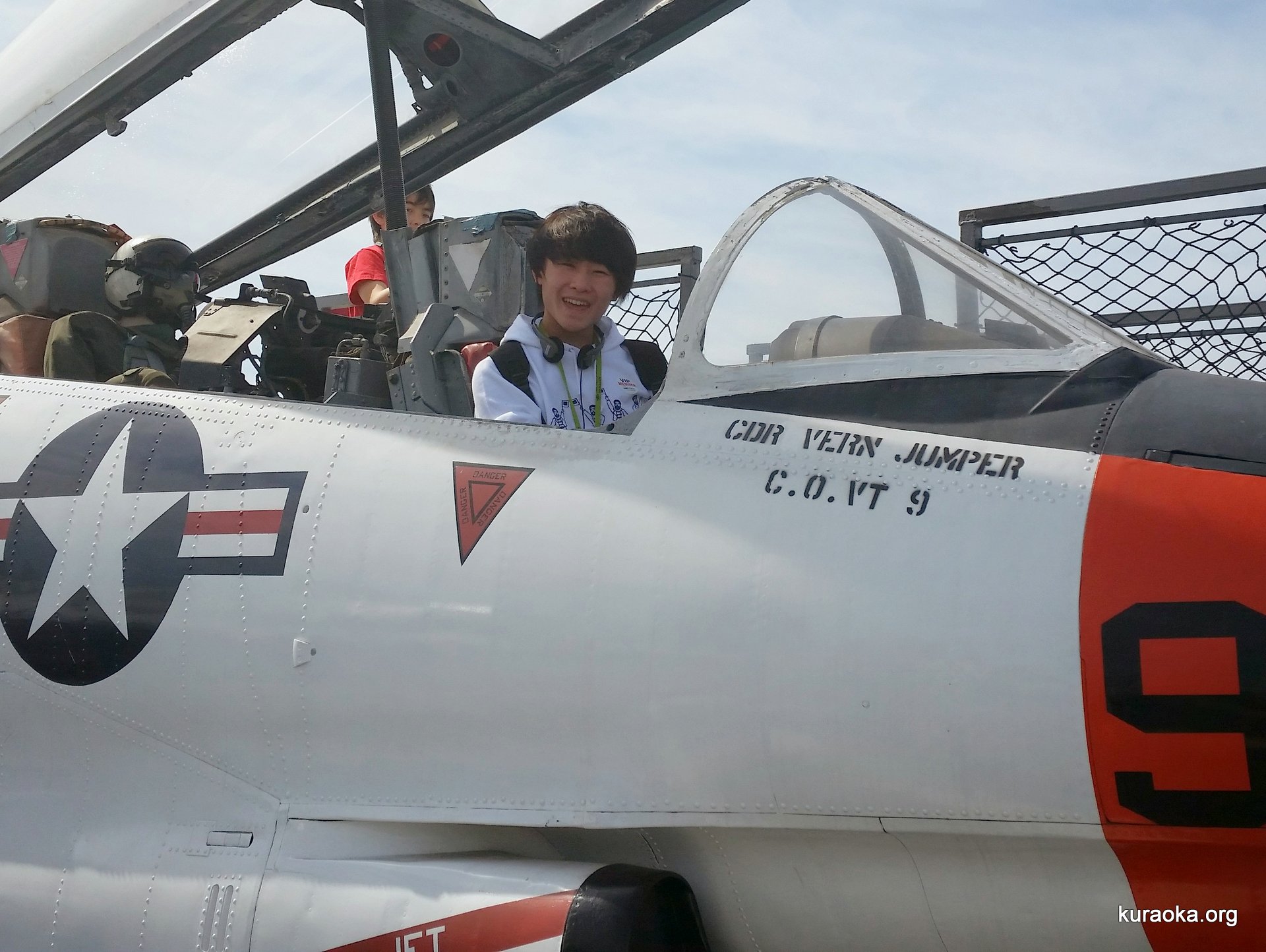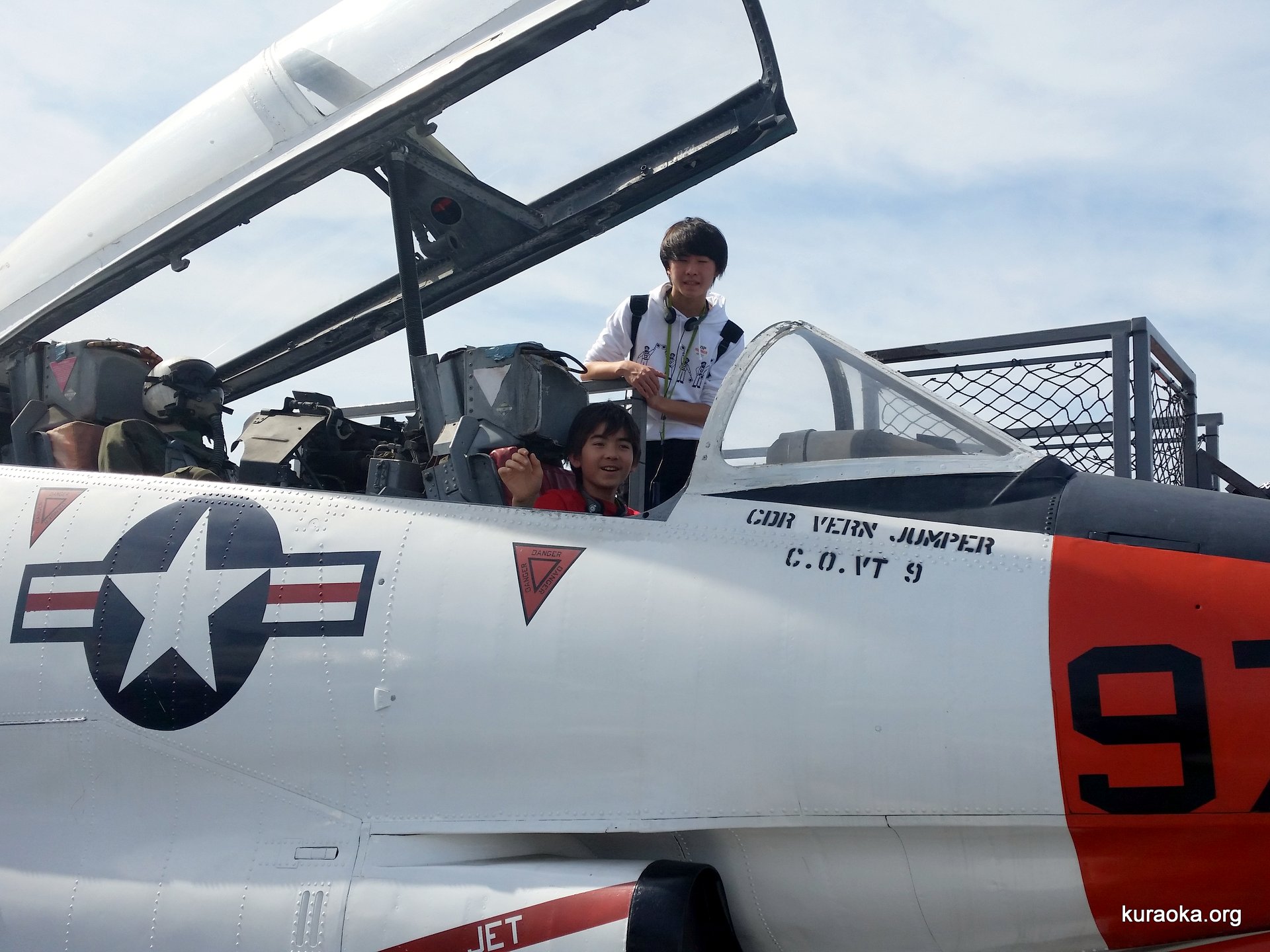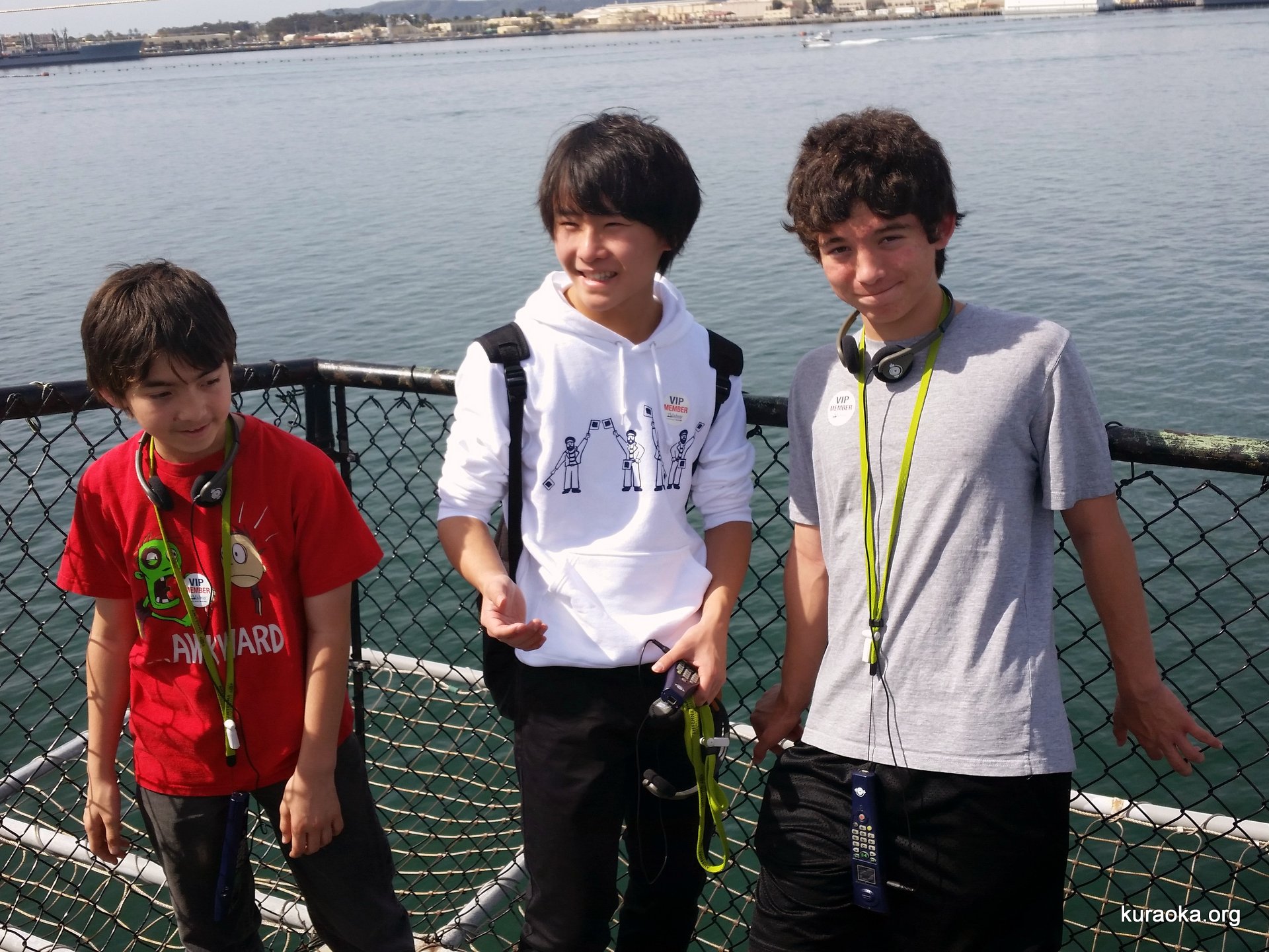 The other notable event, is that John lost his phone! He took it out to silence it at the beginning of the island tour, obediently following directions. Then it vanished! He thought he must've shoved it into a different pocket, but by the time the group climbed the ladders to the first stop, primary flight control, he'd searched himself and started searching his pack. When the group moved on, he alerted the docents, who scoured the area where we'd been to no avail. At lunch, he methodically removed everything from the pack, but no phone turned up.
He had a tracking app on his phone, and engaged it remotely to sound an alarm. Nothing. The map showed it somewhere in the parking lot, of all places, but right in line with where we'd been sitting to take the tour.
Over the next two days, the tracking app showed no significant movement.
Monday morning Hibiki went to school with Roy and shadowed him through all his classes. He also met Roy's buddy Alex, on the drive over, and Roy's other friends at school, including Michael, Stephen, and Luke. Hibiki especially enjoyed the Japanese class - the teachers had arranged for the Japanese students to sing a song in English, and the Henry students to sing a song in Japanese! We're not clear yet on whether there was any movement or dancing involved.
Meanwhile, John worked and then made a quick trip back to the Midway to search for his phone, armed with Ondine's phone and determined to listen for the tracking alarm. The parking lot attendant let him in for free, long enough to check in with the visitor's center and look around where it had gone missing. She even suggested that he look on top of her booth! (He did, and it wasn't there.)
Tuesday Hibiki went to Old Town with his group! They spent the day there, and had lunch at a Mexican restaurant. Hibiki had chicken tacos.
John, meanwhile, developed a theory as to why the tracking app showed his phone on the pier, and also to explain why he never heard it hit the deck: it was actually under the pier! So, he gave up and resigned himself to buying a new phone.
Best Buy refused to price match either Sprint or Amazon, so he ended up buying directly from Sprint. He got the same phone as before, a gold Samsung Galaxy S5, with an all-black Otterbox Defender case.
And this time, he got the additional phone insurance with it, although he'll probably cancel it after about a year or so because the cost would start to exceed the replacement cost of the phone.
Plus, he got a free Samsung Galaxy Tab 3 7" Android tablet computer when he downgraded his service from unlimited data to a 2GB data plan! He's never used more than 1 GB of data in a month, so he feels pretty safe. Most of the time, he's in his office at home so he's on our wifi network. So: free tablet, cheaper monthly services, not bad! Too bad he had to lose his phone first.
The very moment his replacement phone was activated, a text came through from Jose asking if he could meet at Tea N More. Of course, that's another suggestion for which we need no urging, so as soon as his phone was up and running he met with Jose and started work on a new project.
Wednesday Hibiki and his group went to Balboa Park and the San Diego Zoo! And, Leo had after-school coding club. So John picked up Roy at 2:30, Leo at 3:15, and Hibiki at 5. He had a busy afternoon! Ondine is off on a two-day job training in Irvine, where she'll be staying overnight. So tonight it's just the guys!
Neighborhood gas prices dropped to $3.49 per gallon for regular unleaded.
Back to the Archives page
Back to the Kuraoka Family main page
Forward to the current Weekly Journal.