The Kuraoka Family Weekly Journal
www.kuraoka.org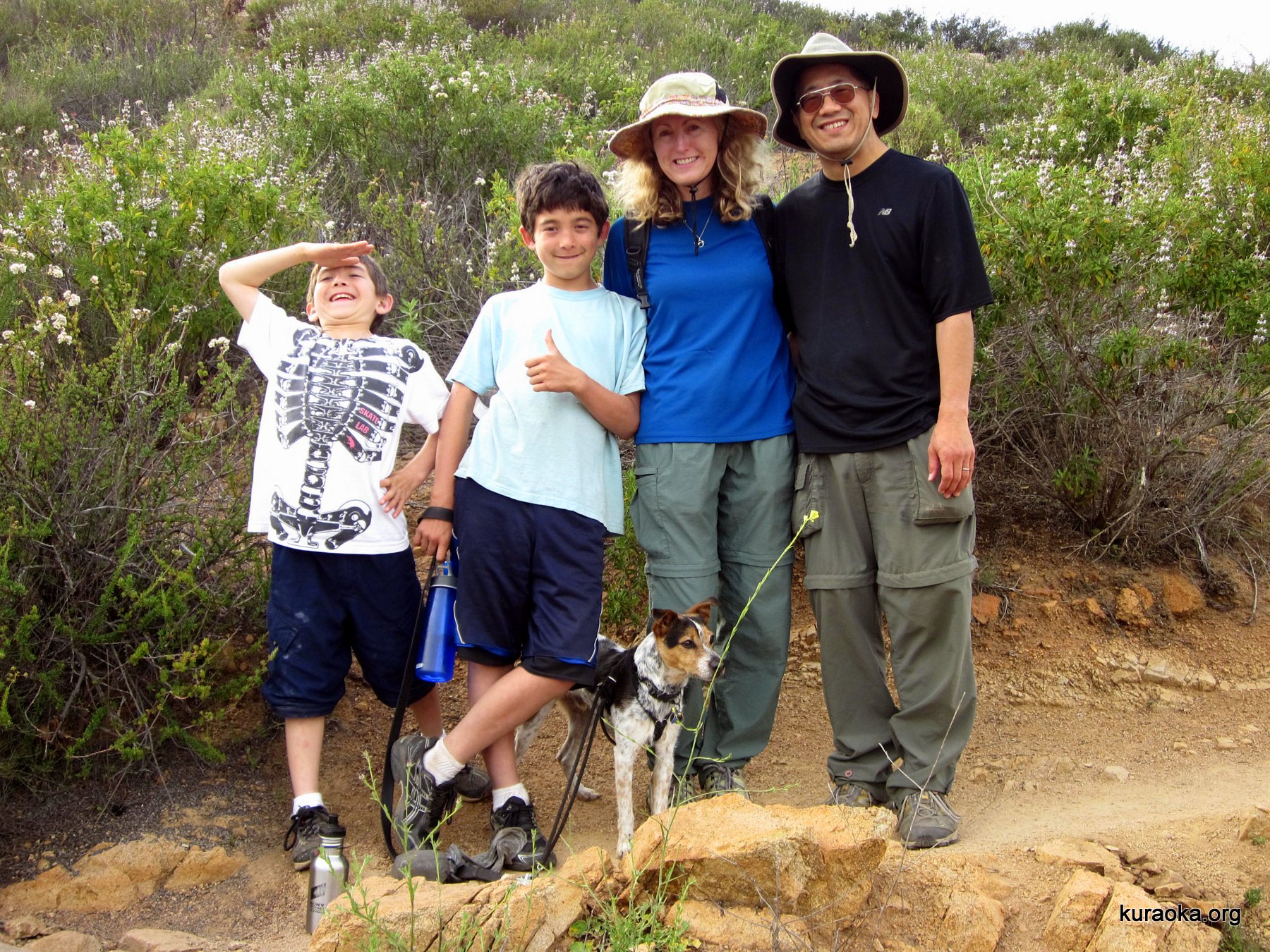 Us, April 29, 2012: Leo, Roy, Buddy, Ondine, and John
Monday, April 30, 2012
Leo had yet another overnight school field trip at the beginning of last week, this one to the Californian, a wooden sailing ship. Not all the kids in the class opted to participate in this trip, so Leo was one of the fortunate ones.
The kids played the roles of crew members making a trading run taking salt cod from New England to the Caribbean to trade for molasses to take to Boston - a sort of edited-for-modern-sensibilities Triangle Trade route (the real thing would've had slaves or rum in there somewhere).
Leo said the food was terrific - fish sticks and corn chowder for dinner, cereal and oatmeal with brown sugar and raisins for breakfast. The kids were divided into work crews. Leo's crew was tapped for a night watch, from 11:30 to 1:30 am! They got to ring the bell indicating time and everything. And, they had to watch for pirates! A pirate apparently came aboard during one of the other watches, and "stole" some of their cargo of salt cod.
The next day, Tuesday, they sailed the Californian around the bay, and all the kids got to steer! They steered in pairs, under the watchful eye of the captain, who gave the orders. So, Leo has steered a tall ship across the bay!
Then, to top everything off, the staff fired off a cannon! Leo said this field trip was the best one ever.
Field trips past - A couple weeks ago, Leo went to Indian Hills for an overnight school field trip. He managed to bring everything home except his heavy jacket! It's a good jacket, waterproof, well made, and roomy. So, Tuesday, John drove all the way out to Jamul to retrieve it. It was a nice drive, though, and being at Indian Hills reminded John of many good times with Pack 951.
Staying with John for a moment - he went to Target to buy provisions for our weekend camping trip and found two hats on the clearance rack for about four and five bucks each! One was a floppy hat (a "waxed cotton fedora") and the other a gray and black tweed fedora with a stingy brim - a very narrow brim with a kicked up back like mods wore.
Well, he was modeling the tweed stingy brim fedora for the peanut gallery (who responded with "cool" and immediately returned to whatever they were doing), when he noticed Buddy staring fixedly at the hat. So he took it off. Buddy's eyes went from the hat to John's head and back. John let Buddy sniff the hat, which he did, cautiously. John donned the hat again, and Buddy stared at it more, as if in disbelief. Ondine thinks it's because the fuzzy tweed hat looks like the rest of John's fuzzy tweed head!
We went camping this last weekend, which is why there wasn't time for an update Friday - John was busy packing the Piggy Pack and strapping it to his car. He picked up Leo at school, came home, and finished packing the trunk and strapping on the bike rack and bikes. Roy and Michael arrived, and they all piled in and headed out!
They stopped at Cotijas for burritos for the road, and whom did they meet? Vlado, Christina, and Nina, out for the same thing! Michael was probably horrified to find his family there.
The Laguna Campground is right off Sunrise Highway, just past the general store. The sign in front says Laguna/El Prado - El Prado is the big group campsite. Ernesto had gone up earlier Friday to hunt, and got two sites right next to each other - sites 35 and 37. They were great sites, with views of the water but high up.
Roy and Leo set up their tent and went off with Alex and Michael riding their bikes around the campground. John set up his tent and kitchen, and settled in for a spot of tea. As evening fell, he made bratwursts - he'd forgotten to get rolls - and ended up feeding all comers: Roy, Leo, Michael, Alex, Colin, and Trevor. It was a good thing he'd eaten his fill with the burrito because there was nothing left!
Everyone adopted the Fernandez' site as the central group area. John was on a lower flank by himself, and Kiko had Mandy, Colin, Trevor, and Mandy's friend set up across the street. Like Ondine, Deanna joined the group Saturday.
Vlado, Henrieta, Christina, and Nina arrived as the light started to fade - they'd had to wind their way over to the Lagunas from the 79, the same turnoff that John almost took, except that Michael knew where we were going.
With most of the group there, except for Ondine and Deanna, we settled in to gaze into the campfire. The kids roasted marshmallows and orbited the cluster of grownups snugged in close around the fire. Although we'd left San Diego in May Gray, the skies were clear in the Lagunas, and the evening was decidedly chilly.
Saturday morning John set up a fire and one match later had a healthy flame to feed and nurture into a roaring fire. When he had coals he raked it out with a stick and broke out our new Dutch oven! John had scored a Lodge 12" deep Dutch oven - 8-quart capacity - on an Amazon "Gold Box" deal, and was excited to use it. He'd done a ton of Dutch oven cooking during his days as Boy Scout camp staff - first as a "ranger" and then as scoutcraft director - but that was 30-35 years ago!
The boys, meanwhile, had gotten up and our two cadged cereal from Lucy and Ernesto. Ernesto, by the way, was already out hunting.
John made a dish that started with fresh-made sausage, and then browned hash browns in the sausage fat (he had to add vegetable oil because the sausage was so lean). He topped the hash browns with the crumbled cooked sausage, beat six eggs with water and poured that over the potatoes and sausage, and then threw grated cheese atop the whole mess and closed up the pot. He used tongs to pick up coals for the lid. About 20 minutes later he had a huge breakfast! Yum!
Later, Ernesto used the Dutch oven to fry bacon, which was not only tasty but simultaneously cleaned the Dutch oven!
After breakfast, we took a hike together through the marsh around the lake to the second lake. The boys took their bikes, which made for a challenging slog through the grassy, sloshy marsh. All our shoes were soaked through, a refreshing development on a warm, sunny day.
Ondine came up at about 1:30, bringing with her chicken quarters in a bucket with lots of ice, sugar, and a few other supplies. And, Buddy, who had been quite worried, as terriers can be, all the way up, despite Ondine's assurances that they were going to join the pack. Stephen and Linda came up with Stephen (and cookies!), and Deanna came up too.
We lounged around post-hike nibbling on cheese and crackers and other snacks. Stephen and Linda set off on a hike and visited three lakes. The kids went back to the water, where they pretty much stayed all day - at various times the boys were spotted swimming and slodging all the way across to the other side. Lucy, who was sixth-grade chess champion, took on John in an afternoon game of chess that ended when the chessboard got joggled and the plastic pieces scattered. Such is the fortune of chess games while camping! Of course, both players claim that they were just poised to launch the winning attack.
For dinner, John again used the Dutch oven, layering uncooked brown basmati rice, water, carrots, and onions beneath chicken quarters. A splash of red wind from someone's bottle, and salt and pepper - and about two hours of cooking thanks to the load of wood Ernesto had brought back from his hunting trip. Dinner was delicious!
Meanwhile, Stephen had decided to stay overnight and the Gang of Four had decided to sleep in the same tent - four boys in a three-man tent! That tent was rocking until about 9:30, when it suddenly went still and quiet.
Sunday morning the party tent was rocking again well before 6:00. John stoked the coals to get a fire going, and used the coals to make his first peach cobbler in 30 years. Wow, peach cobbler for breakfast, yum! Ondine had brought up bacon, and Ernesto had bacon, so we had lots of bacon too!
After breakfast, our tightly knit group splintered back into families for breaking camp. We packed up and left around 12:30. Lucy and Ernesto took Stephen back, and John took Michael. It was nice having two cars for the return trip because we were able to pack lots of stuff into the Mazda, so John didn't need to use the roof-mounted Piggy Pack.
Here are some photos from the weekend!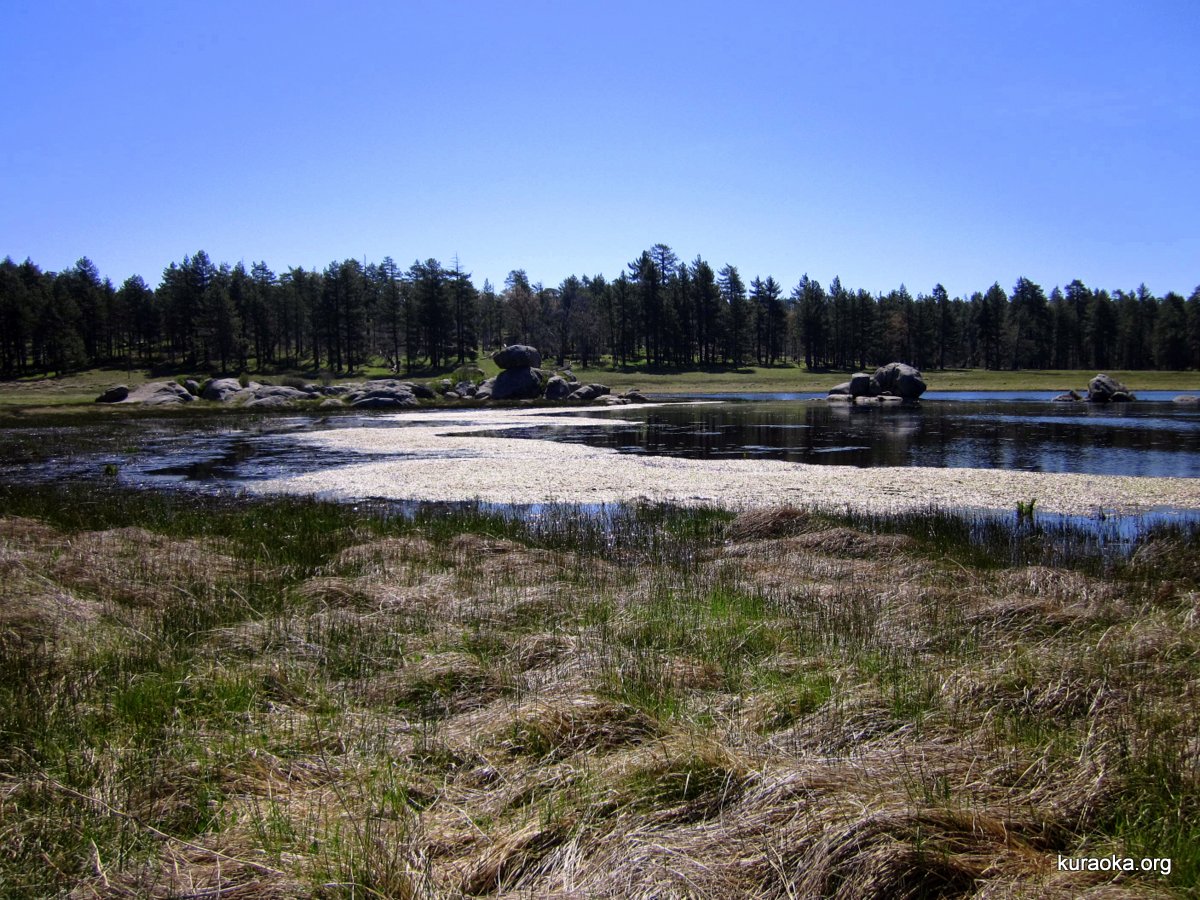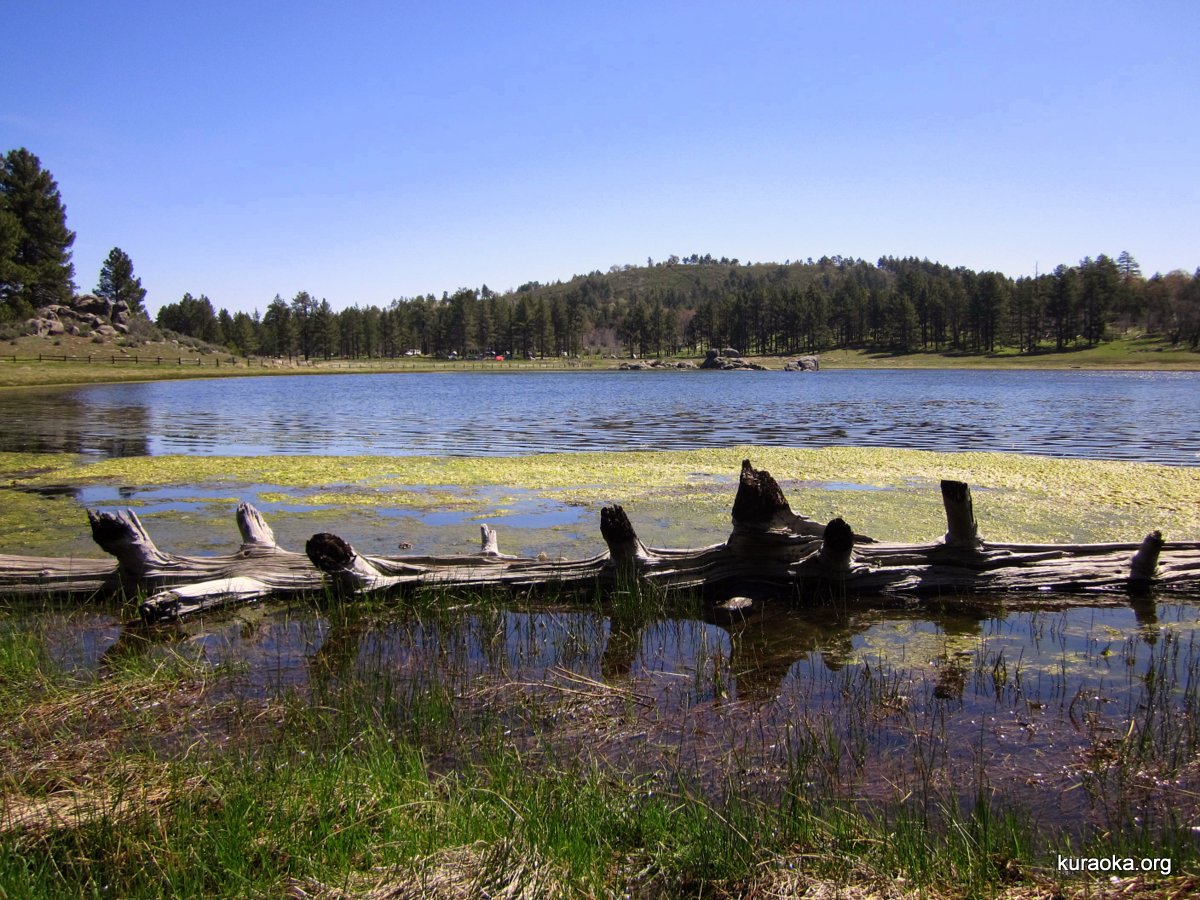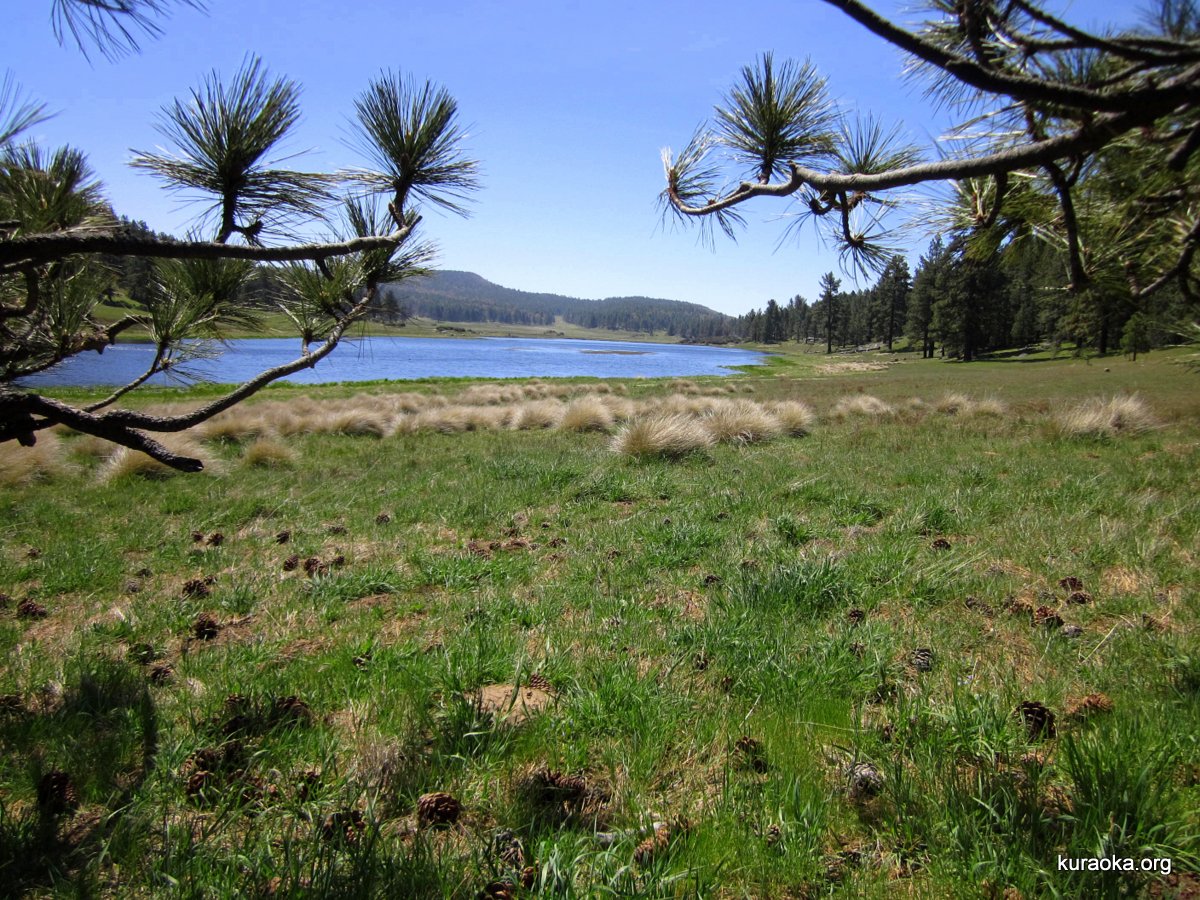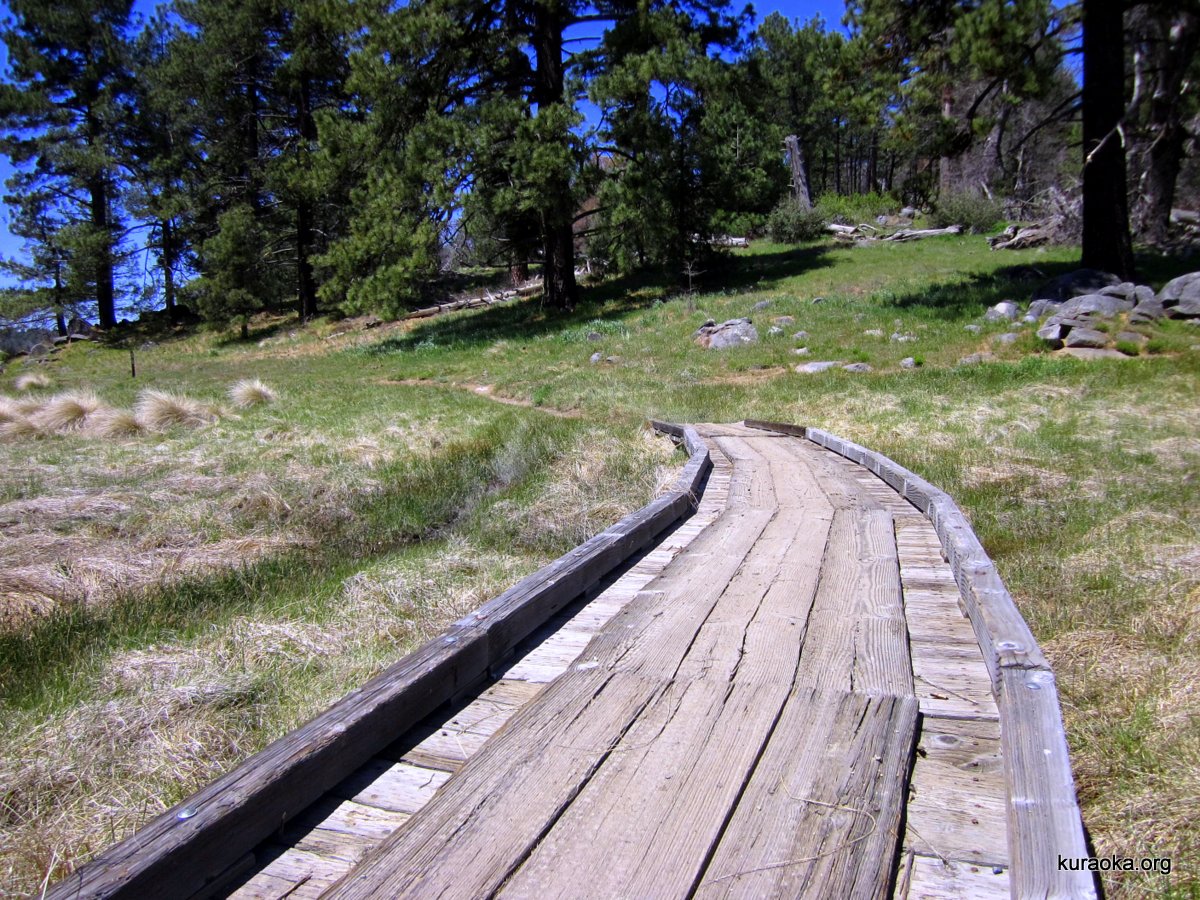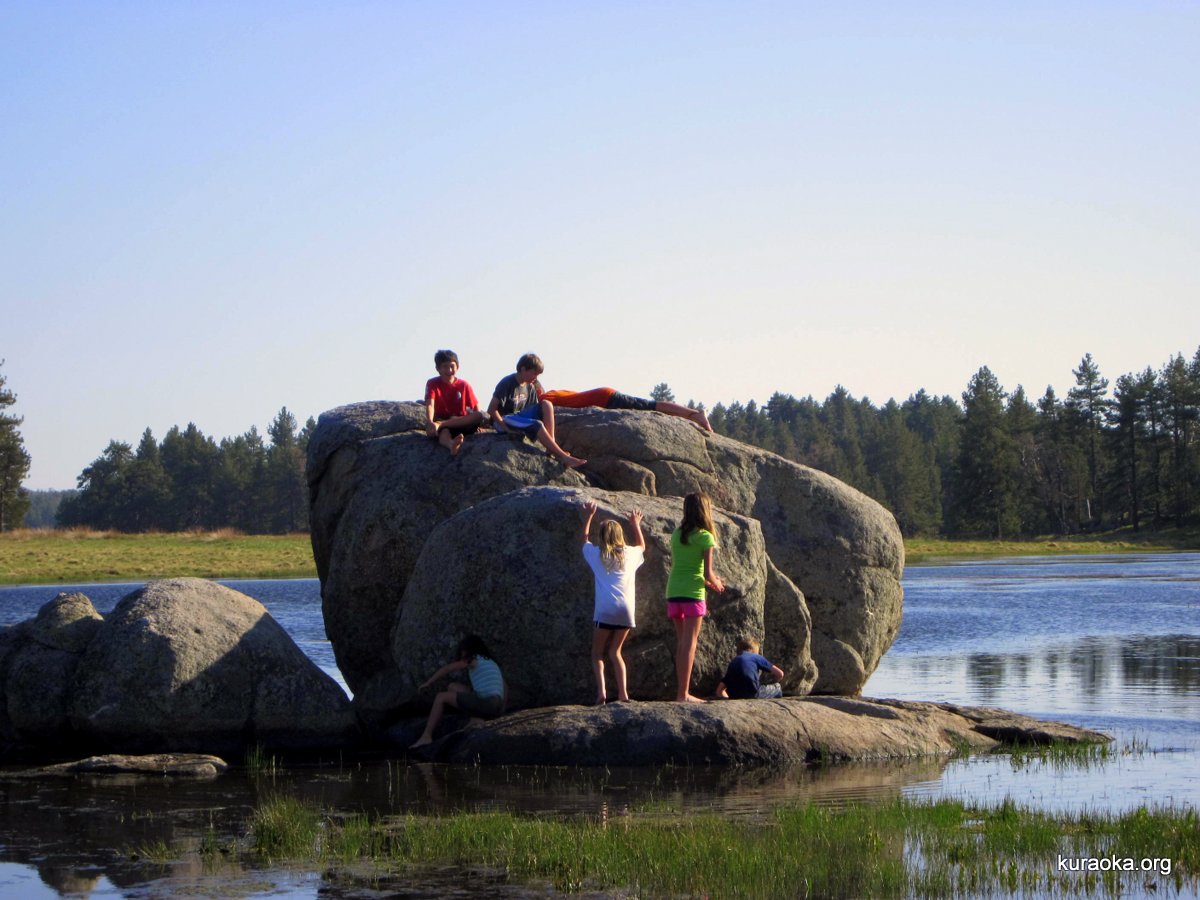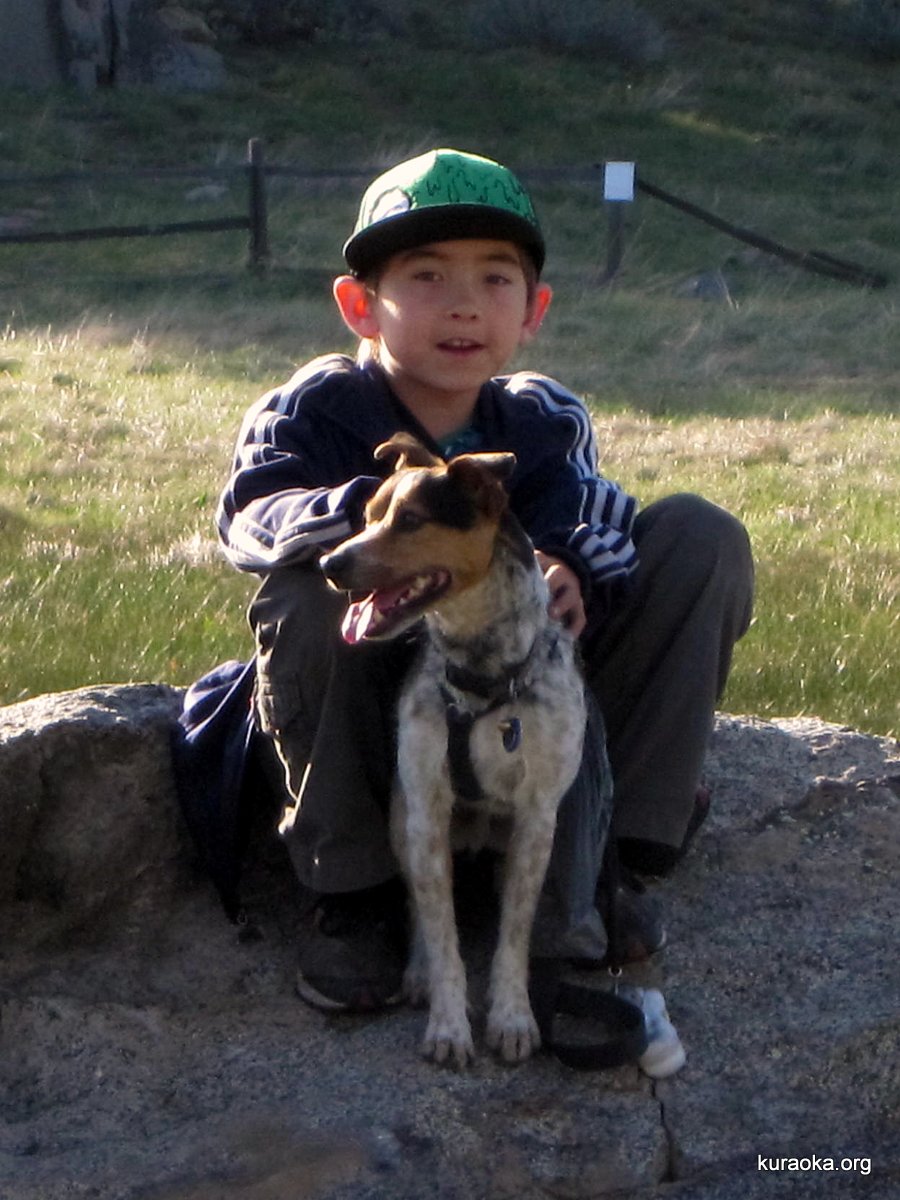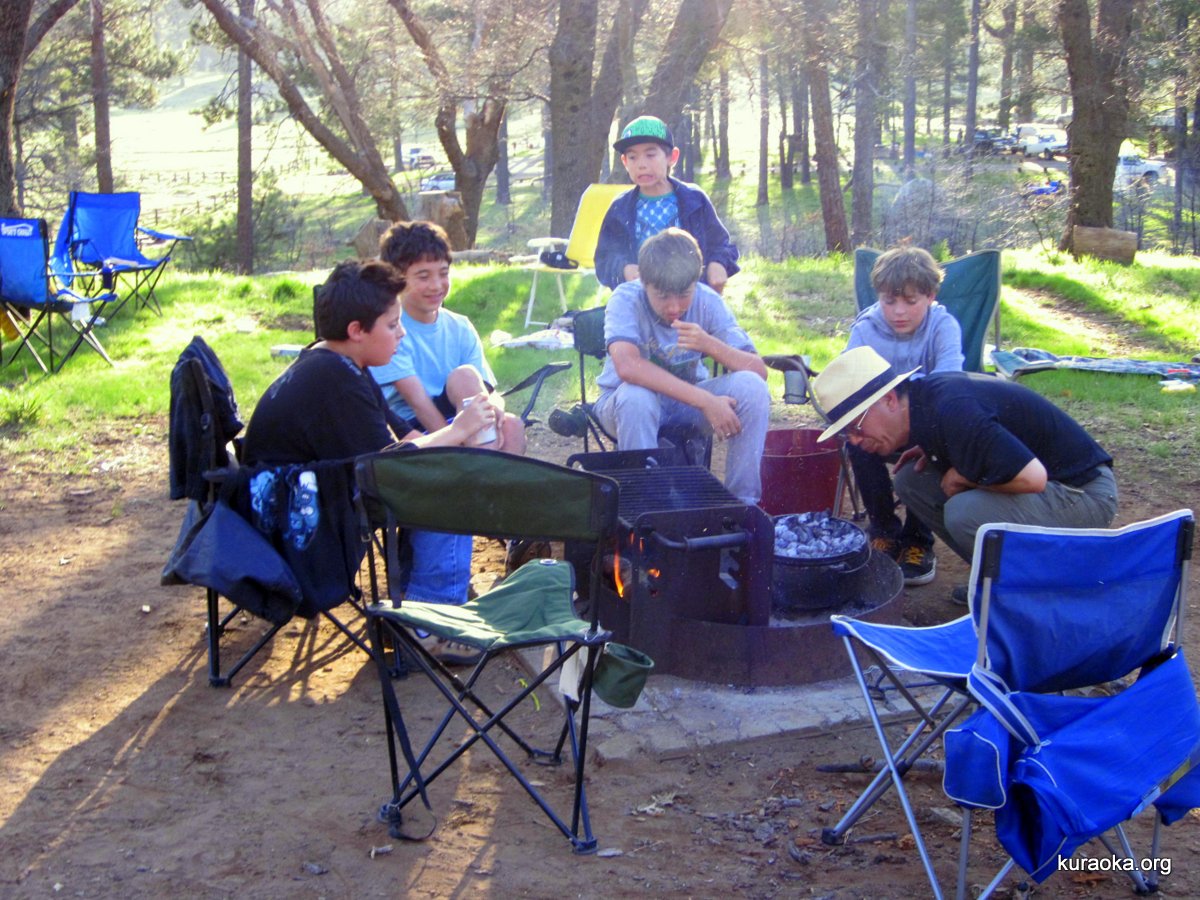 We dropped off Michael at home and John stopped at Cotijas for bean and cheese burritos. Leo had a bath, and then we had a late lunch while watching an episode of Scarecrow and Mrs. King via Amazon Prime.
Bill. In the evening our dear friend Lucy came over and joined us for a hike to the meadow to spread Bill's ashes.
We all trooped next door. Barbara had Grandpa Bill's ashes in a clear plastic bag, which Roy and Leo got to hold. The bag weighed about 8 pounds - like a newborn. We carefully placed Bill in a backpack and carried him up to the place he'd chosen, beneath the lilacs, with a view to the skies where red-tailed hawks circled.
We were debating between two spots, when we noticed a perfect molted rattlesnake skin pointing us to one spot. We took that as a sign - of shedding one's skin, of life moving on - and that's where Bill is. We'd none of us ever seen such a beautiful rattlesnake skin, all in one piece, and long, stretching perhaps three and a half feet in length until the head part disappeared down the hole the snake had clearly used to help it shed. Curious, John pulled it, and it kept emerging from the dirt in a steady progression. We decided to leave it where it was, with Bill. Leo carefully arranged some special rocks and shells for Bill, and Barbara said some words.
Ondine surprised everyone by pulling from her pack two of Bill's favorite things - circus peanuts and chocolate chip cookies! We all had some in honor of Bill. Then, we headed home. Here are some photos, thanks to Lucy!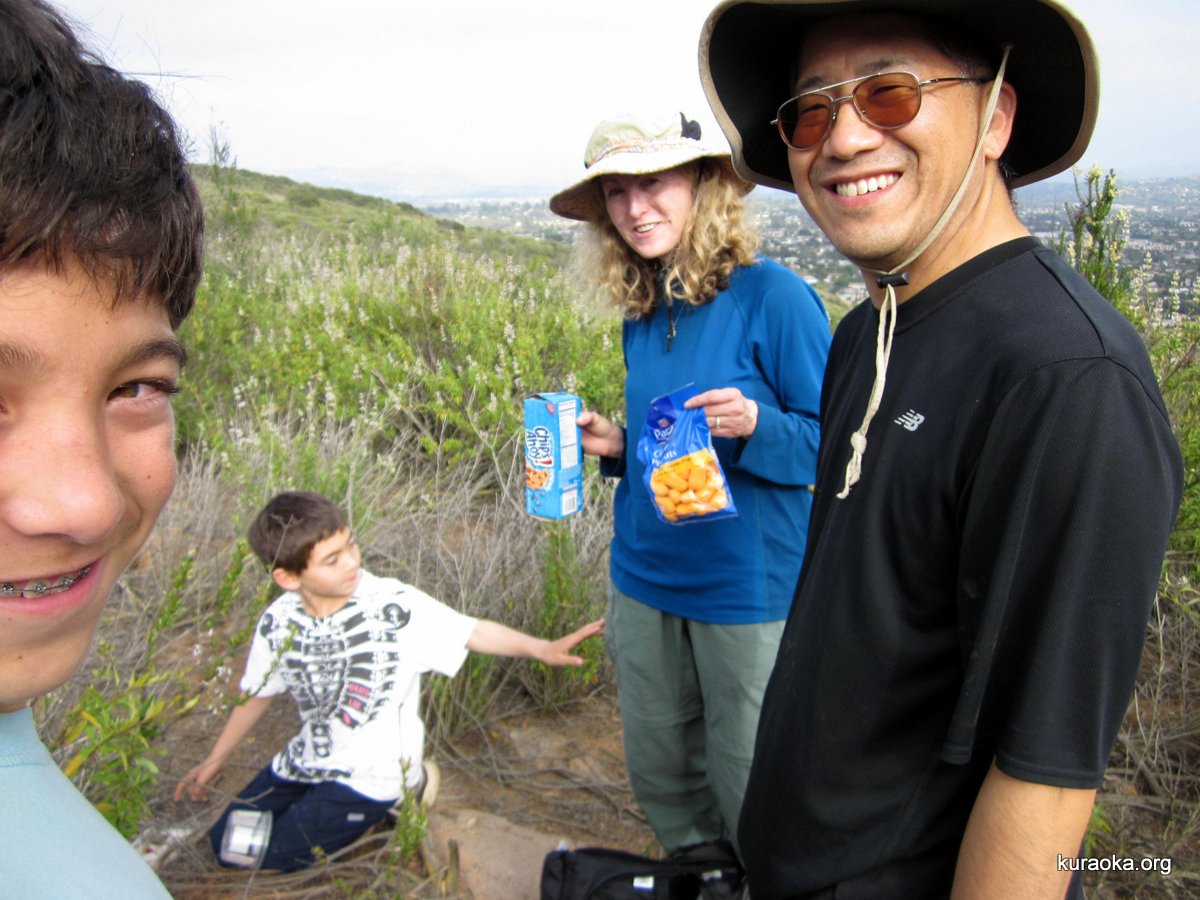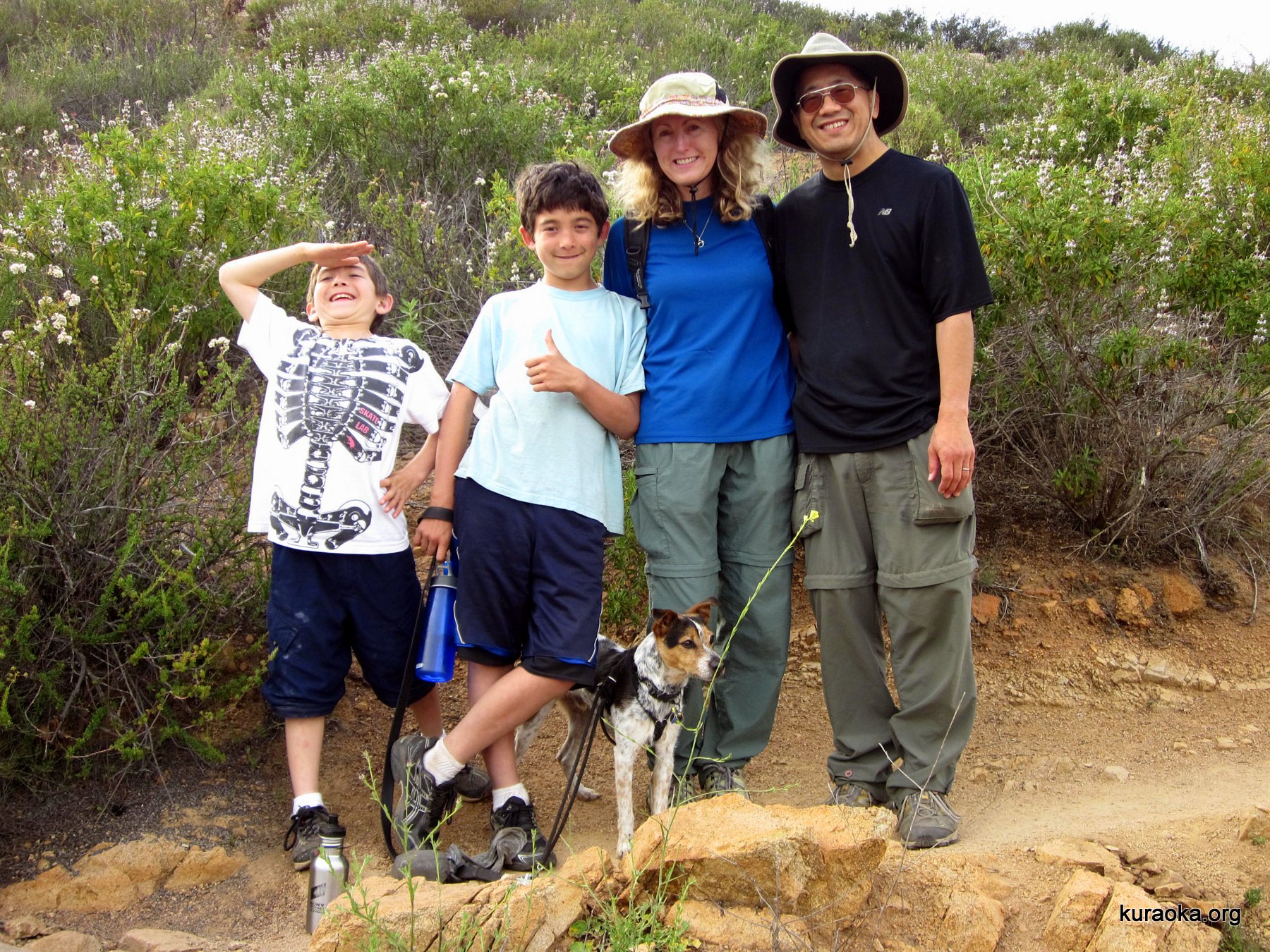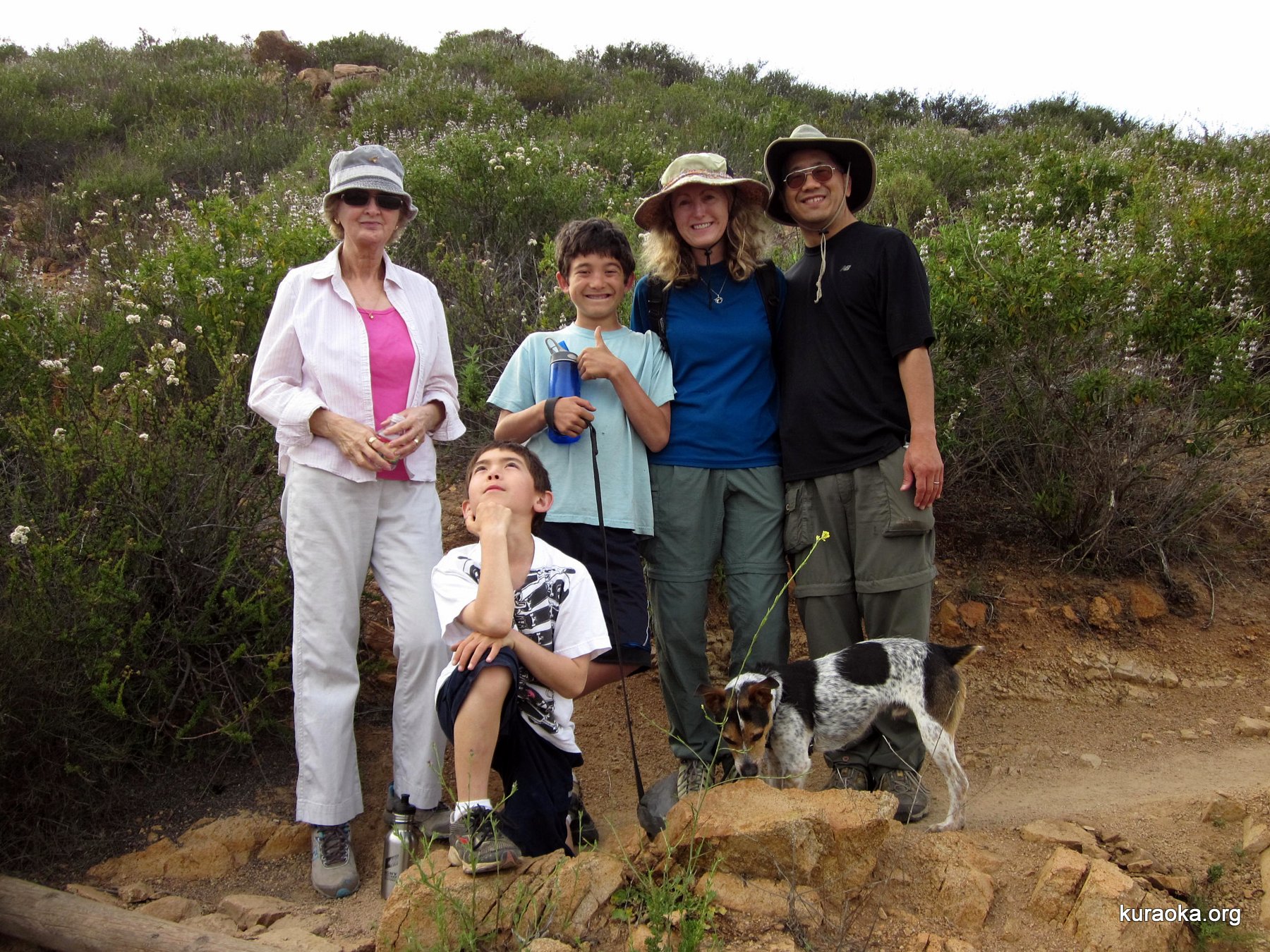 Barbara had made a raised bed for the front garden, so we brought it over and placed it in approximate position. Then, we all at last showered off the dust of camping. Ahhh!
Monday it's back to school! John has a ton of laundry and cleaning to do, plus all the camping stuff to sort, organize, and put away. Roy has California tests this week, and has two minimum days. The skies are overcast, our usual and much loved May Gray.
Neighborhood gas prices are about $4.25 per gallon.
Back to the Archives page
Back to the Kuraoka Family main page
Forward to the current Weekly Journal.