The Kuraoka Family Weekly Journal: Big Bear weekend
www.kuraoka.org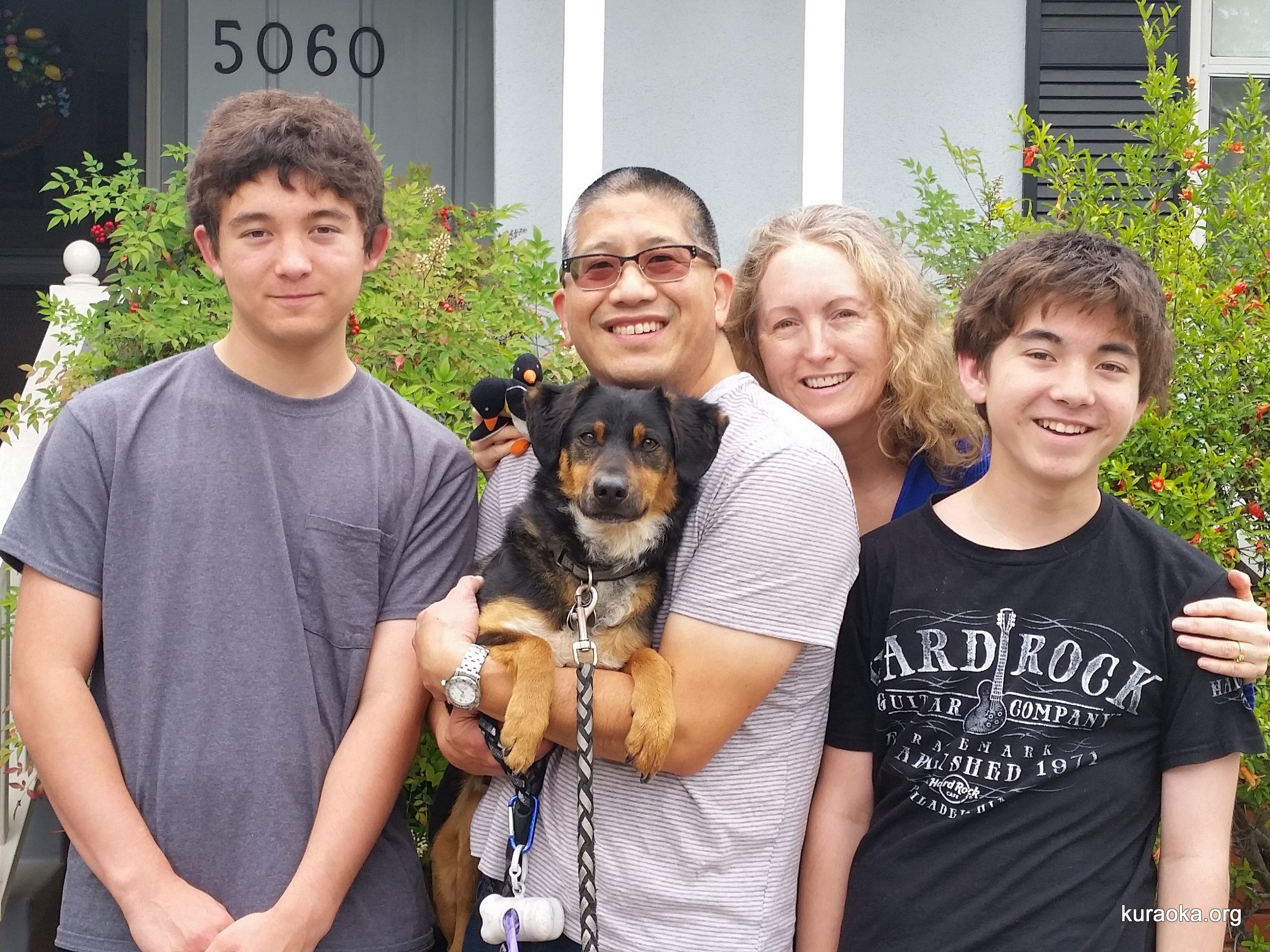 Us, May 8, 2016: Roy, Shadow, John, Ondine, Leo
Tuesday, May 31, 2016
We had a great (and memorable) Memorial Day weekend! We went to Big Bear for the first-ever Ishida clan Memorial Day four-day-weekend get-together!
John's sister Elaine made all the arrangements. We took most of Shore Acres Lodge, a campus of individual cottages on the lake, with one family per cottage. While much of the group was able to stay all three nights, including the eldest generation (John's mom and Aunty Grace and Uncle Mike), various relatives arrived later or left early or even went back and forth a few times! In all, there were four generations in attendance!
Ondine worked Friday, so she drove up separately Saturday morning. Friday, though, John and the boys were on the road up by 1:15. After seeing all their preparations and packing, the dog was horrified that he wasn't coming along!
Traffic was fairly heavy, but not as bad as expected for Memorial Day weekend. It took about four and a half hours with a brief stop for restrooms and gas before heading up the mountain.
They arrived at the resort, chatted to the Bolens, who had checked in, talked to Elaine, who was still en route, and went into town to check in and pick up their keys and the Verzani's keys.
Our cottage was #109, "Lakeside." It has two bedrooms, two bathrooms (much appreciated with two teenagers!), two entry doors, a cramped but fully equipped kitchen, and an ample deck overlooking the dock a stone's throw away.
John and the boys unpacked and settled in, the boys choosing the bedroom with its own entrance. John started a simple dinner and found out how to turn on the TV. After dinner, Roy washed up! They stumbled upon a Harry Potter movie, and watched until everyone was ready for bed. With commercials, those movies forever to finish. We're so not used to commercial TV!
Through the evening, various families arrived. The Verzanis arrived and John gave them their key. John's Mom arrived with the Barnharts and had a cabin to herself until Aunty Grace and Uncle Mike rolled in with Dave and Kim, who had flown into Orange County from Colorado. Dave and Kim moved in next door, into a very spacious one-bedroom cabin that we all decided was the honeymoon cabin. (John's Mom kept trying to dub our cabin the honeymoon cabin, although why one would need two bedrooms on a honeymoon eludes us.)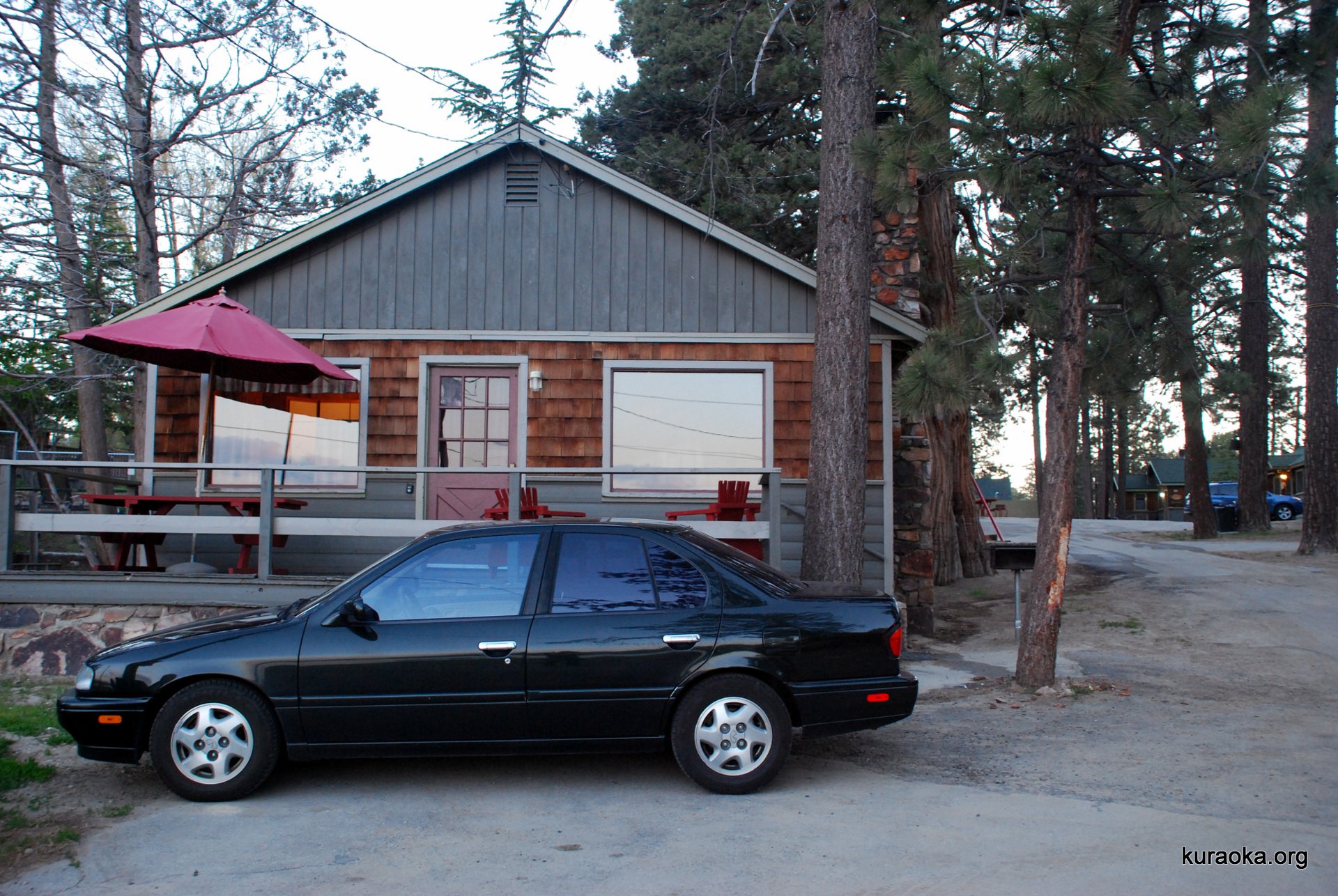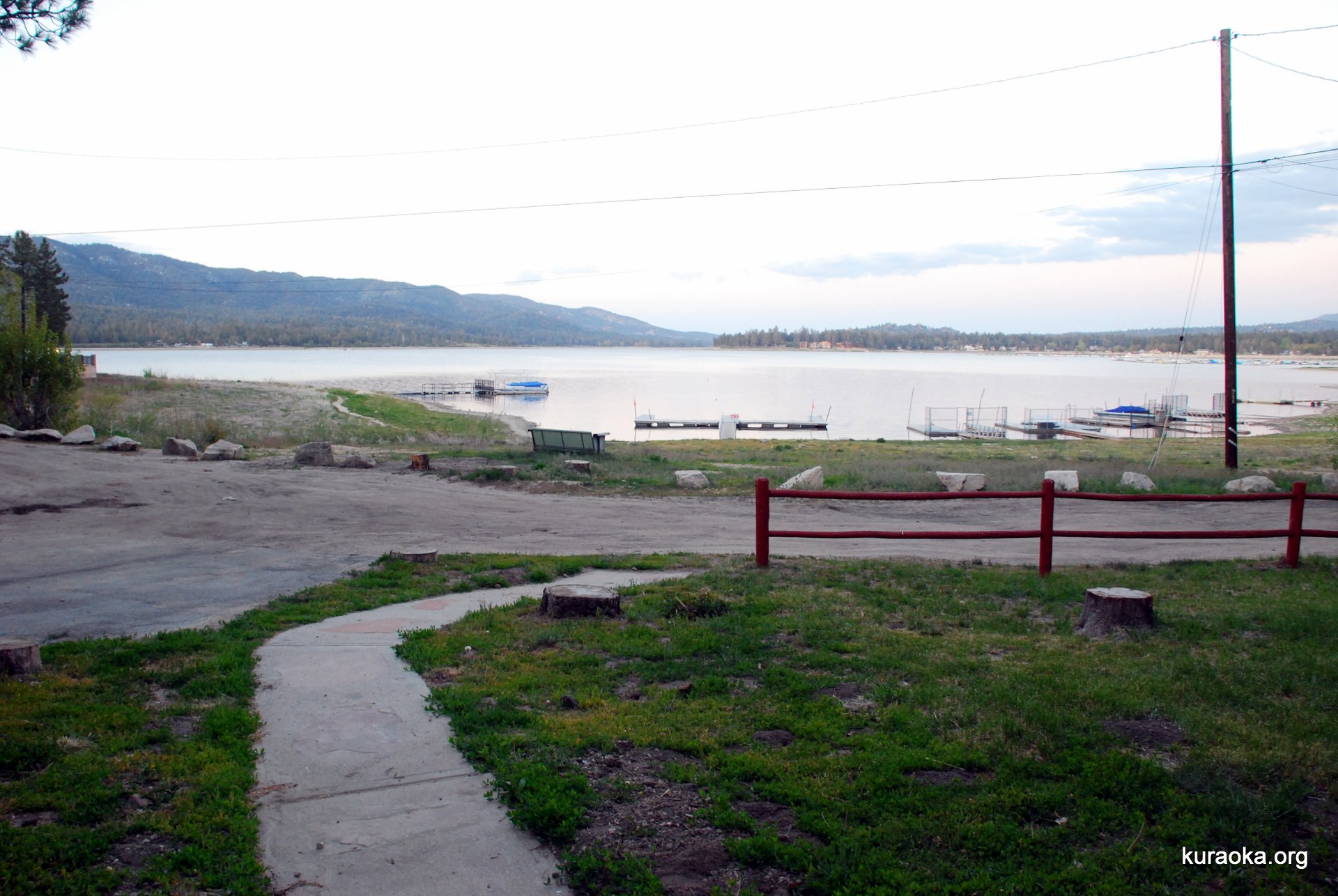 Saturday morning everyone got up at the usual time, around 5:30ish, and eventually had some breakfast. John sat on the front patio enjoying the view over the water, and Joe (Amanda's Joe) set off in his kayak to fish. Grammy, Uncle Mike, and Aunty Grace stopped by while Roy was outside working on his Japanese homework, so he got some help! Well, sort of; their Japanese isn't really up to classroom standard and they're all out of practice besides.
John tried out his just-bought camera while the boys did homework on their laptops inside. John was very grateful to have acquired a DSLR before this trip, a perfect shakedown cruise. And the boys were thankful for a solid wifi connection for homework.
Ondine left Shadow at her Mom's (thanks, Barbara!) and left around 11ish, arriving at the cabin around 3. We promptly took a walk by the shoreline while the boys stayed in the cabin. Ahh!
Saturday evening the Hatchimonjis and Uyedas handled dinner duties, and we all gathered in the area in front of Dave's and our cabins on tables moved from the porches of several cabins. We had grilled teriyaki chicken, a bunch of great side dishes, and a boatload of homemade cookies!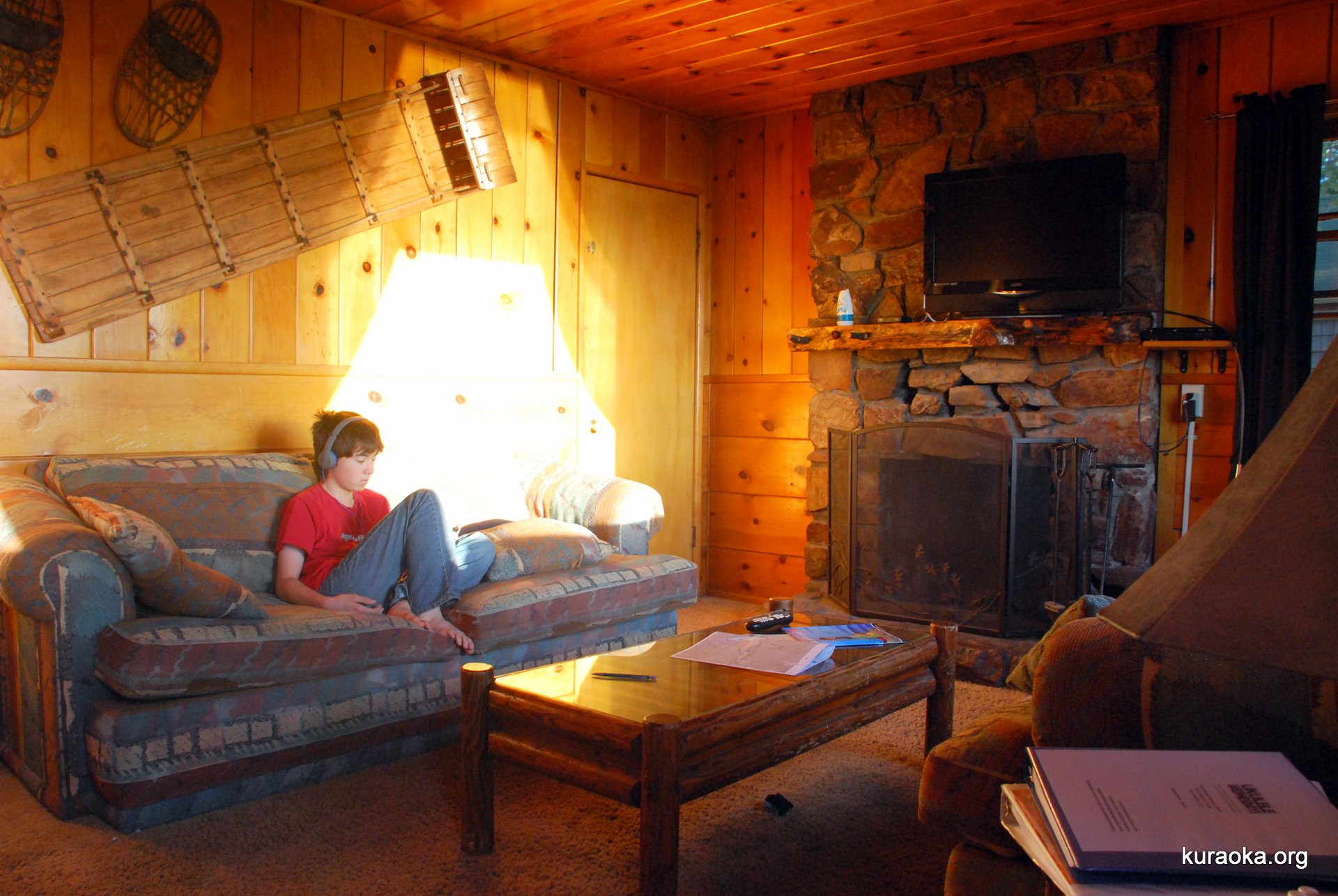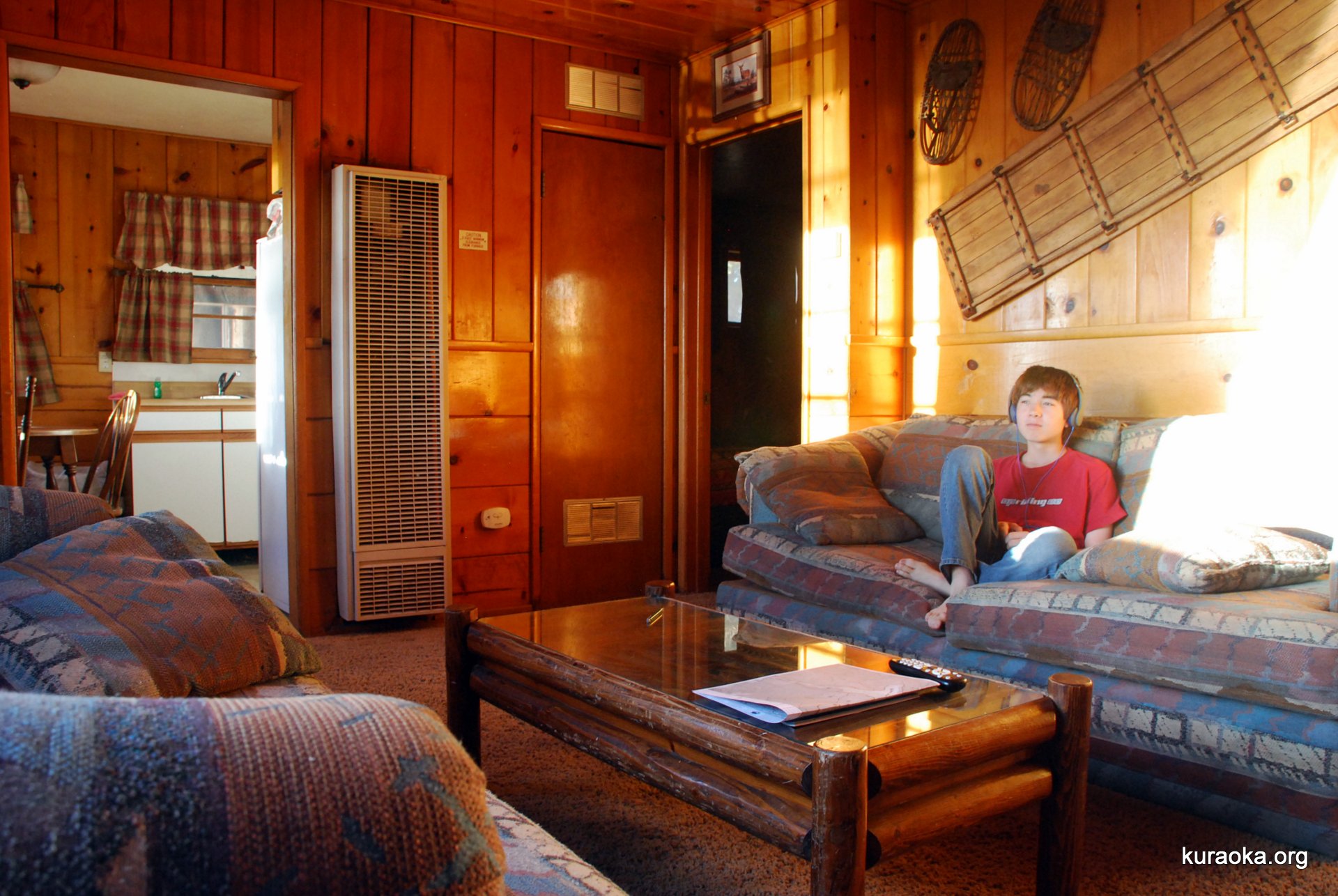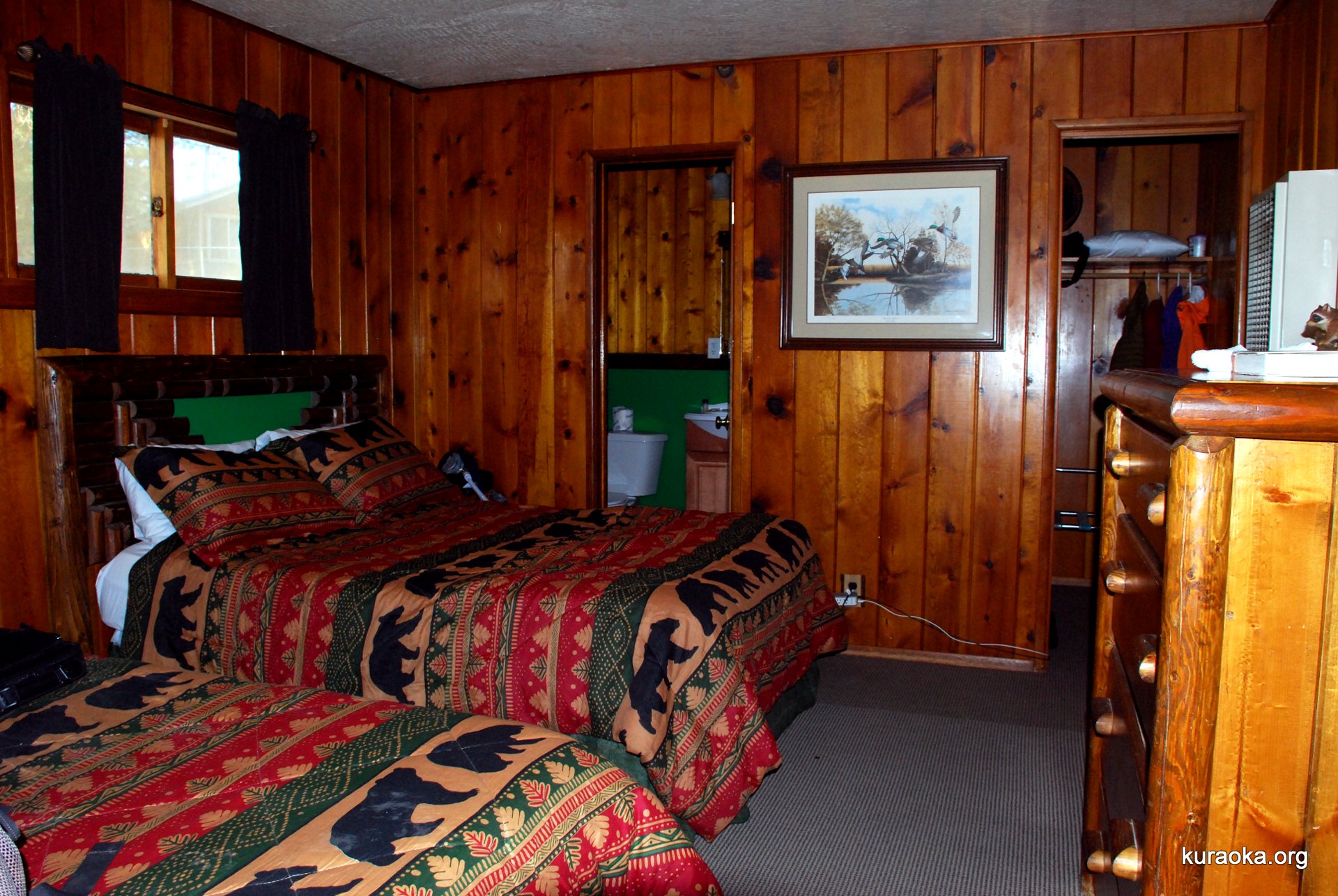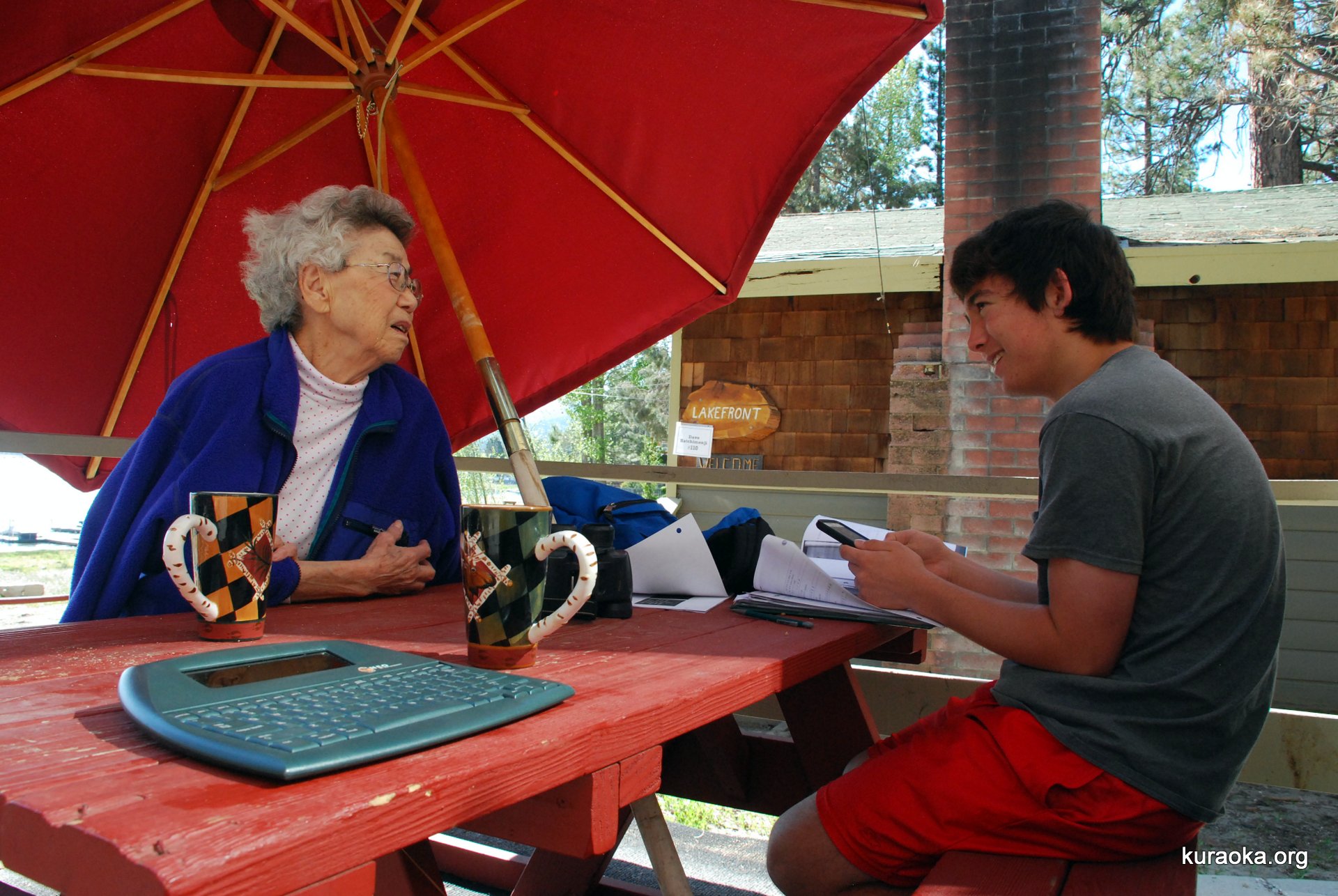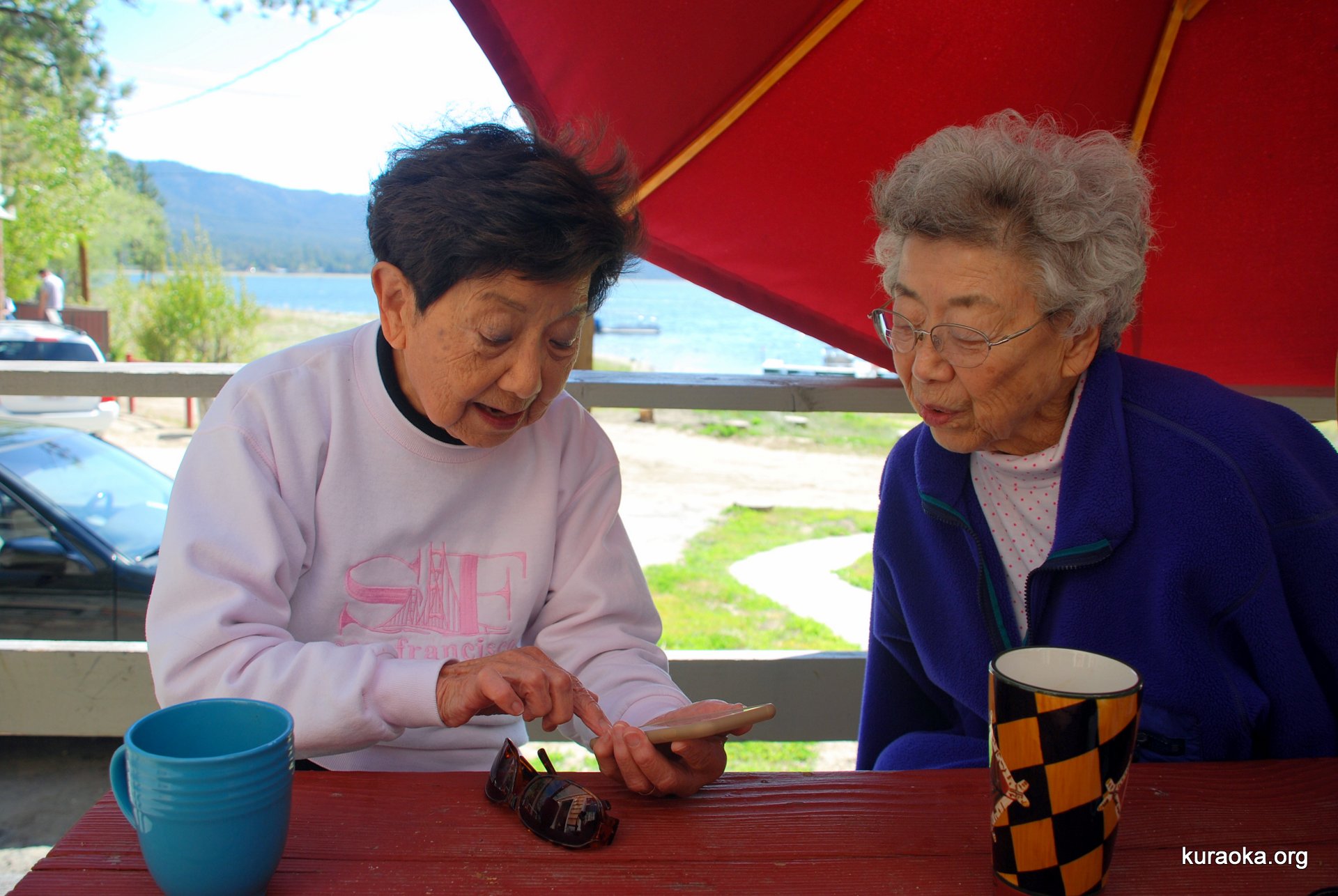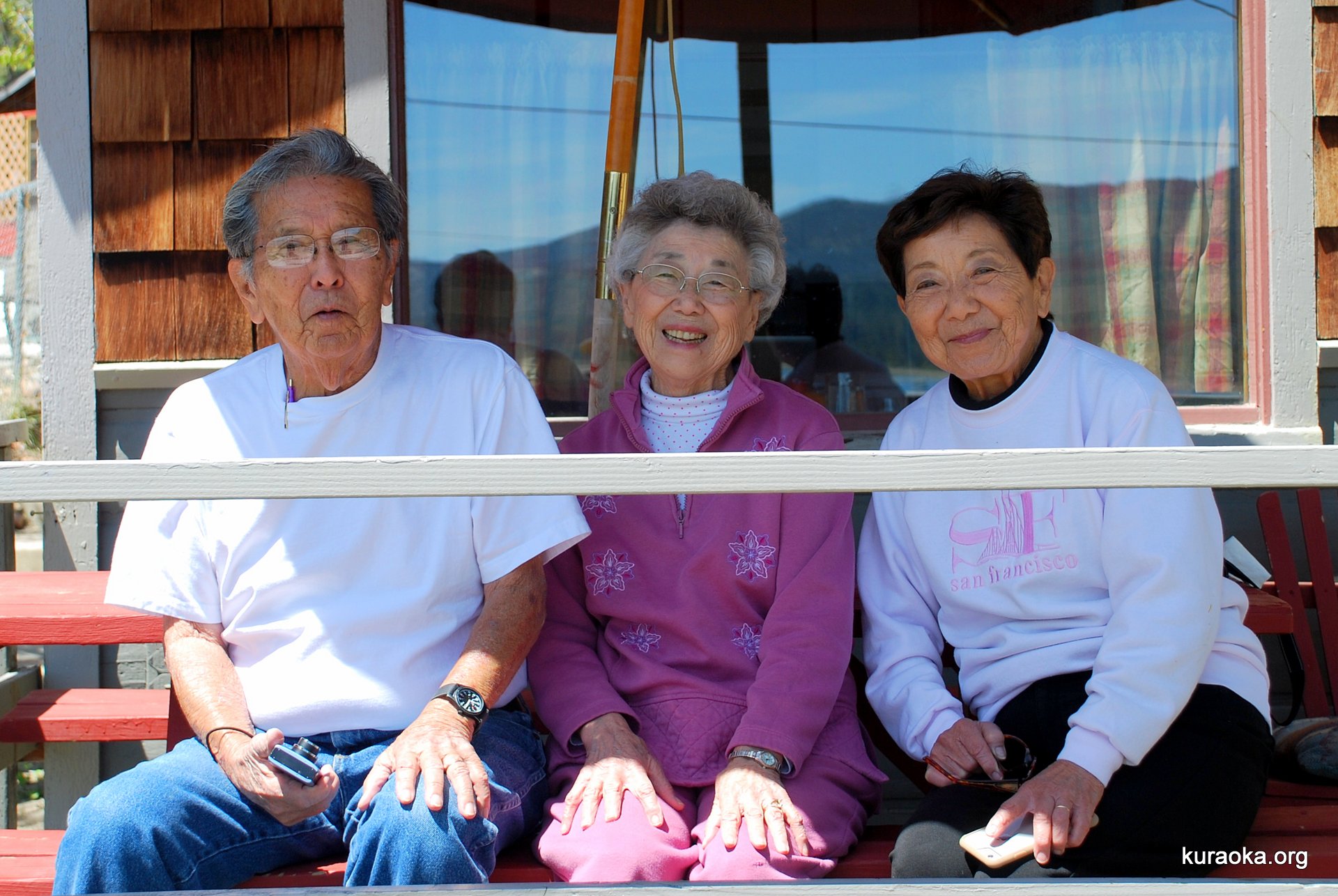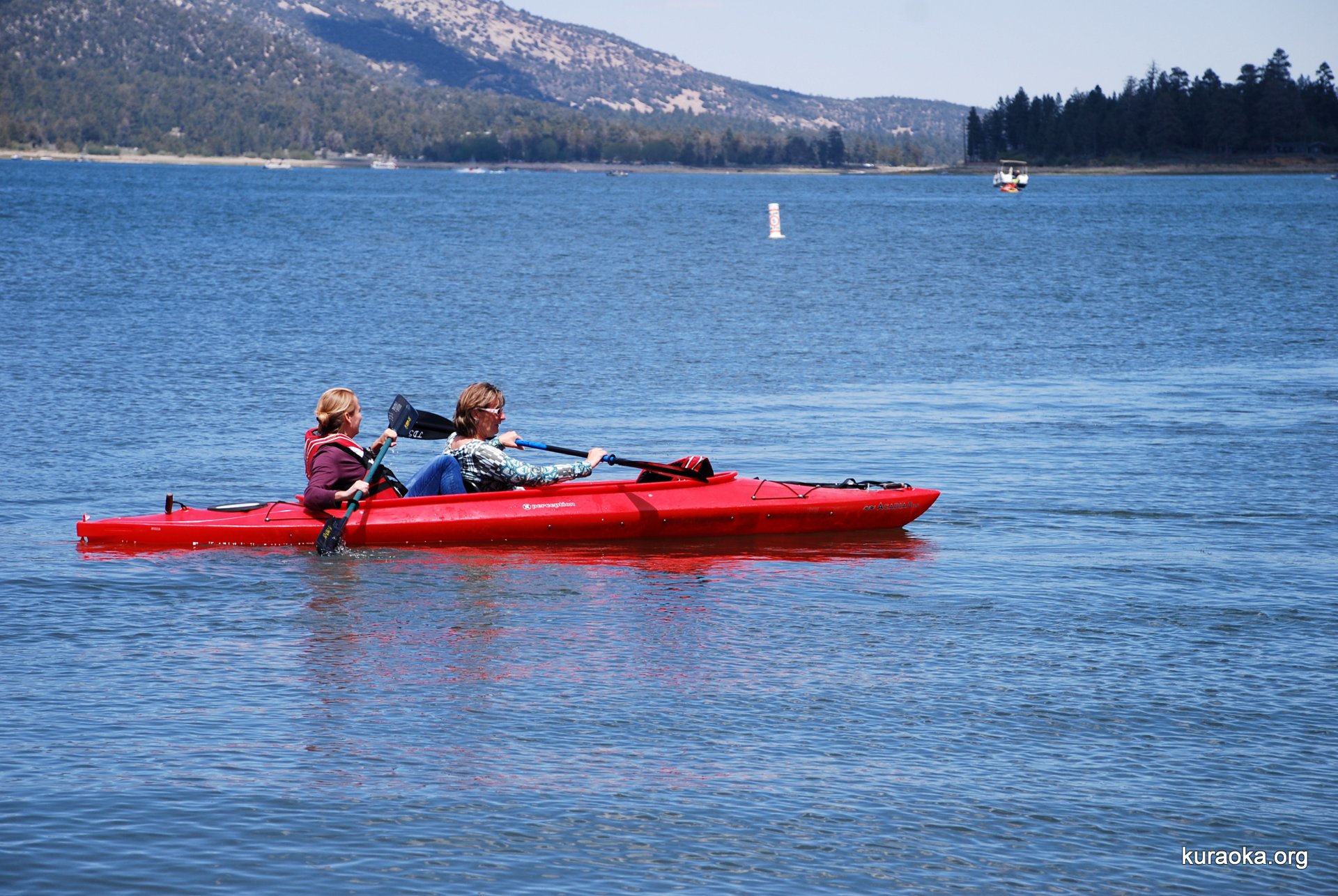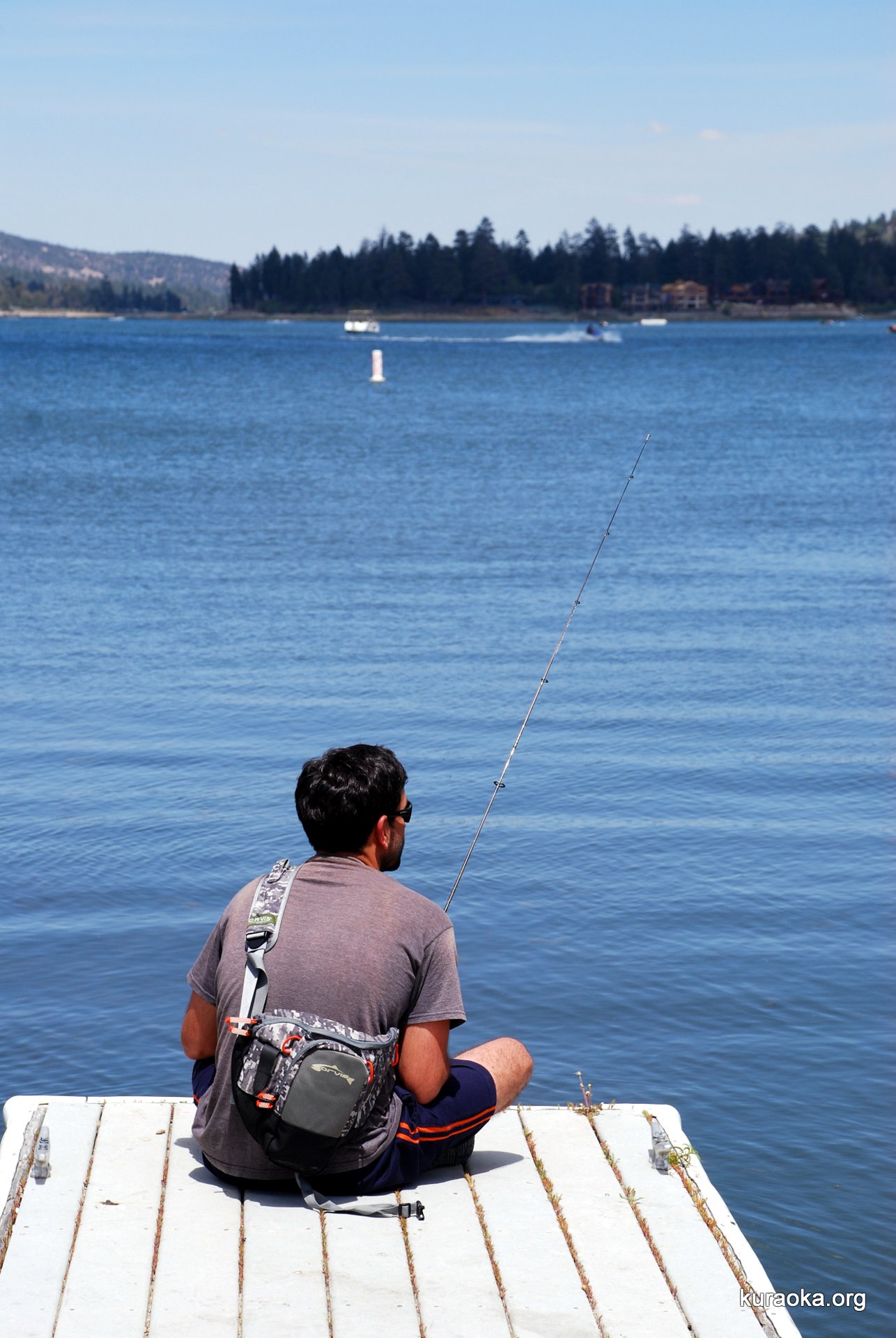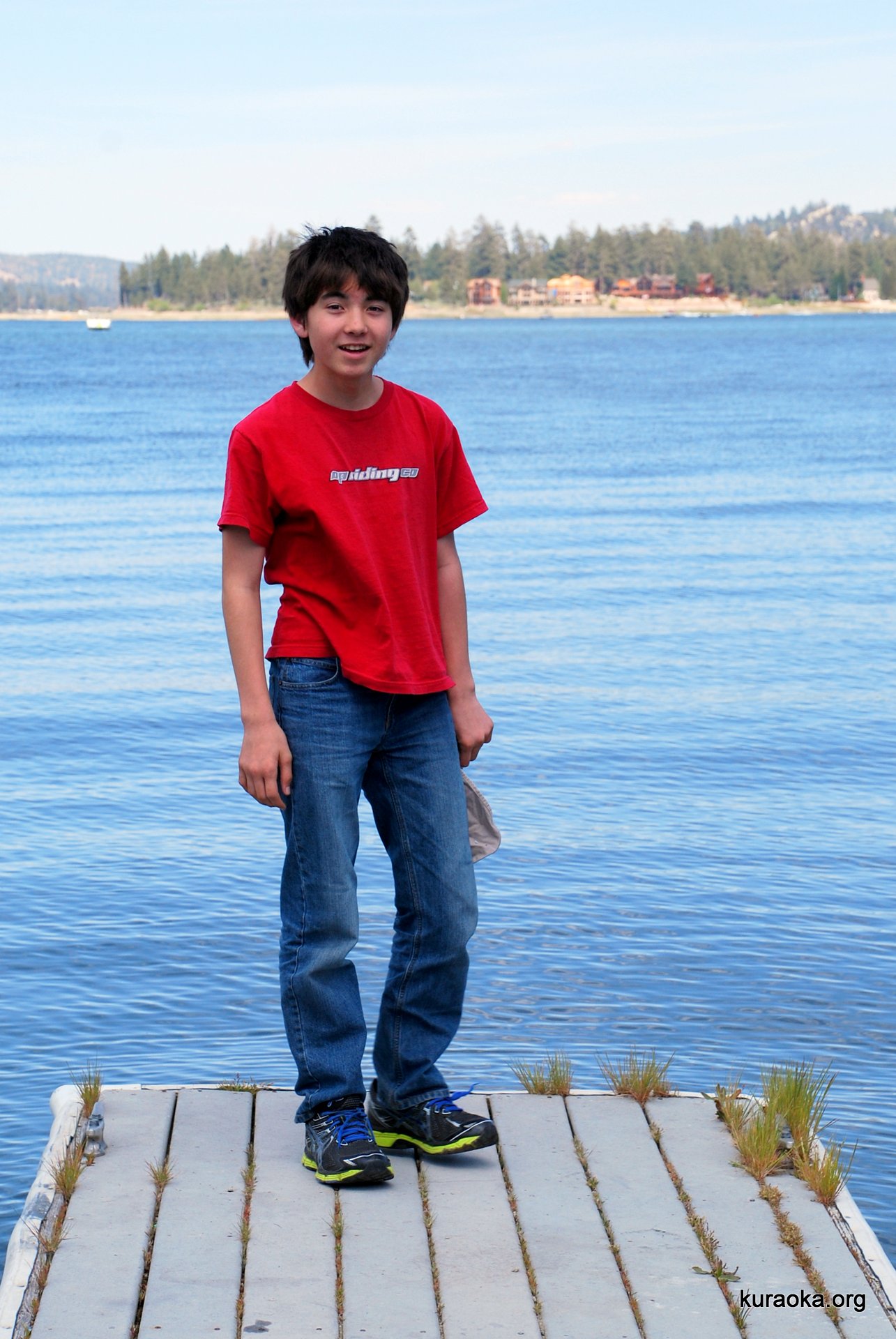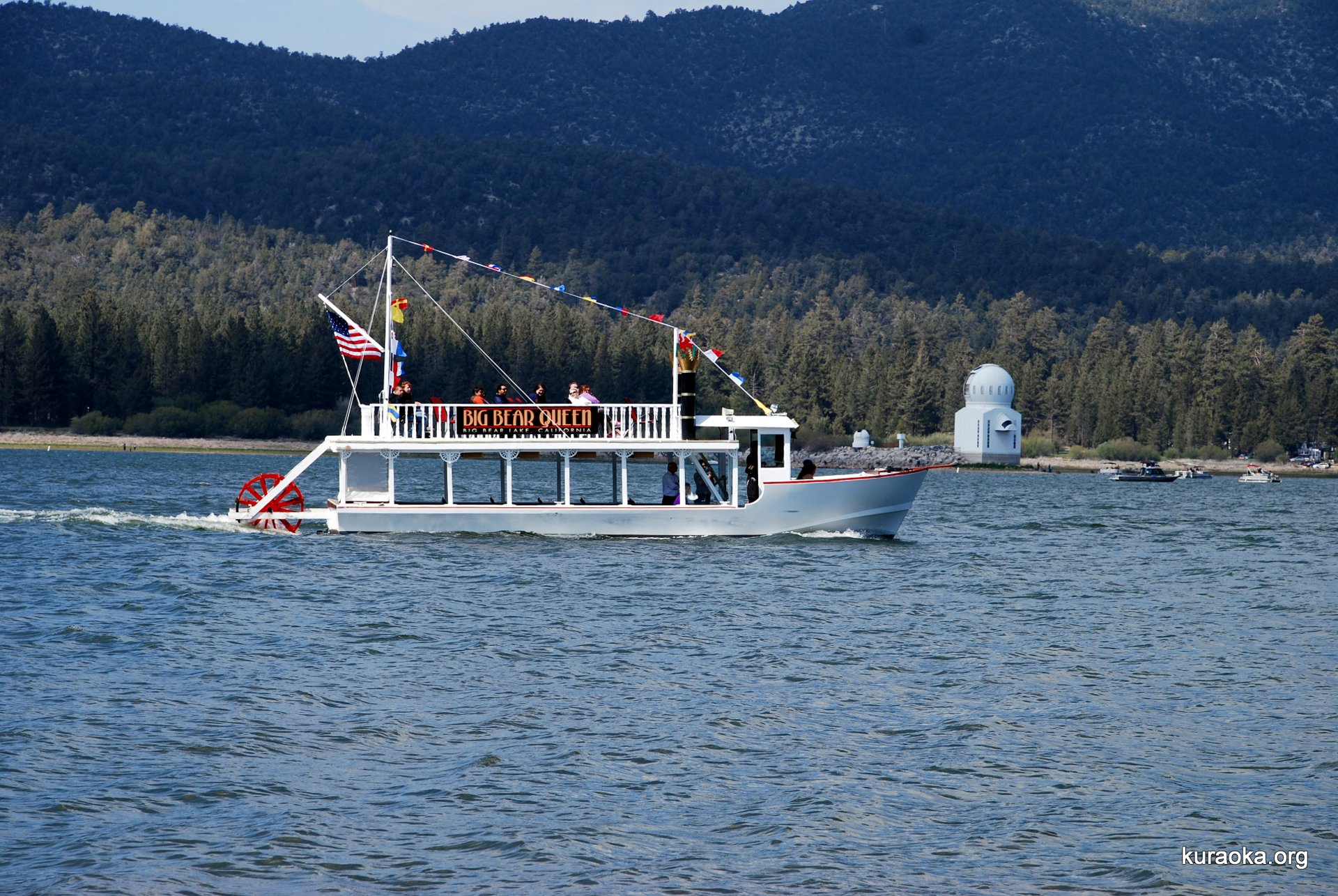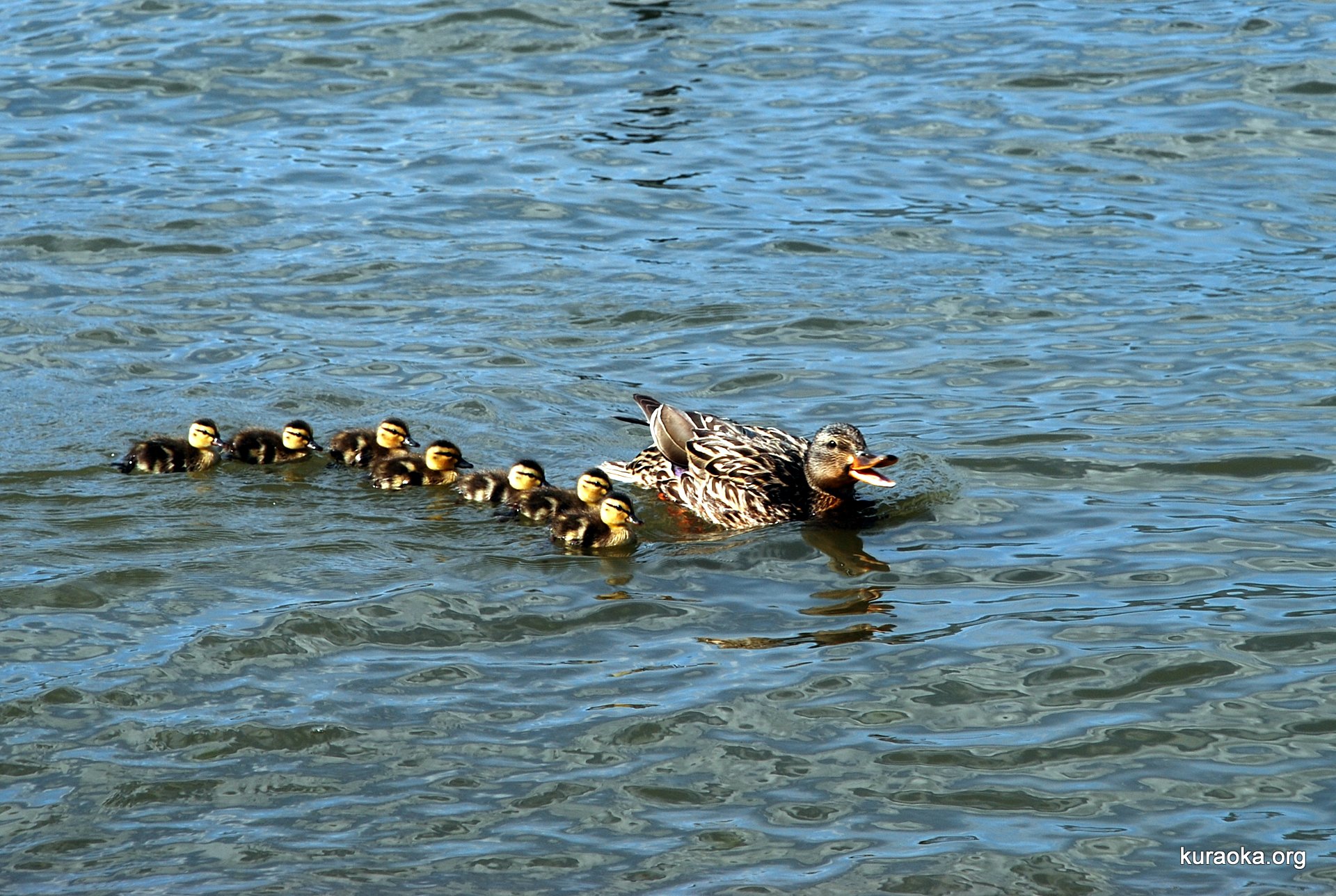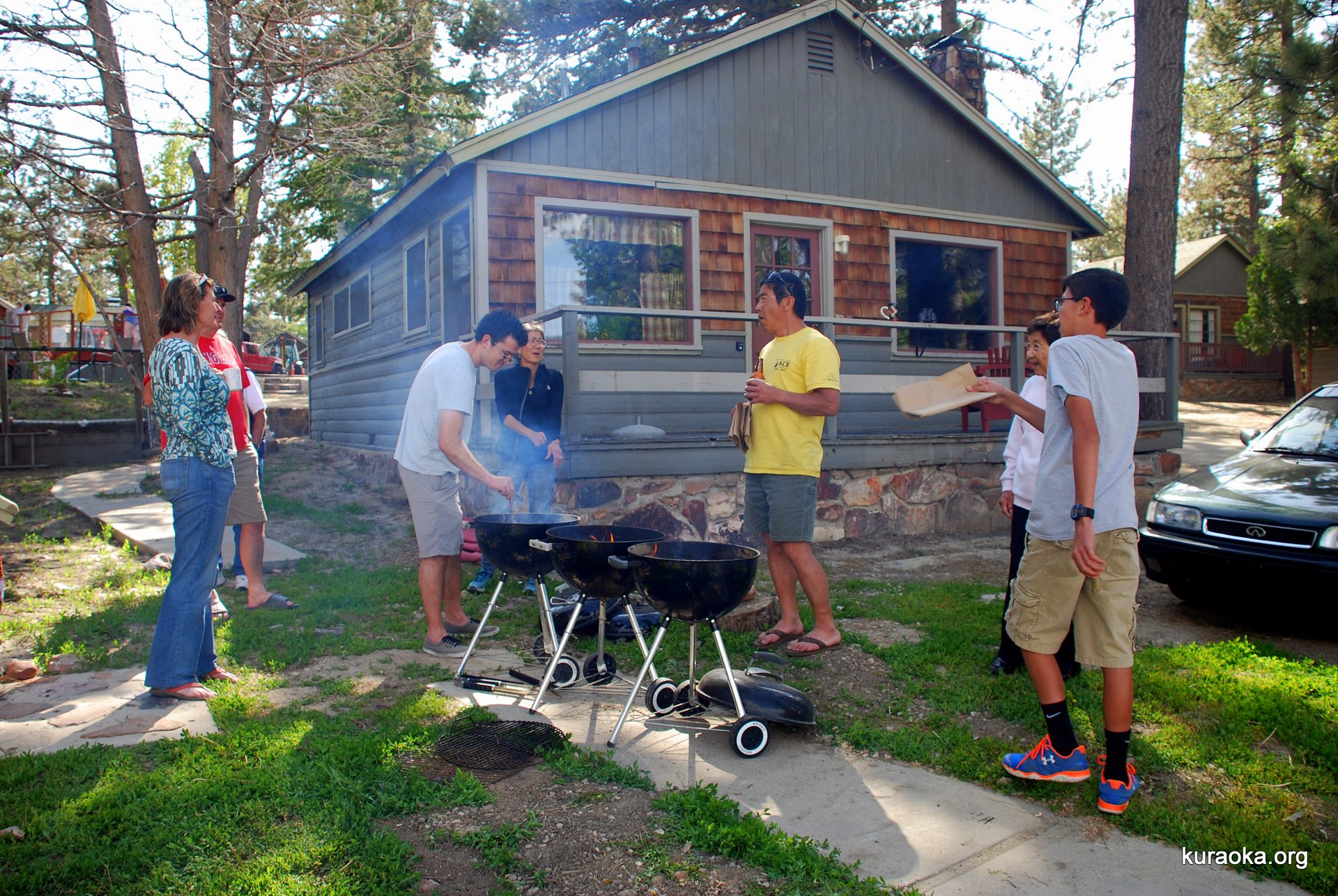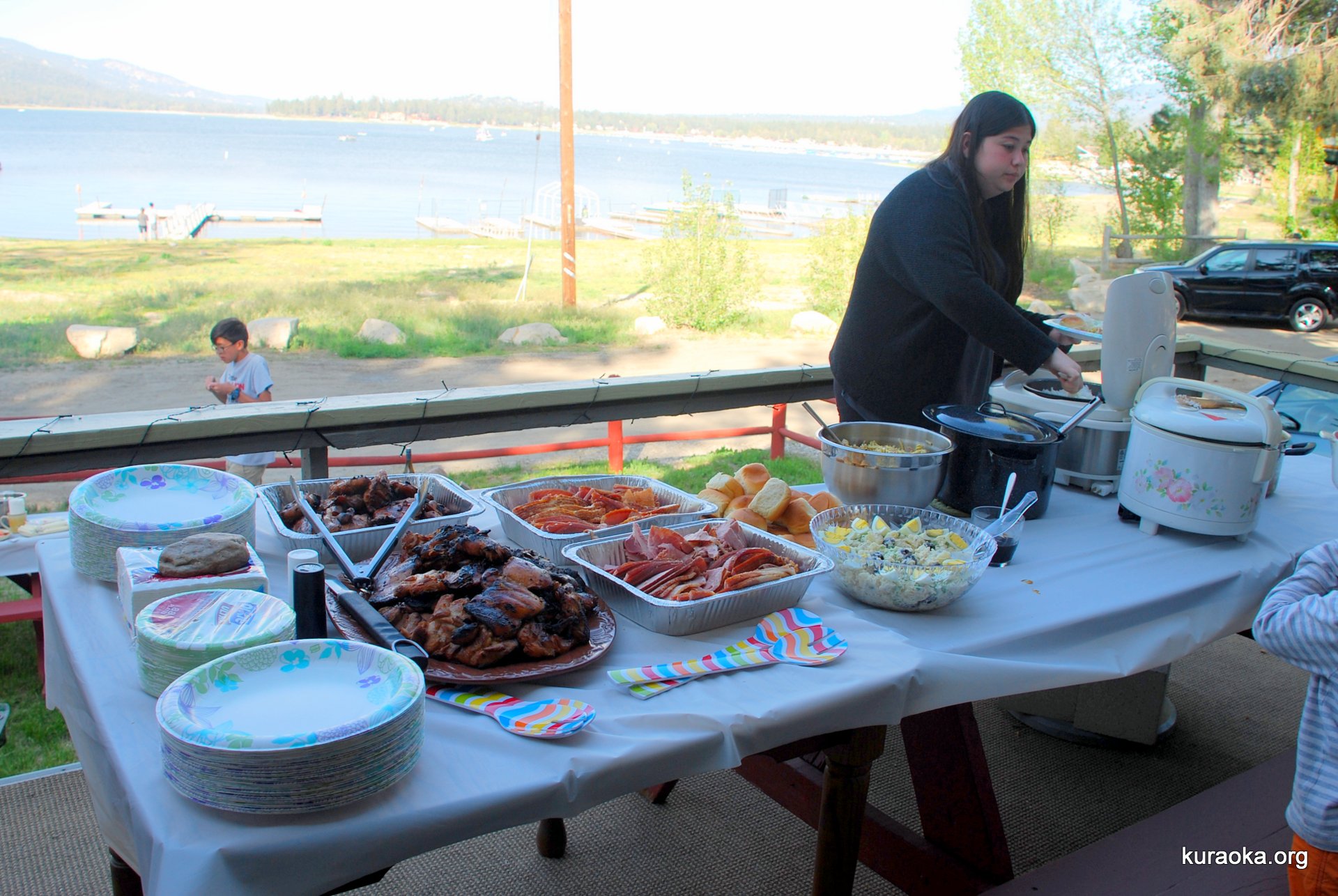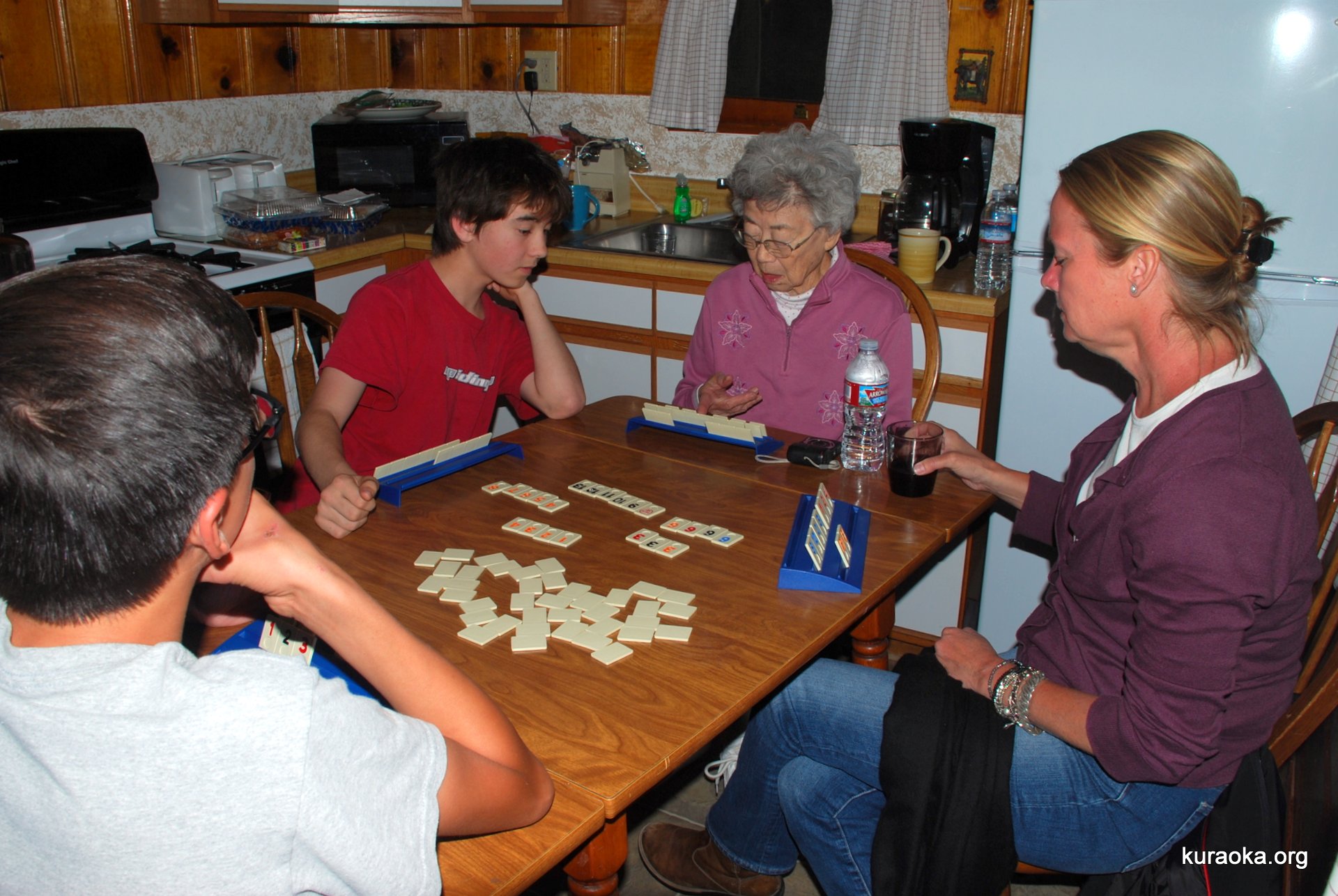 Sunday we all donned the t-shirts Aunty Grace had had made, featuring the Ishida mon, and we took a group photo.
Immediately after that, most of the group started games of bocce and volleyball, but we had made plans to go to Snow Summit to ride the chairlift to the top of the mountain. We even had discount coupons from Big Bear Vacations, which saved us 10%. What a great view! Once at the top we walked around a bit before heading back down. Going down you get a spectacular view of Big Bear Lake.
Sunday evening our extended family did dinner. We had lasagne, salads, and a full assortment of yummy dishes, plus Aunty Grace brought a cake to celebrate the 65th wedding anniversary of her and Uncle Mike! We brought cookies for dessert, but didn't need to bring as much as we did!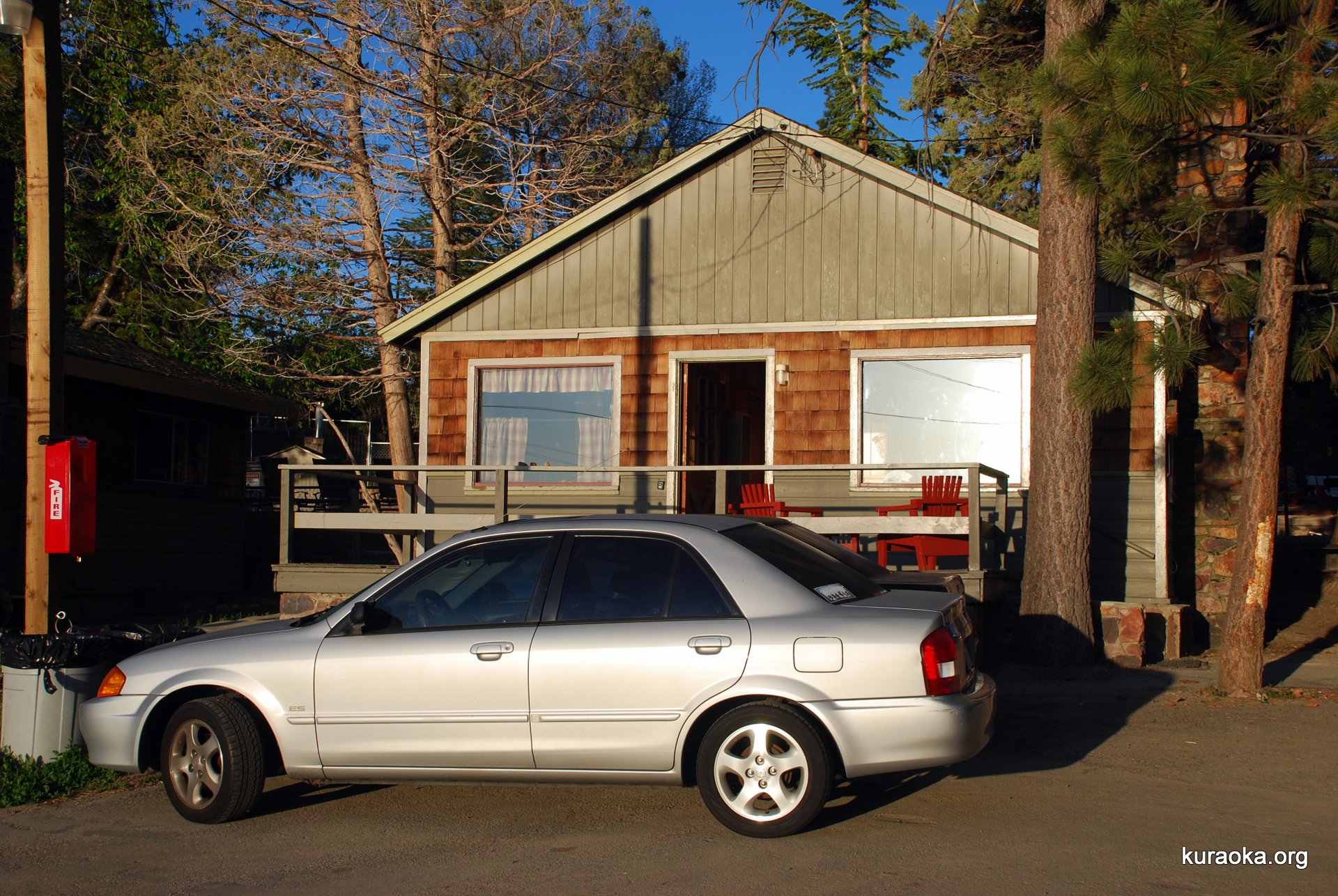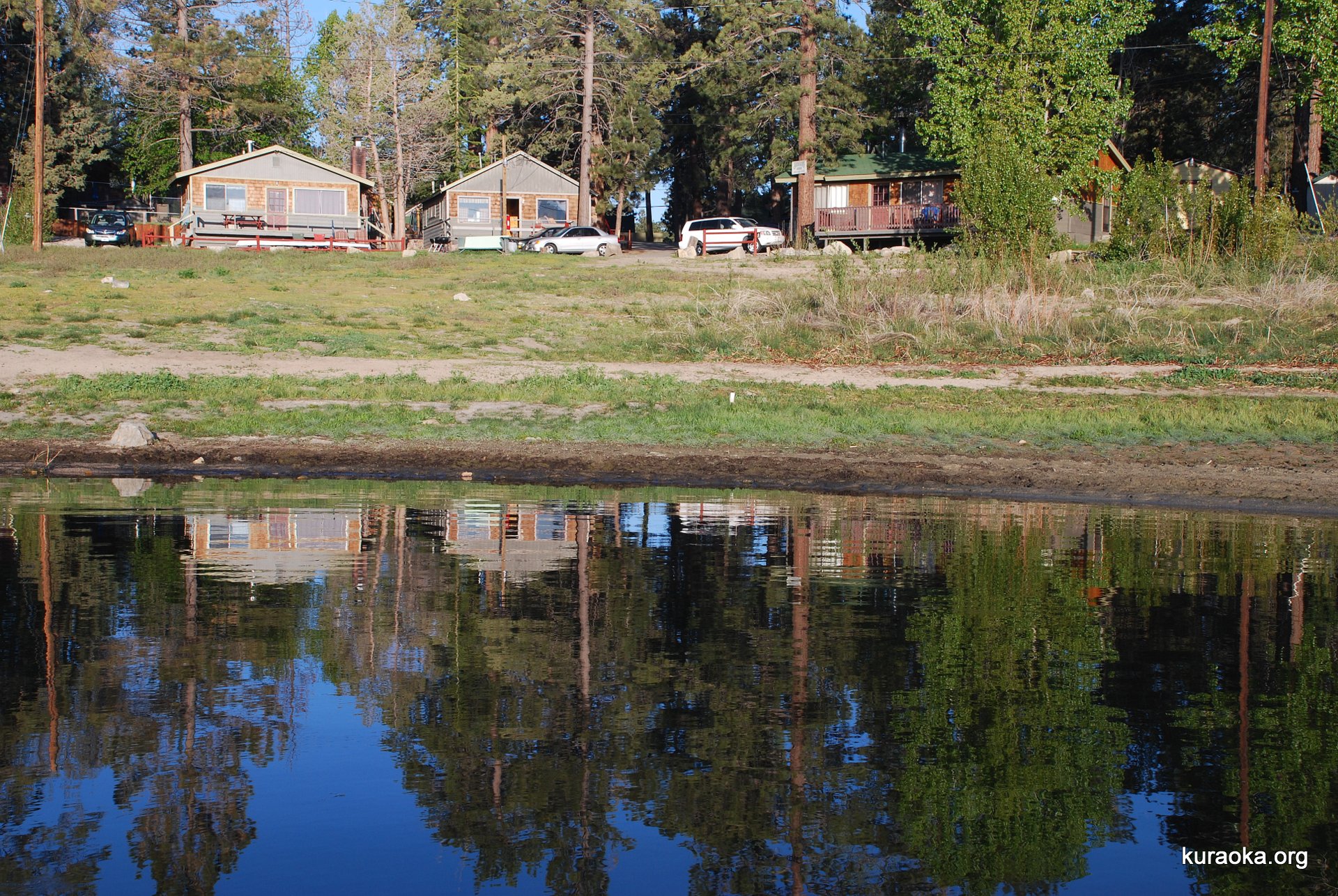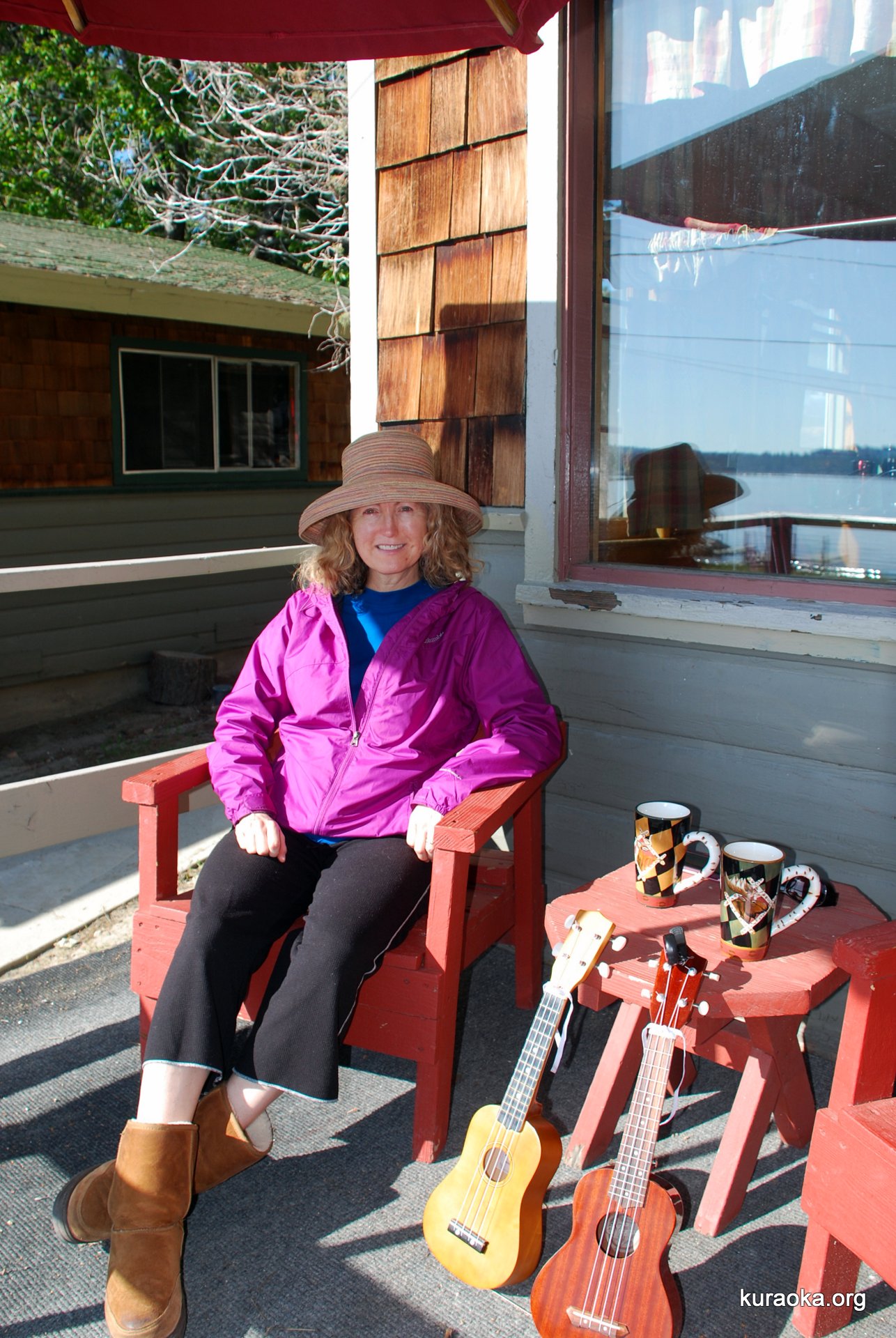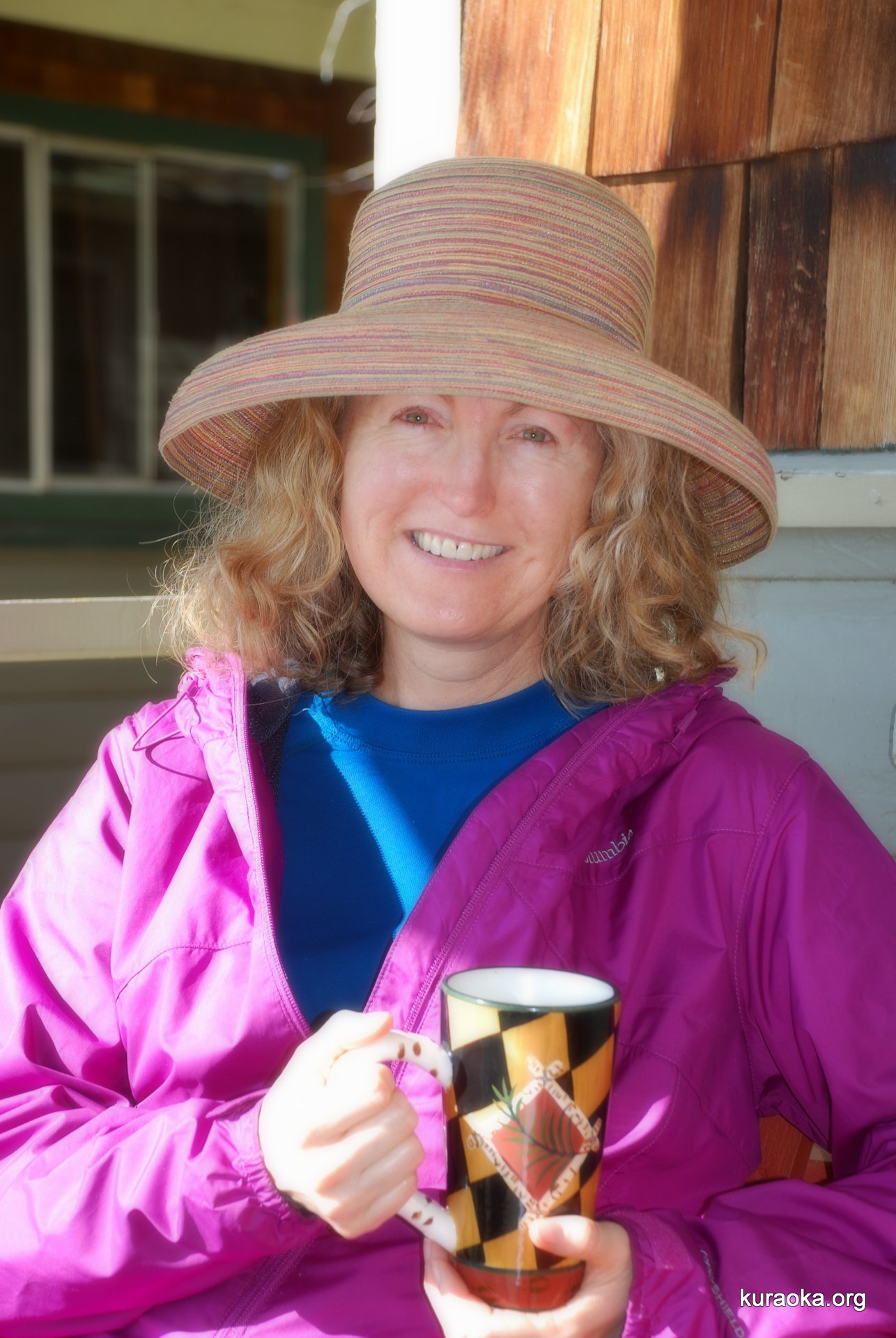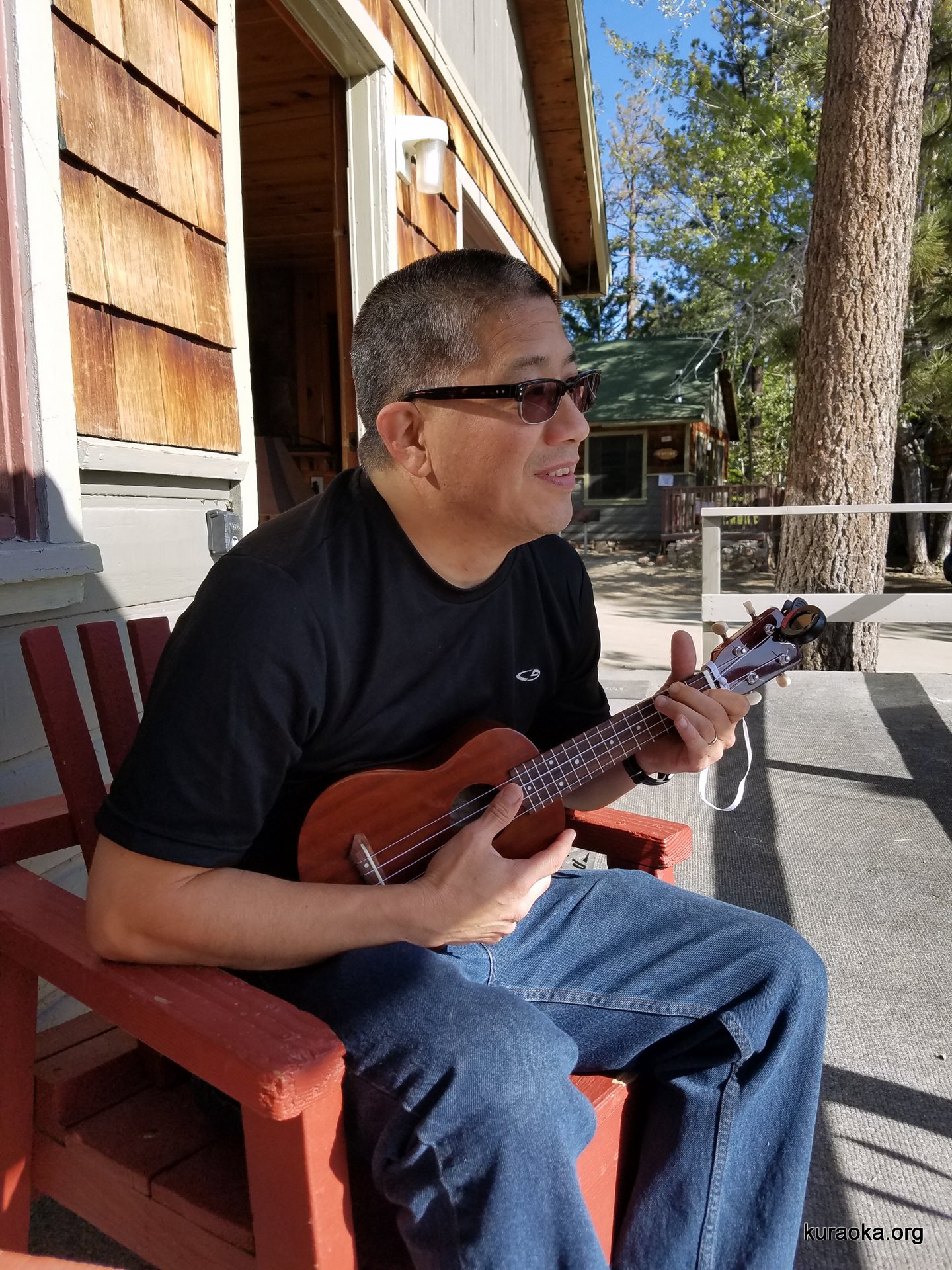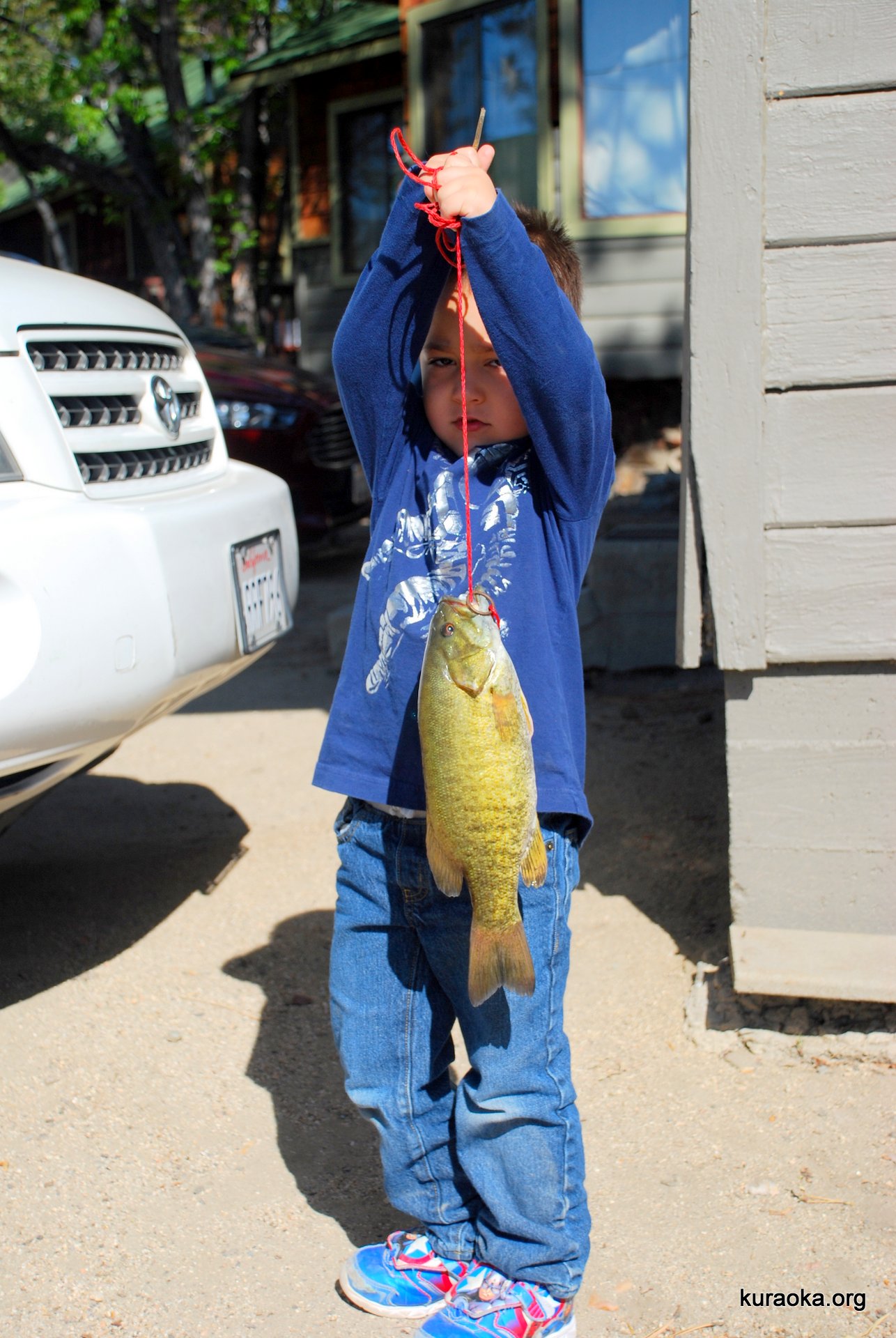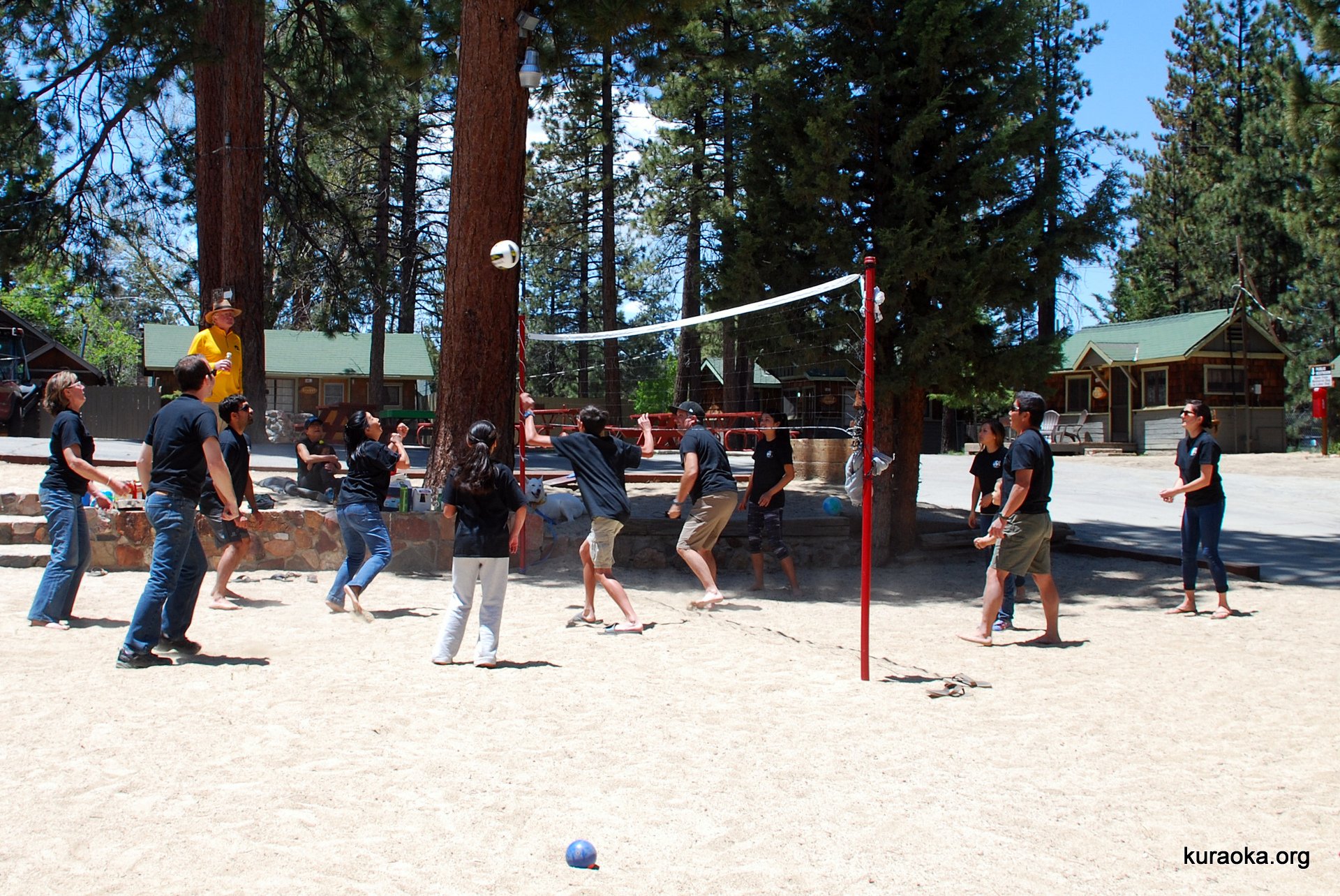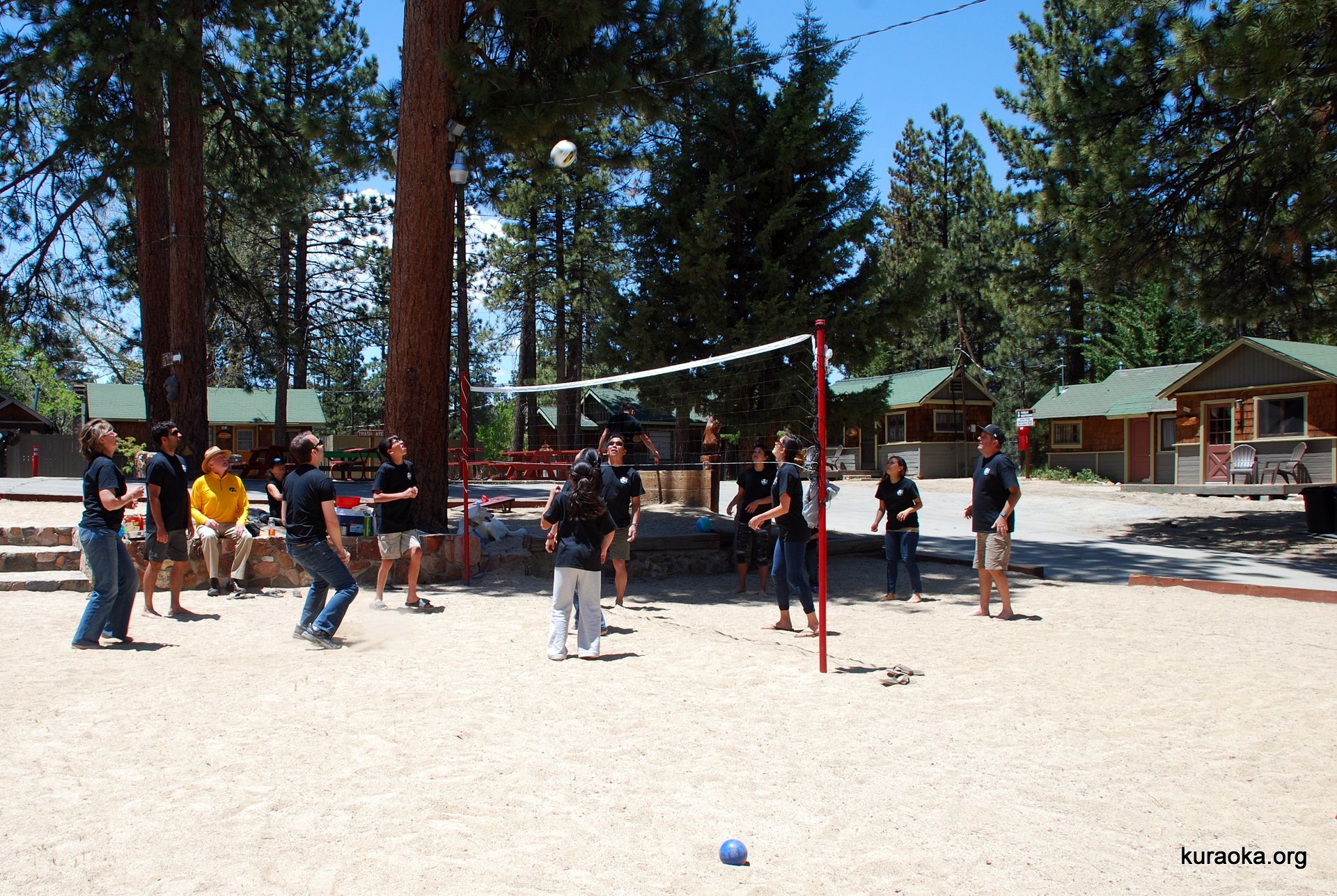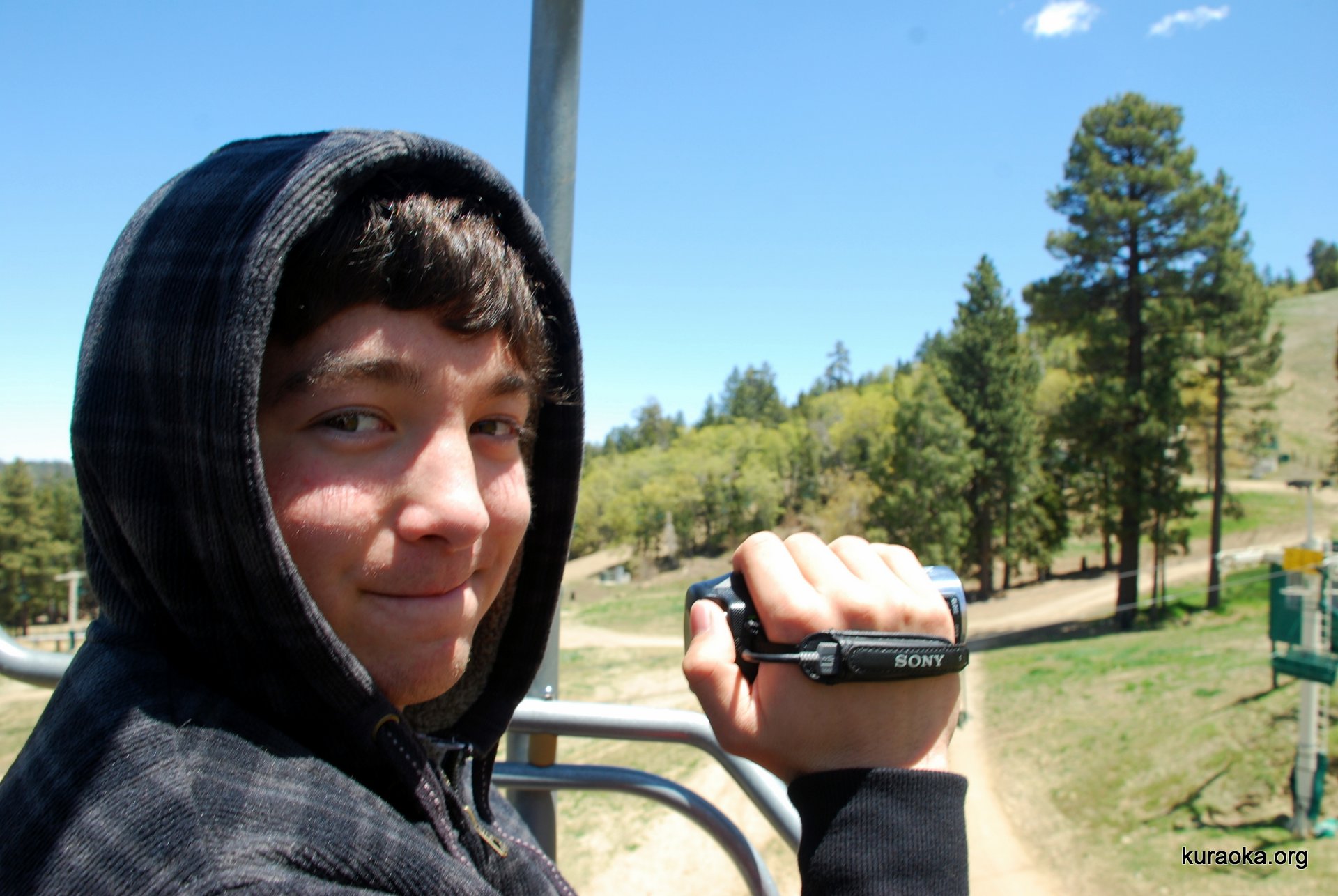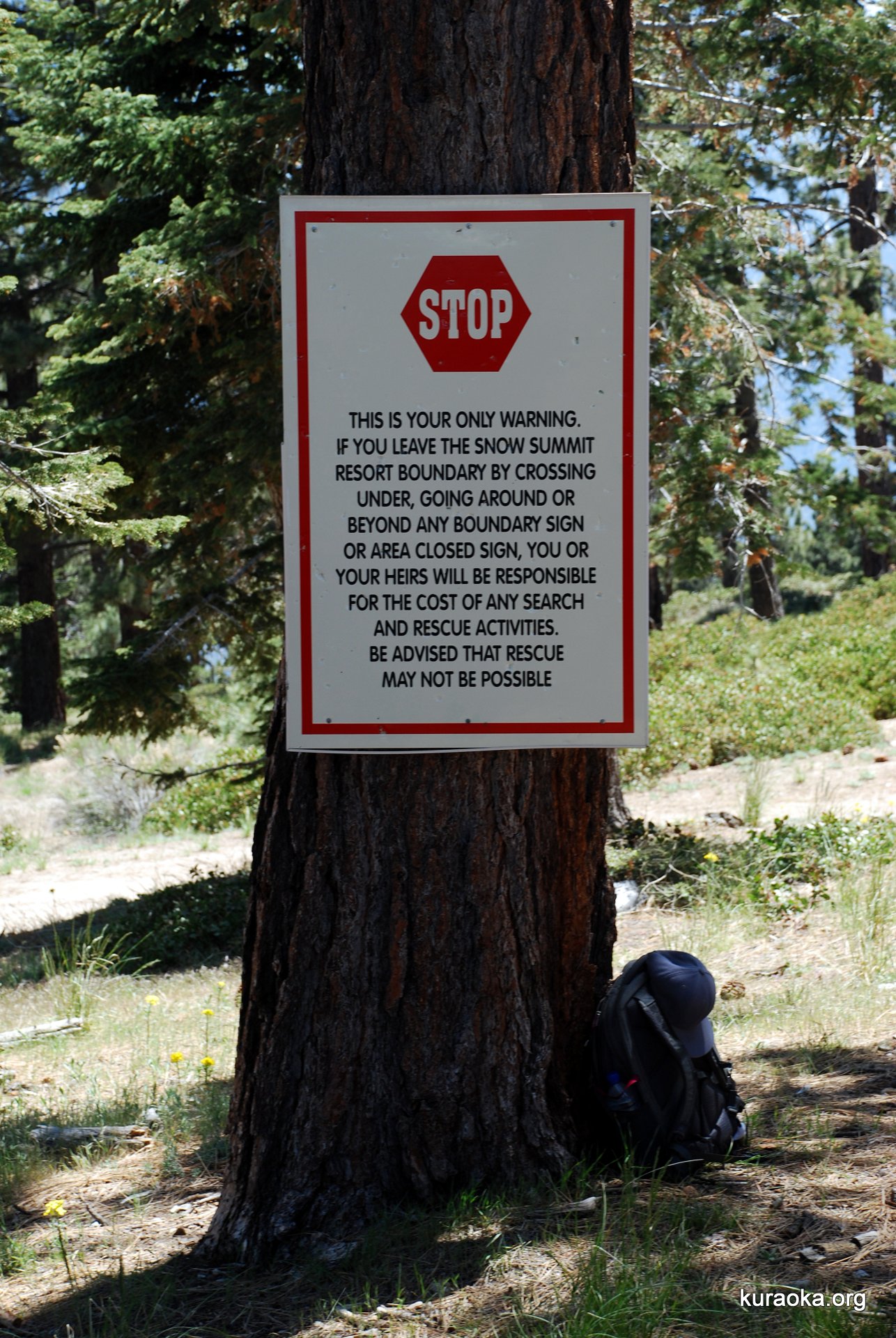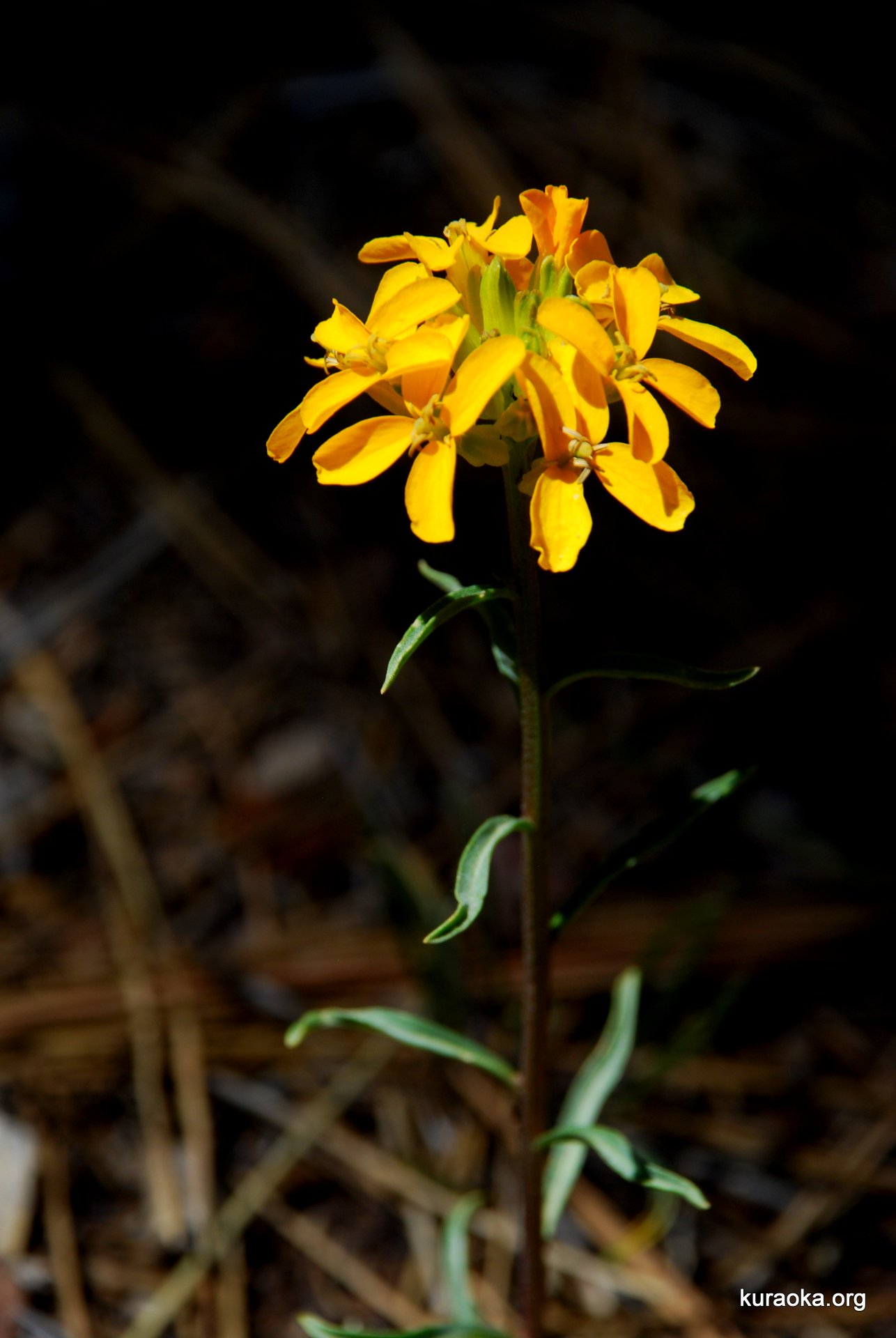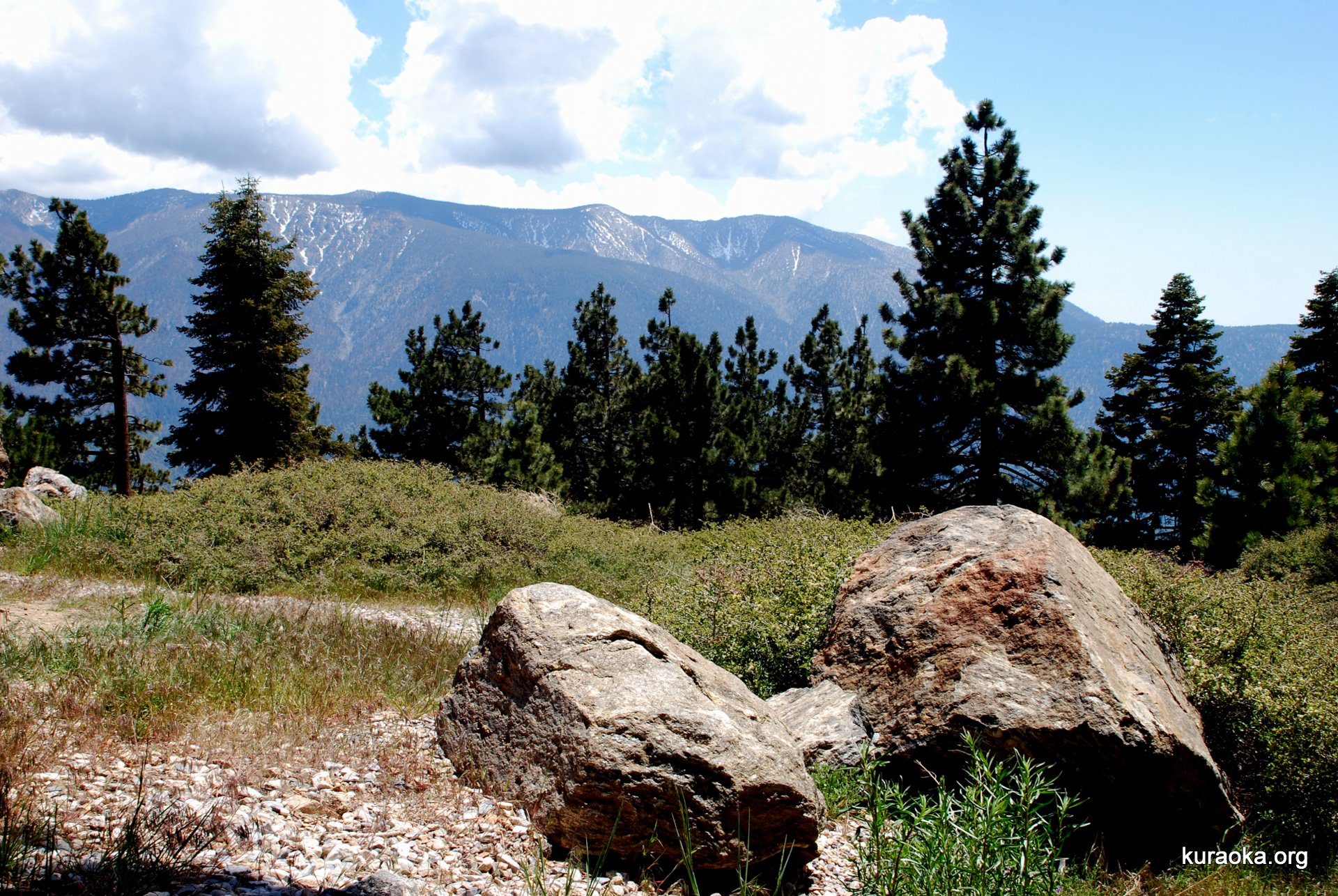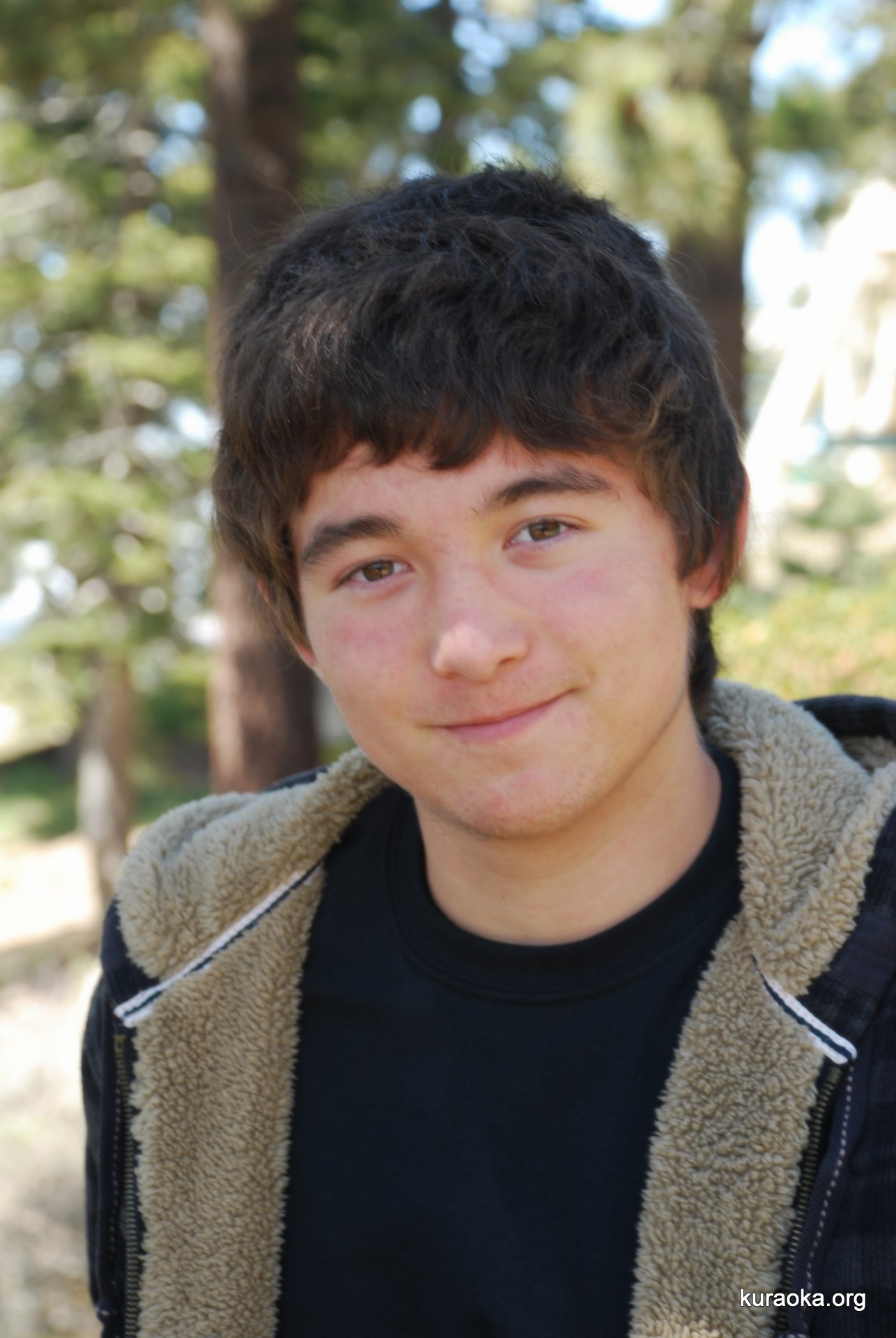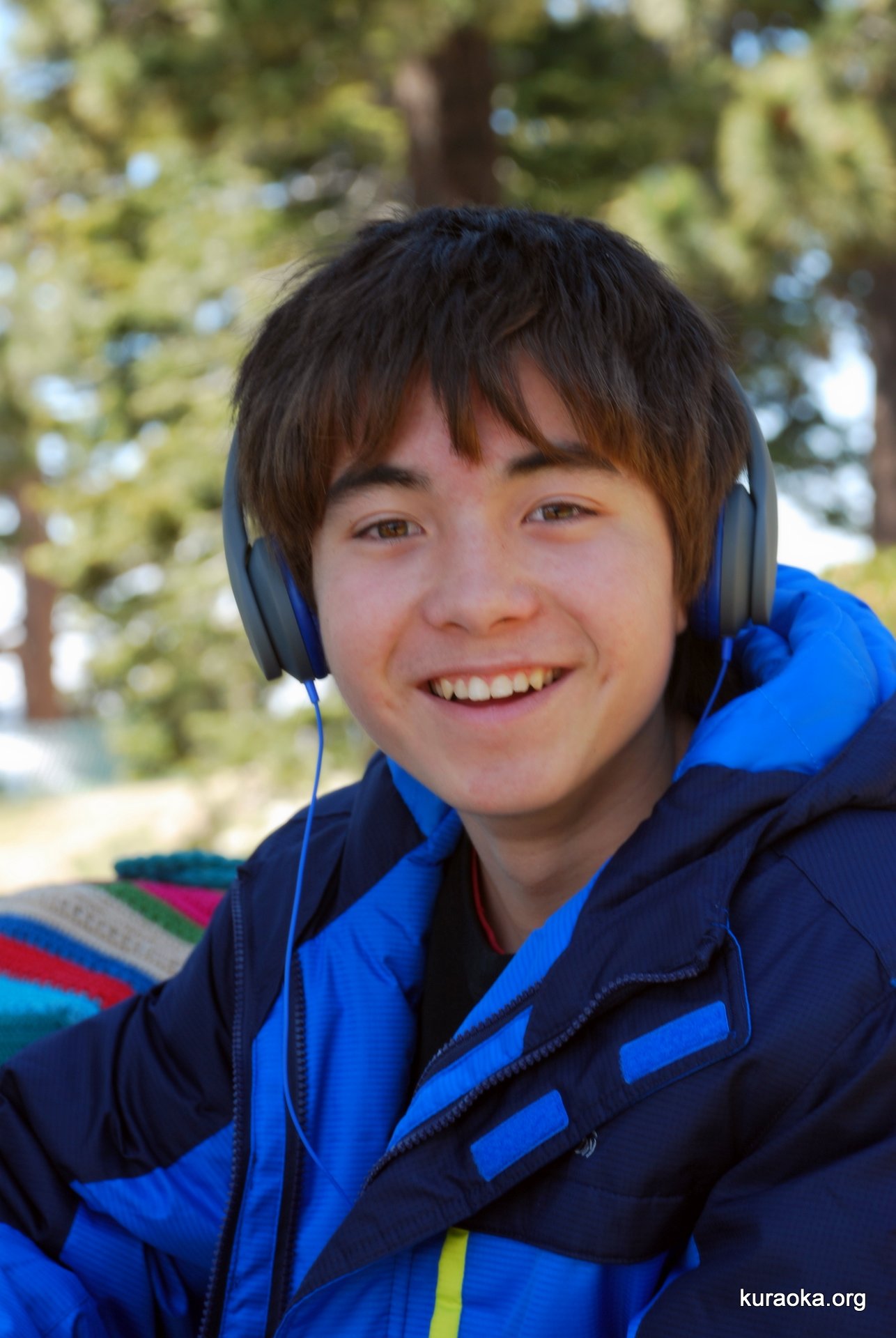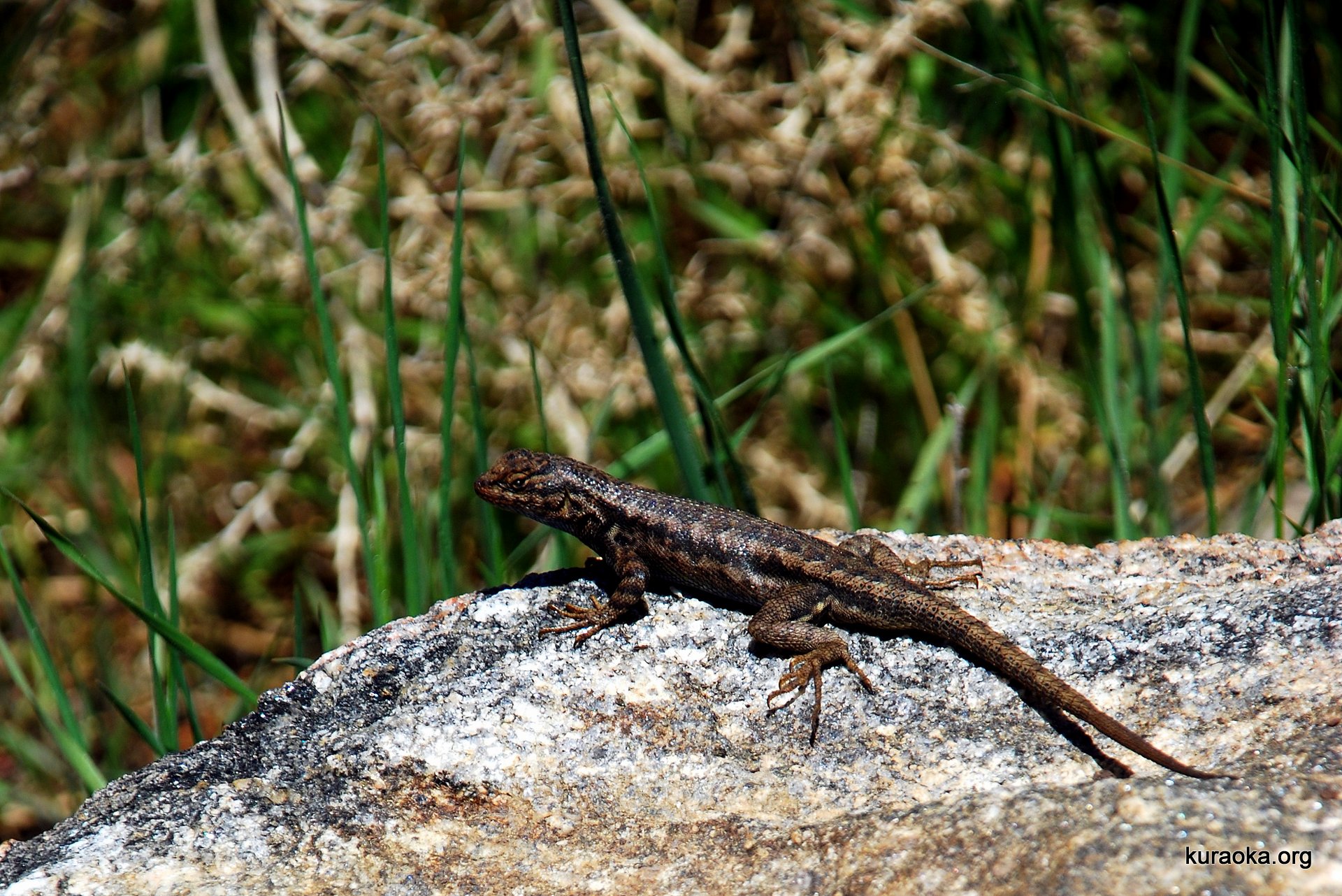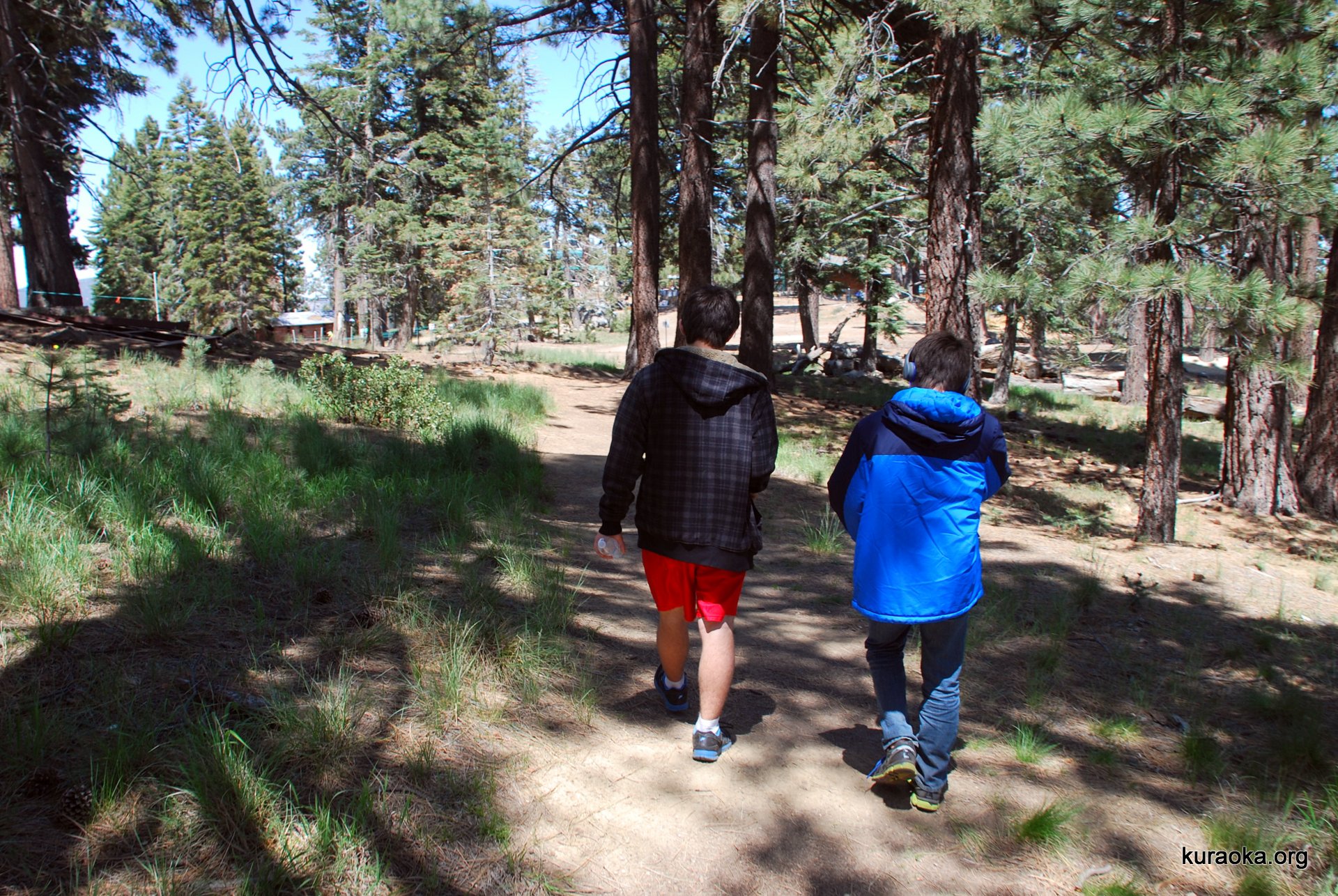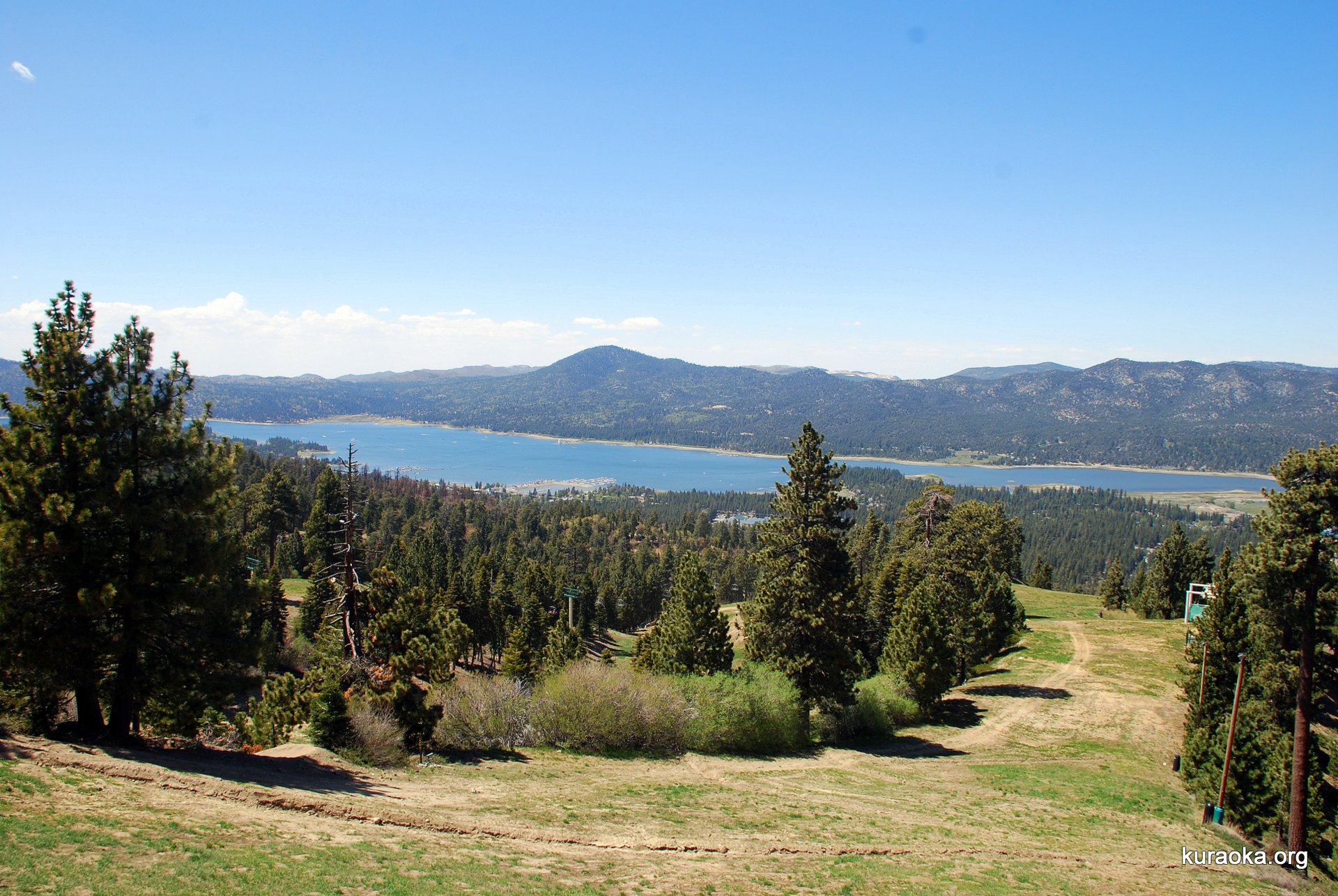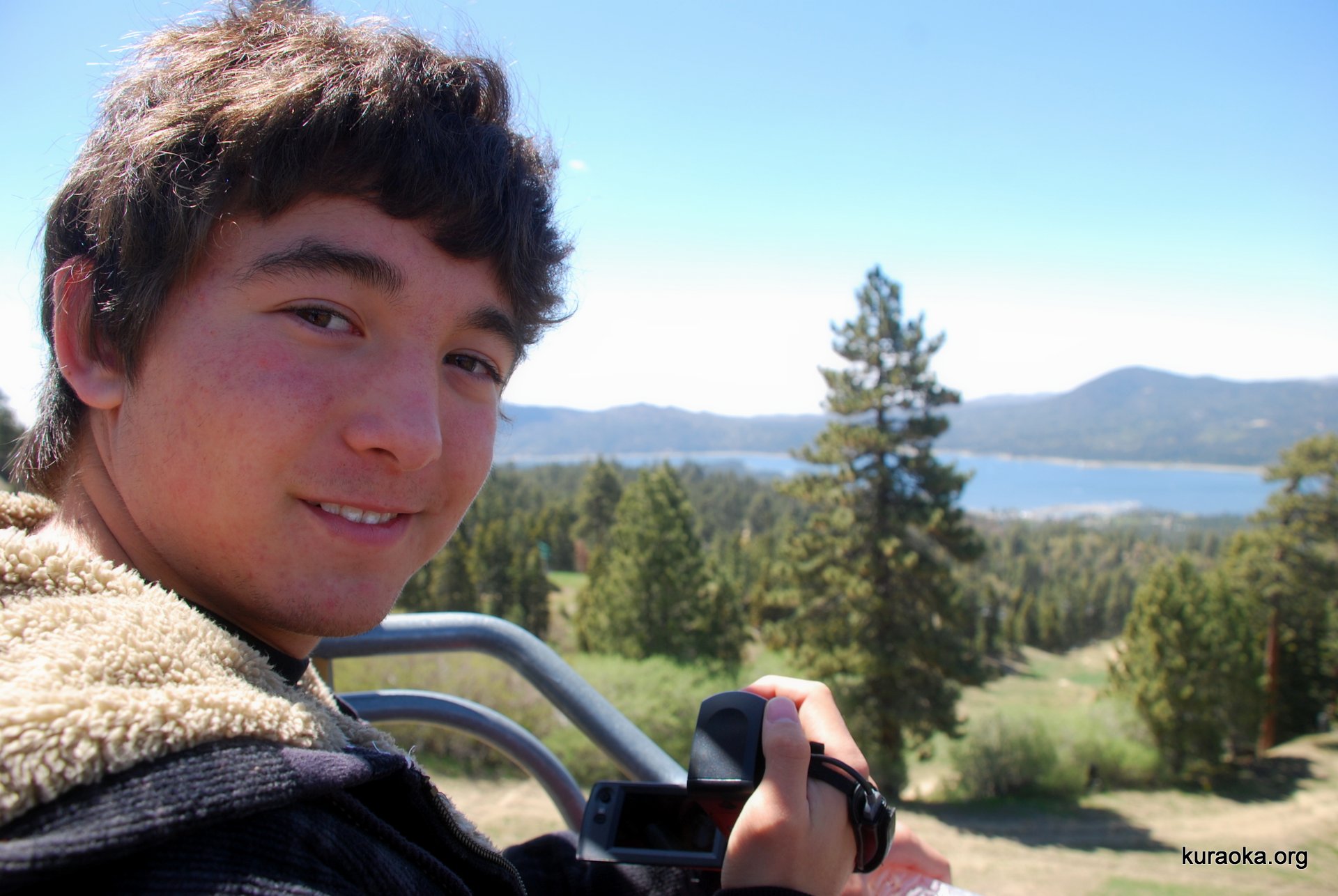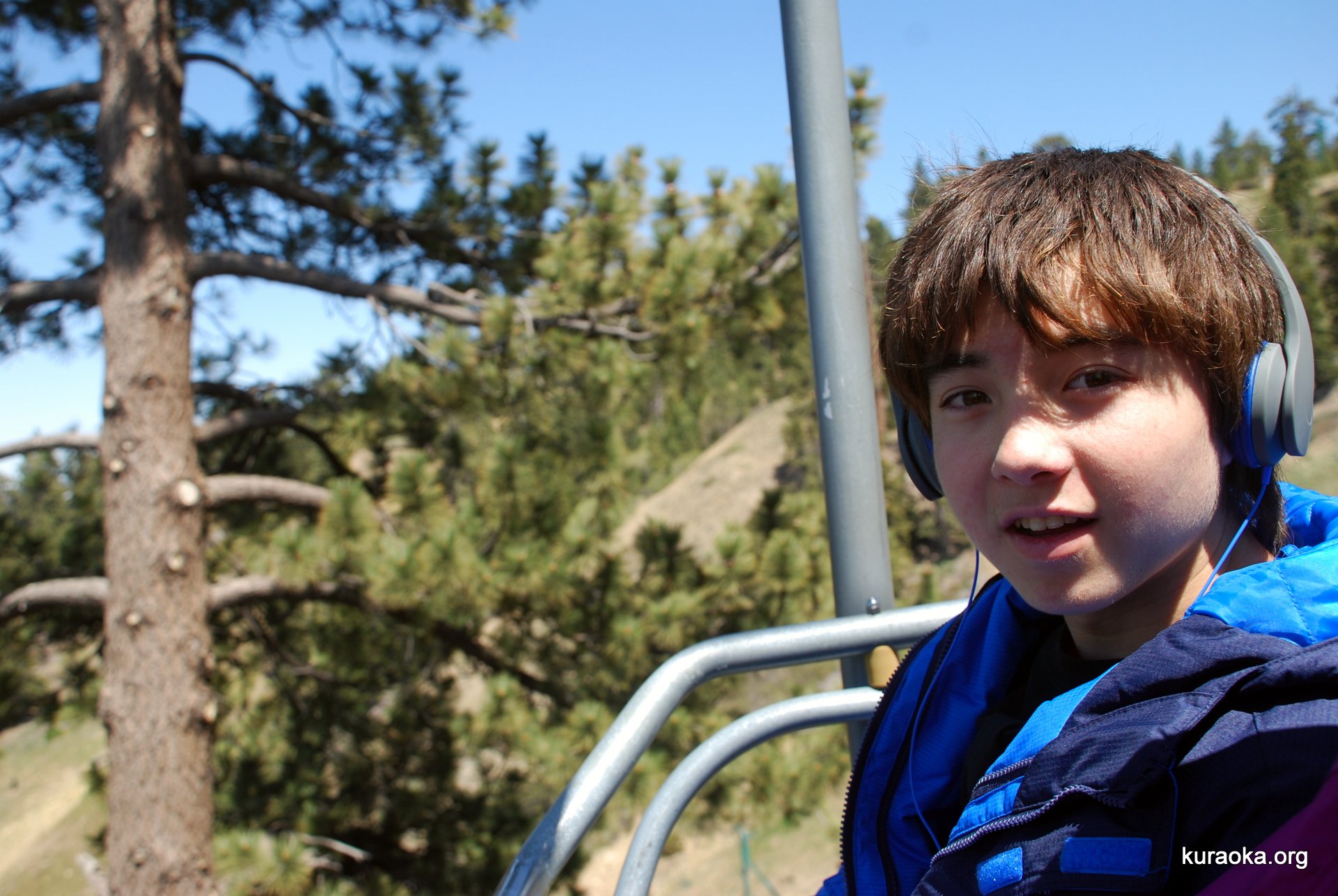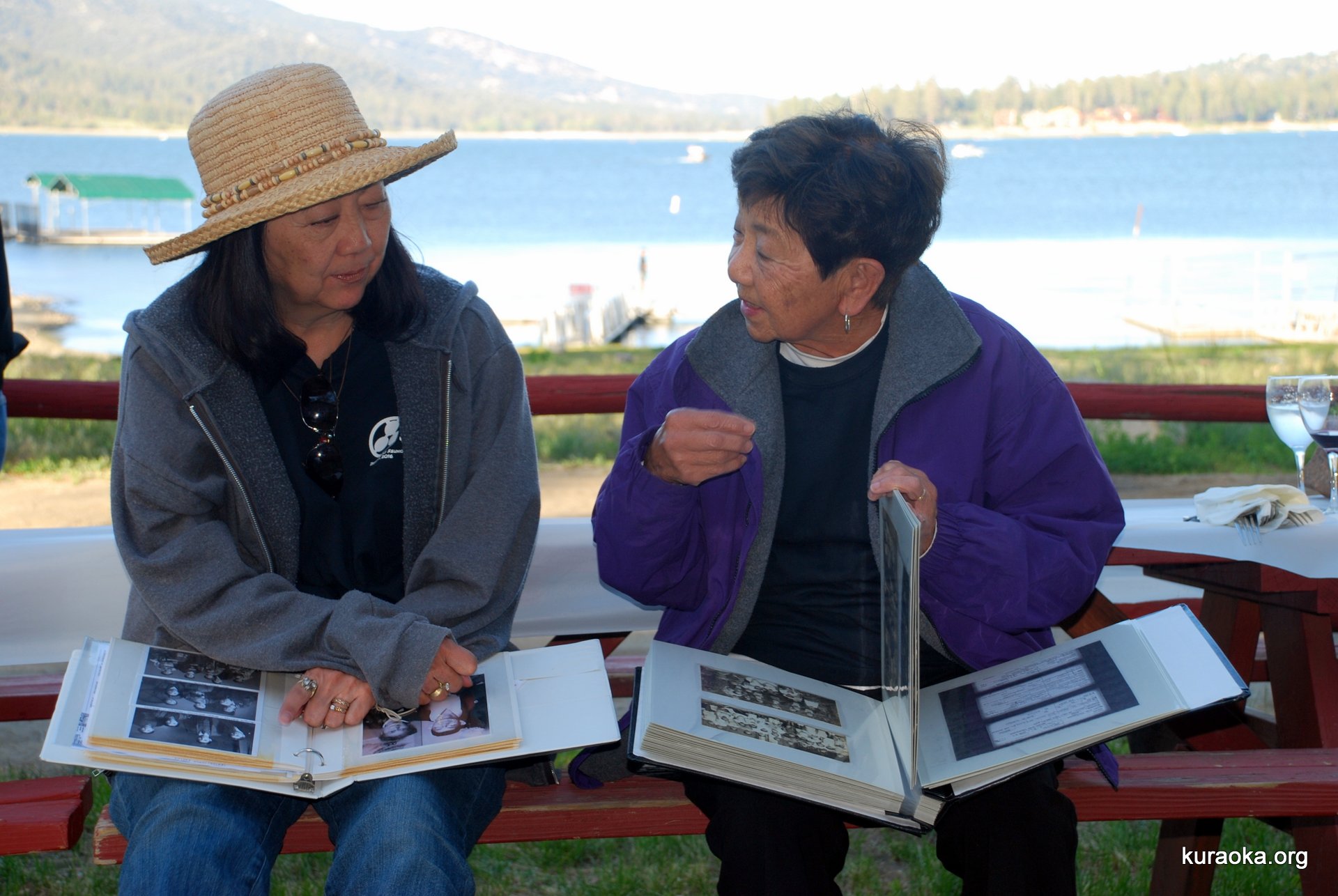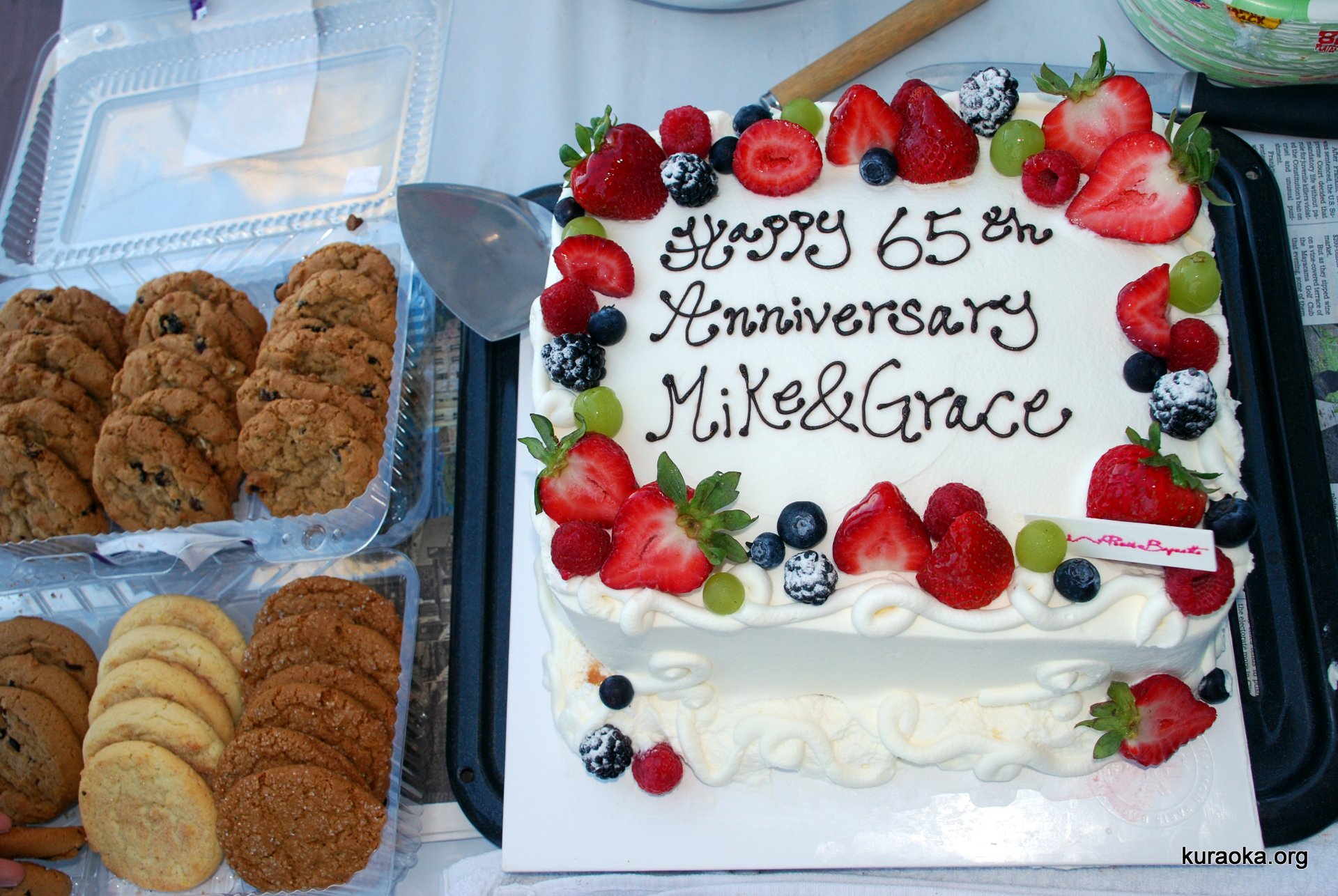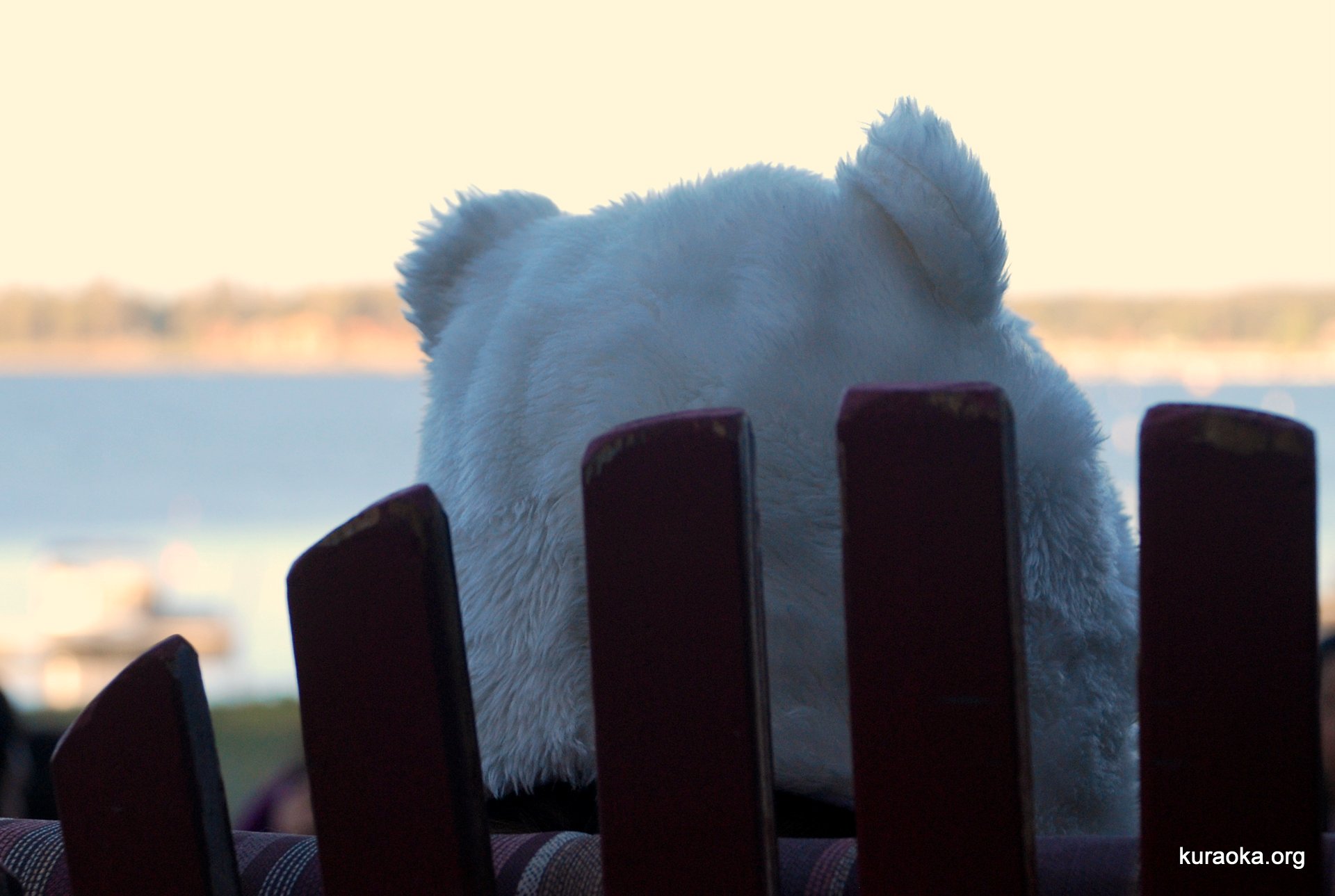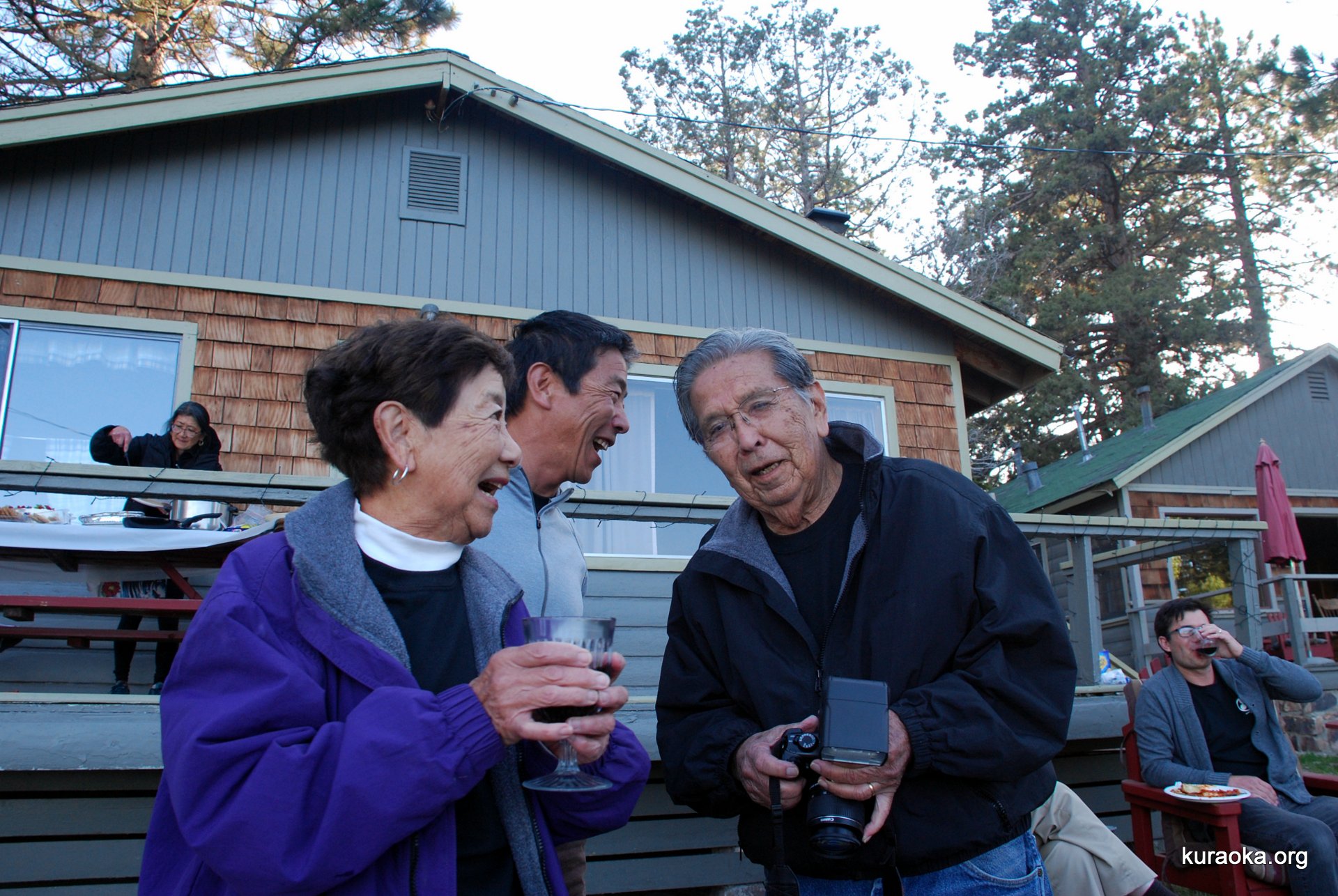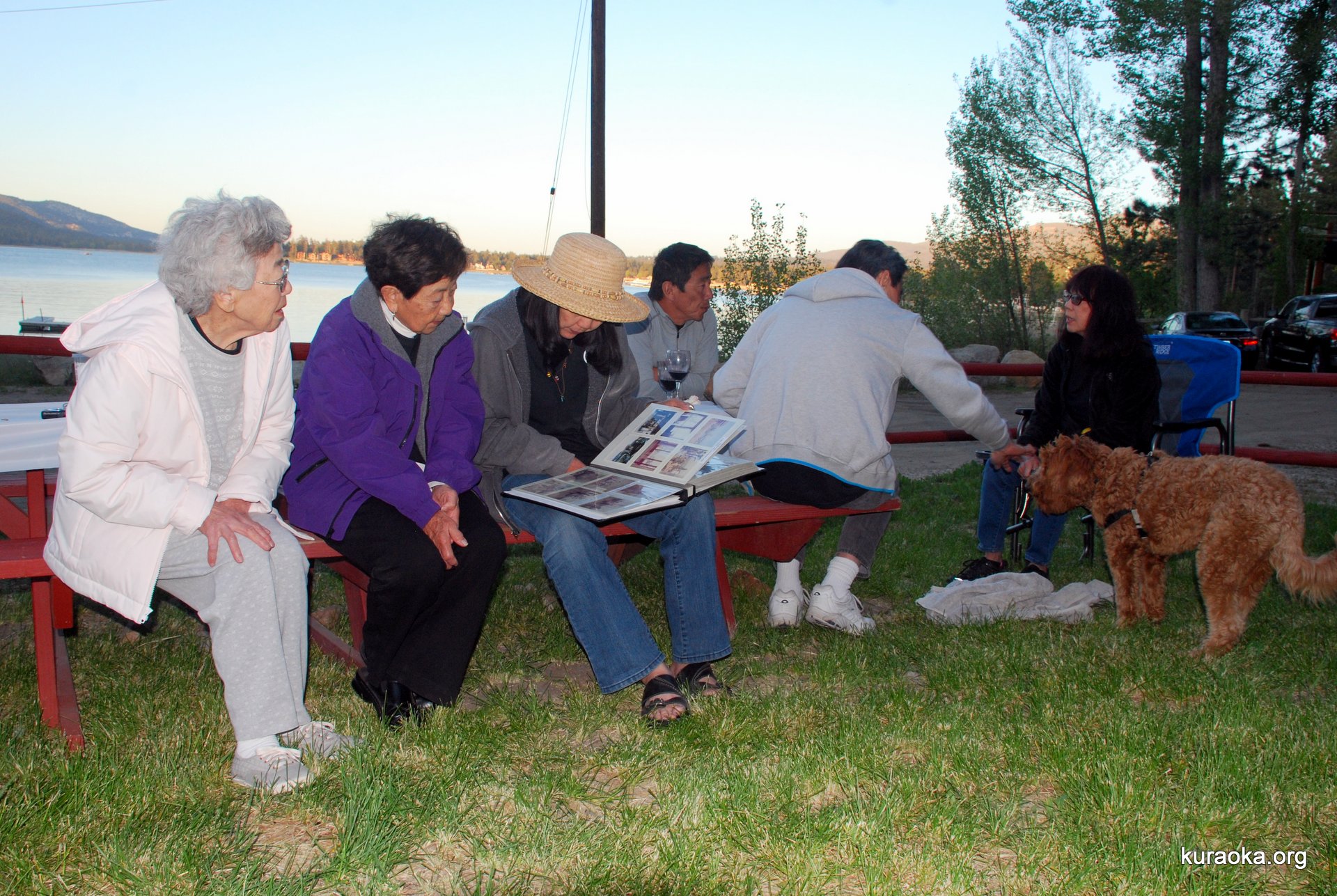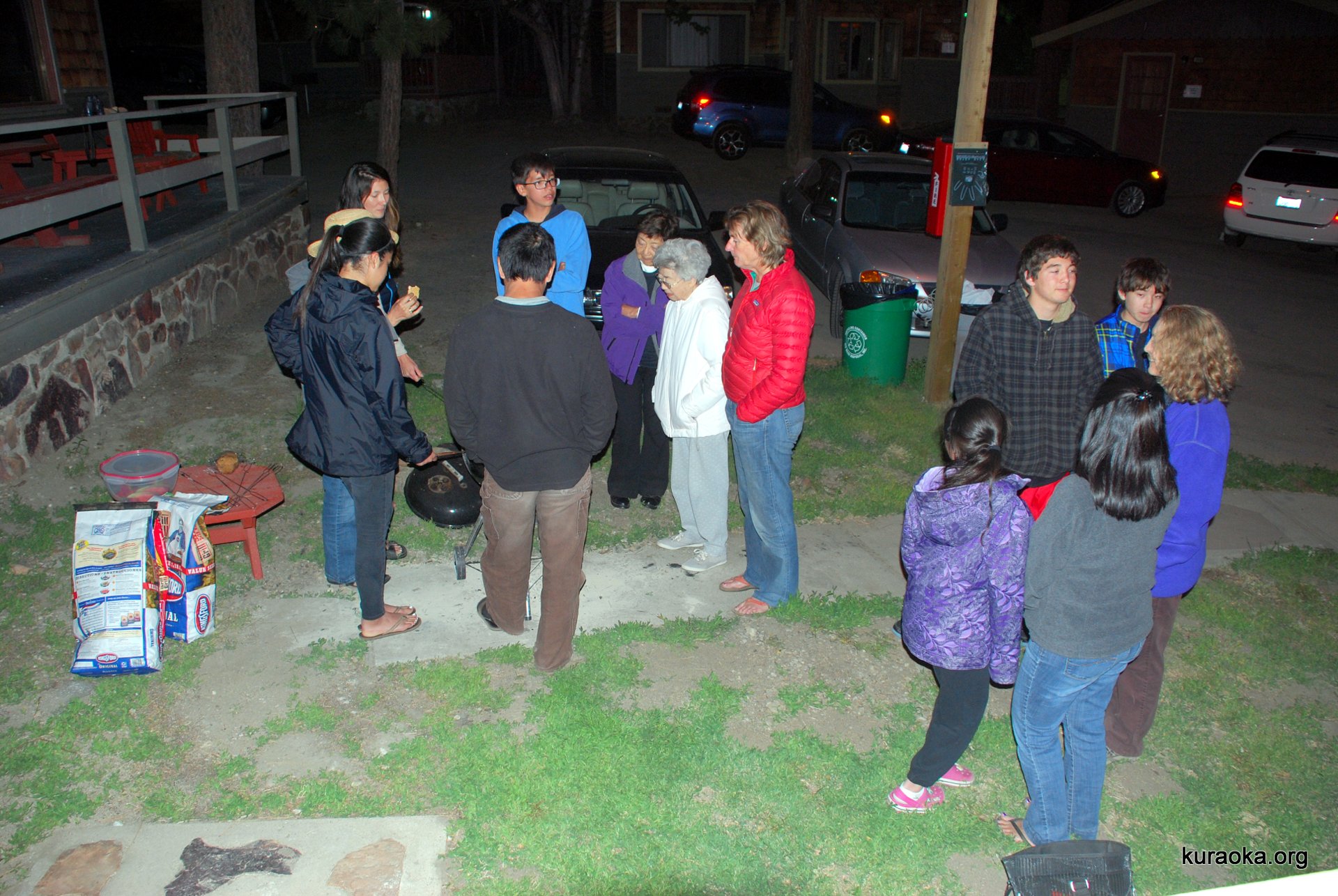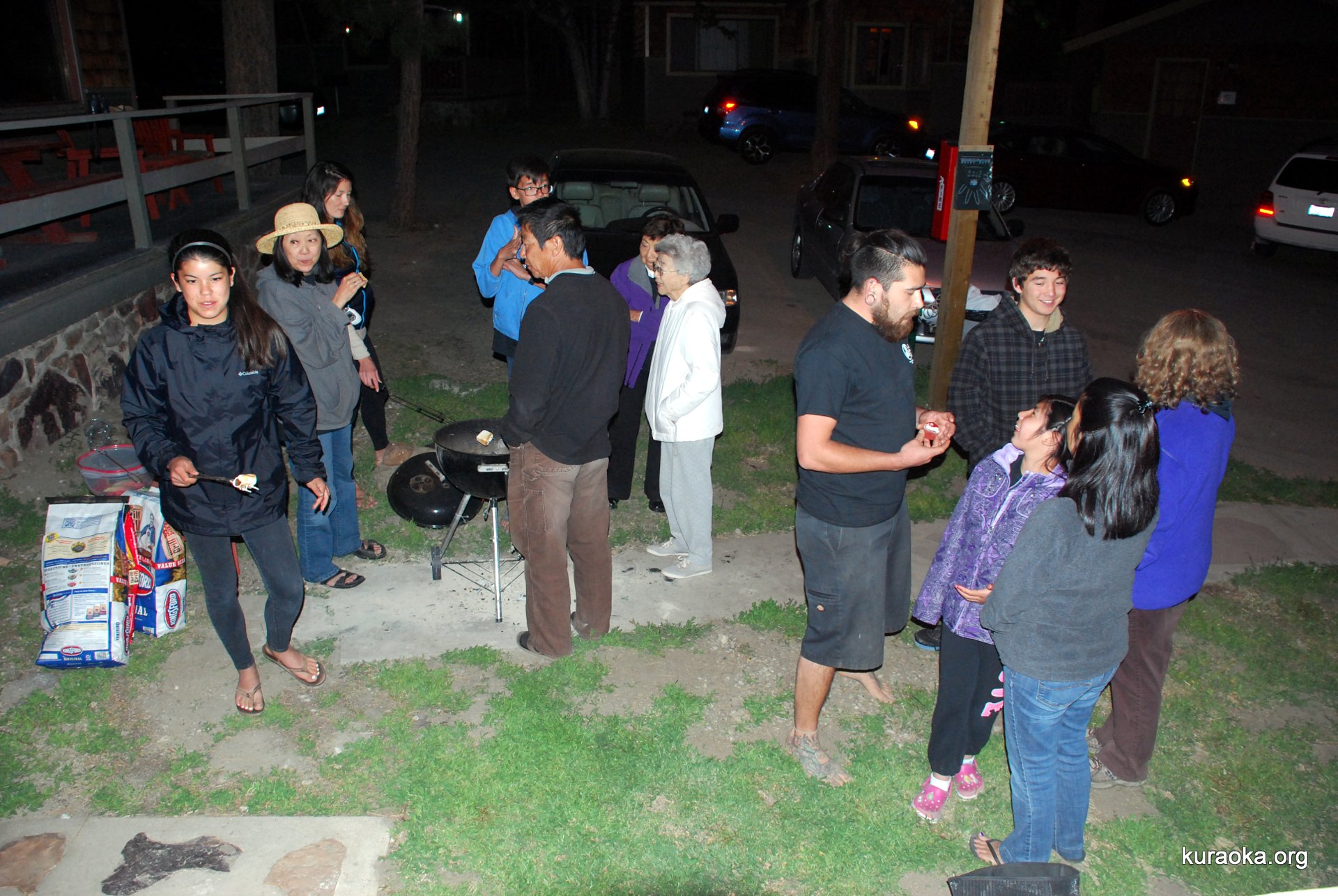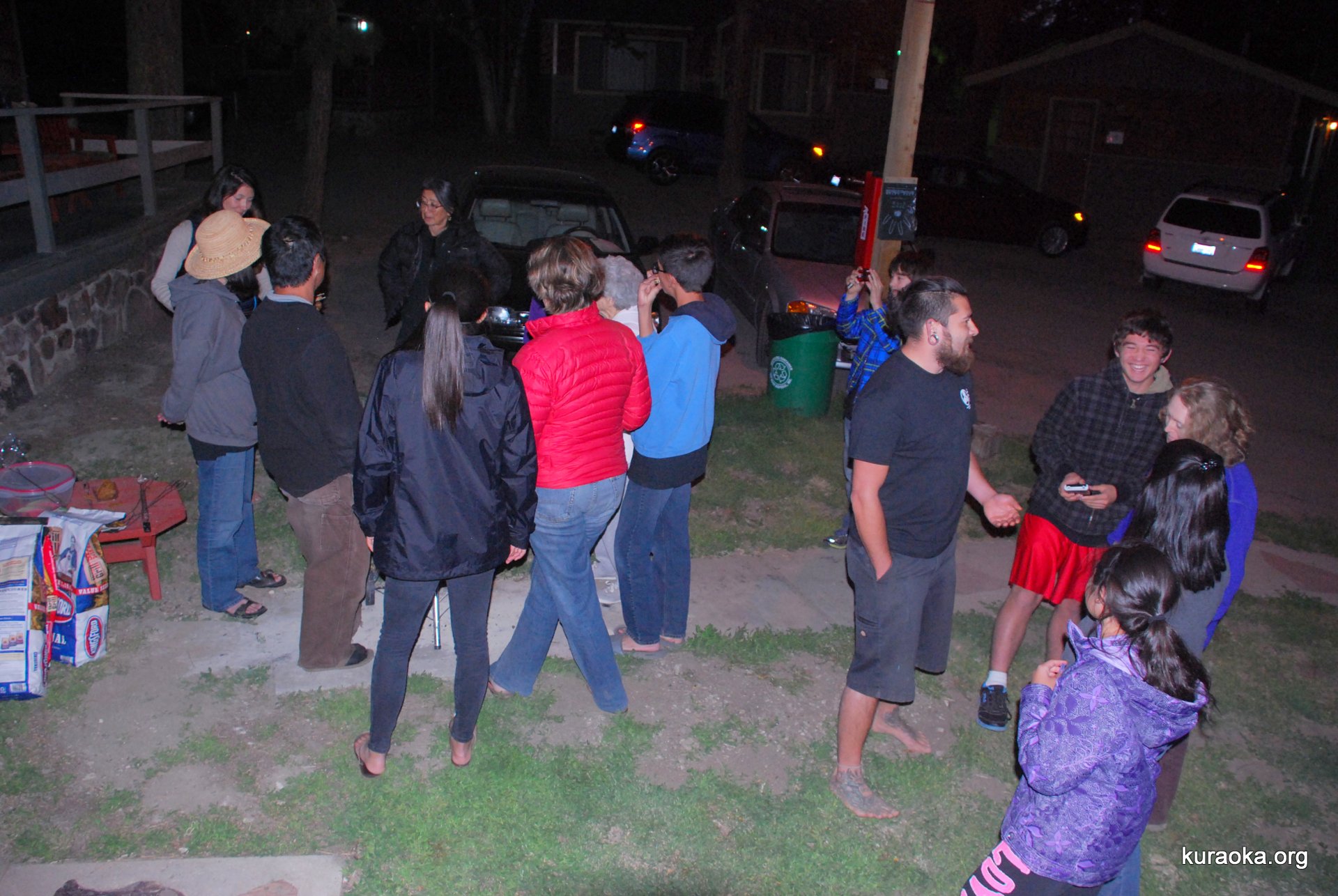 Monday morning we got up to watch the sun rise over the water. One by one the kints joined us until by 5:15 we were all sitting on the dock, cameras ready! Sunrise was at 5:37, but it took a while for it to come up over the ridge. It is already one of our favorite memories of the weekend, along with the dinners together!
John Bolen went fishing every day with his grandson (Kate and Phil's son) James, and every day James caught a fish! The first day it was a catfish, the second bass, and the third day he caught a magnificent rainbow trout! Kate and Phil didn't want it, and Lynne is vegetarian, so we scored a lovely fresh-caught trout! John cleaned it there and packed it in ice. Dinner!
Ondine left around 9 taking Roy with her. John followed around 10 with Leo, making it home in exactly three hours. The boys caught up on schoolwork that they couldn't do at the cabin because the internet access for the area went down. John sorted his photos from the weekend.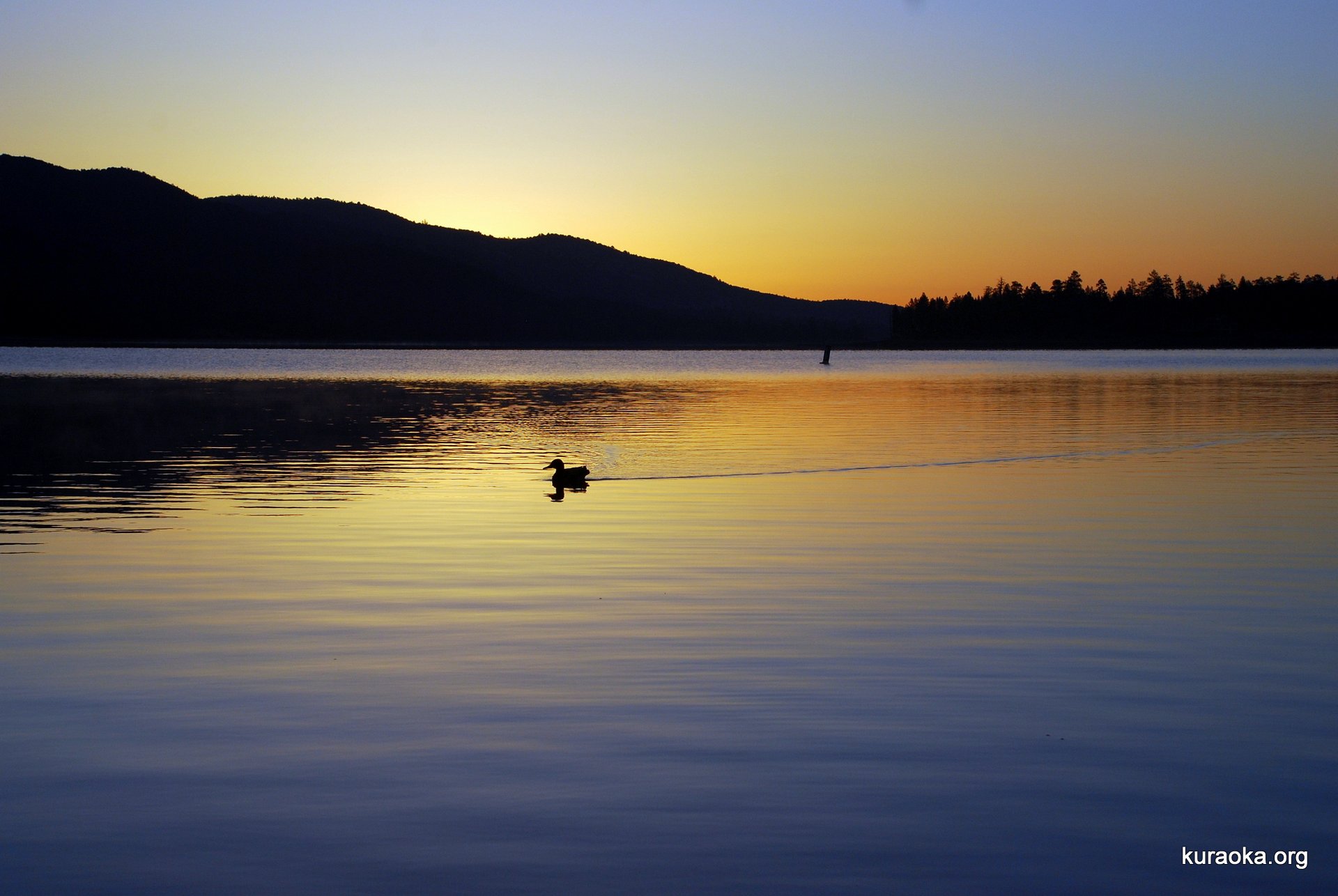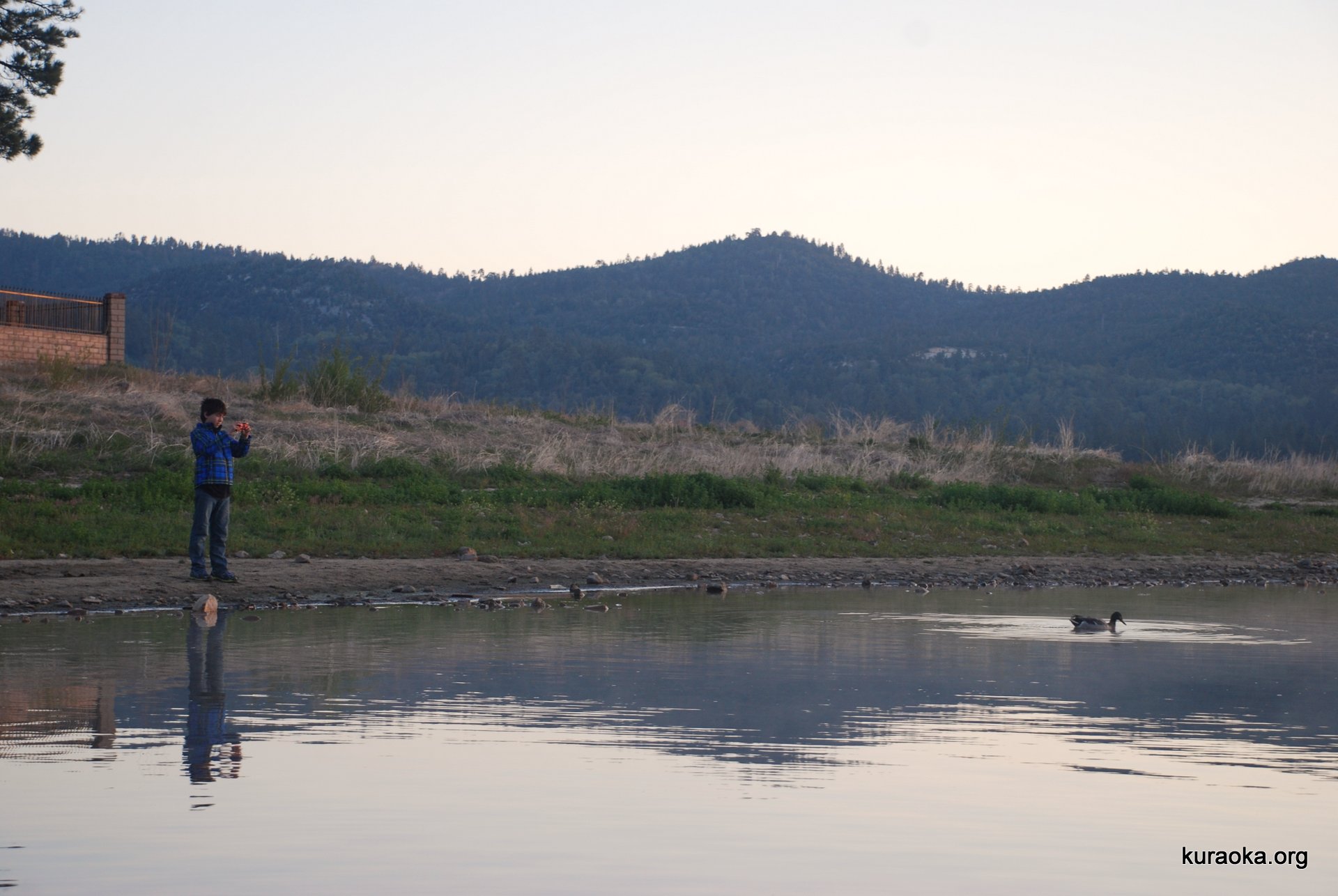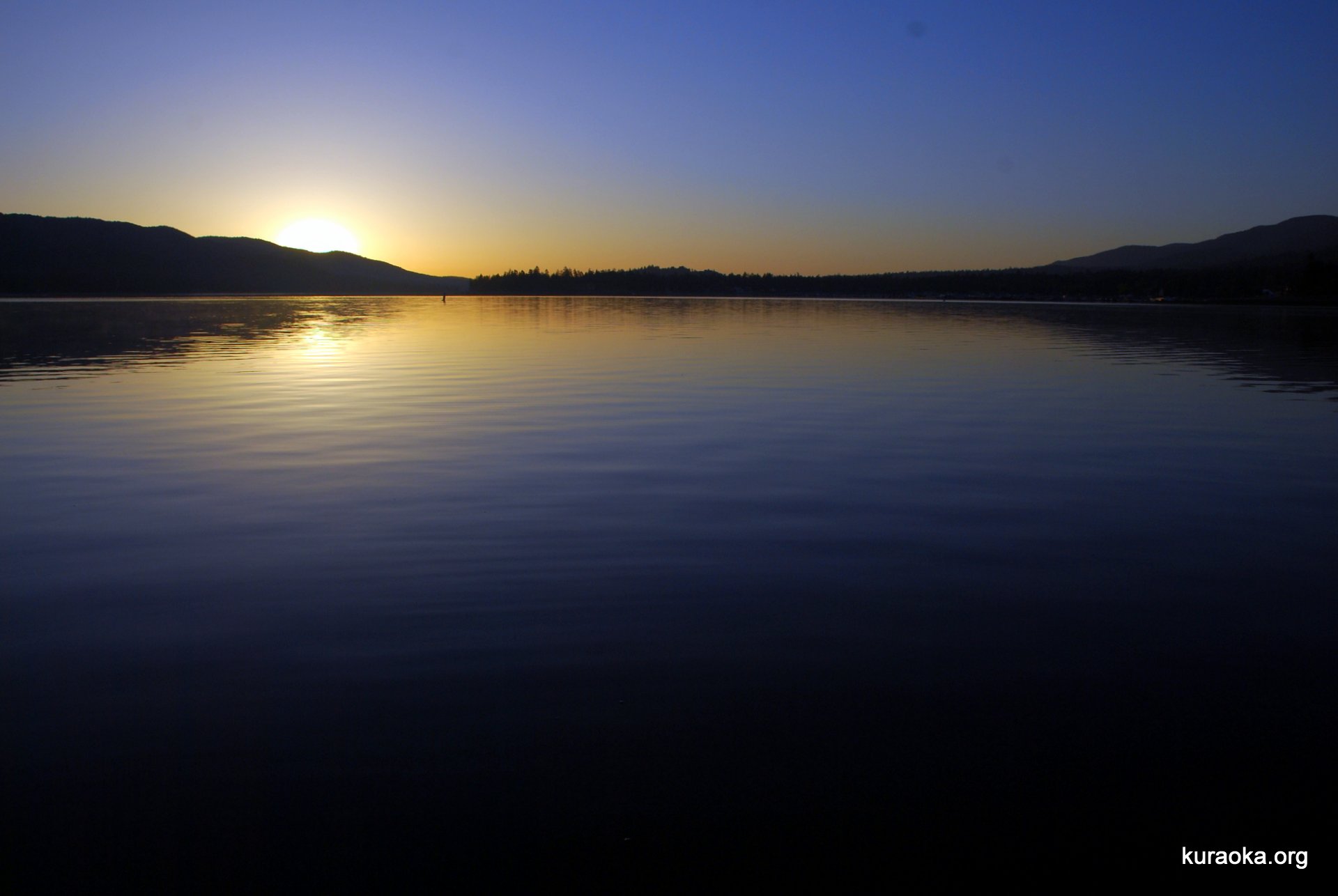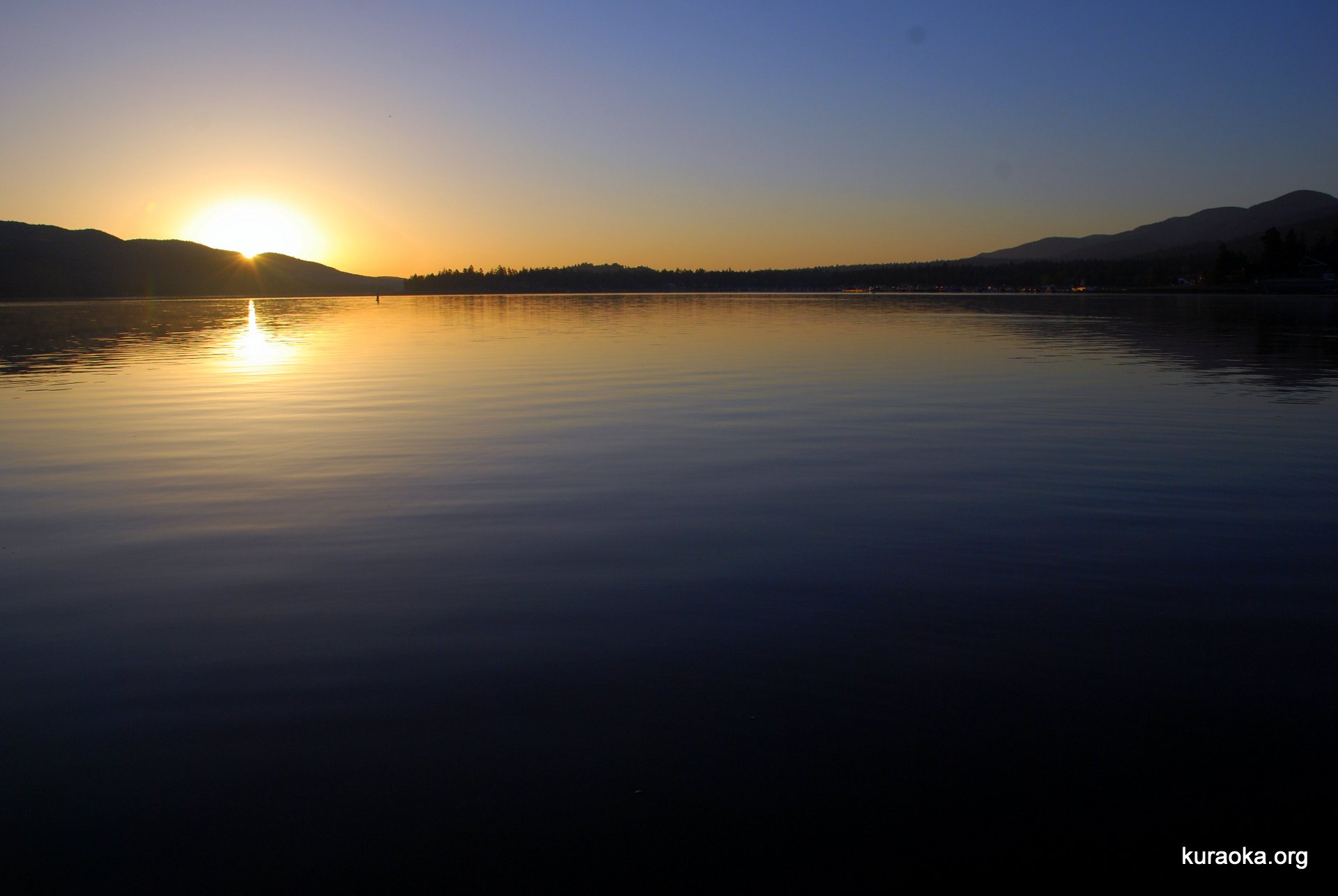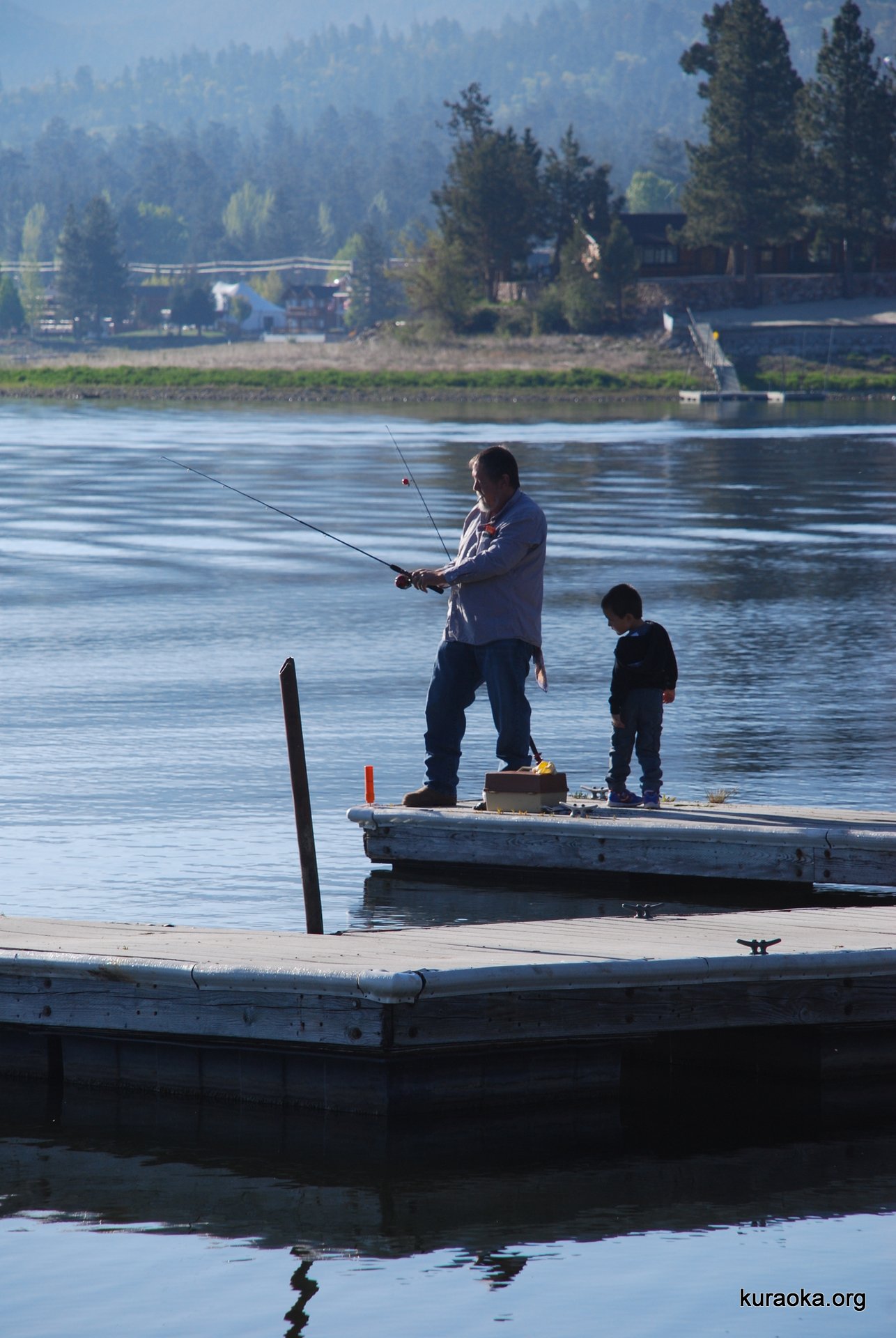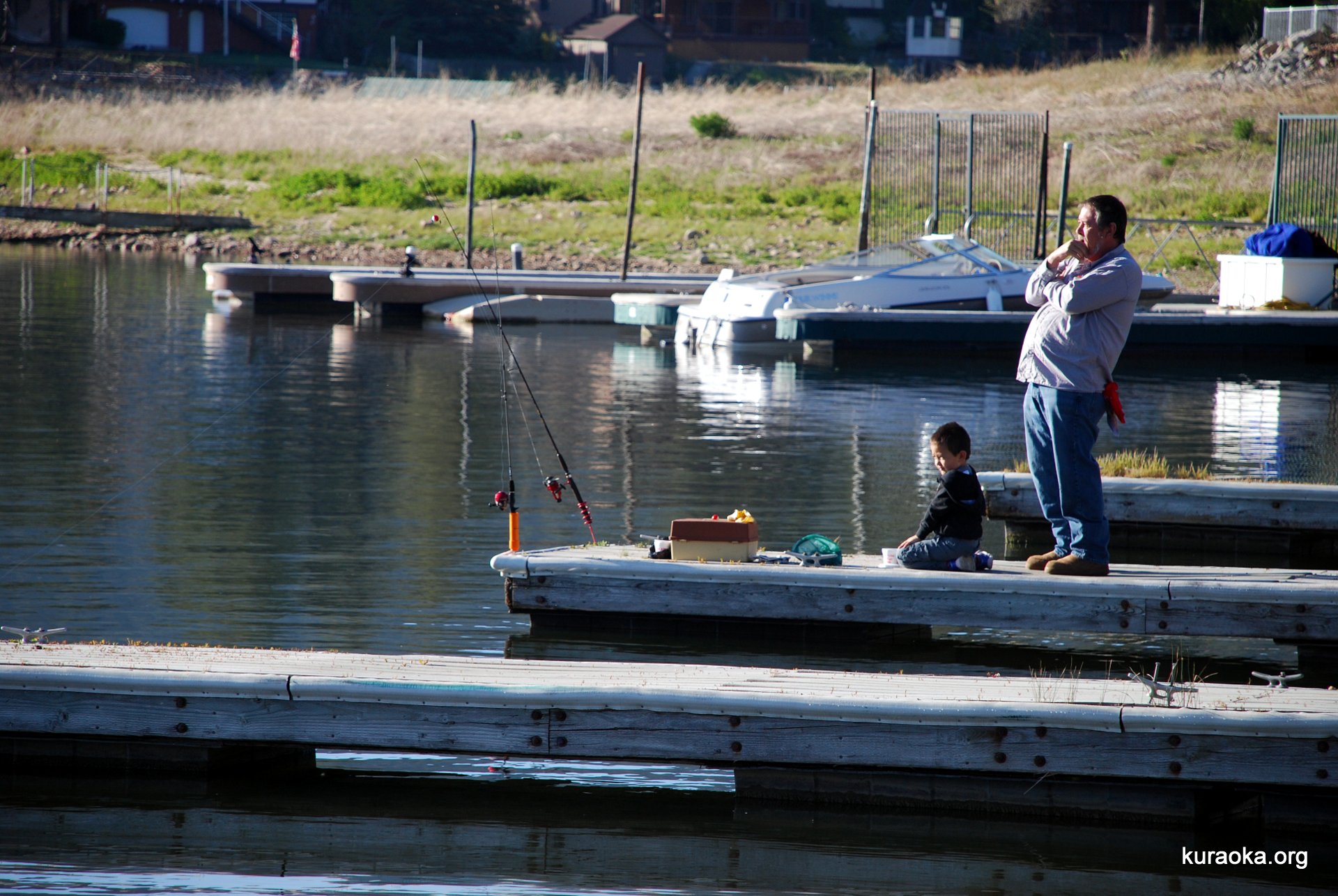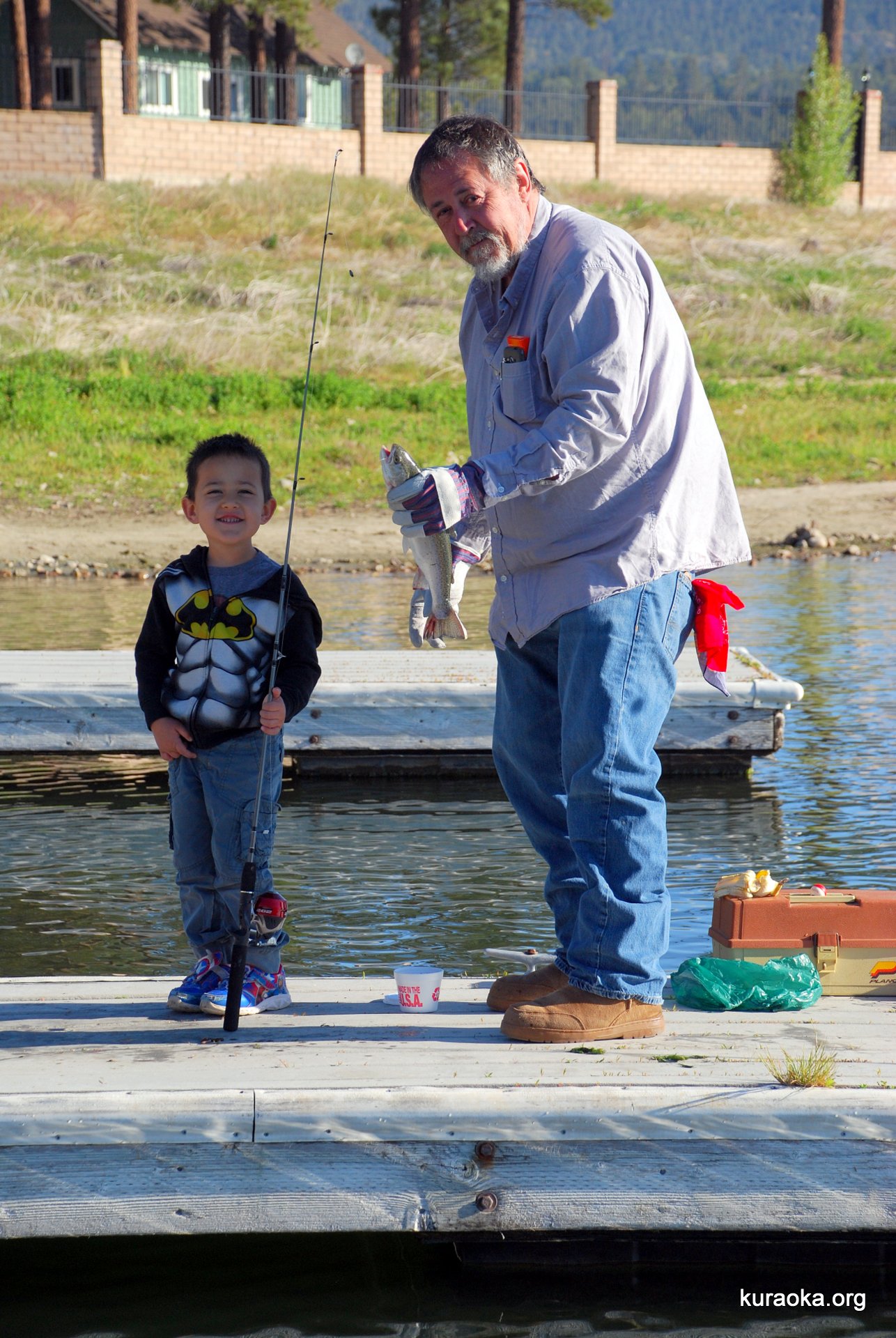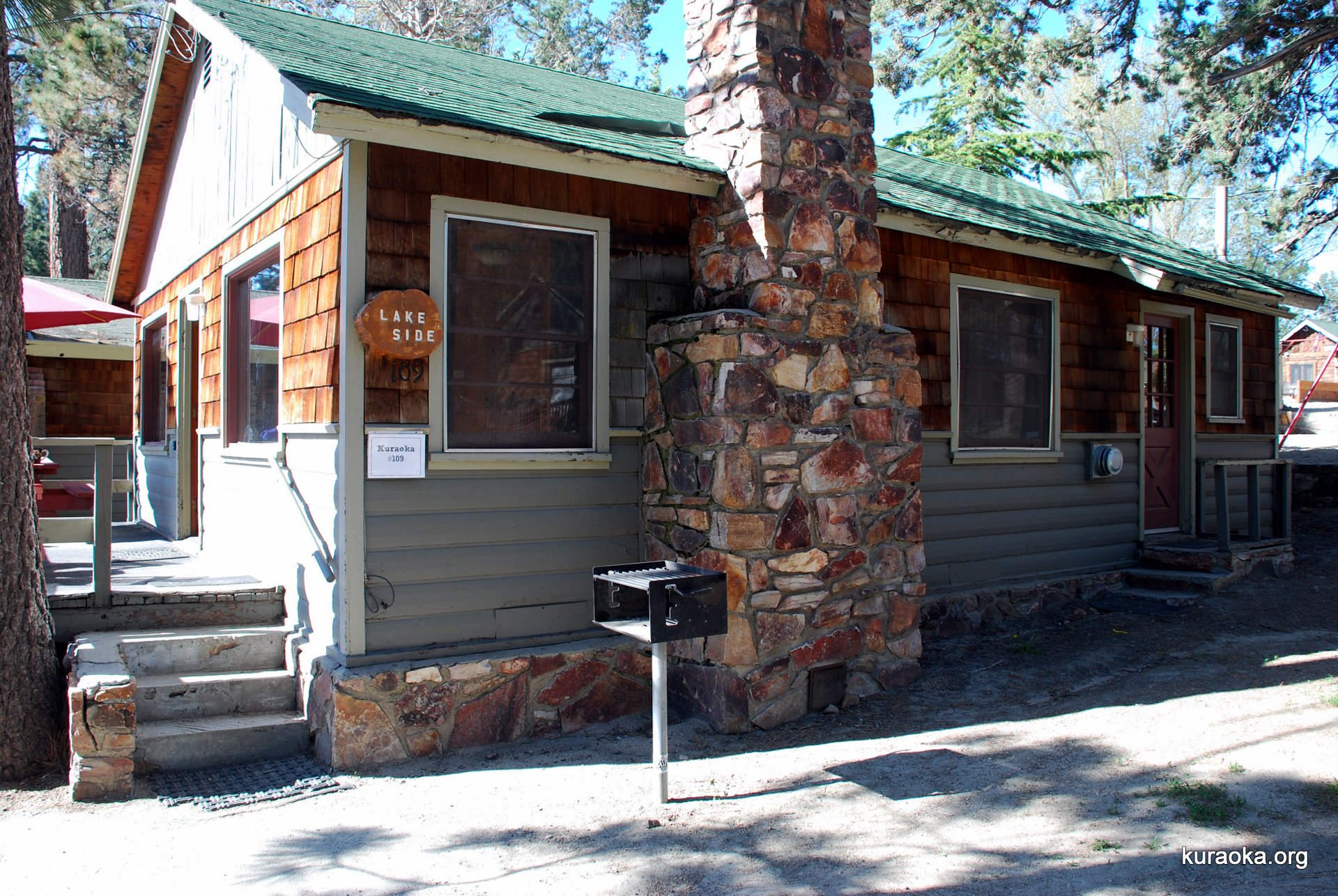 Tuesday it's back to work and school. Ondine has a Spanish tutorial this evening, in preparation to take the Kaiser exam so she can use her Spanish on the job. And John discovered that his Nikon D40x can use his old lenses! Here it is mounting a lens made around the time he was born, and a few quickie photos made with that combination. It worked great!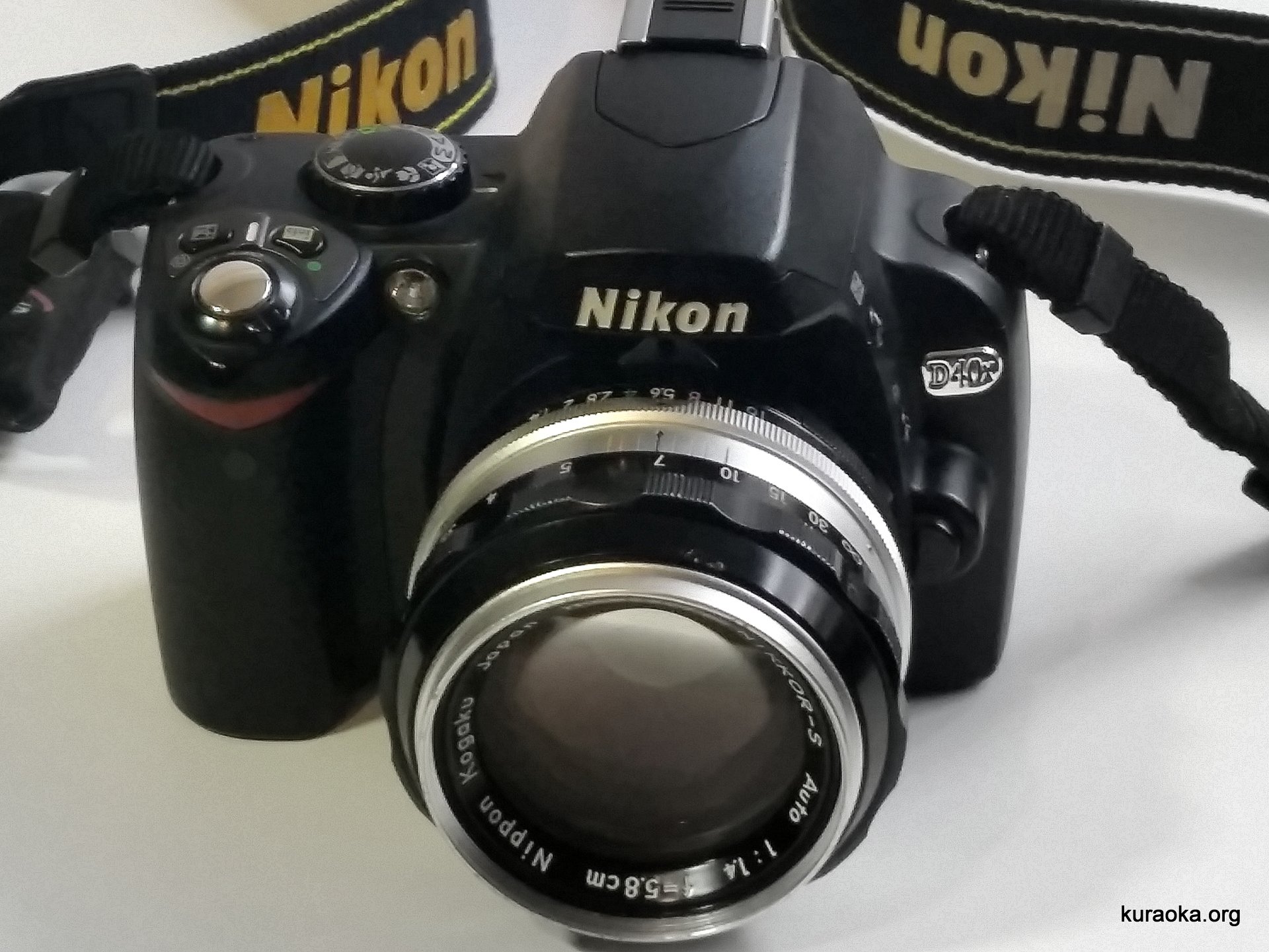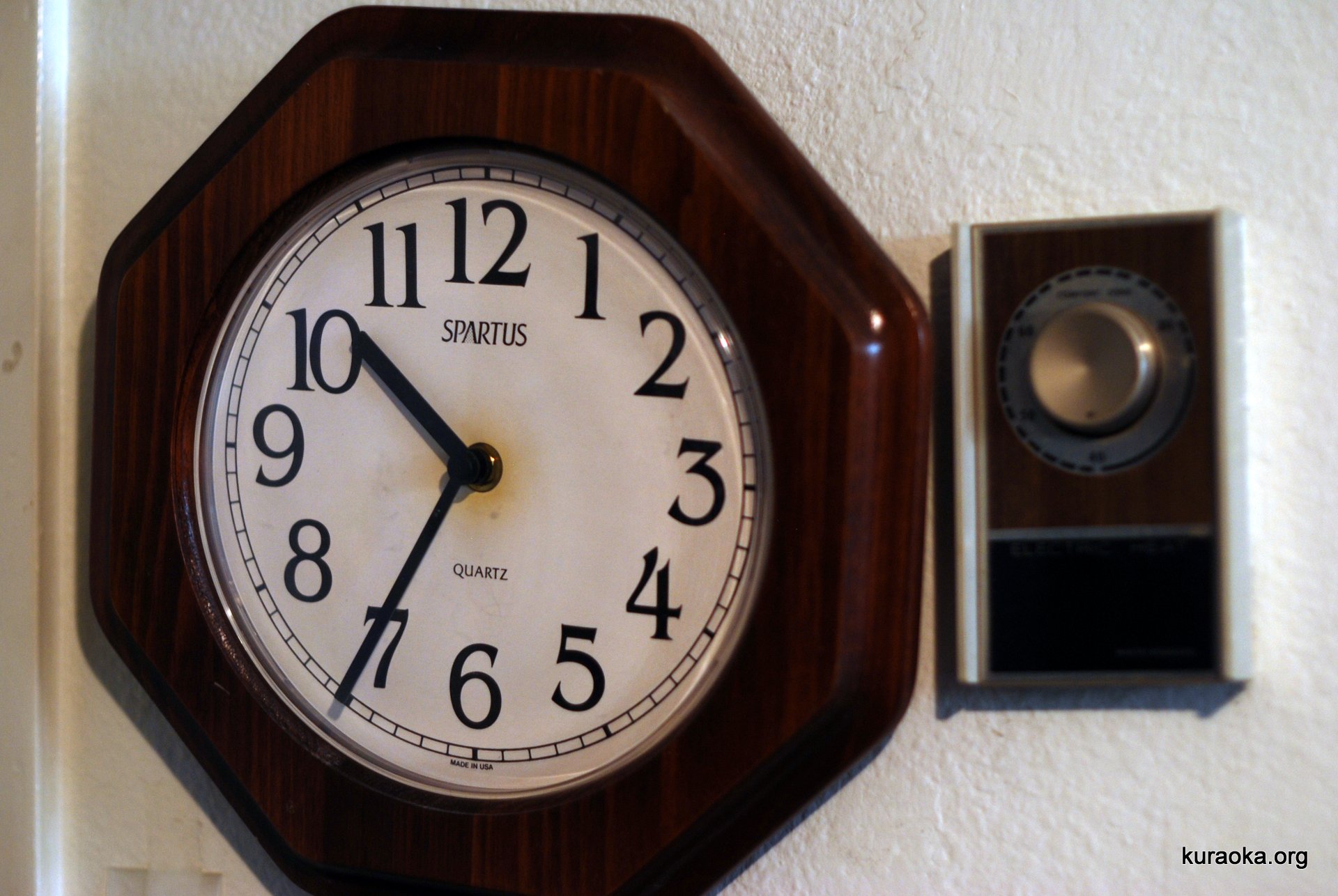 Neighborhood gas prices are still around $2.99 per gallon.
Back to the Archives page
Back to the Kuraoka Family main page
Forward to the current Weekly Journal.