The Kuraoka Family: Camping at Leo Carrillo State Beach
www.kuraoka.org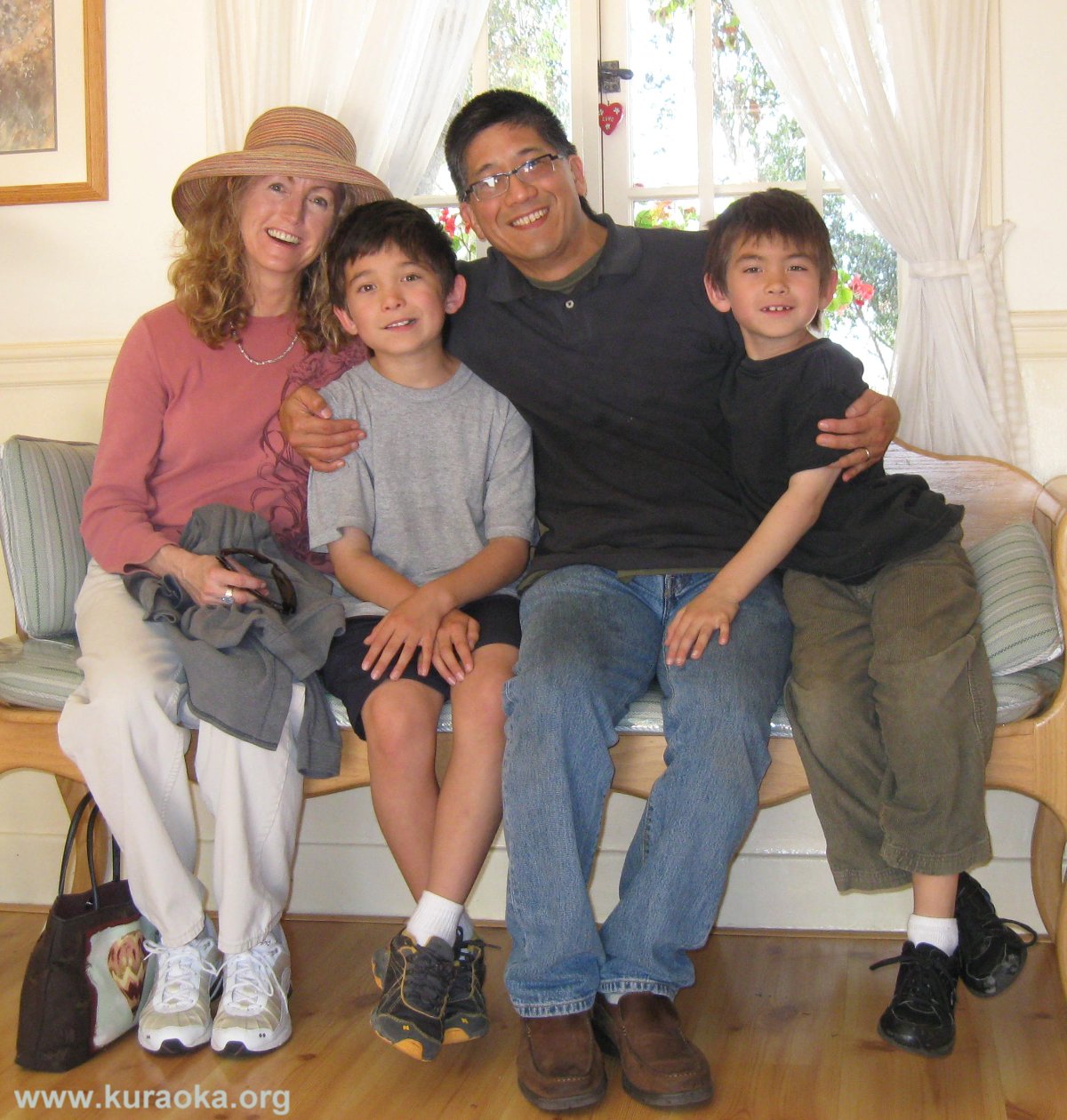 Us, May 2, 2010: Ondine, Roy, John, Leo (not shown: Buddy)
Friday 25 June 2010
It's hard to believe that Monday was the last day of school; it feels like a couple weeks have gone by already! Today, Friday, is actually our first full day at home all week. That's because Monday evening we packed the Piggy Pack, and Tuesday we went to Leo Carrillo State Beach, near Malibu, for three days of camping!
Leo Carrillo was descended from a family of original Californio movers and shakers. His ancestors served as mayor, police chief, and even governor. He was an actor (best known as the comic sidekick Pancho on The Cisco Kid, 1950-1956), but he also was an active environmental conservationist. He was instrumental in the state's acquisition of San Simeon, The Los Angeles Arboretum, and our own Anza Borrego Desert State Park.
Another San Diego connection: Leo Carrillo's great-great-grandfather was one of the early settlers of San Diego. And, one personal connection: John's business associate Blaise is married to I. Stanford Jolley's granddaughter – Jolley guest-starred on The Cisco Kid ten times, which is more than any other guest star.
Meanwhile, our own Leo got a real kick out of the name of the beach. Roy decided to call the beach Leo Carrillo the first day, Buddy Carrillo the second day, and Roy Carrillo the third day.
We left at about 11:00 – it seems we either get out at 7:10 or 11:00 – and had an easy drive up the I-5 to the 10, then over to Highway 1 and the park. We arrived shortly after 3:00, and got assigned campsite 130, a hillside site with an ample slope. John had to pile rocks under our camp stove to level it, and the tilted table proved a source of lots of water bottle chasing.
We set up camp and went to the beach for a spell. There's a section of beach just to the north of the main beach, past Tower 3, where dogs are allowed as long as they're on a leash. Roy and Leo rode their Boogie Boards and reported that the waves were quite powerful!
Buddy found the waves highly offensive, and barked at them. He tried to bite a wave a few times, but only got a snoutful of salt water for his efforts. He got bolder, and went chasing after them, dragging John along behind him. A big wave crashed over him and tumbled him head over nub tail, and he scrabbled to his feet full of fight only to get swept from behind as the wave receded. He shook himself off indignantly, and braced for another go at the next wave. John finally dragged him away; he (John) wasn't dressed to get drenched.
We returned to camp for a dinner of hot dogs – yum! Unfortunately, our campsite was a bit cramped, so we didn't want to have a campfire – we were worried about the smoke getting into Roy's tent. A little further exploration of our site, though, turned up two wonderfully shady alcoves in which to set up chairs and read! Here are Leo and Roy.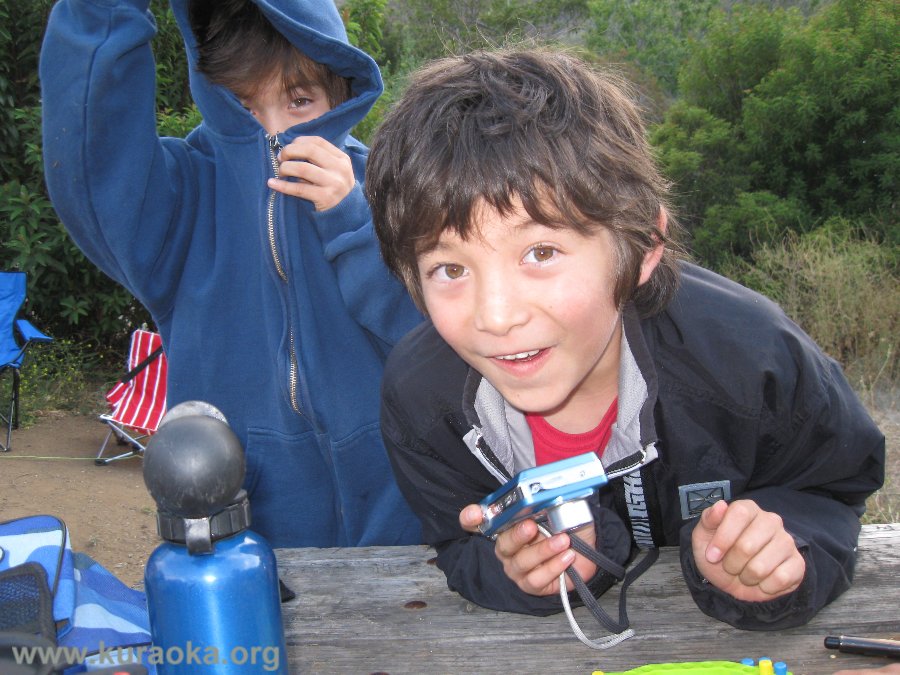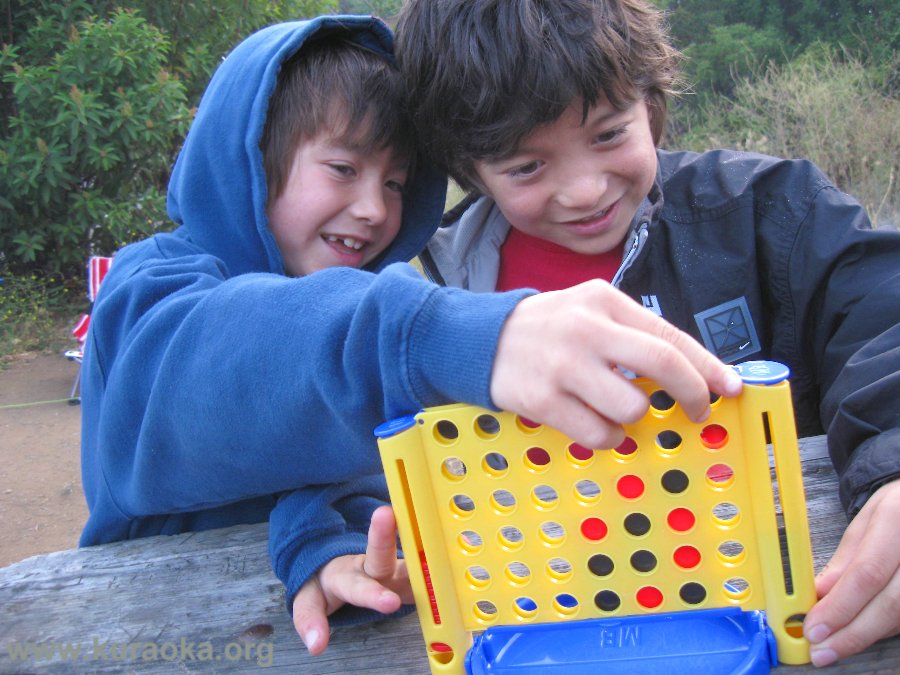 Wednesday morning the boys were up at their usual time of 5:45. John got up and made oatmeal while the boys played with Legos; park volunteers came by with flyers for a Junior Ranger program for kids that morning. So, John took the boys and dog off to the ranger program. Buddy wasn't allowed on that beach, so John watched from a distance as the group explored the tidepools and learned about the things they found. They also walked along the bluffs above people setting up to film a Scooby-Doo commercial! Here are photos from Tuesday morning. That's Ondine's foot by Buddy. Also, note the Pacific Ocean standing in for Lake Erie in Scooby-Doo.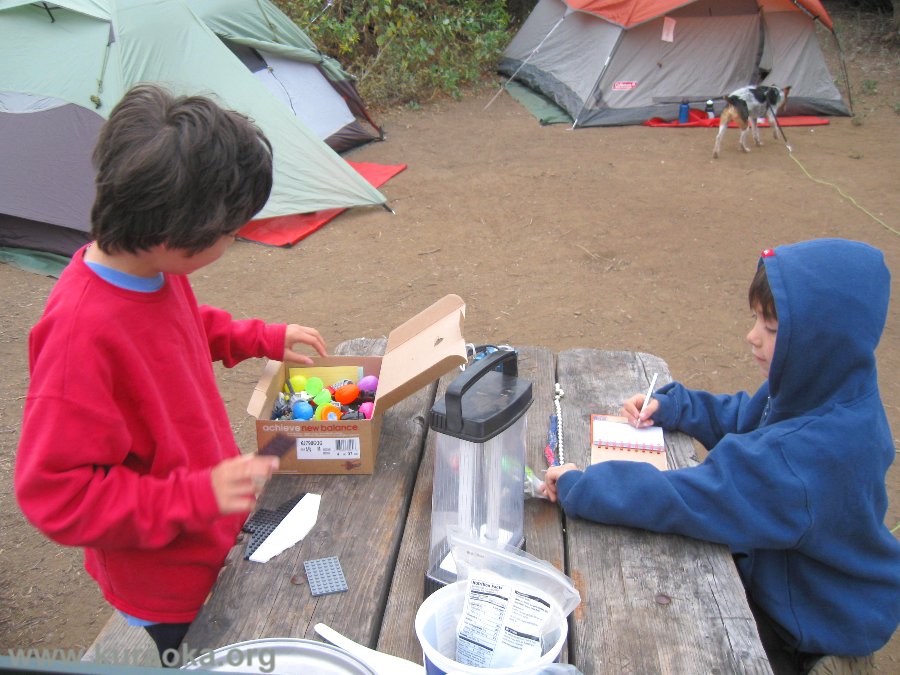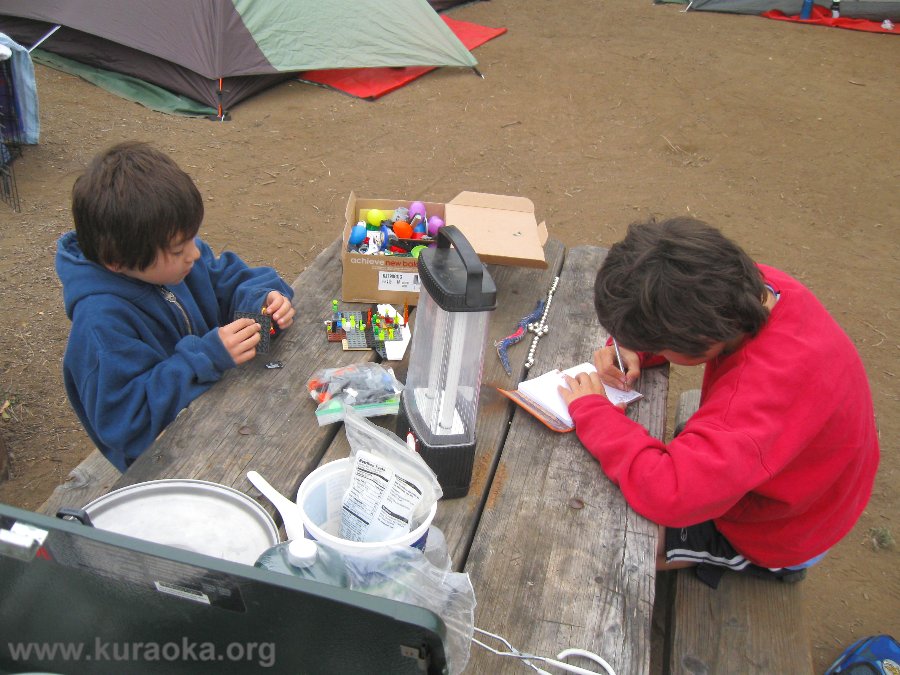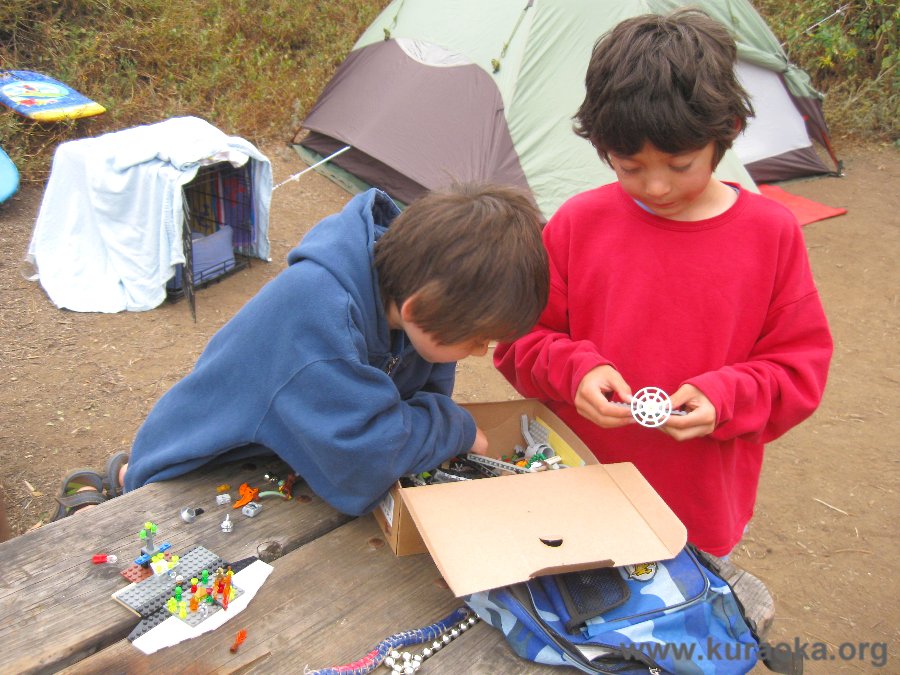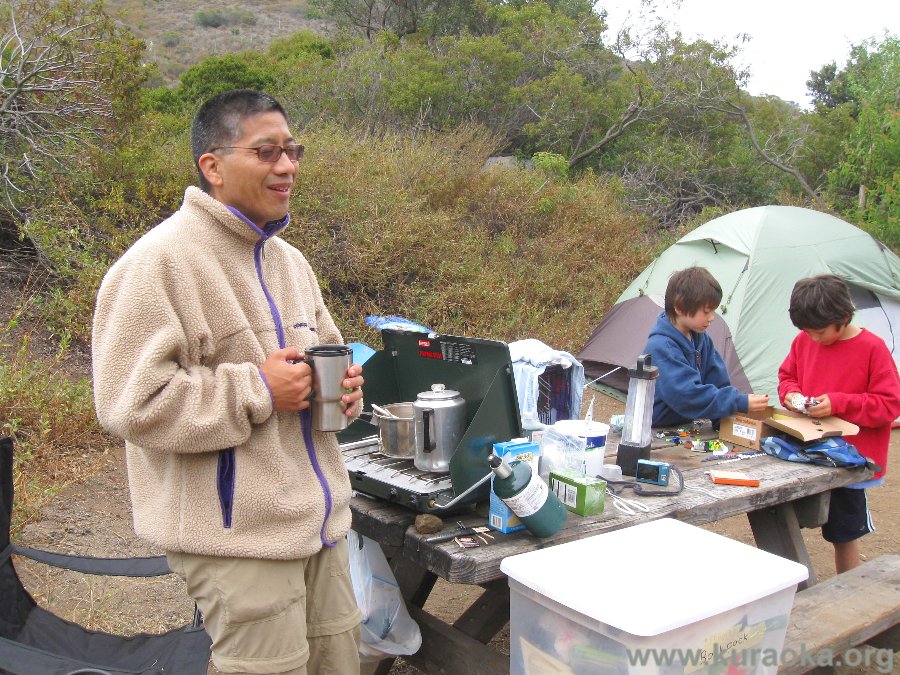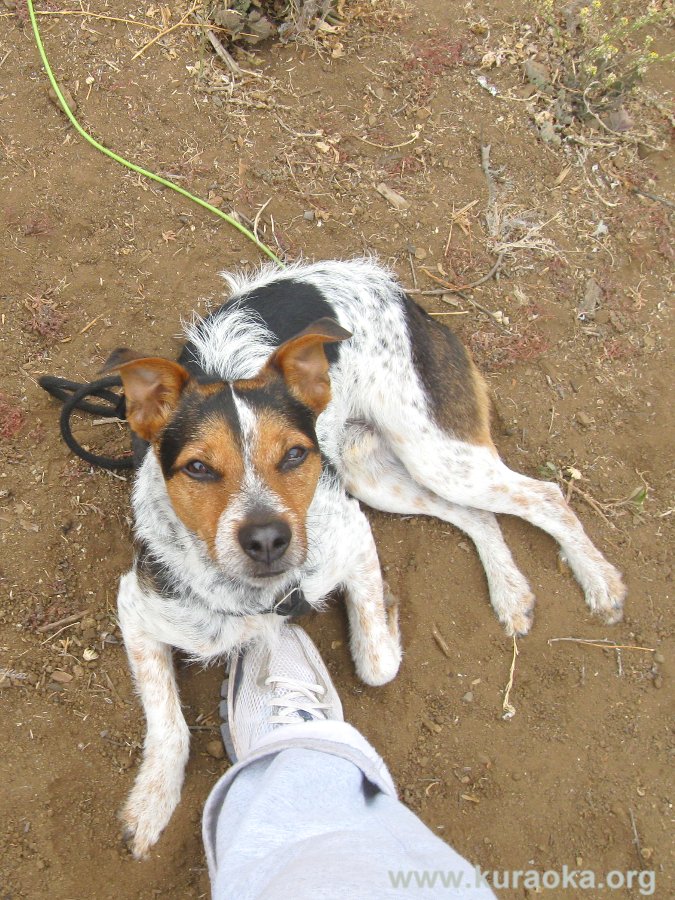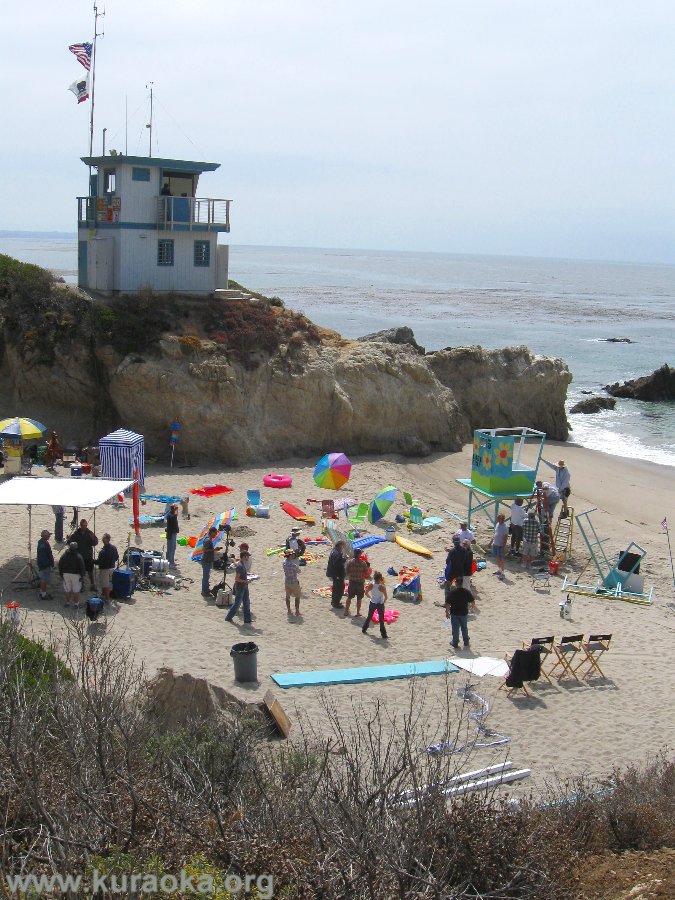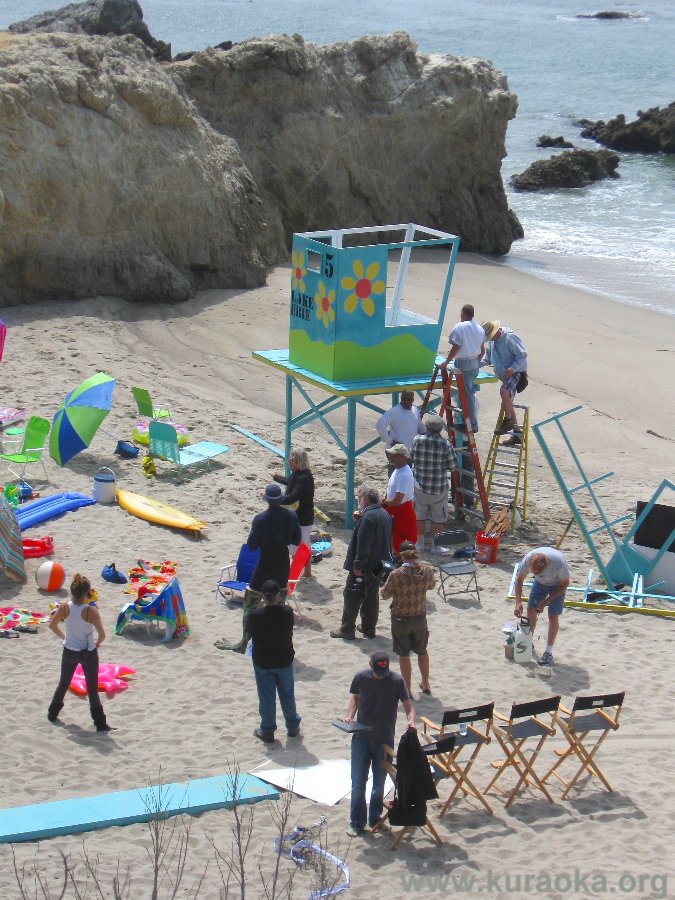 When John and the boys returned to camp it was nearly noon. Ondine had been busy cleaning up the breakfast dishes, making lunch, and packing for a day at the beach. They opted to go to the dog beach again, since it was so much less crowded than the main beach.
John stayed in camp with Buddy, and attempted to work, his papers balanced precariously on his lap as he sat in the shade. Although the web resources about Leo Carrillo State Beach said the campground had wireless Internet access, it doesn't, which pushed John's projects about three or four days back. Yikes! He managed to salvage some time.
After a while, he reached a stopping point and took Buddy to the dog beach to meet up with Ondine and the boys. She'd been trying to call him, but his mobile phone was turned off! Buddy was much more settled this time, perhaps because he'd already been on a couple long walks. He just plopped down on a towel and watched the boys as they played in the sand and rode the waves. Leo called some of the waves "Yoda waves," because they were short ... but powerful.
As we prepared to leave, a large jellyfish washed ashore, right where Roy and Leo had been body surfing! We looked at it, and a small crowd gathered. Someone used Leo's Boogie Board to push it back out to sea, in case it might still be alive. We didn't see it wash up again, so maybe it made it. Roy and Leo spent their own money on a couple grabber sharks.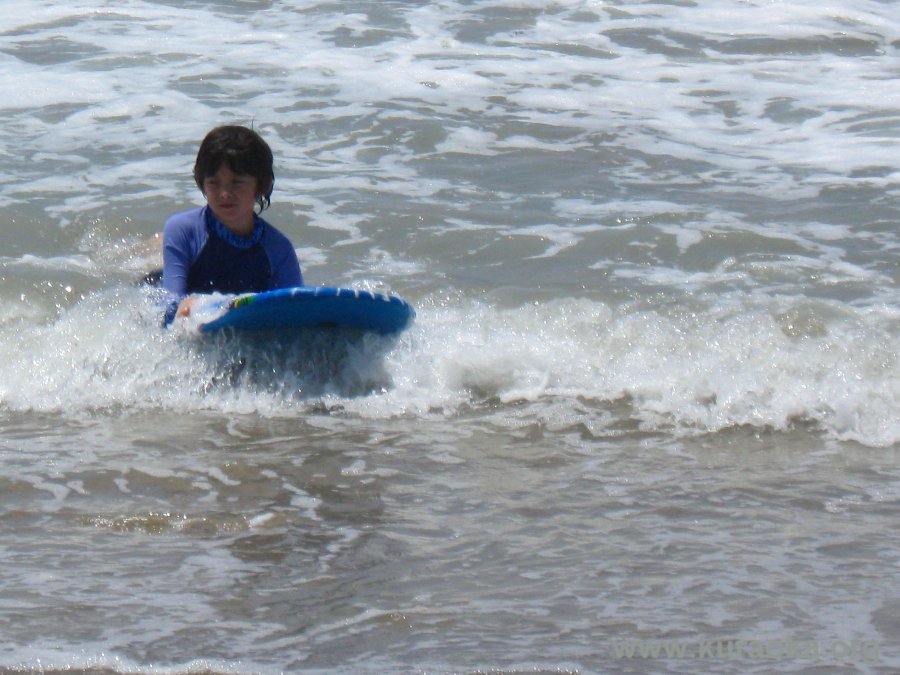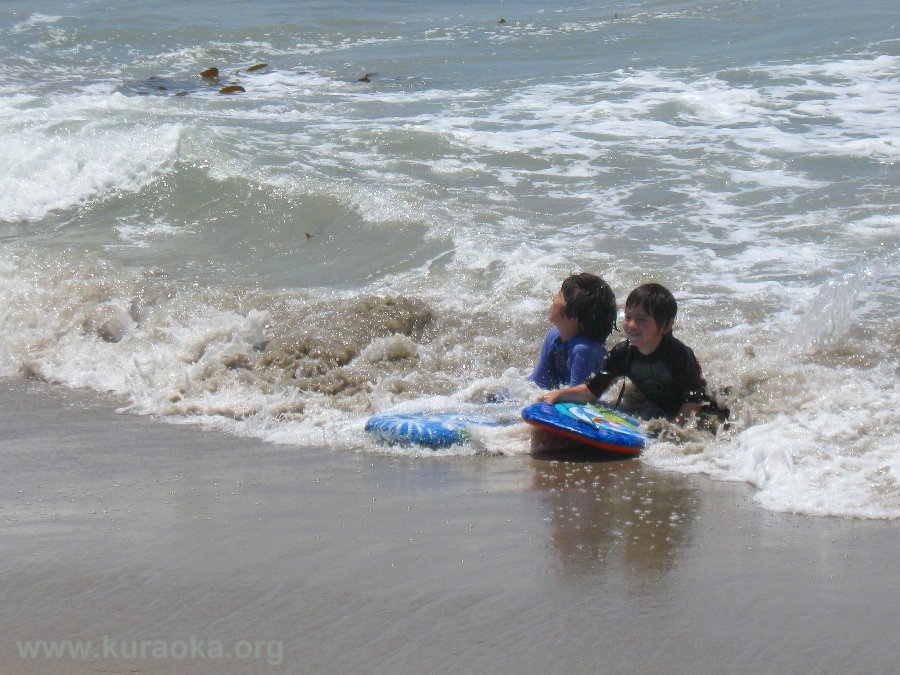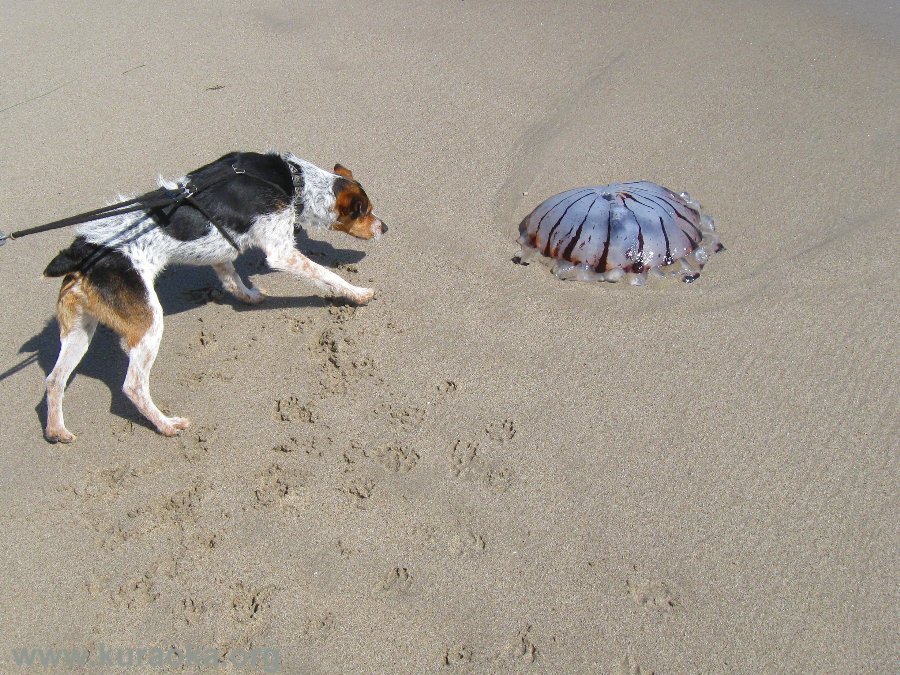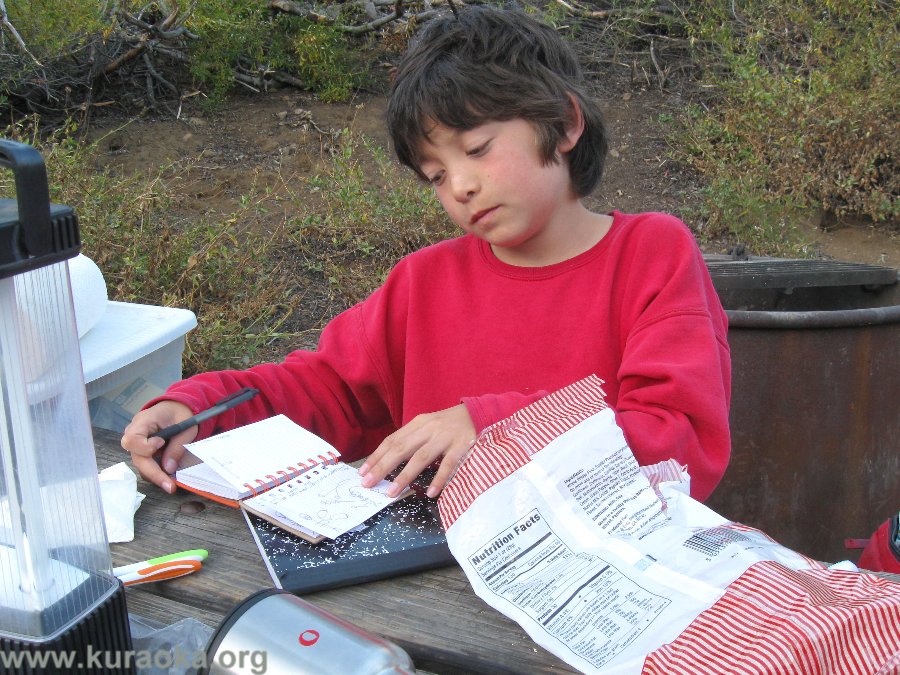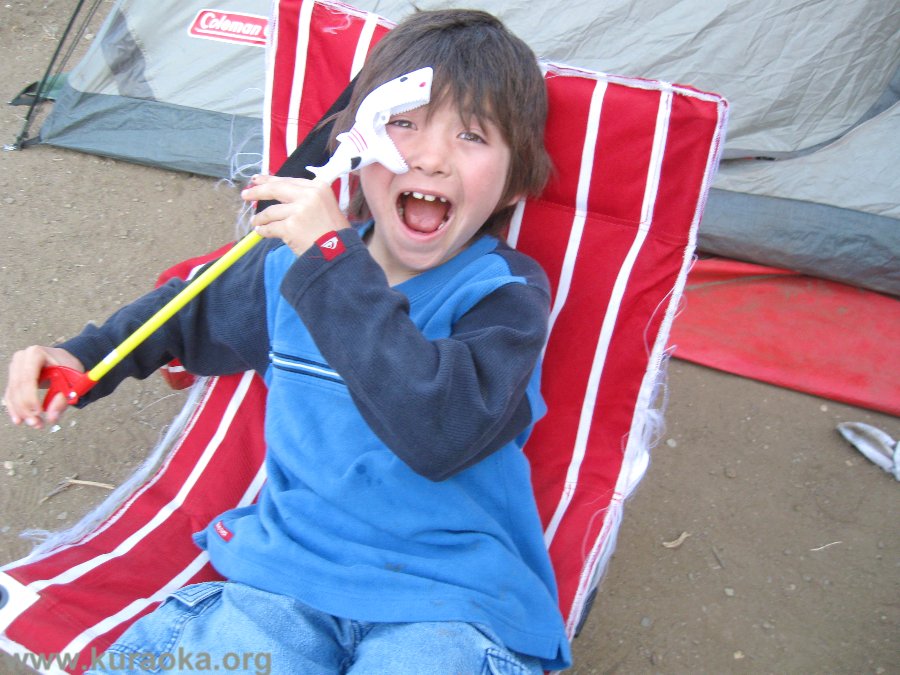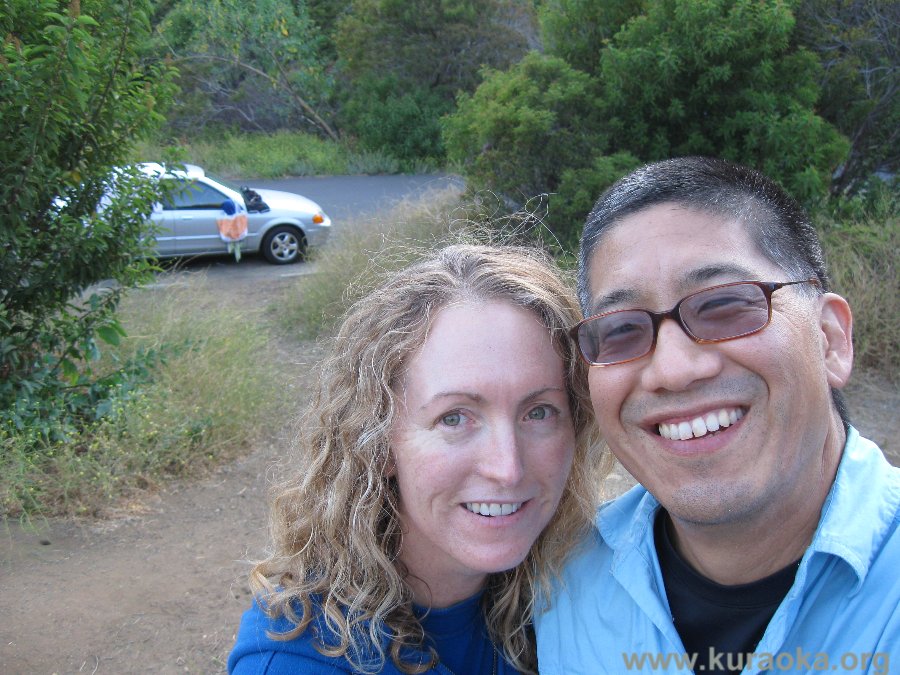 Thursday we started packing up right after breakfast. We made sandwiches for the drive back. Before leaving, we stopped at the Beach Store for ice cream treats – yum! The boys posed in the sun, making like a tiki. Ondine had had enough sun by then, and ate her ice cream in the shade, with the windows down. We left at just after noon, and went up Highway 1 for a bit – what a lovely drive!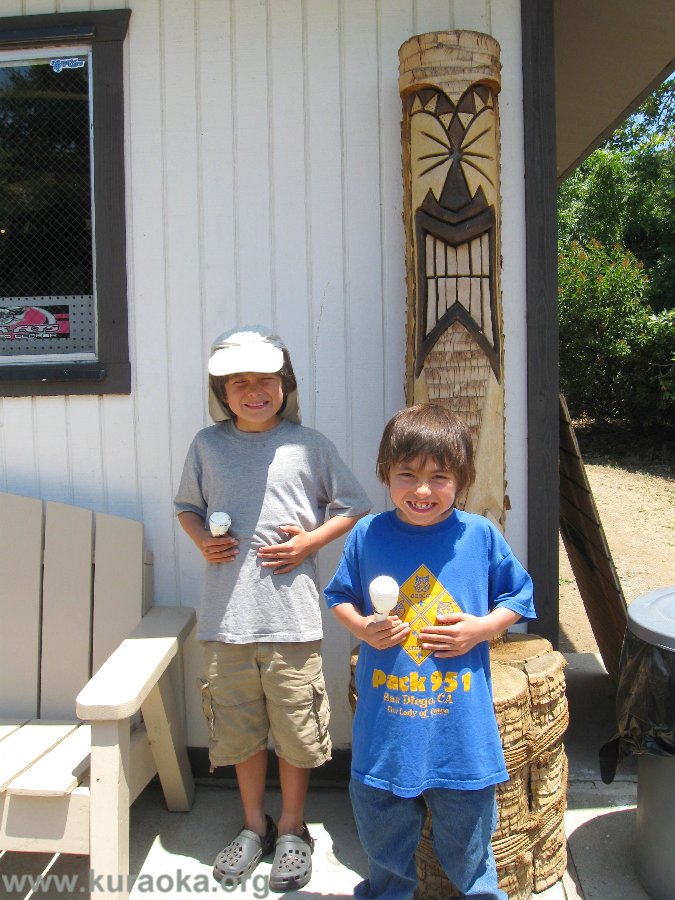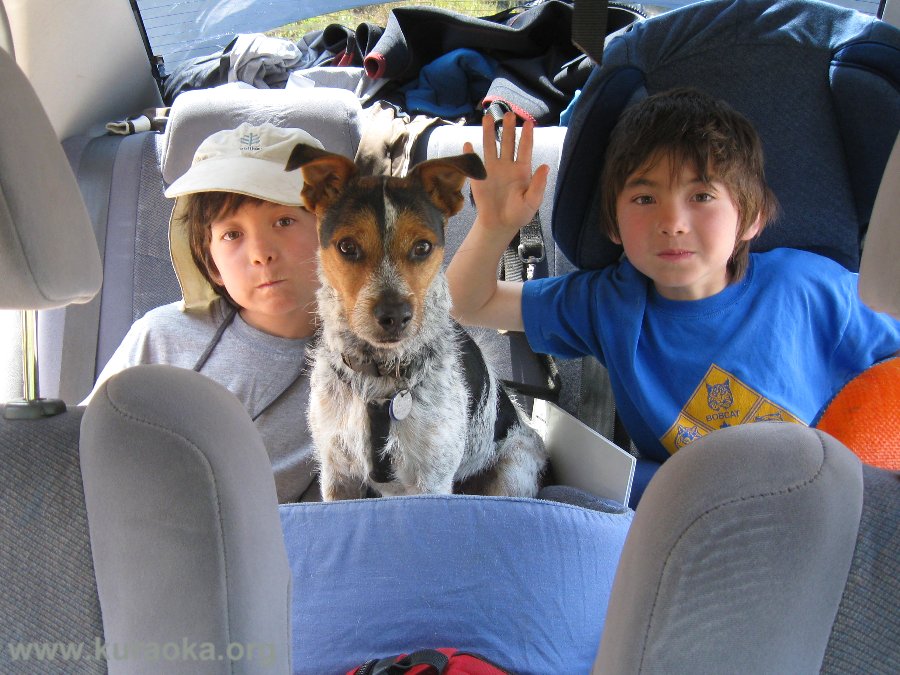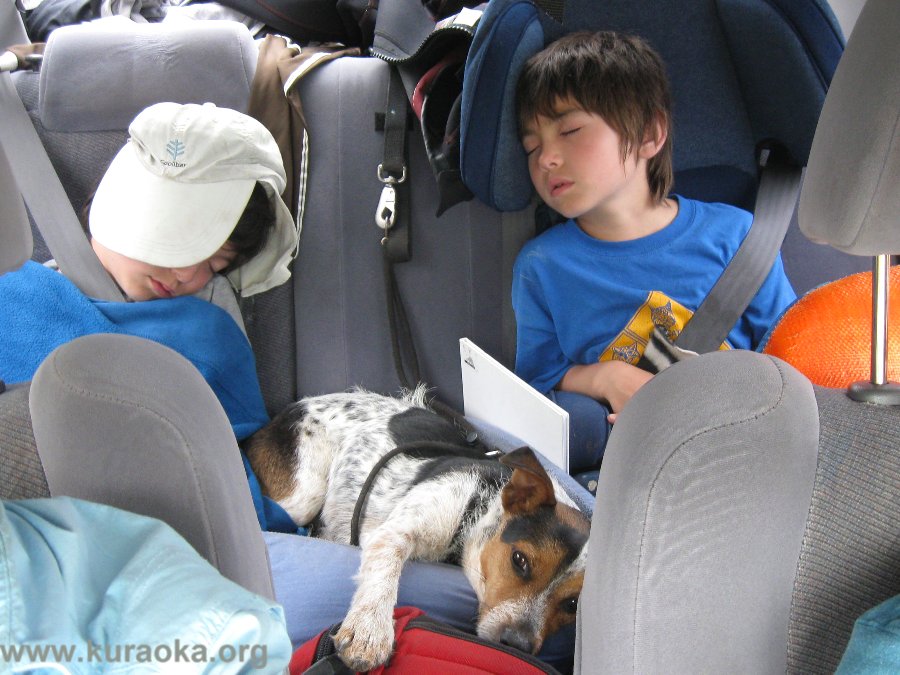 We hit rush-hour traffic as we approached San Diego, so we didn't get home until dinnertime. Hannover Barbara had prepared us a delicious meal of soup and stuffed bell peppers, which we devoured gratefully – vielen dank, Barbara, and muchas gracias too!
Friday John caught up with email and laundry – or tried to. Ondine took the boys next door for a visit, which turned into nearly an all-day affair as Bill's kids, Jason and Galen, dropped in! We haven't seen Galen in years! Jason is enjoying his work with the Border Patrol.
Ondine's writing won a free week of summer camp for Roy and Leo at the Chula Vista Nature Center, thanks to San Diego Bargain Mama! You can read her winning entry, and that of the other four winners, right here!
Neighborhood gas prices are still about $3.15 per gallon, although we paid $3.09 near Los Angeles.
Back to the Archives page
Back to the Kuraoka Family main page
Forward to the current Weekly Journal.