The Kuraoka Family Weekly Journal
www.kuraoka.org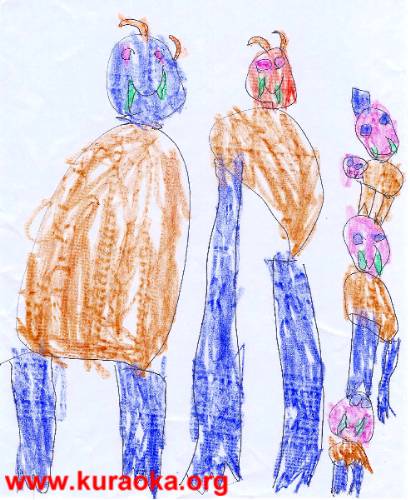 Ondine, John, then (top to bottom) a pumpkin, Buddy, Roy, and Leo
Monday, 02 July 2007
Aloha from Hawaii! Yes, we're in Hawaii now, and it's spectacular!
Our trip started by going to Grammy's house on Friday, after leaving Buddy with his Grandma Baba and Grandpa Bill. You can tell he's one of our kids because he likes it there better than at home!
This trip is Ondine's second time in Hawaii. The first time she was there was with her Mom and Dad, when she was about three years old. That was over 35 years ago. Her Dad had sailed the Far Horizons to Lāhainā, an anchorage in Maui, and Barbara and Ondine flew over to meet him. There they all were, livin' on the trimaran.
Ondine made her first little friend there, or, at least, the first she can remember, a little boy named Schatzi. His parents would row him over to play. Barbara was surprised to run into someone she knew there too, a fellow PT from her student days.
Ondine remembers riding around Haleakala, the dormant volcano on Maui, on a motor scooter. No, she wasn't driving; she was only three years old! There were four beings and ten legs piled onto that one little scooter: Ondine, her Mom, her Dad, and their dog Toby. What a cozy ride! Ondine remembers chucking her bottle during the ride, and getting a muddy bottle returned to her. Her Mom doesn't remember mud, but said they brushed the dirt off as best they could. Ondine, though, remembers mud.
It's also one of her last memories of her Dad, that trip.
John was in Hawaii briefly, on a stopover en route to Japan. He was only two years old, though, and has no memory of it.
As for Roy and Leo, this will be Leo's second long plane ride and Roy's third (fourth if you count a short flight to Las Vegas and back to visit Athena and her family). It will be Leo's second out-of-state trip, although we flirt with a third, Nevada, on the way to Sand Pond. As for Roy, he's been to Arizona, Nevada, Massachusetts, New York, and Vermont, so Hawaii makes six.
Saturday morning, we got up early early. True to form, Roy was up at 3:30, half an hour before our alarms went off. John got up and got him breakfast, and a little later woke up Leo and got him to the breakfast table.
We left Grammy's at 5:15, making it to Bambi & Rod's at about 5:30. The limousine arrived shortly afterwards – a white stretch Hummer with zebra-striped upholstery! The color-changing twinklers and backlit champagne bubblers kept the boys occupied on the sideways ride to LAX. The limo was a much more-economical option for 13 people than the shuttle services – we saved about $10 per person.
It was good we got an early start – check-in at that time was a breeze, quicker than we'd anticipated forcing us to chow down four bananas and chug two bottles of water in the line! John's CPAP and the boy's water bottles were pulled aside for a separate inspection. Patty had gone prepared for battle, with emails from the TSA and everything, expecting a huge fight over Daryl's supplies. Instead, the supervisor, who Patty says looked about 12, simply glanced over the stuff, checked the doctor's notes, and waved her through. It always works that way – when you expect to fight on the side of holy righteousness, and are thoroughly prepared for the upcoming battle, even looking forward to it as a fine, soul-satisfying thing – that's when the powers that be turn unexpectedly cooperative and you're left holding a stack and a half of Authoritative Papers backing up your position and nothing to do but stuff them back into your bag and slouch on through.
We had breakfast burritos on the other side of the checkpoint, and bought five sandwiches for the journey ($8.69 each). We also got five bottles of water ($3.69 for 33.8 oz.). Here's our airplane! We flew out on ATA flight 4755. Here you see our airplane and Roy and Leo at the gate. They look excited!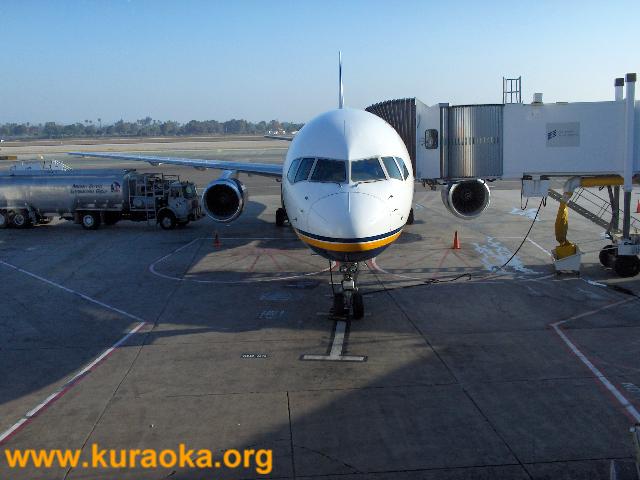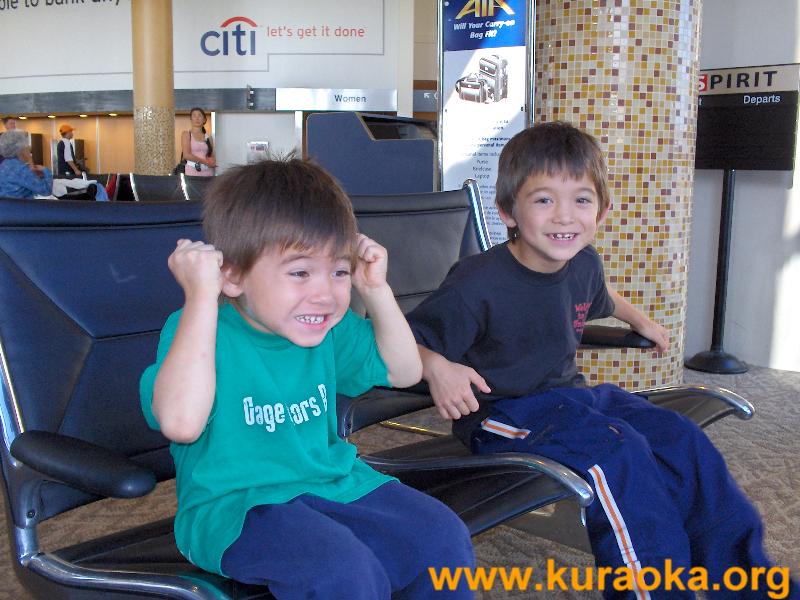 Our flight left the gate right on time, at 9:15. John, Roy, and Leo were seated in Row 25 D, E, and F; Ondine was four rows back in Row 29. She settled in and promptly fell asleep. Ahhh! John, Meanwhile, kept the snacks flowing to Roy and Leo as they gazed out the window at the clouds going past below.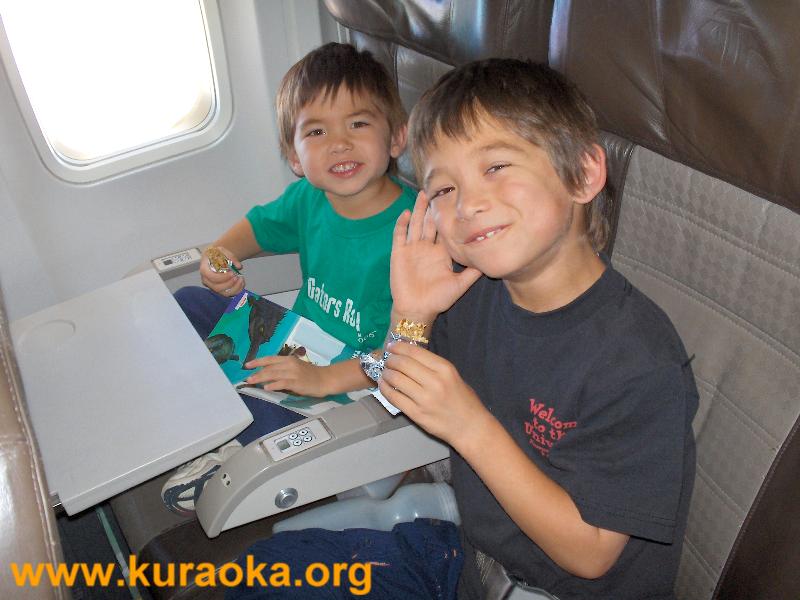 After a while, Roy dozed, as did Leo, in shifts.
We arrived in Honolulu around 11:45 local time, so a 5-1/2-hour flight. Patty K. greeted us at the airport. It took us over an hour to gather up the cars, two minivans (a silver Kia Sedona and a light green Ford Freestyle) and a compact car (a white Toyota Corolla). After reconvening at the airport pick-up point, we drove to Costco, where we redeployed people into one minivan, which was to go on to the house, and everyone else, who wanted to shop at Costco. We needed the extra hands just to push the three carts – the total tab was over $1,230!
John's first thought upon arriving at the house was that he had packed too many socks. Here is a video showing the view from the balcony shortly after we arrived (MPEG format, 5.19 MB): balcony view.
The boys settled into their new home very quickly first claiming a hammock then a sheltered digging area by the side of the house. Later, while Andrew and Eric prepared a delicious dinner (tuna, salmon, and opa), Ondine claimed the hammock for a nap. Lured by the scent of fish, this local cat adopted us; there was cat food on the bar on the balcony so it ate well!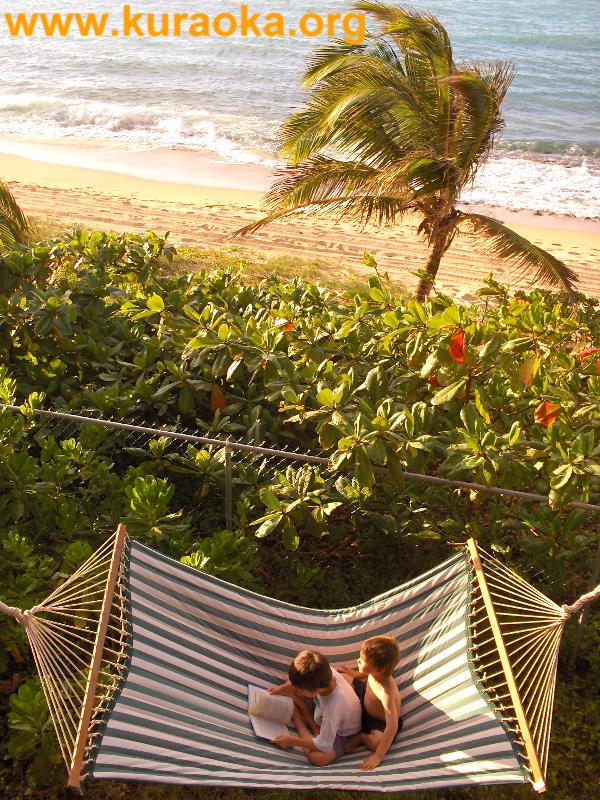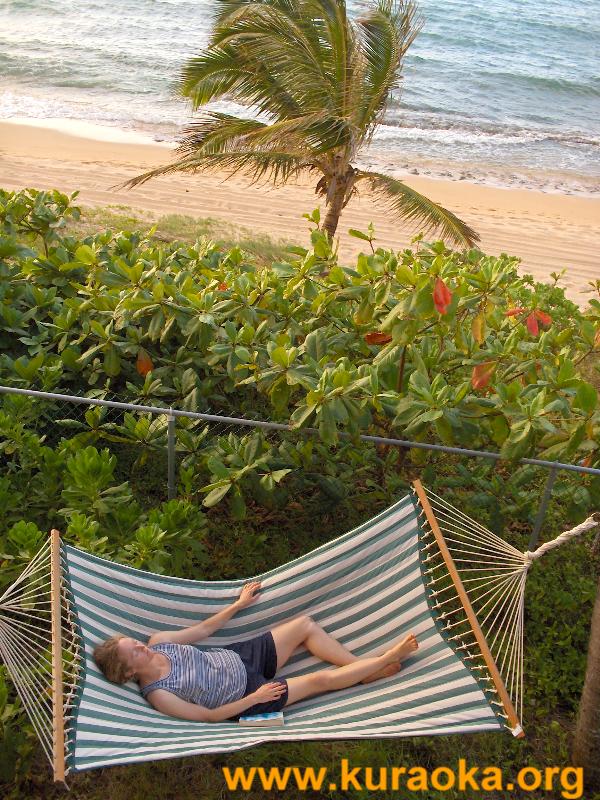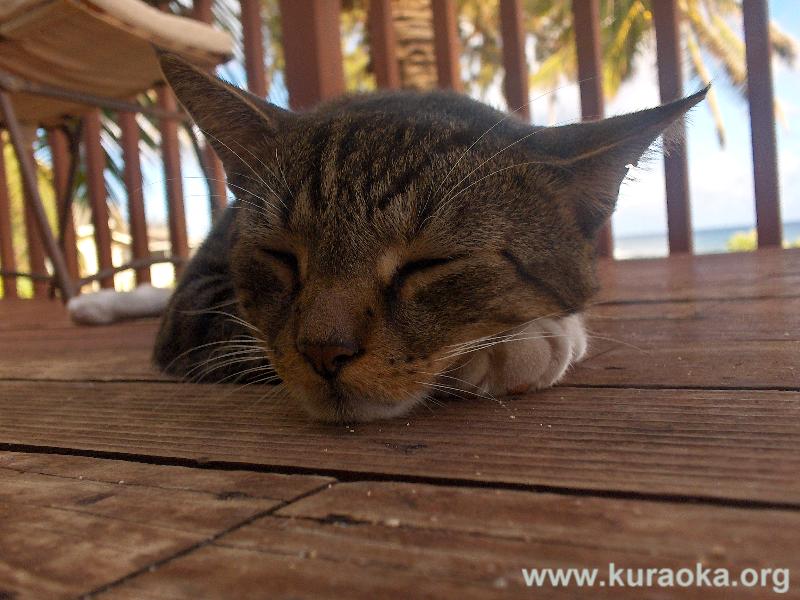 As you can see, the house is right on the beach. It's on the North Shore, near Sunset Beach, on a small, private-feeling road in a secluded part of the island. From our balcony, we can see world-famous surf runs, like Pipeline. The surf was low, but during the Fall and Winter becomes huge.
Dinner was a gourmet affair, exquisitely prepared fish and stuffed bell peppers – yum! At dinner, we raised a glass to Grammy for making this trip possible – a real trip-of-a-lifetime with three generations in full attendance. Quite literally a dream made into reality.
It was quite late by the time our lot got to bed – past midnight San Diego time. The boys, veteran travelers by now and well accustomed to going with the flow, went down without a fuss. We enjoyed some time in the hot tub before heading in ourselves.
Sunday morning the boys were up at their usual 5:30. John got up and shooed them back into their room, but Rod, Patty, and Daryl were all up. So, our boys emerged, chipper and ready for breakfast. After breakfast, John took them on a walk to search for treasure along the shore. The magic part is that whenever you look for treasure you find it. All it takes is the ability to identify treasure when it's found. Sea glass, coral, shells, stones, all polished by tumbling in the sand and surf – treasure! The boys returned to the house laden with booty. Below is Leo, looking for "motor tide pools." A motor tide pool, by the way, is a tide pool flushed by water that swirls it around like a motor.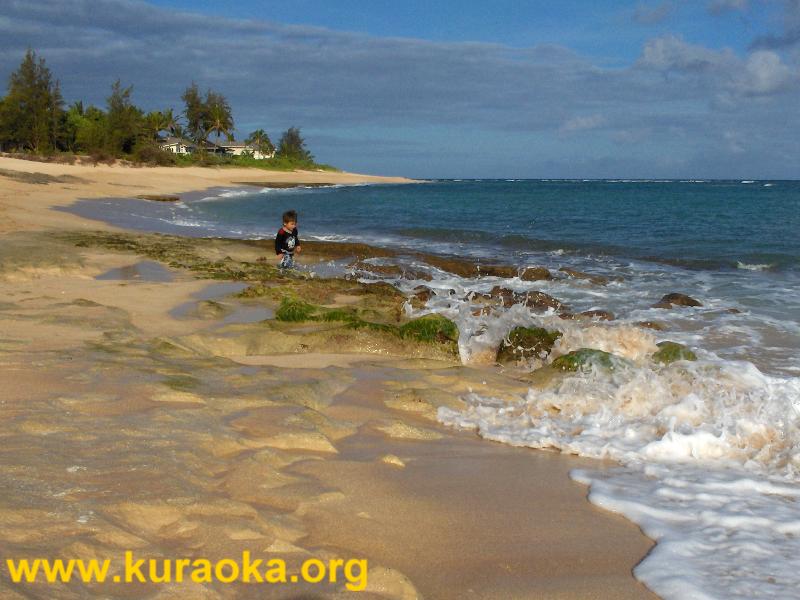 Grammy, Ondine, and Eric went out with the boys to walk the other direction. They discovered a sea turtle that had come up to shore for a rest. It blinked at the onlookers who gathered around it as the tide rolled in. Blink. Blink. Andrew and Amanda later joined them. Roy rode a boogie board. Upon discovering a crab, Leo just had to become one himself. A were-crab. Meanwhile, Rod made time for himself by trying his hand at surf fishing.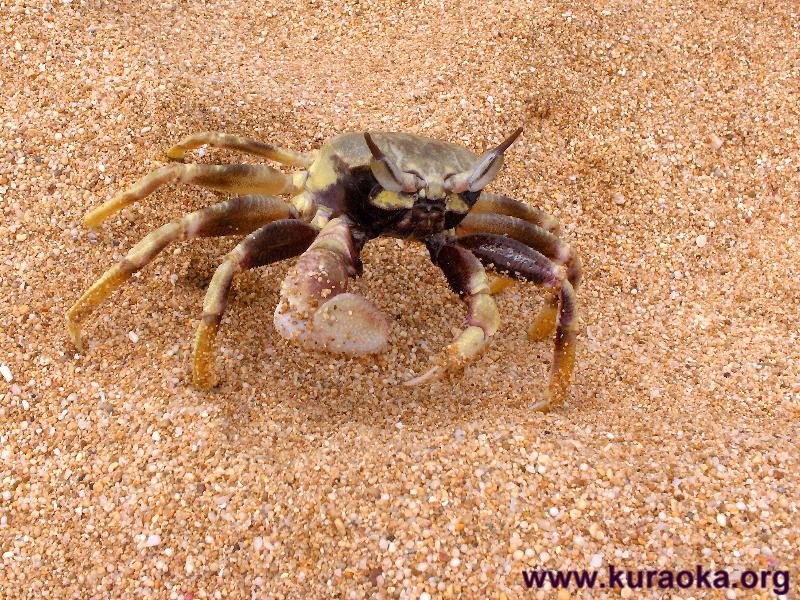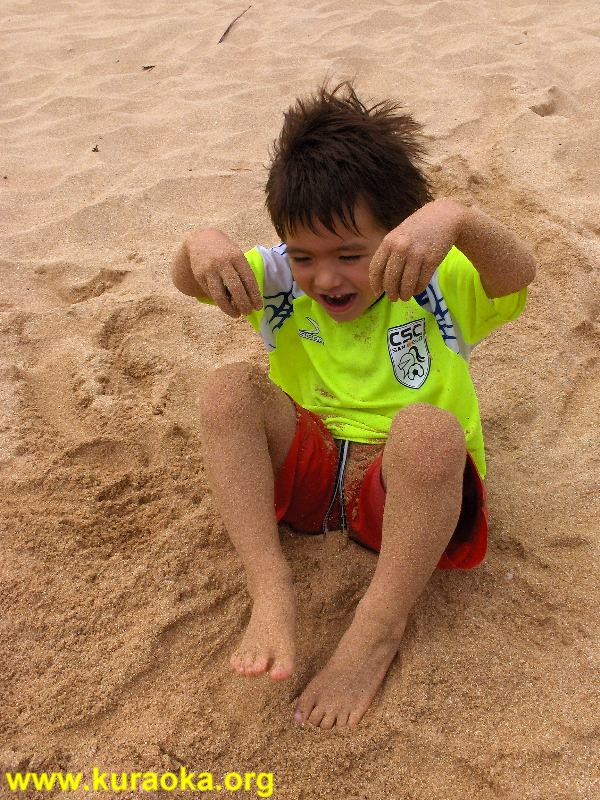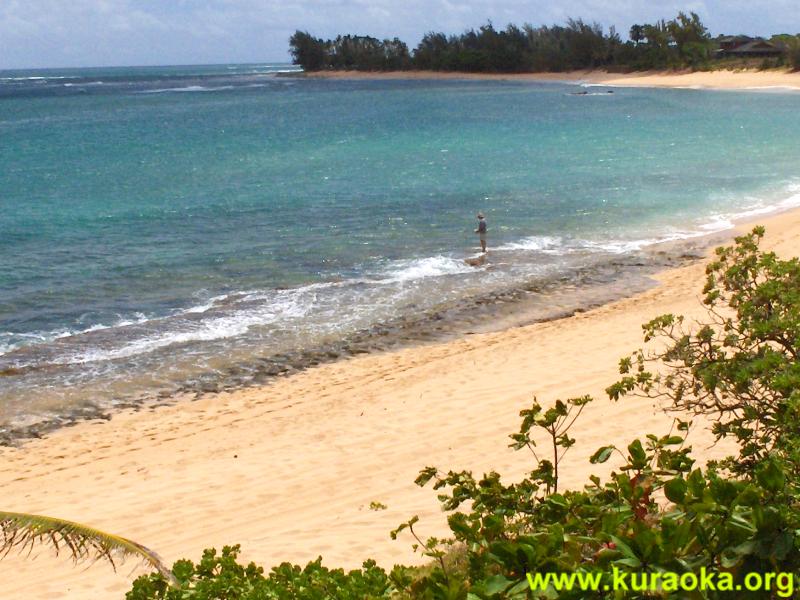 After lunch, the boys played in the hot tub with Daryl while Ondine napped and Patty and Elaine went to the local market for various odds and ends (string, toothbrushes, foil, etc.). It started to rain, just for a bit!
Sunday night was our turn to prepare dinner. We made pork tenderloin, with garlic potatoes and a cucumber-pepper salad. Yum! Another incredible meal, enjoyed outside with an incredible view practically over the beach. Waves crashed and rolled as the sun set. For dessert, Eric made sticky rice with mango, plus we had a World-Famous Chocolate Haupia Cream pie from Ted's Bakery – haupia cream is a coconut custard-like filling, and the chocolate was rich and bittersweet. It was delicious!
At night, we heard geckos calling. They sounded like birds, a strange, cheery noise in the night. It rained, sometimes quite heavily, with the wind buffeting the curtains and the neighbor's patio furniture.
Monday we're heading off with Grammy to the Big Island, for our trip to Volcanoes National Park and Kilauea, an active volcano! We had our alarm set for 4:45 but, once again, needn't have bothered; Roy knocked on our door at 4:30, eager to get going. Our flight leaves at 9:15, so there will be commuter traffic to contend with getting to the airport.
Neighborhood gas prices here on the North Shore are about $3.35 per gallon, although we saw gas at around $3.41 near the airport.
Our Hawaii Photo and Video page
Back to the Kuraoka Family main page, with lots more stuff, including photos!