The Kuraoka Family Weekly Journal
www.kuraoka.org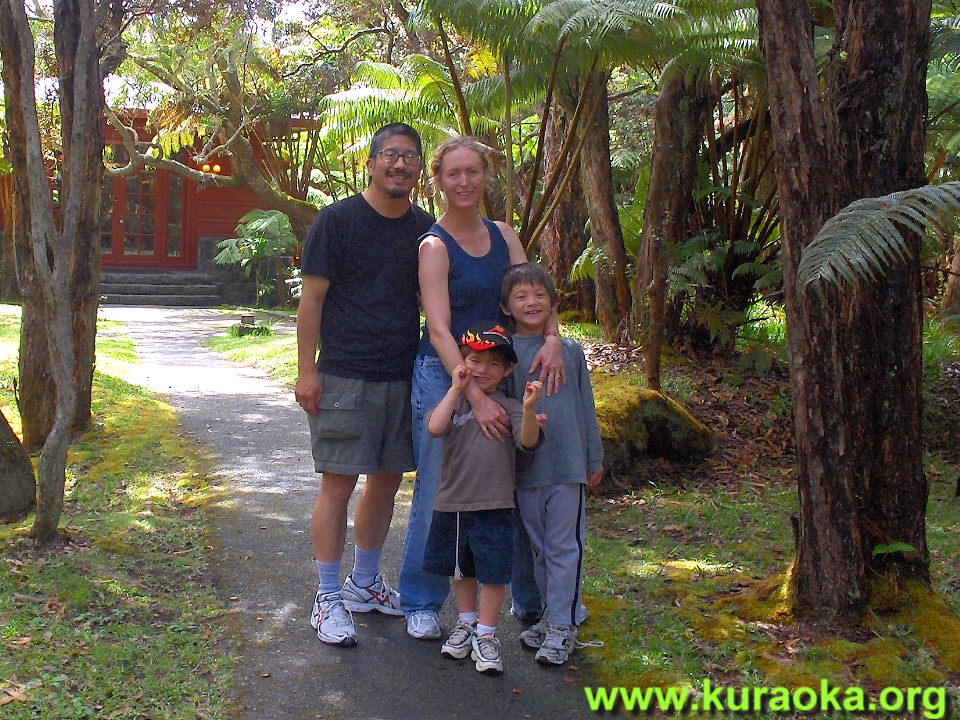 Us, July 3 2007: John, Ondine, Leo (nearly 5, in flaming volcano cap), Roy (7)
Friday, 06 July 2007
Aloha from Hawai'i! It's hard to believe we're going to be leaving soon. As always, no matter how much we do, there is always more to do. Especially doing nothing; we haven't done nearly as much nothing as we'd (rather hopefully) anticipated.
Still, it has been a Class 1 adventure for us and the boys! We kicked off the week by having our own little side trip to Volcanoes National Park with Grammy. Roy looked forward to seeing Kilauea, the most-active volcano in the United States! We had to get an early start so once again the boys were up at 4:00 a.m. and we tried not to wake the household.
Actually, Rod typically gets up very early, and Daryl was still getting adjusted to the time change so she was up early which meant Patty was up early with her ... so, basically, everyone but the Barnhart kids were up before dawn.
We drove the Kia Sedona minivan from the house to the airport in Honolulu, and we had absolutely no problem finding it. When we pulled into the parking garage, we were delighted to find drive-through check-in for Aloha Air! We offloaded almost everyone and most of the luggage, including the car seats, and John (with his backpack and boarding pass) went off to park the car. The plan was to meet up at the gate.
The plan worked! John parked the Kia on Level 6b, placed mysteriously between Level 5a and 5c - to find it, you look for the sign that says 5c, and that's 6b. Got that? See, that's why John takes notes when he travels!
A short inter-island flight on Aloha Air put us in Hilo, where we picked up our rental car, a light gold Buick Lacrosse. (By the way, this was the first rental vehicle that was almost good enough to want; in fact, it was good enough to want until we had to make a tight U-turn and found the thing had the turning circle of a battleship.)
Volcanoes National Park was about a half-hour drive from Hilo Airport. It's easy - just go straight up the 11 until you start seeing signs for the volcano. Drive-up volcanoes are one of the things for which Hawai'i is famous. Wouldn't you know it, Leo fell asleep in his car seat. We arrived at Volcano House, our hotel, at about 11:00, but found that we couldn't check in until 3:00. Volcano House, by the way, was a find from Grammy, the only hotel within the actual National Park proper. She'd wanted to stay there since a trip with her sister Merry, years ago.
Four busloads of Japanese students packed the entry and lined up for the lunch buffet. With time to kill and Leo still snoozing, we decided to drive around Crater Rim Road until Leo woke up. So, Leo missed the first overlook we came to.
John and Roy got out and walked around, then Ondine got out, leaving Grammy in the car with Leo. This is Halema'uma'u crater, home of Pele.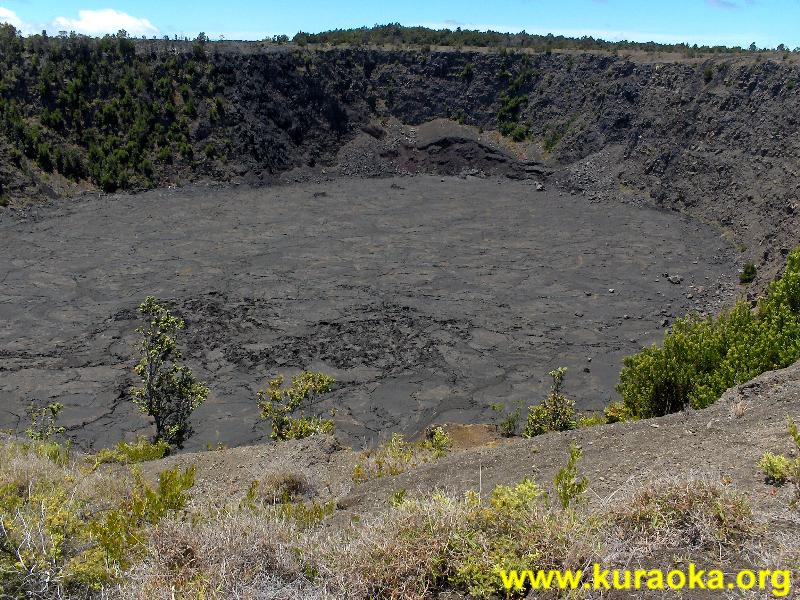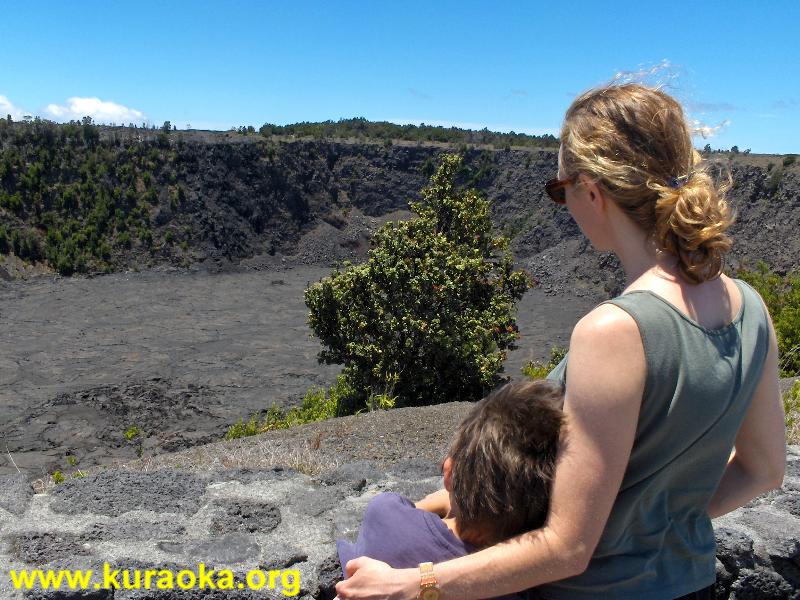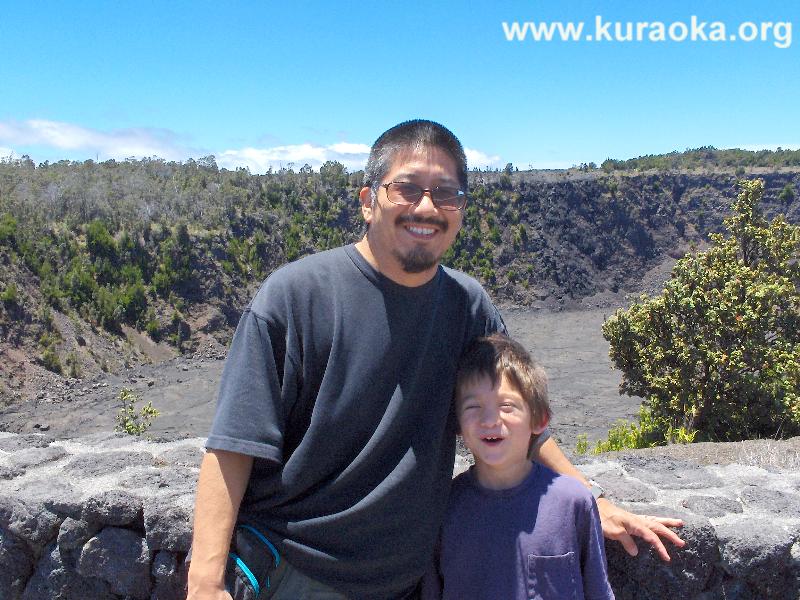 This is a look the other direction, toward the road.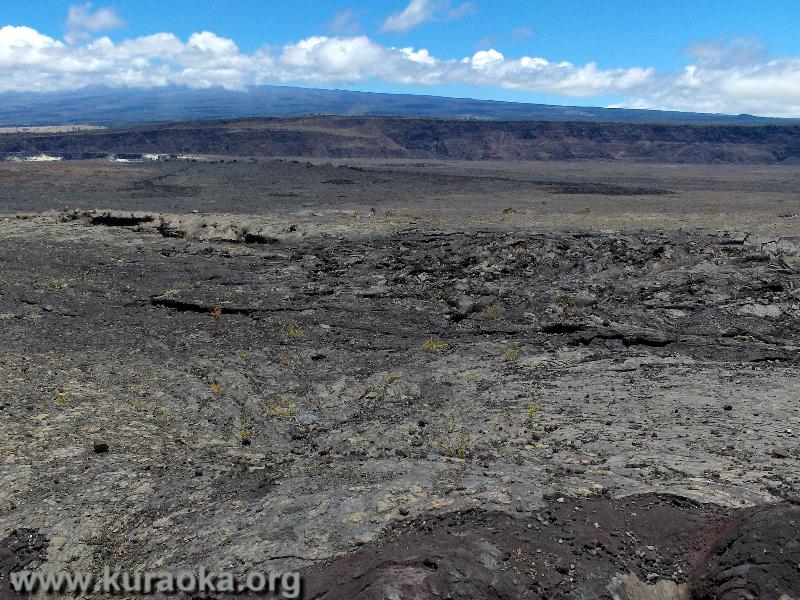 The big thing at this particular site was a crack left from a fissure eruption in 1973. The bottom, where once the very earth boiled red and hot, was now covered in vegetation, green and moist.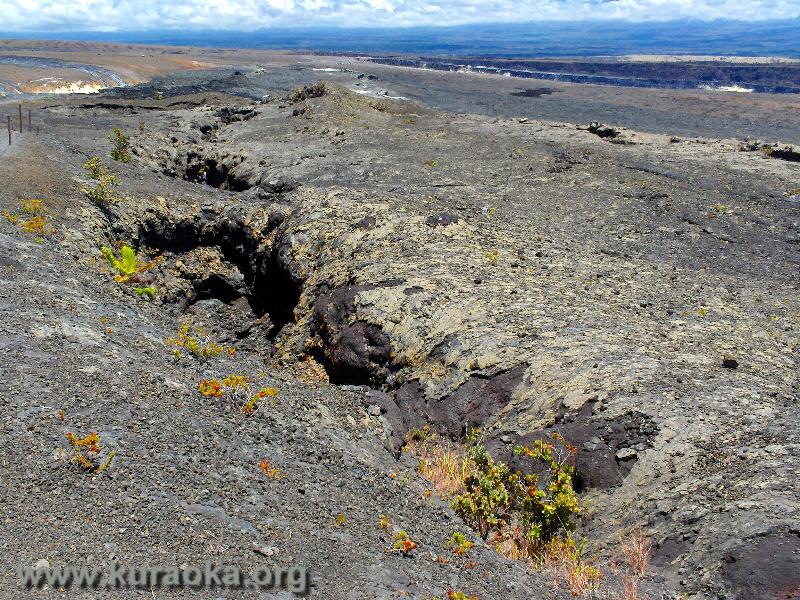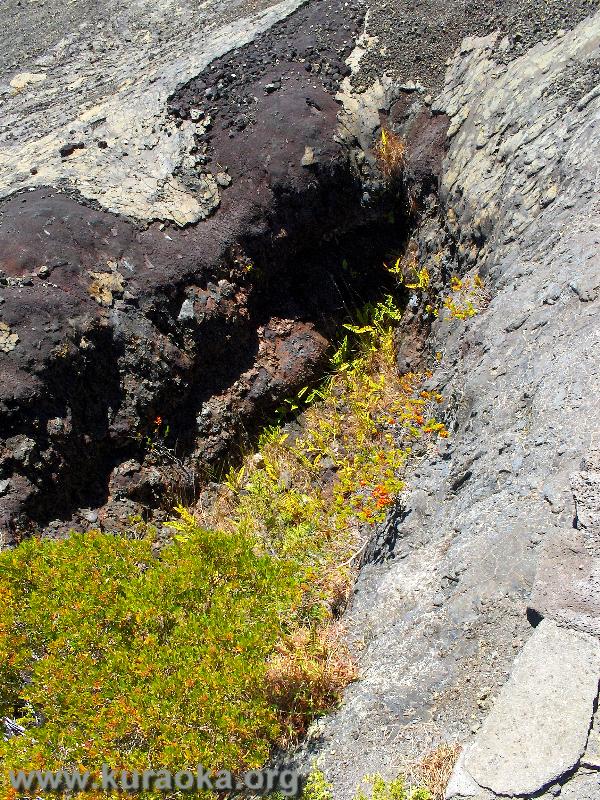 Here's Roy atop one of the huge undulating flows, and a close-up of the ground. The colors are made by various deposits and oxides in the eruption. They are hard to capture in a photo, particularly the lovely purple iridescence and the play of light across the shiny surfaces of hardened lava.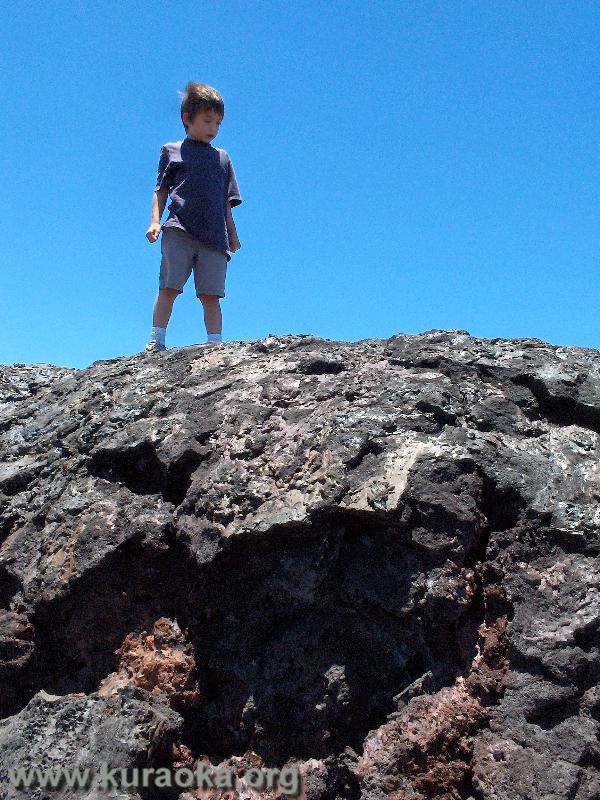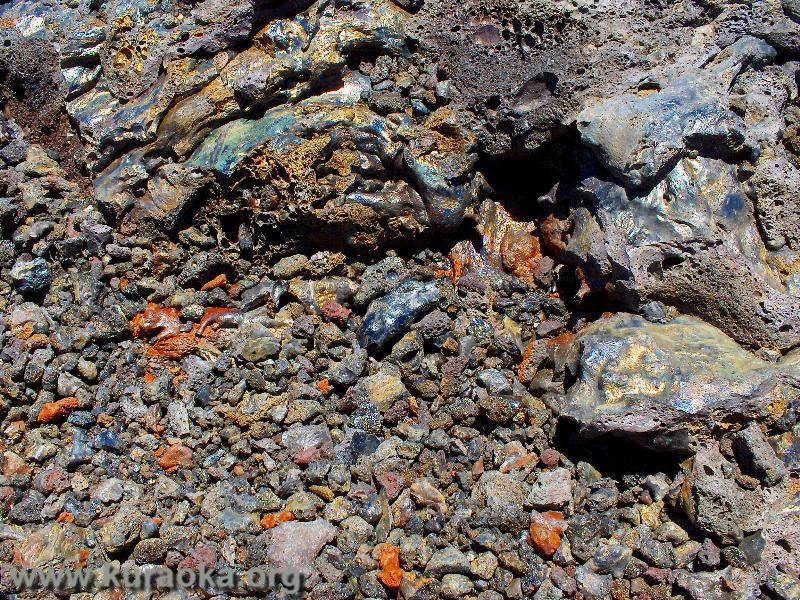 After Leo woke up, we went back to Volcano House for lunch. We looked at the price for the lunch buffet, and decided to go for the cafeteria-style sandwiches in the other room. Tour groups ebbed and flowed through the place like well-mannered locusts, waiting patiently in line for sandwiches wrapped in cling film. John was aggressive and grabbed the last salad and fruit salad, which we were very glad to have, because the salads didn't get replenished while we were there.
Here's the view over the ferns toward Halema'uma'u crater from the back of Volcano House. The photo of Ondine was taken on Patty's cell phone; we were supposed to send photos to the people back at the house, but once we managed to take the picture we couldn't figure out how to send it. You can see the crater behind Ondine. The next photo shows us, taken with the camera precariously balanced atop one of those big 25-cent viewing binoculars (the original pay-per-view). Aww, don't we look relaxed when the kints aren't clinging to us?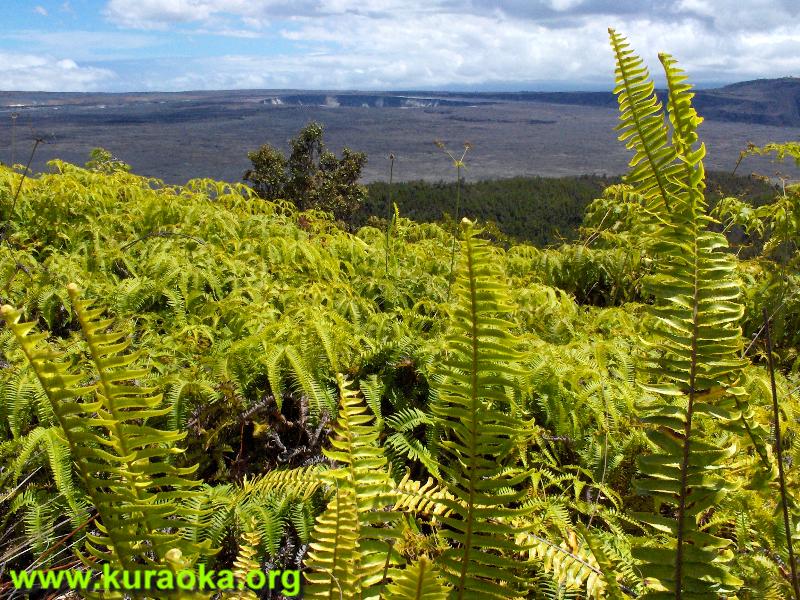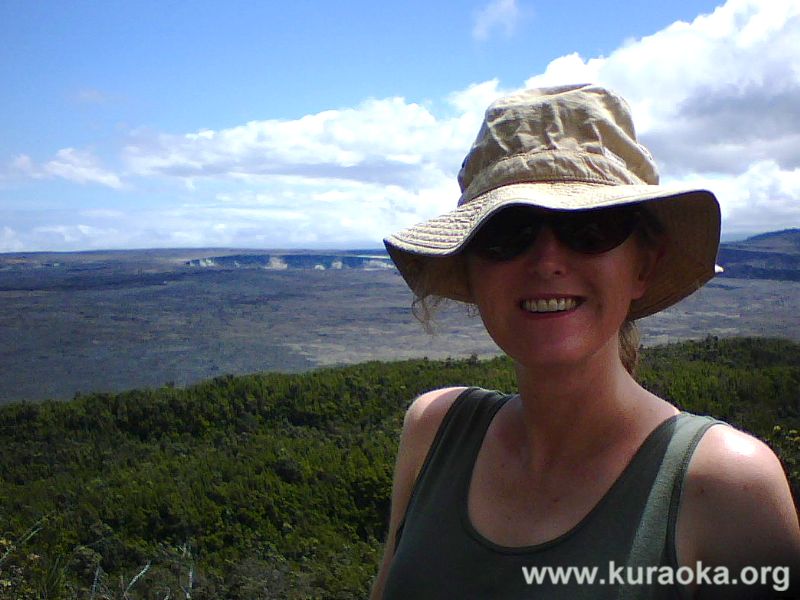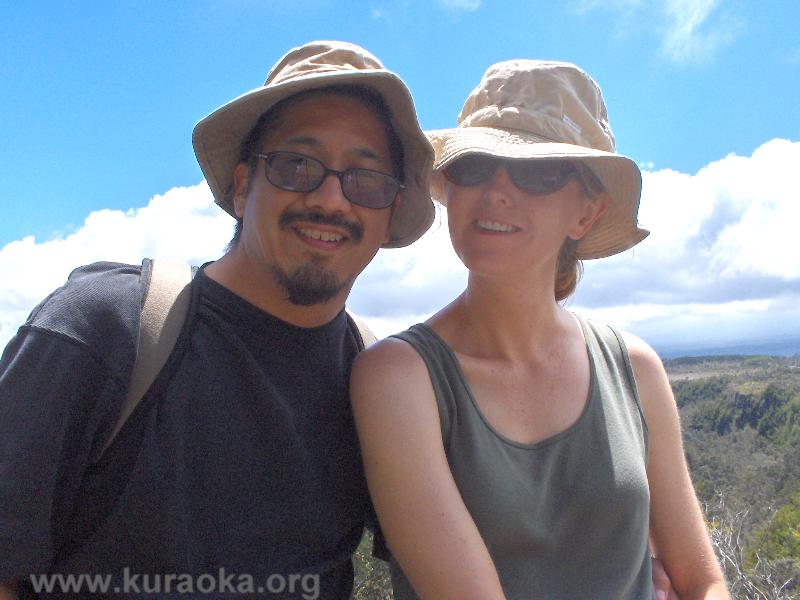 Thurston Lava Tube was a must-see. A fellow tourist suggested that we bring flashlights, to explore the second part of the tube, which is unlit. Fortunately, John had thought to pack his reliable (and quite bright) old-school caving flashlight.
The walk down to Thurston Lava Tube wound through a lush Hawaiian rain forest. The tube itself is spacious and dark, a real adventure for the boys.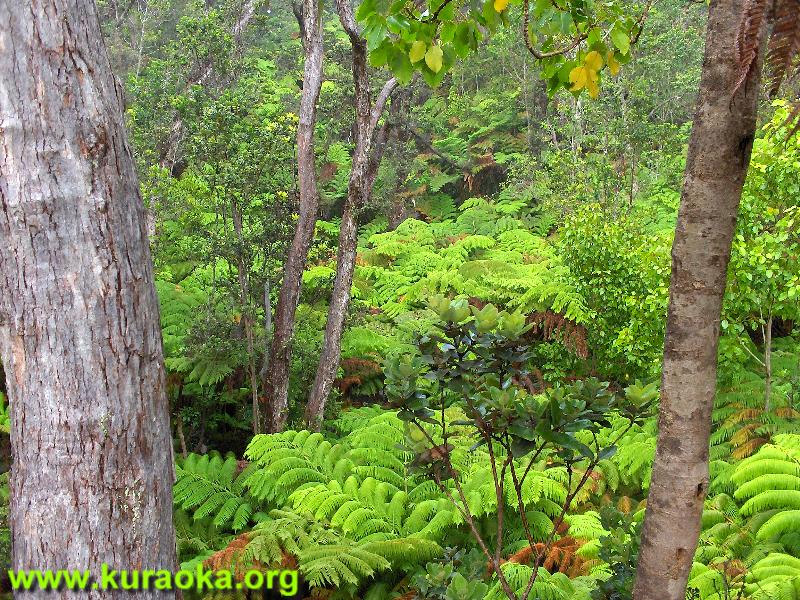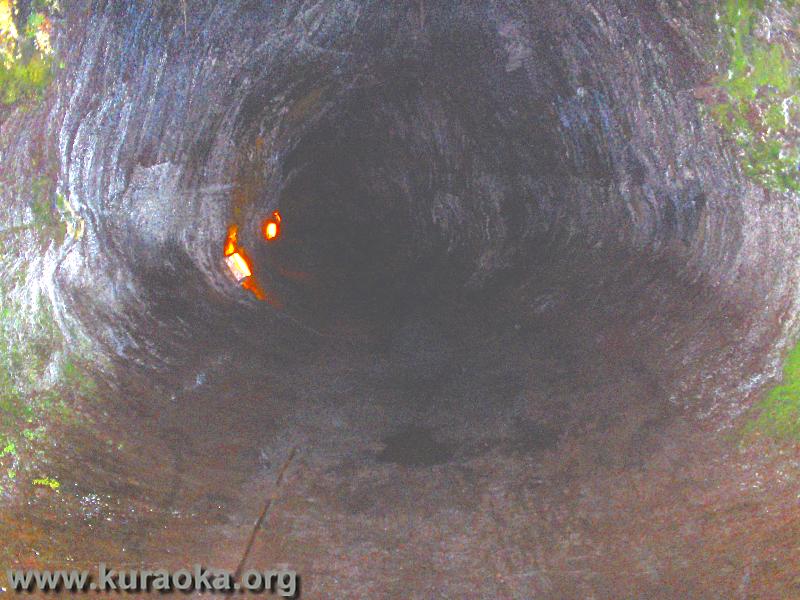 Then, we came to the additional section. Ondine and Grammy declined; our adventuring team was John, Roy, and Leo. The boys kept wary little starfish hands on John's pant legs as they walked down the pitch-black lava passage. John, a caver, loved it! The boys were thrilled but silent in very heightened awareness. We didn't go all the way to the end; the boys' nerve wouldn't take them that far.
But, at one point John held the boys close and switched the flashlight off, to enjoy some total darkness. After a moment, Leo's voice came out of the dark, "that's enough," and Roy, gripping John's hand tightly, immediately concurred. So John switched the flashlight back on and our three spelunkers turned around and, after a short walk, emerged into the light.
The next day we enjoyed the breakfast buffet at Volcano House. The fresh papaya was wonderful! We really enjoy the tropical fruits here. After a while, Grammy took the boys for a walk outside; the second photo shows them looking at us in the dining room.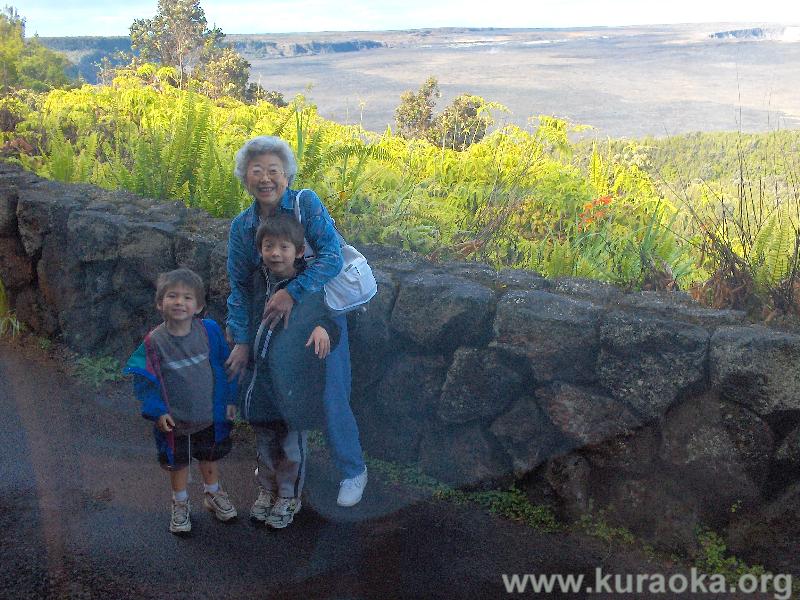 Here's Grammy with the boys in front of the Volcano House sign (near the Visitorís Center). Then, we have a shot of the front of Volcano House. The main entrance is to the right. That big fireplace has had a fire burning in it continuously for more than 130 years!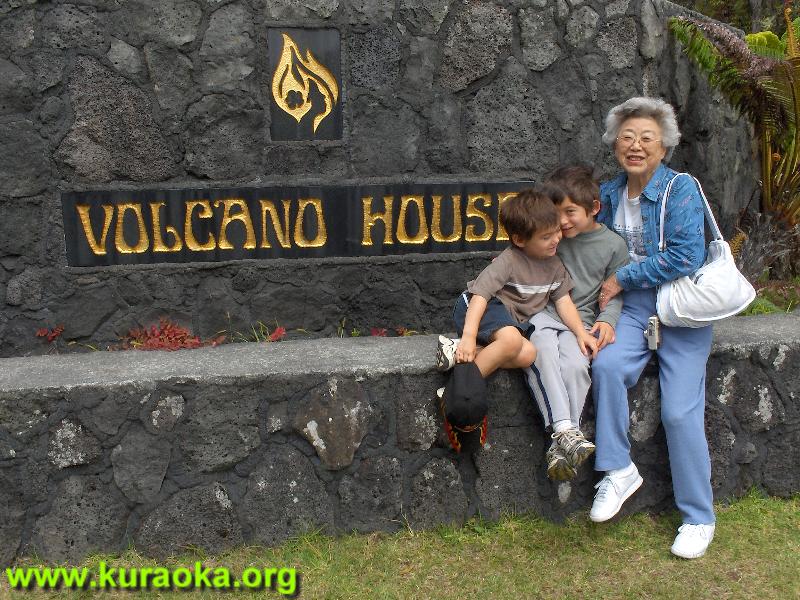 Our room was in the Ohiía Wing, a separate outbuilding down a beautiful path. And here we all are! Aloha! Leoís Volcano cap, with flames, came from Volcano House, as did new caps for Roy and John. We also bought a Christmas ornament and postcards, and Ondine bought some beautiful earrings.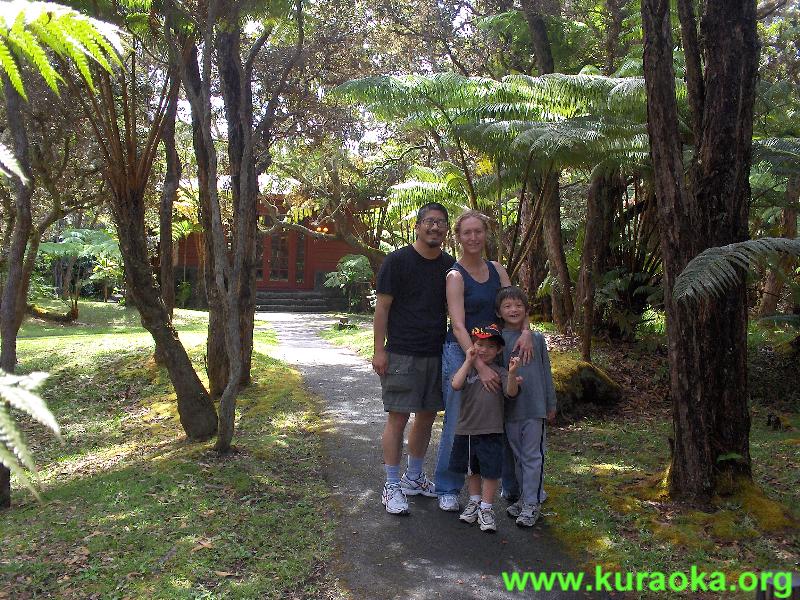 Lava no longer flows to the sea, a change caused just 12 days prior to our trip, by "Event 56." Event 56 was a series of earthquakes caused by magma forcing its way into new areas. Among its effects was to shut off the flow of lava down the lava tube that emptied near the ocean. In fact, there was no surface lava anywhere in the park, a pretty rare event in itself. Among the recent changes, though, was this steam vent right on the hotel grounds. The boys were delighted with their discovery!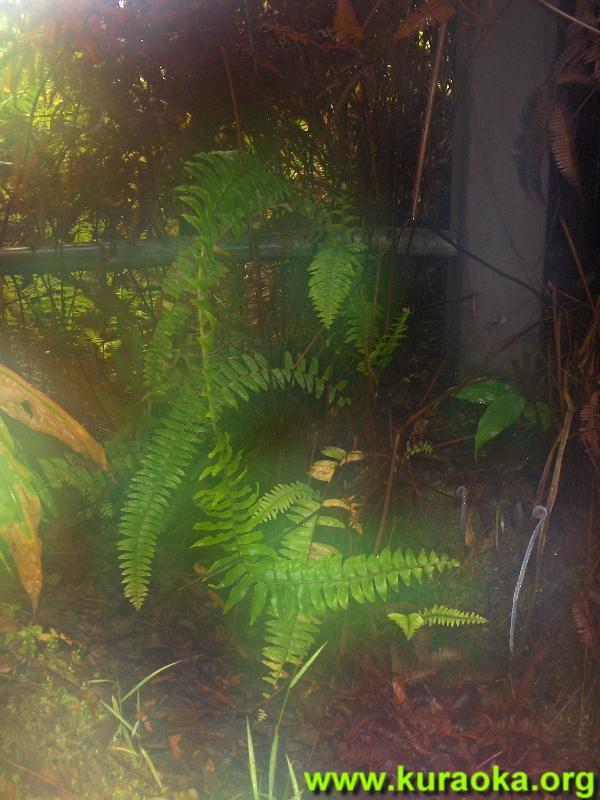 Here we are at Halema'uma'u crater. See the steam vents? They're everywhere. Youíd be walking along and suddenly feel someone breathing up your leg. It was the planet! Leo obviously is enjoying the view.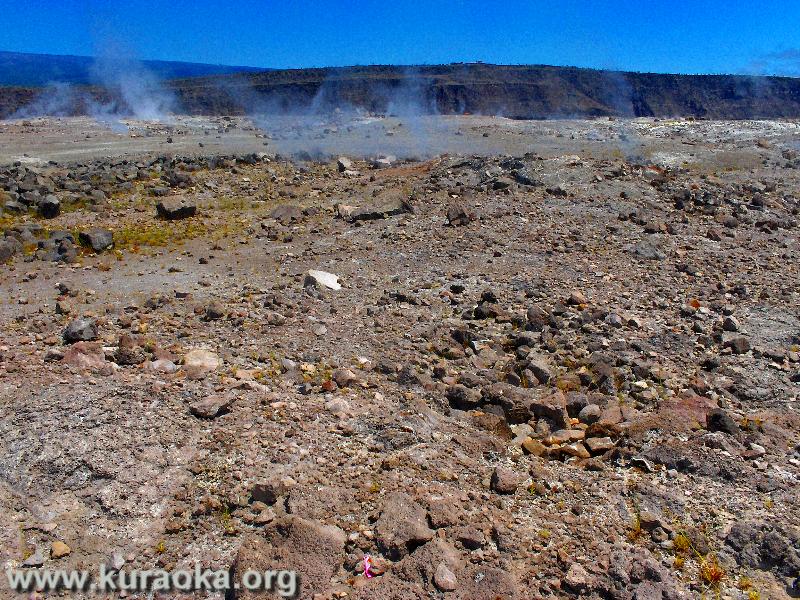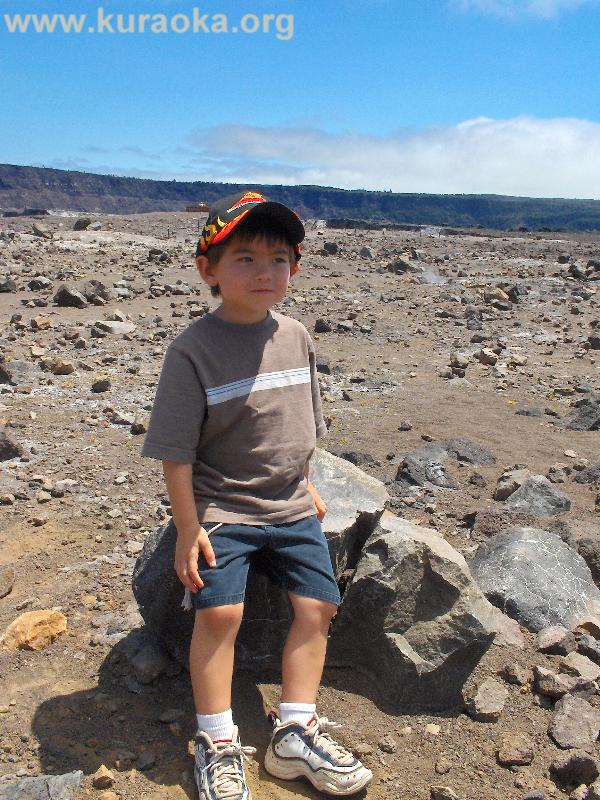 Here's a short video showing the steam vents (MPEG format, 3.85 MB): Halema'uma'u steam vents.

This series is actually a three-photo panorama of the crater. Yeah, our digital camera has a panorama mode, but it's easier to shoot three photos and apply some imagination.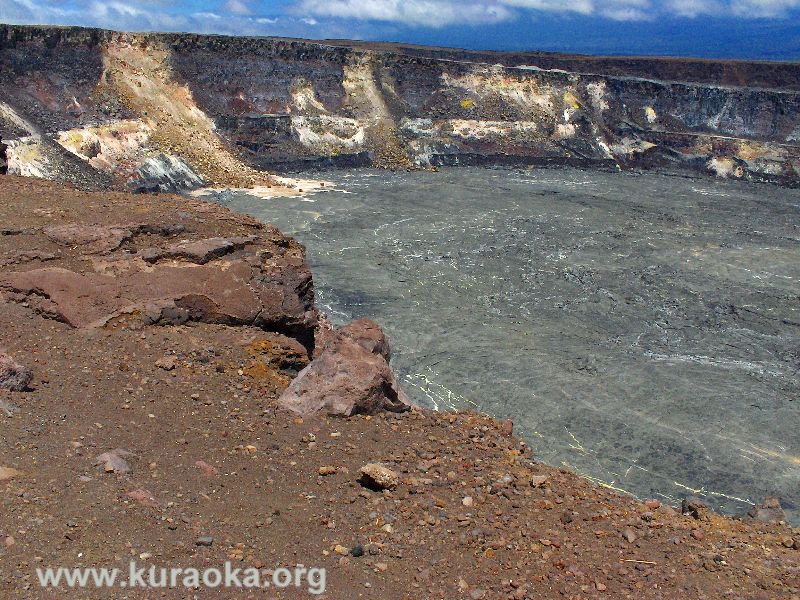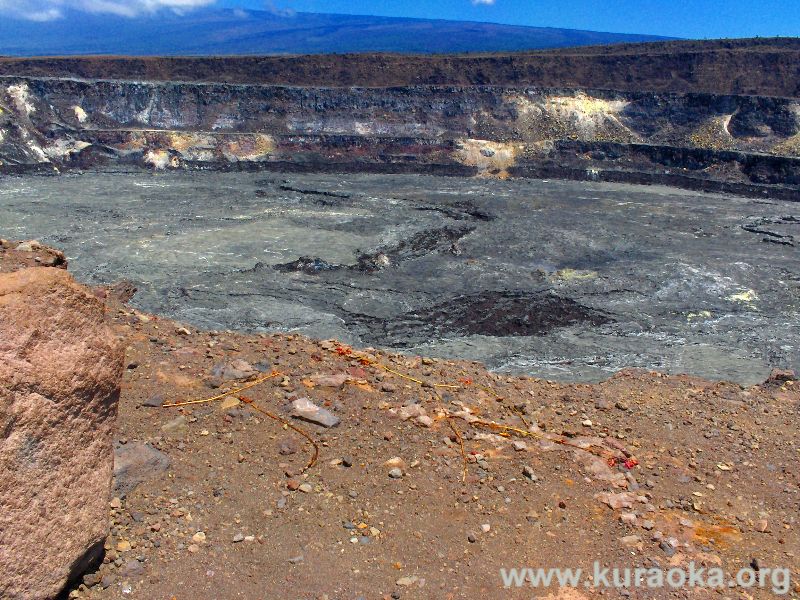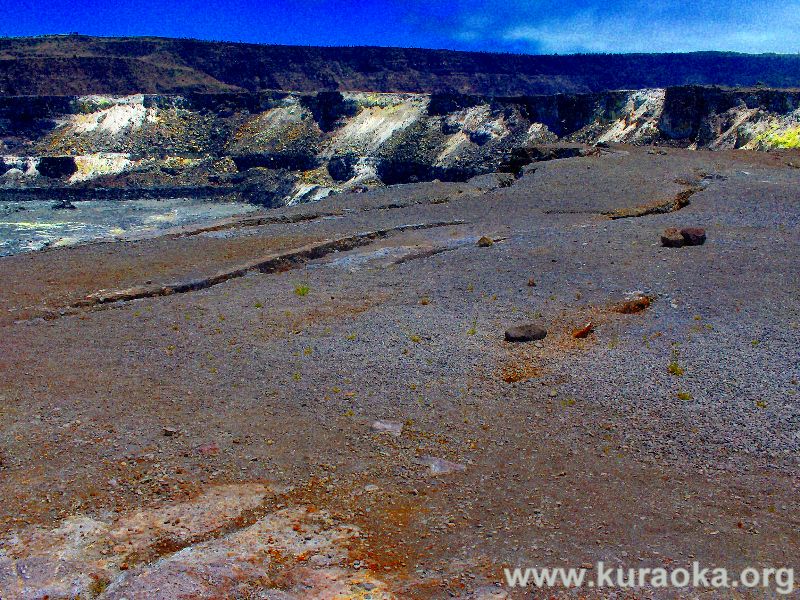 Or, just look at the video (MPEG format, 4.14 MB): Halemu'uma'u Crater.
This is a shot looking back toward Crater Rim Road and the parking area. See all the yellow-green stuff? Thatís not lichen, thatís sulphur deposits around steam vents. When sulphur mixes with water (in the vapor) it forms these beautiful yellow-green crystals..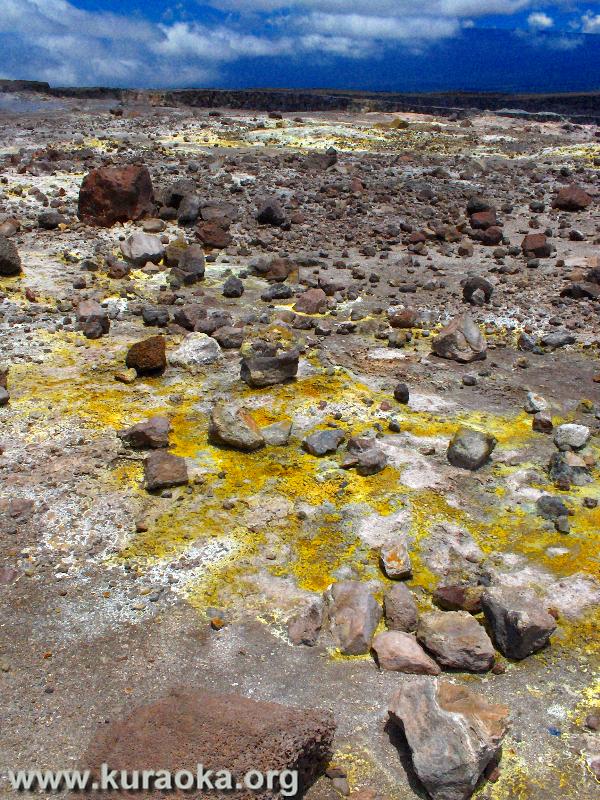 We paused at the Jagger Museum because it was rated a must-see by some guides. Buses had disgorged their loads, so the place was jam-packed. A quick peek through convinced John that, while it was no doubt educational, it was no place for small kids. It had lot of reading material on the walls with nice diagrams, but they were not really readable from a three-foot height. On his dash back to the car (left running with the AC on), he snapped this view of the crater: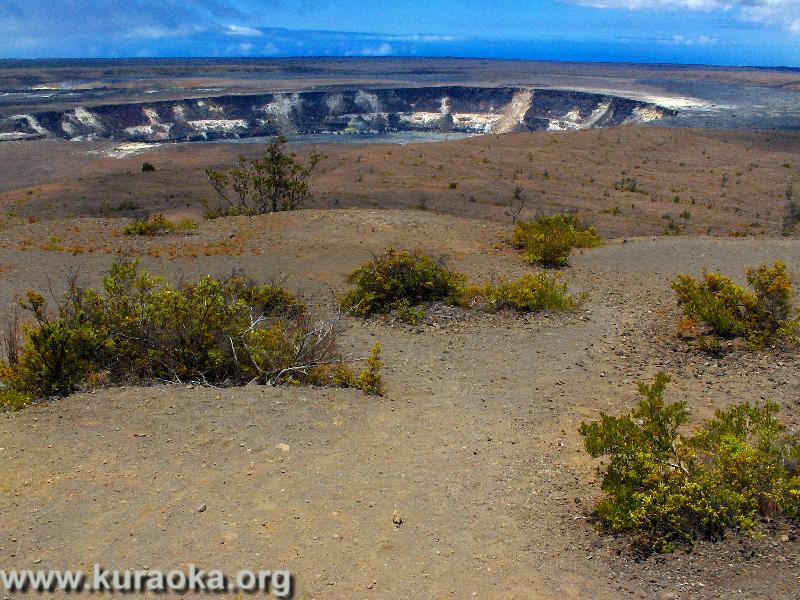 Sulphur Banks featured in a Magic School Bus story. The kids were thrilled for the opportunity to discover for themselves just how stinky it would be. The trail to Sulphur Banks winds past several steam vents.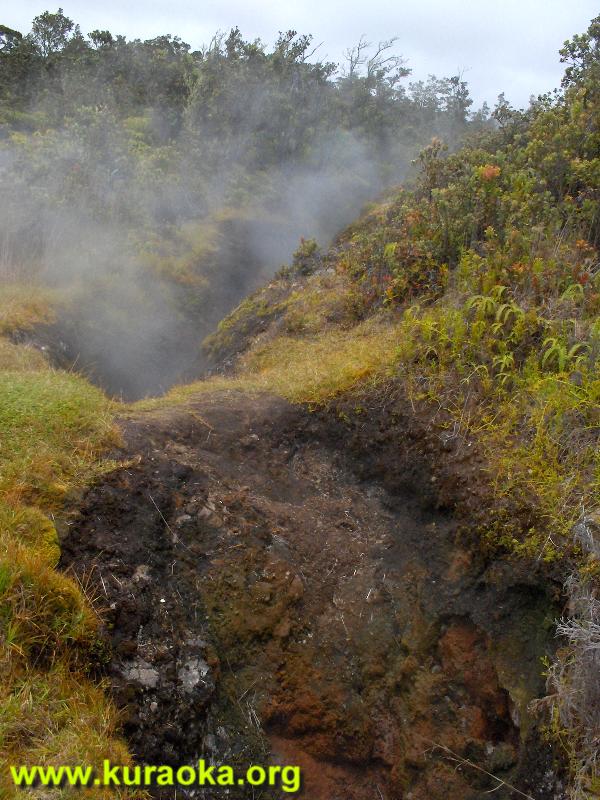 Sulphur Banks was not very stinky, at least when we were there. Perhaps thatís Event 56 for ya. The bright yellow areas are sulphur deposits. Leo was most impressed by a sign which had a graphic illustration of a kid falling into a steam vent. The sign points out a nearby hole which was created by the kid when he stepped off the boardwalk and crunched through the crust, which is very thin, into 205-degree steam, getting severely burned. It was a great sign, and made Leo particularly careful about staying on trail. Here is Roy, right at the Sulphur Bank, in his new cap from Volcano House.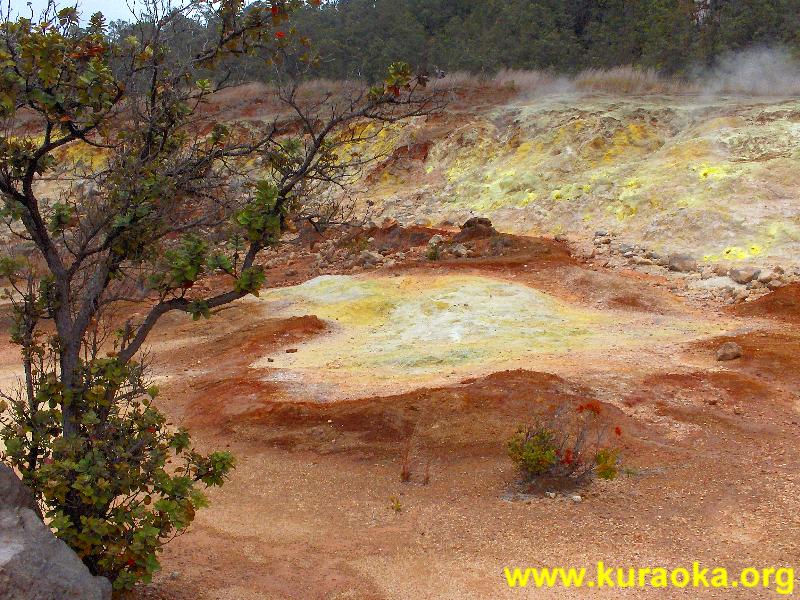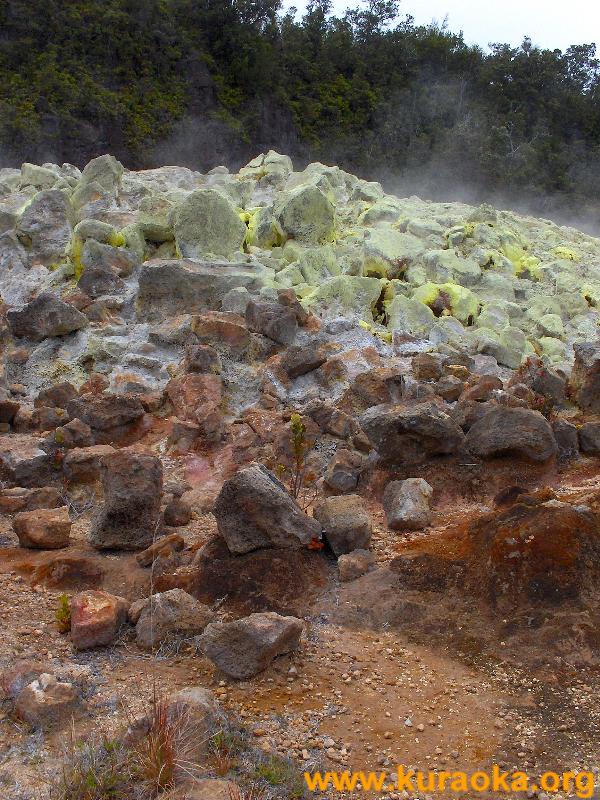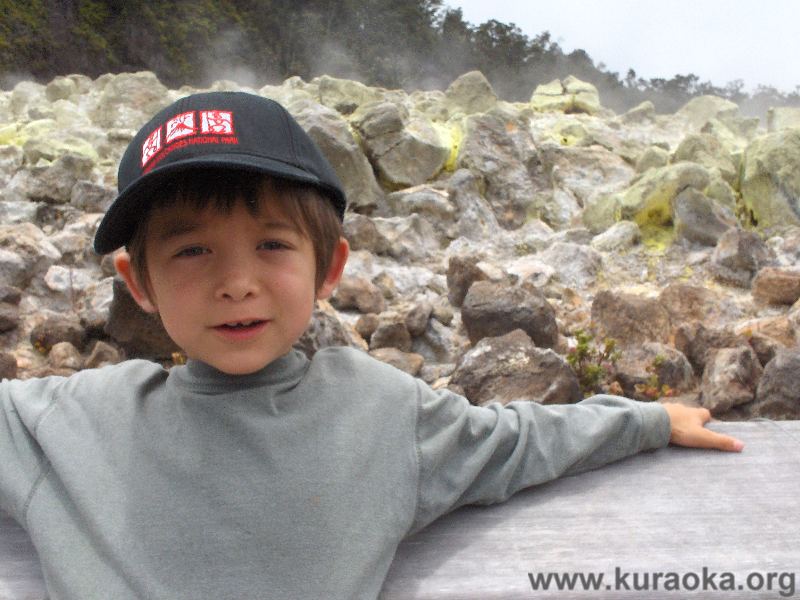 Here is a short video of Sulphur Banks steaming away (MPEG, 3.91 MB): Sulphur Banks.
Here we are on the trail back to the car. You can see how much Leo likes his new hat, as Grammy tries to get him to pull it up for the photo! Thatís Royís new hat, too. John is wearing his old hat. Thatís him all over, old hat.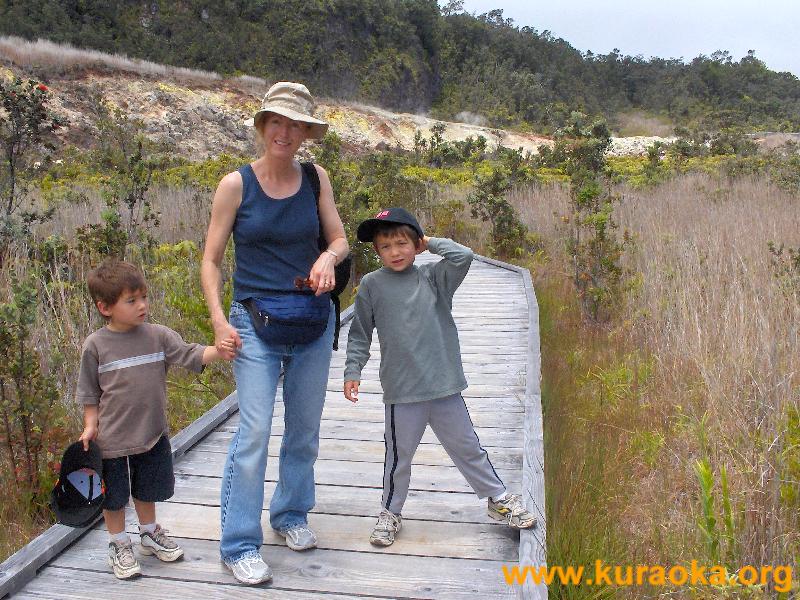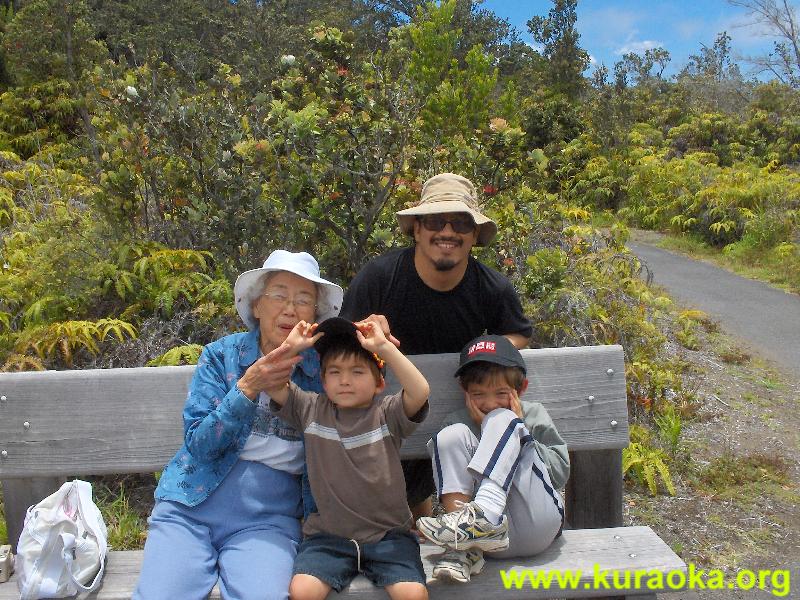 Wednesday was the Fourth of July! In the morning, Grammy, Andrew, and the boys enjoyed hunting for shells, crabs, fish, and other treasures at low-tide.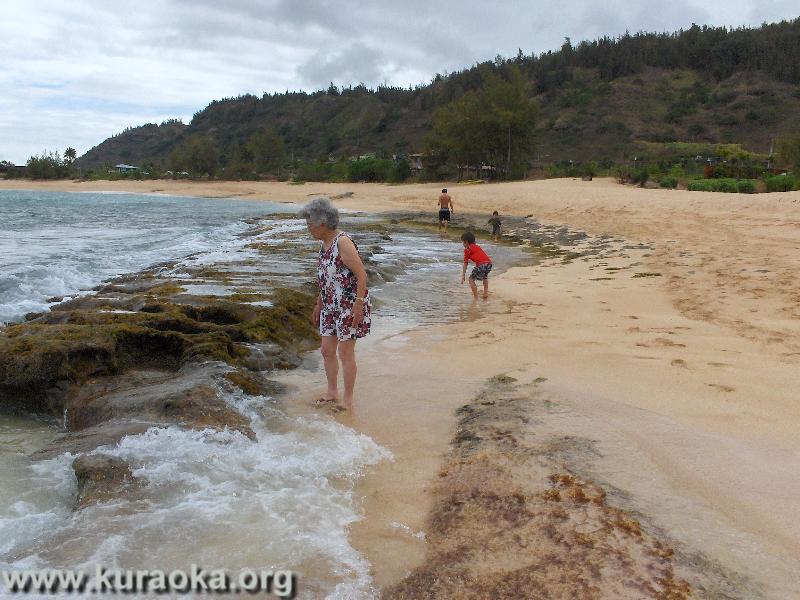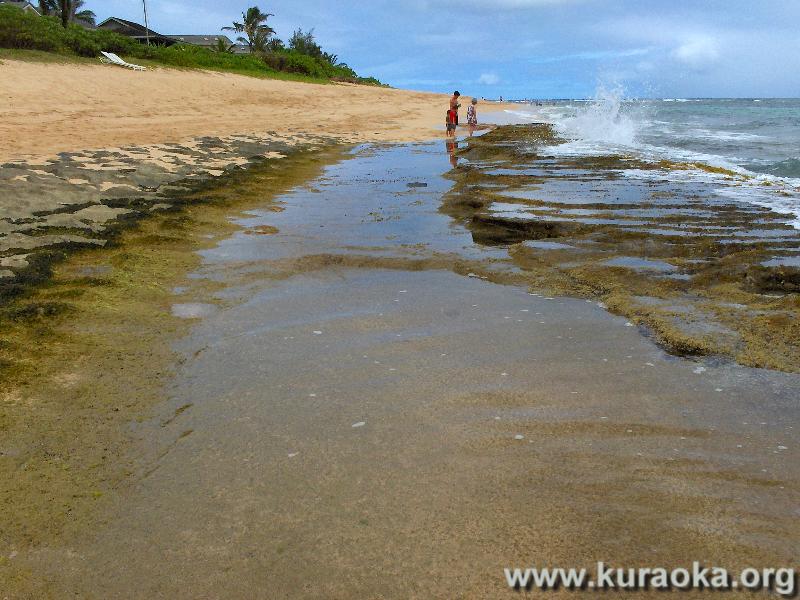 Food Land! John went with Amanda and Andrew to the local grocery store, Food Land. He had imagined a much smaller store; Food Land was the size of a regular grocery store. Amanda had said it was a good place to buy Hawaiian shirts and dresses, so thatís what John was looking for. He bought a shirt for himself, a tank dress and bracelet for Ondine, and sunscreen shirts for Roy and Leo. The checker gave him the cardholder discount, so he saved about $10!
Then we went with the Barnhart kids to Waimea Bay Beach. We followed Amanda and the gang to the parking area, a church parking lot where the youth group was renting parking spaces for $5 donations.
Roy eagerly hopped into the water with his Boogie Board. Leo was less-sure, and it took a lot of coaxing from Eric to get him in at all. The second shot shows Eric with Leo, and Roy paddling on past. Then, you see, roughly from left to right, Ondine, Andrew (lying in water), Leo being held by Eric, Roy paddling in, and Breanna. Amanda was lounging on a beach towel. John was snapping the picture. Andrew and Eric spent a lot of time playing with Roy and Leo.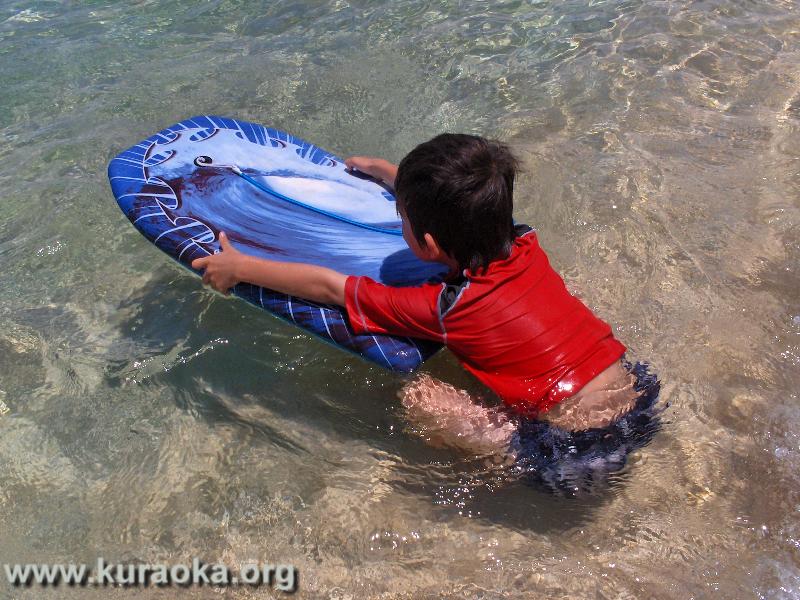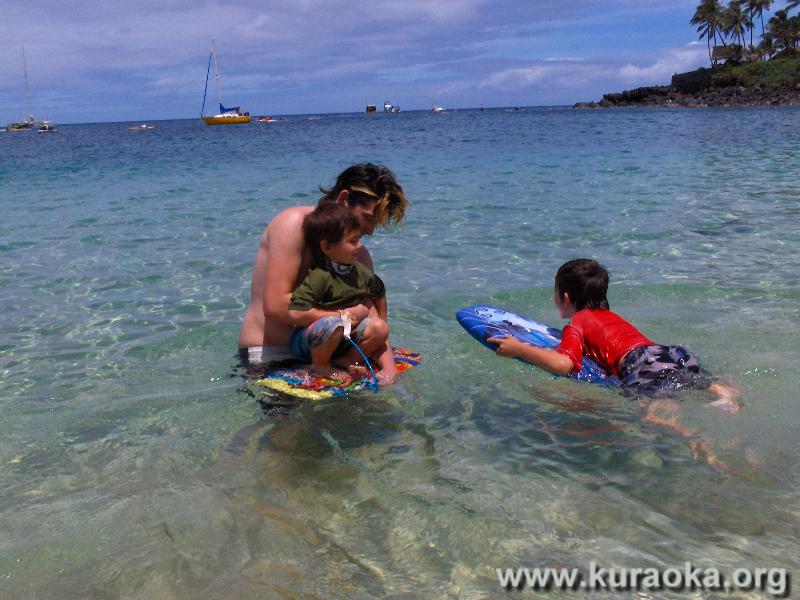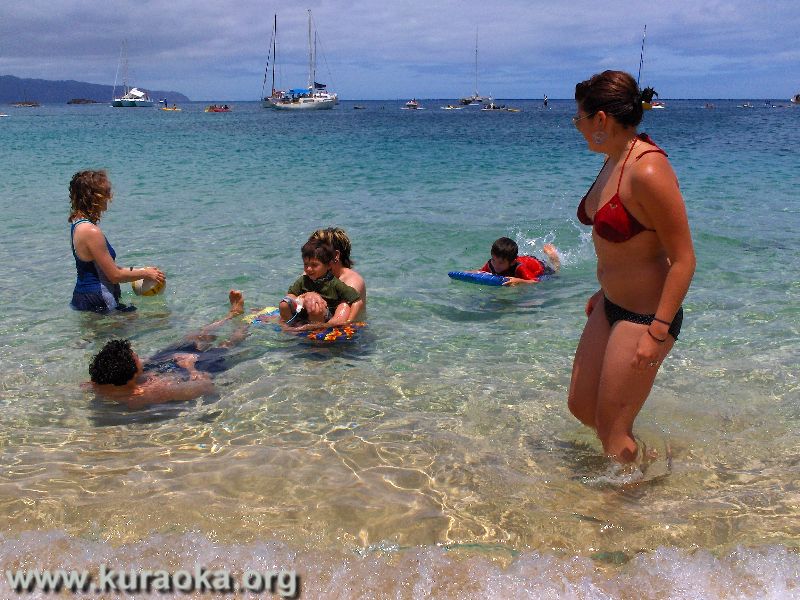 So this is why they call it Sunset Beach. Spectacular! And, of course, all the cameras come out to capture the moment, each a little different interpretation of the light and the sand and the surf.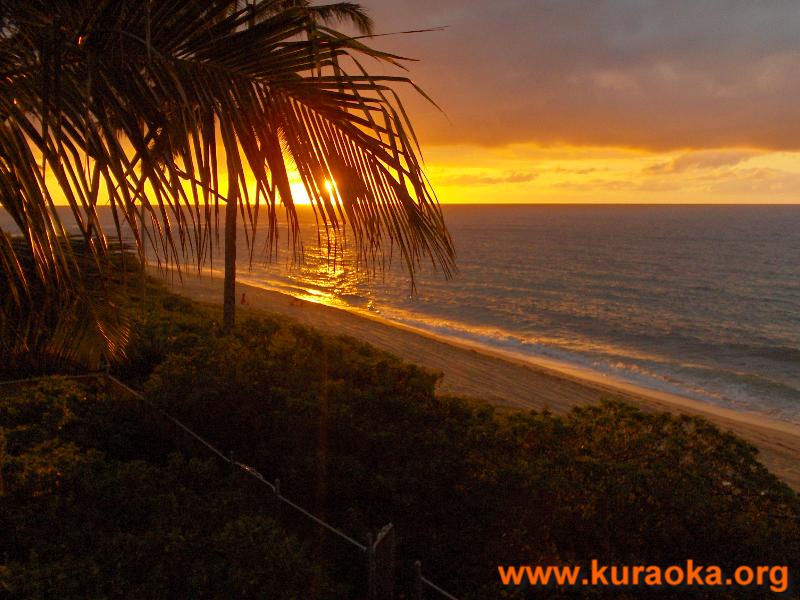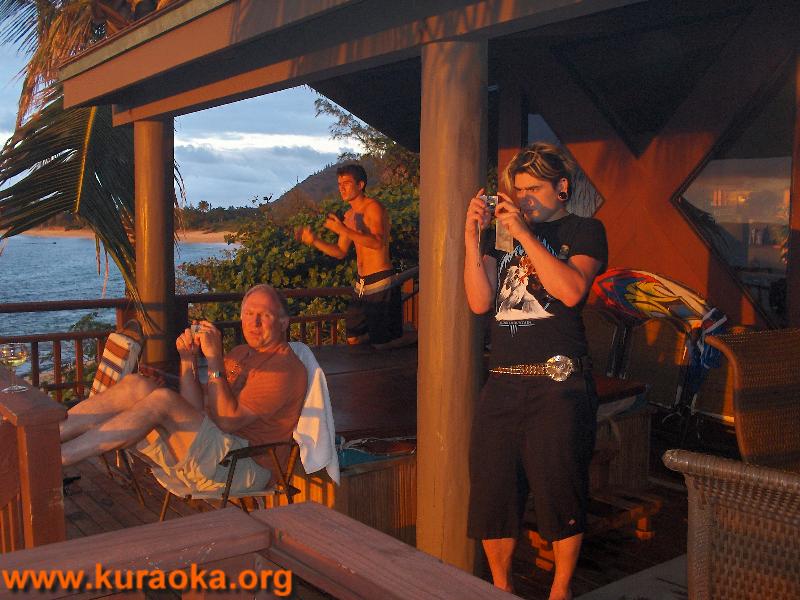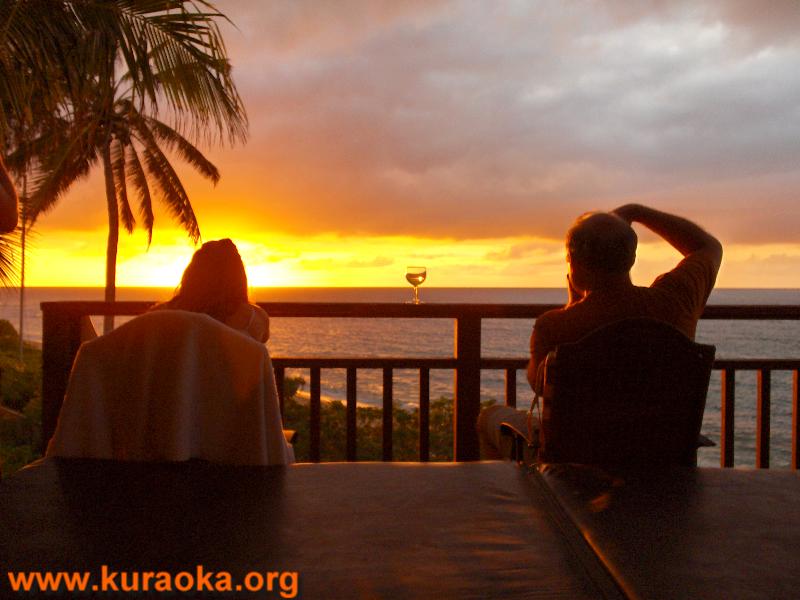 Happy Birthday to Patty! Eric bought a box of fireworks – legal in Hawaii and a rare treat for us Californians – and he and Andrew put on a spectacular show for us! It might have been a bit upstaged by the professional fireworks being launched right next door, but Roy and Leo were absolutely astonished by the sparkling fountains of fire just a few feet away. Here's a fairly long fireworks video (MPEG format, 9.69 MB) - the voice you hear is mostly Patty's. Then, Johnís sister Patty celebrated her birthday with a "Dreamcake."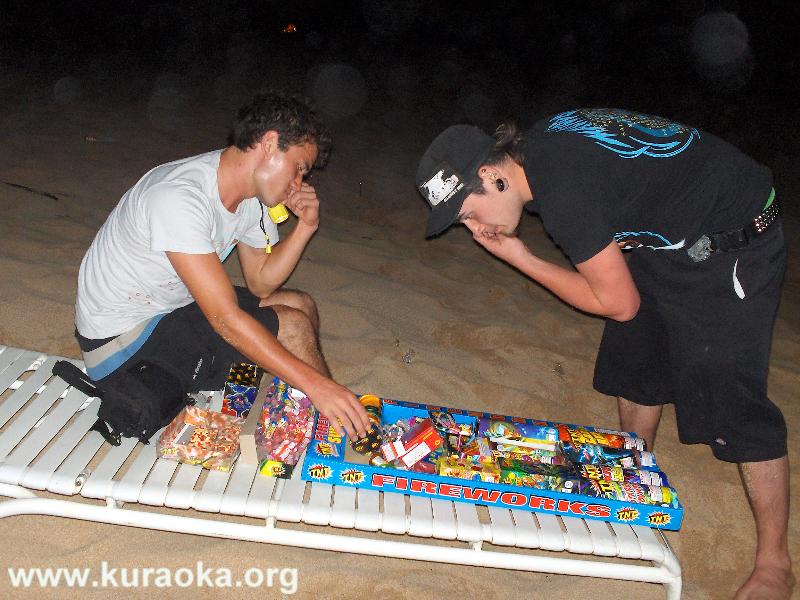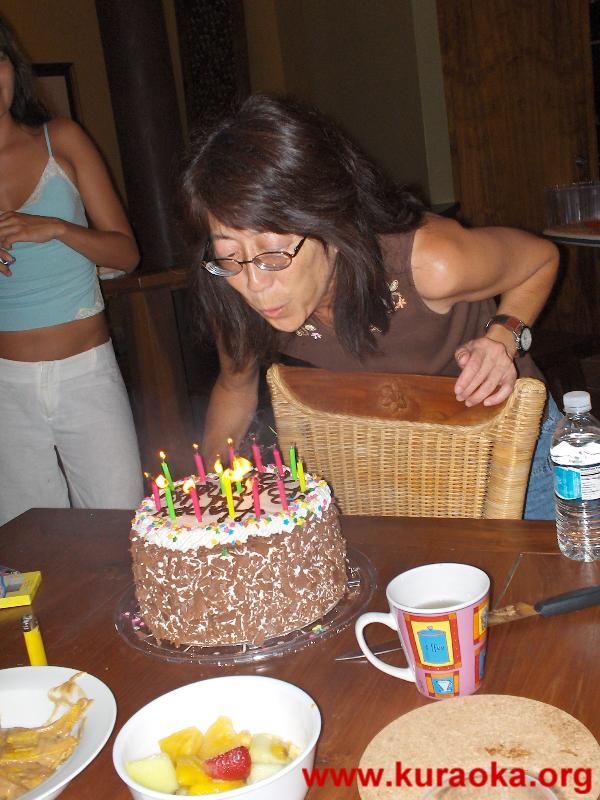 Thursday morning, Johnís eldest sister Elaine found a Plumeria lei on her walk. Leo donned it with a serious expression. Note the Black Dog hoodie. Itís Royís, but Leo has developed a fashion sense that demands oversized clothes, in black. He absolutely adores Ericís shirts, black, with grimacing skulls, bursting flames, and jagged graphics.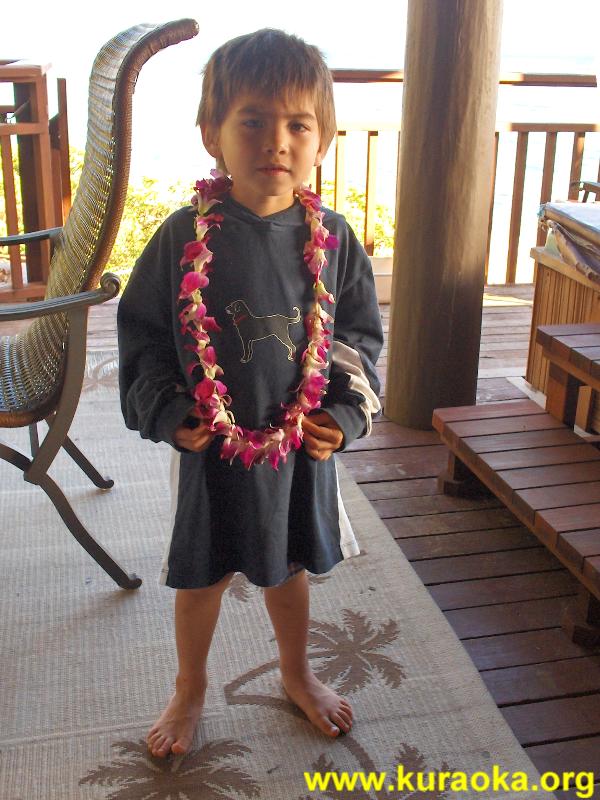 We went to Haleiwa. First stop: M. Matsumoto Grocery Store for their world-famous Shave Ice. Then, the boys scored a second Matsumotoís Shave Ice! The first you see with Grammy and Ondine. The boys picked the Rainbow. Their second ice was Ericís special treat. Roy chose strawberry (a perennial favorite) and Leo, urged by Eric, tried the piŮa colada flavor.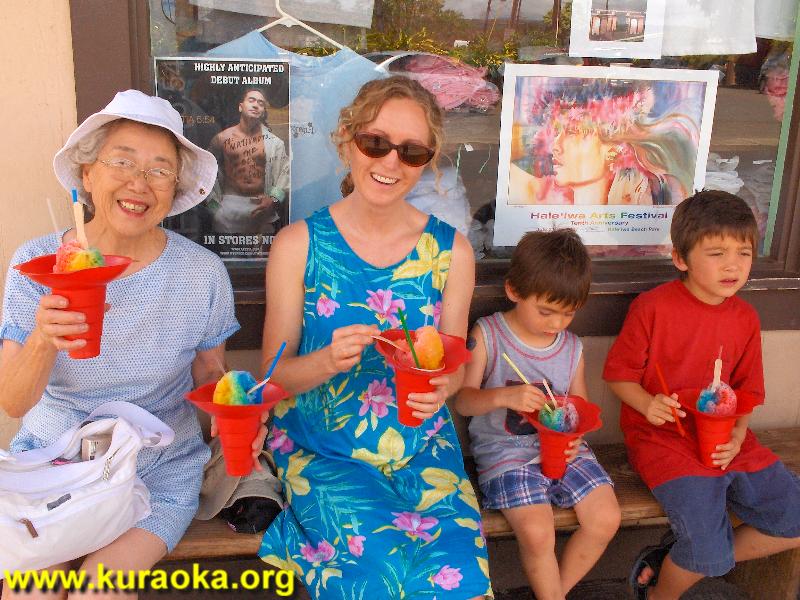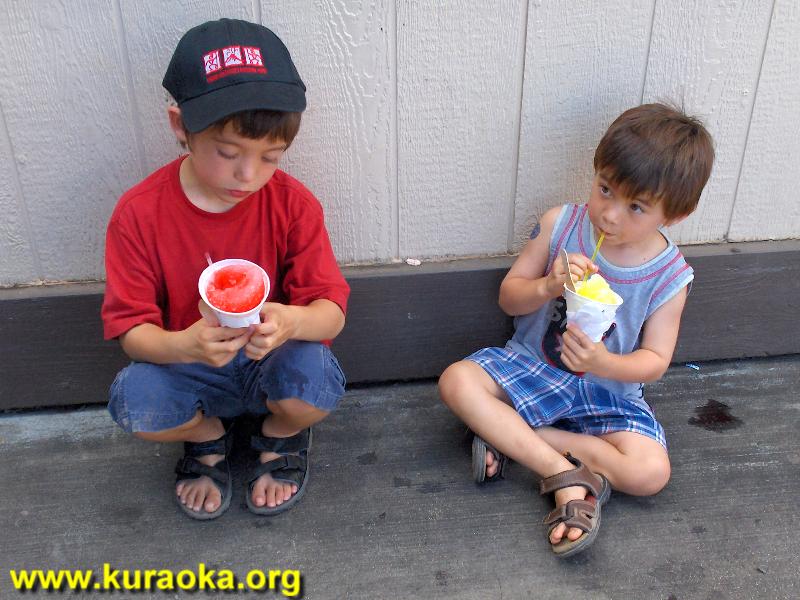 We did some shopping in Haleiwa too, including lots of omiyage. Ondine got a ring and bracelet, plus a sarong and sarong holder from Planet Surf on our way back to the house.
Friday - this is our morning view. Right out the back balcony. The sound of the crashing surf, the golden sun rising ... ahhh!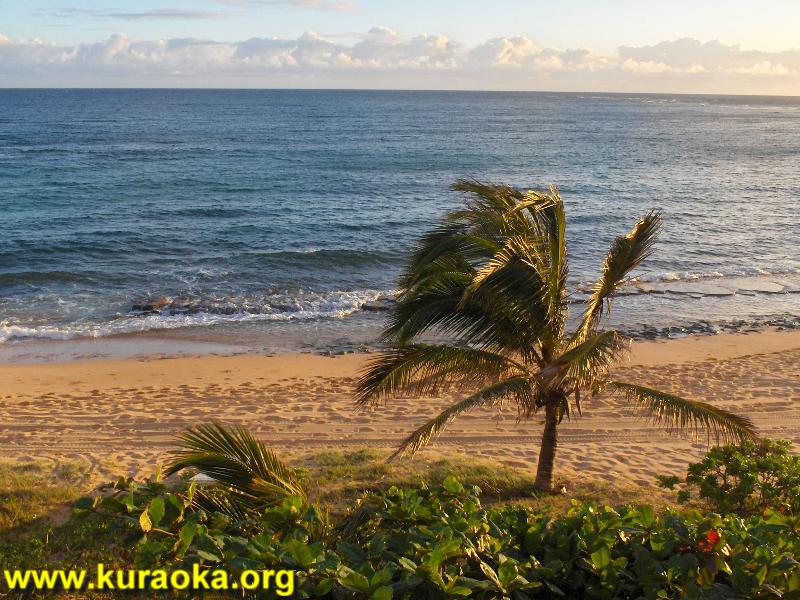 We took a morning walk along the beach. You never know what treasure is out there, waiting to be discovered. Some treasure you find ...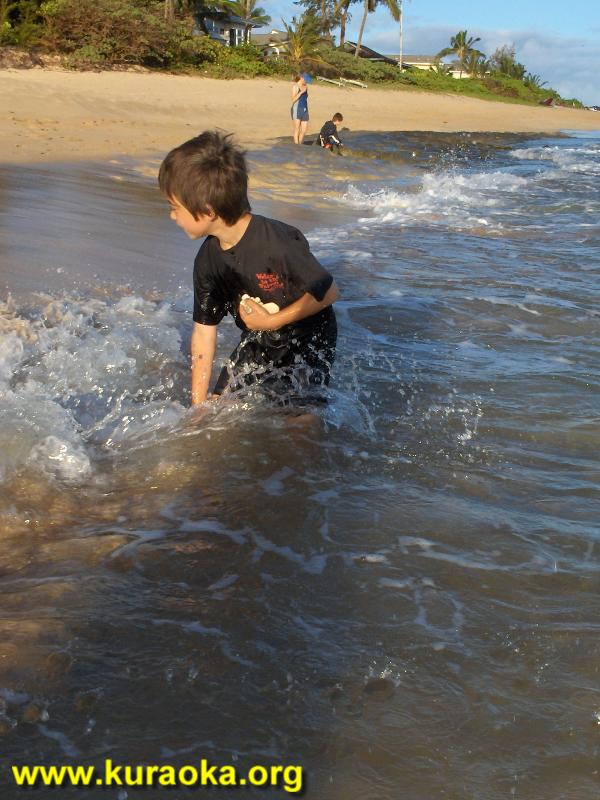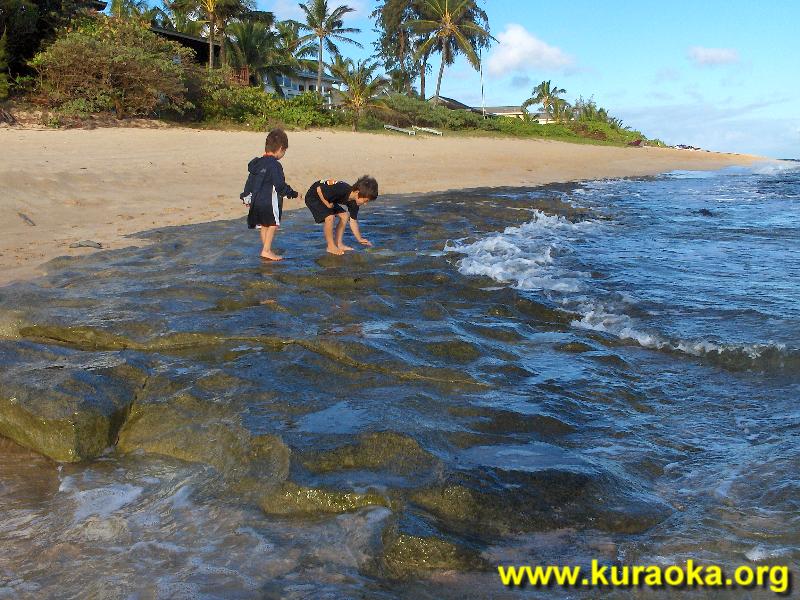 ... some treasure you make ...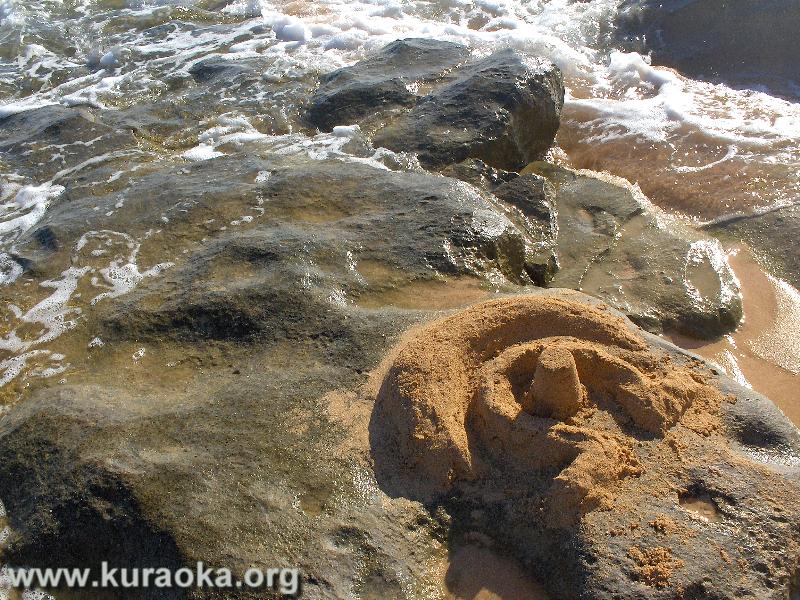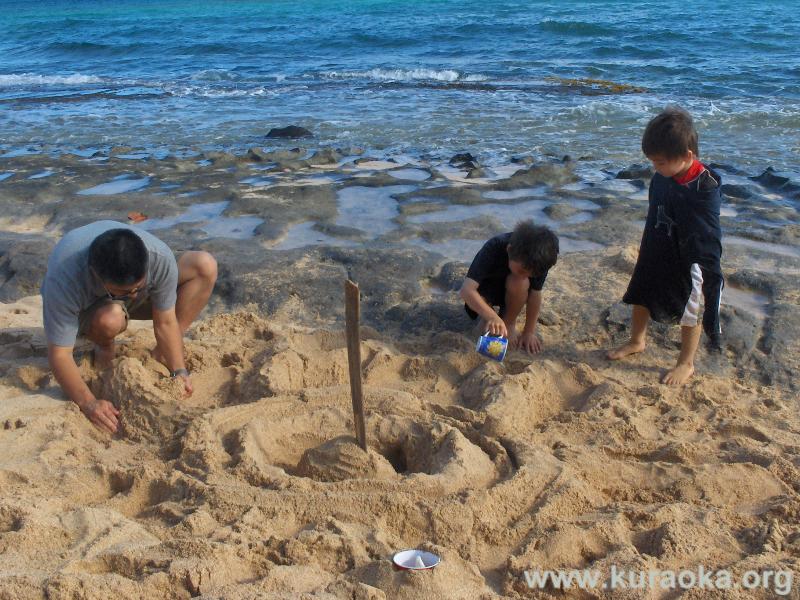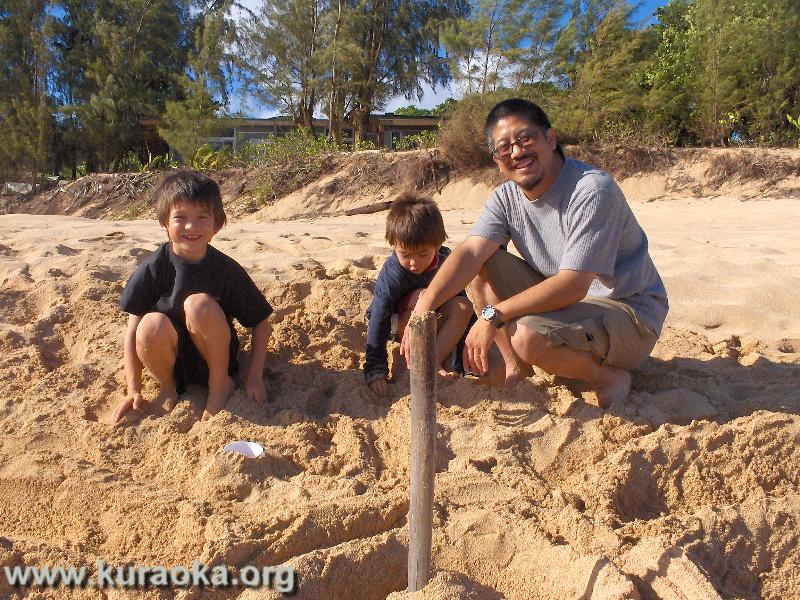 ... and some treasure comes from brief moments of quiet contemplation.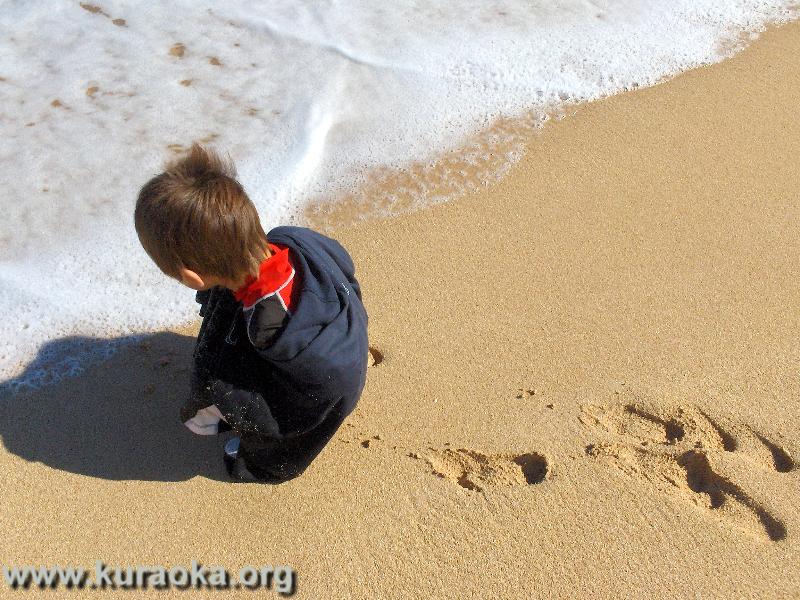 Weíre planning to go back to Waimea Bay Beach for the late afternoon. Then, itíll be time to pack up for the homeward journey, laden with treasures and rich with memories. What a wonderful gift of time together this was!
Speaking of treasures, here's are a couple short videos. The first shows us and the waves (MPEG format, 4.03 MB): Two waves.
The second shows Ondine doing the Hula-Hoop on Hawai'i (MPEG format, 6.40 MB): Hawai'i Hula.
Neighborhood gas prices here on the North Shore are about $3.35 per gallon, although we saw gas at around $3.41 near the airport.
Back to the previous journal!
Onward to the next journal!
Our Hawaii Photo and Video page
What are we up to now? Check out our Weekly Family Journal!
Back to the Kuraoka Family main page, with lots more stuff, including photos!