The Kuraoka Family Weekly Journal (Archived)
www.kuraoka.org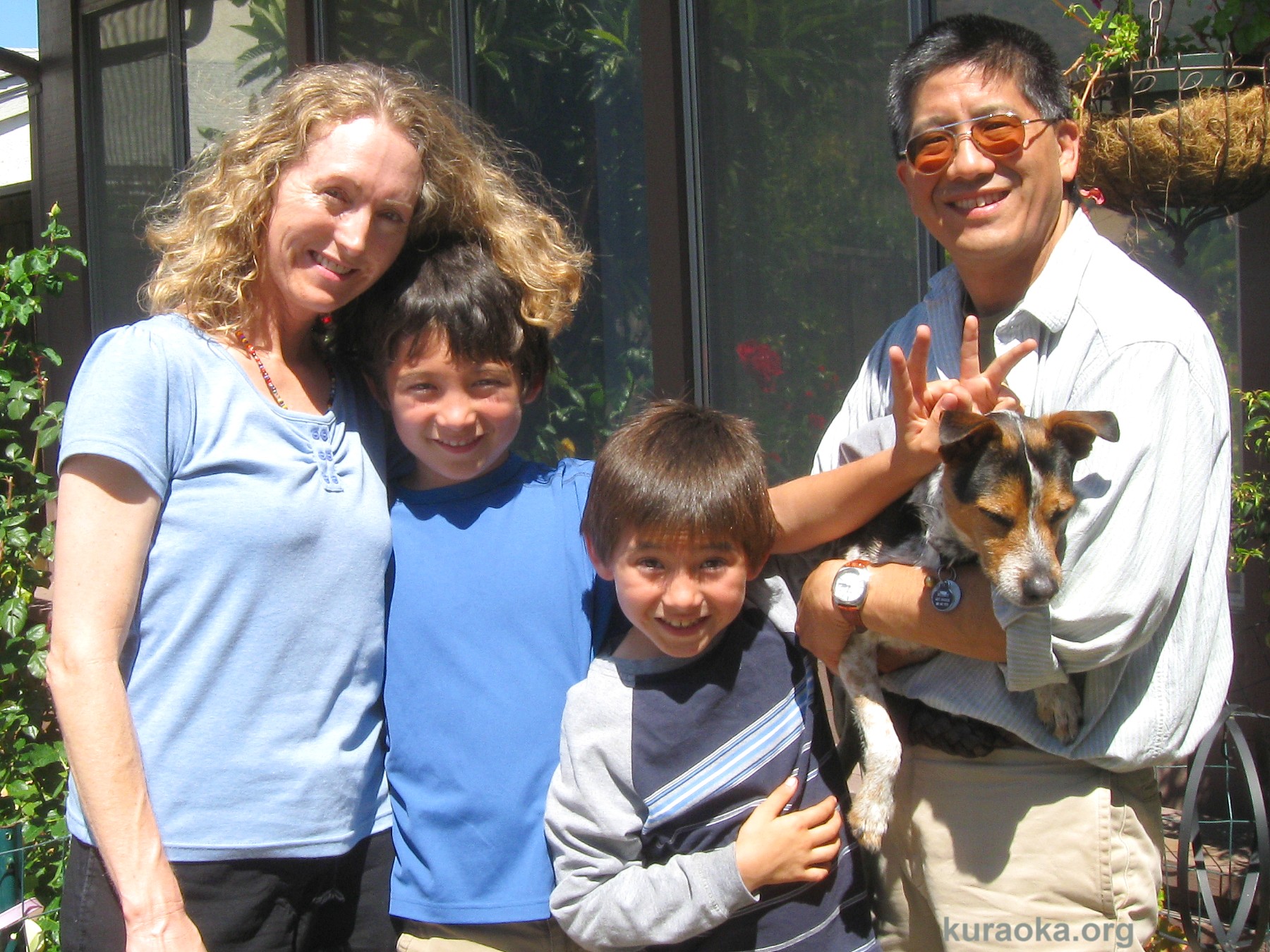 Us, June 13, 2011: Ondine, Roy, Leo, Buddy, John
Monday July 11 2011
We said we had a special weekend planned, and it was indeed! Roy and John went backpacking on San Jacinto with Alex, Ernesto, and Lucy! Leo and Ondine spent a day at the beach, where they had their own wild nature experience!
Roy and John had packed Friday evening, so were out of the house Saturday morning around 5. They had breakfast on the road at Jack in the Box in Hemet – Roy had a Jumbo Jack with cheese and John had a breakfast pita, which was really very good and hand-holdable while driving. They arrived at the trailhead at Humber Park at about 7:30. The Fernandez family had been staying with Alex's grandmother in Redlands – they arrived soon after but by then the parking lot was beginning to really fill up. We all hit the trail together at about 8:45 am, with Alex and Roy in the lead.
The Devil's Slide Trail is a steady, nicely graded 2-1/2 mile uphill crank to Saddle Junction along the ridge. It gains about 1,600 feet in elevation, going from a little over 6,400 feet at Humber Park to about 8,000 feet at the junction. So, the trail starts in a sort of high chaparral, with oak trees and Manzanita, but soon the pines, firs, and cedars crowd out the oaks.
There had been major thunderstorms earlier in the week (one local we passed called it "the mother of all thunderstorms"), so all the springs and creeks were flowing. In places water seeped directly out of the ground. We stopped a few times on the way up, but generally kept moving. We made Saddle Junction at 11:15, exactly 2-1/2 hours after starting – which is pretty good time for two 11-year-olds carrying about a third of their weight! By the way, Alex and Roy are showing each other photos and videos on their cameras.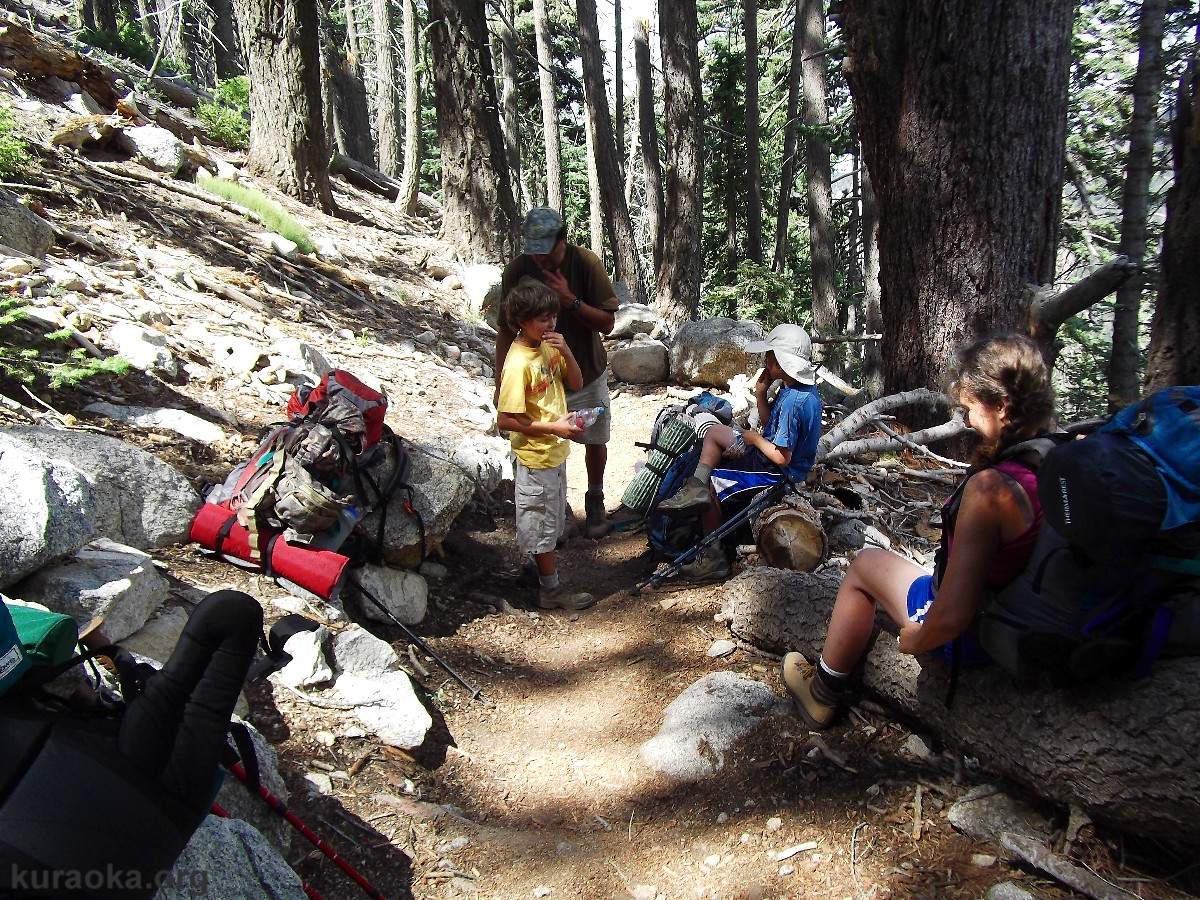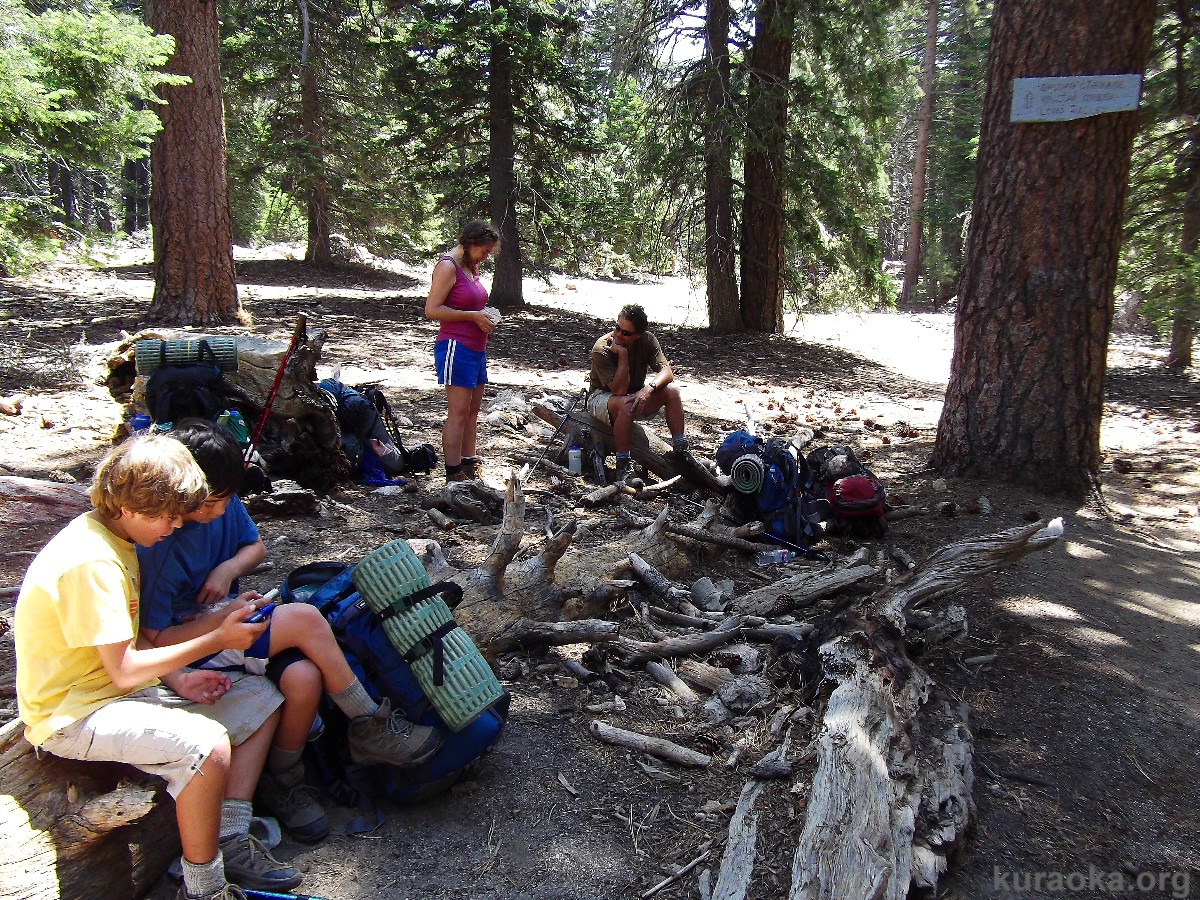 Along the way, Lucy and Ernesto shared a spooky experience backpacking near Strawberry Junction, and the boys thrilled to the possibilities of ghostly goings-on. From Saddle Junction we headed into the Skunk Cabbage Meadow zone. We went about a mile in, skirting the meadow and crossing the stream to a small knoll just over the meadow and overlooking the valley. We found an ideal spot, settling into our mountain home at about 12:15. The boys were relieved that we were camping nowhere near Strawberry Junction.
We were probably camped just shy of 8,000 feet. John set up his tent with the rainfly half off so he could enjoy the view. The boys set up their tent, christening a brand new Kelty Salida two-man tent. Then they went exploring, and found a huge boulder to try out the skills they'd learned earning Rock Climbing merit badge. Alex and Roy both clawed their way to the top.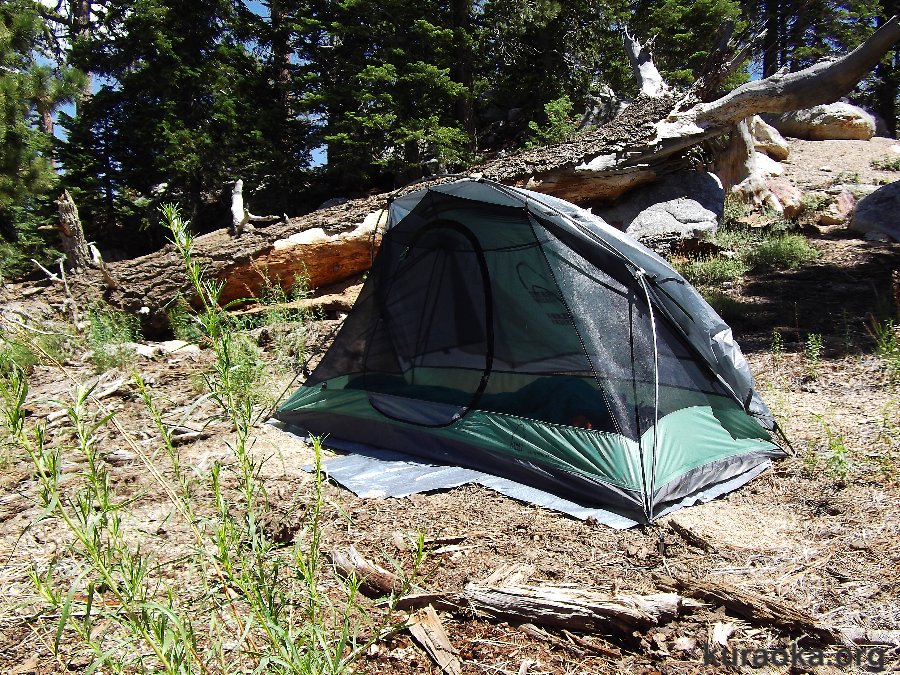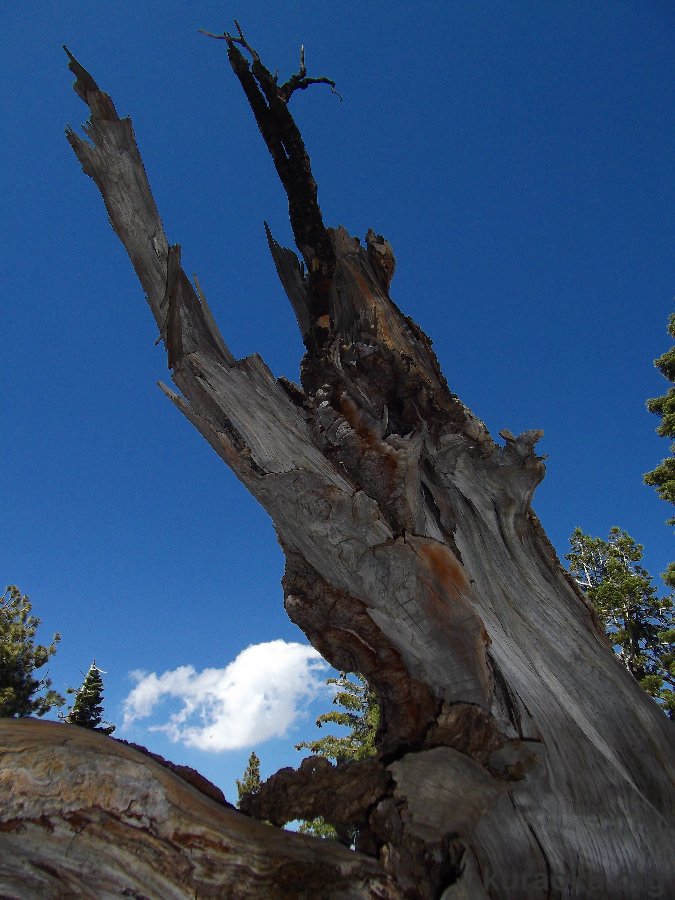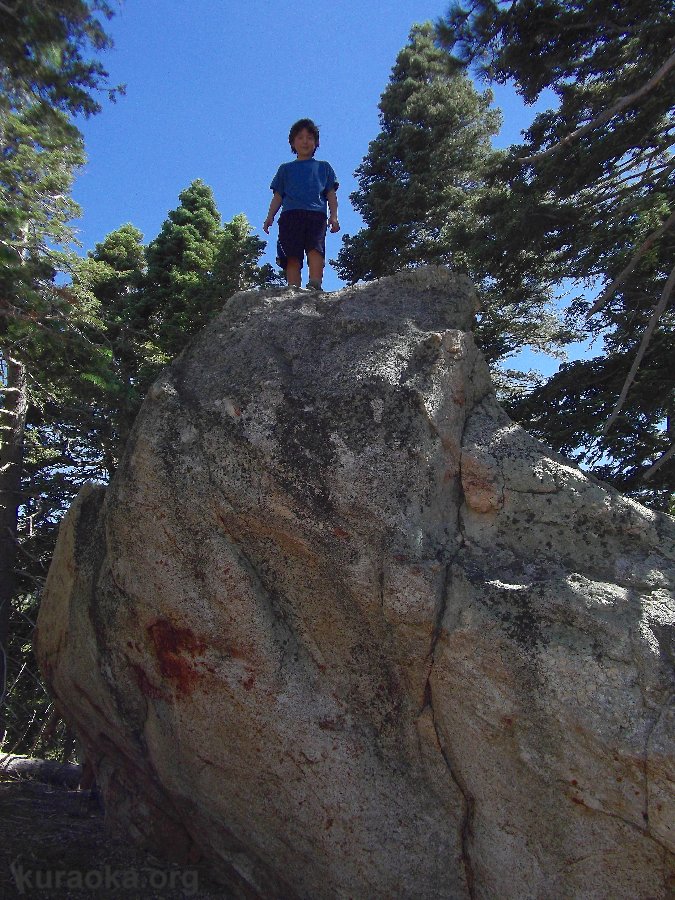 We filtered water from the creek in Skunk Cabbage Meadow – it was flowing nicely and a small footbridge over a tiny pool made an ideal spot to sit and pump. After filling up everyone's water, we had an early dinner. Roy, after cleaning his bowl, announced he was going to bed – and went. He was feeling the altitude. While Alex, Lucy, and Ernesto went to pump water, John stayed in camp and boiled water for hot bevvies. We had cocoa or tea or coffee, and played gin with the deck of cards Lucy had brought. (Roy and Alex, by the way, each had packed about a quarter-pound of Toddler Wars cards.)
Our games were cut short by a sociable squirrel who seemed friendly. Extraordinarily friendly. We were surprised because we hadn't seen any other squirrels around. In fact, this was the first squirrel we'd seen in camp. And then it came closer. And closer. And you got a weird vibe. Like, psychopath squirrel.
Ernesto gently nudged it away with a short piece of bark but it came back immediately, as if this was a happy game it was used to playing. And winning. We started tossing things toward it, scoring occasional hits with bits of bark and twigs but the squirrel was unfazed. It didn't even flinch.
Ernesto flicked it away a little less gently. The squirrel began to toy with us, stalking each of us in turn. Staring straight at you with big eyes, looking cute and trying to get close enough to GNAW YOUR EYEBALLS AND BURY YOUR CORNEAS LIKE ACORNS!!!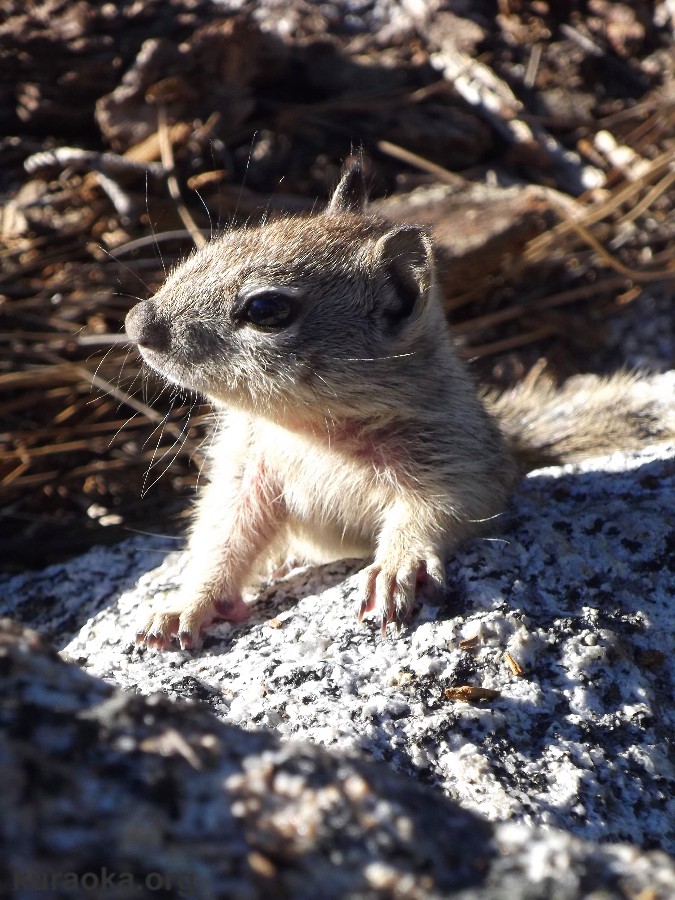 Everyone beat a hasty retreat from the darling demonic squirrel. Alex suggested it had been sent … from Strawberry Junction! We escalated from tossing bark to tossing – and then throwing – pine cones, some of which rolled directly over the squirrel. Still it maintained its unwavering advance on us. By this time, even the most ardent animal lover in our group was suggesting, with rising urgency, that someone get it on the end of a stick and fling it as far away as possible. Ernesto managed to get it on a stick but it hopped off. And resumed its hunt for human organs to harvest.
John tried to chivvy it along with a stick, hoping it would eventually flee. But it clung to the stick with its venomous claws, peering around brightly and casually hoping to rip out one of John's kneecaps. It finally scampered into a bush, and John flicked the bush with the stick hoping to flush the squirrel but instead he felt the stick hit something that might've been soft and warm and furry, and at the same time he heard a squeak of what might've been dismay.
He poked around gingerly, but there was nothing under the bush. The squirrel had vanished. We never saw it again. But, funny thing, other squirrels emerged, scampering along tree branches and cavorting in the middle distance, in exactly the way normal squirrels do. So maybe even they were relieved that the demon in their midst had disappeared.
We went up to a rock to sit and enjoy the light on the mountains changing as the sun set. The half-moon rose behind us. By about 8:00 it was beginning to get slightly dark, and the mosquitoes and biting flies were out in force. We all turned in around 8:30.
It was a warm night with little wind. In the early morning, John, with his rainfly looped back, watched the stars above fading into a blue pre-dawn glow that turned warm and orange. He also saw mosquitoes by the dozens landing on the netting, sensing his presence and probing for blood (not unlike some squirrels). So he stayed in until after he heard Ernesto moving around outside.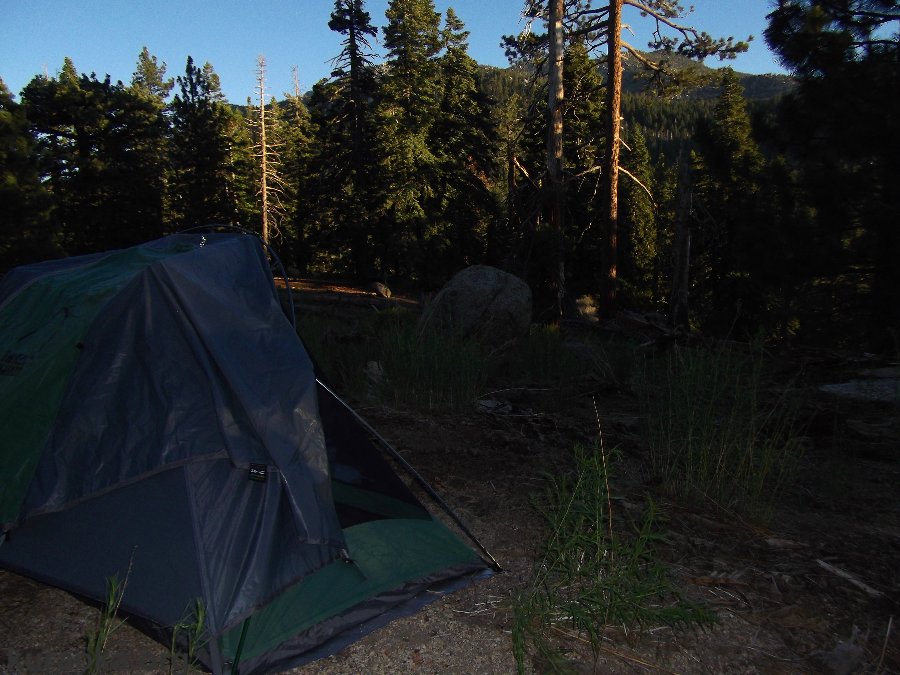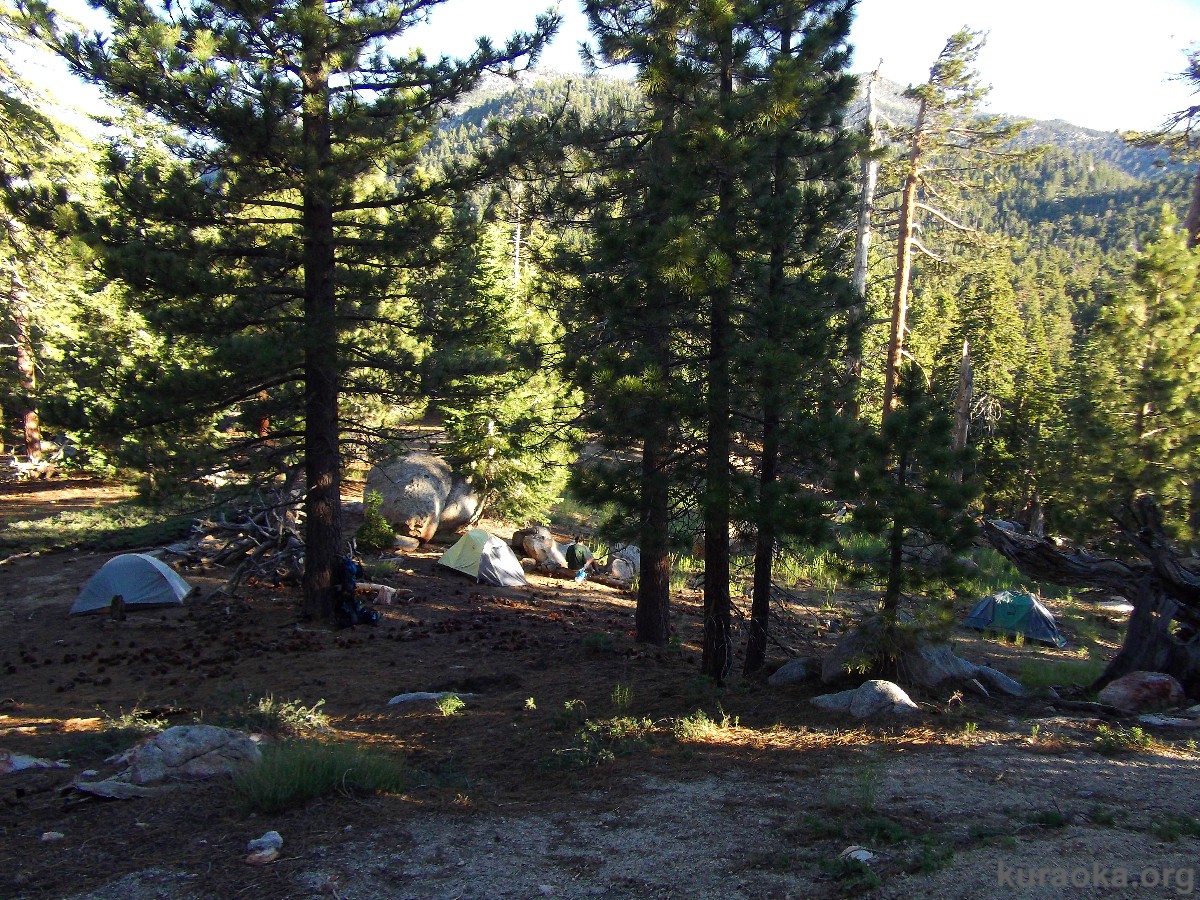 Sometime in the night, Alex and Roy claim to have heard a rattle from outside their tent. They peered outside, and saw a backpack … moving. Jiggle jiggle. Jiggle … jiggle. Then up popped the head of a squirrel, staring straight at them with beady, yellow eyes! Thankfully, its dark powers failed against fresh nylon walls and the boys awoke to a new day, refreshed and feeling much better.
After breakfast, we pumped water once last time, and then one more time. After a fairly leisurely morning, we were all packed up and ready to go at about 10:30. Here's our whole party!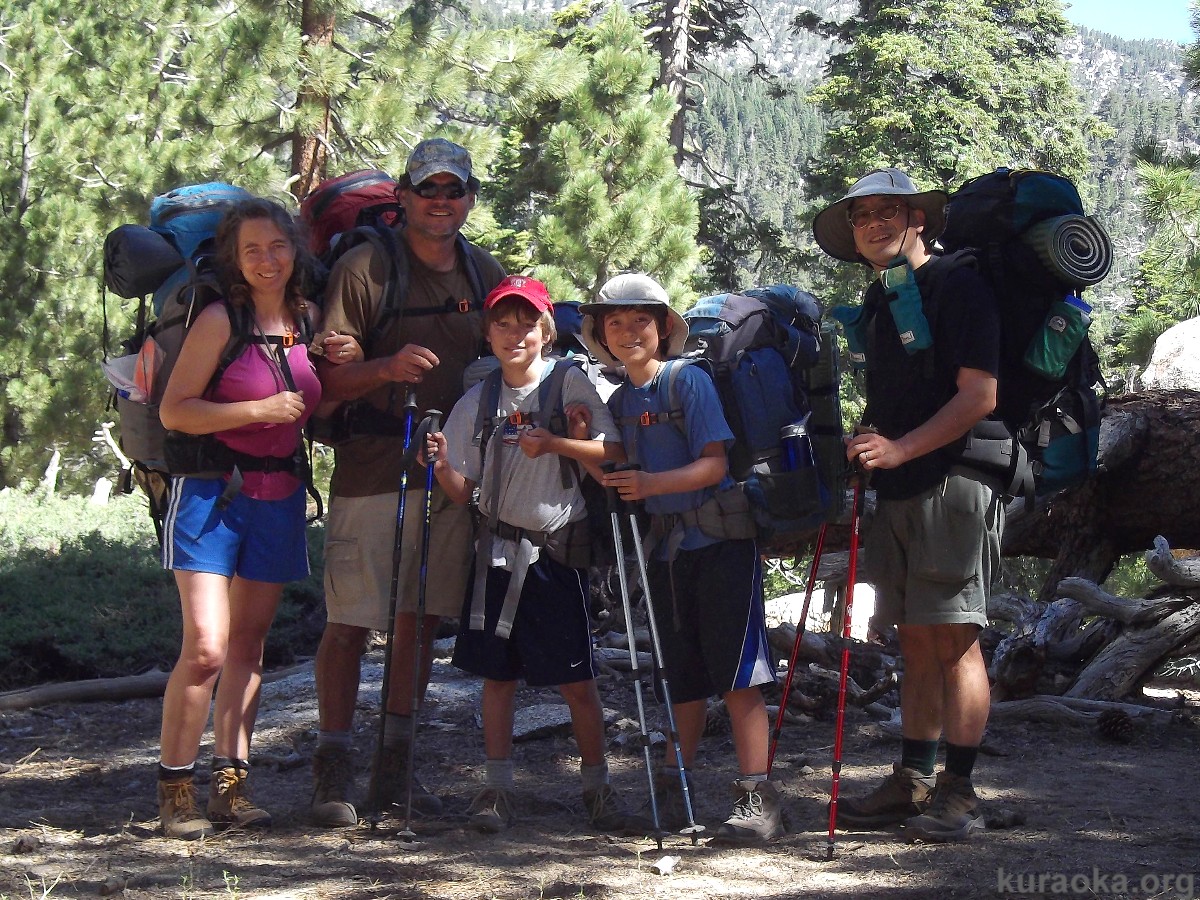 We'd decided that, instead of going back the same way we'd come, we'd head back via Tahquitz Junction so we could bag Tahquitz Peak. The trail started with a lush stroll through thick grasses and ferns, heading through Tahquitz Valley and then starting an ascent through Chinquapin Flat at a little over 8,400 feet. We encountered two Forest Service volunteers en route, who checked and signed our wilderness permit and suggested that the boys ask for an "Order of Squirrels" card at the lookout tower atop Tahquitz Peak. That was right up Roy and Alex's alley!
We made the 1.6-mile climb to Tahquitz Junction by 11:45. We dropped our packs and loaded fanny packs for the 0.4-mile climb to Tahquitz Peak, 8,846 feet. These two shots show the junction, with the trail to Saddle Junction heading north, the trail we came from heading east (that's Red Tahquitz in the background), and the trail to the peak heading southwest.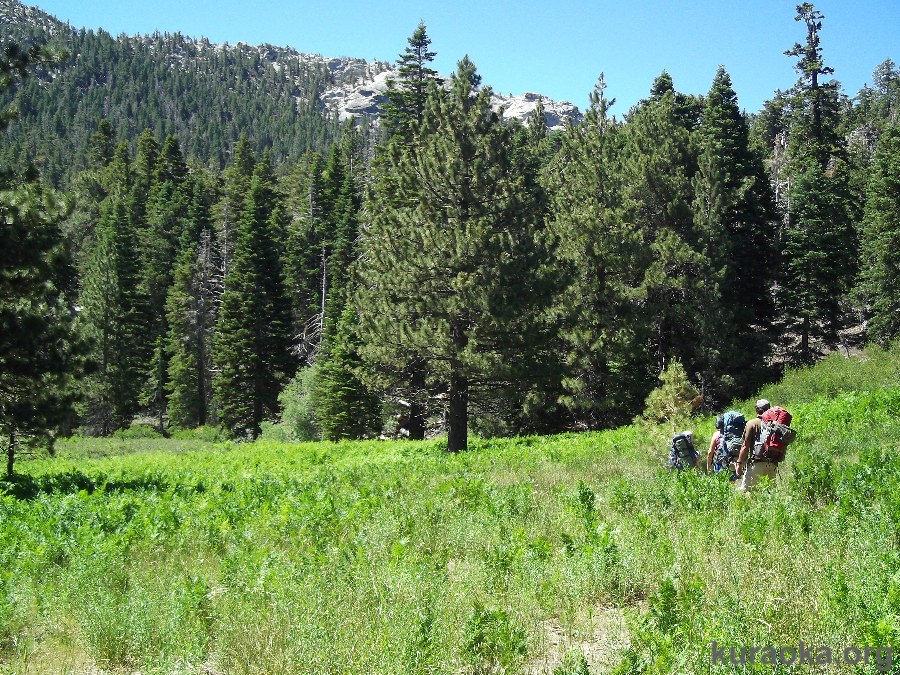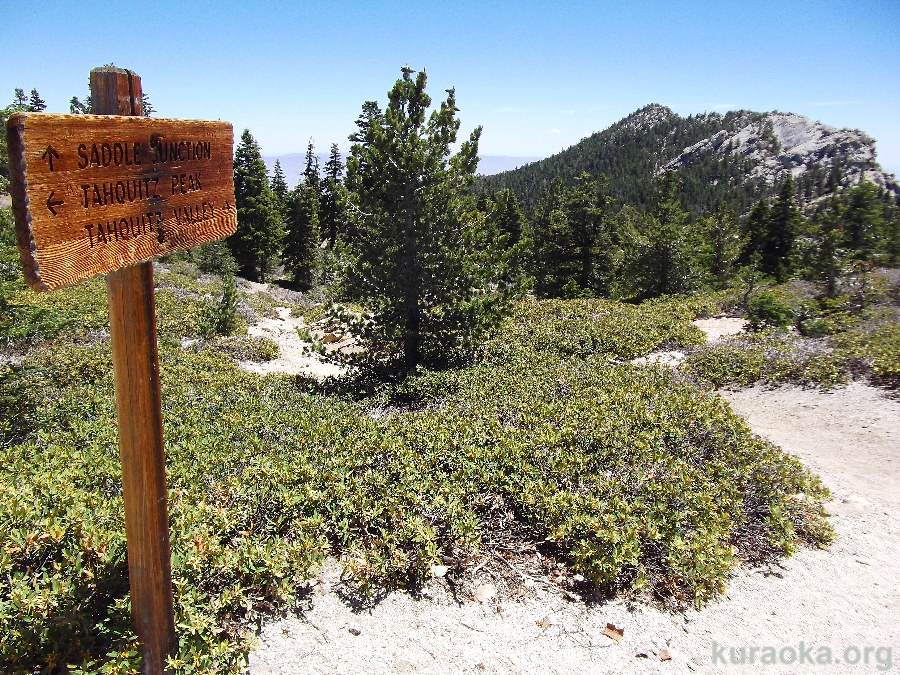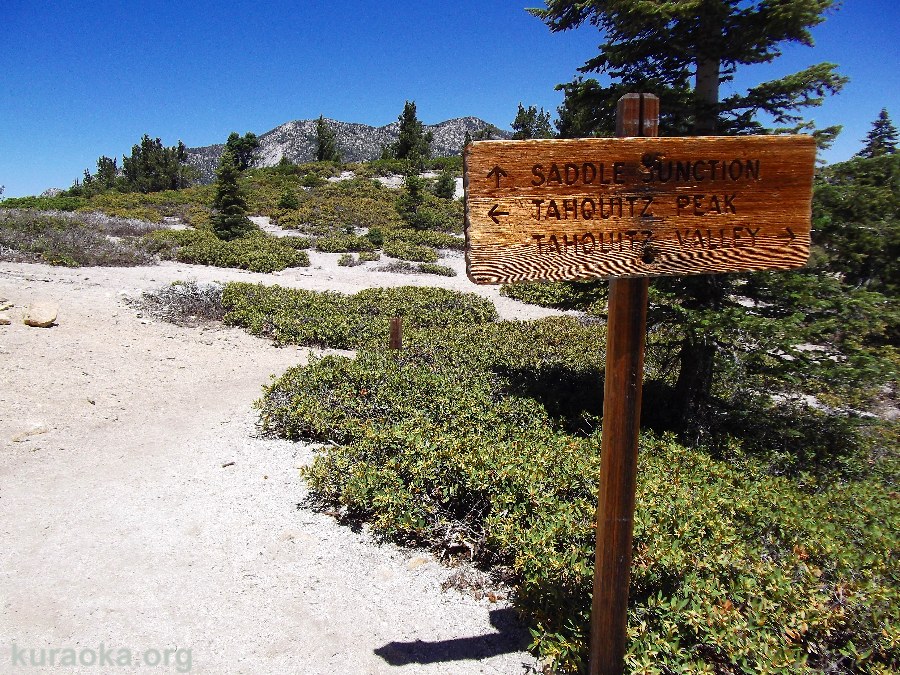 We made the summit around noon. We all walked around the wooden deck surrounding the lookout tower, and John and Roy talked to the volunteer manning the fire lookout and learned how they use this directional locator to pinpoint fires. He said he'd never yet had to report a fire. The closest call he'd ever had – and he was just about to fill out the paperwork preparatory to calling it in – was a tractor in the valley far below creating a billowing cloud of dust. When he spotted the tiny tractor emerging from the cloud and trailing more dust behind it, he knew he could breathe easy. Alex and Roy collected their "Order of Squirrels" cards attesting to the fact that they climbed the lookout tower on the summit.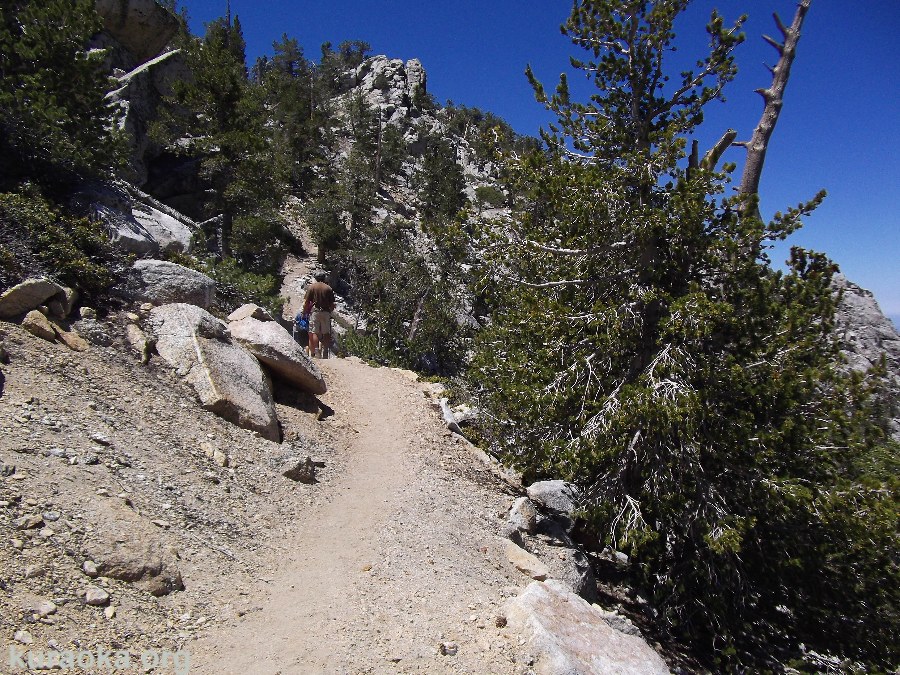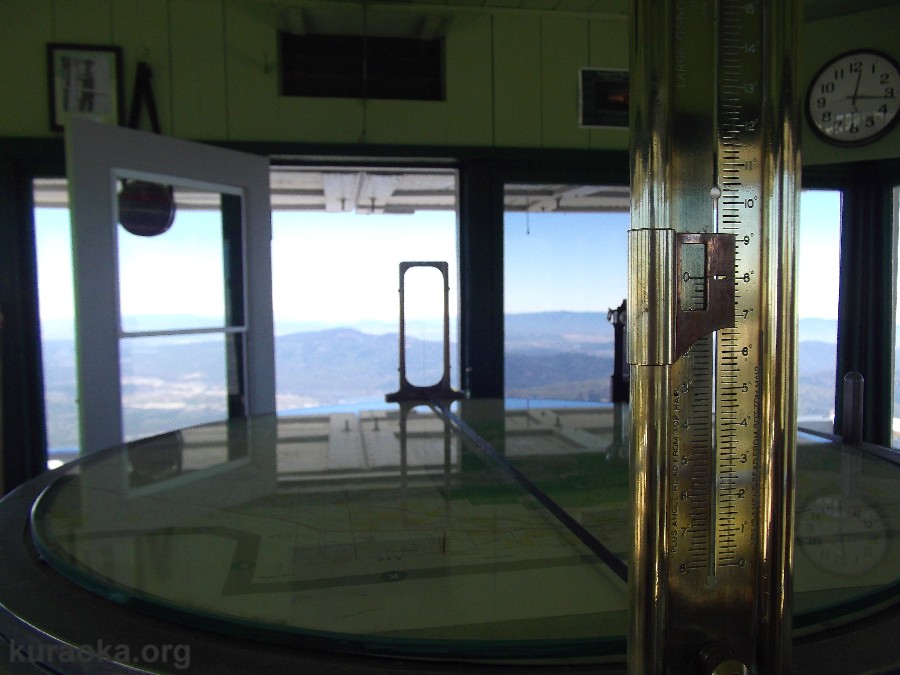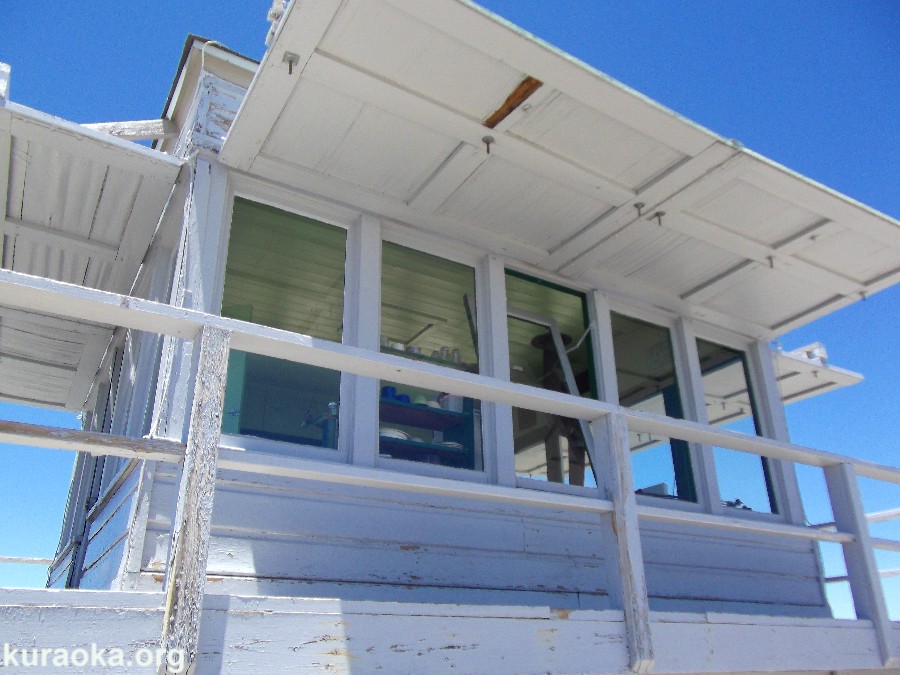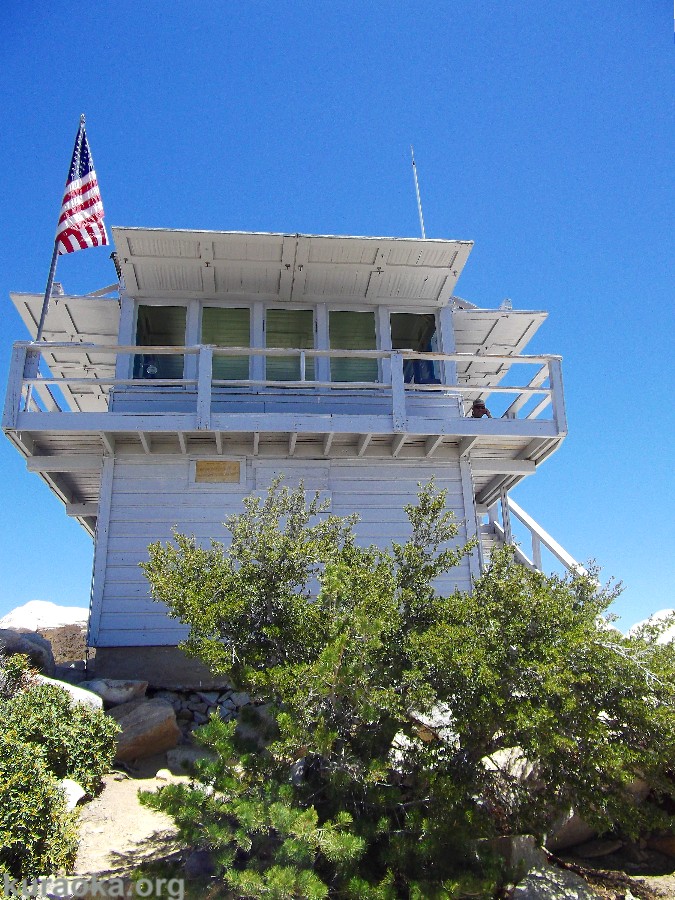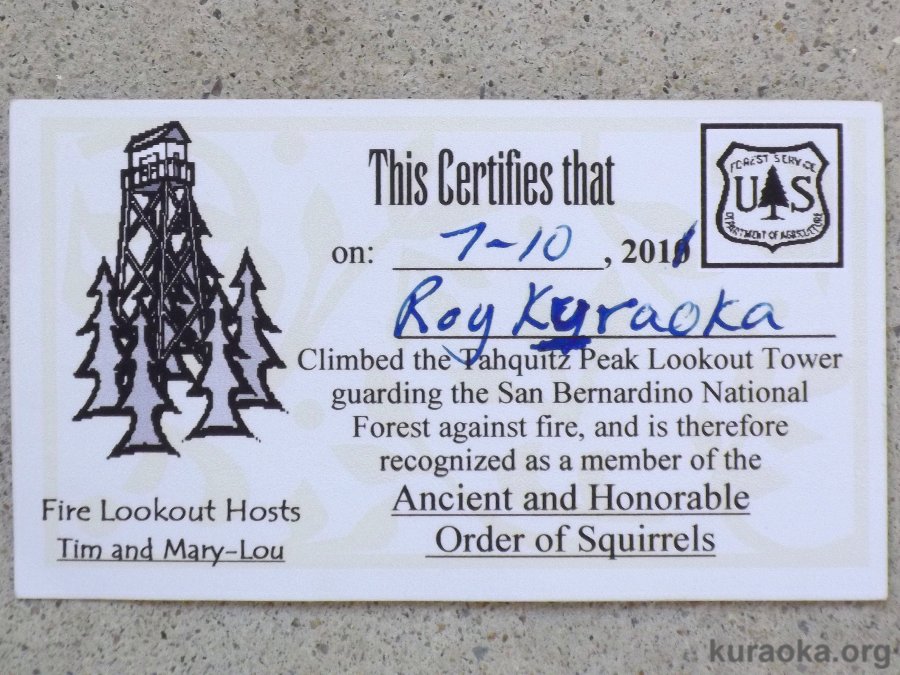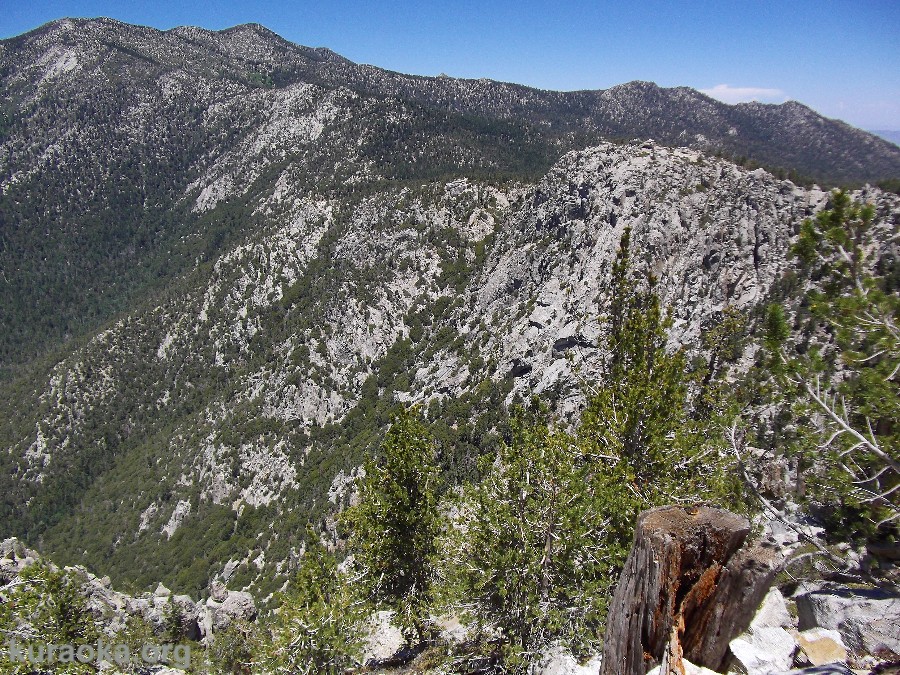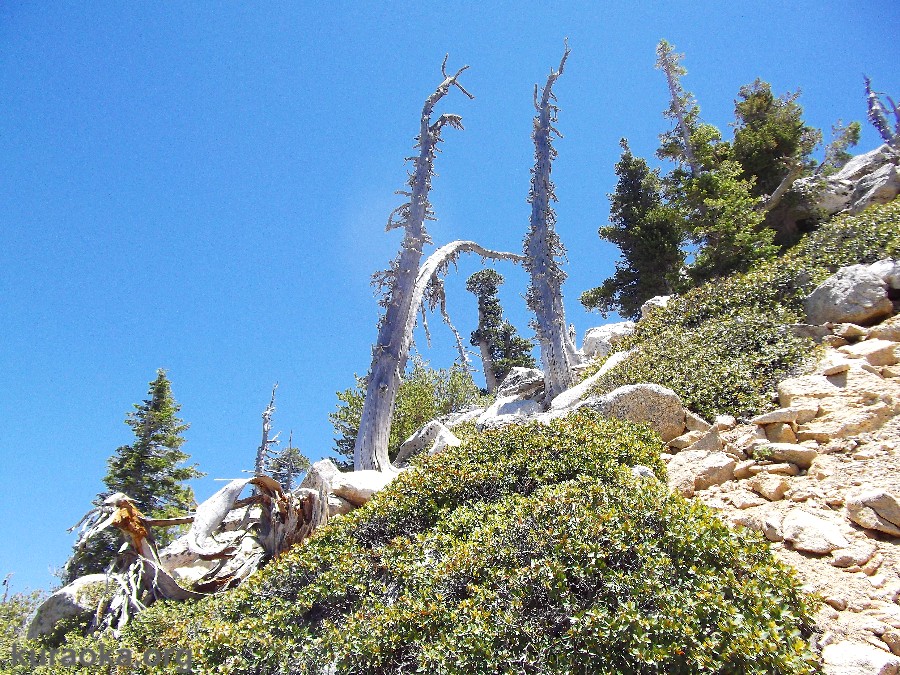 We savored the spectacular 360-degree views from the top, finally pulling ourselves away at about 12:40. Twenty minutes later, we were back at Tahquitz Junction. We took a few minutes to reload our backpacks, making some adjustments for the downhill journey. We left Tahquitz Junction at 1:10, making Saddle Junction at 1:45. Here we paused again to look at the map and mull over future possibilities, including a hellacious hike up to Wellman Divide and into Round Valley or on up to San Jacinto Peak. Or even cutting across to the now-dreaded Strawberry Junction! Yikes!
We left Saddle Junction around 2 pm, making the cars at Humber Park by 3:10 (and that included time to stop and take pictures).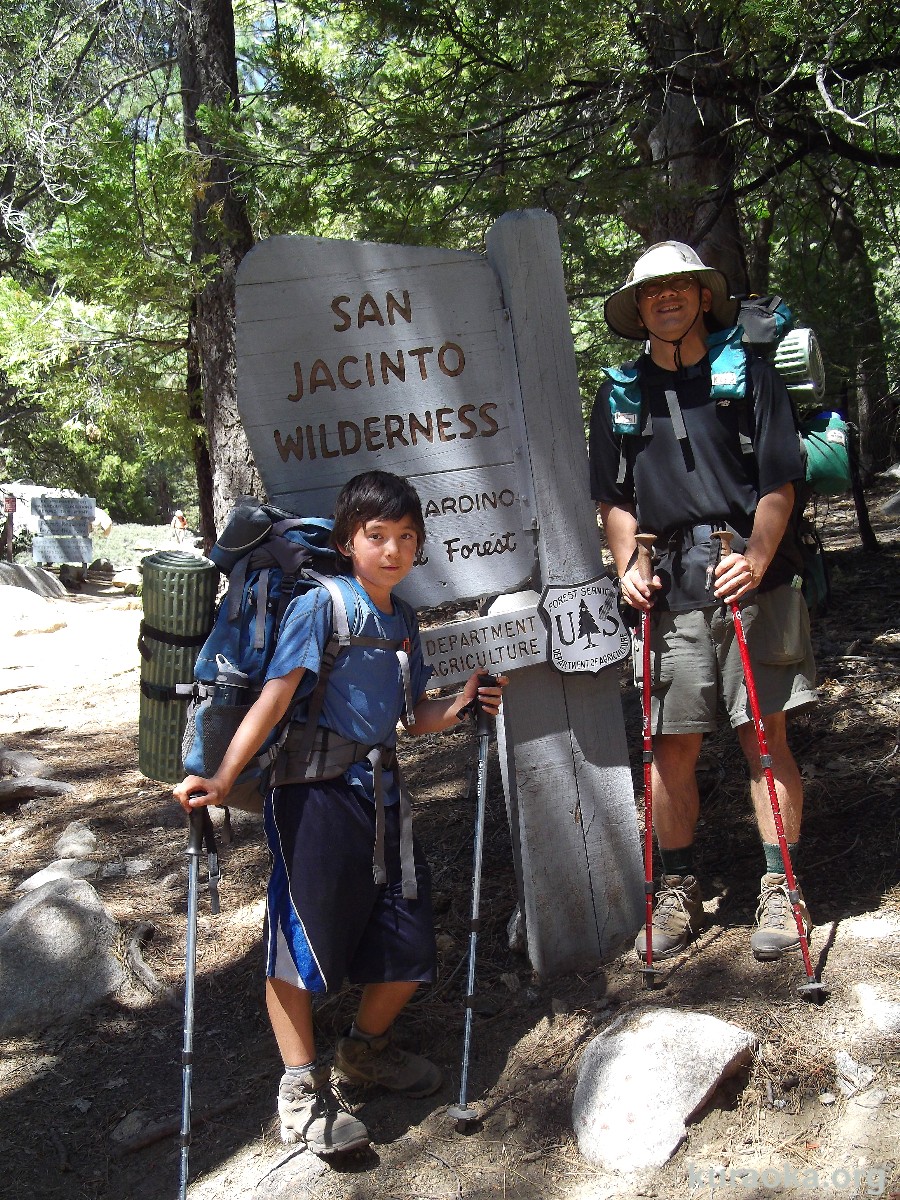 By 3:35 we were happily seated at Idyllwild Pizza, enjoying ice-cold soft drinks and awaiting our pizzas! John wanted to get a photo of us with our food, but by the time he got his camera out the pizzas had been inhaled! It was good pizza.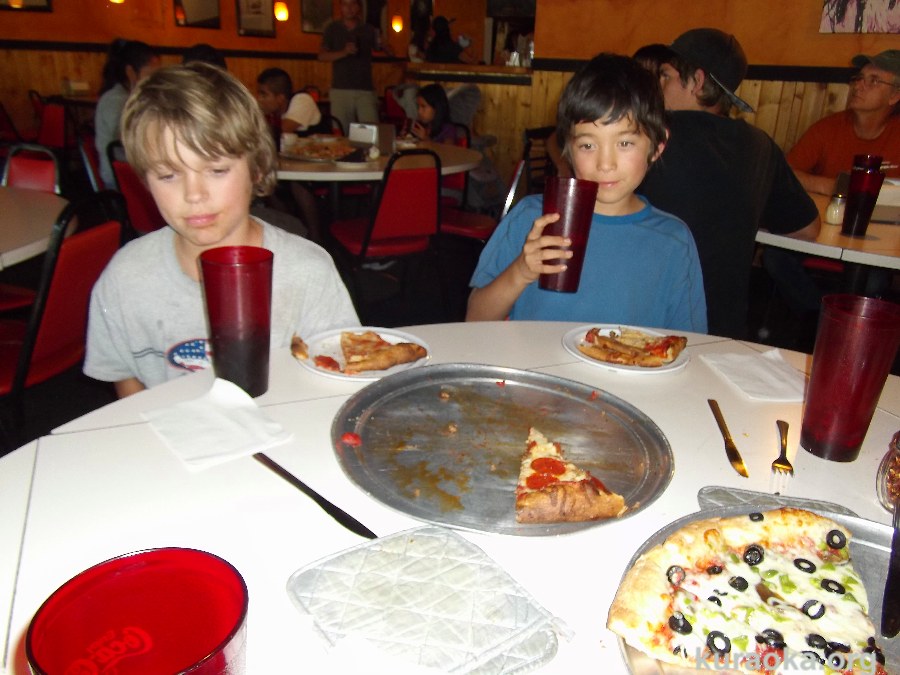 We left Idyllwild Pizza at 4:30 and went our separate ways – the Fernandez family heading north on 243 to Redlands and John and Roy heading south on the same highway to the 74 into Hemet.
John and Roy pulled into our local REI parking lot at 6:53, just seven minutes before the store closed! John quickly unpacked Roy's rented backpack in the trunk so we could return it that day, which saved a day's rental fee. While they were there, they fondled various clearance goods and John bought a fuel canister. They arrived home at 7:26, in time for John to give Leo a goodnight hug and for Roy to have a nice bath before brushing his teeth and going to bed.
What a great trip, and what great friends!
Meanwhile, Ondine and Leo had adventures of their own! They went to the beach Saturday. Ondine had originally planned to go to Mission Beach, but they went instead to La Jolla Cove. So, they had a long hunt for a parking space. The beach was packed as well, the sand almost continuously carpeted in beach towels and mats, furnished with chairs, and roofed with portable awnings. The only spot no one seemed to want was on an elevated shelf of sand right near the lifeguard tower, which suited Ondine and Leo perfectly because the tower provided some shade.
It also provided some amusement, because the lifeguards had to keep yelling at the kayakers to go away. "Kayakers!" a lifeguard would bellow through the public address system, "You are not allowed in this area! You must turn back! Turn! Back! Now!" Cheers would erupt from the beach, and beachgoers would shake their fists and hoot. And, of course, groups of kayakers kept coming in waves and the lifeguards wearily kept shouting them away.
Meanwhile, the adjacent seals kept up a constant cacophony of barks, groans, and assorted retching noises.
No Boogie-boarding was allowed because of the dense crowd, but Leo loved body-surfing. Then Ondine noticed the water sucking away in a long, odd draw. Hmm, she thought. That kind of draw usually precedes really big waves.
And then the waves came, pounding the beach. Leo, happy in the water, was tumbled head over heels many times by crashing surf. Along the sand, entire beach dens were being washed away: oversized towels, rugs, chairs, umbrellas, awnings, ice chests, inflatable toys. People snatched up what they could and fled splashing, waddling with their loads up concrete steps jammed with people and seasonal goods. Cameras and sunglasses and cell phones and car keys went missing, stirring up a hue and cry that temporarily drowned out the noise from the seals.
The shelf Ondine had settled was the only spot not flooded by the incoming tides. Leo kept playing, being tossed and toppled. The lifeguards seemed unconcerned, so Ondine decided not to worry. But, she was glad when Leo decided he'd had enough fun for the day.
Sunday Ondine and Leo had a quiet day at home. Ondine had wanted to write, but managed only to finish her critiques in time. Leo, meanwhile, put together the Lego sets from Barbara and Bill. The last photo shows his reaction to a fortune cookie fortune that said, "Someone is secretly in love with you."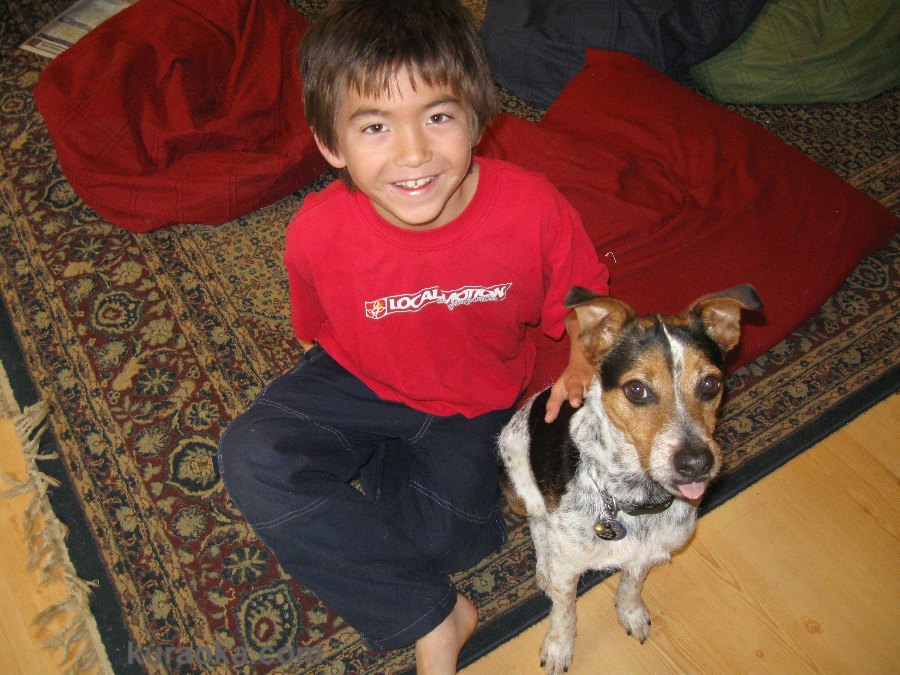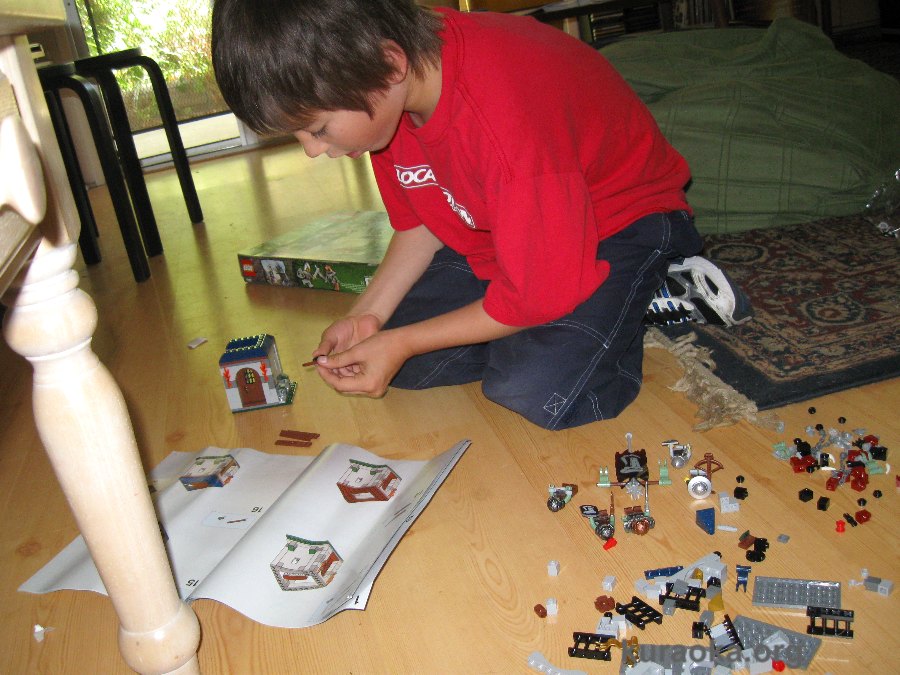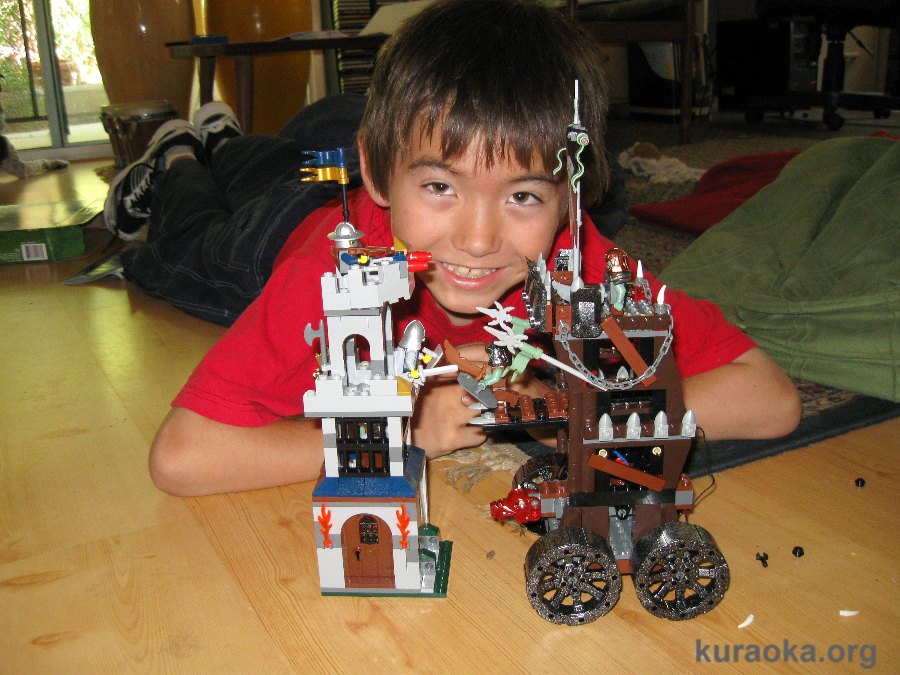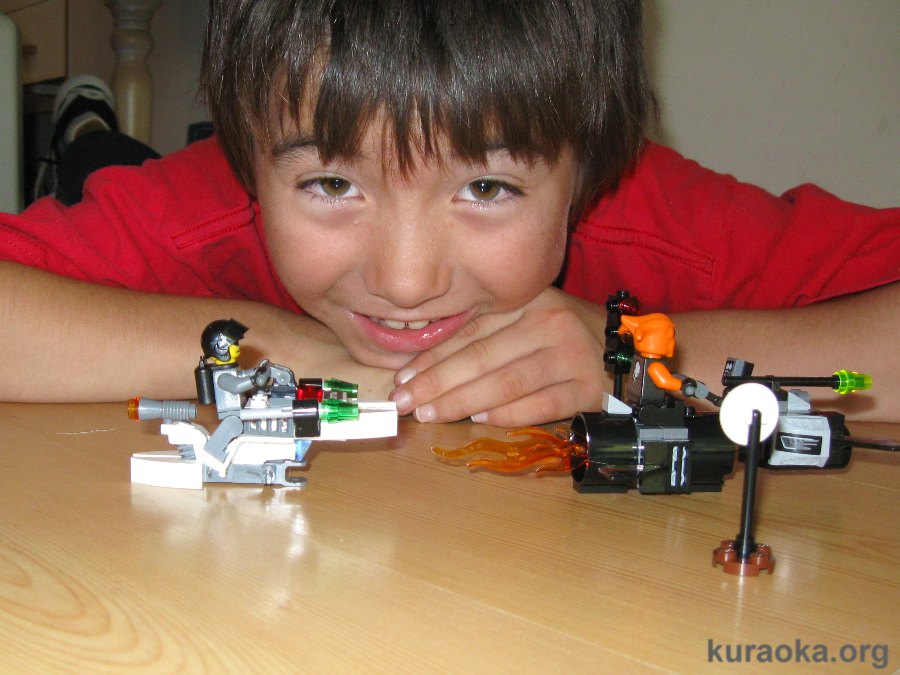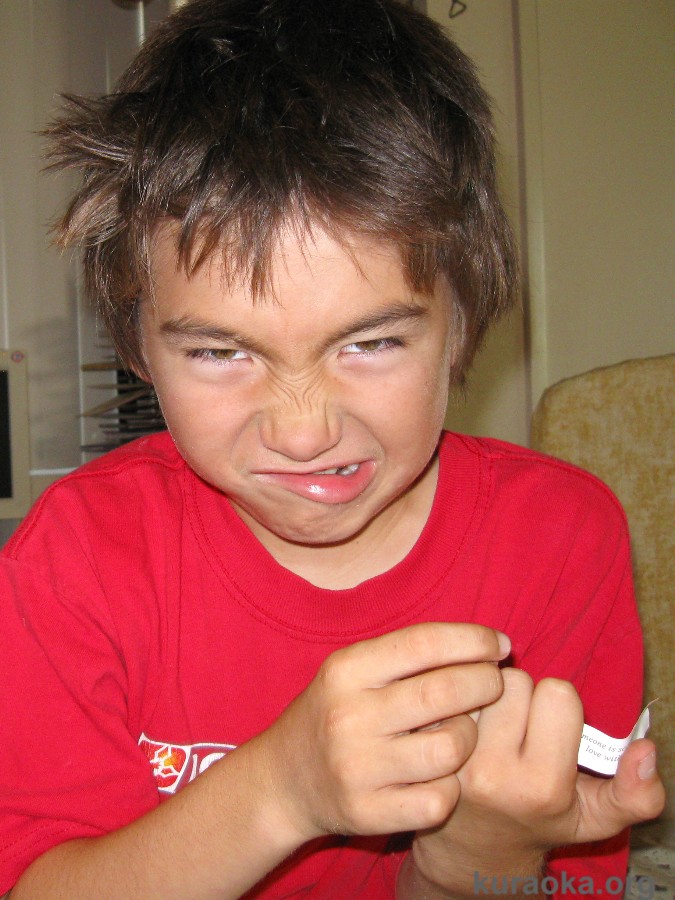 Here is one of the paintings Leo made at art camp last week, a self-portrait.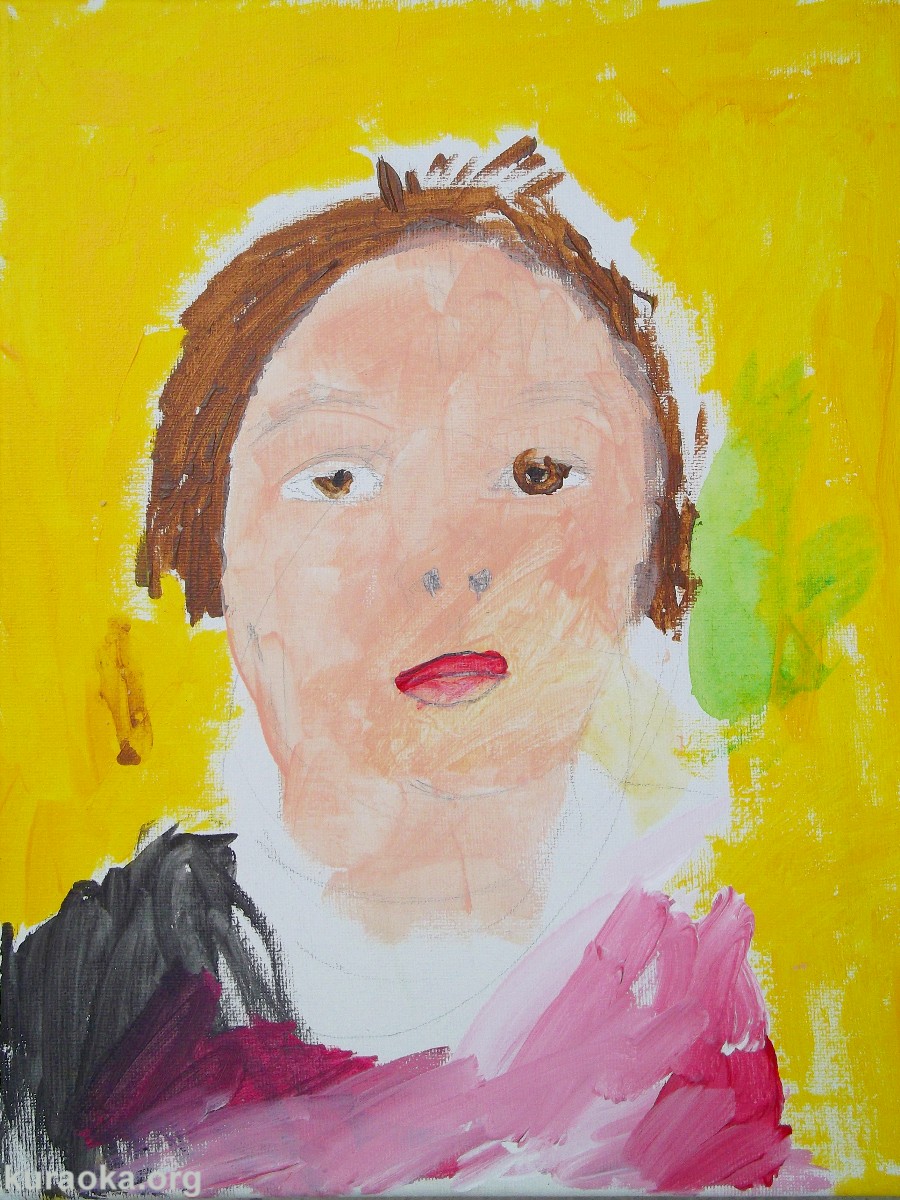 Monday Ondine and Leo went to the beach again! They went to La Jolla Shores with Carmen and Lucy and Breeana and Jennifer. Leo had fun Boogie-boarding and, as you can see, getting buried. Roy chose to stay home, perhaps having enough of the outdoors for a little while.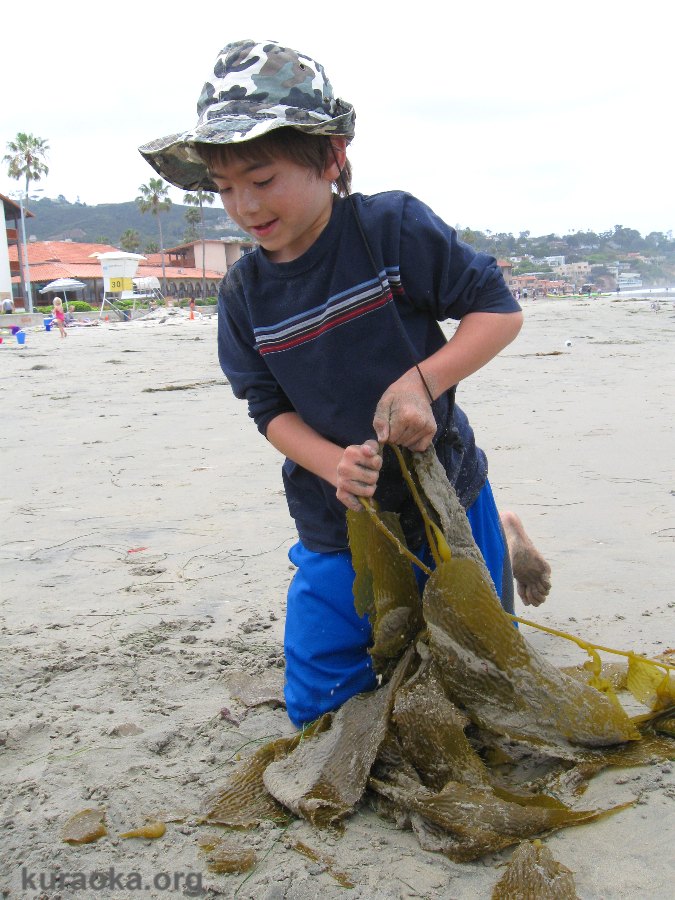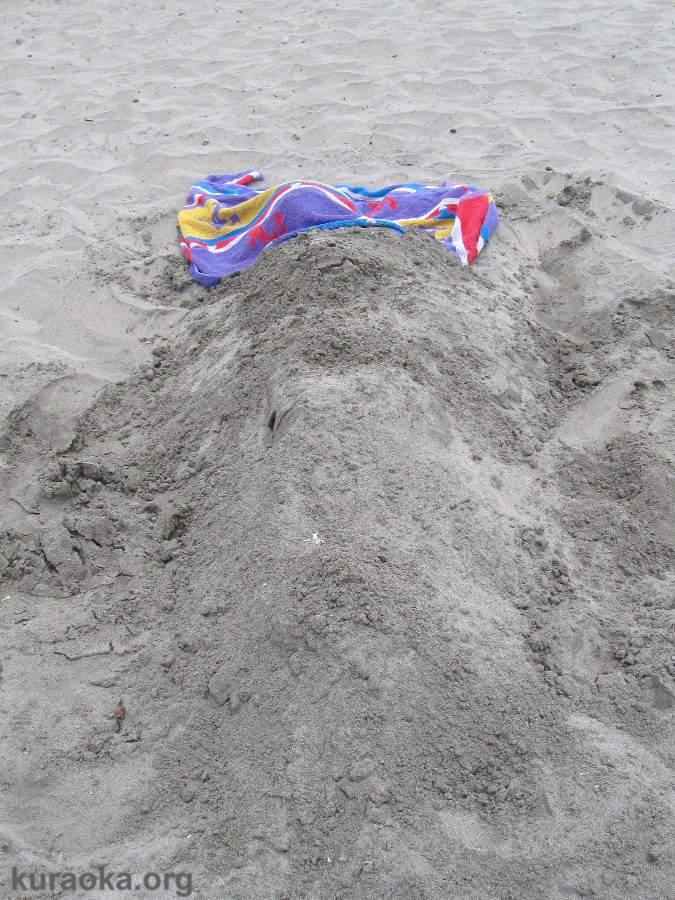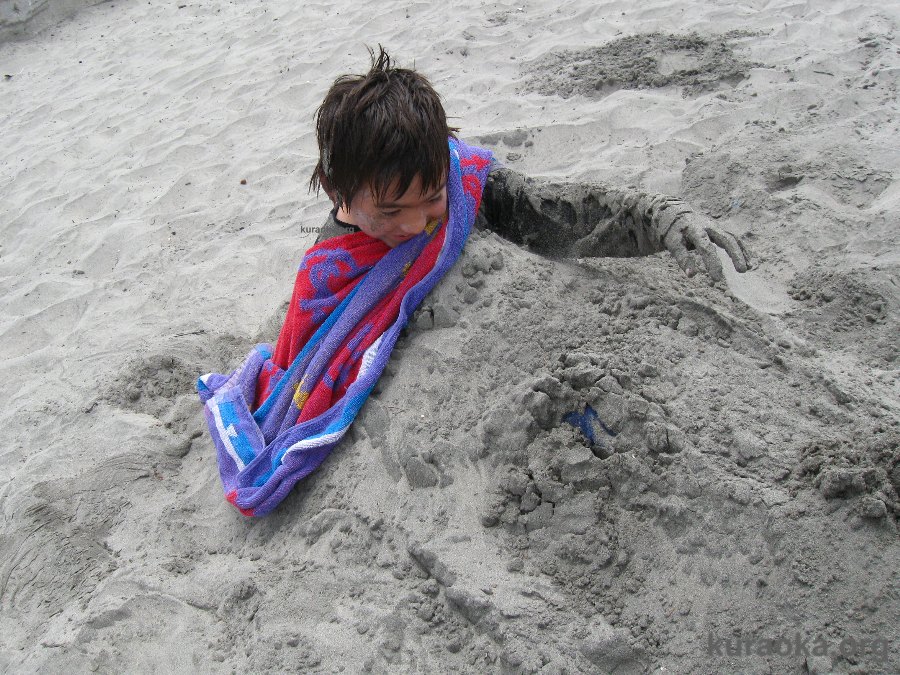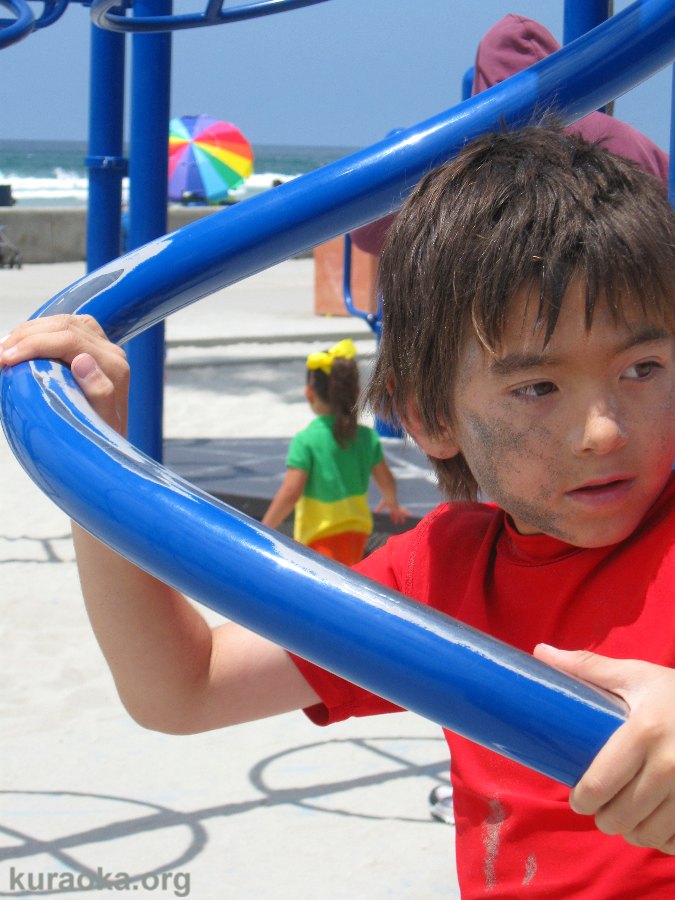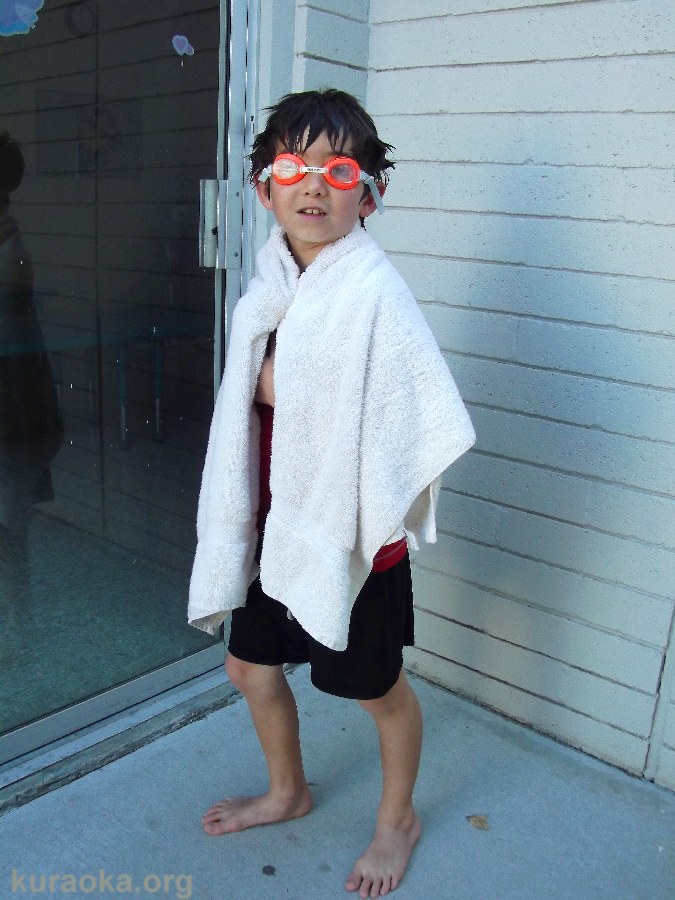 Afterwards, Ondine took the boys to 7-11 for free Slurpees, in honor of 7/11.
Ondine had her writing class this evening, so John took both Roy and Leo to Leo's swim class. Leo has been looking forward to John taking him to swim class and playing games in the rec room afterward. Here's Leo after swimming, looking cool!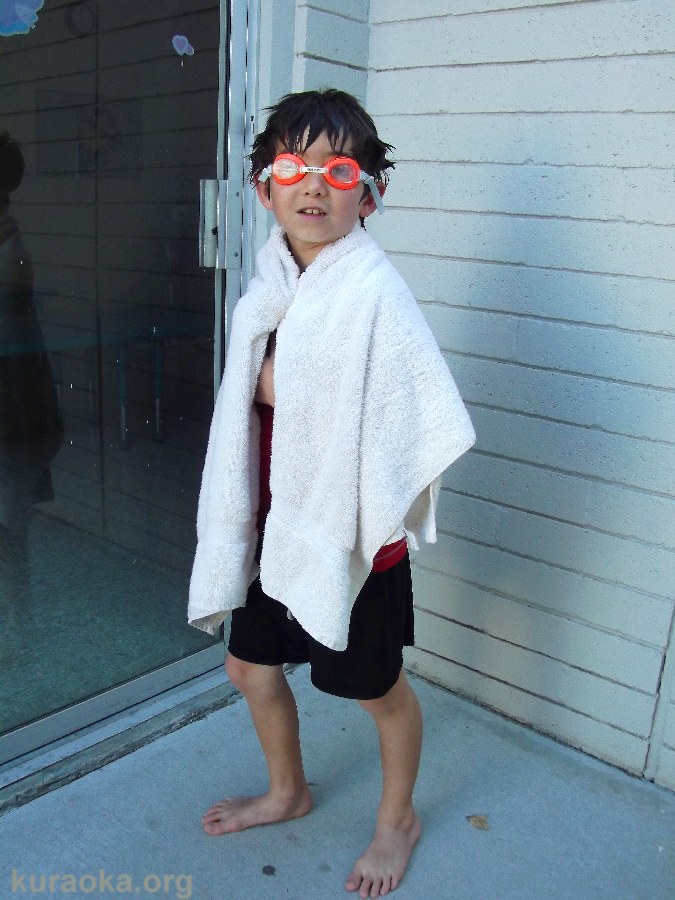 Leo, Roy, and John played caroms and foosball, and then went to Beef N Bun for dinner so as not to disturb Ondine, who was online with her class.
Barbara and Bill returned from their week at Lawrence Welk. They did some clearing out this weekend, and discovered some Lego sets that had been bought for the boys and for some reason never gifted! So, they declared it "Christmas in July," and Leo and Roy each got a bunch of Lego sets and books! Wow!
Neighborhood gas prices are up to $3.85 per gallon for regular unleaded, although John paid about that for mid-grade in Hemet.
To see what we're up to now, visit our regularly updated weekly journal!
Back to the Archives page
Back to the Kuraoka Family main page
Forward to the current Weekly Journal.