Sand Pond 2017 (Salmon Creek Campground)
www.kuraoka.org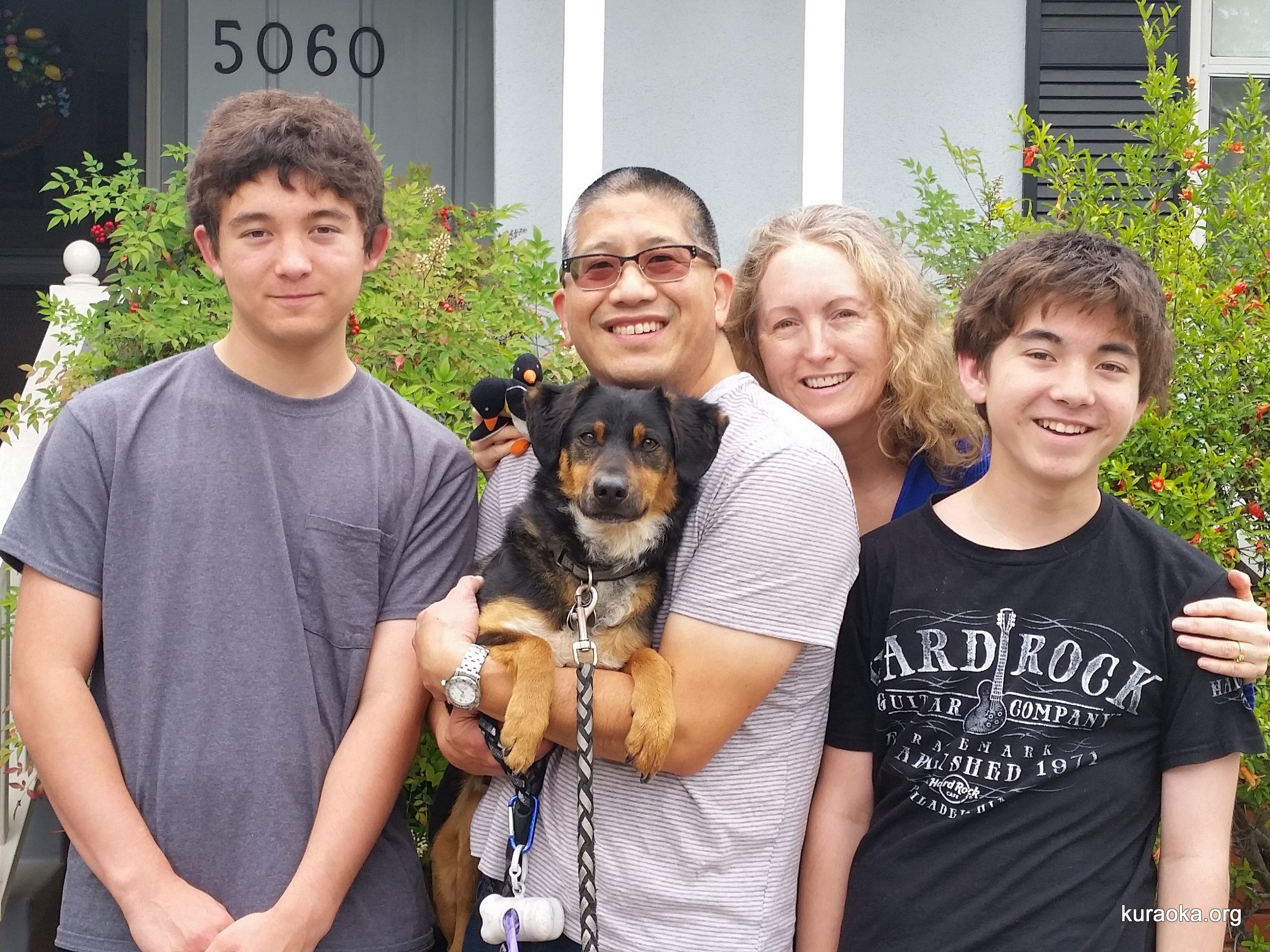 Us, May 8, 2016: Roy, Shadow, John, Ondine, Leo
Wednesday, August 16, 2017
We're back from our camping trip to the Lakes Basin area in the Sierras! We left San Diego in the evening more than two weeks ago, paused overnight at John's Mom's house and again in Santa Nella before arriving at Salmon Creek Campground Thursday afternoon. We got very lucky with traffic, with no delays or even jams to speak of; the drive broke out as 3 hours from San Diego to La Canada, a little over 4 hours from La Canada to Santa Nella, and about 6-1/2 hours from Santa Nella to Bassett's Station, minutes from the campgrounds.
We packed most of our food and camping gear in Barbara's Honda Pilot, while our own Toyota Prius was laden with four people, the dog, clothes, the dog crate and kibble, plenty of water, and road snacks. (Our car-top pack was stolen the last time we went up, two years ago.) Barbara drove up separately, going directly from San Diego to Westley and from Westley to the Lakes Basin area.
One road-food discovery worth sharing was the F'Real milkshakes we had at a truck stop near Truckee. They're actual ice cream, coffee, and frozen fruit drinks that you select out of a freezer display. Your selected cup then goes into an automated blender, inside which it's blended to your chosen consistency. Roy had a mango smoothie, Leo had a peanut butter cup shake, and John tried the mint chocolate chip shake. They were better than most fast food shakes and smoothies!
This year we stayed in Salmon Creek Campground, which was much quieter and nicer than our usual Sardine Lake sites. We selected sites #20 and #21, which, oddly, were separated by site #19.
We got into camp at 4:30 and set up Barbara, Roy, Leo, and our communal kitchen in #20, which was very spacious, and just us in site #21, which barely fit the tent. Around 6:30 we started hearing massive peals of thunder rolling across the horizon, so we hurried to get the awning up over the table. Just in time, too, because the rain hit at 7:05, seconds after Ondine had thought to move the dog crate and John's ukulele into our tent.
We were sheltered under the awning, though, and the rain was more steady than heavy. After a hearty camp favorite (chili mac and cheese), we all turned in around 9, lulled by the patter of rain on the tent roofs.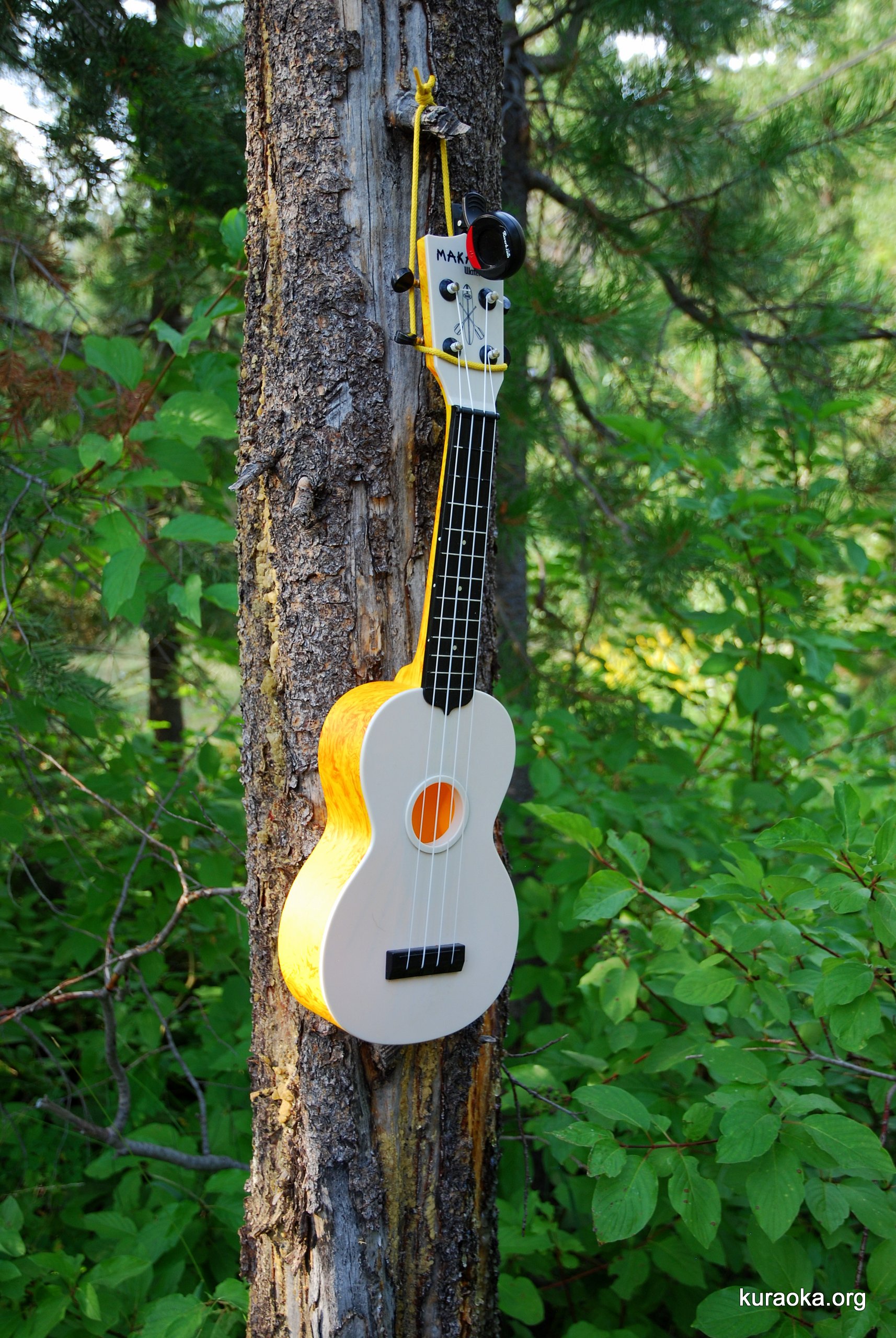 The next day we walked to Sand Pond via Salmon Creek. Ondine, Roy, and Leo waded in the creek and tossed rocks and sticks for Shadow to retrieve. The dog was determined to retrieve a pipe sitting on the creek bottom; too bad it was connected at both ends! All the wet weather really brought out the wildflowers in full bloom!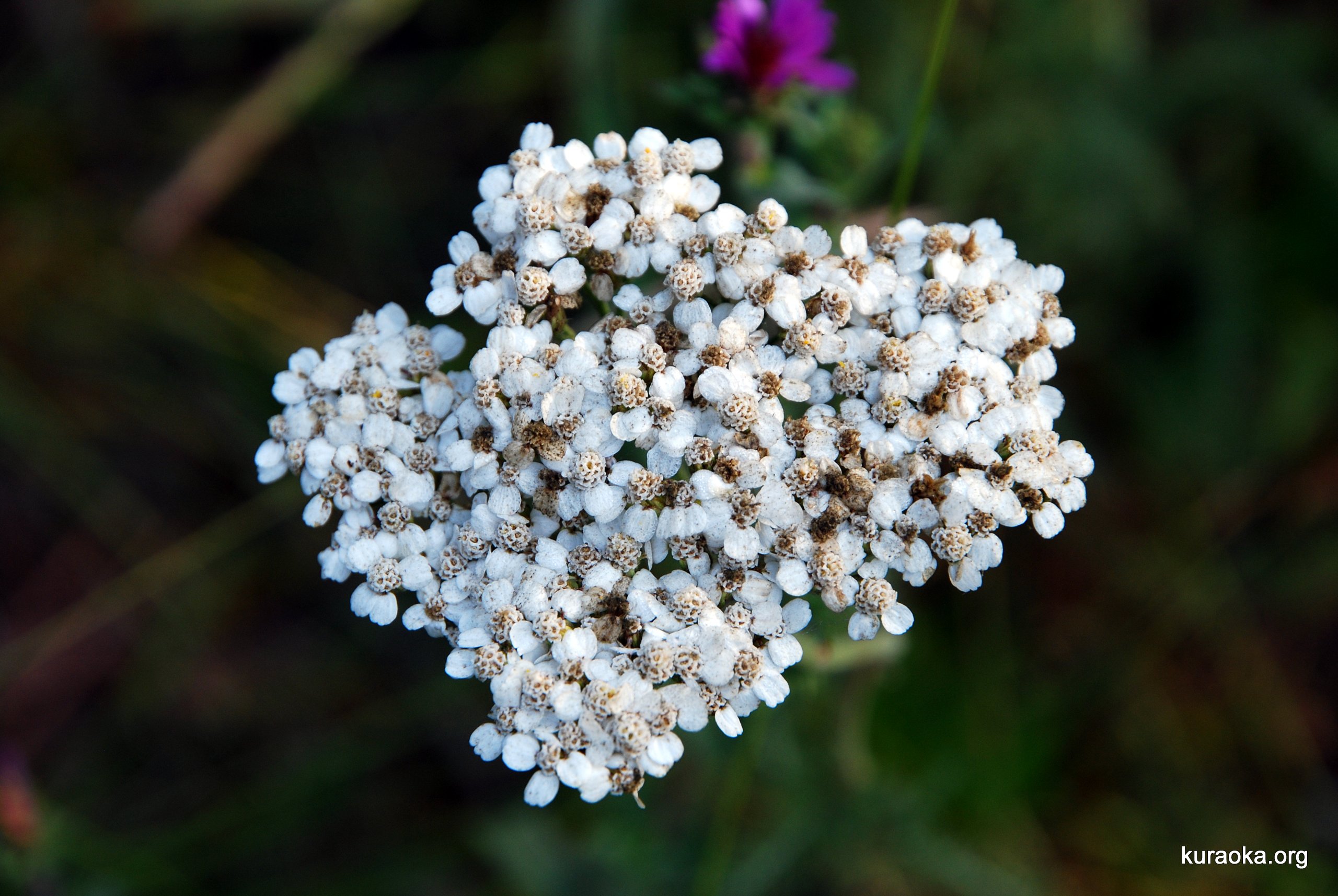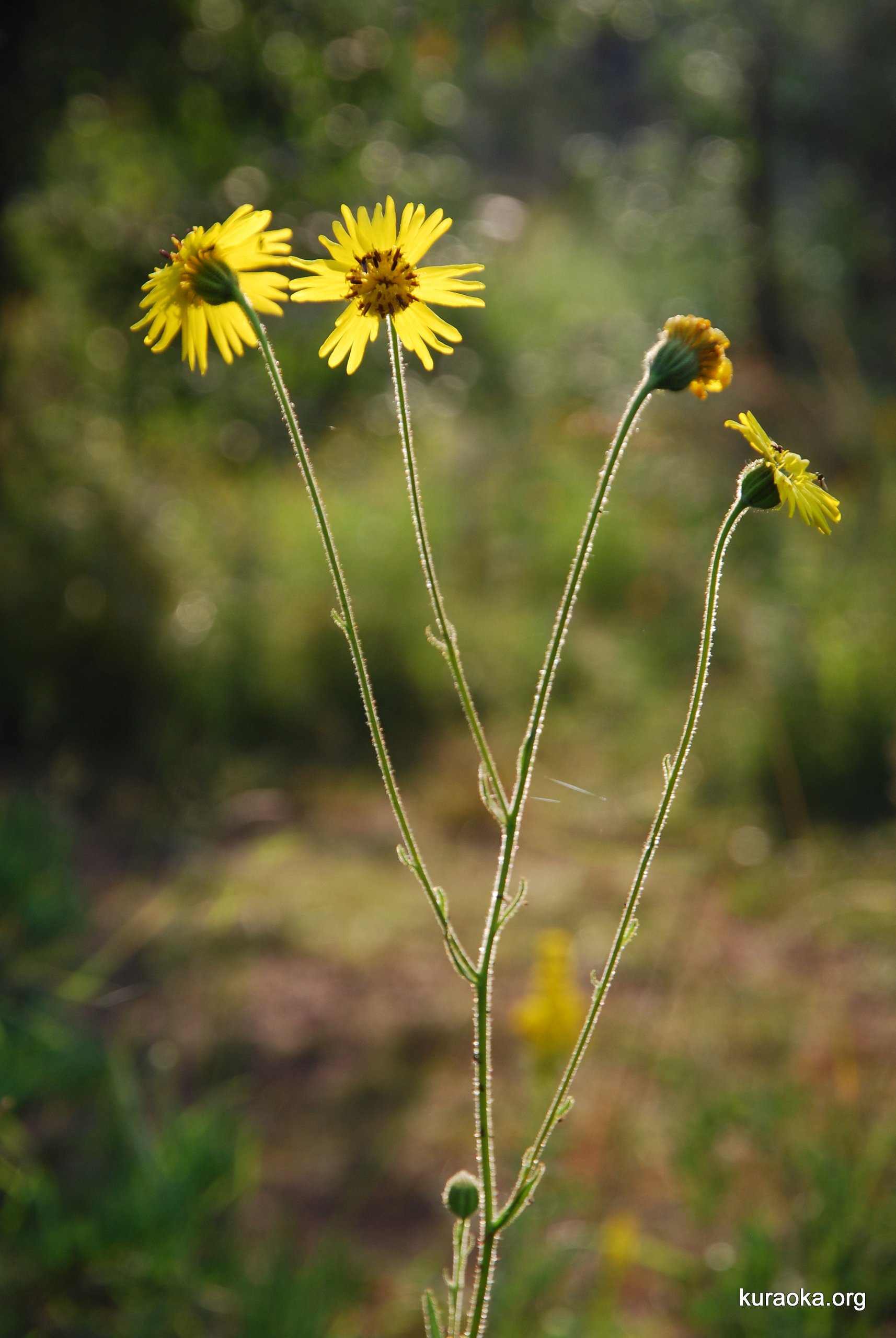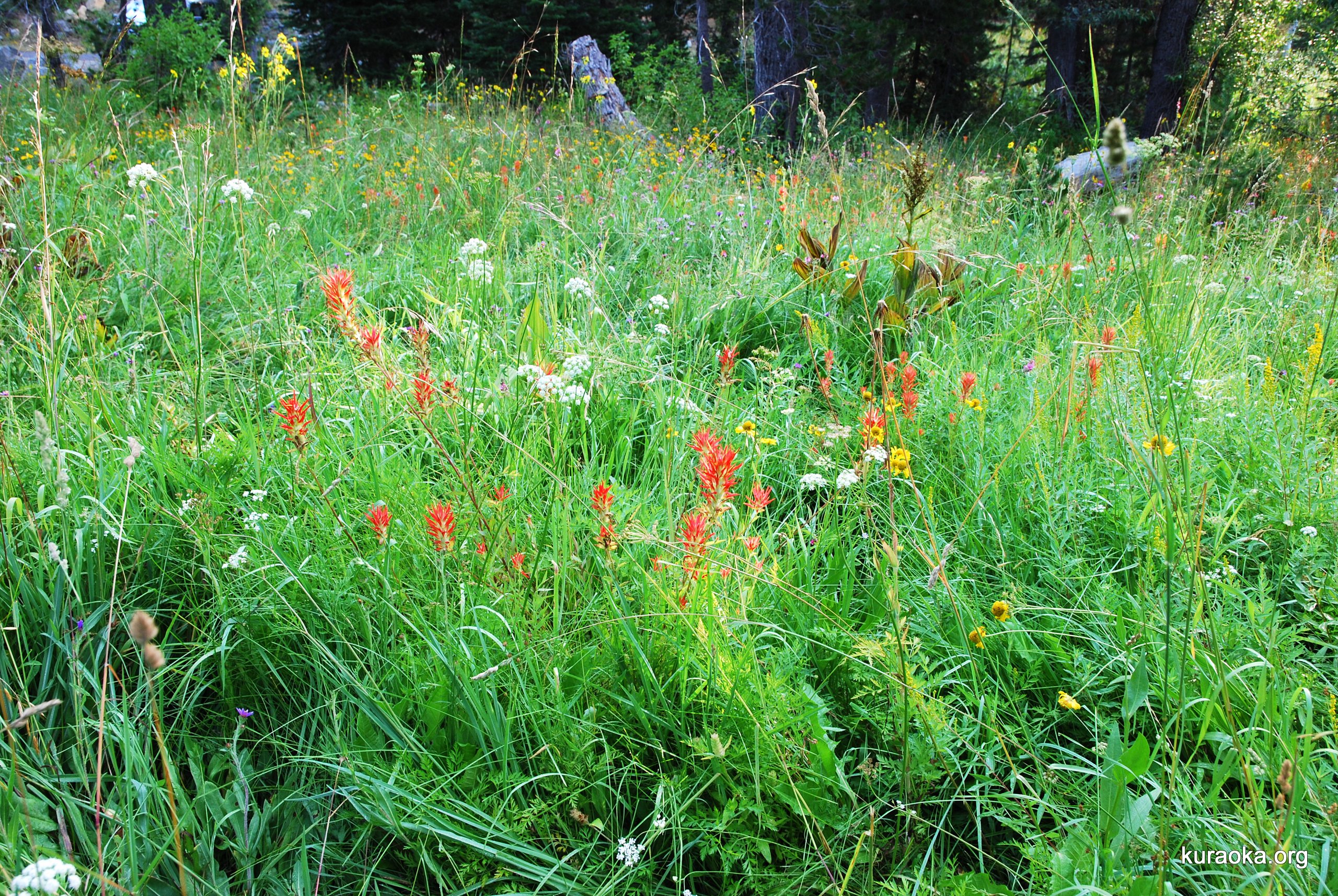 John had brought a new game called Evolution: The Beginning. It's a card-based strategy game. Roy quickly discovered the point of the game was not survival as much as consuming the most food by the end, making it less a ecobiological game and more a game of capitalist economics, so he handily won.
After dinner we had a campfire and s'mores for dessert.
The next day was gray and muggy and off-and-on rainy all day, mostly in the afternoon and early evening. We walked the Sand Pond boardwalk, where Roy tried to claim a downed interpretive sign as a souvenir. All of us except Barbara discouraged him. See, the family has deep scavenging roots in the area. In fact, one interpretive sign further along used to tell how the old timber logging flume was slowly reclaimed by nature leaving only the ditchway path, but we knew the truth: in the days long before any campgrounds existed, when the area was wilderness, the family used to actively dismantle the flume for campfire seats and fuel!
A little further along, Roy found that very sign, also downed, and it was all we could do to prevent him and Barbara from claiming it as part of their heritage! ("It's a sign!") Along the flume path, we recovered several hand-forged square nails, which were quickly pocketed. Even John found a square nail, a rarity for him! Later that evening, Barbara got a double load of firewood from some departing campers! Yay, scavenging!
After the boardwalk, we walked to the creek and found lots of great polished stones. John slipped while clambering up a boulder, but his Nikon D40x broke his fall, acquiring a few battle scars. Leo took the camera and dog to the top of a large boulder overlooking the creek. On his way back, the dog misjudged a long leap from the boulder to a rock about 8 feet away, and all we saw was a full-stretch streak of flying fur, then a mad scramble of paws as his fuzzy head popped up over the rock he'd fallen just short of.
Then we walked to Sand Pond, where Leo went in for a bit. Roy was getting eaten by mosquitoes, though, and stayed in his tent for most of the afternoon. Like that first photo? It's a re-enactment of a photo taken exactly ten years ago, with a different dog and smaller kints!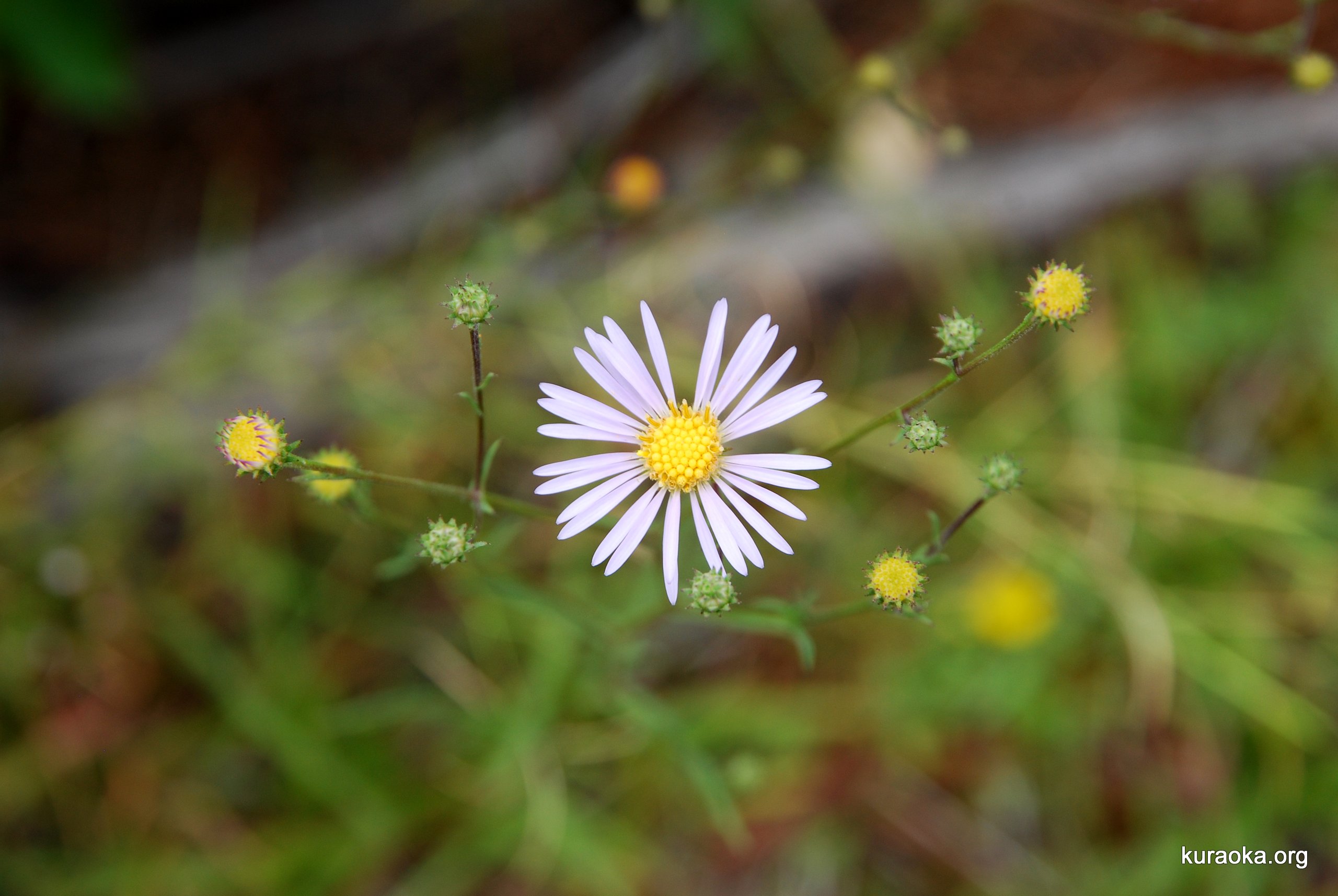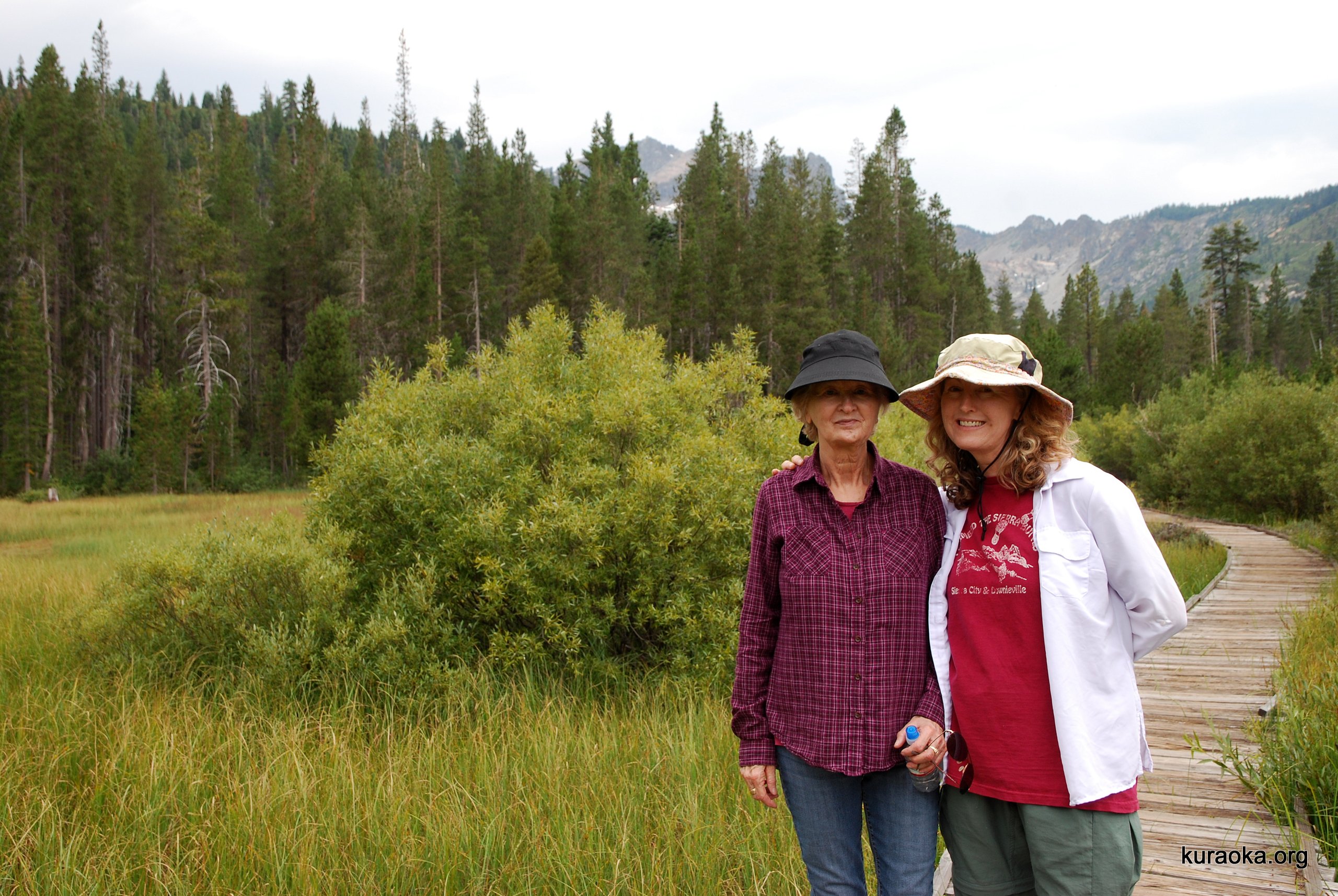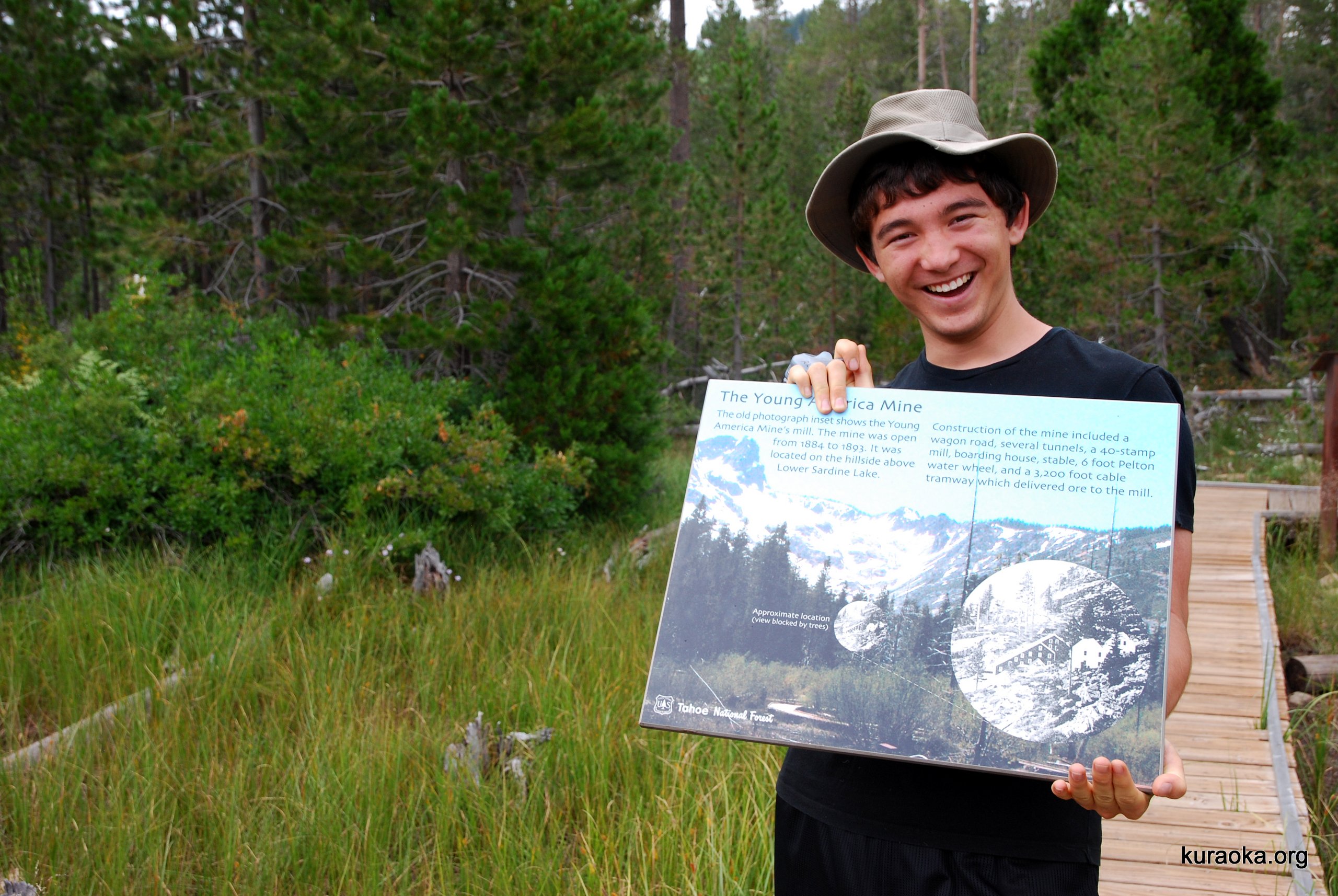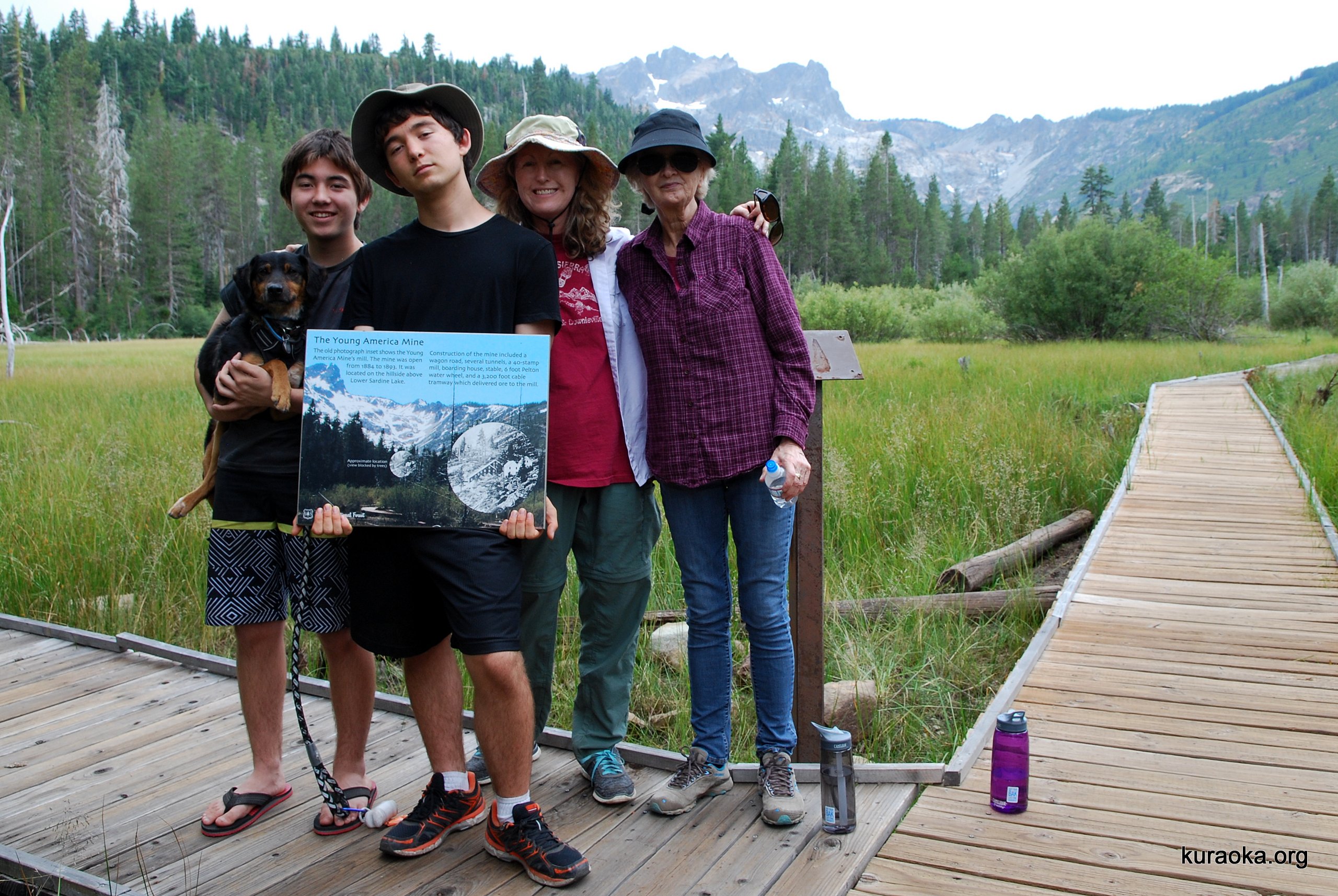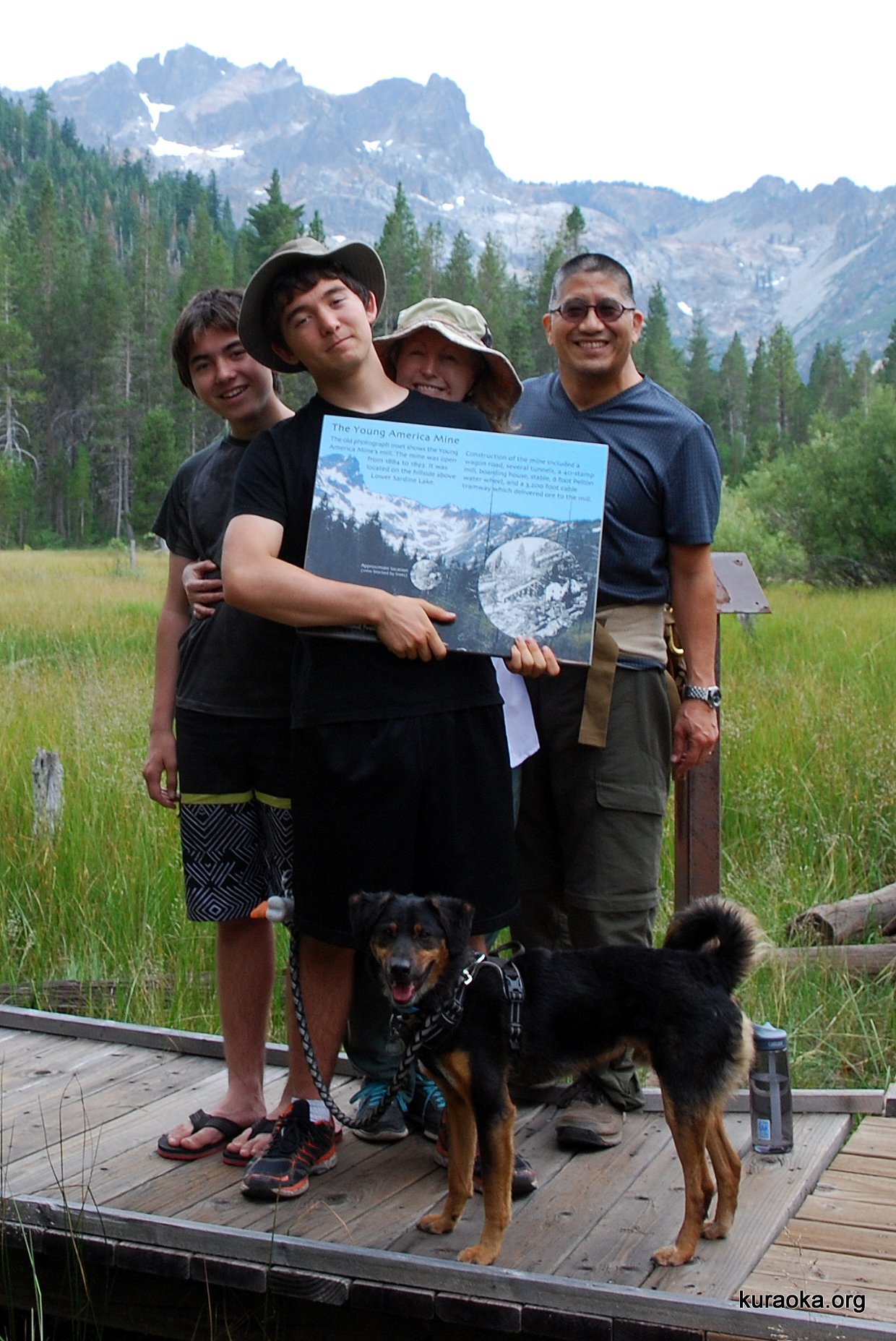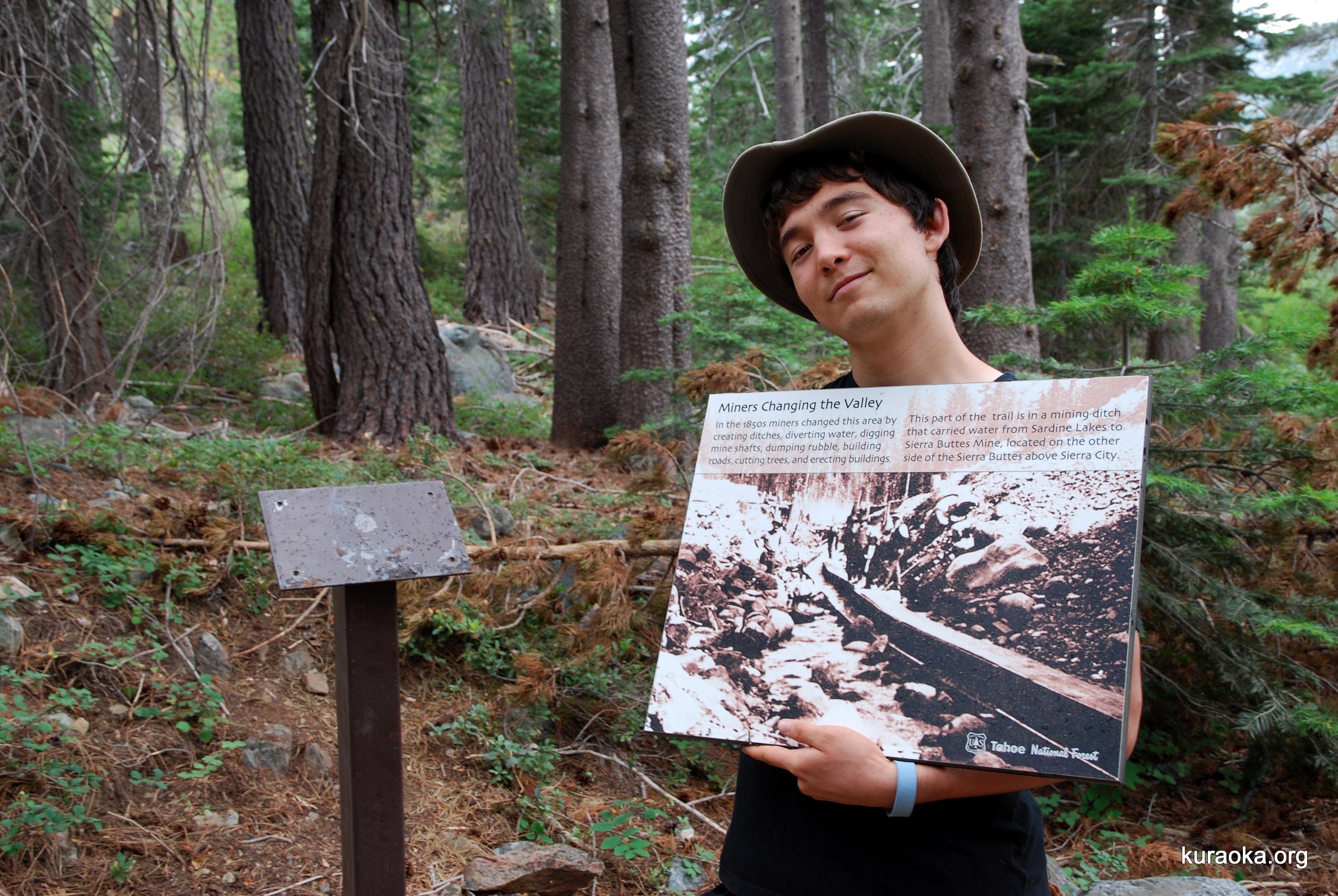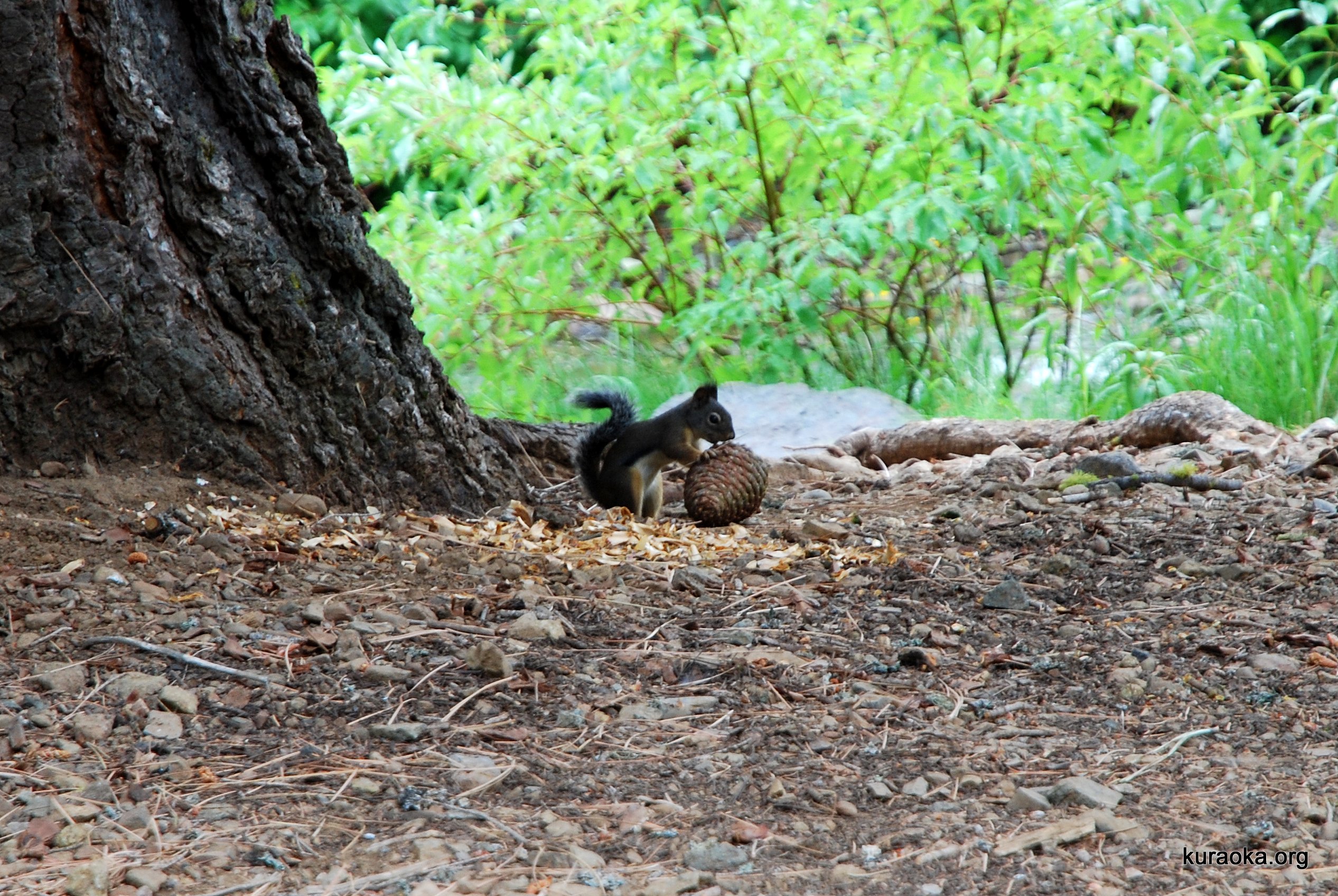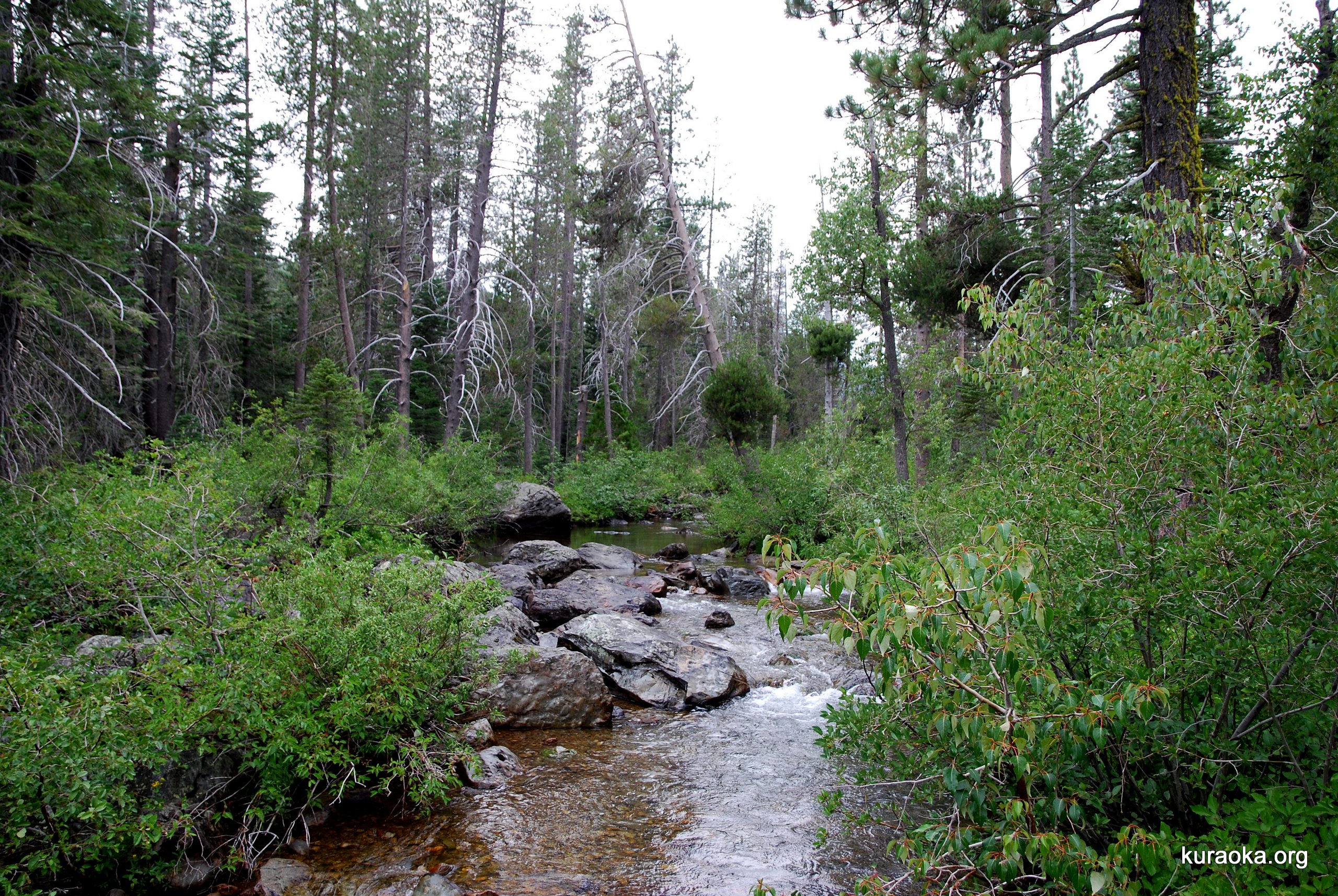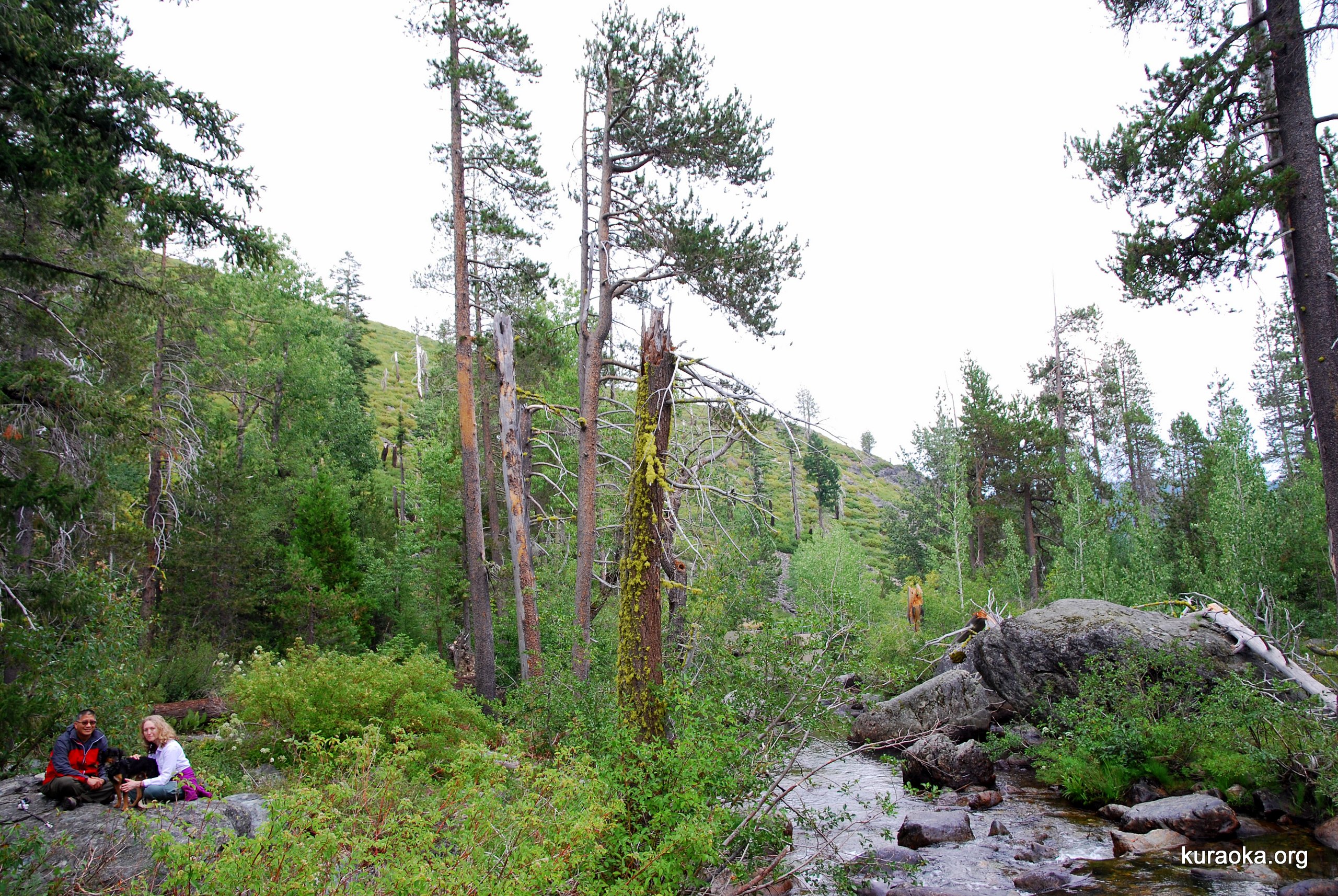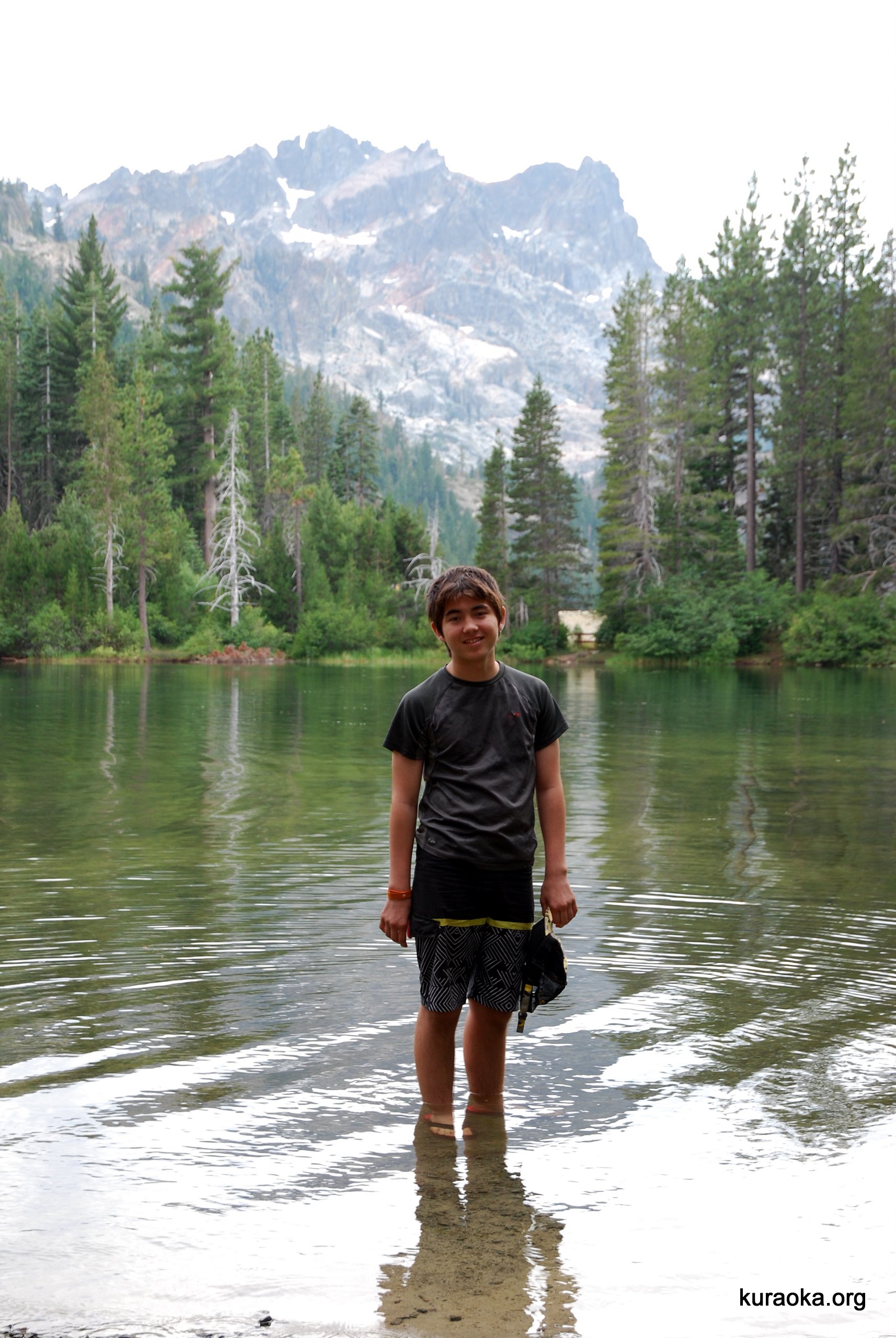 Sunday morning we went to Sand Pond at 9, and secured a prime dog spot away from the crowd. More dogs turned up too! Roy stayed ashore, but the rest of us went swimming. John salvaged a couple logs to paddle around on.
Later we went to the spillway, where the water level was higher than we've ever seen it. Someone had built a funnel, but it didn't quite work as a water slide. You can see Leo trying it out, enjoying a natural hydromassage.
Around noon we went to Wild Plum Creek for a picnic lunch. Roy and Leo went in, Leo managing to get hold of the rope swing. Shadow retrieved rocks and sticks, including his favorite, a long branch!
Afterwards we went to Bassett's to charge phones. We also bought supplies. This trip we spent a ton of money on foodstuffs almost daily, mostly because suddenly the kids discovered peanut butter at $6/jar with a burn rate of 1-1/2 jars/snack. So, not only did we spend more, we also came home with a lot of rejected food. Sigh.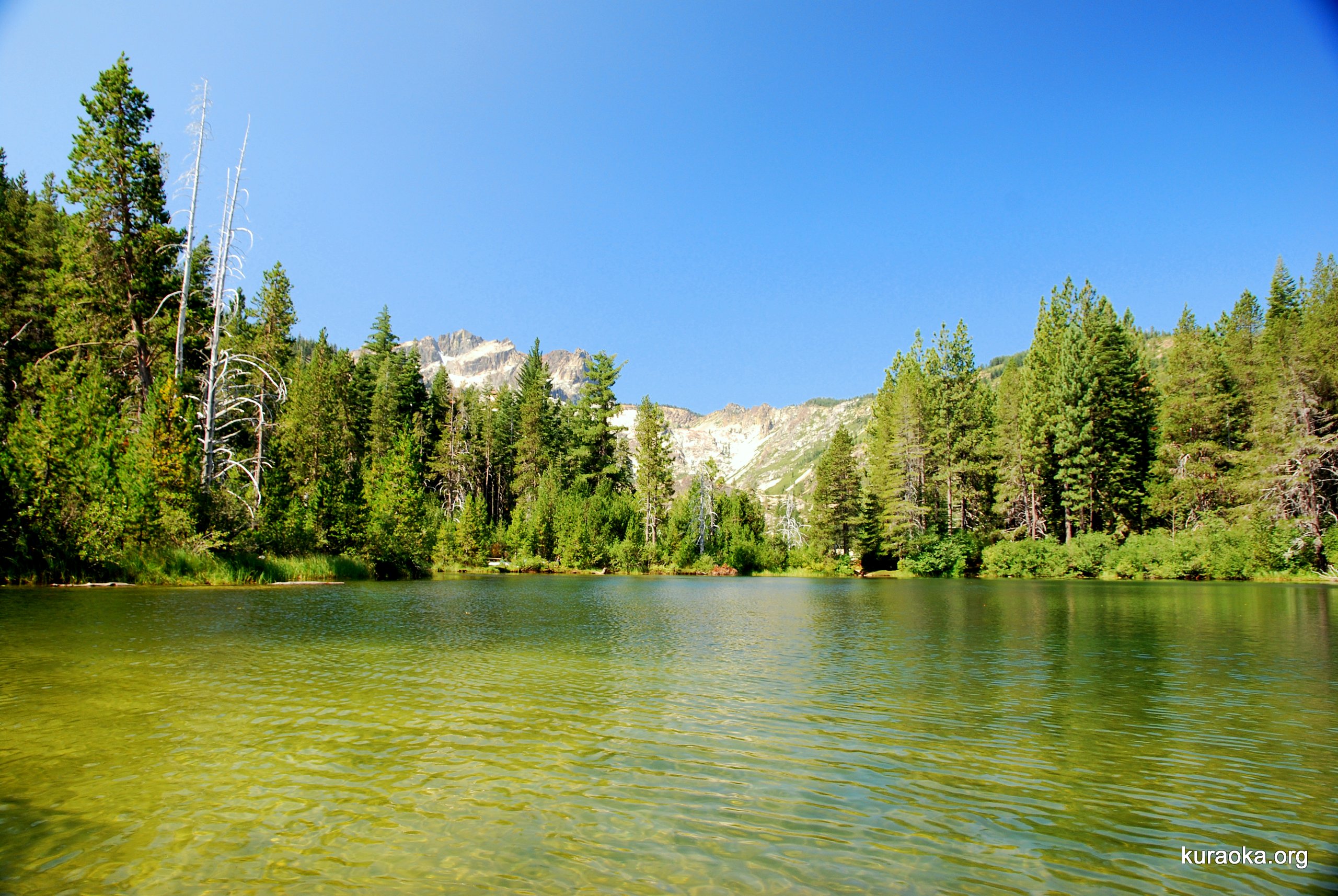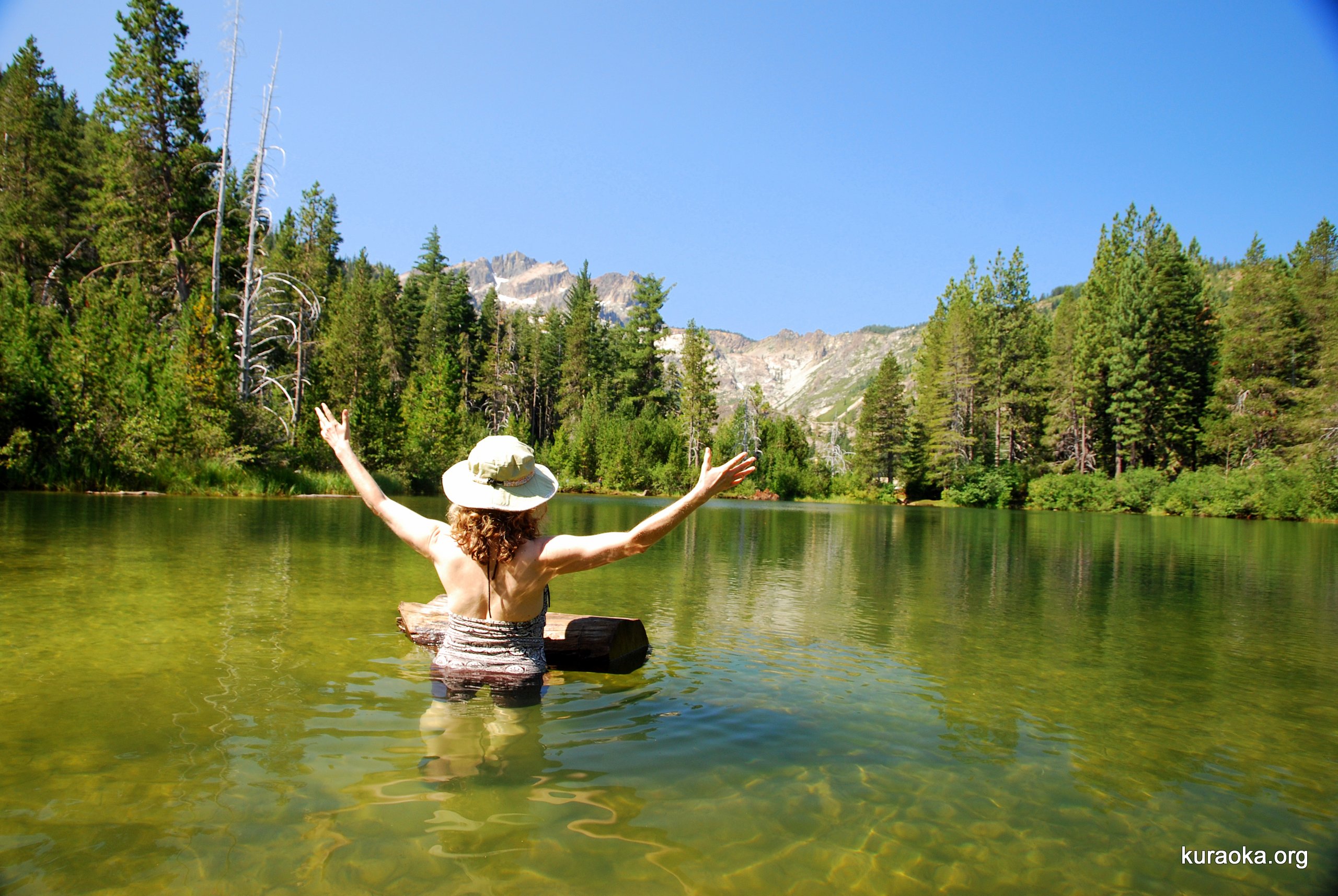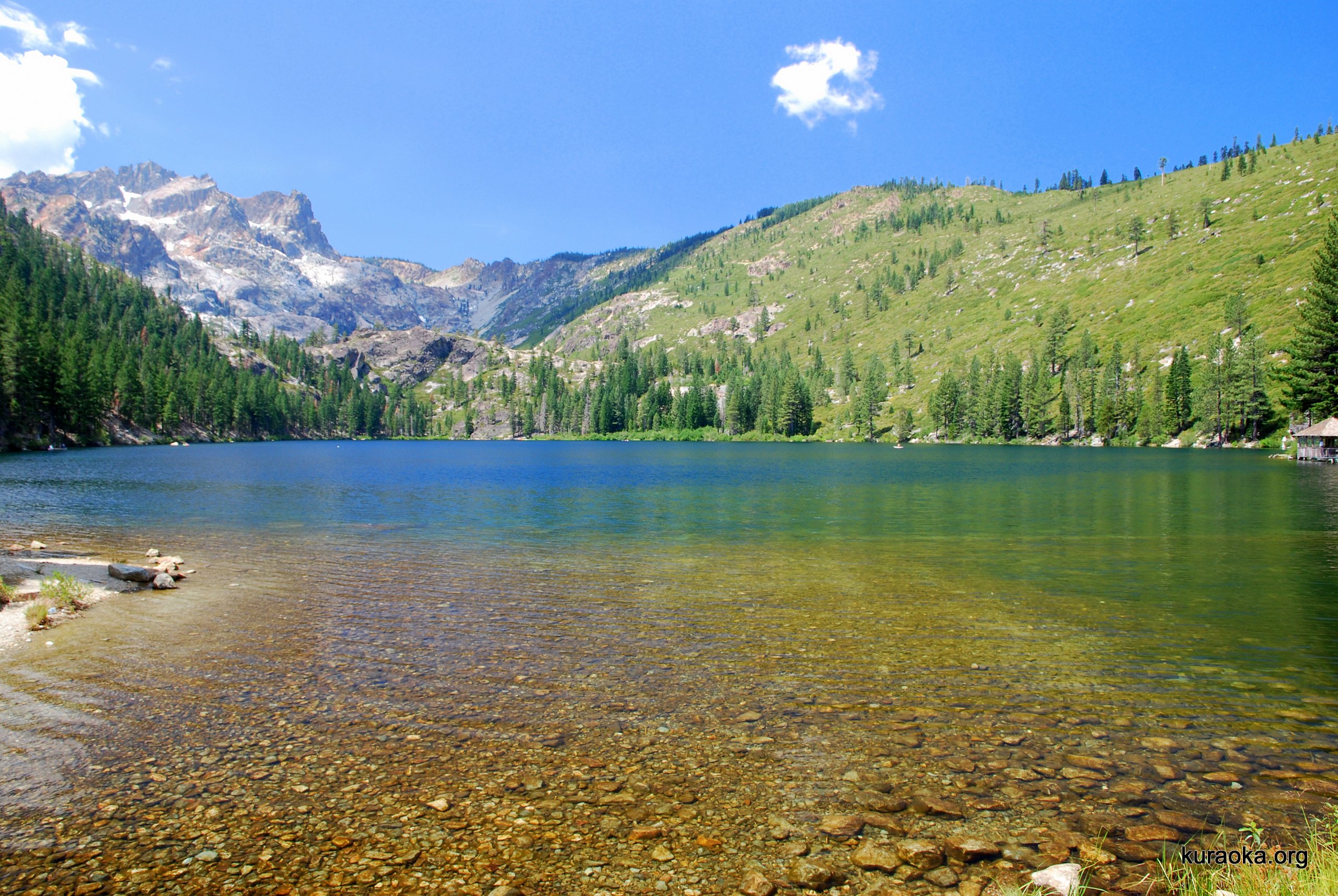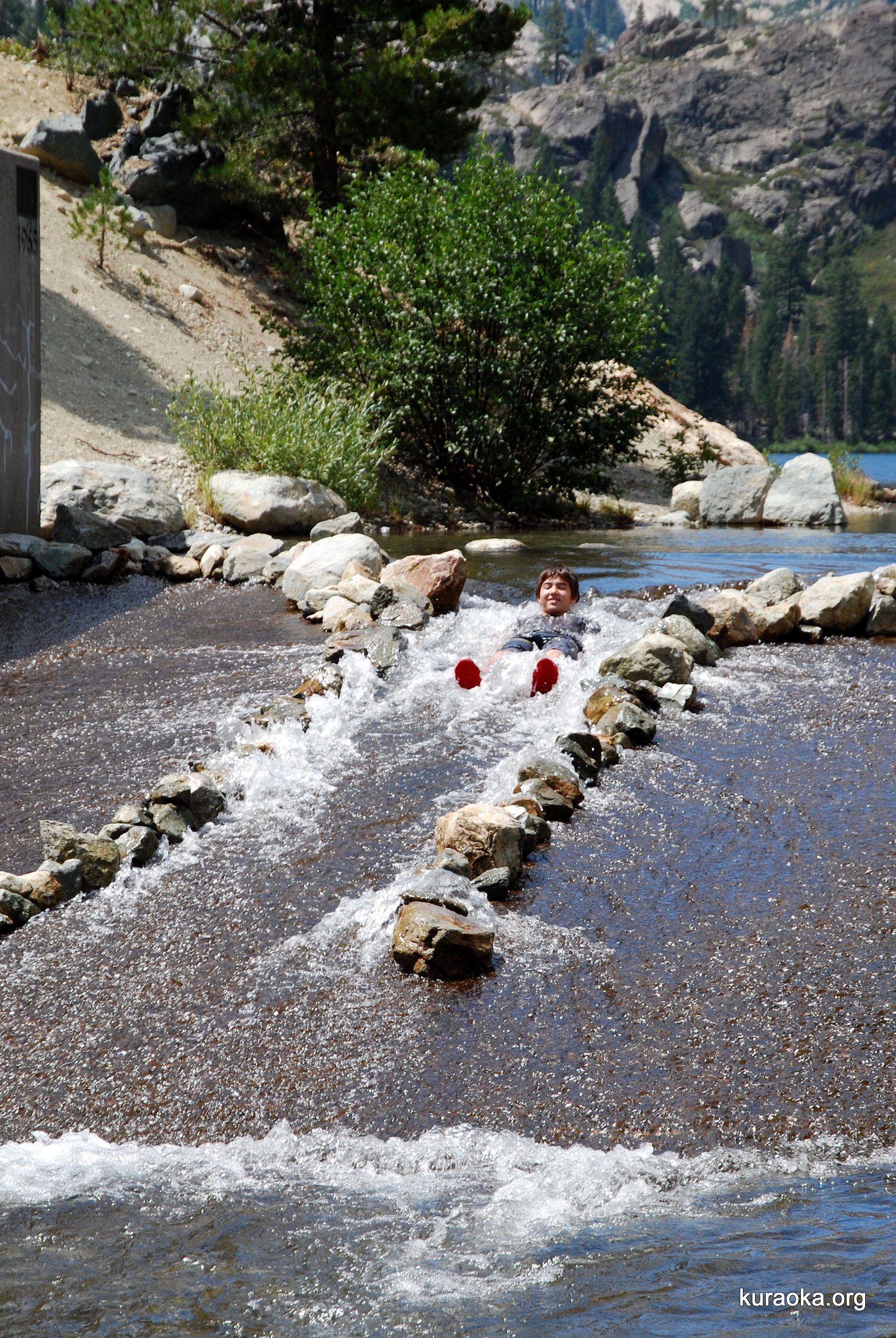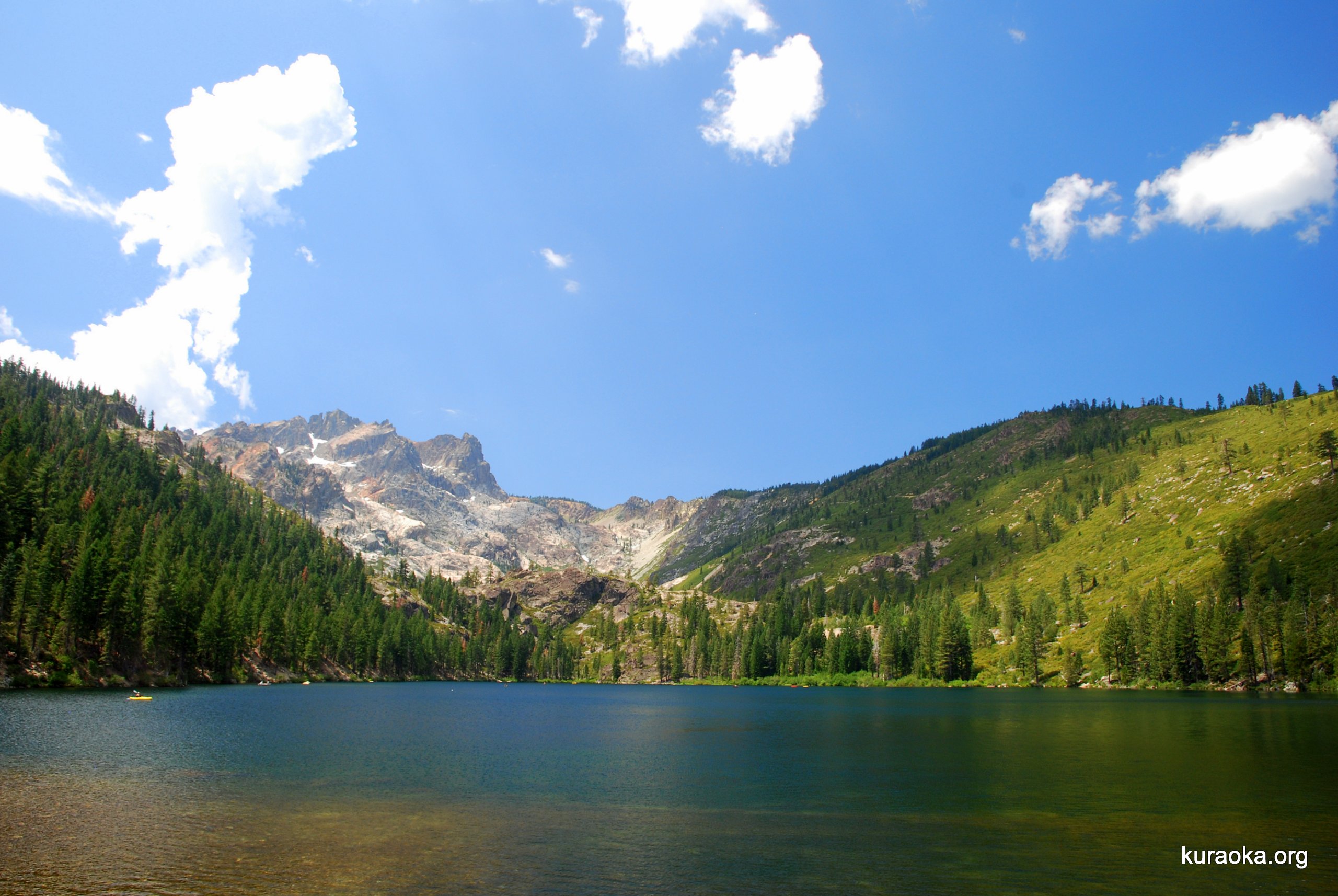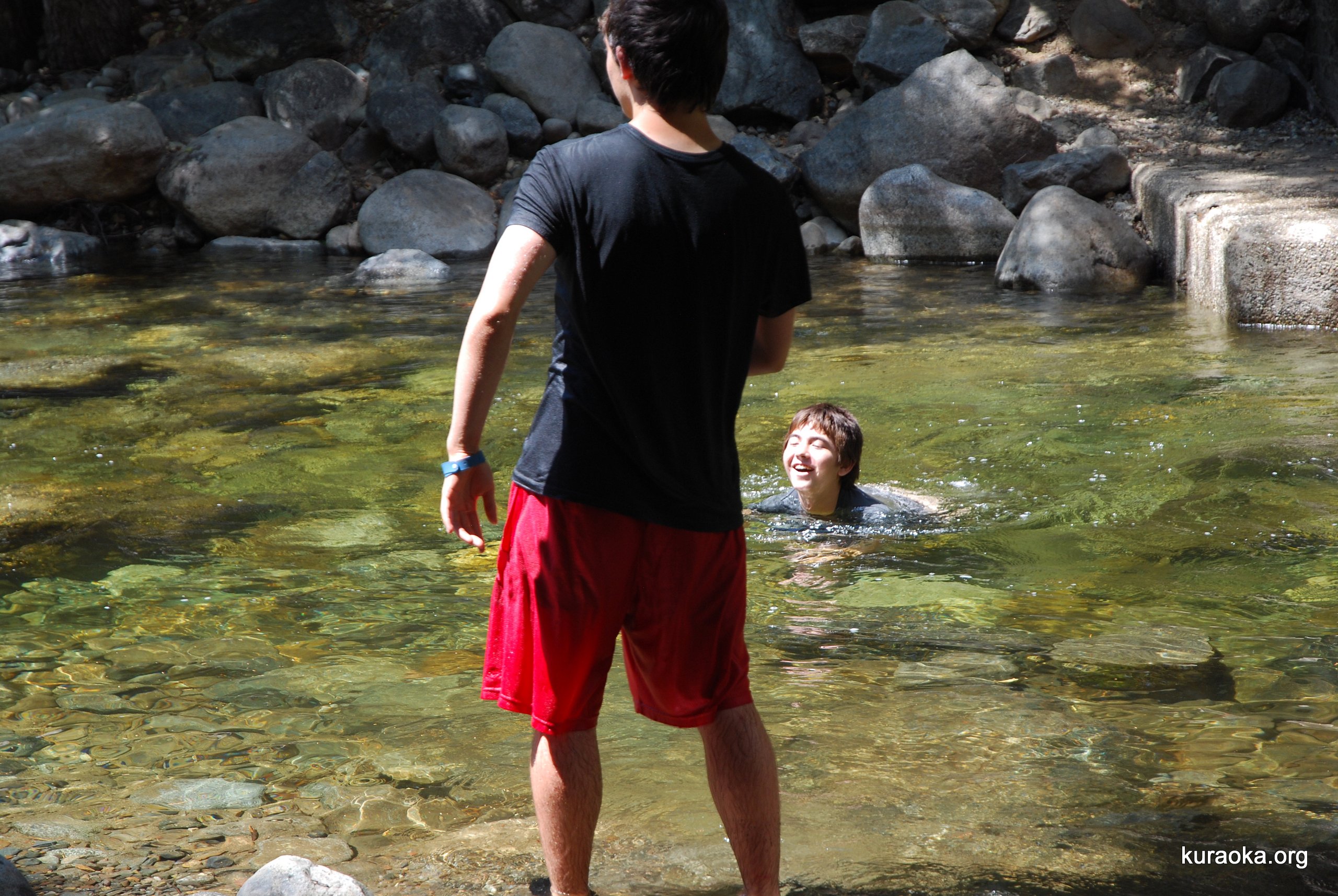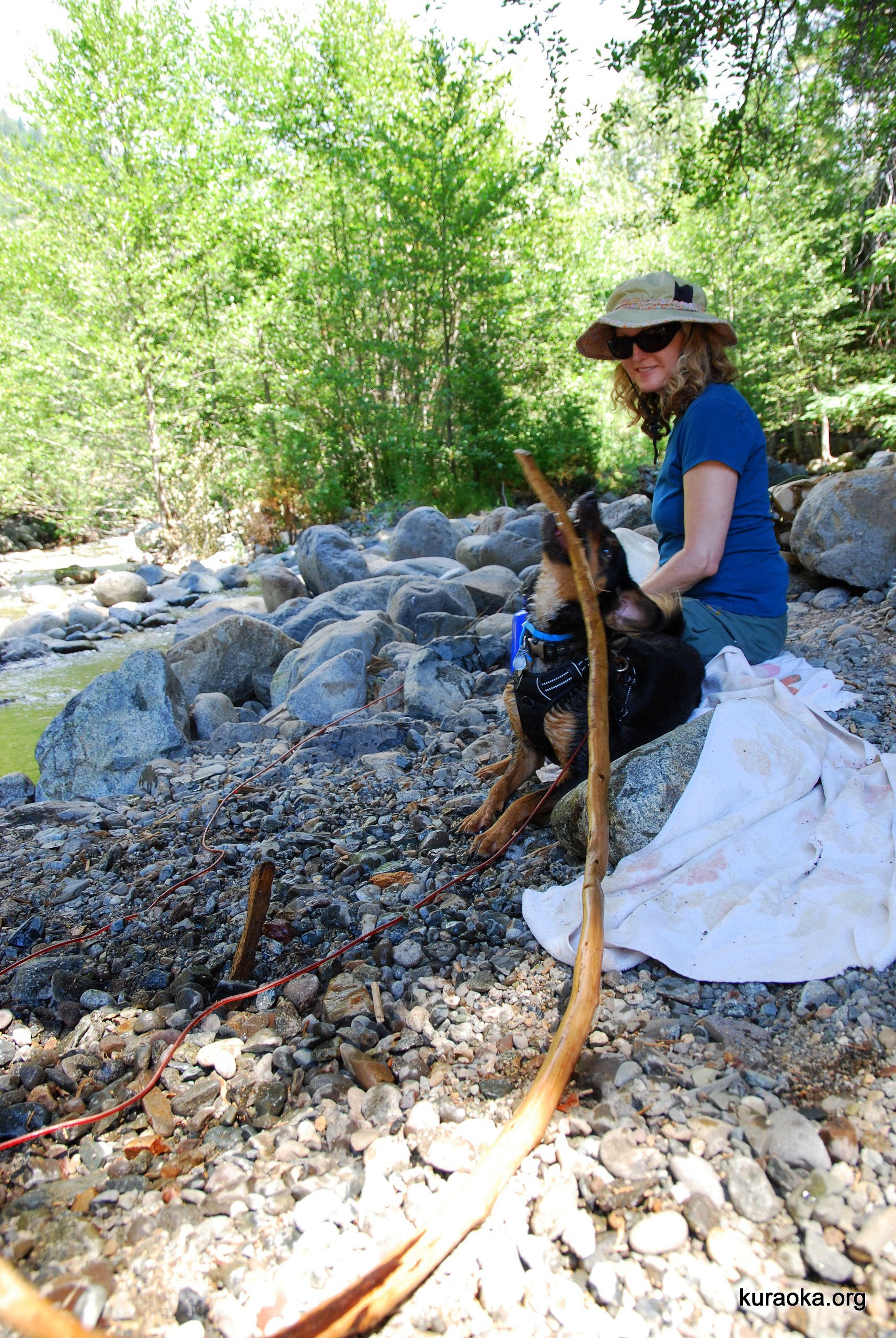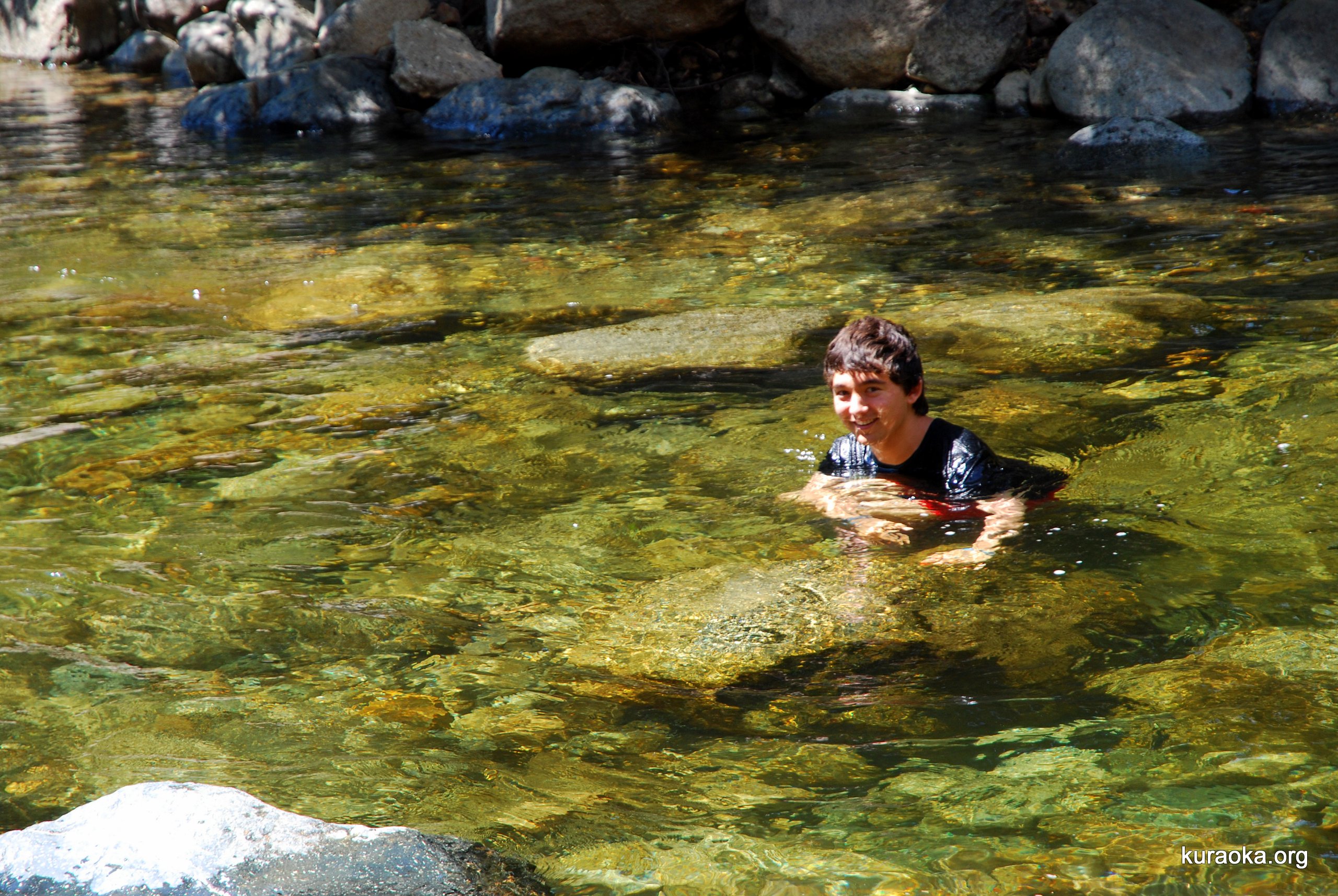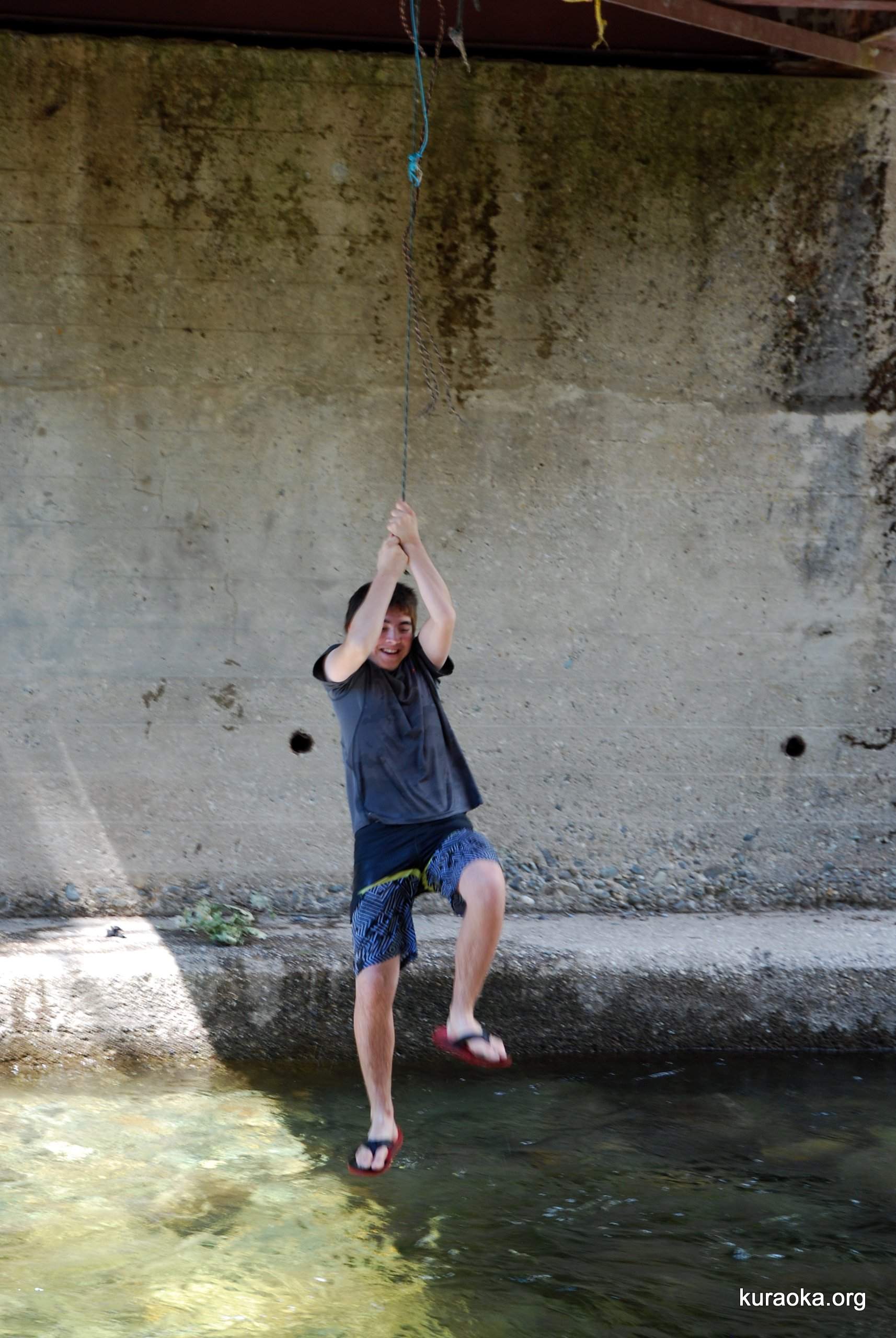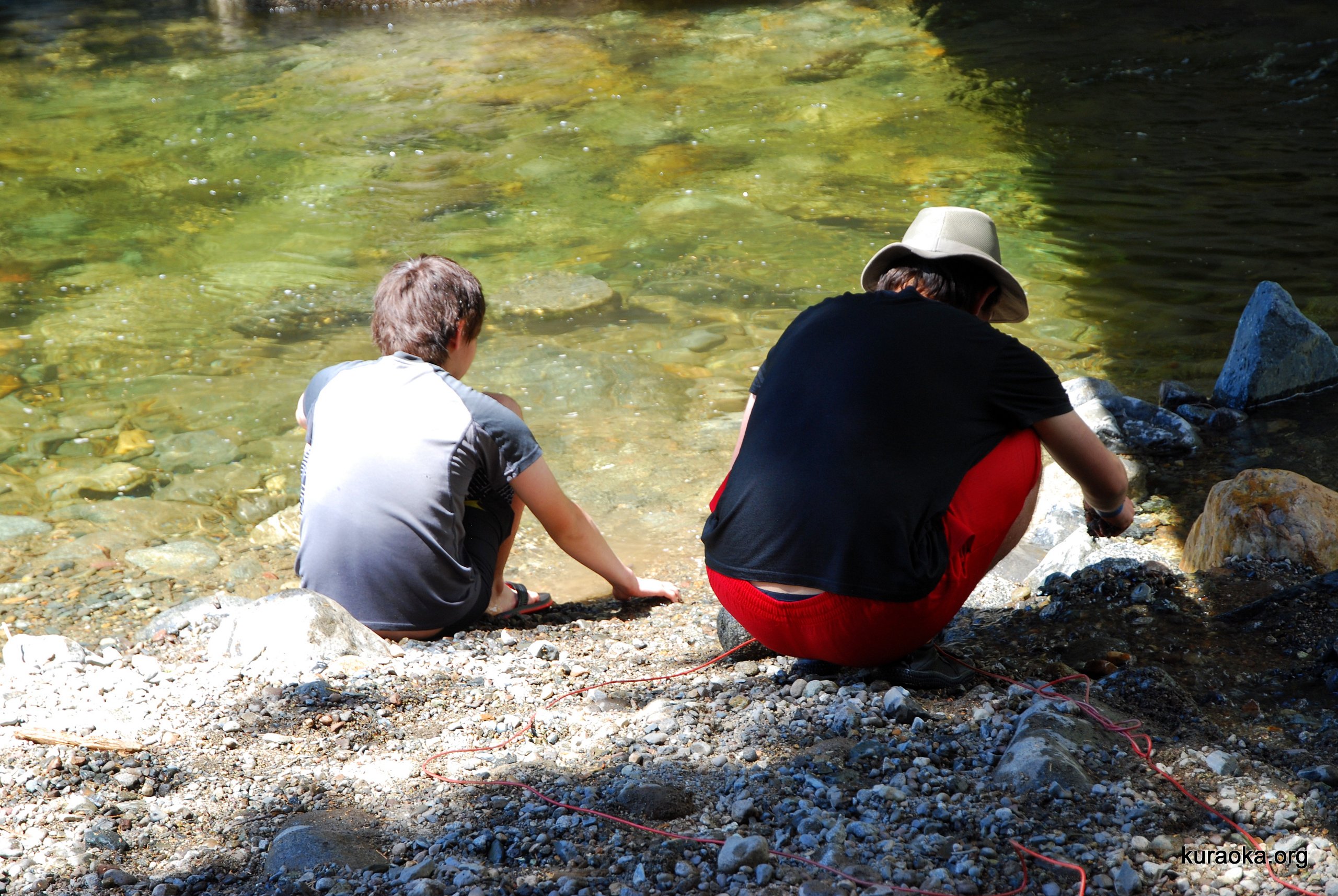 Monday we had a quiet morning in camp. Over the course of the week, John read two Inspector Morse novels by Colin Dexter (disappointing) from the Bassett's library, plus two history books he'd brought with him: Summer of Blood by Dan Jones and The Great Revolt of 1381 by Charles Oman, both about the medieval-era Peasant's Revolt in England. Later we went into Downieville and had lunch at the Two Rivers Cafe: wonderful pizza, a great salad, and burgers.
We went up the Buttes on Wednesday, rising at 4:45 and arriving at the trailhead before 6. Lower Tamarack was infested with 4x4 campers, so we didn't get a photo until later that afternoon. But, there was a small strip of snow still glistening even that low.
Roy made it to the top in a couple hours and had started back down, but we took our time dawdling through the wildflowers, which were more colorful than we've ever seen them. So Roy summited twice. We made it to the top around 10 and took our family group pictures before heading up to the lookout tower because the dog doesn't like the stairs. John counted 177 steps to the top, but every year we come up with a different number!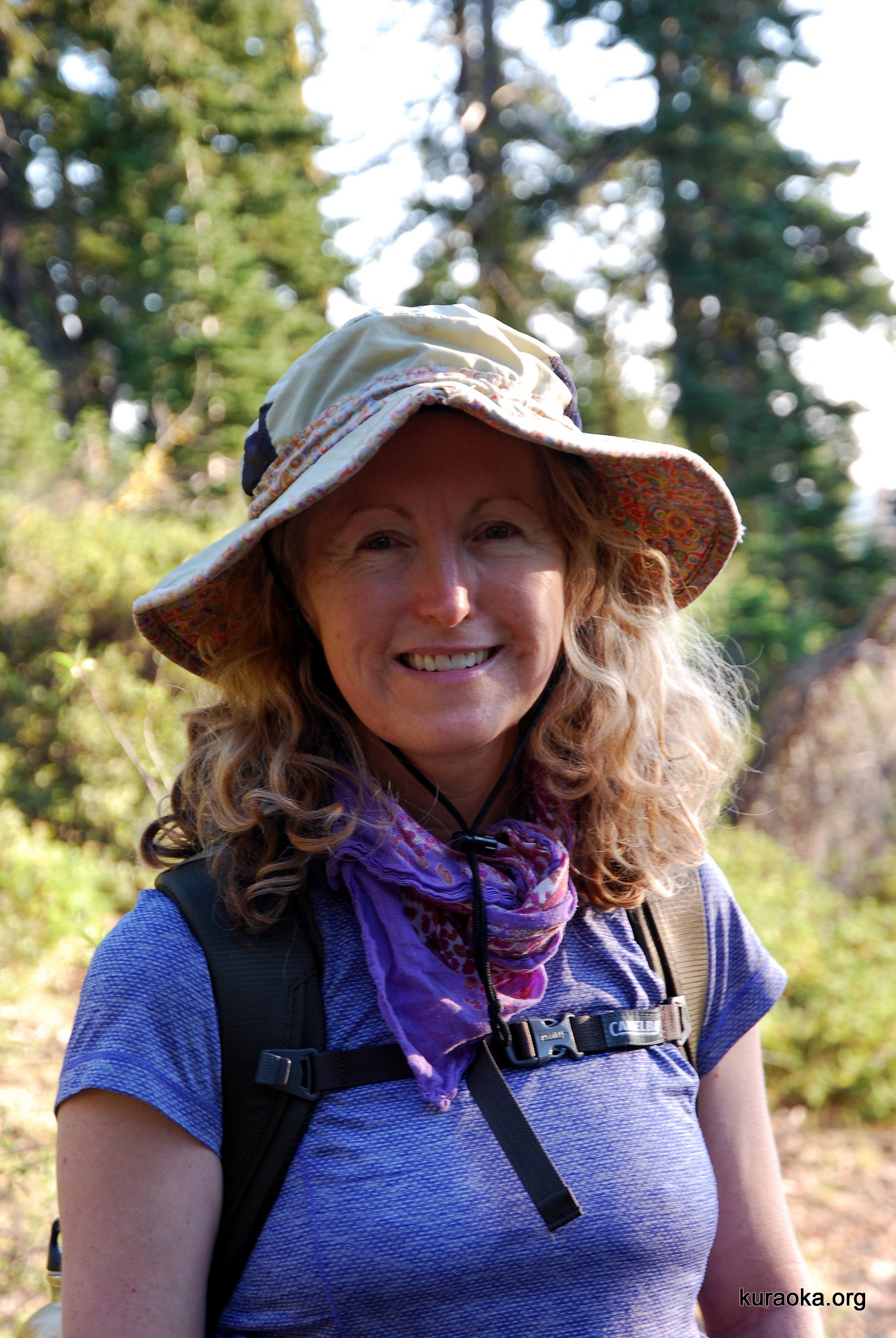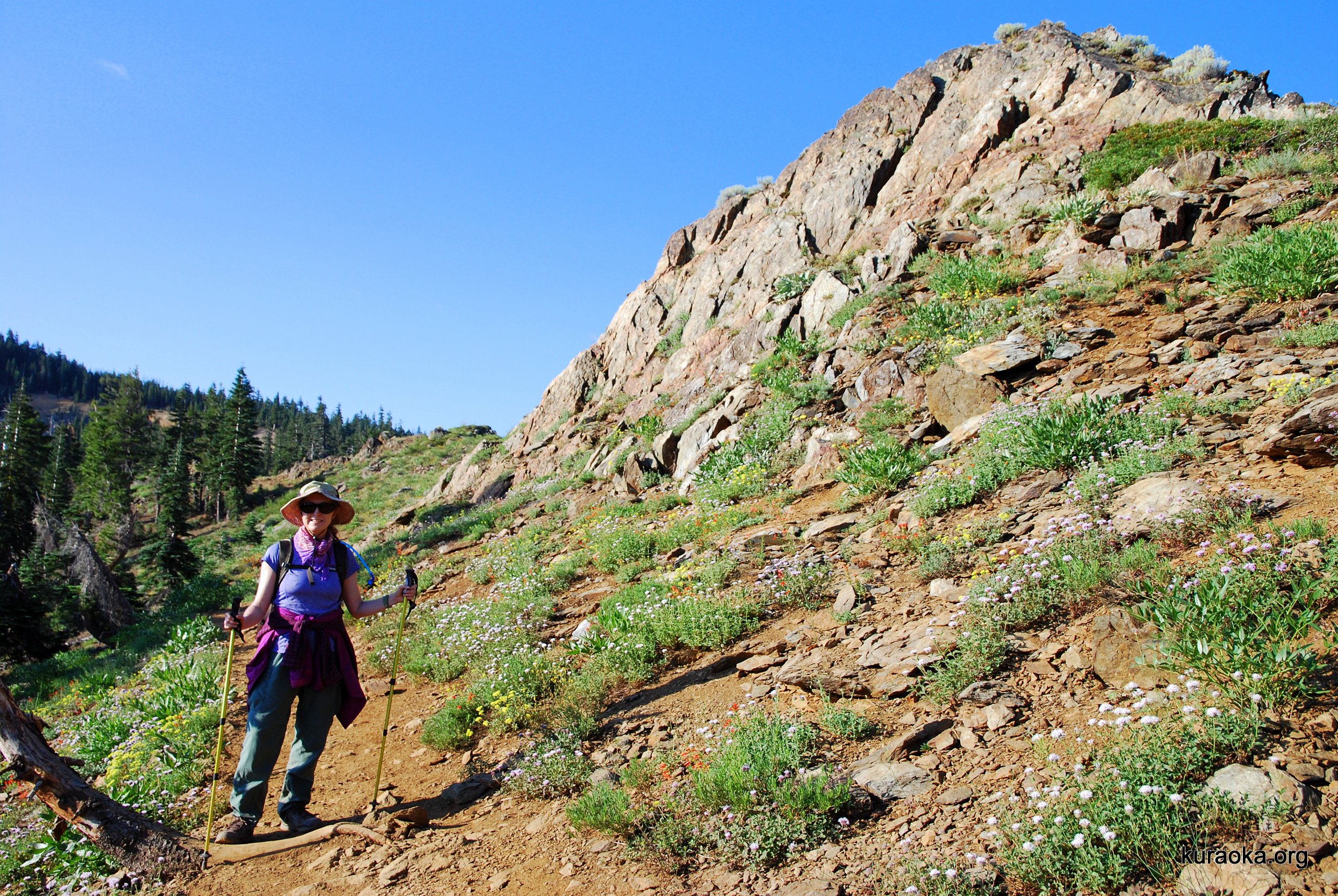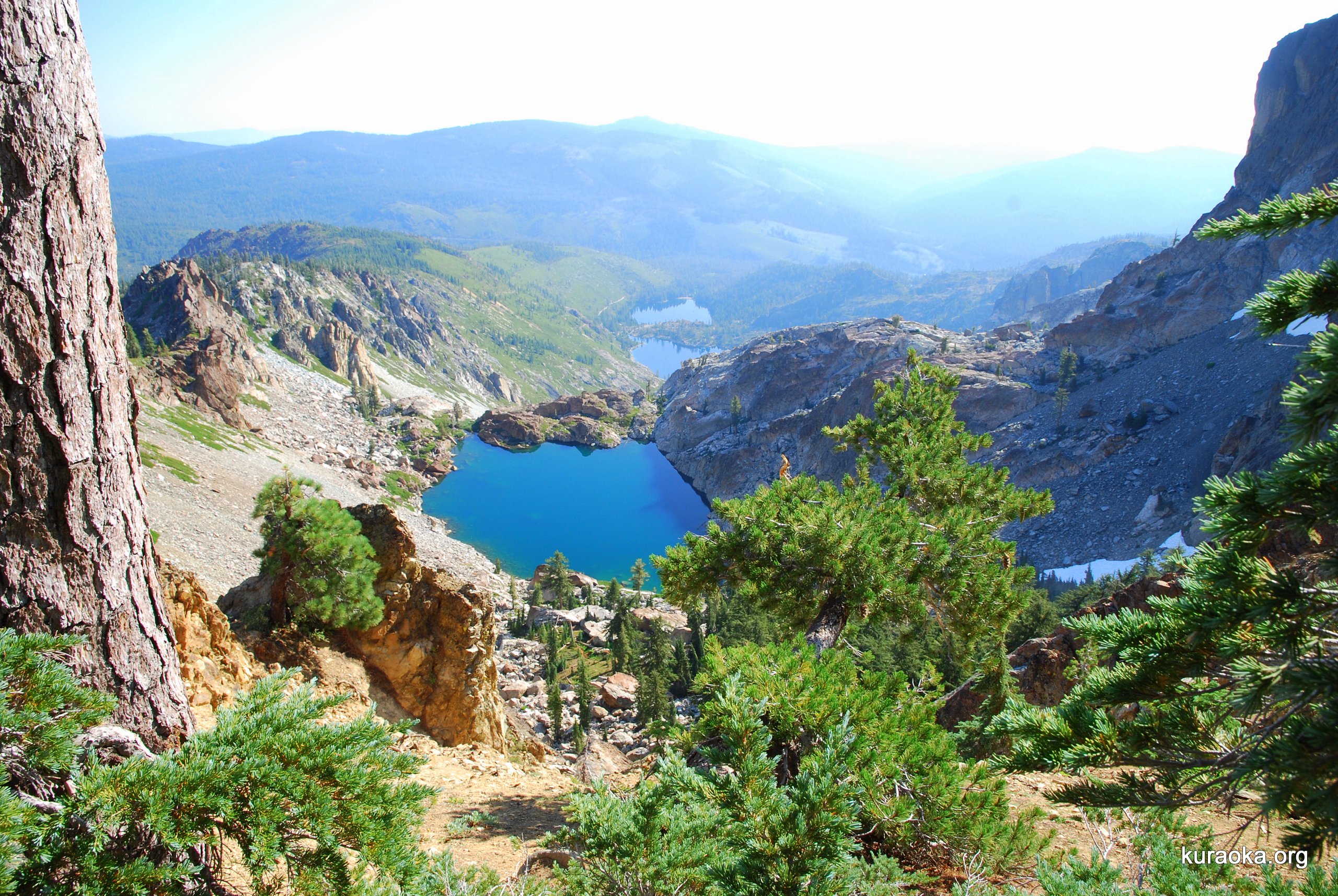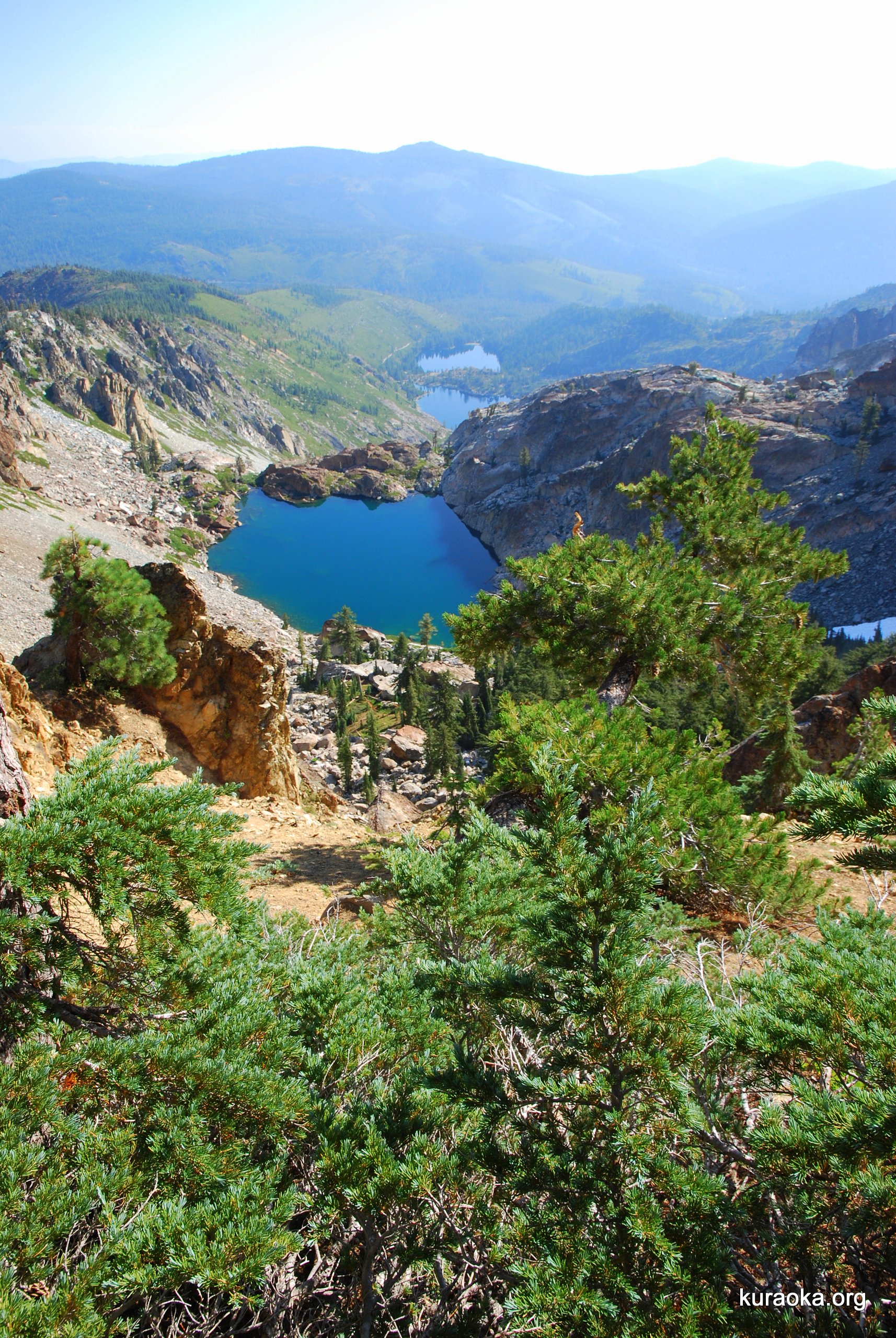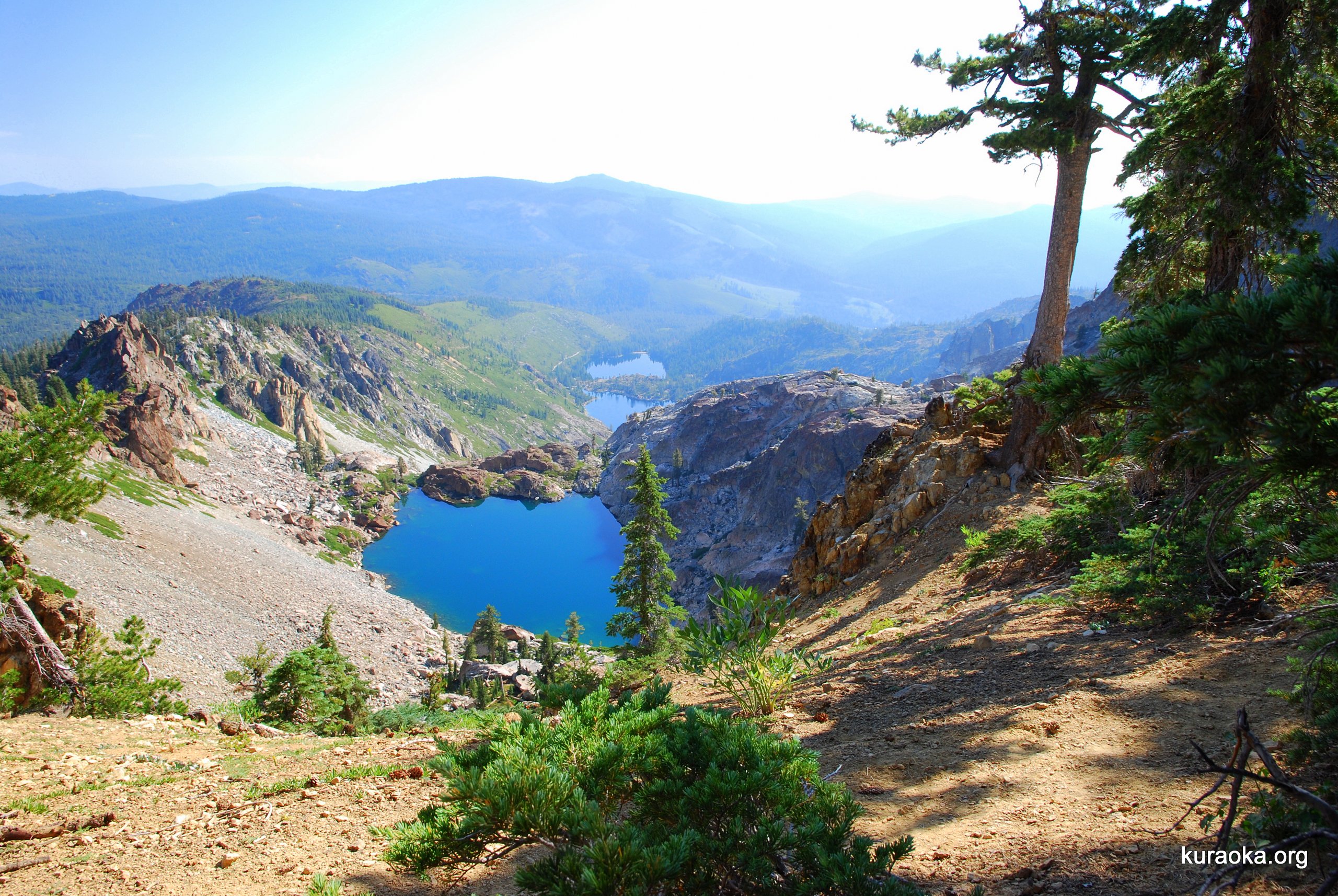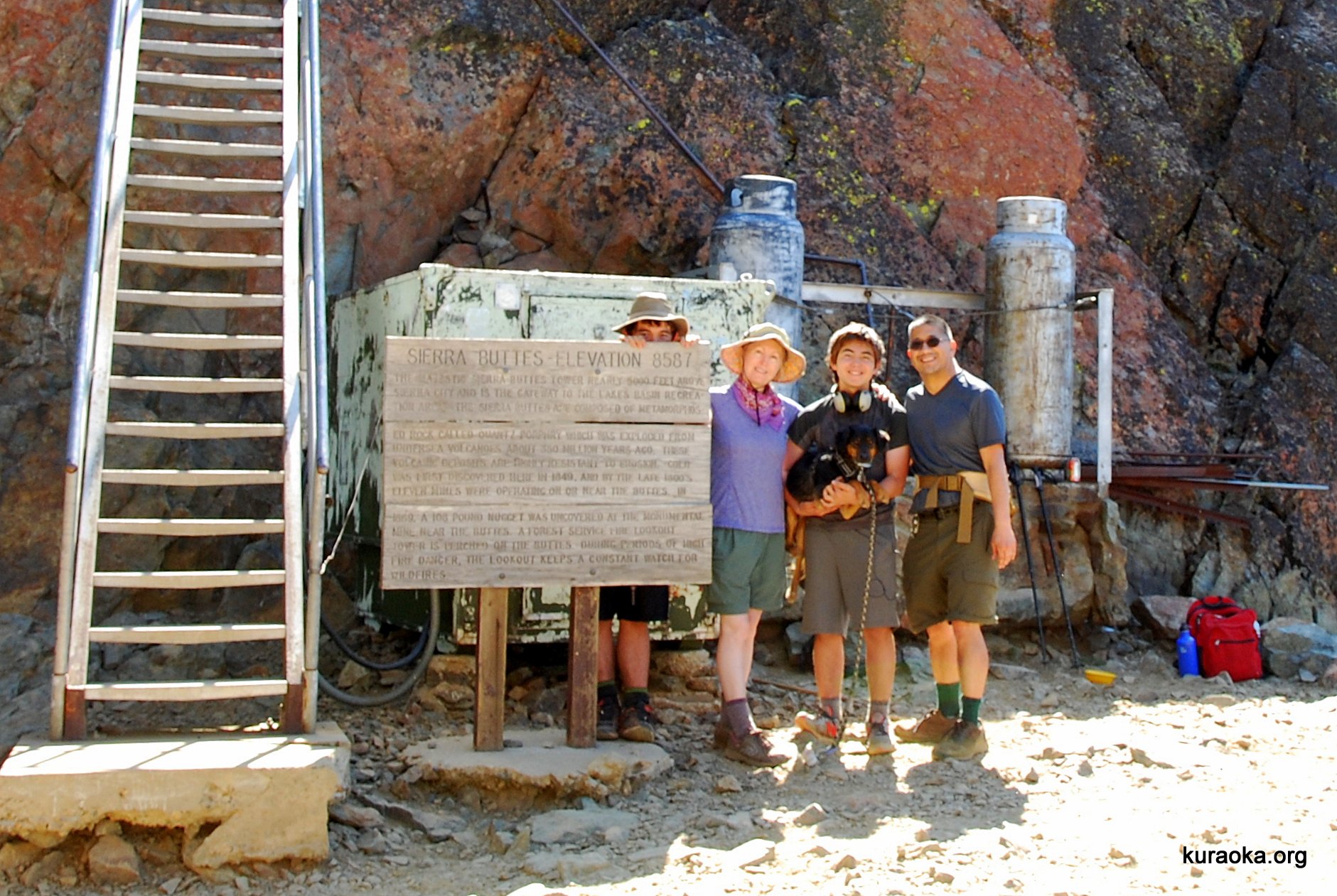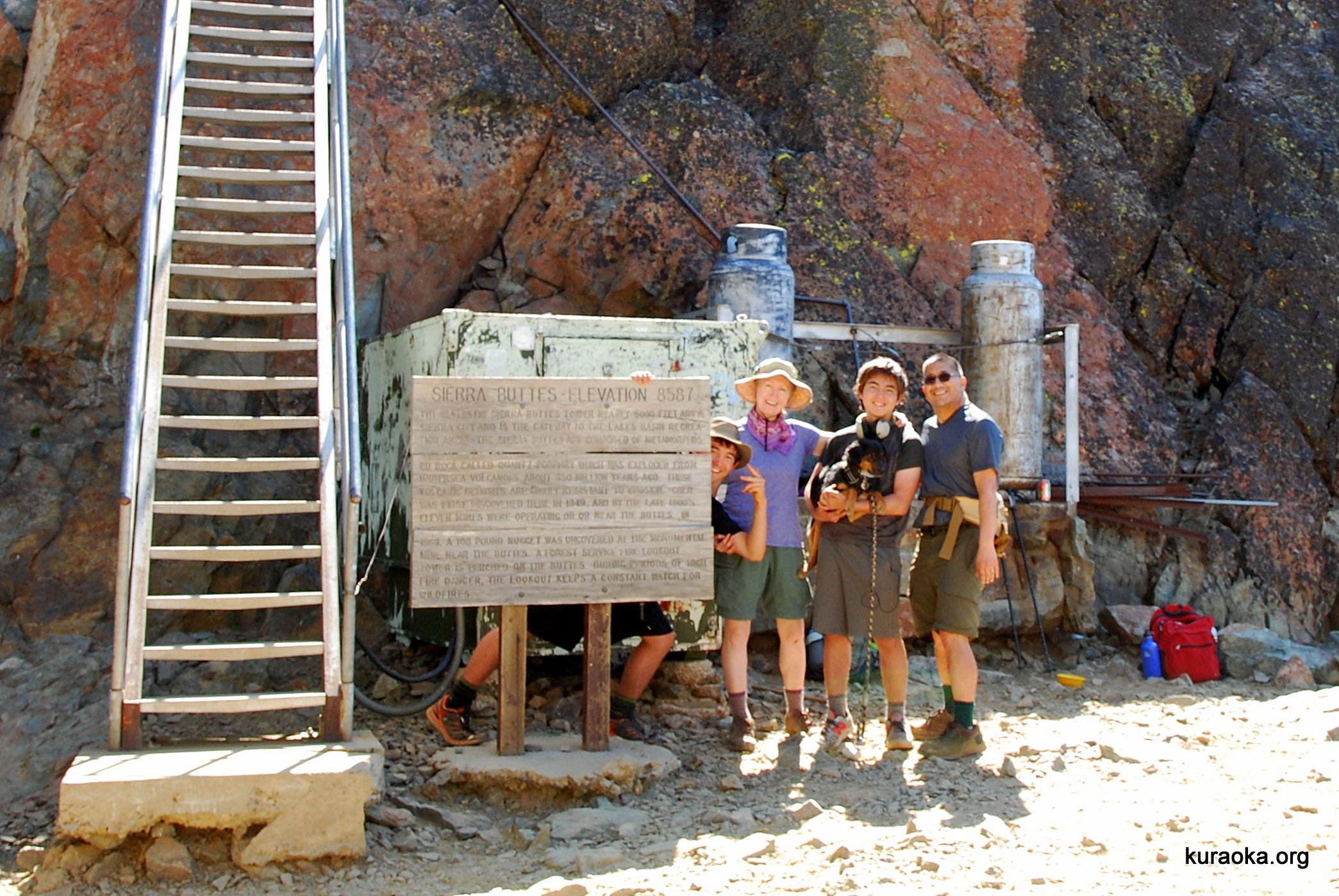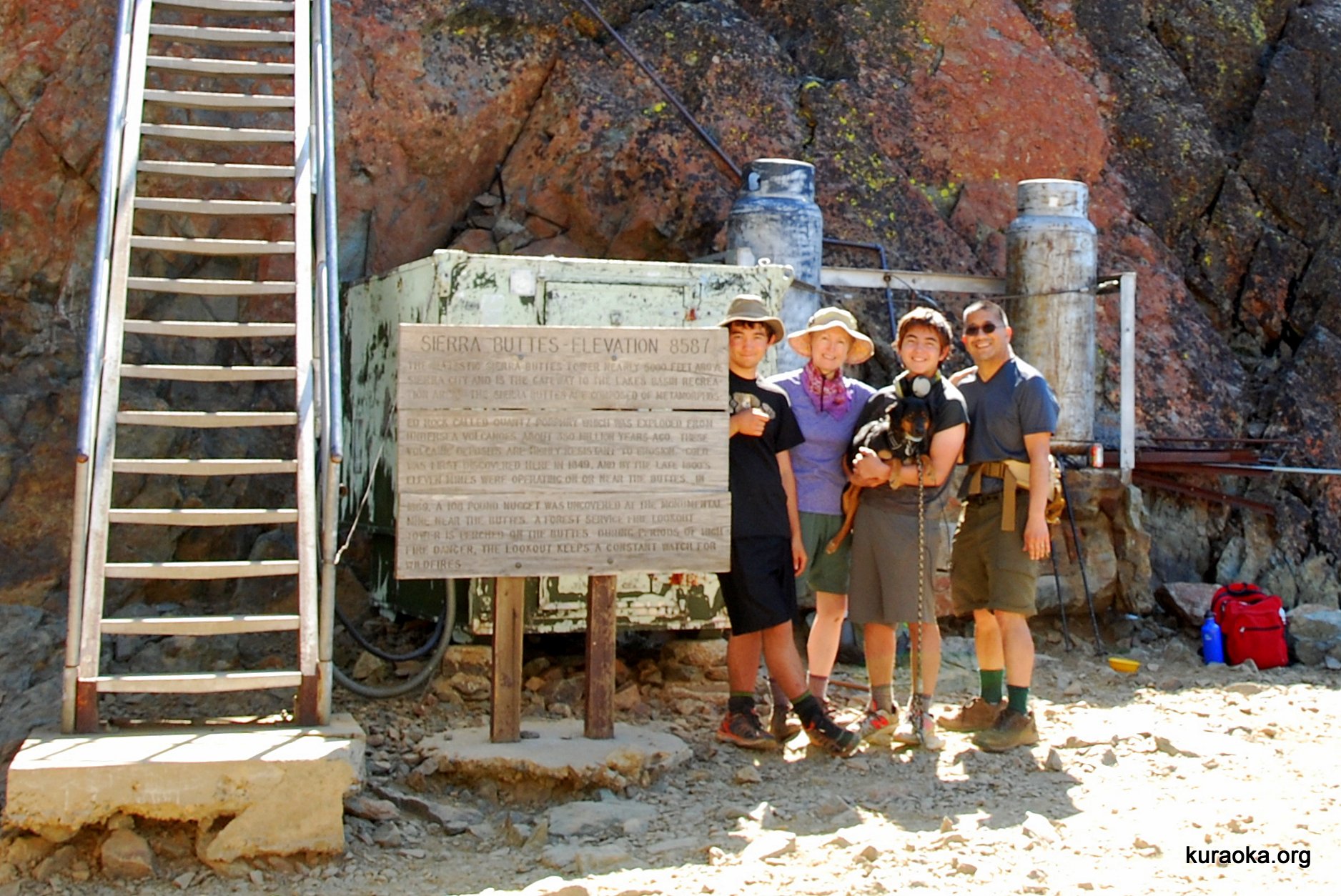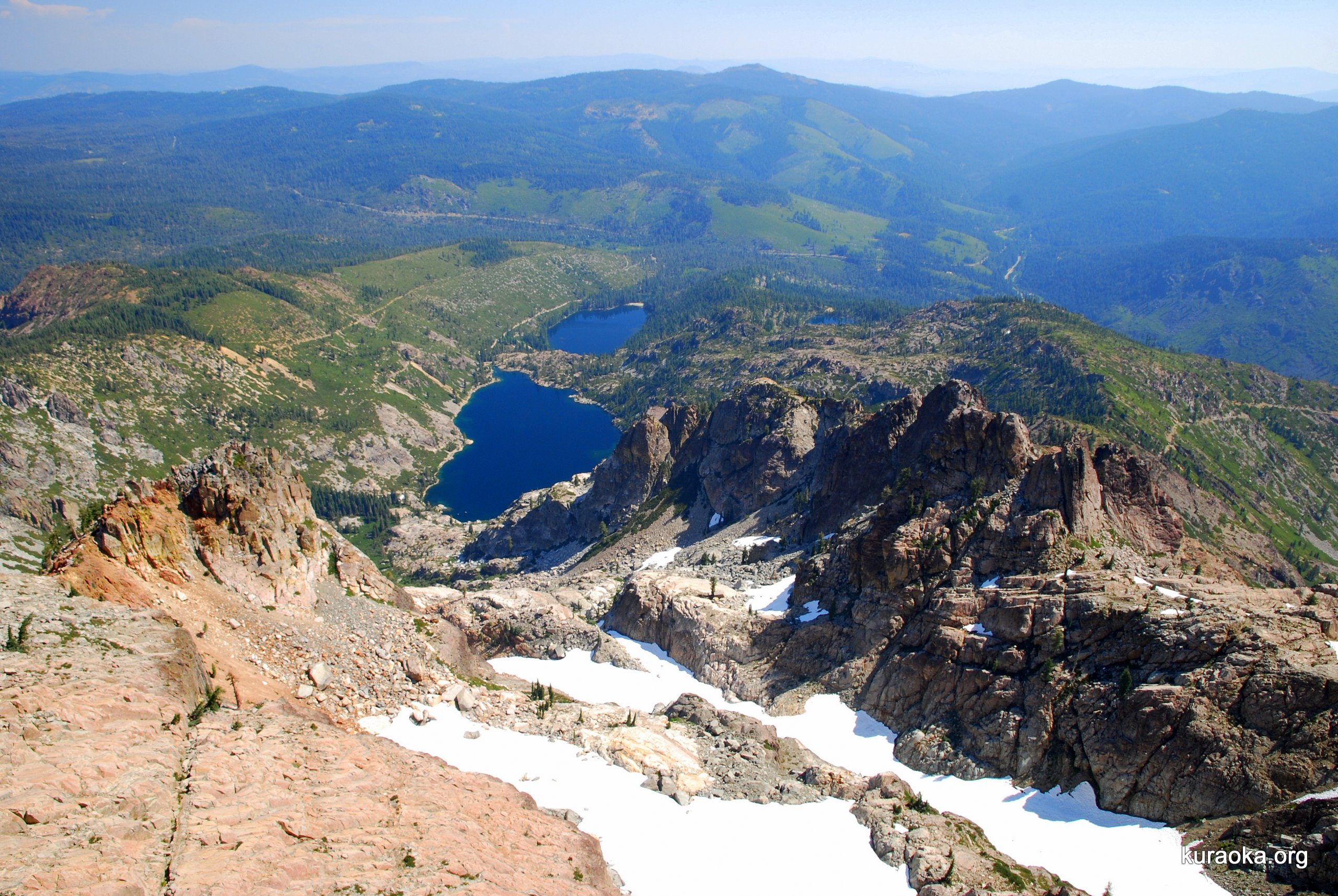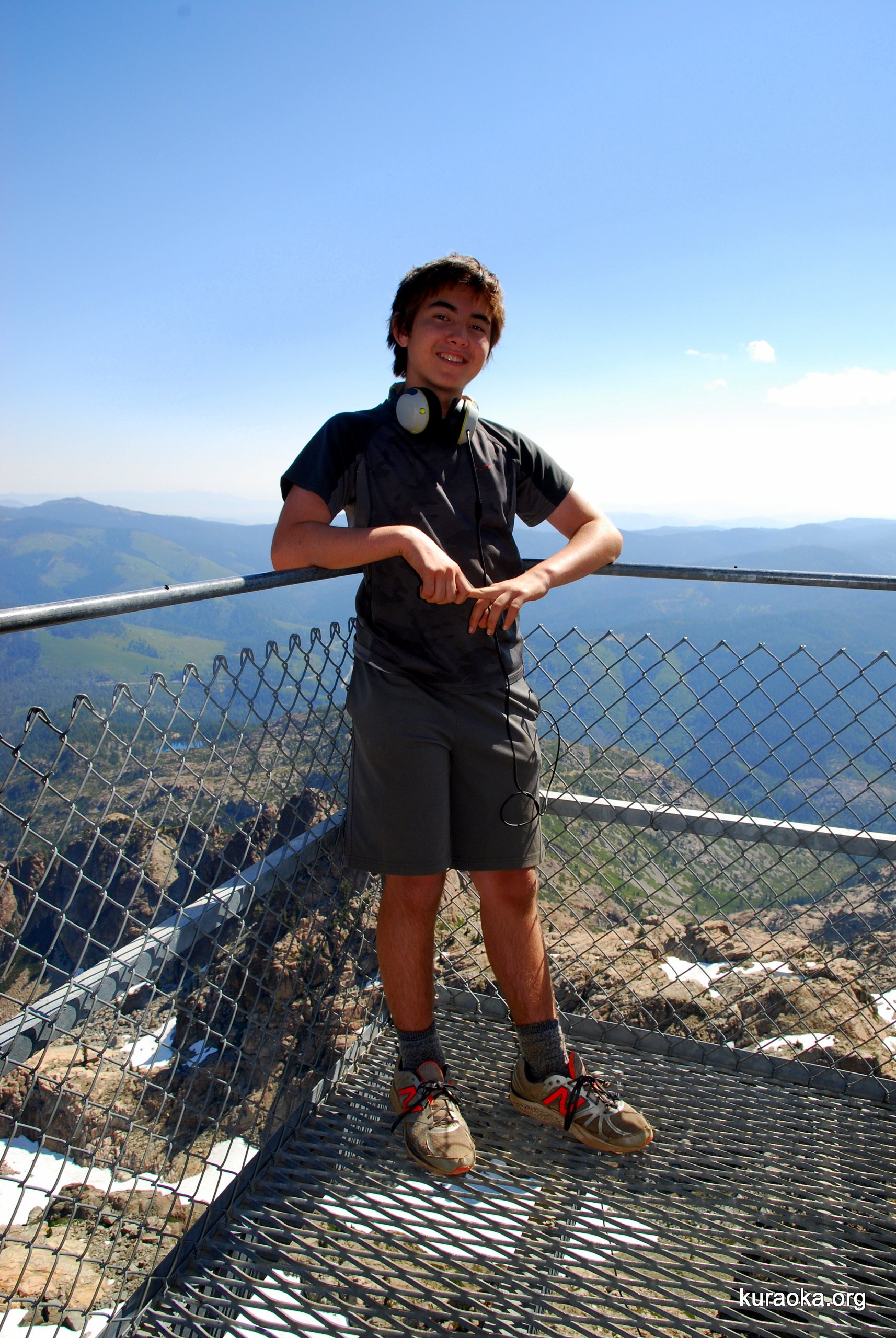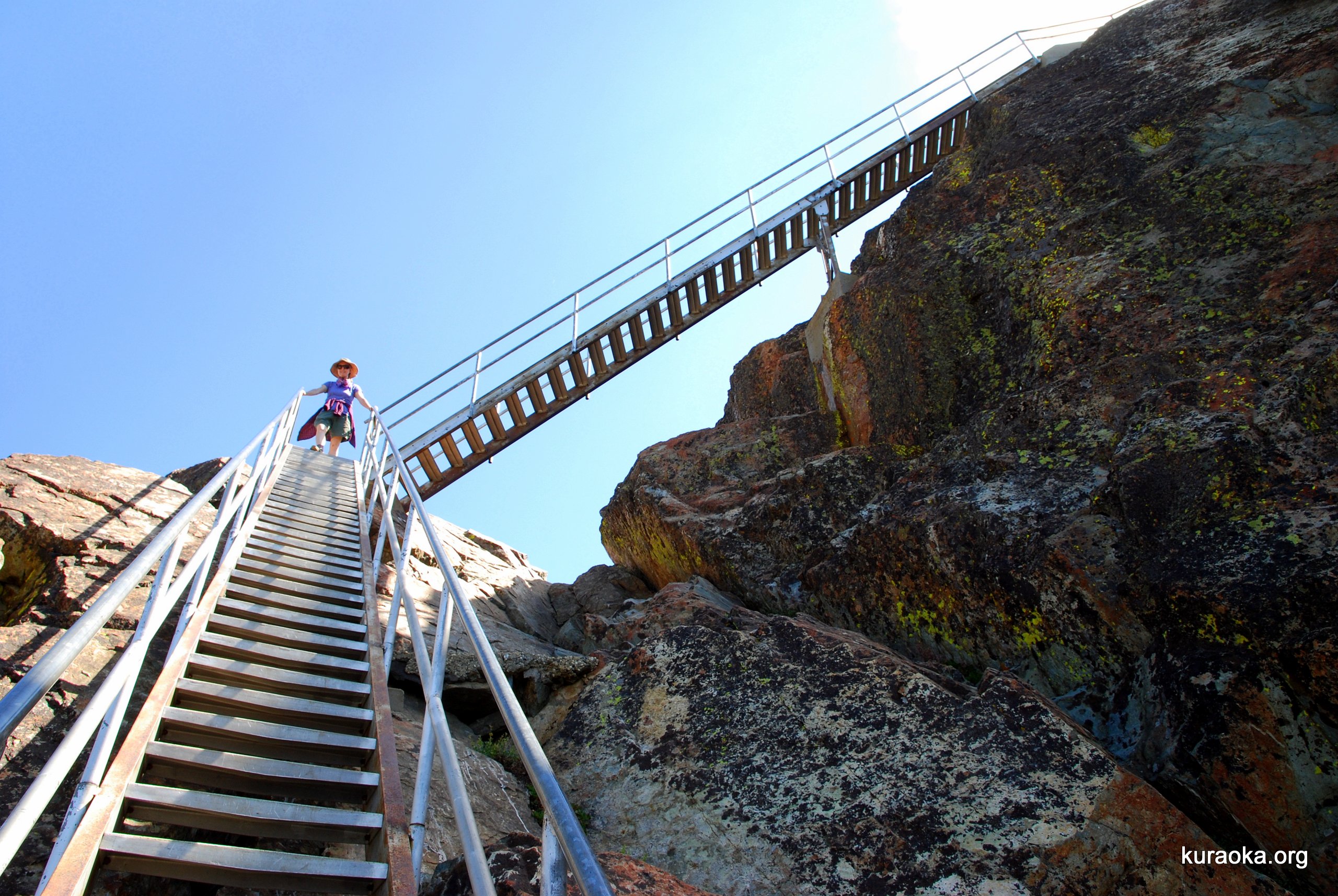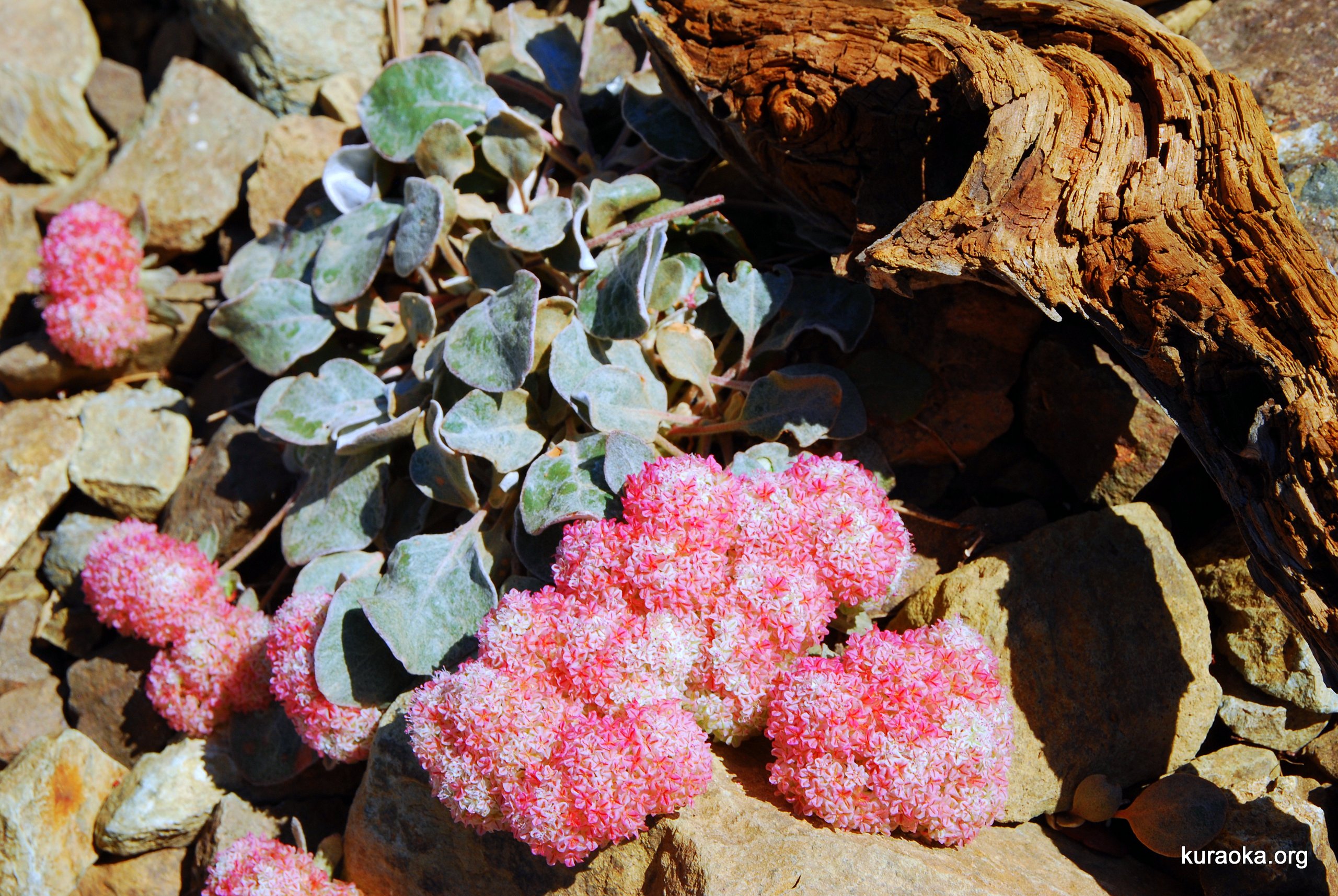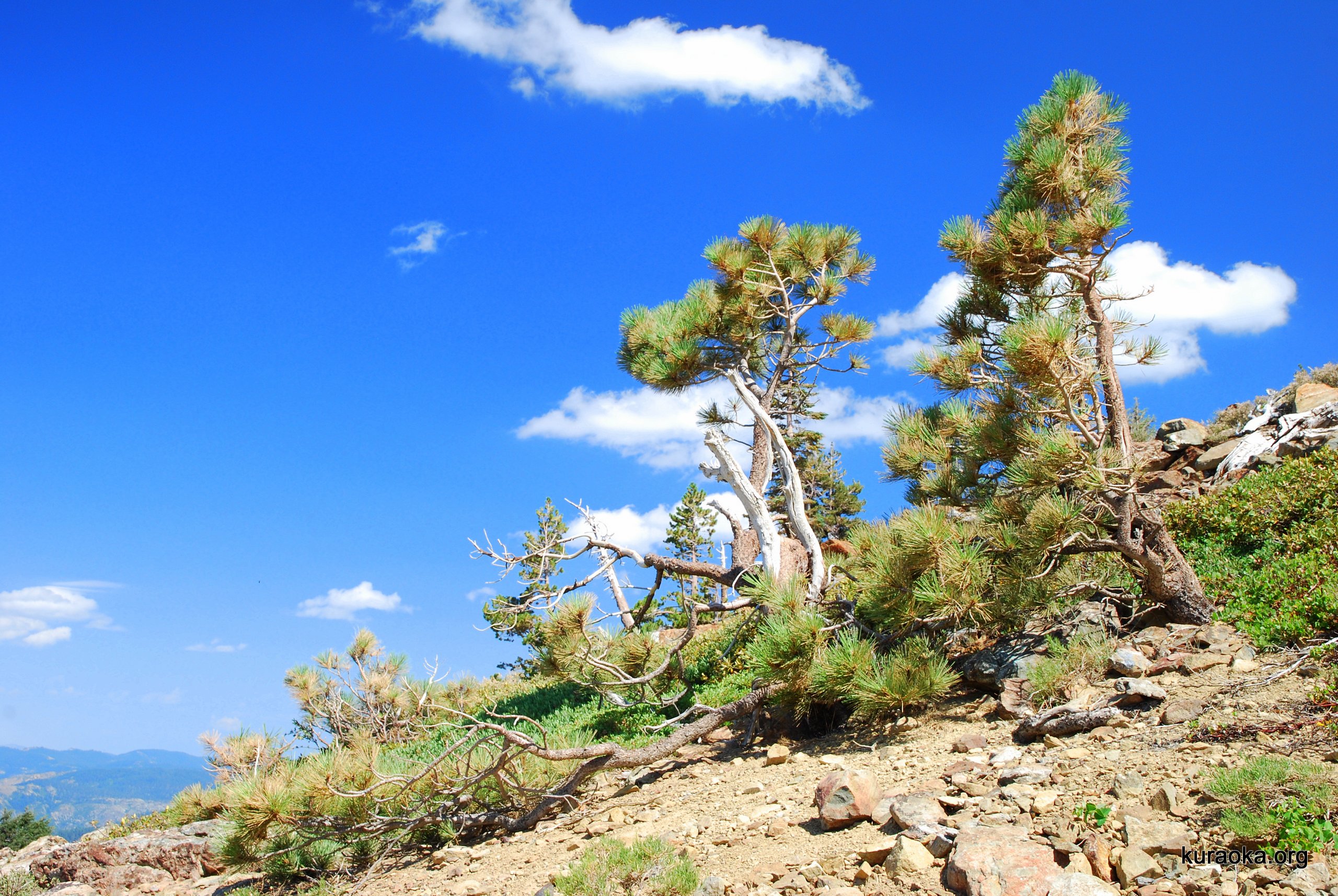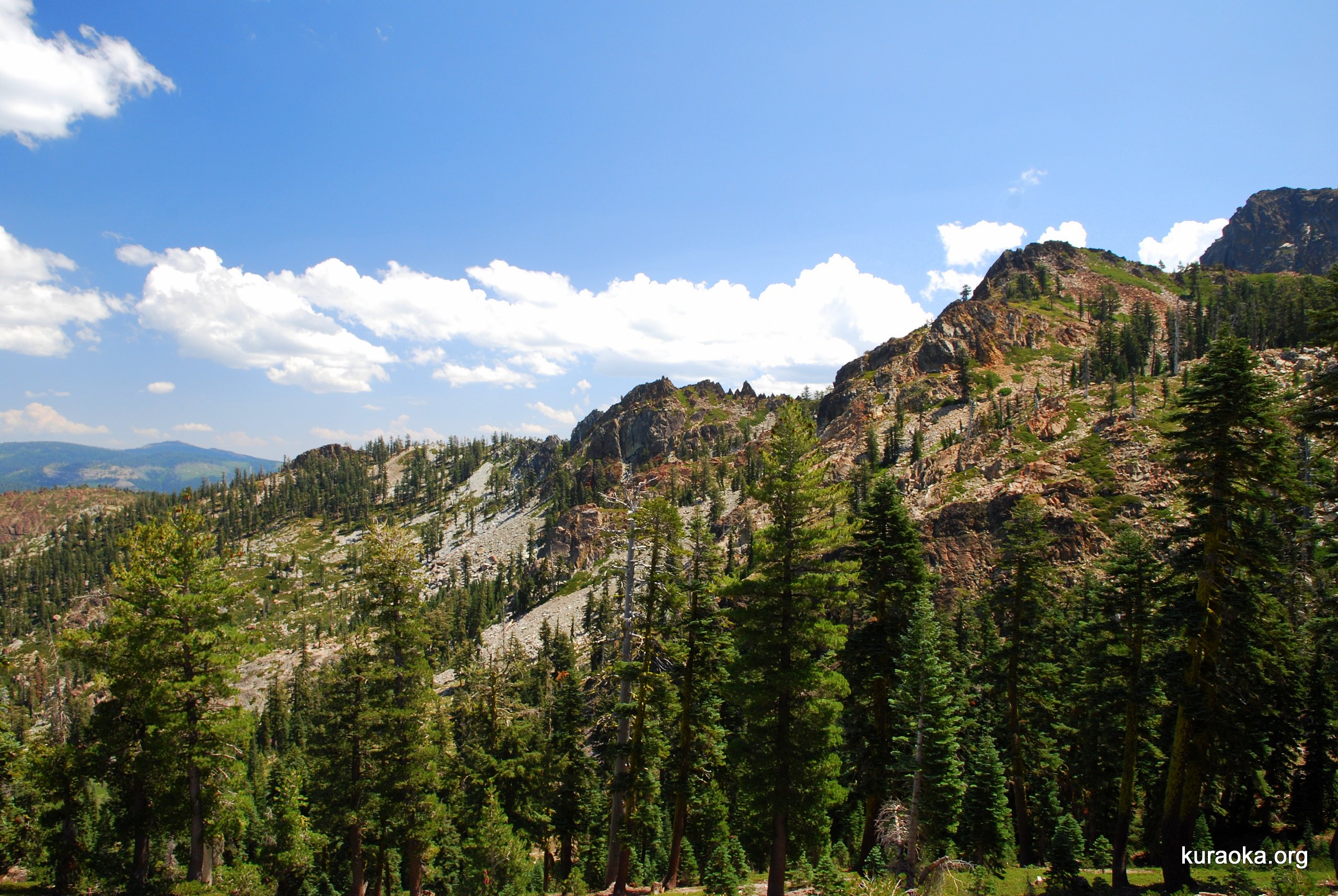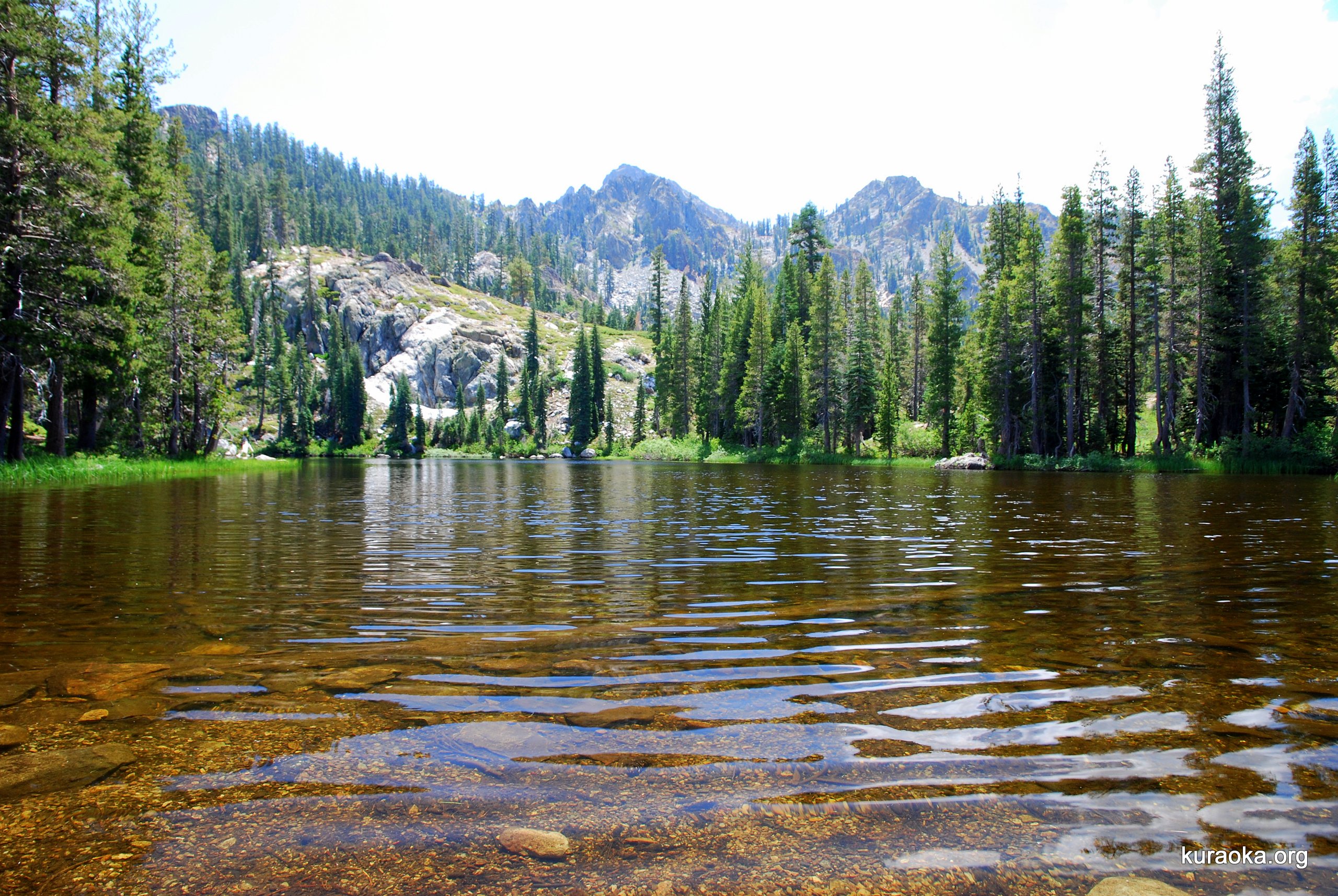 Ondine had packed so much trail mix (most of which we'd eaten) that we weren't hungry for lunch or, for that matter, dinner. But, we enjoyed our usual post-summit root beer floats at Bassett's.
Somewhere along the way, Shadow must've eaten something that disagreed with him because he was sick all night. We were up every hour or so to take him out of the tent, so we hardly slept at all.
Thursday was our last full day there. Leo wanted to go to the spillway, so he went - and found, to his horror, that under each rock in that nicely constructed funnel there were thousands of tiny leeches! So much for the spillway! We'd heard about a trail by Gold Lake Lodge that takes in 5 lakes in 4 miles, so we went looking for it. Gold Lake Lodge, too, looks interesting.
The trail starts near the lodge, and winds past Veronica Lake, Round Lake, Silver Lake, Little Bear Lake, and Big Bear Lake. There's also a Cub Lake in the area, but we didn't see that one. The trail was amazing, and we really wished we had more time to savor it! When we got back to camp, we packed up as much as possible in preparation for leaving Friday. The dog seemed fine all day.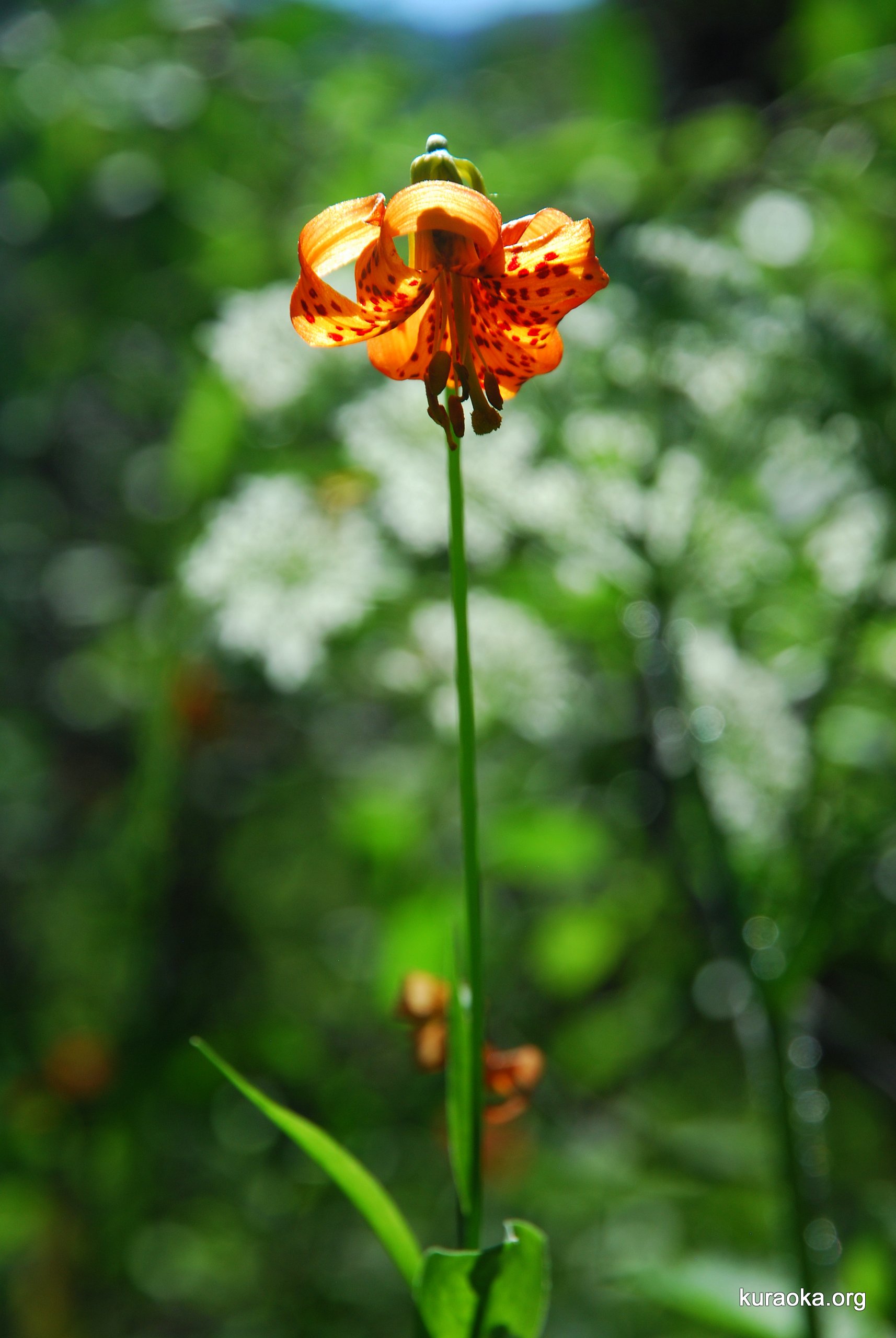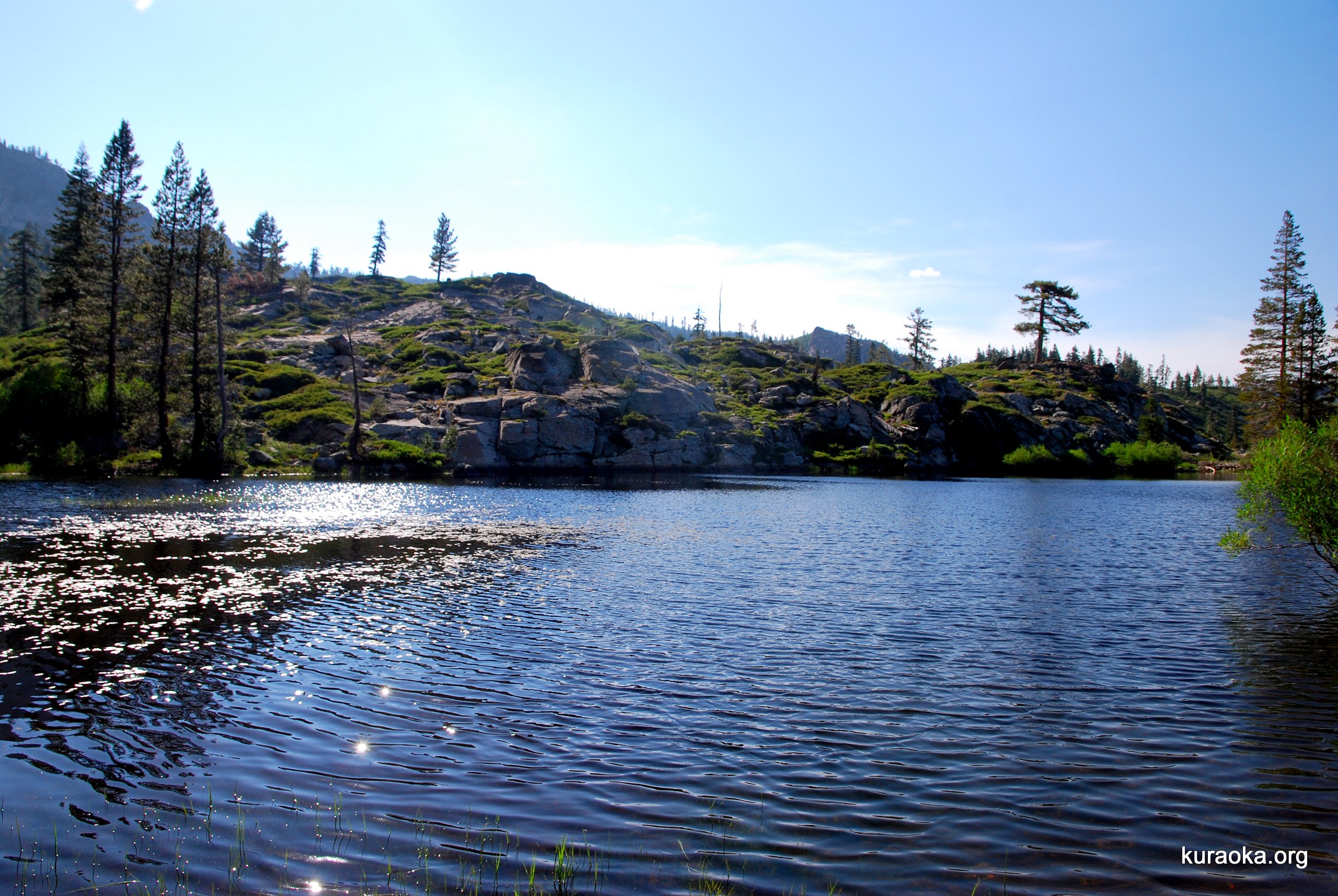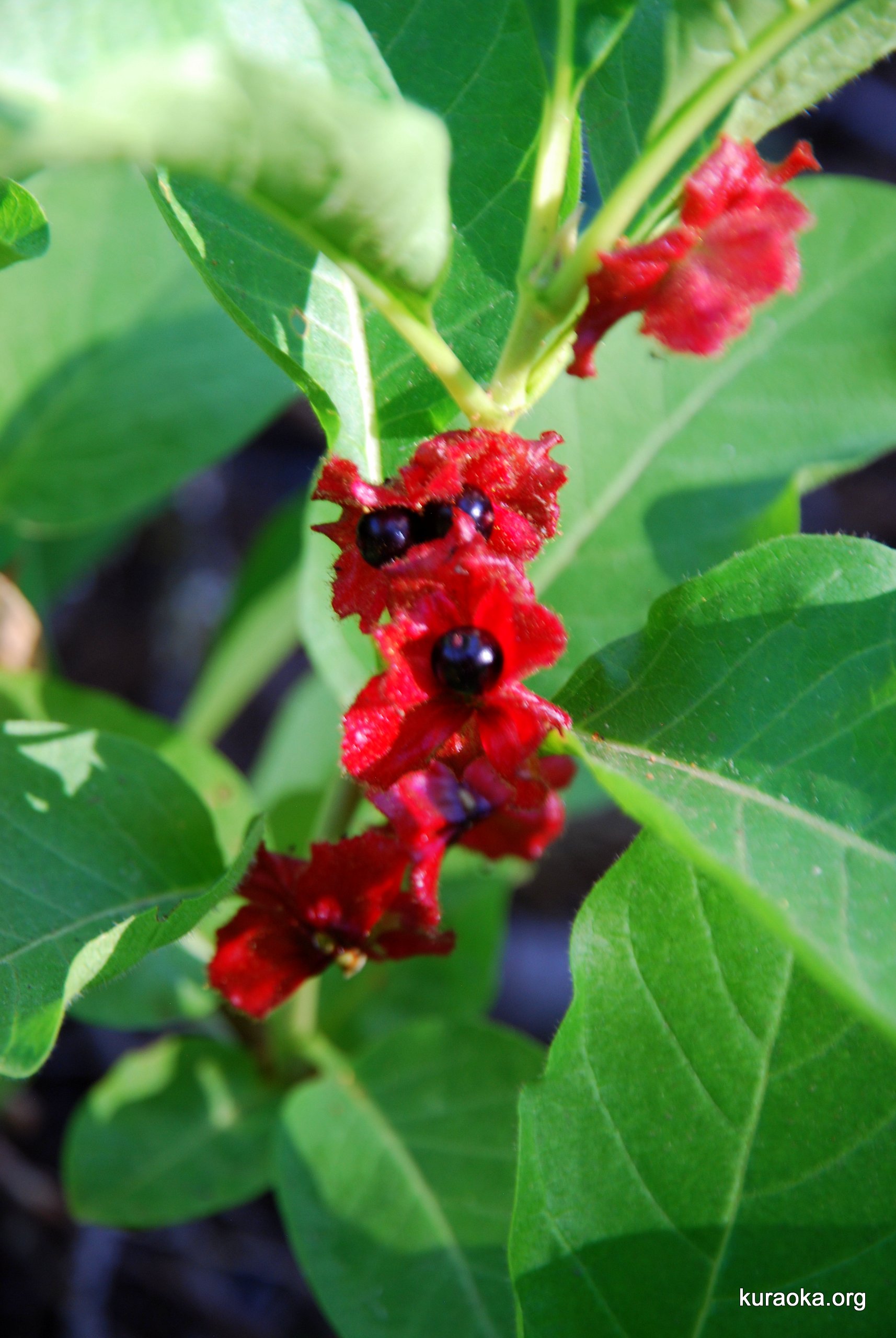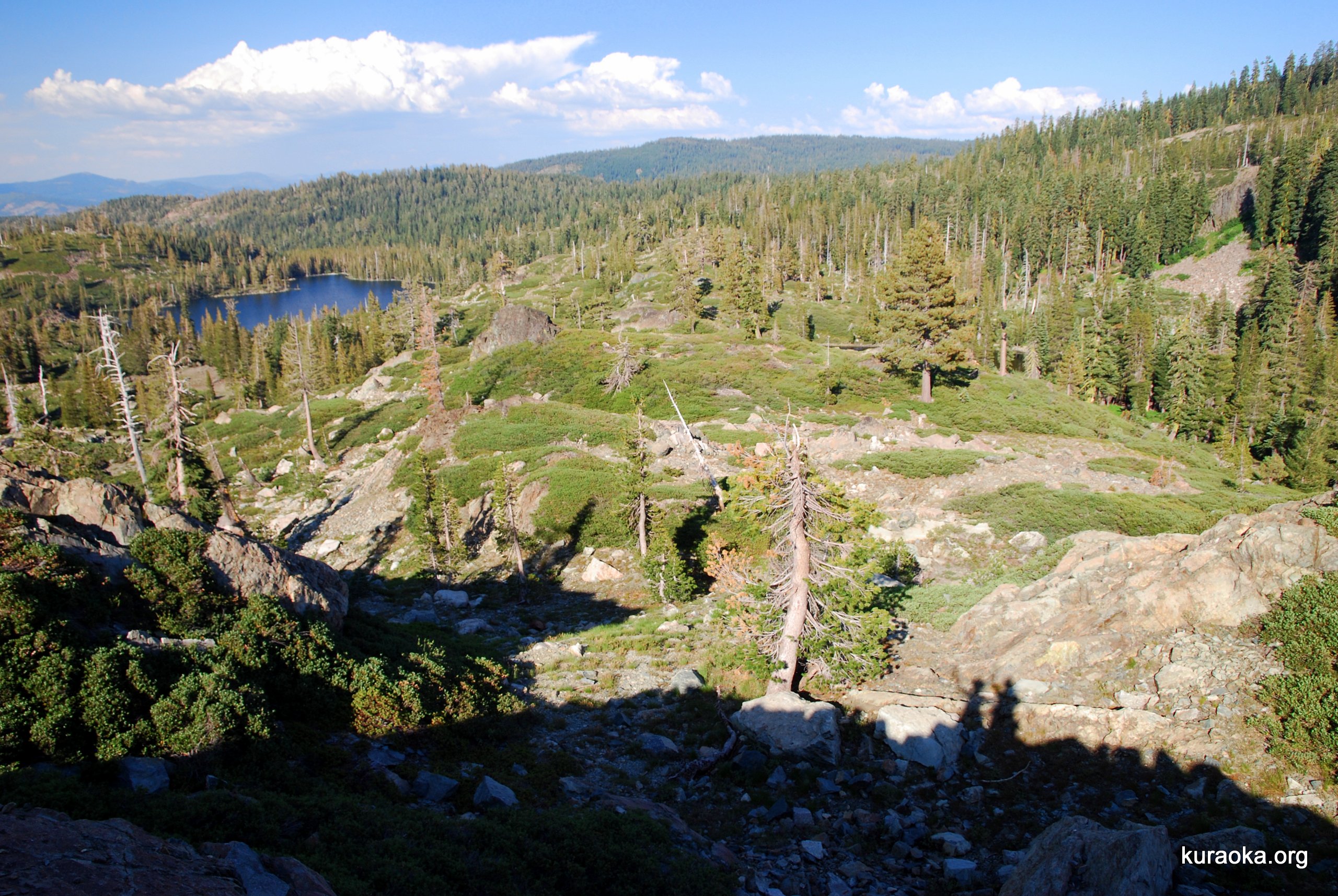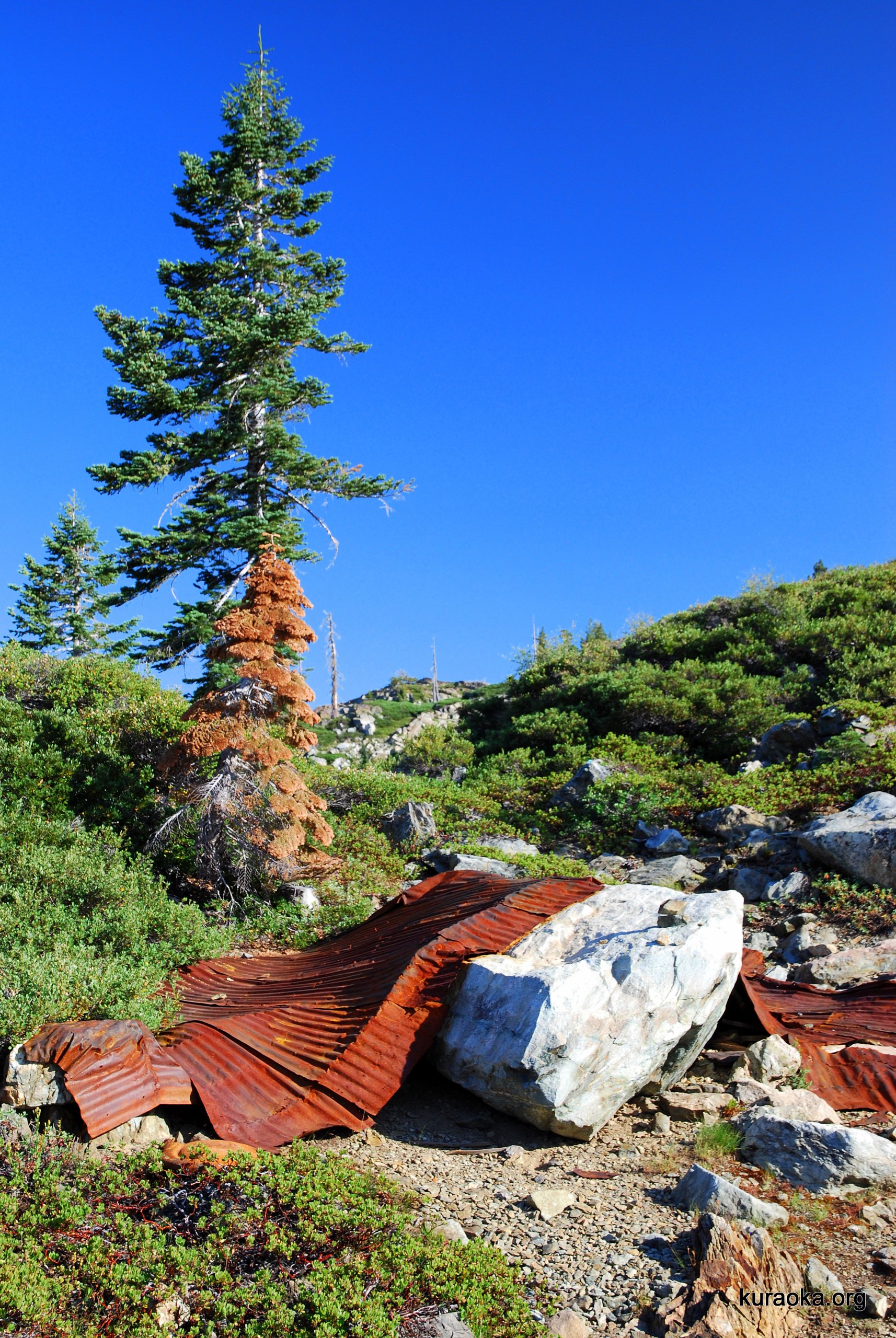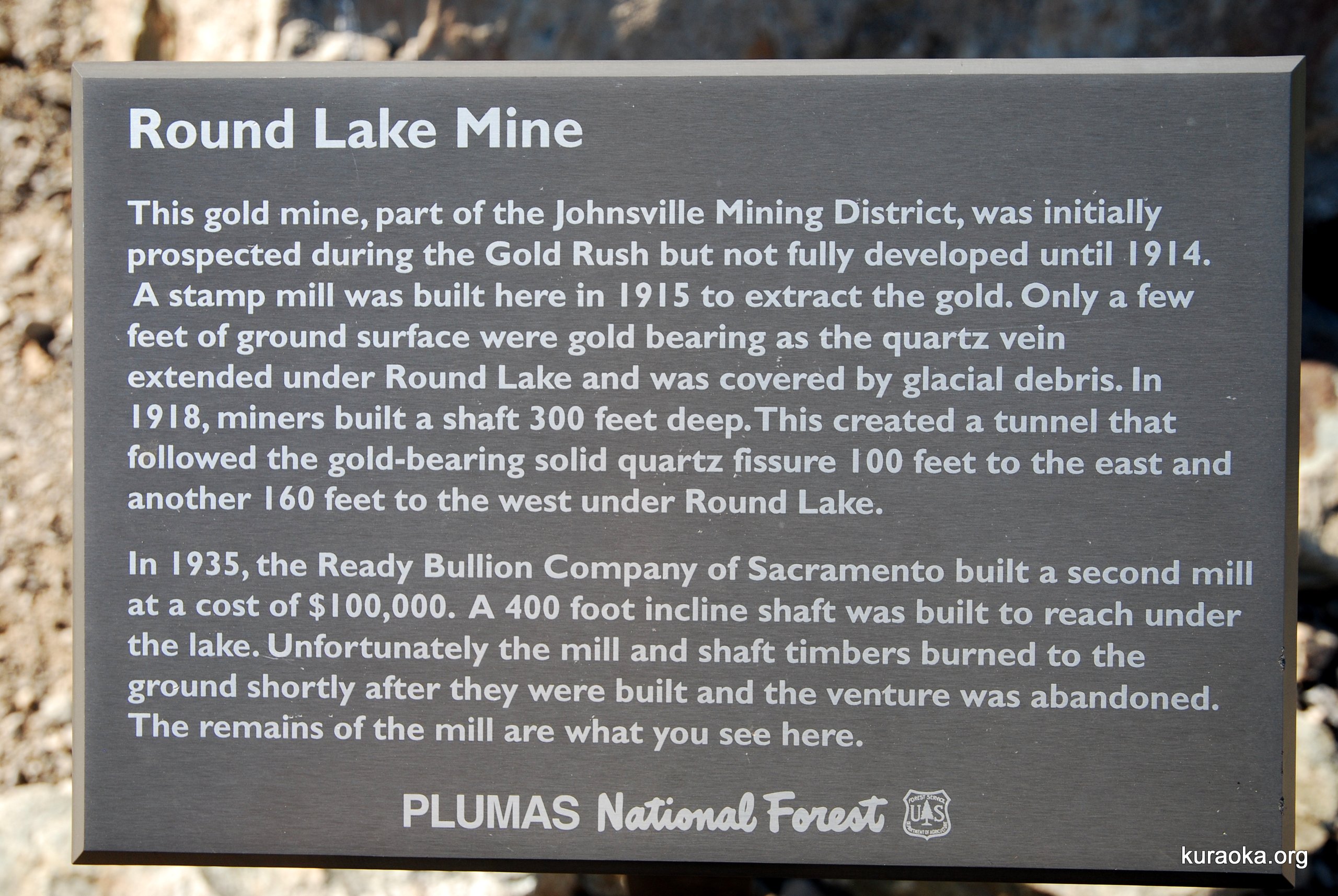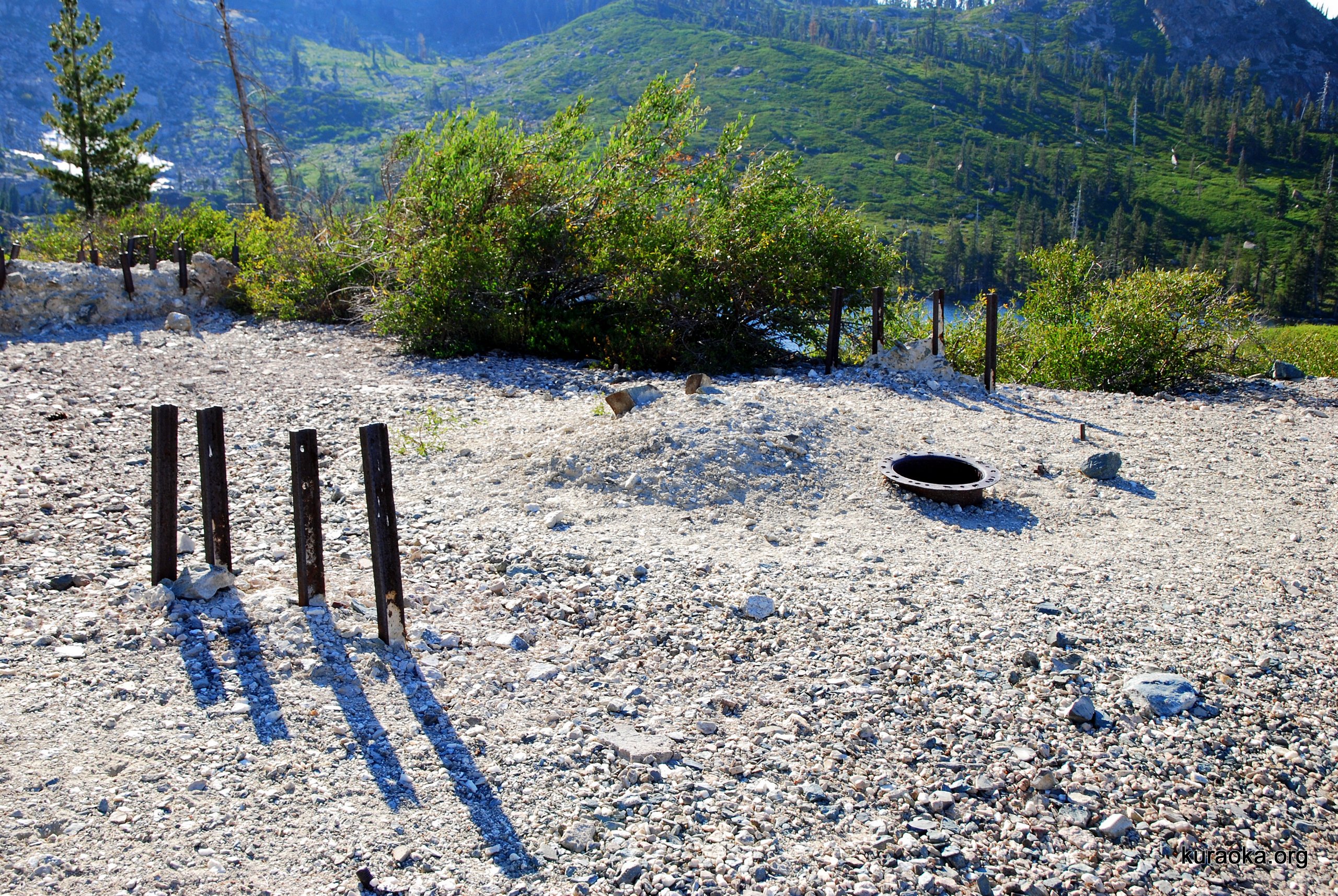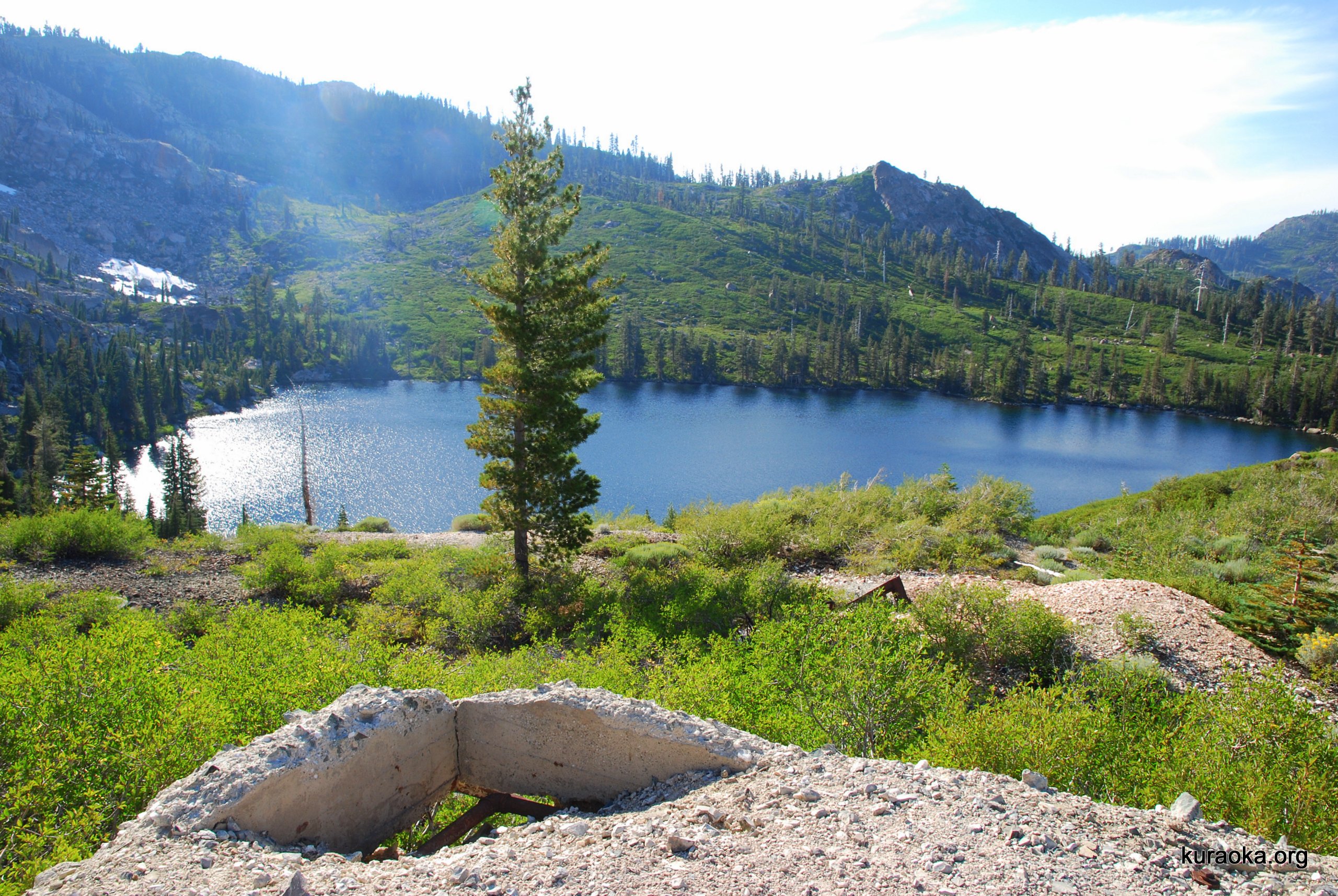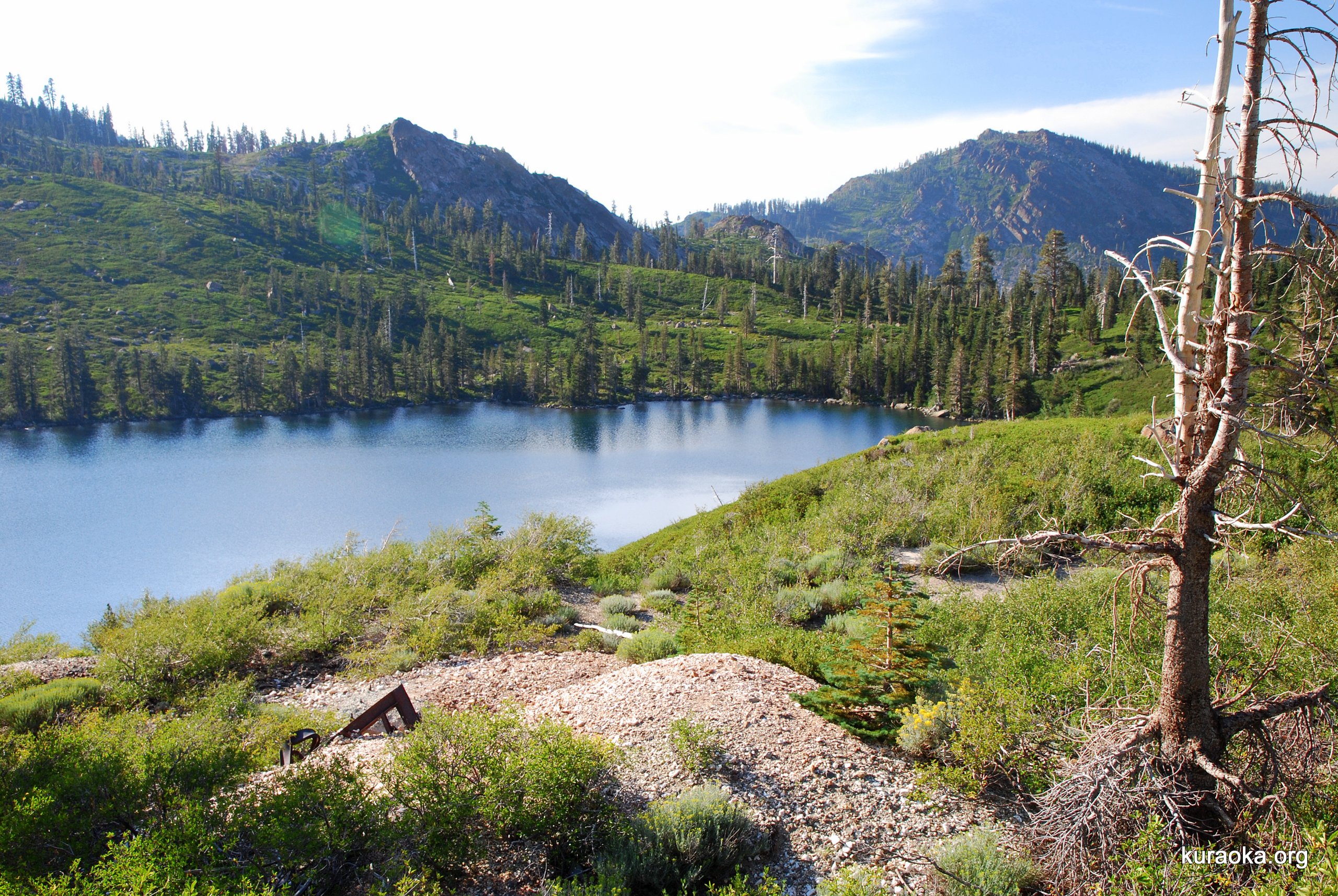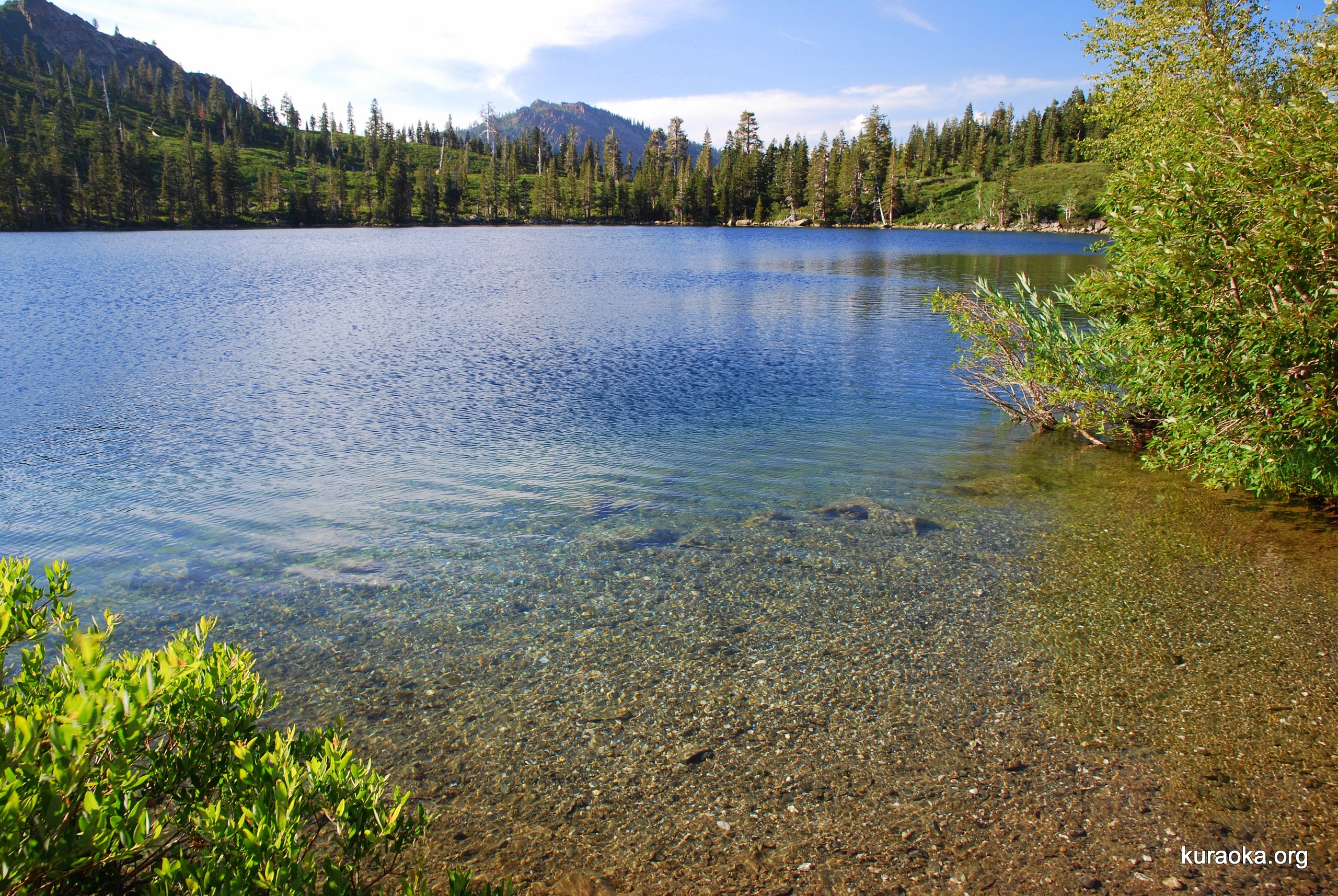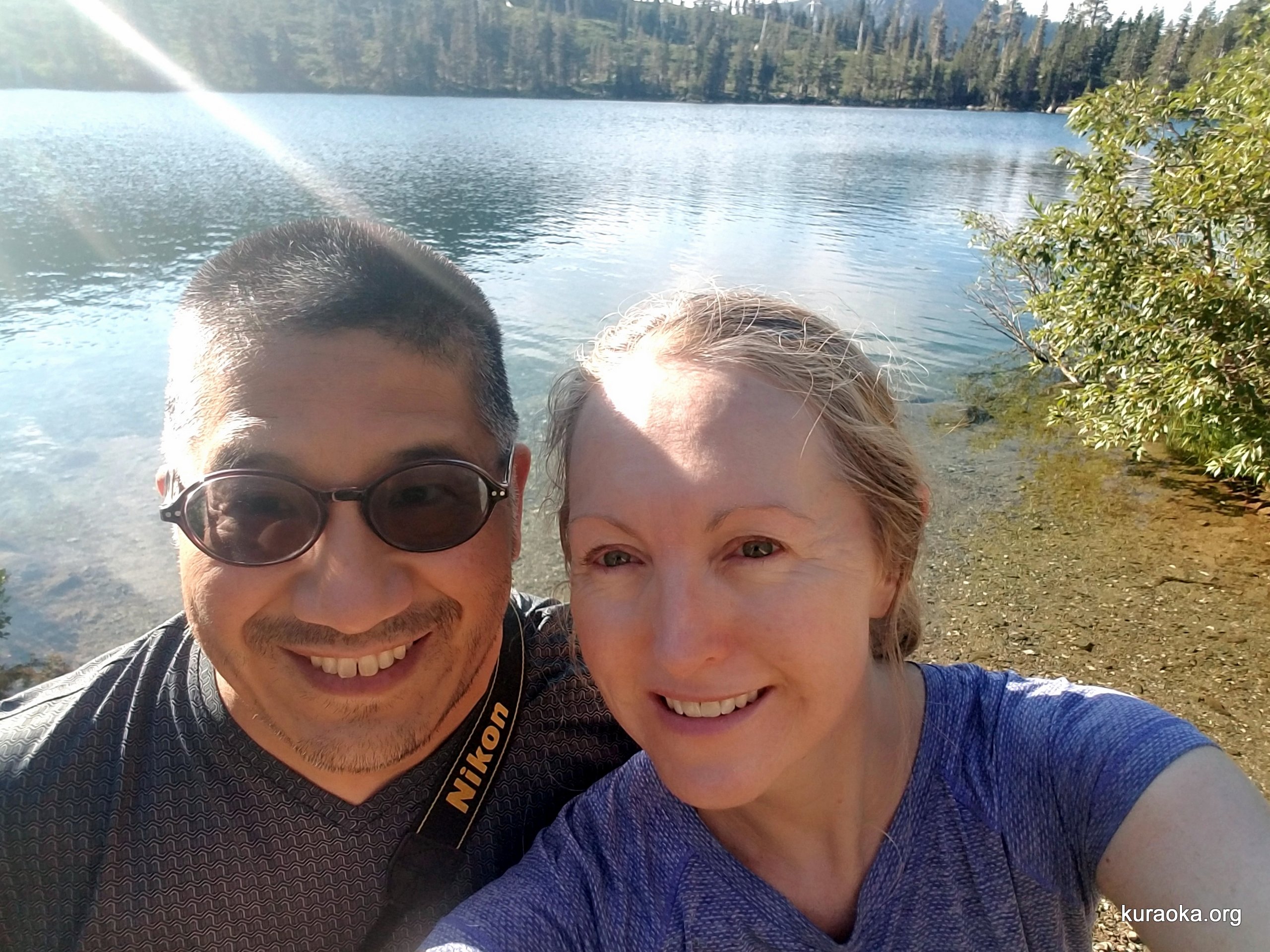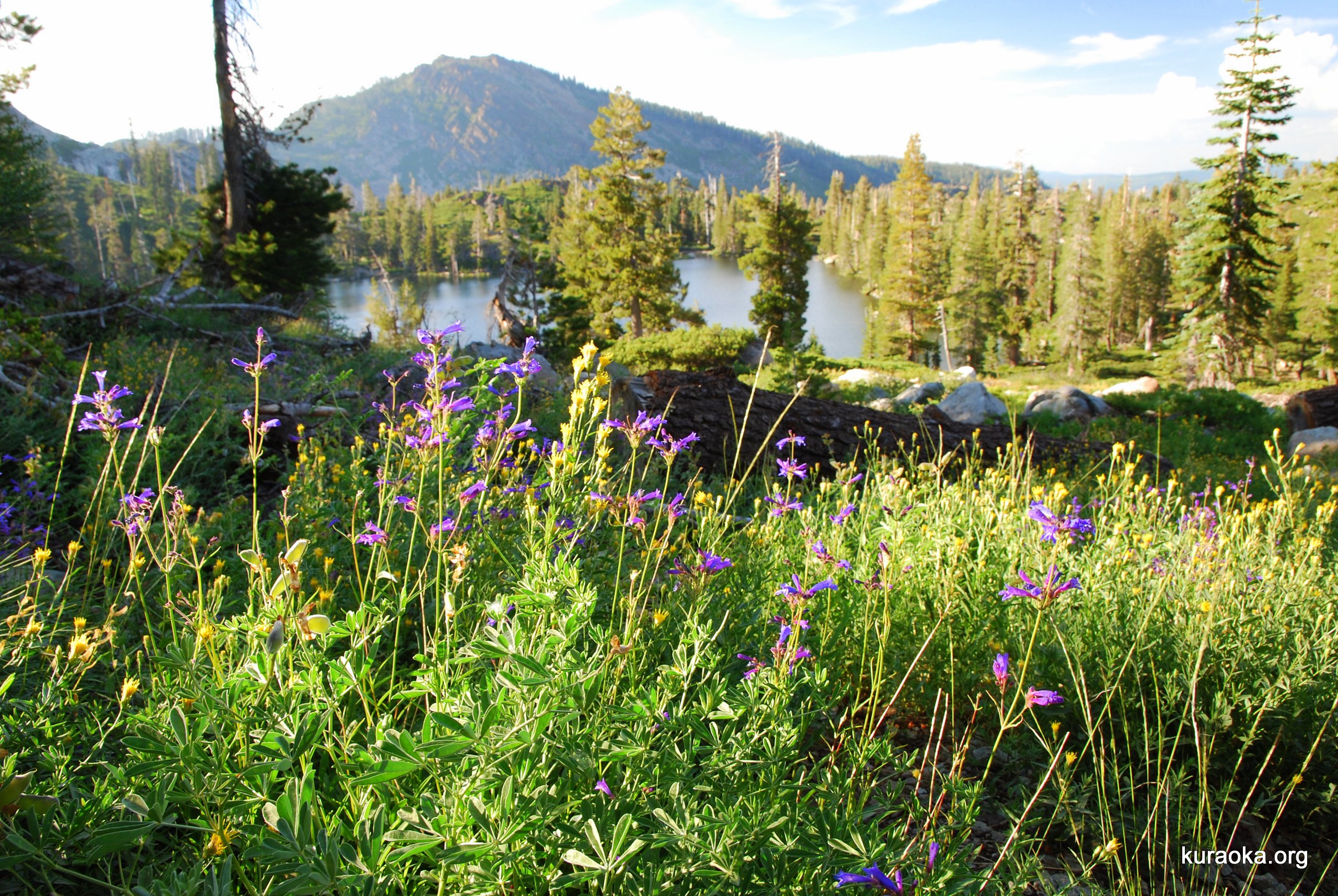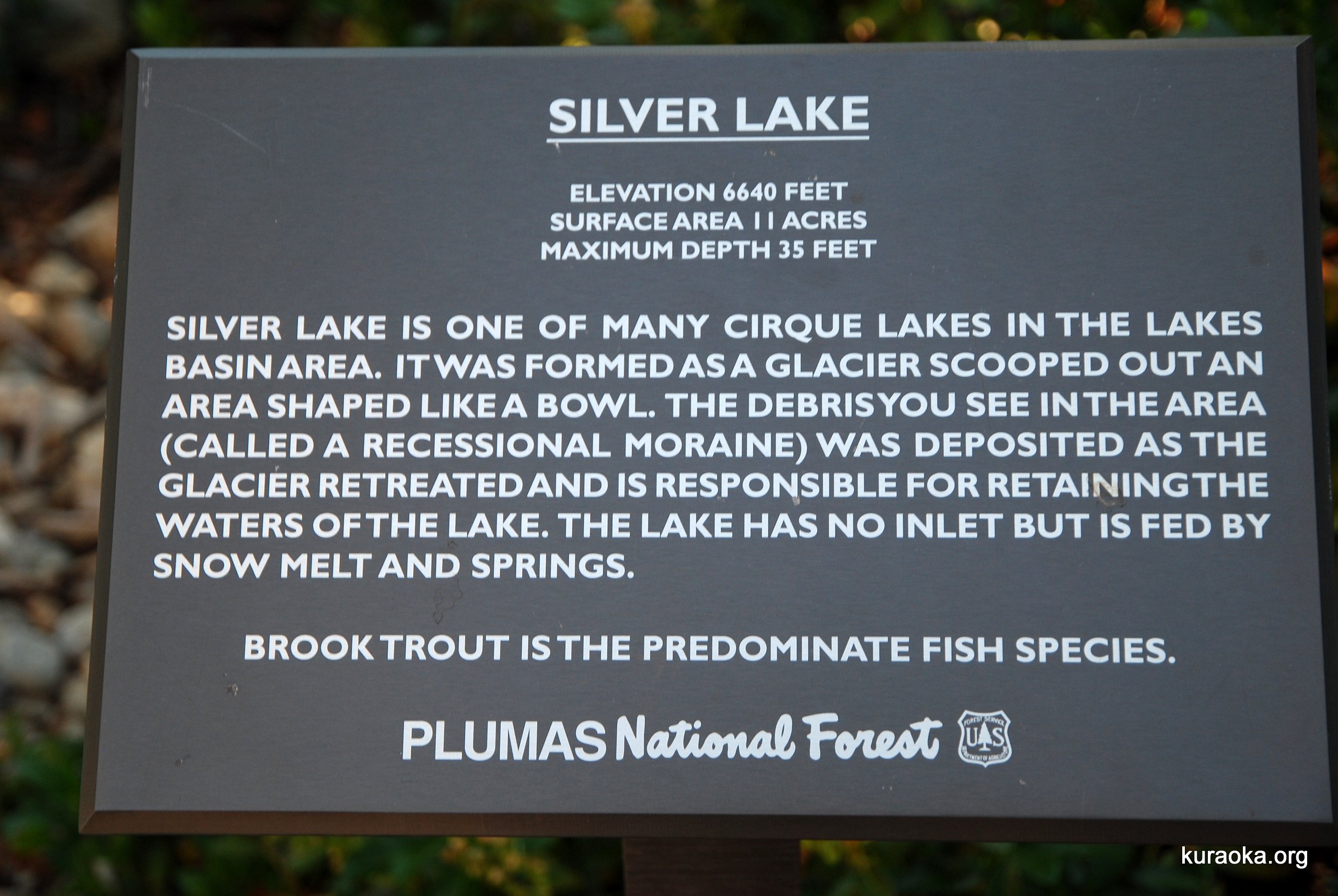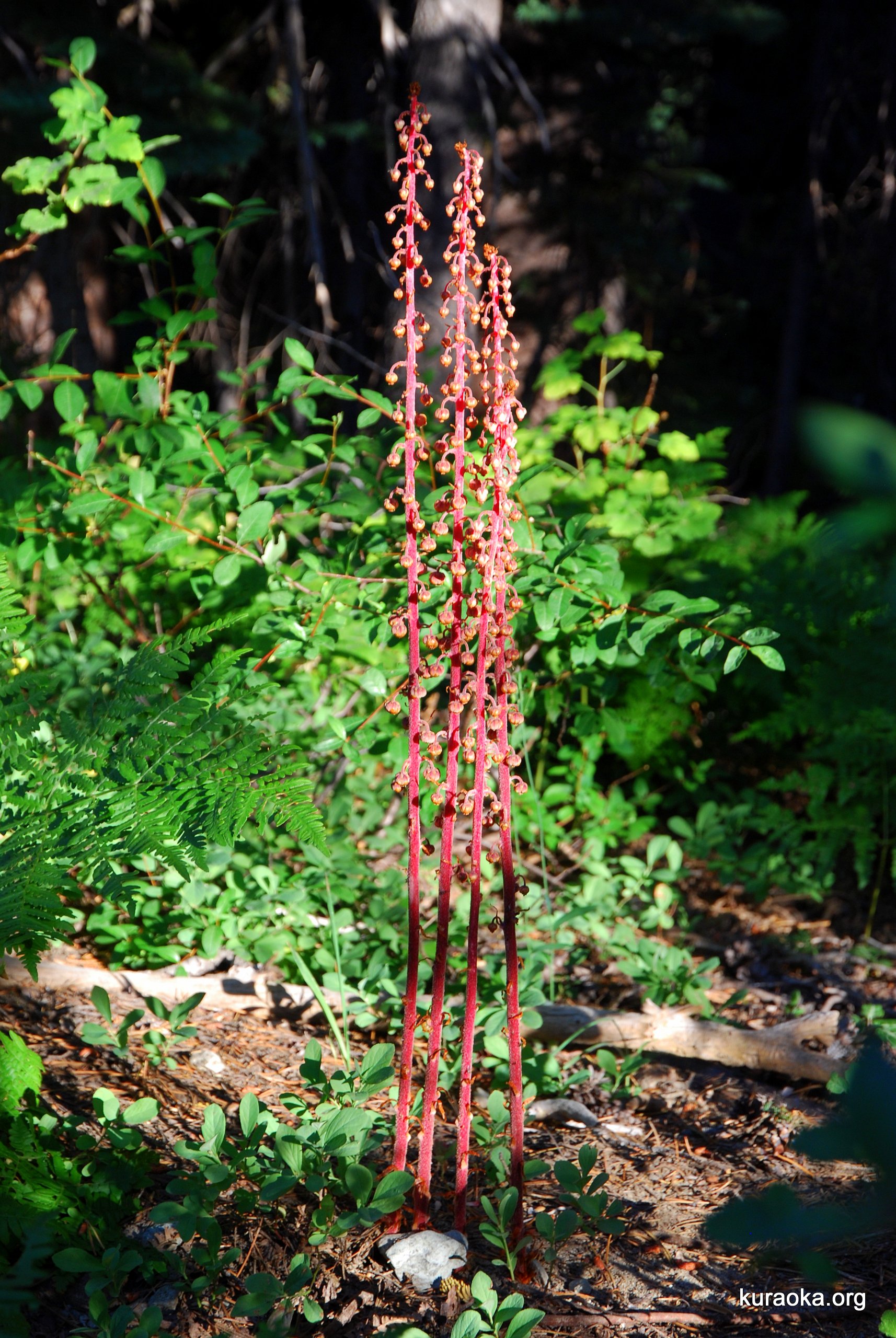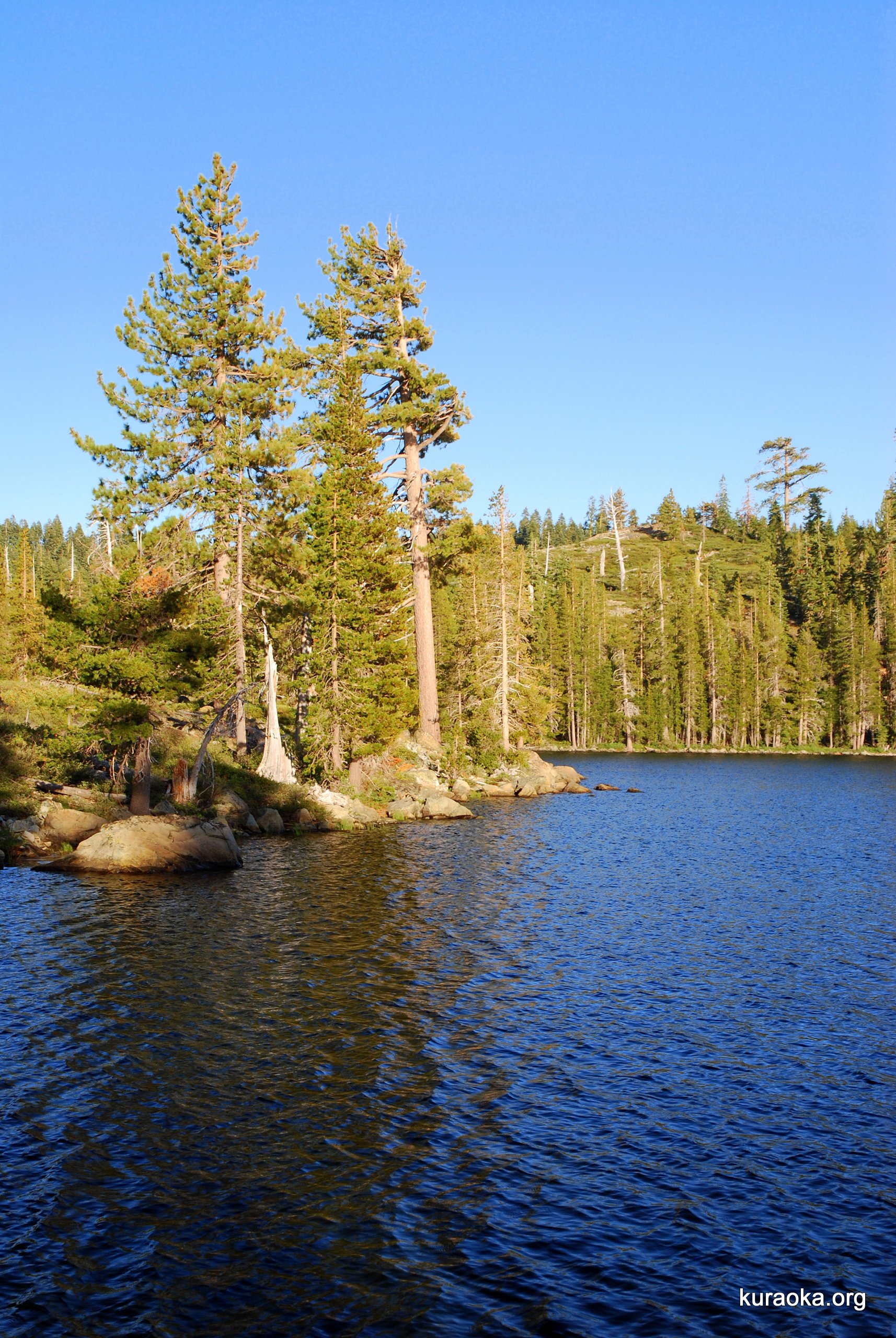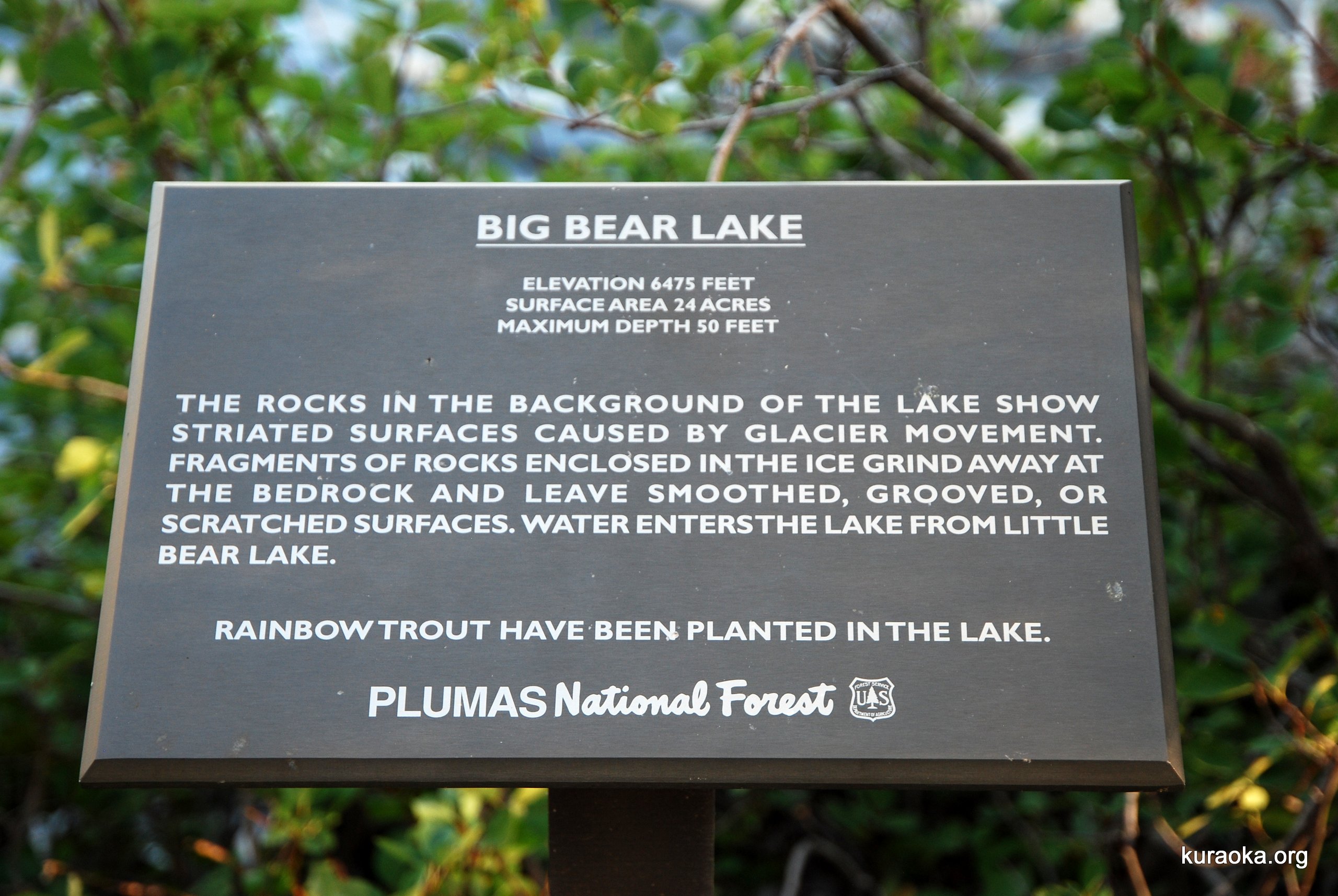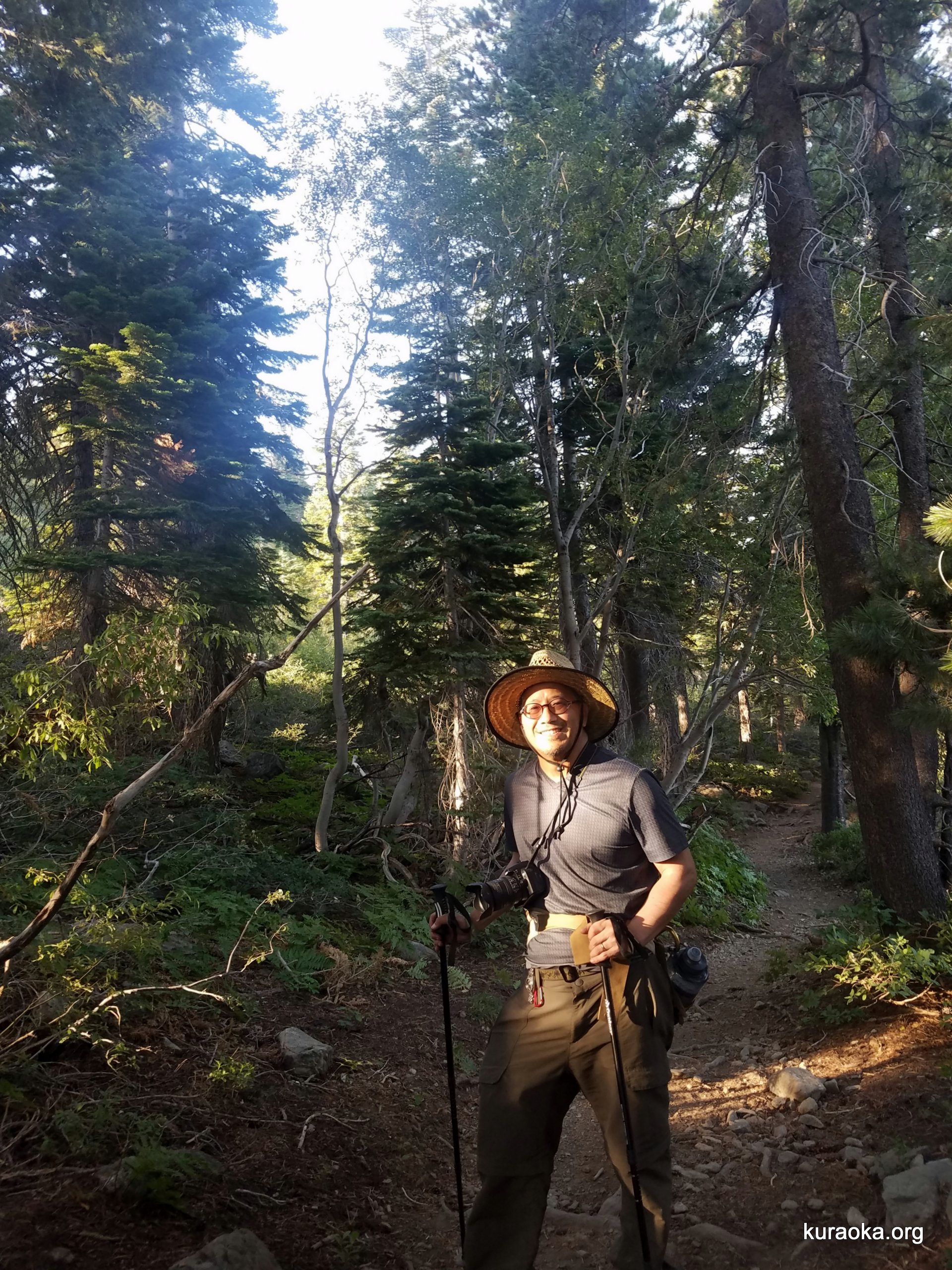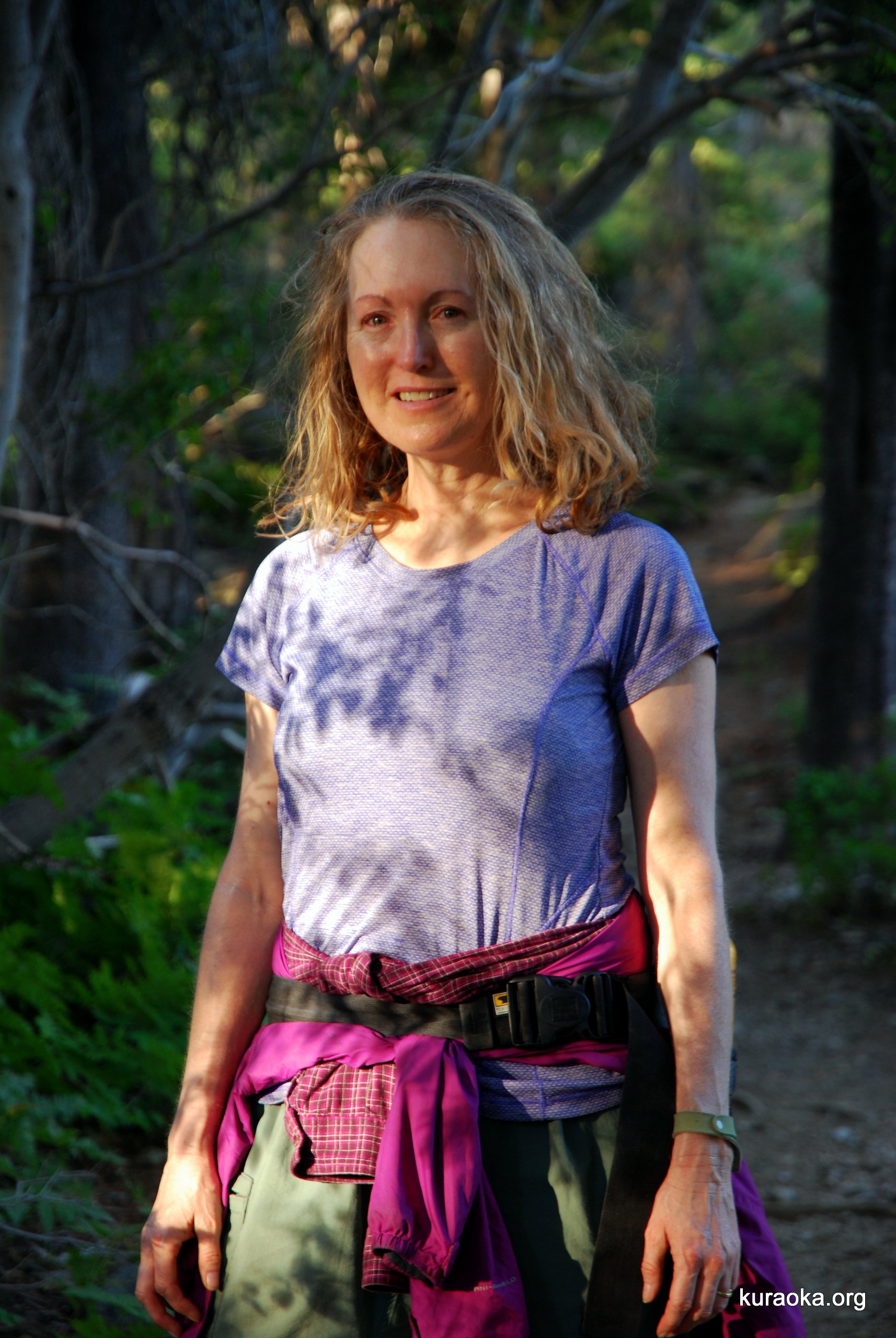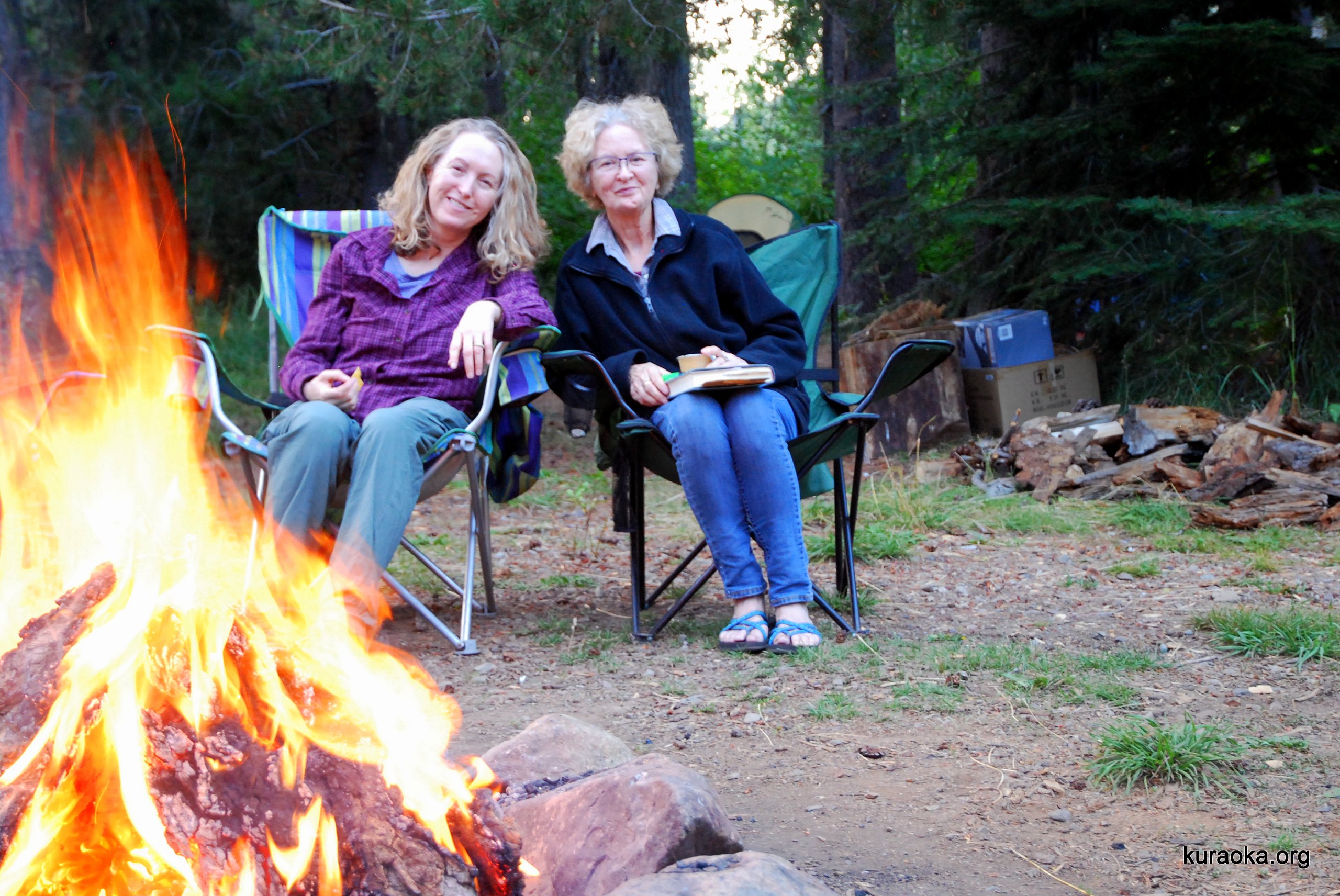 The boys helped pack, so Friday morning we were out at 8:09, an amazing accomplishment. We topped off gas and had breakfast at Bassett's before heading down the mountain, us to Santa Nella and Barbara to Westley, the kints mocking our radio station choice (such as it was) in the back seat. ("Rain makes corn and corn makes whiskeeeeeey!")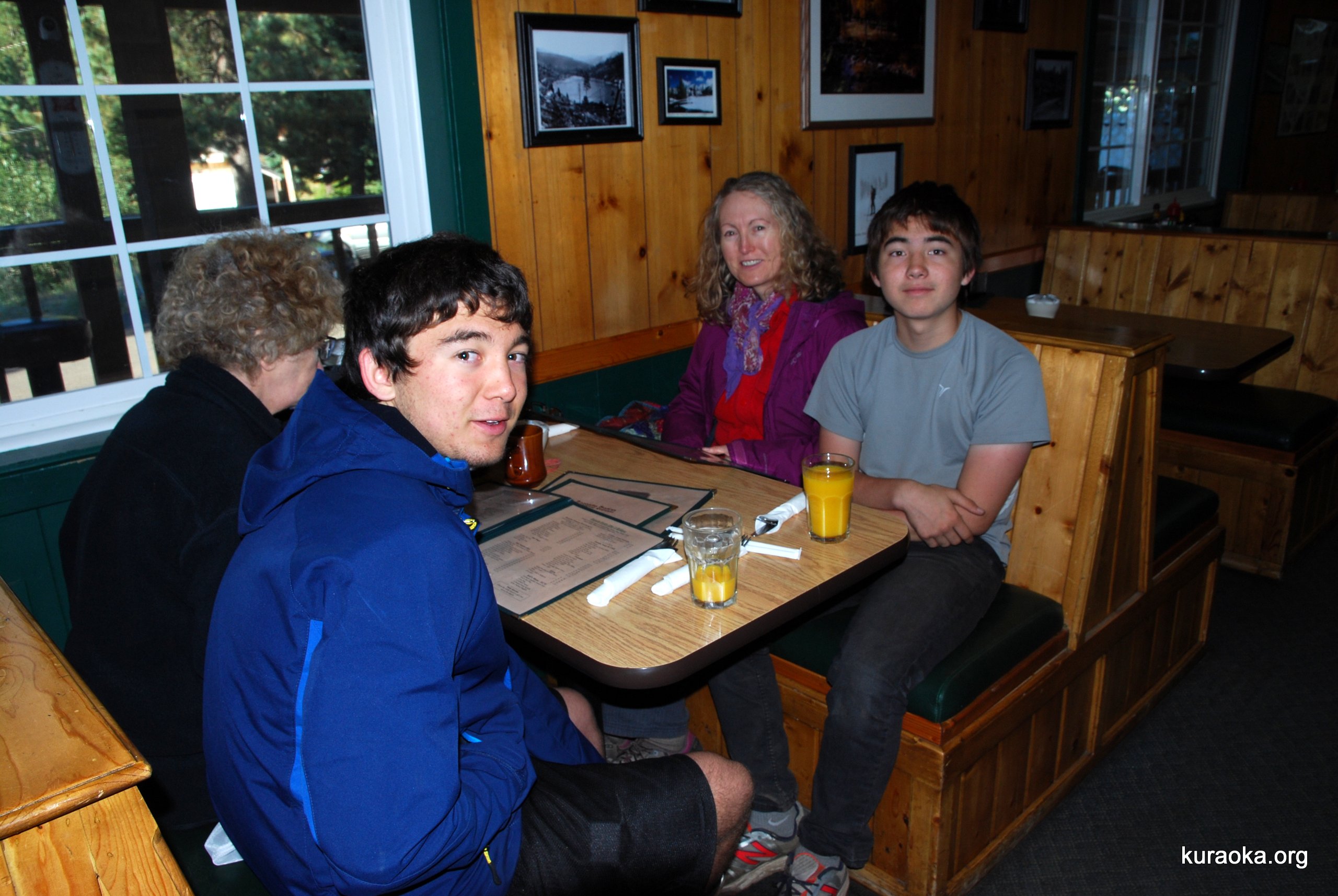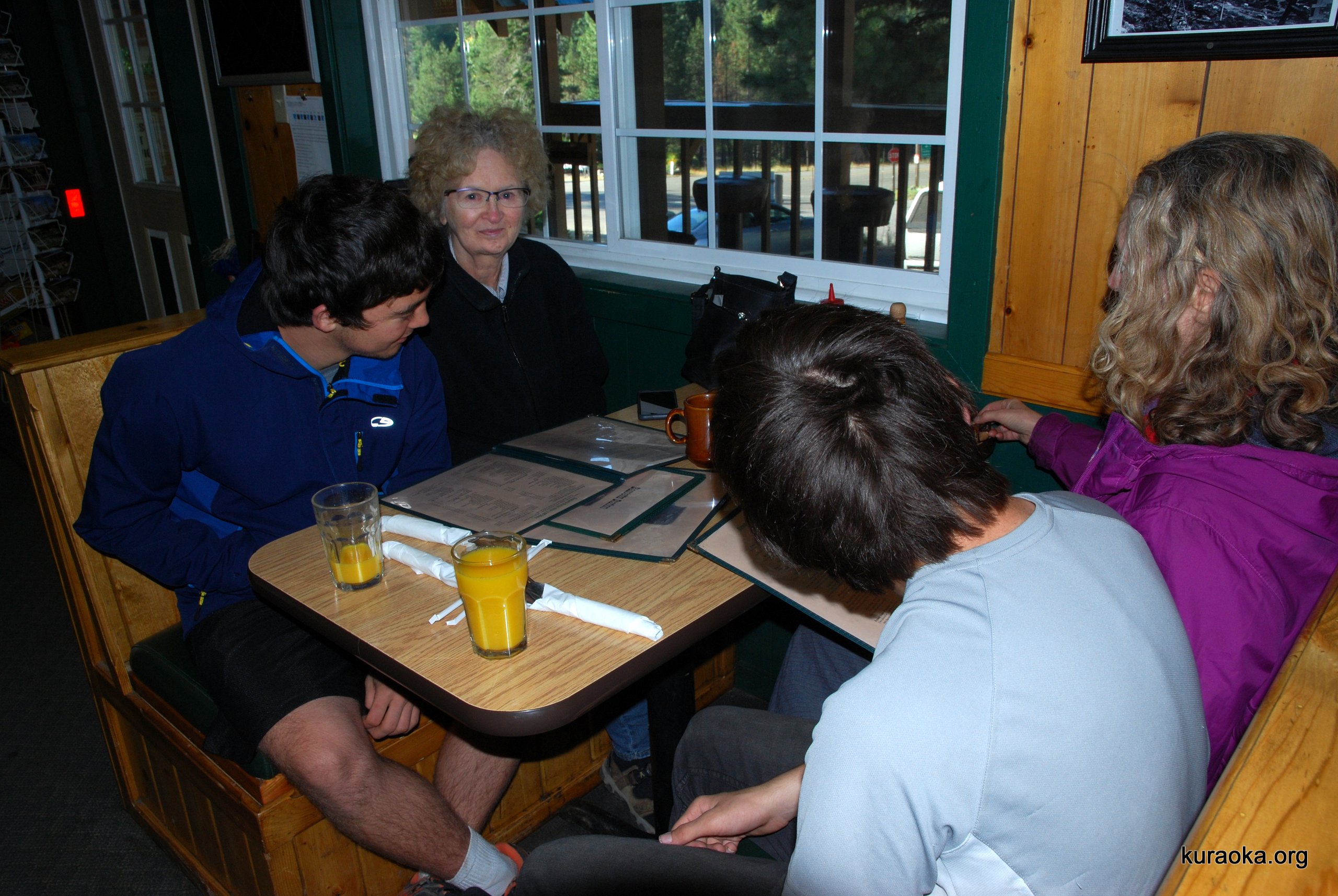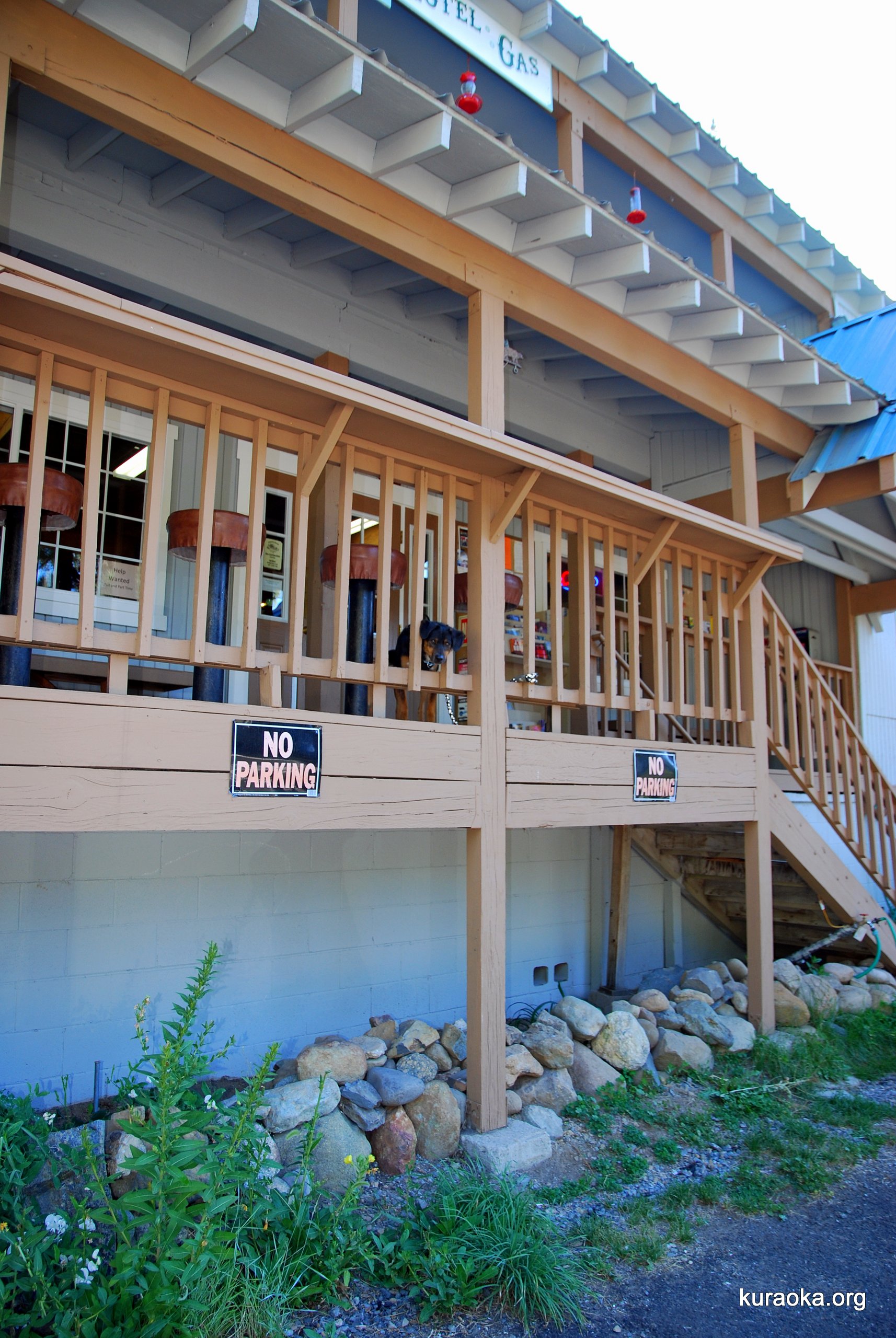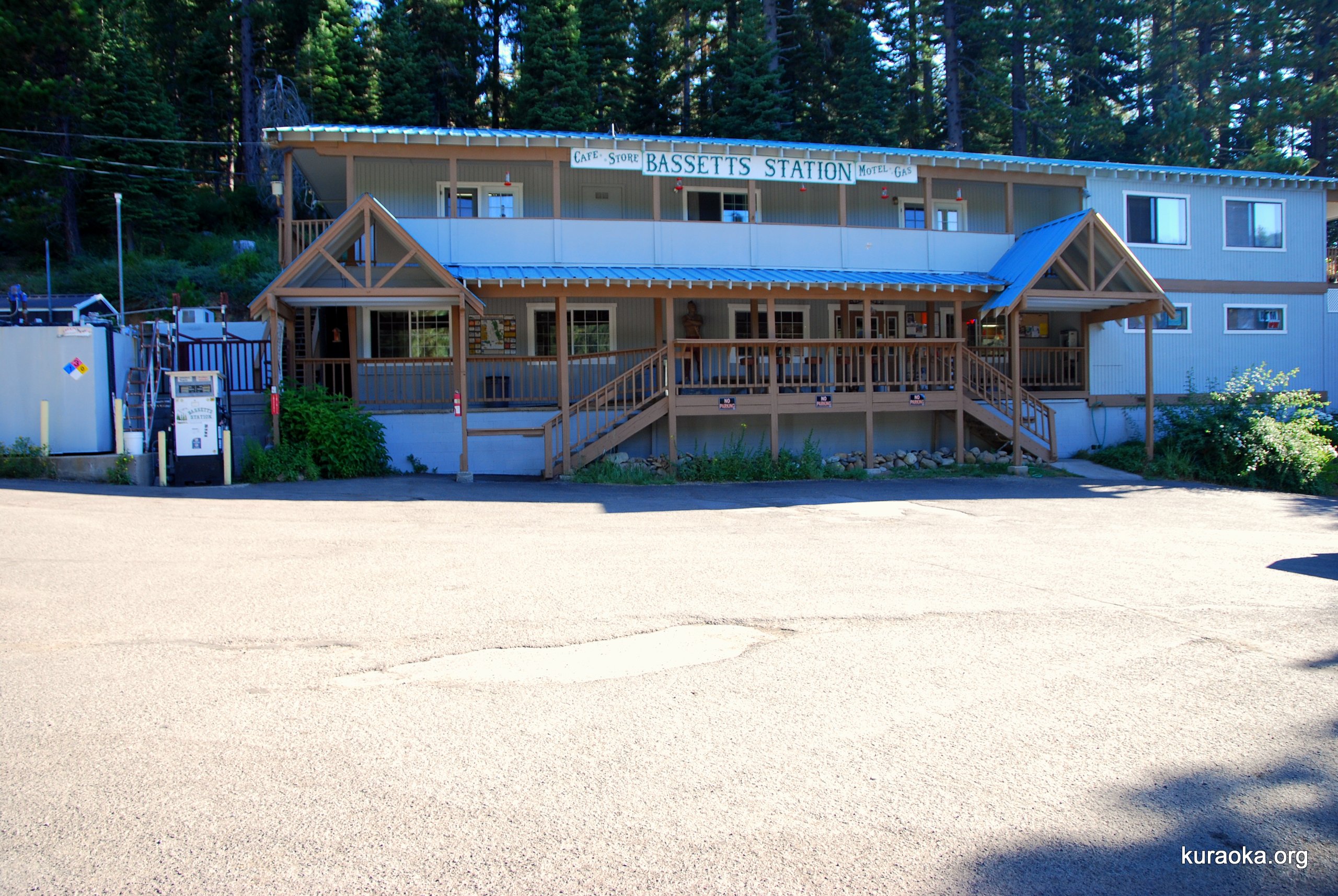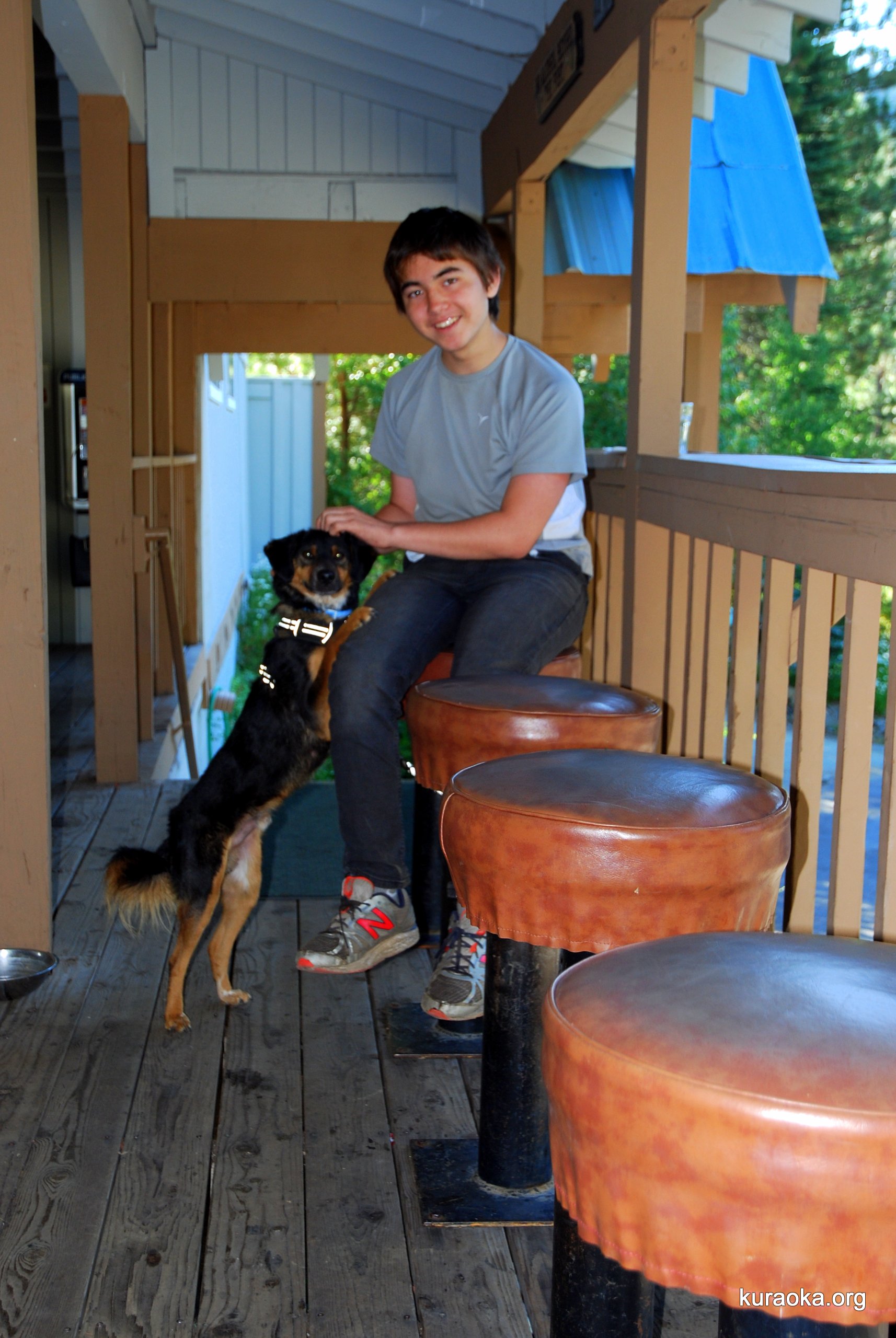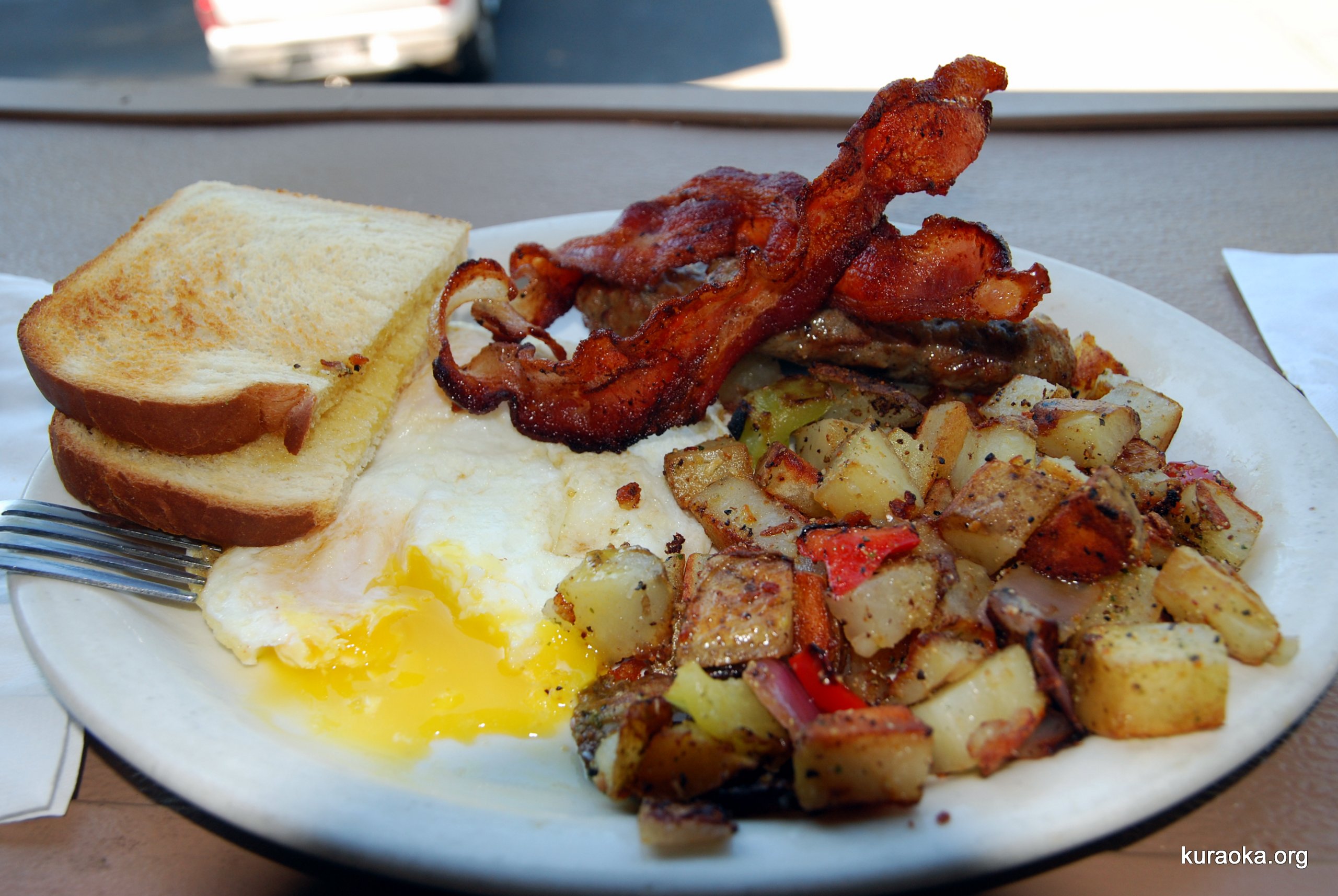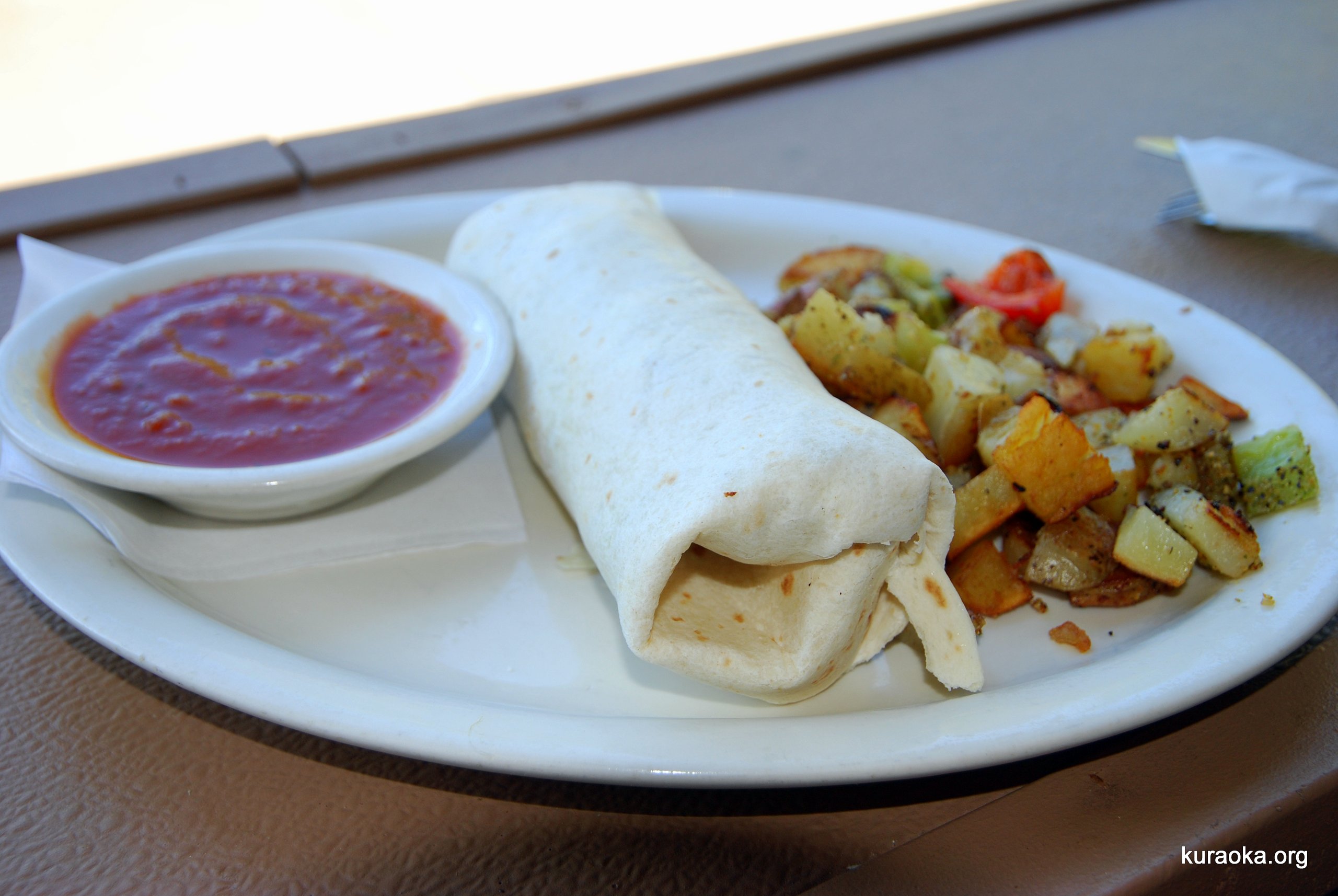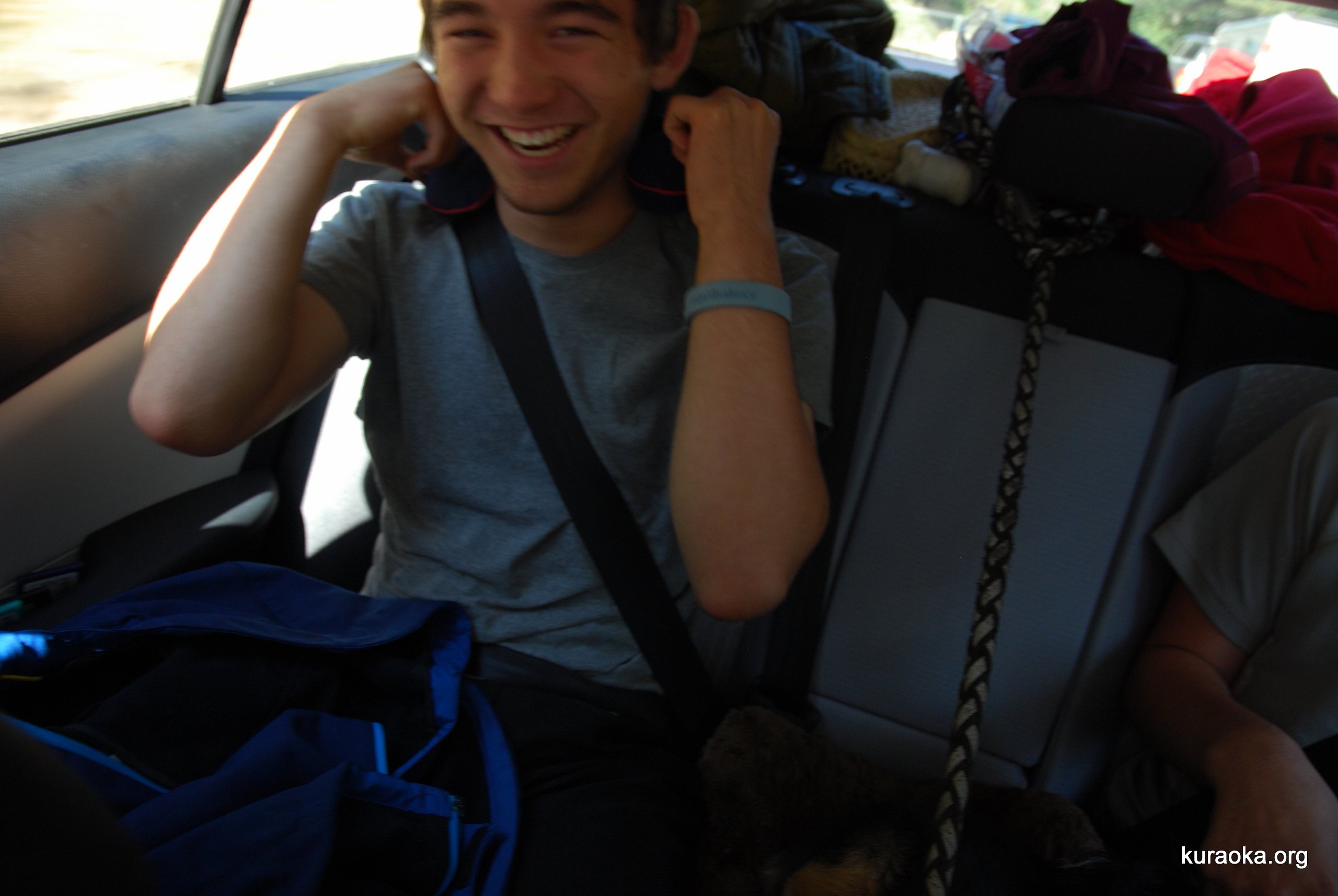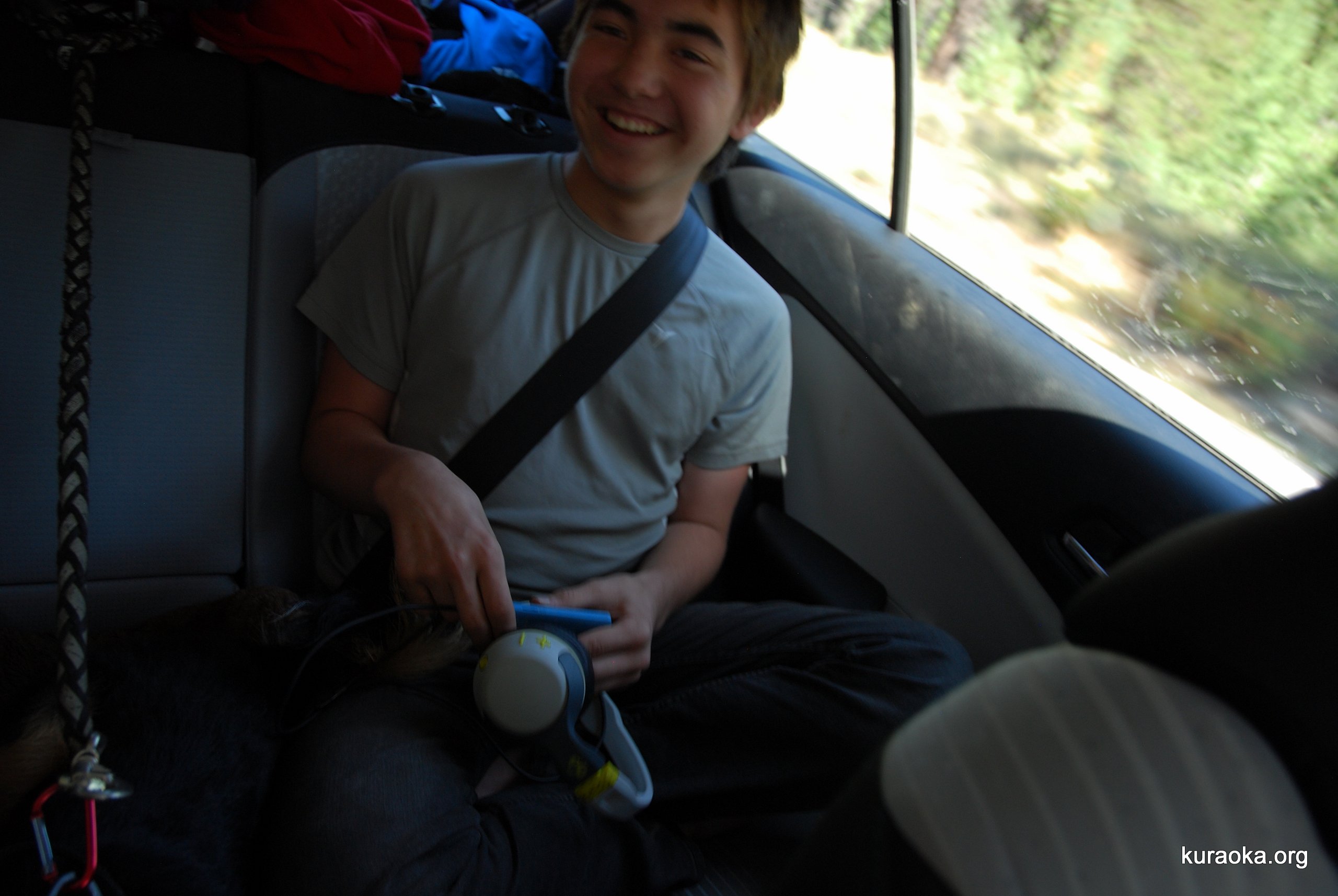 We arrived at Santa Nella around 2:45. Roy and Leo took turns taking a shower and bathed the dog, while we went out to Panda Express to get dinner for everyone. Panda Express is a much better choice than our previous Santa Nella standby, a very bad Subway. Panda Express is actually good. The now-clean dog decided the bed was a better place to be than the floor, nearly displacing Roy.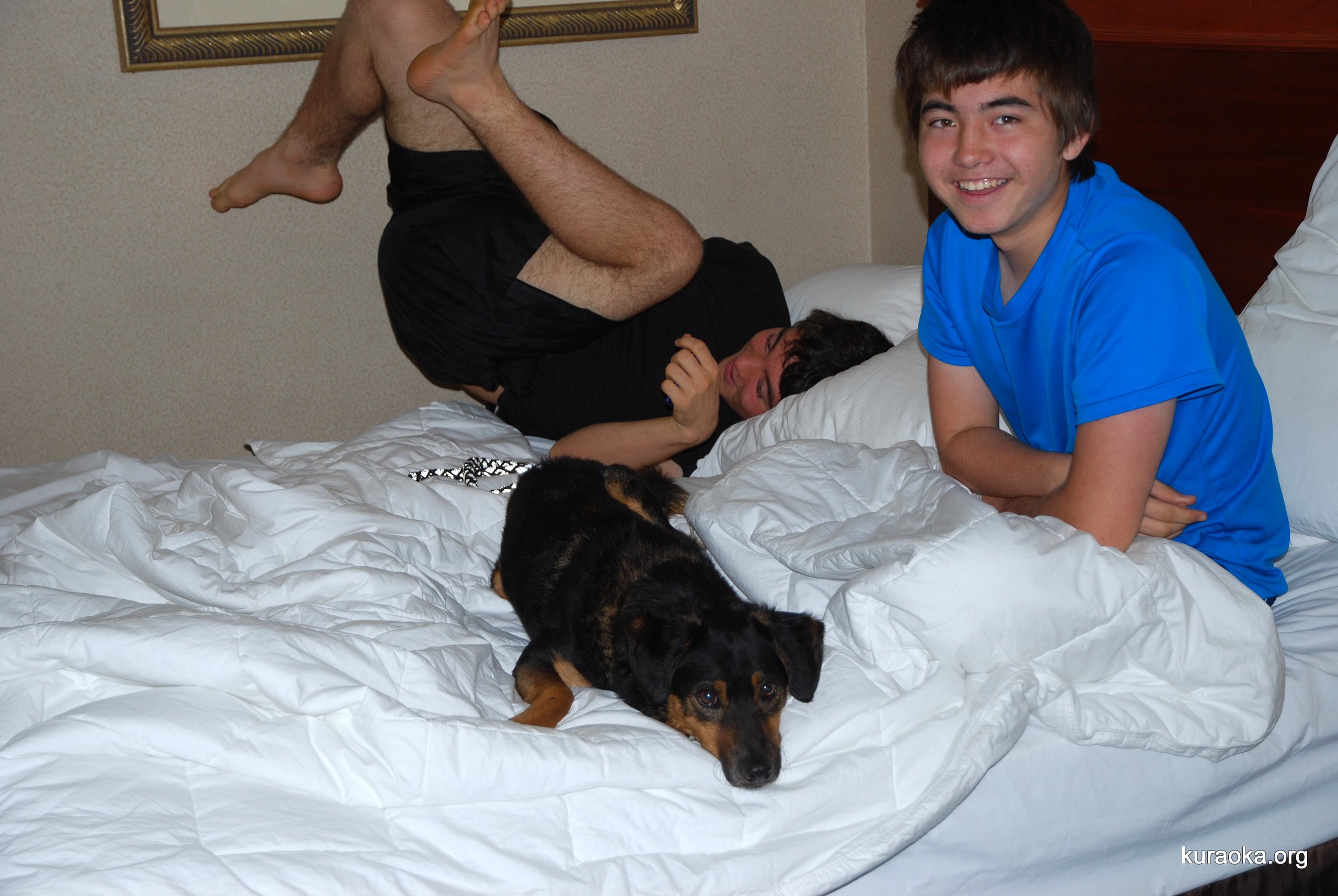 The next morning we pushed our checkout time to the limit, enjoying the air conditioning and TV cartoons. We didn't leave until housekeeping was knocking on the door! We left Santa Nella just after 11, stopping in Buttonwillow for our usual Taste of India wraps (delicious!) and making it to Grammy's by early evening.
Sunday morning John's Mom went with his sister Elaine to Aunt Gloria's memorial viewing, so we pretty much monopolized her washing machine and dryer all day. That evening we all went to Sakura Restaurant to celebrate Frances' 90th birthday! It was the first time we'd had teppan in a long while, and the boys hadn't had it before, so it was fun to see them enjoying the show!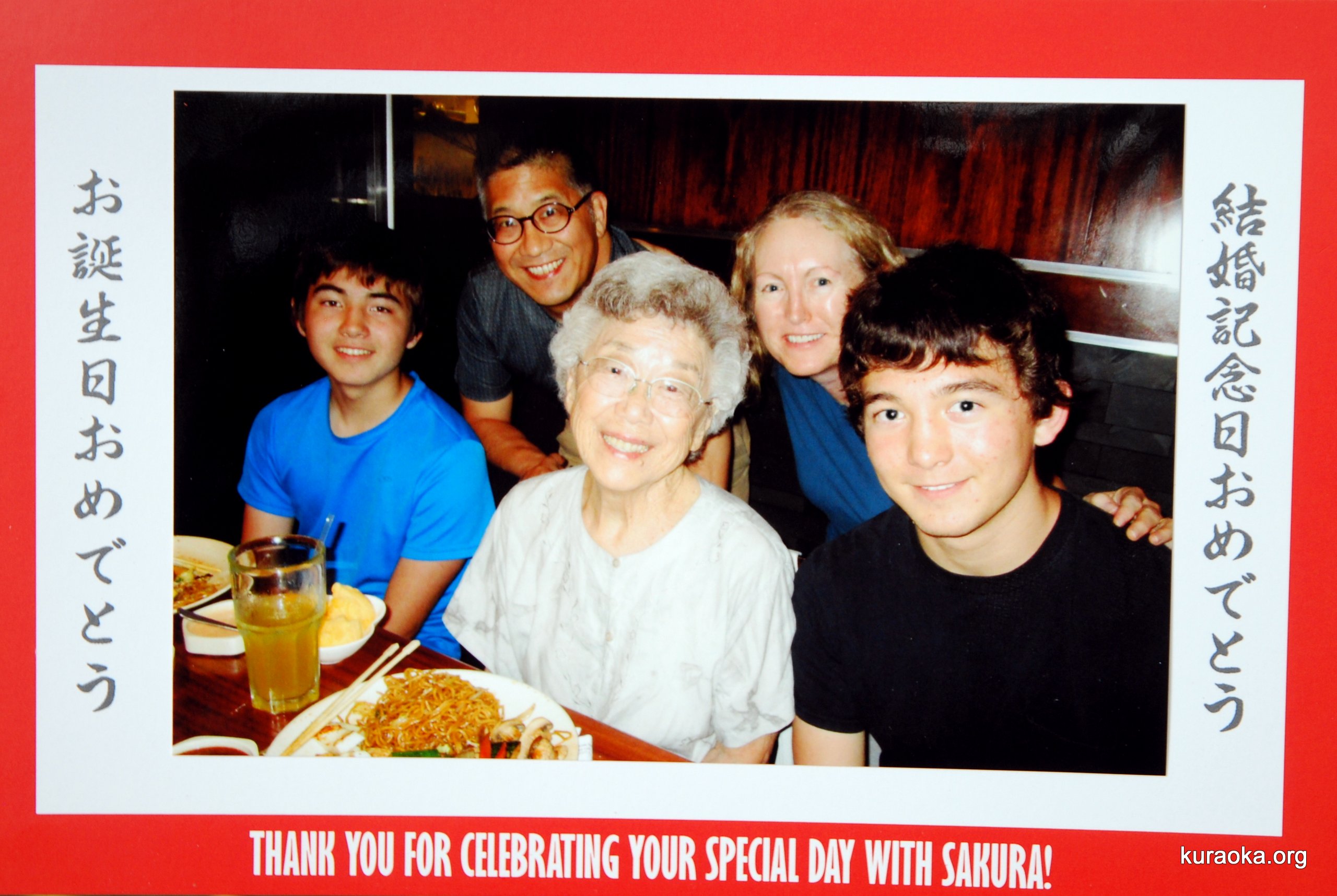 Monday we left the boys glued to their screens (note the dog, wishing someone would come out) and walked to Bargain Box, a thrift shop. We bought some books and DVDs, and Ondine found an athletic top. Later we all went to see a wonderful Japanese anime film, In This Corner of the World, by a protege of Miyasaki (My Neighbor Totoro et. al.) It follows the everyday life of an imaginative teenage girl through her arranged marriage and into adulthood, including WWII and a bit beyond. It was excellent!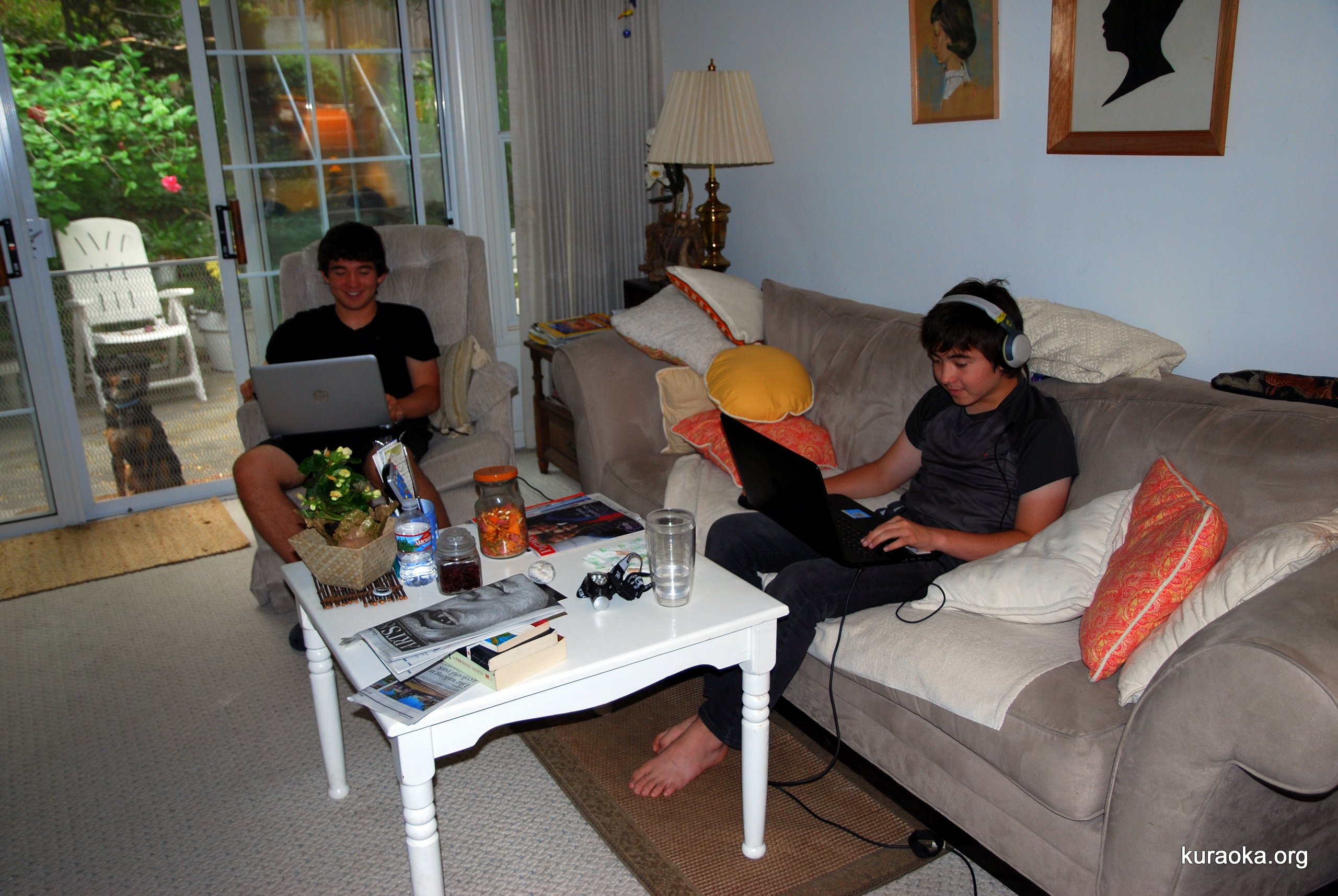 We left Grammy's house after an early dinner, arriving home Monday evening. Ondine had a training session to prepare for Tuesday afternoon, and then returned to work Wednesday. John, meanwhile, continued organizing and packing away things, and washed and put away the sleeping bags. He hopes to have things back to normal by this weekend, although what with school registrations this week and next he's not sure how much time he'll actually have.
Ondine's trusty Prius averaged 58 mpg, not bad for carrying four full-sized people, a dog, packs and luggage, and having the air conditioning running full blast the entire way!
HAPPY BIRTHDAY MOM/GRAMMY!
Visit us often - this journal has been updated at least once a week since 1998!
Back to the Archives page
Back to the Kuraoka Family main page
Forward to the current Weekly Journal.