The Kuraoka Family at Sand Pond 2010
www.kuraoka.org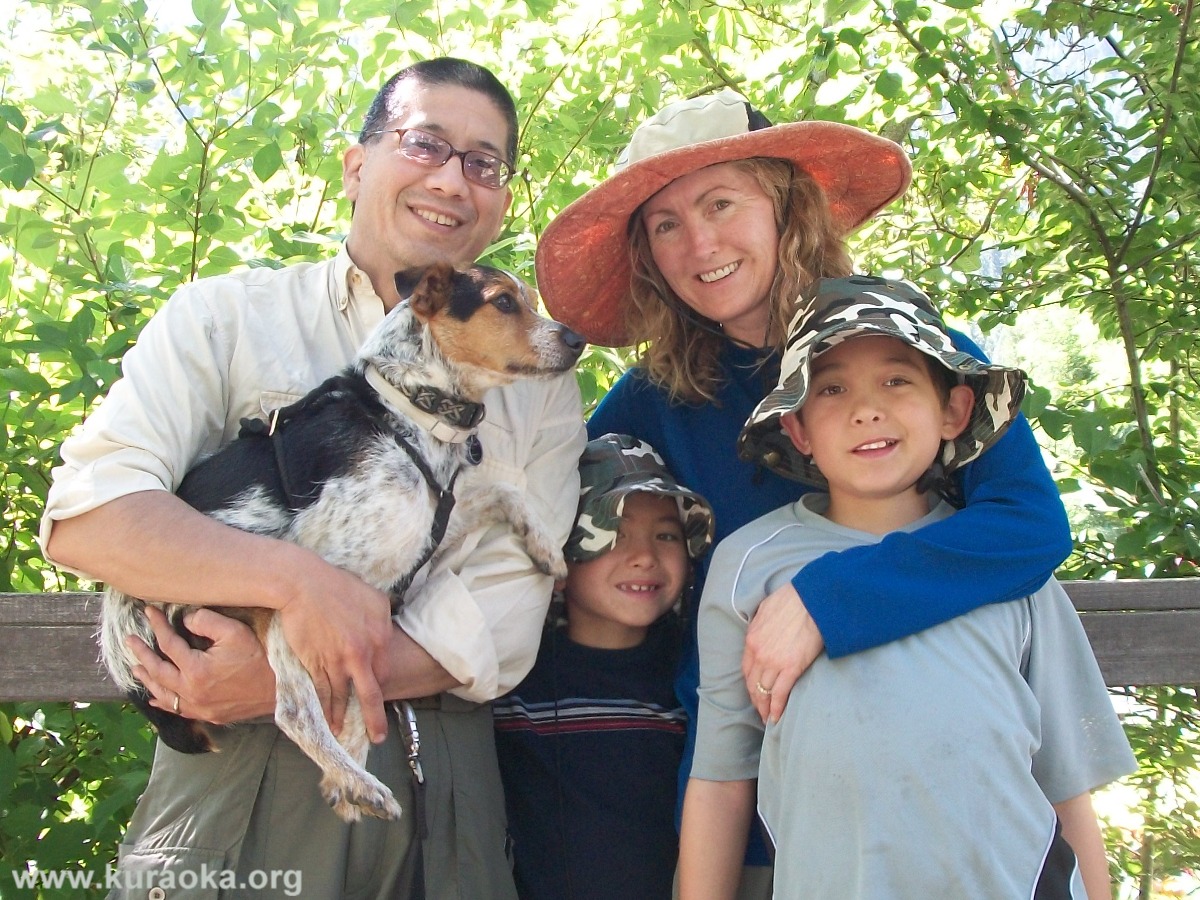 Us, August 11, 2010 (clockwise): John, Ondine, Roy, Leo, Buddy
Friday 20 August 2010
Holy moly, it's been a while! That's what happens when you go camping for a week. We've been home now for a full week, dove right into the work/camp/social whirl, and still haven't gotten everything fully cleaned up and put away.
Let's see … we went to Sand Pond last week. We left on Friday, immediately after Mission Day Camp, which was the Cub Scouts all-day program at Camp Balboa. Roy and his "squad" won campstools for their outstanding sportsmanship! Leo had a great time, too, and said that most of his den was there. A HUGE thank-you goes out to Roy's den leader Chris, who drove Roy and Leo to and from camp every day!
We spent Friday night at John's Mom's in La Canada. Saturday we took the opportunity to go to Bargain Box, a wonderful little thrift store, where Ondine bought some jewelry and a skirt and John, ever practical, bought a set of vintage cooking utensils to add to the camp box (although they're so sturdy he really would like to have them everyday). Saturday afternoon we all trooped over to John's sister's house for a barbeque. Amanda and Joe had their honeymoon photos and videos on a DVD, and we got to watch those. John got roped into playing badminton, which was fun and well and good, but later in the evening he was taking out some recycling and missed a step and sprained his ankle! Roy turned out to be a passable badminton player, by the way.
We left La Canada Sunday around noon and drove to Santa Nella, where we stayed in our usual Holiday Inn Express overnight – they allow pets! Monday we drove the final leg to Sardine Lake Campground, where we stayed for the week.
It was a new moon, so the night sky was black behind an infinity of stars, so dazzling that even common constellations like the Big Dipper were hard to pick out. The Milky Way glowed a swath across the sky from treetop to treetop. And, a meteor shower made for dramatic streaks – pure magic when you happened to spot one.
Twice we roused the kints from their sleeping bags to see the stars. Roy emerged from their tent, but Leo merely stood briefly in the tent doorway before groggily flopping back down to sleep.
Ulli joined us Monday afternoon with Diego, bringing with her a big bin of fresh Oregon blueberries!
We have two big, big things to report. First, Roy and Ondine went up the Buttes! Roy made it all the way up, a 14-mile round trip from the trailhead at Packer Lake. Ulli and Diego went too, but stopped at an overlook just before the final crank up the steep, tedious switchbacks to the summit. Ondine was able to leave her backpack with Ulli, which lightened her load considerably for the final kick to the summit.
Second, thanks to Liz and Les, we got to run a locomotive! Yes, an actual locomotive, at the Portola Railroad Museum (which is having its "Railroad Days" this very weekend). We ran an EMD TR-6 switching locomotive with an 800-horsepower diesel engine. Leo even got to press the button to start the engine! Wow! We each got a turn at the controls, running it forward for maybe a quarter-mile then reversing back to the start before turning the controls over to the next person. Roy and Leo got to drive twice! How many other 8- and 10-year-olds have actually run a locomotive ... twice?
The Portola Railroad Museum will be featured in the PBS program "Tracks Ahead" some time in 2011. Three shows were filmed there, including one on the "Run A Locomotive" program! Anyway, we highly recommend the museum. Dogs are not permitted, and baby strollers would be problematic (lots of steps and ladders), but it's great for mobile kids and adults.
This trip came to us as a wonderful gift from Liz and Les, who had won it as a raffle prize at the Sierra City Oktoberfest and given it to us! Thank you, Liz and Les! Also, thanks to Ulli, who dog-sat Buddy in camp while we went off riding the rails. Whee!
Of course we went to Sand Pond the day after we arrived. Ulli and the boys had gone ahead while we packed up bathing suits, towels, sunscreen, lunch … So after a while John took Buddy and went to relieve Ulli. Well, he arrived at Sand Pond to find the place empty! (In fact, the whole campground was unusually empty this week – the crowd didn't arrive until the Saturday we left.) He tethered the dog to a tree tucked away in a quiet corner, and read for a while. Then, he decided to go in and get some logs. He was in the middle of Sand Pond, paddling a long log across the pond to retrieve his old favorite log, when Ulli and the boys showed up and he paddled back. Ulli returned to camp with Diego, while we stayed where we were until Ondine showed up with the suits and towels. Then, John went back in, paddled across, and retrieved "his" log. It's the same log he's been using for over a decade! Meanwhile, Buddy stayed so quiet and busy that no one even noticed that he was there, which is good since he really wasn't supposed to be there at all.
We also went to the spillway, of course, where the water was higher and faster than we'd seen it before. This is another favorite place to go and hang out, except for the lack of shade.
All the lakes looked a bit higher than usual. In fact, when John, Leo, and Buddy walked to Upper Sardine (on the day that Ondine, Ulli, and Roy were hiking up the Buttes), the pyramidal boulder in the water that the boys usually walk to was a real island – you'd have to swim for it this year. And, when they went to Snag Lake, the usual walk around the lake was quite a bit longer than usual.
We did some gold panning on the Yuba, right near Wild Plum Campground (which was also oddly empty). Roy really loved the rope swing under the bridge, and on our second visit, Ondine took the plunge too! The boys are convinced that they found some flakes of Placer gold, but whatever they found it was treasure.
We arrived back home Sunday evening, and Monday the boys started their cinematography camp at the Kroc Center. It was an all-day camp, but they really enjoyed it. Alex was there too, which helped ease the initial shock. Among the things they created this week: a commercial for the Kroc Center and a several short films!
Roy forgot his lunch one day but loved the free lunch they served, so the Kroc Center really has its ducks in a row!
Also this week, Roy went to pick up his new retainer, replacing (with his own money) the one he lost at the Lego engineering camp a few weeks back. Ooo, and John received his new glasses from EyeBuyDirect.com. They were the ones he wanted to take up to Sand Pond, being sturdier and larger, but they didn't arrive until this week. As long as we're hitting recent acquisitions, we returned our new off-brand region-free DVD player that we'd gotten before our trip - it never worked properly, but we didn't have time to send it back before we left - and bought a region-free player made by Toshiba, which should be arriving shortly.
Here are a few photos from this year's Sand Pond trip. First up is the usual shot of the Sierra Buttes from Sand Pond. That's the original version of our new family portrait, taken at the Mountain Creek Restaurant in Sierra City. Then we have Roy and Leo at the controls of an EMD TR-6 diesel switching locomotive, also shown, which we all got to actually run up and down a stretch of track! Last we have Leo and Buddy at Snag Lake, Ondine and Ulli at the overlook on the Buttes, and Roy and Ondine at the top!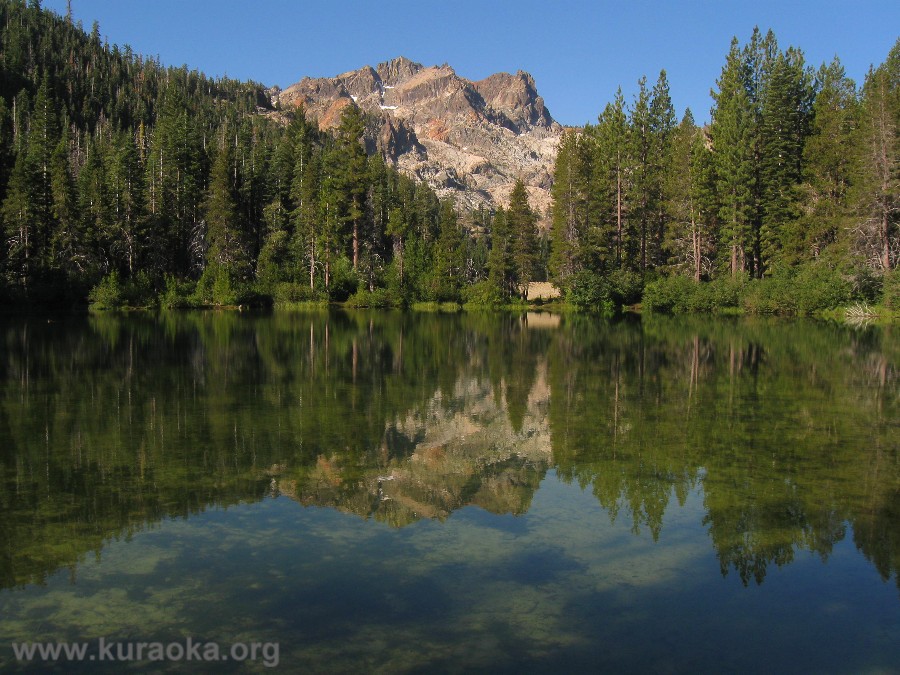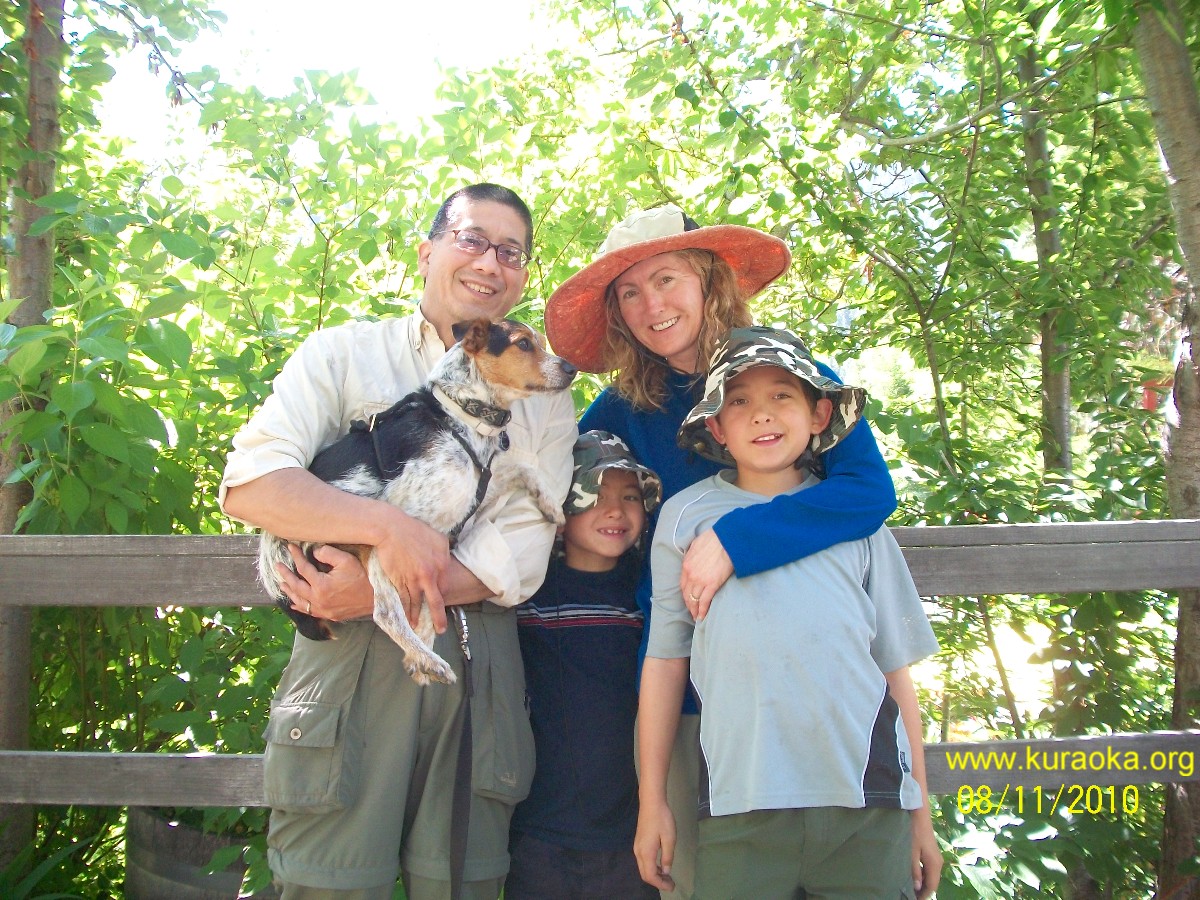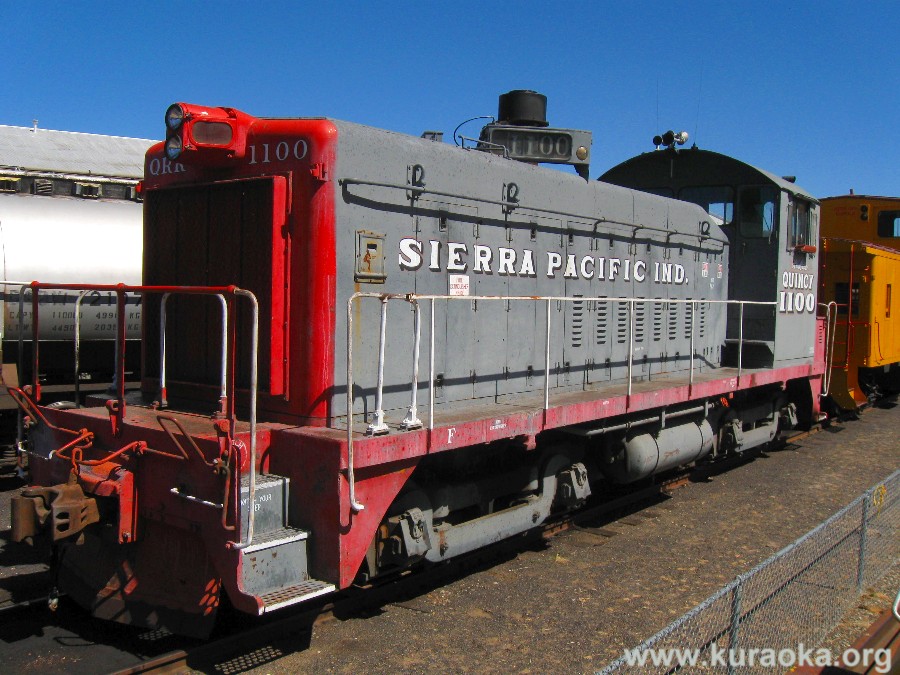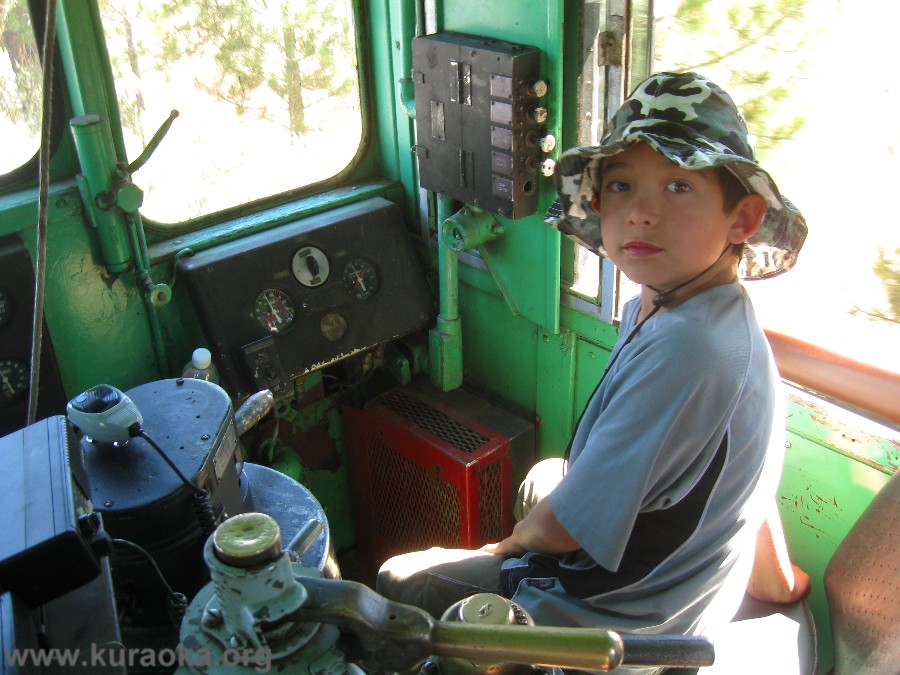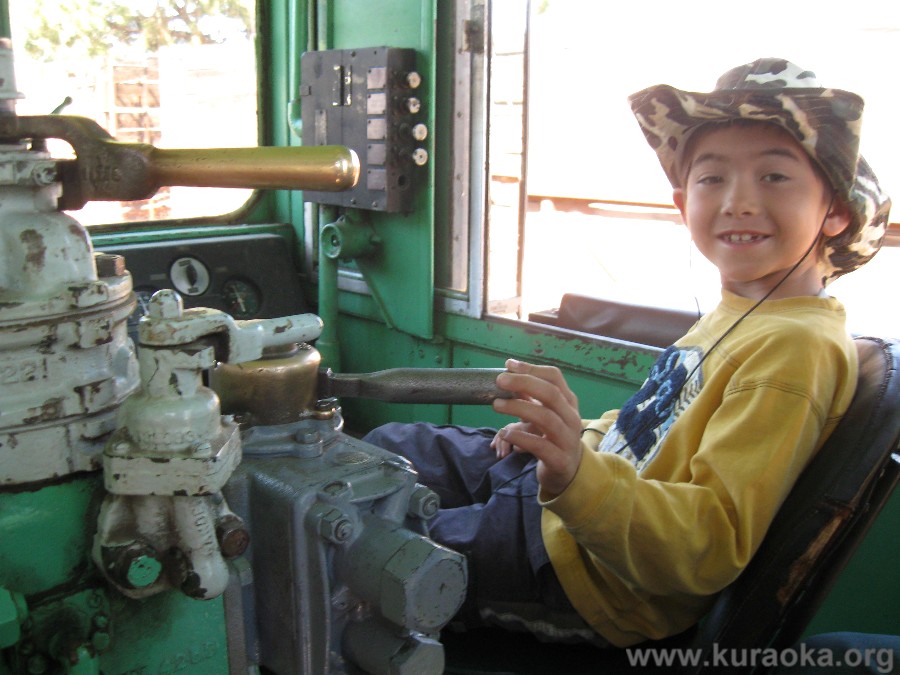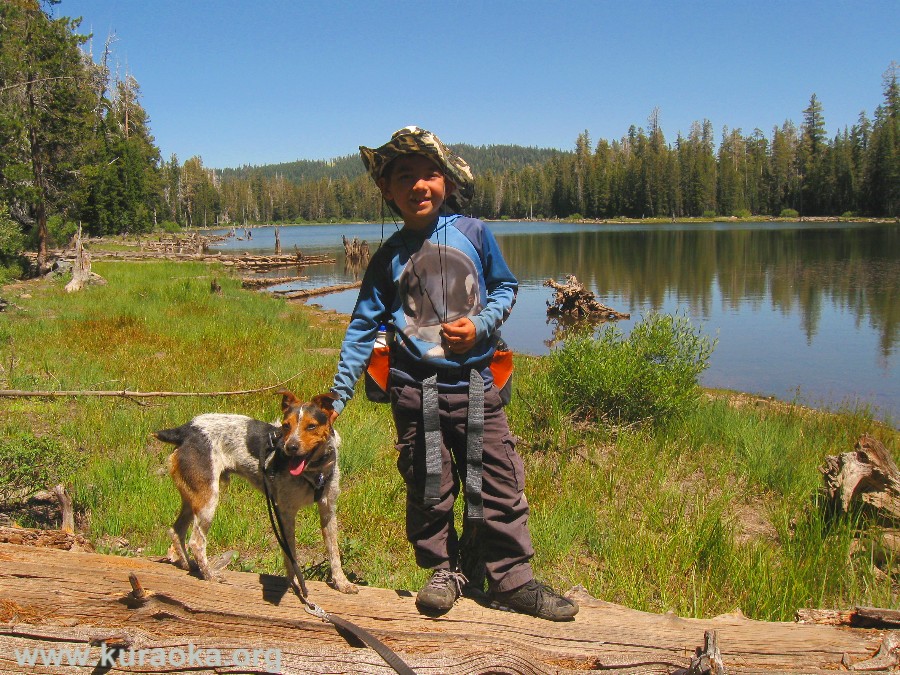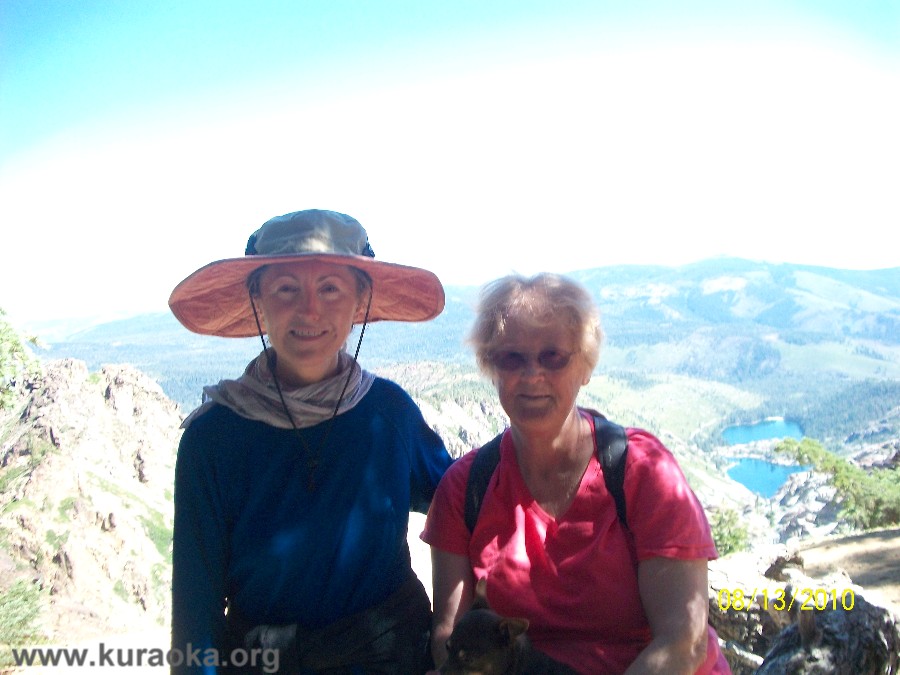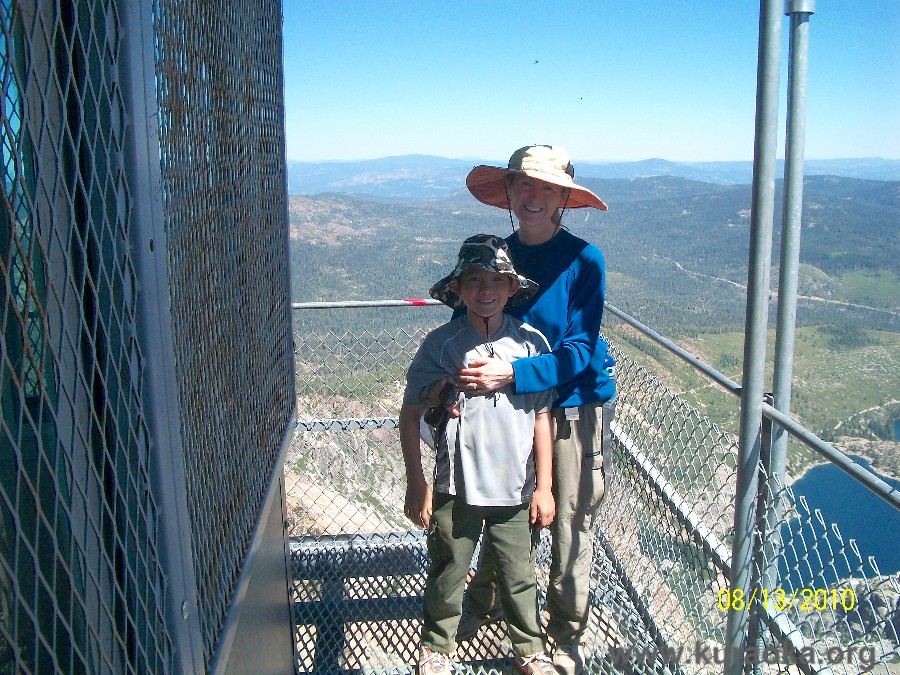 Back to the Archives page
Back to the Kuraoka Family main page
Forward to the current Weekly Journal.