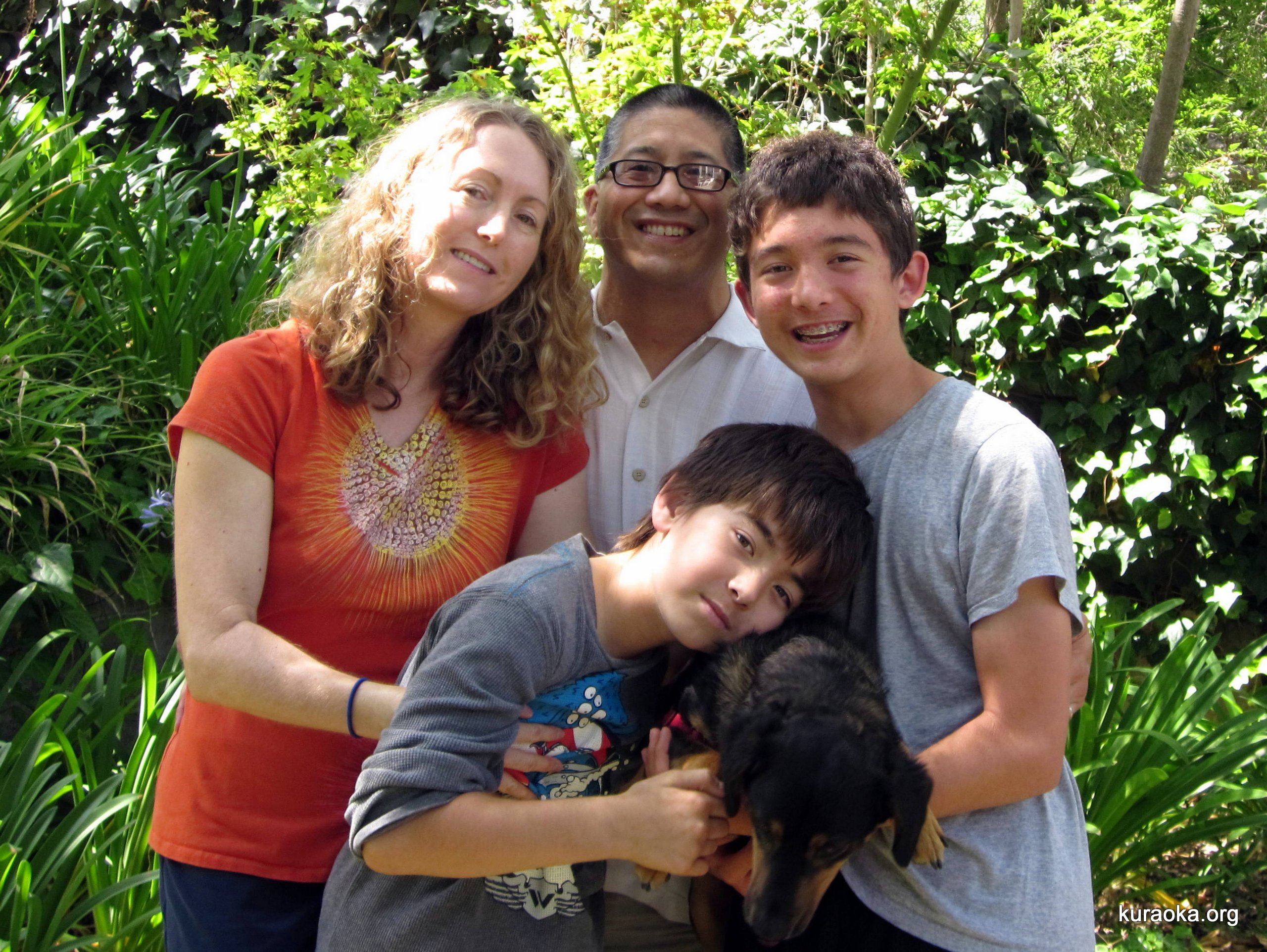 Us, June 16, 2014: Ondine, John, Roy, Leo, and Shadow
Wednesday, August 20, 2014
Life has been absolutely flying by these last few weeks, and it's been hard to have time to note events as they go past.
Sand Pond this year was an epic trip, one for the ages. Not only did the car die on the way up, but we had the longest string of rainy days ever! And torrential rain to boot, with thunder, lightning, and hail!
The car problem turned out to be a bad alternator, which, thanks to John's extensive records, was fixed under warranty! Unfortunately, the radiator neck cracked when the alternator was removed, so it, too, had to be replaced. But we now have a new alternator and radiator!
All that took several days, during which time John talked to the garage (The Auto & Tire Doctor, highly recommended) in Truckee via the pay phone at Bassett's. So the kids got lessons in using a payphone, an oft-overlooked but sometimes critical life skill.
As for the rain, we had minor sidewall seepage in our tent and Barbara found she'd set up in a slight depression that turned into a massive puddle beneath her tent! We moved her tent to a flatter location. Since crowding in our tent was contributing to the wet walls, Roy and Leo each got to spend two nights in Barbara's tent with her!
We rigged up tarps to give us a few dry spots to sit in, and the weather wasn't too cold, just wet. Barbara had brought a collapsible canopy for shade, but it became a rain shelter over her table, so many of our meals were eaten huddled under the canopy in her campsite. We managed to get out to wade in the spillway and get a fish pedicure, but rumbles and raindrops drove us back to camp.
We had several visits with Liz and Les and Jason and Betty and Sam and Jess. Jess was pregnant, so there was much discussion about girl names.
On our first clear day, Thursday, we hiked up the Buttes. Ulli had given us Moose Munch so we enjoyed a bag at the summit! Friday was another clear day, so we went to Wild Plum Creek.
So, despite the rain, we did all the top things we like to do: swim in Sand Pond, go to Lower Sardine and the spillway, hike the Buttes, go into Sierra City, enjoy post-Buttes root beer floats at Bassett's, and have a day in the creek at Wild Plum. On the two dry evenings, we had campfires and toasted marshmallows. We made discoveries: that Shadow will chase and retrieve sticks from the water, and we found a new-to-us place to swim! And we savored the time we had with Barbara and Ulli and Liz and Les and Jason and Betty and Sam and Jess.
Here are some photos. In the fourth photo is Jason, Betty, Jess, Liz (standing), and Sam (standing). In the fifth you see Ulli, Ondine (standing), Jason, Betty, Jess, and Sam (standing). The last photo is an especially precious shot in Bassett's of the three sisters: Liz, Ulli, and Barbara. More photos will have to come showing Les and more of Barbara!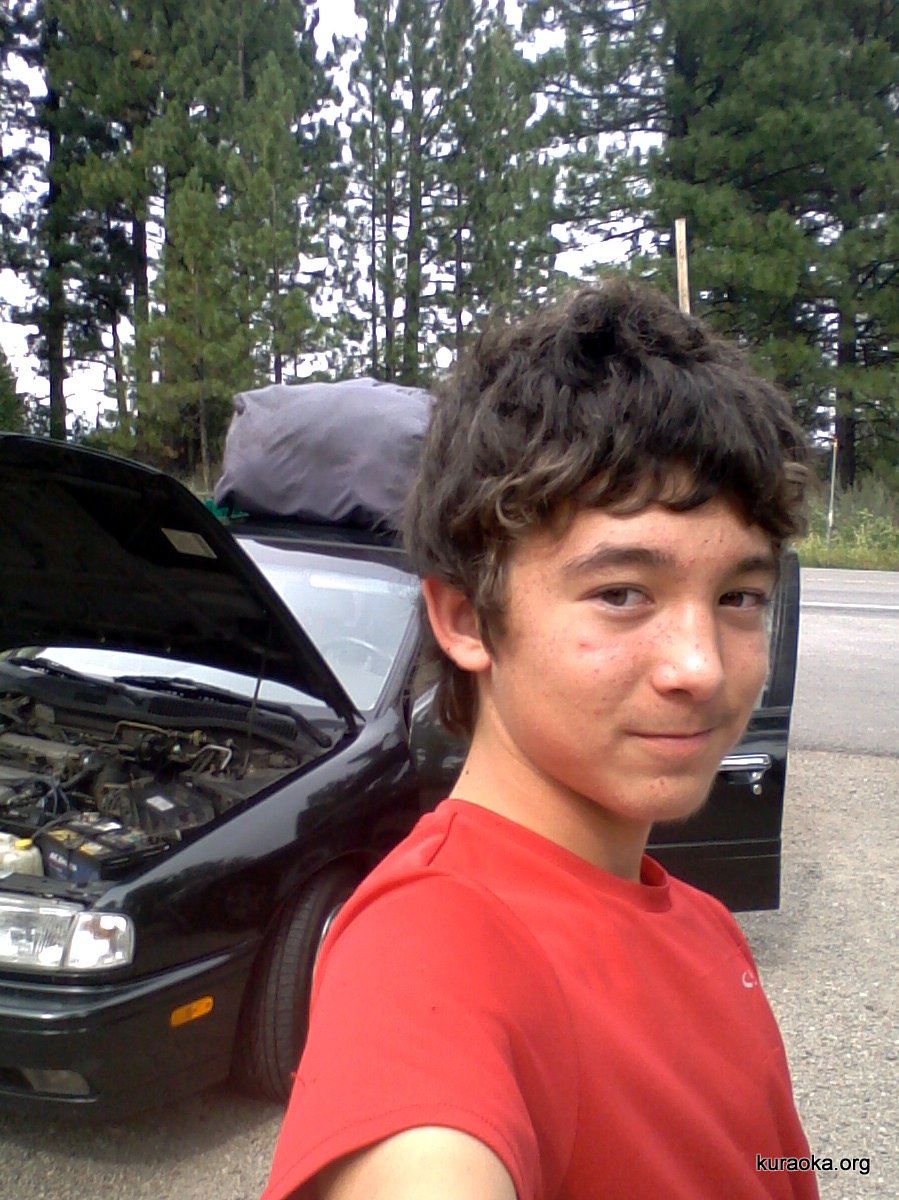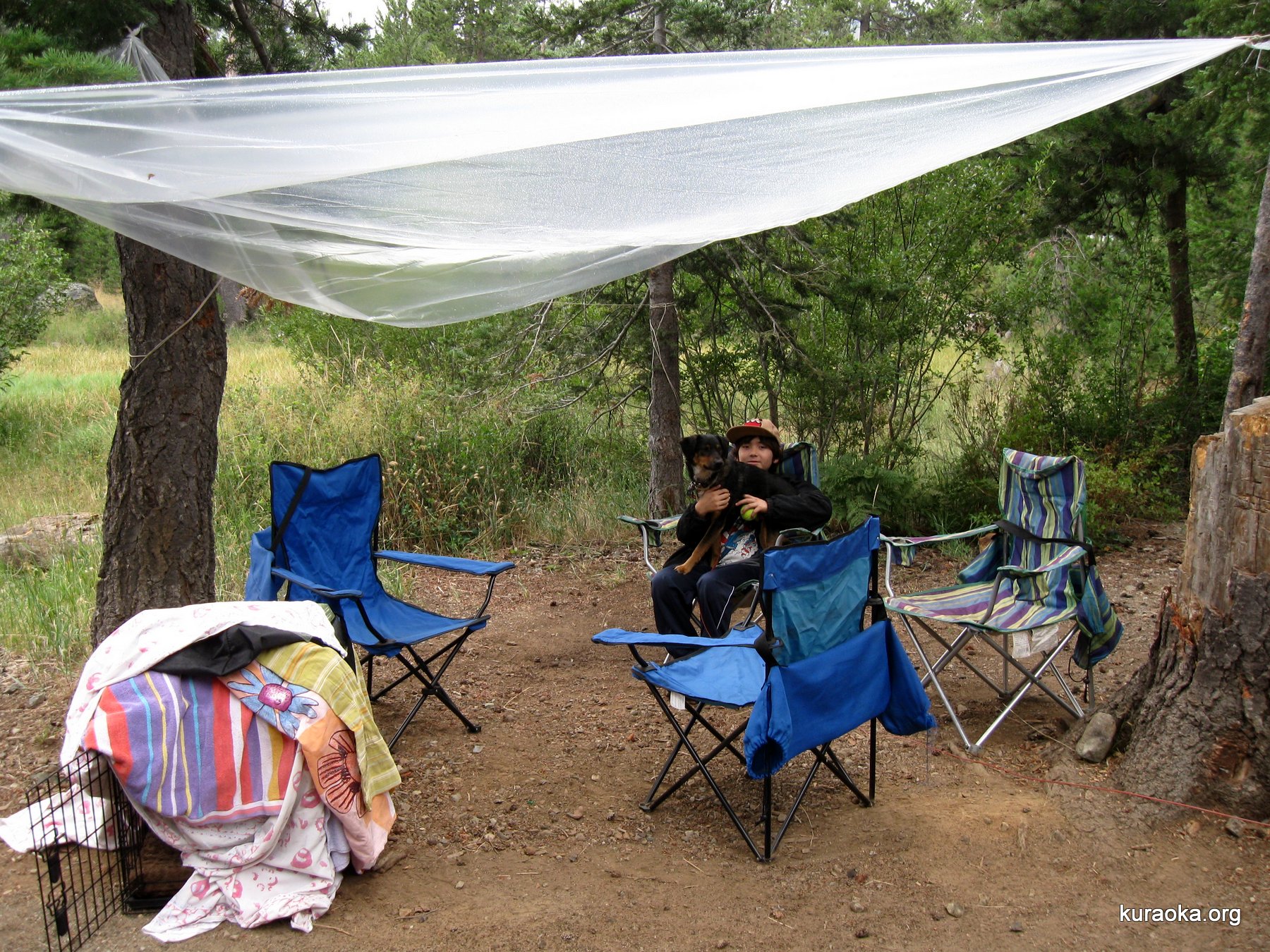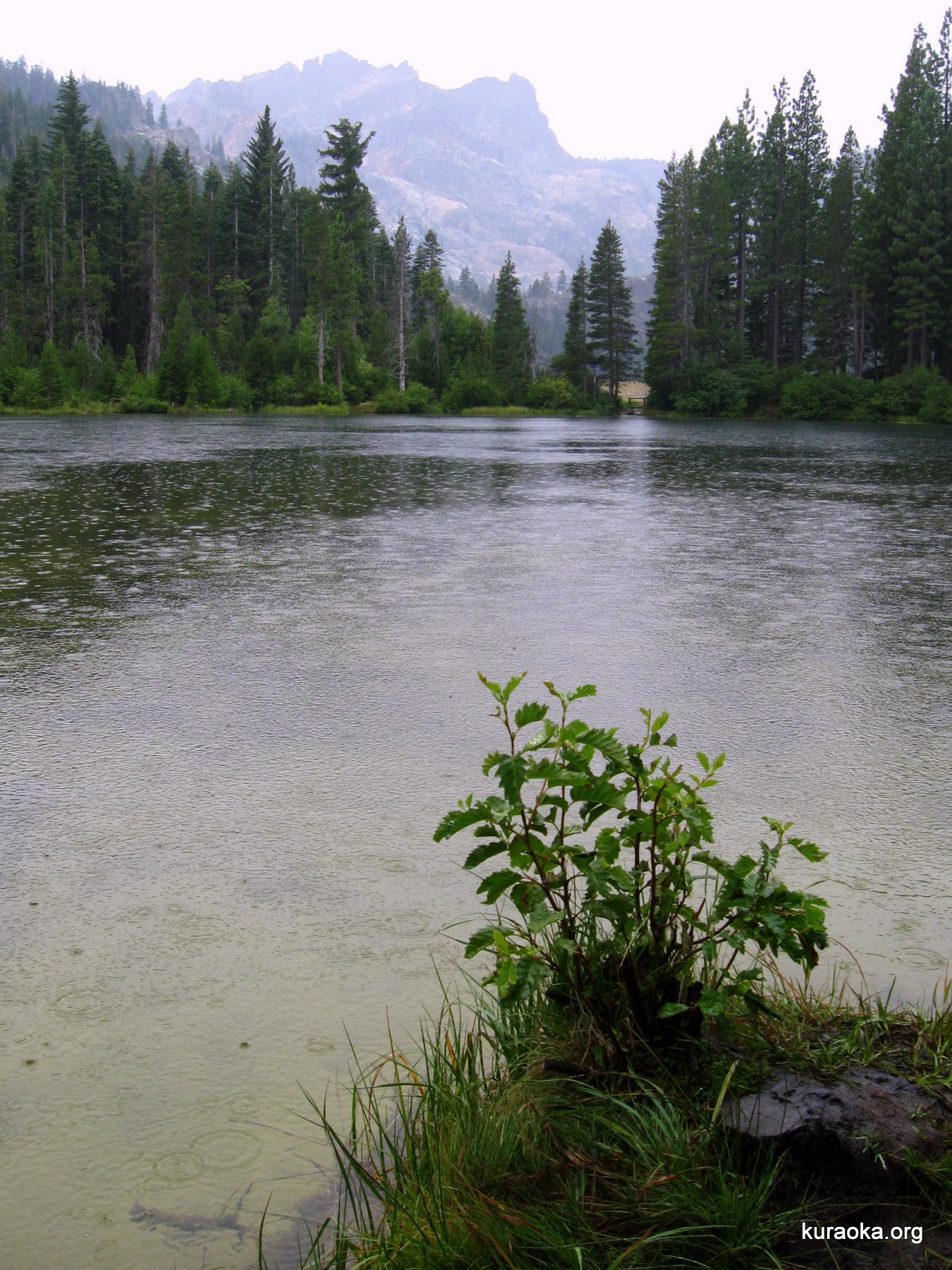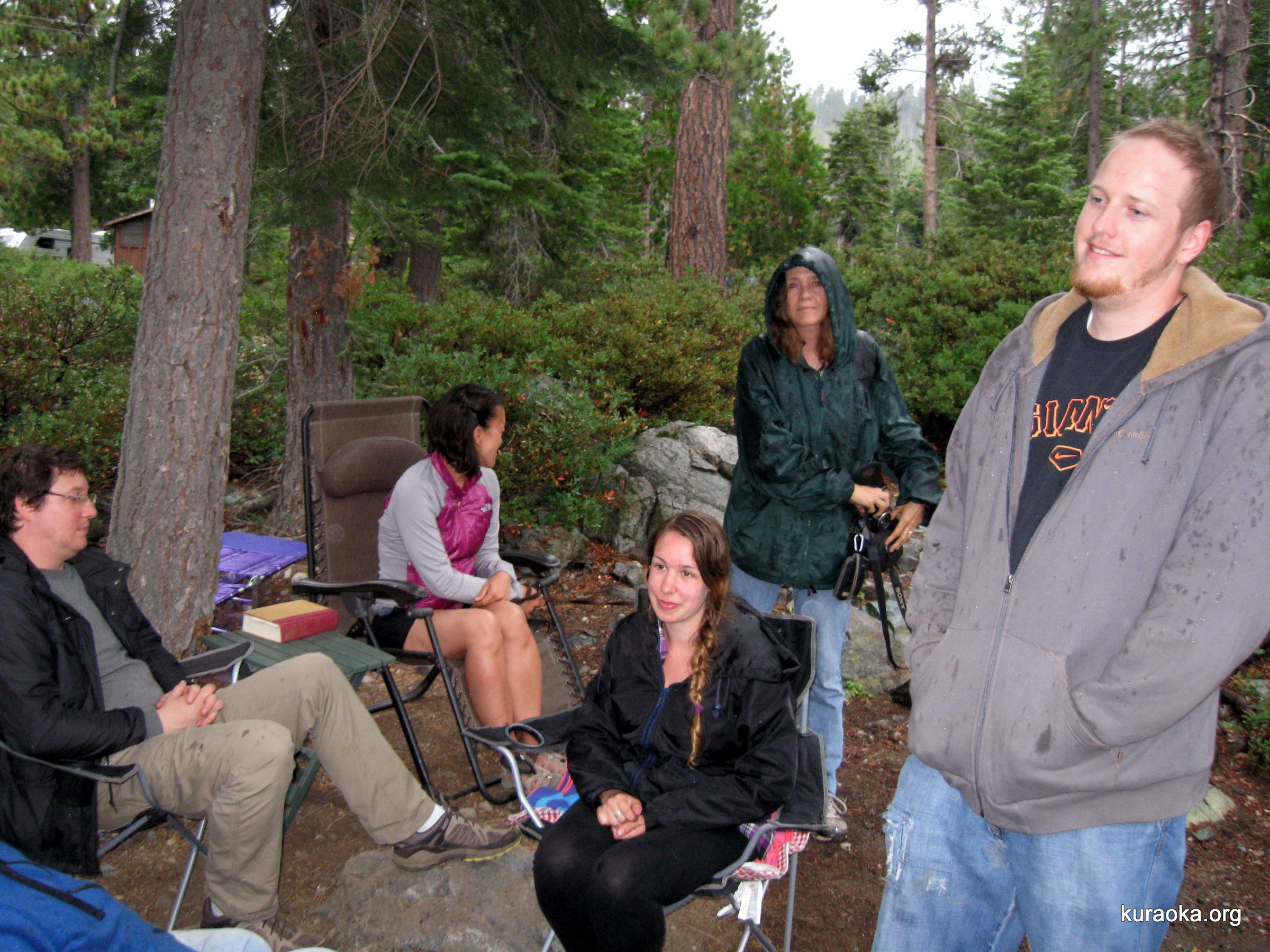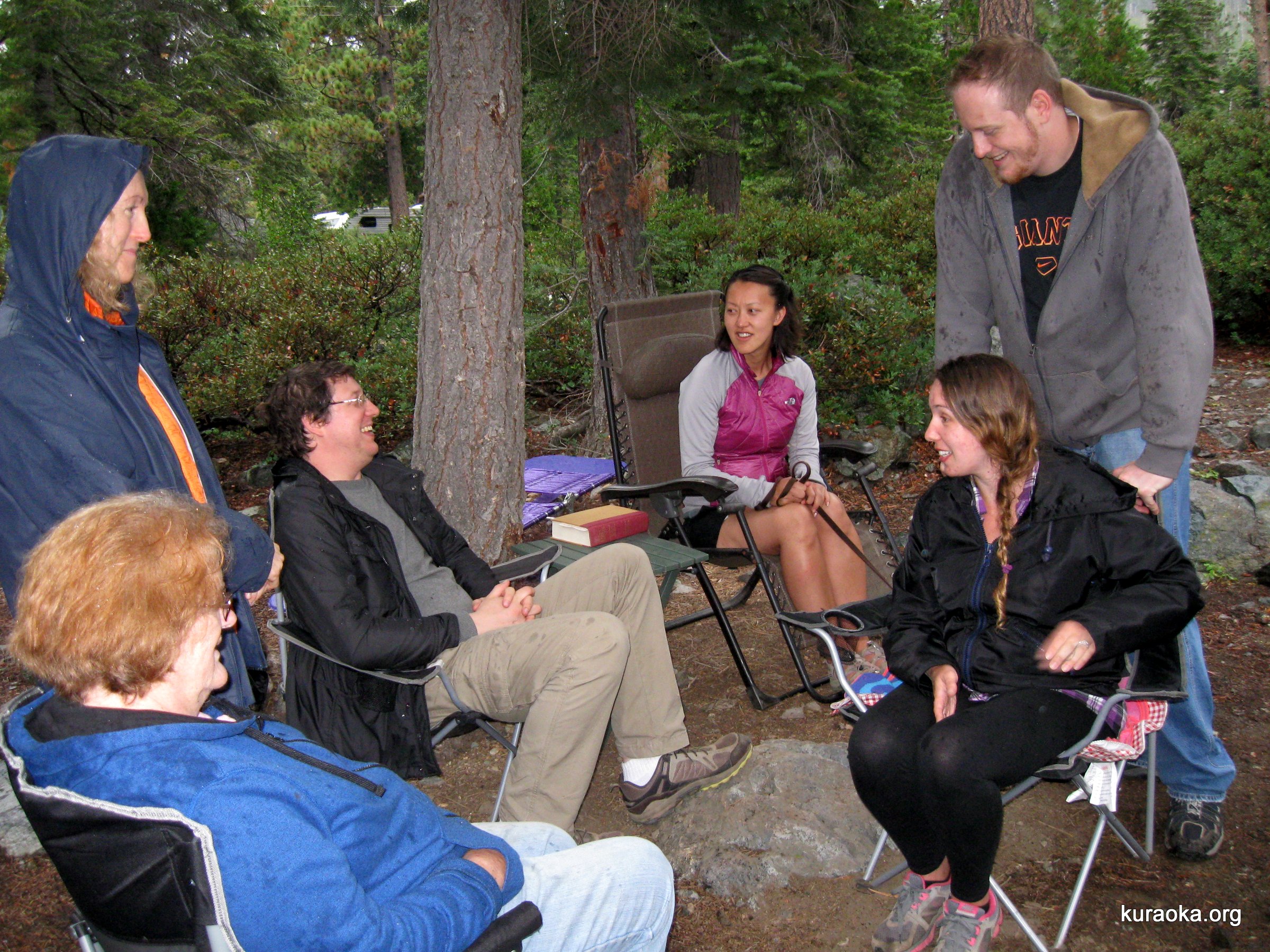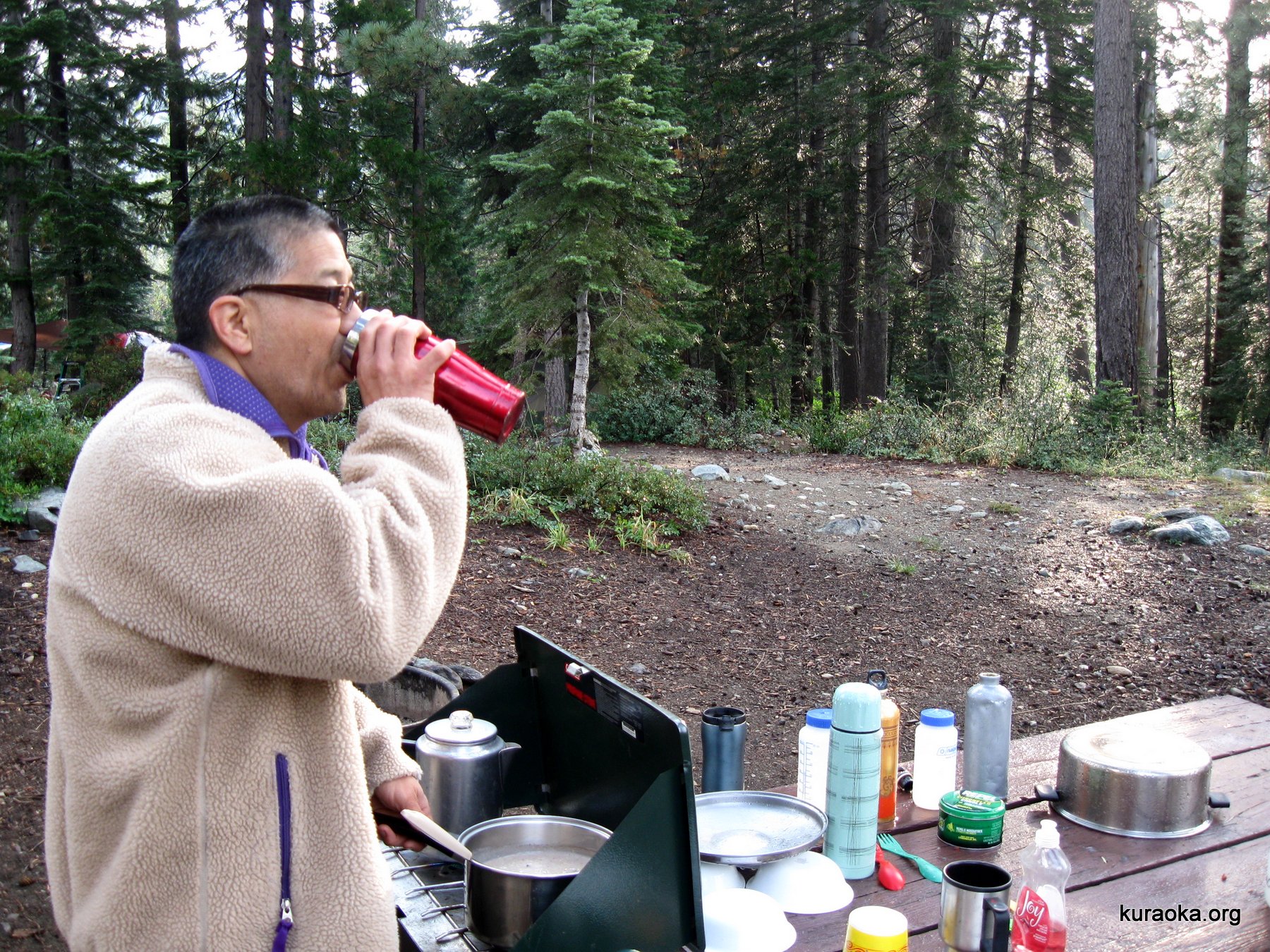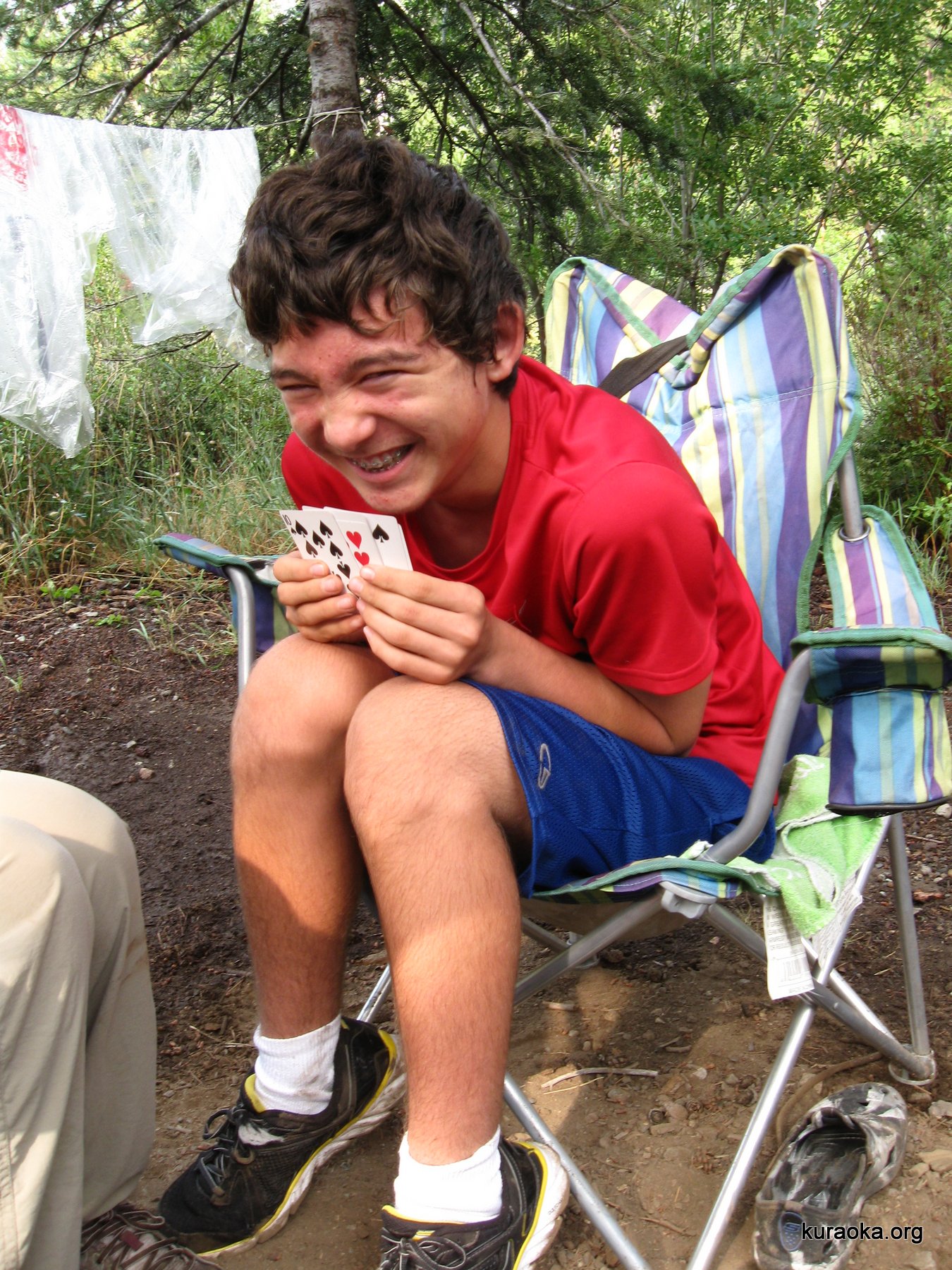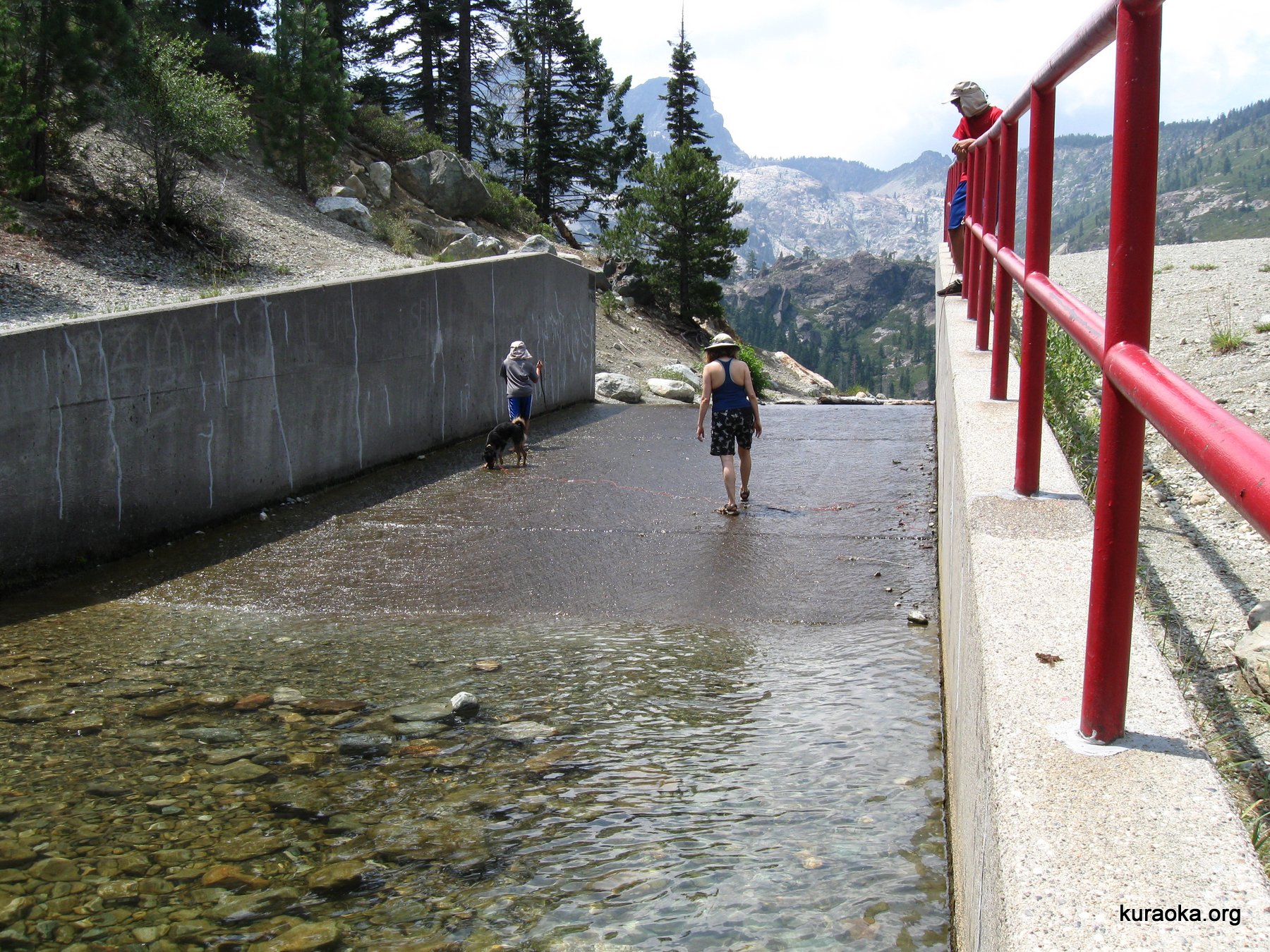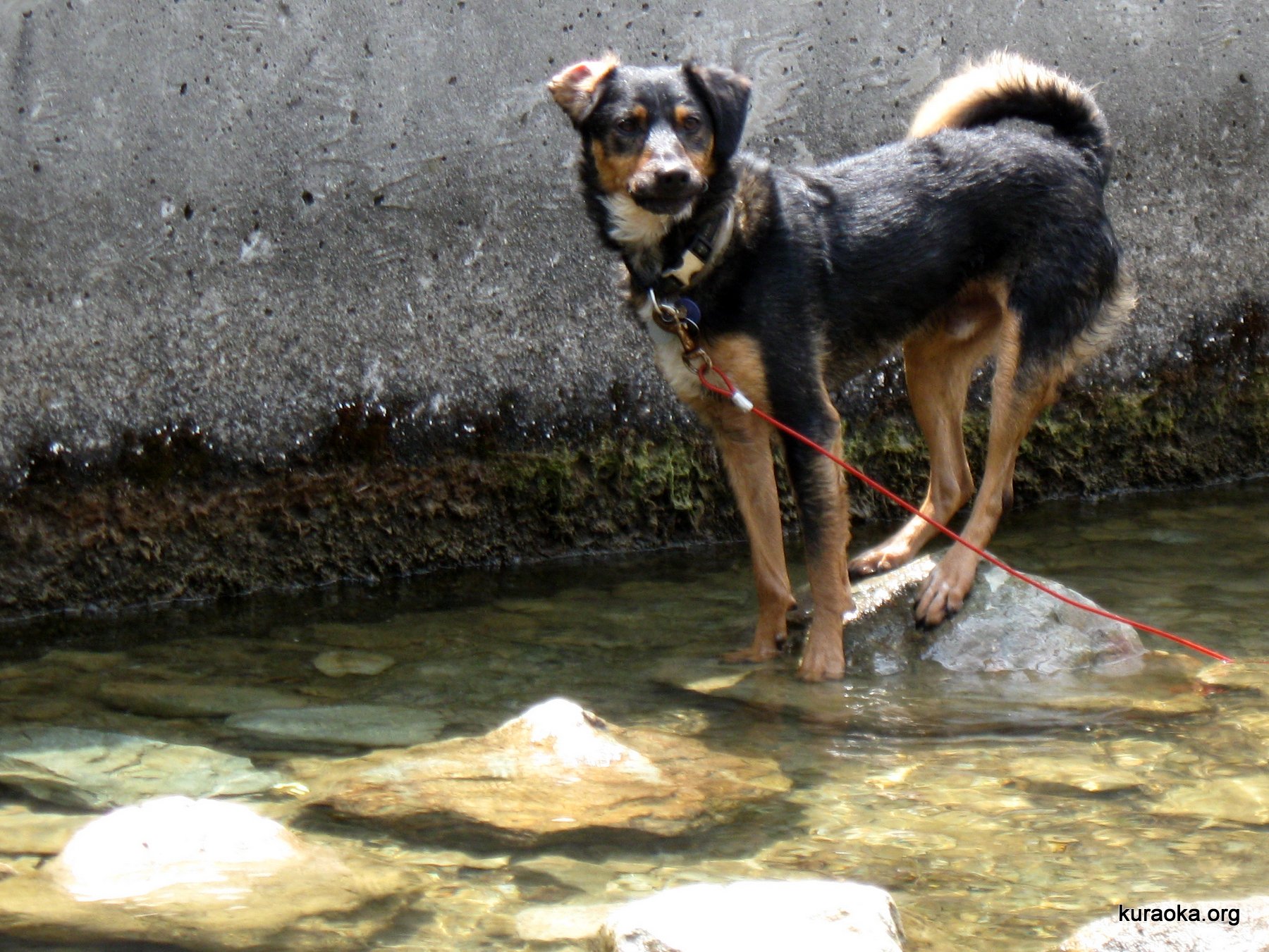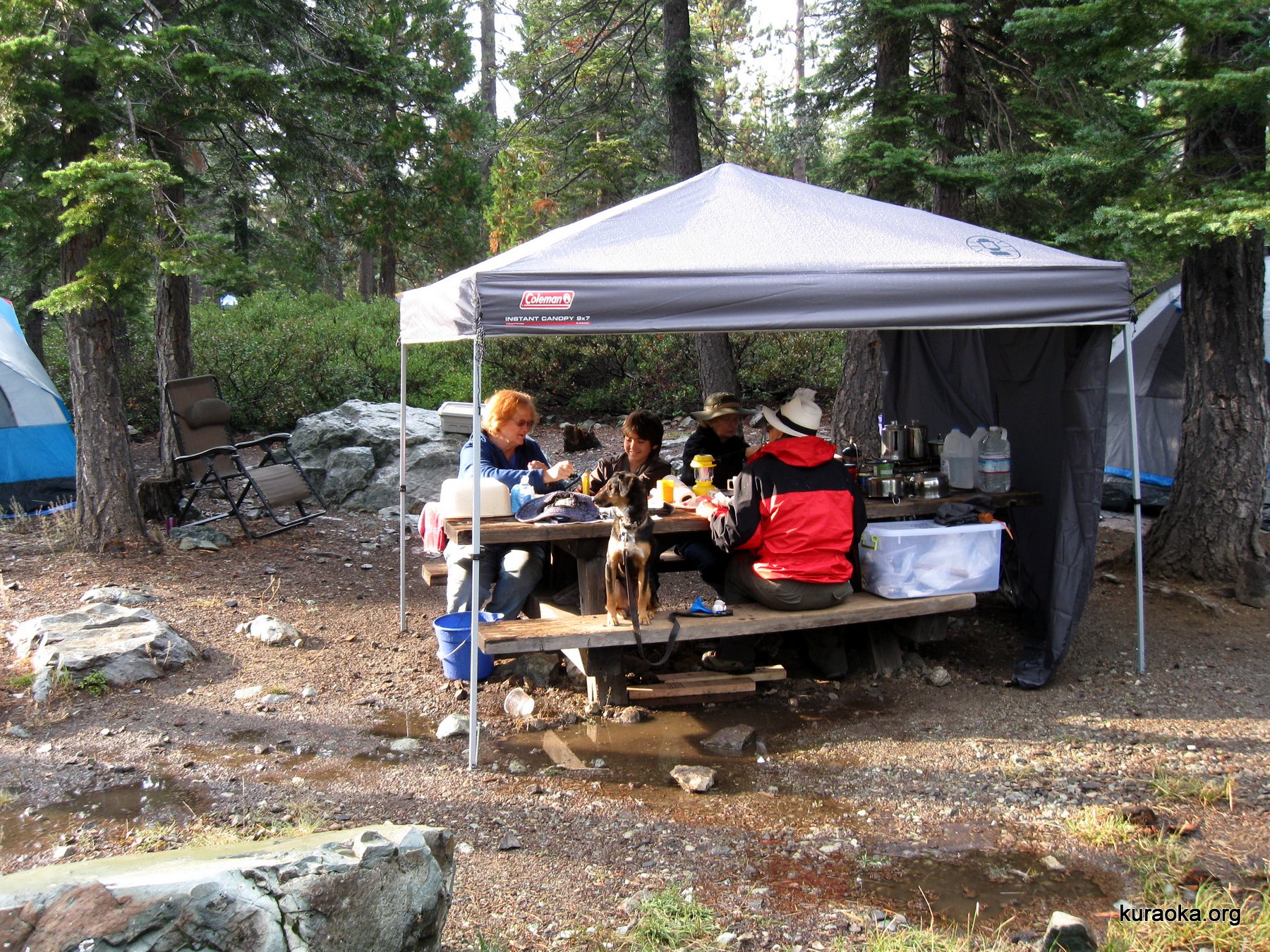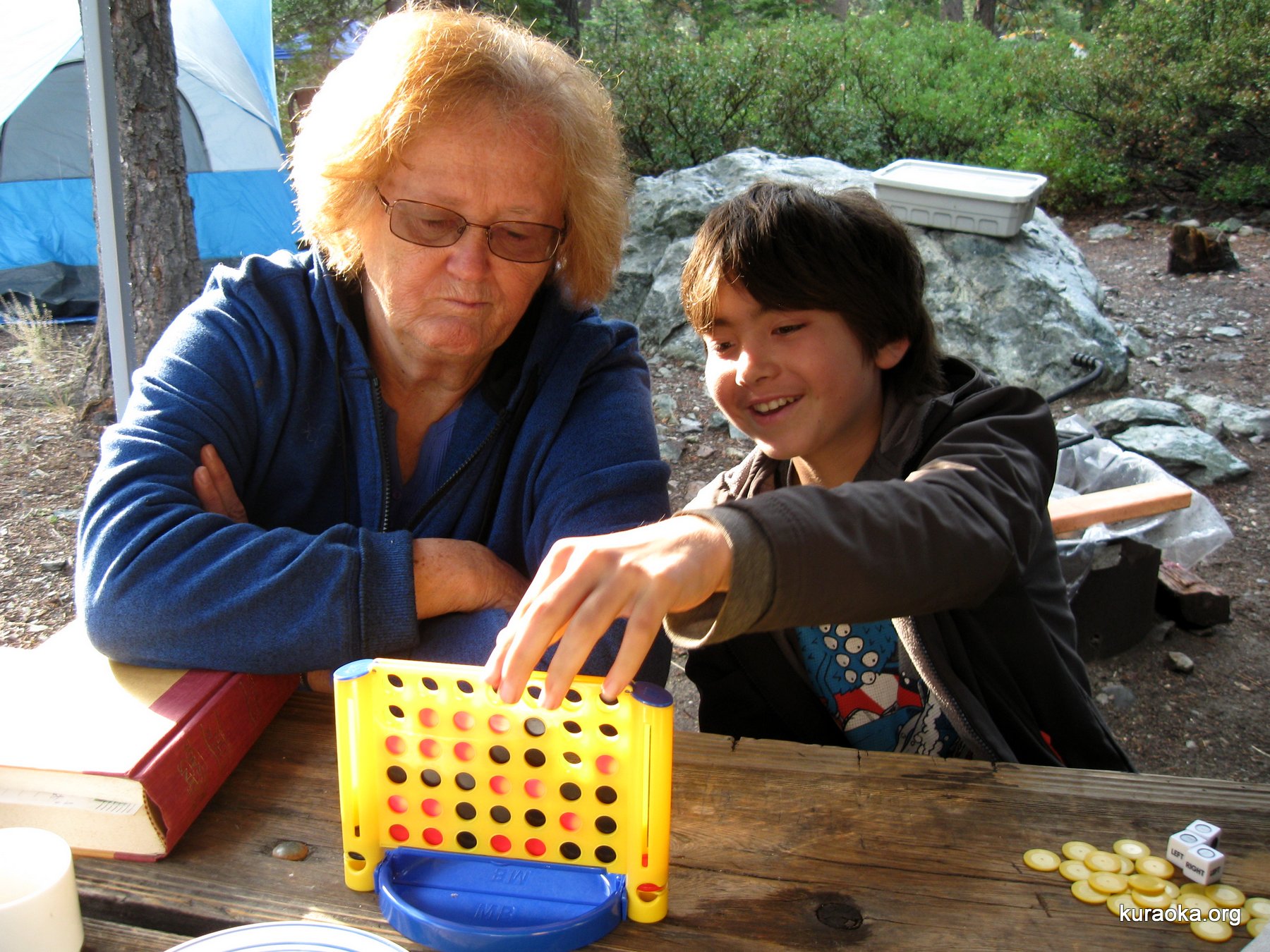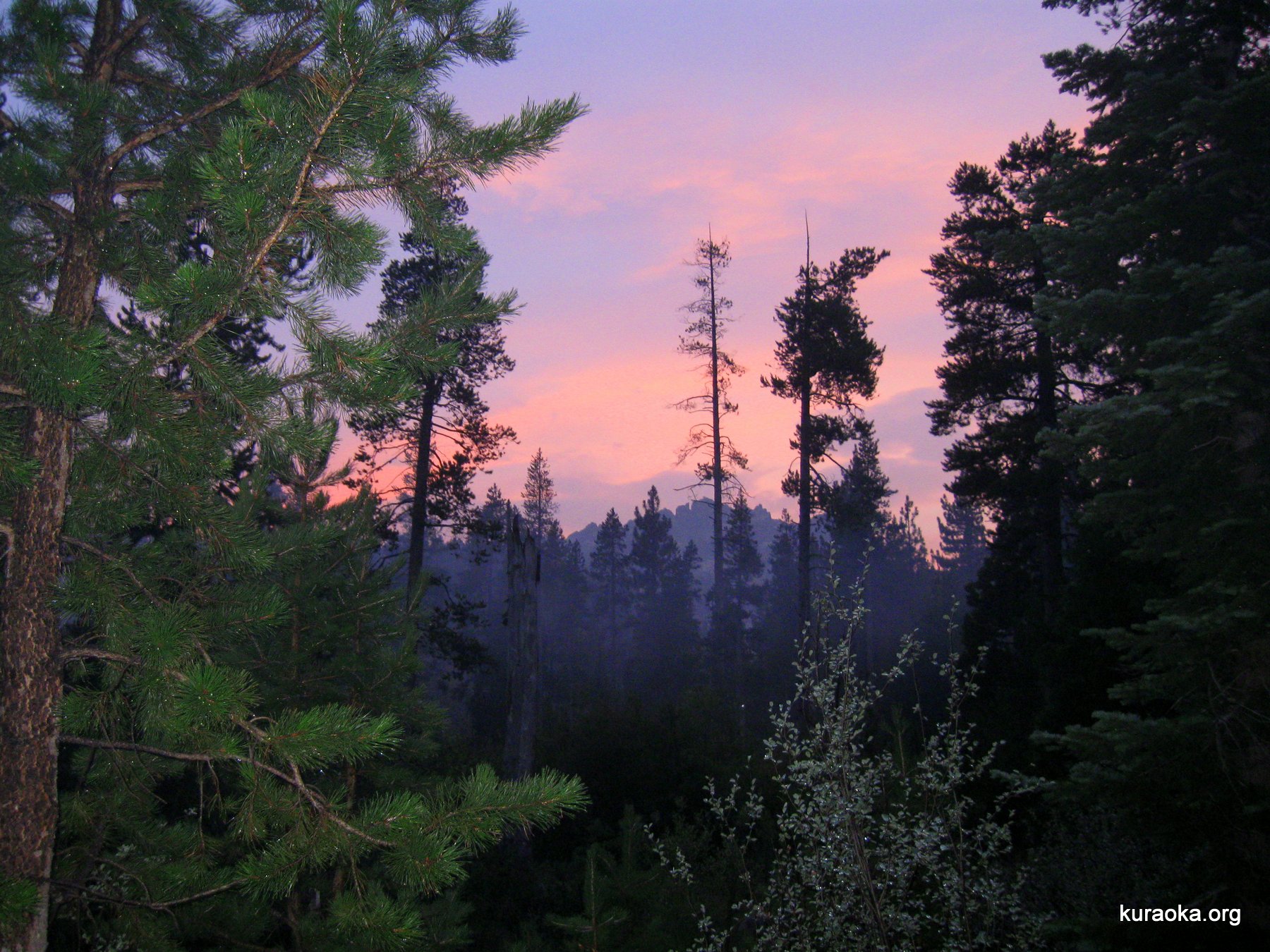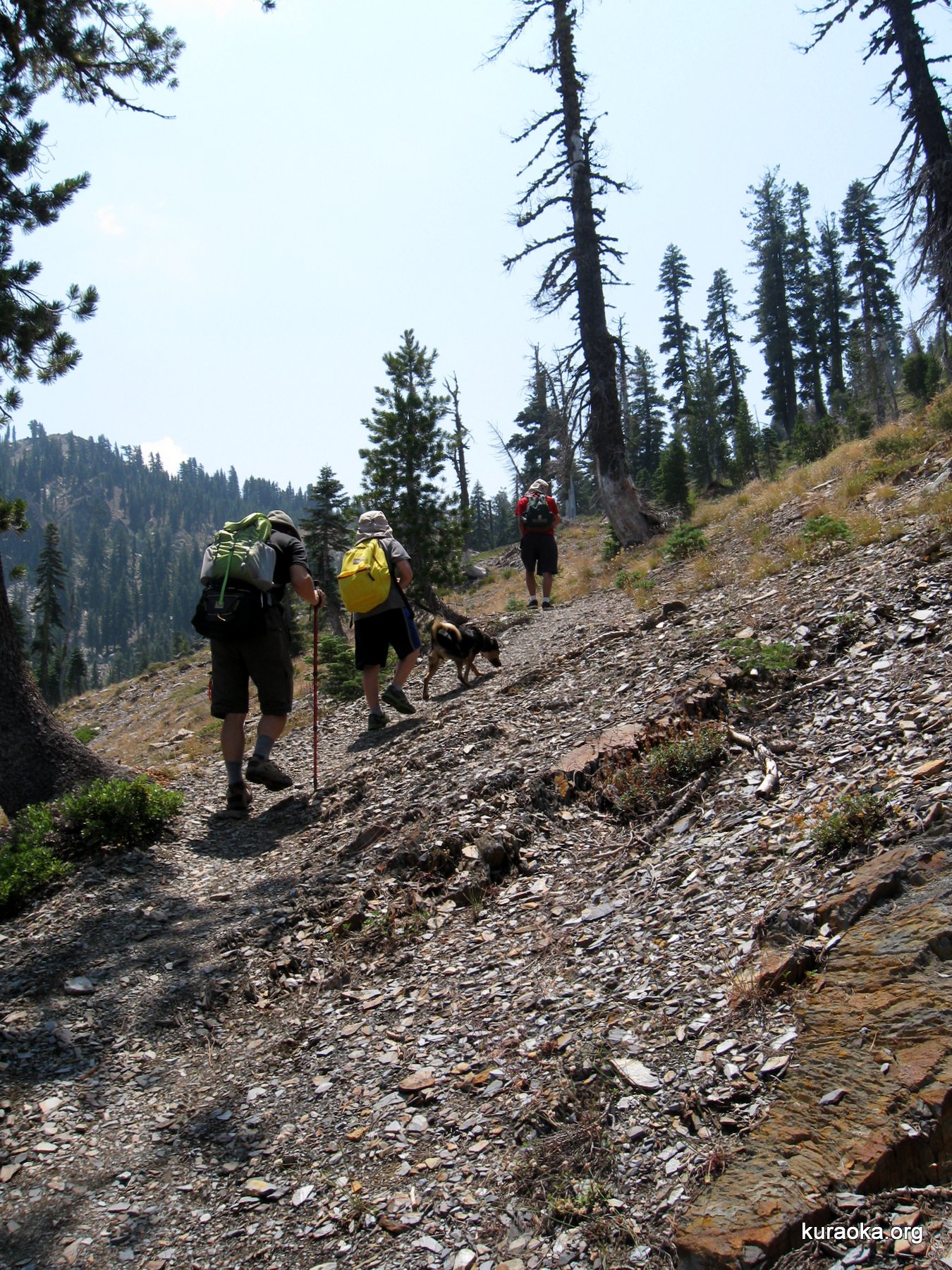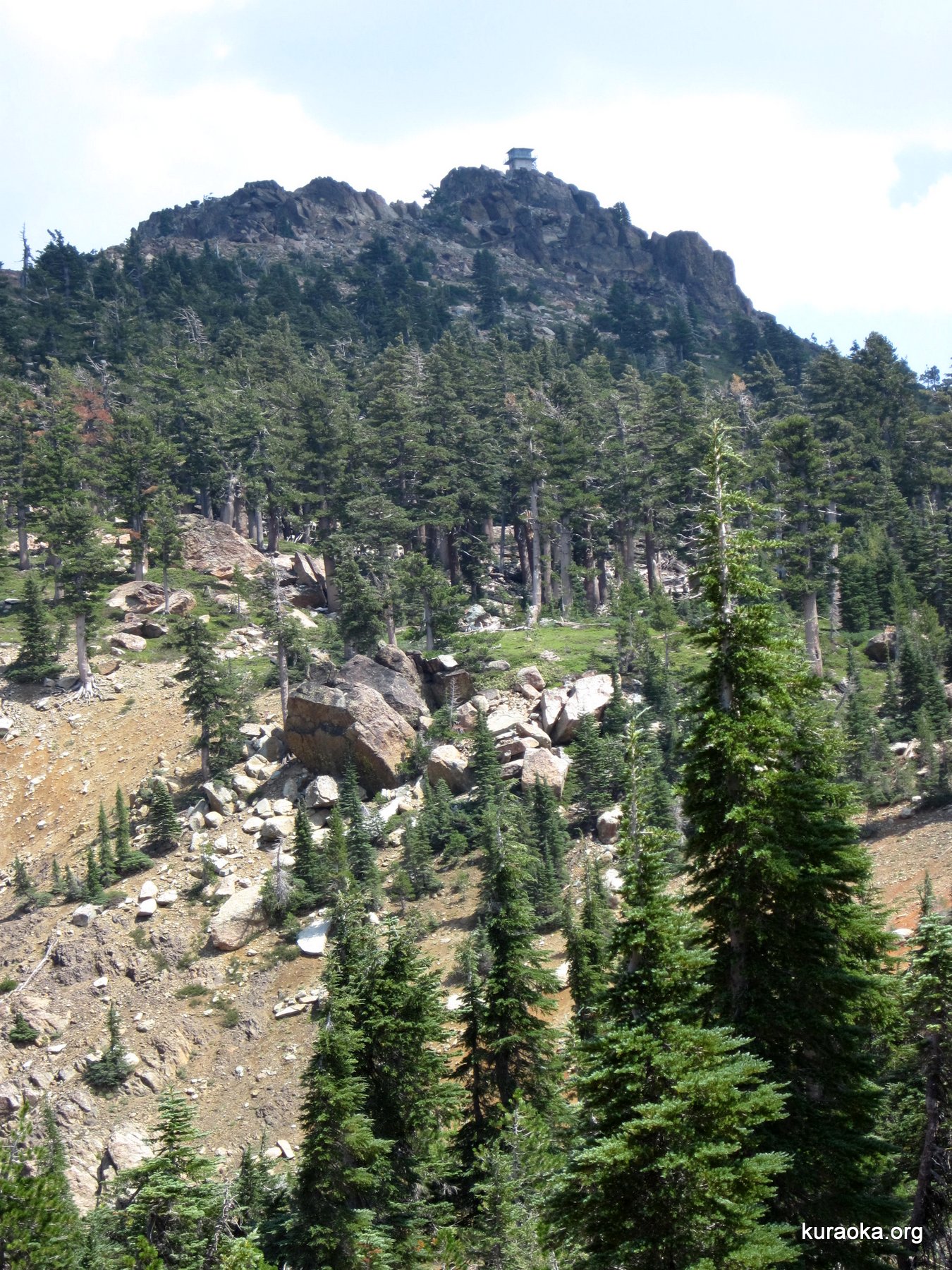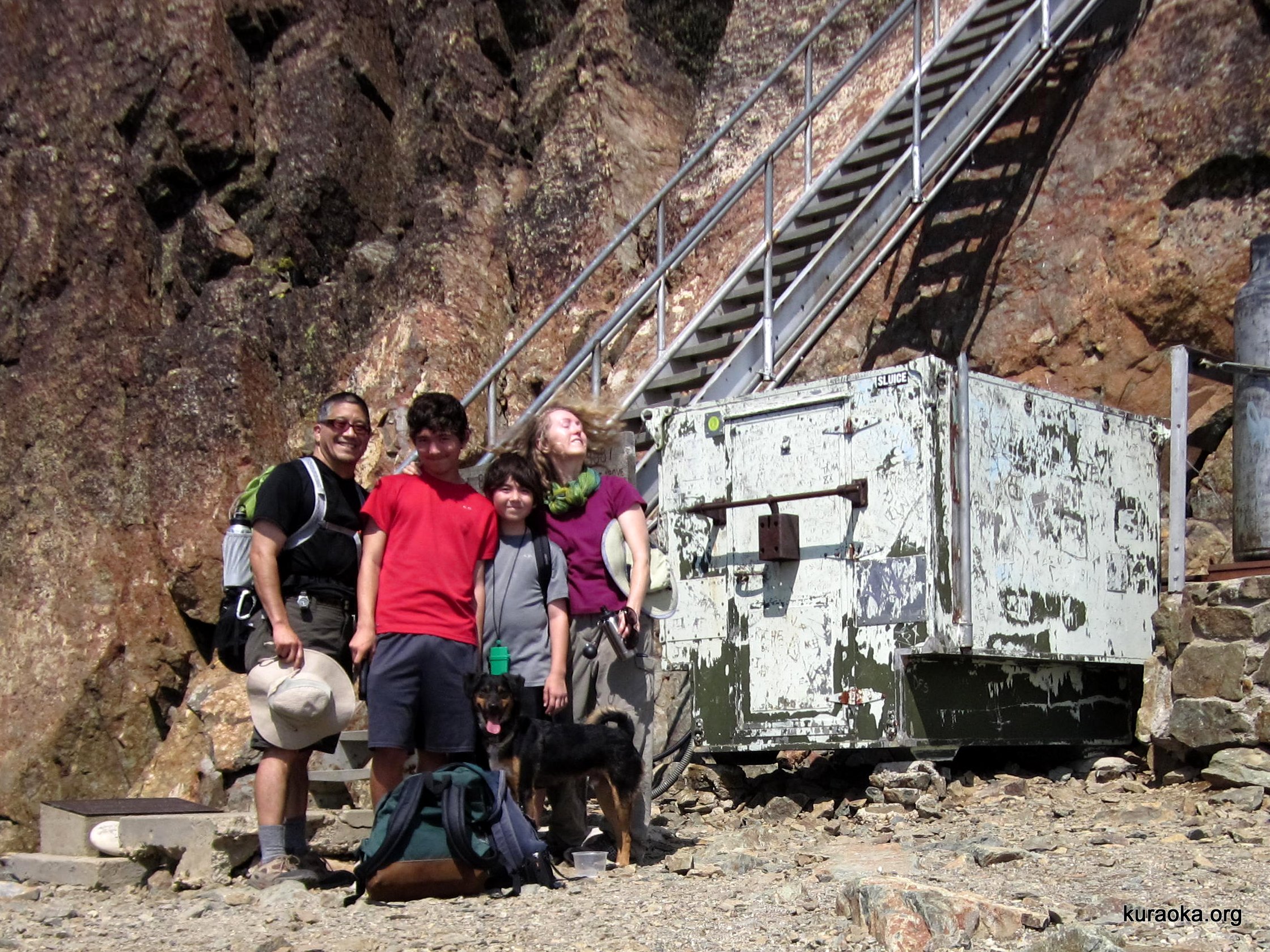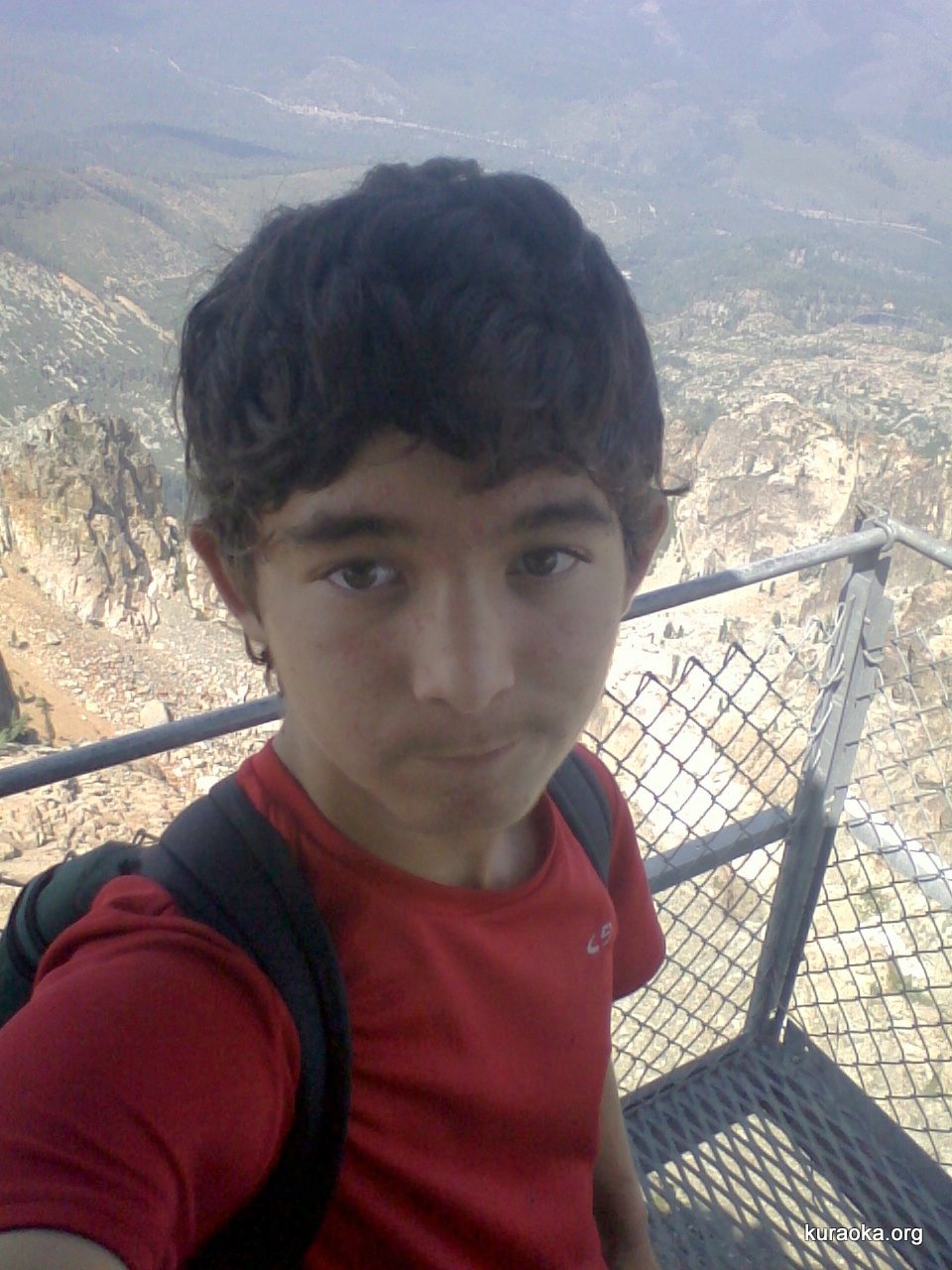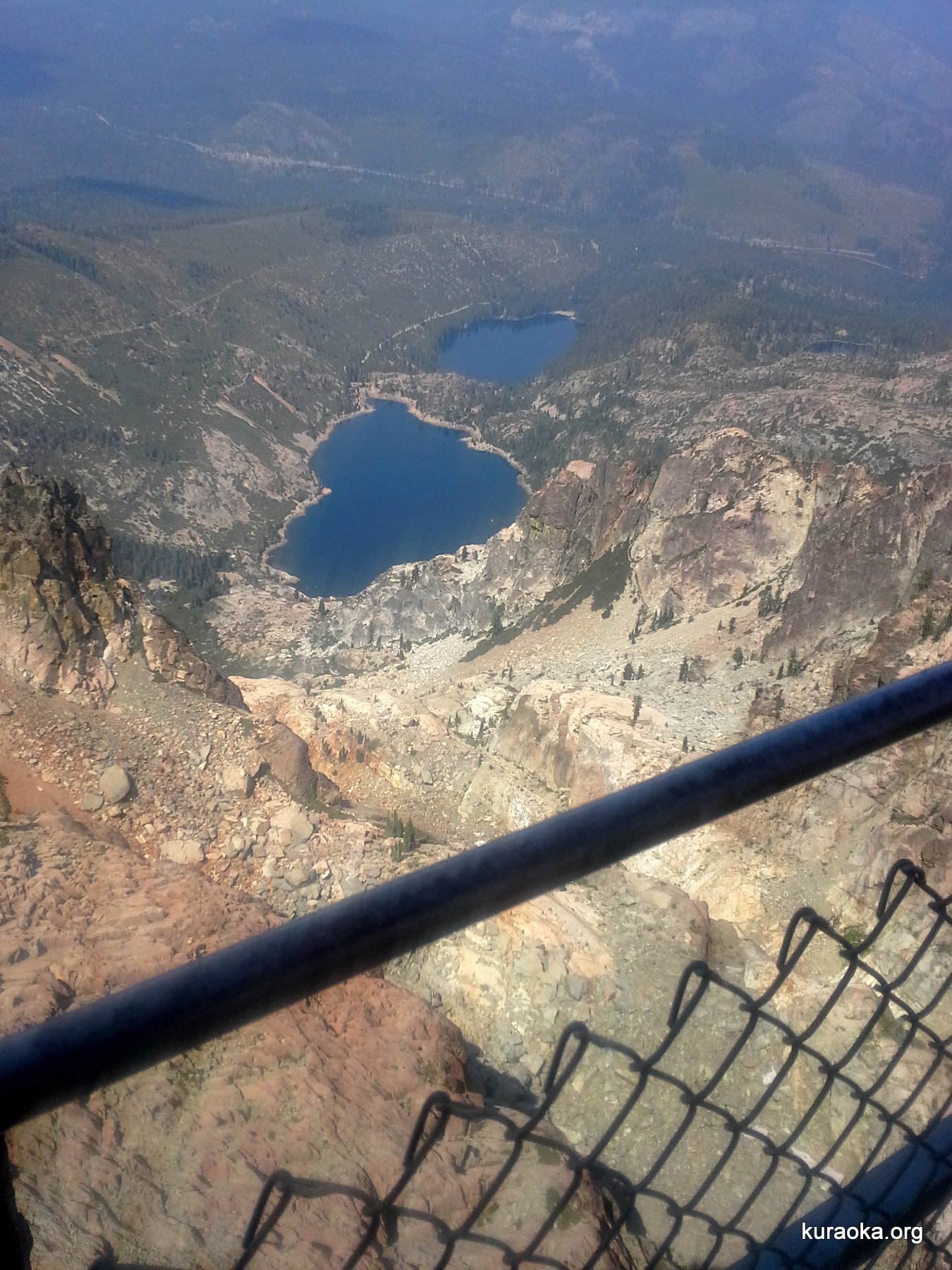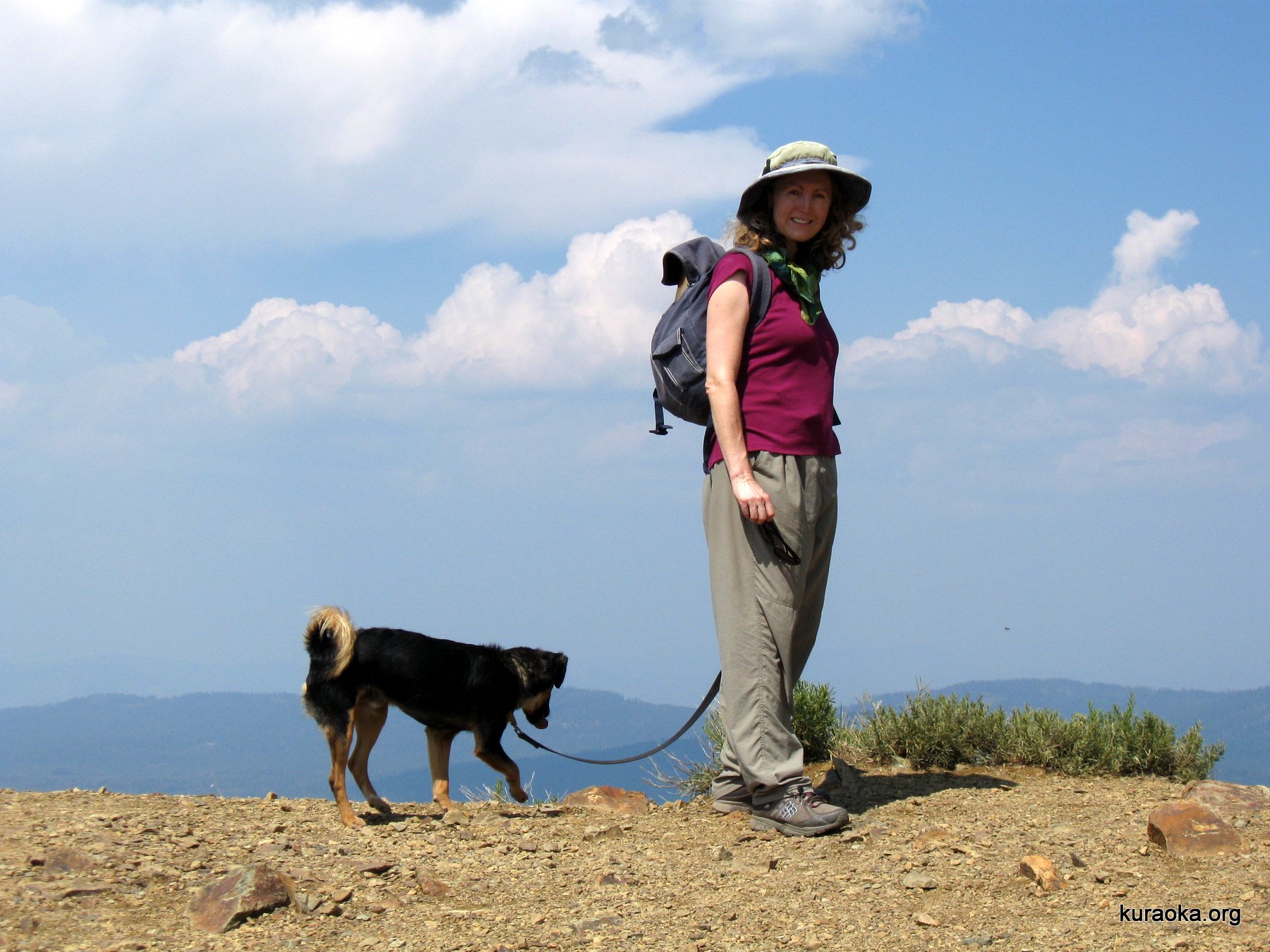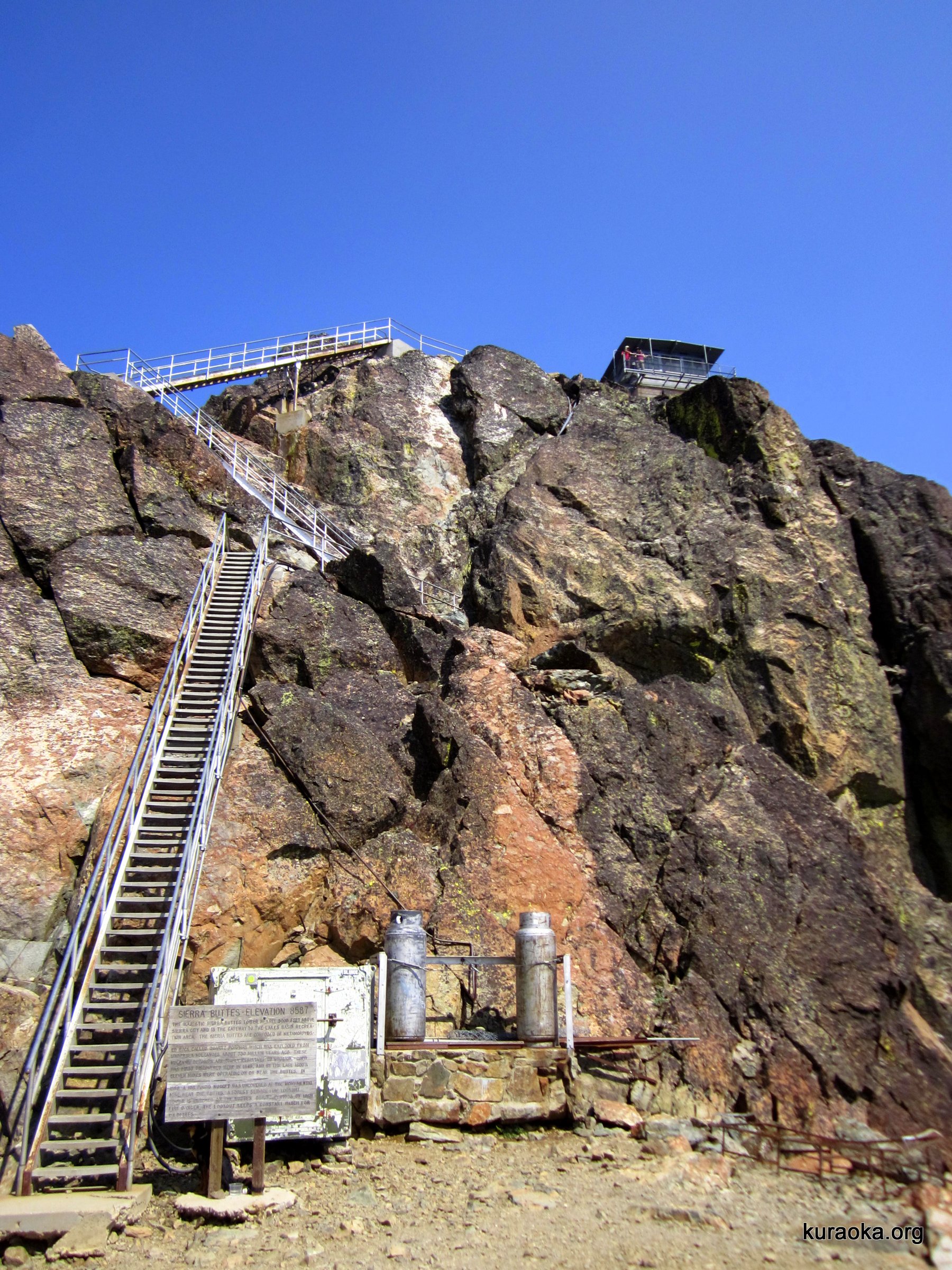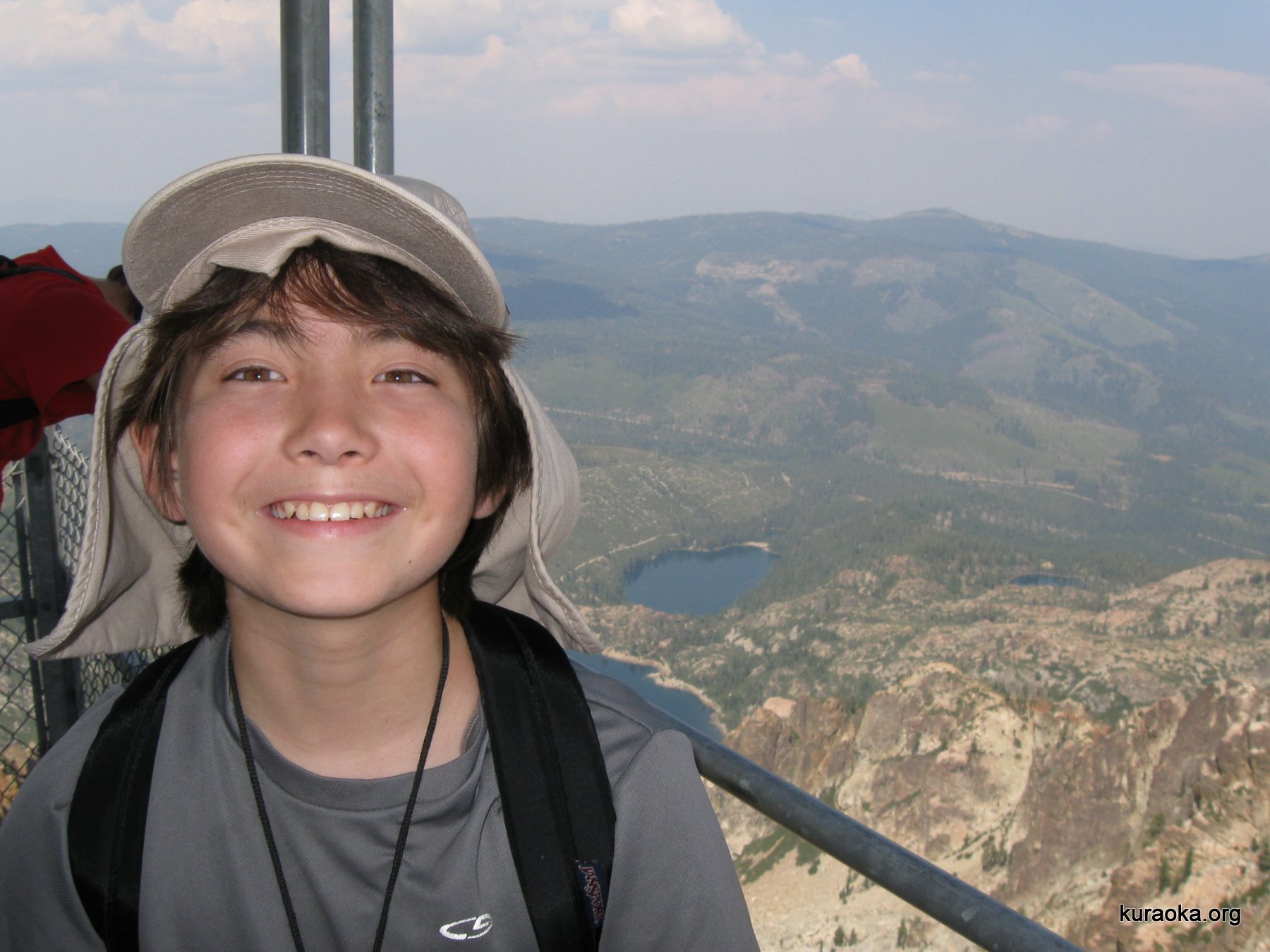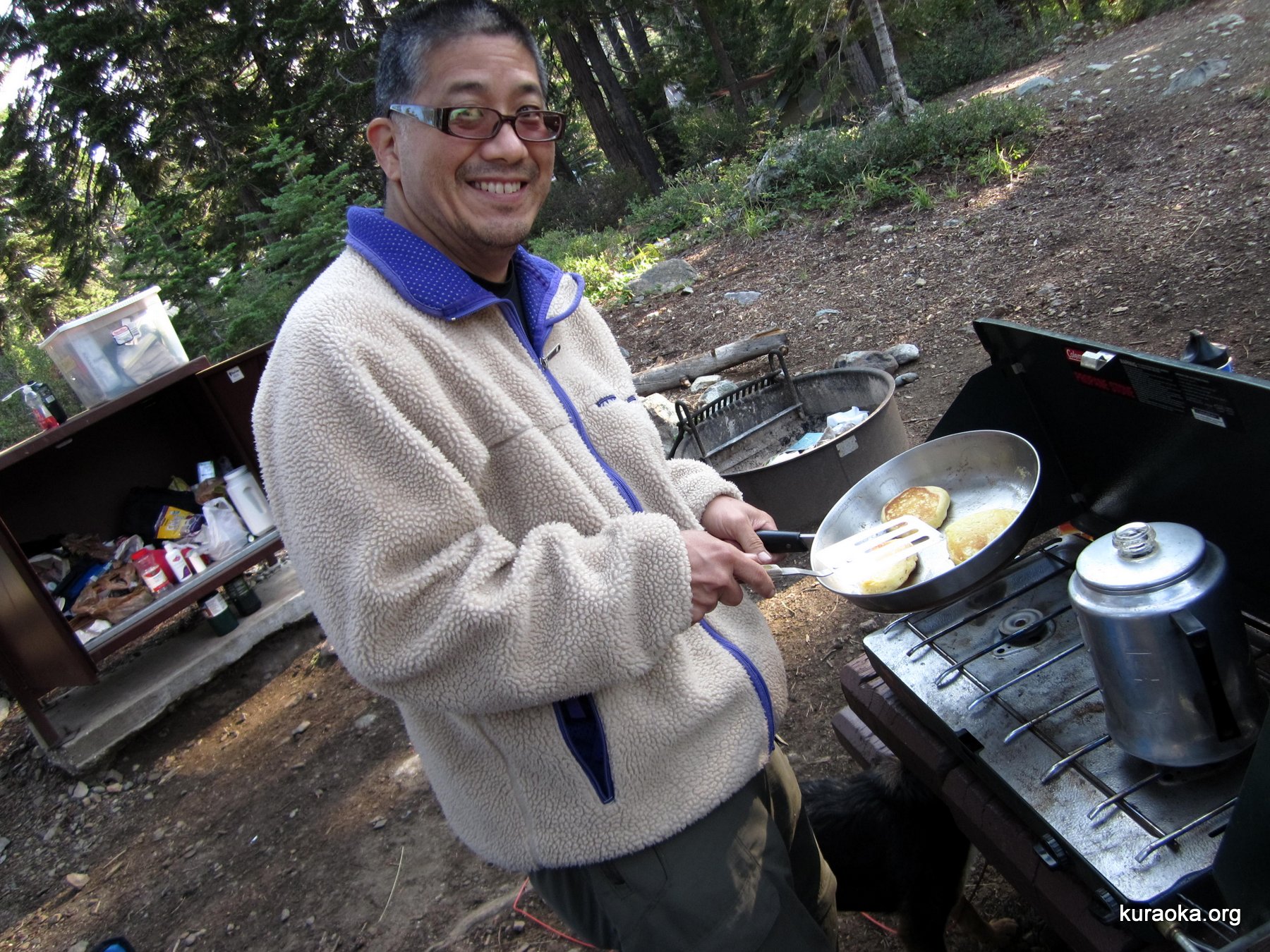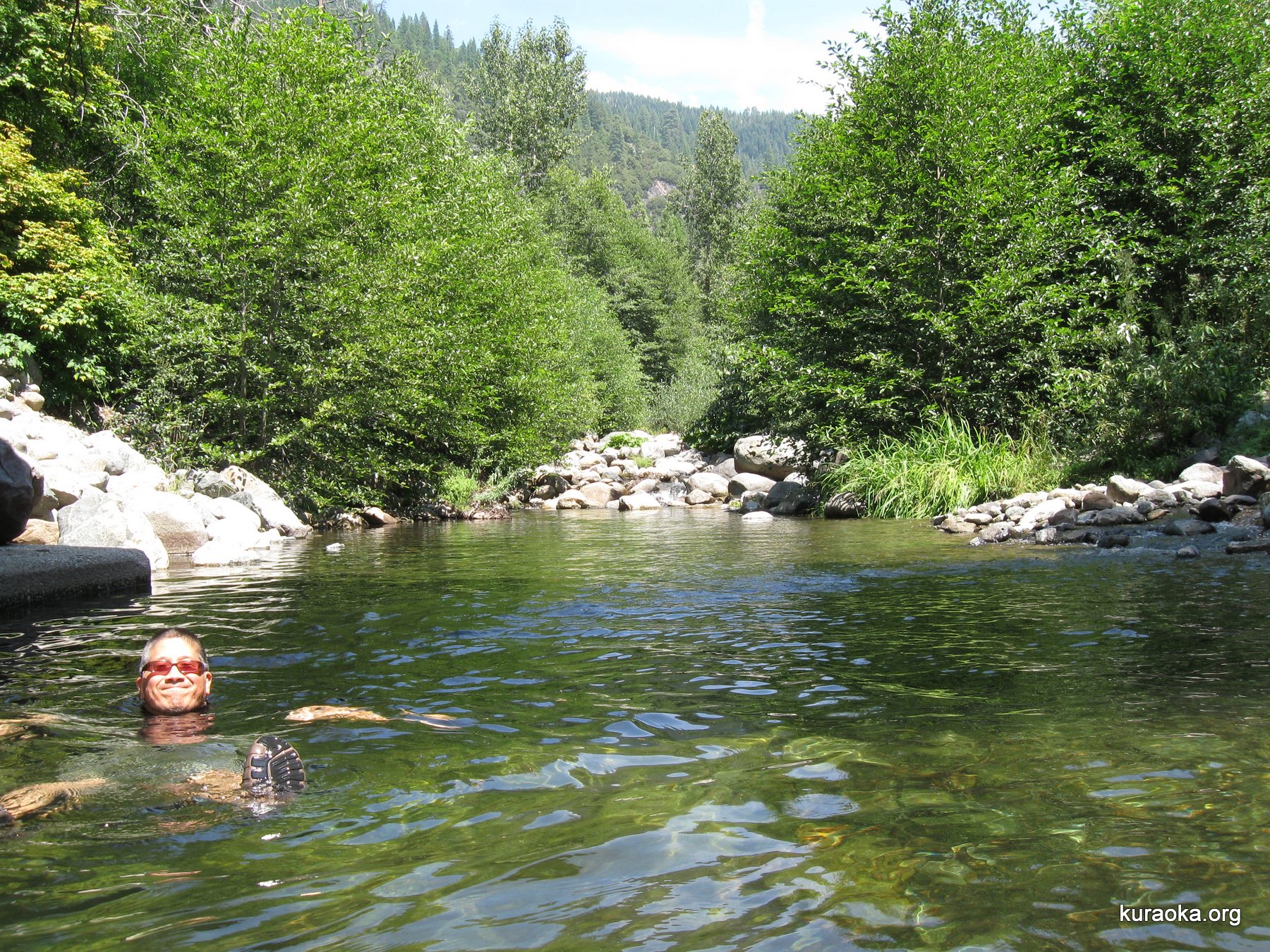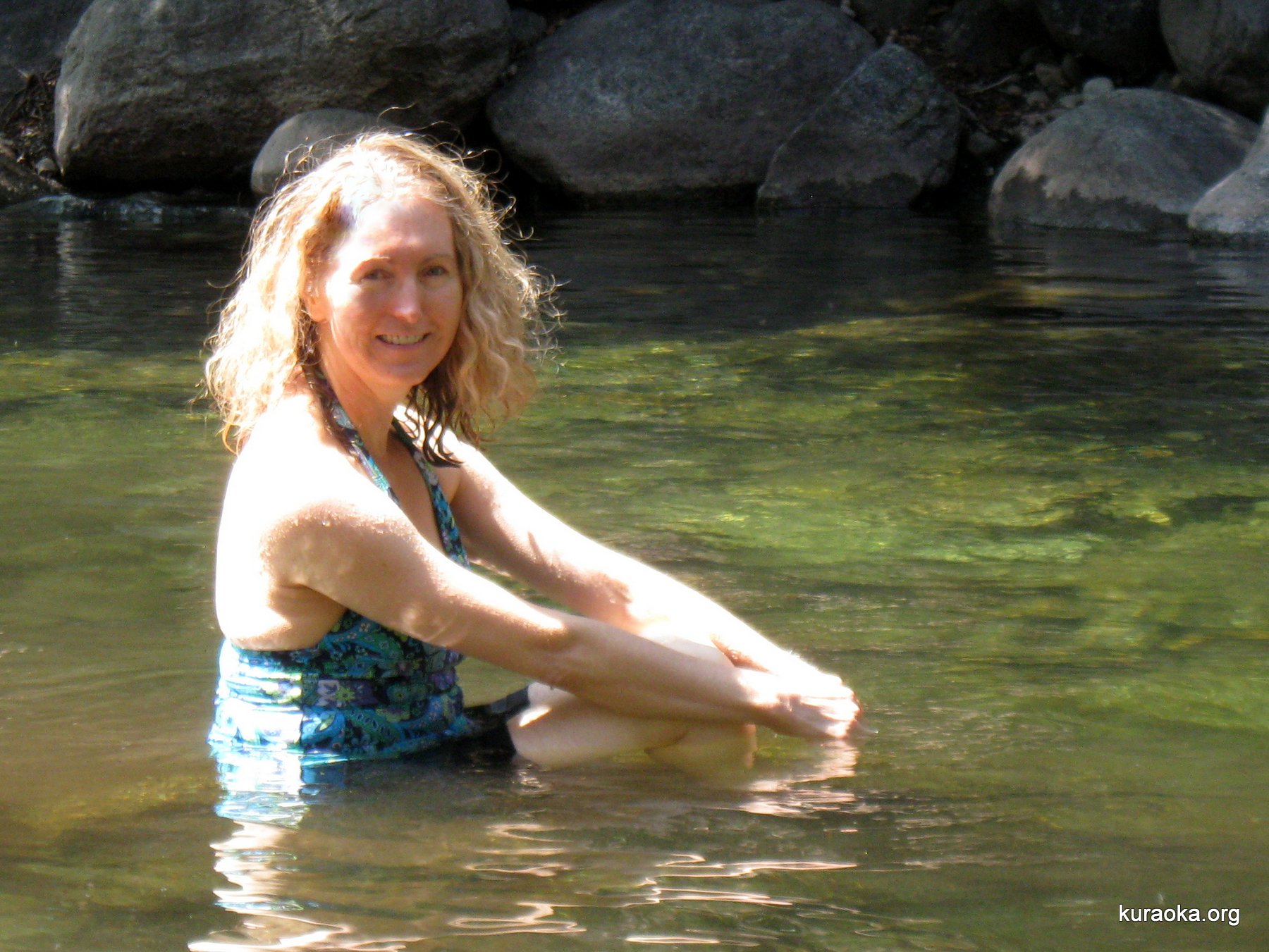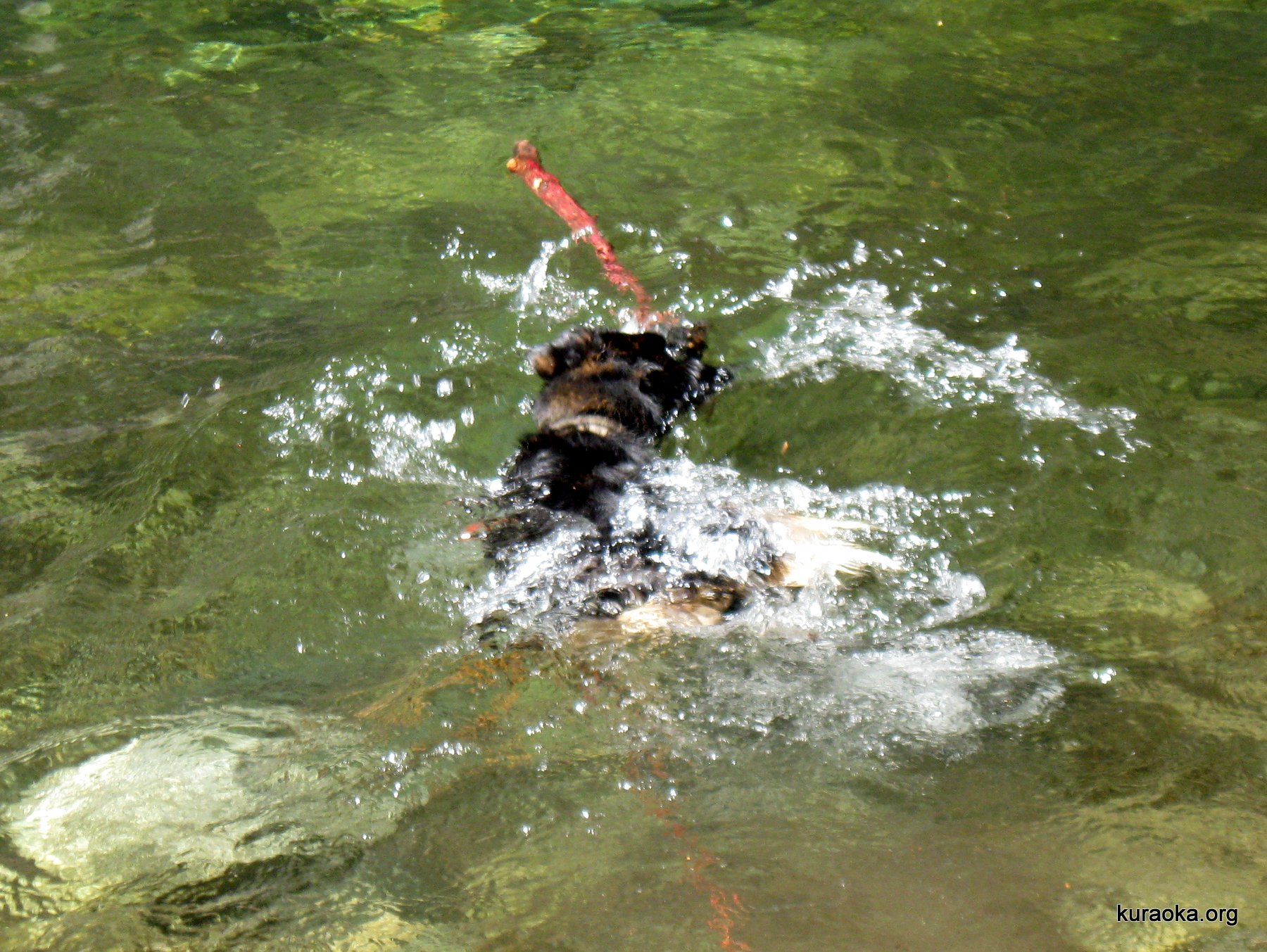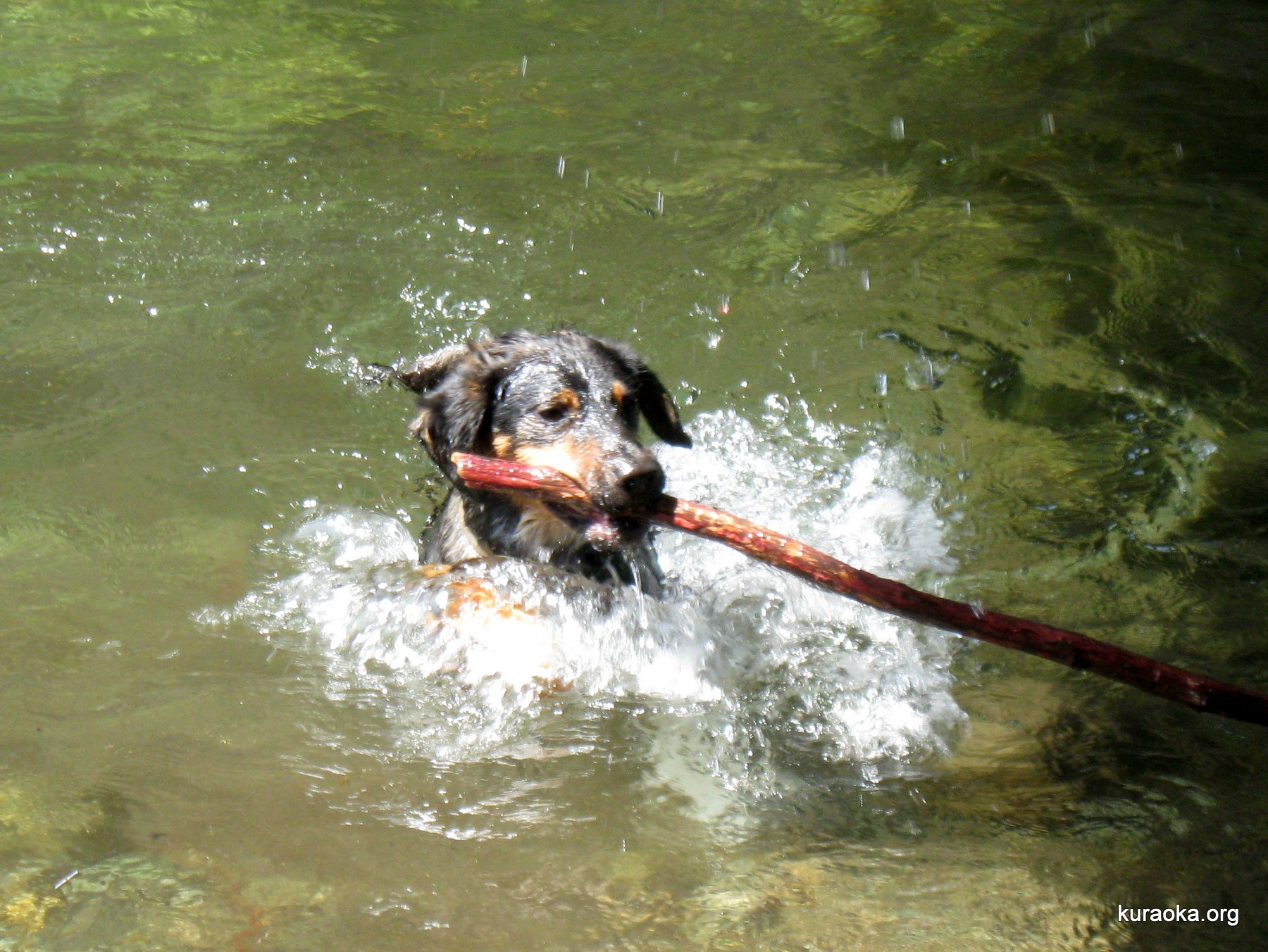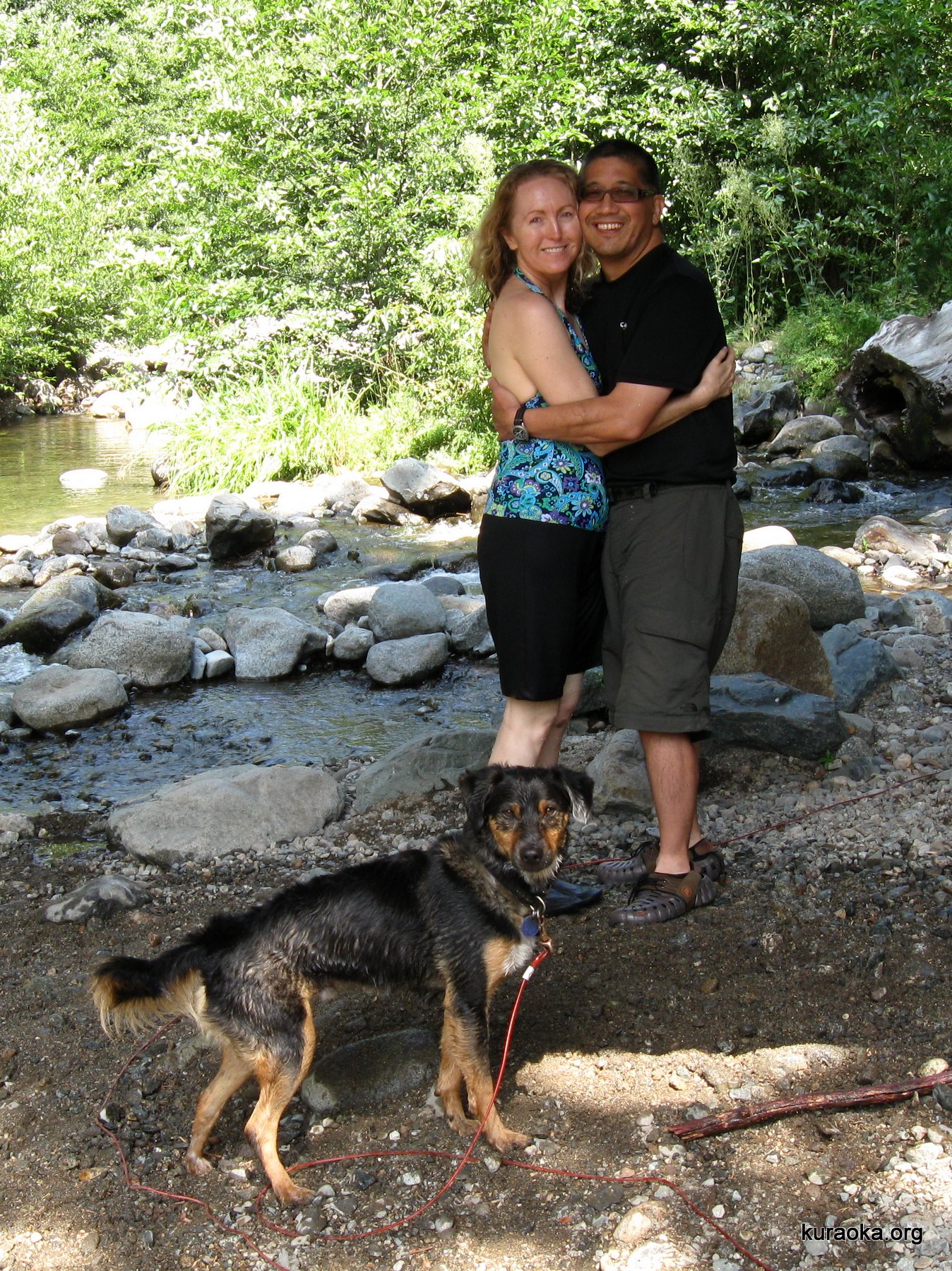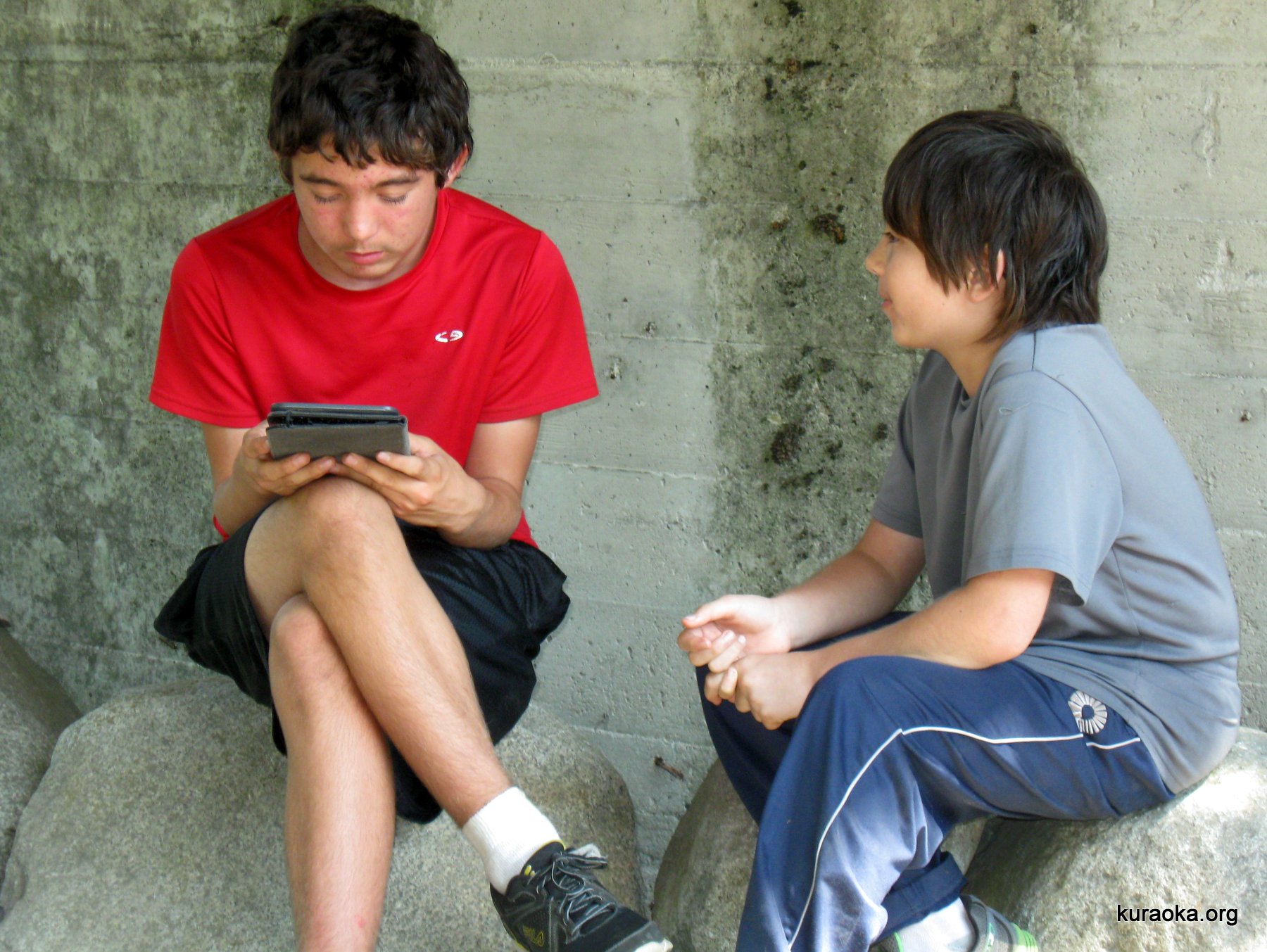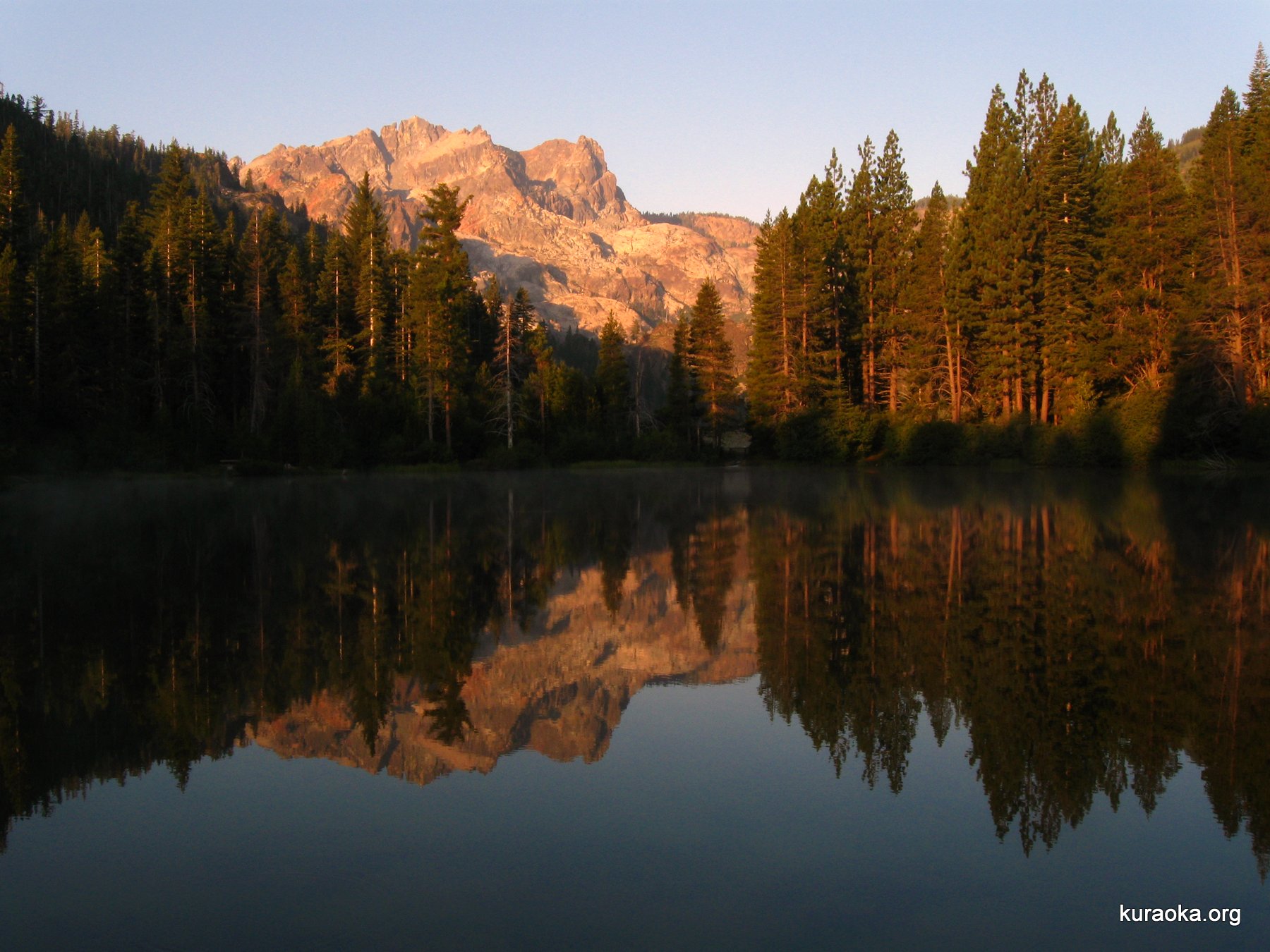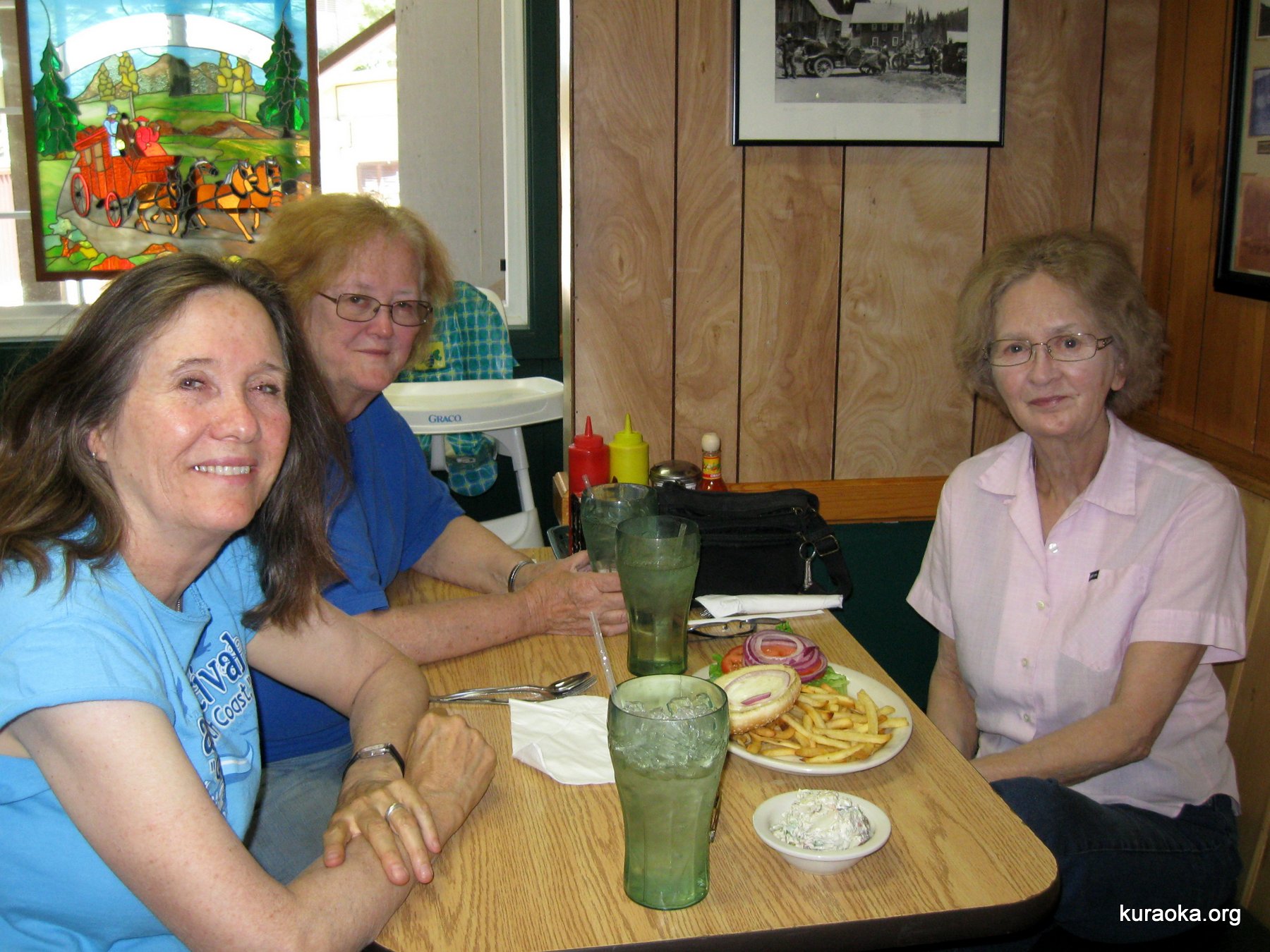 The moment we got home, things took off like a rocket again! John did laundry non-stop while unpacking and working. Ondine came back to a new weekend nights on call policy, so the first weekend after we returned she was on call all three nights. Roy volunteered with Alex and Michael. At Mission Trails Regional Park, they did fire restoration work, placing shrubbery over burnt-out areas to re-seed and hold soil. And, at St. Vincent de Paul downtown they had a real adventure serving meals to the homeless! Of the two, working downtown was definitely the grittier experience!
Roy also attended meetings at the San Carlos Library about the upcoming 40 and Fabulous Free Family Fun Fair. He's on a small committee of teens tasked with creating a Doctor Who-themed fun zone, for which he designed and built one of the games, a Tardis Toss.
Roy and Leo had their annual physicals last week. All is good. Roy is 5' 5.5" tall and weighs 121.5 pounds. Leo is 4' 7" tall and weighs 86 pounds.
Last Friday, John finally managed to find time to cut their hair. Whew! And, Leo found a pogo stick marked "free" while out on a walk, and has been working on riding it. It's actually a child's size, a bit too small for him, but he gets a good bounce nonetheless and his record so far is 43 pogos. Here's Leo with his pogo stick (early in the morning) and his freshly cut hair spiked (later in the morning)!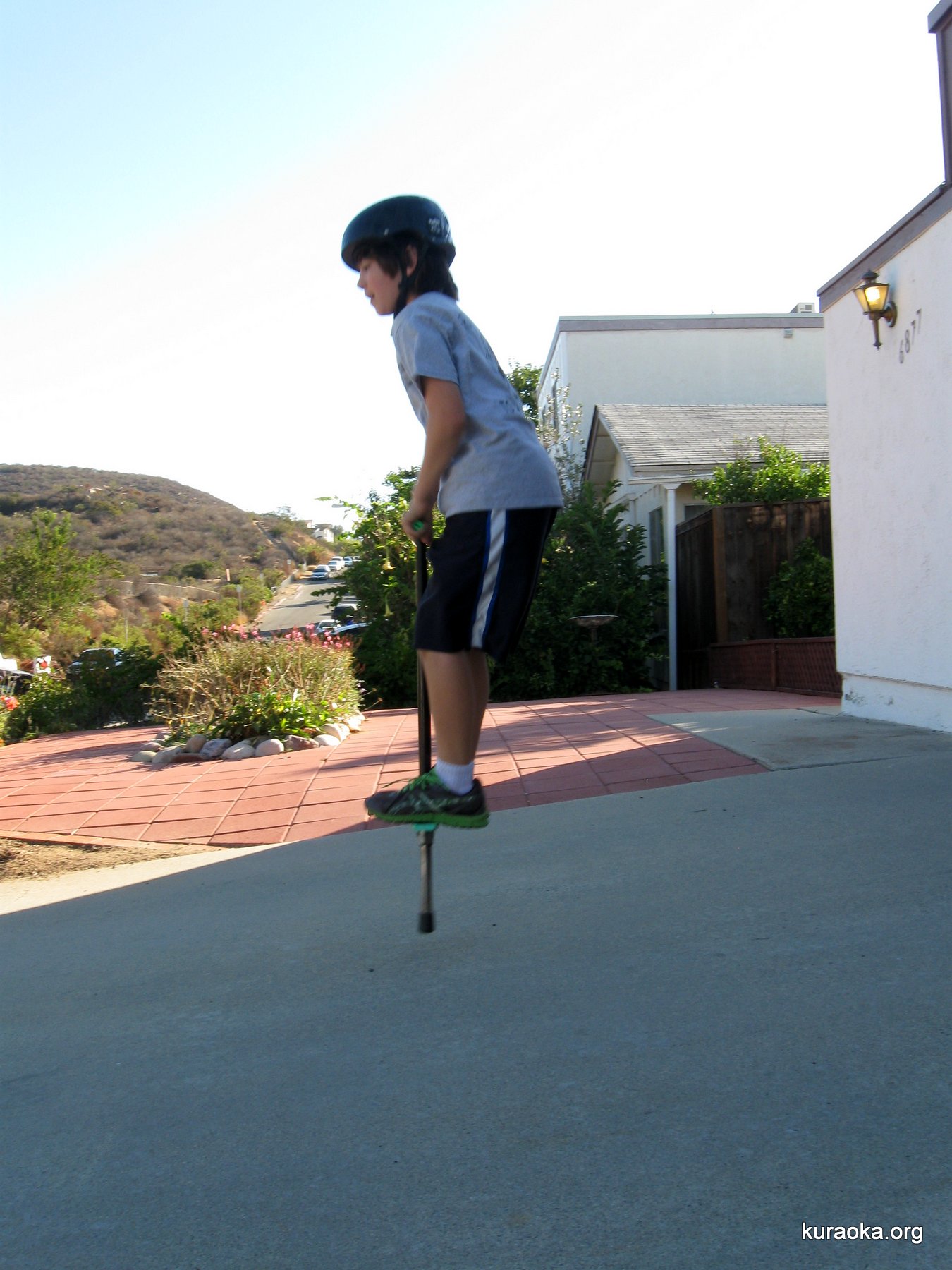 Last weekend was judo for the boys and a professional networking meeting for Ondine. Sunday was the memorial service for Sensei Jesse Jones in Murrieta. It was a lovely service, with lots of people, including Sensei Mark, sharing stories and celebrating his contribution to judo. At the end, they gave away little bags of mementos of Jesse's life and some of his favorite things: a Marine Corps button and flag, a dime with the admonition to save 10% of what you earn, a Unidos Judo Clubs pin, wintergreen Certs, and a pack of Doublemint gum. Ondine was on call all three nights.
This week's been busy too. Leo completed his TenMarks math, and his assessment showed a slight but measurable improvement overall. Roy went to Mission Bay with his buddies Alex and Michael, thanks to Lucy who has been driving them around all summer long! Ondine went to Lucy's birthday celebration with friends the other evening.
Roy has two meetings this week with the San Carlos Library teen group, putting the final touches on this Saturday's 40 and Fabulous Free Family Fun Fair activities. And today he had registration for high school! It was held at Green Elementary instead of on-campus at Patrick Henry High due to campus construction. Roy said it was the most disorganized thing he'd ever seen, with the police called out to maintain order. So it was exciting, at least! His confirmed class requests include Intermediate Algebra, Japanese, Technical Theater, and Advanced World History as well as English and PE, but that's not his actual schedule or even the classes he'll actually have.
BIG NEWS in the last few days, though, is that Jess and Sam had a baby girl named Avery! Avery is Liz and Les' first grandchild! Congratulations to all!
Weekend Preview includes the San Carlos Library's 40 and Fabulous Free Family Fun Fair! Come out and try the Tardis toss - and don't go too far or you'll be lost behind the fabric of space and time!
Back to the Archives page
Back to the Kuraoka Family main page
Forward to the current Weekly Journal.