The Kuraoka Family Sand Pond Journal 2011
www.kuraoka.org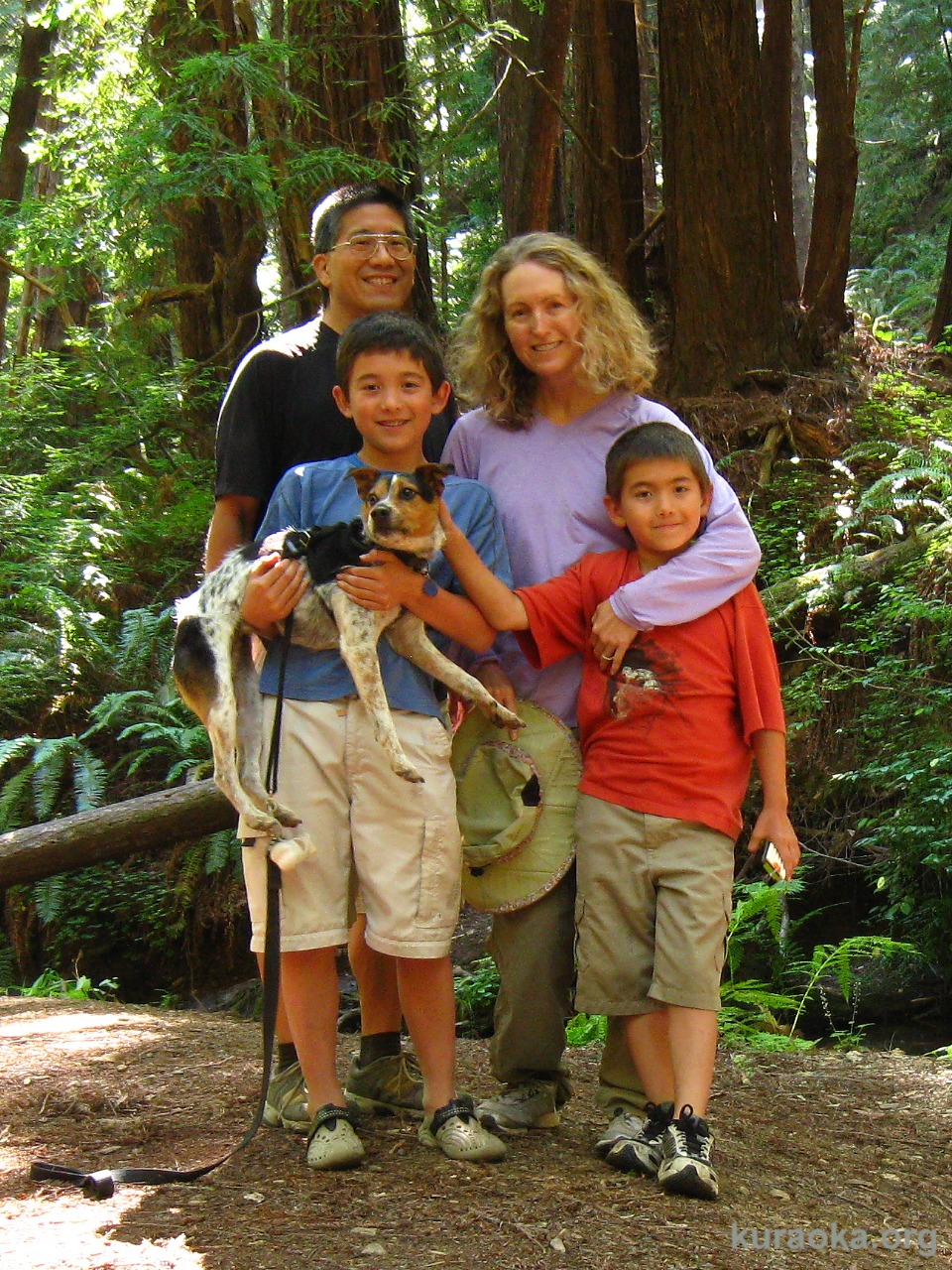 Us, August 14, 2011: John, Ondine, Roy, Leo, and Buddy
Sunday August 21 2011
PHOTOS from our camping trip to Sand Pond are now up, as well as an updated San Pond journal and lots of exciting news, including a major life change!
Let's see now. Our last journal before we left was August 5, talking about the visit of Barbara's friend Gäse and her family. Bill and Gäse's son Sönke really bonded – they took frequent walks together and even went up the mountain together! Upon their return to Hamburg, they found they'd inadvertently packed Barbara and Bill's spare house key! So, Sönke assured everyone, they'll definitely be back.
Bill managed to secure a San Diego Fire Department T-shirt for Sönke, a firefighter in Germany. He called on Clint, our neighbor up the street, who just retired from the department as a paramedic, and Clint tracked down a shirt and a bunch of patches.
But now we're getting ahead of ourselves, like the Time Traveller in H.G. Wells' book (and again).
It took us all day Friday to pack up the car, so by the time we left San Diego it was 5:00. We arrived at Grammy's house in La Canada at about 8:30, and had a nice evening there. Saturday we were once again slow on the exit (we're like mollusks; it's hard to pry us out of anyplace we feel comfortable) and it was noon by the time we hit the road for real, on our way to Santa Nella. We arrived in Santa Nella at about 5 pm. Ondine and the boys hit the pool area, while John took Buddy for a walk.
To pick up Buddy's liver infection story from the 5th, we continued giving him his antibiotic every morning. We saw that he was more-easily tired throughout the week, but in general he was definitely on the mend. We took him on short walks, and left him with Ulli on our hike up the Sierra Buttes.
Sunday morning (August 7) we enjoyed the breakfast buffet at the Holiday Inn Express, packed up, and headed out at about 11:00 (mollusks!). Three hours later we were in Sacramento, and another two hours after that we were pulling into Bassett's Station, where we filled up with Bassett's gas.
We were in Sardine Lake Campground site #24, which we'd had a few times before. In fact, Leo learned to walk in this campsite more than eight years ago. The site was larger back then; a tree had been felled that isolated a section of the site and created a strip of no-man's land that everyone used as a shortcut to the other side of the loop. We set up camp and a little later, Ulli and Diego pulled up in site #23, right next door, and with that we were all together. Ulli brought with her some wonderful gifts: three bags of Moose Munch and a big bin of fresh blueberries!
The campground was unusual this year, in that there were almost no big motorhomes or trailers. Instead, the vast majority of the campers were, like us, tent camping. Also, there were more kids than we'd seen before – Leo immediately made several friends, and seemed to spend as much time at their campsites as he did at ours.
And here is our first look at Sand Pond!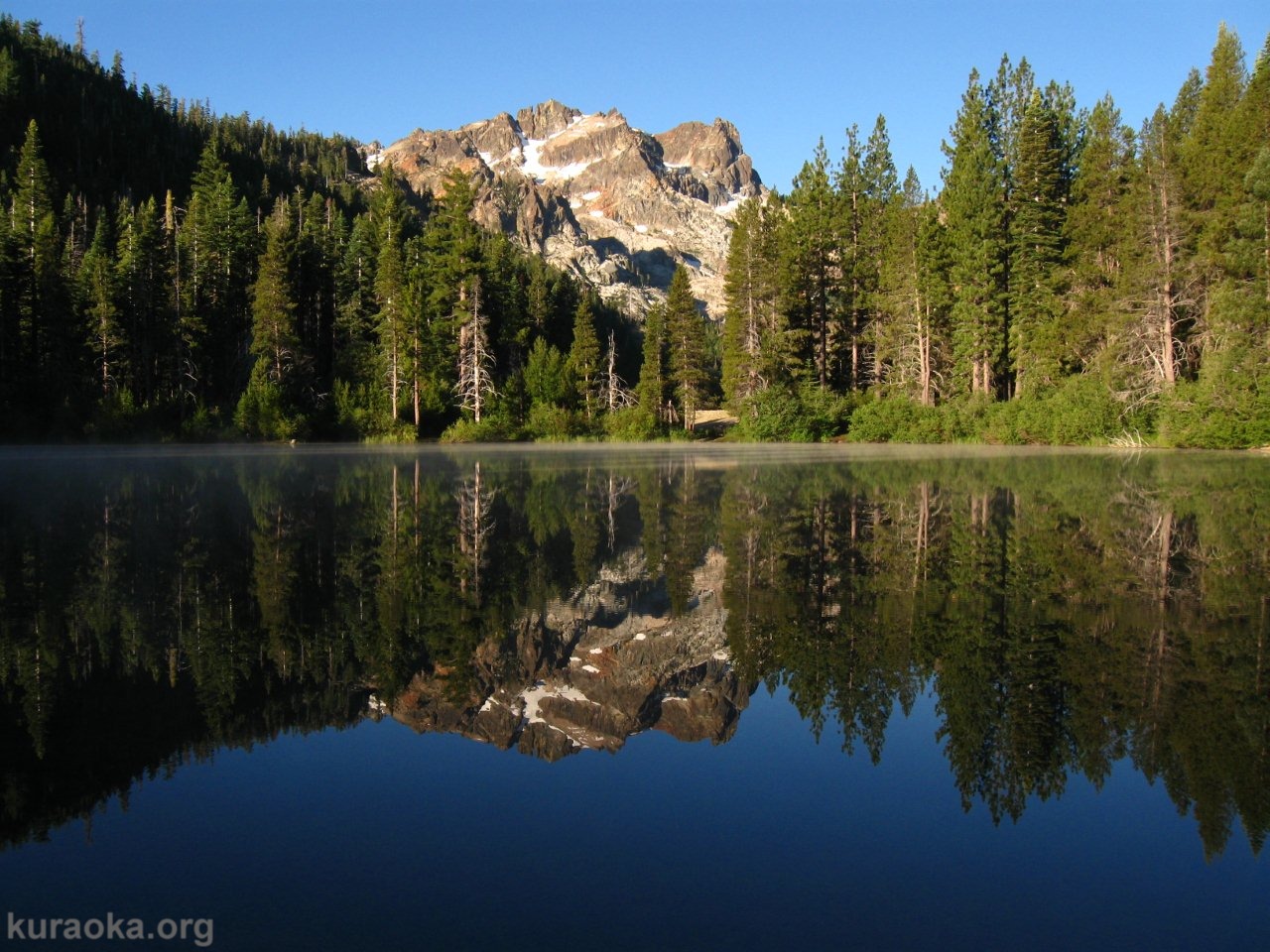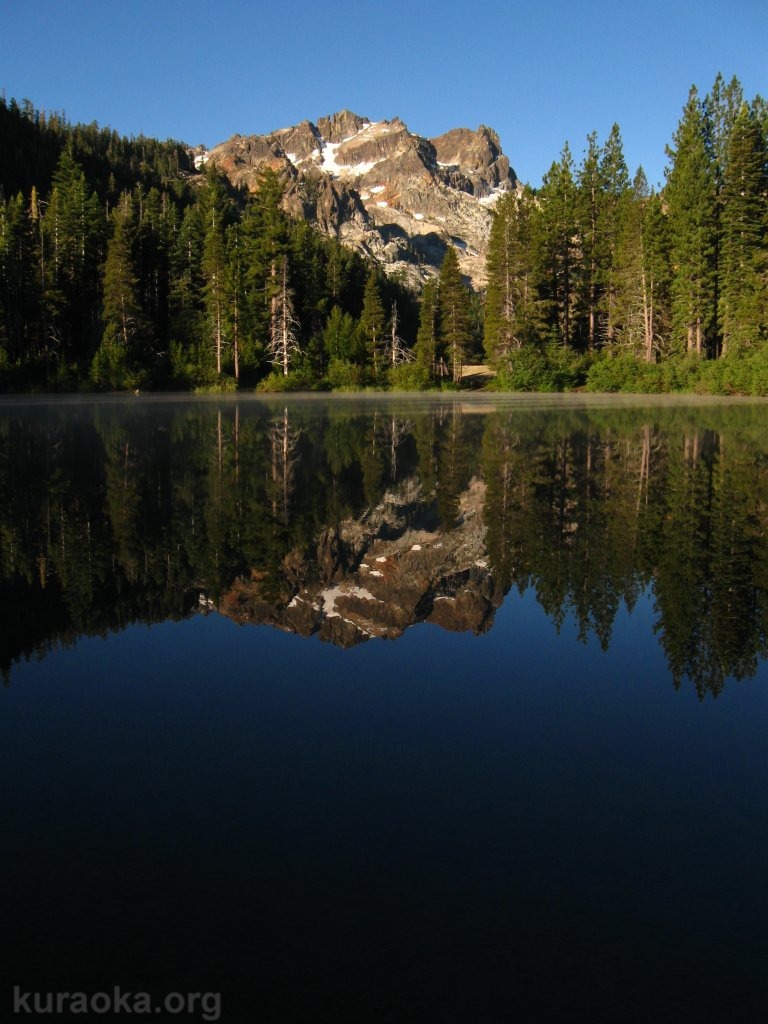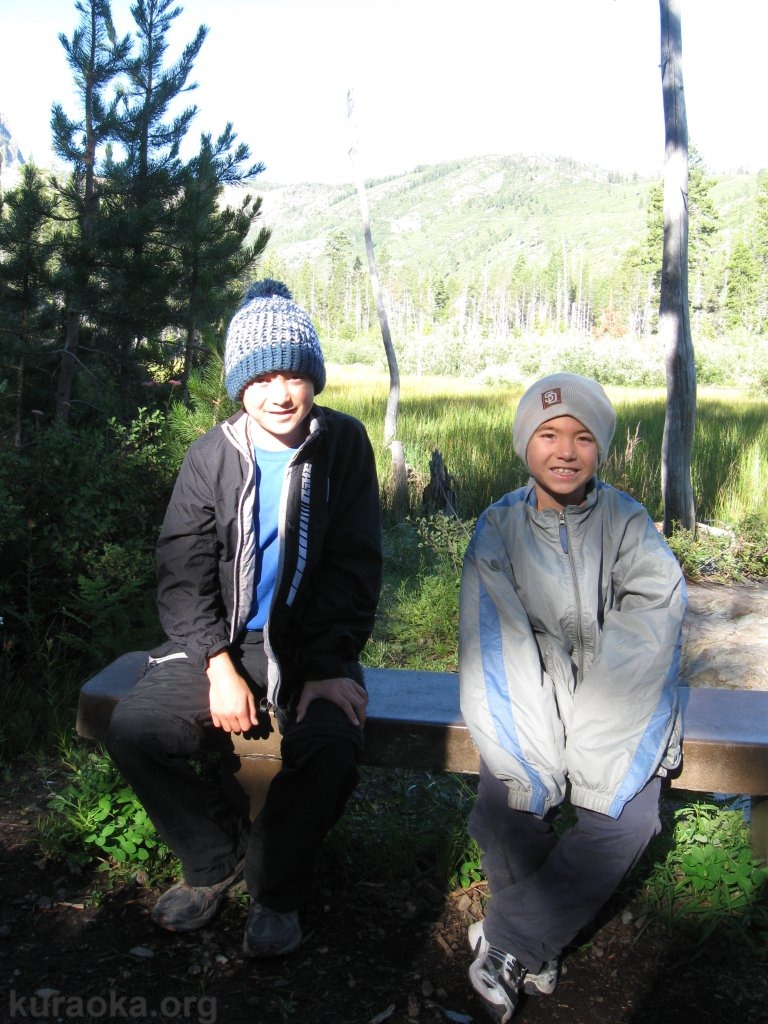 Monday (August 8) Ondine needed to do work for the online novel-writing class she's taking, so she took the laptop and went to Sierra city in search of either a good Verizon signal or a good wireless internet connection. She found both at the Mountain Creek Restaurant, along with wonderful food that, well, she had to order because she was sitting there using their table. She emailed her critiques and, later that day, attended the class via chat.
John, meanwhile, took Roy and Leo and buddy to the spillway for the day. After a couple hours, though, they moved back to the far side of Sand Pond, where it wasn't crowded and the doggo would be overlooked. Roy and Leo waded and swam a bit; John watched and read an interlinear translation of selected stories from Chaucer's Canterbury Tales.
John and the boys and Ulli shared dinner that evening: macaroni and cheese, fresh cucumber (from Ulli), and some S'mores flavored Moose Munch (also from Ulli)! John salvaged a white Styrofoam cooler that had been abandoned in the site behind us when the previous campers checked out. Ondine returned from Sierra City around 9 pm, by which time the boys were in bed and John was too, reading and dozing.
Tuesday (August 9) we all went to Packer Lake and had a picnic on the shore. Roy and Leo waded in the shallows with a mask and snorkel. After lunch, we walked around the lake, following a trail that wound through the charming, rustic cabins of the Packer Lake Lodge resort. The cabins all had names. Our favorite was the "Abe Lincoln," a tiny, half-height cabin with a deck that doubled its square footage. It was just off the trail, within a few feet of the lakeshore. It looked barely tall enough for a person to stand in the middle, along the peak of the roof.
Ondine, Roy, and Leo then went to Sand Pond while John took Buddy and Buddy's bed back to camp. Although his arms were full of stuff, he found room to pick up and salvage chartreuse, orange, and white striped picnic blanket he found by the side of the road. First an ice chest and now a picnic blanket – what a scavenger!
For dessert that evening, we popped Jiffy Pop popcorn that Grammy had bought for us – thanks, Grammy! The boys had never seen Jiffy Pop before, and were amazed and slightly worried when they saw the foil balloon growing larger and larger with machine-gun pops. It was excellent!
And here are the photos of us at Packer Lake, and later with the Jiffy Pop!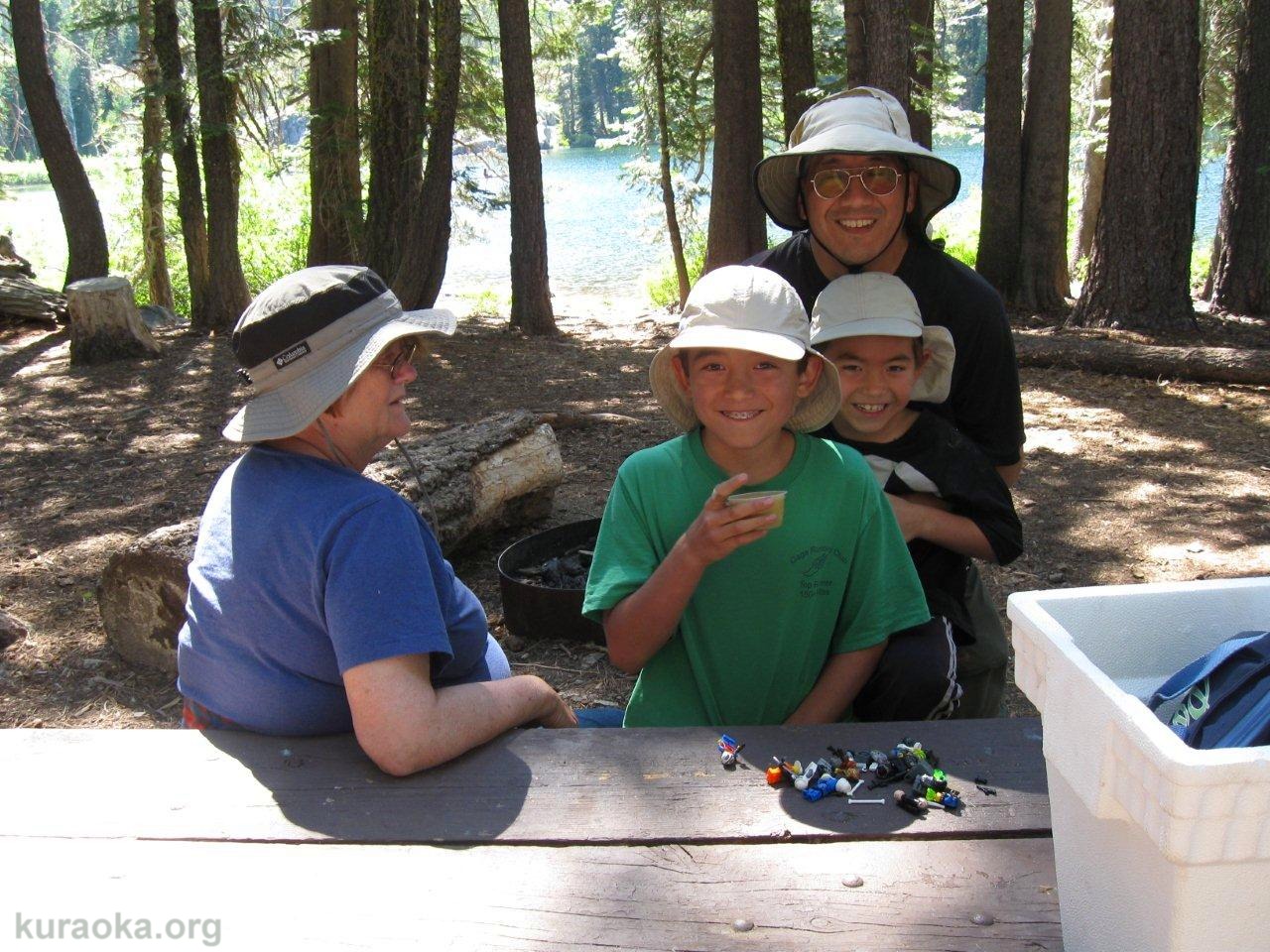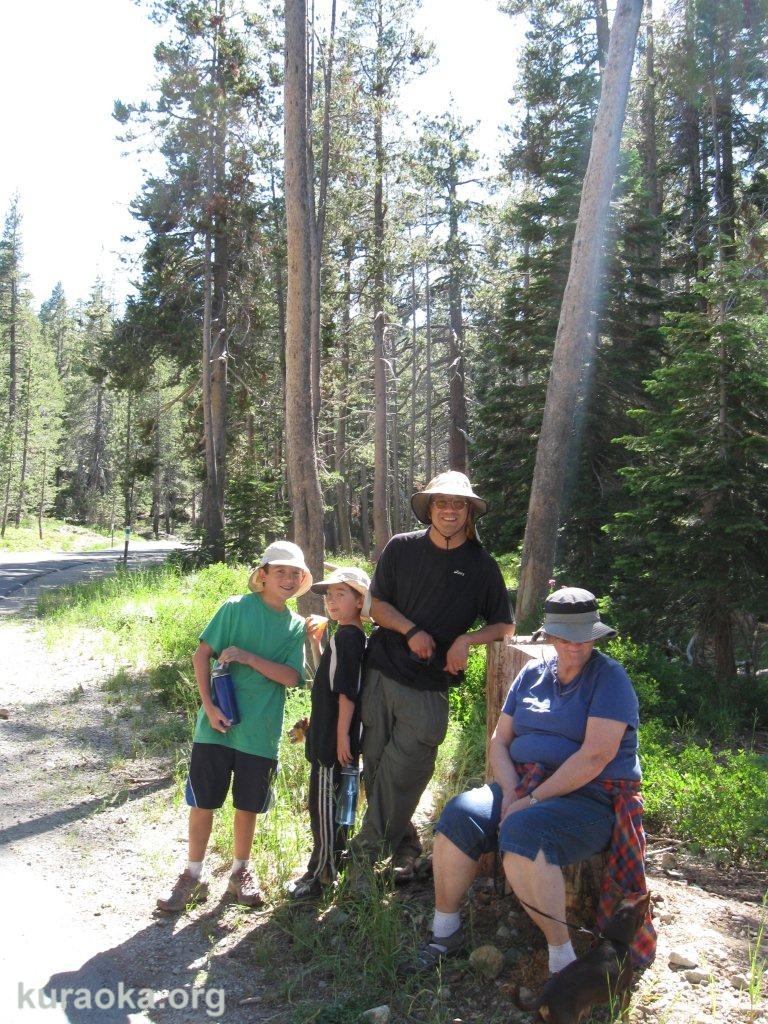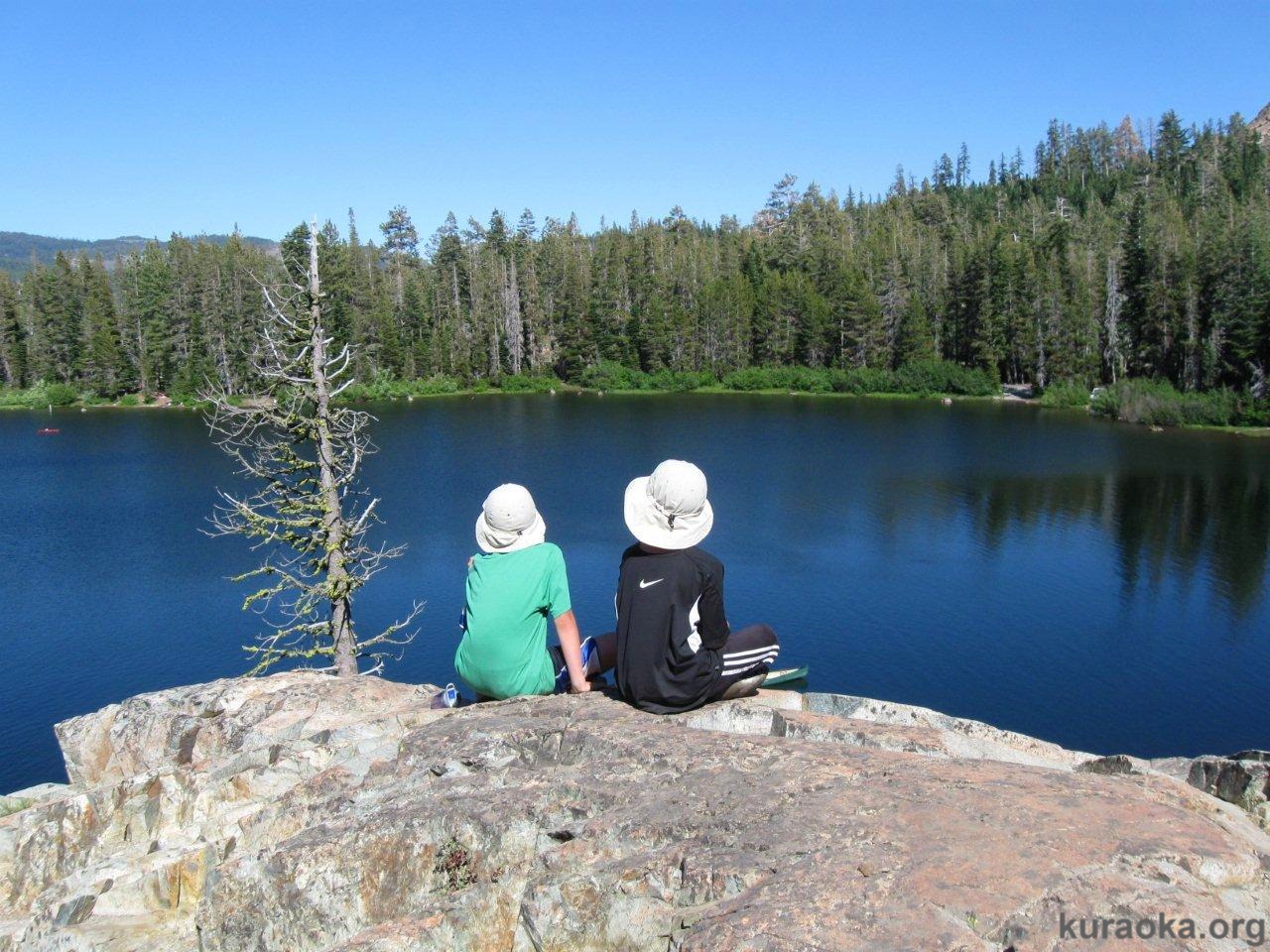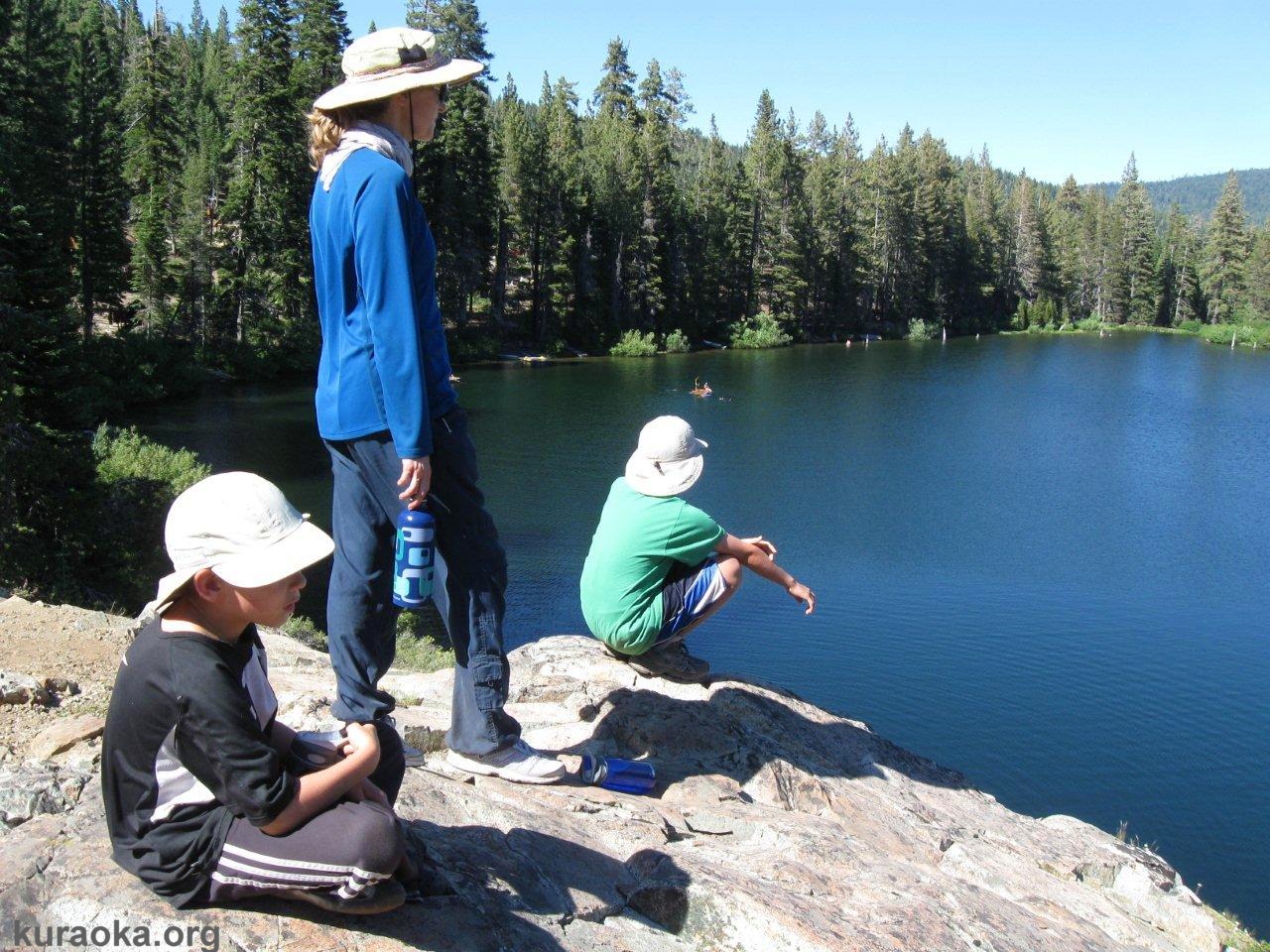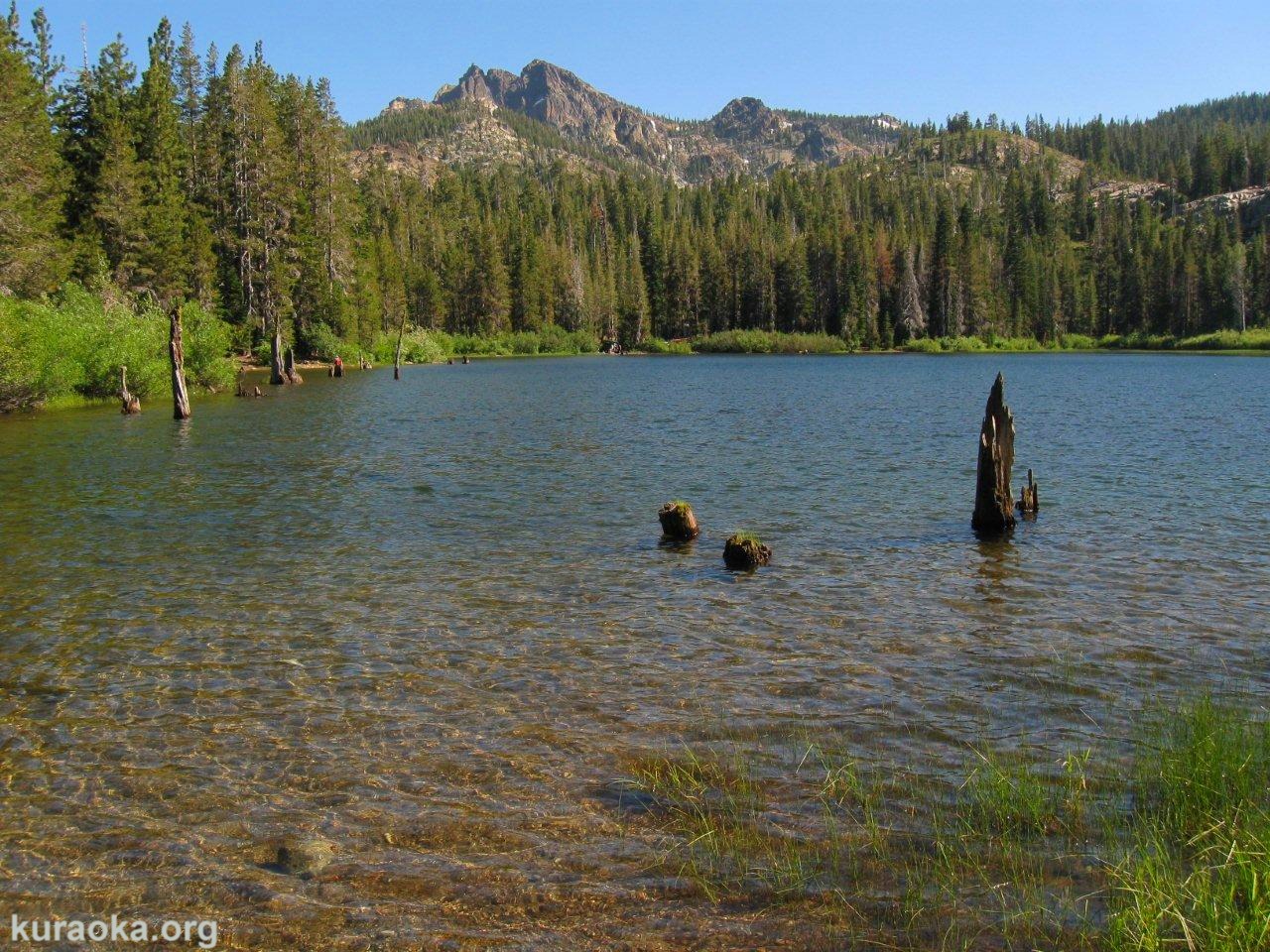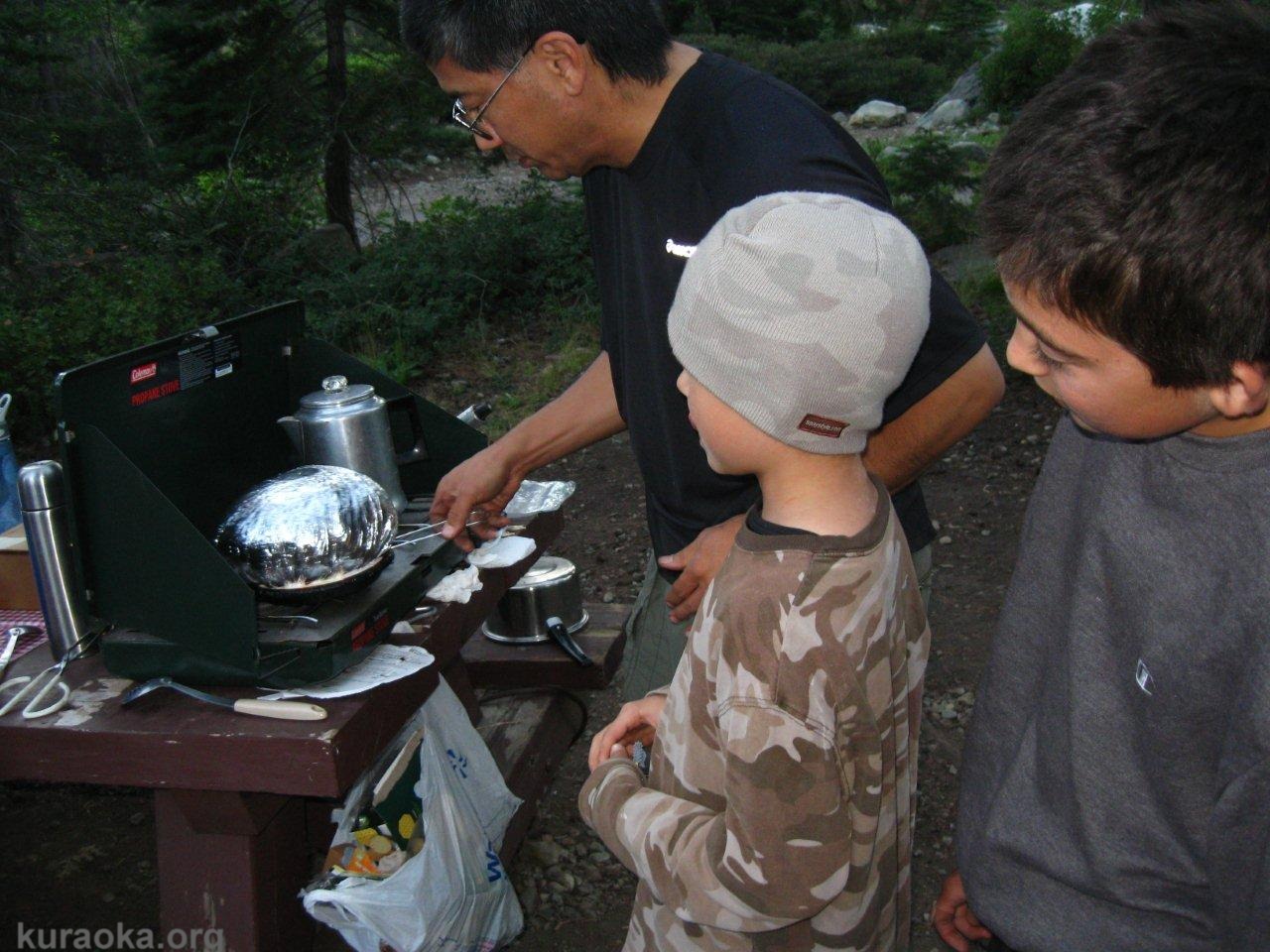 Wednesday (August 10) we went to Wild Plum Campground to pan for gold in Haypress Creek. The rope swing under the bridge leading into the campground had, unfortunately, been hitched up too high for the boys to reach, which may have been just as well – the creek was icy cold! While the boys panned, the adults took turns going into Sierra City to the Mountain Creek Restaurant to check email and catch up on correspondence. John managed to snag a possible piece of new business, and celebrated with an order of fish and chips.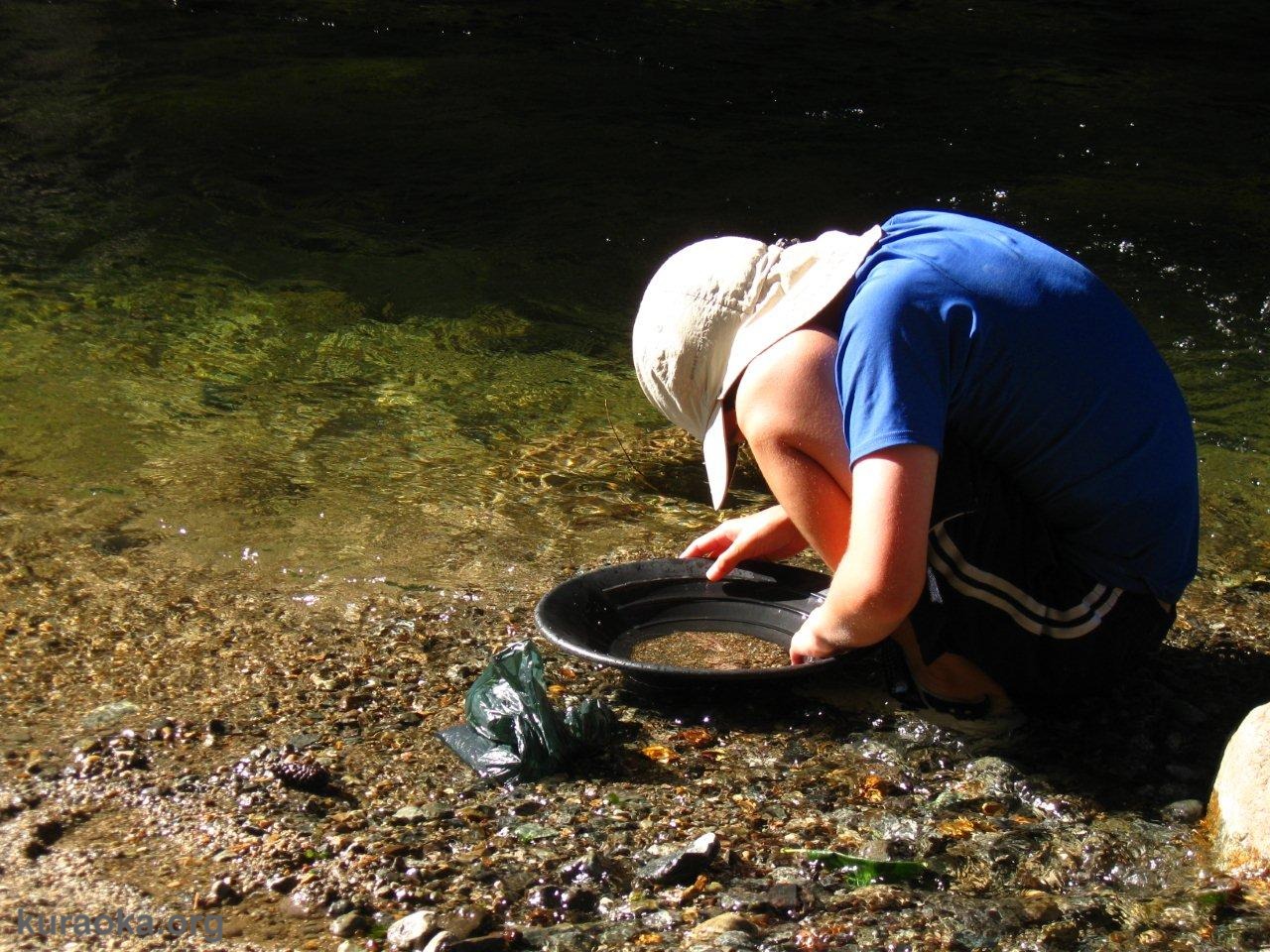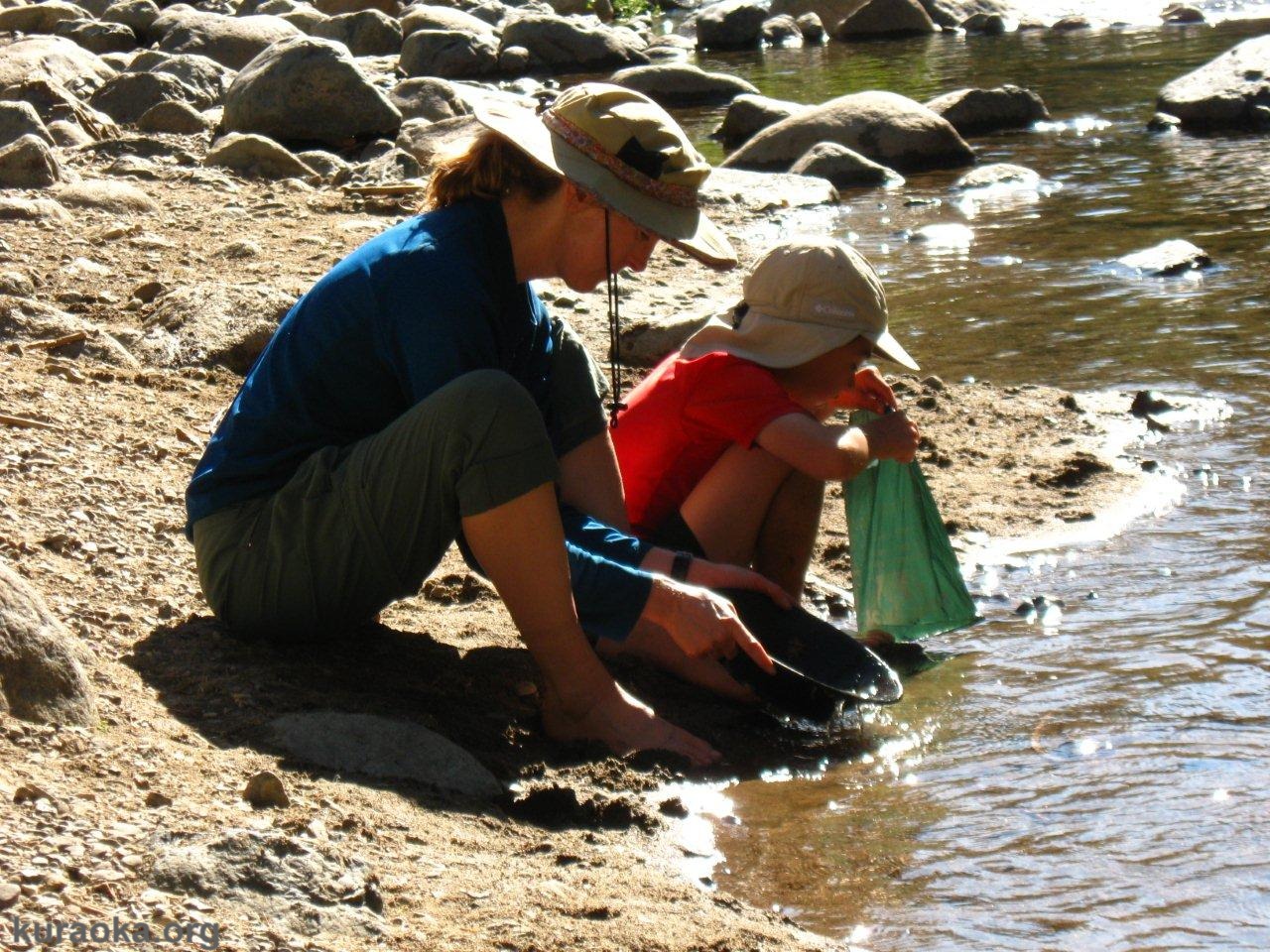 John also kept finding and adopting stuff, including a dime and a penny and a soft fabric strap.
Ondine had been checking phone messages every chance she got, and got the news about something really super important that we'll get to at the end. Ha! And, while she was in town, she found and adopted a nice green Columbia floppy hat! It's a very nice hat. (See? John isn't the only scavenger in the family. And, by the way, Roy had found several quarters in a gas station parking lot, and Leo found some odds and ends too.)
Thursday (August 11) we went up the Buttes! We left at about 8:35, arriving at Packer Lake trailhead a little later. We applied sunscreen, and started hiking at a few minutes after 9 am. Buddy stayed in camp with Ulli since he was still recovering and we'd been told that he should take it easy.
It's about a seven-mile hike to the lookout tower from that trailhead, with an elevation gain of at least 2,200 feet. (Most people who go up drive at least 2/3 of the way on a 4WD road.) As we approached the top, we found a lot of snow beside and even on the trail! About 3/4 of the way up, we separated, with John and Roy forging on ahead and Ondine and Leo slowly but steadily coming up.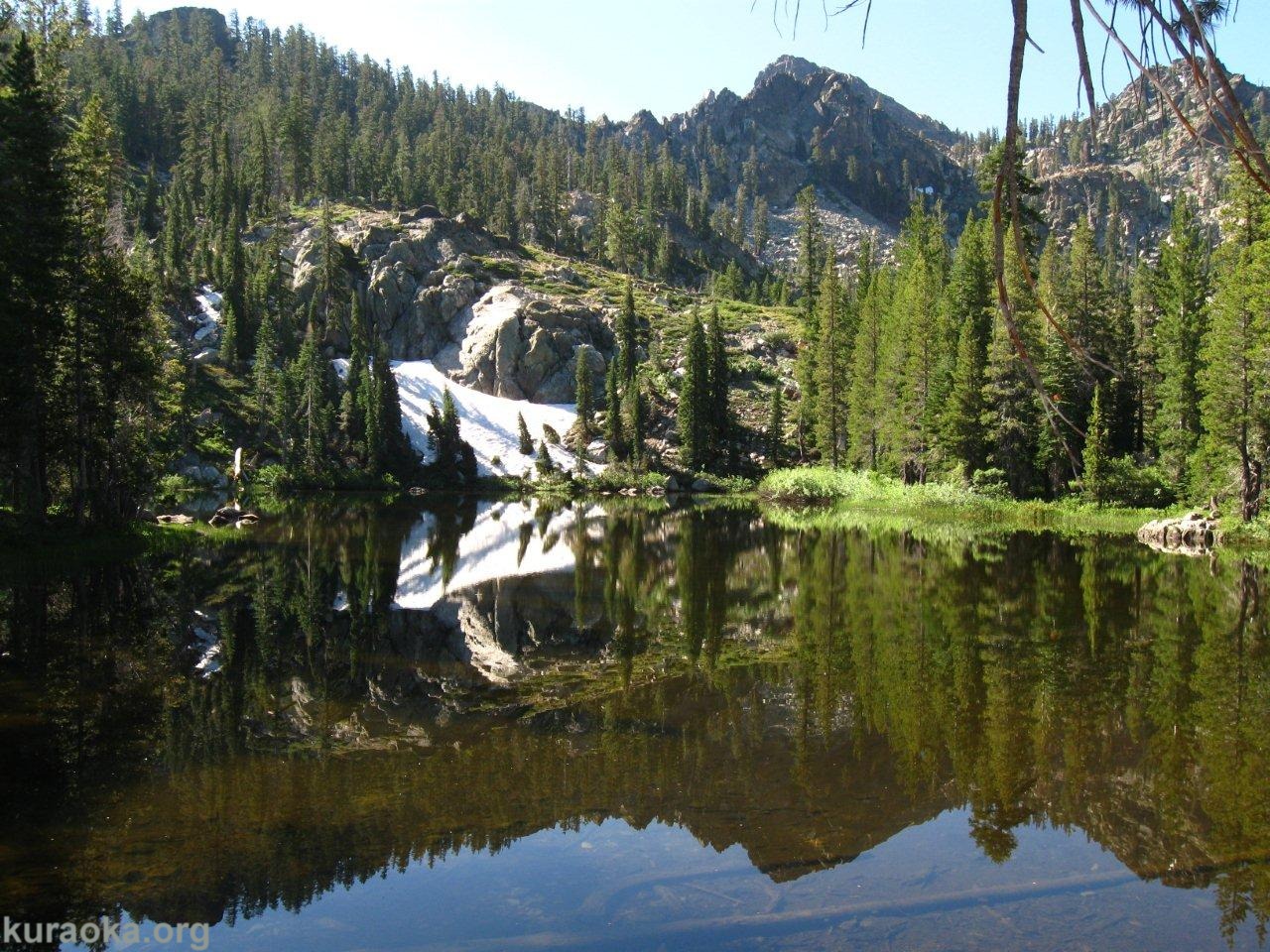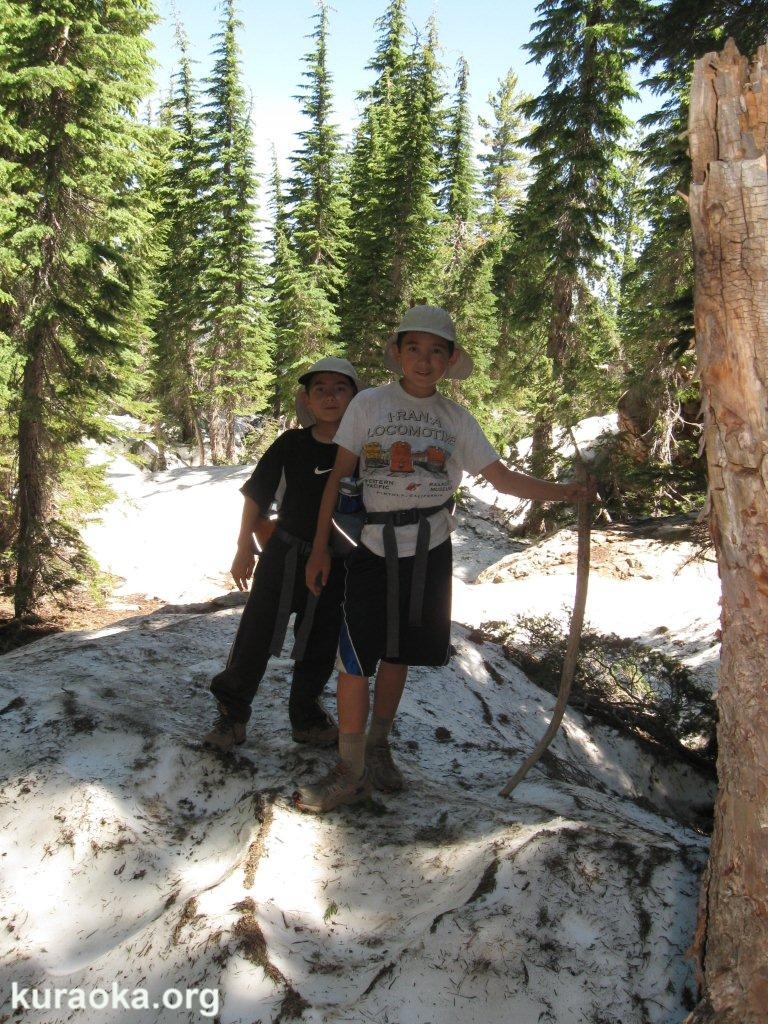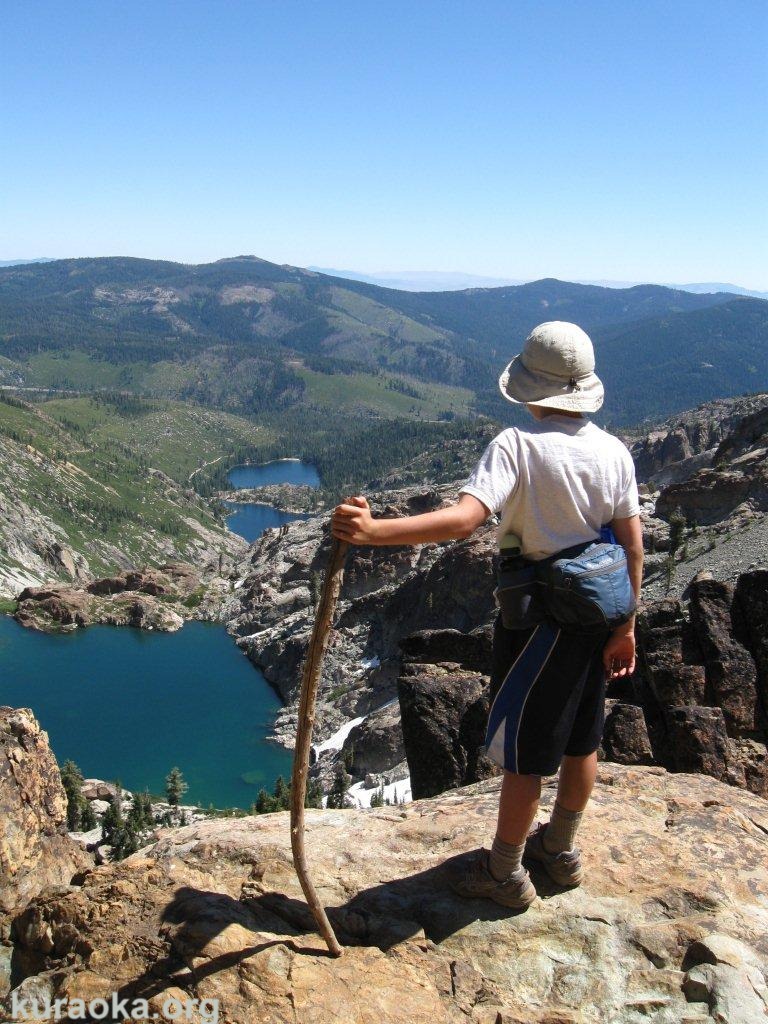 John and Roy made the lookout tower at 12:05, so it took a minute or two over 3 hours. Ondine and Leo arrived at 12:55, less than an hour later. That's very good time! We took some photos of all of us on the lookout tower walkway at the very top. We were amazed to find no flies at the top, and only a slight wind that picked up while we were there. We ate lunch at the top, and then John broke out a surprise: dark chocolate Moose Munch! It was the perfect thing for the top of the Buttes. Here we are on the Buttes!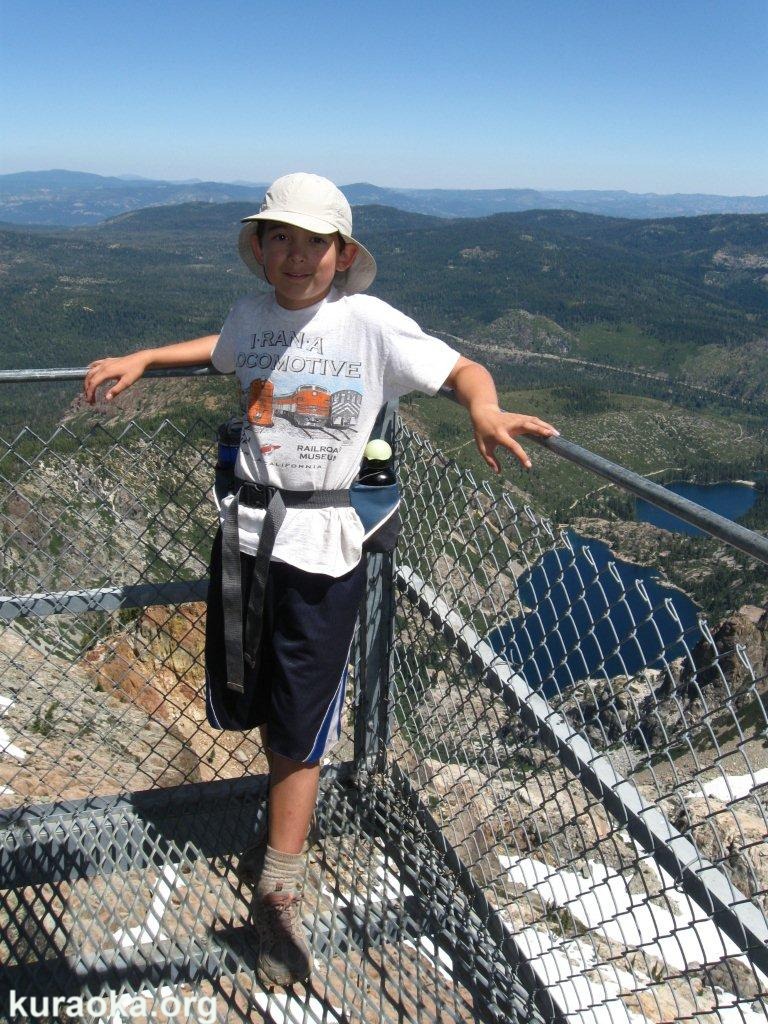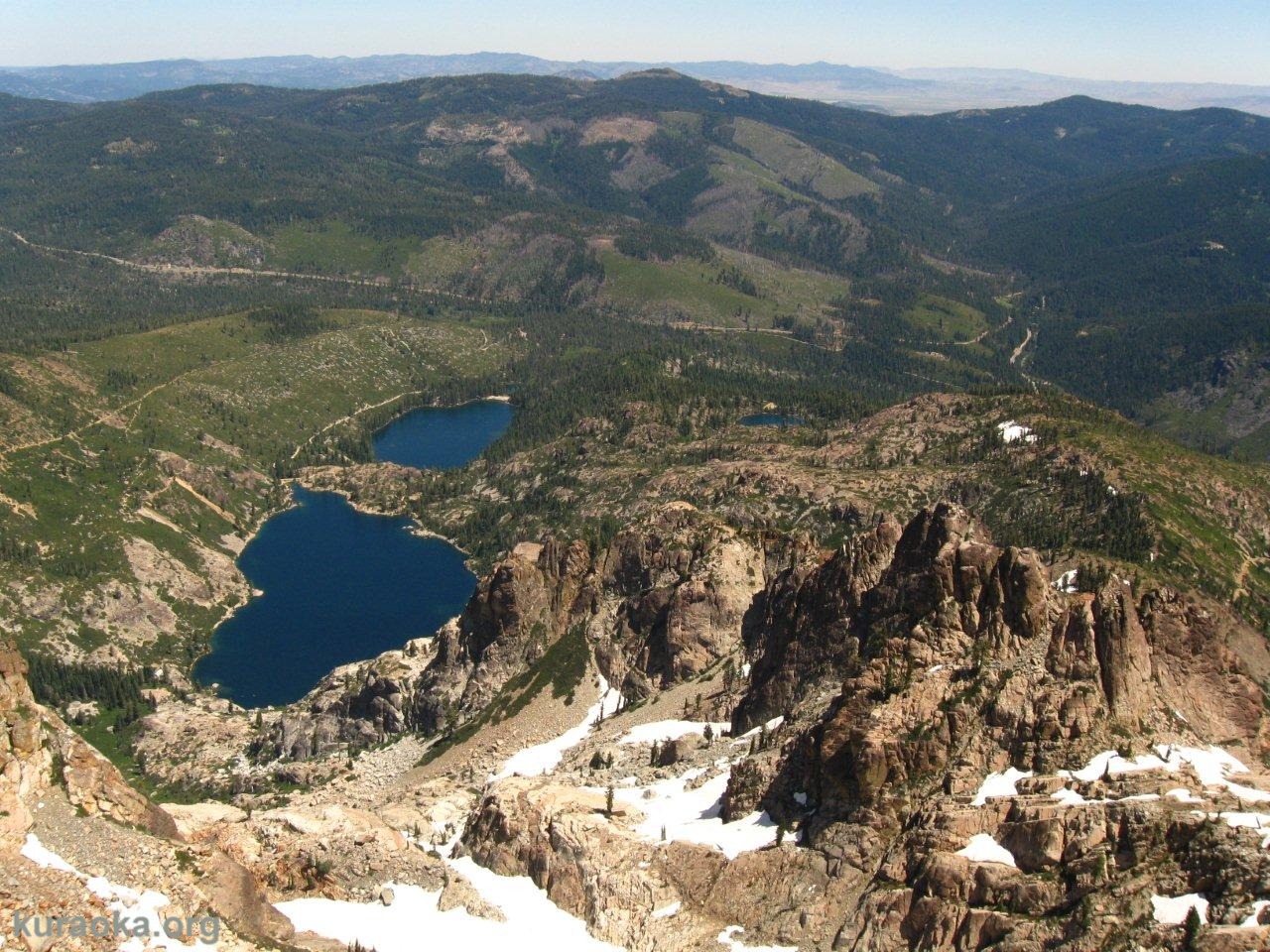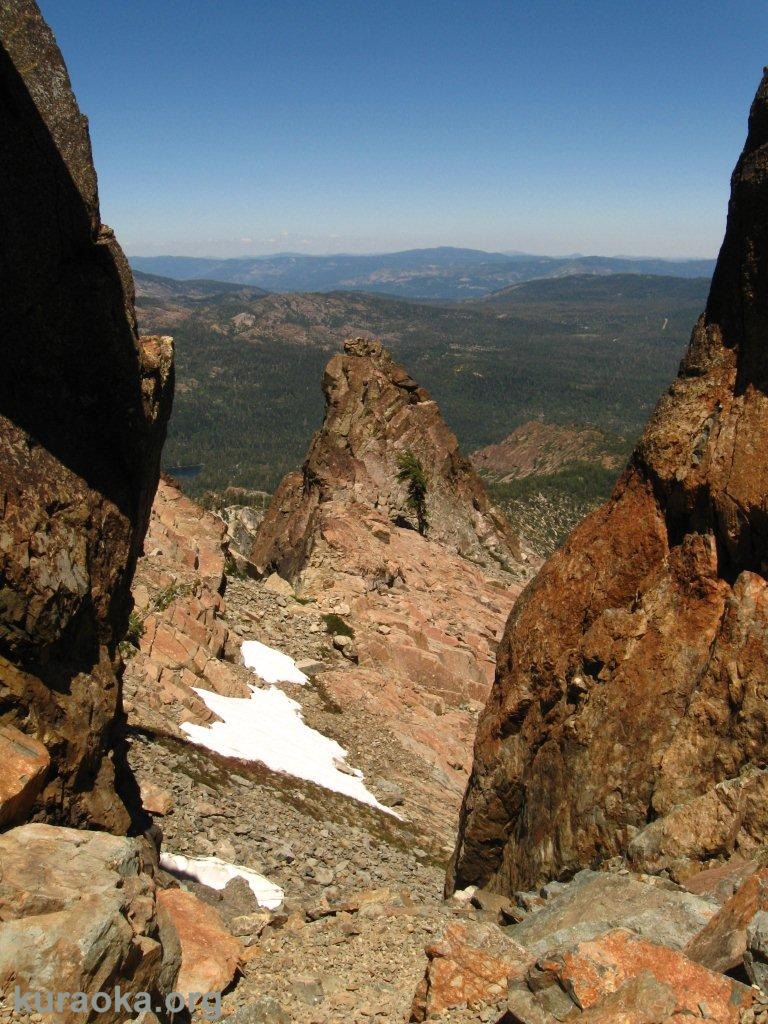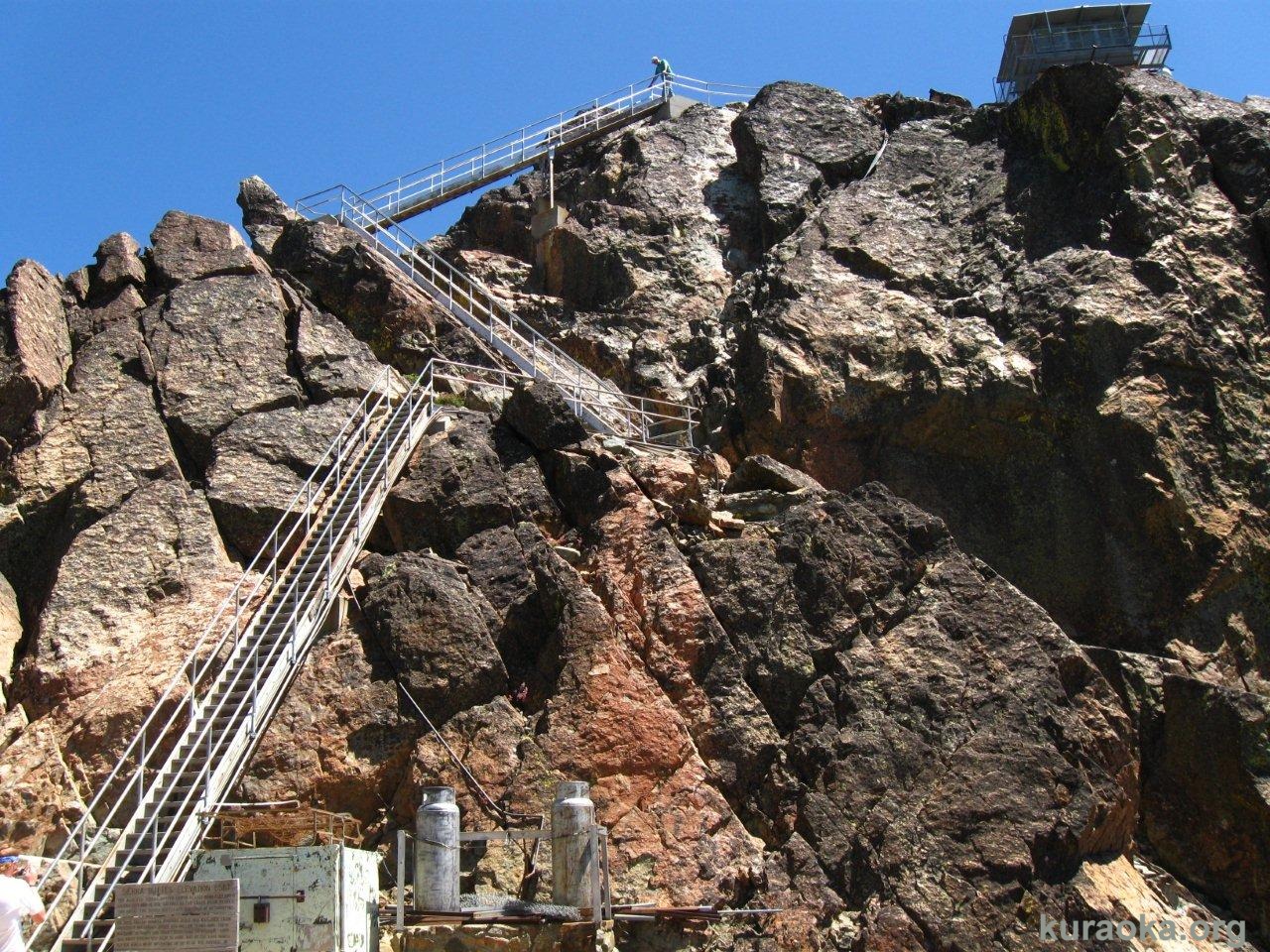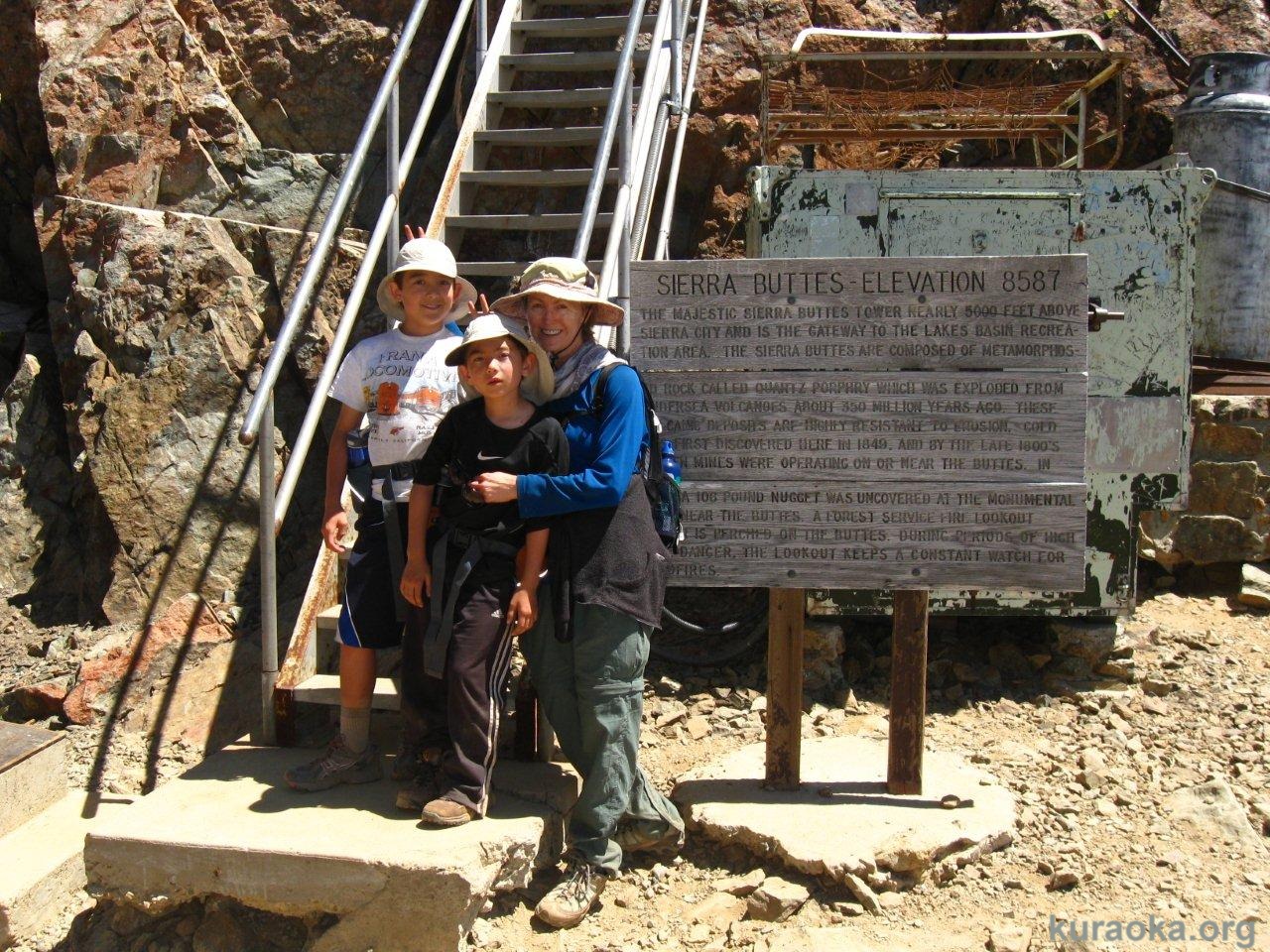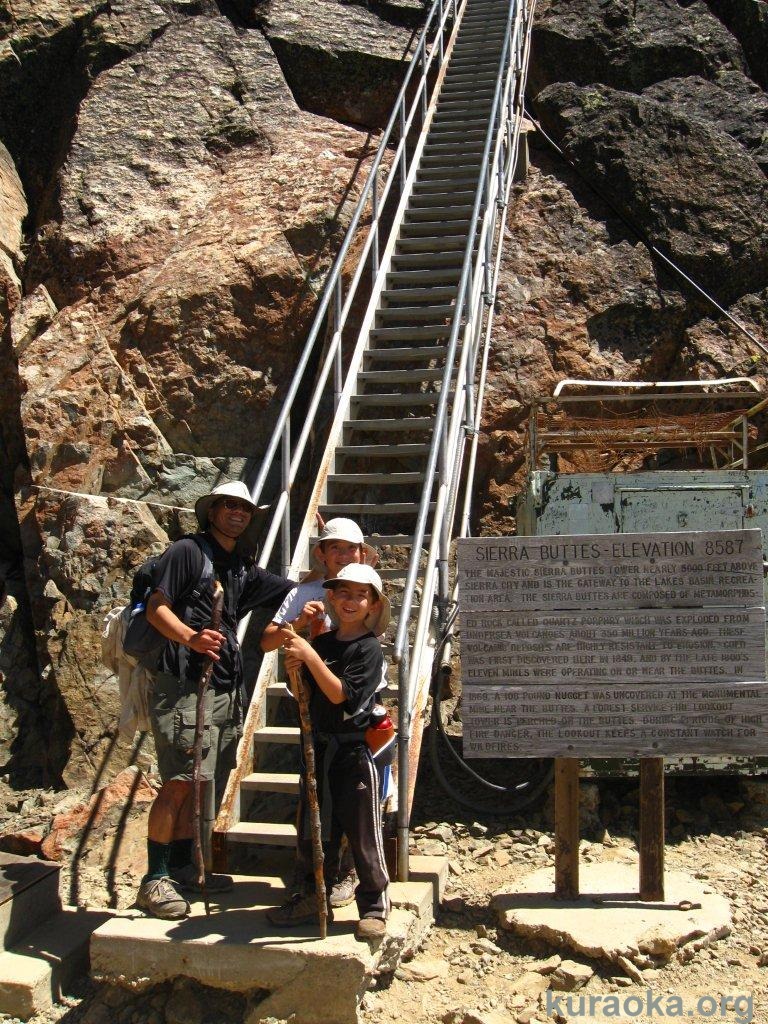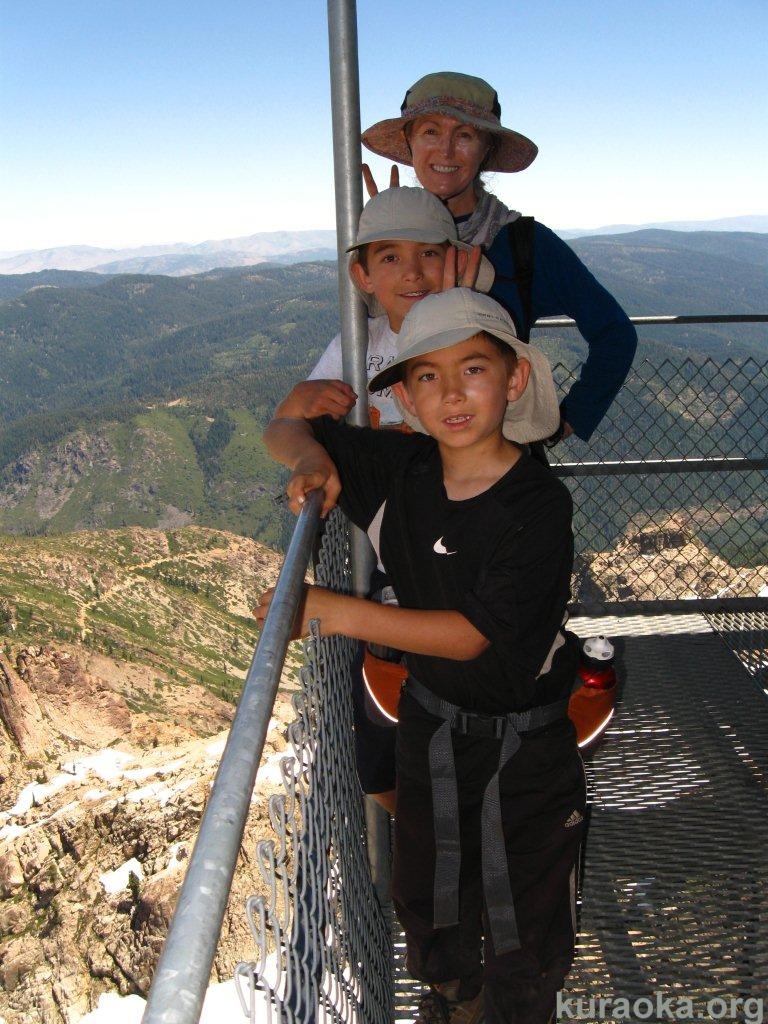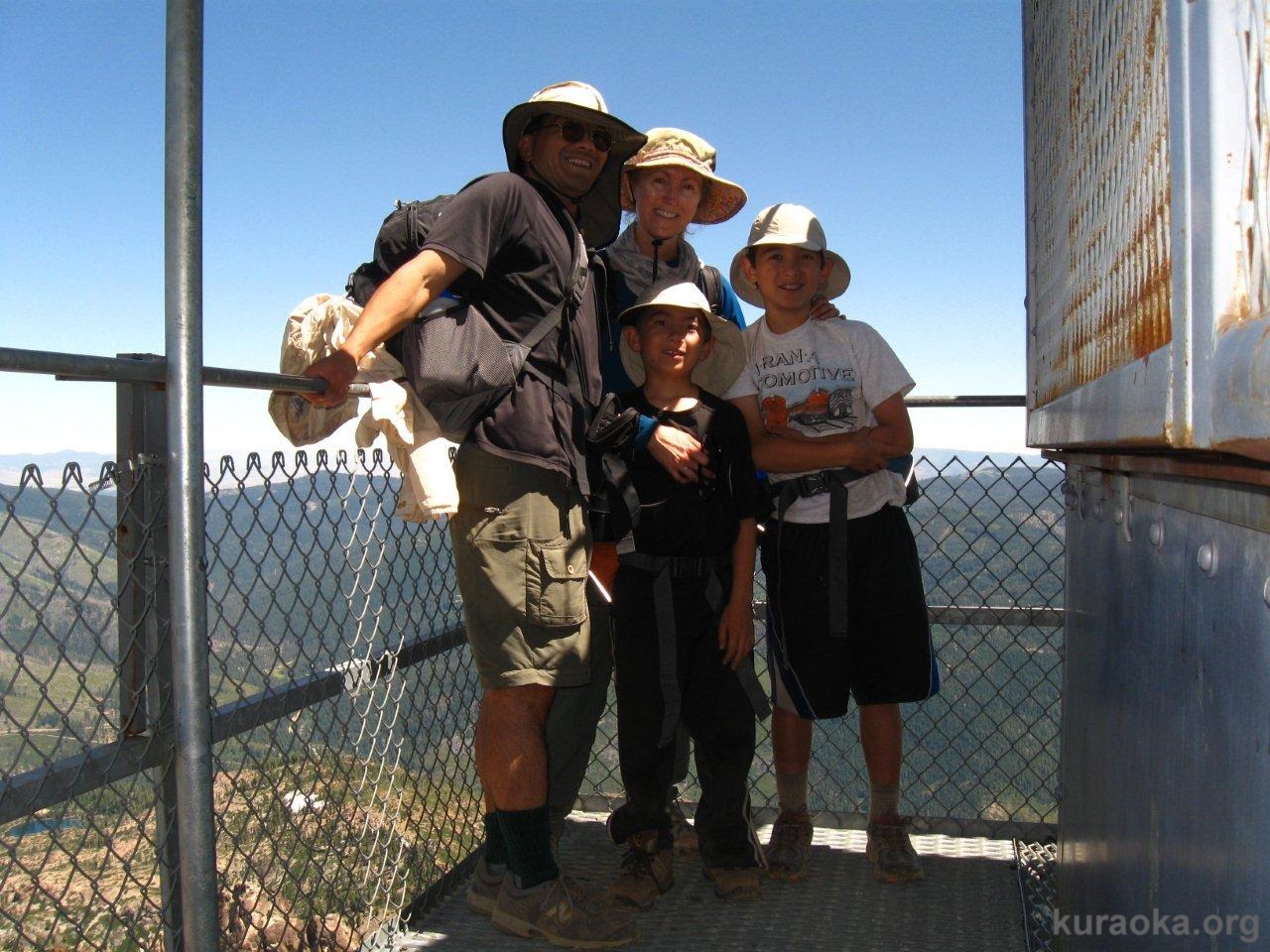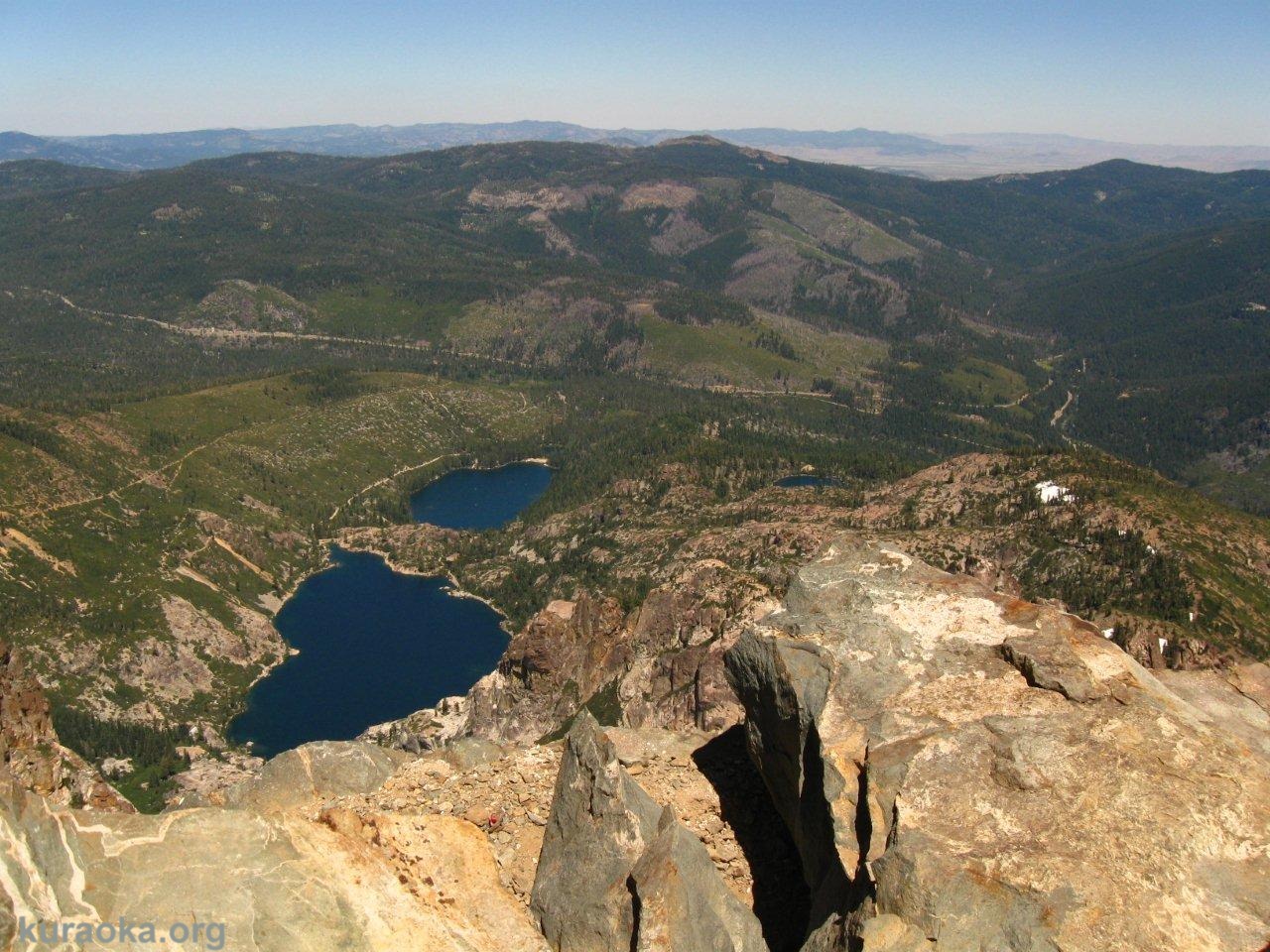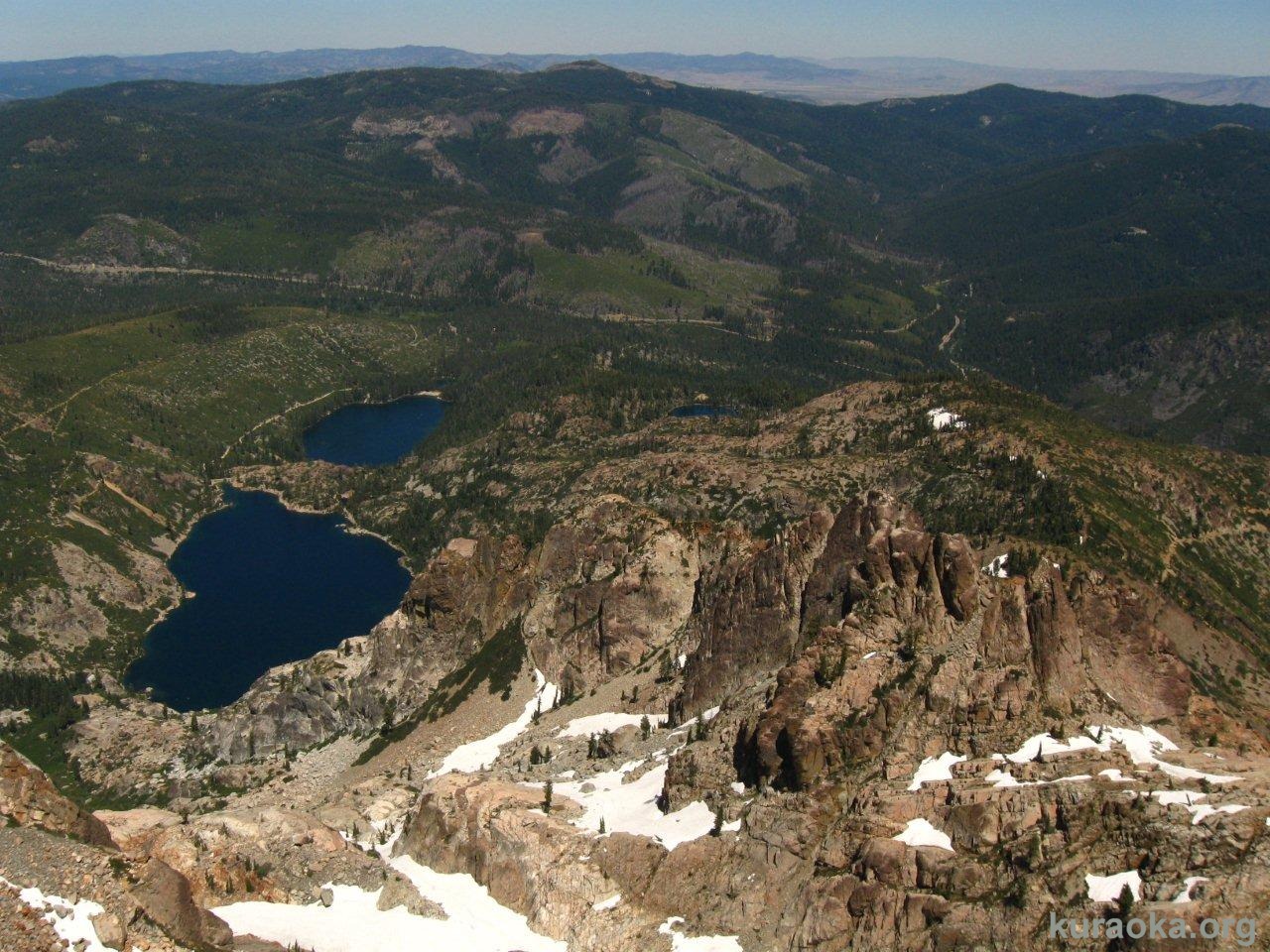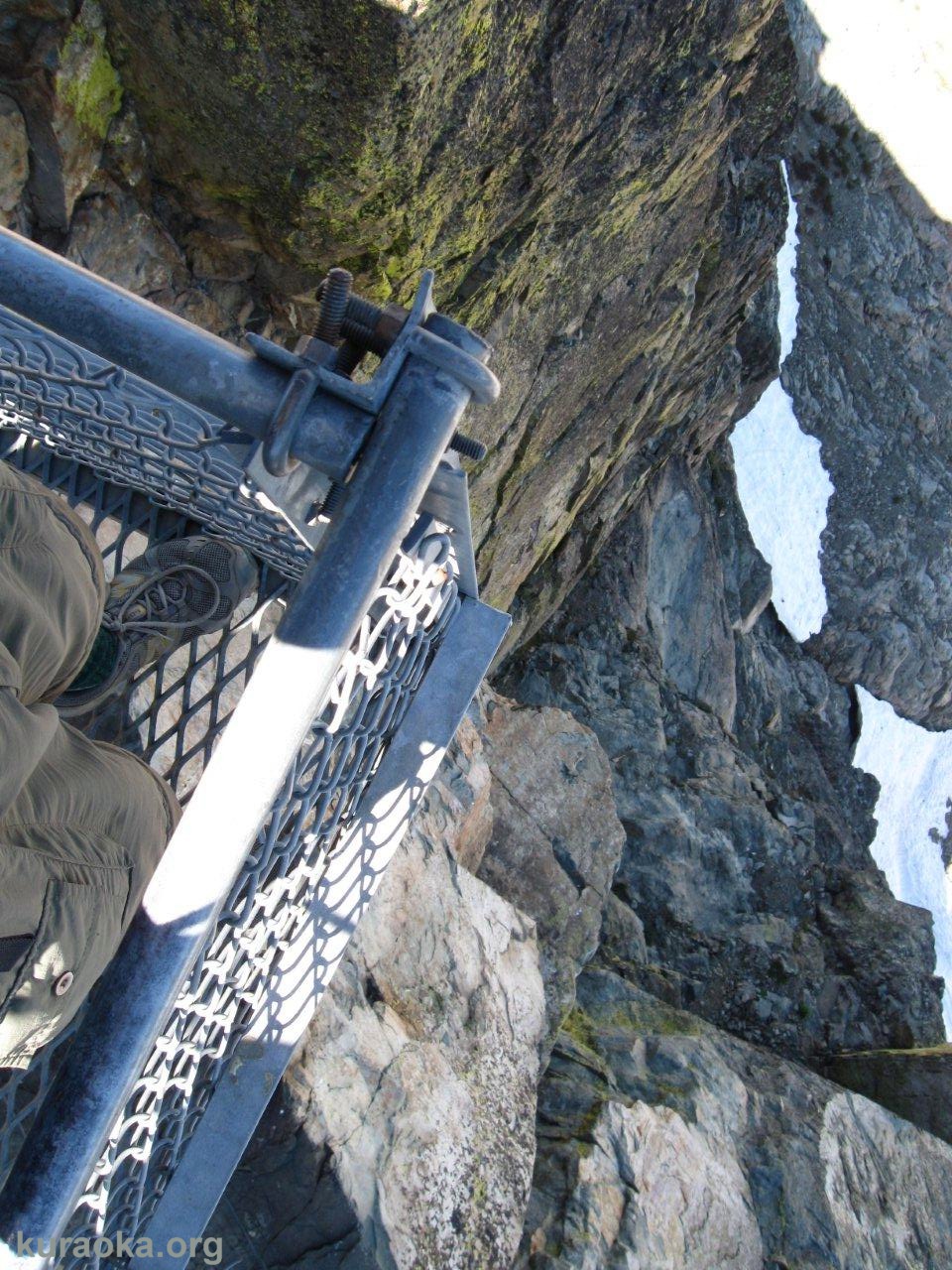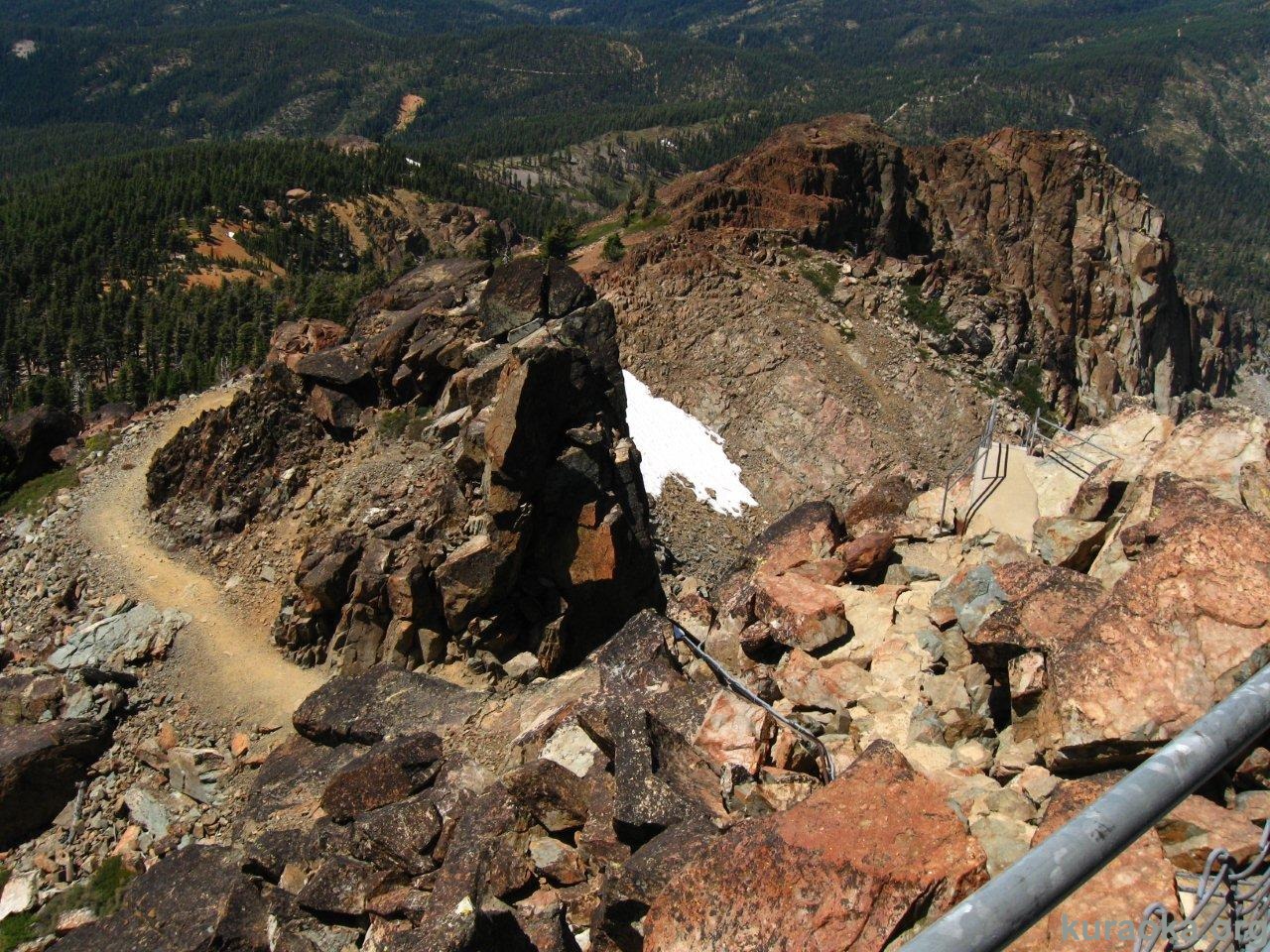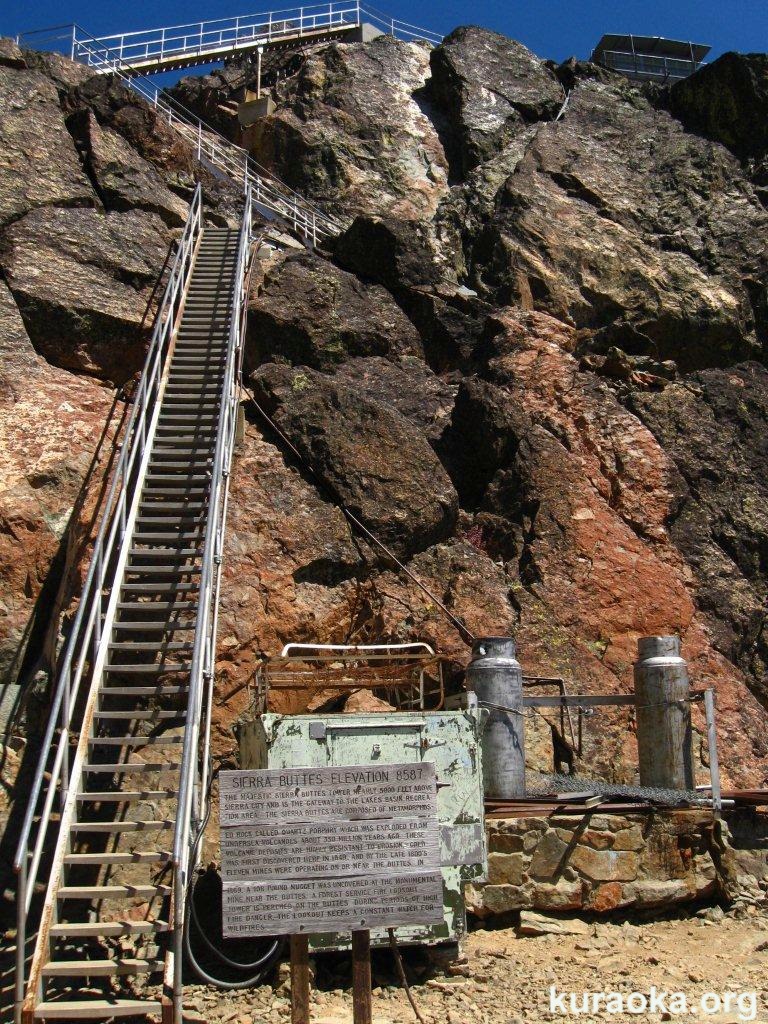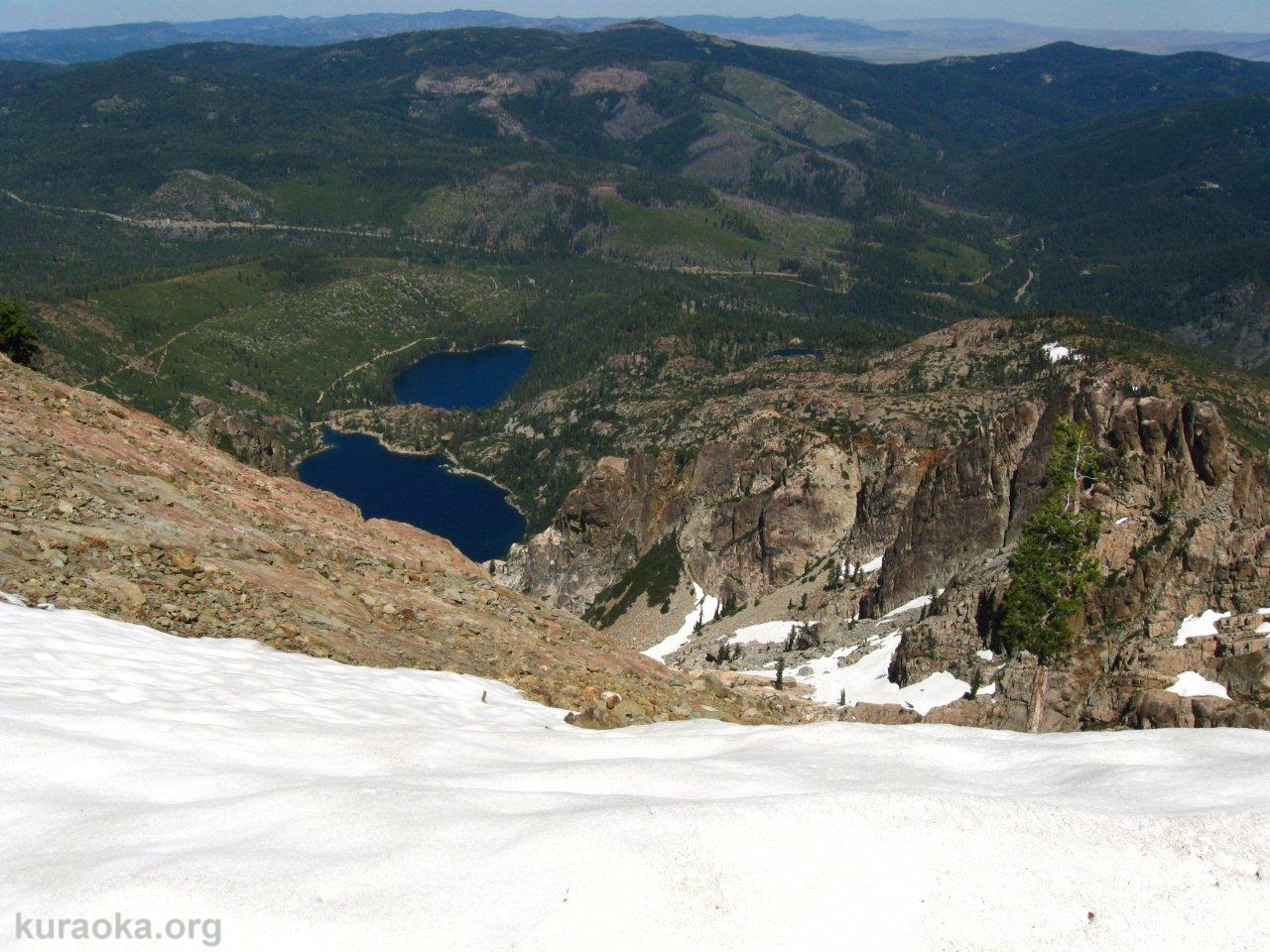 On the way up, we'd each sought out and discovered Oma's special memorial spot, a rock outcropping overlooking Young America Lake with a view to the lookout tower. We think when we return, we might bring an engraved tent peg to place there in her honor.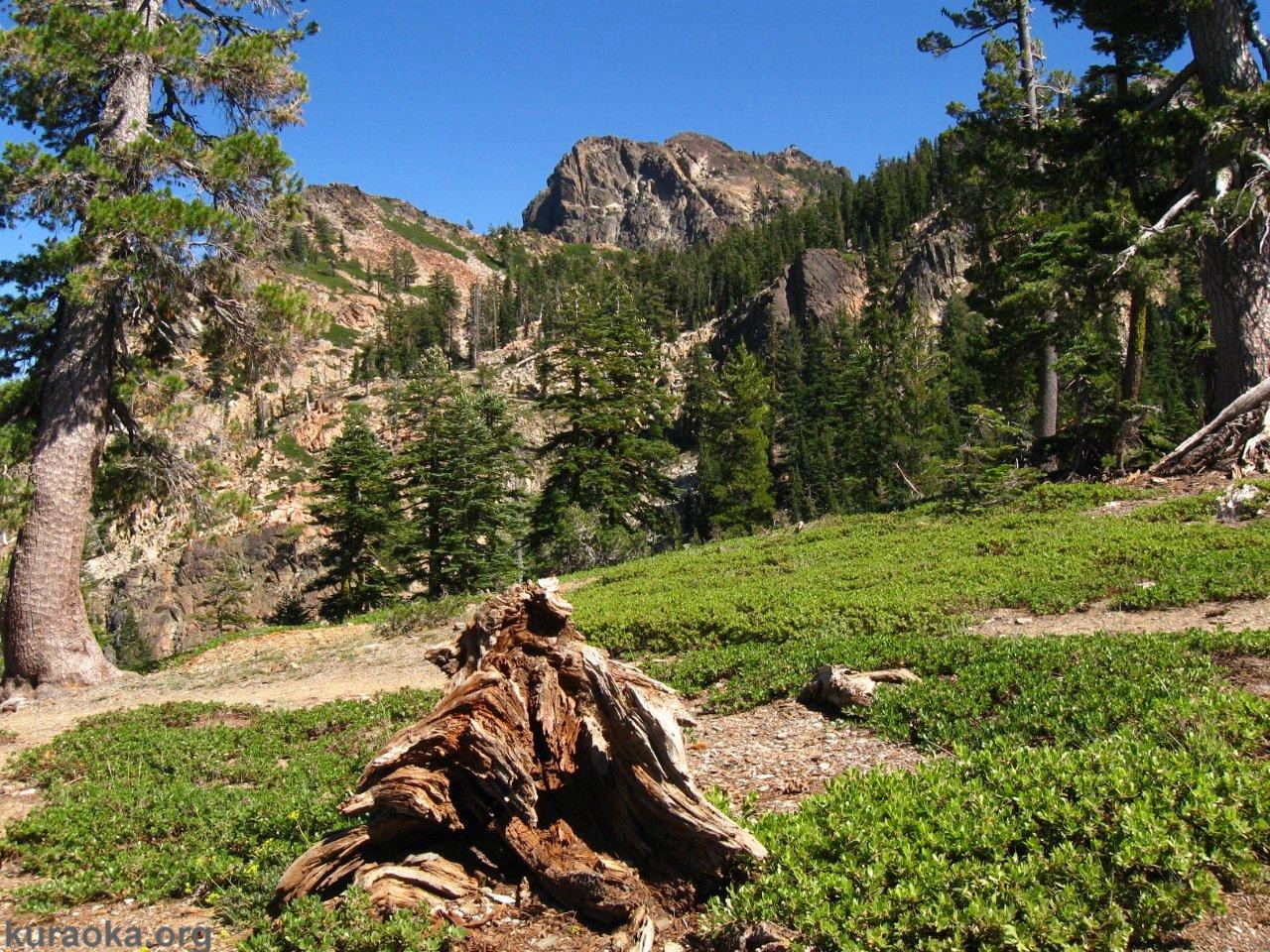 We left the peak at about 1:50, making the car all together at about 4:15, so less than 2-1/2 hours down. John had used a walking stick on the way up, and his knee was doing well enough that he let Ondine use the stick on the way down. Next time, though, we might want to bring trekking poles for everyone; they really do make ascending go faster and descending go steadier. By 4:30 we were at Bassett's, enjoying celebratory root beer floats.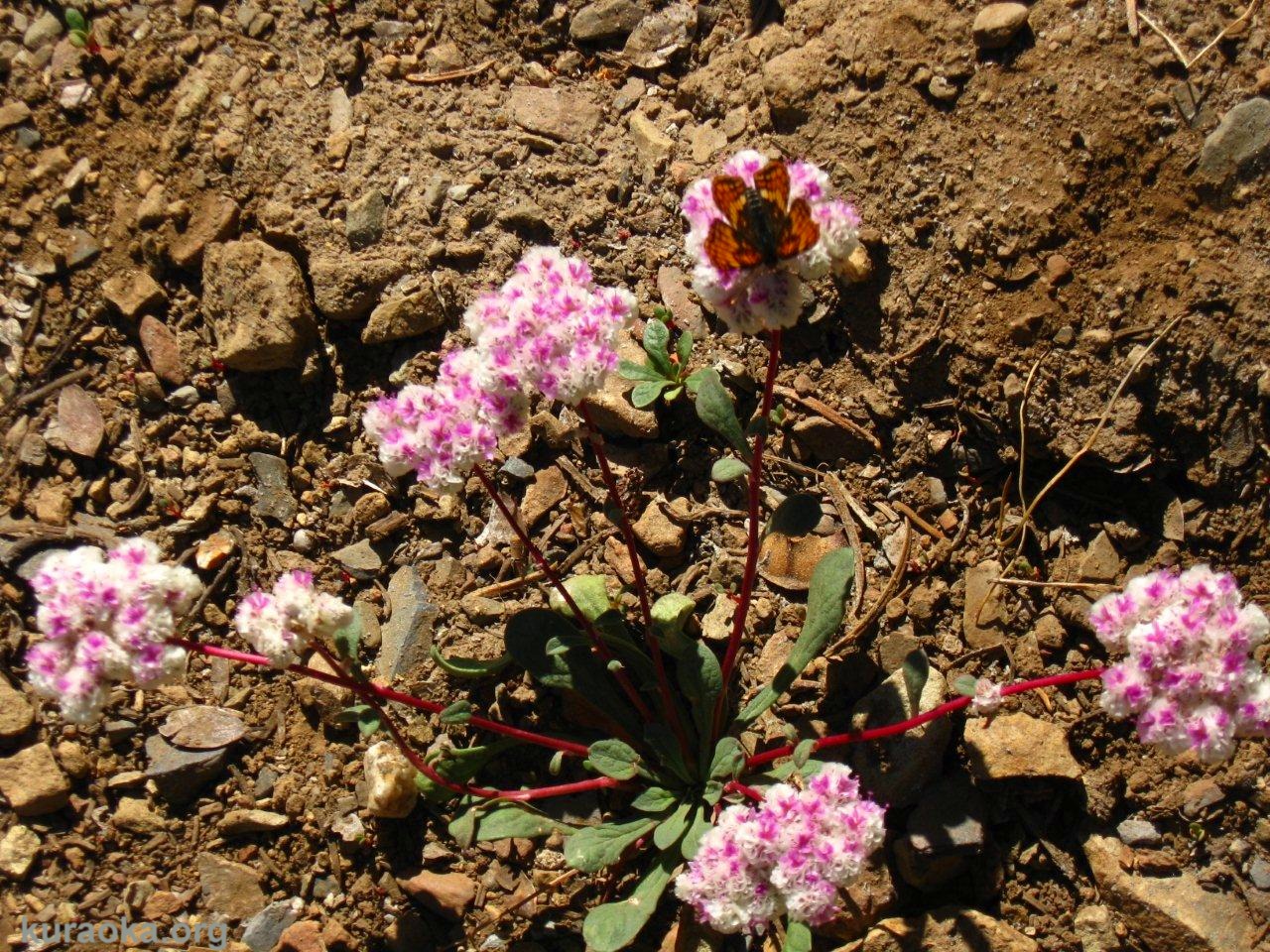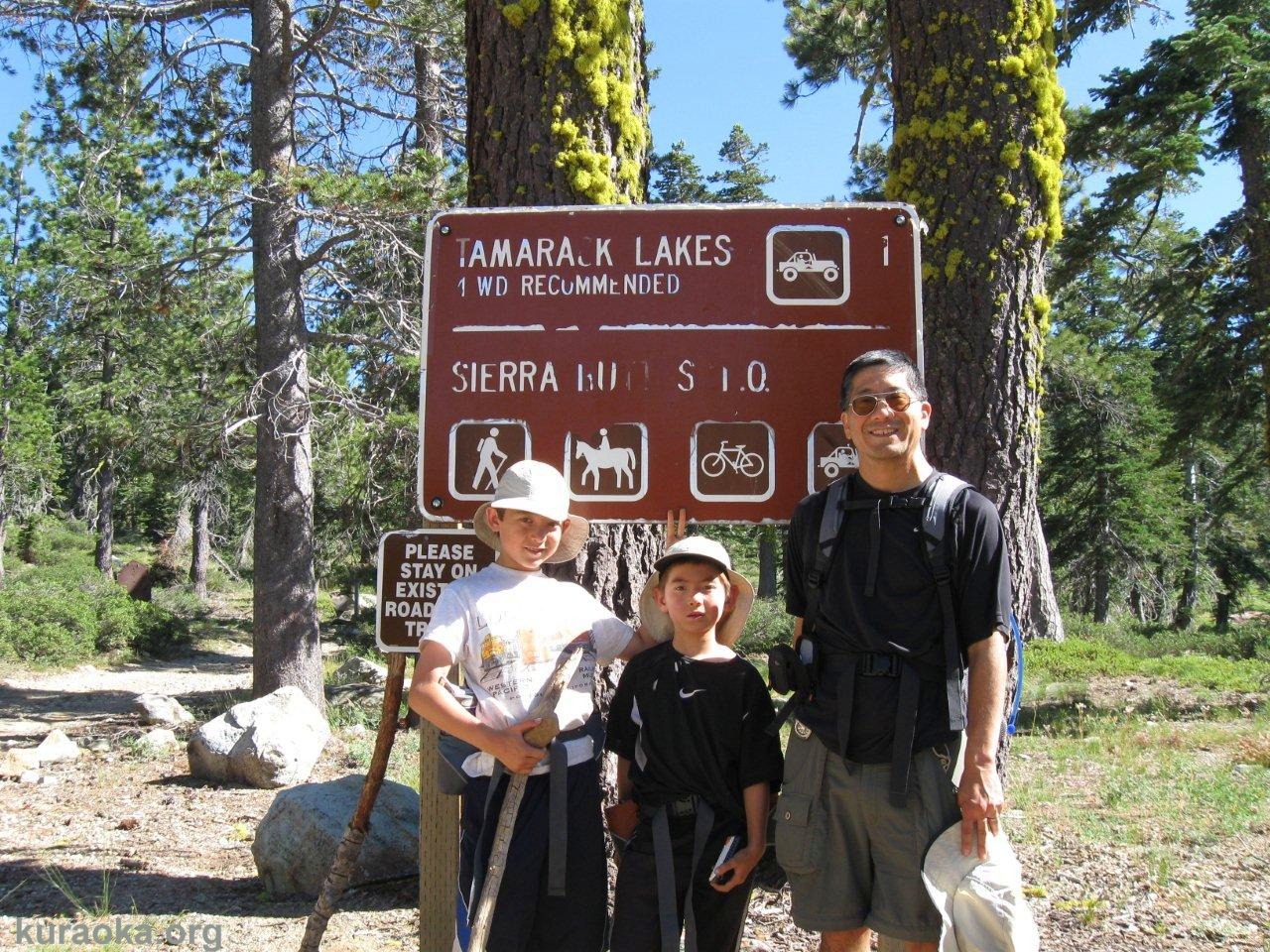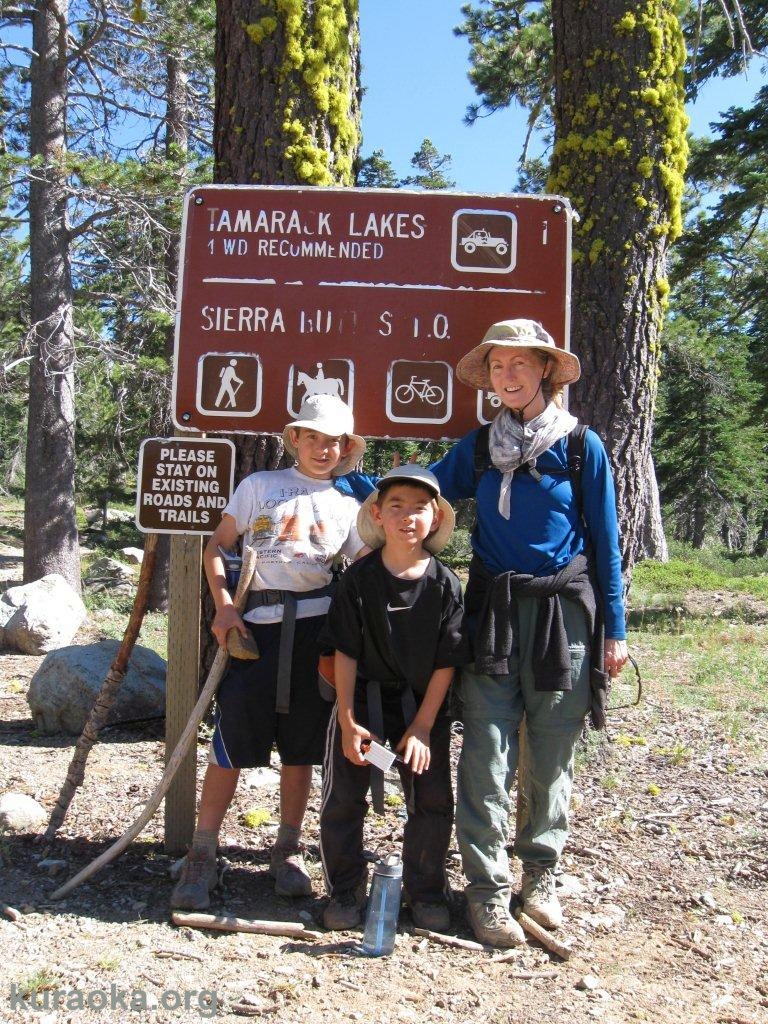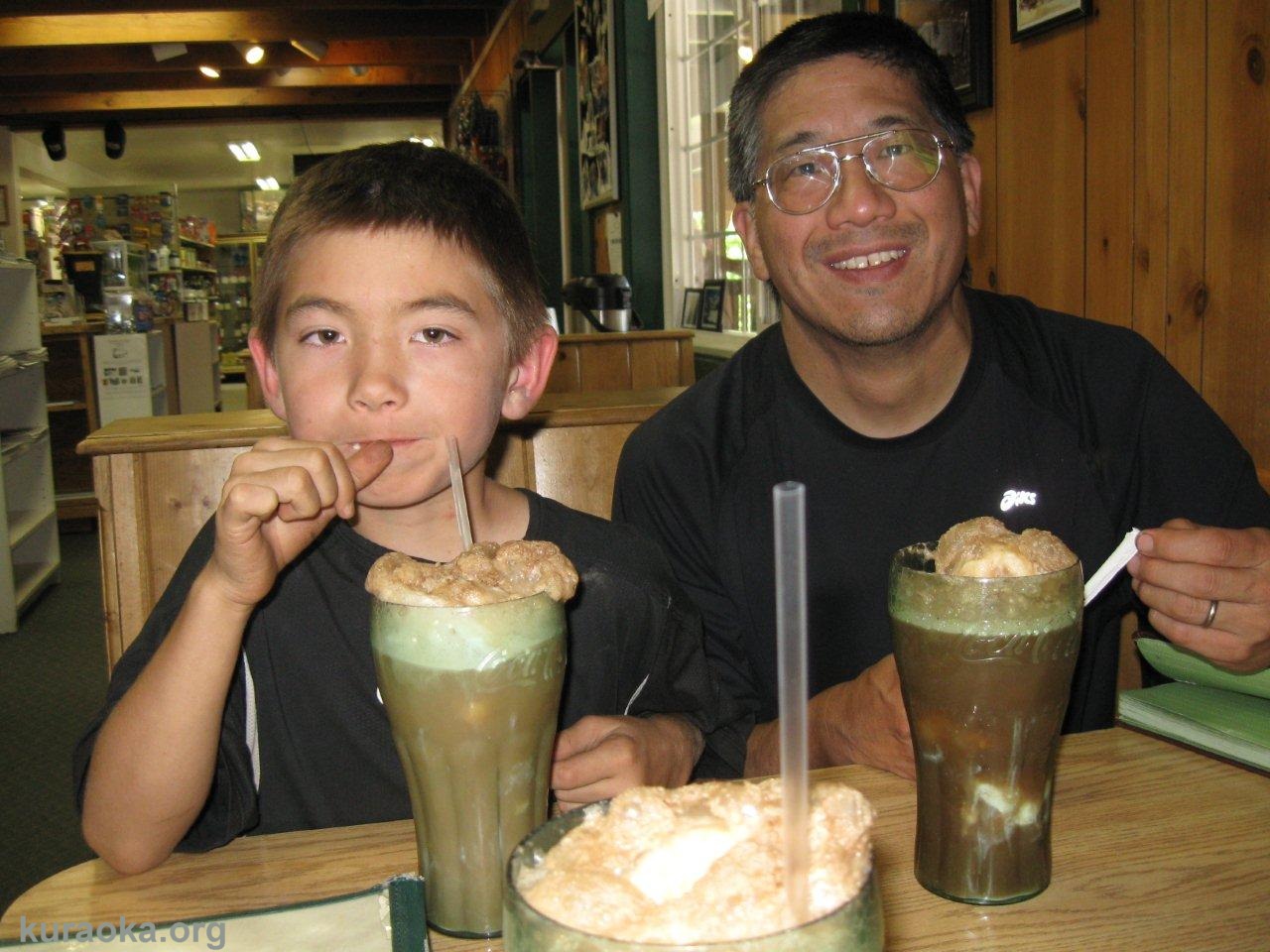 This was Leo's first time up the Buttes! As Ulli pointed out, it was neat that we were camped in the site in which Leo learned to walk, and here he was hiking up the Buttes! And, in a way, Leo made it up a year earlier than Roy, because Roy was ten the first time he went up the Buttes. (The summer Roy was nine, the weather was rainy and cold the week we were camping – that was the year we saw the highway department moving snowplows around in preparation for road clearing, and it snowed at the peak – so we didn't go up the Buttes.)
More photos from that evening, including more Jiffy Pop and Ulli showing John how to properly care for a dog!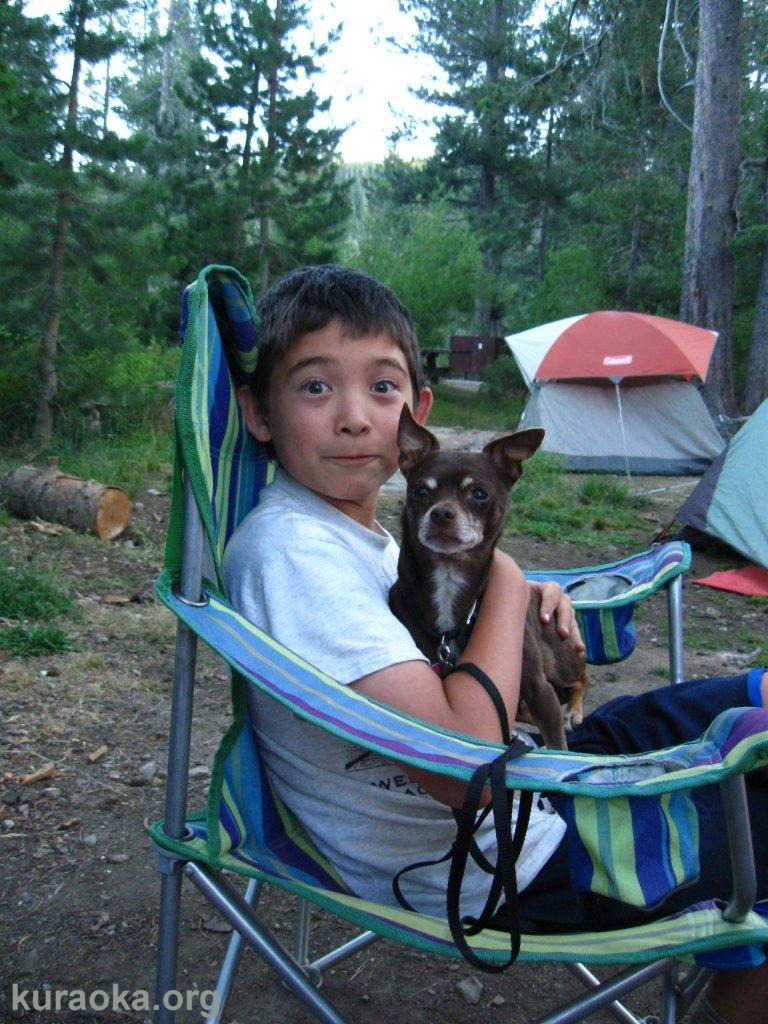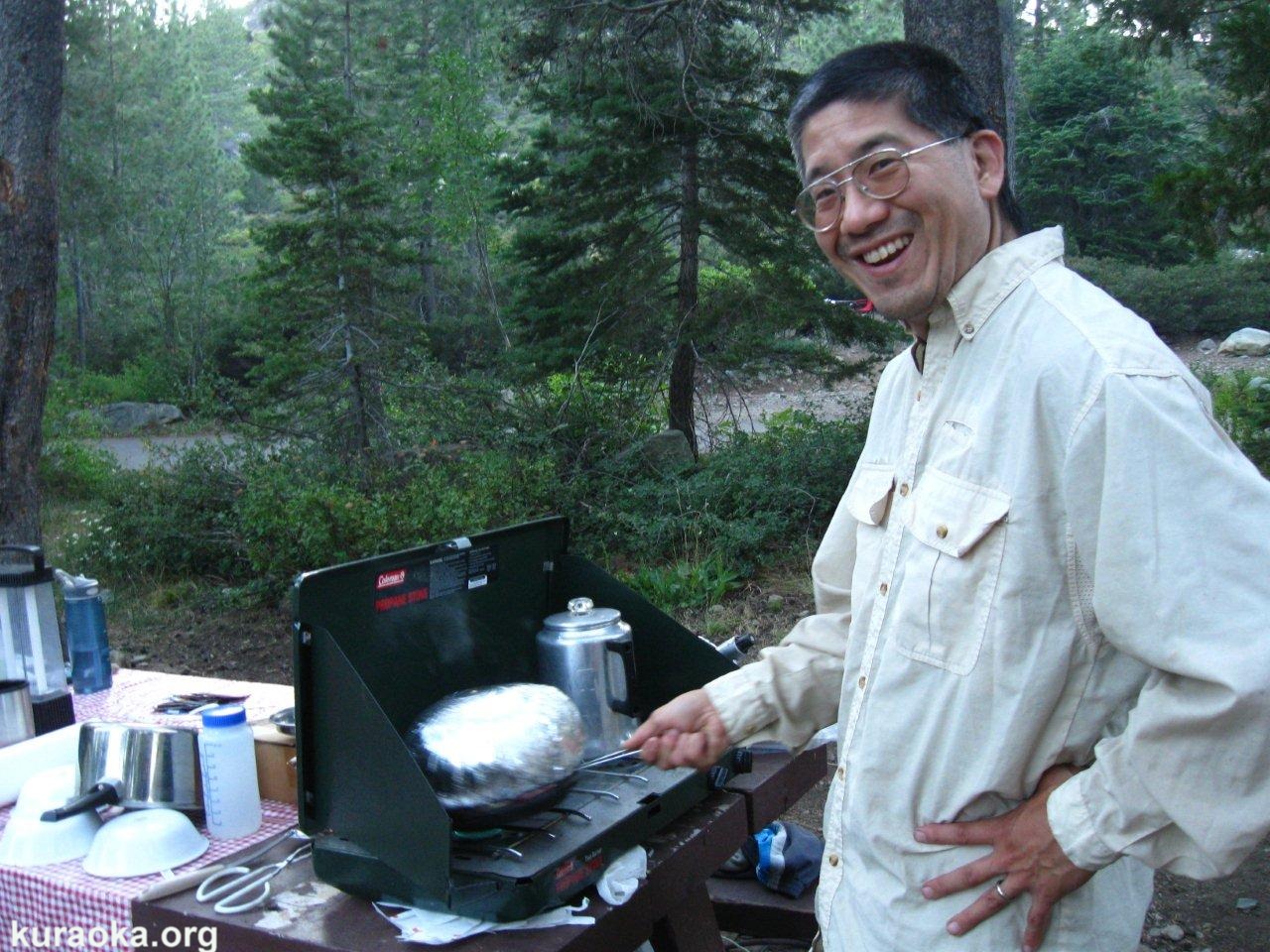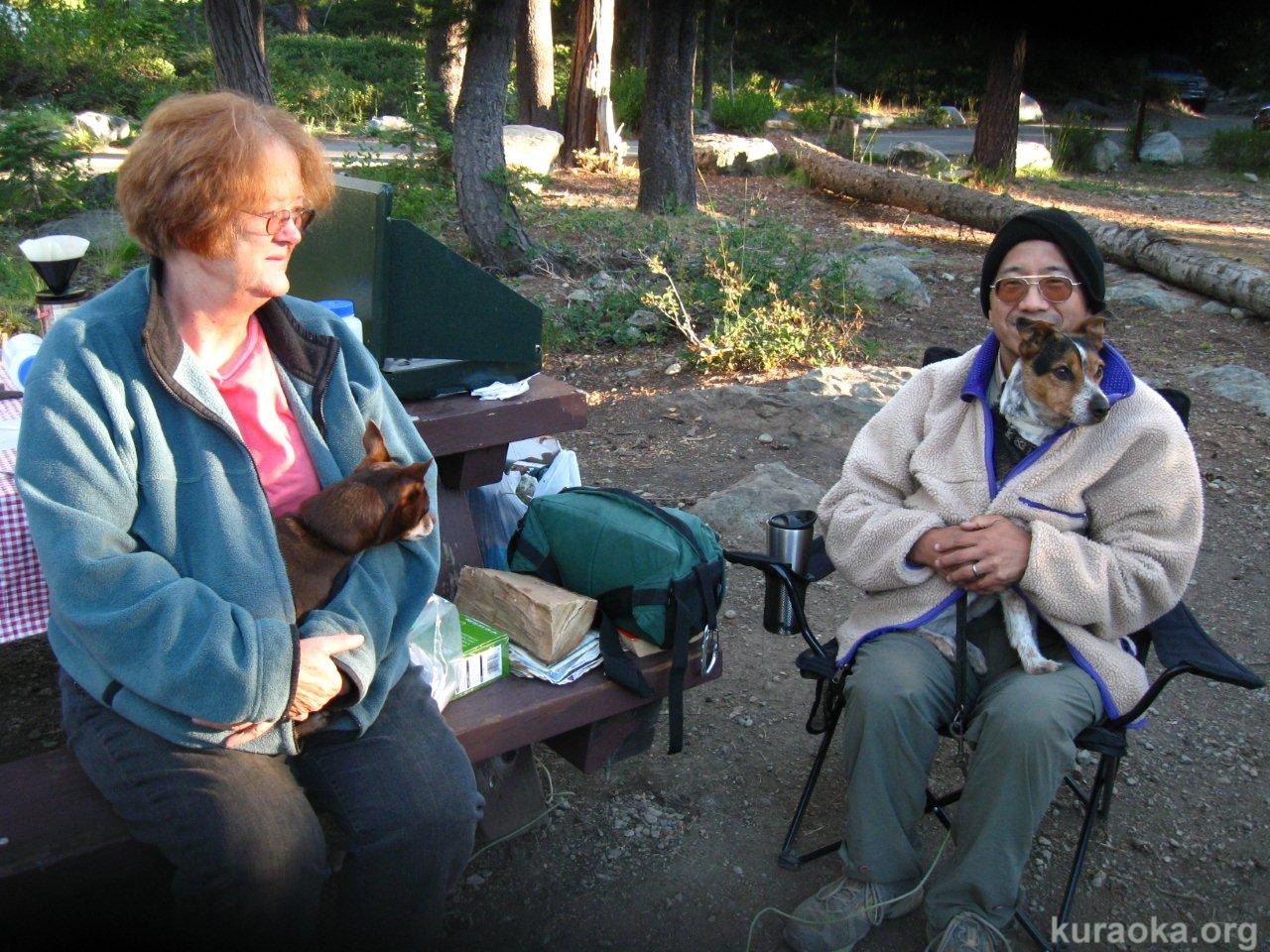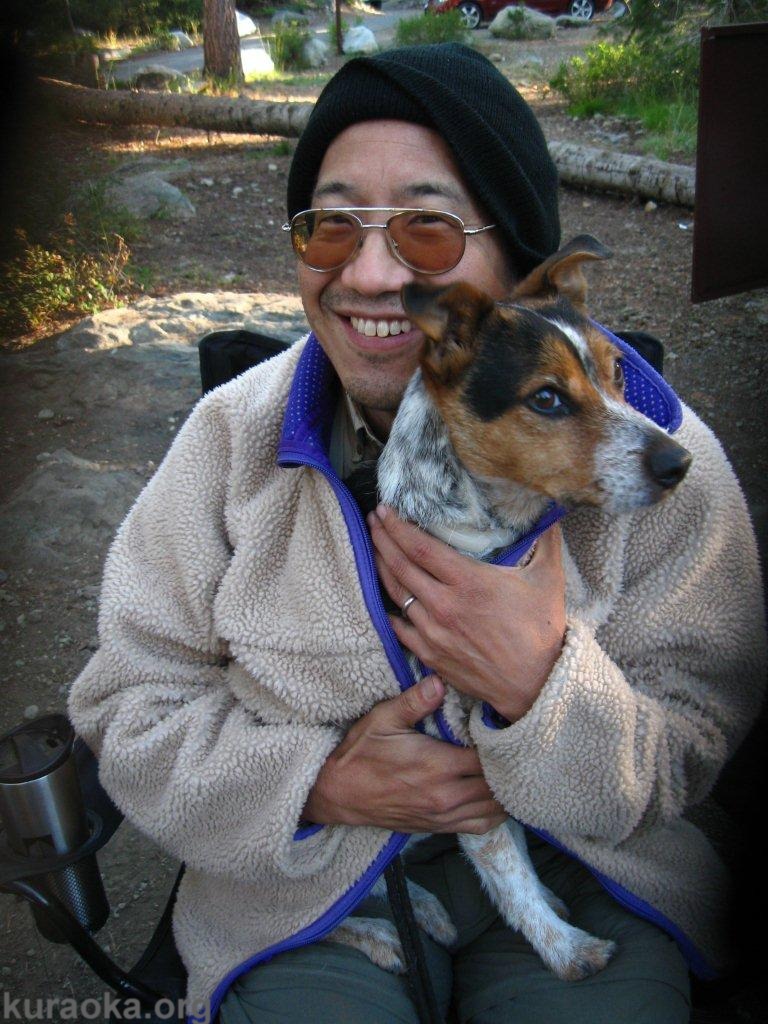 Friday (August 12) morning opened our last full day at Sand Pond! We had breakfast at the Mountain Creek Restaurant – the boys had waffles with fresh strawberries and whipped cream. We checked email from there too, of course.
Mere minutes after the boys had received their waffles, we heard the waitresses telling people that there'd been a power outage … and that although the kitchen was mostly gas-powered, the waffle maker was electric! So the boys were very happy they'd ordered when they did, because they got theirs, and got to sit there savoring waffles while the other diners went waffless. Waffleless?
Due to the power outage, the Sierra City grocery store was closed. But, we managed to look quickly to see if they had any "I Climbed the Sierra Buttes" T-shirts for the boys. They were out.
After breakfast, Ulli headed into Downieville to pick up some meat for marinating and cooking over the fire. But, when she got there, she found that Downieville Grocery was closed for remodeling! So, she returned to Sierra City, where there'd been another power cut and the Sierra City grocery store was also shut down!
After we got back to camp, John and the boys headed over to Sand Pond. John found his old favorite log, and paddled it across, retrieving a second log on his way back. Then, he and Roy raced across the pond, John potting Roy a few seconds before kicking off in frantic pursuit. It was a close race, but Roy's log touched shore before John's did! Then they had a leisurely float back. Meanwhile, Leo had made several more friends with his buckets of Legos.
Ulli located us and said Ondine was ready to take her shift at the pond, so John returned to camp, tagged Ondine, Ondine headed off to Sand Pond, and John settled in with a book he'd gotten from the Ore House/Library in Sierra City: a Saint mystery novel.
Dinner that evening was Spam, beans, and corn and Ulli's rotkohl – a delectable combination, by the way. Leo had wanted Spam, so he was definitely well pleased too. Ulli had bought some chocolate and we'd brought graham crackers and bought marshmallows, so we had S'mores for dessert! The first S'mores of the week (not counting the S'mores Moose Munch Ulli had brought for us).
Saturday morning (August 13) the boys struck their camp, and then went to Bassett's for breakfast with Ulli! What a treat – thanks Ulli! We, meanwhile, started the long, methodical job of packing up. John discovered a way to jam even more stuff into the farthest reaches of the Piggy Pack, by holding onto the handles from the outside while simultaneously pushing from the inside. He packed far more into the Piggy Pack than ever before, and it still closed and handled perfectly. He found the tent floors were soaking wet with moisture, so much so that when he picked up our tent he scattered three or four tiny frogs! He caught one frog and moved it to the bushes near the water spigot. Under Roy and Leo's tent he found a spider egg sac, with its silk webbing covering a clutch of tiny orange eggs. He moved the egg sac to a tree.
Toward the end of our packing another power outage knocked out the water. We really must pack out backpacking water filter in the camp box! We hugged Ulli goodbye (she planned to leave the next day), and extracted Leo from the boulder on which he was playing with his friends.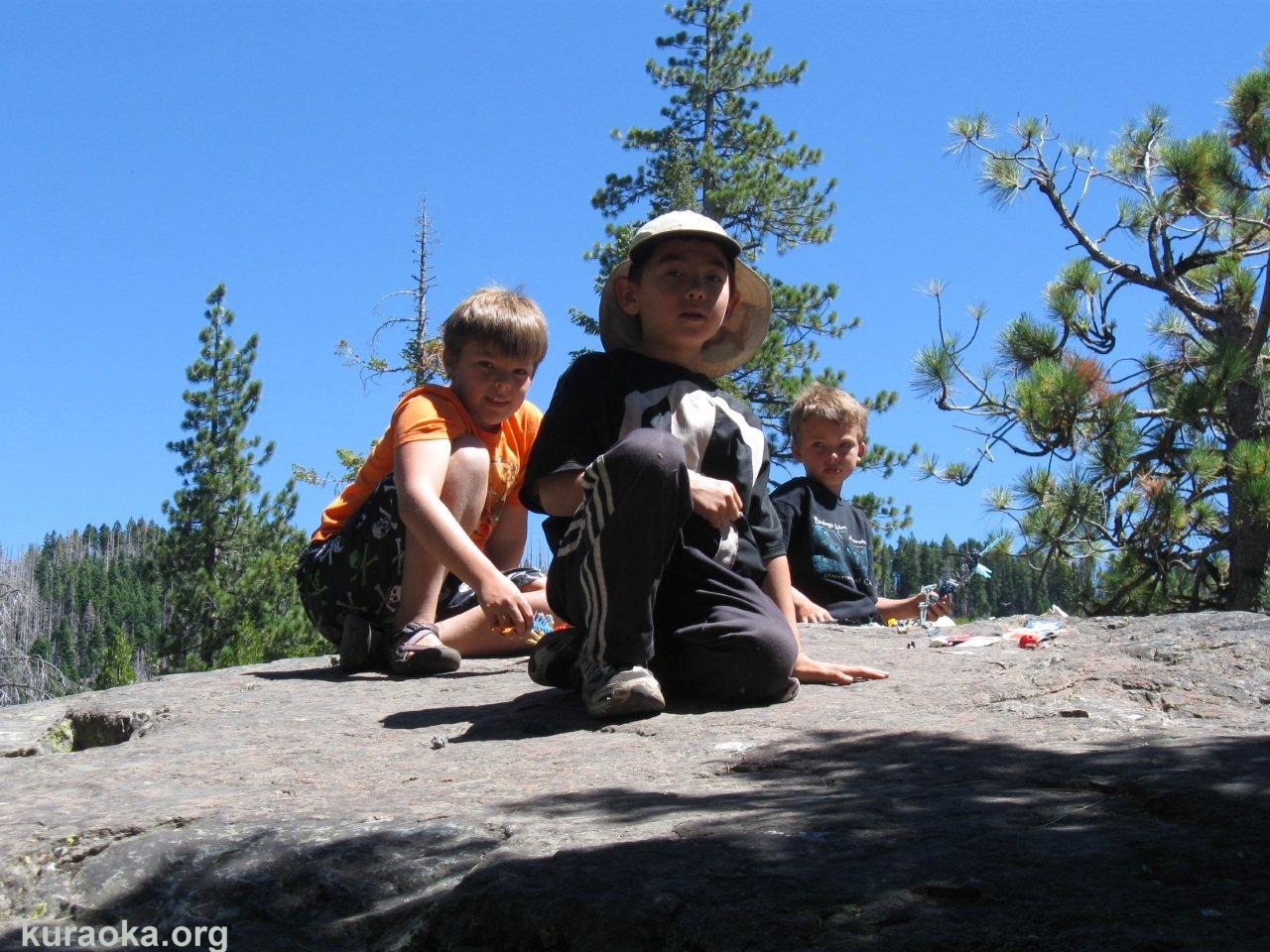 We left the campground at 12:35, but decided to stop at Bassett's for lunch. So it really wasn't until about 1:45 or so that we hit the road in earnest, en route to Santa … Cruz!
Yes, this trip was a little different because we decided to come back via a coastal route so the kids could see a different type of forest: the coastal redwoods. We enjoyed the drive along Highway 17 through the redwoods. It was about 8 pm by the time we pulled into the Best Western in Watsonville, just outside of Santa Cruz. The first room we were offered smelled of cigarette smoke because of the smokers outside; John requested a different room, and we got one on the second floor. The boys were thrilled at the novelty of a second-floor room! While the boys took baths, Ondine went off to hunt down some Chinese food for dinner. We ended up with enough for the next day's dinner as well!
Sunday (August 14) after the breakfast buffet, we went to the Mystery Spot, a place of strange gravitational phenomena. Or, as Roy put it, "we saw a place with optical illusions." He refused to believe. Leo, though, delighted in the strange sensations, and participated in several hands-on "experiments" "proving" the existence of strange natural phenomena.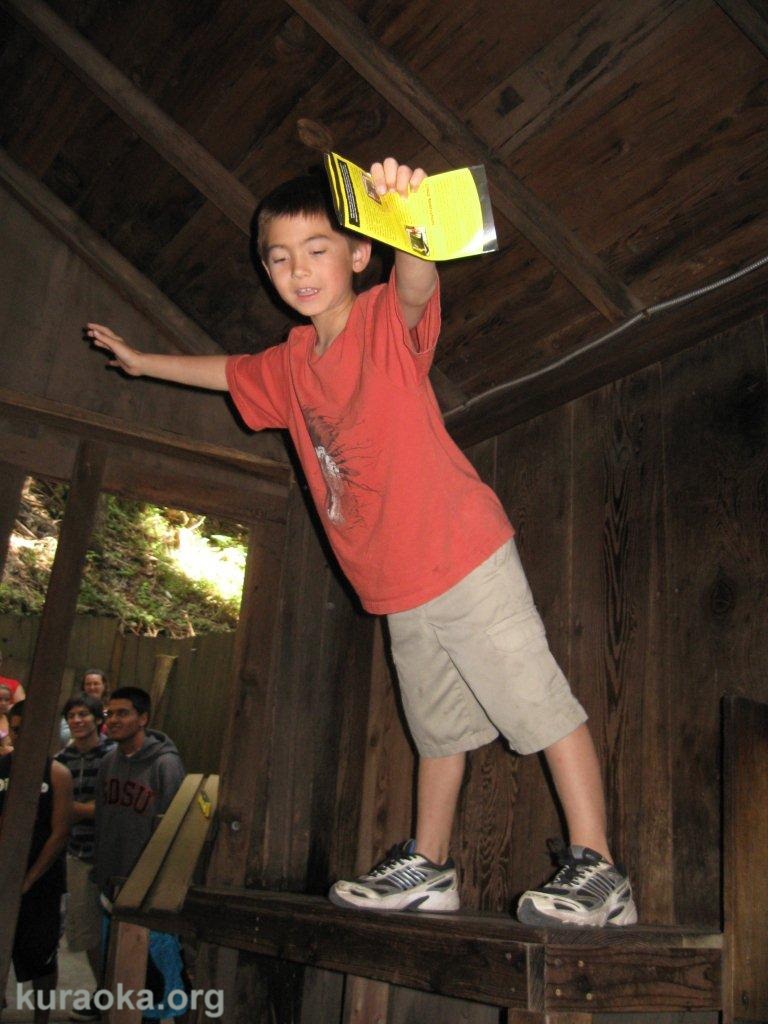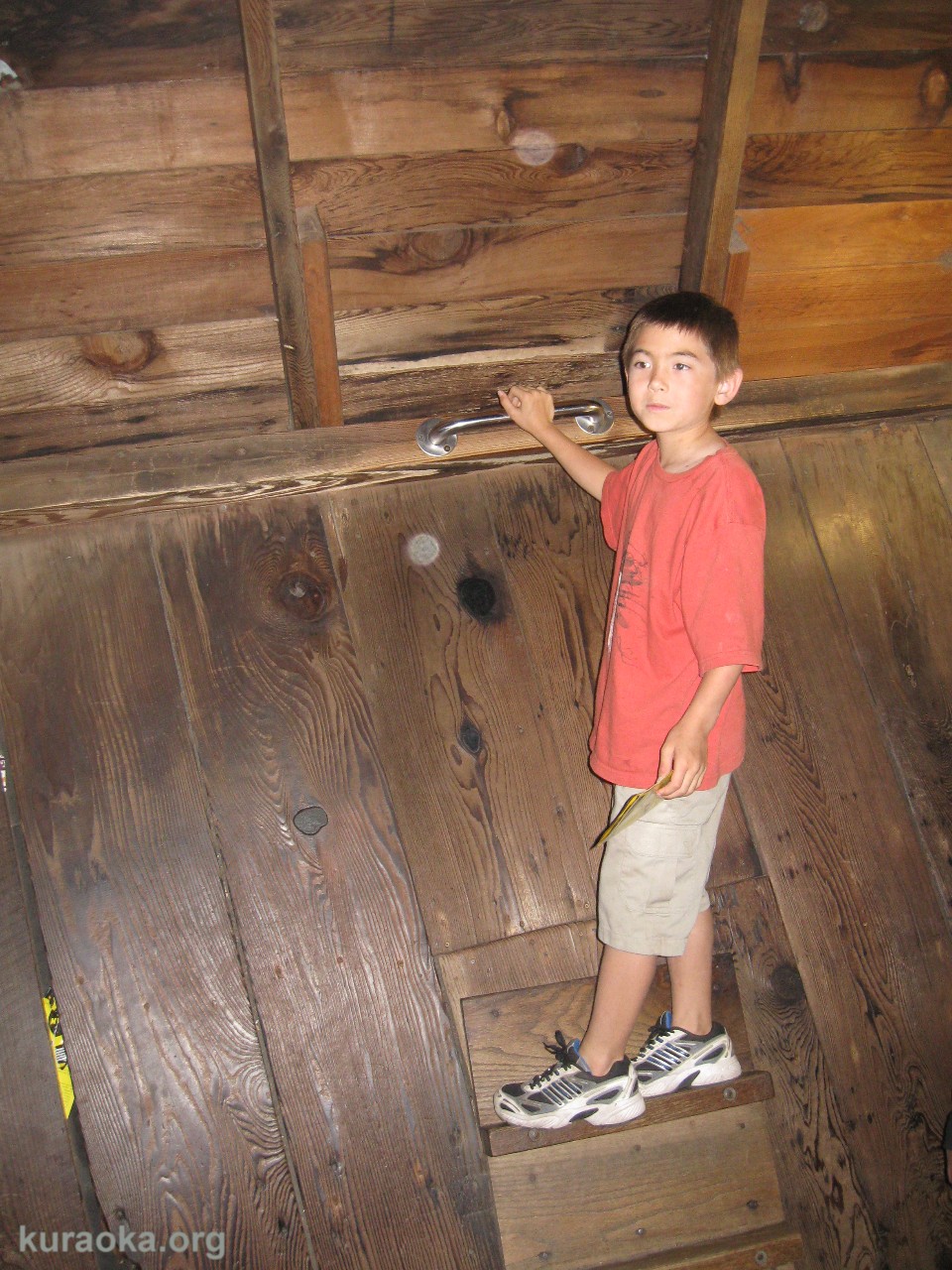 Ondine had been there before, so she stayed in the parking lot with Buddy (no dogs allowed inside) while John and the boys took the tour. It was fun and really quite disconcerting, even though John couldn't get his compass to do anything strange.
Afterward, we tried to get into Año Nuevo State Park to see the elephant seals, but were told that dogs weren't allowed. So, after a delicious lunch at the Gazos Grille accompanied by a game of Scrabble Apple (a gift from Grammy), we went into Butano State Park and enjoyed a long walk along a quiet creek amid hushed ferns and towering redwoods. We walked up a trail and found banana slugs galore, their phallic yellow selves questing ever onward through moist, padded forest detritus. The campground at Butano reminded John of the places his family had camped, in the pickup truck and camper, when he was a kid.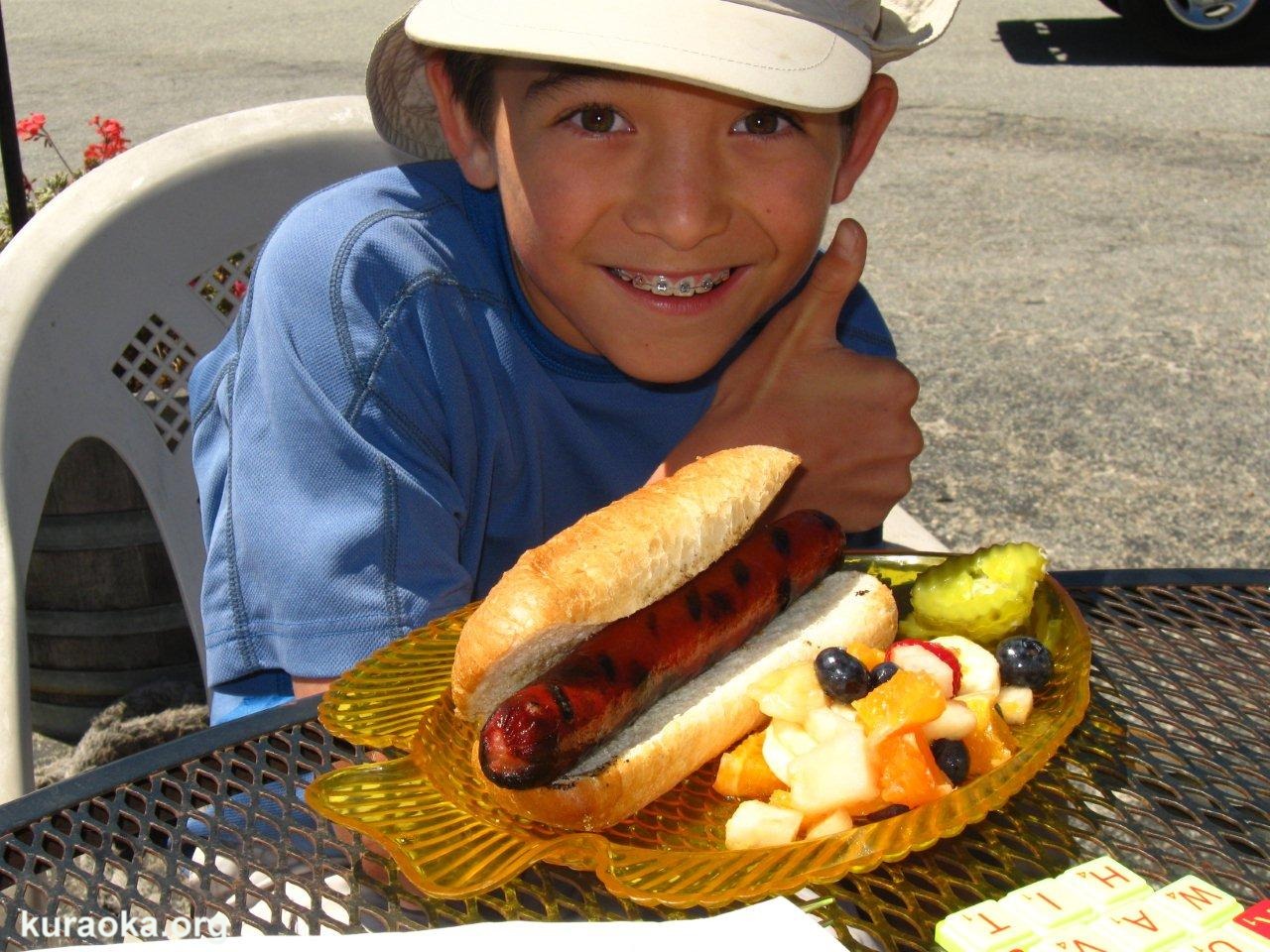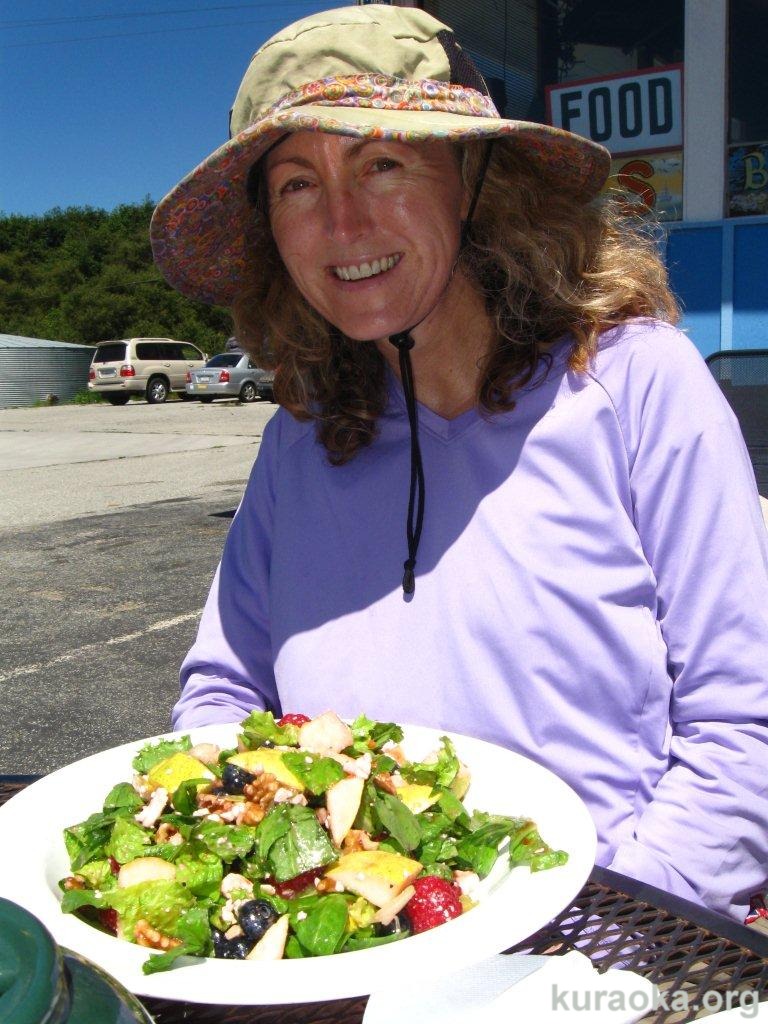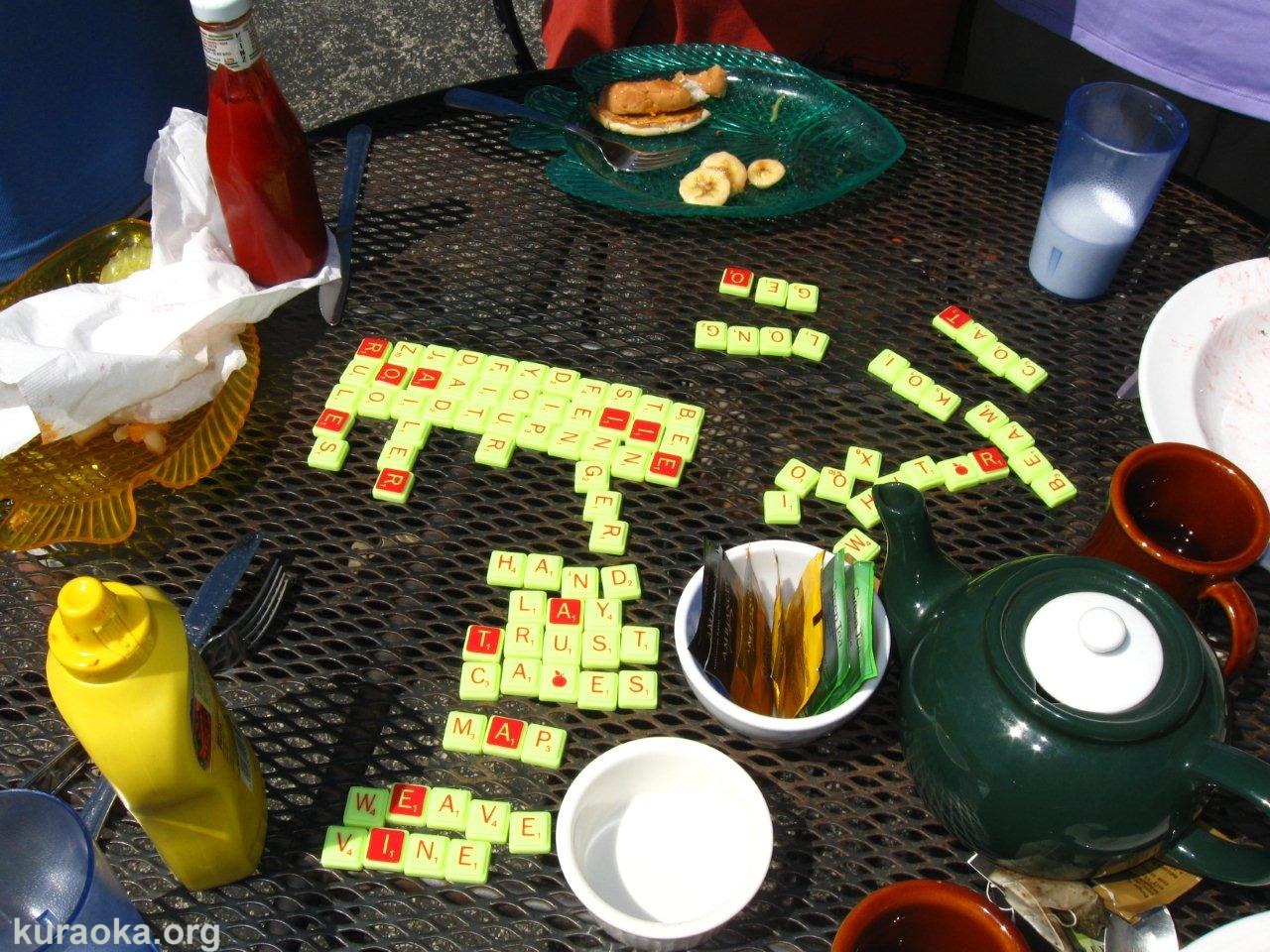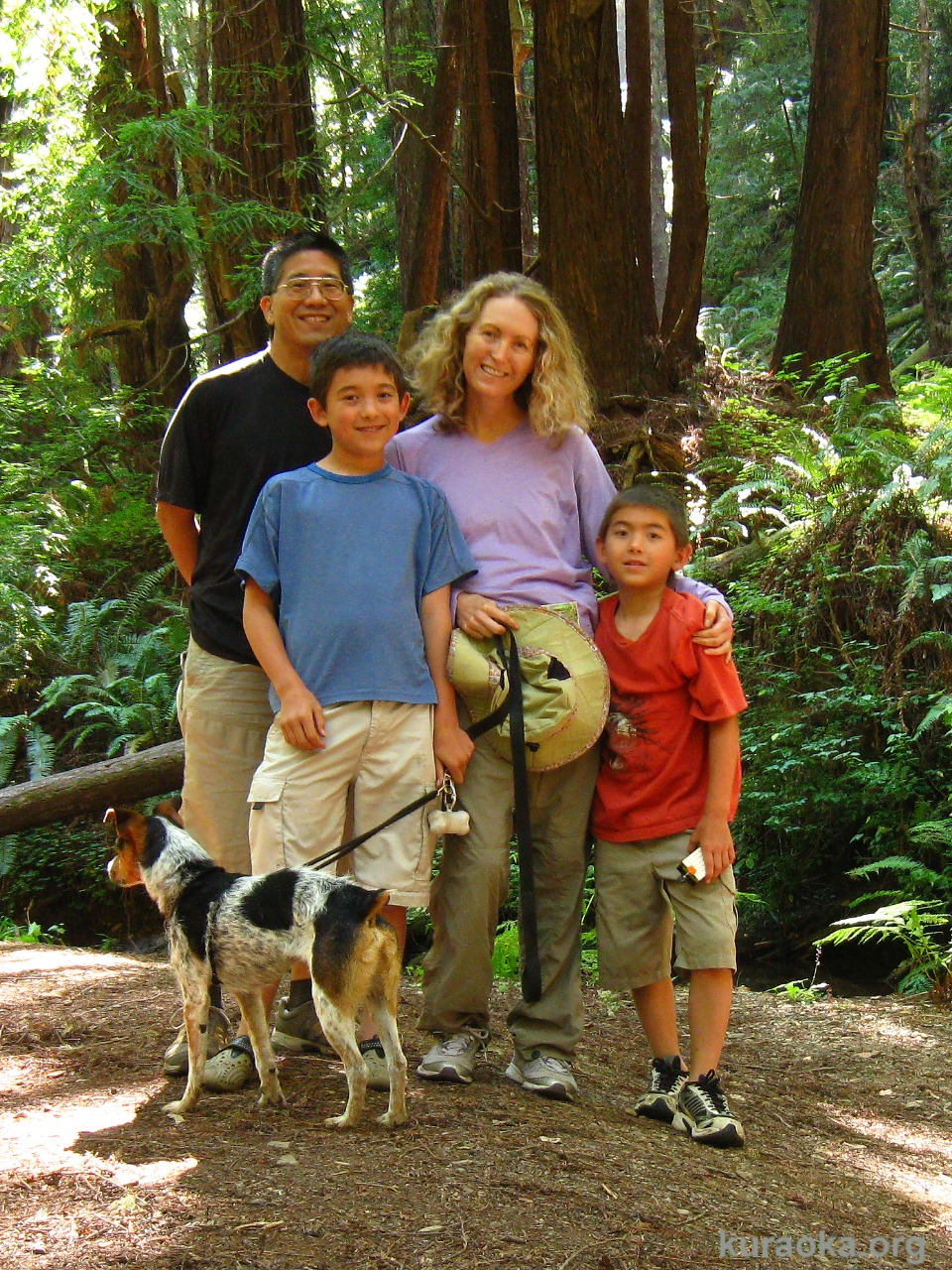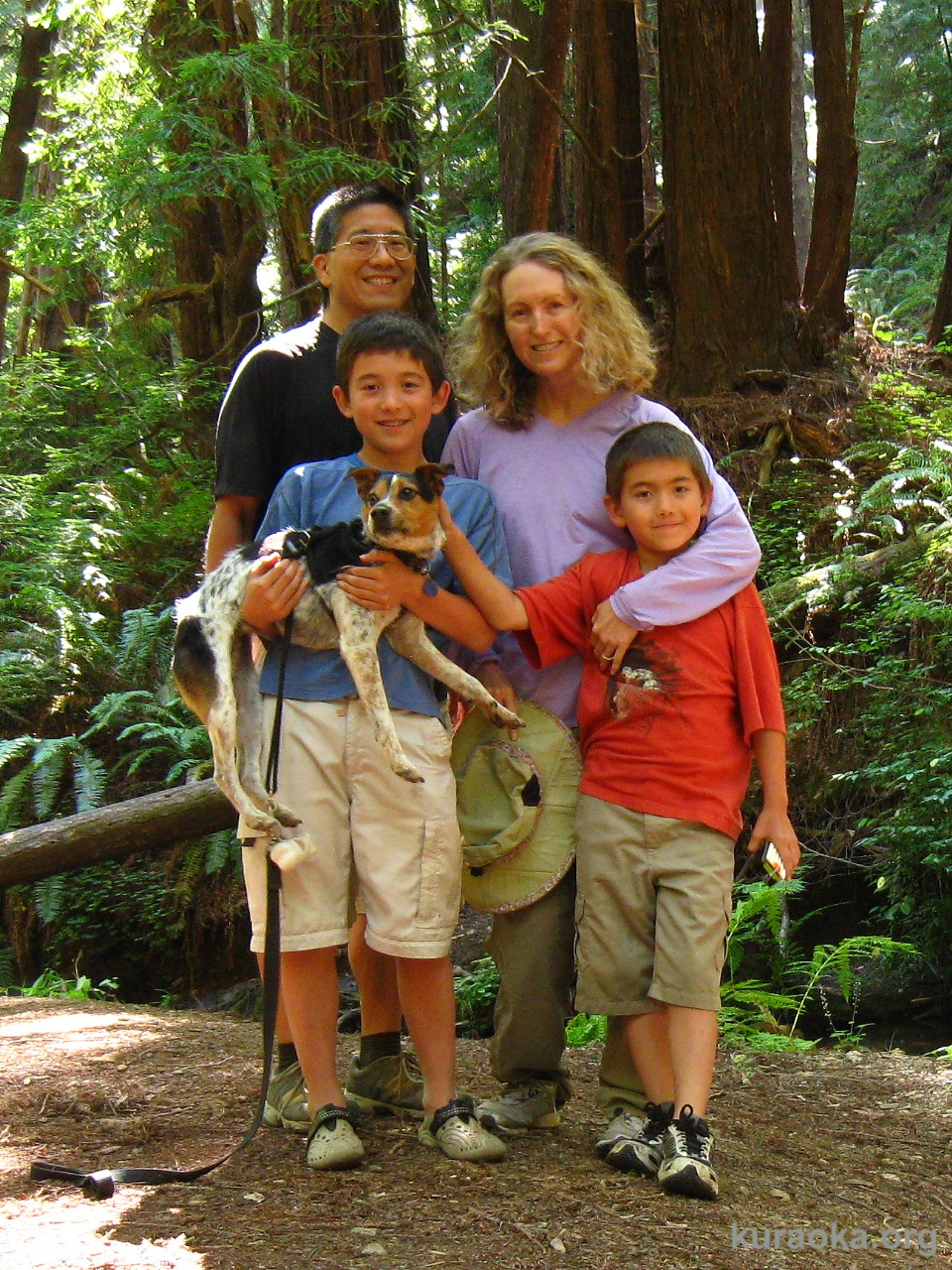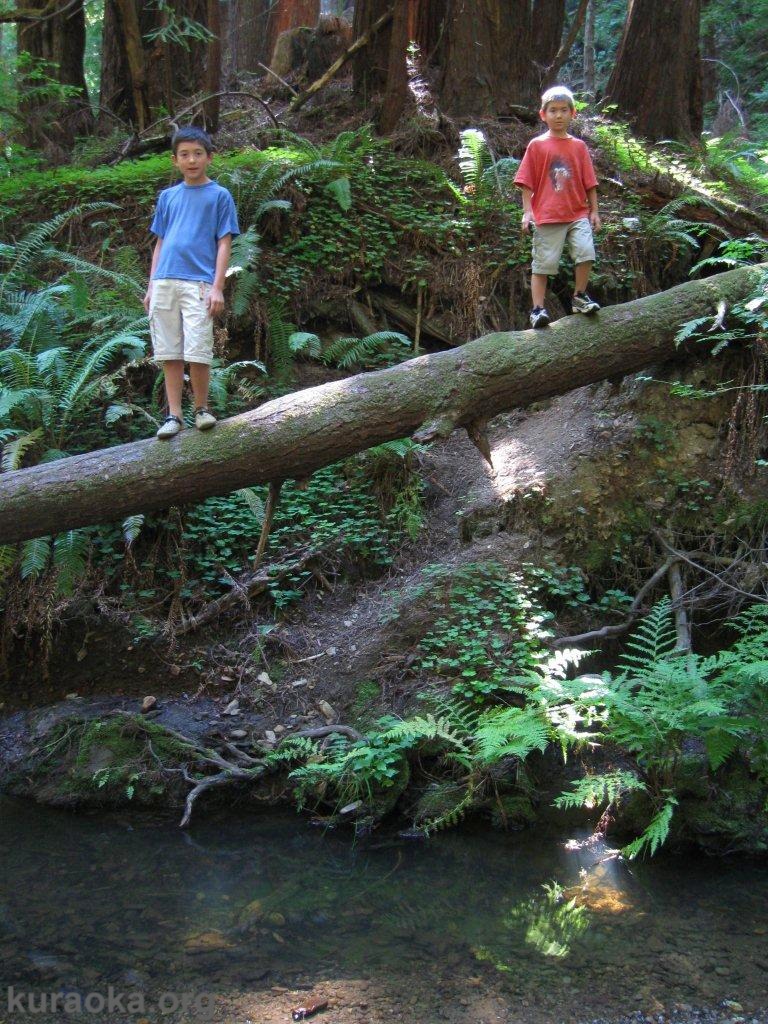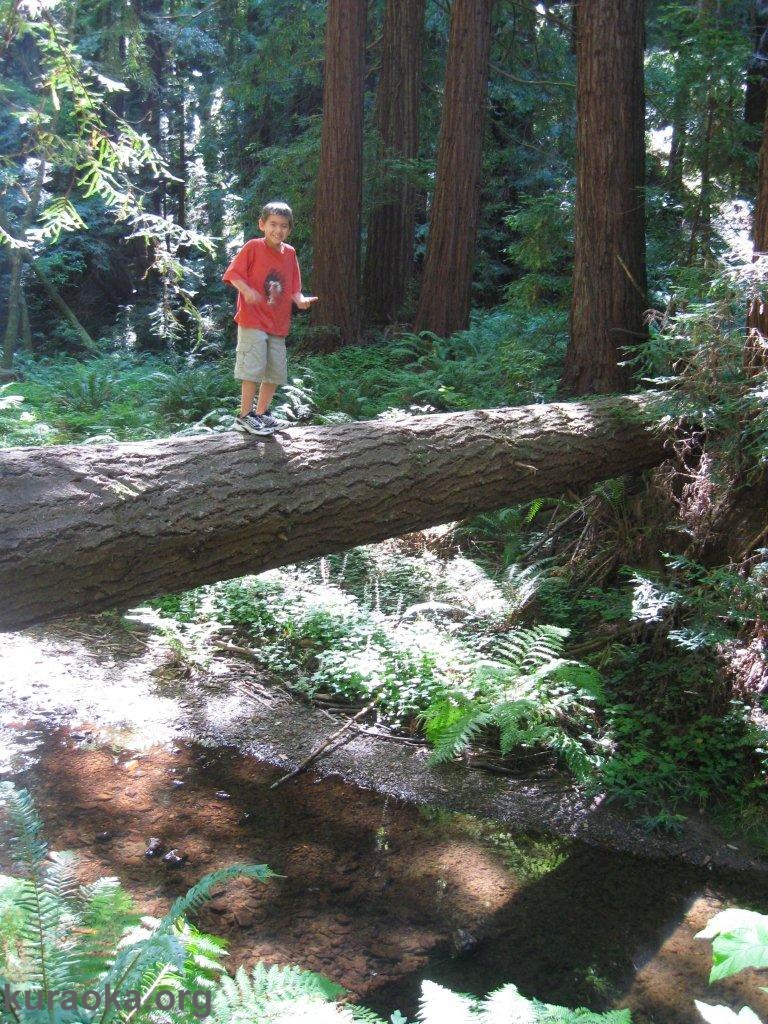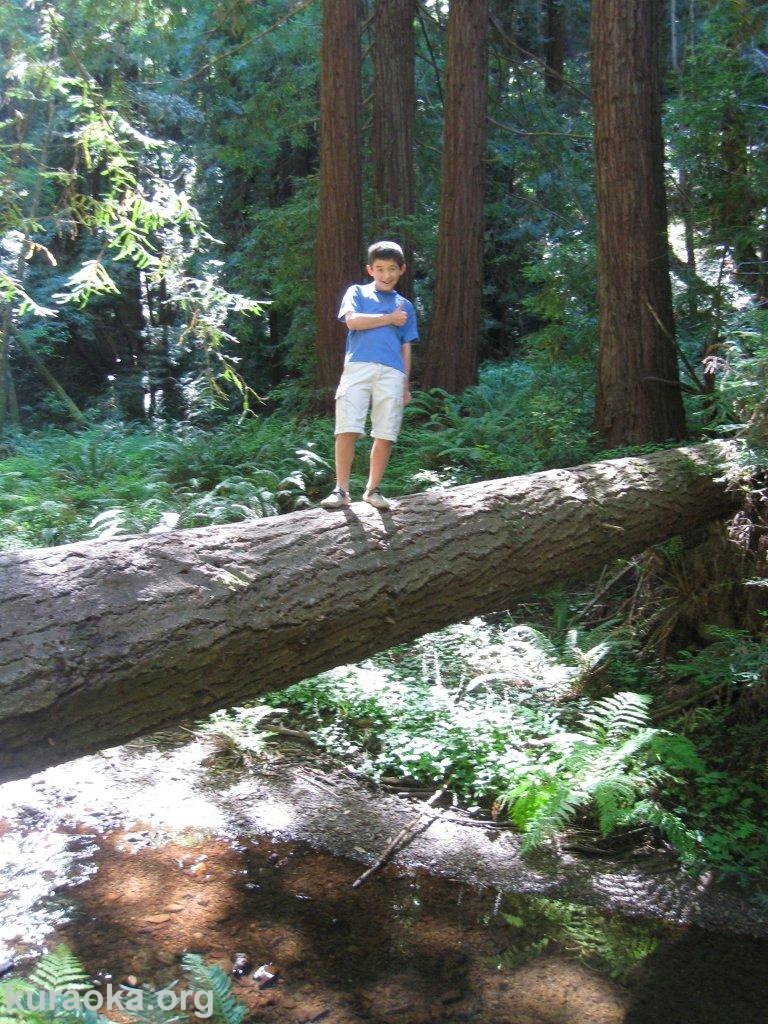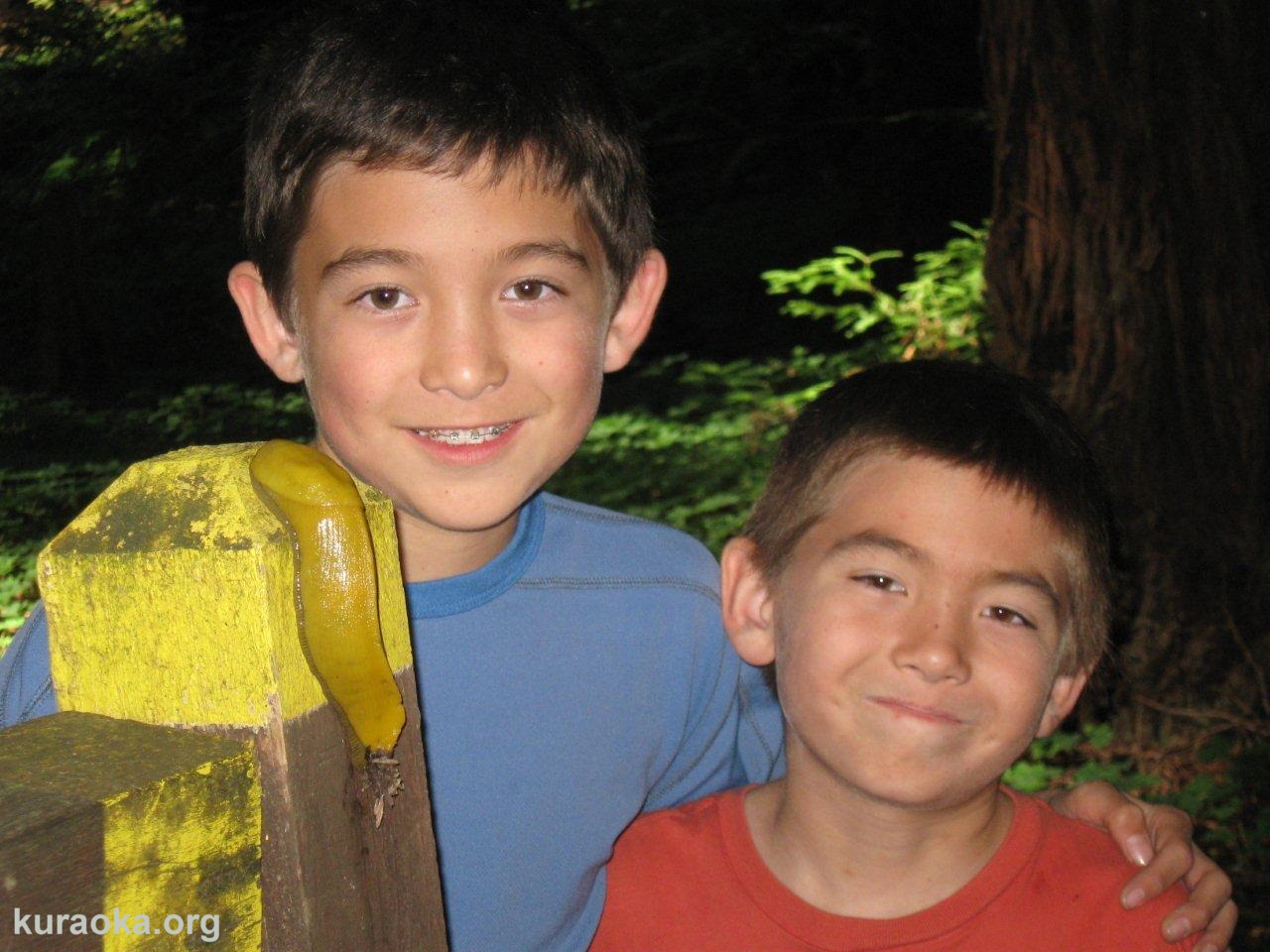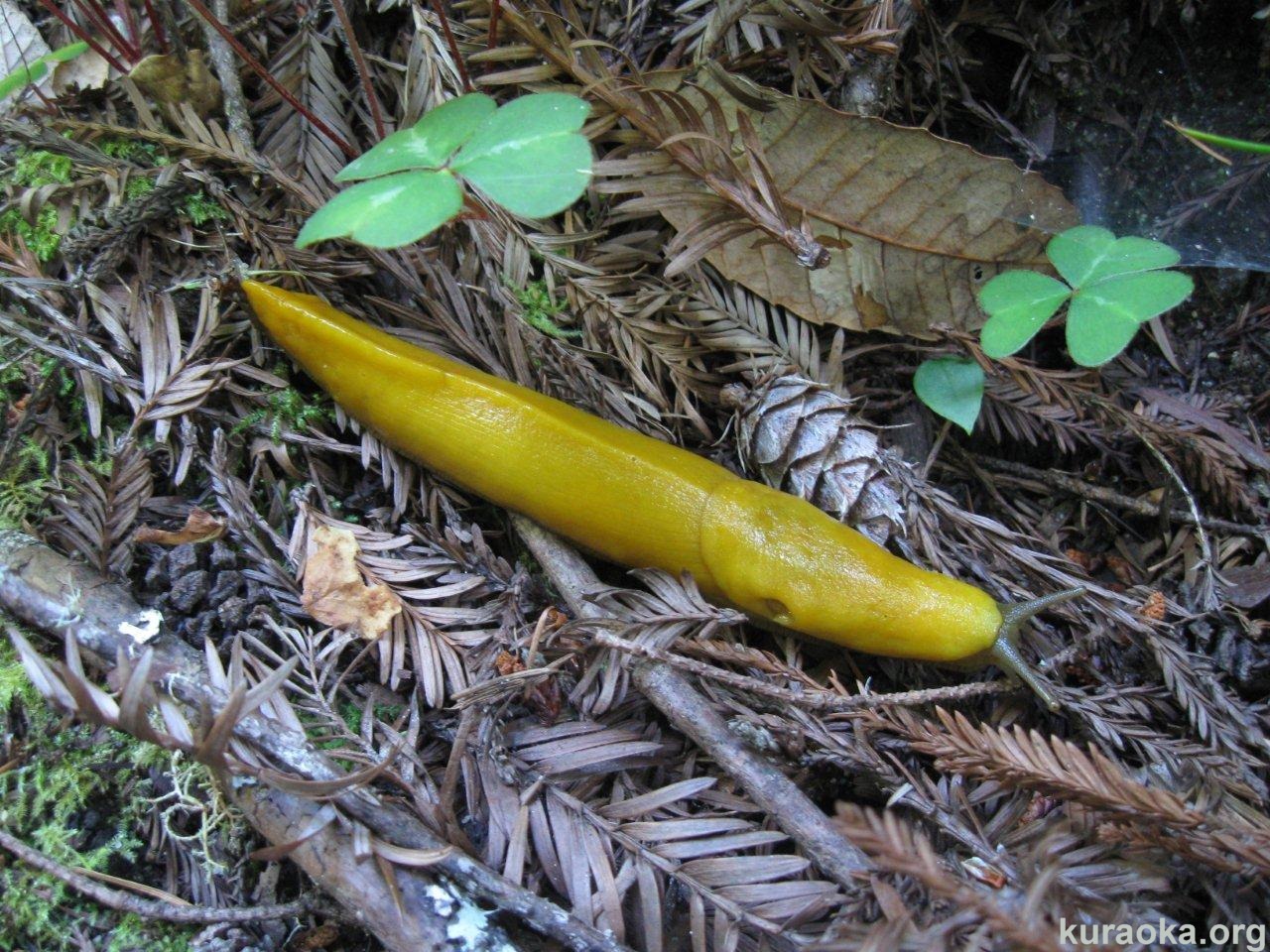 Our perambulations took us along a picturesque stretch of Highway 1, so we felt that we'd knocked that off the list for the trip.
Dinner that evening was leftover Chinese food watching Spongebob Squarepants on the hotel TV!
Monday (August 15) we savored the breakfast buffet at the Best Western. The previous day, we'd taken Buddy in with us, where he'd settled down under the table and no one seemed to notice. This time, though, a staff member told us no dogs were allowed. So, we commandeered the smoker's table outside, moved a few chairs, and sat outside. (By the way, we'd never seen more smokers than in Central California – it was definitely weird.)
The boys enjoyed the Best Western's waffle maker, and John preferred the yogurts to the ones at the Holiday Inn in Santa Nella. But, we missed Santa Nella's bacon or sausage, eggs, and biscuits and gravy. Also, the Best Western was out of tea, so we dug our own from the trunk and used that, eliciting envious glances from less-prepared buffet-ers. We'd pre-packed the car as much as possible the night before, so we could hit the road early. And this time, we actually made an early departure happen, leaving Watsonville at 9 am.
We arrived at Grammy's house in La Canada in plenty of time for Ondine to attend her online class. Grammy wasn't home – she'd taken an impromptu road trip to Sacramento with Patty and Daryl. So, John raided Grammy's freezer and ransacked her fresh fruit and vegetables to make up a nice Caribbean-style wild salmon dinner.
Tuesday (August 16) morning Ondine went shopping to replace some of the food we'd eaten, and to get a birthday gift for Frances. She also stopped at the Bargain Box to look for work clothes. Oops! There's a hint! We got home Tuesday late afternoon.
What we learned. We learned that the boys love audiobooks. We played The Wizard of Oz on the way up and The Time Machine (there it is!) on the way home, and enjoyed complete silence as everyone became engrossed in the stories! We used the Audiobooks Classics app on John's iPod Touch, but next time we'll check some out from the library and play them on CD. We learned that In-N-Out Burger is the best place for road food: about two-thirds the price of other fast food and tastier too, with clean restrooms and great billboards pointing the way to the next location. We learned (once again) not not NOT to take cans of tuna with us when we go camping. We just don't want any. And, not to take nearly as much canned goods, but more crackers. We learned that the dog-friendly Mountain Creek Restaurant has great internet access. We learned that we all really love the Holiday Inn Santa Nella for its dog-friendly outdoor seating for the breakfast buffet.
Thursday we dropped off Leo next door with Barbara and Bill, while we took Roy to see a matinee of Harry Potter and the Deathly Hallows Part 2. We went to the Regal Cinemas in Parkway Plaza, and were amazed that the theater was empty when we arrived! Only one or two more people straggled in, so we got what amounted to a private showing. It was a great ending for a great franchise; you could tell all the actors really had fun making it. John was somewhat disappointed that the Harry Potter theme song didn't make a bigger appearance, and kept waiting to hear its familiar haunting strains.
Friday (August 19) John worked with his partner Blaise on a major brand development workshop they're doing for the County Department of Child Support Services. They'll continue to work on it all through next week – the workshop will be held next Friday and will involve about 30 managers and executives.
Big (as in 42 inches big) news: we got a new TV! Thanks to Barbara's American Express points, we got a 42" flat-screen Panasonic TV – wow! The massive box was waiting in our living room for us when we got home – Sönke and Antje had brought it over from next door, where it had been delivered. On Saturday we received the HDMI cables we'd ordered from Meritline, and after the kints went to bed we hooked it all up. The picture was glorious! Then, we connected John's laptop and watched part of a Midsomer Murder via Amazon Prime. Wow! We now have a web-enabled TV (via the laptop), so we can watch anything online, including TV shows and movies from YouTube, Hulu, Fancast, Amazon Prime, and even programming from Germany such as Tagesshau, Wissen Macht Ah! and Tatort!
BIGGER (as in life-altering big) NEWS! Wednesday, when we were gold panning at Wild Plum, Ondine got confirmation that she was accepted for a per diem social work position at Silverado Hospice! Woo hoo!
She'd always planned to get back into social work now that the kids were older, and she'd been very interested in doing hospice work. She thought she'd look for per diem work – temporary work – as a way to ease back into the job market and also to gain current experience in the field. Well, the first interview she went on, at Silverado Hospice, she was asked if she'd be interested in a full-time position! Unfortunately, that was in North County. She was also asked if she'd be interested in a 32-hour position, which was part-time with benefits, at the office – so she wouldn't be on the road doing patient visits. But, she wants to work directly with patients, plus the per diem slot was exactly what she wanted – and that's the position she was offered!
This week she had to go in and fill out some paperwork, and get a physical. She doesn't know her schedule, of course, being per diem, and there'll be some training involved that will include job shadowing. Plus, she needs to take an intensive brush-up course to get her Spanish totally up to speed.
But, Ondine is back in social work starting this Monday!
That'll mean changes for John, since when Ondine is working she'll be gone all day. So, he'll need to do more kid shuttling and be home in the afternoons. That'll be easier once school starts in a couple weeks – we really didn't quite expect for Ondine's job hunt to be over so quickly! Because of John's workload next week, the boys will need to be in the day camp at San Carlos Rec. But we're grateful and happy and she's very excited to start.
This weekend, Roy went camping with Troop 950 at Kumeyaay Campground in Mission Trails Regional Park. John took Roy, Alex, and Michael and dropped them off Friday afternoon.
Also, Hannover Barbara's daughter Viola is in town from Germany; she's staying with Barbara and Bill for a couple days. So, Saturday after judo, we all went to the Olive Garden for lunch. Then, Ondine and Leo went with Barbara, Bill, and Viola to Torrey Pines State Beach.
Sunday morning, John gathered up Roy, Alex, and Michael from Kumeyaay, and then Roy and Leo will accompany Barbara, Bill, and Viola to lunch at Souplantation. After that, there's the Unidos Judo Club potluck, so we'll all be eating plenty!
HAPPY BIRTHDAY to John's Mom! Hooray! And, welcome home from the big road trip with Patty and Daryl! We're glad you're home safe and sound.
Neighborhood gas prices were about $3.75 per gallon when we returned from our trip, but they've popped up a bit since to $3.79 per gallon. The most we paid was about $4.09 per gallon, at Bassett's.
To see what we're up to now, visit our regularly updated weekly journal!
Back to the Archives page
Back to the Kuraoka Family main page
Forward to the current Weekly Journal.