The Kuraoka Family Weekly Journal: Balboa Park and the Midway Museum
www.kuraoka.org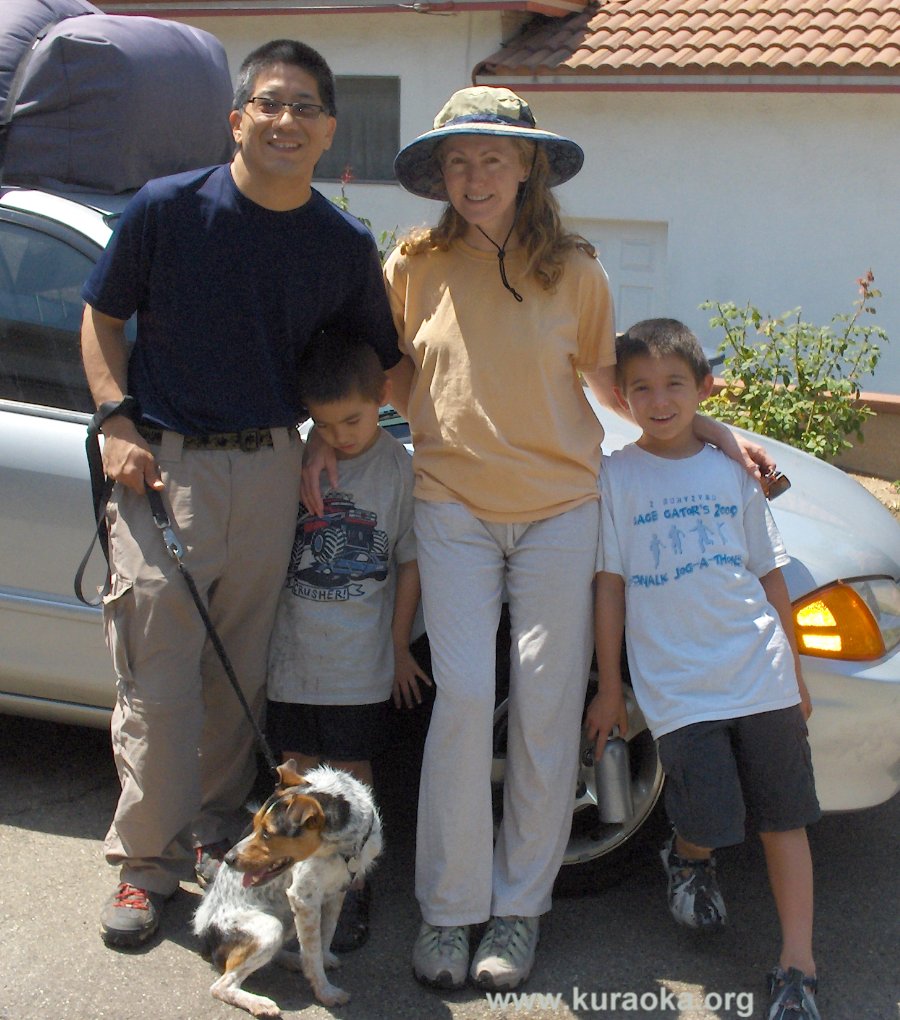 Us, August 9, 2009: John, Buddy, Leo, Ondine, Roy
Monday, 24 August 2009
We played tourist with Kevin all weekend, and had a lot of fun – and we have lots of photos to show for it! So, this is going to be a long journal.
Friday afternoon, Bill and Barbara brought over the go-kart they've been working on with the help of our neighbor, John Hanna. The first photo shows Bill and John Hanna working in John's driveway across the street. The next photo shows Barbara and Bill checking the fit with Leo. The boys are thrilled to have their own set of wheels! The last photo shows Bill adjusting the seat for Roy.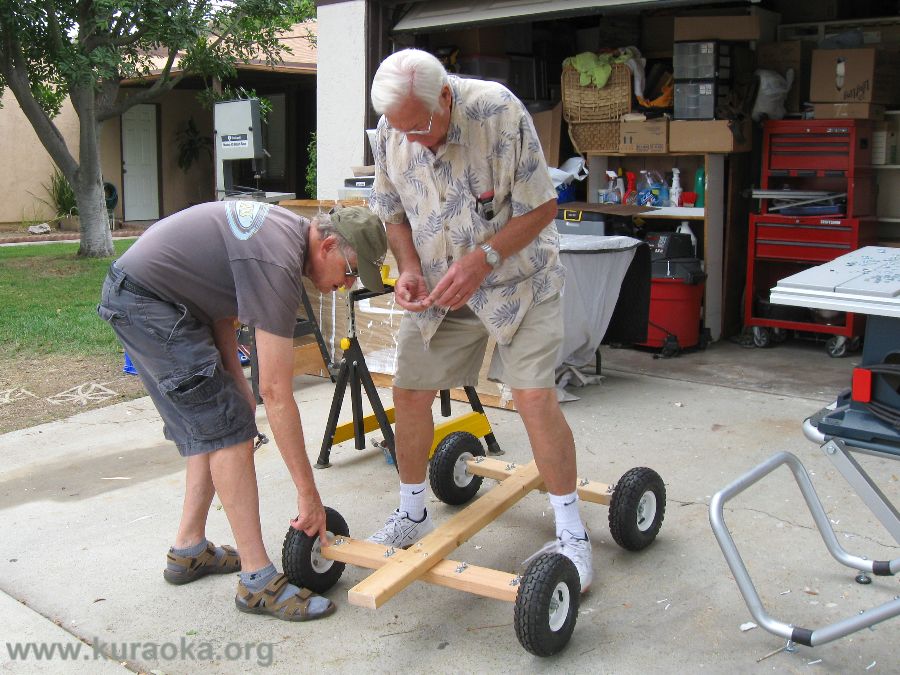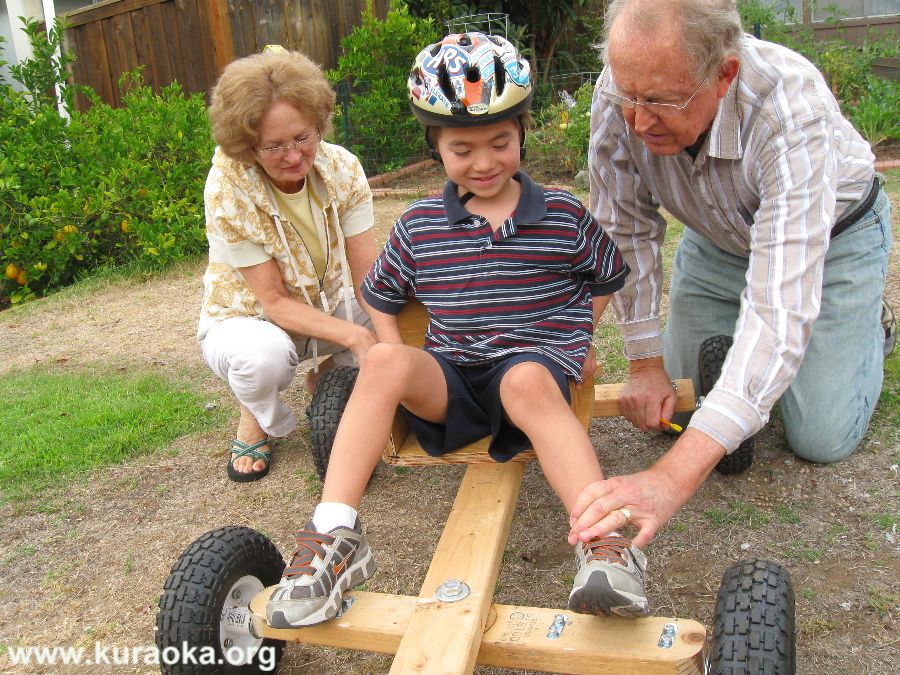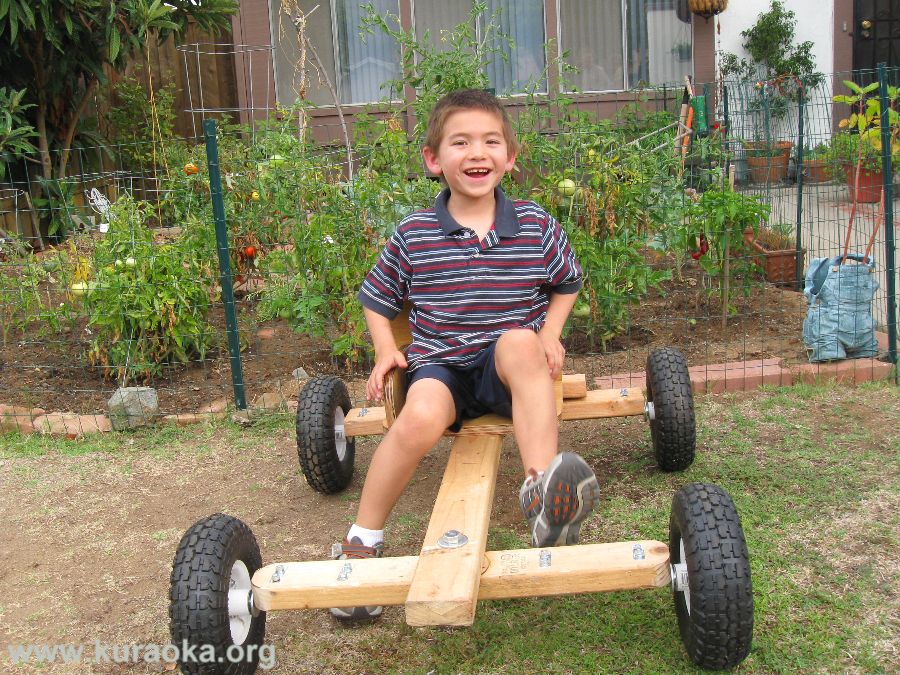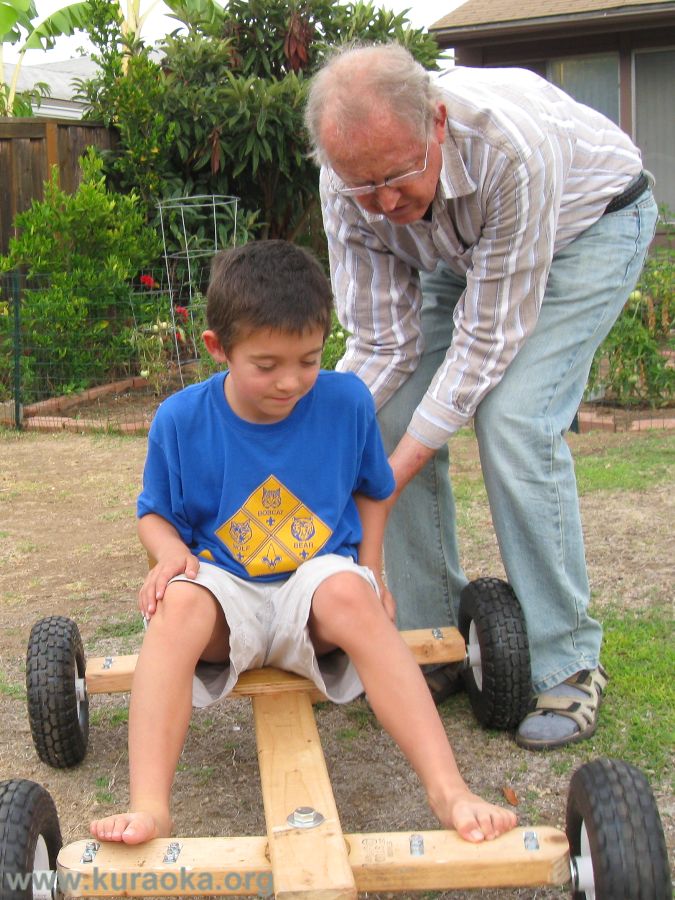 That evening, the thunder rolled in again and it we got another brief a summer night shower – fat, warm raindrops splattering like spit on the ground.
Saturday morning, Ondine made pancakes for breakfast! Kevin introduced the kints to a German-style treat – sprinkling sugar atop the pancakes! Boy, Roy and Leo certainly loved that!
Roy had soccer practice at 10:00. Then, we rounded everyone up and went to Balboa Park! Lucy had told Ondine that the Platt Brothers, an amazing acrobatic troupe, would be performing.
Ondine hobbled off in search of the show venue to hold some seats or save a space, and John, Kevin, Roy, and Leo went to the San Diego Automotive Museum! Here we are in the kid's play area – Kevin patiently helping Leo on a motorcycle and in a car.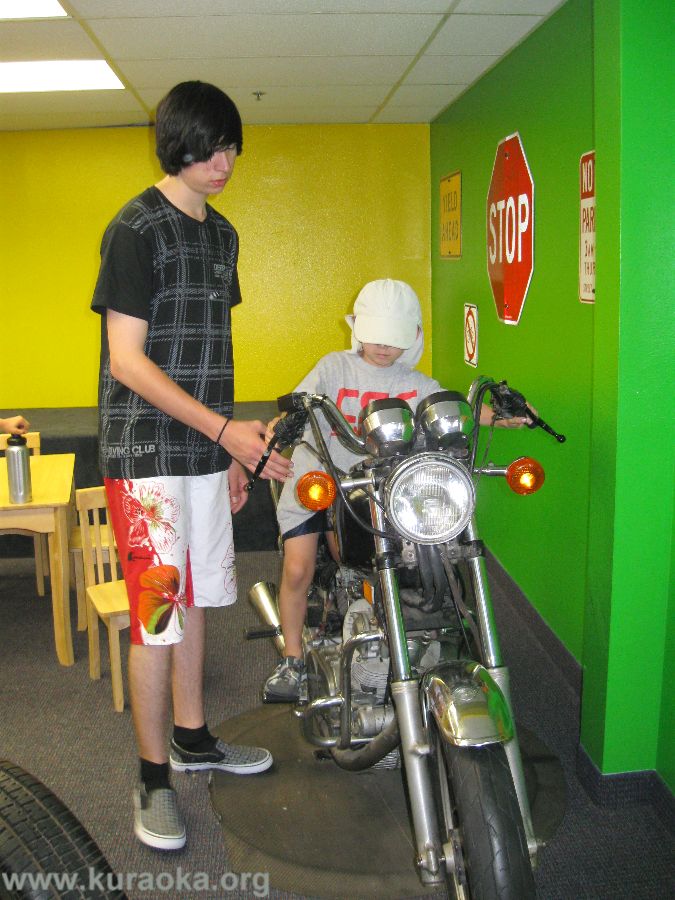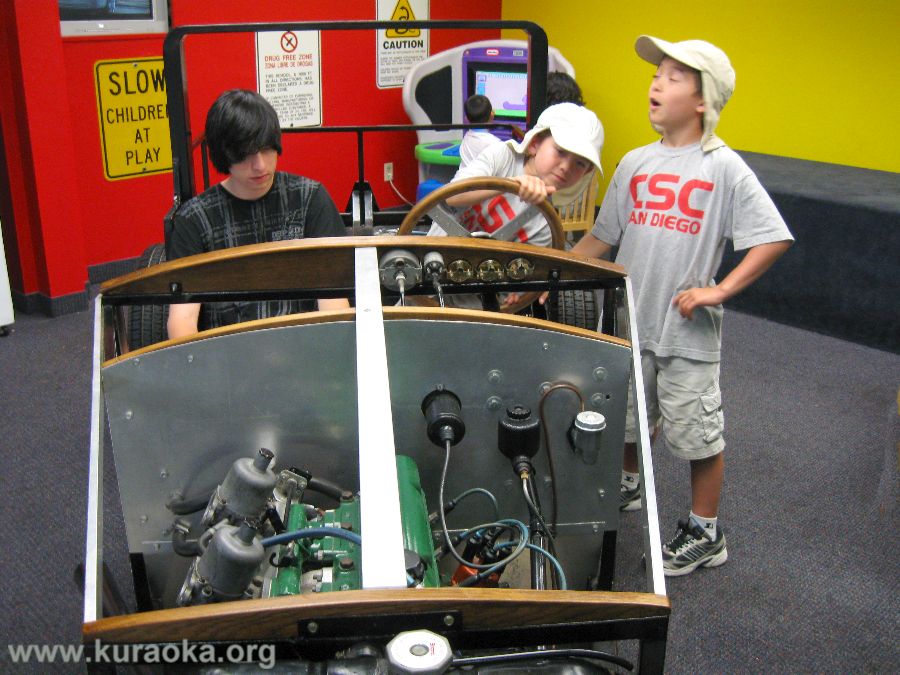 Kevin was impressed by the V-16 Cadillac, and also the display of vintage Harleys. And the 1949 Cadillac that went from San Diego to New York City non-stop entranced us all. A team of three men rotated the driving, and the Caddy towed a trailer with 255 gallons of gas that could be pumped into the car's fuel tank. It even changed its own oil. And, if they had a flat tire, auxiliary wheels would be lowered and the crew would go out on running boards and put a small platform in place from which to change the tire while moving! It had a toilet, a washing machine, a stove, a sink, a bed and even a bar and a telephone inside. The drinking fountain and shower were outside! It also went from Anchorage to Mexico City, also non-stop!
Then we went to the San Diego Aerospace Museum. The aircraft displays were impressive and far ranging. Leo was willing to hop into a cockpit for a photo op.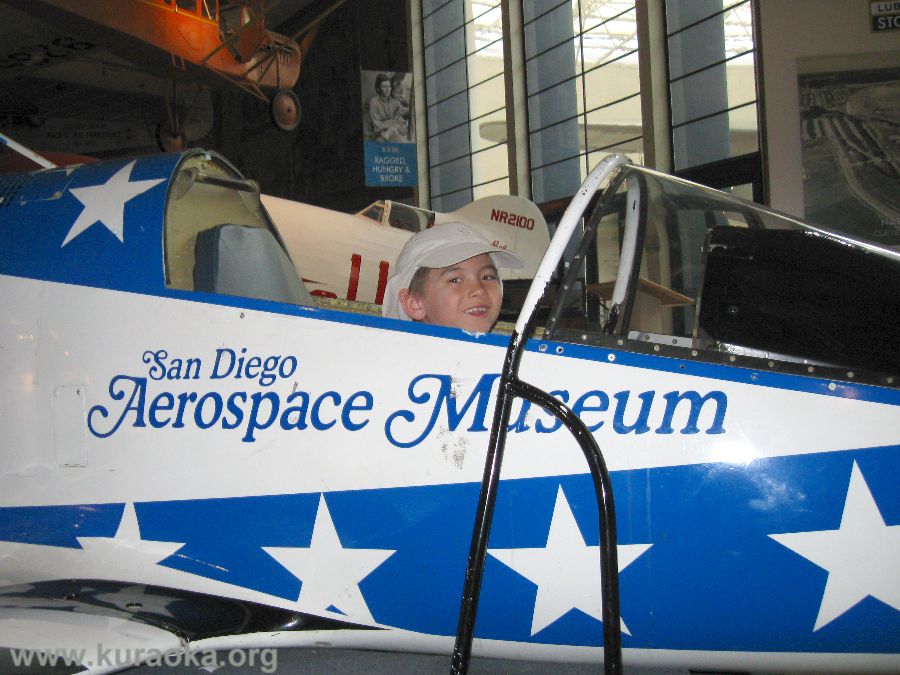 Well, the guys had so much fun, they missed the Platt Bros. – and, as it turned out, Lucy, Alex, and Carmen who had come too. We reconvened to find Ondine chatting to an old friend! We just love San Diego – everywhere we go, we run into people we know! It's such a small town that way.
We walked by the lily pond to a lone celloist softly drawing moaning melodies. Then we cut back to the small chapel where we were married, and tried to get a family portrait there. The kints were horrified by such a romantic notion, though, with the results you see. Then, we walked to the fountain. John delighted the kints by not stopping at the fountain – he kicked off his sandals and just kept going. Leo followed him!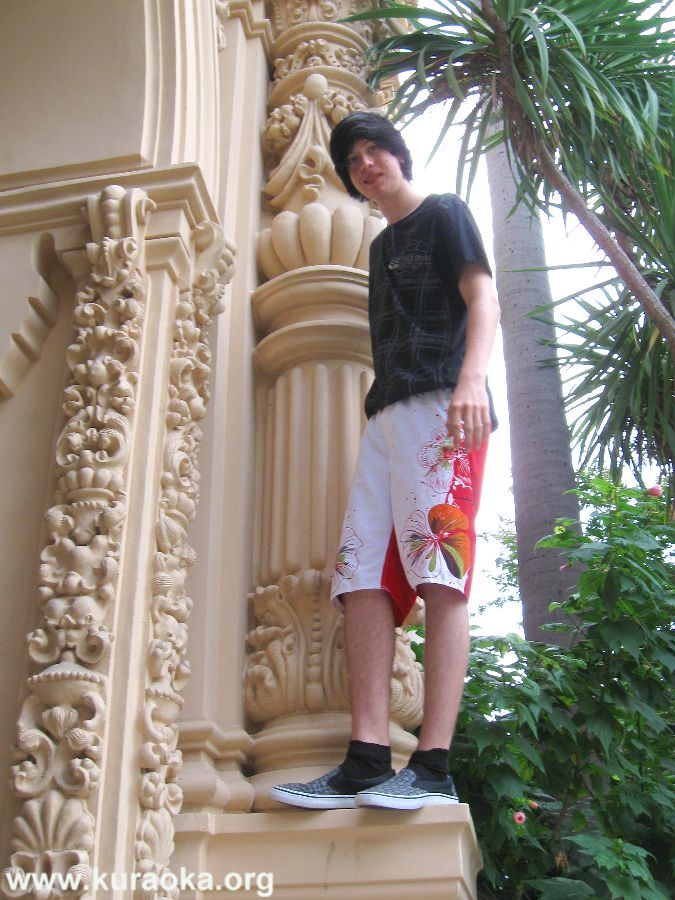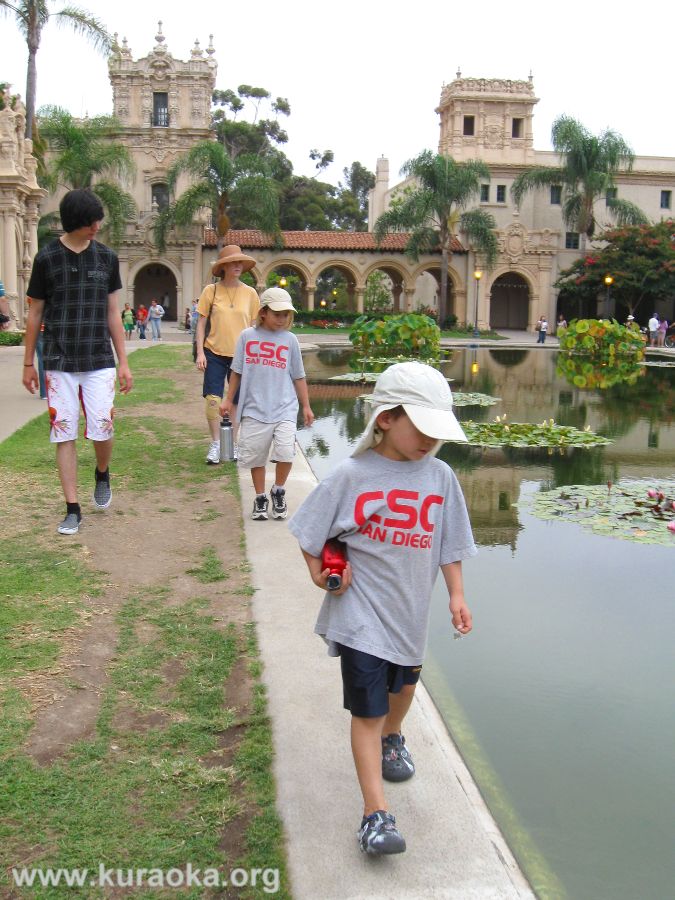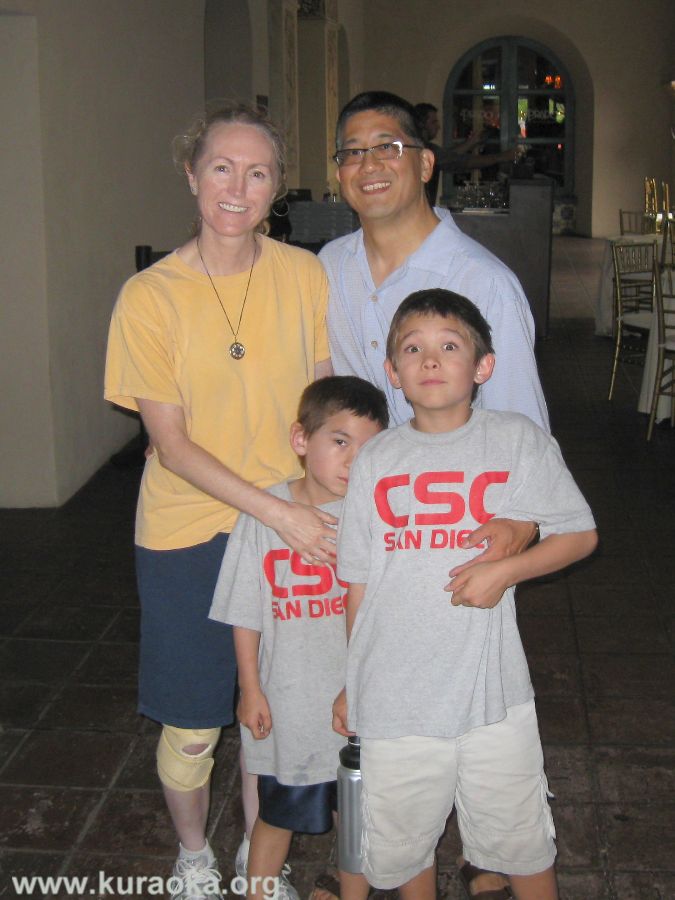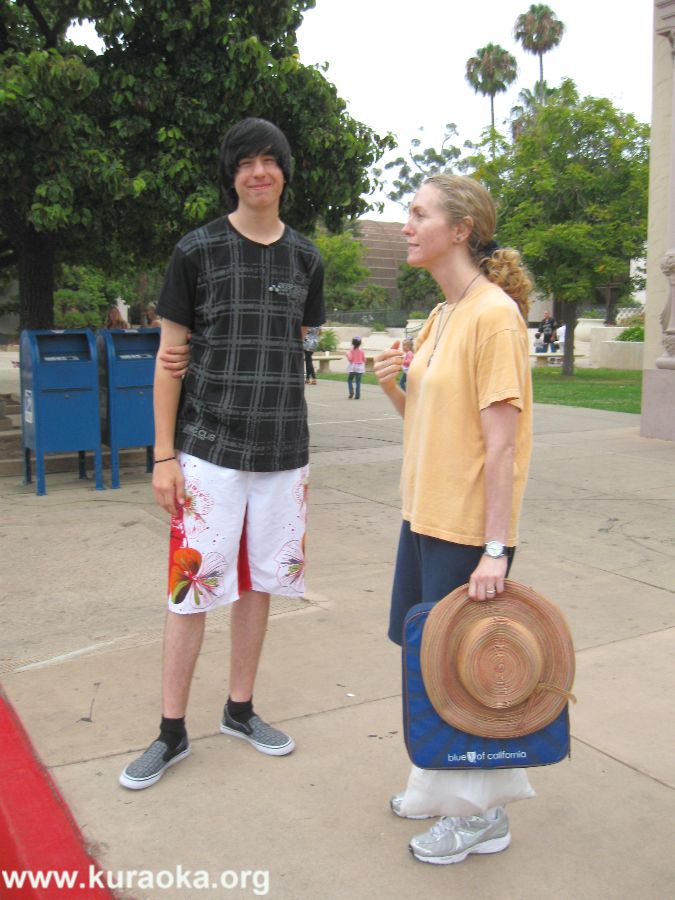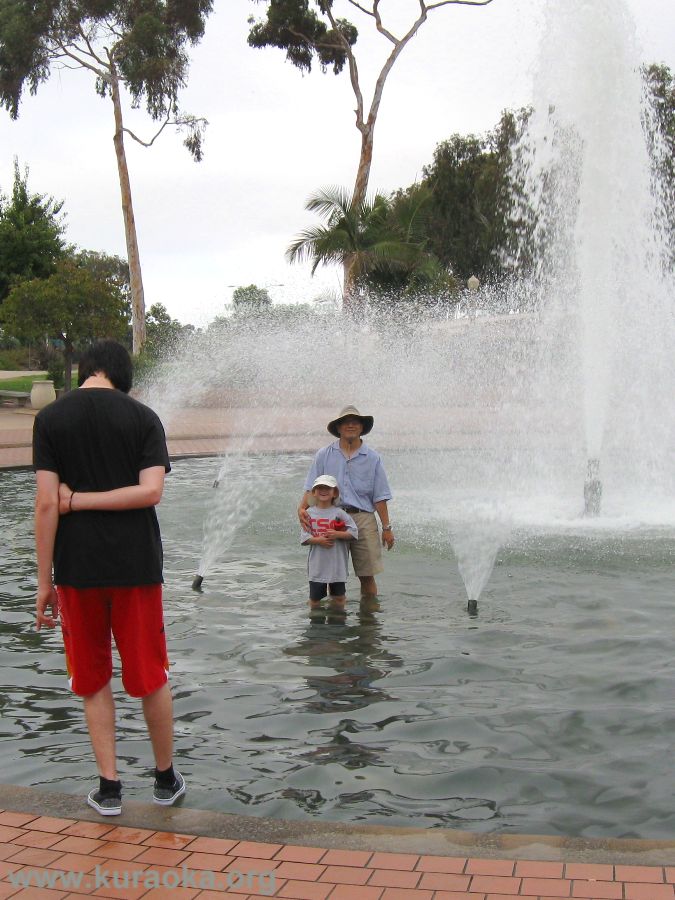 That evening, we stopped at Cotijas Taco Shop to pick up dinner. Kevin had not had Mexican food, so we thought he'd be in for a treat! We got the kints taquitos, and got three burritos to share: carne asada, carnitas, and al pastor. We also got plenty of four kinds of salsa, two orders of spicy carrots, and – an extra-special treat – some fresh flautas!
We divvied the burritos into sections, so Kevin could try them all. Plus, we over-ordered the taquitos so we could all enjoy those too.
We devoured dinner! We may have a new favorite – the al pastor was a pleasant change from our usual carnitas. And Kevin decided that he liked the carne asada just a little better than the others, although he liked them all. And the flautas … Roy and Leo had never had those either, so that was a real treat to have! Fresh, crisp, light, and dusted with cinnamon and sugar – yum!
When Kevin first arrived, John had asked him if there was anything in San Diego that particularly interested him. Kevin had said he wanted to visit an aircraft carrier, having spotted them from the plane while landing.
So, Sunday morning, John, Kevin, Roy, and Leo went to the Midway Museum! Roy and Leo had been there before, but John had not. And, of course, Kevin had never been. Ondine didn't go, because he knee was swollen again after walking around Balboa Park.
As we descended to a lower deck, Kevin immediately realized that he'd have to hunker down, so as not to hit his head! You can see how low the passages are – it's wonderful how much more apparent space a wide-angle lens creates in the movies! These were cramped passages! As we descended, Leo kept asking if we were under water yet. We found our answer in the engine room, as seen on the wall behind Roy and Leo in the third photo!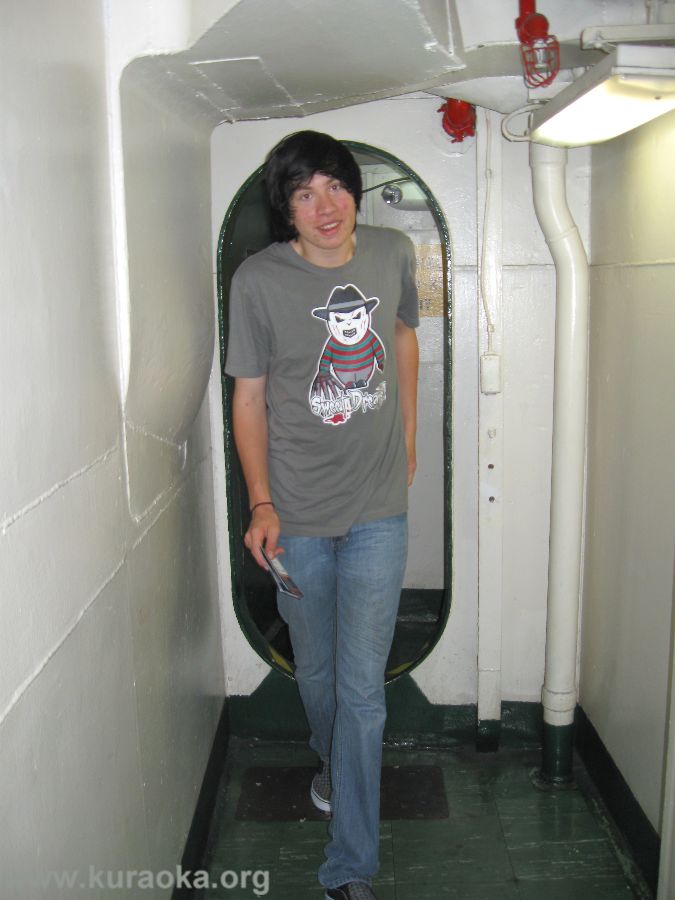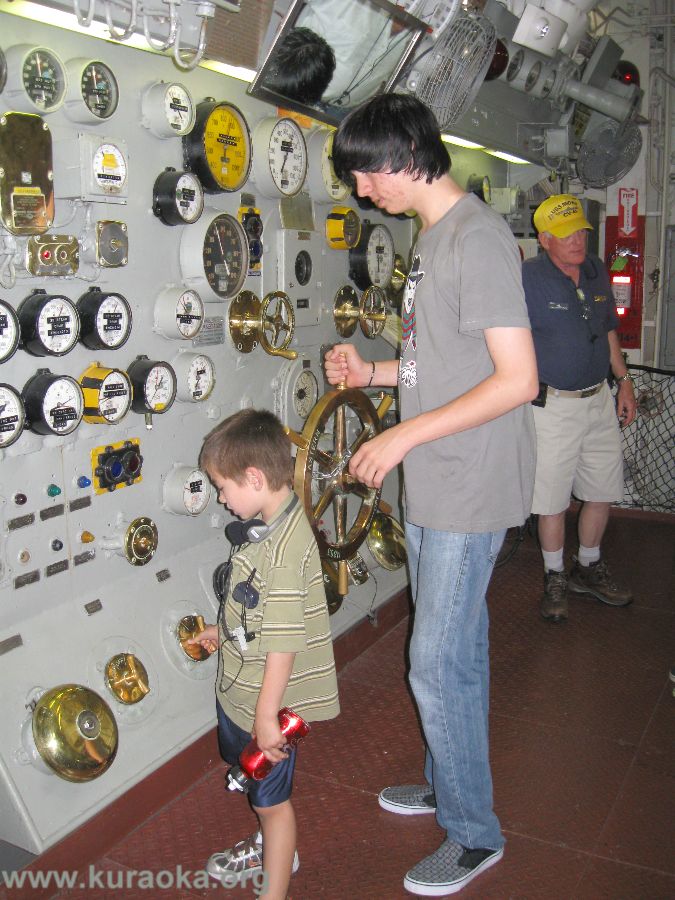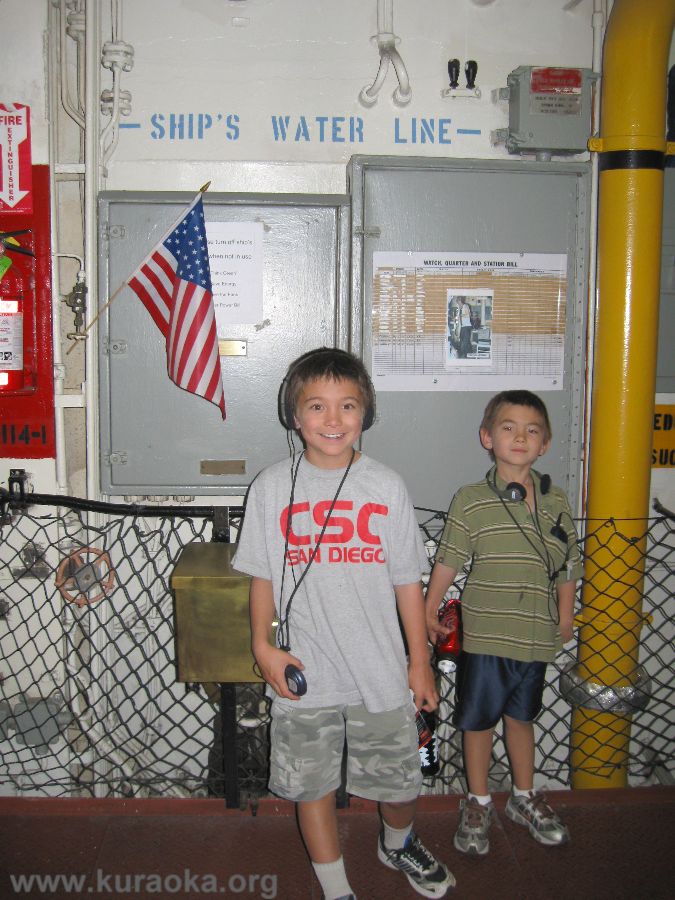 After exploring the spaces below decks, we wandered up to the Fantail Café for lunch. Kevin and Roy had cheeseburgers, Leo had a hot dog, and John had the chili boule. It was a wonderfully breezy place for lunch, especially after being below decks.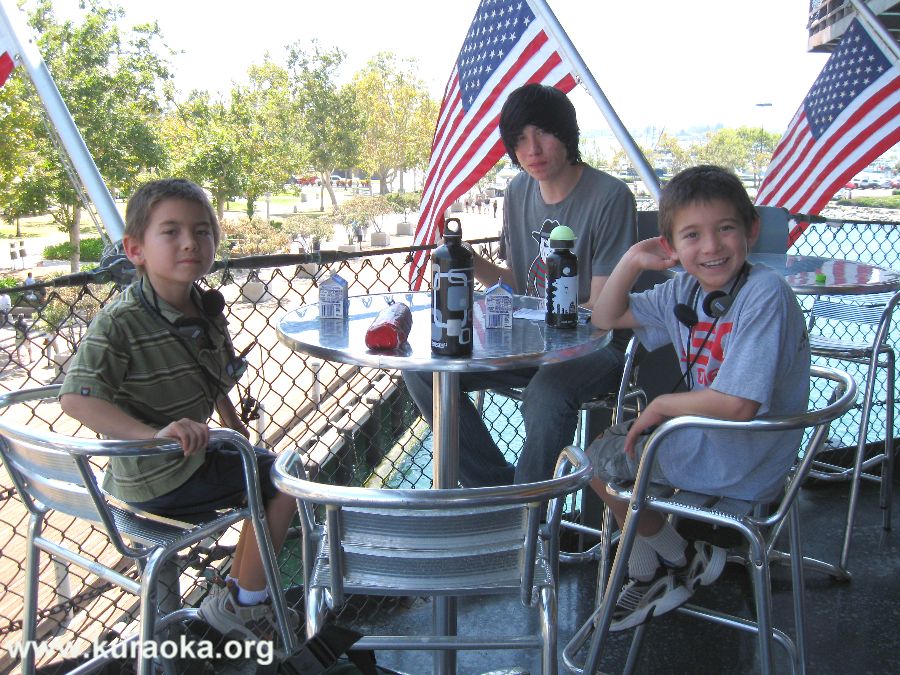 Then we queued up for the Island Tour – that's the tour of the Midway's superstructure. One of the first stops, was the primary flight control tower, where the "Air Boss" and his second-in-command, the "Mini-Boss," sat side by side to manage all the aircraft. Here, Leo takes the Boss position, and Roy was the Mini-Boss – two of the best seats in the house with panoramic views over the flight deck. From there, we climbed to the bridge, where Roy and Leo took the wheel of an aircraft carrier! After the tour, we emerged out into the bright sunshine – Kevin having to duck to avoid hitting his head on the top of the hatch.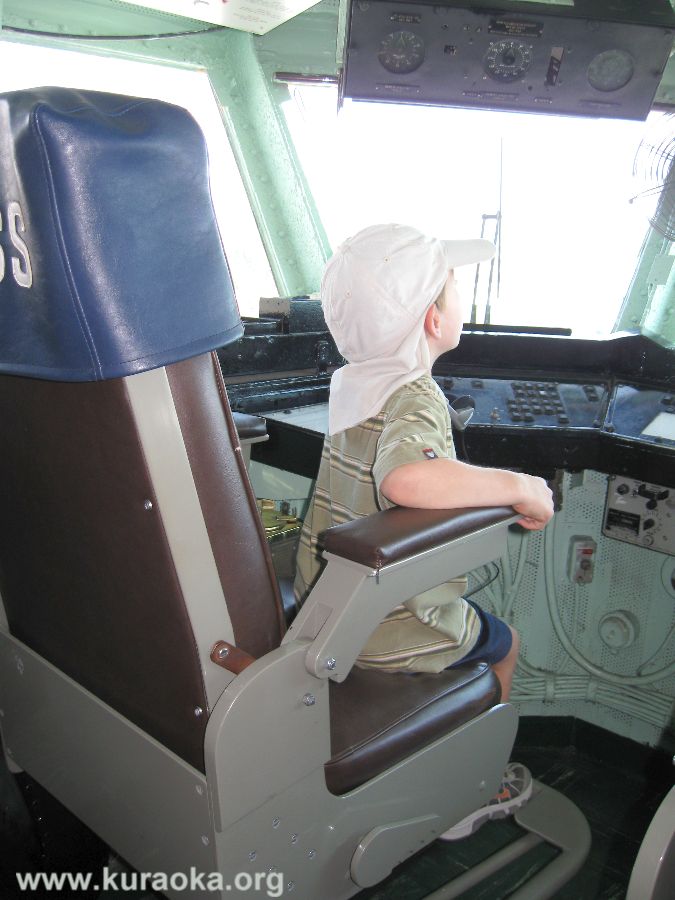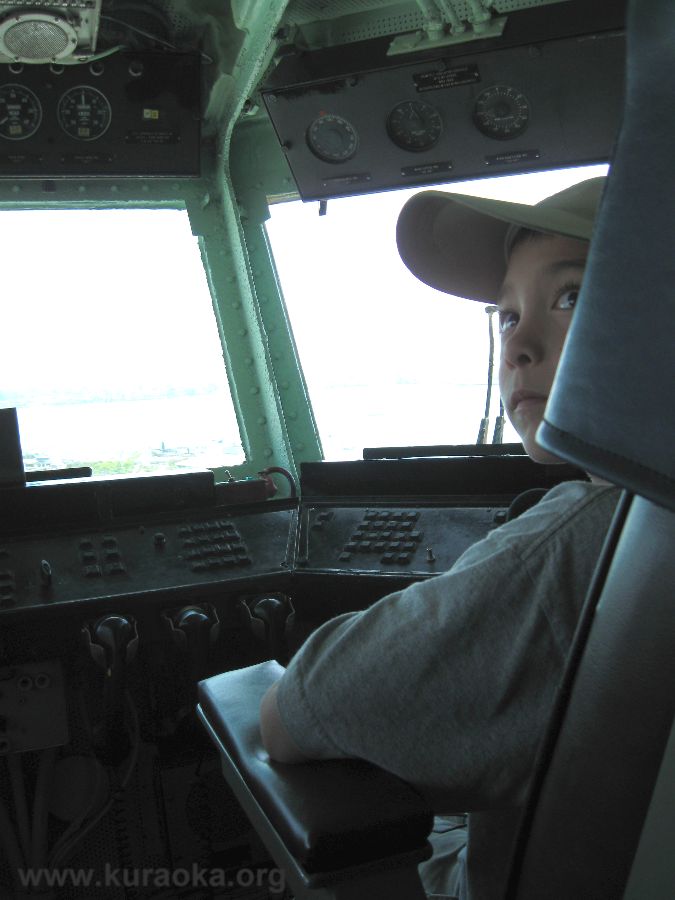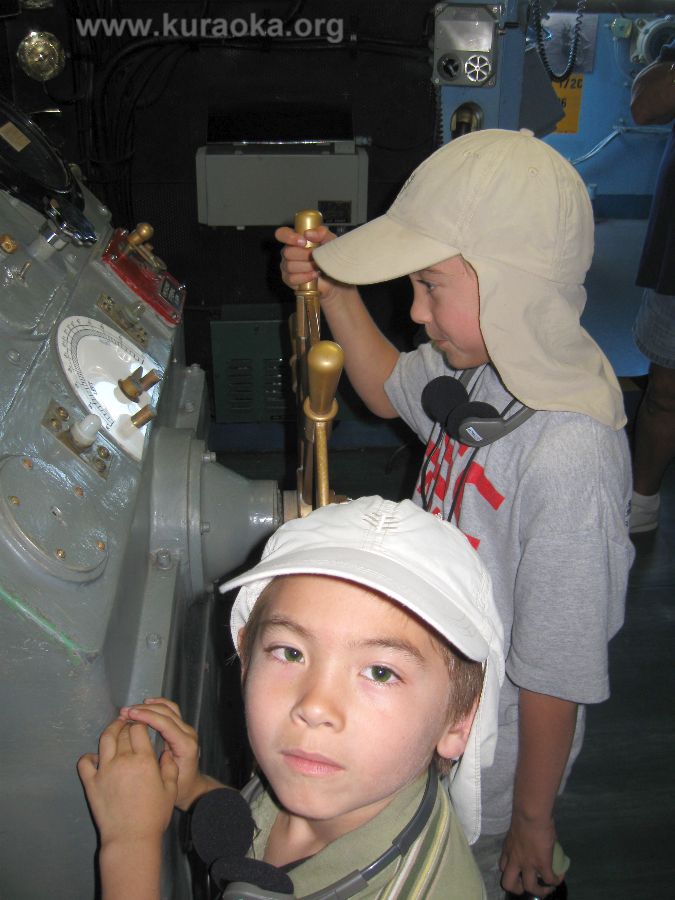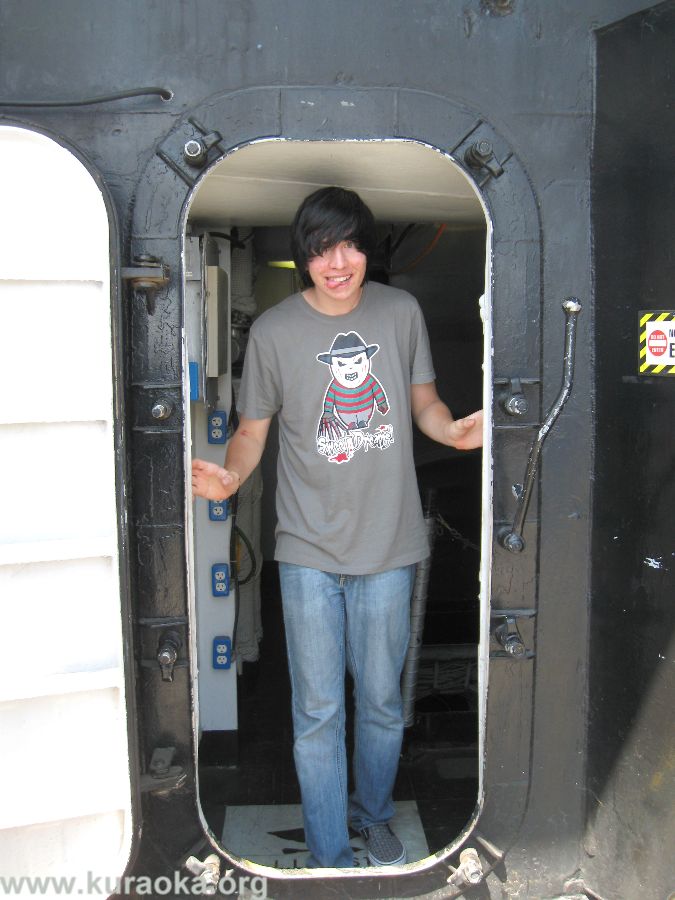 We went through the admiral's quarters and the captain's quarters – luxurious and amply sized but low – and wound through a warren of passages, stairs, chutes, and ladders. Well, not the chutes. Here's an operations room just off one of the ready rooms. There were lots of switches to press, toggles to flip, knobs to turn, and great sweeping displays. Here are Kevin, then Roy and Kevin, and Roy trying their hand at managing a console. When all else fails, whom do you call? Mo-om!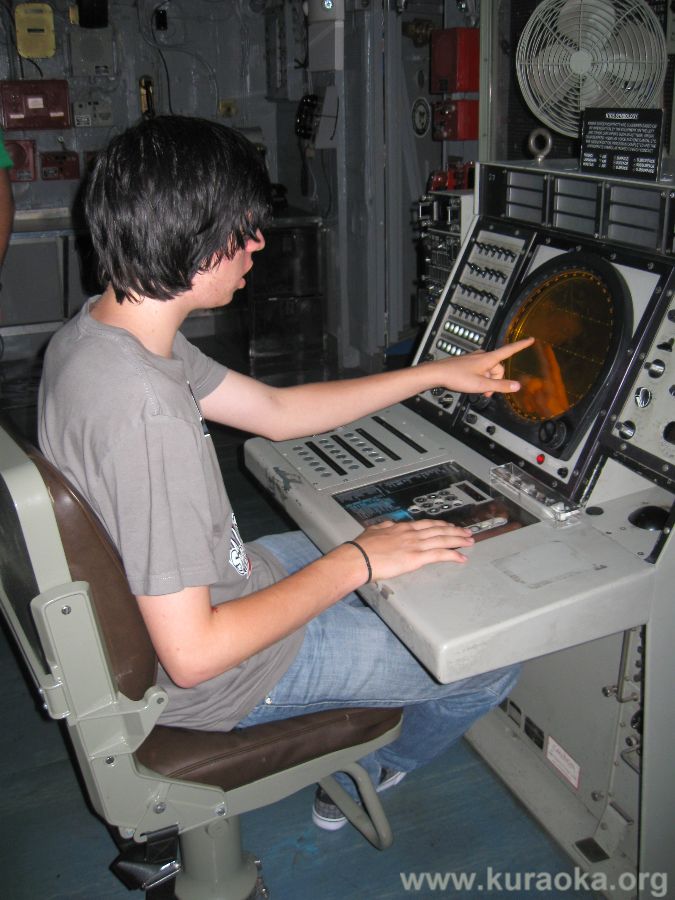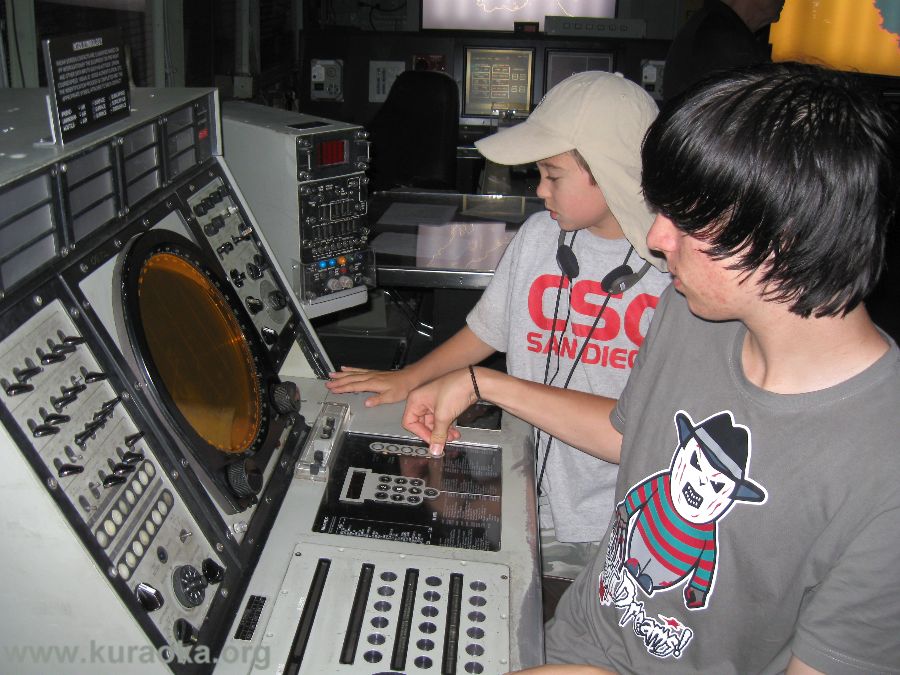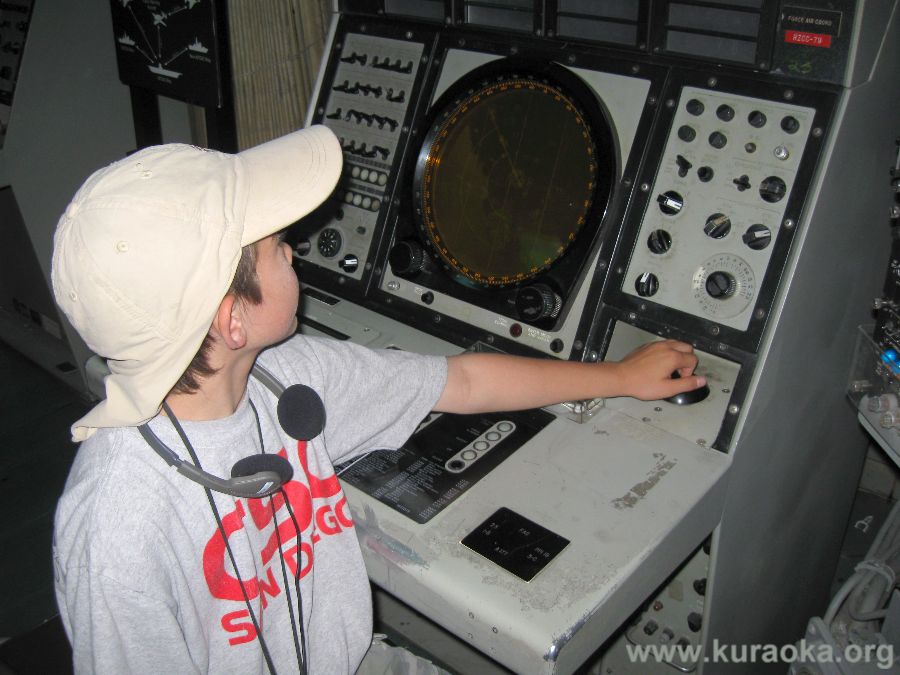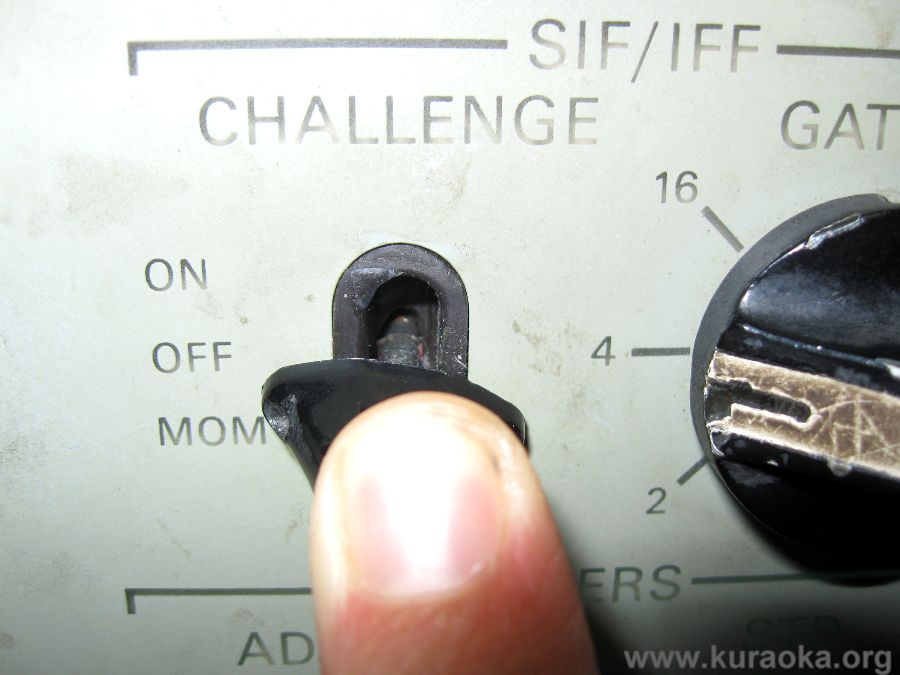 We continued through to this room, festooned with knobs and switches. Roy spent some time in here, then told us that there were about 1,400 switches on one wall alone. That's a lot of switches to flip! They made a wonderfully positive clicking sound. Leo and Kevin even tried cracking the safe. Unsuccessfully. We loved touching everything! Click! Whir! Chunk! Clunk!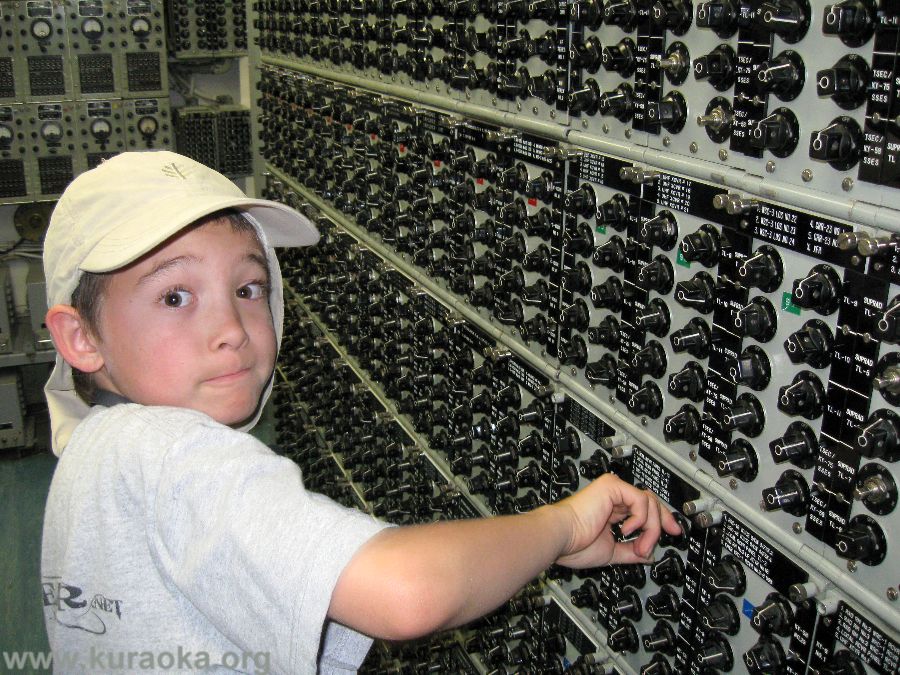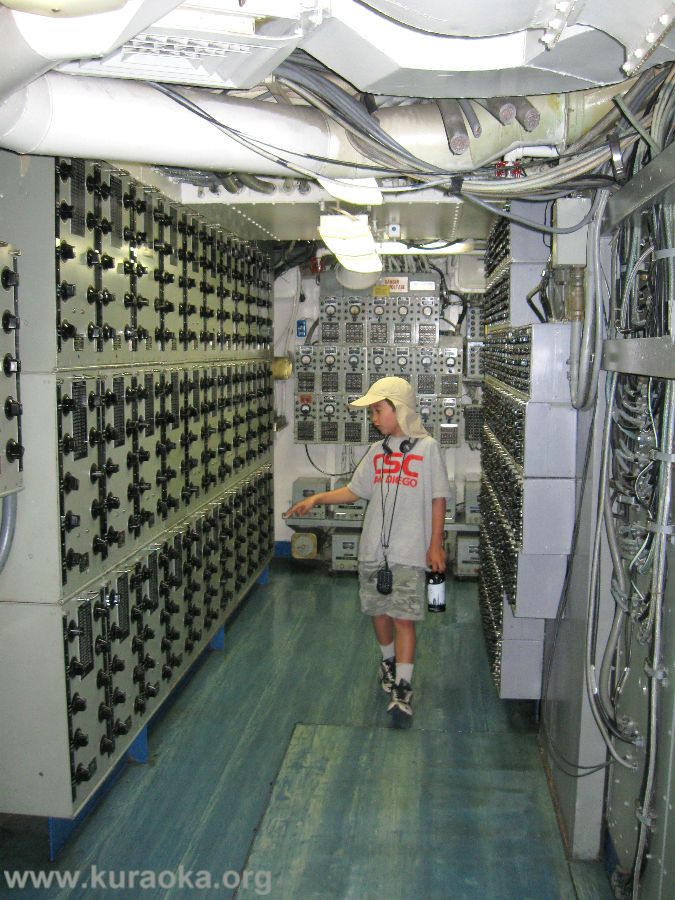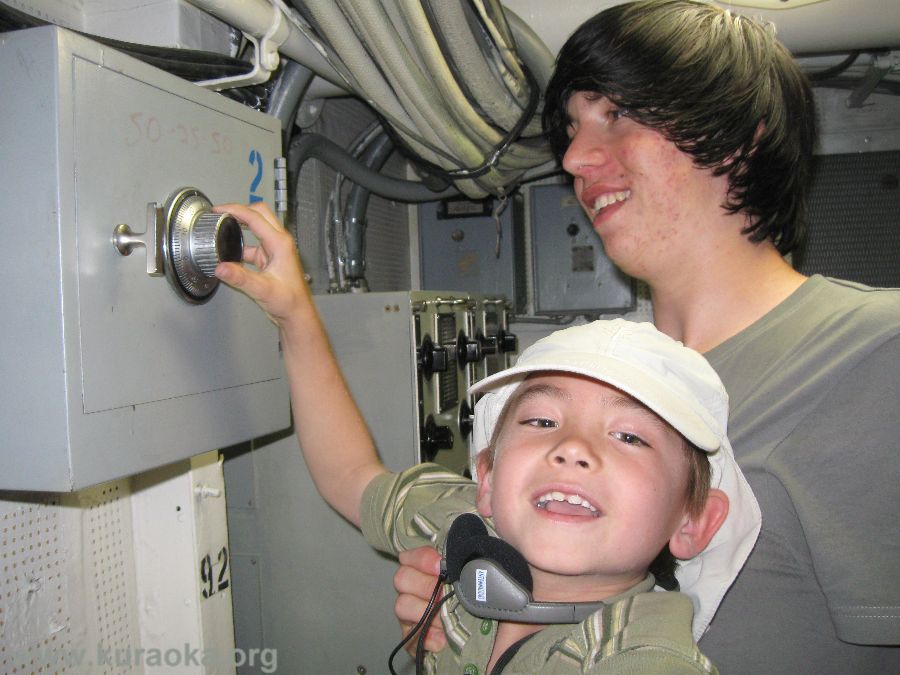 That led John into mischief. They went through a couple ready rooms, and, while Kevin, Roy, Leo, and a small crowd of people gathered to watch the video, John drifted toward the back of the room. Hmm, here's a switch. It wasn't behind a barrier, so John reached out and gave it a flick.
Suddenly, the lights went out! And the video died! Hey! came the dismayed yells. John quickly flipped the switch back on. "Oops!" he said sheepishly. "Sorry!"
"He did it!" shouted Roy and Leo gleefully, pointing fingers at John, and everyone turned to look at him. Which was good, because it took their eyes off the fact that the video display system had to reboot and reload, which took a minute or two. And, apparently, the lights went dark in the next ready room over, too. Agent of Chaos, our John. Unsafe to let him wander about unsupervised.
"Now any time someone says 'oops,'" Kevin told John, "I will think of you."
We went back up topside and enjoyed the fresh breeze waaay out on one of the two fingers that extend from the flight deck. It's a long way down!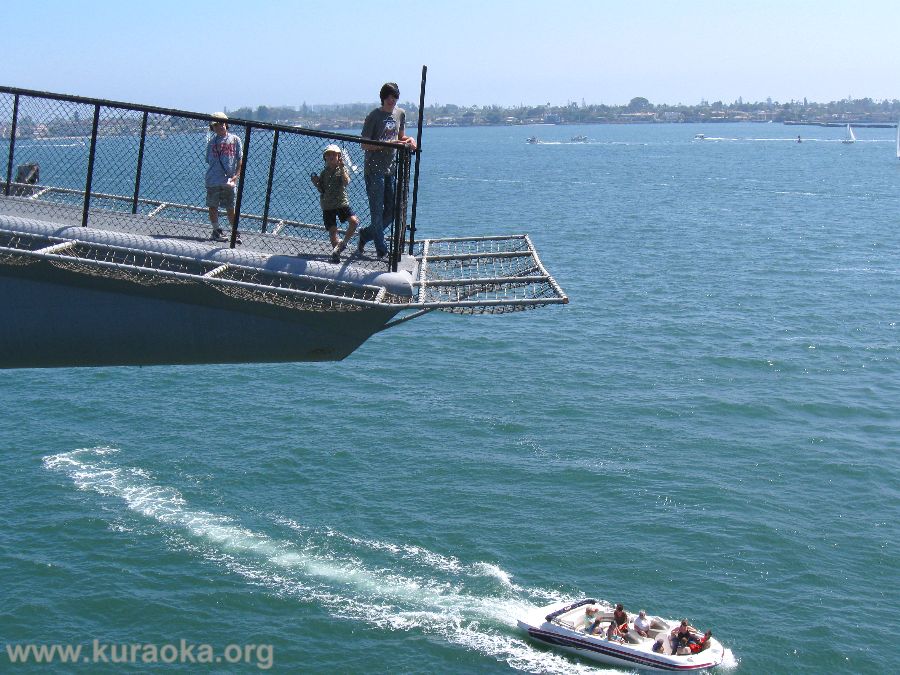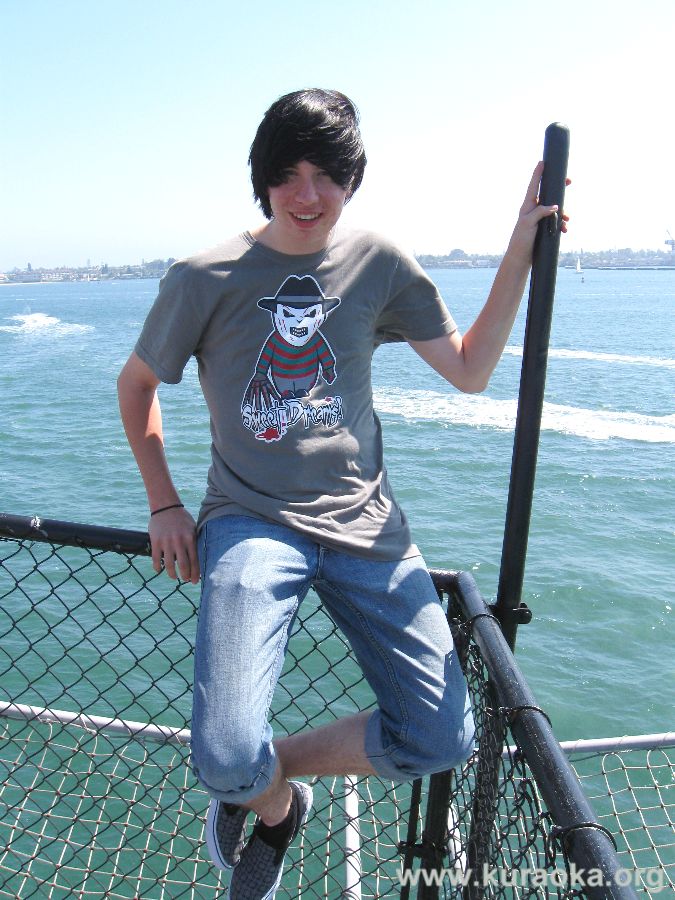 When we got back to looking at the planes, we found an S-3 Viking warplane sporting the green cloverleaf emblem of the City of Fürth, Kevin's hometown! Fortunately, all the missiles and rockets and weapons are completely safe. This missile, for instance, is only armed when fully red. Um ...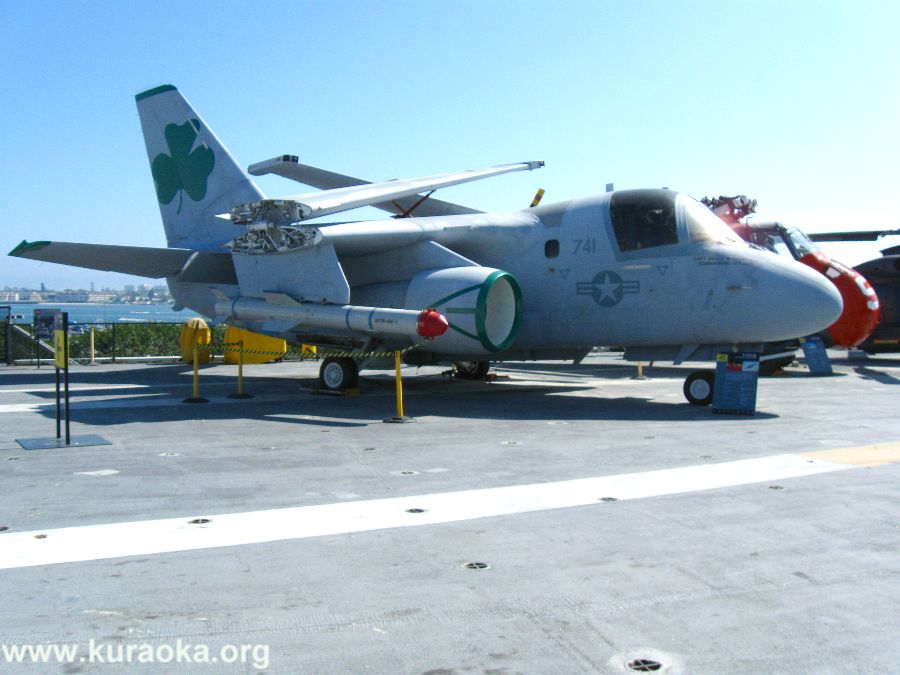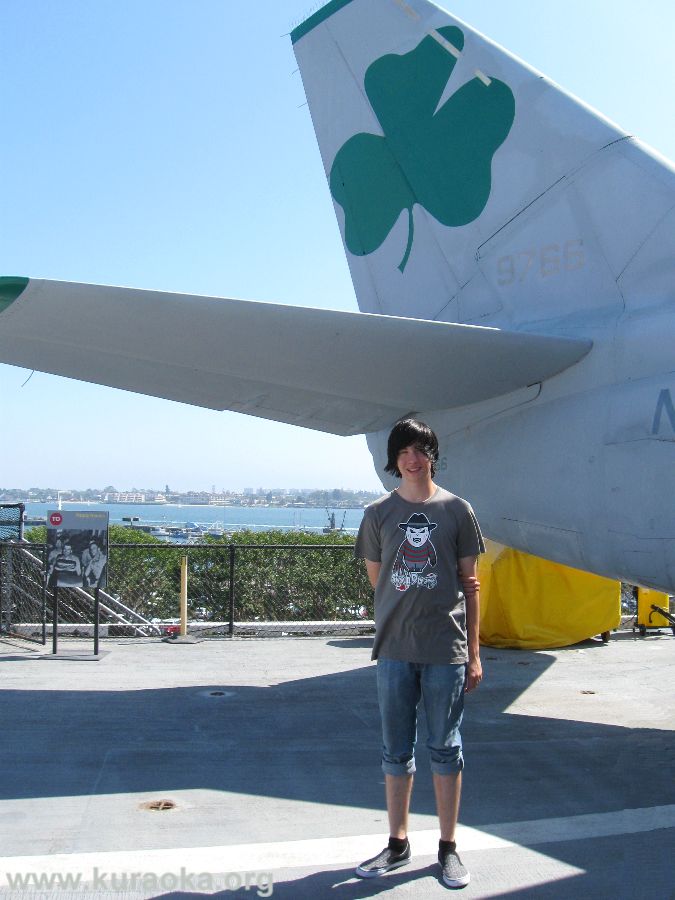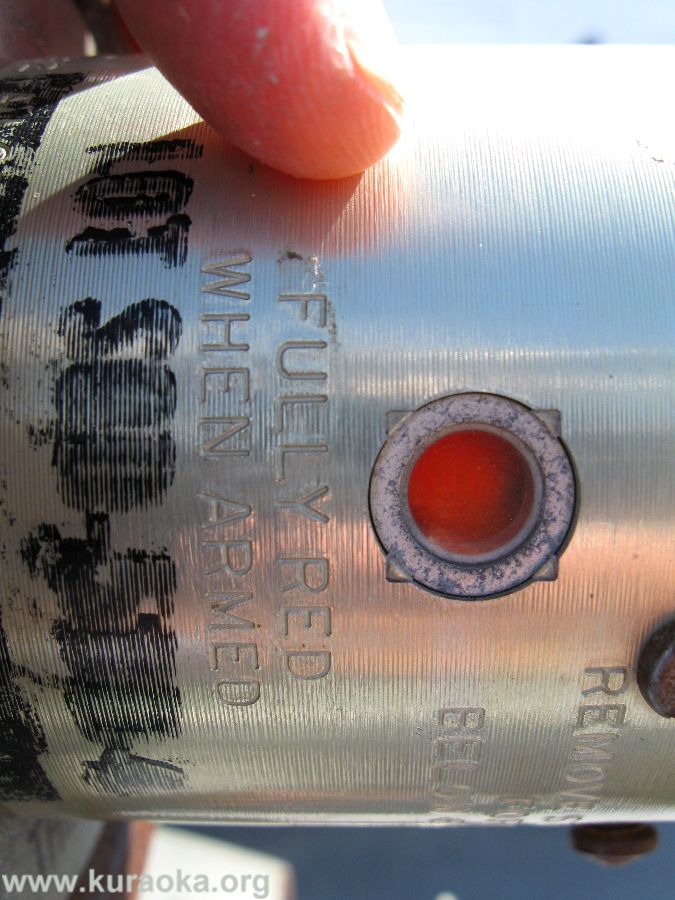 Kevin, Leo, and John did the motion simulator ride, which simulates an actual F/A-18 mission during Desert Storm. Roy opted to watch Leo's face on the monitor outside. It was a great ride!
Here's a useful lever for dog owners.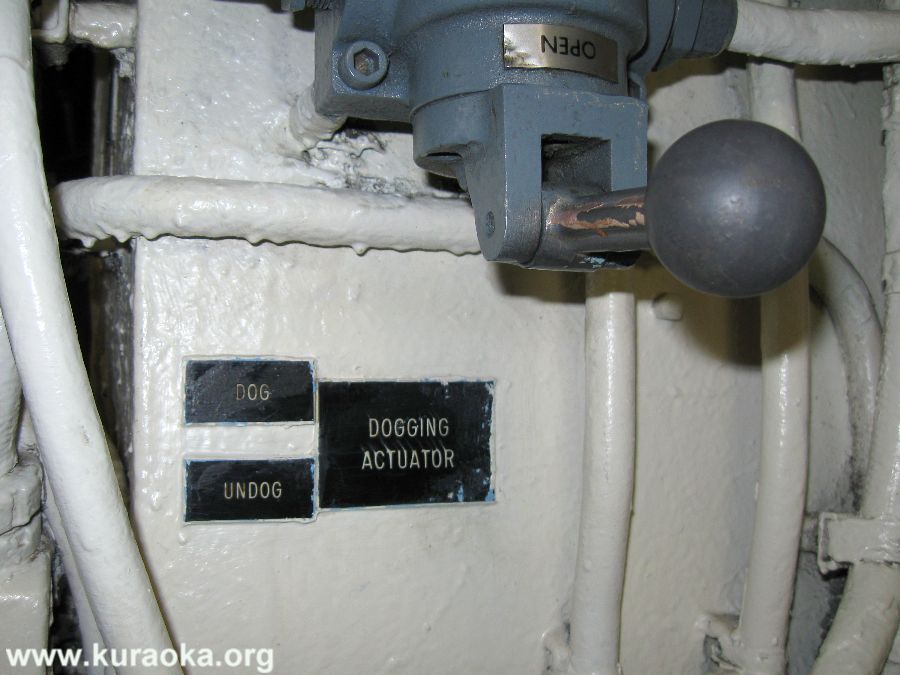 And this emblem of a fighter squadron was one of Kevin's and Leo's favorites. We looked in the gift shop for a matching patch or pin, but couldn't find one.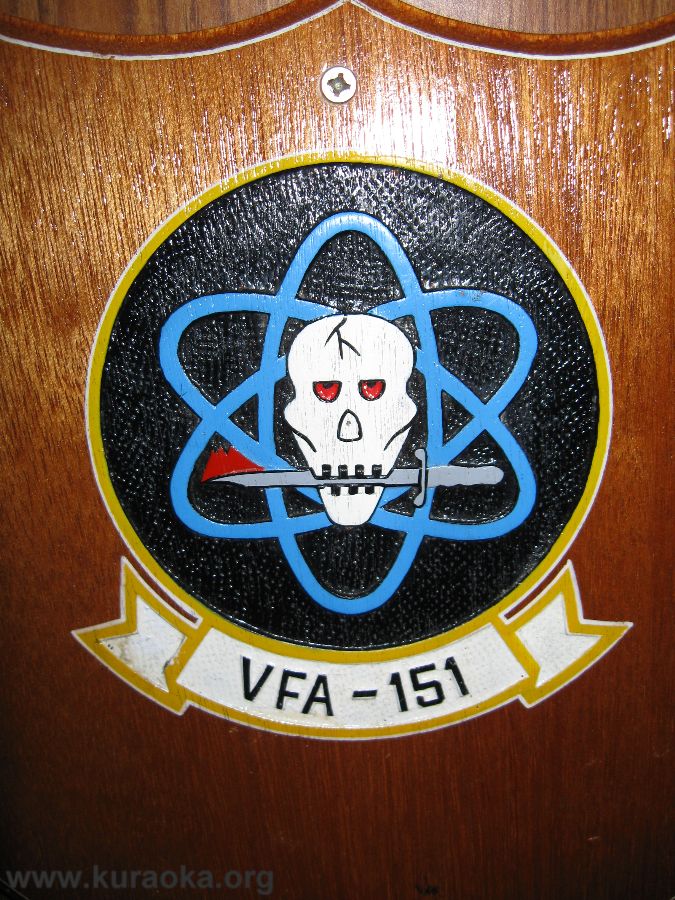 We made it back to the hangar deck just as they announced the museum was closing! We had just enough time to hop into some cockpits for some imaginary sorties. Here's Roy, Leo, and Kevin, each taking the controls of their own warplane! An employee strolled up to us to shoo us out, and John stalled him with some idle chit-chat while Roy and Leo obediently tried to make for the exits and Kevin hopped into a helicopter cockpit. Whee!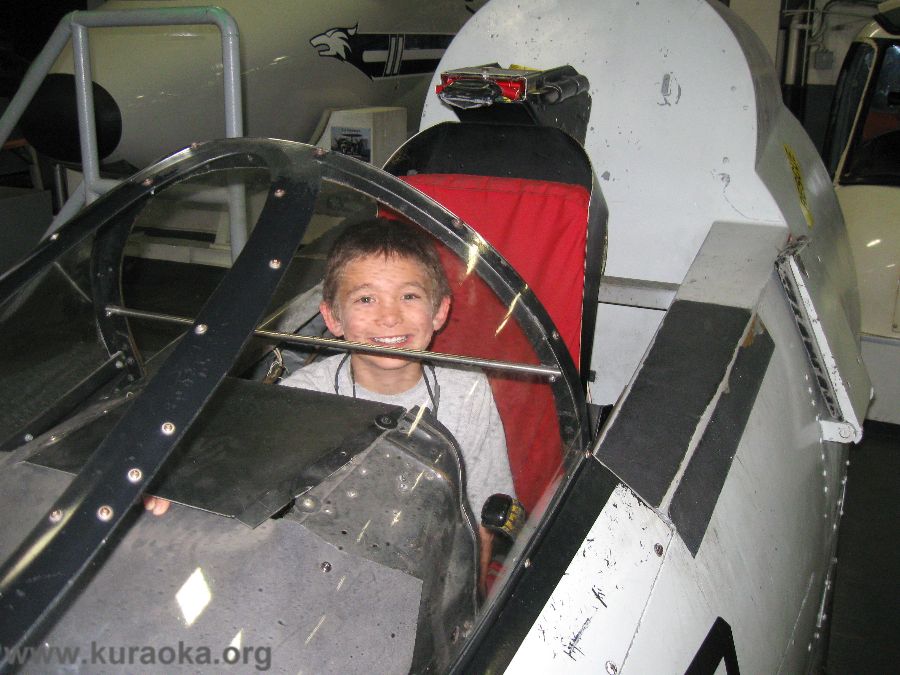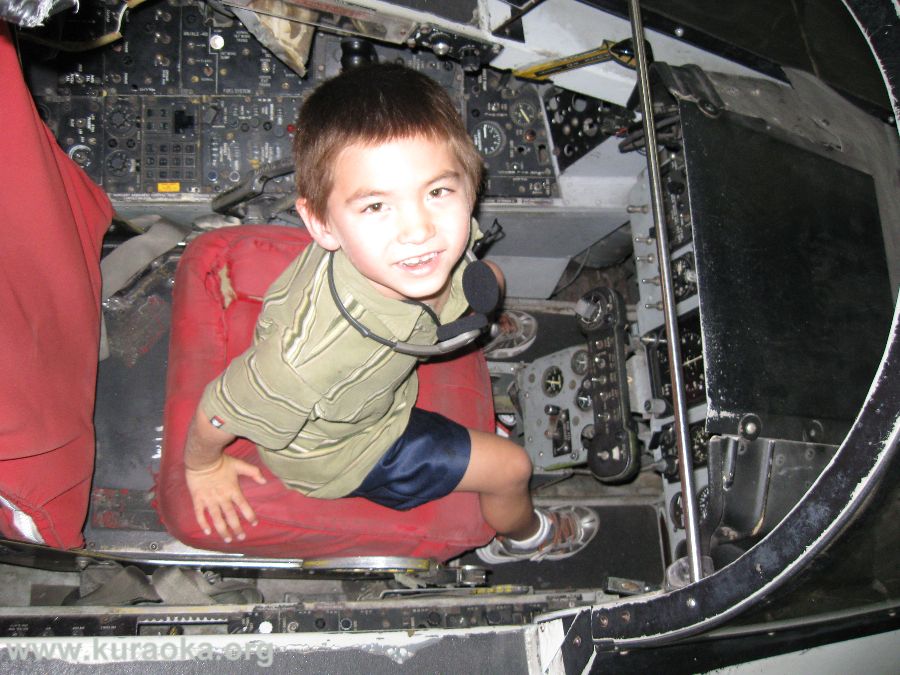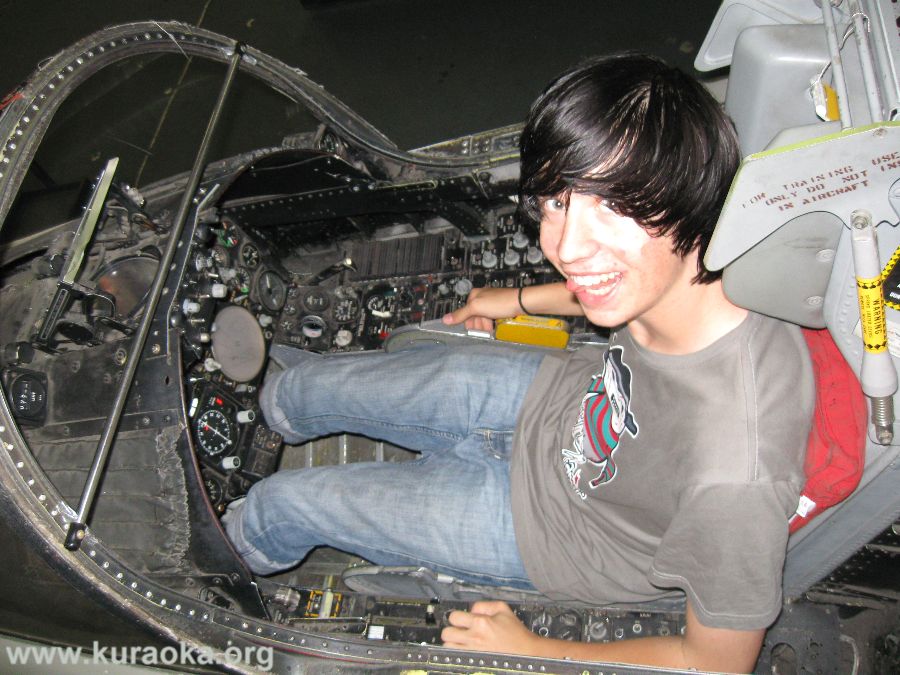 John called Ondine from the parking lot, and arranged to meet her at Panda Land, the Chinese buffet we like. That was a hit! Kevin loved the fried chicken and oranges, while Leo loaded up on shrimp and we all had lots of cantaloupe. We sure ate enough! Yum!
Monday it was back to school for Kevin and back to San Carlos Rec day camp for Roy and Leo. Today, they're staying for the movie, so we'll pick them up at 5:00. Then, they may go swimming next door for a bit. Ahhh!
When Kevin got home, he had some good news – he had been moved up to the next class! He has a new teacher.
HAPPY BIRTHDAY to Grammy!
Neighborhood gas prices are about $3.04 per gallon.
Back to the Archives page
Back to the Kuraoka Family main page
Forward to the current Weekly Journal.