The Kuraoka Family Weekly Journal: auf Wiedersehen to Kevin
www.kuraoka.org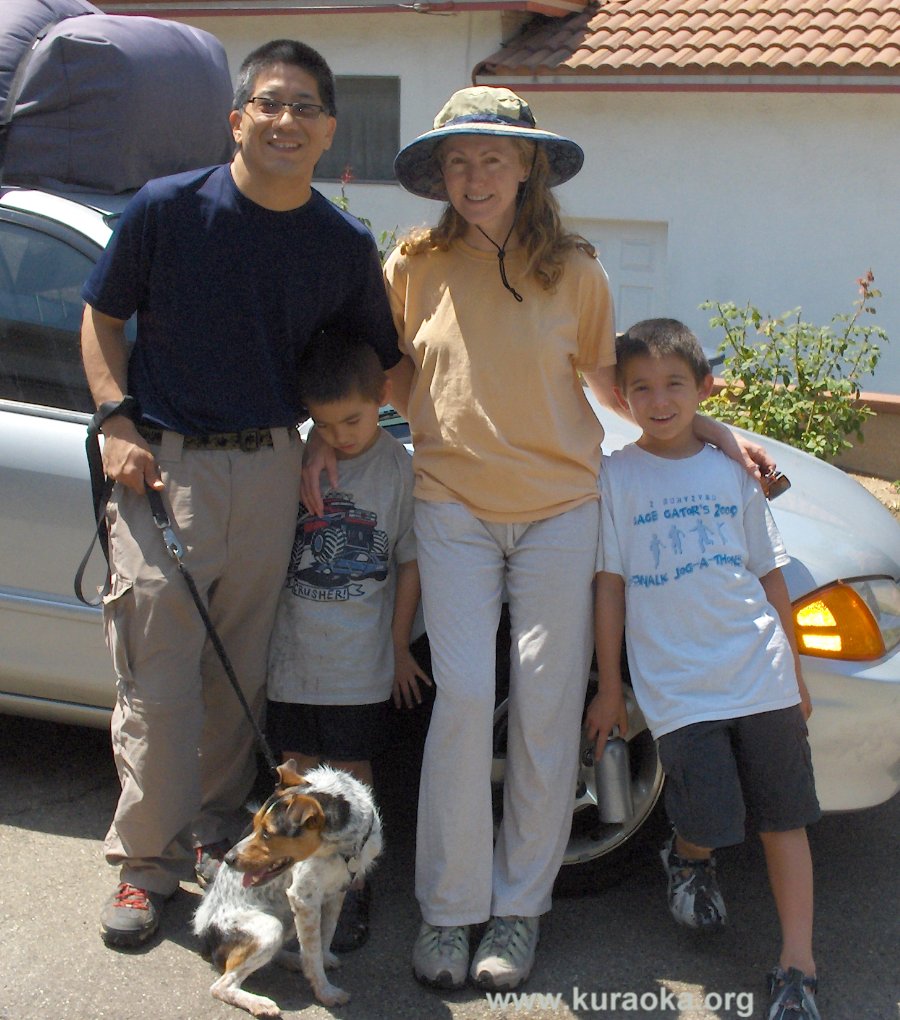 Us, August 9, 2009: John, Buddy, Leo, Ondine, Roy
Friday, 04 September 2009
It's been another scorching hot week! Thankfully, Ondine managed to find things to do with the Kints 'n' Kevin that helped them stay out of the worst of the heat.
Monday, for instance, Ondine took them to the beach. Leo is really doing a lot more on the Boogie Board. Kevin lay in the sun and got a thorough sunburn, front and back!
That evening, Kevin stayed up even later than usual – until about 3 or 4 am – working on the Rubik's Cube. And … he solved it! Here's a photo of him the next morning proudly displaying just one of the six solidly single-colored sides. We have not seen it like this since it was new, maybe two years ago! Kevin is the first person we've known to actually solve it.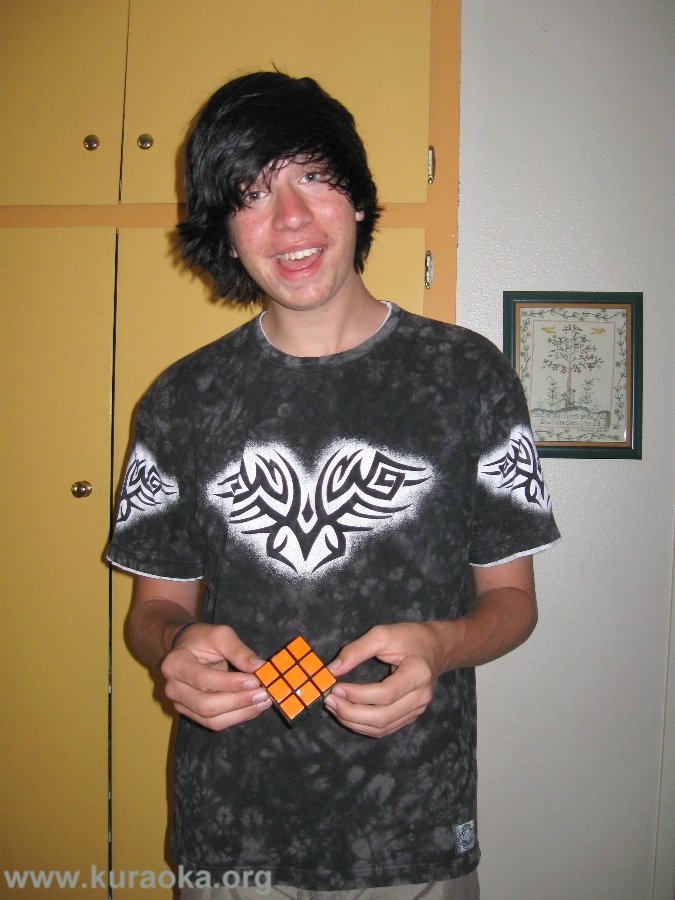 Tuesday Ondine called the Torrey Pines Glider Port to see if they were launching – Kevin wanted to try paragliding. Unfortunately, there was not enough wind, so instead they had a quiet day at home. In the afternoon, Ondine took Leo to soccer practice.
Roy, weary of the heat and also of Leo's constant company, opted to sleep out in the back yard again. He loves sleeping outside. When we go to check on him, before turning in ourselves, he's fast asleep on his back with Tiger, arms outstretched in the fresh night air. Here he is the next morning, with Leo and Buddy joining him on the cot.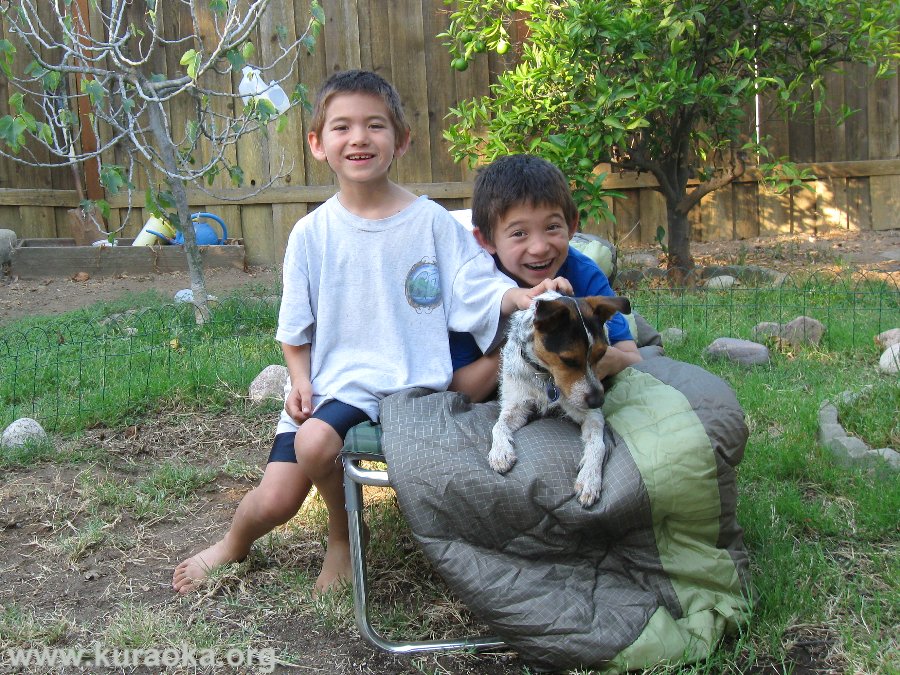 Wednesday morning, Ondine called the glider port again – no luck. So, Ondine rounded everyone up, dropped Kevin off at Grossmont Center, a shopping mall, and then took Roy and Leo to the pool in Santee! A bunch of their friends were there.
In the evening, Ondine went to a meditation with Lucy. This was the candle-lit meditation that Ondine had to leave in a coughing fit the last time she went. Well, this time she was fine. And, Roy slept out back again.
Thursday was a busy day! Ondine called the glider port and got hopeful news, so they all went to Torrey Pines. Unfortunately, the wind didn't quite pick up enough. So, here they are on the cliffs above the water.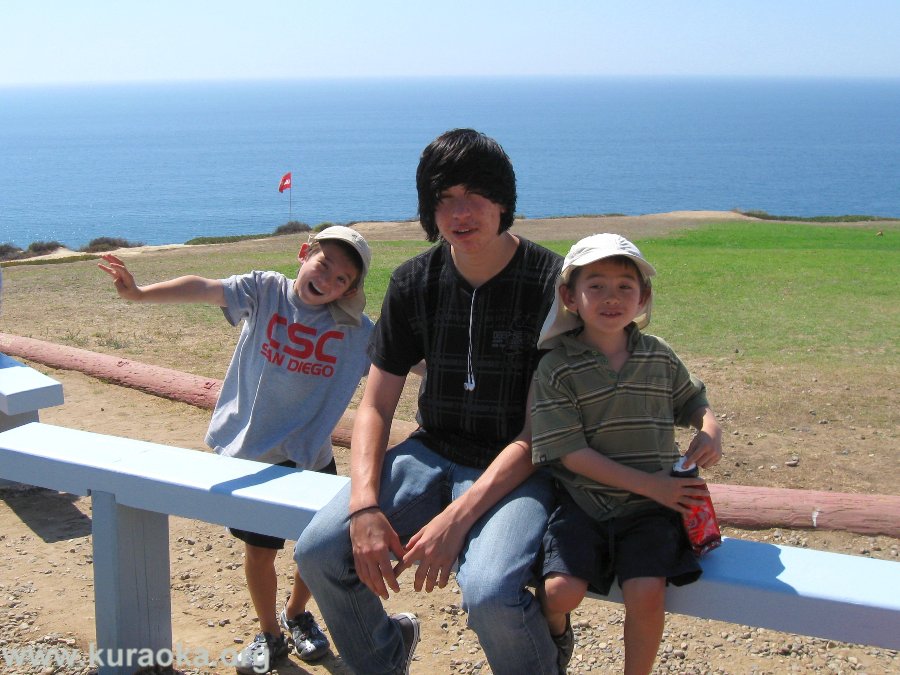 Then they went to the Cave Store in La Jolla, and walked down through "Sunny Jim's Cave."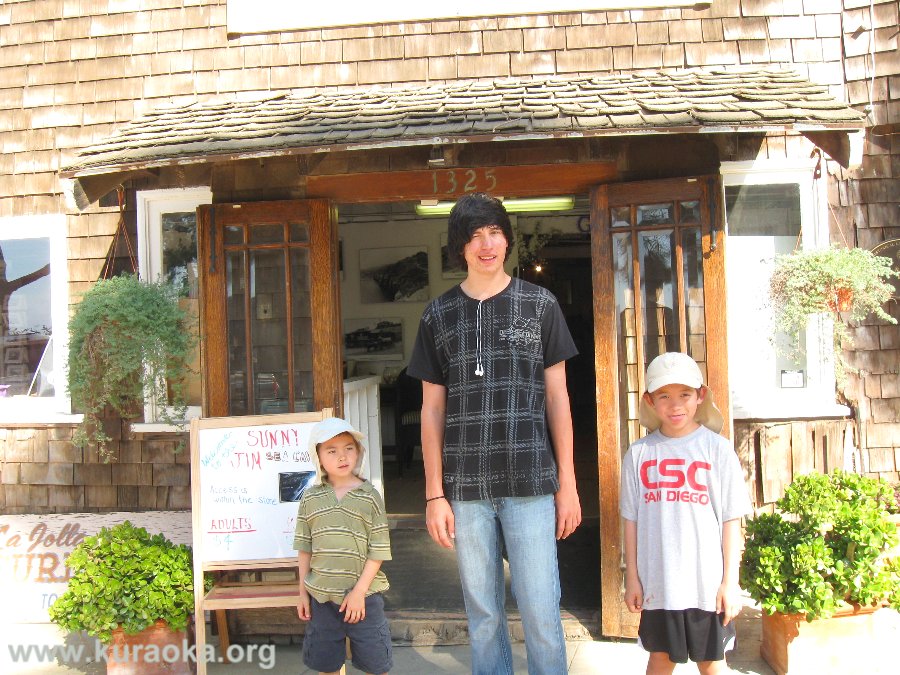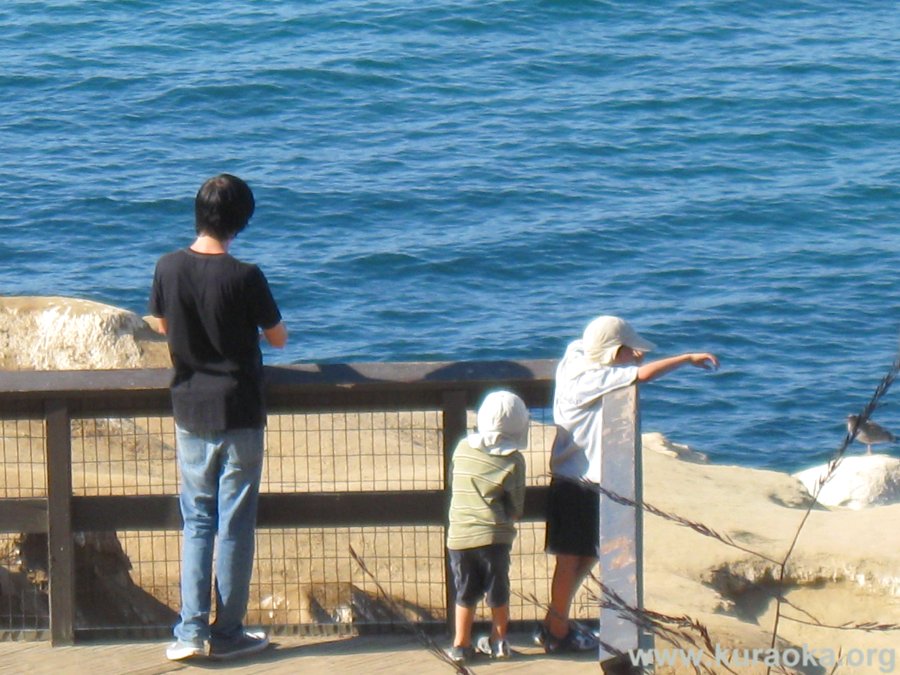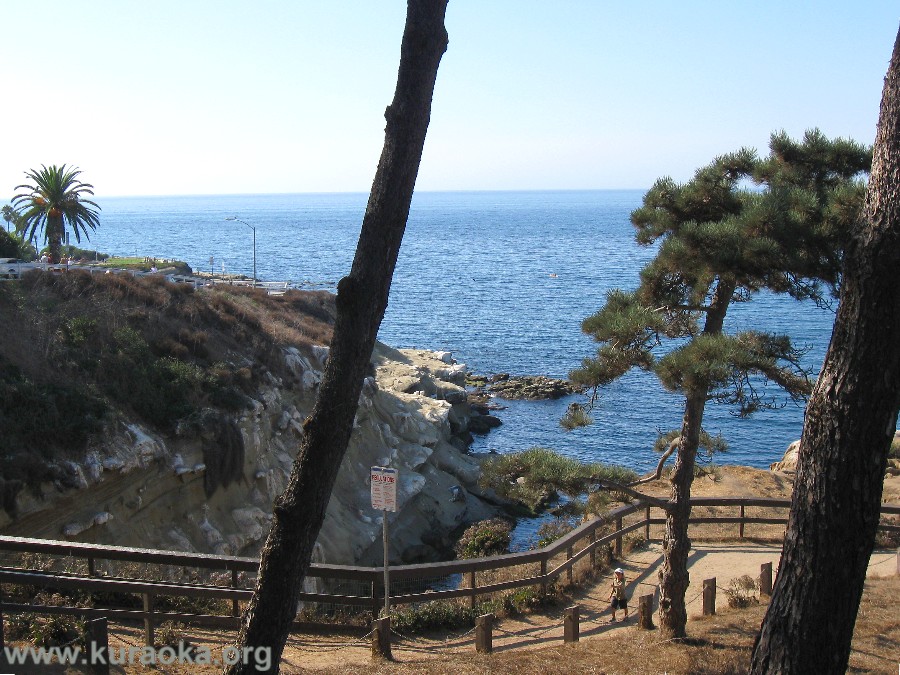 After that, they went to Mission Beach, where Roy rode the roller coaster there for the first time, accompanied by Kevin! Then, Roy and Leo did the bumper cars.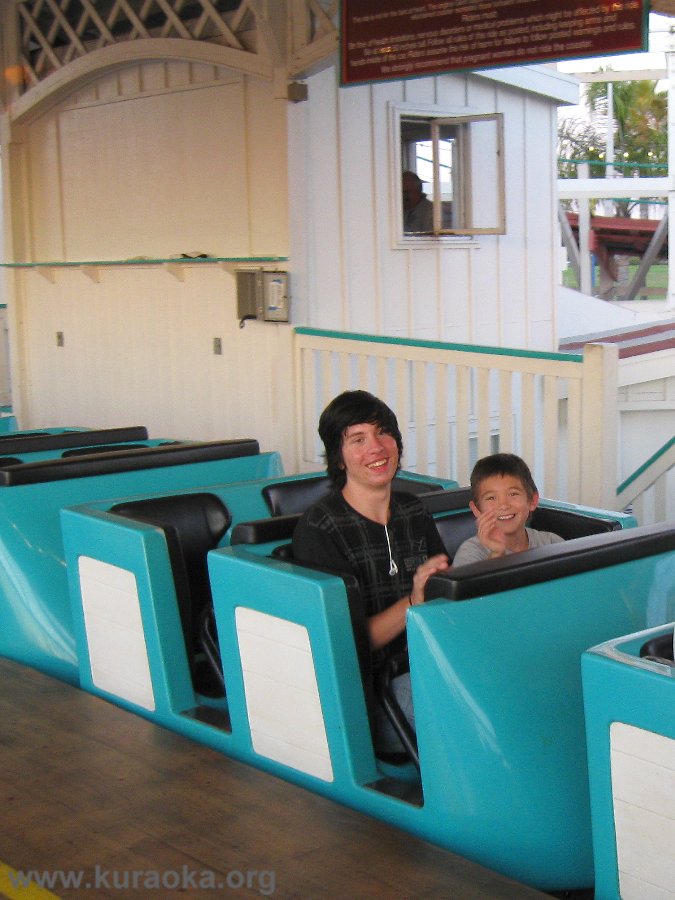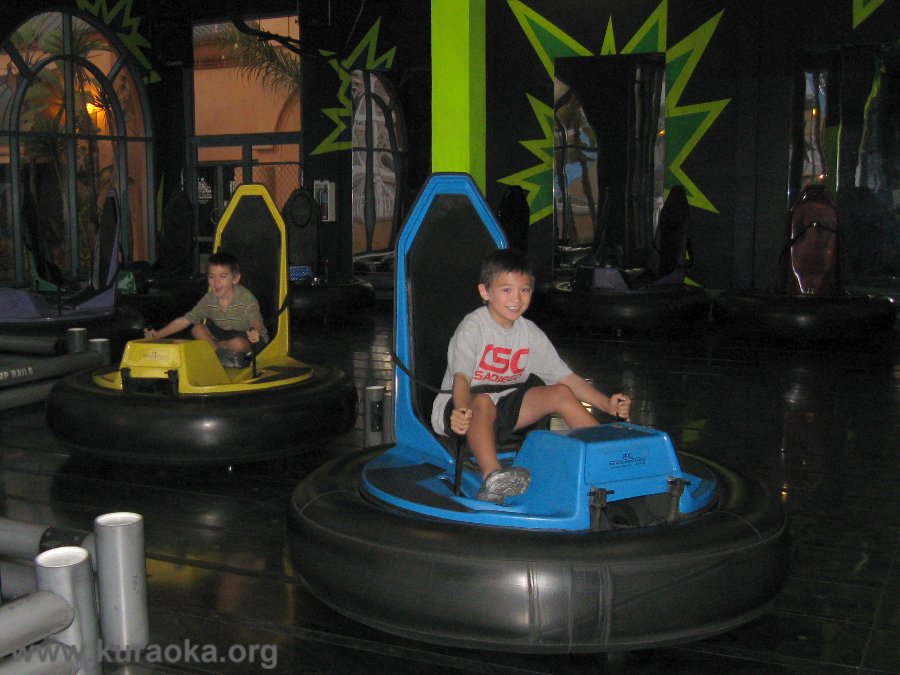 From there it was back home to pick up John, and thence to Beef 'N' Bun (or, as Kevin said on the phone message to John, "Meat and Beef," which is as good a name as any for a local burger joint). Here's Kevin staring down a "Monster Burger." Wow!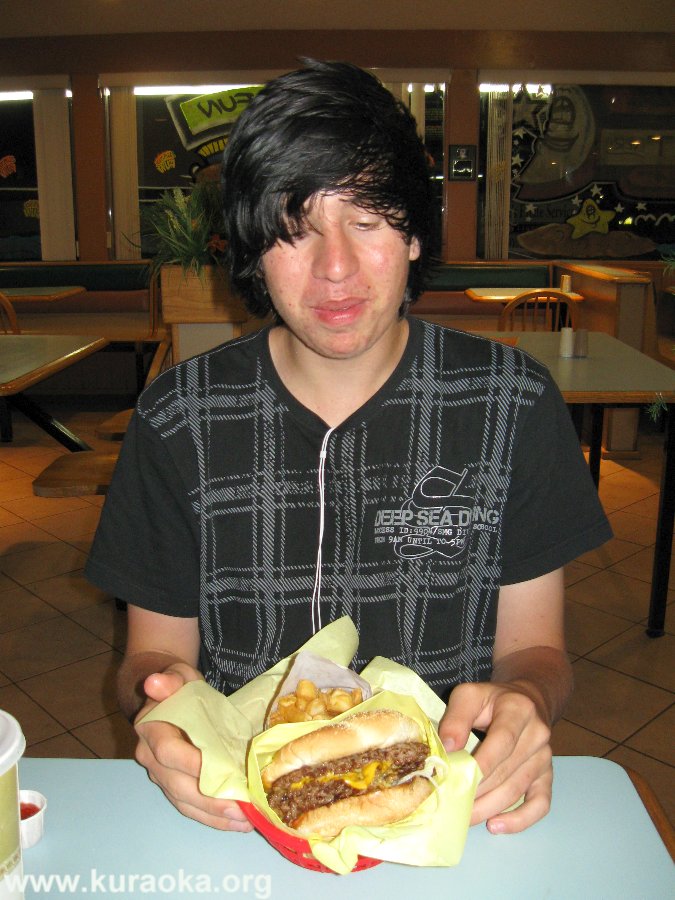 We got home pretty late again, and Roy stumbled out back to his cot. That's just where he sleeps now, in the back yard.
Friday morning, we all got up at about 4 a.m. to say goodbye to Kevin! Barbara and Bill came over briefly – here are Roy, Leo, Kevin, and Barbara in front of the house. Next is Ondine making sure that Kevin has all the papers he'll need easily accessible. John and the kints took Kevin to the airport and made sure he got his boarding pass. Finally, at the line to the security checkpoint, we said goodbye – here are Roy and Leo with Kevin. Auf Wiedersehen, Kevin!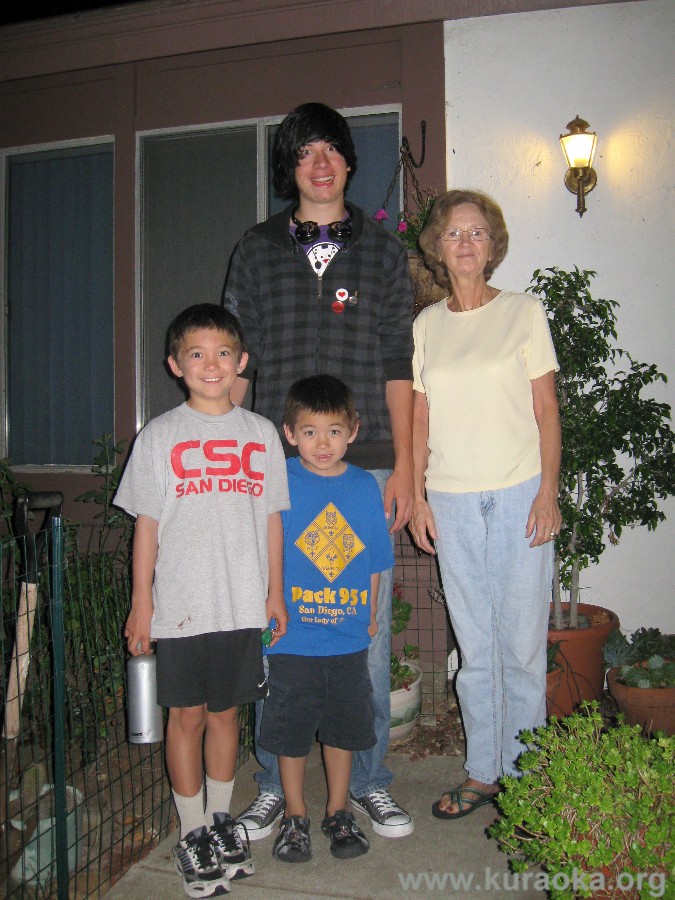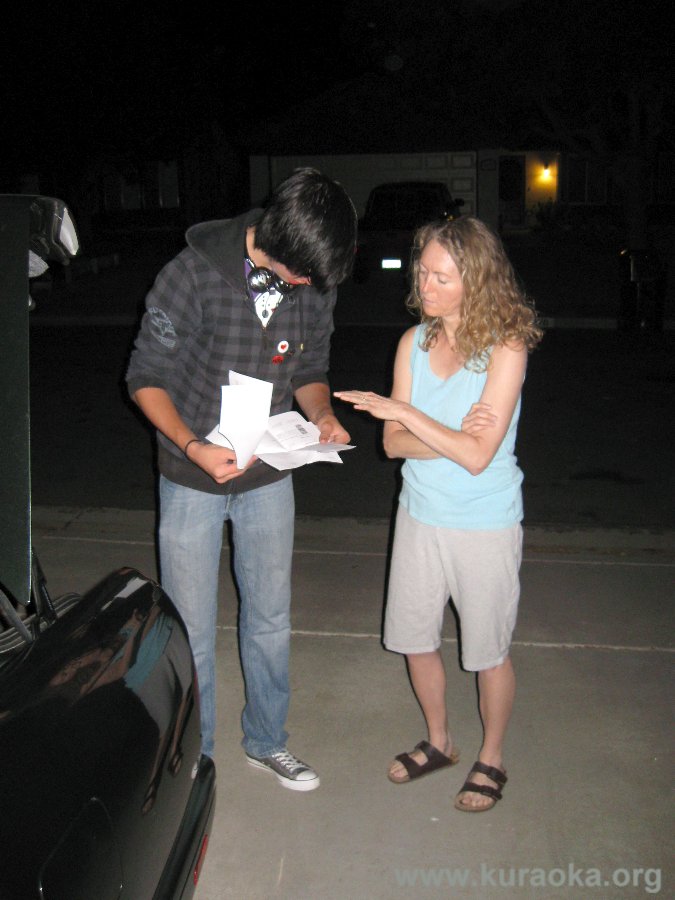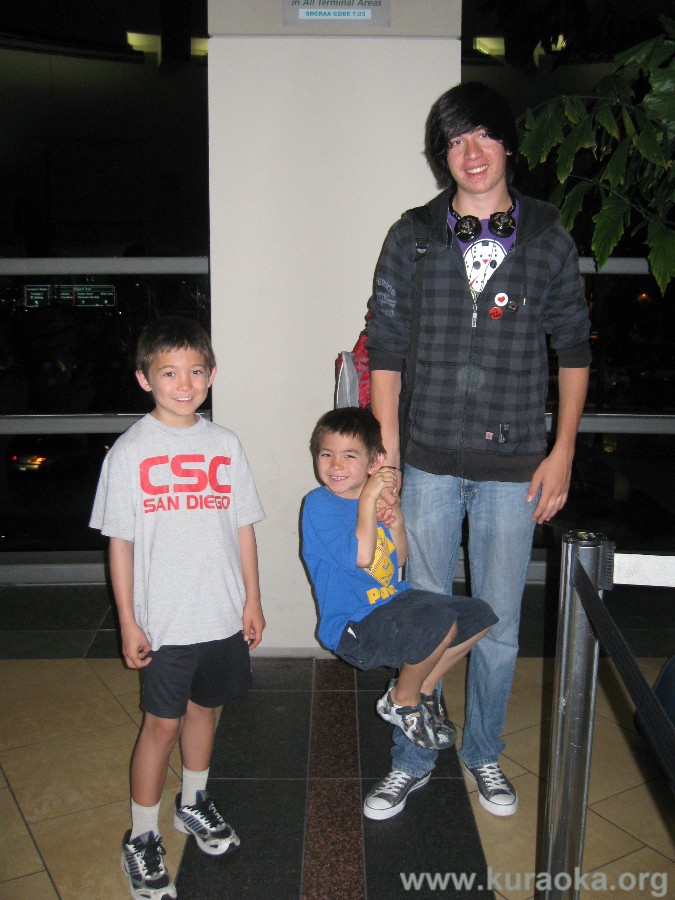 We think having a houseguest is a stabilizing presence – it was a real pleasure having Kevin join our family! Roy and Leo already miss him. We miss him. Even the dog seems a bit bereft, wondering what's happened to that tall fifth member of the pack.
For us, it was both entertaining and eye-opening to have a teenager in the house. We can only hope that Roy and Leo will be that well-mannered when they are 16 years old.
Among the things we will miss the most: having one clean and neat room in the house (the one Kevin stayed in), the scent of German shampoo, the sound of medieval heavy metal music. John bought one of Kevin's favorite songs from Amazon, Spielmannsschwur by Saltatio Mortis, and immediately started blasting it on his computer. We also enjoyed playing games – City Memo and Monopoly. And, we kind of got into The Mentalist TV show.
John also got hep to the joy of the iPod Touch. He found a great deal on a refurbished iPod Touch, and almost pulled the trigger, but then he learned that the next generation would be coming out in a couple weeks. So, he decided to become an early adopter of the next iPod Touch.
Things we think Kevin will miss: tortillas, Calvin & Hobbes books, the comics section of the newspaper, Dreyer's Grand chocolate ice cream, and sleeping in late.
Buddy, who had a stomach ailment last week, is fully recovered. So it was his kibble after all; it had gone bad in the heat and made him sick! No wonder he kept looking at us like "what are you trying to do to me?" every time we fed him. Fortunately, John figured it out in time, before the poor dog starved.
John is on a roll fixing things. His repairs to the washing machine worked a treat, and it's working better than ever. He thinks he'll just have to clean out that pump trap every couple months or so.
Today, Ernesto is taking Roy and Alex out fishing all day. Wow! Then, they're taking him to the campground in Mission Trails Regional Park, where Ondine and Leo will join them and a group of moms and families (including Lucy with Alex and Carmen) for a mom's campout Friday night! Since it's just the one night, Ondine plans to dispense with the usual tent-pitching and sleep under the stars on cots. What fun! With all the Moms there, Ondine will even manage to get away to have her hair cut! They'll return home Saturday around noon.
Right now, though, Ondine and Barbara went to the funeral mass for our neighbor, Inez.
Weekend Preview includes who-knows-what. We've been very active every weekend with Kevin, enjoying all the tourist stuff that we locals so seldom do. This is our first free weekend in a while, and the last weekend before school starts on Tuesday! Unfortunately, John has to work this weekend, although he's hoping to be extra-productive today.
Neighborhood gas prices dipped briefly to $2.99 per gallon, but then rebounded to about $3.05 per gallon.
Back to the Archives page
Back to the Kuraoka Family main page
Forward to the current Weekly Journal.