The Kuraoka Family at Disneyland 2013
www.kuraoka.org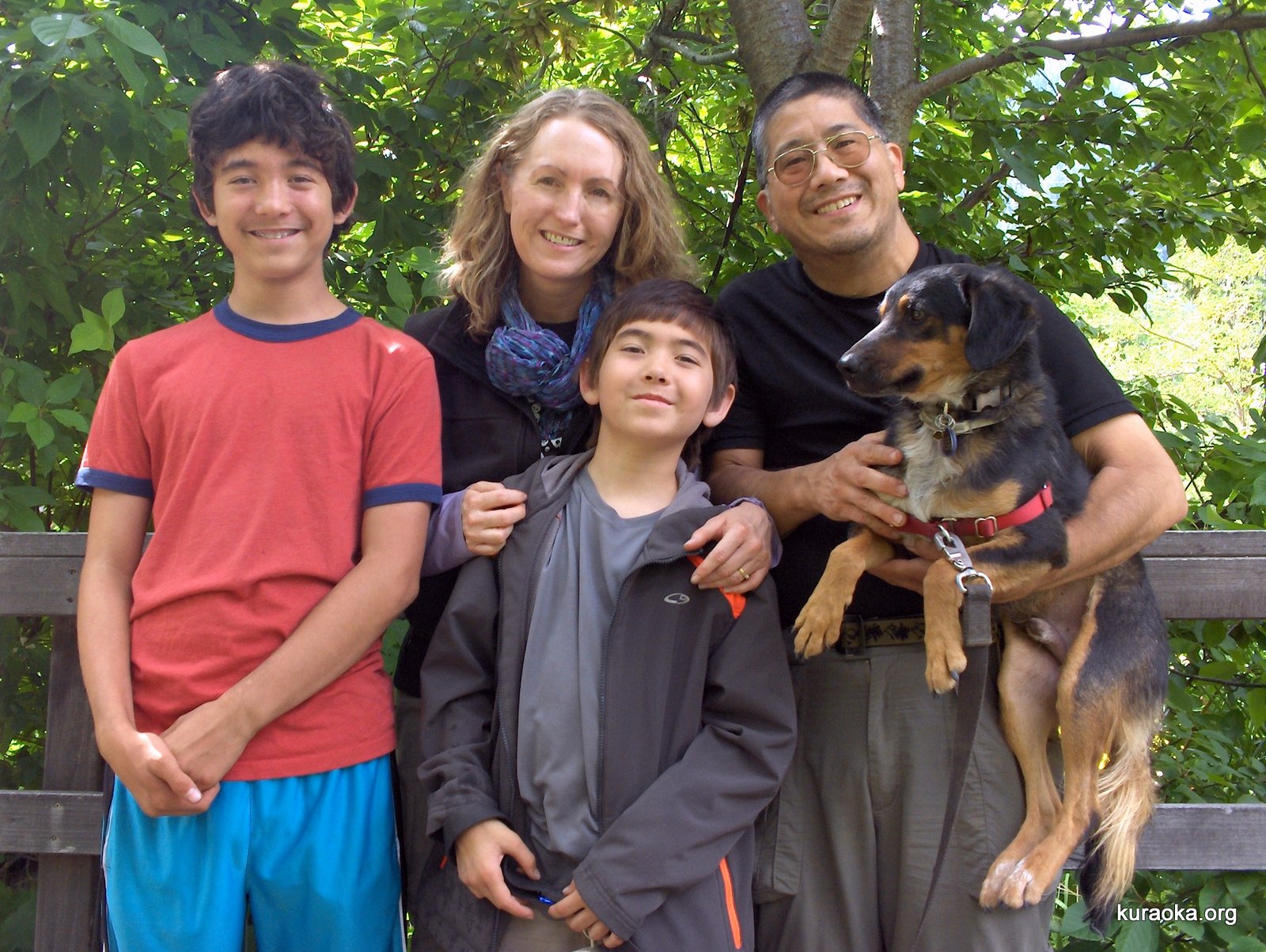 Us, August 8, 2013: Roy, Leo, Shadow, Ondine & John
Monday, October 28, 2013
We went to Disneyland! We at last used the passes we'd bought as a family Christmas present last year. We'd debated making it a day trip or staying in Anaheim overnight, and ultimately decided that it was worth the price of a room to avoid driving home right after being at Disneyland all day. So, we booked a room at our usual choice, the Candy Cane Inn. We shopped the travel deal sites, but they all added complications, and the Candy Cane Inn is modestly priced for a room for four, with breakfasts, directly across from the Disneyland gate. Also, we left Shadow in Camp Play All Day at the Petsmart Pet Hotel.
We left Saturday morning and got to Disneyland shortly after opening. Jill the GPS directed us to the "Toy Story" lot, where we parked in row 18 of the "Woody" section, just steps away from the shuttle bus stop. From there, though, it was a relatively long ride around to the main entrance.
Exchanging our pass print-outs for tickets took rather longer than usual because they were so old. The scanner didn't recognize them, so each long serial number had to be individually keystroked in. We'd gotten a gate employee with long fingernails, so punching in the numbers on the touchscreen wasn't a forte. But, once each number was entered correctly, the system recognized it and printed out a regular Disney admission ticket for each pass. You use those tickets to get Fast Pass (time-slot reserved) tickets for the rides that offer it.
The first place we headed was Fantasyland and "Mr. Toad's Wild Ride." Because it was still within an hour of opening, the line was shorter than we'd ever seen. John recently read Wind in the Willows for the first time, and has been reading it to Leo (and, in fact, had just finished the part where Mr. Toad steals a car for the second time while breaking out of prison), so a lot more of the ride made sense. From there we did "Peter Pan."
Then we went to Adventureland (an excellent movie, by the way) and, after a quick detour up "Tarzan's Treehouse," went on the "Indiana Jones" ride. We thought about getting Fast Passes for it, but one of us couldn't find her ticket! So instead we did the ride and got three Fast Passes for Splash Mountain. Ondine and the boys went on that one twice (once waiting in line, and again immediately with Fast Pass), while John sat and read. (He's reading Shakespeare's The Winter's Tale, which the Old Globe will be staging early next year.)
Thunder Mountain, one of the Roys' favorite rides and one Leo had been looking forward to, was closed for renovation, but we did the Haunted Mansion. The boys have only seen the regular Haunted Mansion once; every other time it's been the Nightmare Before Christmas version. We paused at the Golden Horseshoe right around showtime for root beer floats while Ondine went to Guest Services to get a replacement ticket. John and the boys also split an order of fish and chips.
As it turned out, we all needed to go to Guest Services, as they needed to see all our tickets in order to know which one to replace. So we scurried back to City Hall, where we were delighted to see hanging a framed sketch by Sam McKim dated 1954-55! The sketch showed a design for a coffee shop along Main Street. That date, by the way, was prior to Disneyland's opening. John hunted for more of Sam McKim's work in there, but didn't see any more.
Sam McKim was one of the early Disney artists, so his uncredited handiwork is everywhere. His son Brian and Matt worked for Disney, too, a whole Disney family; Matt McKim was in John's wedding party. Our other Disney connection is that John's friend and business partner Blaise is married to Stan Jolley's daughter; Stan Jolley was a production designer who played a big part in the Storybook Land Canal Boats ride and also the "MacGyver" TV show (which we're watching with the kids on Amazon Prime). Here's Leo in front of the Storybook Land whale from "Pinocchio."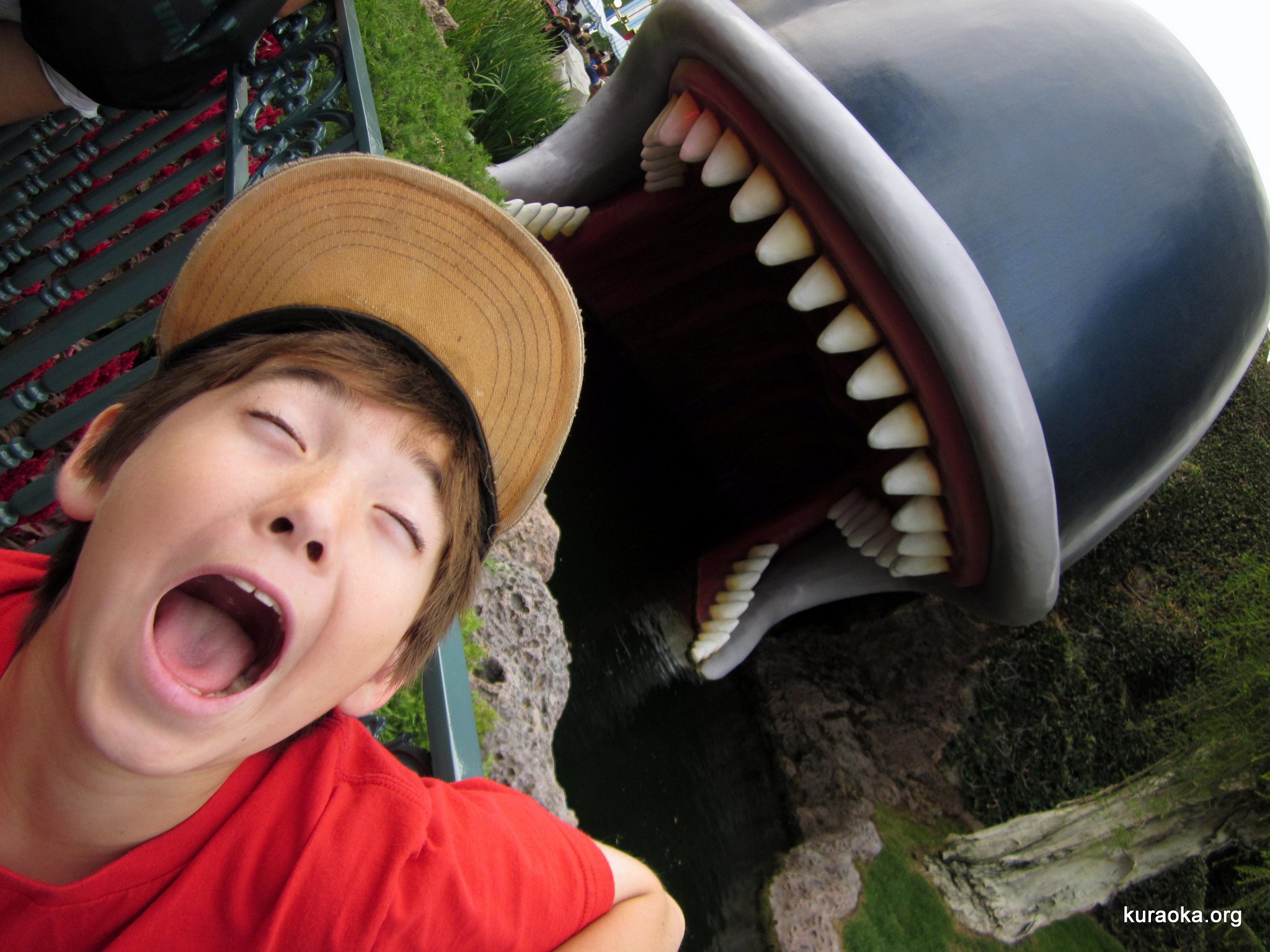 But we digress. We went from there to Tomorrowland, where Ondine took a break and John and the boys went on the "Star Tours" motion simulator ride. It was fun, and quite similar to Sea World's "Wild Arctic" but longer. Then Ondine took the boys on the Matterhorn while John sat and read.
By then it was time to eat, so we went back to the Golden Horseshoe for fish and chips, chili in a sourdough bowl, and chicken nuggets. We got Fast Passes for the "Indiana Jones" ride, and rode it again. The lines averaged a bit less than an hour, but that's because we didn't even try to do "Pirates of the Caribbean," the wait for which never got shorter than 120 minutes all day. At one point in the evening, we got stuck in a throng of people and couldn't move for a while. We beat a retreat back to Tomorrowland, where Leo bought a souvenir build-your-own lightsaber he'd been wanting since he first saw it.
We staked out a roped-off area to watch the fireworks, and snacked while we waited. Leo even dozed off for a bit. The Disneyland fireworks show is always the best fireworks we've ever seen!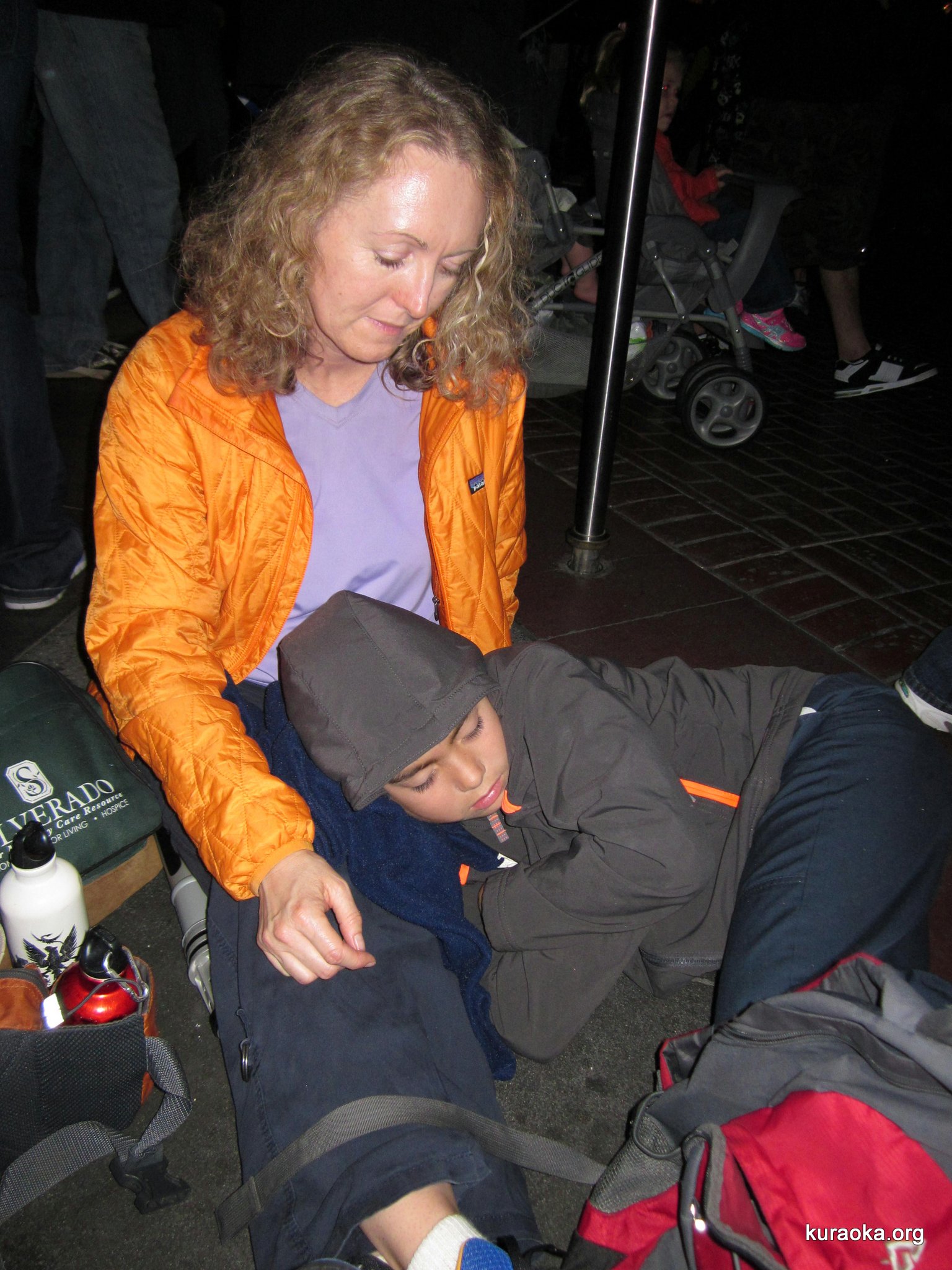 There are no photos of Roy because he was actively avoiding the camera.
After the fireworks, we took the train around the park, making a little more than one complete circuit so Leo could see the Grand Canyon and dinosaurs exhibits. One of the best parts was overhearing a trio of high school seniors in the row ahead of us discussing their college applications.
We stopped along Main Street so the boys could buy treats. John bought his usual souvenir pen. Actually, he bought two this time, a provocative kneeling Tinkerbell pen and a 2013 Disney pen. And, he bought the boys six-color pens.
It was past midnight by the time we checked into our room at the Candy Cane Inn, and well past 1 am by the time we turned in.
Sunday we got up almost at our usual time. John and the boys went to the breakfast buffet a little after 7; Ondine joined them about an hour later. At one point Roy demanded that Leo fetch him a donut from the breakfast buffet, one with chocolate frosting and sprinkles. This is what Leo presented Roy with: a single generic Froot Loop topped with the chocolate and sprinkles from an actual donut. Ha!

We checked out of the hotel at about 11:00, and drove home, stopping at Petsmart to pick up Shadow. We had them give him a bath, so he was fluffy and slightly damp and very excited to see us!
Monday it's back to the grind for everyone. John told the kids that school was the real happiest place on Earth, but they didn't buy it. Ondine will attend another workshop this week, and will facilitate the discussion at her table. As for Shadow, he seems to be dog-tired after his two days of Play All Day!
Neighborhood gas prices are about $3.79 per gallon, although it's a few cents cheaper in Orange County.
Back to the Archives page
Back to the Kuraoka Family main page
Forward to the current Weekly Journal.