The Kuraoka Family Weekly Journal
www.kuraoka.org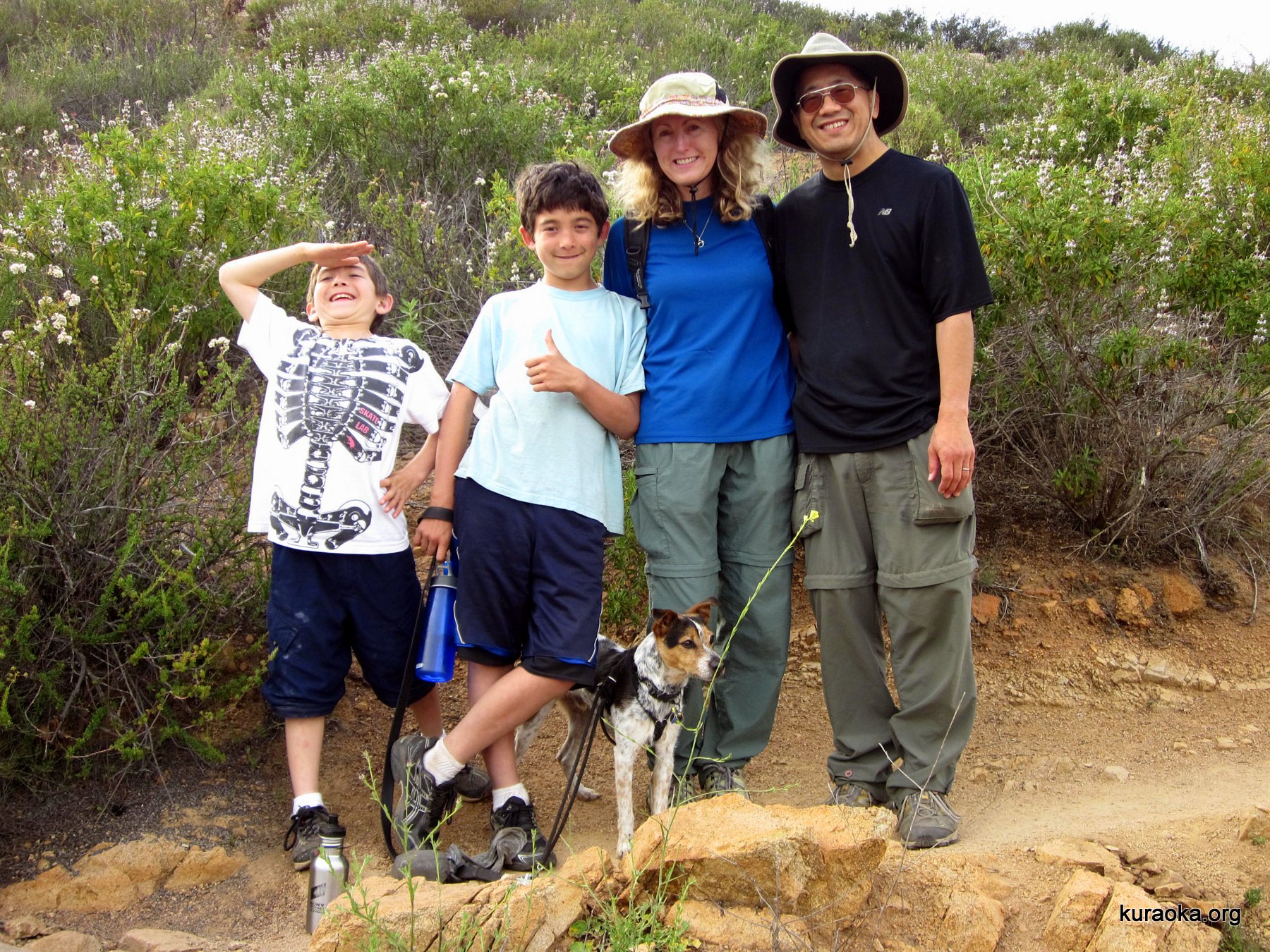 Us, April 29, 2012: Leo, Roy, Buddy, Ondine, and John
Monday, October 29, 2012
Our dog Buddy died over the weekend. Early Sunday morning, his condition worsened dramatically. He was in pain, confused, starting to paddle his legs like a seizure, and flipping himself into twisted positions with his head trapped beneath his body. The pain med didn't help.
So, around 4 am, we reluctantly took him to the 24-hour emergency veterinary hospital, and had him put down. He is in pain no more, running free and off-leash at last. If spirits remain intact, Grandpa Bill is there to greet his "secret shifter." ("Hi there Twiskers!" he'll say. "Little Budsers!") If spirits disperse, Buddy is also with Grandpa Bill, everywhere. We are having Buddy cremated, and will get his ashes hand-delivered in a few days.
These last two weeks have been very, very hard. Buddy went from being such a high-energy, happy-go-lucky dog to being a wreck in a matter of hours, and from there he kept getting worse. We think he was only about eight years old, too young, we thought, to die. For the past two days, he hadn't eaten or drank more than we could gently dribble into his mouth through an eye dropper.
The tests last week, for what it's worth, turned up nothing. Buddy's blood test, urine test, and X-rays all came back normal.
Barbara returned from a two-week trip to China, so she got to see Buddy one last time. In fact, Buddy seemed to perk up a bit for her, and she exercised her grandparent's privilege to feed him some juice from some canned snack sausages we had in our pantry. She also got him some low-sodium beef broth and chicken broth. He managed to drink some beef broth from an eye dropper, and even licked his chops. Later, she boiled up a chicken for her dinner, and strained off the bare stock, with some pureed chicken meat and a few kibbles, so he drank a bit more "chicken shake." His last few meals were real treats!
Here's the way we'd rather remember Buddy. Photos start the day the joined our family in the summer of 2006. He'd had two other lives before the one he shared with us, first living almost feral, then being rescued by John's friend Blaise, who thought he'd be a companion for his older German Shepherd. Instead, the young, high-energy terrier drove the aging shepherd batty. John had met Buddy, and took a shine to him. One fine morning around the Fourth of July, Blaise called John and offered Buddy to us. And that's how Buddy came to be here, probably about a year or two old. Roy and Leo were six and four years old; you can see them age to 12 and 10 years old now.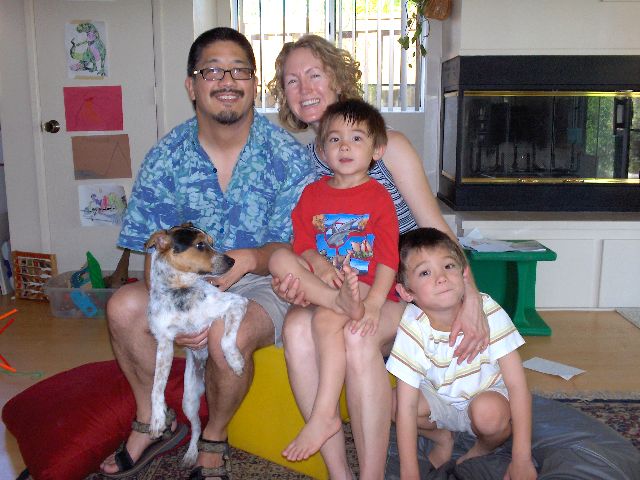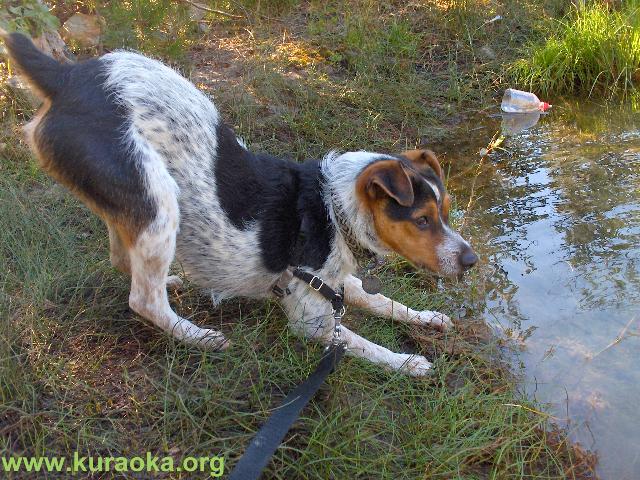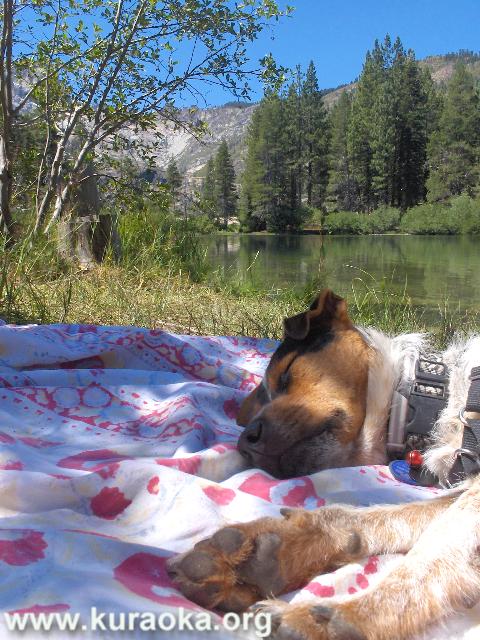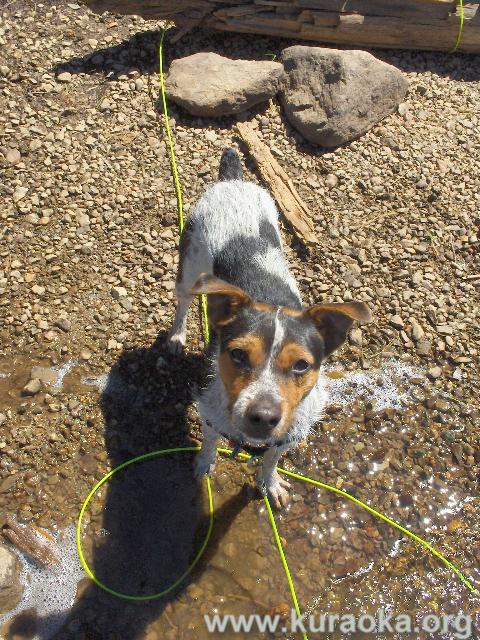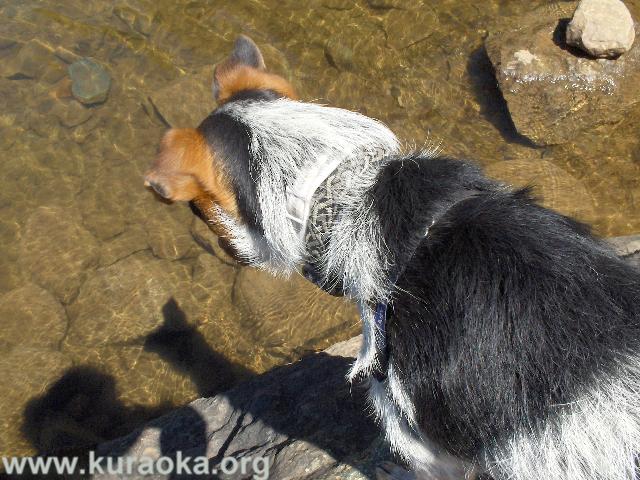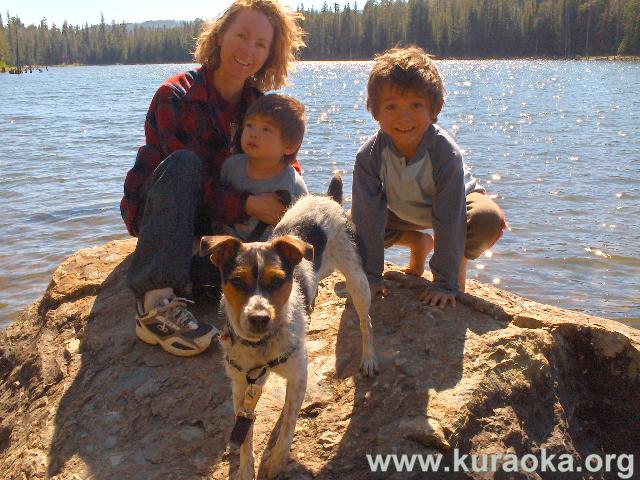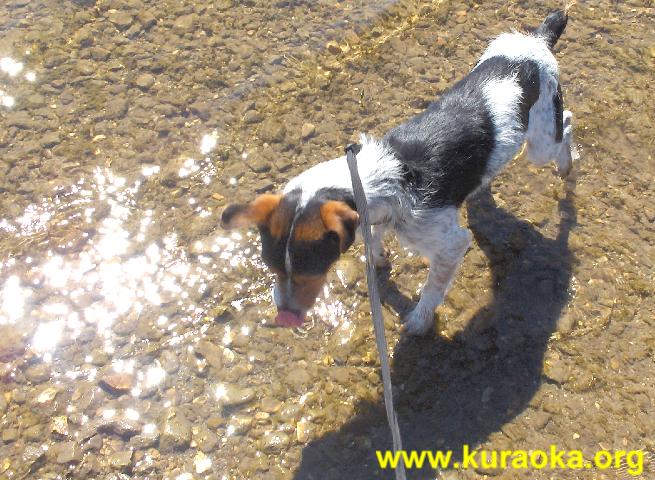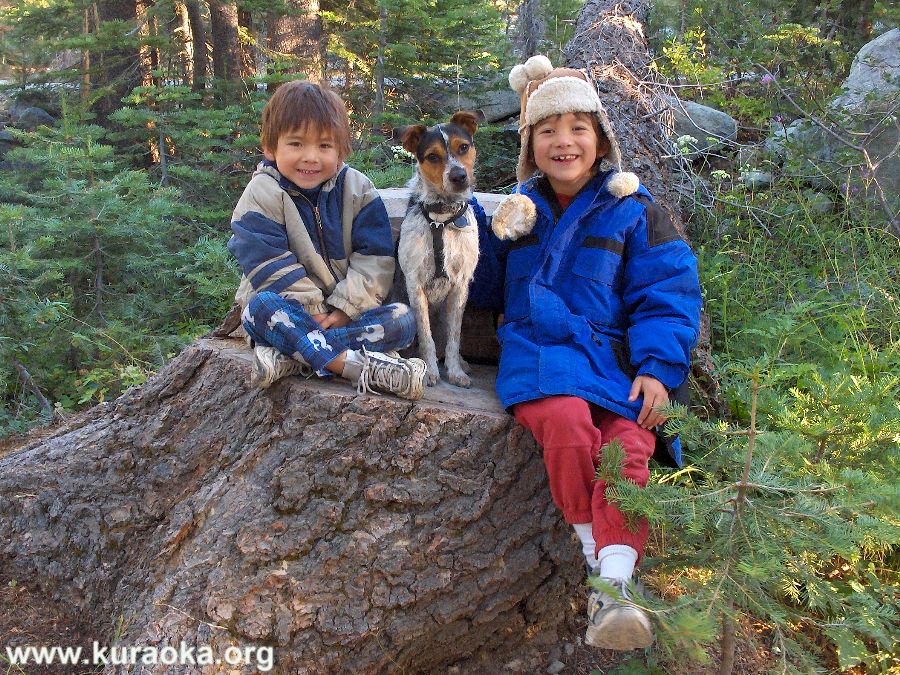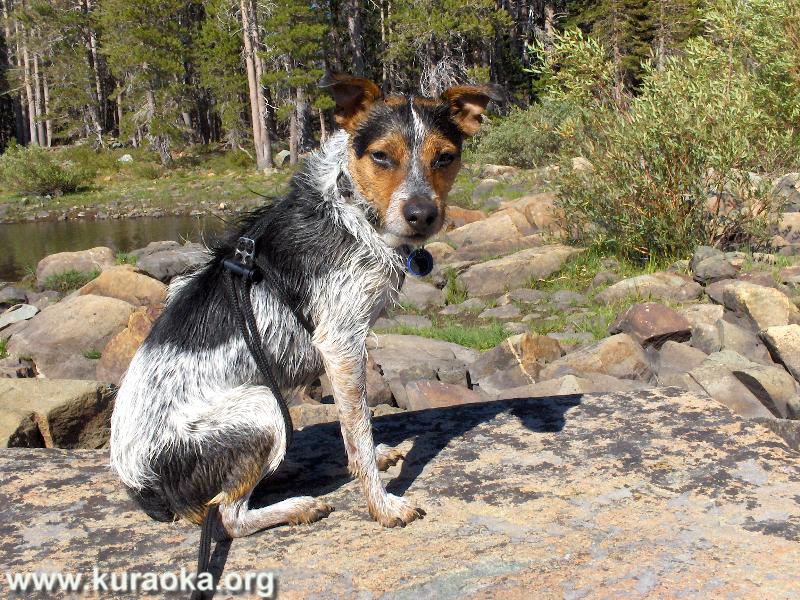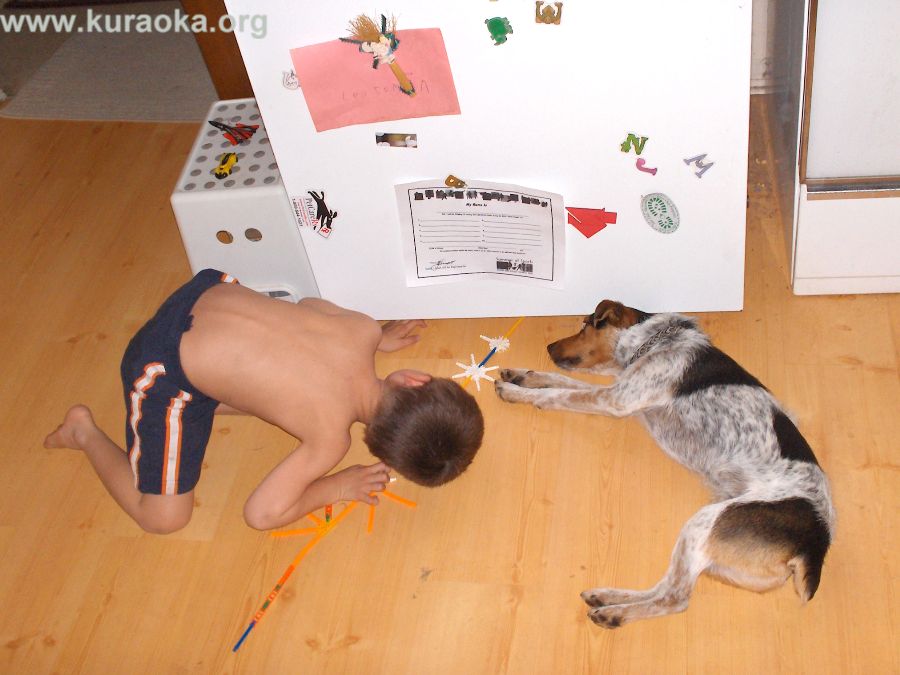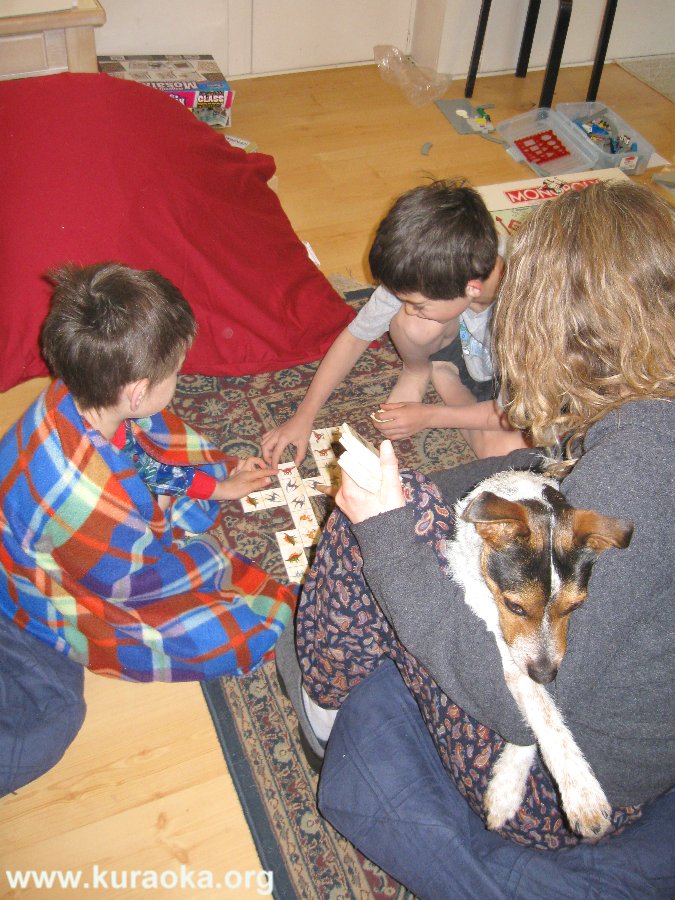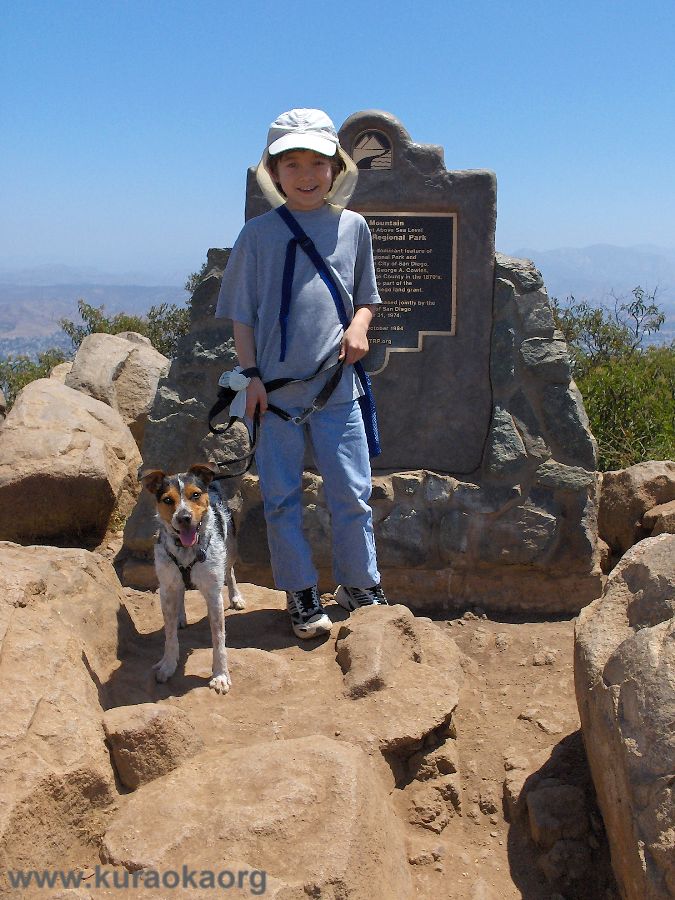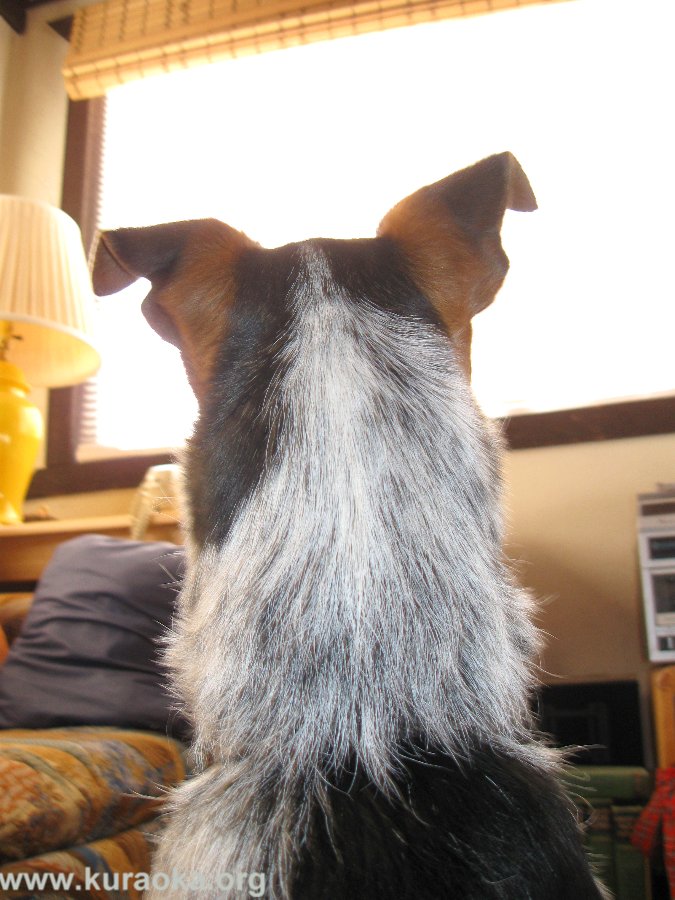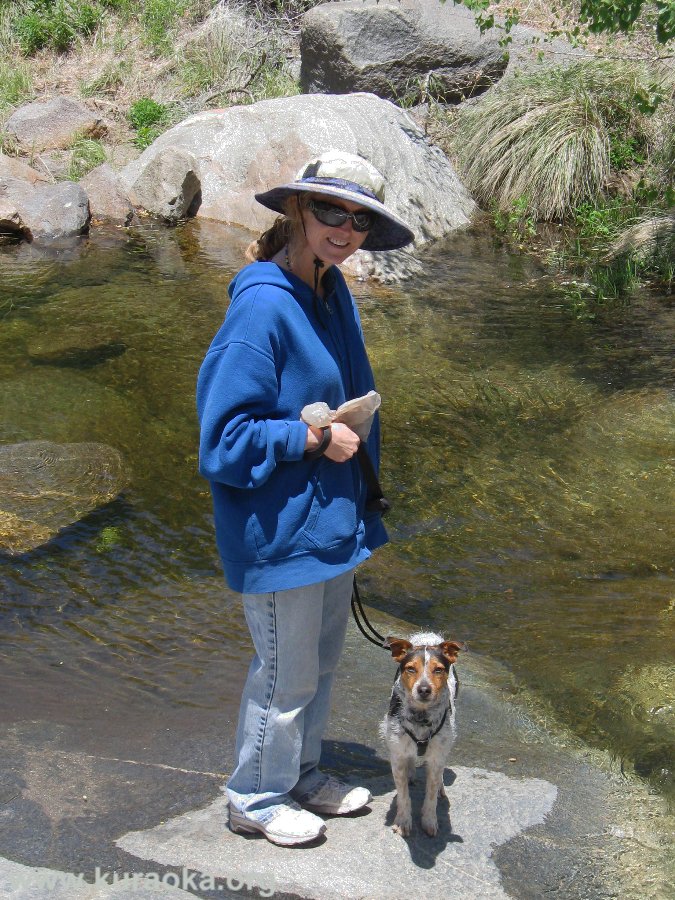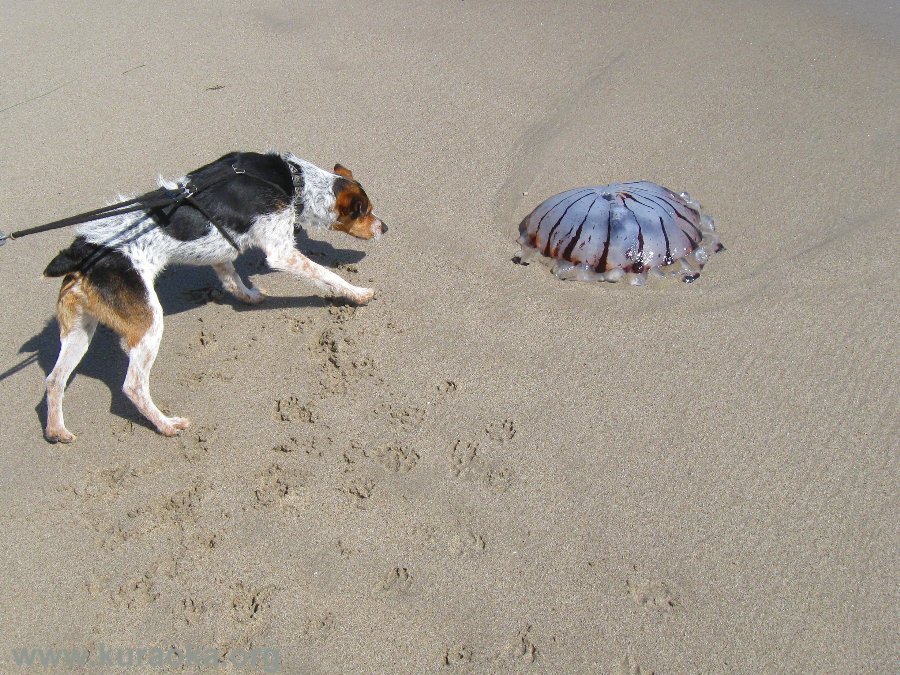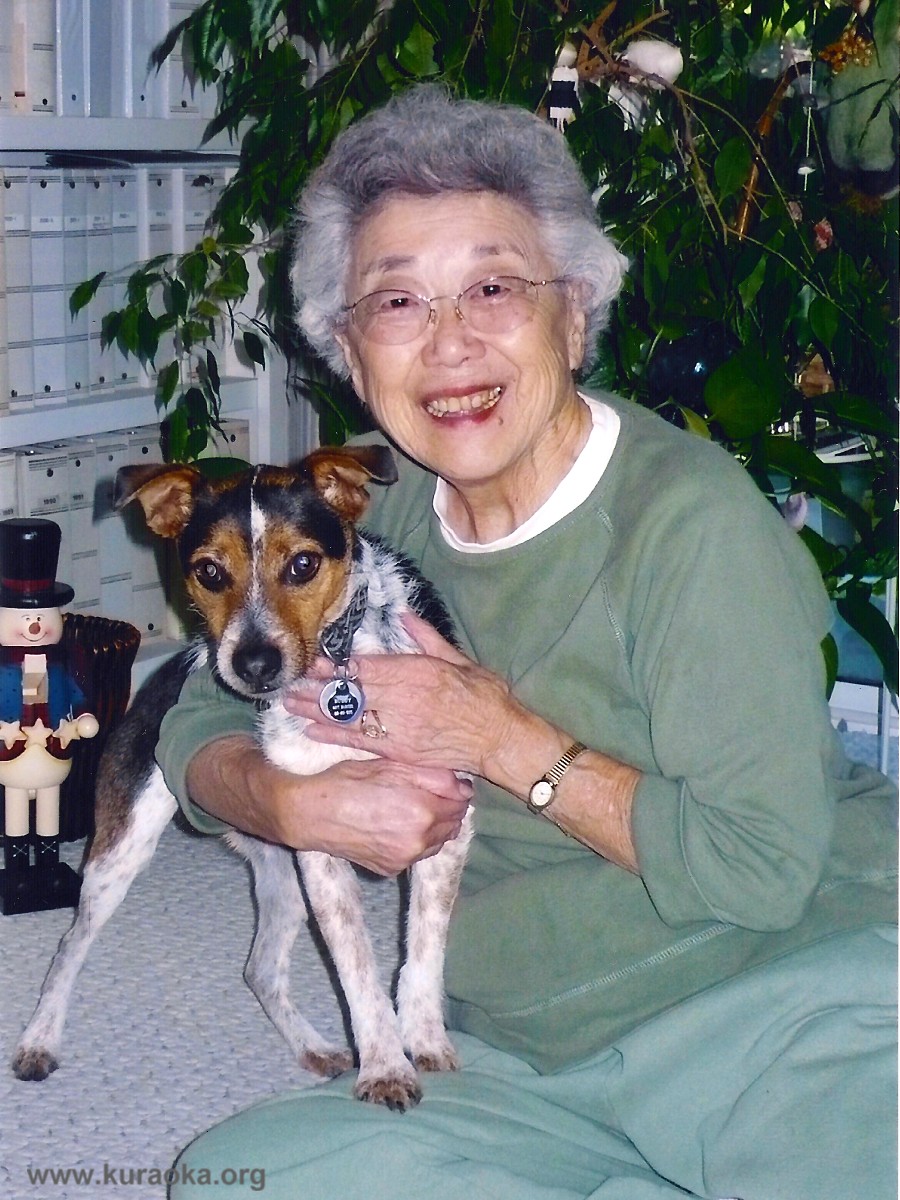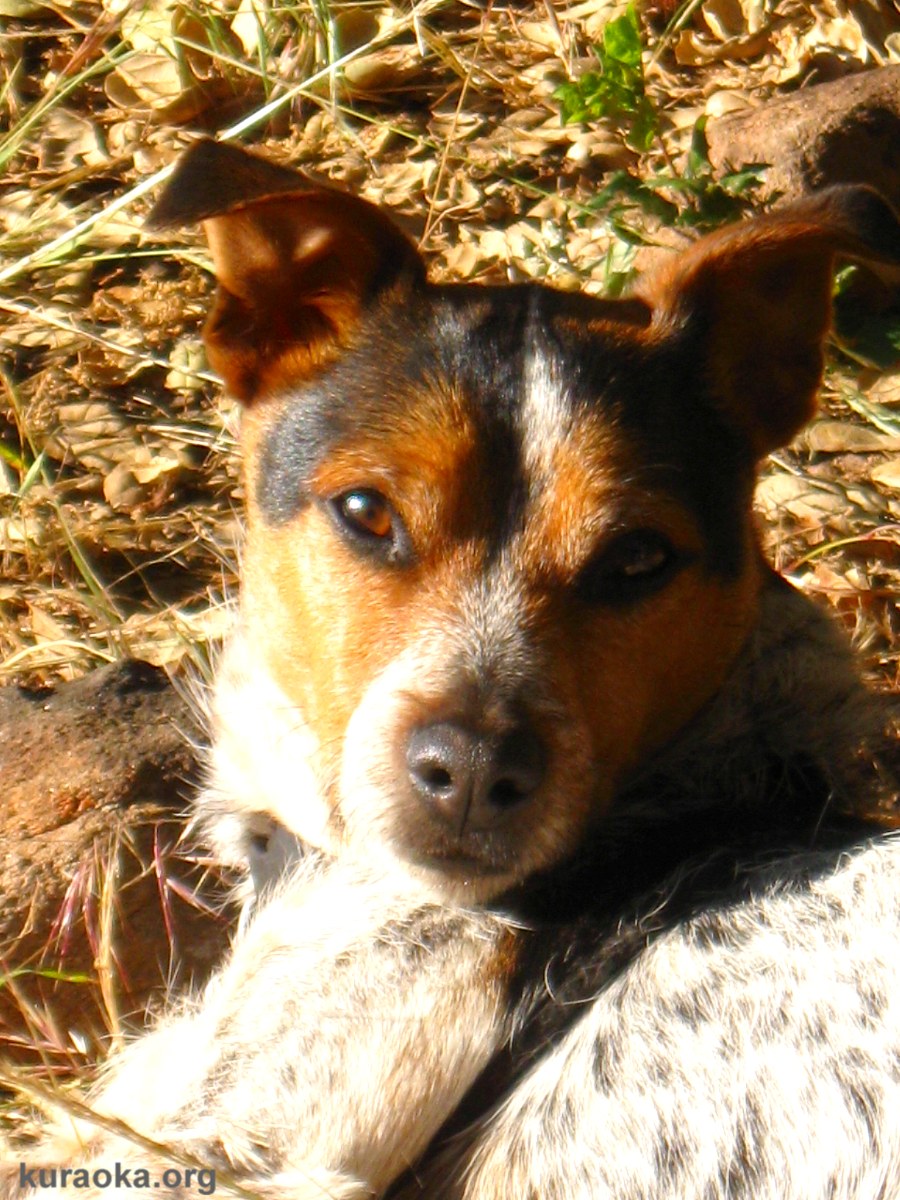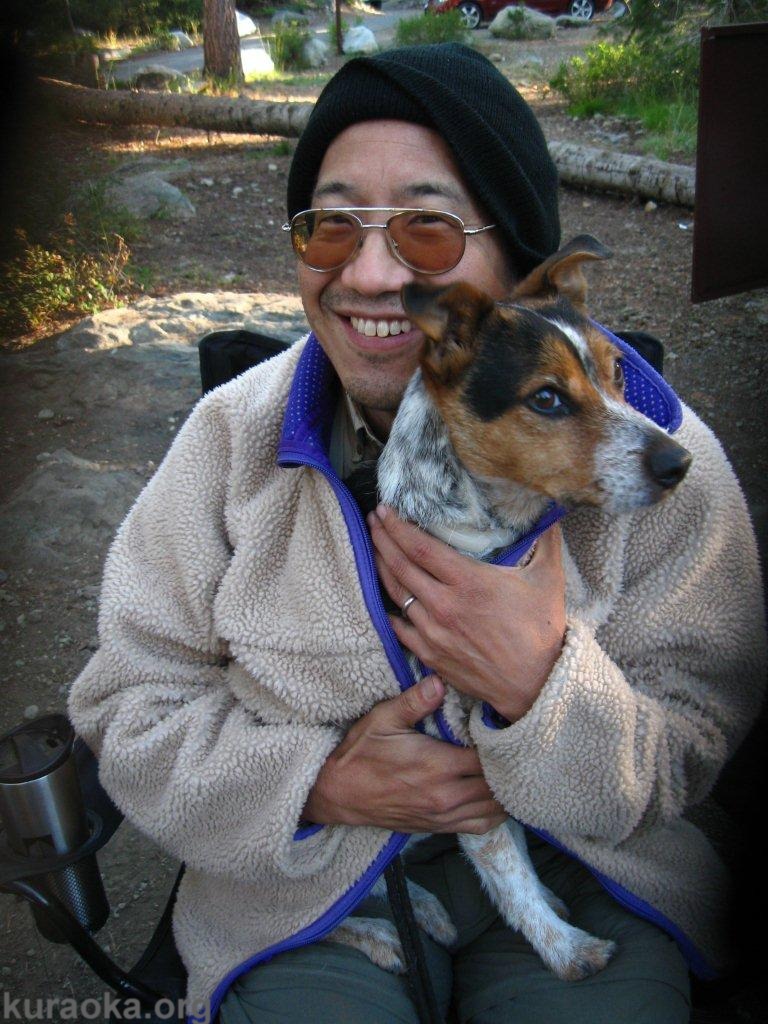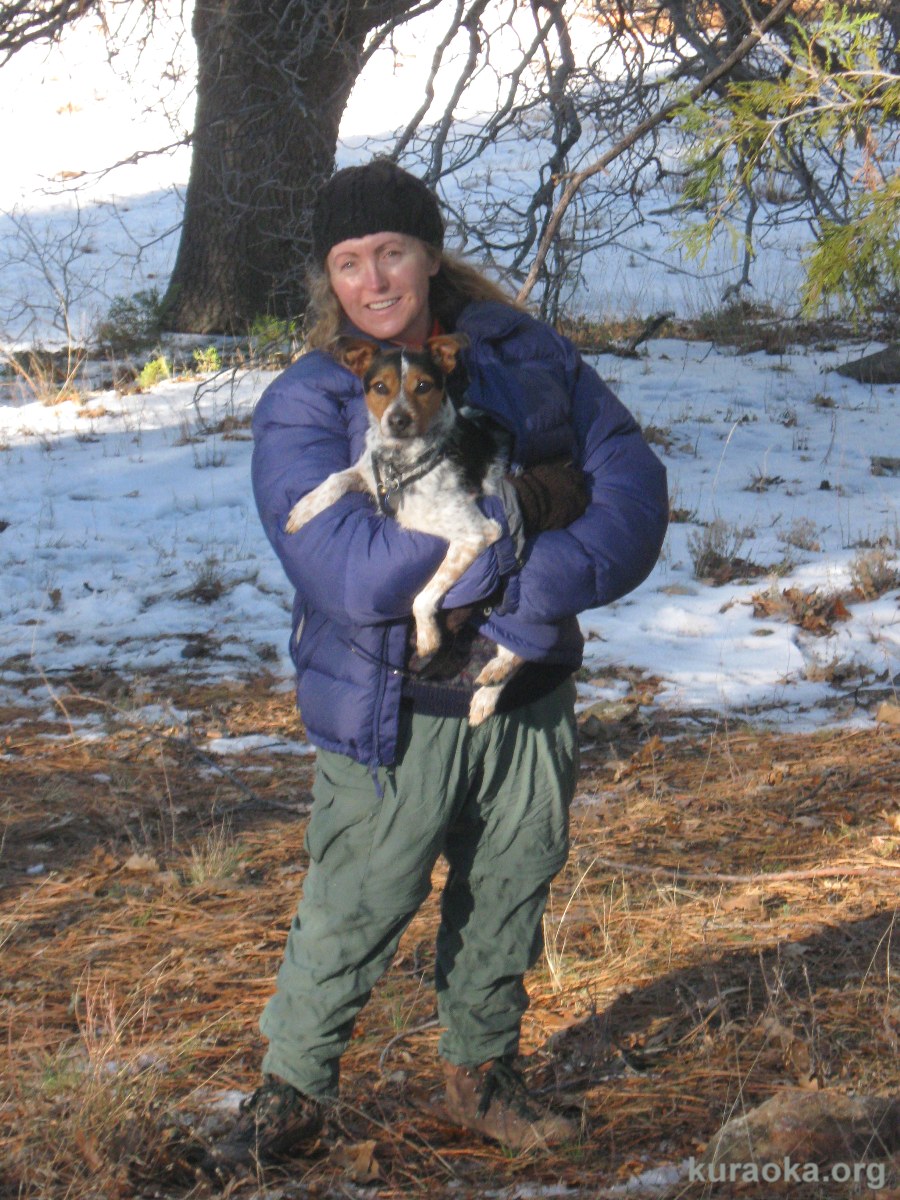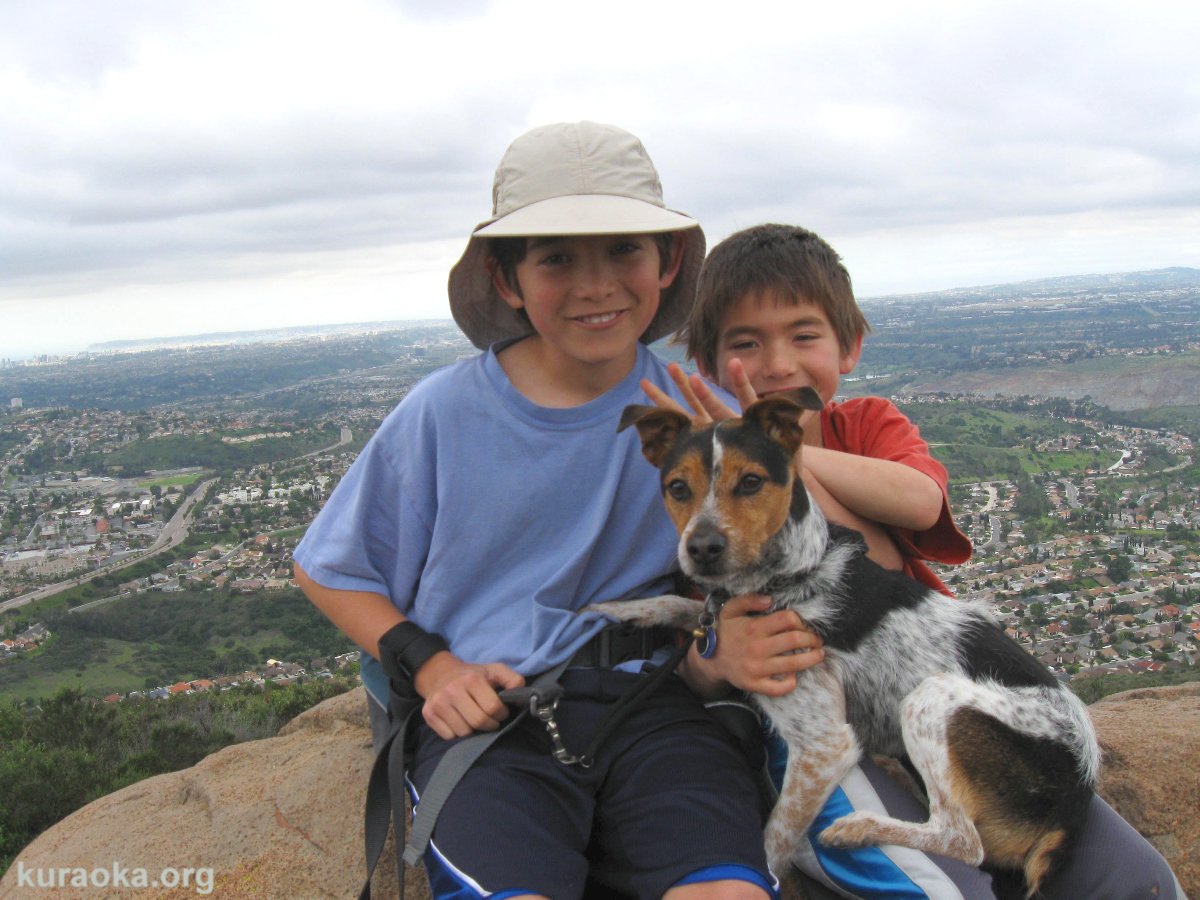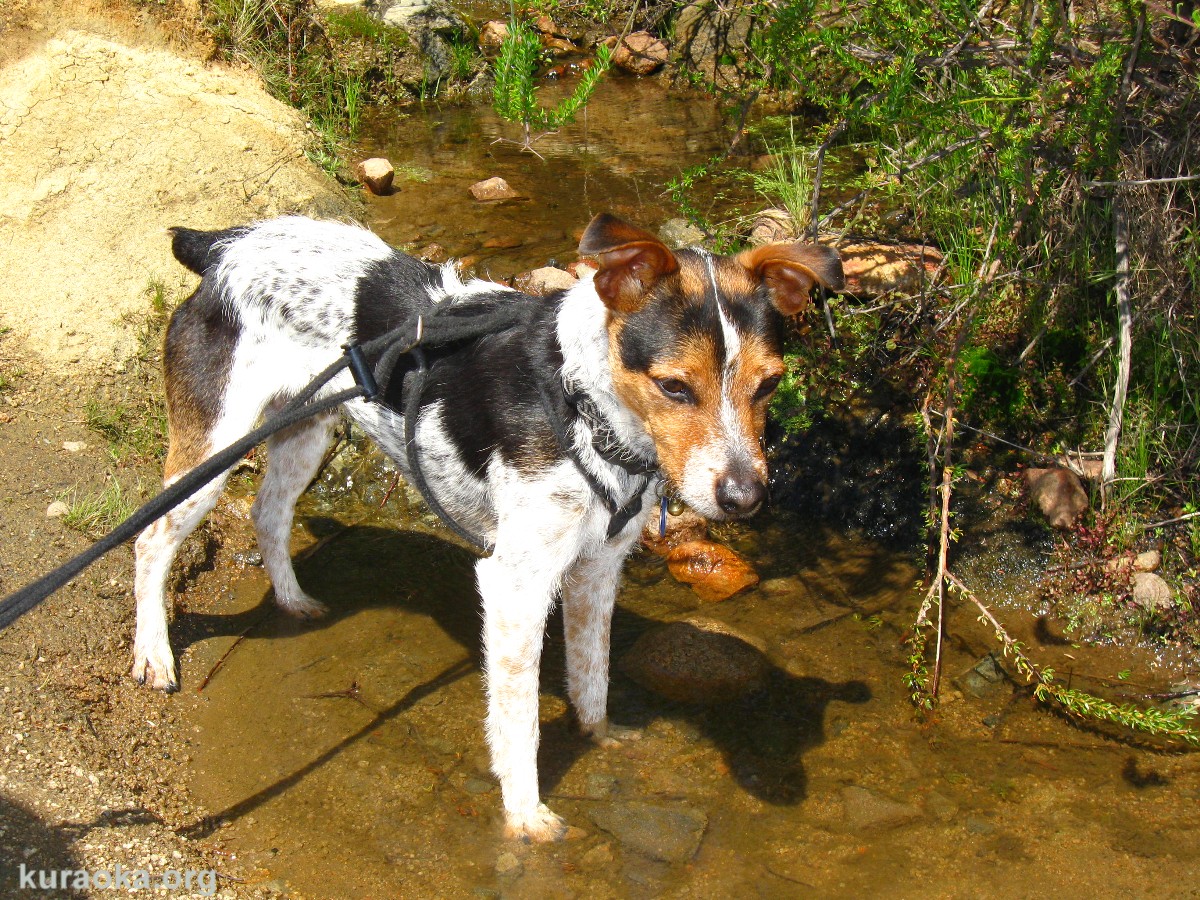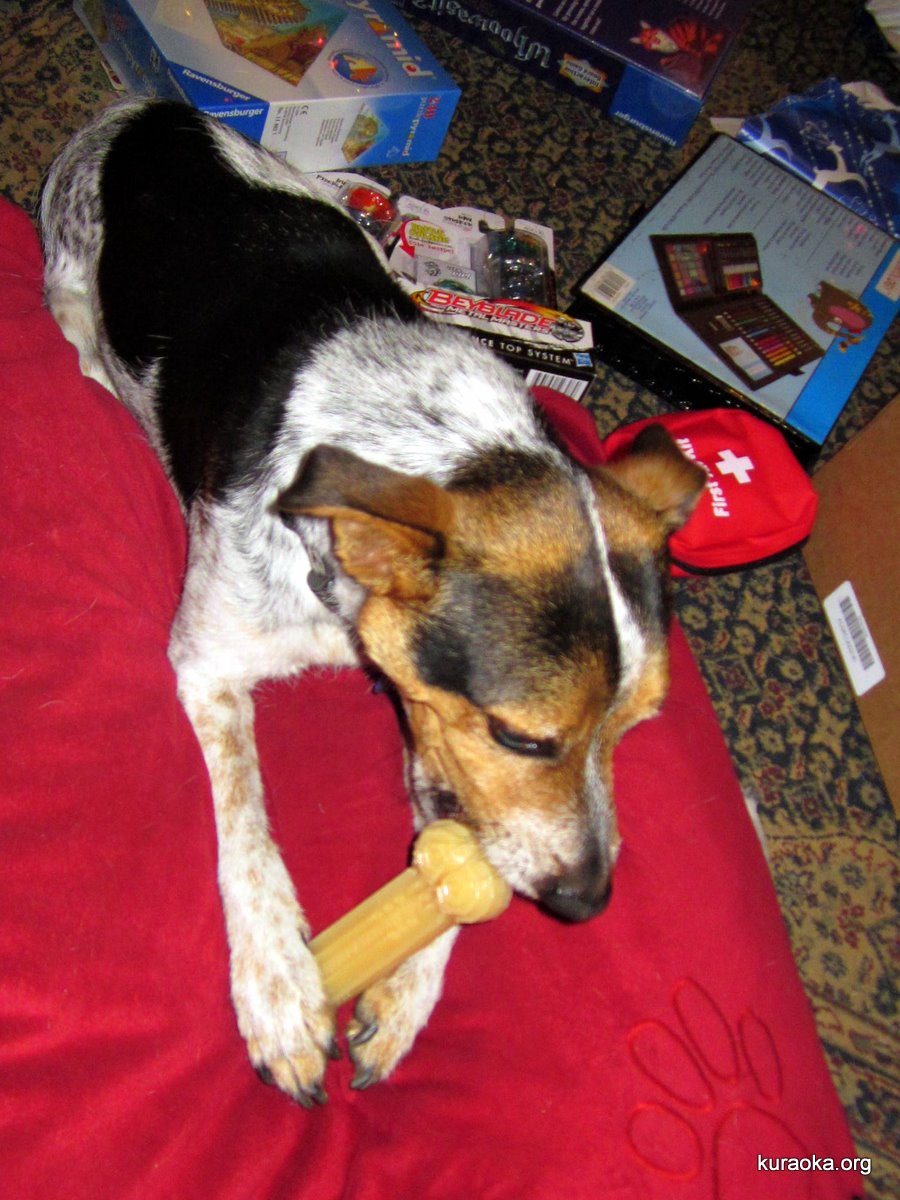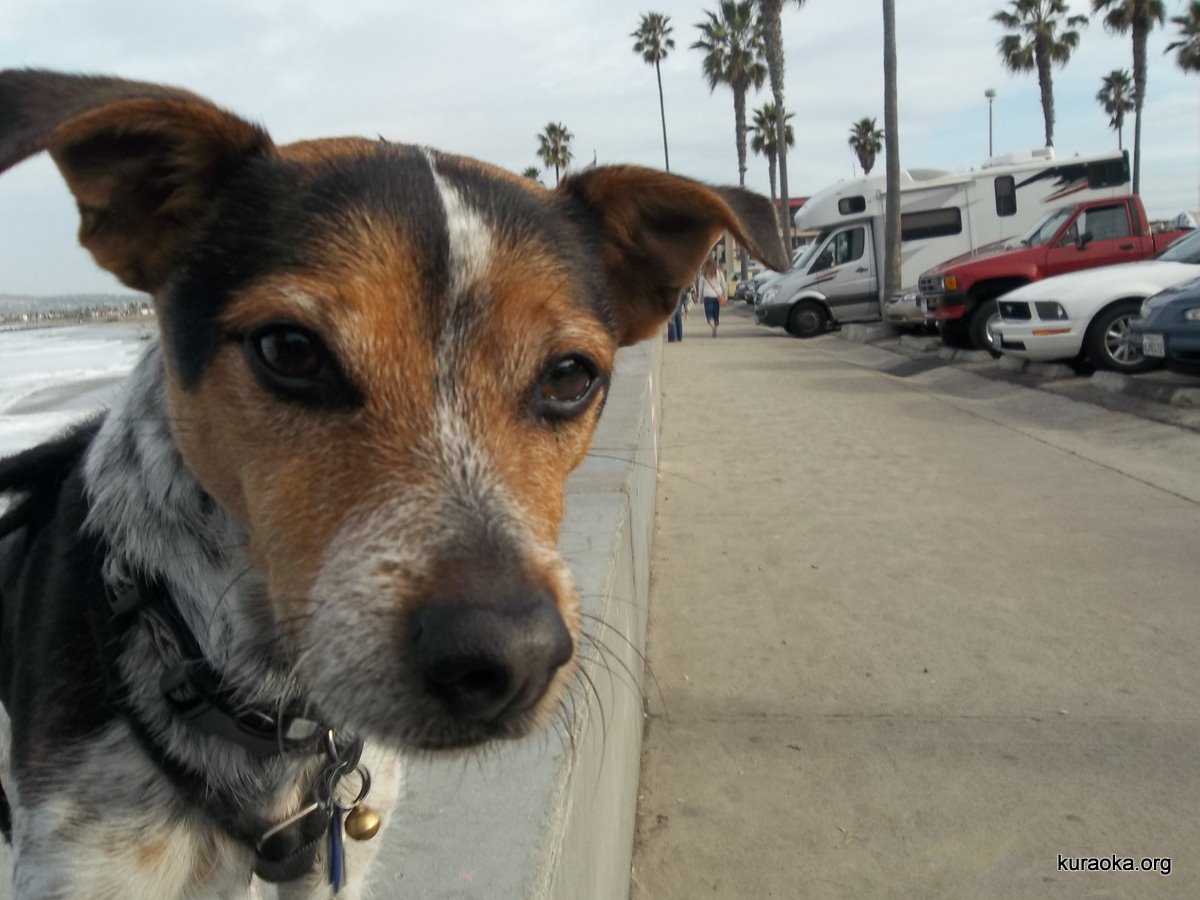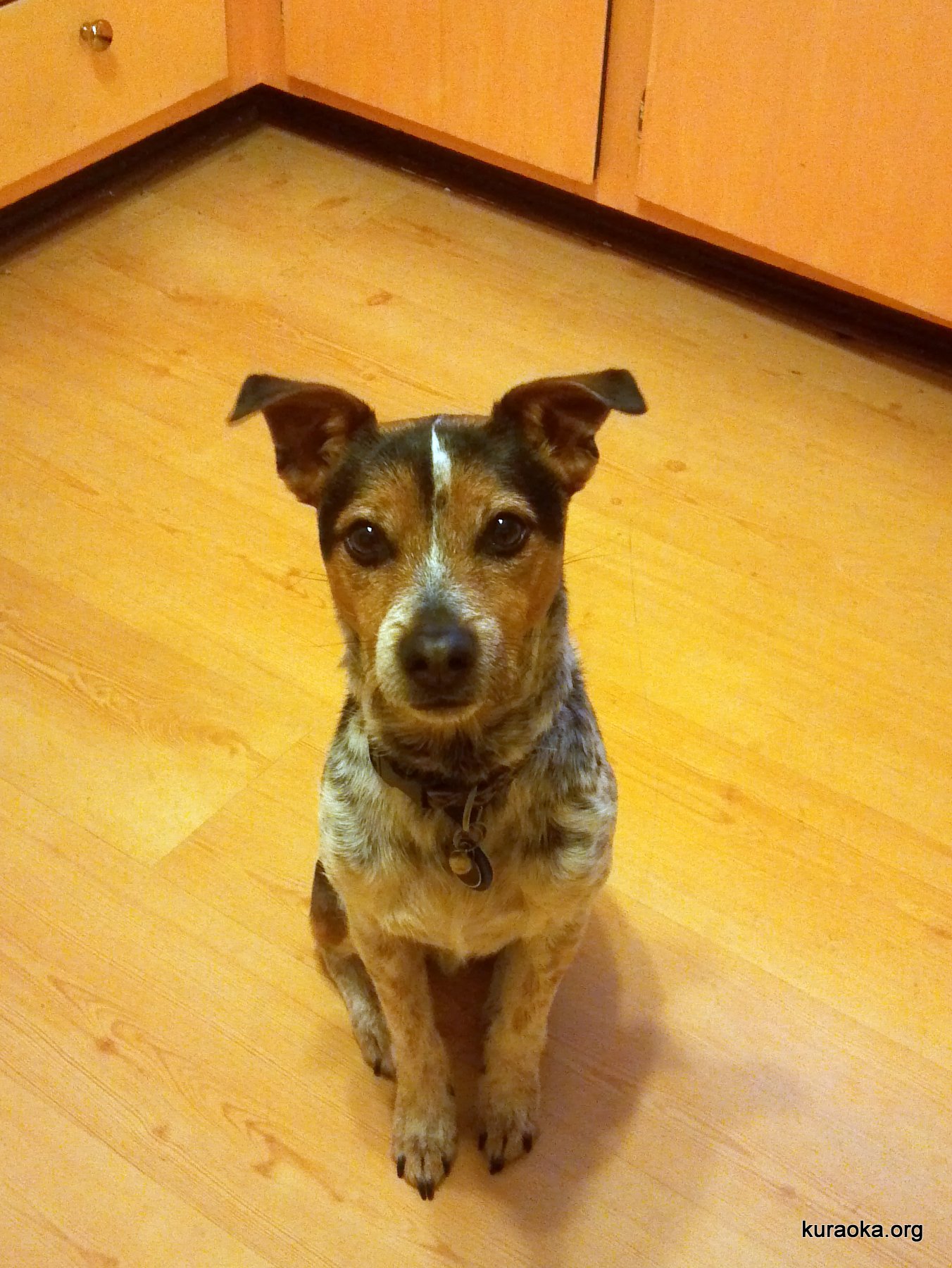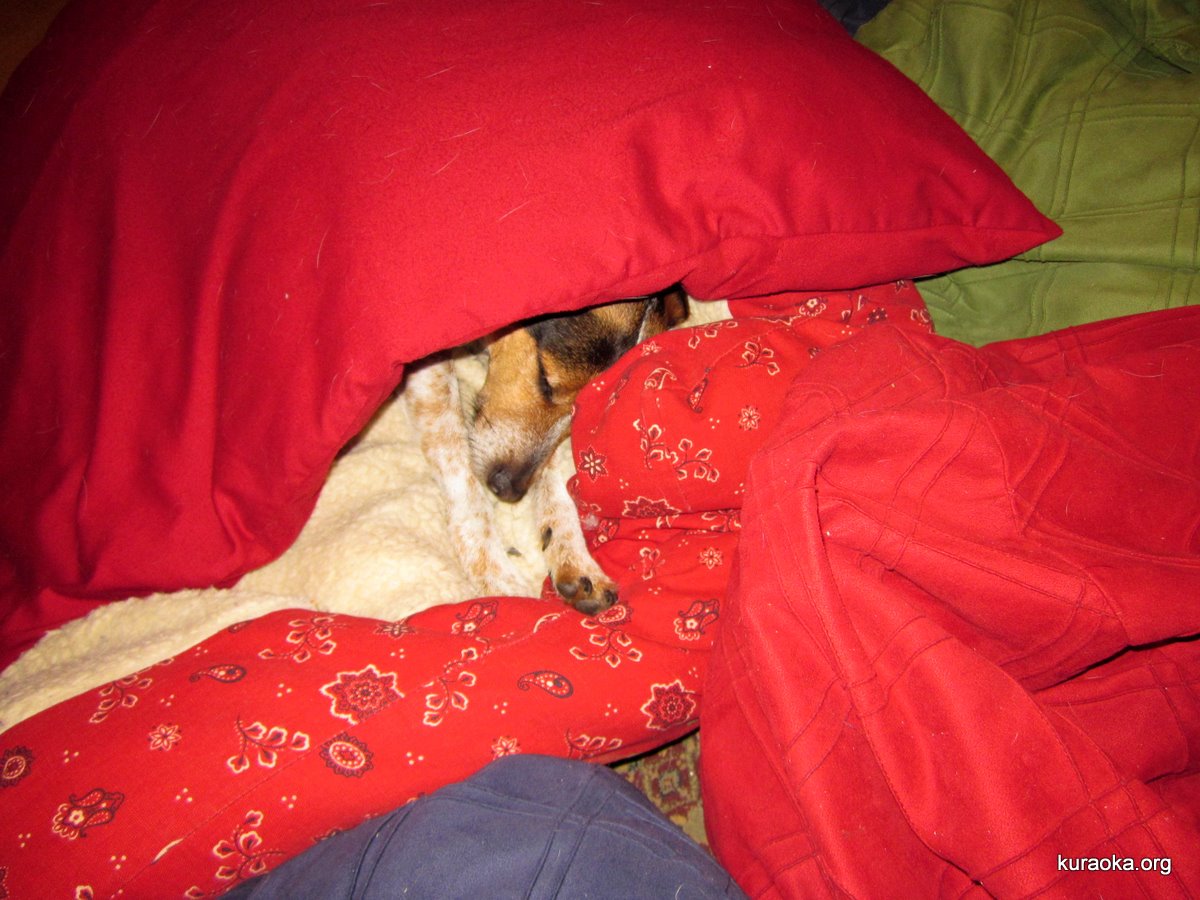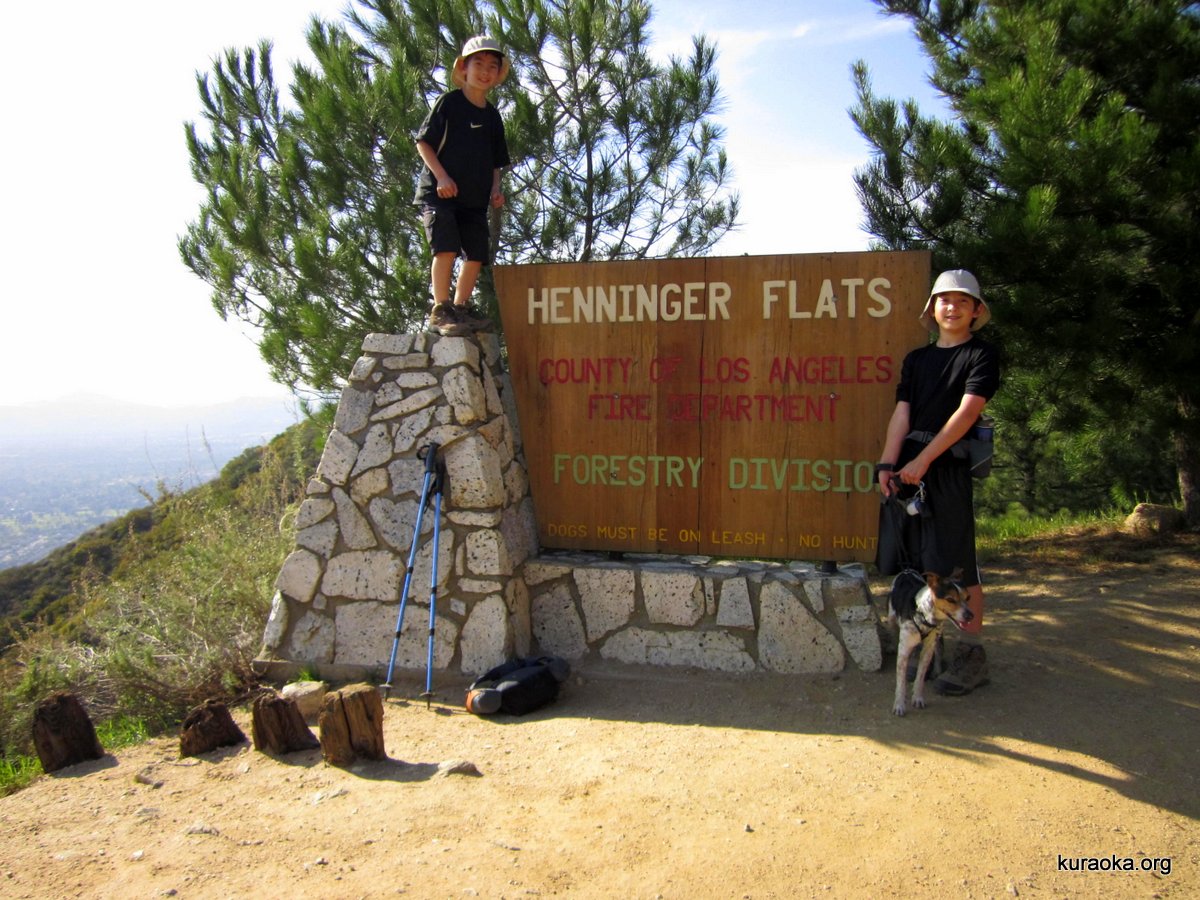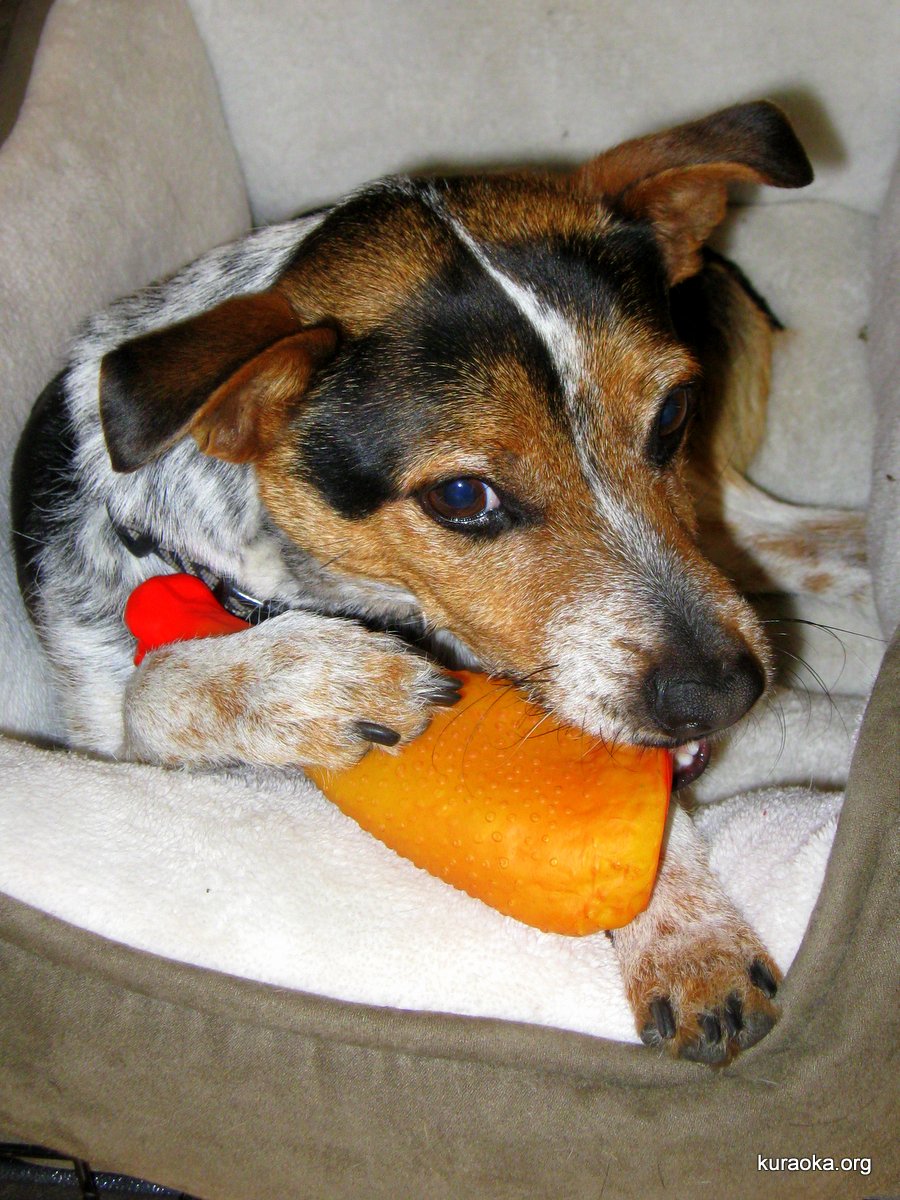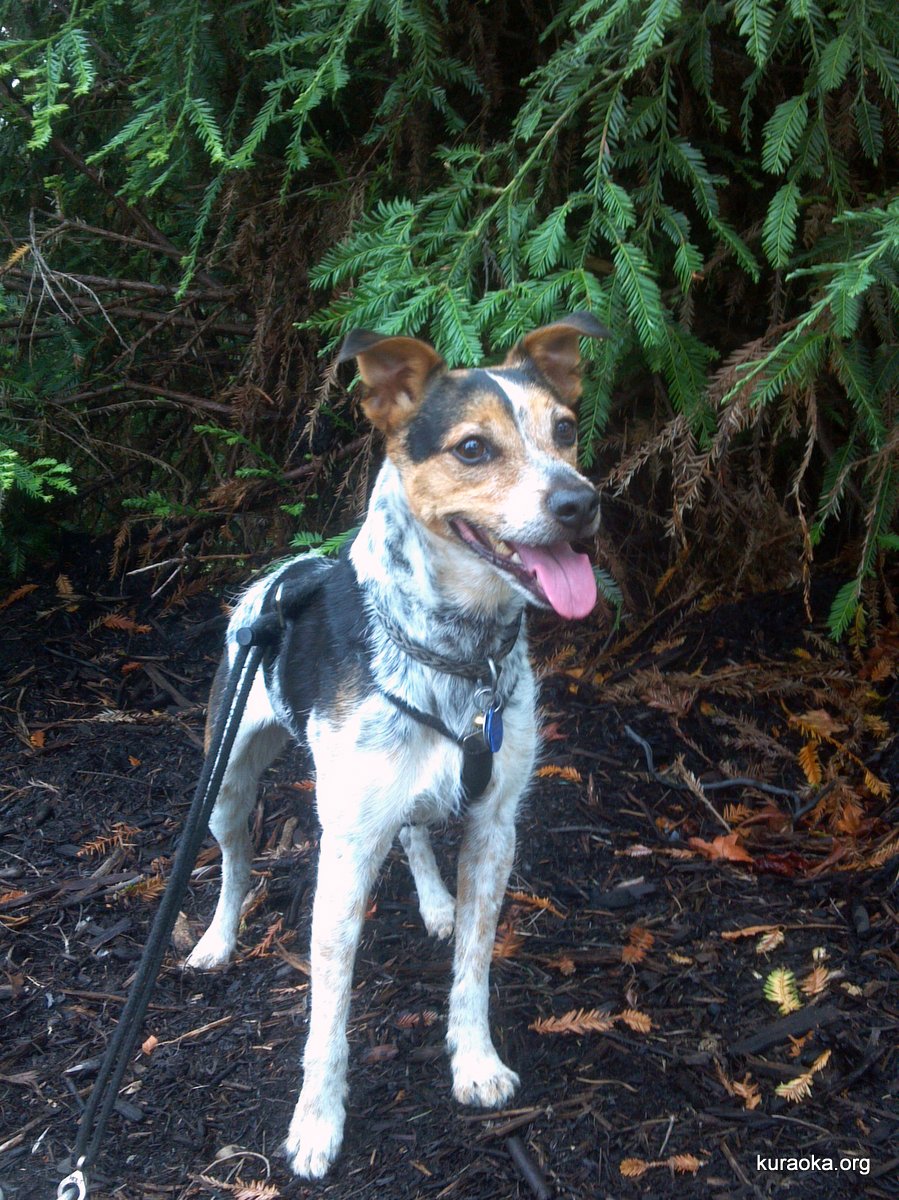 It was a perfect match from the start, with a high-energy dog joining a family with two young kids. He bonded with the boys immediately, once even joining in their backyard digging project. Buddy was a great travelin' dog, a happy playin' dog, and a surprisingly mellow evening companion especially after a walk. He loved his kibble! And, he loved chasing his chewy and killing a partially deflated soccer ball in the back yard. In fact, if no one was around to throw them for him, he'd throw them for himself. The kids learned to be responsible for him. And we all loved him very much.
The first time we took him camping, he pooped out quickly. But by the next year he'd developed into a strong hiker as well as an excellent car traveler, and he went everywhere with us. The squirrels at Sand Pond - and Grammy's back yard - were especially fascinating.
He was happiest right in the middle of everything. If a game was going, he'd plop himself down close by, if not right in the middle. The kids often dealt him in as a third player in Monopoly games. When the kids were smaller and we'd hold them on our laps and read to them, Buddy would nuzzle and snout his way into the pile of people, sometimes ending up underneath someone, where it was warmest. He made a bumpy pillow. He made an oddly leggy lapdog too, and seemed to enjoy the connection of curling into someone's lap. Sometimes, John would pick him up and carry him like a baby, and we never knew whether he liked it or merely tolerated it. Our friend Lucy had a dream once, though, in which Buddy communicated to her that he loved it. We'd like to think he enjoyed it. John sure did.
Buddy apparently thought of himself as a junior member of the family, entitled to all the perks thereof. So, at St. Nicholas' Day when the kids would get gifts in their stockings, Buddy immediately staked his claim, popping up in the middle of the festivities with a "where's mine?" look on his fuzzy face. So we got a little stocking and wrote "Buddy" on it, into which we'd slip a couple dog biscuits and a rawhide chew. He also knew about Christmas presents, and would hang around patiently until we opened his for him - usually a new chew toy but sometimes a bag of treats.
He liked music; his favorite album was Norah Jones "Come Away With Me." We'd play it to calm him down, and it always worked. We'll never again listen to Norah without thinking of Buddy.
Well, Buddy is now onto the next thing, greeting it with a wagging nub tail that shakes his entire back end. But he leaves a giant hole in our lives. We miss him very, very much. Roy brought this picture he'd drawn from his room, and we put it in Buddy's crate. And our friend Lucy left a lovely memorial display on our front step.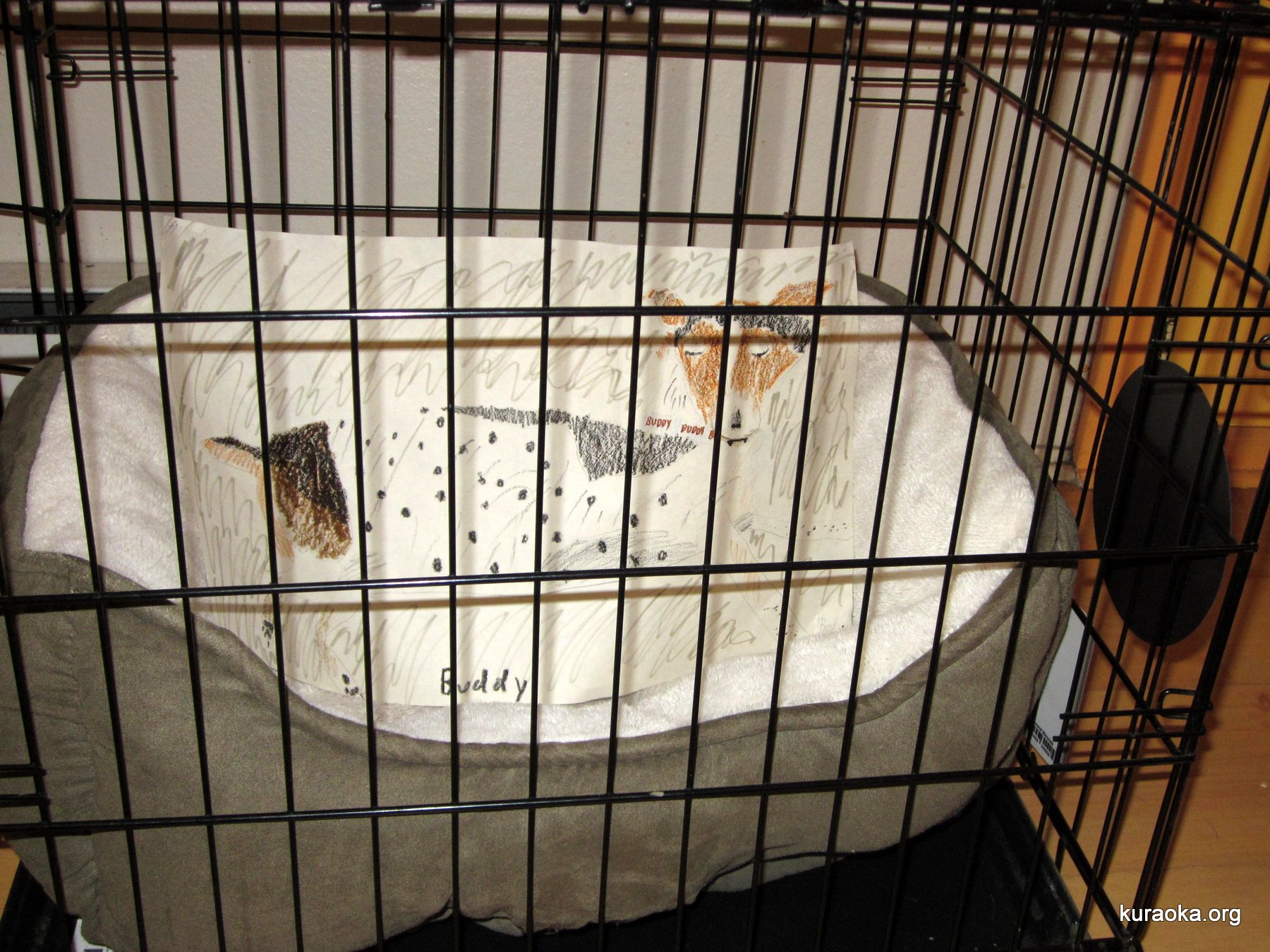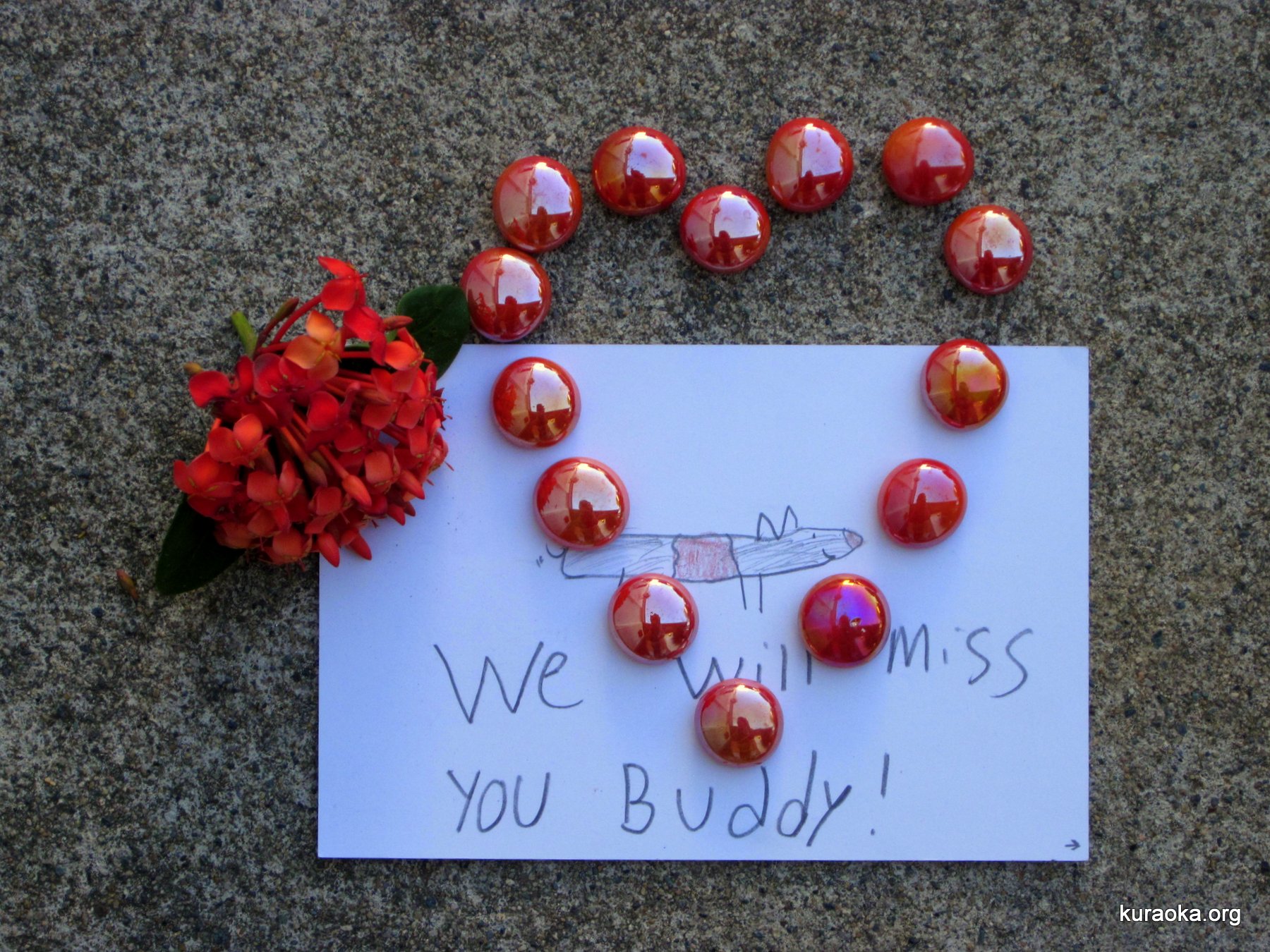 Hearst Fall Festival. Saturday was the Hearst Elementary Fall Festival! John took Roy and Leo after judo, taking a much-needed break after nursing Buddy non-stop for the past week and a half. Roy and Leo used most of their tickets for the cake walk, and both won cakes! So we had two kid-made cakes. John bought five raffle tickets to an "opportunity drawing," and we learned that we'd won a family four-pack of tickets to the San Diego Natural History Museum!
Old Town. The Sunday Buddy died, we all needed to get out of the house. So, we went out to breakfast at 6:00, first trying Coco's, but they didn't open that early so we ended up at good old reliable Denny's. Then we went to Old Town for a while, and ended up having lunch out.
In the afternoon, we got together with Barbara for kaffeetrinken and to see her photos from China! It sounds like a wonderful trip. She brought back some treasured souvenirs, including hand-carved chops everyone with the characters for "Kuraoka," minature terra cotta generals and one terra cotta emperor, beautiful jade earrings, T-shirts, and more!
Monday it's back to school and work. Roy is sick, so he didn't go to school today, and Leo has a hurt toe, so we're all wrecks here and John is still trapped at home caregiving. Leo has his violin class today, and his after-school chess program.
Neighborhood gas prices dropped again, first to about $4.25 per gallon and then to $4.19.
Back to the Archives page
Back to the Kuraoka Family main page
Forward to the current Weekly Journal.