The Kuraoka Family in Borrego Springs
www.kuraoka.org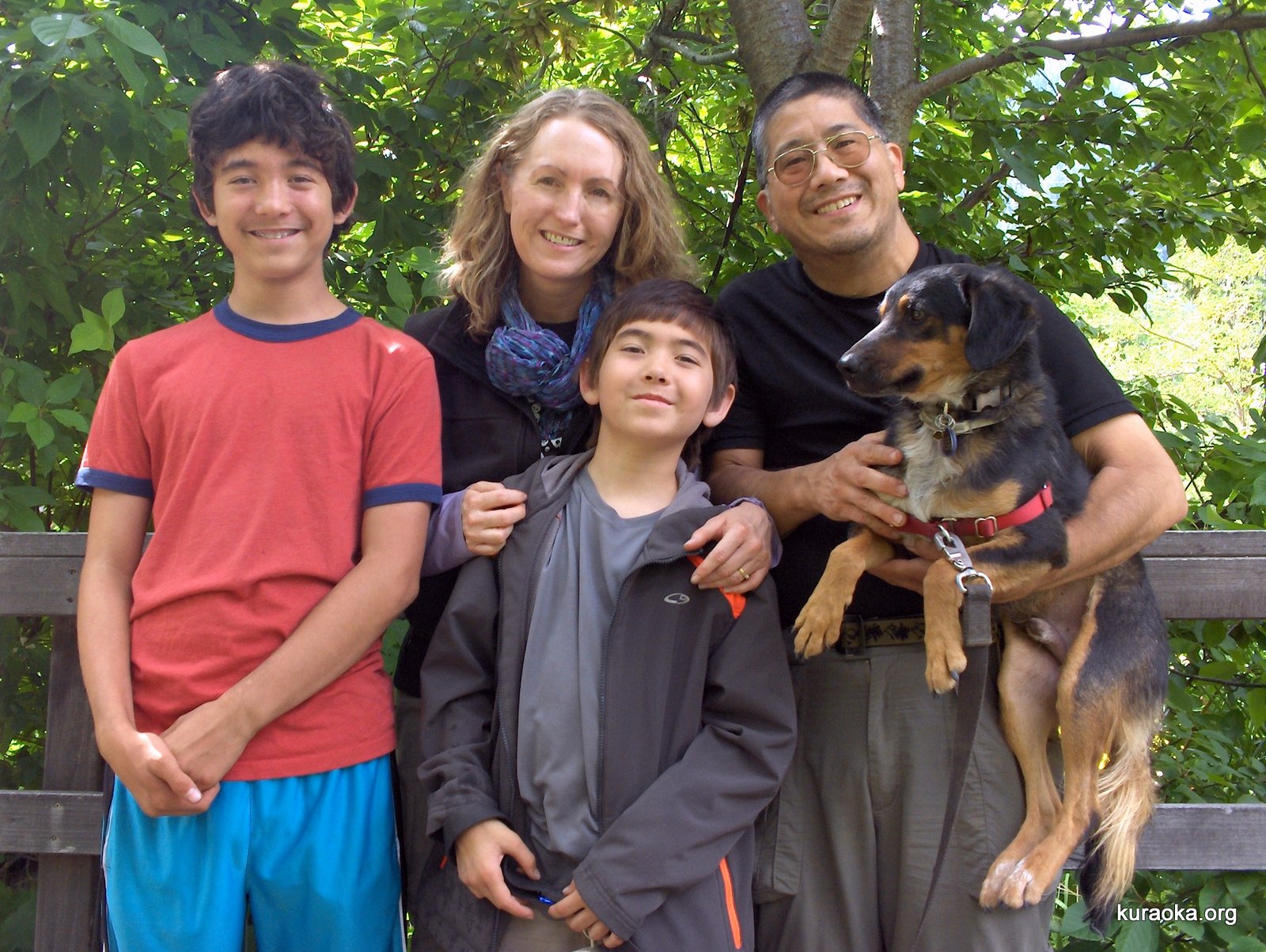 Us, August 8, 2013: Roy, Leo, Shadow, Ondine & John
Sunday, November 24, 2013
What a fun-filled weekend we had in La Casa Del Zorro, thanks to Kirsten at San Diego Family Magazine! We left for the desert right after picking up the kints from school on Friday.
We'd honeymooned in a one-bedroom casita at La Casa Del Zorro way back in 1998. When the resort changed hands and closed in 2009, we thought our chance to re-live our honeymoon was gone. But new local owners brought back the La Casa Del Zorro we recall so fondly. It reopened this year.
Of course, we've changed since those golden honeymoon days – all for the better, naturally. With two kids, the Anza Borrego PR people had set us up in "Mesquite," a spacious two-bedroom casita with its own private pool. Posh digs for a family for whom the height of travel accommodations is the Holiday Inn Express in Santa Nella! The kids' room had two big double beds, its own bathroom, and a door to the pool area. That exterior door had two deadbolt locks: one at adult height and one somewhat higher; in addition, there was a latched gate between the casita and the pool area. Each bedroom had its own TV and VCR/DVD player, but we closed the armoires and ignored them. As it turned out, the kids' room also housed the main thermostat controls for the casita. We also learned that there was a strong wi-fi signal throughout the casita, radiating from a router atop the TV armoire in the living area.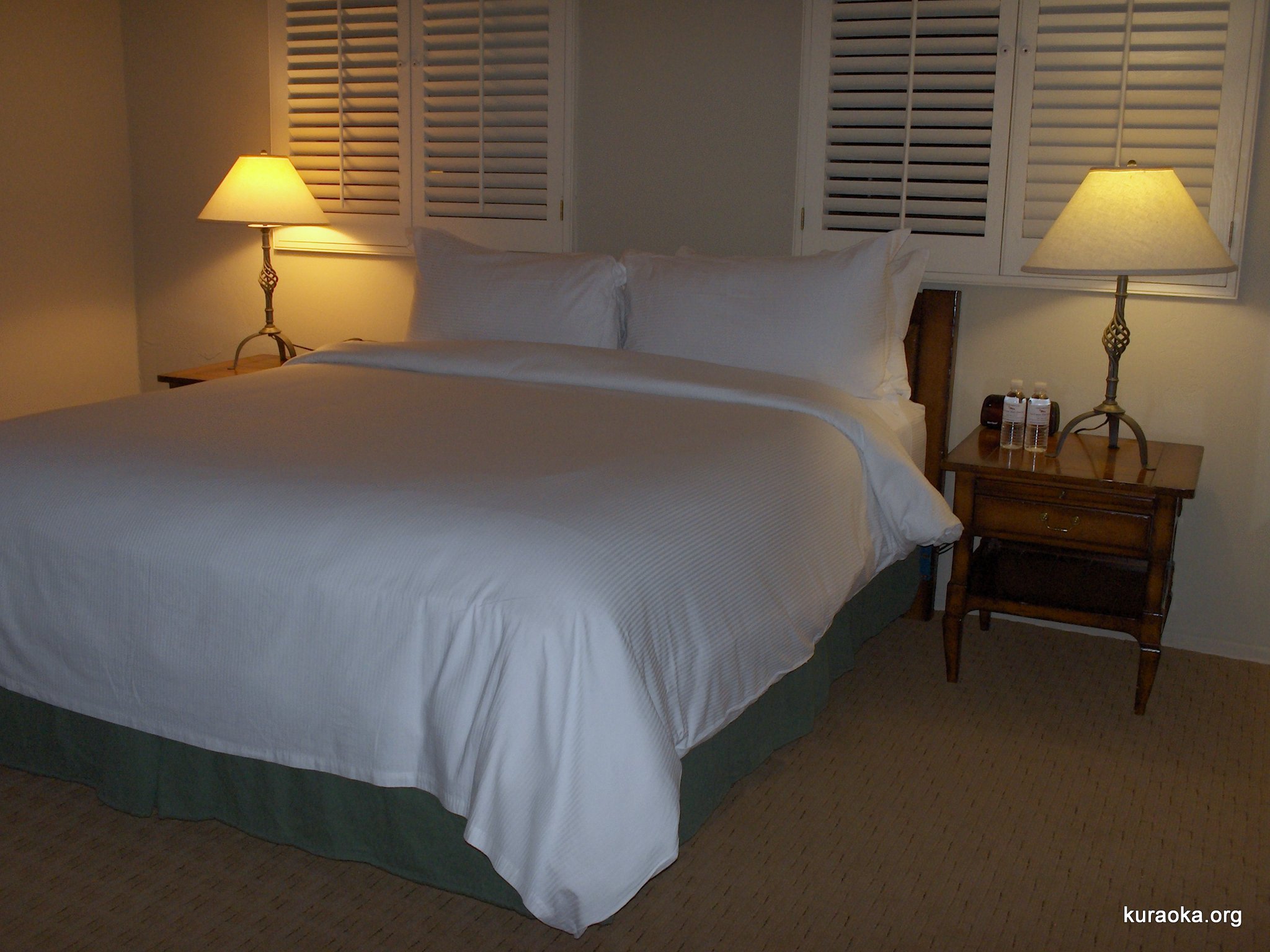 After unloading the car, we walked by the light of the full moon to the Butterfield Room, the on-site restaurant, thinking about dinner. But when we previewed the menu and saw entrees priced at $30+, we decided against it. Our hostess suggested the Fox Den, behind the bar. That menu had plenty of dinners in the $12 range, a better fit for our pockets. Roy had a turkey sandwich with Fox Chips; Leo had a Bar Burger with Fox Chips, Ondine had black bean soup (which came with a shot of dry sherry to stir in), and John had a chicken quesadilla. We also set up an appetizer of chips and guacamole, and split a blood orange mousse for dessert. Service was leisurely but everything was exceptionally fresh and very tasty. The Fox Chips were freshly-made house potato chips, thickly cut and lightly salted: delicious! The blood orange mousse was a standout: tart and rich and lively. All that, plus two milks and two teas, ran just a tick under $100 after tip.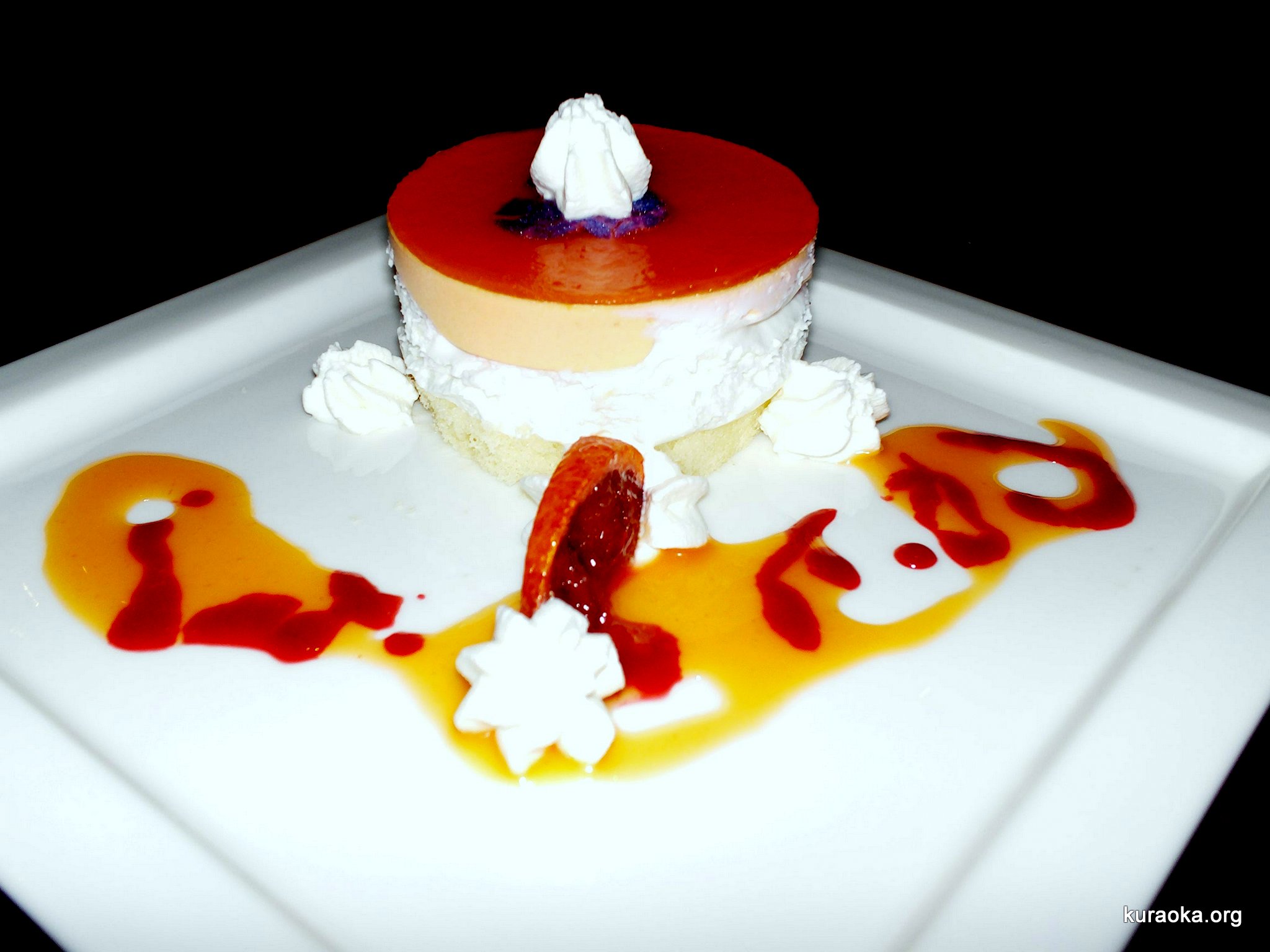 After we walked back to our casita, we found that out of four people, only one had packed her toothbrush! (Boys!) So John walked back to the lobby to cadge three toothbrushes, which were graciously provided along with a travel-sized tube of toothpaste.
Before John walked back, he had a cold cup of water from the urn in the lobby. It was lightly scented with apples and mint leaves – the perfect refreshment for a dry, windy desert night.
And it was very windy. All night, we could hear our poolside cabana flapping like a flock of pterodactyls jostling around a watering hole.
Saturday morning we went for a swim, during which Leo discovered, to his delight, two powerful whirlpool-like hydrotherapy jets that massaged and, if properly placed, tickled! The kids did some Thanksgiving break homework in the spacious living room area.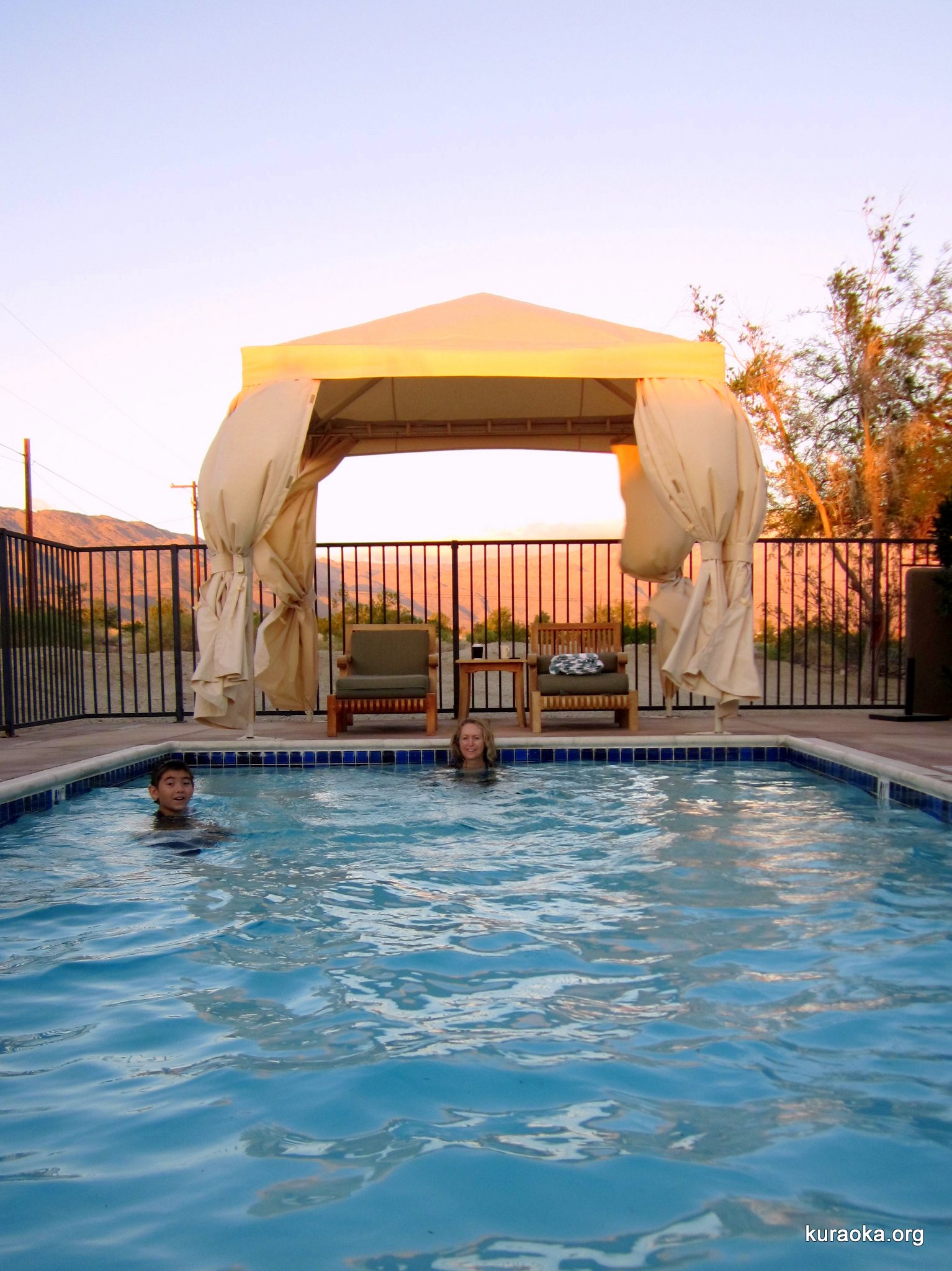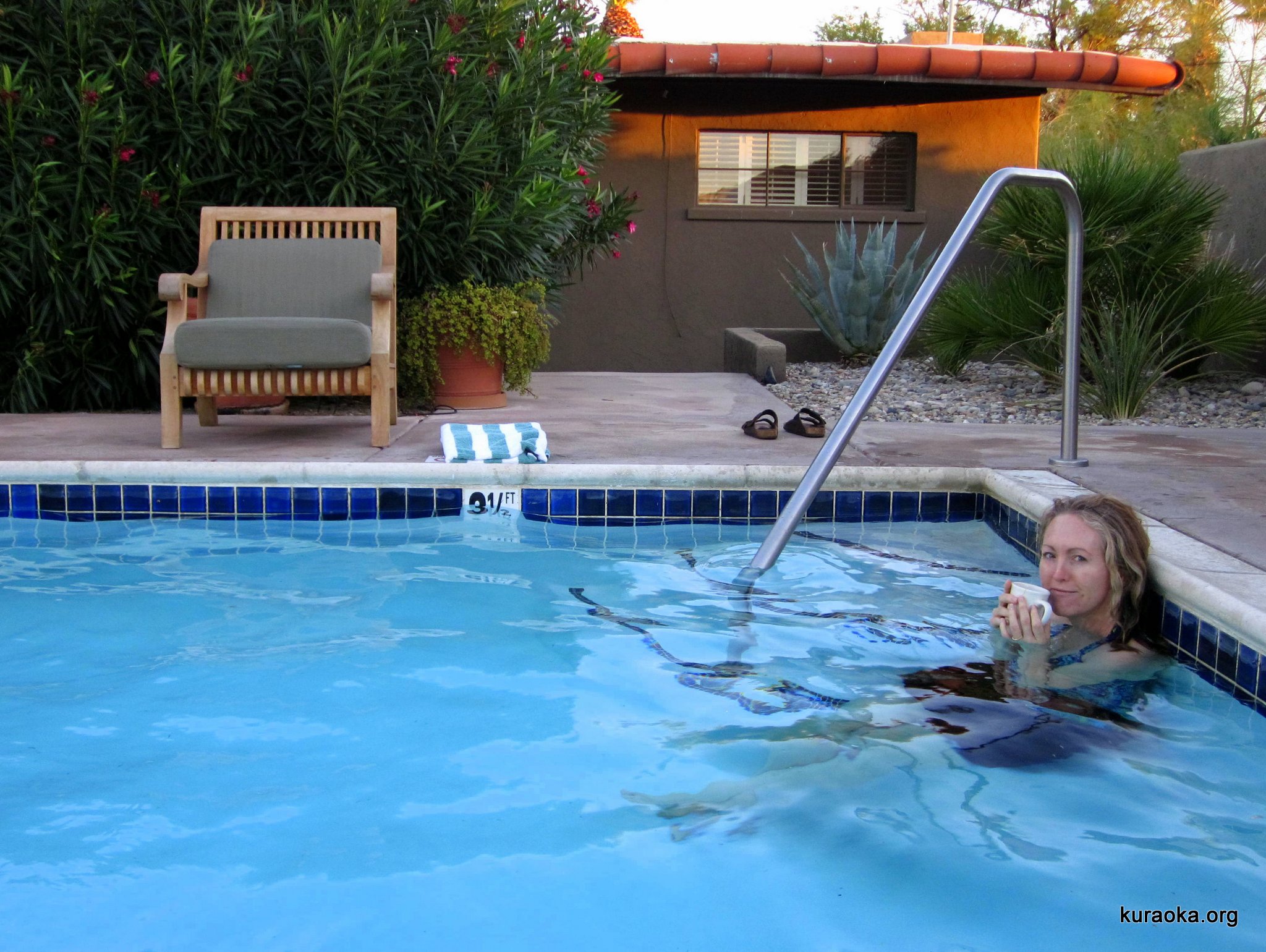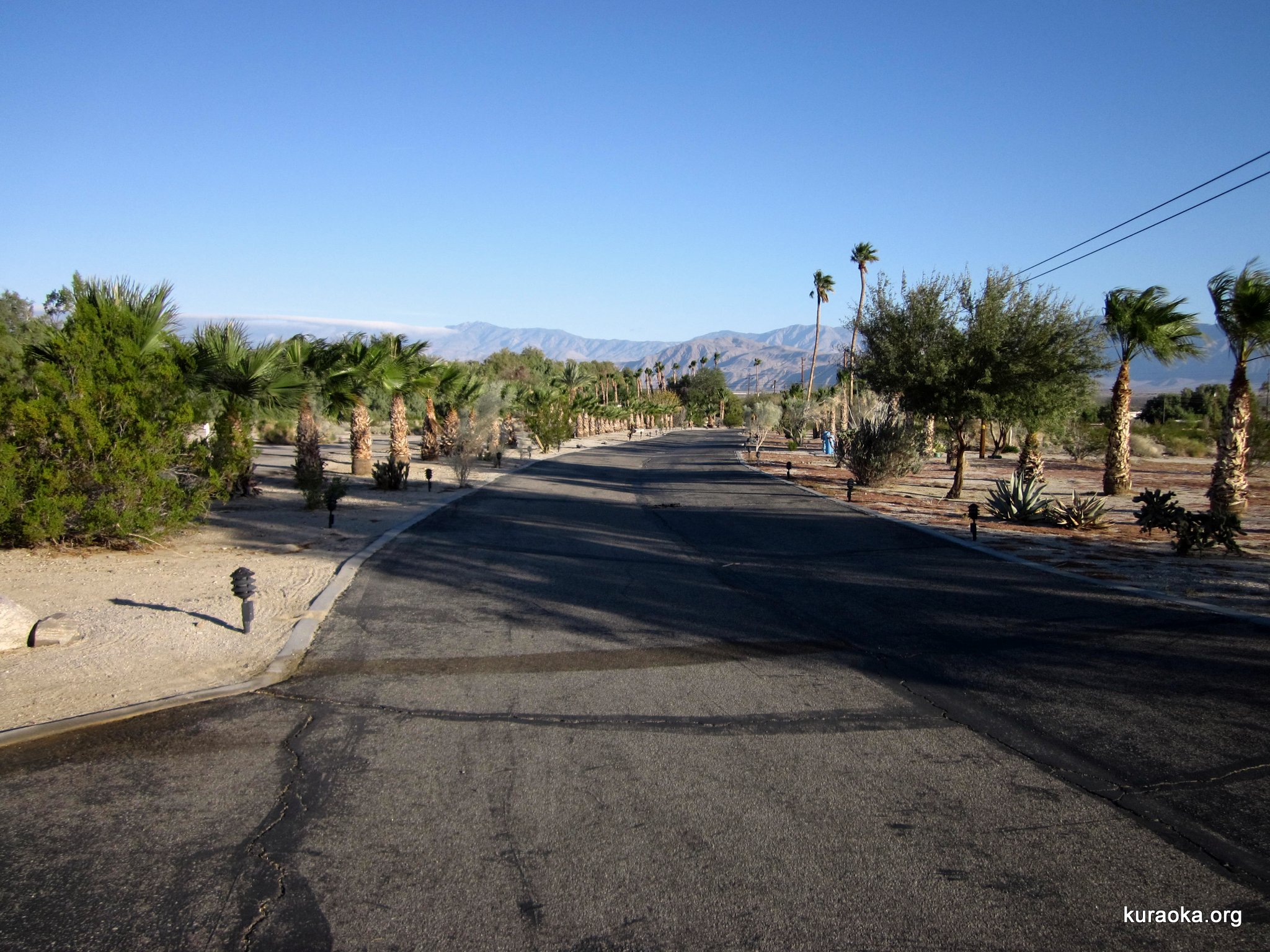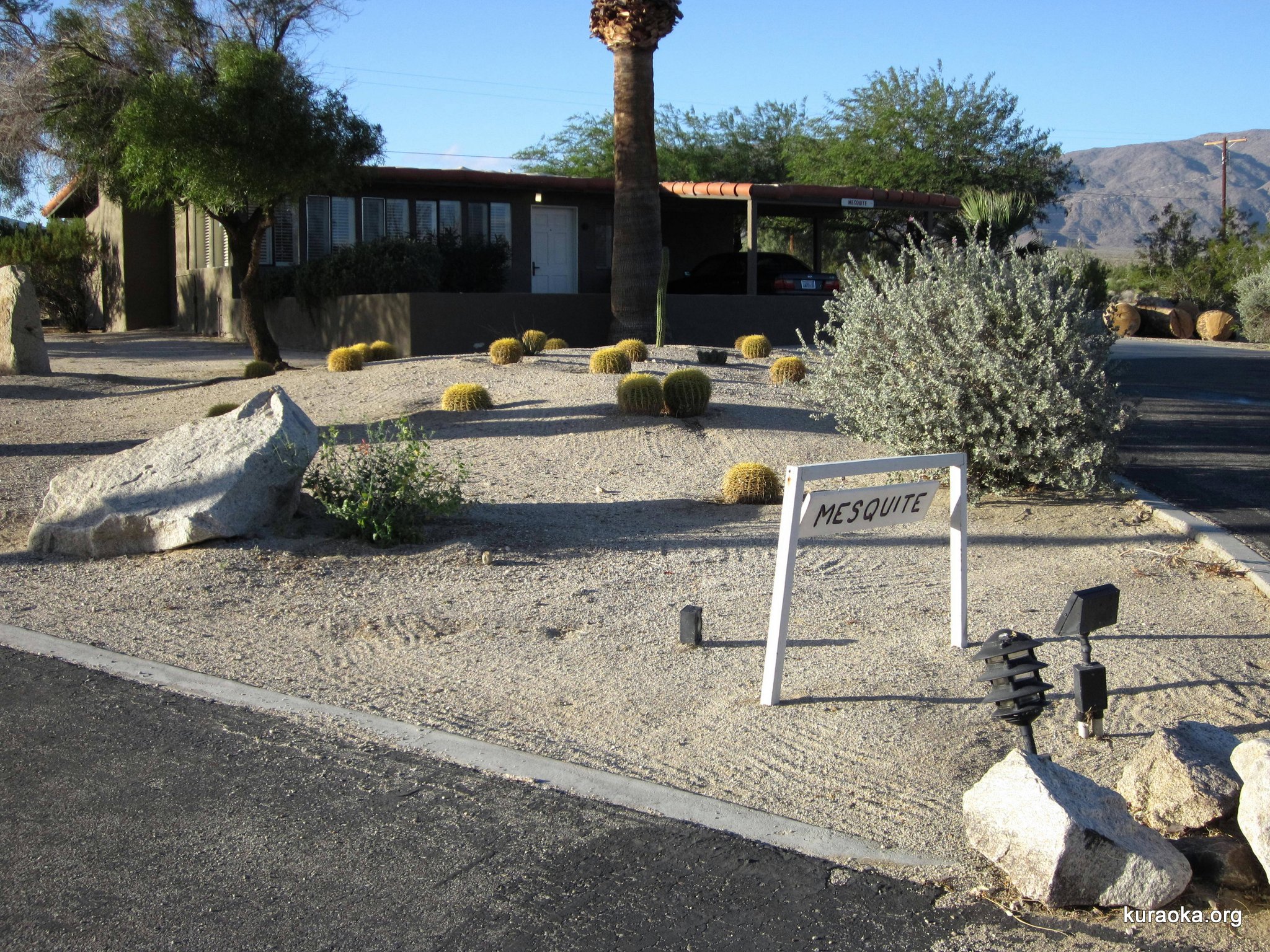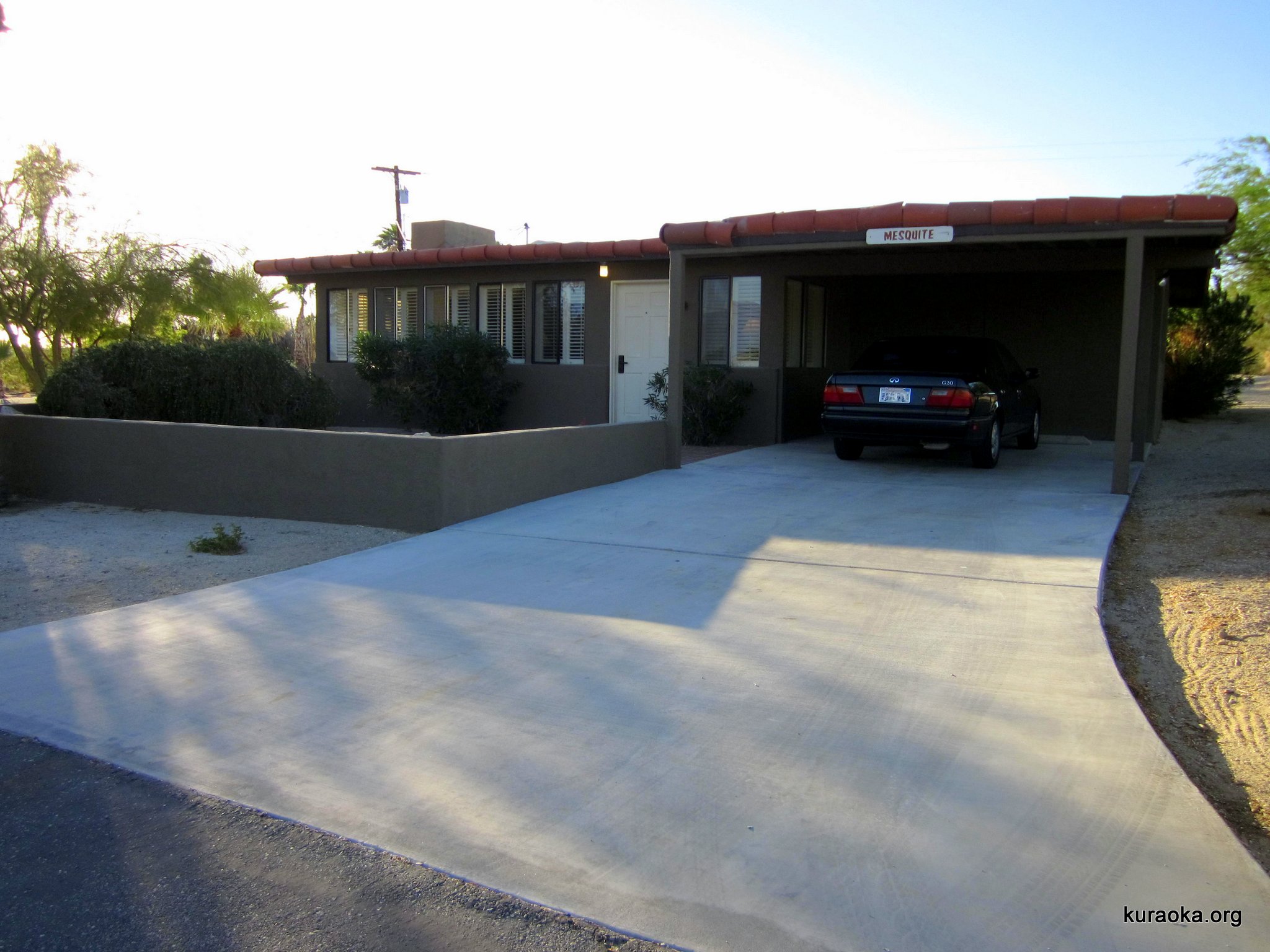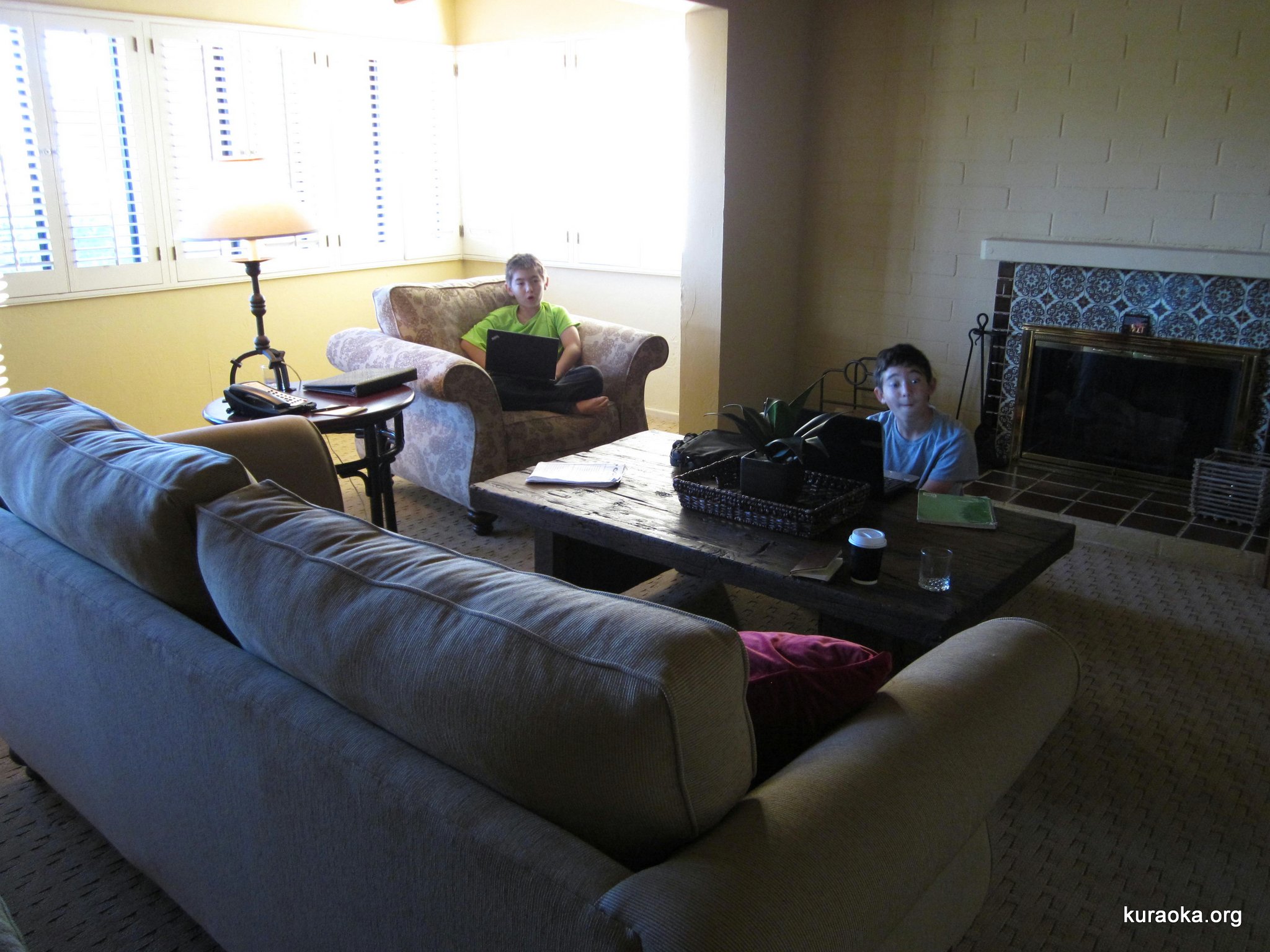 Then we walked to the Butterfield Room for breakfast. Breakfasts were priced in the $8-$12 range. Leo had the American breakfast with sausage, Roy had the fresh fruit plate with Greek yogurt, Ondine had the chilaquiles and eggs, and John had groats and blueberries (because they didn't have raisins). Service was quick, and everything was first-rate. The fresh fruit plate might be the bargain of the morning menu, piled high with enough fruit to sate a 13-year-old boy. Leo created his own sandwich with his English muffin, sausage, and scrambled eggs. On the way back to the casita, John and Leo paused to navigate the "labyrinth," a surprisingly long walk in a very small area.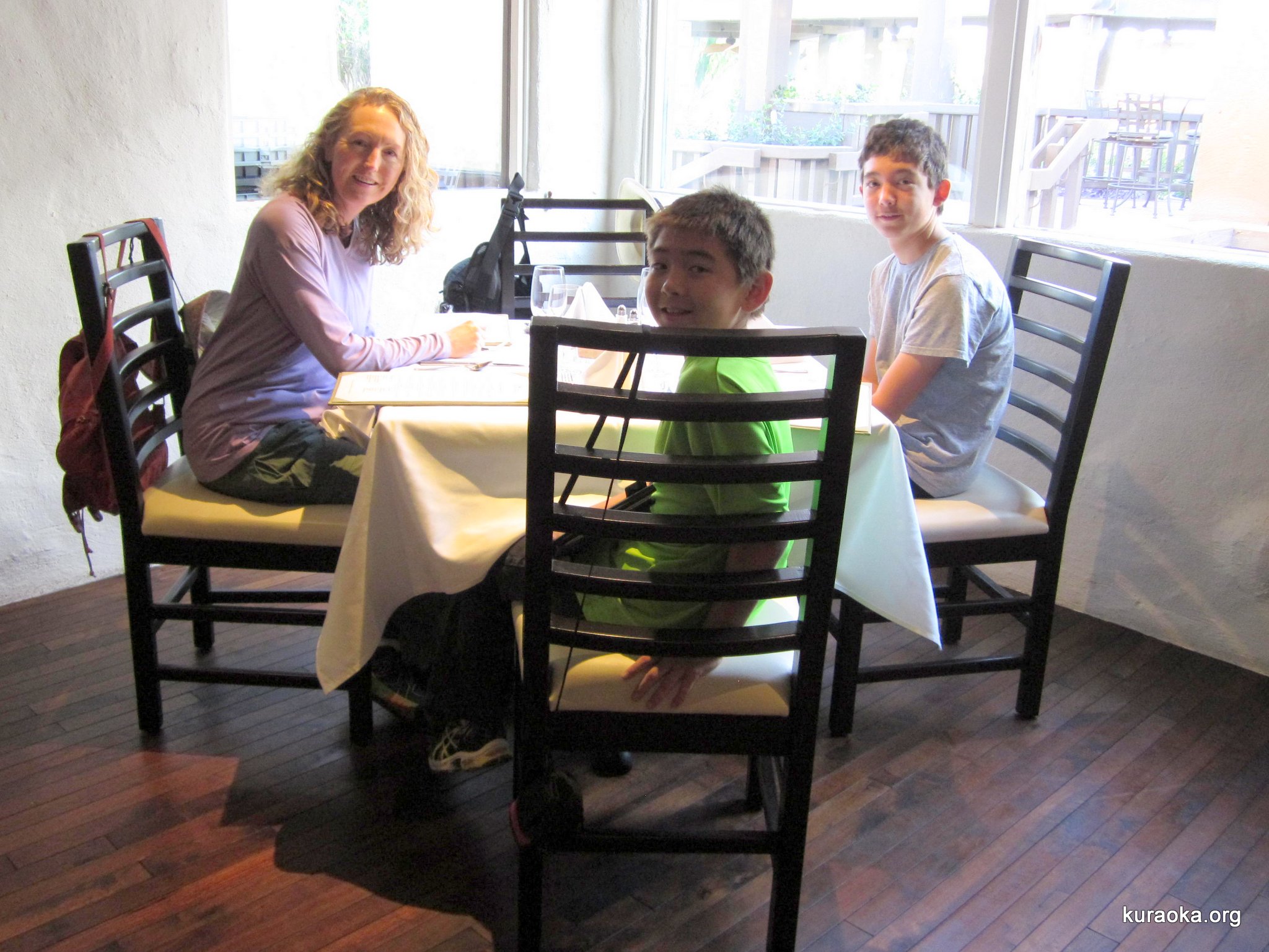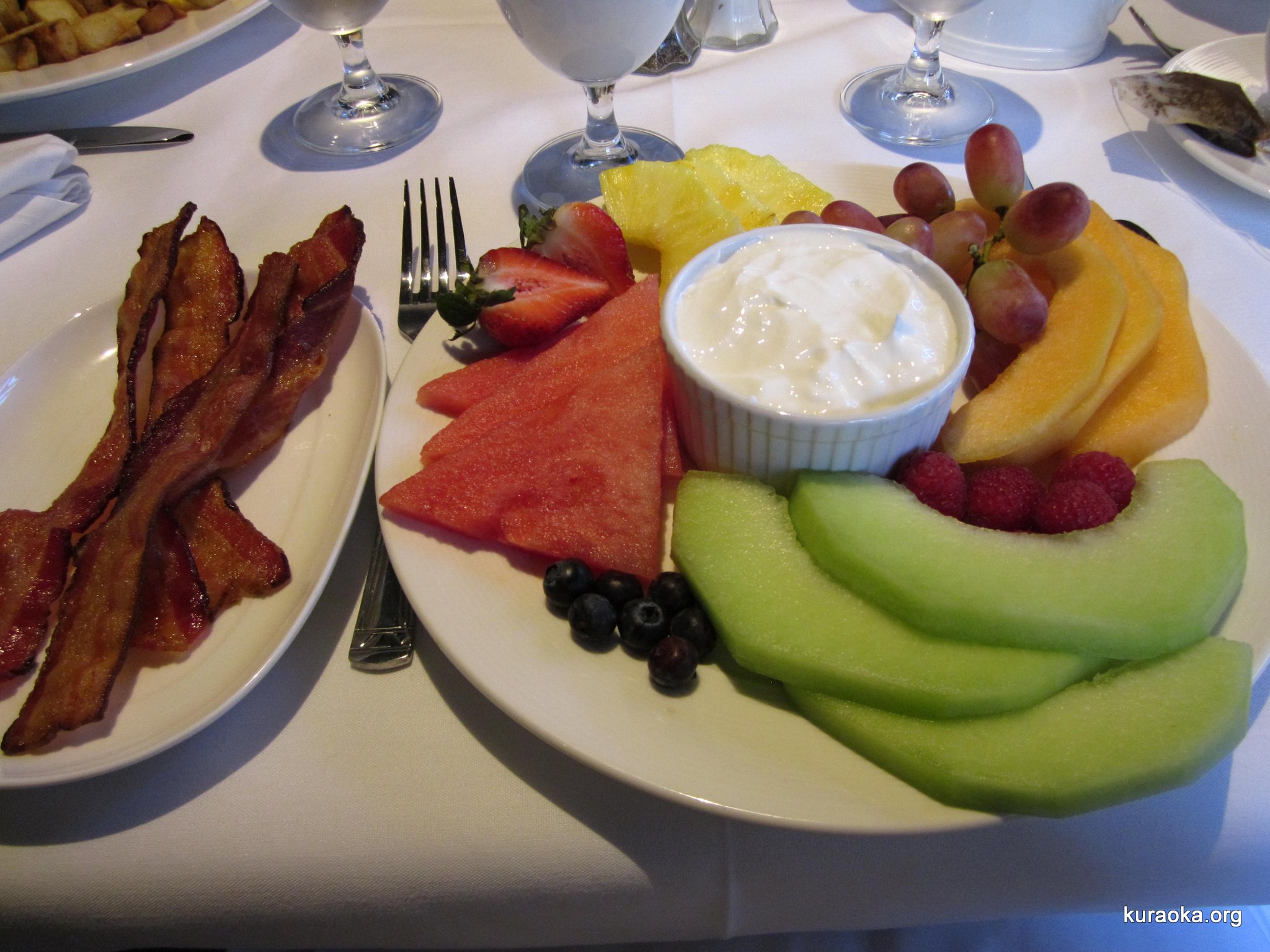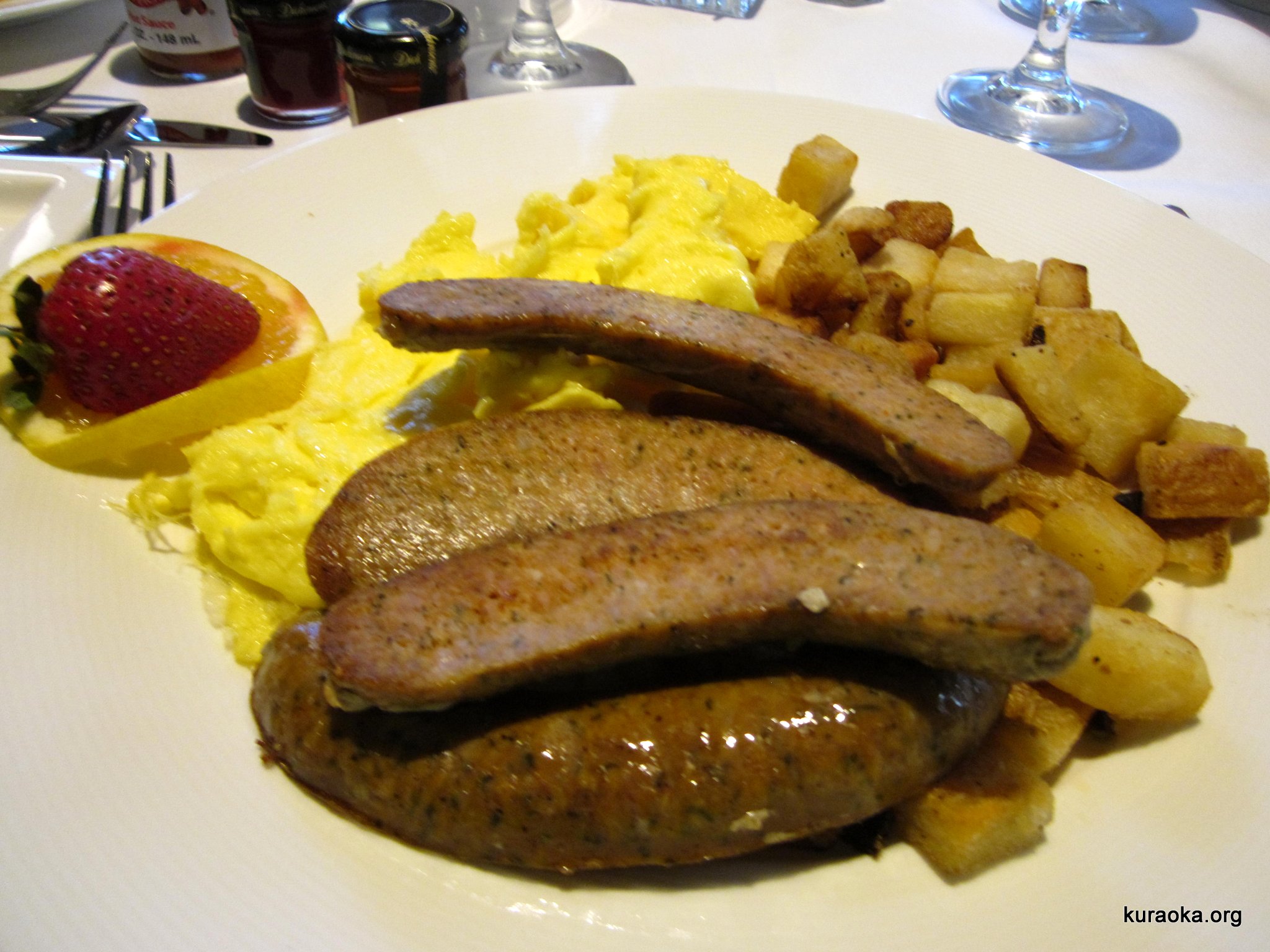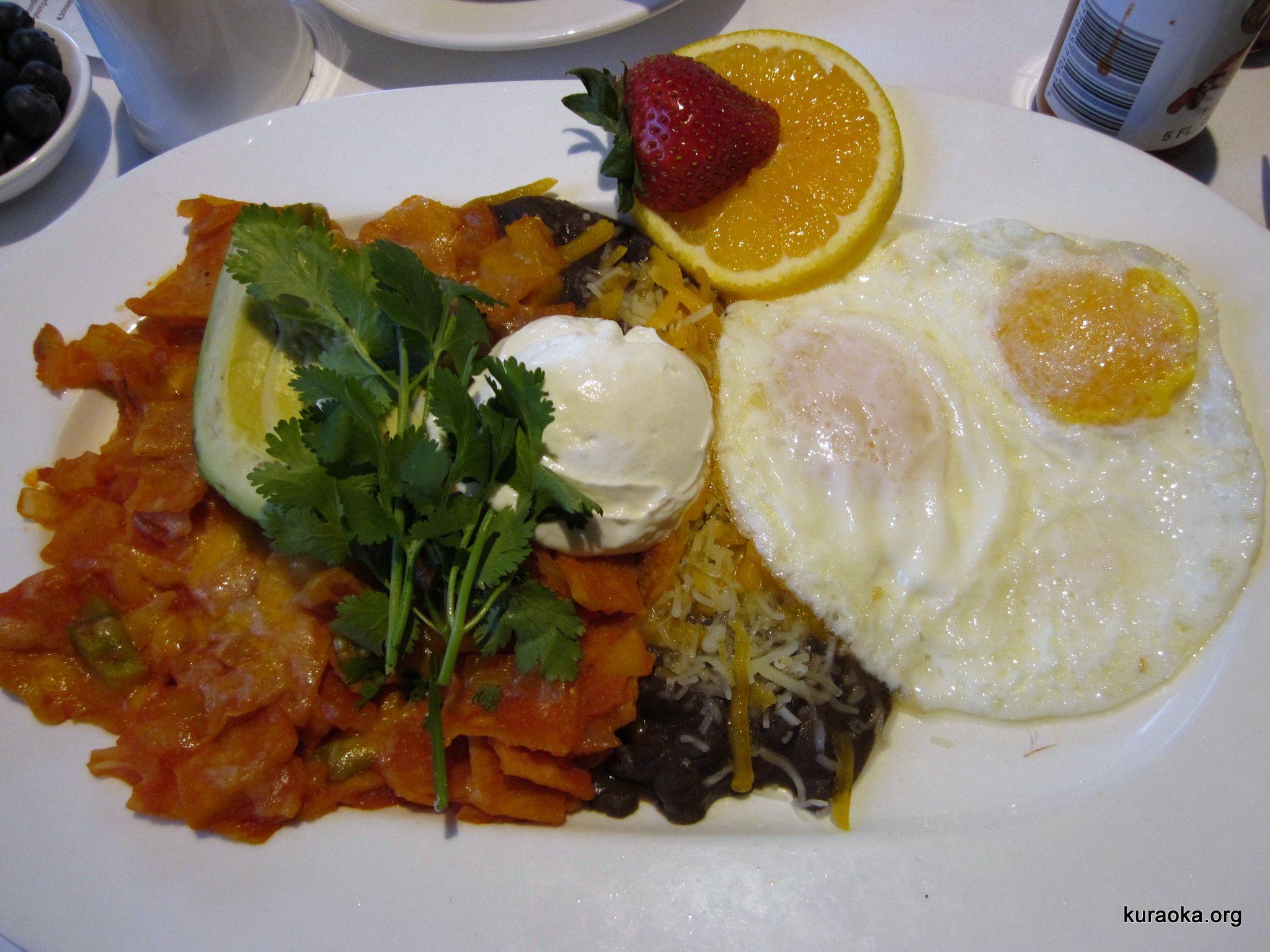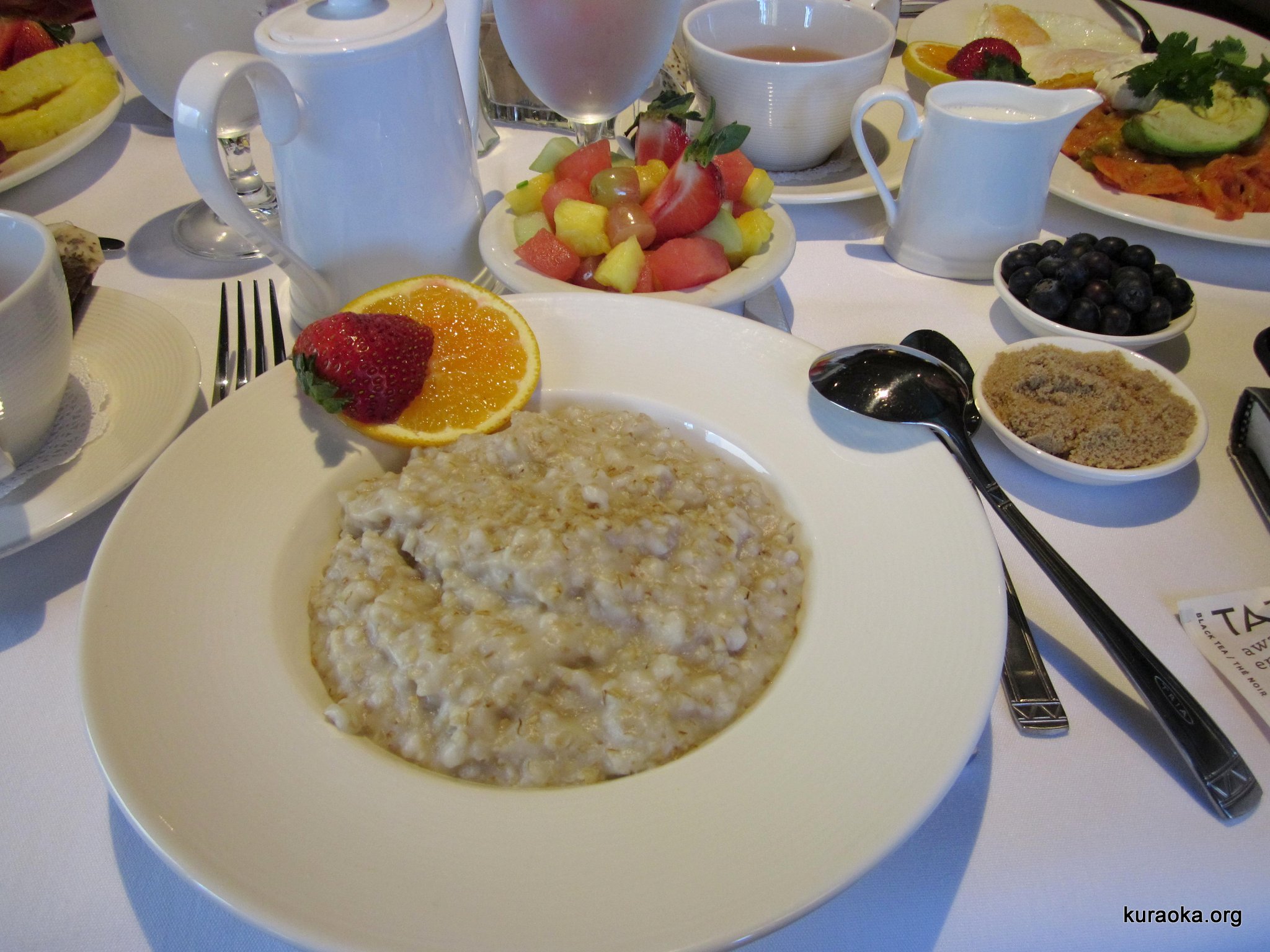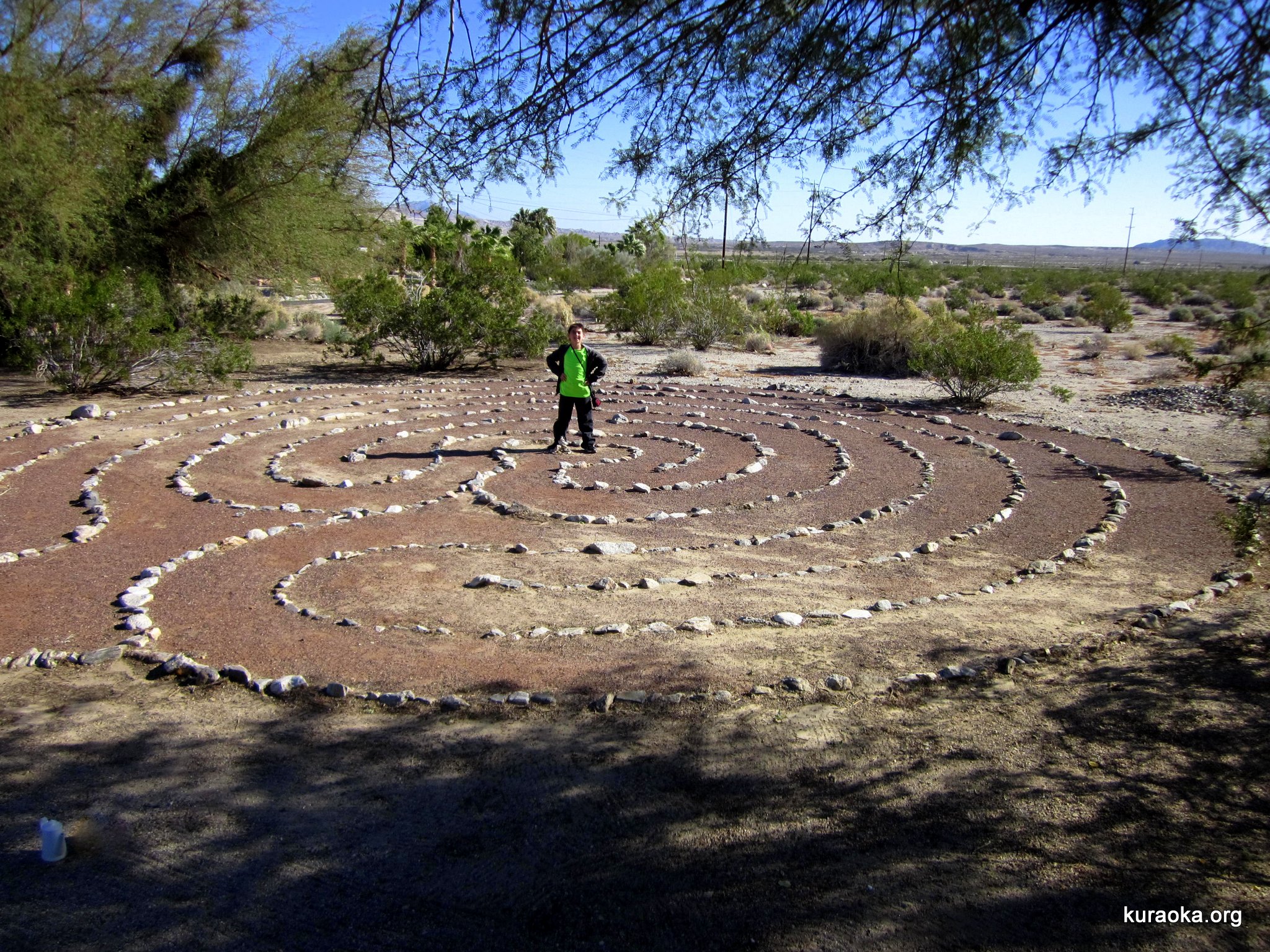 Among the treats arranged on our behalf for the magazine article, was a 2-1/2-hour off-road tour with California Overland Desert Excursions. The tour included areas closed to all but authorized vehicles.
The owner, Joe, invited us in to sign liability releases, while he prepared the vehicle. We were soon joined by a couple celebrating their 20th anniversary.
Our vehicle was a Navy-surplus Jeep, fitted with cushioned benches running lengthwise down an elevated bed. A canopy provided some sun protection, but Joe made sure that everyone had hats.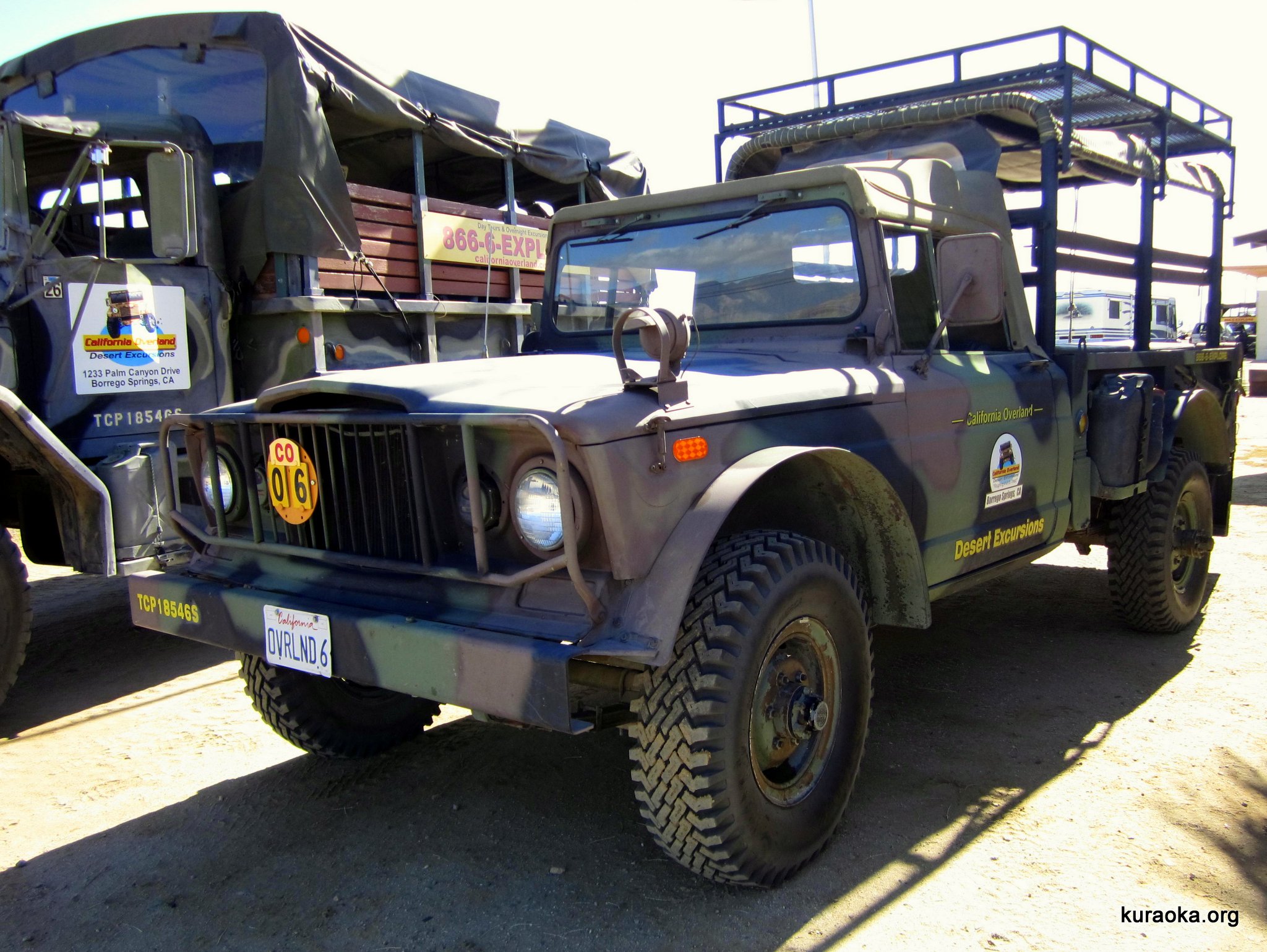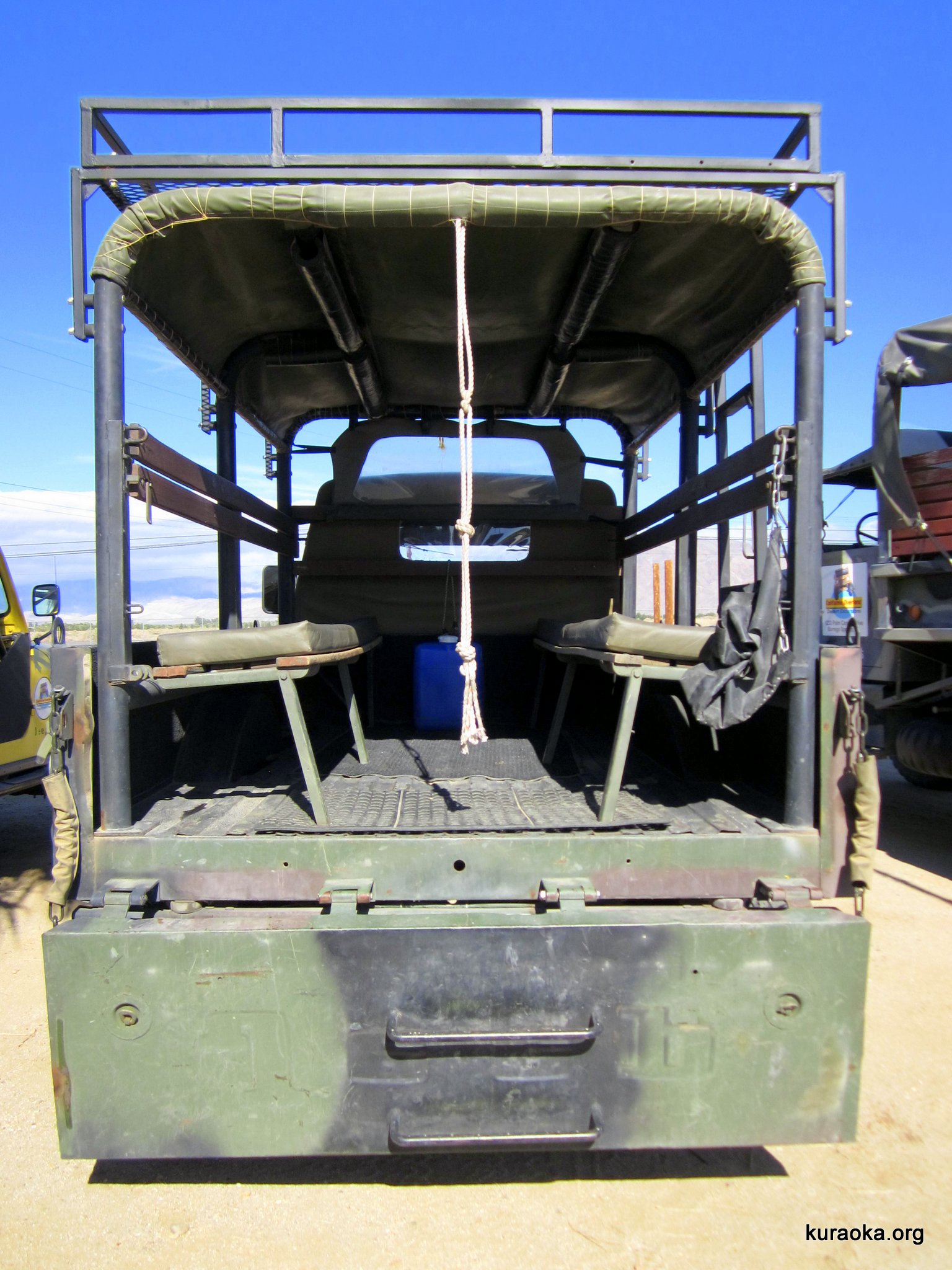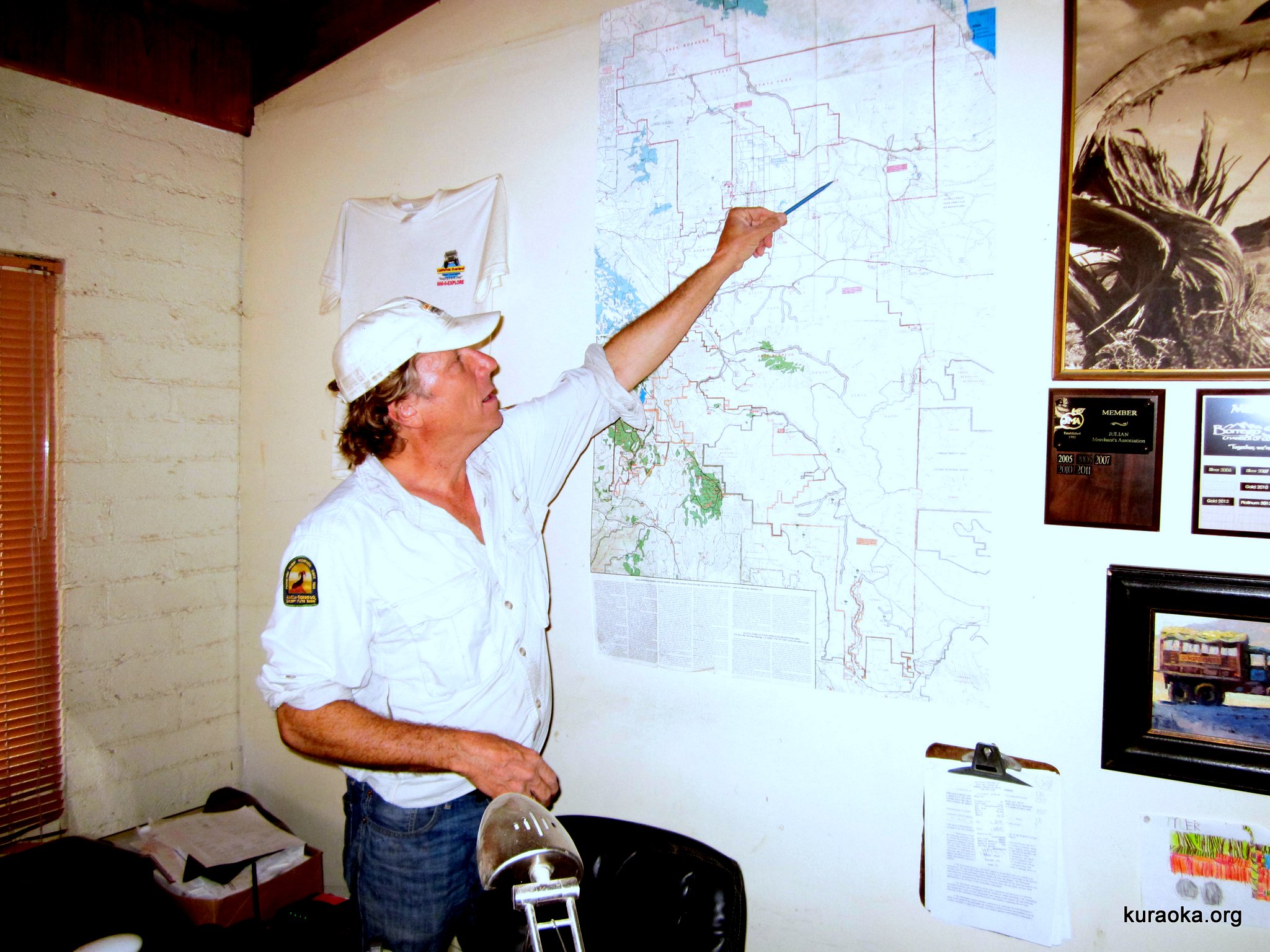 We headed down the highway and turned off onto a sandy dirt road. We went past some "closed area" signs – California Overland is an authorized park concessionaire, and is allowed in the closed areas – to Clark Dry Lake Bed.
Geologically speaking, Clark Dry Lake Bed's dryness is fairly recent. Joe told us that until about 8,000 years ago, well within the reach of mankind's memory, it was a shimmering, deep, freshwater lake. European explorers and American settlers of past centuries scoffed at native American legends of a watery Eden filled with plentiful game; scientists of this century proved those legends to be true.
The dry lake bed was used to train naval aviators in WWII. Four large arrowheads made of rocks mark the cardinal compass points from the air, and concentric rings surround a target area. There are two crumbling remains of "rake stations," fortified positions from which observers used a rake-like sighting device to triangulate the accuracy of student fighter pilots as they made their approaches to the target, usually an old car, and then made their strafing runs, raining streams of .50-caliber bullets.
That this was an actively dangerous area is evident by the scars of a wartime collision between two P-40 trainers. Joe didn't know if the pilots made it, but thought it unlikely. The impact crater survives, though, surrounded by small debris; the larger chunks were hauled out by the Navy except the fuel bladders. In addition to the black, decaying rubberized bladders, we found bits of wiring, scraps of fuselage, and a few 50-caliber bullets and shells. Joe handed around items for us to examine, and we left everything where it was found.
The lake bed, Joe explained, owes its existence to the San Jacinto Fault, considered to be the most-active fault line in California. Among the other signs of its hyperactivity are the Santa Rosa Mountains that rim one side of the dry lake bed and soar up to 8,700 feet in elevation. The white layer visible is marble, the oldest such deposit in California, made up of compressed limestone from the Pleistocene.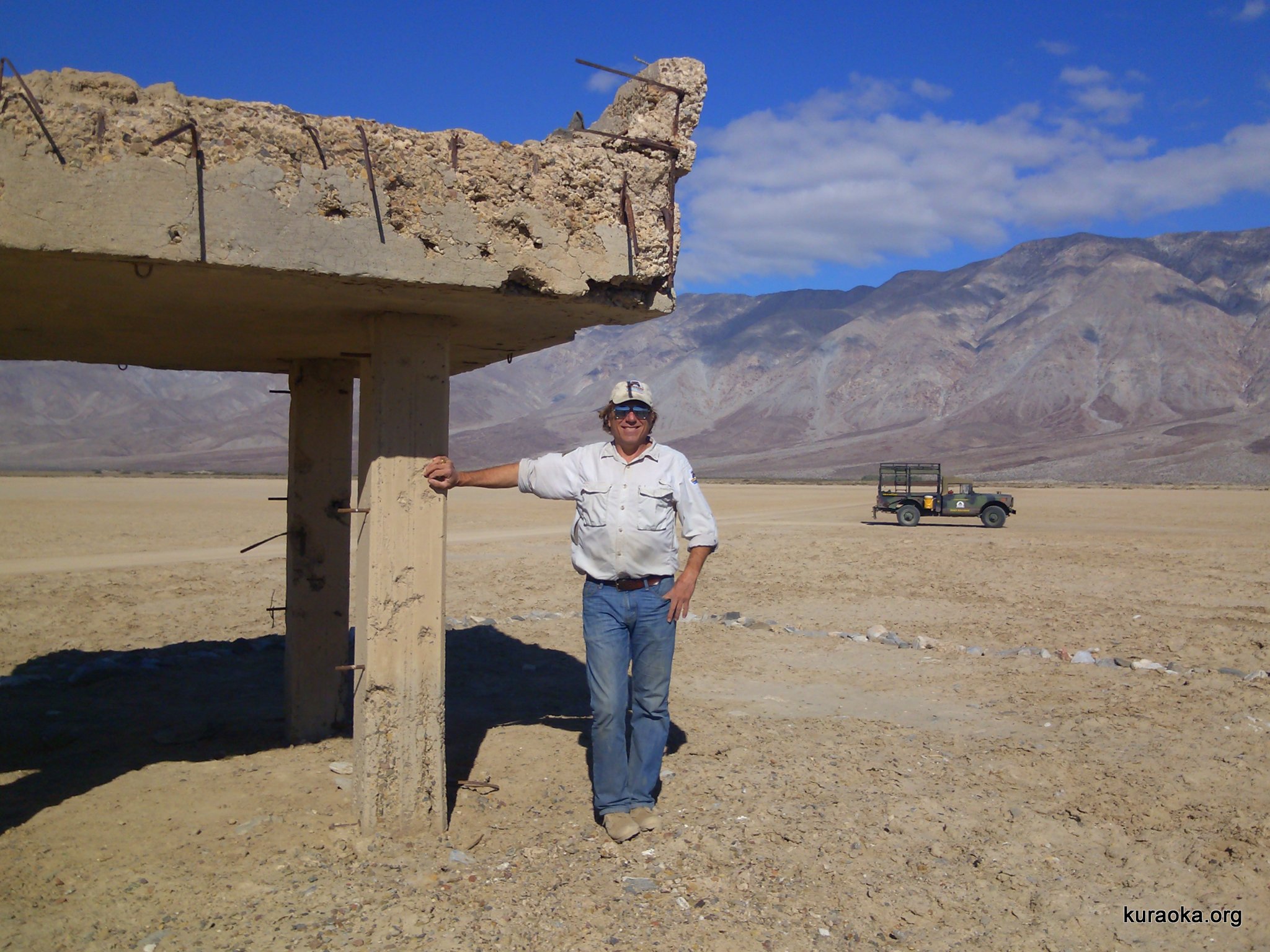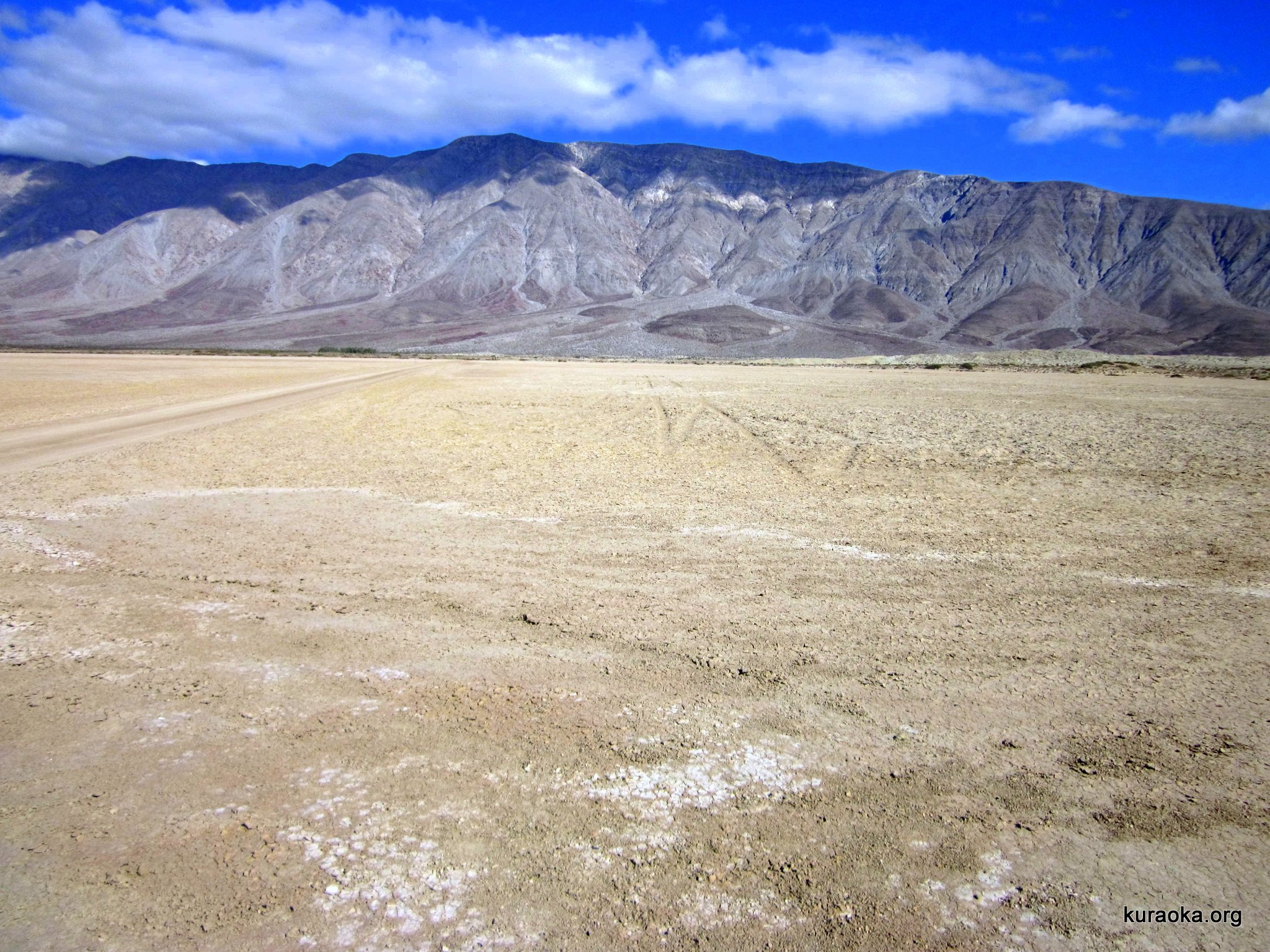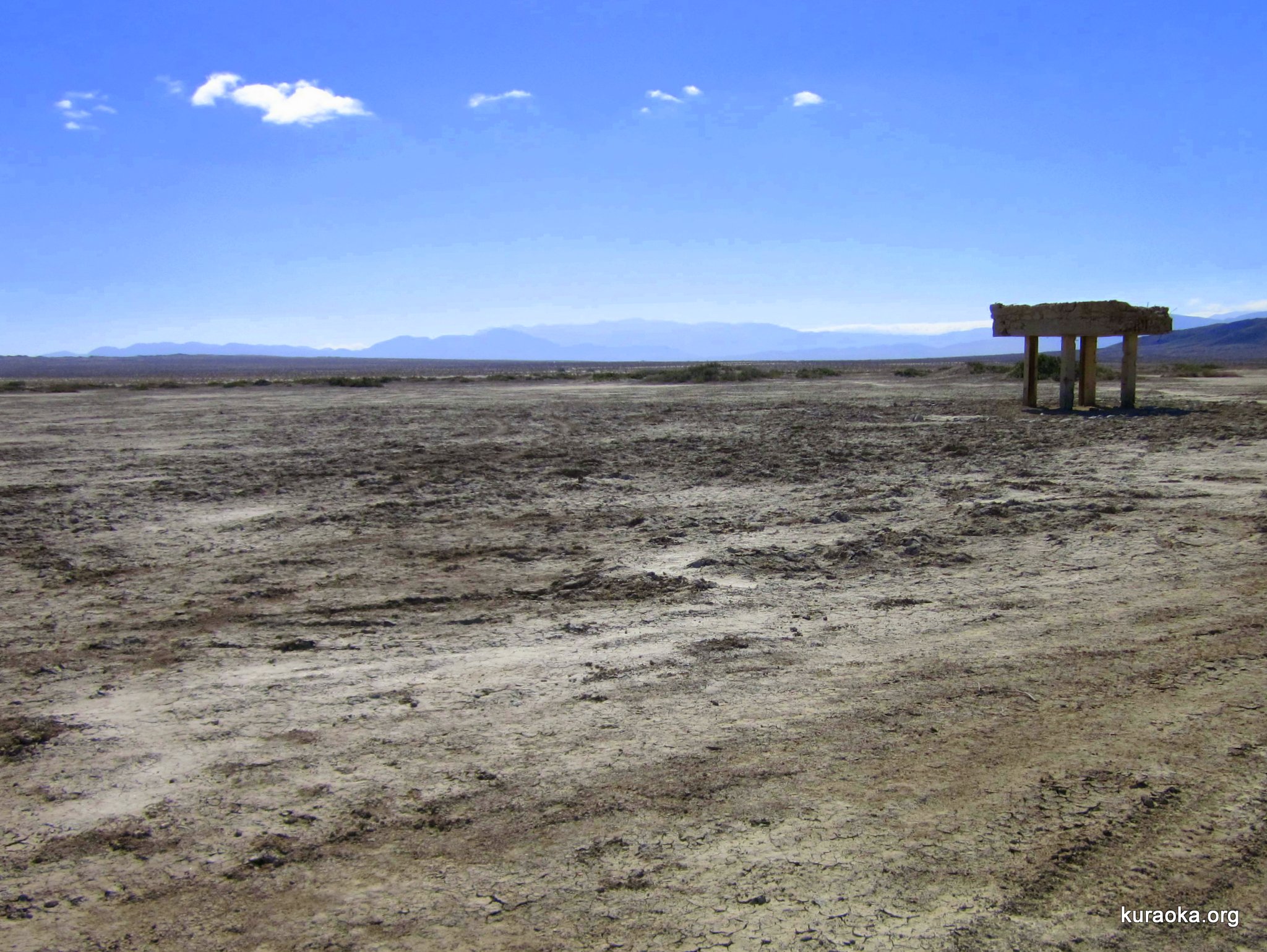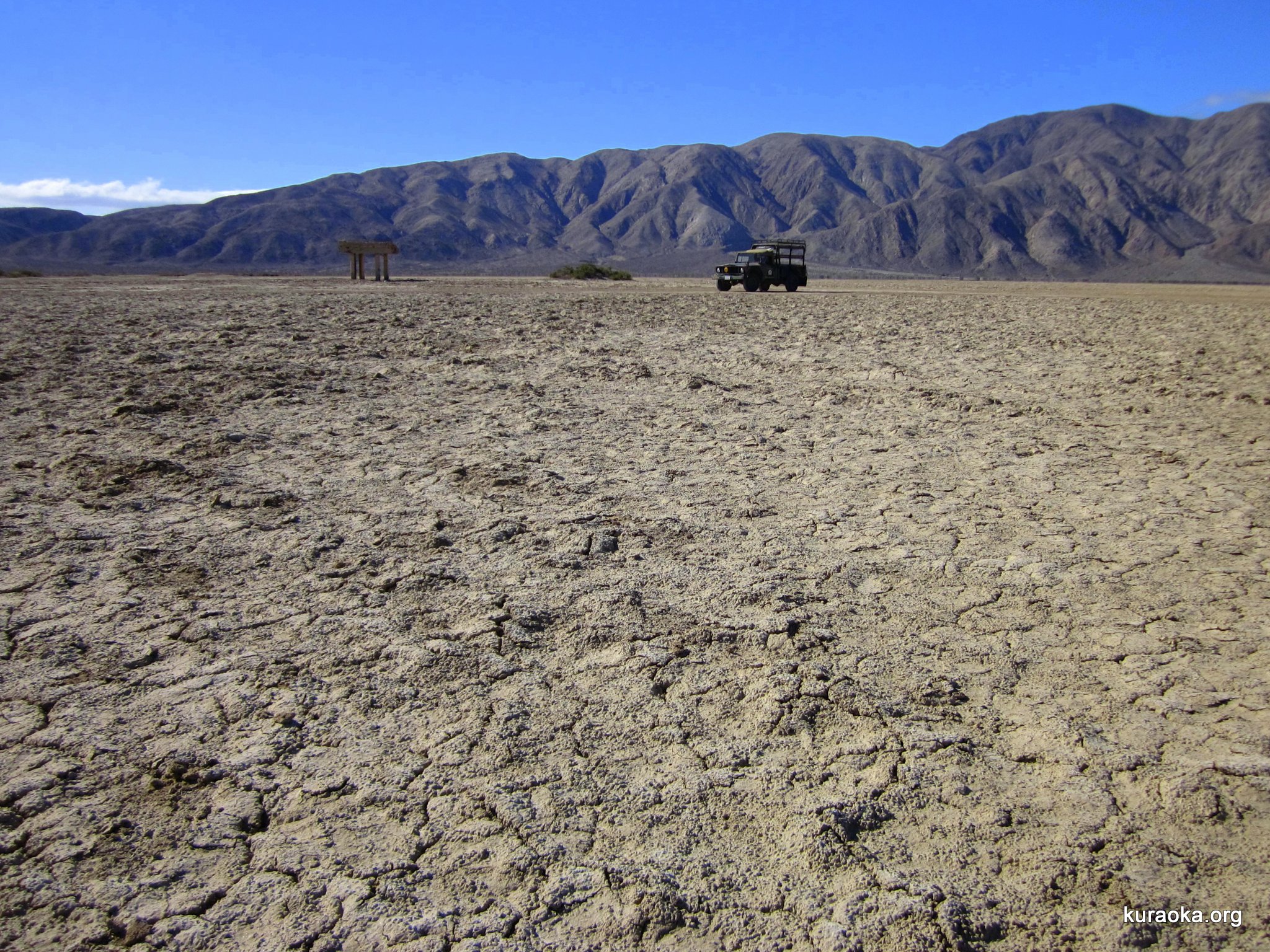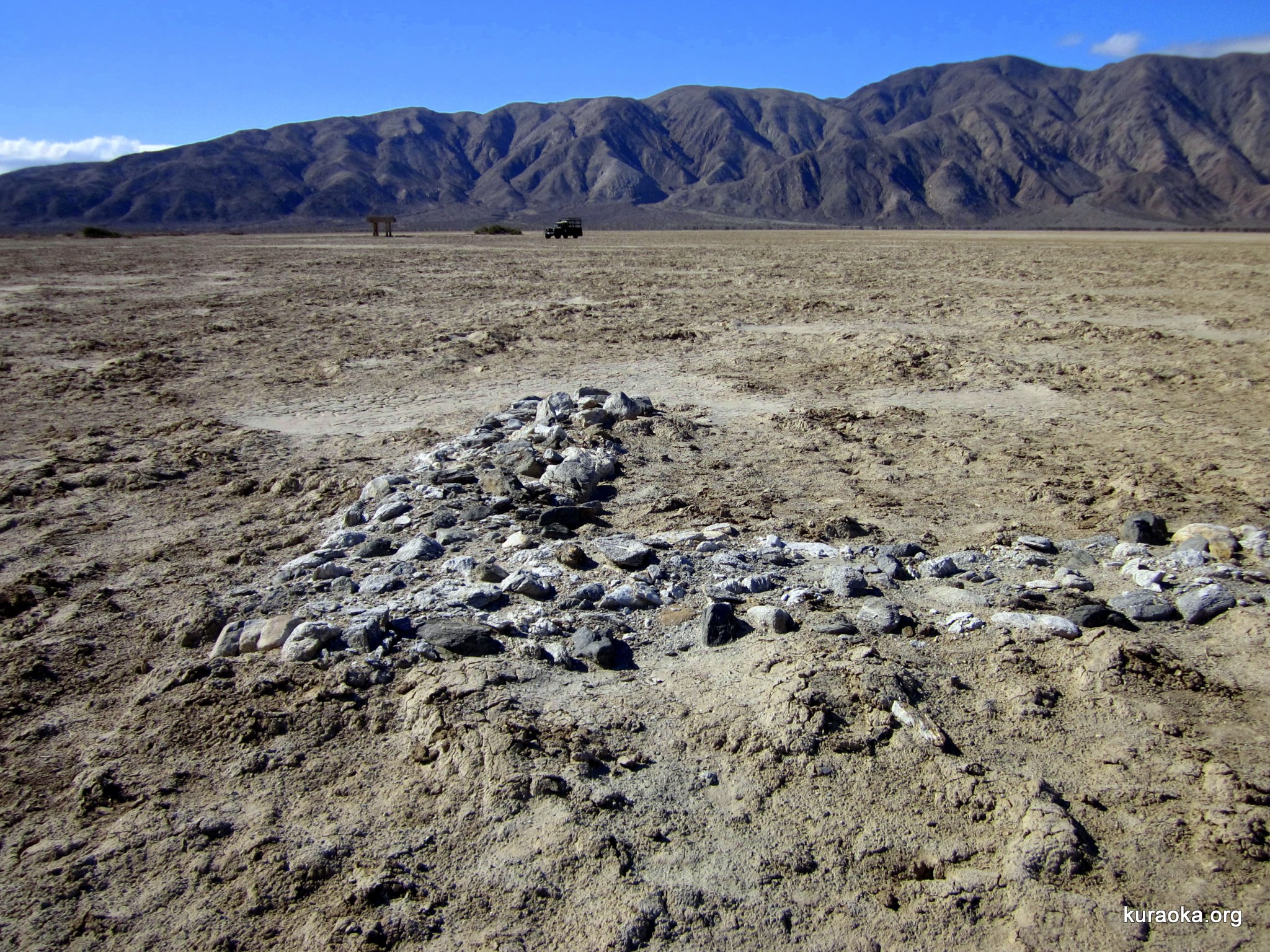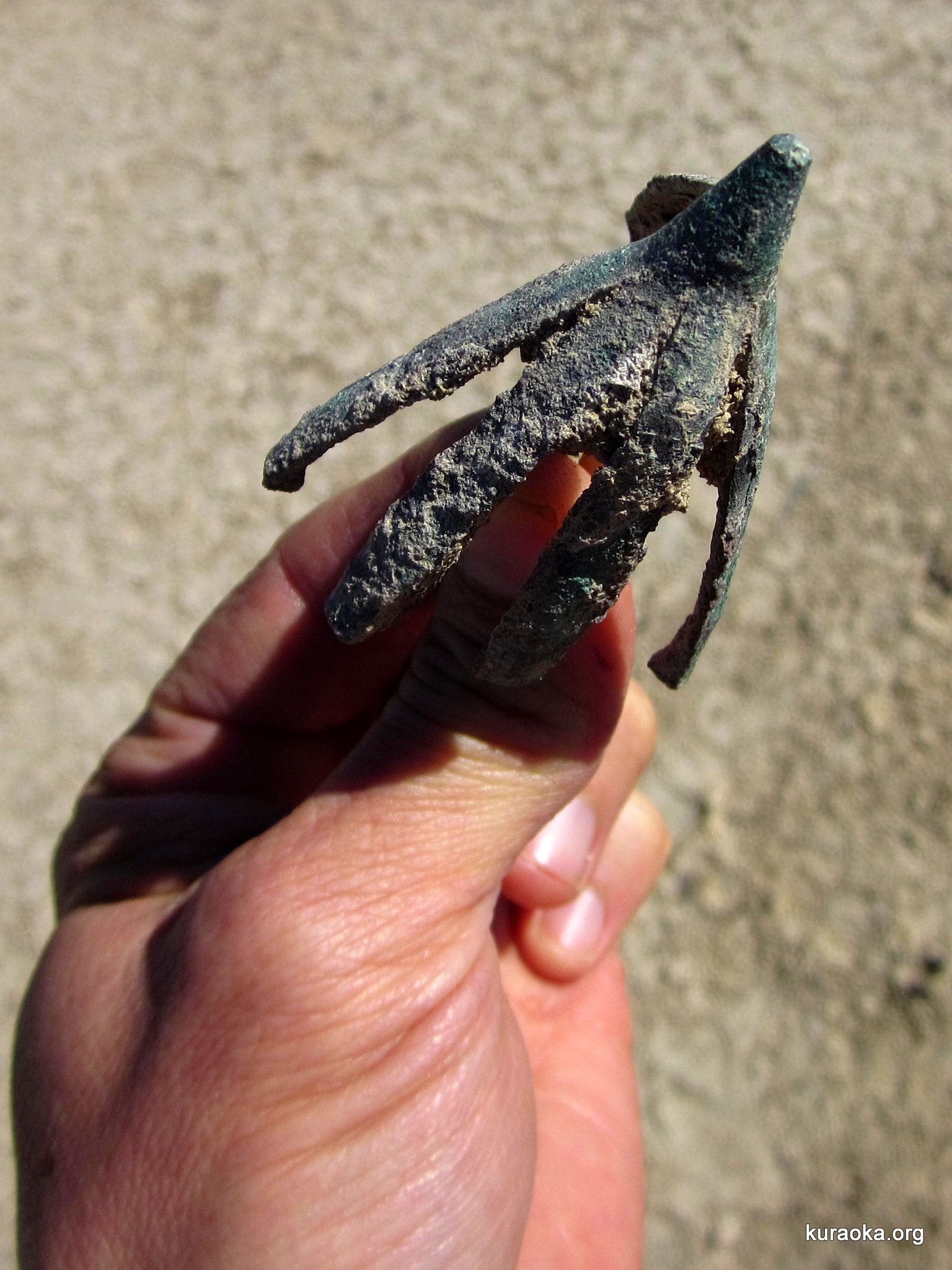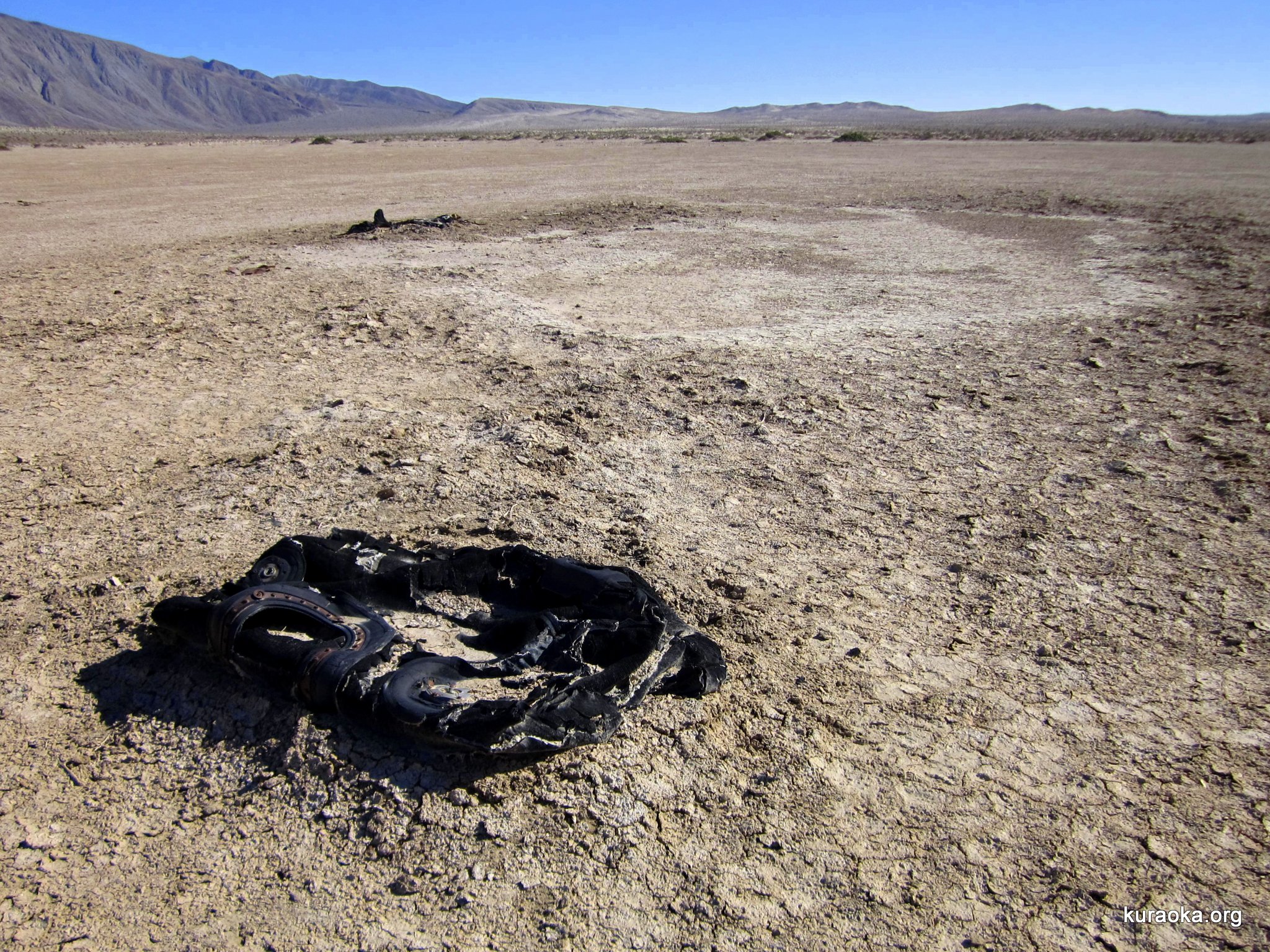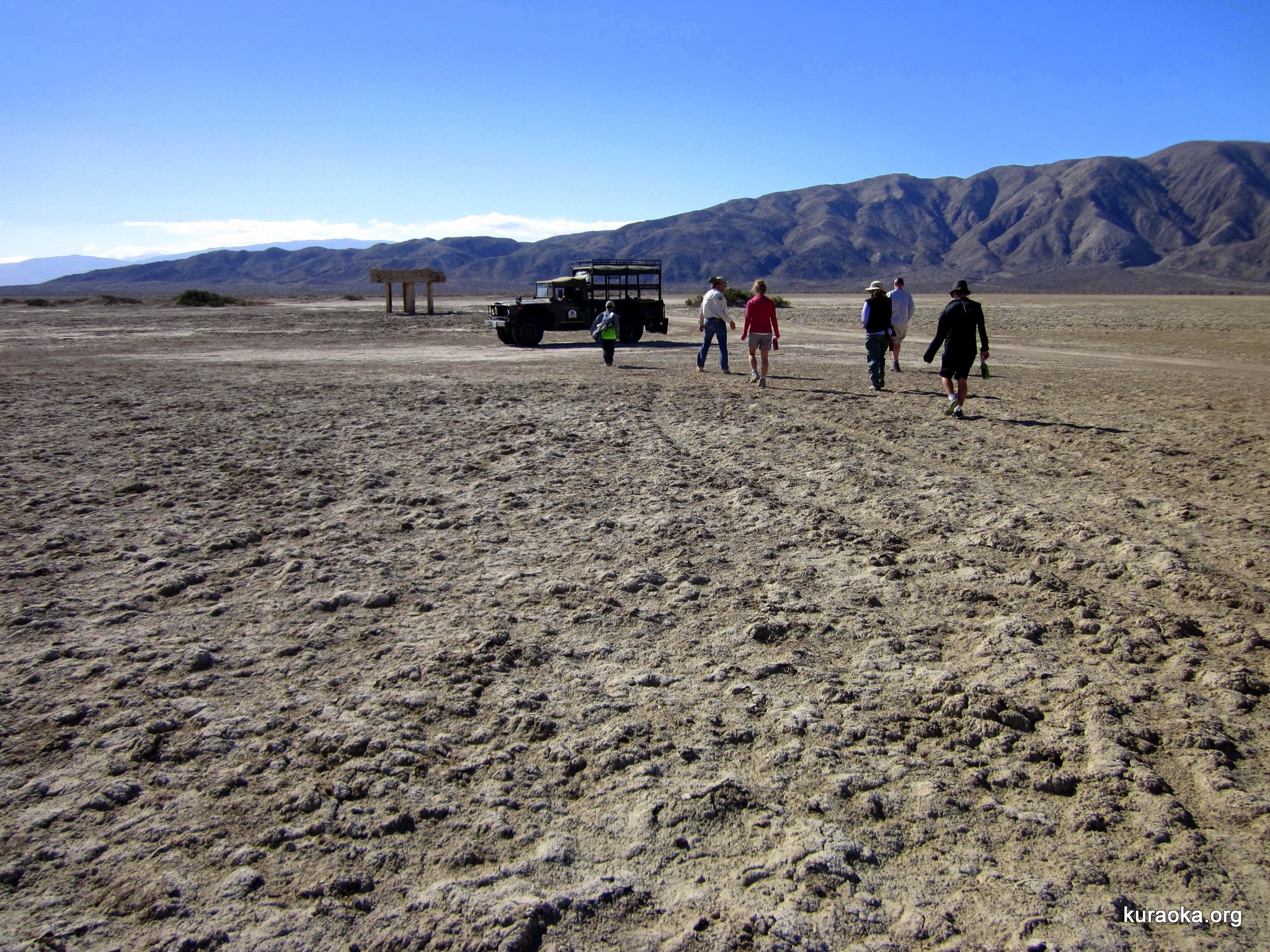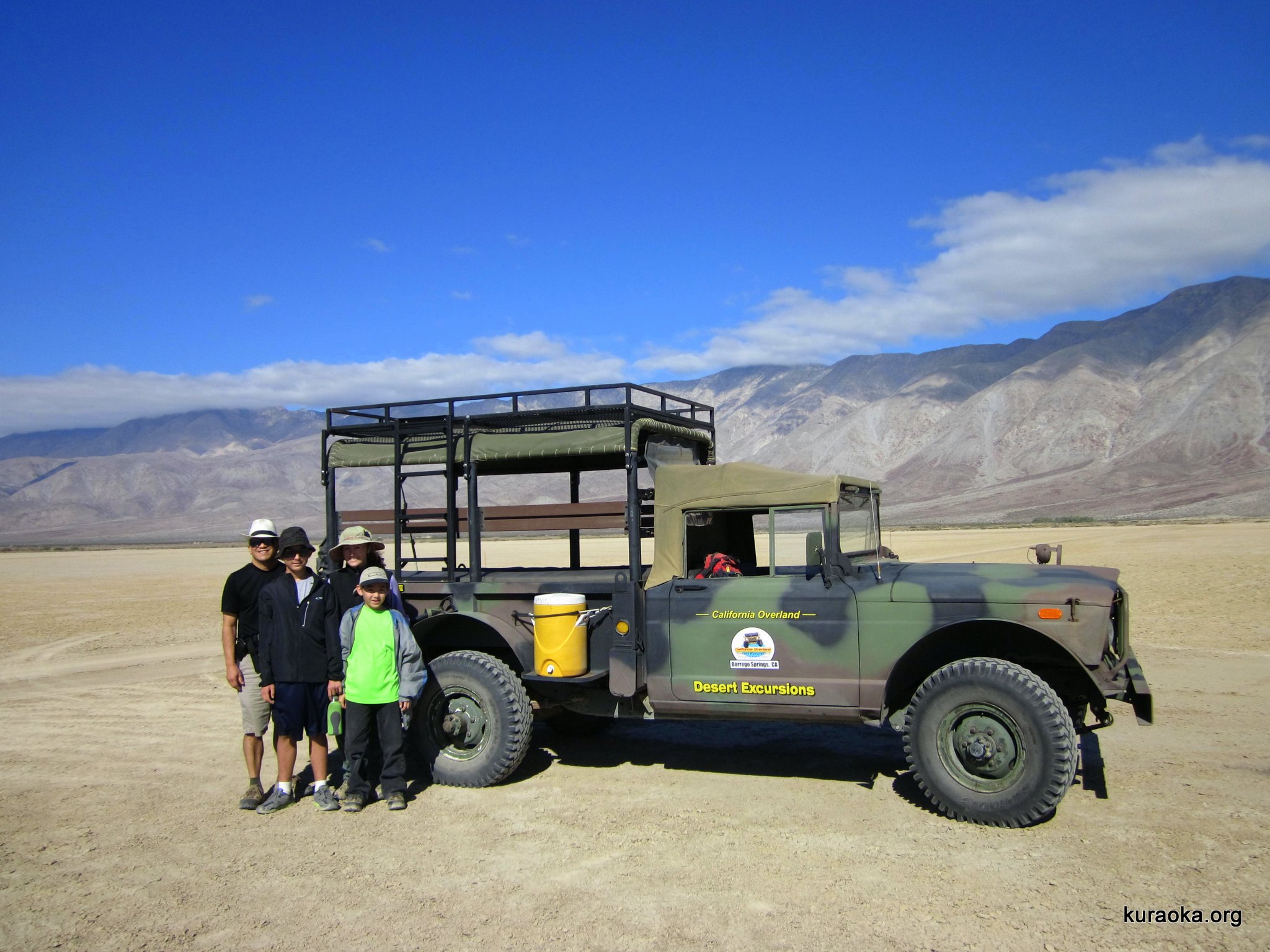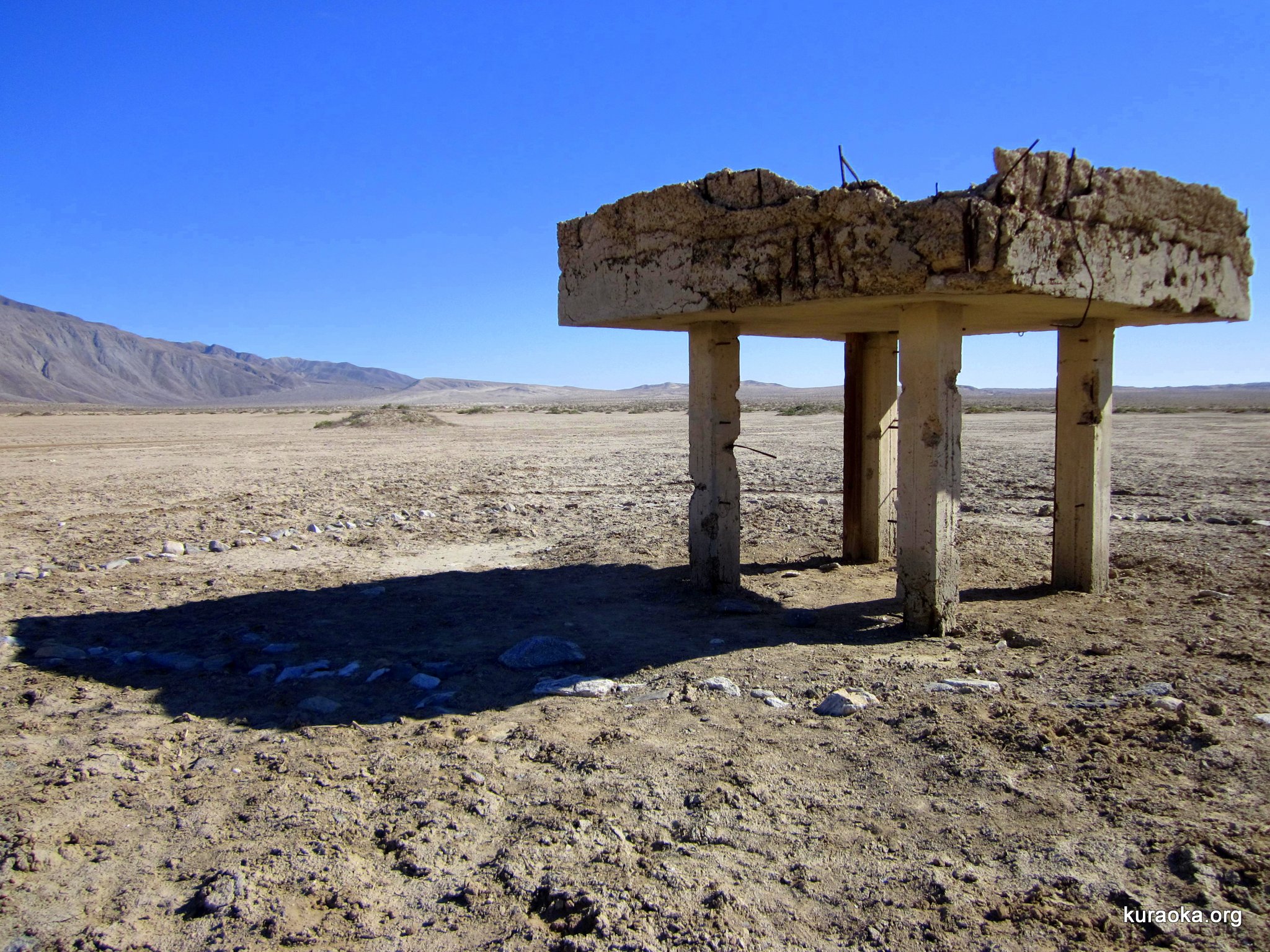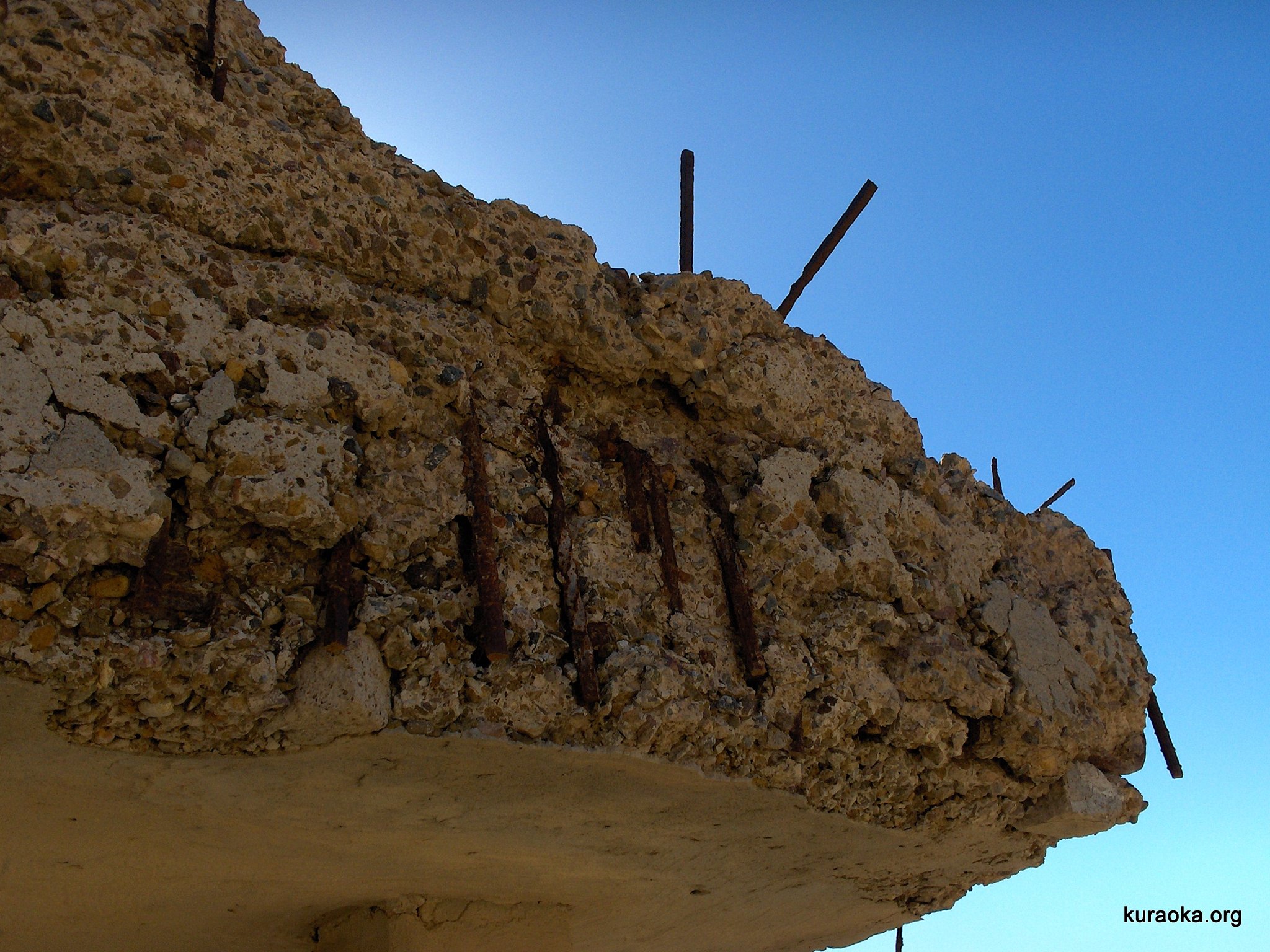 As we wound our way through canyons and washes, Joe stopped to point out smoke trees, mesquite, and Palo Verde trees with their distinctive green branches and trunks – an adaptation that allows them to photosynthesize food without moisture-robbing leaves. We learned that creosote bush leaves are coated in a moisture-activated resin. When it gets the slightest bit wet, the otherwise watertight resin opens. Prompted by Joe, we all took a whiff of dry creosote leaves, then exhaled into a handful and inhaled the scent. Just the moisture in one's breath was enough to open the resin and release the scent of creosote: the predominant aroma of a desert rainstorm. We also stopped to climb and inch our way along a high, narrow finger in the badlands. That was one of Leo's favorite parts.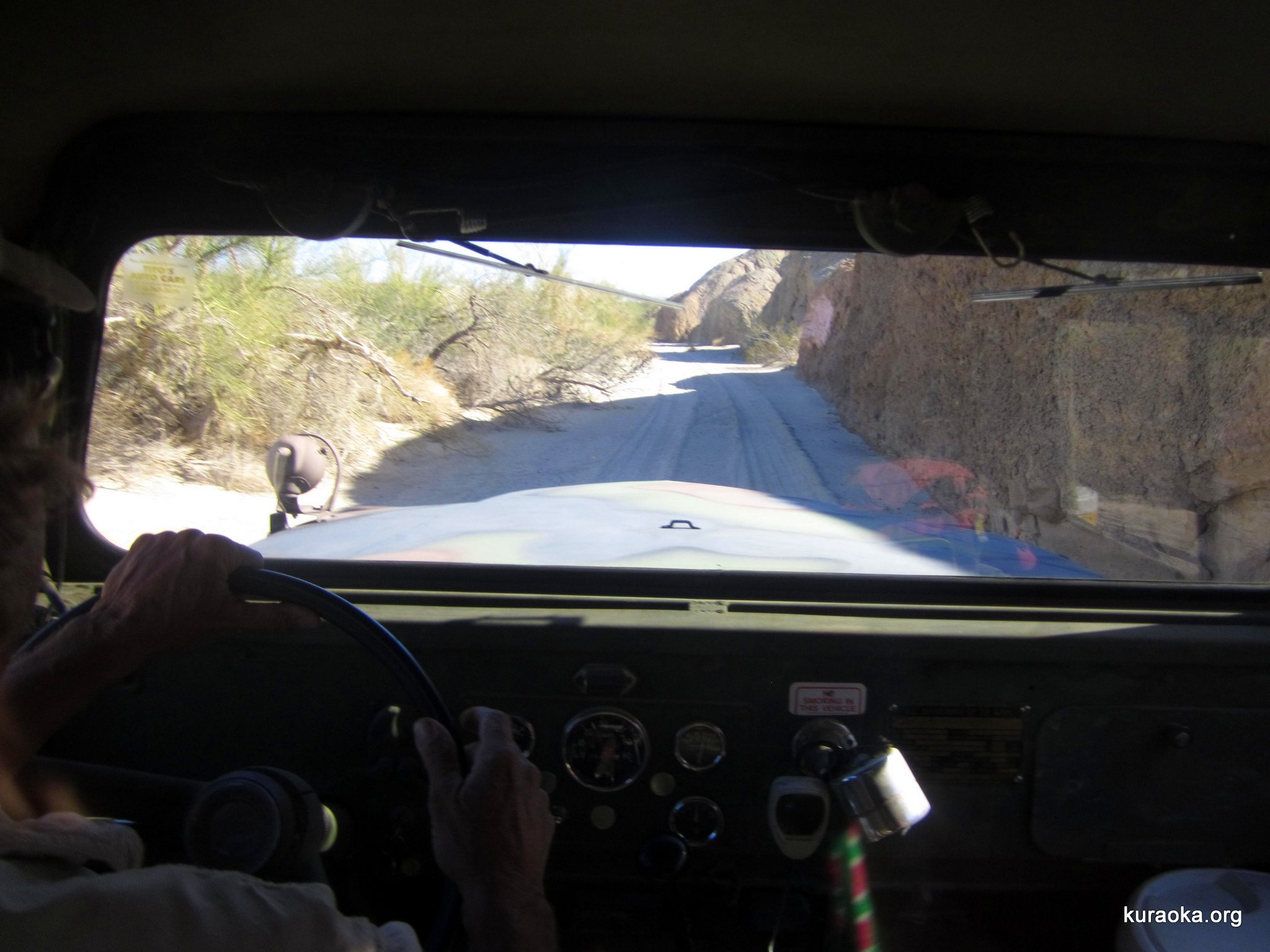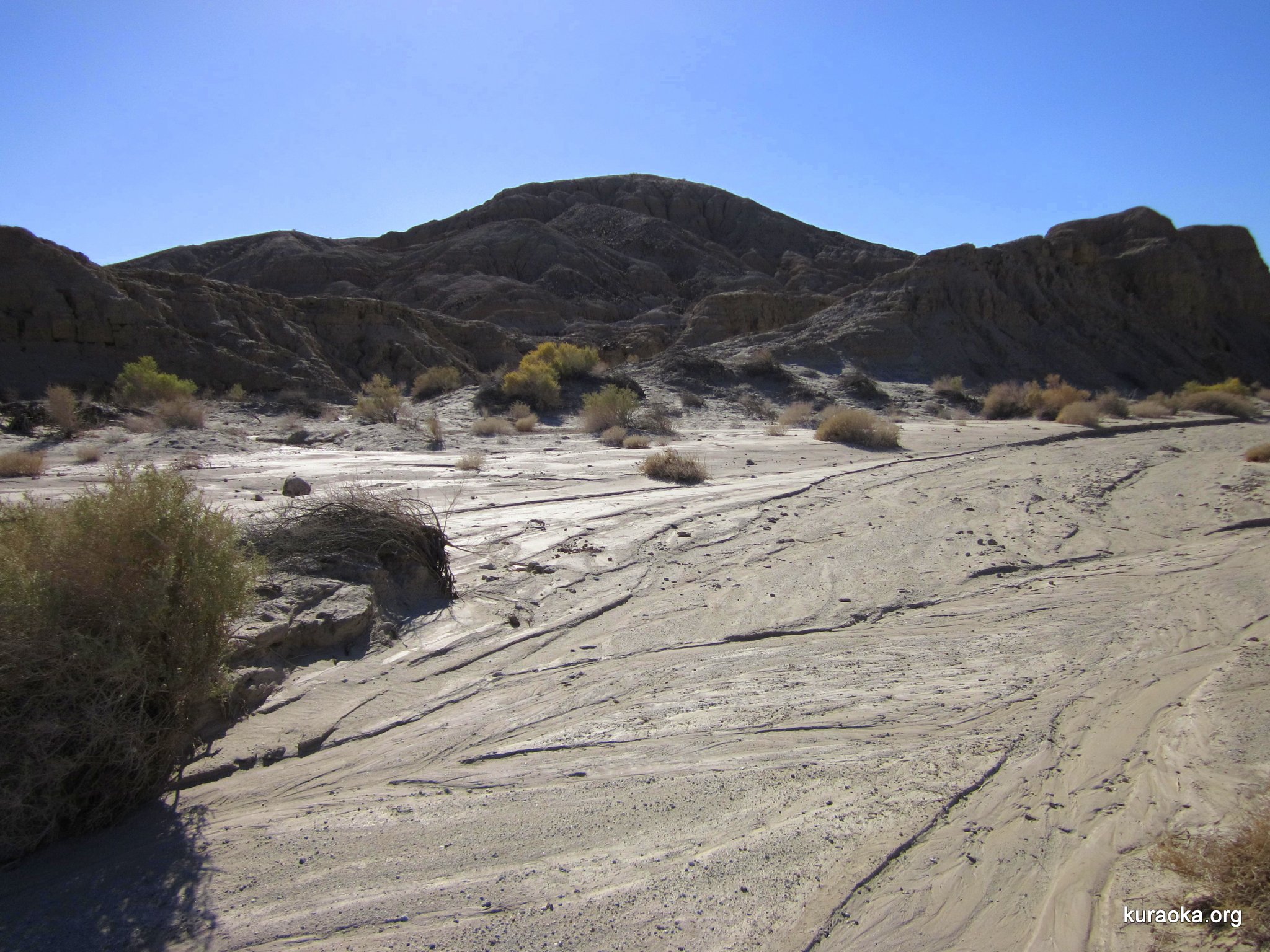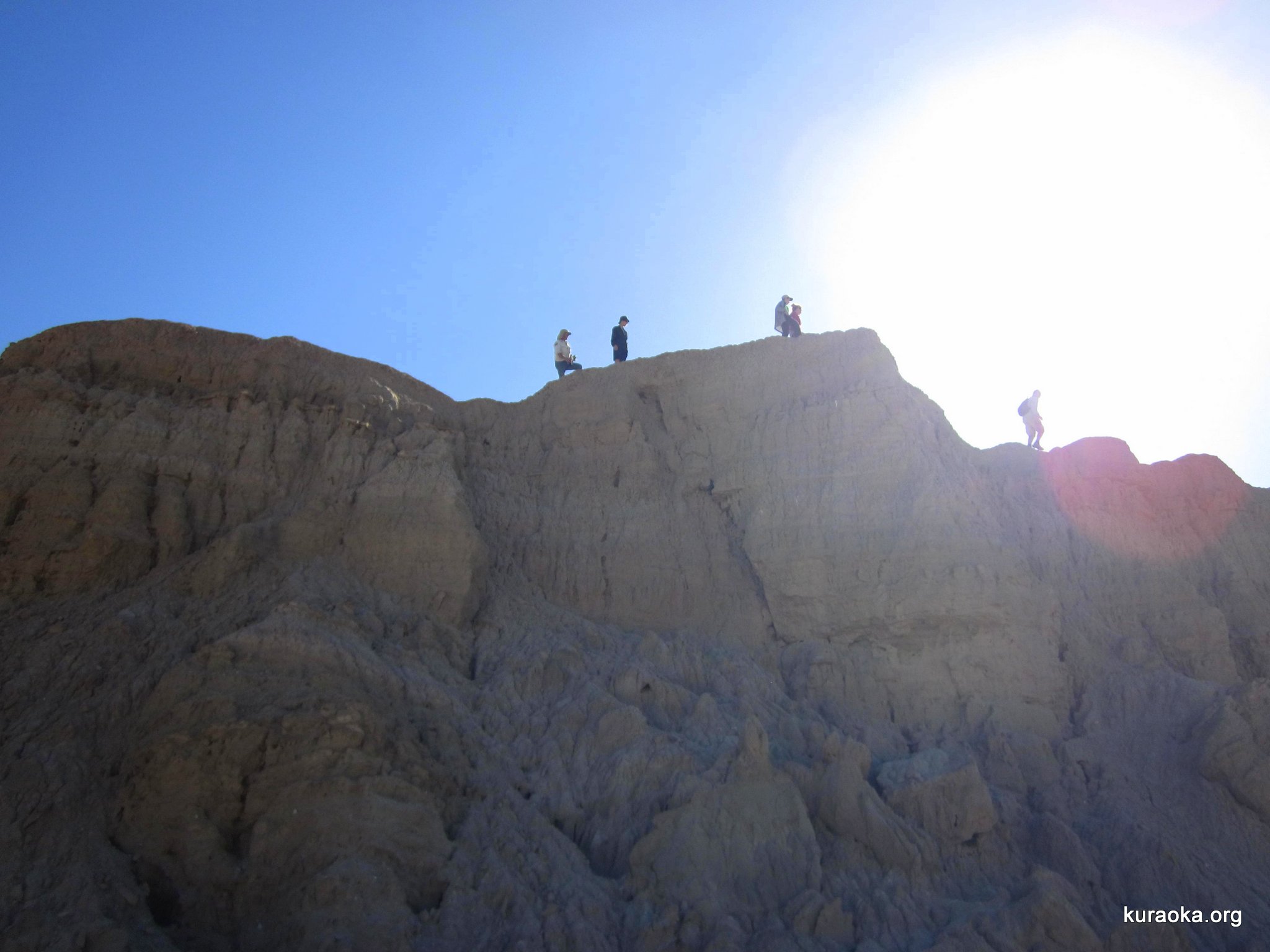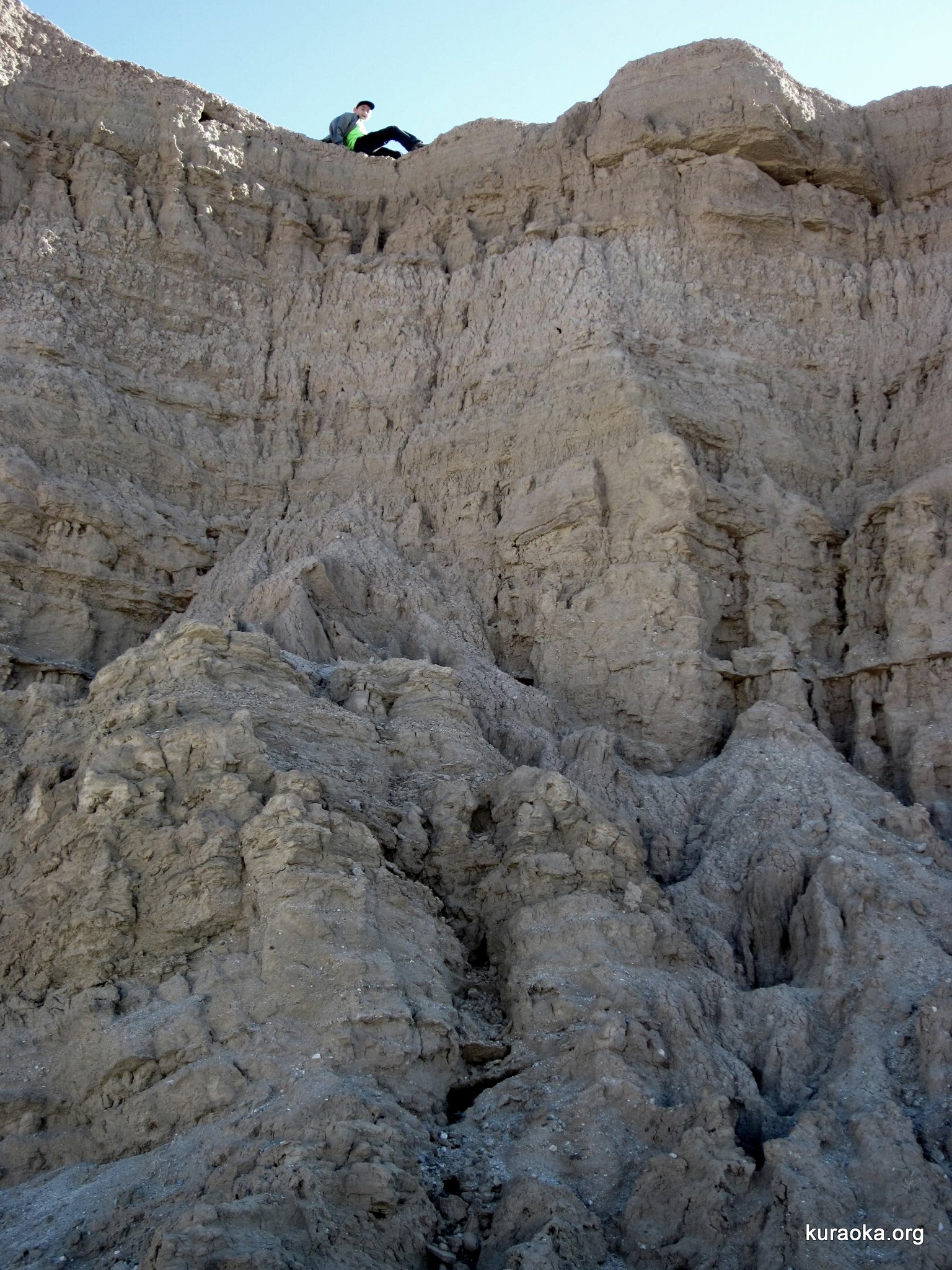 The highlight of the off-road trip was a visit to Font's Point, overlooking the badlands. Spectacular!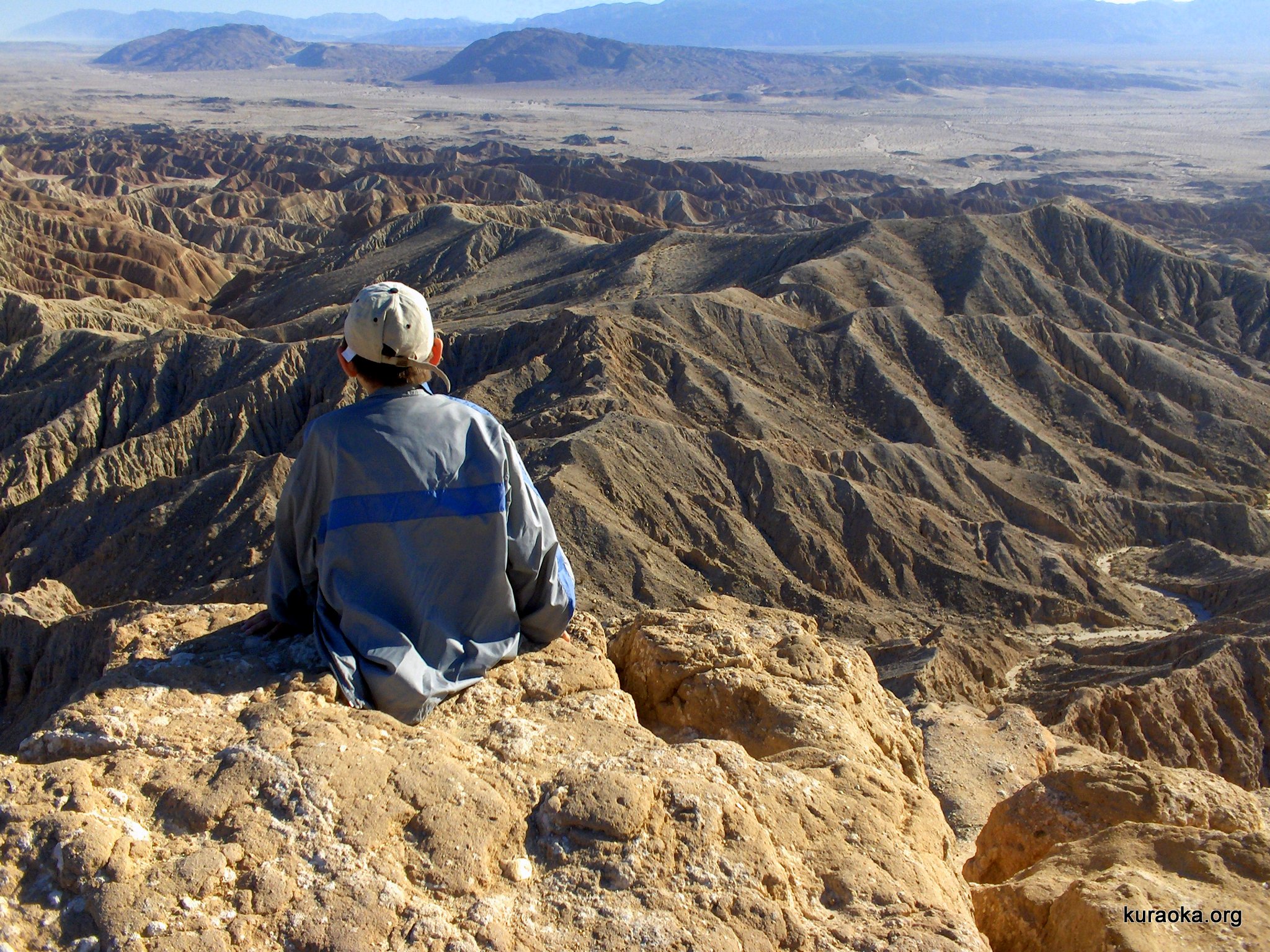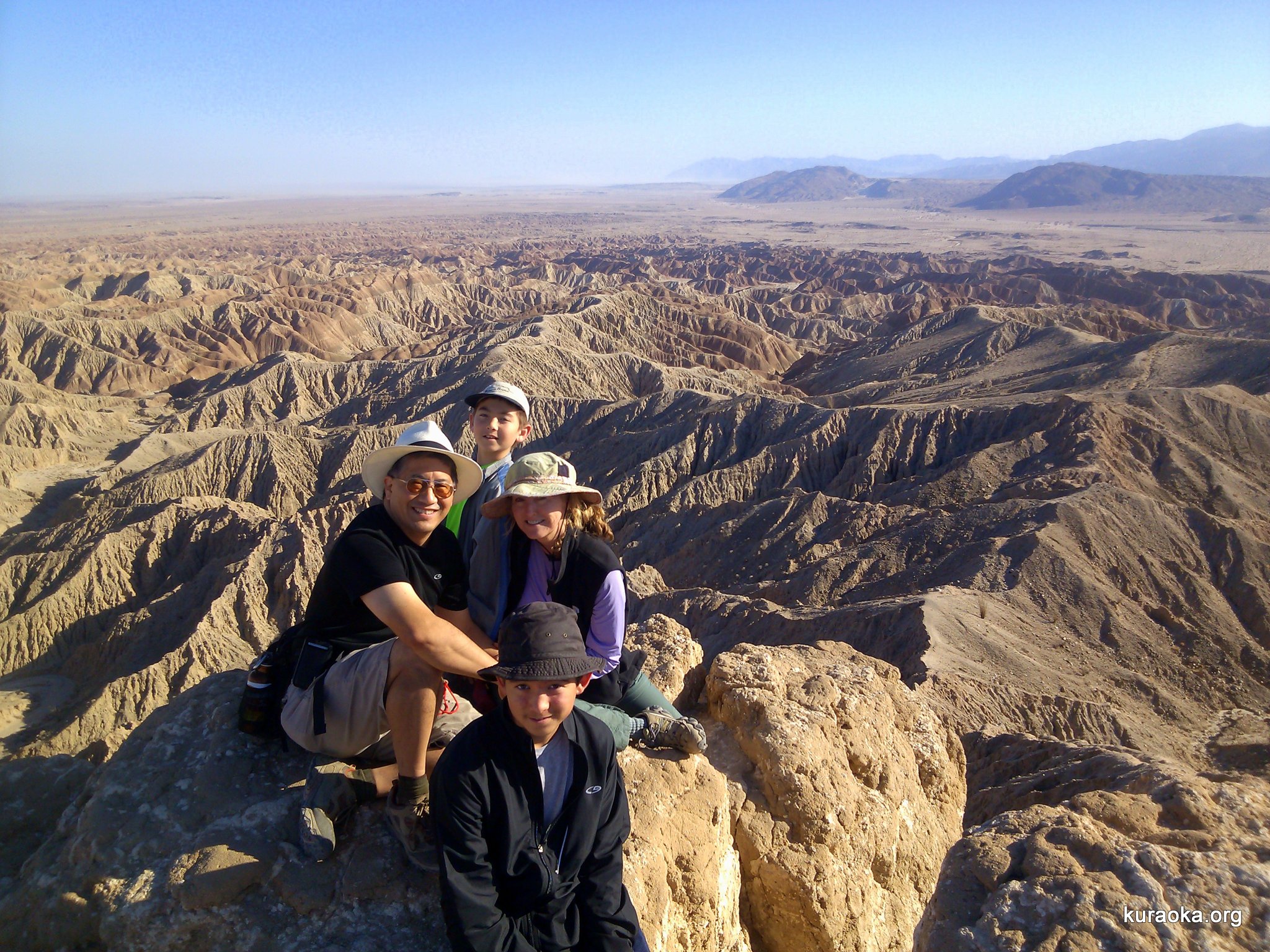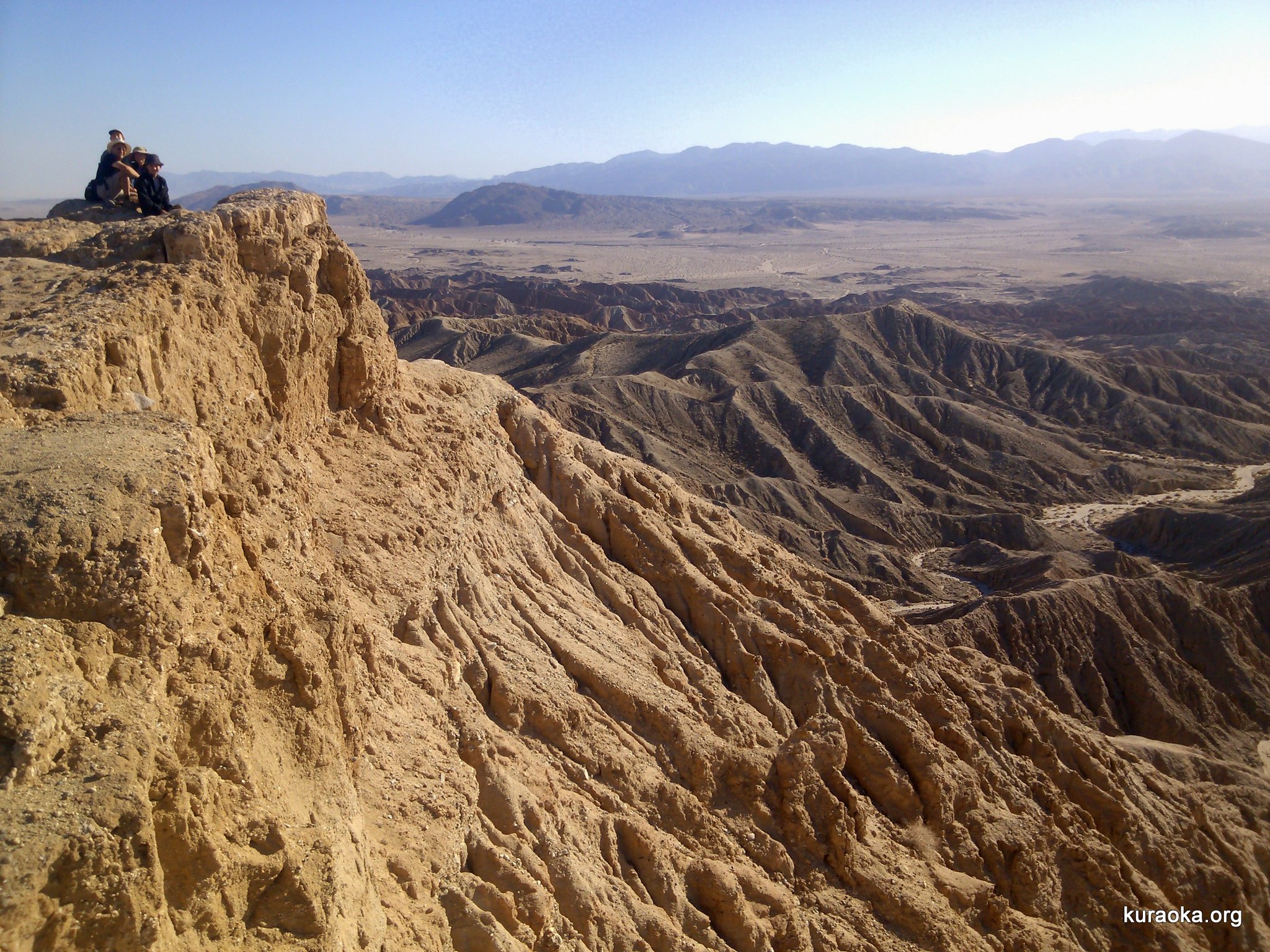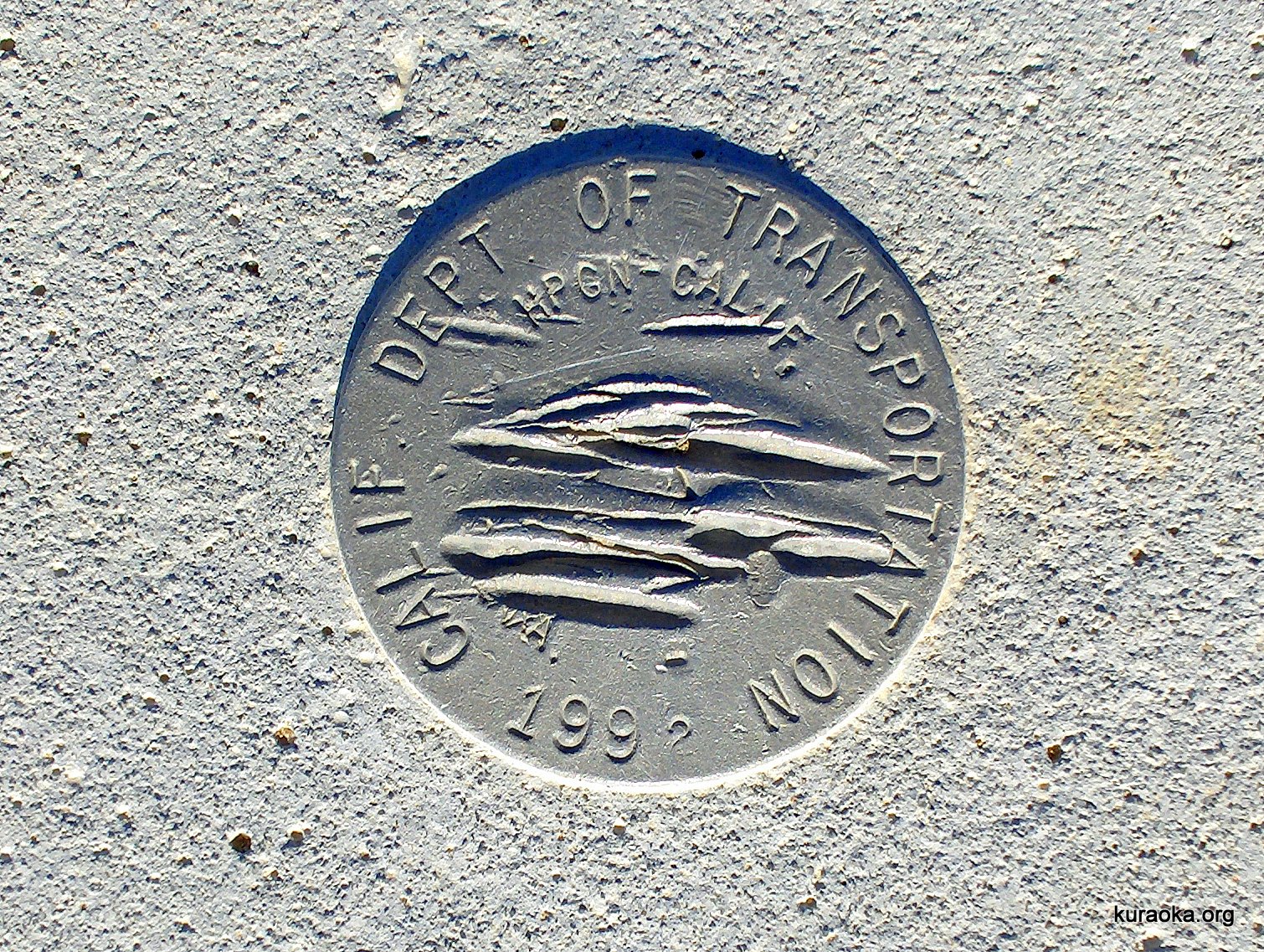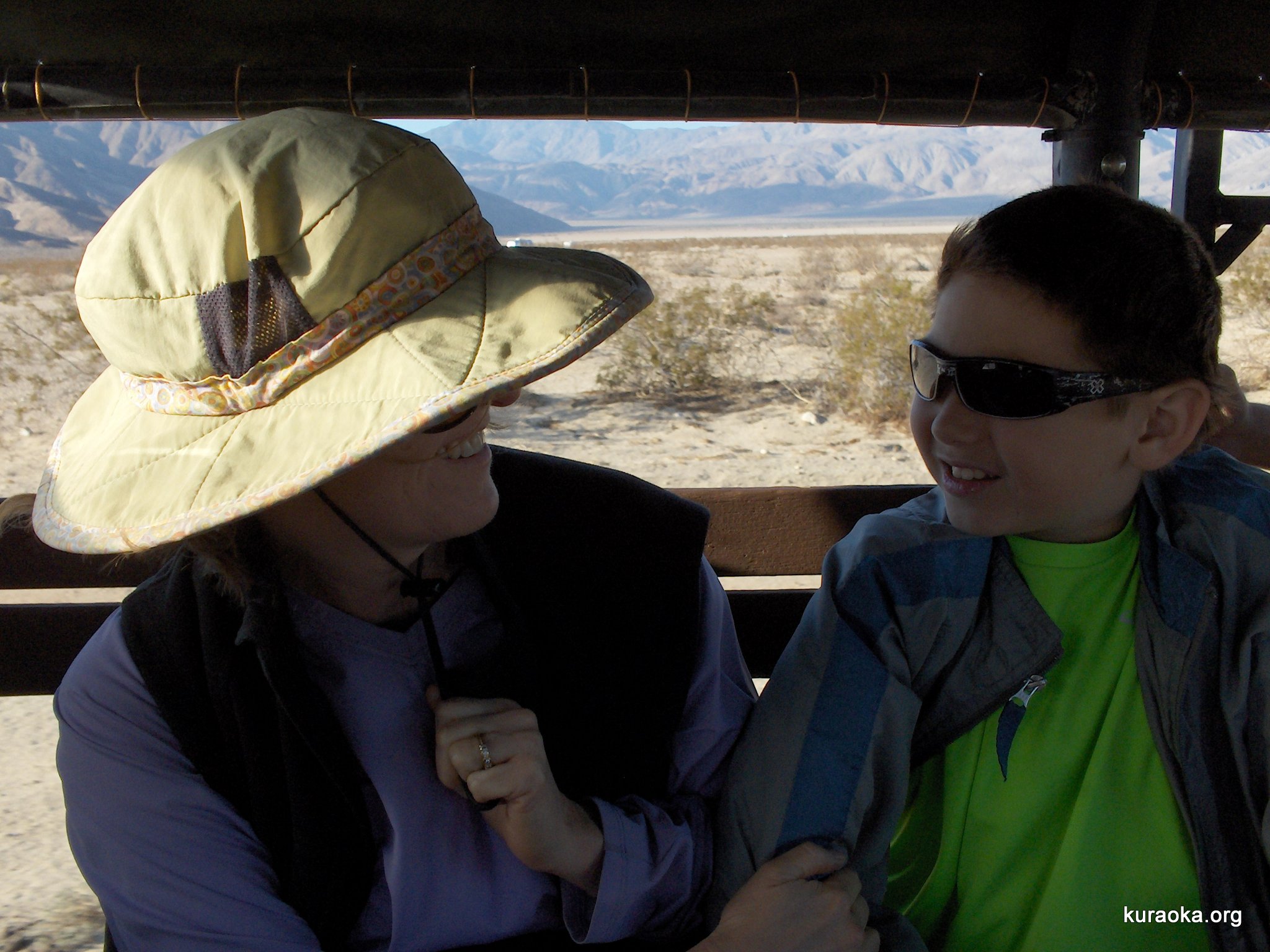 We had dinner at Carlee's on the main drag in Borrego Springs. Roy had a BBQ Bacon Cheeseburger with fries, Leo had the same only with homemade chips, Ondine had fish tacos, and John had the Southwester Chicken Caesar. The burgers were excellent: juicy and piping hot, with plenty of crispy lettuce and fresh sliced tomatoes. The fish tacos were likewise very fresh and tasty, with a crisp coating to the fish and lots of spicy salsa. With two teas and two milks, the tab came to about $80 with tip.
But the day wasn't over! We had scheduled stargazing with famous astronomer Dennis Mammana (formerly with the Smithsonian). Unfortunately, the moon was full – actually the worst situation for either stargazing or moongazing – and the winds that day had whipped up a lot of dust. So, despite Anza Borrego being one of only two dark-sky cities in the U.S., the seeing was sub-par.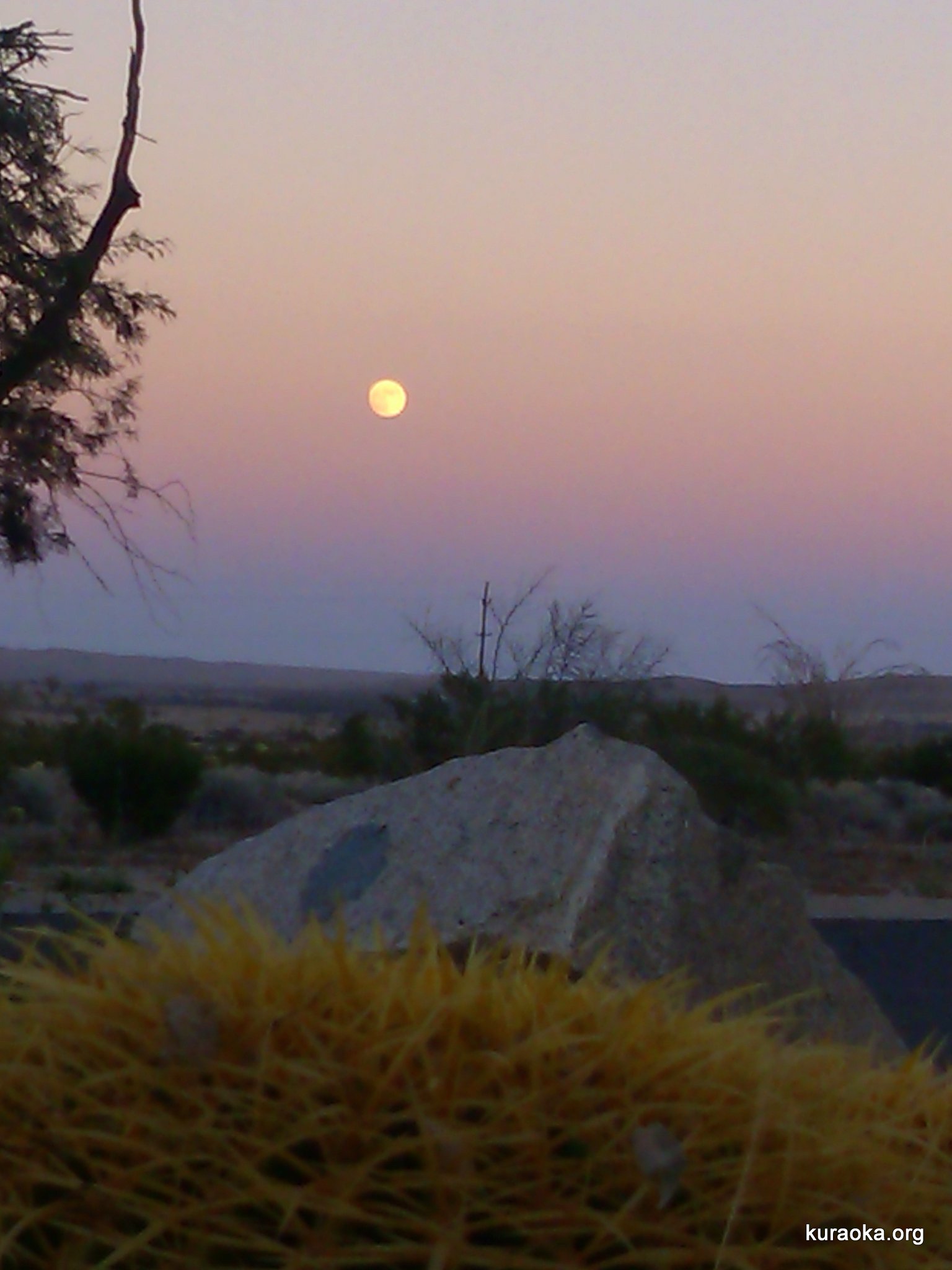 However, having a personal - and very patient - expert guide to the night sky was an invaluable treat. Dennis set up his 10" Dobsonian in the lee of an abandoned building just across the street from La Casa Del Zorro. From there, we observed the moon before turning our attention skyward.
The first stop was Albireo, a lovely bi-color double some 430 light-years distant, at the beak end of Cygnus (also called the Northern Cross). We looked at each of the bright stars in the Summer Triangle, the whole group low in the winter sky. We moved on to Cassiopeia, following one leg out to the always-stunning Double Cluster, over 7,000 light-years away. When the light from those stars first started heading Earthward, there may have been water in Clark Dry Lake Bed. It took considerable effort given its proximity to the full moon, but Dennis located the faint smudge of Andromeda and we had a look at starlight traveling to us from a galaxy about 2,500,000 light years away. When the light we saw was first emitted, Earth was in the early Pleistocene; that layer of solid marble in the Santa Rosa Mountains was mere limestone dust drifting to the bottom of a huge lake bed. We ended on a charming little asterism, the "coat hanger," a small cluster of stars. We all had binoculars and lawn chairs, which helped a lot. John went off to lie on the ground and gaze up through his AE 10x50s. Magic!
We got back to the casita around 9:00, and after putting the kints to bed, we ordered up a fire in the fireplace. Ahh! At last, a little second honeymoon!
Sunday checkout was at 11:00. We ran it to the last minute, savoring the pool and the furnishings. Indeed, the sheer cleanliness of the place was a respite from our daily lives. After we checked out, we walked around the resort. One nostalgic find was locating "Tamarisk," our honeymoon casita.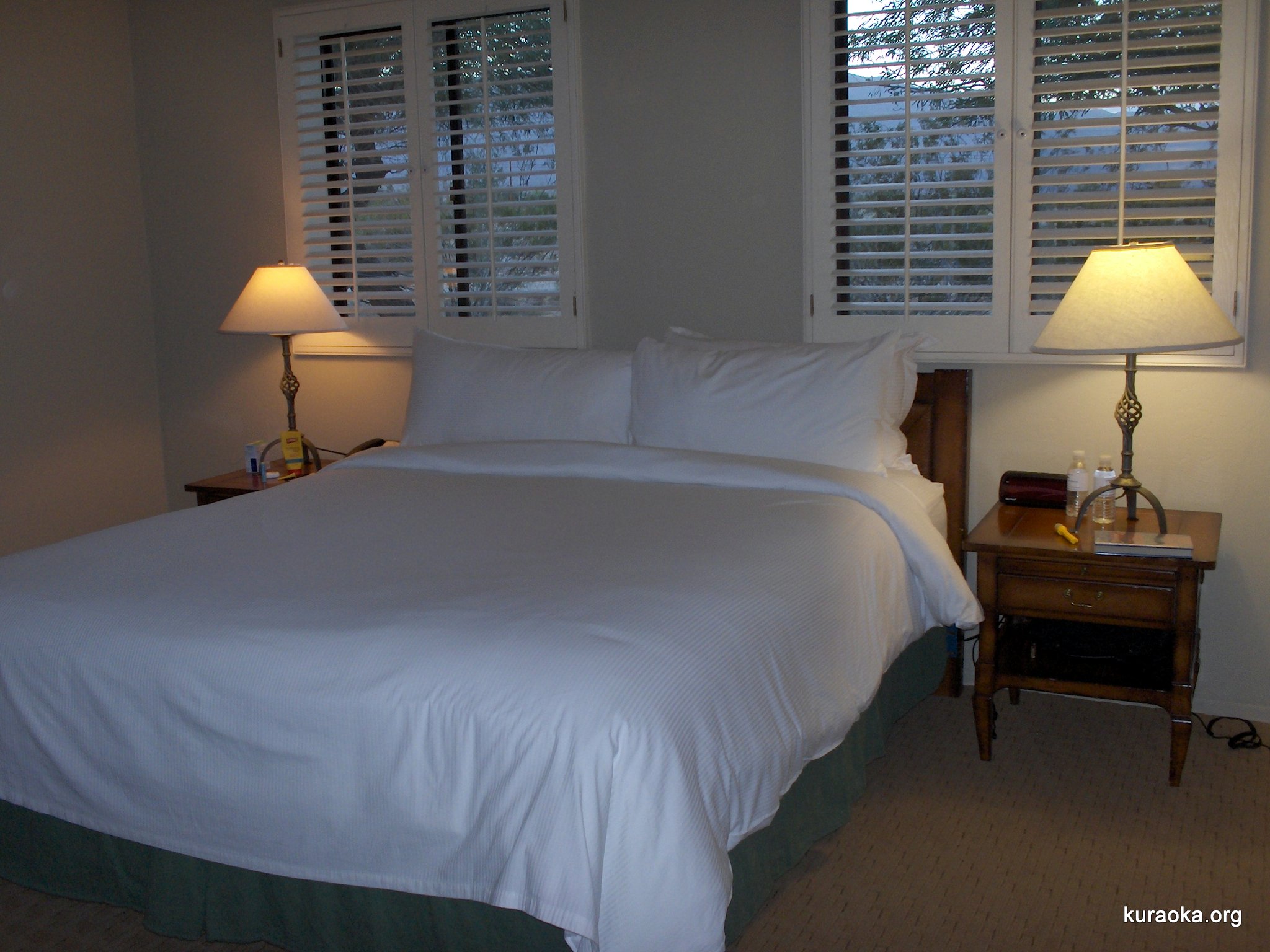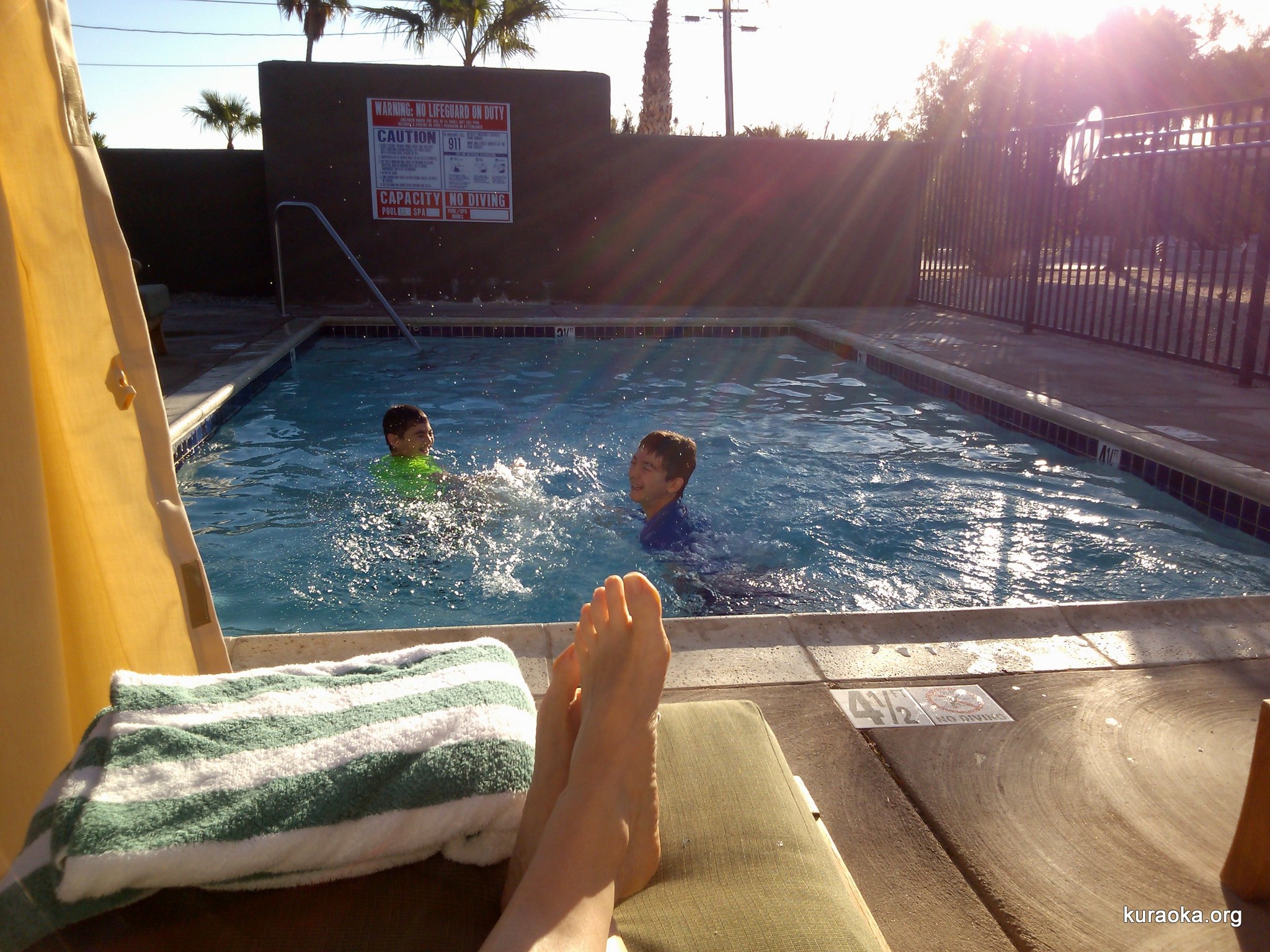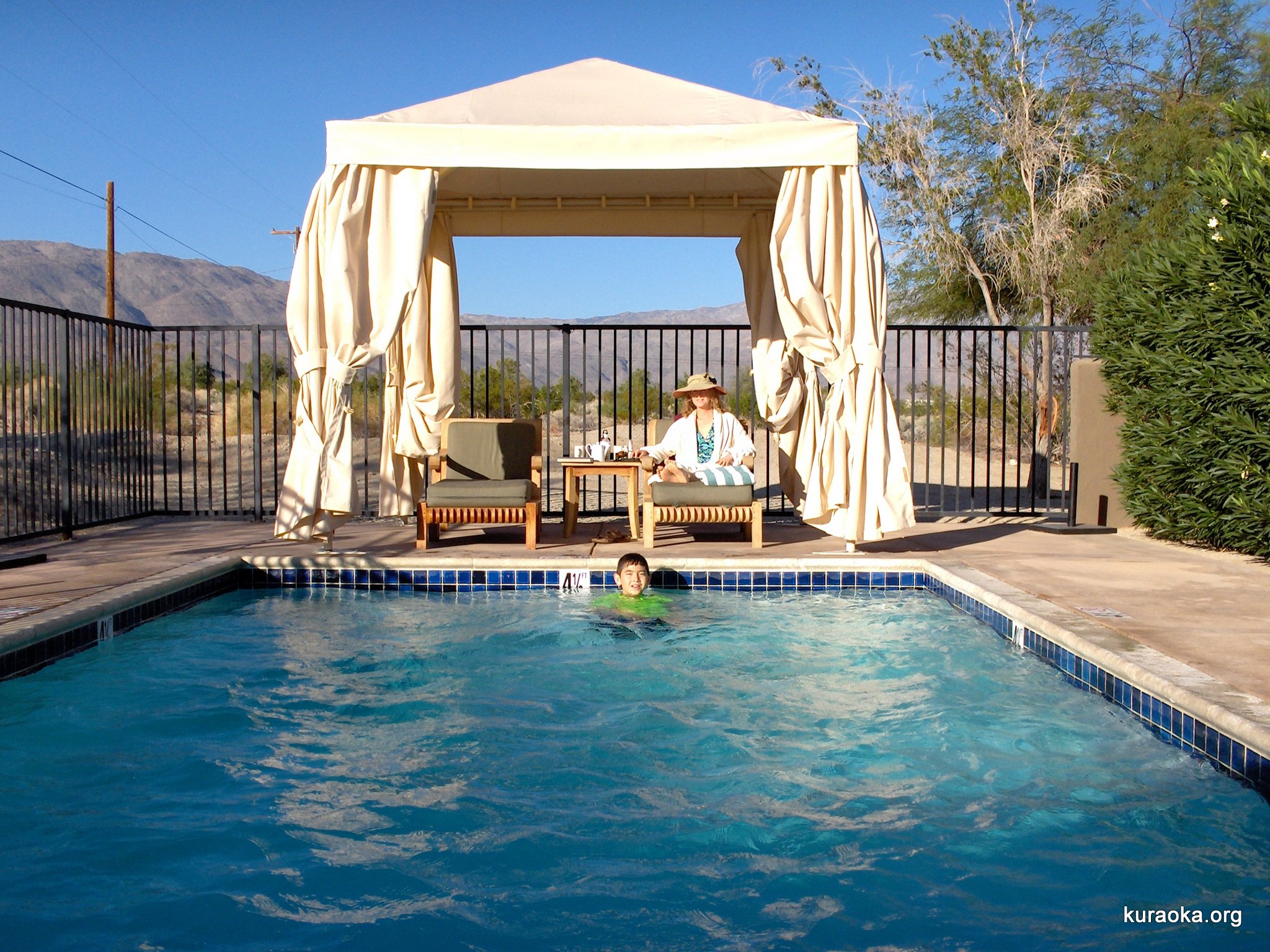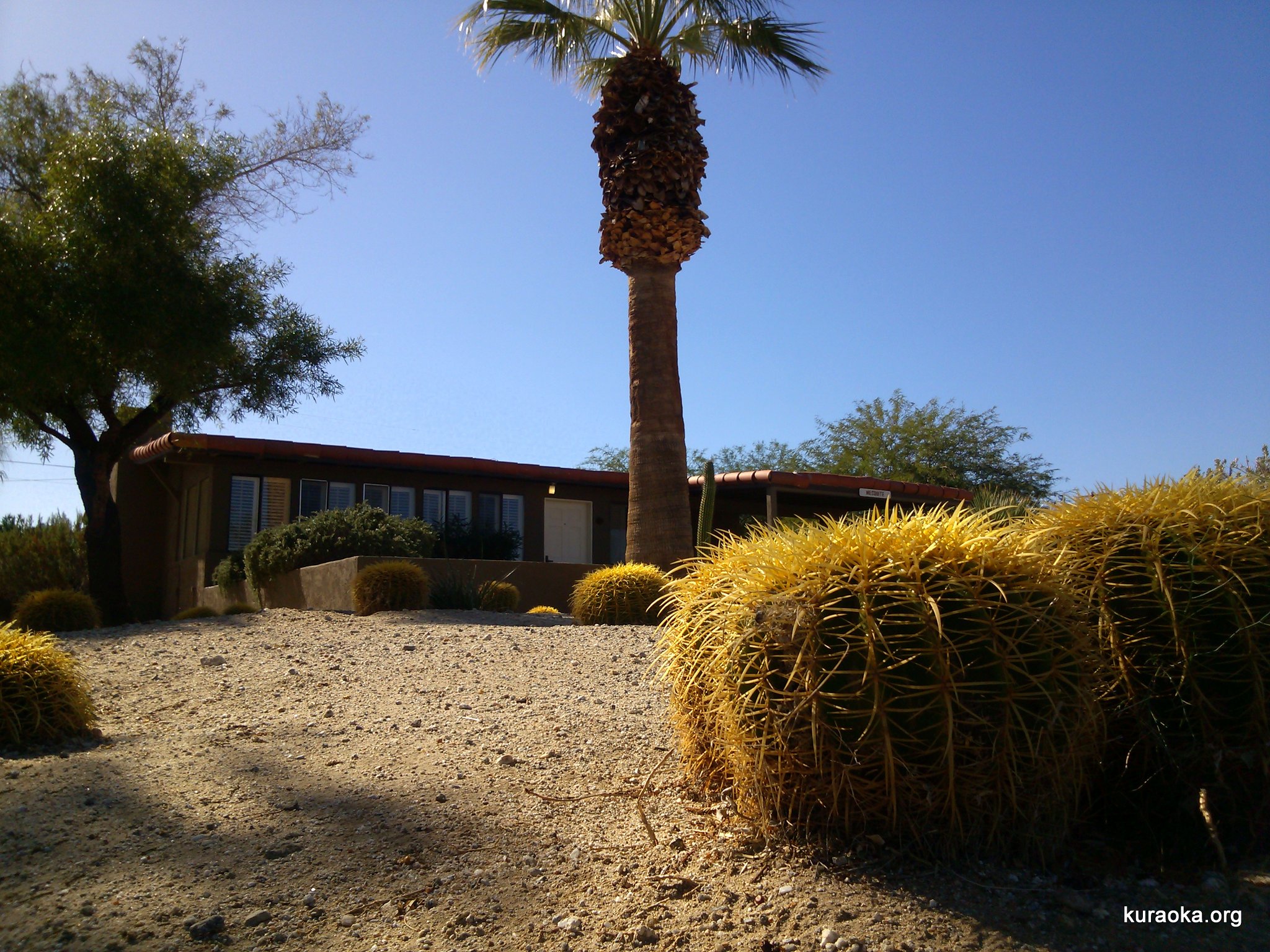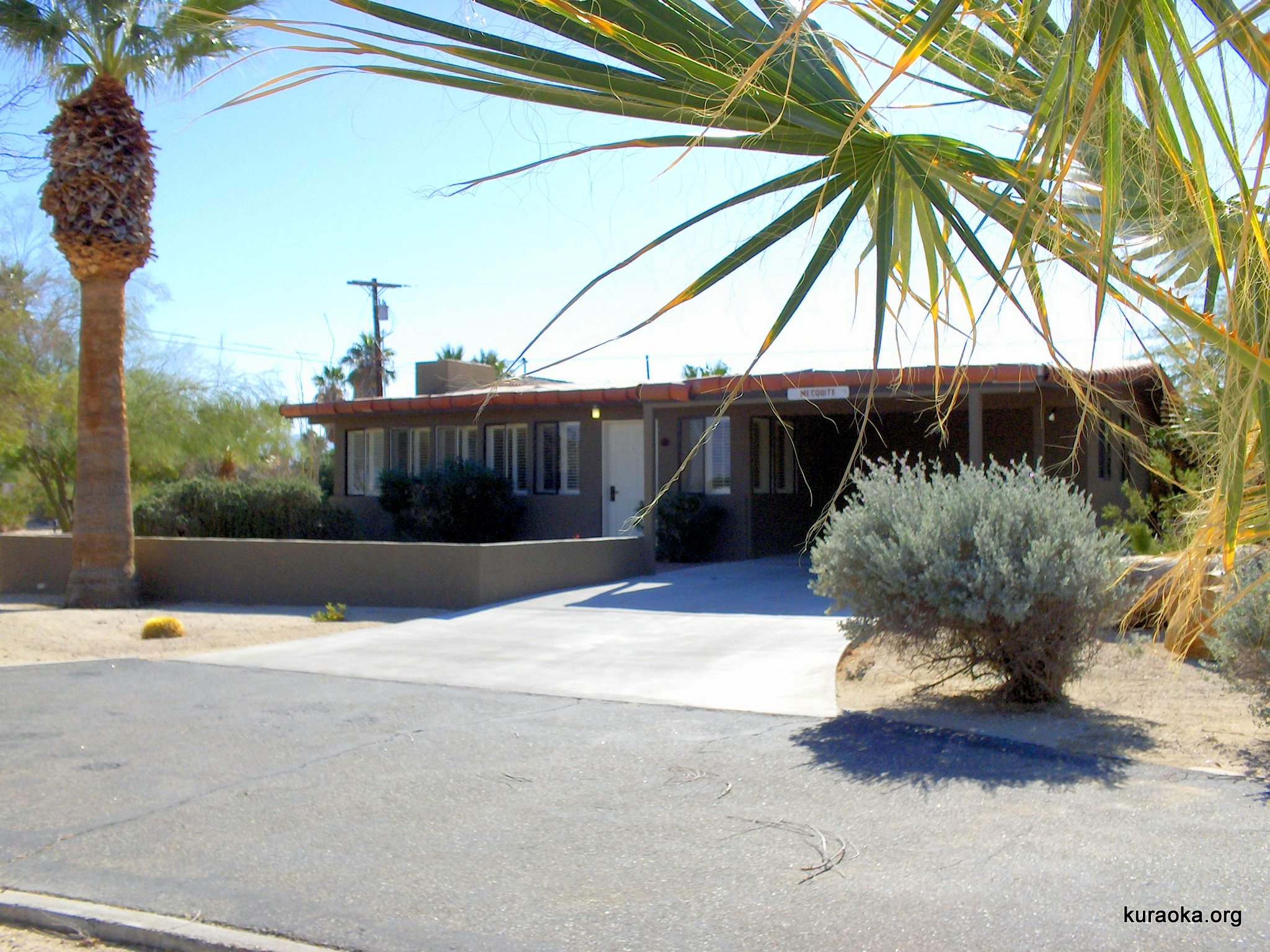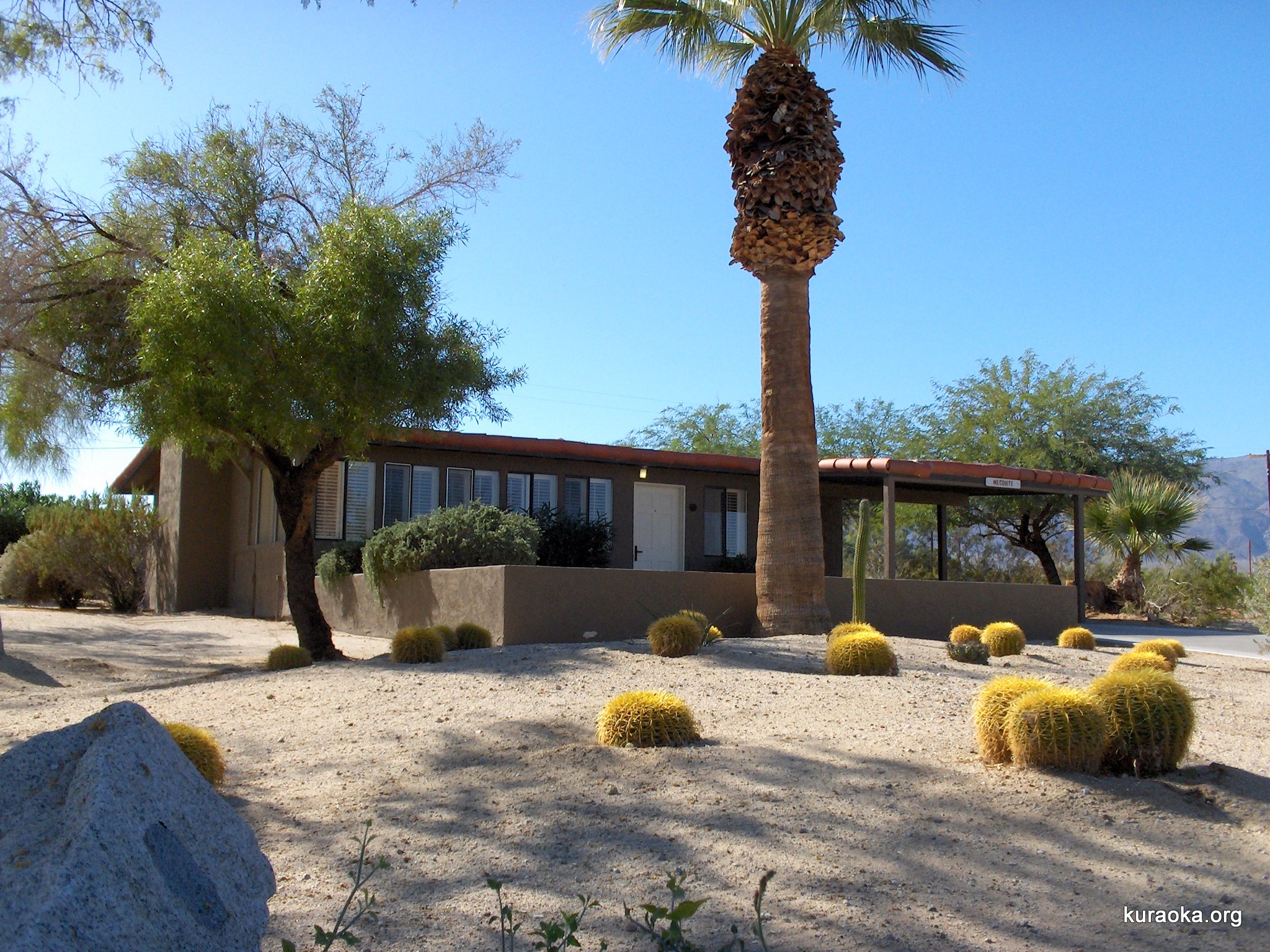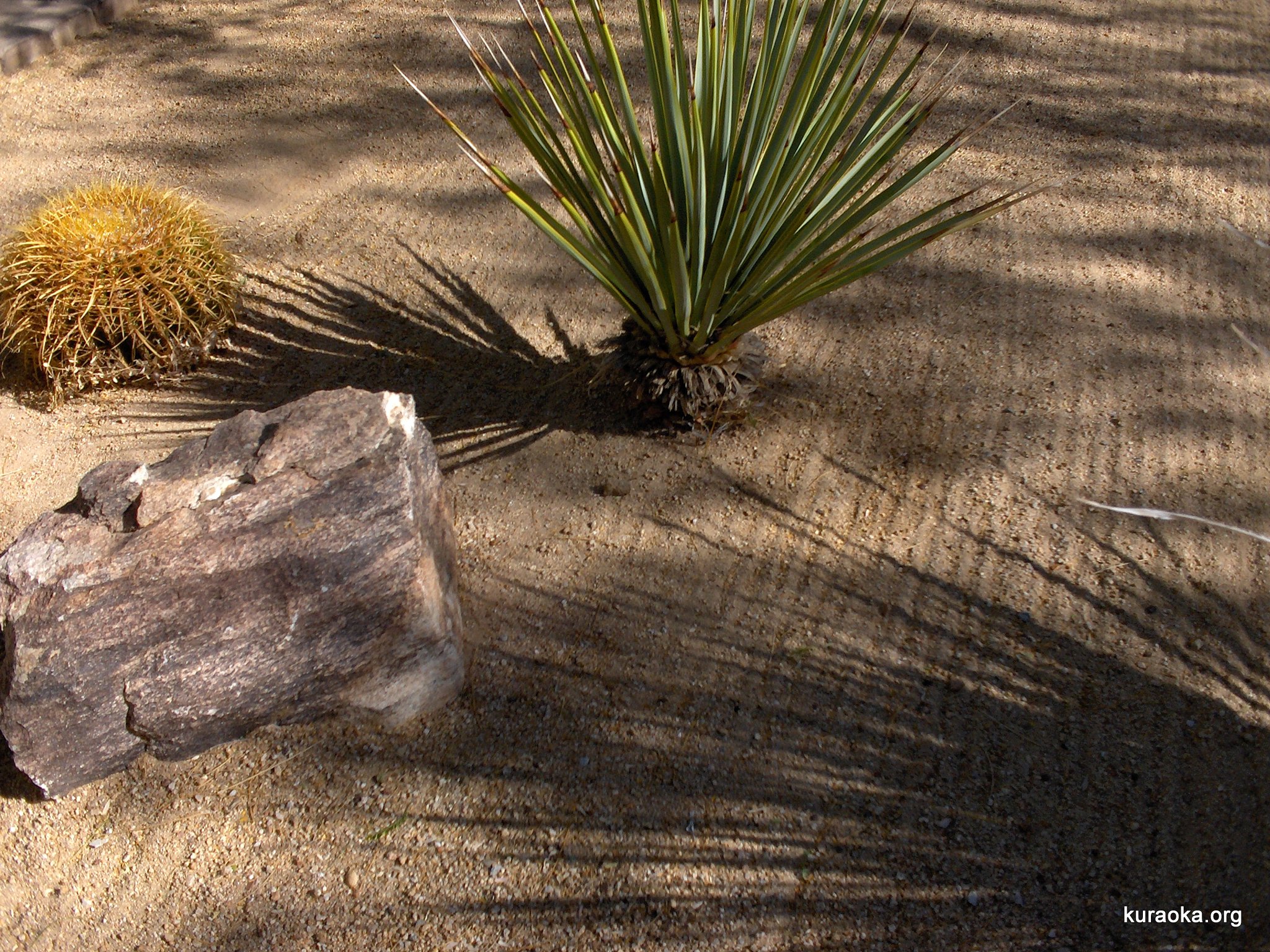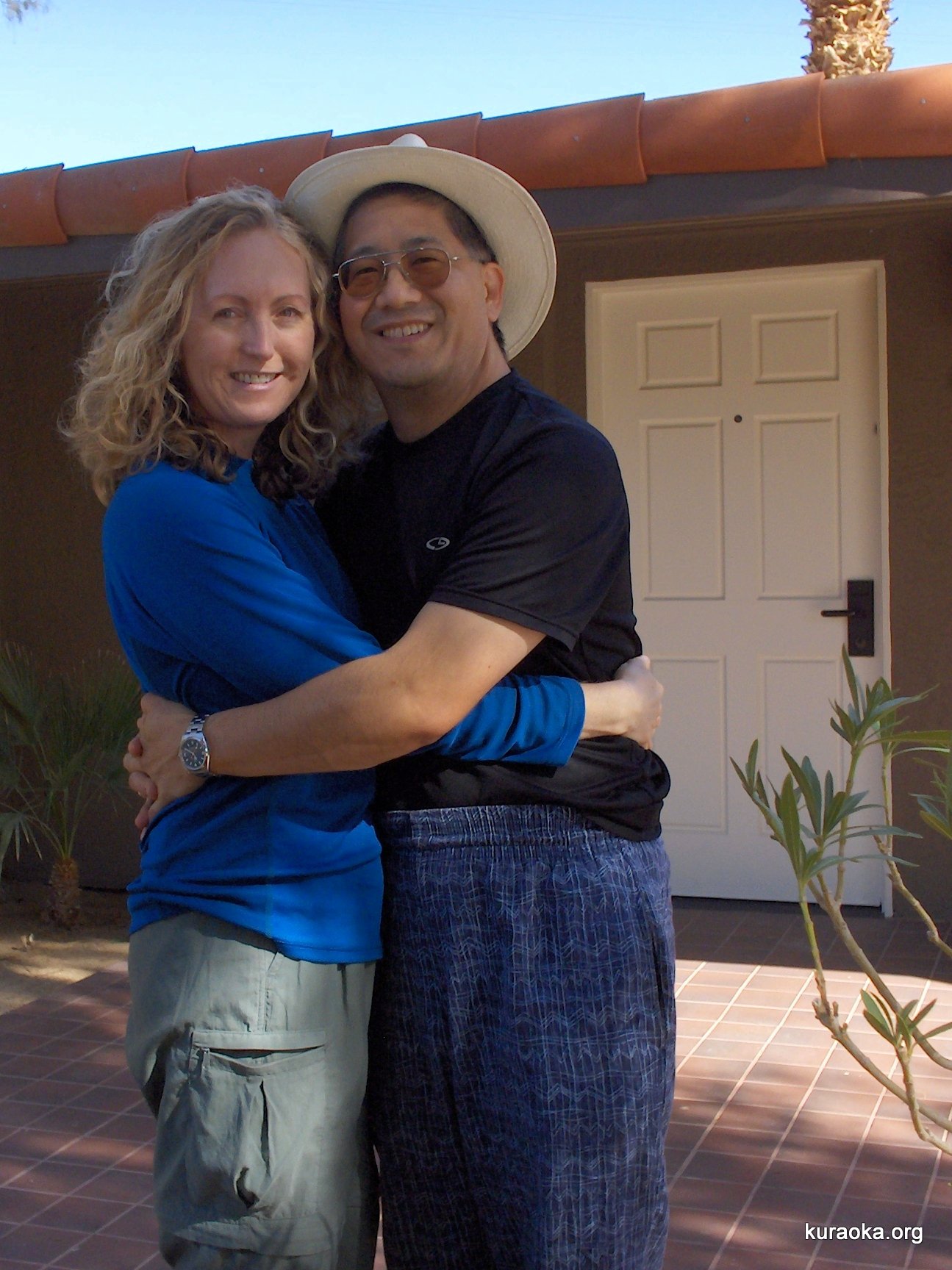 After checking out, we went to Galleta Meadows to enjoy Richard Breceda's fantastical steel sculptures of animals both historical and mystical. It was a magical menagerie tucked into the low desert brush amid sparkling cacti. It's amazing how fluently these static metal forms convey movement and even emotion.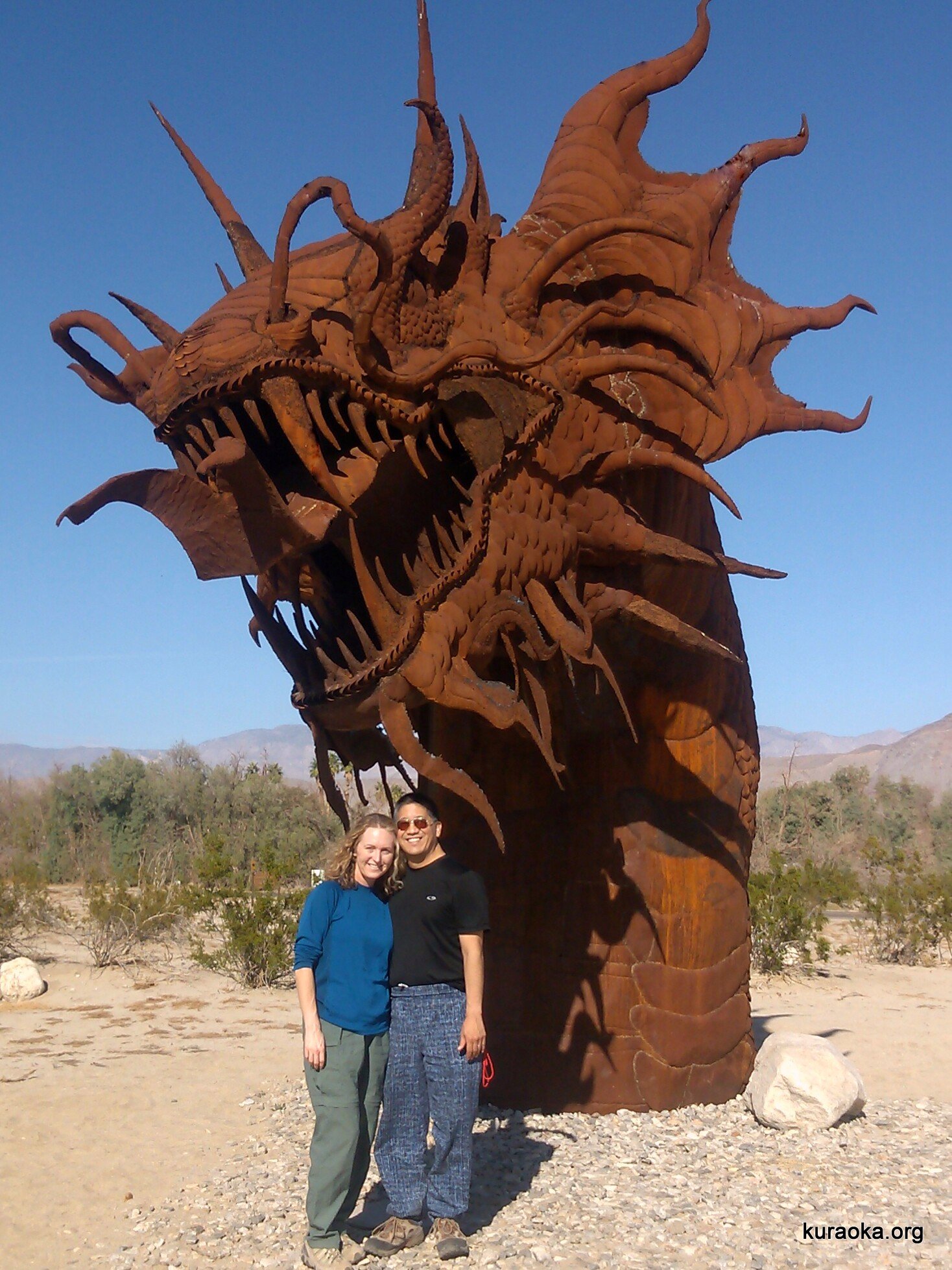 We made a stop at the Natural History shop and found omiyage for relatives in Japan: two desk calendars with photos of the Anza Borrego Desert. We also bought a native drought-resistant plant for our front yard.
We went home via Santa Ysabel, pausing at the Mission Santa Ysabel and, of course, Dudley's Bakery. Then, we picked up the doggo at PetSmart, where he had been enrolled in Camp Play-All-Day. He loves the camp, but was all wags and spins when he saw us so it was a very happy reunion.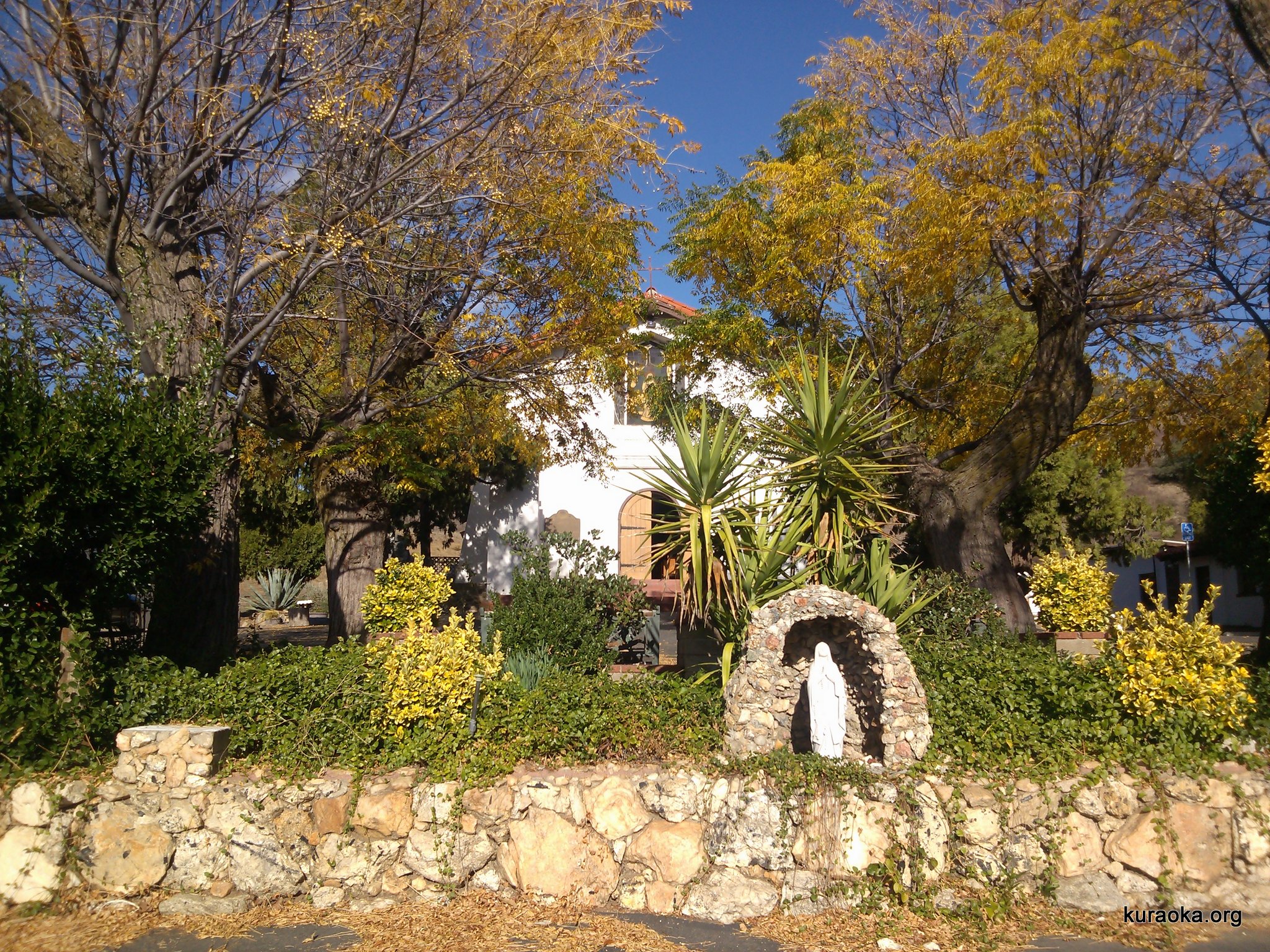 This weekend marks the beginning of Thanksgiving Break, so the kints are off school for the week. Ondine is working, though, and will be on call on Thanksgiving Day. The cool thing is that we'll have a semi-full house for Thanksgiving dinner, with Ulli and Martin coming down from Oregon and Ron and Kathy coming from up the street.
In other news, the special election for mayor resulted in two candidates moving on to the runoff election: Republican Kevin Faulconer and Democrat David Alvarez. And, a recent study rated San Diego as more LGBT-friendly than Berkeley! San Diego, San Francisco, and Los Angeles were the only cities in California with a perfect score of 100.
Neighborhood gas prices rose slightly for the holiday week, and are currently around $3.67 per gallon.
Back to the Archives page
Back to the Kuraoka Family main page
Forward to the current Weekly Journal.