The Kuraoka Family Week-In-Review
www.kuraoka.org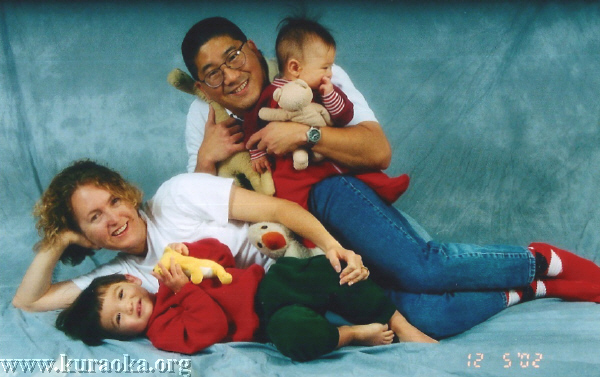 Us: John, Ondine, Roy (2-1/2), Leo (23 weeks)
Tuesday, December 31, 2002
Welcome to our annual Year-In-Review! It's always fun to summarize the year, reviewing the highs and lows. It was quite a year for additions (Leo, room). Our New Year's celebration is a 48-hour cooking and eating fest, with German foods (sausages, carp, potato salad, pickled herring, etc.) New Year's Eve and Japanese food on New Year's Day. Monday, John went to Mitsuwa to get the fixings for the oshogatsu (also called osechi). Three hours and over $100 later, he had most of the stuff. The most-expensive items: tako (sushi octopus), various pickles, mochi (sweet rice cakes), and a tiny bottle of good sake.
Our big story of 2002 was Leo Masaharu Kuraoka, born Saturday, July 20, on the floor in a corridor at Kaiser. In 2002, Leo went from being a 12-week-old, gender-unknown embryo to being an active 23-week-old male person who can go wherever he wants. He crawls with ever-increasing confidence, competence, and speed. It's fun to watch him because he definitely has a plan when he starts heading in a particular direction. He is very determined and task-oriented. Leo grew one diaper size, to 2s, and outgrew three wardrobes. He now weighs about 15 pounds by our bathroom scale. He moved from a bassinet in our room to a crib in his room, then promptly outgrew the first crib setting. He is becoming attached to his bear from his Great-Aunt Ulli. Over Christmas, we noticed that he's starting to get his first tooth (lower front)! So, on December 29 we started gently brushing his emerging tooth. Over the past couple days, he has started sleeping for 4- to 5-hour stretches at night, a huge relief and a happy change from his previous wake-ups every two hours to eat. And, at about 6 pm on Monday, December 30, Leo had his first bite of solid food: plain rice cereal. He loved it, and even grabbed the spoon to shovel in more! He ate about seven spoon-tipfuls. That night, though, was one of his most-wakeful, and it felt like he fed non-stop. 2003 holds huge changes for Leo, including more solid foods, ever-increasing mobility, and a play class with Ondine.
Roy William Kuraoka went from being a 19-month-old toddler to being a 2-1/2-year-old boy (nearly 31 months now). He weighs about 32 pounds by our bathroom scale. We long ago stopped measuring his language development, because he started the year speaking in complete sentences, counting, and reciting the alphabet. However, his conversation is much more functional and varied, with a fluent vocabulary. It occurs to us that no one but a child could learn English so well in just 2-1/2 years. He can add and subtract, use a computer, tell time, spell out words, and even read in a limited sense. If he doesn't know a written word, he often can sound it out. At the beginning of the year, he was sleeping in a crib; he's now in a regular bed with regular sheets and covers (the covers are a new development this week, as we previously used loose blankets for ease of washing). He's so good at using the toilet on his own during the day that we forget that we started toilet training him in mid-April. And, he has been out of night-time diapers since mid-September. We still have to get him up several times a night, but he's making progress. In May, Roy started a swim class with John, which he still looks forward to every Saturday morning. And, in October Roy started going to pre-school two mornings a week: the Montessori Discovery school in Santee.
Roy and Leo's sibling relationship is already one of wary competition and occasional rivalry. It surprised us how early that started, but then, seeing it develop, it seemed like such a natural outcome of having two children in the house. Of course the most-interesting toy at any time is any object the other is playing with, regardless of age-appropriateness. Of course the most-difficult time for one is when the other is getting attention. Of course you can't treat both kids equally, especially when one is an infant, which of course is frustrating to the older child. Of course, of course, of course. On Monday, we showed Roy some video of himself as a baby, and pointed out that no one ever took anything away from him or interfered with him unless he was actually in danger. We explained that getting into things was Leo's job now. Roy looked thoughtful, but when the video was turned off he noticed Leo playing with some colored pegs. "I don't want Leo to have the pegs," Roy whined. Of course.
New little friends in 2002 included Carson Hansen (January 4), Trey Effner (February 21), Brandon Saslow (August 2), Matthew Plale (September 26).
Passages: Our good friend from the watch & clock collecting club, Bob Garner, died on August 1, a little over a month short of his 84th birthday. Bob was the club's auctioneer, a job he passed on to John. Arnie Lacombe wrote about Bob: "Until you got close to him, you would swear that he was a hard-nosed and stubborn person. Far from that, Bob was a gentleman who expected everyone to be perfect and correct in their everyday dealings, but easily forgave those who were not. In private, he was as meek as a lamb and cherished close friendships. . . . Robert Garner was a big man, with a big heart, and a true southern gentleman who would give you the shirt off his back if you needed it." Amen.
At the beginning of 2002, Ondine was pregnant and still deep in the throes of morning sickness. As with Roy, we chose to leave the baby's gender a surprise. Now, she is Mommy to two very active boys. In what little free time she has, she has enjoyed making needlepoint baby gifts for the new arrivals in the playgroup. She also wrote and submitted a couple manuscripts.
John continues to work, and gets more and more work online, from his website. His main advertising copywriting website is frequently the #1-ranked website in Google for the search term "advertising copywriter," so it's definitely effective. Also, he launched his Tightwad Marketing website, with free marketing and advertising advice aimed at small businesses. New clients in 2002 included Basin Water (Riverside), Optics Lab (Orange County), Millepore (Massachussetts), Agora Health (Maryland), and Kolon Rojel, Han Suites, and Dongbu Insurance (Korea). John finally started repairing a 150-year-old clock he bought, with the help of Neil Partyka.
Room addition: Our new room addition went from rough sketches on a scratch pad to an actual room we're living in and using every day. Our contractor, R.W. Smith, was a huge part of our daily lives through much of 2002, and a genuine rare find. Roy still talks about him. As we settle into the new room, we are 100% satisfied with every aspect of it. Our Christmas took place almost entirely in the new room, with the stockings hung over the fireplace, next to the Christmas tree.
Other major acquisitions in 2002 included Roy's passport, our under-the-counter freezer, laminate flooring in the room addition and kitchen, Leo's bedroom furniture, John's Mom's old sofa (which we're having restored), various desks for the new room, some beautiful large rugs, John's CPAP machine, our 7-1/2 foot "Deborah Pine" artificial Christmas tree, and our Christmas gift to each other: the Thumper massager. Would moving this website to our own host come under "acquisitions?" How about a vasectomy?
In major discards, we sold the '88 Fo'd pick-up in 2002, and set aside the proceeds ($1,400) for some sort of future vacation vehicle. Speaking of setting money aside, after the January car payment, Ondine's Mazda is paid off. We'll try to keep making "payments" into a vacation fund. And, speaking of funds, our coffee can system of budgeting, which we started in June, has worked very well. Our other big discard was the kitchen dishwasher, which we replaced with an under-the-counter freezer.
Trips: 2002 was a light travel year for us. Ondine, Roy, and Barbara went to L.A. and stayed at the LAX Marriott, where Roy met a pianist named Alan Ascher. May was probably our biggest month for getting out. We went to a baseball game, Ondine went on her weekend writing retreat in Idyllwild, and we enjoyed a Vacation-In-San-Diego day at the Birch Aquarium. In October, we took the train to San Juan Capistrano on a daytrip, and Roy and John got to ride up front with the engineer on the way back. That's it for us, but Bill went to a school reunion in Montana in July. Elaine and Breanna went on a tour of Europe with Breanna's soccer team in July. Barbara and Bill went to Sand Pond in August. And, Barbara and Bill spent a week in Coronado in October.
What will 2003 bring? We hope to do more traveling, possibly to preview places to go for our two- to three-month family stay in 2004. We'll go camping (yes, we said that last year, but this time we mean it by golly). We want to take the kids to see the snow (it's getting ridiculous: Roy can identify a snowman, but has never seen a real one). Leo will get his passport and probably have his surgery to remove his ear tags. Both kids will continue growing and developing. The old clock will get finished. We'll lay laminate flooring in the living room and hallway, and John's Mom's old living room sofa will settle into its new, reupholstered, life here in our living room.
Big Trip Plans: We're still looking at options for a two- to three-month stay in Mexico, Costa Rica, Germany, or Japan in 2004. We'll probably rent a house; Roy and Leo will attend pre-school, and John will keep working via Internet. Please email if you have any experiences to share!
Remember to visit our main website page, which has a lot more stuff. If you're getting to this journal directly, you've missed out on our Room Addition Journal, new family photos, and much more. Finally, visit us often - this journal has been updated at least once a week since 1998!
Back to the Archives page
Back to the Kuraoka Family main page
Forward to the current Weekly Journal.