The Kuraoka Family Weekly Journal
www.kuraoka.org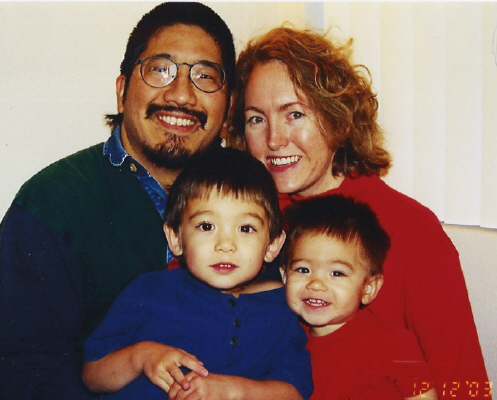 Us: John, Ondine, Roy (3-1/2), Leo (17 months)
Wednesday, December 31, 2003
It's time for our annual year in review, and what a year 2003 was! National news centered in San Diego included Super Bowl XXXVII (Tampa Bay Buccaneers 48, Oakland Raiders 21), a grocery store employee strike (still going on), and the largest fire in California history. We participated in the Cedar Fire by being evacuated and planting ourselves on Virginia and Dag, to whom we owe much thanks. See our day-by-day account in the archives. San Diego County became the least-affordable place to live in California, with only 16% of our households able to afford a median-priced single-family resale house (a record high of $449,340, vs. a median household income of $55,000).
Other big California news of 2003 was the historic gubernatorial recall, in which Gray Davis became only the second state governor in history to be ousted from office. His replacement: former action-movie star Arnold Schwarzenegger. This was also the last use of the old push-pin ballots. Final oddity: Ondine actually got a bad ballot, with no holes by her chosen candidate!
National news included the disintegration of the Space Shuttle Columbia on re-entry on February 1; its loss was one of the larger events we had to discuss with Roy, because he did have questions about it.
In international news, Iraqi dictator and all-around bad person Saddam Hussein was forcibly deposed by a "coalition of the willing" led by U.S. and British forces. The attack began in mid-March, and overnight "shock and awe" became a popular catch phrase, if not quite a reality – which is why the phrase quickly faded from the public consciousness. On Sunday, December 14, Saddam Hussein himself was ignominiously rousted from a "spider hole" in the ground.
Meanwhile, here in our own little lives, on Wednesday, April 30, our weekly journal clocked 10,000 visitors. And, just today, on December 31, it turned 12,500 visitors. Ooo.
Leo went from a five-month-old, 26-inch-long baby who crawled all over, to a 17-month-old, 29-inch-tall toddler who runs all over, full-tilt. He had his surgery to remove his ear tag. He has developed into an assertive, physical little guy, fearlessly climbing up on anything he can get a leg up on, including his older brother. He tells us what he wants, in his hoarse little voice, and understands way more than one might think. He started the water adjustment class at Grossmont Hospital, and loves it. He now sits in a booster seat to eat, having rejected his high chair. He moved from his bucket into a forward-facing car seat. He sits and plays on the computer. He recognizes some letters and most animals, and knows their names and what sounds they make. He is very good at kicking a ball and putting regular-sized Legos together.
Roy was 2-1/2 at the start of the year, and is now 3-1/2 with all that means. He is 39-1/2 inches tall. He has turned into about as good an older brother as one could expect; we're not talking Stepford good, but on the whole he watches out for Leo (usually) and shares with Leo (sometimes) and plays with Leo (sometimes). In 2003, he acquired his own library card and his second piece of photo ID – his own Sea World pass. He also got to stay overnight with Barbara and Bill at their timeshare at Lawrence Welk Village. Over summer, he started a real swim class and started going to pre-school three days a week, up from twice a week. He did a gymnastics class for a while, too, starting in the Spring and continuing until November. He can play cards, write letters, and type words, and is starting to add and subtract.
Ondine worked on writing articles and querying editors, with the result that she enters 2004 a published writer. Yes, San Diego Family Magazine carried her article on "Emotional Rebuilding After the Fires" in the January 2004 issue! The other major change for her, has been looking at going back to work in 2004. She's looking for something with the school district, so she'll share Roy and Leo's schedule. She took some tests, to get into the system. The process came to a grinding halt with a hiring freeze in late December.
John is freelancing as always, writing ads. New clients in 2003 included Manheim (Atlanta, Georgia, through MLT Creative in Atlanta), Pacific Compensation Services (Oregon), CCI (New York), Novo Nordisk (Denmark, through DeLor in Louisville, Kentucky), and Chili's (Dubai, United Arab Emirates, through tmh in Dubai). It has been a fairly tough year for local advertising, so he's grateful for the Internet and clients from outside San Diego. If his furthest new client of 2003 was Chili's (the Southwestern restaurant chain) in Dubai, UAE, his closest was Millenia Diagnostics, owned by Danny Levenson in the cul de sac. John started an Ad Blog on his website, and also launched a San Diego directory website, www.SDProfessionals.com.
Travels in 2003 included a wonderful week-long camping trip to Sand Pond in early August. We went with Barbara and Bill, and got adjoining campsites at Sardine. It was the boys' first time tent camping, and they did great. After Thanksgiving, Ondine and Barbara drove up to the Bay Area for Mary Lee Steffensen's 80th birthday and to visit the Spinettas. John had a couple business trips to Atlanta in the latter part of the year.
Major acquisitions in 2003 included an InSTEP double stroller (which we already seldom use), Samsung vacuum cleaner, front patio (courtesy Barbara and Bill), new patio furniture, a Piggy Pack rooftop cargo carrier for car camping, Teac stereo with a record player, a larger dining room table with four chairs ($75, such a deal), a Calphalon roaster (replacing the old non-stick one which started peeling), a cast-iron skillet and dutch oven, a new kitchen faucet, and John's Mom's old couch which we had restored. That couch, which we had brought down after Christmas 2002, is starting another 40 years of service in our living room. We paid off the Mazda in January, so we acquired the title and dispensed with the payments. We got our AlphaSmart 3000s -–one for John and one for Ondine – terrific writing tools and the only way John recovers productivity when he's watching the kids. Did John acquire facial hair or discard shaving? You probably didn't notice that we moved our website host. Well, we did, and that's why we have a few nifty features again, like a guestbook.
Major discards in 2003 included some photo gear, an infant car seat/carrier bucket, and a high chair! Yup, no need for a high chair any more!
New little friends in 2003 included (in approximate birth order) Will Haney, Lacy LaTray, Emma Wells, Mitchell Spinetta, Abigail Dubrow, Sammi Effner, Callum Settergren, and Garron Weiss.
Passages included Roy's betta fish, the first pet death in Roy's life. It died in December, almost making it to the three-year mark. We buried it with due ceremony in the back garden. And, we were saddened by the closing of Action Thrift near Mission Bay. It had been a part of our lives for so long – much of our wardrobe came from there, plus a lot of odds and ends. Ulli was there for John's final Action Thrift purchase, in November: blue jeans, clothes for the kids, and a neat 1960s Japanese toy train.
It was a big year for moving out of California. Ondine's cousin, Anita, moved to Germantown (near Memphis), Tennessee with Rennolds and their kids (Reid, Katrina, Case). Our dear friend Athena, her husband Jeff, and their kids, Nicholas and Alyssa, moved from Las Vegas, Nevada to Gresham, Oregon to San Diego to West Jordan, Utah (near Salt Lake City). Ondine's Aunt Ulli moved from Concord, California to Brookings, Oregon (near Liz and Les). Finally, Ondine's Aunt Katrin and Uncle Peter are selling their house in Danville and buying a ranch in Montana! Wow! The plan is for Cousin Peter and Valerie to move to Montana to manage the property until Uncle Peter retires.
What will 2004 hold? Leo will join Roy at Montessori Discovery School in Santee. Ondine may begin a new job, which will mean changes and challenges for all of us. And, she hopes to get more articles published. Finally, a trip to Germany may still be in the cards.
Back to the Archives page
Back to the Kuraoka Family main page
Forward to the current Weekly Journal.