2006 in photos
www.kuraoka.org
Just posts from our virtual refrigerator door.

Click on any photo to see it full-size. All photos copyright John or Ondine Kuraoka, Barbara Brooks, Bill Nutter, or Frances Kuraoka.
01-01-2007: Oshogatsu spread. Here's just the part on the kitchen island, the ozoni stuff is on the stove and the mochi is in the oven. From top left working clockwise, there is teriyaki chicken, persimmons, kimpira gobo (burdock root), tangerines, makizushi rolls (uncut) and age-sushi, sushi rice pressed into forms and rolled in toasted sesame seeds, makizushi, cucumber salad, and sunomono. The small three dishes hold (from left to right) seaweed salad, kuromame (sweet black beans), and konyaku.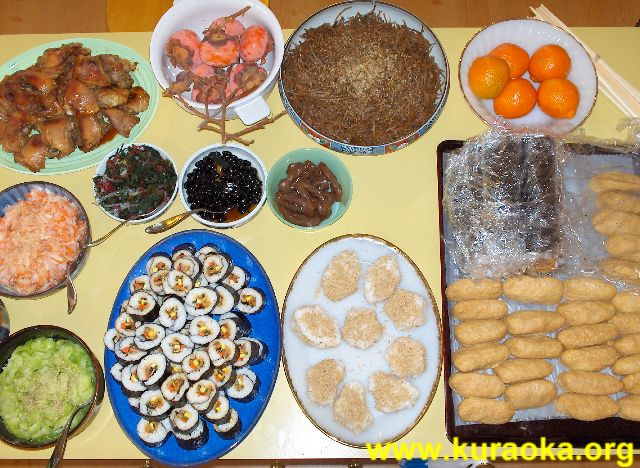 12-31-2006: Sushi Chef Roy. Here's Roy carefully making makizushi. You can see the pile he's already made (Ondine made the pile of age-sushi on the left), and he went on to make about a dozen rolls.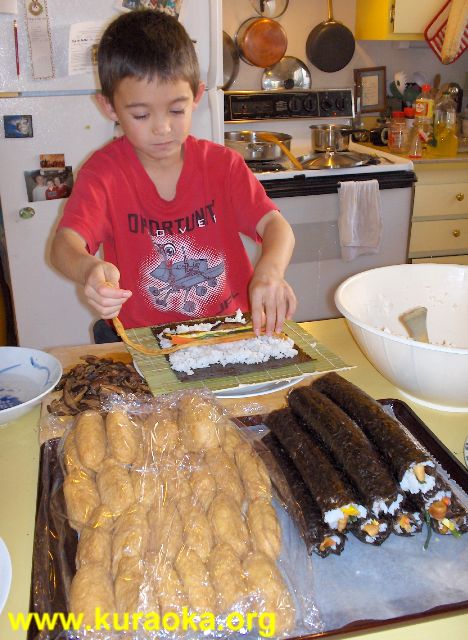 12-06-2006: St. Nicholas Day. Here's our Christmas card family photo, taken in front of the fireplace. In front, John and Ondine (holding Buddy, who desperately wants to see what's in John's stocking), and in back, Roy and Leo.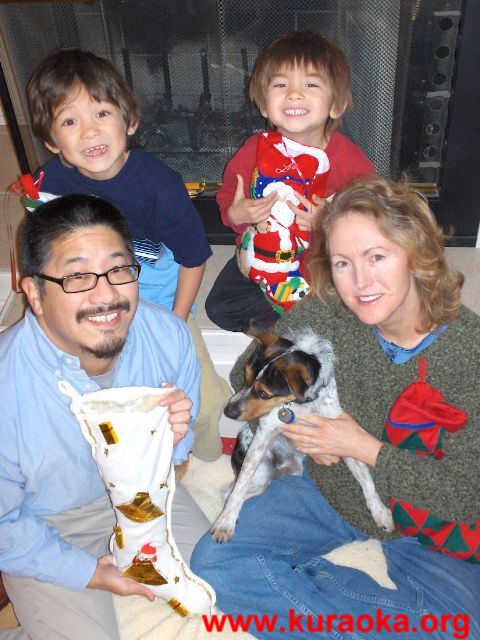 11-23-2006: Thanksgiving! And here are just a few of the people we're thankful for. First, around the table, you see Bill and Barbara dishing out food. Around the table, starting at the closest on the left and working clockwise, are Kaleb, Autumn, (Roy may be hidden), Jeff, Neena, Michelle, Winter, and part of Jeffrey's arm. Next is our traditional couch shot, with (from left to right) Ellie, Roy, Neena, Leo, Autumn, Jeffrey, Jeff, Kaleb, Michelle, and Winter.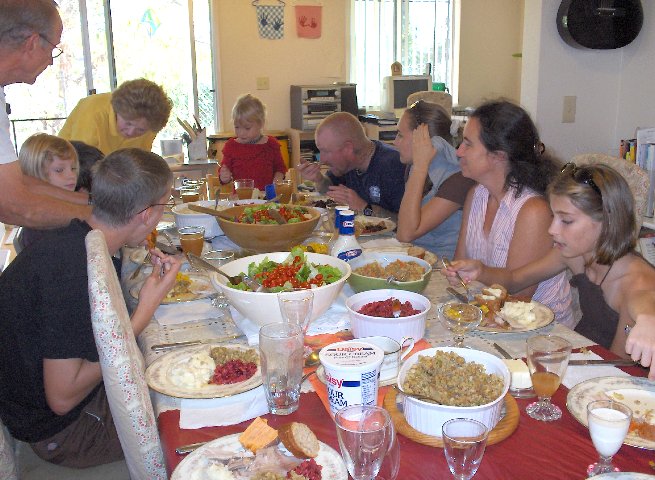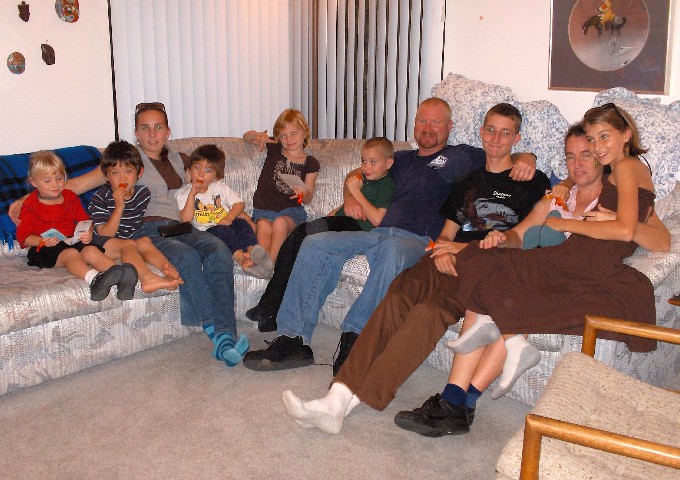 11-04-2006: Roy and Leo at Balboa Park. Here they are in front of the California Tower, part of the building that houses the Museum of Man. Leo was just coming down with a cold, and this photo shows it.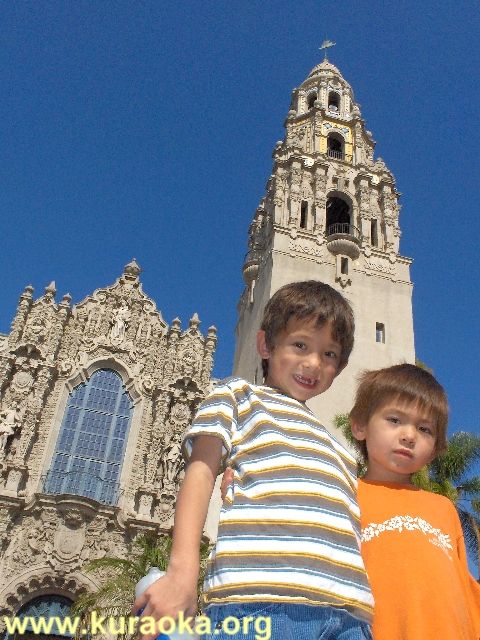 10-31-2006: Halloween! Here are Roy and Leo as vampire (albeit a brightly dressed one) and ghoul.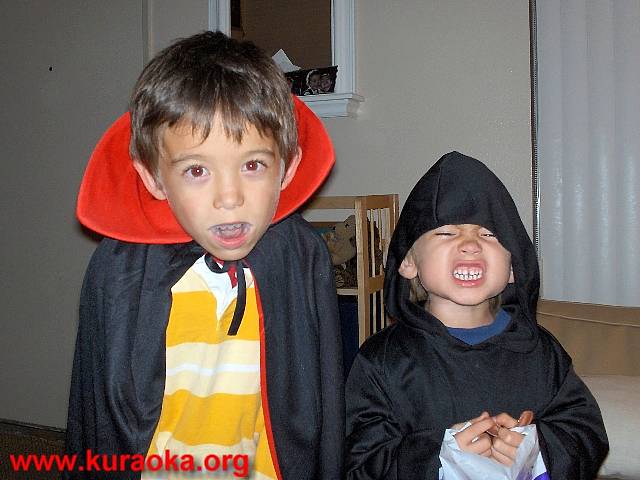 09-05-2006: Roy goes back to school. Here's Roy with his schultüte, new backpack, and new running shoes, ready for first grade! Then, here he is in his classroom. It's a bungalow classroom with only two slivers for windows, hence the oddly dim colors.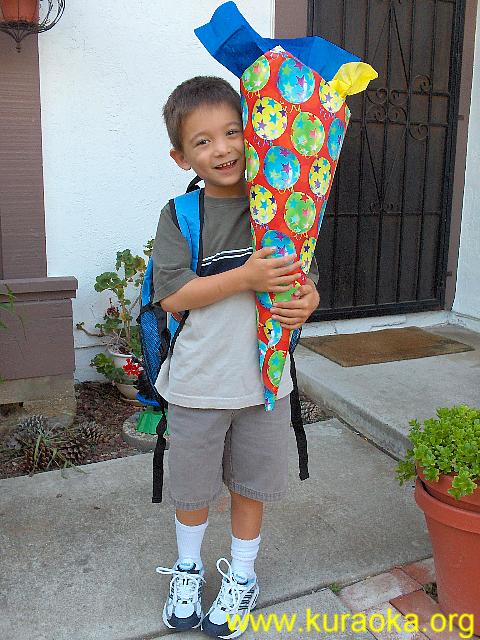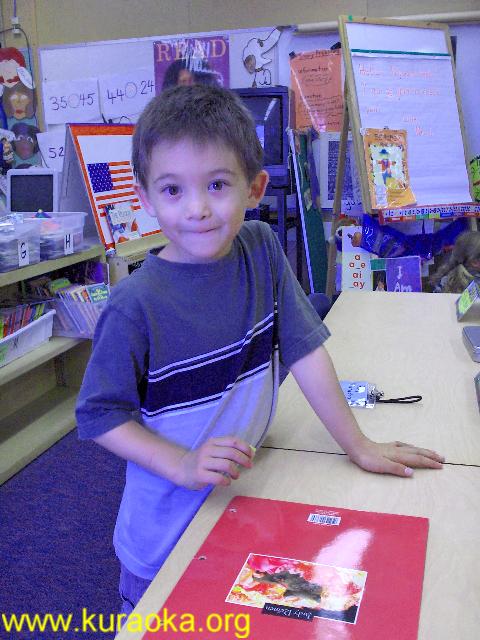 09-04-2006: Felicia's baby shower. From left to right: Ondine, Karin, Virginia, Felicia (due in a week or so!), Jill, and Morgan.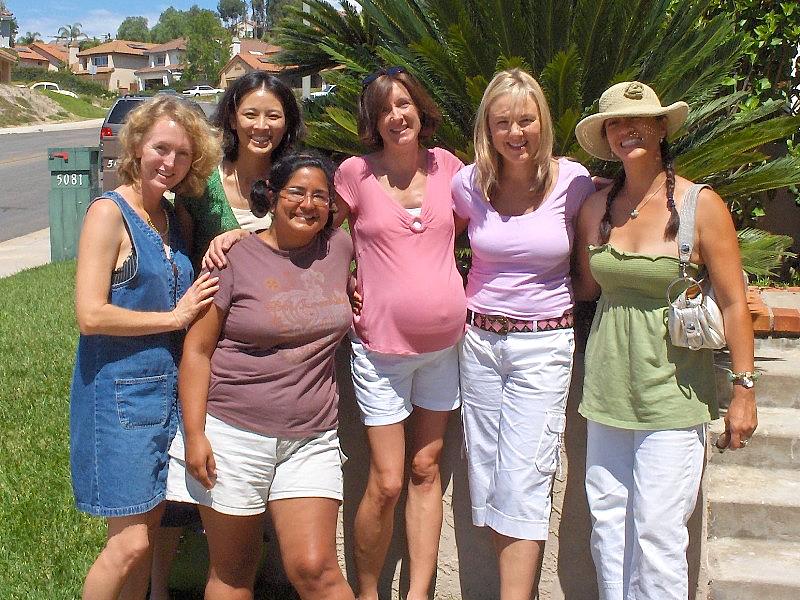 08-28-2006: Leo goes back to school. Here's Leo with his new triceratops lunchbox and back-to-school grimace ("this is my pre-school smile!" he said, in a voice like a dinosaur pirate).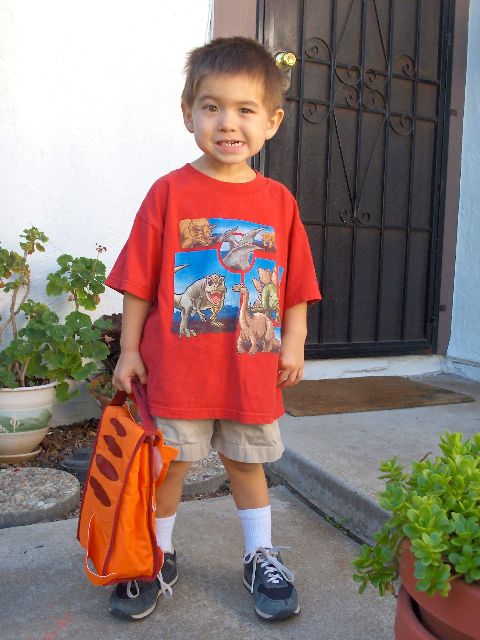 08-27-2006: Kuraoka cousins. A rare get-together with some of the cousins on John's Dad's side of the family. Here you see, from left to right, Joe, Arthur, Patty, John, Sachi, Cary, Adrienne, and Jim.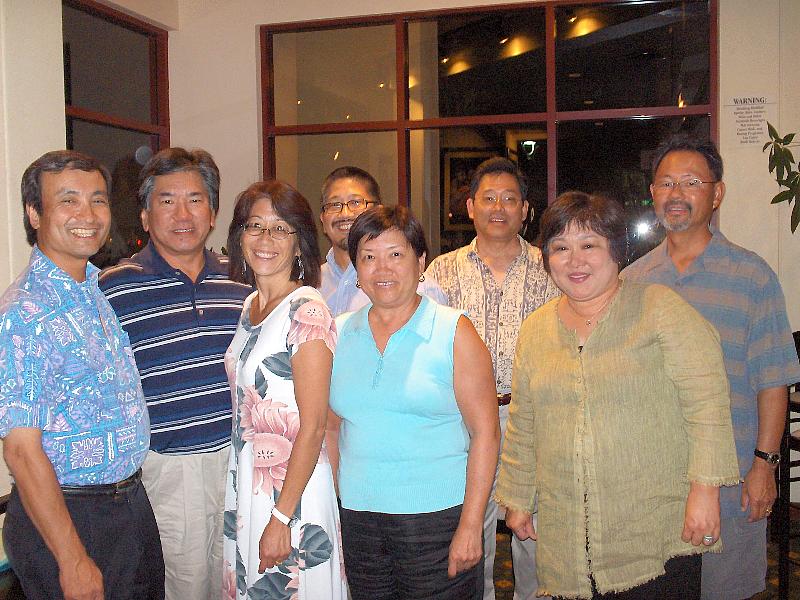 08-05 through 08-15: We go camping for a week at Sand Pond. Here are Ondine and Leo playing on the bank beneath the Sierra Buttes, Roy and John floating a log, and Buddy resting. Click here to see our entire Sand Pond journal, with lots more photos and even a couple videos!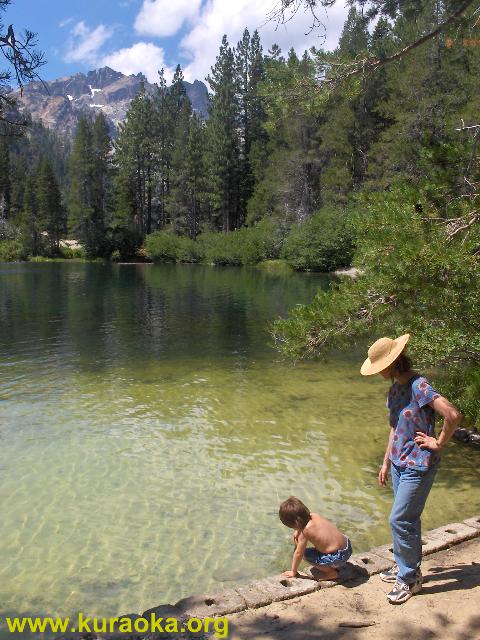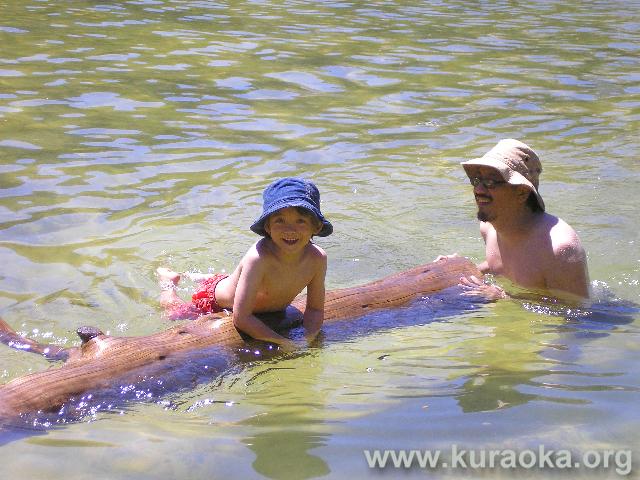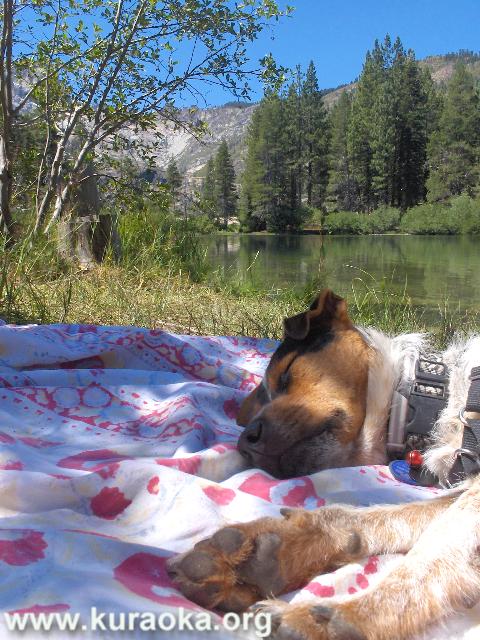 07-23-2006: Grammy visits. Here's John's Mom, with her grandsons Roy and Leo. They are posed in front of Leo's birthday poster that Ondine made, for his party at Montessori Discovery School.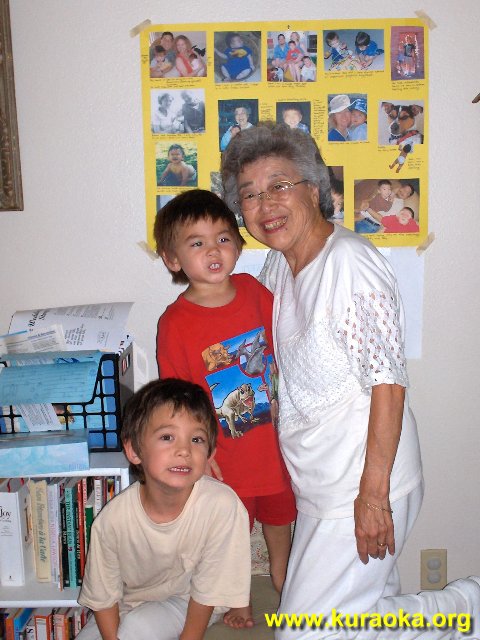 07-22-2006: Leo's Birthday Party! In the first photo, going clockwise around the table starting from Leo (roughly in the middle) are: Greg (Lily must be down there somewhere), Matthew and Danny, Ilana and Lacy, Roy, Casey and Ava, and Grammy. In the second photo, going clockwise from Leo, seated at the head, are (kids only): Ava, Lily, Colton, and Roy. And Buddy, relaxed in the midst of utter chaos. Third, we have Leo with his dinosaur snout. And finally, Leo and his dinosaur ice cream cake, with Lacy looking on.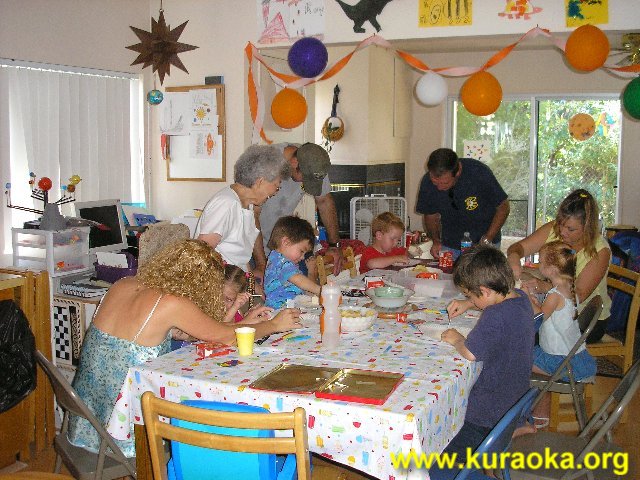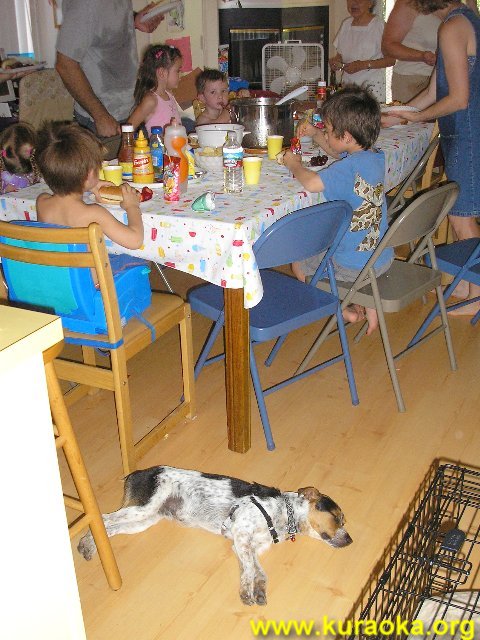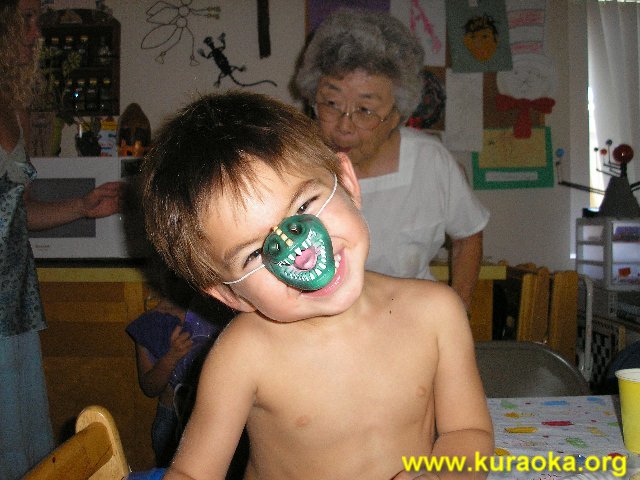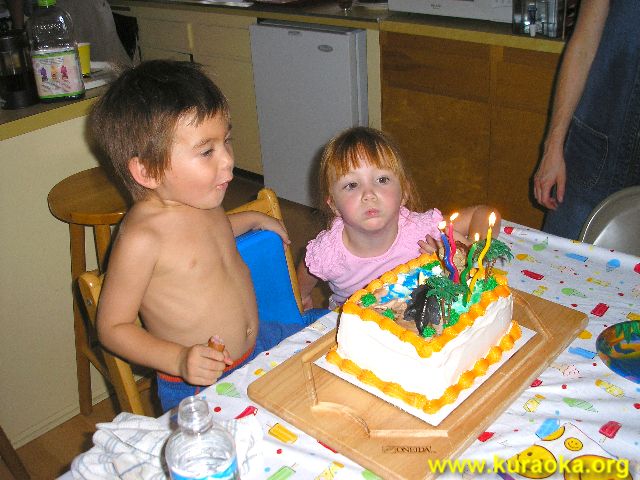 07-20-2006: Leo's Birthday Bike. Leo is four years old! Here he is riding his new bike, with a little help from Daddy.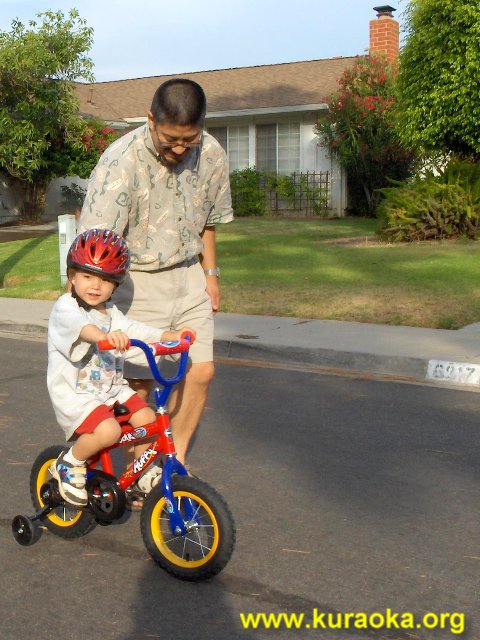 07-10-2006: Buddy. Here's Buddy the dog, settling in on the patio after a walk.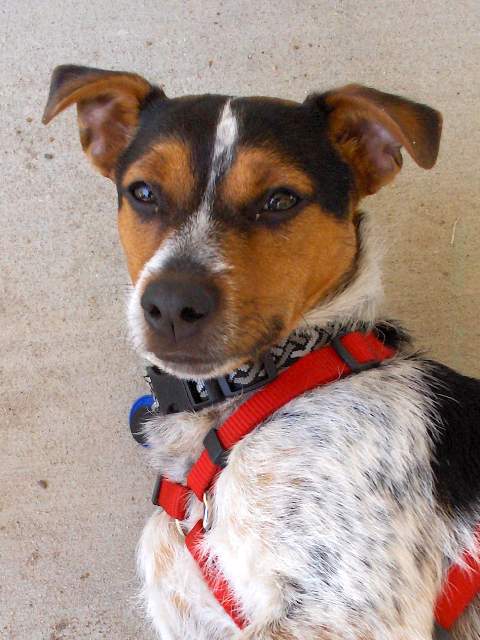 07-06-2006: Buddy joins the family. Here we are with our new addition. John is holding Buddy (who is understandably looking a bit worried about this new pack he's joined), Ondine is holding Leo, and Roy is being Buddy. This would have been our family portrait, except for Roy's tight-lipped dog-look.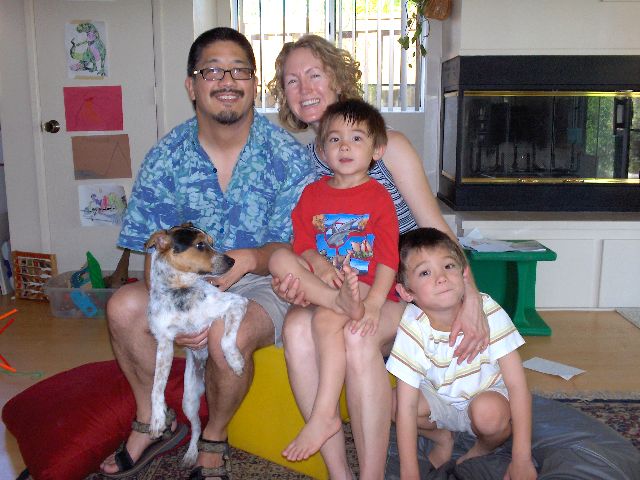 06-14-2006: Doughnuts with Dad. Here's Leo and John celebrating Father's Day at MDS.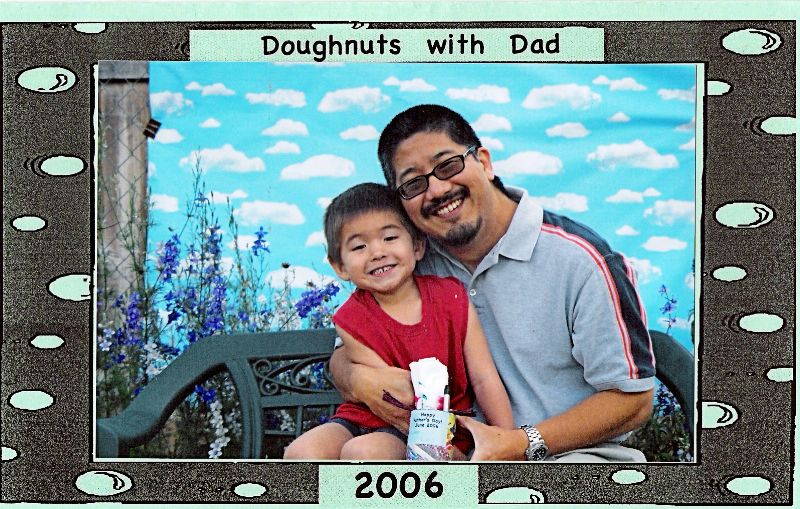 06-04-2006: Roy turns six! Here's the crowd celebrating Roy's birthday. Going clockwise around the table in the first photo, starting from Roy, are Kelly, Michael (partial), Greg (at bottom left), Cydney, Cody, Zachary, Leo, Zack, Dennis, and Alex. Going clockwise around the second photo, starting with Roy, are Kelly, Michael, Emma (at the far end), Max (partly hidden), Greg, Cydney, Cody, Zachary, Leo, Zack, Dennis, and Alex. In the third photo are an Emmasaurus and Cydney playing the congas. Finally, we have Roy and his dinosaur ice cream cake!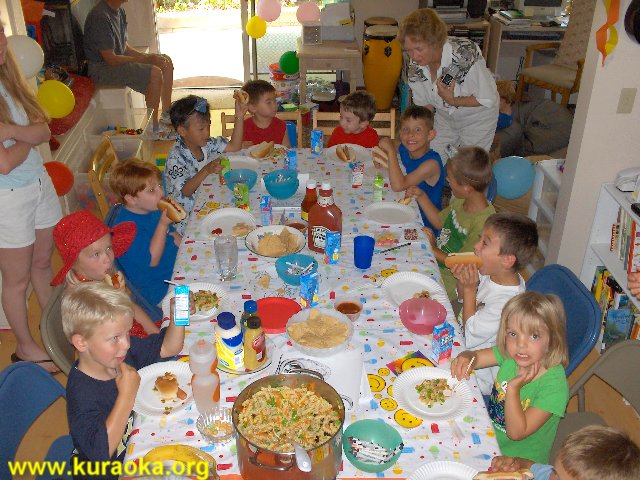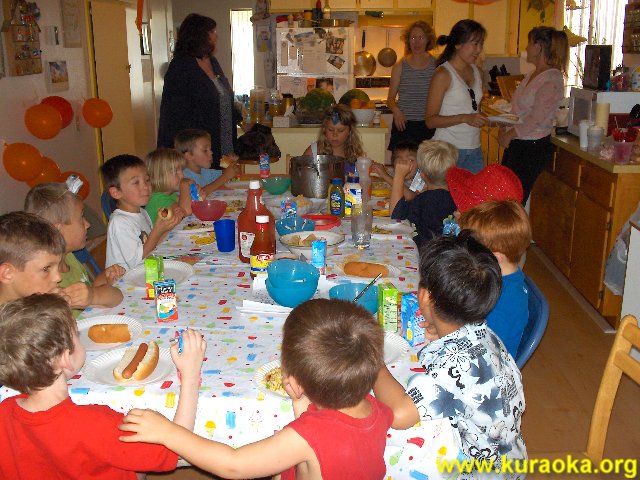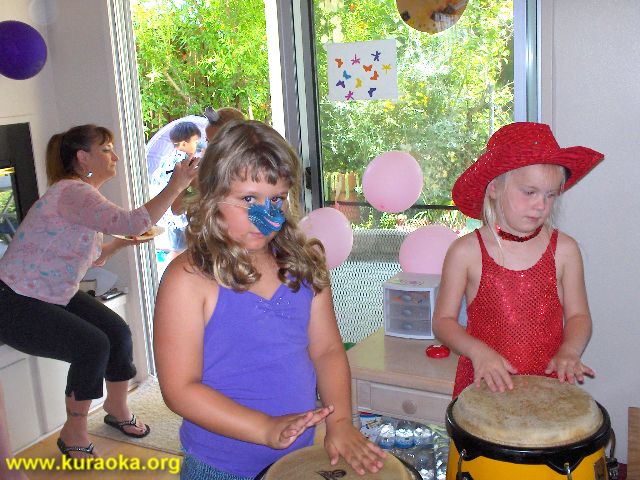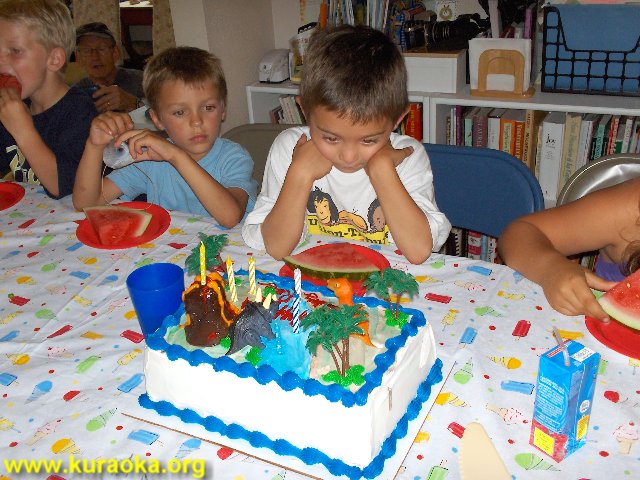 05-10-2006: Muffins with Mom. Here's Leo and Ondine celebrating Mother's Day at Montessori Discovery School.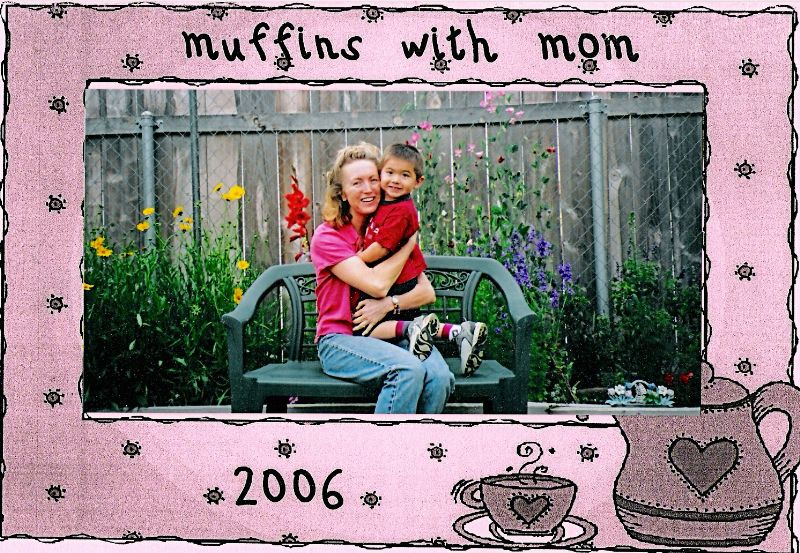 05-08-2006: Roy and John with their racing bibs. Here are Roy and John before heading off to school wearing their T-shirts from the race and holding their race numbers.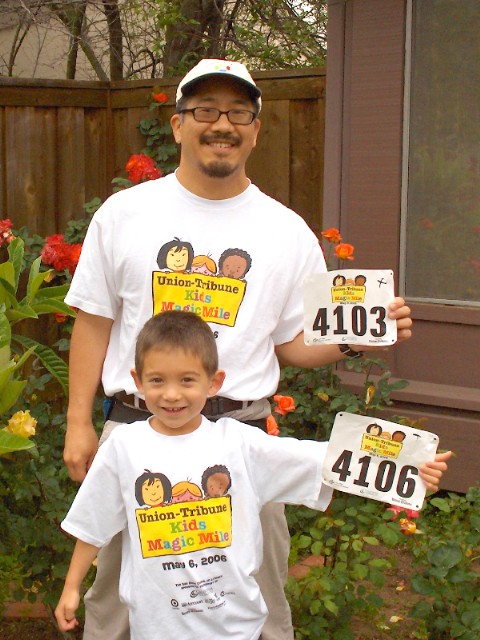 05-06-2006: We run the Kid's Magic Mile. Here are Roy and Leo before the start, with their number bibs. Then, Roy and Leo on their marks in the starting line-up. Finally, Roy gunning it through an open spot in the pack.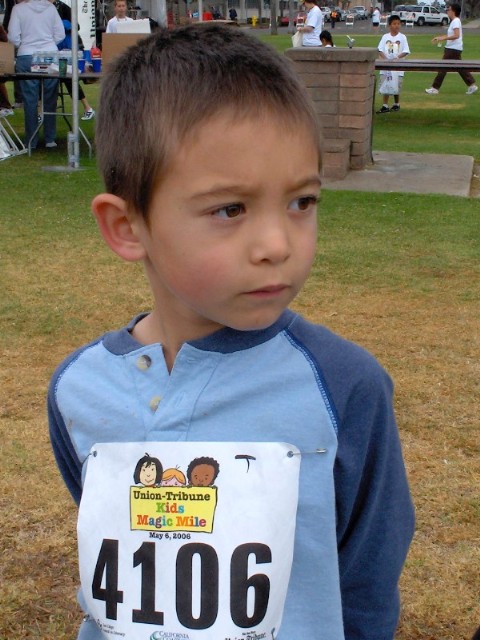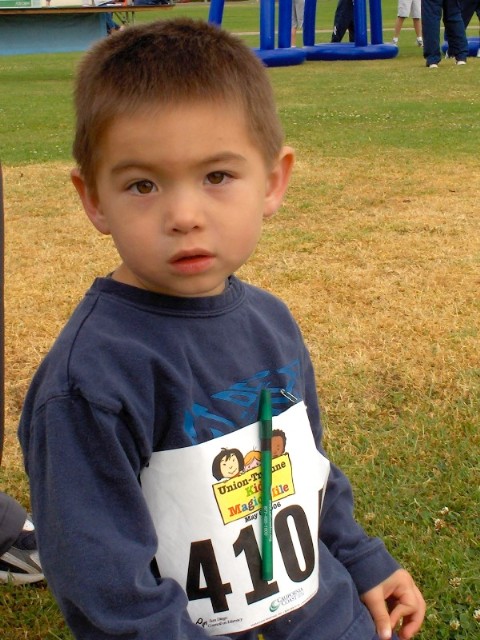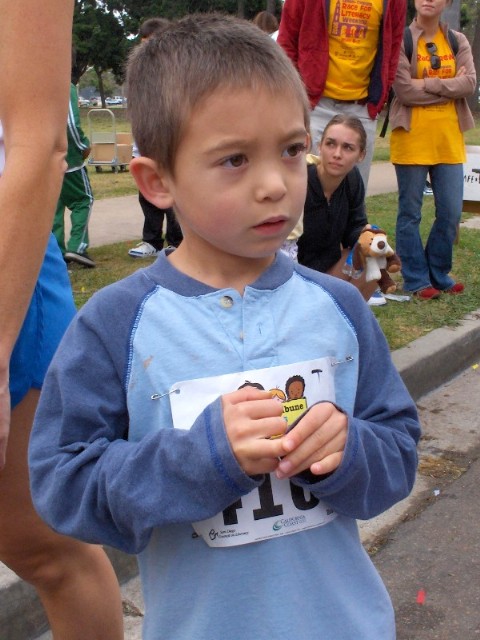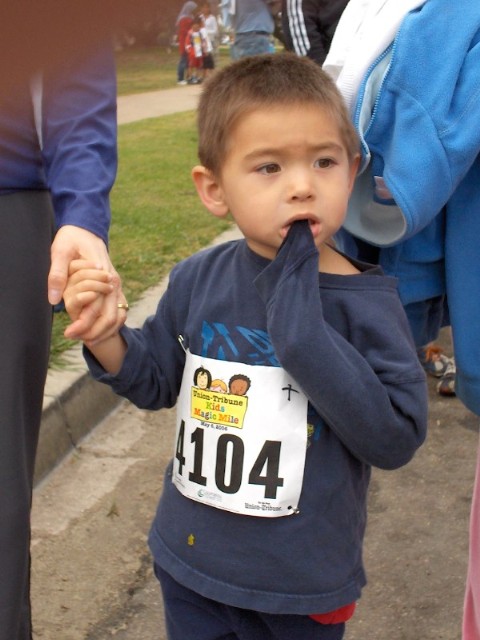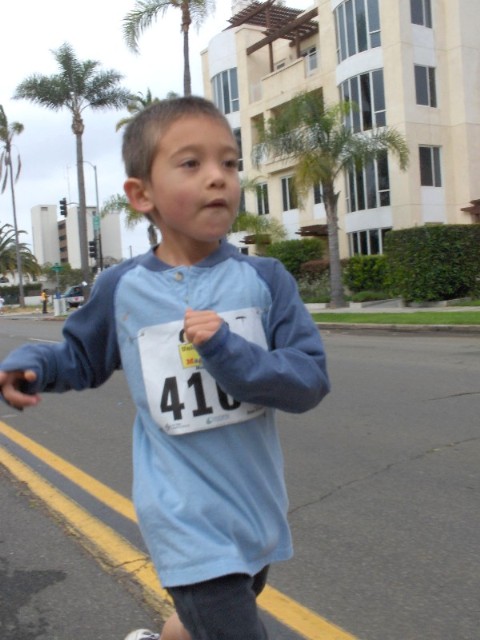 04-29-2006: Descanso Gardens with Grammy. Roy and Leo and Grammy listen to some Celtic music. Then we all try out some musical instruments. The last shot is Ondine with the boys at the bird sanctuary. These, by the way, are the first set of photos from our new HP m22 digital camera, after John dropped our Canon A70 into a creek in Sedona.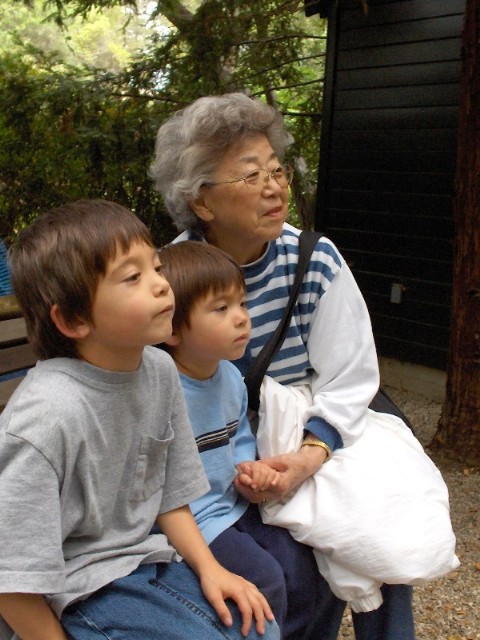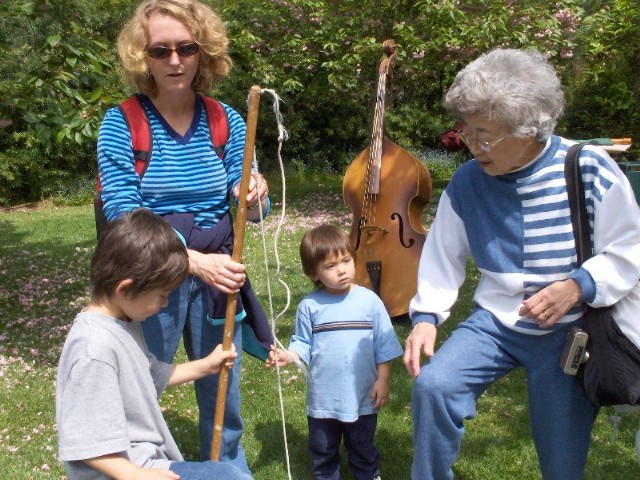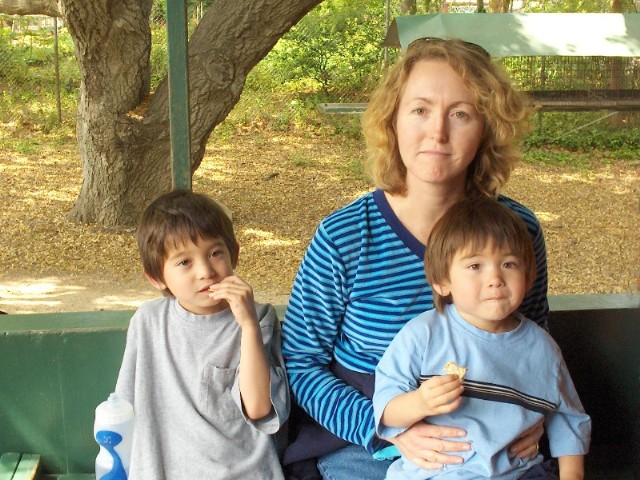 03-13-2006: Leo and Lily. A mischievous pair if ever there was one, all deviltry and daring. Ondine took Leo to Mast Park to play with Lily.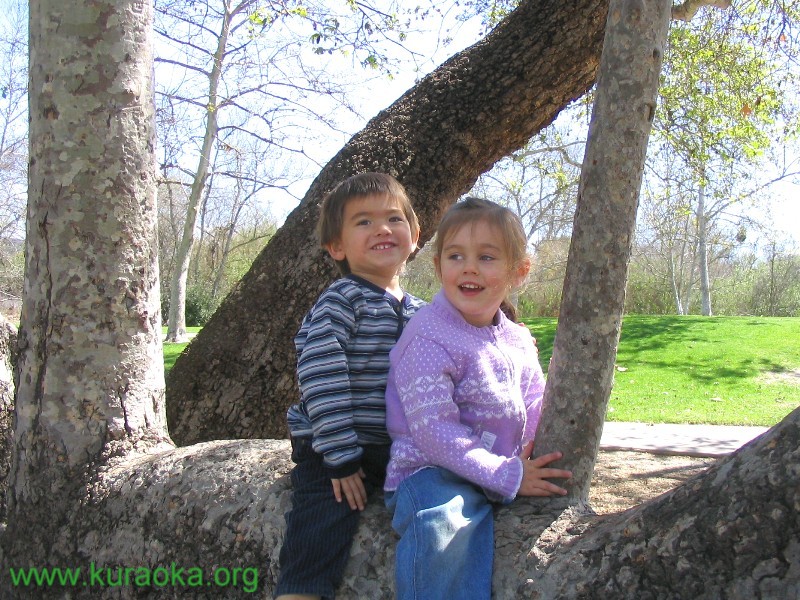 03-12-2006: Ondine and Roy on Cowles Mountain. All that rain made it a beautiful day to hike to the summit.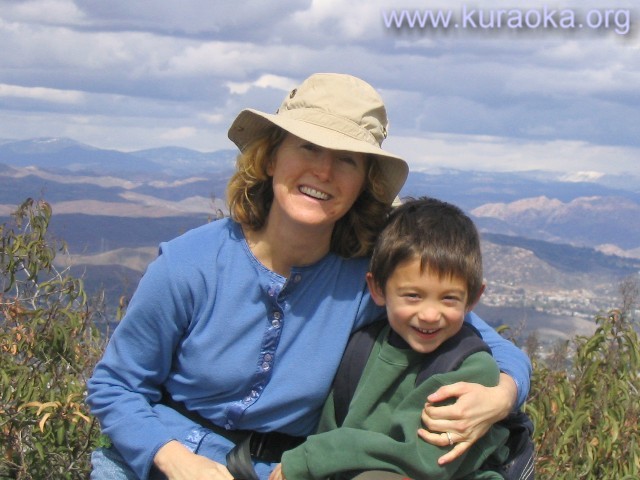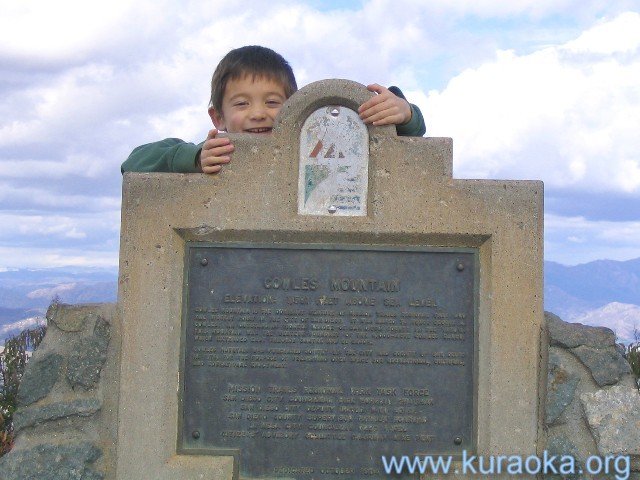 03-11-2006: Hail! We got hail! So we went out to slide down the driveway on a scrap of cardboard and pelt each other with hailballs. Here's Leo getting ready to cream the photographer. Then, we rousted Barbara out of her warm, cozy house to come out and play. There they are in the third photo: Barbara and Ondine, and Leo and Roy.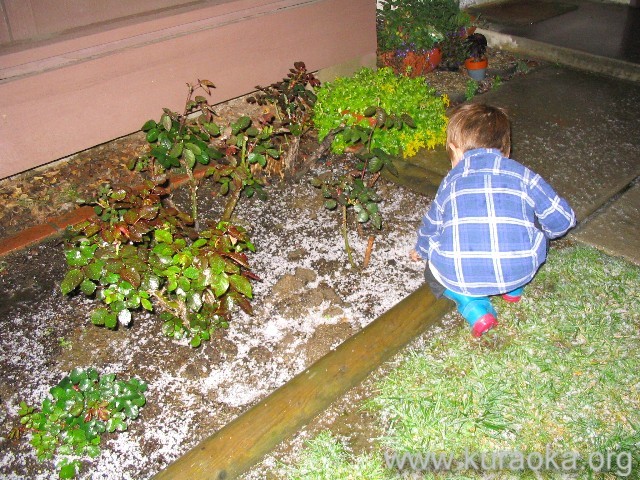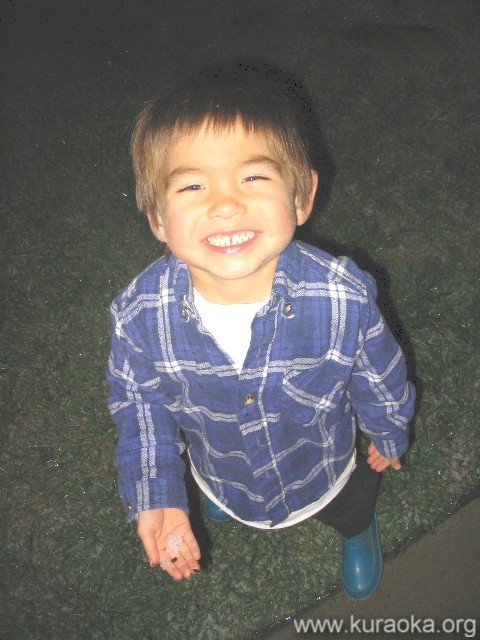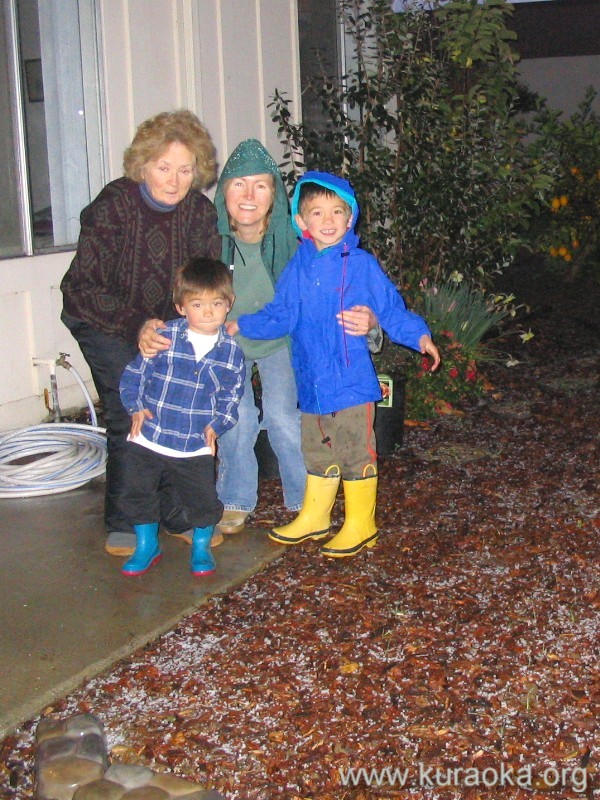 03-11-2006: Ondine starts up her worm ranch. Inspired by an article and motivated by a desire to save worms from drowning after the recent rains, Ondine whipped up this nifty worm condo out of yogurt containers, masking tape, and a pie tin.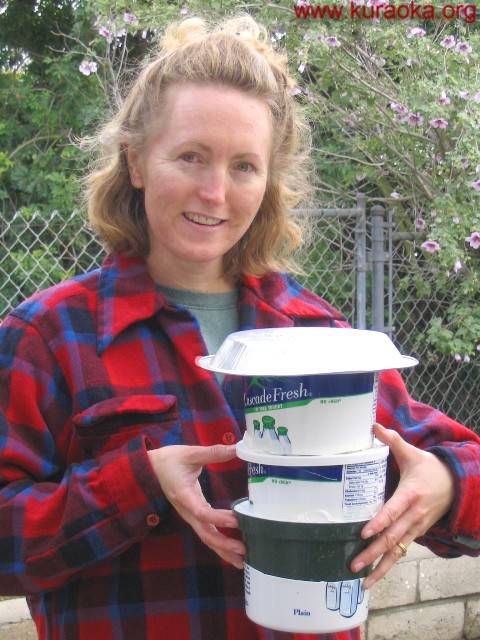 03-02-2006: Roy is an award-winning writer. Roy was awarded First Place in the 3rd Annual Read Across America Writing Competition, Kindergarten category. In-class essays prompted by Dr. Seuss stories were judged by staff writers at the San Diego Union-Tribune. Here are (left to right) Roy and his classmate, friend, and fellow winner Zachary; Roy and a proud Ondine; and Roy flanked by his teacher, Mrs. Youngman, and his friends Dennis and Max, all decked out in their Cat-in-the-Hat hats!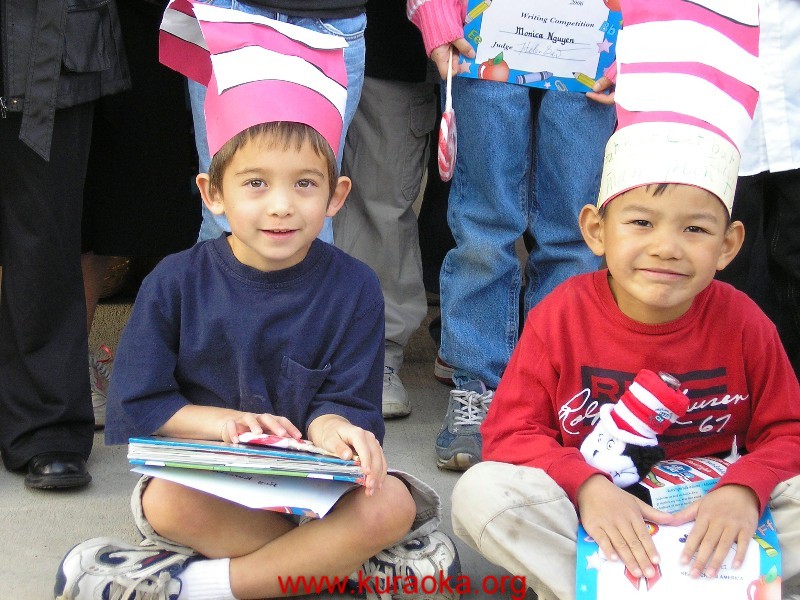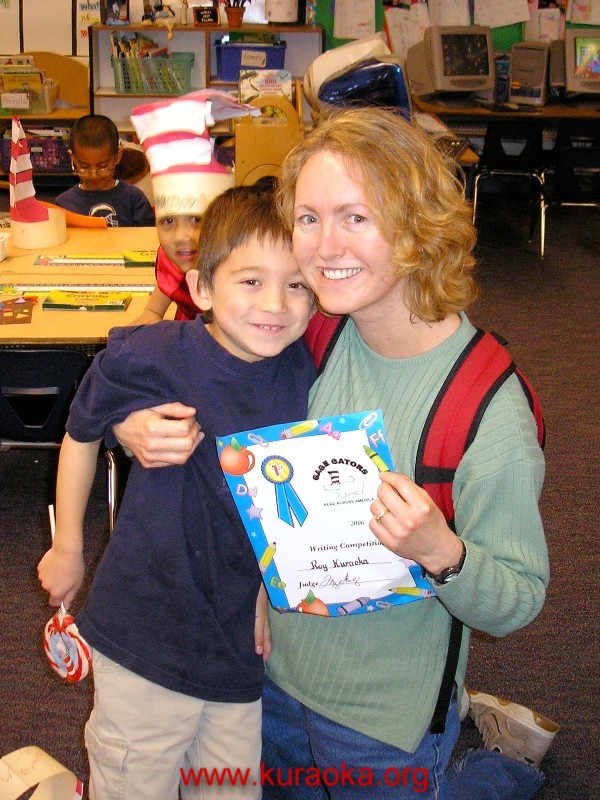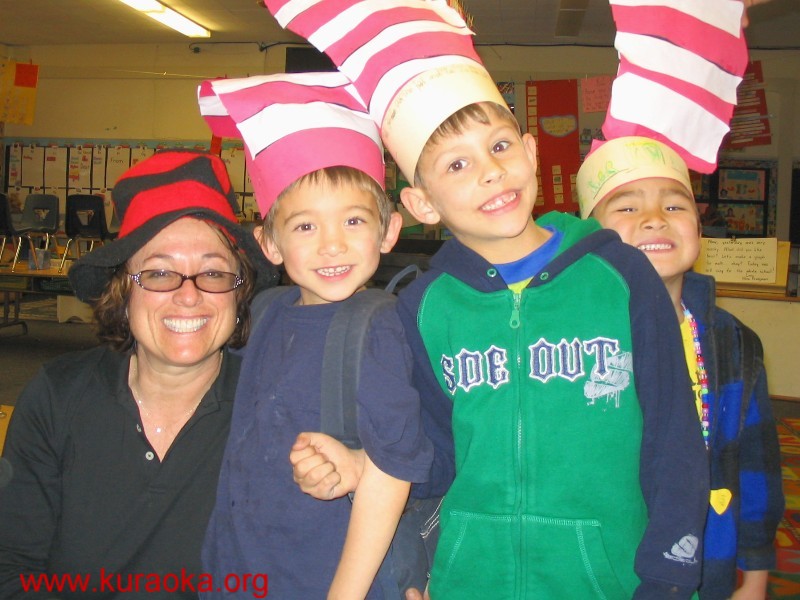 02-19-2006: Stylin' Leo. Leo has his Spiderman shades and his cool fleece jacket. He's ready for anything!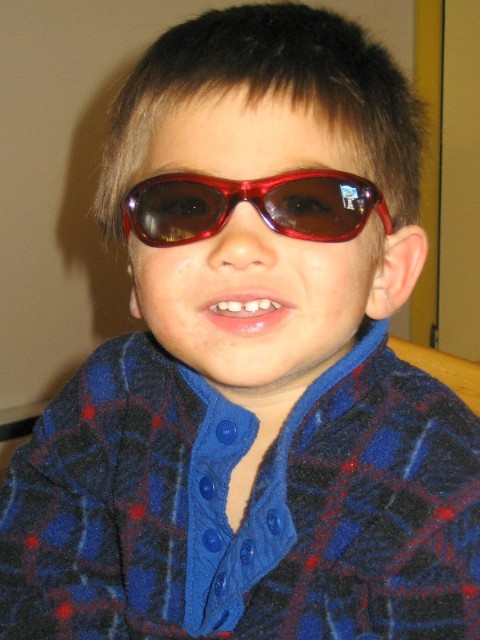 01-29-2006: We go whale watching! Here are Roy and Leo with Ondine, and Roy and Leo with John. A great trip, except for the throwing-up parts.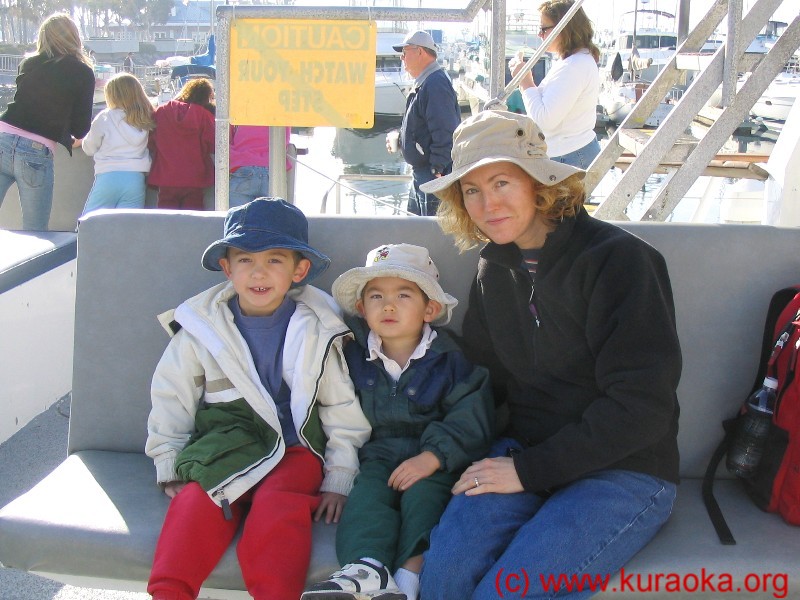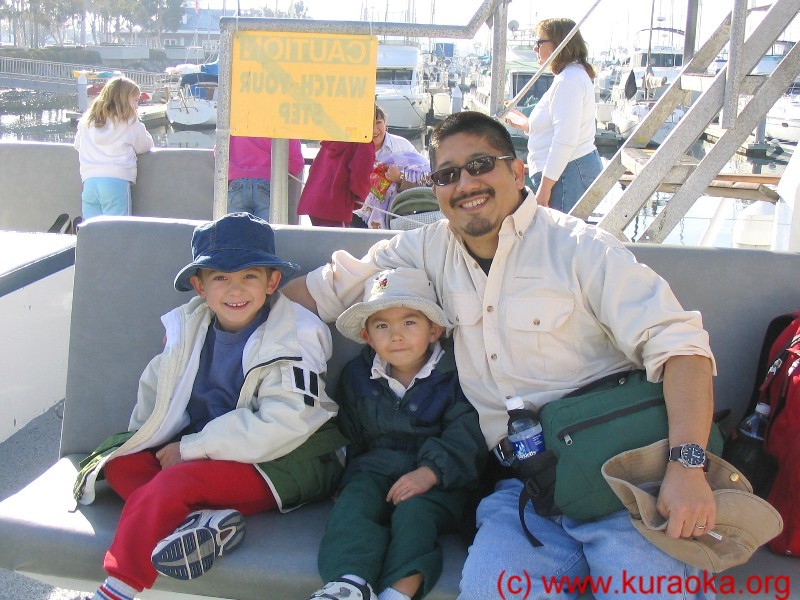 01-14-2006: Sleeping buddies. Roy and Leo wanted to re-live Germany by sharing a bed again. Awww.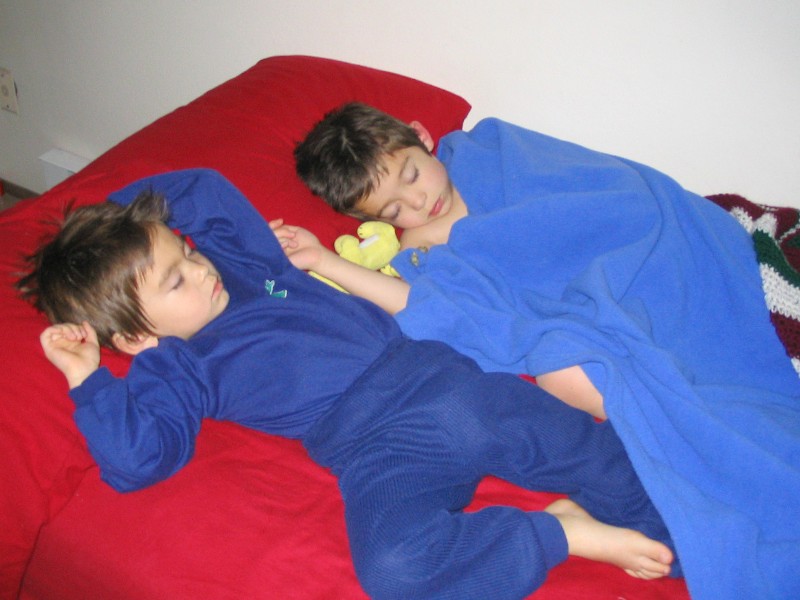 01-09-2006: Bruddas. Roy and Leo do really adore each other, between the squabbles.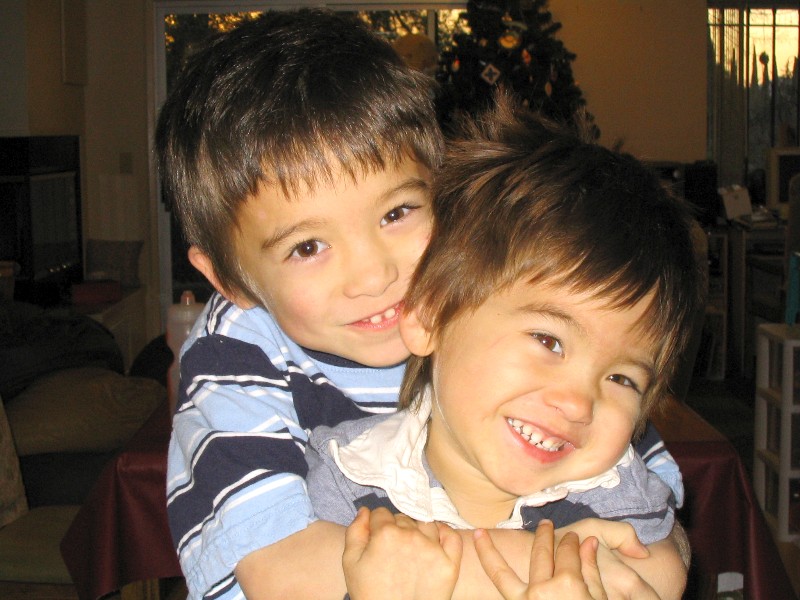 01-01-2006: Partial Playgroup. Moms (left to right): Kim, Ondine, Carey. Kids (left to right): Roy, Carson, Greg, Cydney, Matthew, Leo.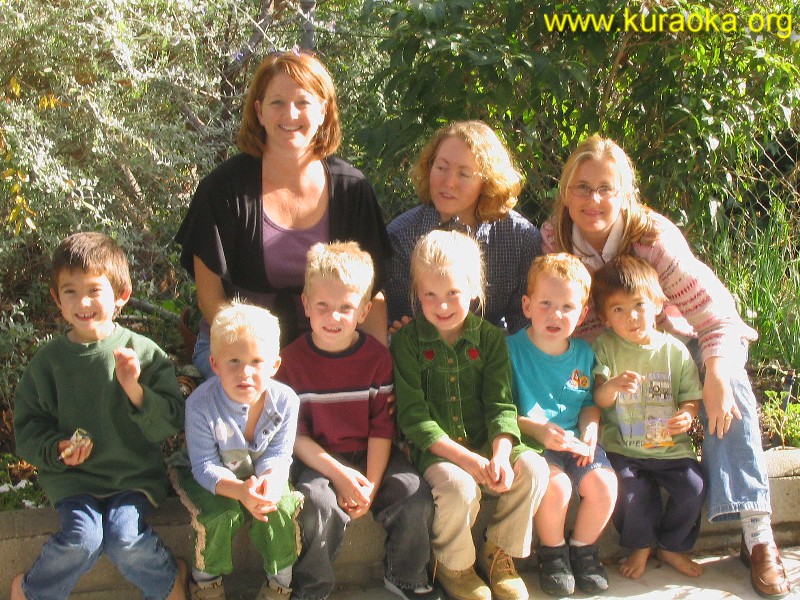 12-04-2005: Family holiday photo, 2005. Here we are in the front yard! Leo is 3-1/2, Roy is 5-1/2.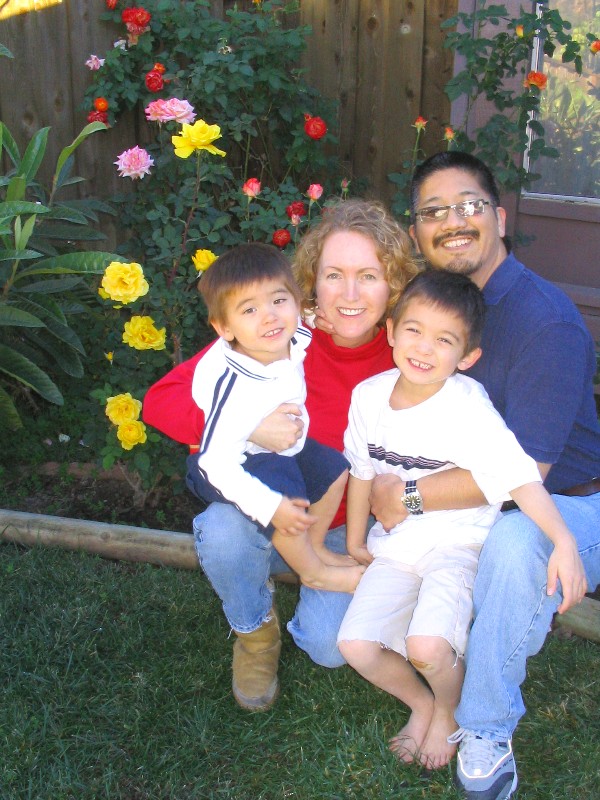 Archived Photos from 2005
Archived Photos from 2004
Back to the Kuraoka Family main page