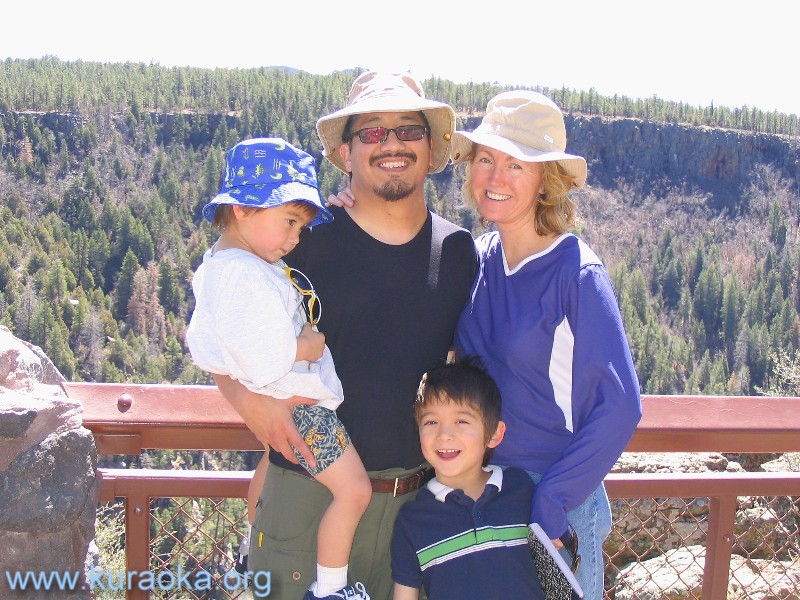 Us: Leo (3-1/2), John, Roy (5-1/2), Ondine
Monday, 10 April 2006
Greetings from Sedona, Arizona! We drove up Friday morning. According to MapQuest, the distance door-to-door was 446.65 miles, and according to our odometer it was just over 445 miles. The MapQuest directions even incorporated an "insider's" route suggestion from Blaise, who has family in Arizona.
Ondine had stayed up late Thursday night making sandwiches and slicing apples. That made the trip go quickly – we stopped only for gas and potty breaks, and to switch drivers every couple hours. Grammy made up some wonderful travel bags for the road, with books, drawing pads, pens, and treats. John read The Tawny Scrawny Lion to them as we drove. The boys liked that story, and the bunny and duck stampers. John brought the little journal book that Roy had given him for Father's Day in 2004.
We left the house at 7:40 and arrived at the timeshare office at about 3:50, so about 8 hours (the MapQuest estimate was nearly 7 hours). By 4:15, we were unpacking at the timeshare unit. The Mazda, loaded to the gills (a bag of supplies tipped over on Roy as we went around a curved interchange, to his amusement), averaged 22 miles per gallon in occasionally aggressive freeway driving.
We're staying at the Ridge on Sedona Golf Resort, a Sunterra Resort. We arrived and settled into our digs for the week, a studio apartment with a kitchenette. Ondine called the front desk and asked for a hot plate, which the resort delivered along with a good-sized fry pan, a stockpot, a spatula, and a spoon. Ondine went to get groceries and gas, while John, Roy, and Leo took a short walk around to get oriented. The light was lovely on the brightly colored rock buttes in the distance. The boys noticed – and liked – the red rocks. They walked around one of the golf course holes, then investigated the putting practice area before returning to the flat to call Barbara and Bill and Frances.
Ondine, meanwhile, got groceries, including a rotisserie chicken for dinner, pork chops, carrots, milk, soy milk, orange juice, bread, and canned vegetables.
We put the boys into their sofa bed right after dinner – by then it was 8:00 and they were ready for bed. John read to them, and Ondine sang a song to them. Then Roy got up to go to the bathroom. Then Leo wanted to go to the bathroom. Then they had a whispered tussle over who was on whose pillow. Around 8:45, they both dropped off to sleep. Ahhh.
John went to the lobby and tried to connect to the free wireless internet access there – and it worked! Back at the flat, Ondine put away clothes and organized stuff.
Saturday morning, the boys were up at 5:00. We held them off until 6, when John got up, showered, and got them their breakfast. He used the coffeemaker to make a pot of tea. Then he made oatmeal. So, the boys had two breakfasts.
We all walked to the lobby to find out how to get to the places we want to see, and what should be there but a Continental breakfast spread! The boys had a third breakfast, of Danishes, melons, and Leo chose a hard-boiled egg. Ondine talked to the concierge, who said that Jerome was a "must-see," and suggested Sunset Crater with the nearby Native ruins over Meteor Crater (we're going to see both anyway, because the kids are into both volcanoes and meteors.). Ondine took the boys for a walk around the grounds, while John checked his email.
It was early afternoon when we headed to Montezuma Castle, a half-hour's drive away. From about 1150 to the early 1400s, Montezuma Castle was part of a Sinagua Culture farming and trading community. The Sinagua were "Northern cousins" to the Hohokam, who built Casa Grande to the South.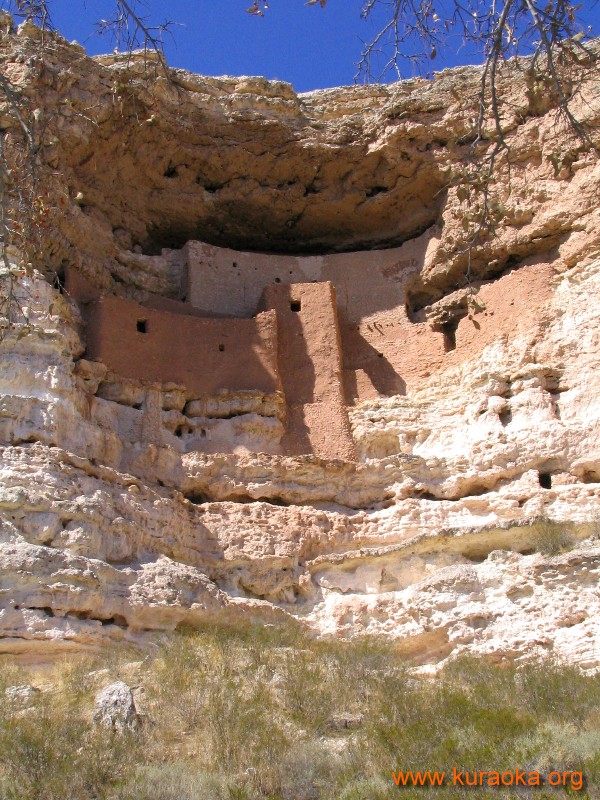 Montezuma Castle is built into a limestone cliff wall, about 100 feet up from the valley floor. It was not the only structure in the community, or even the largest, but its protection from the elements helped it survive as one of the best-preserved prehistoric structures in the Southwest. It remained in use for centuries, until the entire community of 200 people or so up and moved out for reasons known only to them. We listened to the Ranger Talk, and were surprised to learn that much of the structure has been re-mudded through the years, with the result that the windows are now much smaller than they were originally. After the talk, we walked on to "Castle A," the sketchy remains of what used to be a much larger structure, housing an estimated 100 residents compared to Montezuma Castle's 35.
Here, a pair of rock squirrels set their beady little sights on Leo's slice of apple. Leo was blissfully ignorant until he suddenly became aware of two pairs of eyes practically inches away, sizing him up. He backed away with a mixture of respect and delight, holding his apple slice behind him. Roy wanted to get closer and see if the squirrel would jump onto him, but we got him to come away.
Speaking of foraging, John plucked some rosemary from the bushes around our flat to add to our pork chops for dinner. The boys went down early-ish, and Ondine went to the hot tub. She found it abandoned, which gave it a ghost-town quality. She had a quick soak (in which she found 51 cents) and came back to the flat.
Sunday morning the boys had a better night: they were up at 5:30. After breakfast, Roy enjoyed a long shower while we made plans and sandwiches. We wrote four postcards, using the "welcome gift" cards, stamps, and pen from the resort. While John packed up the car, Ondine went to the lobby to check on the possibility of a shuttle to the airport for John's Tuesday morning flight. She found one, Ace Express, but John will be leaving around 3 a.m.! At least everyone doesn't have to get up.
The boys were having hard-boiled eggs. Ondine got two eggs out of the refrigerator. Roy gave his a solid whack on the table to start peeling it and … egg goop all over! It was a raw egg! So, we took a moment to scramble it up, and located the hard-boiled eggs from Barbara and Bill's chickens. The boys are very good about putting on sunscreen. Here, Roy helps Leo.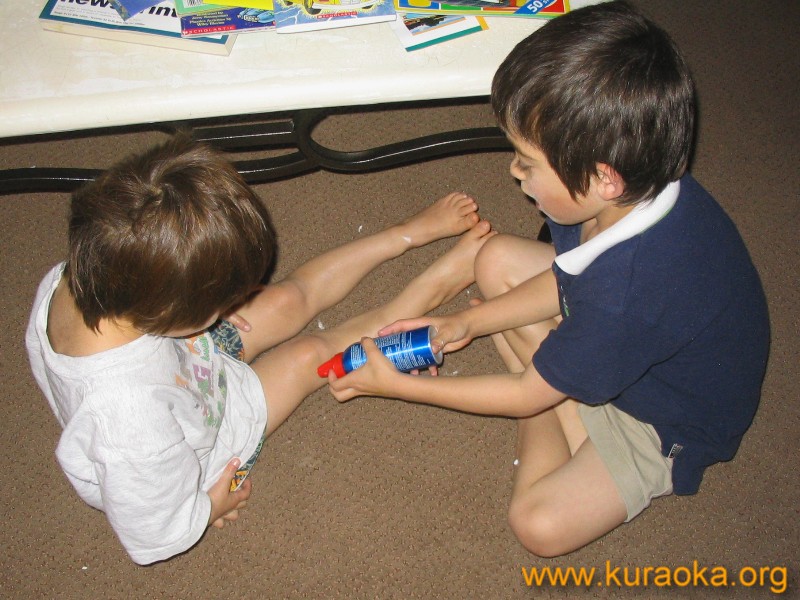 We headed out to Sunset Crater just before noon. They told us it'd take an hour, but that's for local drivers. If you're moving at the speed limit in order to watch for signs, it takes considerably longer. Here are Ondine and Leo at the Oak Creek Canyon overlook, and all of us. Next is our first glimpse of Sunset Crater, and the last shot is from the same spot in the opposite direction towards the snow-capped San Francisco Mountains. Franciscan missionaries named the mountains 200 years before the California city.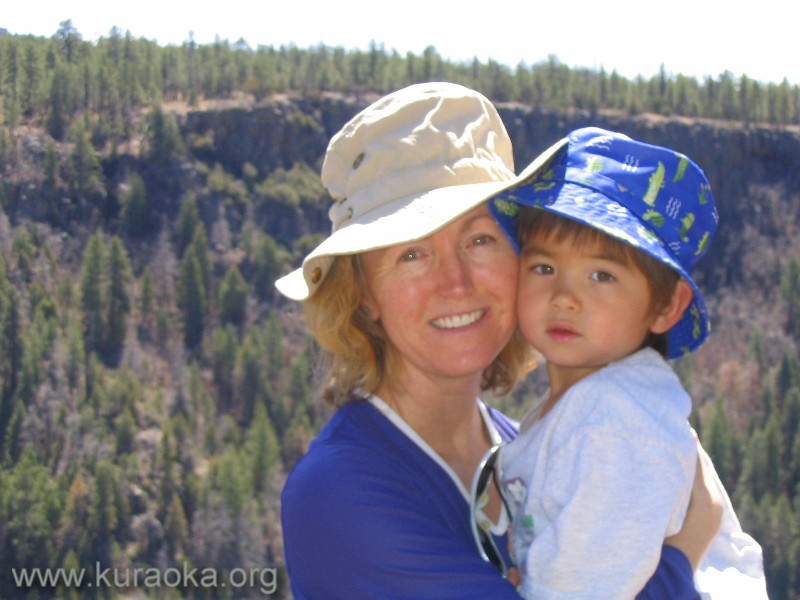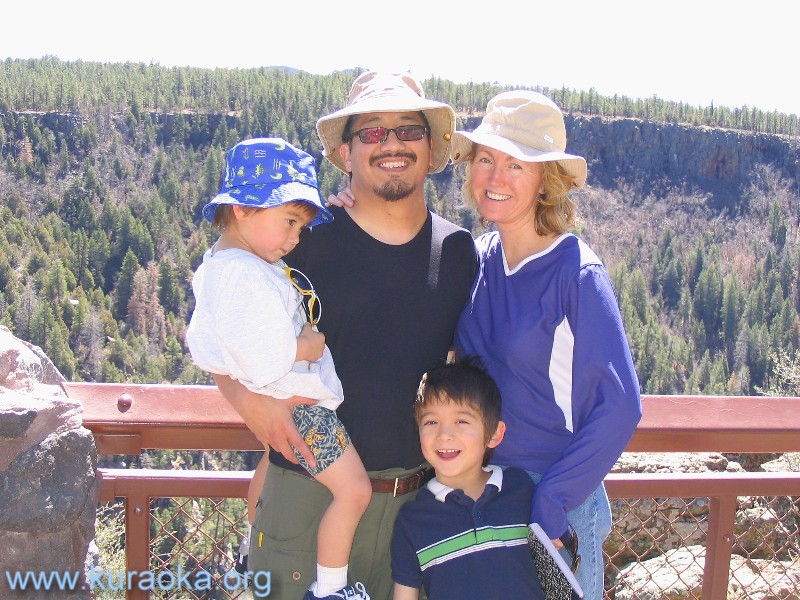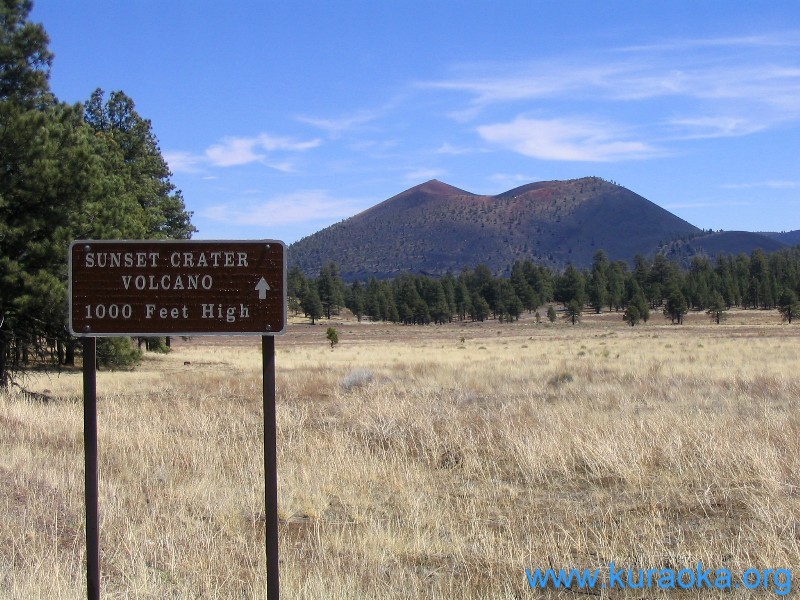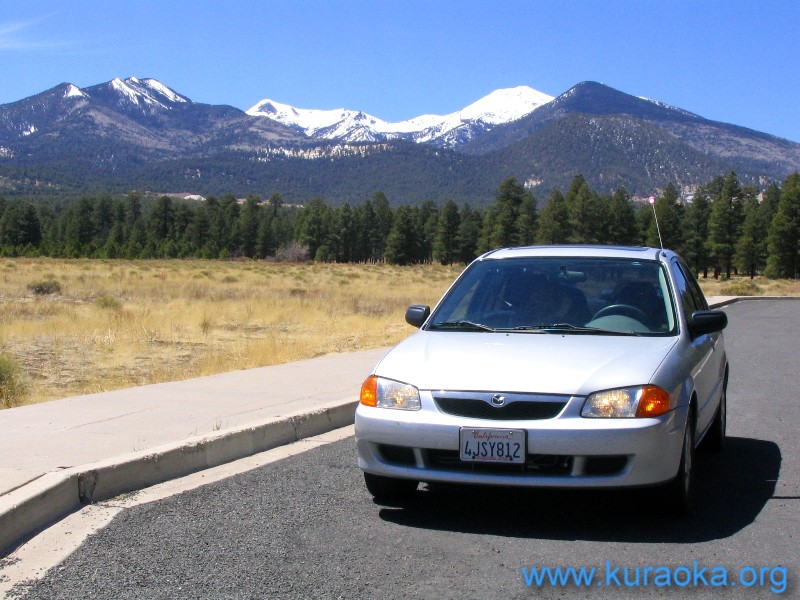 We stopped at the Sunset Crater Visitor Center, to pay our entrance fee ($5 per person over 15) and look around. The kids loved the seismometer pad, which measured their jumps, hops, and lunges on a graph. Roy particularly enjoyed the eruption video, and watched it several times. There were also lava bombs and pumice and basalt to pick up, and Native American languages to listen to. We bought a guidebook to the Lava Flow Trail and a couple postcards, then moved on.
A bit further along was the Bonito Lava Flow overlook. It was an astonishing field of jagged black lava. Here and there, blocks of basalt surged upwards, sometimes in rich folds of black satin. The lava flow dates from 1180; since then, trees have taken root on the barren rock and now punctuate the landscape like stunted outposts of amber and emerald on black velvet. The first two photos are from the morning; the third shot is from late afternoon as we were on our way back.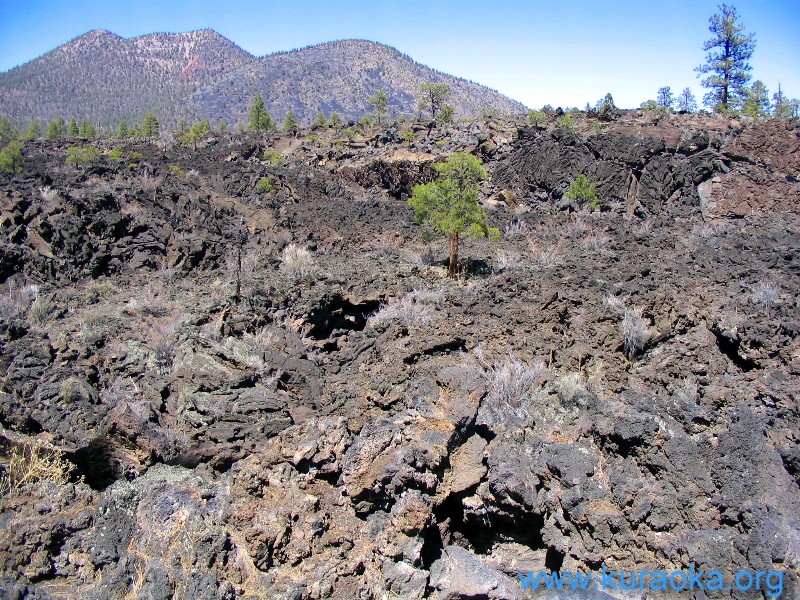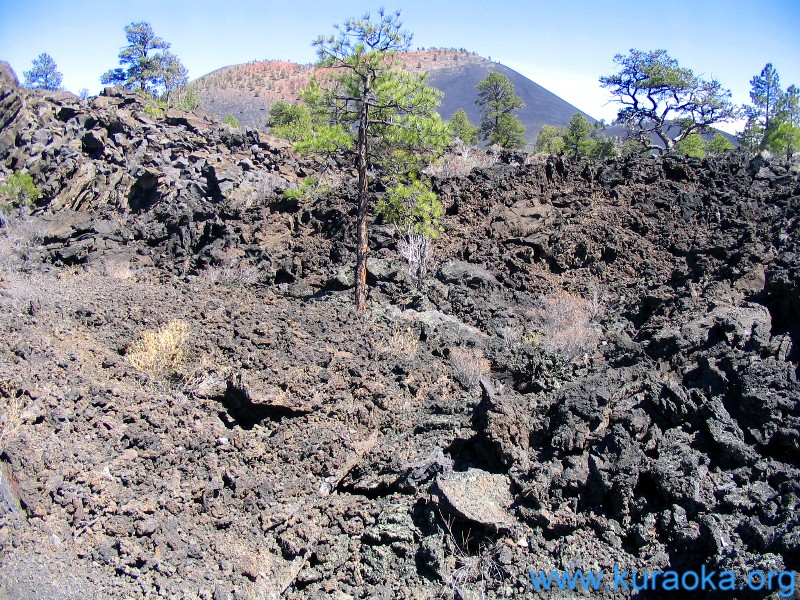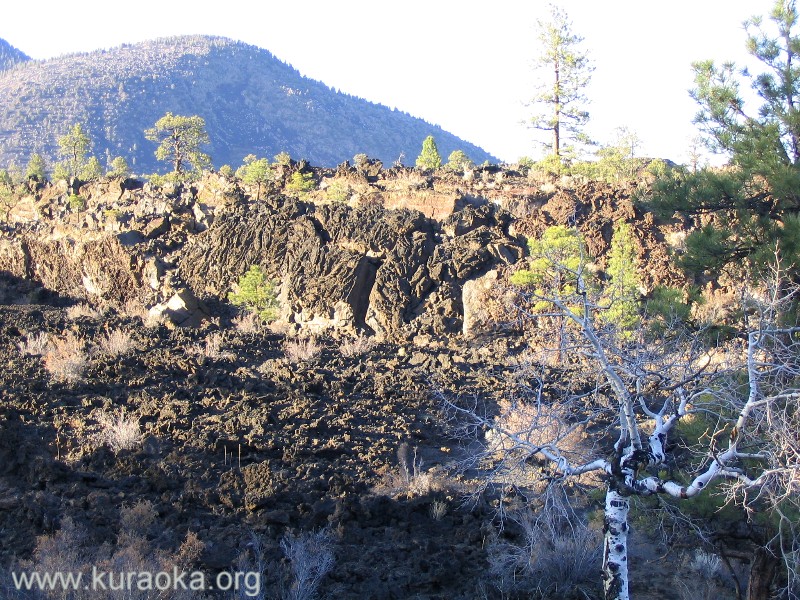 From a distance, the black lava may look soft, but as you approach you can see that it is made up of large, serrated chunks that would tear your flesh to ribbons should you trip and fall. We walked carefully.
From there we moved on to the Sunset Crater walking trails. There are two loop trails sandwiched between Lenox Crater to the west and Sunset Crater to the east. One is a paved 1/3-mile path suitable for strollers and wheelchairs, and the other is a well-maintained 1-mile loop trail with one steel staircase and about 100 feet of elevation loss and gain. Ondine and Leo took the paved trail, and John and Roy opted for the other trail. The views up to Sunset Crater and around the cinder cone were otherworldly; it's easy to imagine the ground crackling with molten rock, trees exploding, and a rush of ash descending in a hot, blinding fury. Sunset Crater last erupted in 1064-5, and remained active until about 1250. The ash it deposited made the land fertile, and the upheaval moved some cultures out and others in. It is unlikely to erupt again mainly because the volcanic action is trending northeastward. Sunset Crater is the youngest volcano in the San Francisco Volcanic Field. Here is one view on the trail, and another of Roy and Leo, our two hikers.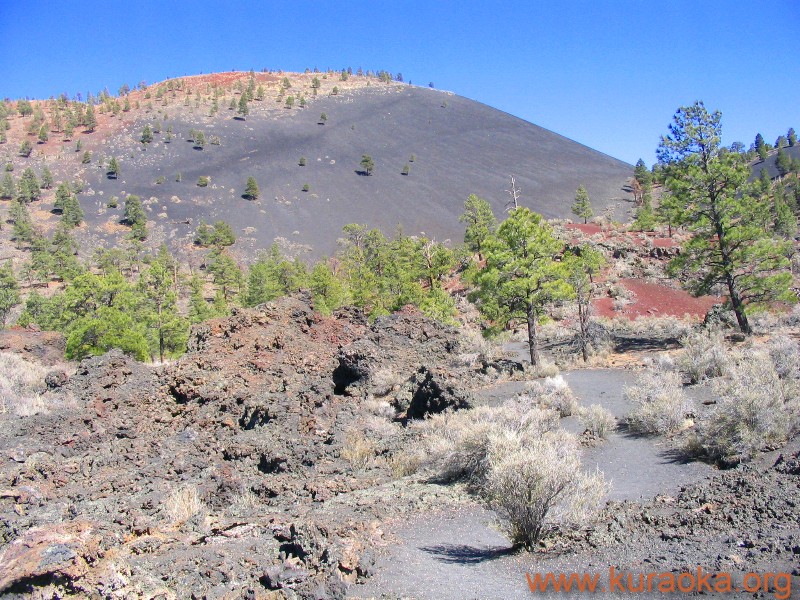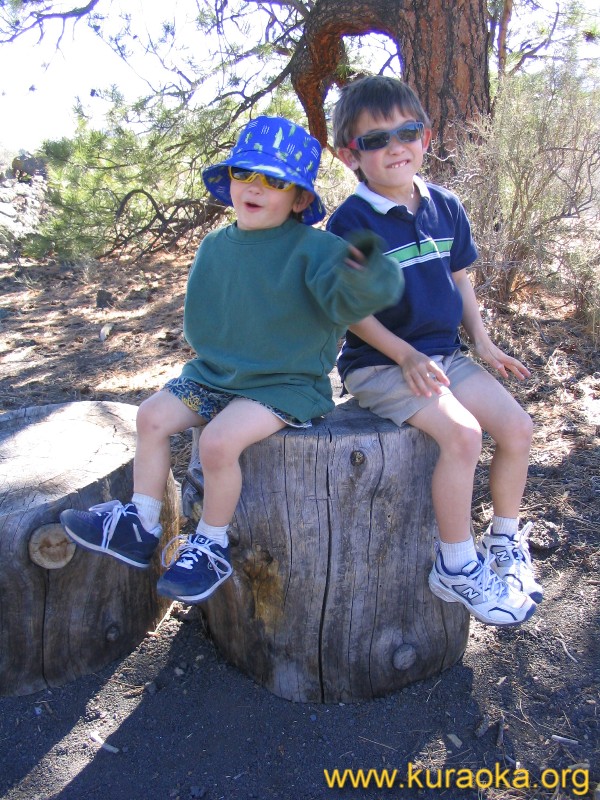 We continued to the Cinder Hills overlook, which gave another blackened panorama flowing down from the quiet volcano.
Then, we continued to the Wukoki Pueblo, part of the Wupatki National Monument. Ondine was surprised when John took the turnoff, as it was getting late and the boys were tired, but we're glad we did. It was an unexpected gem, a bright red rock tower rising into a clear blue sky. We walked around inside it, crouching through thick, low doorways to explore quiet rooms and inner chambers. You could feel the presence of generations of rugged people. It was a stunning place for a respectful ramble.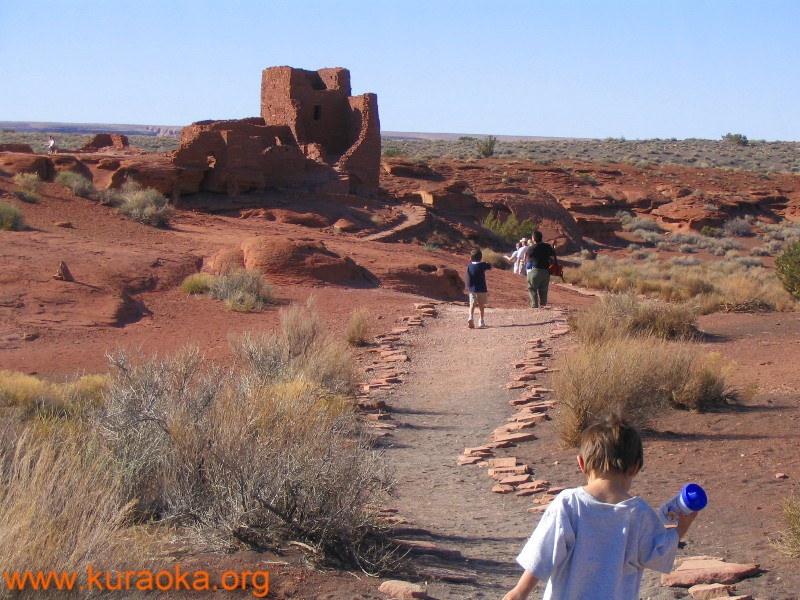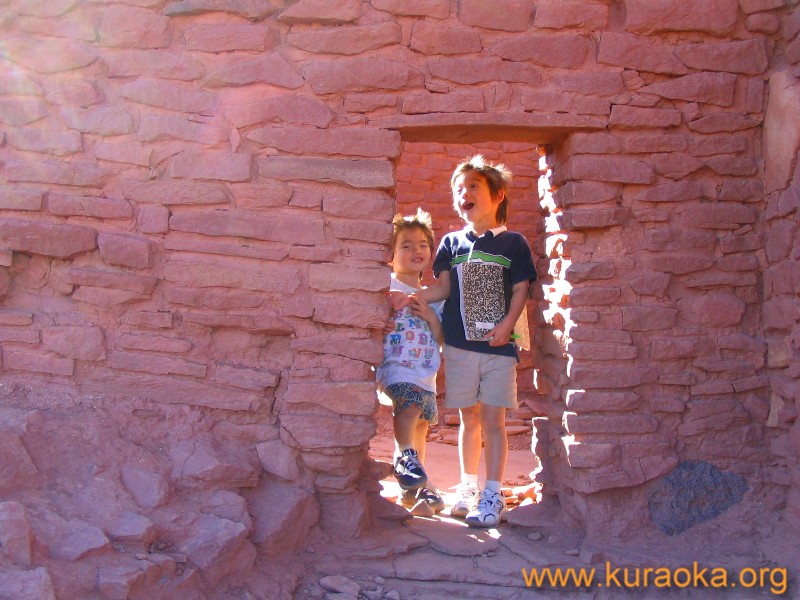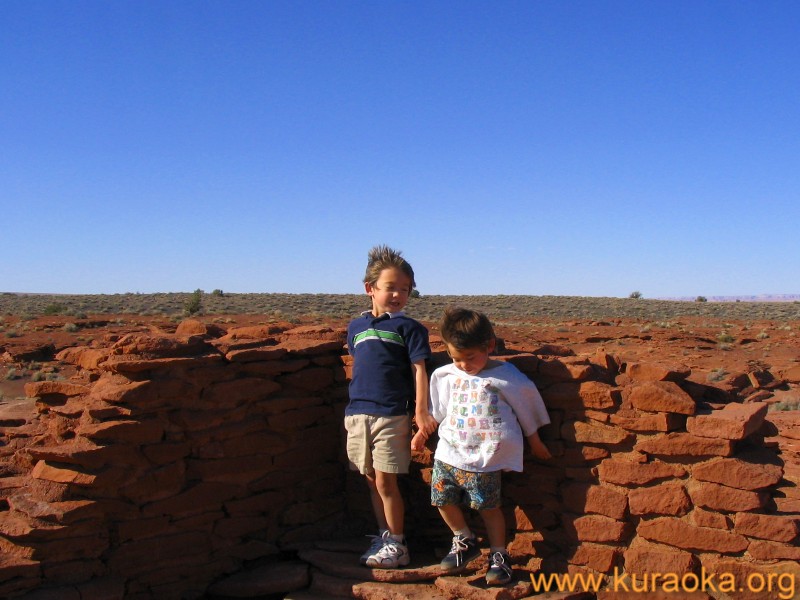 Roy and Leo ran laps around the Pueblo.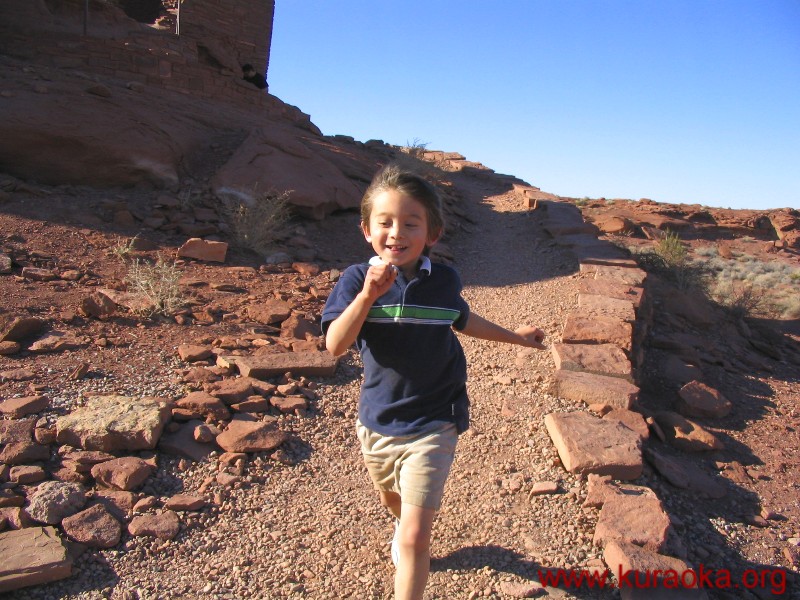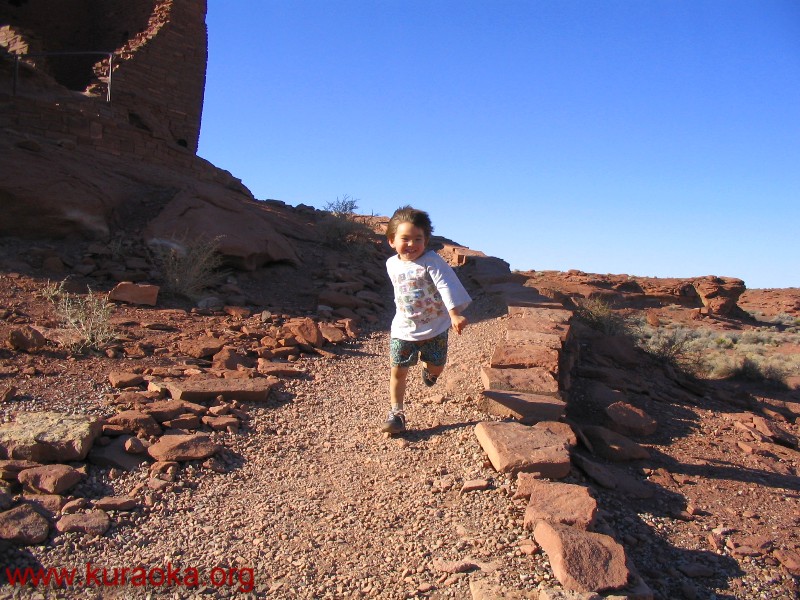 Wukoki was occupied between about 1120 and 1200, and originally was four stories high with up to 100 rooms housing about 125 people.
We made it to the Wupatki Visitor Center minutes before closing, and bought two books and four postcards, the boys each selecting one for themselves. Roy picked a view of the ruins, and Leo picked a collared lizard.
It was getting late as we made our way down the mountains and back into town. We stopped at a Jack in the Box on Route 66 to pick up dinner. Both boys were asleep, though, by the time we made it back to the flat.
Then, Ondine turned around and went back out for groceries. It was a long, long day!
Monday is a quiet day, we figure. John did laundry and settled into the laundry room to do some work. Ondine and the boys made tom-toms in Native crafts class. In the afternoon, we may take one of the scenic drives through the Red Rock country, but not if the expected rain comes. We need to take it easy, because tomorrow John has to be ready to leave at 3:30 in the morning, to catch a flight to Burbank for Mike's funeral. Mike was John's brother-in-law.
Neighborhood gas prices – in our Sedona neighborhood that is (ha!) – are about $2.63 per gallon.
Forward to Sedona Part 2!
Back to the Kuraoka Family main page, with lots more stuff, including photos!