The Kuraoka Family Week-In-Review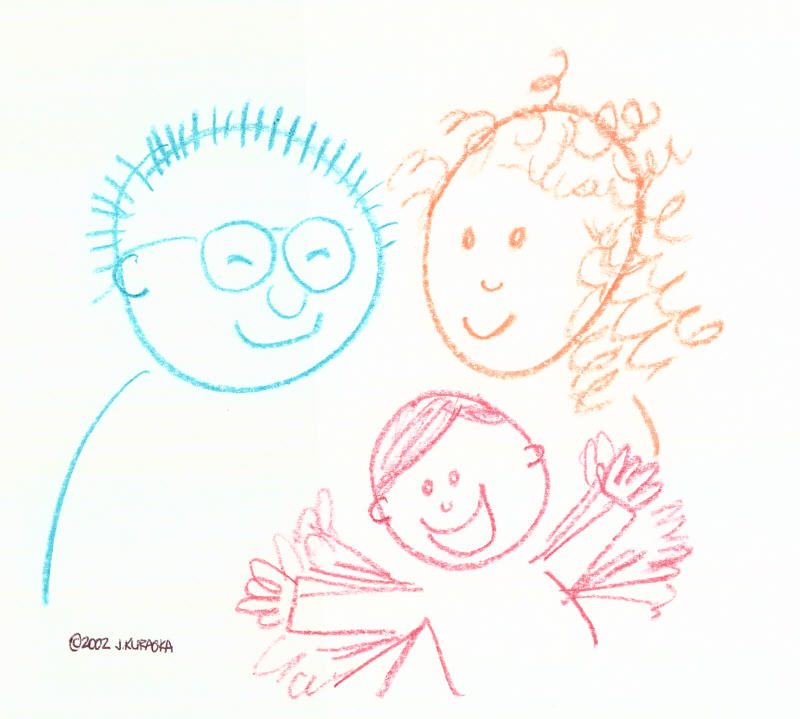 Us (left to right): John, Roy (25 months), Ondine
Leo Masaharu Kuraoka's birthday: Saturday, July 20, 2002
BORN: Leo Masaharu Kuraoka, July 20, 2002, at 2:56 pm. 7 pounds, 15 ounces, 20" long. Birthplace: Kaiser Permanente Zion, the hallway outside the visitor's waiting room and doctor's sleep lounge on the Fourth Floor. That's right, on the Fourth Floor.
We left for the hospital at around 2:30 pm, and by 2:45 we were at Kaiser. John was lucky, and got a "patients in labor only" parking spot, adjacent to the entrance. Ondine had a strong contraction in the parking lot. We used a large exercise ball for Ondine to lean on, while Wendy, our doula, worked an acupressure point by the thumb and John squeezed Ondine's hips from behind. We had made quite a show in the parking lot, but then Ondine had another powerful contraction in the main lobby. She worked through that one, then …
In the elevator ride, something happened, and just around the corner from the elevator, in the hallway leading to the admissions area, Ondine had an even more-powerful contraction. She said "I think it's coming!" She sagged off the ball onto the floor.
While John sort of tended to Ondine, Wendy flagged down a passing person-in-scrubs (we think he was a doctor) to get a gurney. "Don't push," Wendy advised.
The midwife, Sandy, showed up first, and after a quick exam on the floor, prepped the immediate area. "Nope," Sandy said, "go ahead and push and you'll have this baby right now." It was right during a change of shifts, so we had double staff, it seemed, in the hallway. Plus, all the interested onlookers from the waiting rooms. Sandy ordered some intermediary doors shut, and we had some privacy. The exercise ball wandered off on its own, slowly, like a wayward old gray dog. All we could see were legs and scrubs.
Things happened very quickly. It seemed like there was little pushing – indeed, very little time to push. Leo Masaharu entered the world at 2:56 pm, in the hallway, beating the gurney by several minutes. The umbilical cord was wrapped around him, so it was good that we had lots of medical assistance there in the hallway.
When it was over, Sandy asked Ondine "so, were you thinking of an epidural?" A lanky, dark-haired man in scrubs chuckled "that's why I'm here." So, yes, we had an anesthesiologist attending, along with several nurses, technicians, and other medical staff.
Ondine was truly heroic.
Afterwards, Leo had some trouble warming up – no wonder, being born in a drafty hallway – so they kept him on the buffet table for a long time. He fed pretty well, though, and had two poops (7:40 pm and 9 pm). They took him away once, for a gastric aspiration, because he was spitting up a fair amount. Other than that, he is doing fine. He has a beautiful round head, full of dark hair.
Ondine is doing great – in fact, you'd never even know she had just had a baby. She had already had her required three pees, so that's very good. She is eating well and staying well-hydrated.
There were some minor paperwork issues to deal with. After all, we did have Leo before either he or Ondine were officially admitted. Still, John got to see Leo within minutes after he was born (despite lacking the "proper" paperwork and authorizations). It seemed, for some reason, that everyone on the floor knew us. Hmmm.
Barbara, Bill, and Roy came by later in the afternoon. Roy said "there's little Leo."
John stayed at the hospital until 10:30, then stopped at the grocery store for bread and milk on his way home; a prosaic ending to an epic day. He updated this around midnight, so if he misspelled something, well tough cheese. Remember to click on the picture links!
------------------
2:25 pm: We're going in! Next update will probably be the announcement, we hope!
2:10 pm: We call Kaiser, talk to a midwife, Sandy. We're going in now.
1:15 pm: Roy woke up and went next door. Contractions getting very strong, and changing in character. Amniotic fluid continues to trickle.
12:47 pm: Ondine felt a <pop> and the water broke! Wendy, our doula, arrived at 12:30 and is assisting. She brought with her a large exercise ball to lean on, and her boom box.
The main event has started. Strong contractions every seven to ten minutes for the last hour or so, some lasting over a minute. Some or all of the mucous plug came out, too, so it will happen soon! John spent the morning with Roy at swim class, Action Thrift (a shirt, a copper saute pan, and a book), and Mission Bay; when he came home, Roy was asleep in the car. Barbara was here assisting, but sat in the garage with sleeping Roy while John helped Ondine. Our doula, Wendy LaFrenz, is on her way over, and an assistant, Terry, may also be joining us. As for us, we're quite relaxed about the whole thing since we know what to expect. We've been packed for weeks, it seems.
Saturday morning, stronger contractions. Ondine hopped in and out of the shower several times to try to keep them going. Are they more, albeit stronger, Braxton-Hicks? Or are things starting to move along? Meanwhile, John and Roy went to their morning swim class as usual.
Friday, 7 days after our due date: Well, the contractions got stronger after our evening walk, so Ondine hopped into the shower to let the water spray her chest, which is supposed to help stimulate more contractions. It didn't seem to do anything.
This evening, the old box fan in our living room started smoking! Fortunately, we have another one. A simple dinner tonight: hamburgers and rice. Then, another walk to try to budge the baby (which seems to be a very happy camper right where it is). Ondine has been visualizing things opening (doors, flowers, etc.).
This afternoon, Ondine (accompanied by Barbara and Roy) went for a fetal non-stress test at Kaiser. First, they strapped a heartbeat monitor around Ondine's belly to check that the baby's heart rate increased after each movement. Ondine had a button that she'd press when she felt a movement, and then they'd see if there was a corresponding heart rate increase. Not only was everything fine, but the baby moved around so much, they had to re-position the heartbeat monitor from one side to the other! They also used an ultrasound machine to make sure there's enough amniotic fluid. They said that Ondine had "nice deep pockets" of amniotic fluid, which is very good. No, we didn't peek to learn the gender (couldn't have seen anything, anyway). The only advice they gave, was to walk and stay well-hydrated. Ondine has another exam and non-stress test next Tuesday, at which point Kaiser will probably schedule an appointment to induce labor. Kaiser did give Ondine a gift: the belt that the heartbeat monitor goes onto. She's supposed to bring it back with her for her next appointment, if she makes it that far and if she remembers.
In the morning, John and Bill went up the mountain. We're savoring these last days with just one kid (especially when he goes down for a nap), but we're also getting anxious to meet our new family member. Ondine has had some back pain lately, and is ready for the baby to come out and join us. It was trash day today, always a highlight of Roy's week. Ondine and Roy visited Christine and Nikki and Trey, but Roy fell sound asleep en route (it was his nap time) so she parked in the driveway in the shade of a tree and she and Christine had a nice chat on the front steps.
Thursday morning, Kim and Greg came over for a play date. Greg has started potty-training, and went to the potty here! Ondine's pre-natal exam showed ... no change since last Thursday. Ondine is still 50% effaced, less than 1 cm dilated, and baby's head is at -3 station (high). The heartbeat is good and strong. The baby's high position is typical of second children - they stay high then drop suddenly. The lack of change on the dilation made the nurse/midwife consider the possibility of a dating error, although that, too, could change overnight. At any rate, she wasn't a good candidate for inducing labor because of the small degree of dilation. After dinner, we took a long walk.
Please remember to bookmark our website and visit often - it has been updated at least once a week since 1998!
Onward to our addition journal, also updated daily, with weekly photos.
Back to the Archives page.
Back to the Kuraoka Family main page.
Forward to the current Weekly Journal.