The Kuraoka Family at Sand Pond 2008
www.kuraoka.org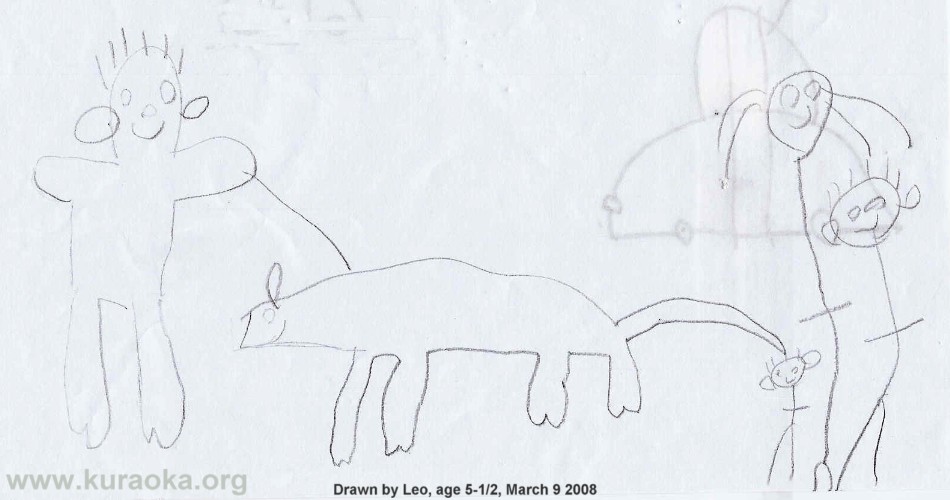 Family portrait by Leo (hurriedly), March 2008: John, Buddy, Leo, Ondine, Roy
August 8-17 2008
We are home from Sand Pond! We had a great time. We did something different this year: we didn't try to caravan with Barbara and Bill. Instead we each went at our own pace and convened at camp. That was more relaxing for everyone. So relaxing, that Barbara and Bill aren't back yet! They extended their stay in camp, and made a side trip to Bakersfield to see the Buck Owens Show on their way home.
So, heading north, we split the long drive into three legs instead of two, leaving Friday after Scout camp and stopping that night at John's Mom's house in La Canada. Saturday (the 9th) we stopped at the Holiday Inn Express in Santa Nella, which accepts pets. This is now our preferred way to go! This was Buddy's third trip to Sand Pond, and he definitely recognized both the Santa Nella exit, and the area near the campground!
Highlights of the trip included walking around Snag Lake, another tour of the Kentucky Mine, panning for gold in the Yuba River, playing in the spillway between Lower Sardine and Sand Pond, a late afternoon hike to Upper Sardine, s'mores, toasted marshmallows, a full moon, and more!
Roy kicked his way across Sand Pond on a log for the first time, with help from Ondine. Leo did Superman glides in the shallows. John found his old favorite log to float around Sand Pond on, plus a new favorite that he can paddle or straddle, sort of. Barbara and Bill took Roy, Leo, and Buddy to Gold Lake and Frazier Falls while Ondine and John enjoyed a day on their own in beautiful downtown Downieville. And, Saturday while we packed, Barbara, Bill, and Ulli took the boys to Bassett's for breakfast and then out hunting for square nails from the flume!
Ondine's Aunt Ulli joined us at Sardine Campground a few days in – it's always so nice to see her and Diego, her travel Chihuahua. The boys enjoyed taking Buddy and Diego for walks.
Ondine's Uncle Hans was there too, for a day. Cathy was there with all her boys and their girlfriends – she was camped at Salmon, a short distance away. She'd knitted caps for all of us, and made pillows and bean bags for the boys!
The bear was less of a pest this year, except the one night when some numbskull left a garbage bag of food hung on the outside of the dumpster. Well, who can blame the bear in that case?
The weather was perfect! We had clear skies and warm days every day, except for when we needed clouds for the hike to Upper Sardine and the skies obligingly turned cloudy. The nights were mild.
Acquisitions this trip included two different gold pans (from the Kentucky Mine Museum, the cheapest place to buy gold pans or postcards), a handcrafted wooden spoon (bought at Two Rivers Gallery in Downieville), and a Swiss Army knife (bought at Bassett's) to replace one John thought he'd lost on an early morning hike to Sand Pond with the three bruddas. As it turned out, Leo found John's pocketknife in the boys' tent, where it had fallen out the previous night while reading a bedtime story. Also, Ulli had asked Cathy's boys to bring her some shale from the top of the Sierra Buttes when they went up. They dutifully lugged back several pounds of stone from the top, and Ulli shared with us so we now have a piece of the Buttes. And, we all got T-shirts from Bassett's.
Our annual dirty bathwater contest at the hotel in Santa Nella ended in a three-way tie. Leo's bathwater was the brownest, Roy's was the grayest, and Buddy's was the grittiest.
On the way home, we discovered a terrific Indian takeaway right off the freeway south of Santa Nella. We might have to make that a regular stop. The veggie wrap was excellent!
Speaking of plans for next year, Roy already wants to return to Snag Lake, Gold Lake, Upper Sardine, and Frazier Falls. We plan to pack more into the Piggy Pack next year, including camp clothes, and take less food, which should free up space in the car considerably.
We got home Sunday evening, and have been unpacking and doing laundry ever since. John plunged straight into work on Monday, and hopes he'll catch up by the weekend. We'll post up a travel journal and photos once we get them ready to upload, probably as its own page since it's a little late to make it a weekly journal entry.
Speaking of John, he edited his face! Too bad we lack the energy to post photos, or we'd show you. Almost immediately upon returning home Sunday evening, he shaved off his moustache. He was tired of the way it had always gotten in the way of his CPAP mask. He first grew it out on a trip to San Pond almost exactly five years ago. Anyway, he still has a fuzzy chin to match his fuzzy head.
The funny thing is, Ondine didn't notice until the next afternoon! And the boys still haven't noticed anything different about his face. Yeah, yeah, who wants to look at that silly mug?
And now for the photos, the first of some 100+ we have from this trip. They're clumped together thematically rather than chronologically. As always, click on any photo to view it full-size.
Our campsite was #24, Sardine Lake Campground. We've had this site before, and it's a good one. The first photo is our first dinner in camp, Sunday evening, followed by a campfire from scrounged wood.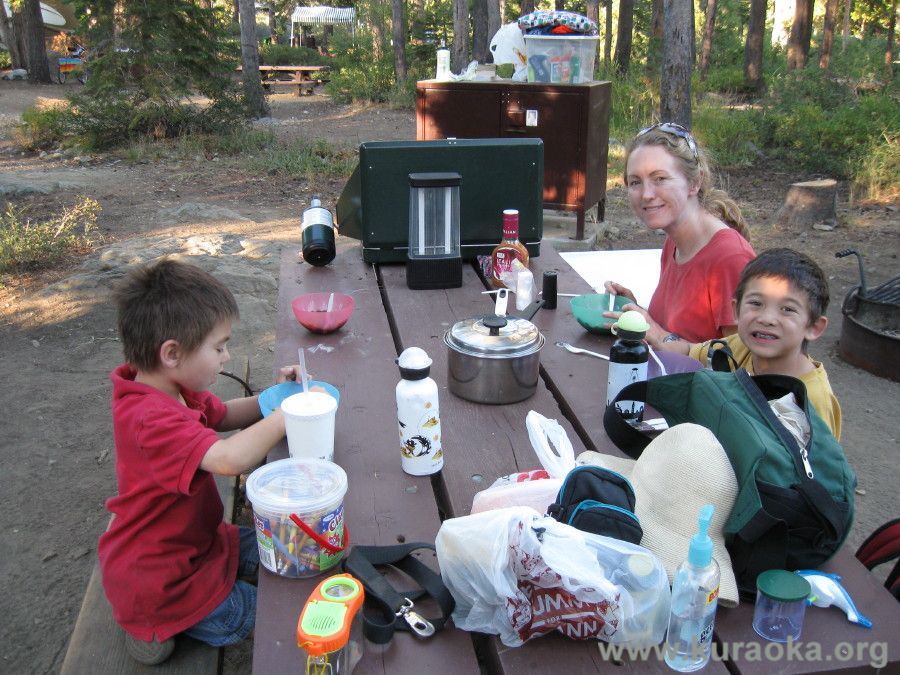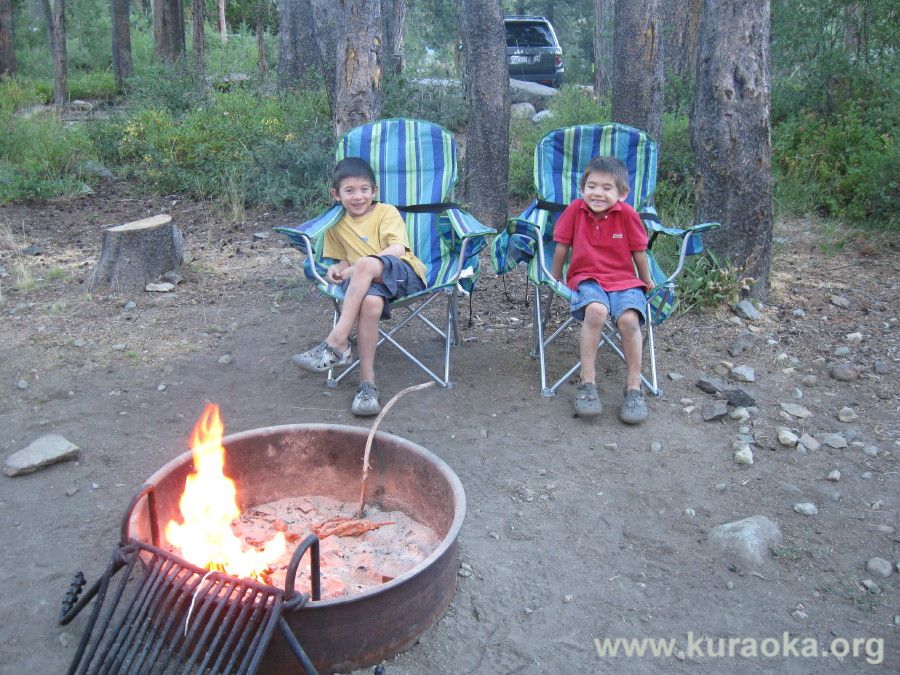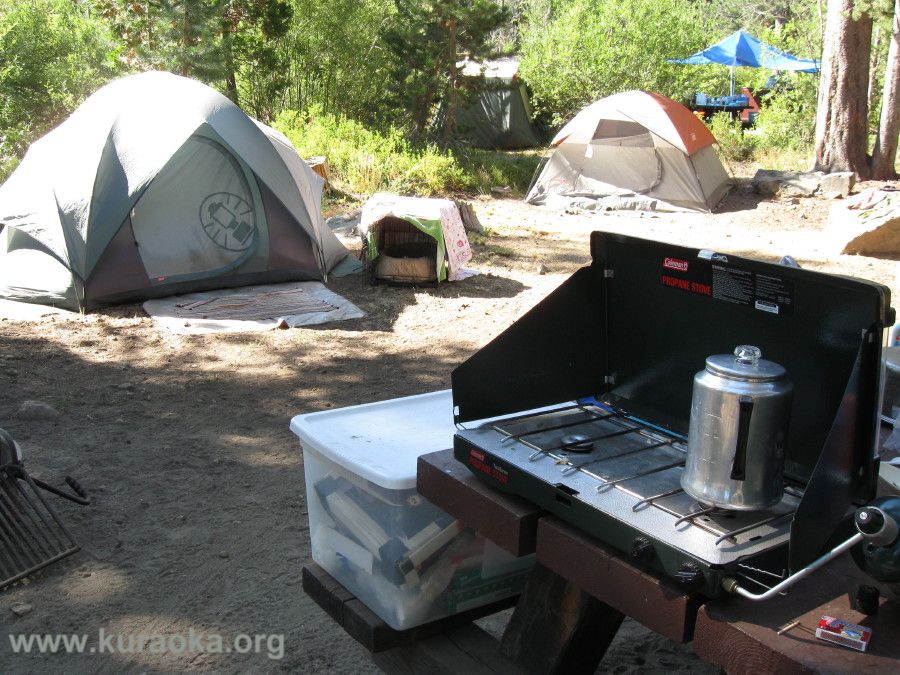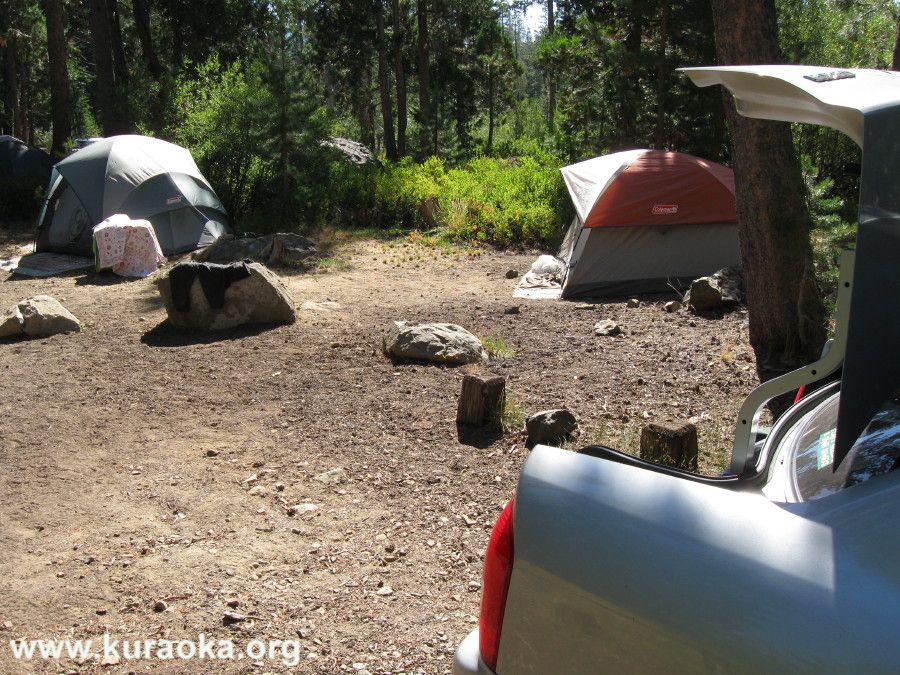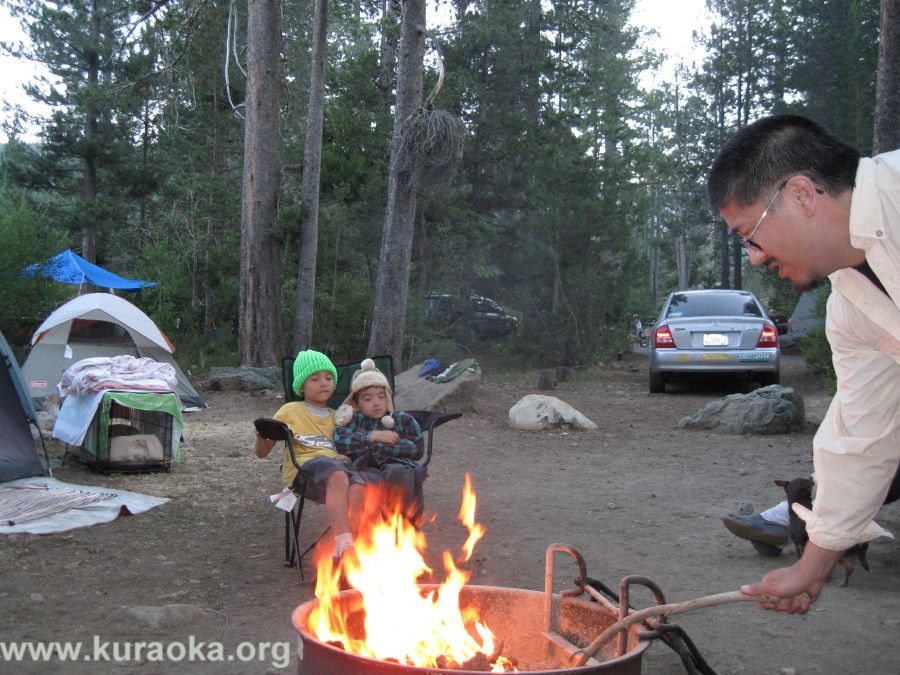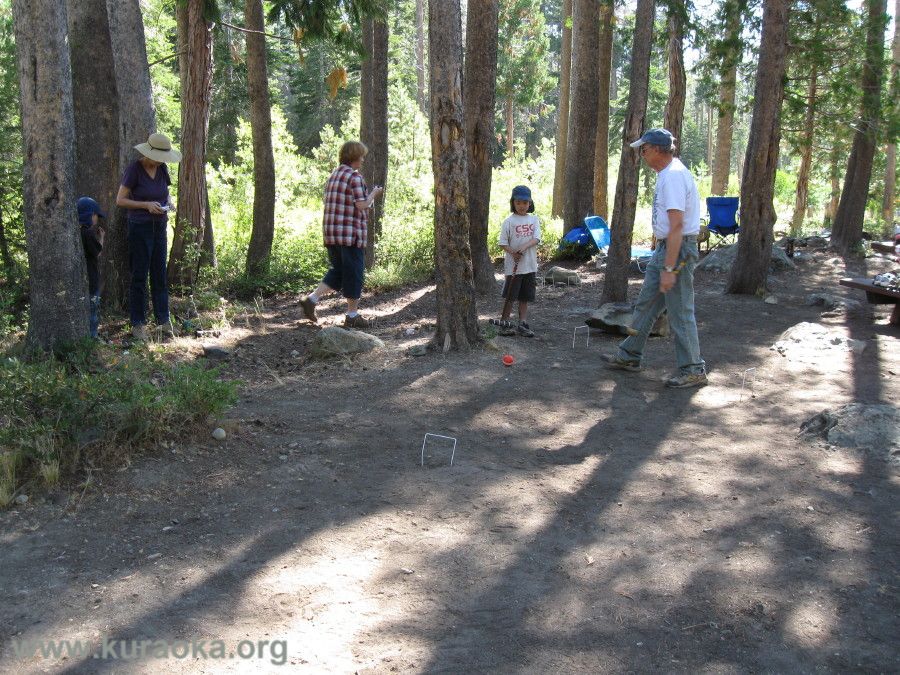 Toasted marshmallow-fueled silliness – download them and flip through these three photos really fast, over and over, to get an idea of our two whirling dervishes.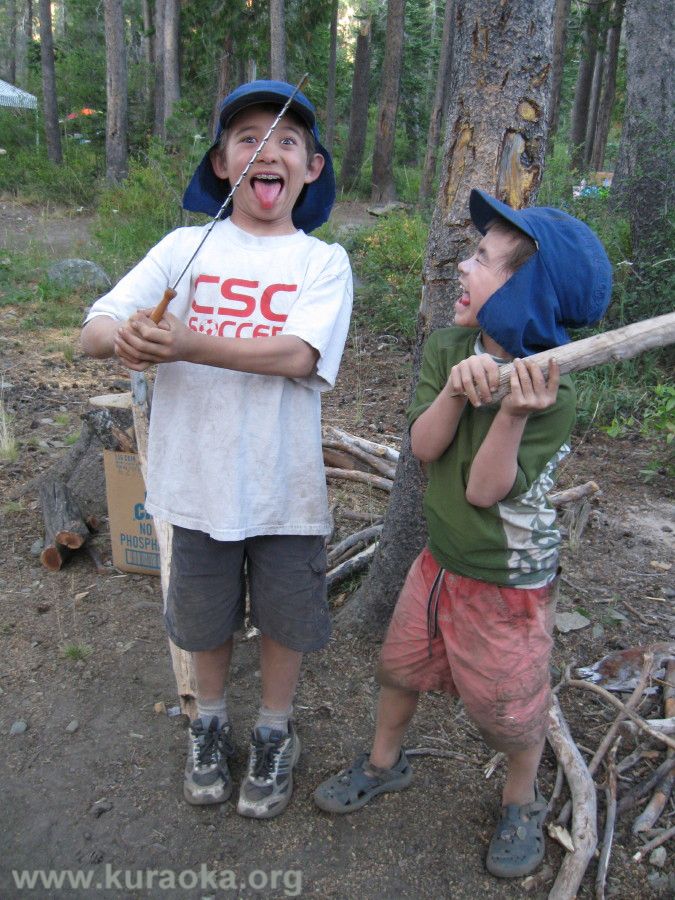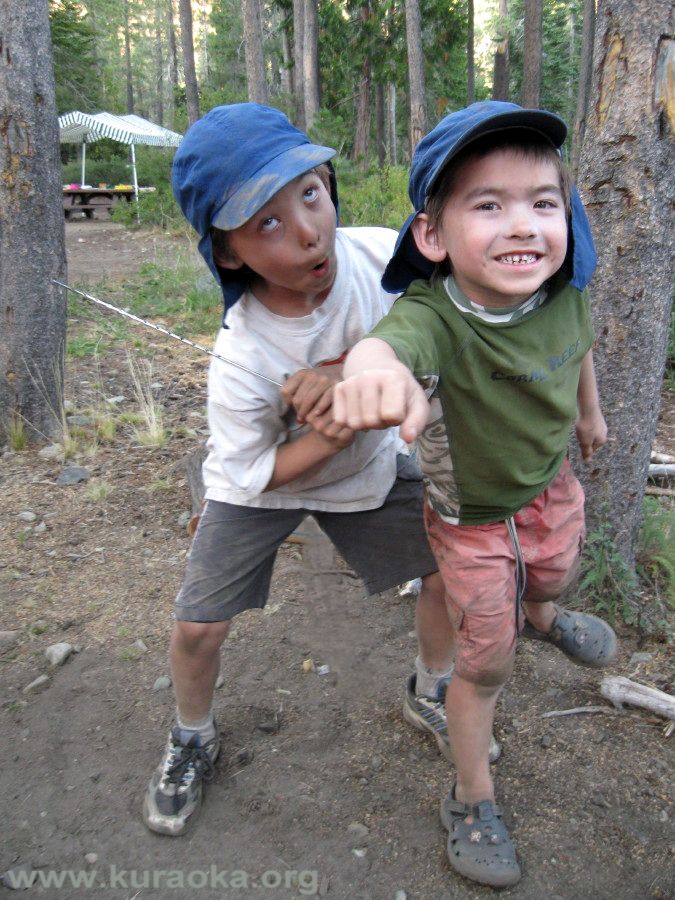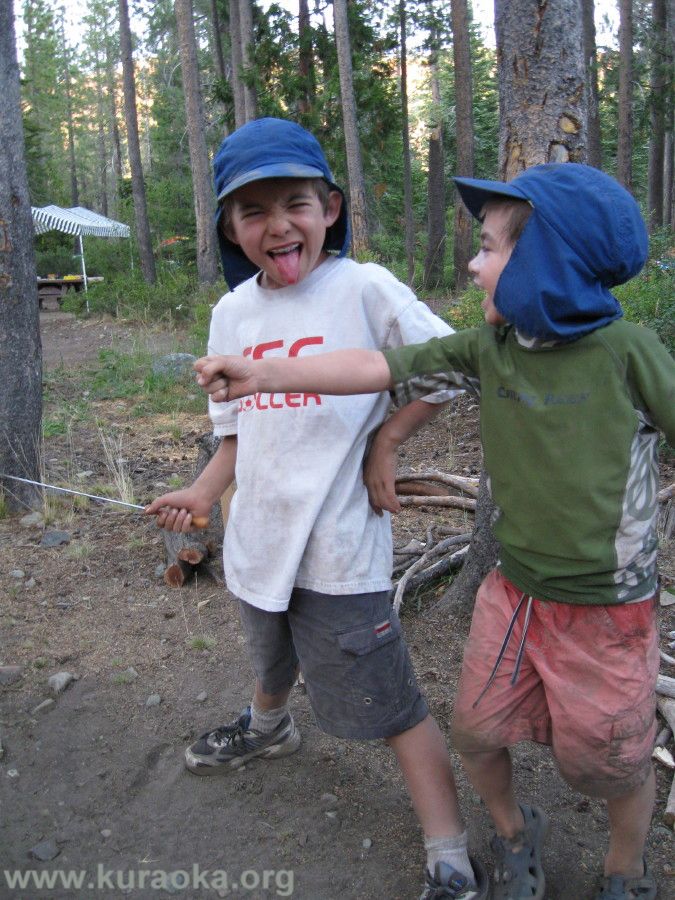 Sand Pond was, as usual, cozy and glorious. Here are Roy and Leo the very first evening upon arrival. Then, some other shots.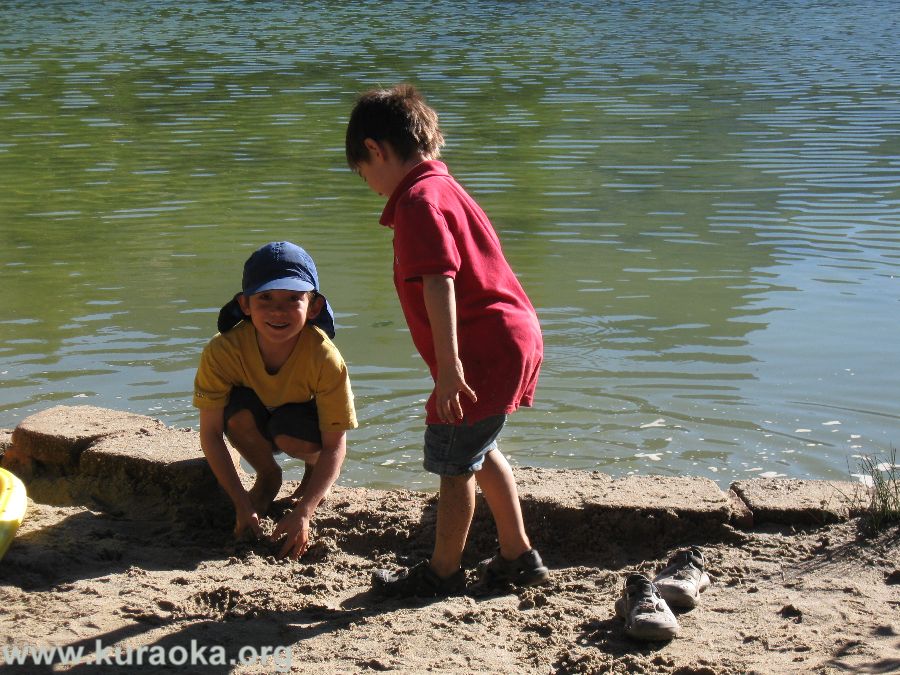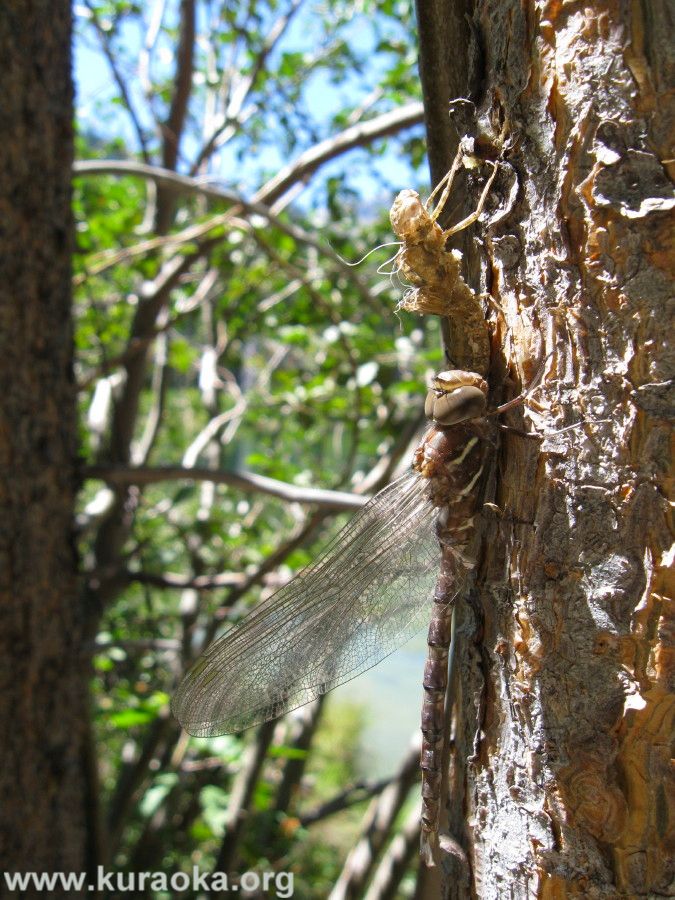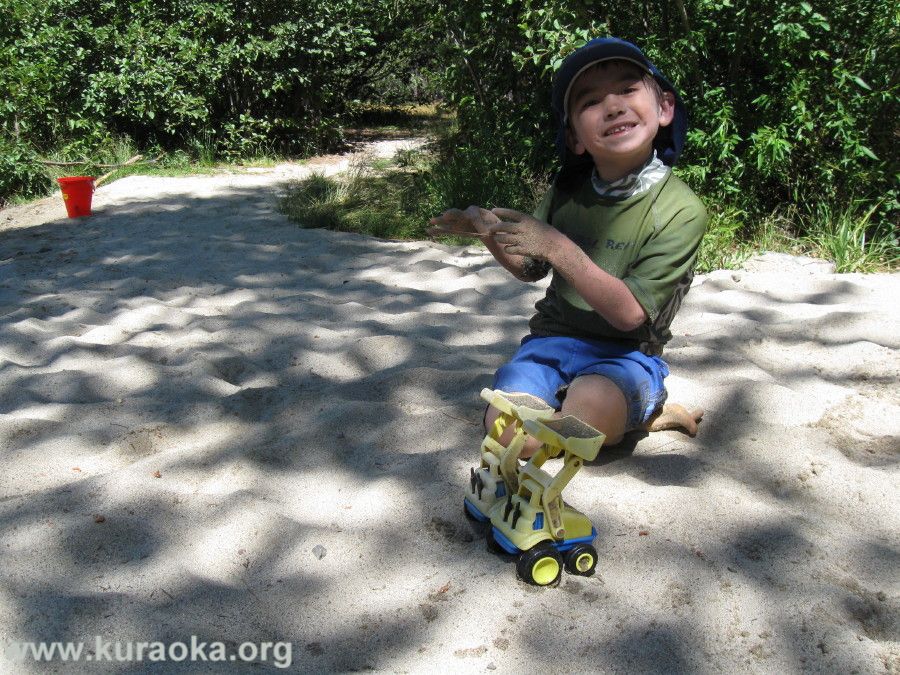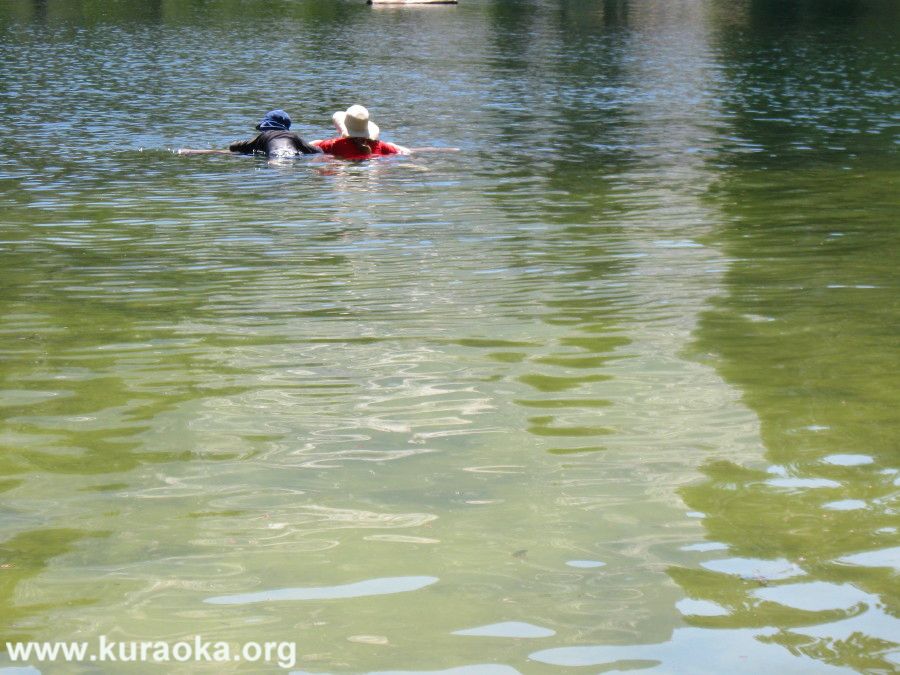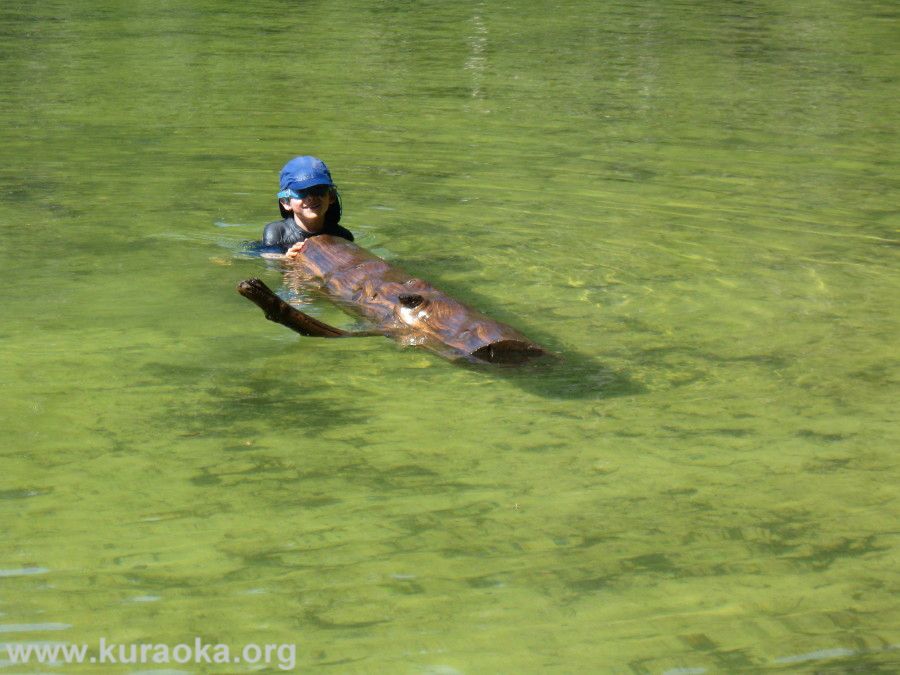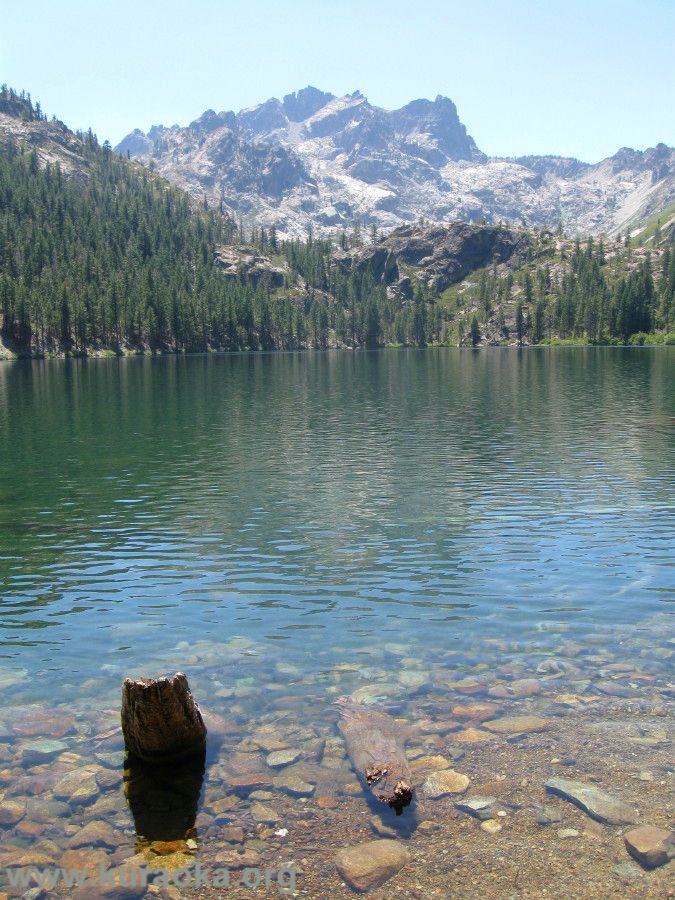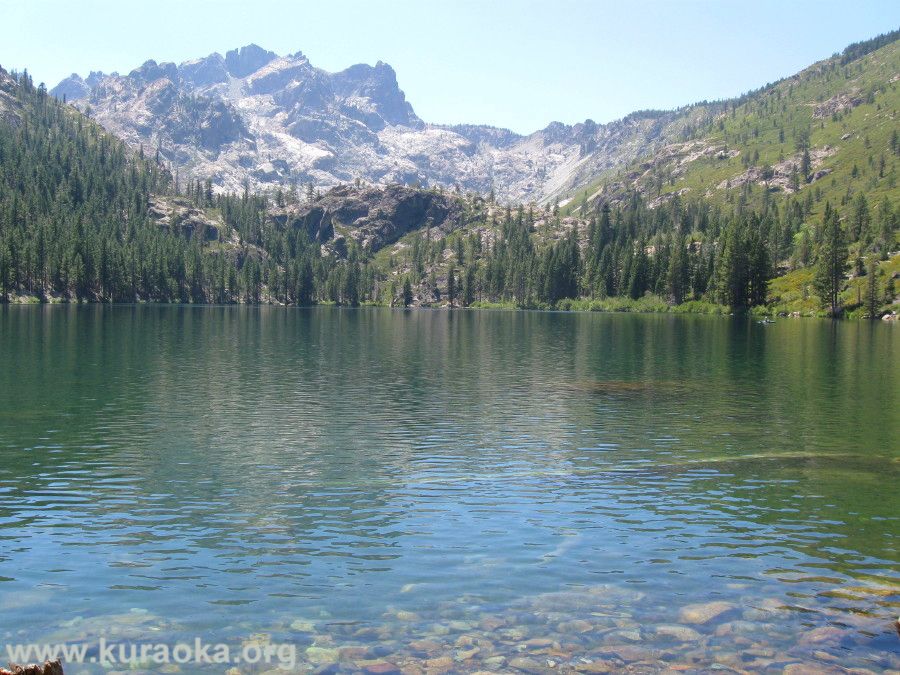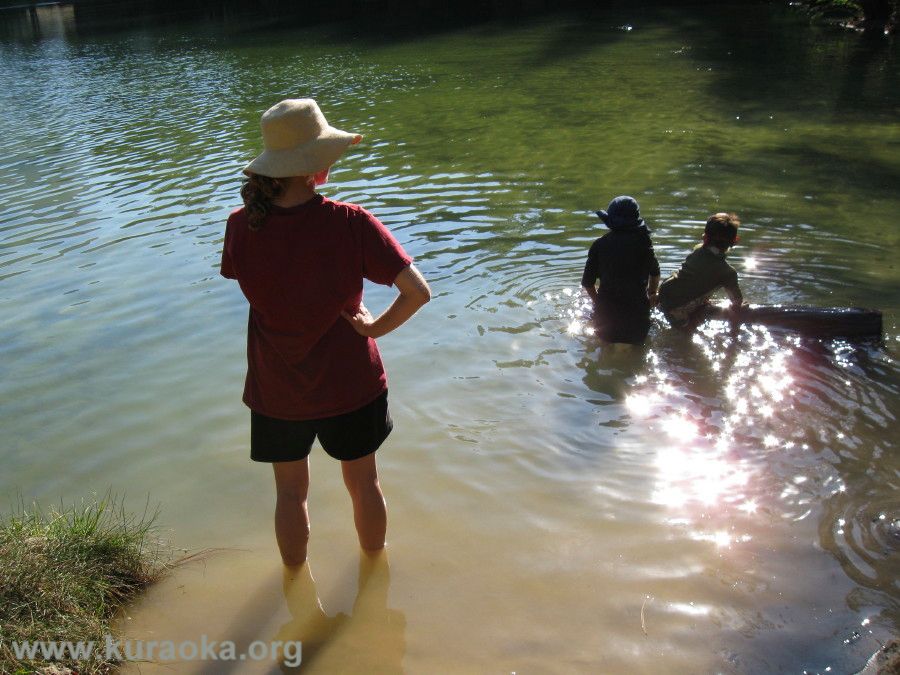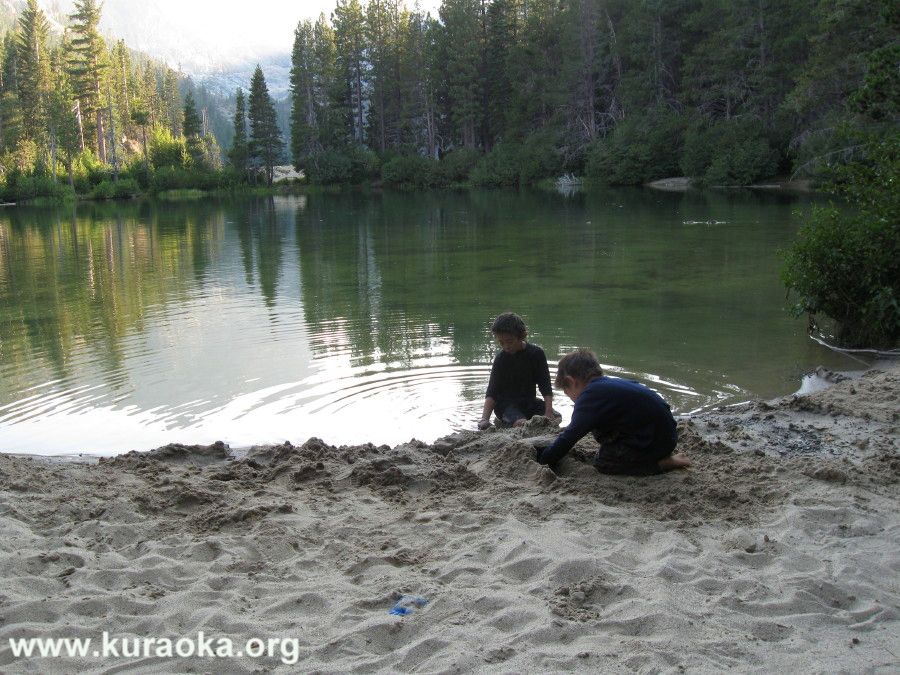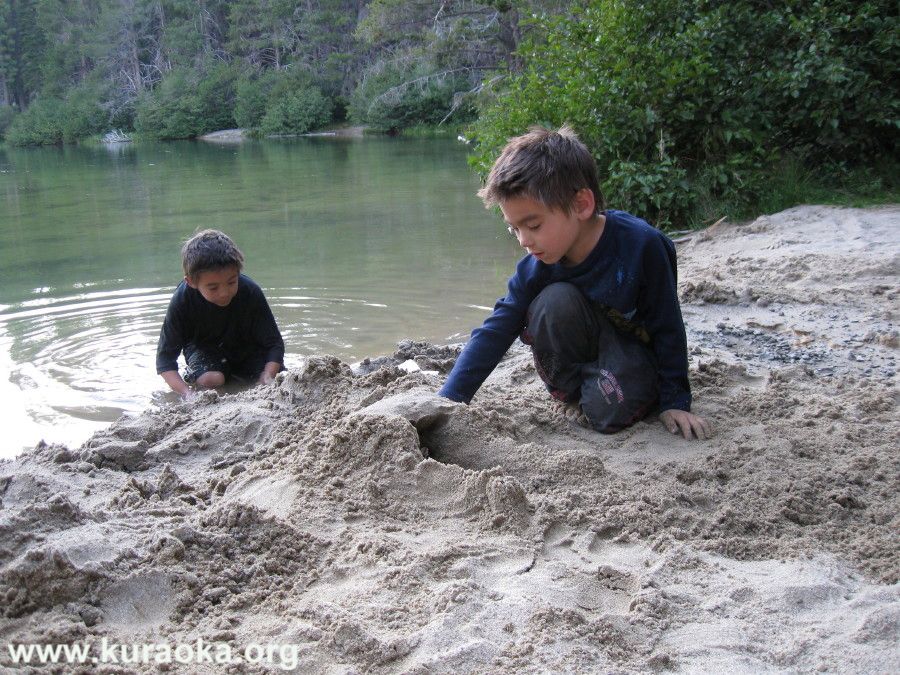 The Spillway between Lower Sardine Lake and Sand Pond was a warm place to walk (carefully) up the ramp, all sparkly with water and tossed stones. We all enjoyed a fish pedicure from the local small fish, who came and nibbled the dry skin on our feet. Our feet were wonderfully soft!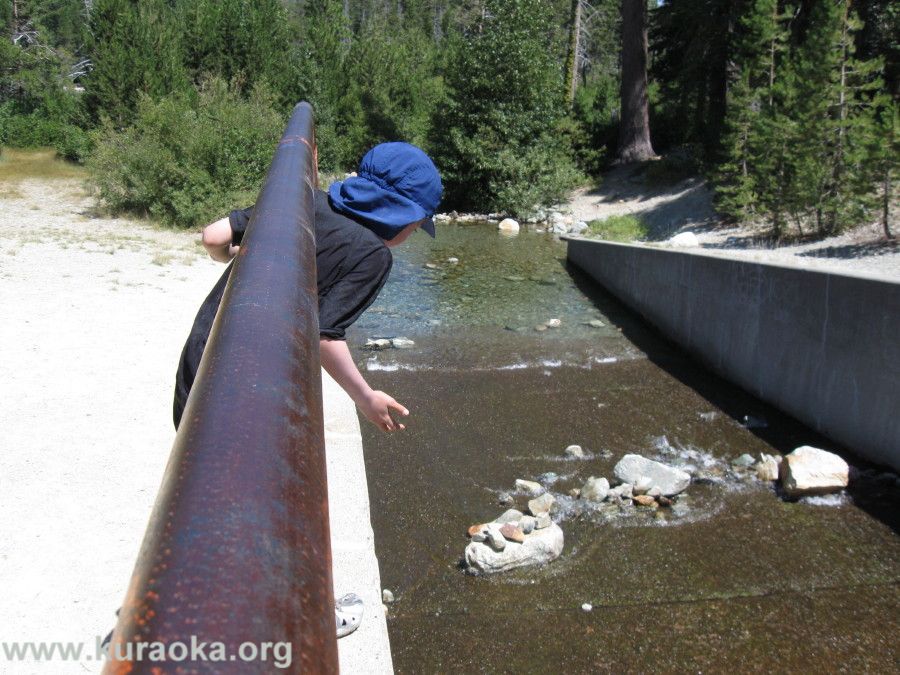 Snag Lake was a great walkabout, over and under snags. Leo wanted to stop at almost every one to document him standing atop it, so here's a small selection. The water level at Snag was lower than it was two years ago, making our circumnavigation shorter. Roy took the camera for the shot of John, Buddy, and Leo.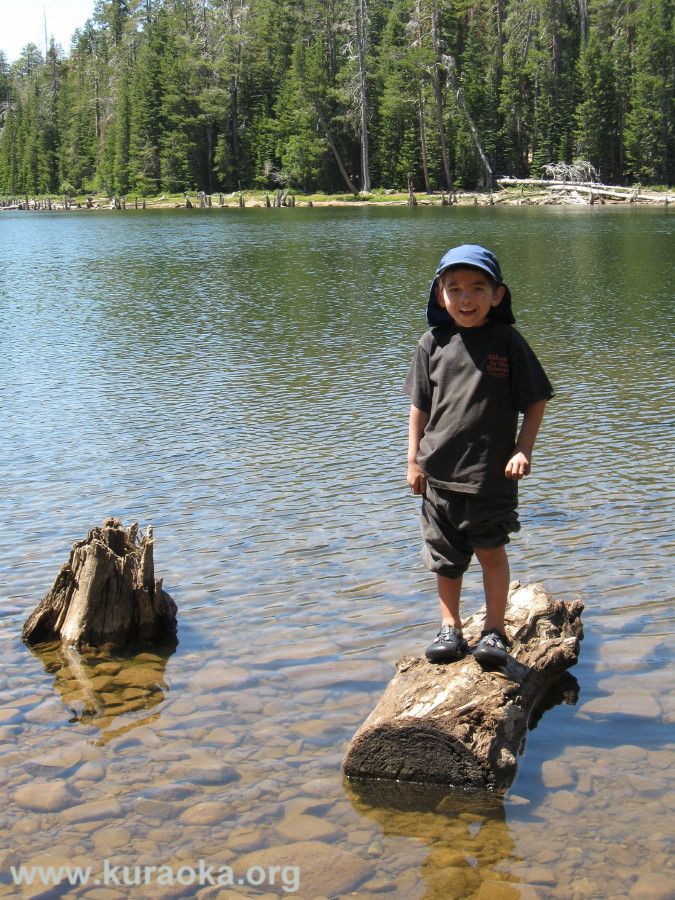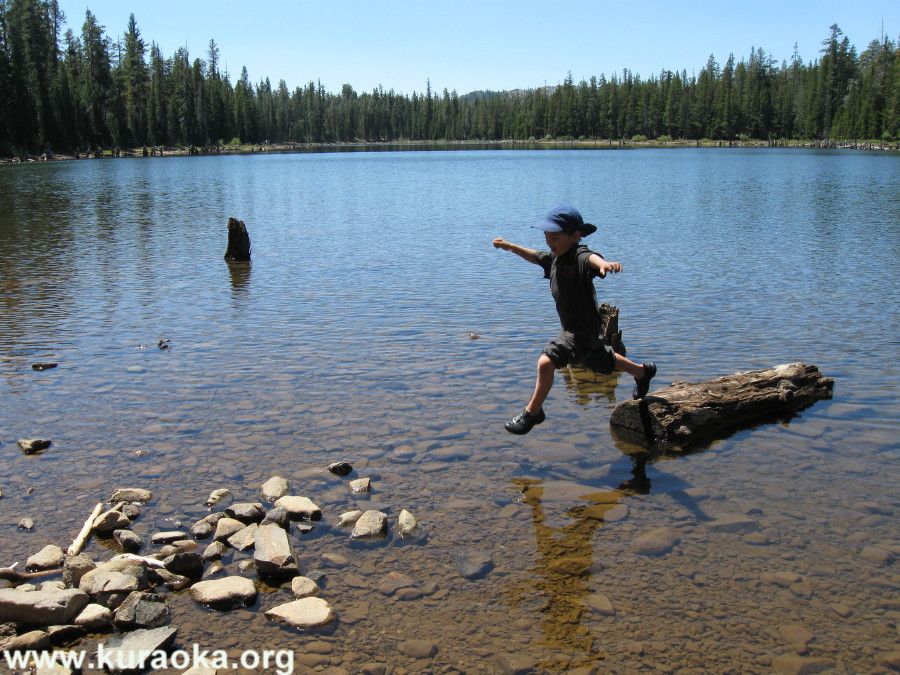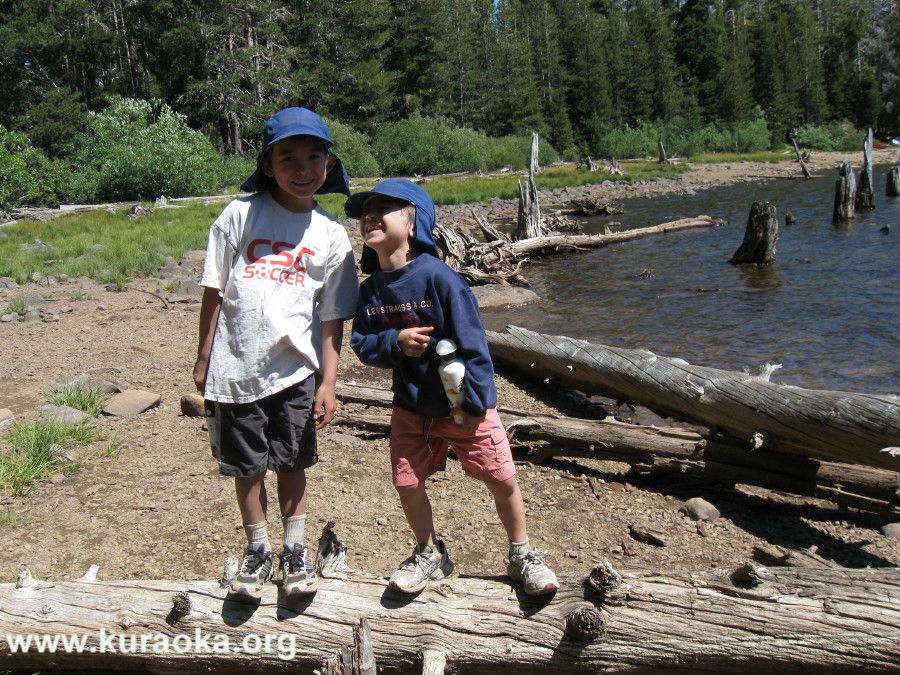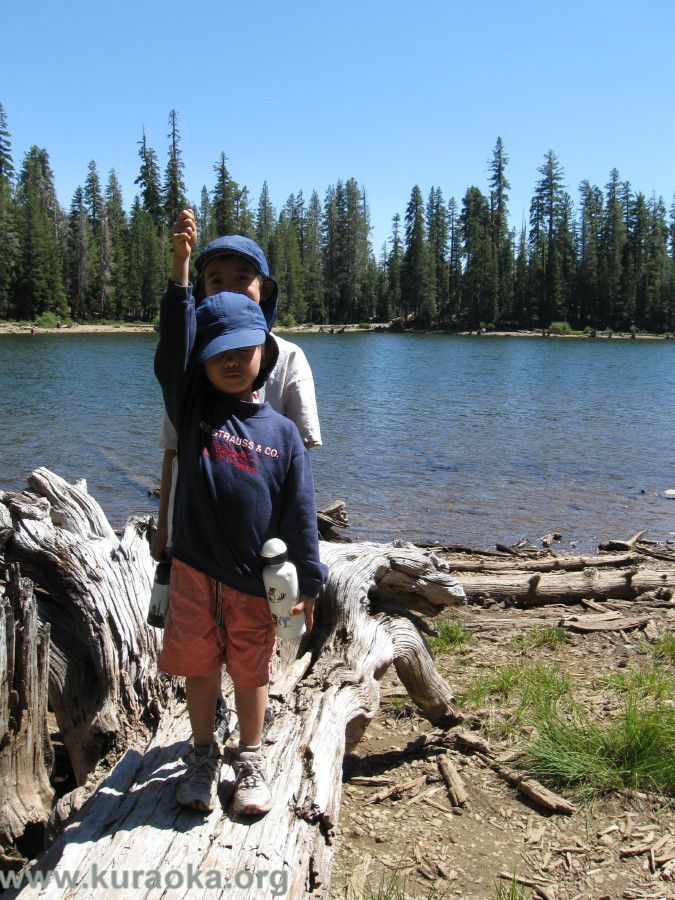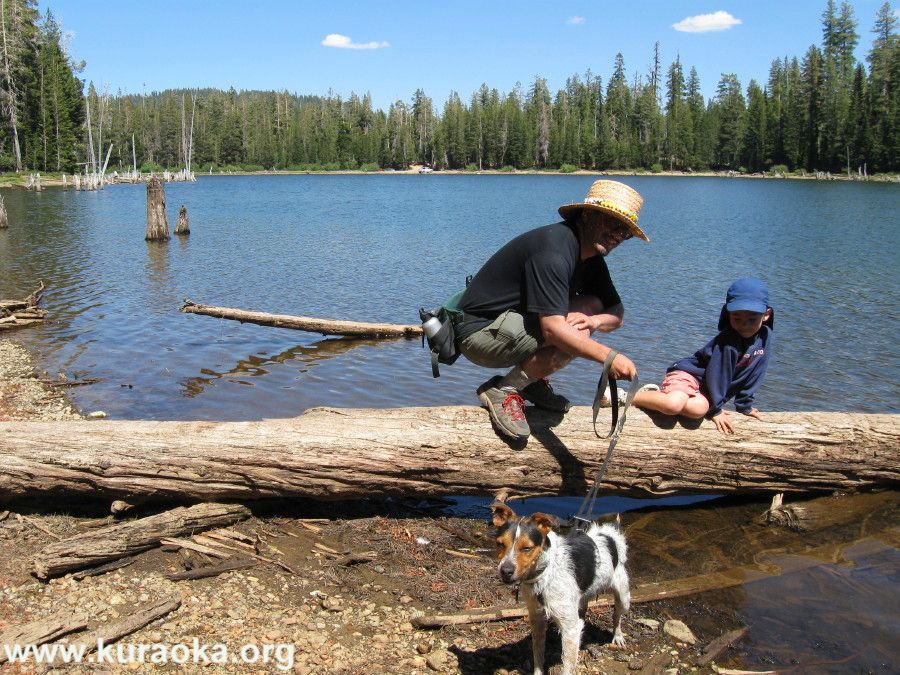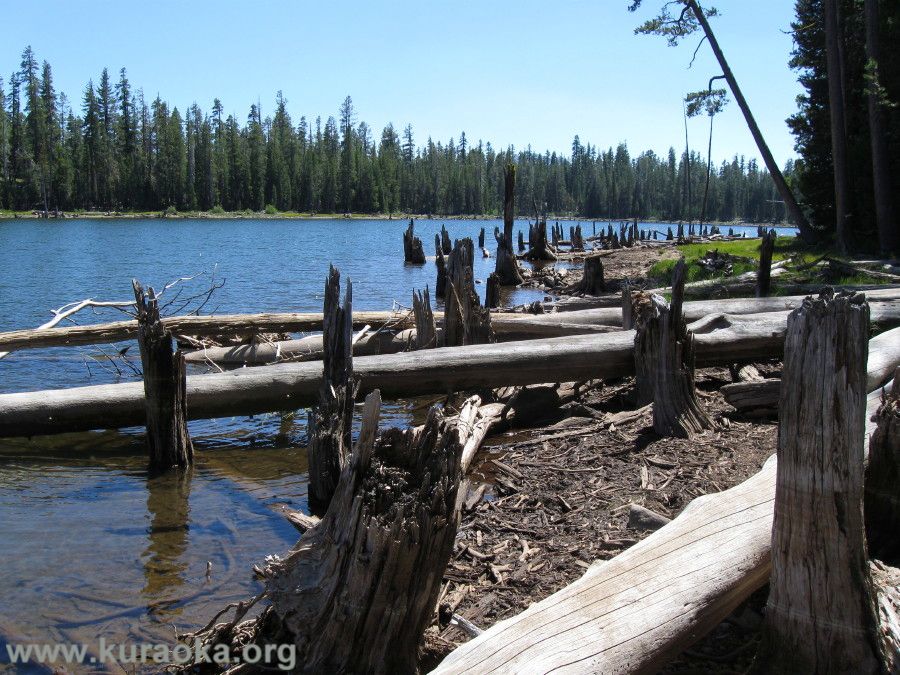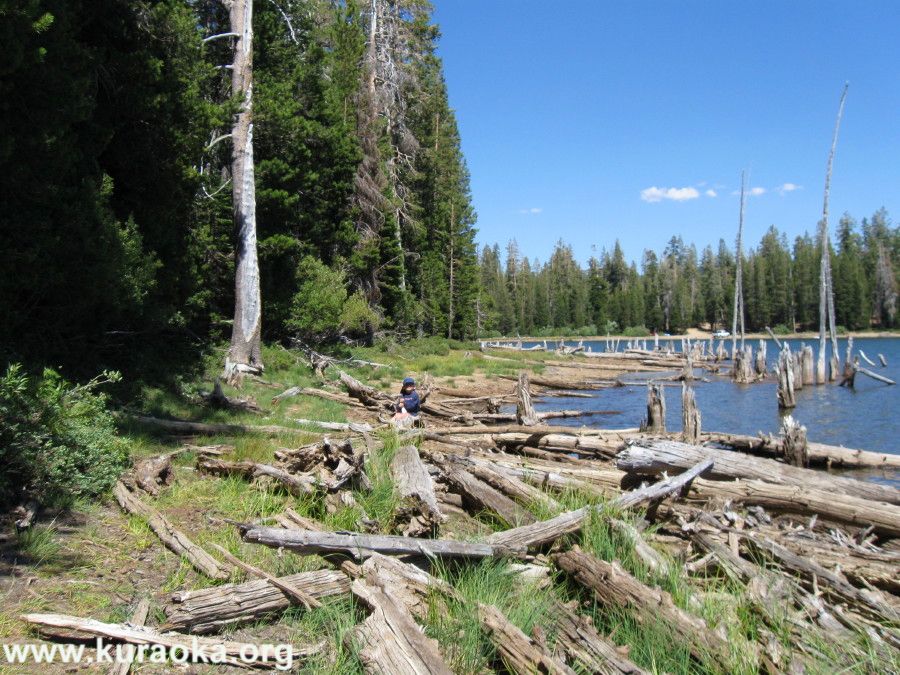 Family - here we have Ondine's Uncle Hans, who came up for the day to see Cathy and his kids. Aunt Ulli came too, with her dog Diego on Monday evening - you can see that Buddy is thrilled to see Diego; Diego not as much to see Buddy.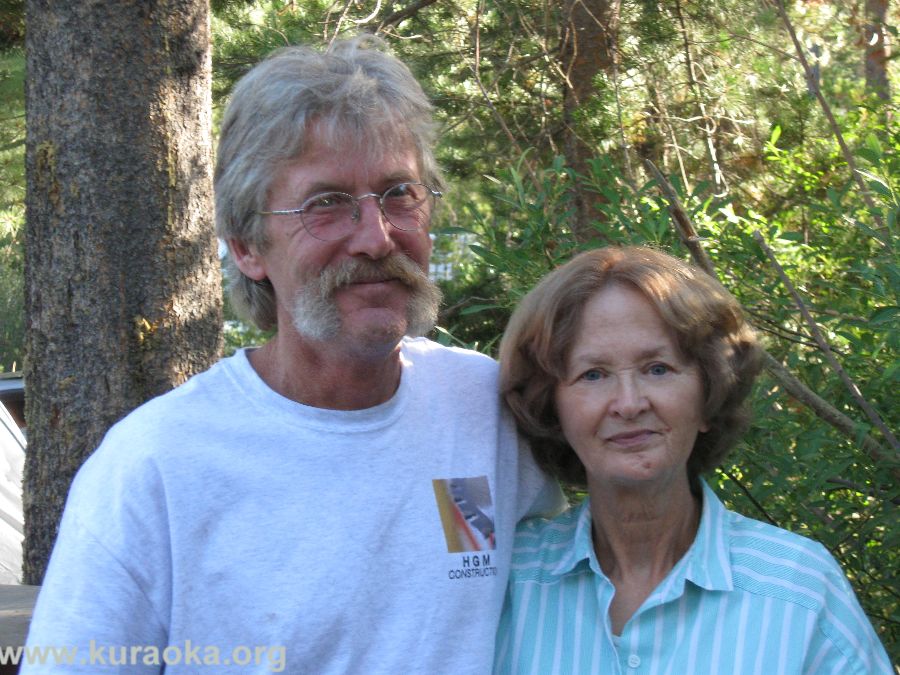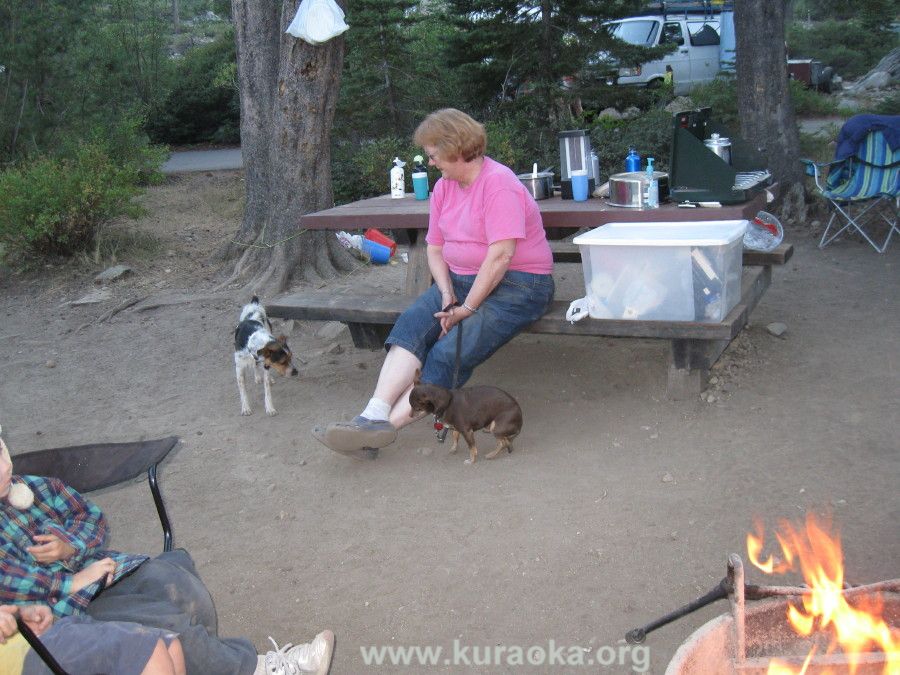 Homeward bound, first some shots of the back seat of the Mazda. We love how all three kints mirror each other. How does that happen? And then we're freshly bathed, at the Holiday Inn in Santa Nella.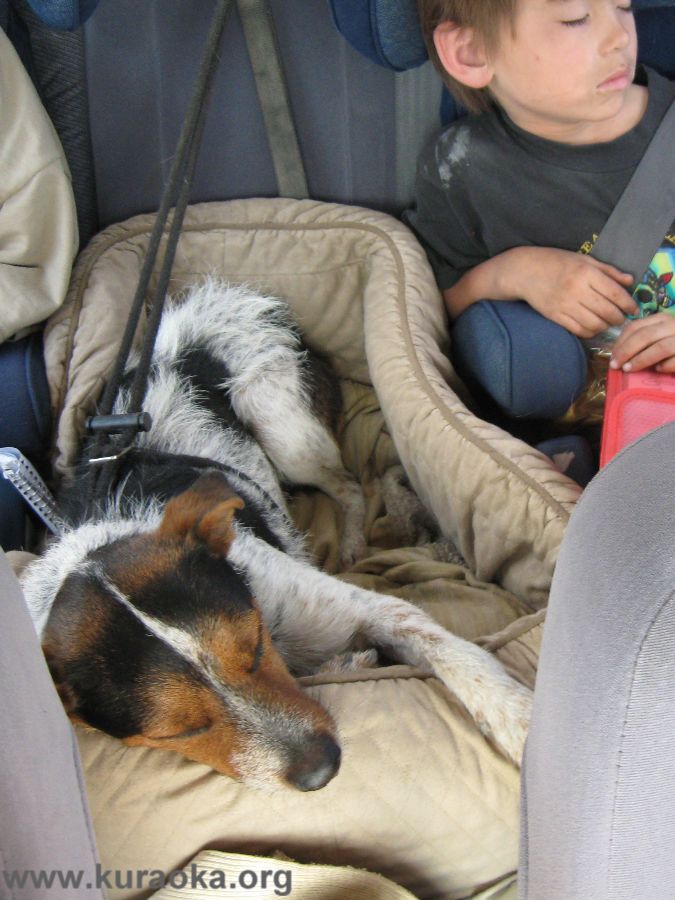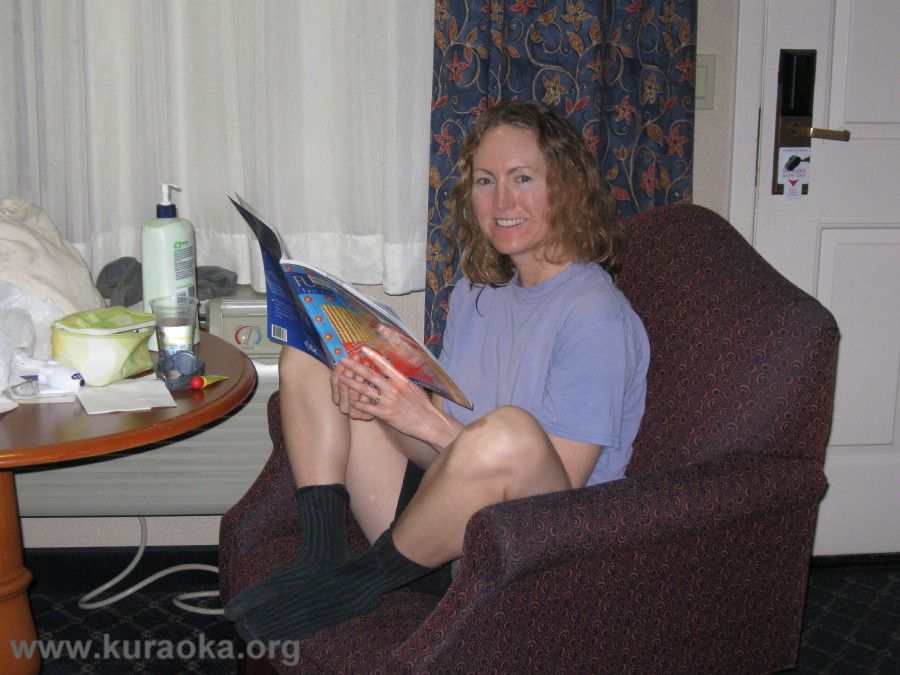 Neighborhood gas prices are about $3.95 per gallon. The cheapest we paid on our trip was $3.97 per gallon and the most was $4.43 at Tejon Pass.
What are we up to now? Check out our weekly family journal, updated twice a week since 1998!
Back to the Kuraoka Family home page, with lots more stuff, including more travelogues and photos!