The Kuraoka Family in Disneyland
www.kuraoka.org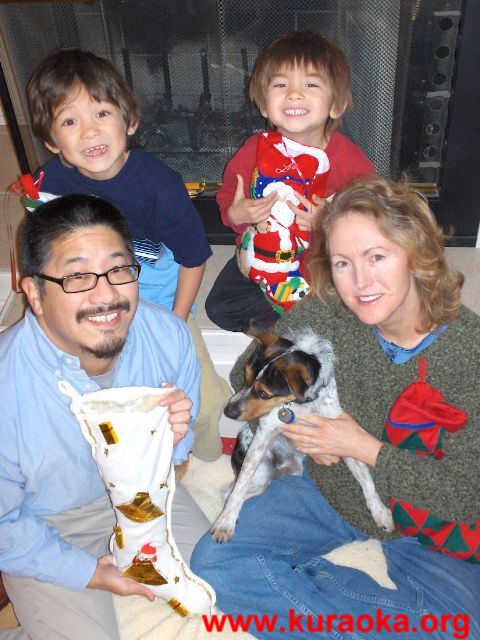 Front: John, Ondine (holding Buddy). Back: Roy (6-1/2), Leo (4-1/2)
Wednesday and Thursday, 20-21 December 2006
We went to Disneyland! We packed up the car Tuesday night, and left San Diego at about 8:30 Wednesday morning. We anticipated running into rush-hour traffic, but the freeways were clear all the way. We arrived at Disneyland at about 10:00, with a full day ahead of us instead of the half-day we'd expected. We were directed to the Timon lot, row 12A which is all the way out by the street. From there, we rode the tram to the park entrance.
We had pre-purchased two-day "Park Hopper" passes through the teacher's association (face value: $116 each for 10 and older, $96 each for kids aged 3-9, but we paid only $107 for each adult pass and $89 for each child pass). We breezed through the pack check area and strolled on into the park. We had packed zip-lock bags of nuts and raisins, string cheese, and bottles of water. That helped us keep moving so we were riding when everyone else was eating. The weather was flawless, clear and sunny and neither too warm nor too cold. Perfect!
The very first place we went in Disneyland was … the restrooms. Then, we made a beeline for Pirates of the Caribbean. This would be Roy and Leo's very first ride at Disneyland. There was almost no wait! We sat in row #2, all side by side. Leo was anxious, especially as the boat nosed into the dark part right before the first drop. That first drop caught both Roy and Leo by surprise. We were glad the new ride experience includes the old songs and music. We were delighted, for instance, that the guy in a rocking chair smoking a pipe to the plucking of banjo strings was still there, still rocking quietly on the porch of his shack. The newer animatronic Captain Jack Sparrows had a subtlety of movement and expression that was quite life-like, but they integrated well with the older, more cartoon-like "people." Leo, for instance, just assumed that some people were in pirate costumes, and others were in masks. We all loved the ride, and it was the perfect introduction to Disneyland for the boys.
After that, we went to the Haunted Mansion, which has a "Nightmare Before Christmas" theme. The scariness factor has been toned down a lot, but it was still a ghoulishly festive ride. This ride was two people per carriage, so Ondine went with Leo and John went with Roy.
We did the Jungle Cruise, which hasn't changed in 30 years – every time, the skipper has to fire a few warning shots to drive off a threatening hippo. You'd think they'd do something about those hippos. Then, we did Snow White's Scary Adventures, which had the longest wait for the shortest ride. The boys seemed more amused than frightened by the witches, but then, they're not too familiar with the story of Snow White. We did It's a Small World, getting on the boats just as Leo said, "I want to go on any ride that isn't on a boat." This is another ride where the grown-ups get to go back to their childhoods because it hasn't changed in 30 years or longer. It goes on and on and on, with a bit more high-pitched singing than one would like though. Just when you think it's over, you round a corner into another happy room of cheery singing puppets. Like his parents, Roy seemed to enjoy it for its weirdness factor, but Leo seemed purely entranced by the colors and movement and song.
Then we did Peter Pan. The boys loved the effect of flying through the stars. Roy kept trying to figure out how it was done, and wasn't wholly satisfied with our answer of "magic." He also puzzled over the face in the mist at Pirates of the Caribbean, and the dancing ghosts in the Haunted Mansion. Very skeptical, is our Roy.
Around 2:00 we paused for lunch at the Enchanted Cottage, right by the Princess Fairy Faire. We had bratwurst sausages on rolls ($32.18 for four orders, and a coffee). We'd highly recommend this eating area, because there are tables with coloring papers and crayons, and restrooms (marked "Prince" and "Princess") nearby. But, your kids have to like bratwurst or knockwurst, because those are the only food choices.
After lunch, we split up with plans to rendezvous back at the Enchanted Cottage coloring area at 3:30. Ondine and Roy got in line for the Matterhorn, and John and Leo went off to Autopia. The Matterhorn line moved fast, and Ondine and Roy got in two runs on the Matterhorn bobsleds before heading back to the coloring. John and Leo's line moved much slower, but Leo got to steer the car! He took this task very seriously. John worked the pedal, because Leo was too short to reach it. After a drive through Autopia, John and Leo headed for the rendezvous spot and got stopped short by "A Christmas Fantasy Parade." They'd walked right into a perfect front-row viewing position right at the start of the parade. Leo watched, amazed, while John lifted him up for a better view of the twirling reindeer and horn-playing tin soldiers.
So, John and Leo were a bit late making it back to the Enchanted Cottage, just in time, as it turned out, for the "royal training." Roy and Leo hung back and watched while everyone learned to curtsy and bow like noble men and women. But, at the end, Roy willingly joined in the carousel dance, holding a streamer and circling a pole while Grand Music played.
By this time, it had been a long day, and lines were getting long. For dinner, we went to Denny's right across the street from the Disneyland entrance. It was a longish wait to be seated, but once in service was quick. We played a coupon so the kid's meals were free! With tip, the total was $23.48.
Finally, we walked back to the car and drove about a block to our hotel, the Candy Cane Inn. It's a short walk from the Disneyland entrance, and on the same side of the street. This hotel came recommended to us, and we'd highly recommend it to you. We paid $99 per night (not including taxes) with our AAA discount. We had a choice of rooms, first or second floor, and chose the second floor. Our room, #204, had two queen beds, a tiny table with two chairs, an armoire with the TV, and the bathroom. A bit cramped moving around with a family of four, but still perfectly fine. There's wireless internet access in every room, so John was able to connect and get his email, keep a few projects moving, and upload these photos from Wednesday, December 20: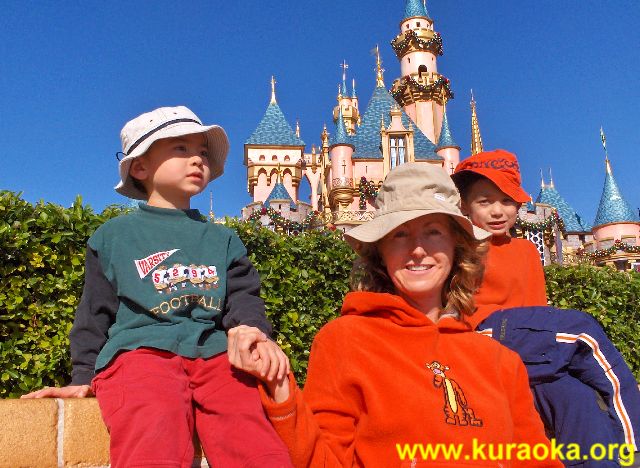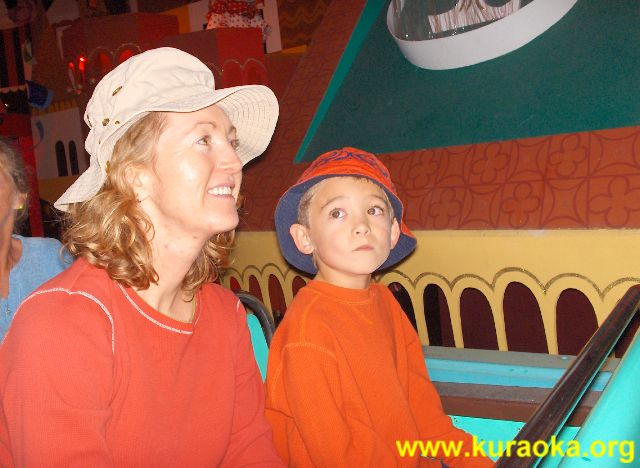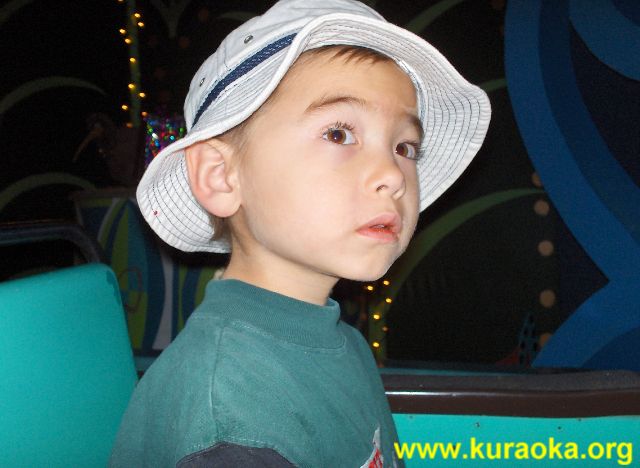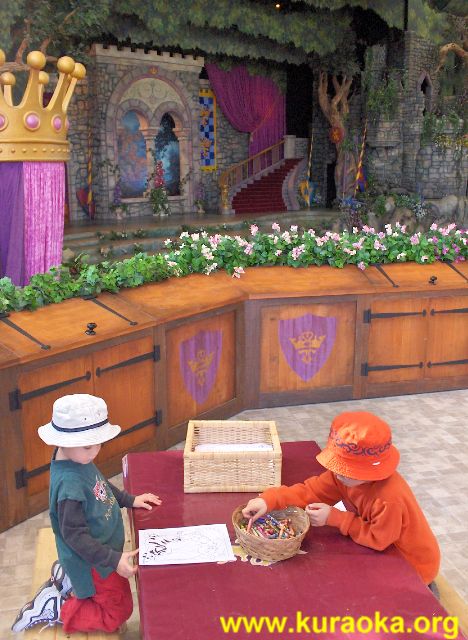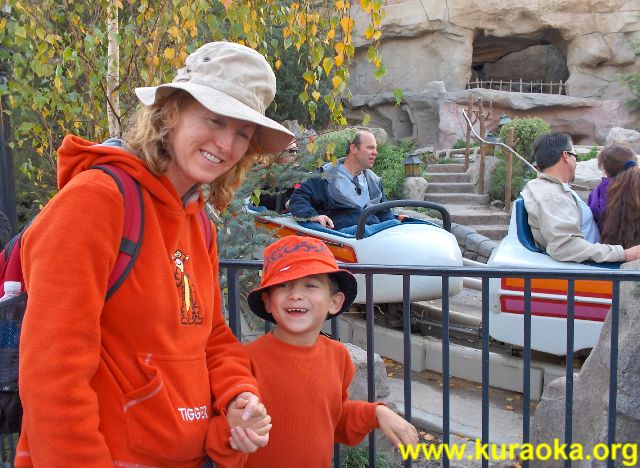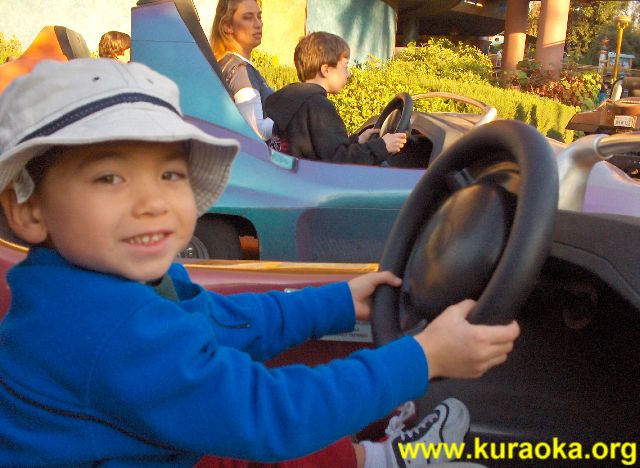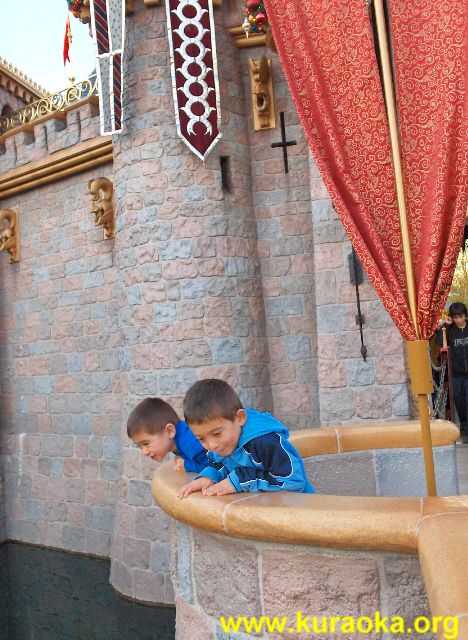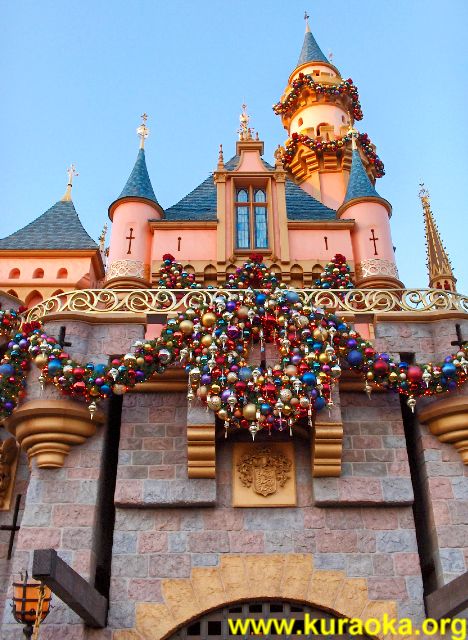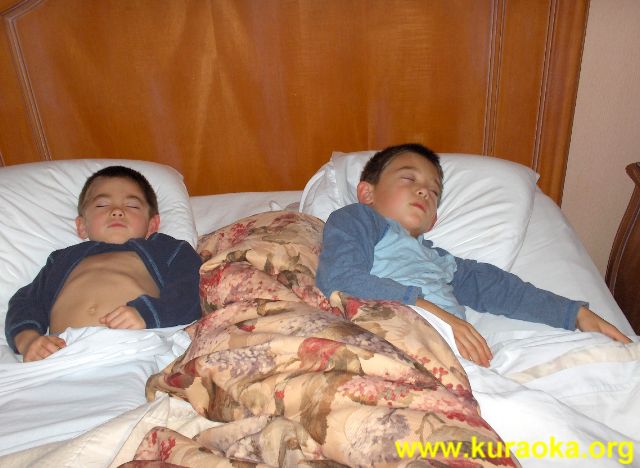 Roy had a dream about a ride called "Gravity Mountain," with drops straight down and a ski jump into the water. It was a fun dream, but scary fun.
Thursday morning, the boys were up at 4:30, then 5:30. We finally all got up at 6:30, in time for the breakfast in the hotel lobby (available from 7-9 a.m.). It's a continental-type breakfast, with fresh fruit, Danishes, bagels, and instant oatmeal. We caught the first shuttle to Disneyland, at 8:00, arriving at the entrance at 8:10 (it would take only a bit longer to walk, but we wanted to save our energy for the park).
This time, we turned right, into Tomorrowland. We were surprised that Roy didn't want to do Star Tours, since he loves Wild Arctic at Sea World. So instead, he and Ondine did Space Mountain, while John and Leo went off for a second go at Autopia. Roy almost balked at Space Mountain, but Ondine managed to coax him on. He was scared the whole time … and loved it!
None of the other things in Tomorrowland seemed to grab the boys, so we went back into Adventureland and Frontierland. We paused at Tarzan's Treehouse, which Leo enjoyed so much we went up and through it twice! Then, we went to Pirates of the Caribbean. We put the boys on the outside seats this time so they really got to see everything. Then, we did the Haunted Mansion again – this time, Leo went with Ondine and Roy went with John. Then, we listened for a while to some pirates singing and telling tales. We ate early, at the Hungry Bear Restaurant as soon as it opened at 11:00. Our table overlooked the river. Leo loved looking at the torches by the canoe loading area, amazed that there would be actual fire here at Disneyland. Speaking of fire, periodically, the Columbia would sail by and shoot off a cannon. Roy, having caught the blast of a cannon on Pirates of the Caribbean, said, blandly, "they're just shooting air." The Mark Twain paddleboat would splash by, thumping and whistling. John's burger was quite good, but Ondine's grilled chicken salad was better. The boys had kid's meals in fun, futuristic cardboard lunch boxes, with little bottles of milk. The total tab came to $34.53 for four meals, two milks, and a coffee.
After lunch, we took the "raft" to Tom Sawyer Island. This was one of the boys' favorite places, filled with adventure! Caves, the treehouse, lots to explore. We let the boys go up the treehouse on their own once, and were happy to see Roy waiting patiently for Leo to get up the ladder, and then herding him gently up the stairs. But a knot of kids came through and Leo got separated; Roy came down by himself and went back up to retrieve Leo. Leo, meanwhile, had found his way down, and when we told him Roy had gone after him, circled back up again. We ran into Leo's soccer coach Joe and his family there! Leo seemed stunned to see Coach Joe there.
We could have stayed on the island longer, but we wanted to see more of the park so we took the raft back to the mainland, and went on the Davy Crockett Explorer Canoes. The boys were a bit surprised to find themselves really paddling a real canoe. Ondine, in front of Leo, got completely splashed; John, behind Roy, got only a bit wet. Roy was excited to try to overtake the Columbia as it docked, his competitive nature coming out a bit.
We worked our way to what we thought would be a train station, but wasn't. Instead, we found ourselves by the Winnie the Pooh Adventure which had no line, so we went on it. The "dream sequence" area was a swirling, bouncing array of lights, shapes, and characters from Winnie-the-Pooh. Ondine said it was like being a child on acid. It was actually a pretty good ride, better than most of the fairy tale rides. Then we settled down with a treat, and oh what a treat! The boys chose caramel apples dipped in chocolate and M&Ms – wow! Ondine chose a chocolate brownie. John … drank water with a smug, healthier-than-thou expression. Other kids walking by practically drooled as they stared, wide-eyed, at our two boys happily licking and munching away, while their parents glared at us. Ha!
By now, the lines were getting long. Ondine got a FastPass for her and Roy for Splash Mountain, and then we went on the Disneyland Railroad. That was a great circle tour of the park. The "Grand Canyon" and "Primeval World" were still there, and still exciting to kids although Roy immediately said "those are just models." By the time we'd made one complete circuit, it was time for Ondine and Roy to head off to Splash Mountain. John and Leo stayed on the train to go around a second time, so Leo could sit on the side with the dinosaurs. He really liked them! Roy, meanwhile, balked at getting onto Splash Mountain, and Ondine almost considered bailing out right at the cars. But somehow, she coaxed Roy in and they were off! Roy was terrified the whole time … and loved it! He said later that that was his favorite ride of the day.
While John and the boys watched a Mardi Gras street performance, Ondine got FastPasses for all of us for the Haunted Mansion. Then, we waited in line for Pirates of the Caribbean. The line moved pretty quickly – we had maybe a 15-minute wait at the most. This time, the boys sat on opposite outboard seats so they got to see different sides than they did their previous time through. Then, we used our FastPasses to breeze through to the front of the line at the Haunted Mansion. That was Leo's favorite ride. Outside was a kiosk selling Nightmare Before Christmas stuff, and Leo had wanted that set of characters since he first set eyes on them the day before. The set was $12. So, we told him he could have $12 to spend, and that's what he bought.
Night was falling, and we were on our way out of the park when we made a last-second detour onto the Mark Twain steamboat for a cruise around the river. We slipped through just as the crew was closing the gates. The boys immediately clambered up the stairs to the top deck for a panoramic overview. On the mainland side, all the lights were twinkling, and the top of Splash Mountain seemed to catch the last scraps of sunlight, glowing orange against a darkened sky. On the other side, Tom Sawyer Island lurked dark and deserted; the last raft had left long ago. The steamboat whistled, and for a while we watched the paddlewheel churn up the water behind us. Magic!
We looked into a shop on the way out, and Roy picked out his $12 worth of souvenirs: a four-color ballpoint pen, a plastic sword (!), and a keychain. Lest one think that we are overly permissive, do keep in mind that John's estimate of the sword's lifespan, once it comes out, is a few hours. We said goodbye to Disneyland at about 6:00. Ten hours of Disney in one day, and what a Disney day it was!
For dinner, we went back to Denny's across the street, a convenient, affordable place. We again played a coupon, this time for a free entrée, so our total was $24.80 for four meals, with a generous tip. Leo fell asleep at the table, still chewing his chicken nugget. John carried him all the way back to our room at the Candy Cane Inn. Of course, as soon as we laid him down on the bed, he awoke, refreshed and raring to go again. It was 8:30 by the time the boys were in bed, suddenly and finally asleep.
Here are some photos from our second Disneyland day, Thursday, December 21 2006: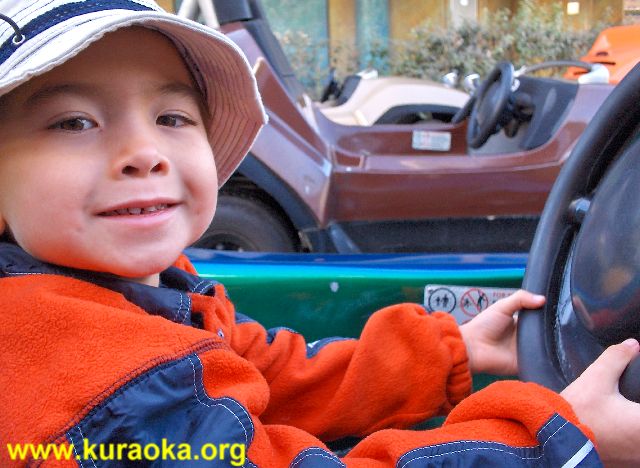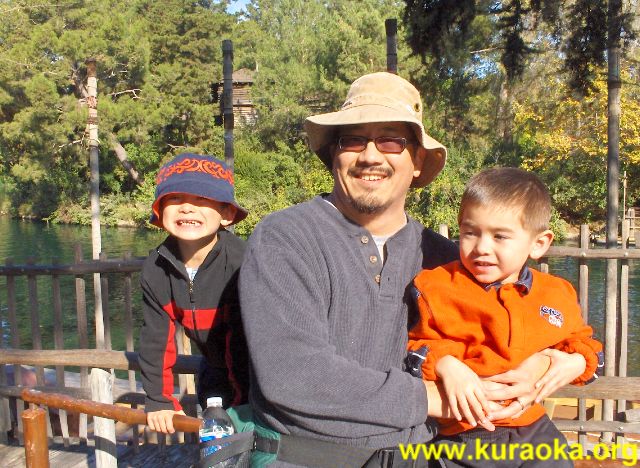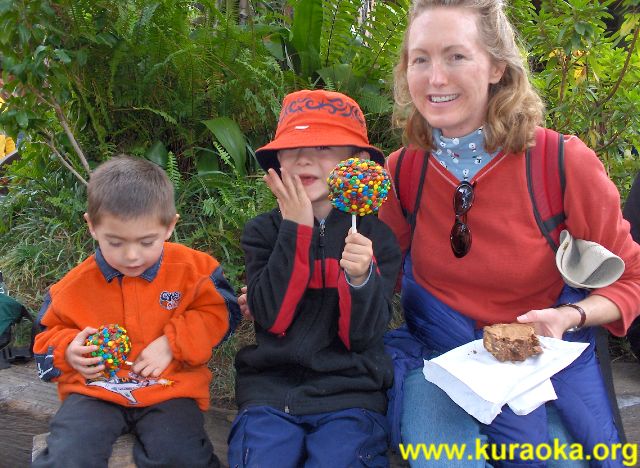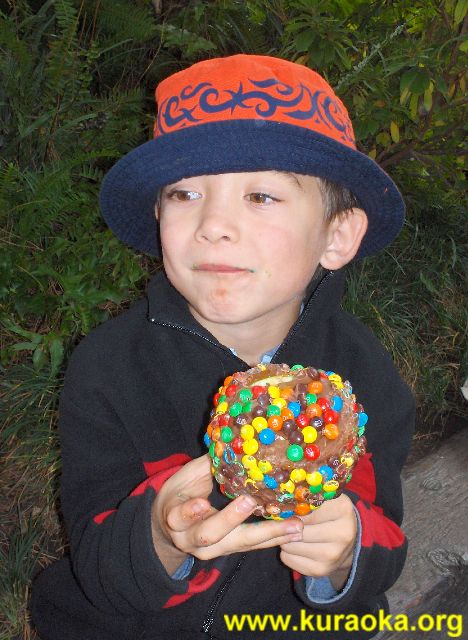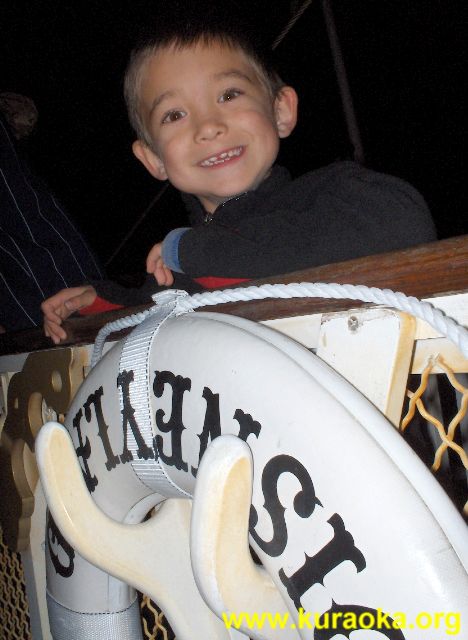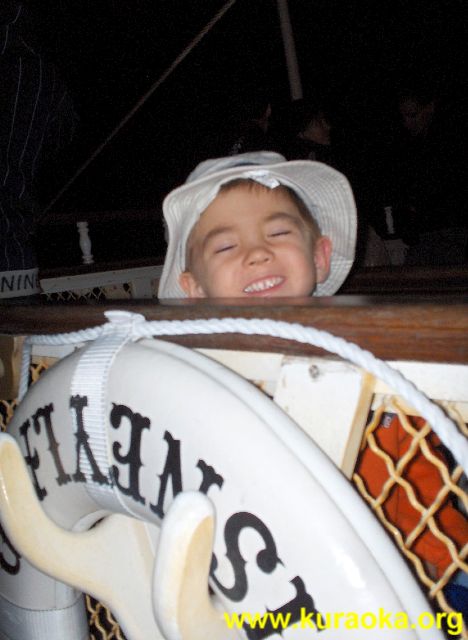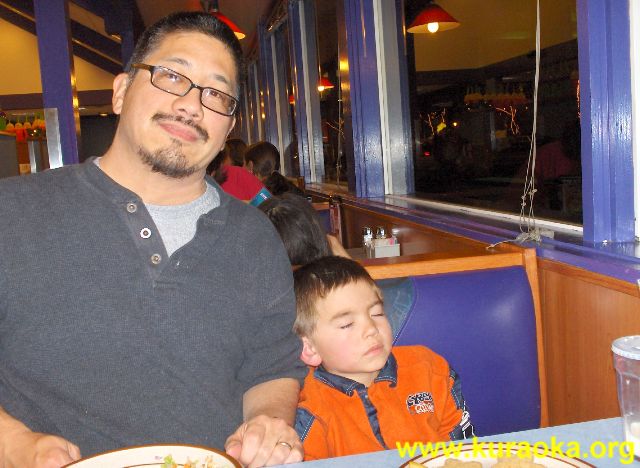 Late that night, it started raining, and continued drizzling well into the early morning when we went to the breakfast bar at 7:30. When Ondine went to start loading the car, she found that we'd left it unlocked the whole time we were there! We got lucky with traffic, weather, ride lines, and now the car. Talk about two full days of Disney magic!
Roy's favorite rides of the whole trip: Splash Mountain and Matterhorn. Leo's favorite was the Haunted Mansion, with Pirates of the Caribbean a close second.
We managed to have our ultimate family Disneyland trip, giving our boys memories that will last forever. Everything went well. We can take credit for some of that, since we did plan our trip with some care. But some things, like the weather (glorious) and traffic (magically light) were just plain luck.
Smart things we did: Telling the kids about the trip only a couple days before leaving (this being their first visit to Disneyland and all). Arriving at the park early. Choosing the Candy Cane Inn – close by, breakfast and wireless internet included, and affordably priced. Focusing on just one park: the classic Disneyland. Hitting Pirates of the Caribbean and Haunted Mansion early. Carrying hearty snacks like nuts and raisins and string cheese, and hitting the in-park dining either early or late. Eating mostly pretty well (no sodas, no candy, no chips or Cheetos), so that the one treat the kids had was a memorable, spectacular treat. Adjusting the pace to our kids, who sometimes wanted to barrel along and other times paused to contemplate one of the many small details that make up Disneyland. Using drinking fountains for water – more plentiful than either of us remembered. Using FastPass to get in two rides with the waiting time of one. Repeating certain key rides so they'd get truly cemented in the memory. Bringing and using coupons at Denny's for dinner.
Dumb thing we did: Forgetting to lock the car door! What a lucky break!
Total expenditure: We had budgeted about $1,000 for this trip. As it was, it came in for well under that, mostly because we brought our own, hearty snacks, drank water, and used various discounts and coupons where we could.
Room at the Candy Cane Inn, 2 nights, with tax and AAA discount: $227.70
Housekeeping tip: $ 10.00
4 2-day Disneyland Park Hopper passes (pre-purchased) $397.00
Food, treats, and souvenirs, with taxes and tips: $154.05
Gas (round-trip, 200 miles, about 28.7 mpg, $2.65 per gallon) $ 18.44
TOTAL $807.19
Check out what we're up to now, in our Weekly Journal.
Back to the Kuraoka Family main page, with lots more stuff!