A Christmas Cruise to Mexico, Page 4
www.kuraoka.org
19-26 December 2010
Most photos © John or Ondine Kuraoka
Back to Mazatlan, Malpica, Concordia, and Copala
24 December - Friday was Christmas Eve and our second "Fun Day at Sea." We watched the sunrise from our balcony.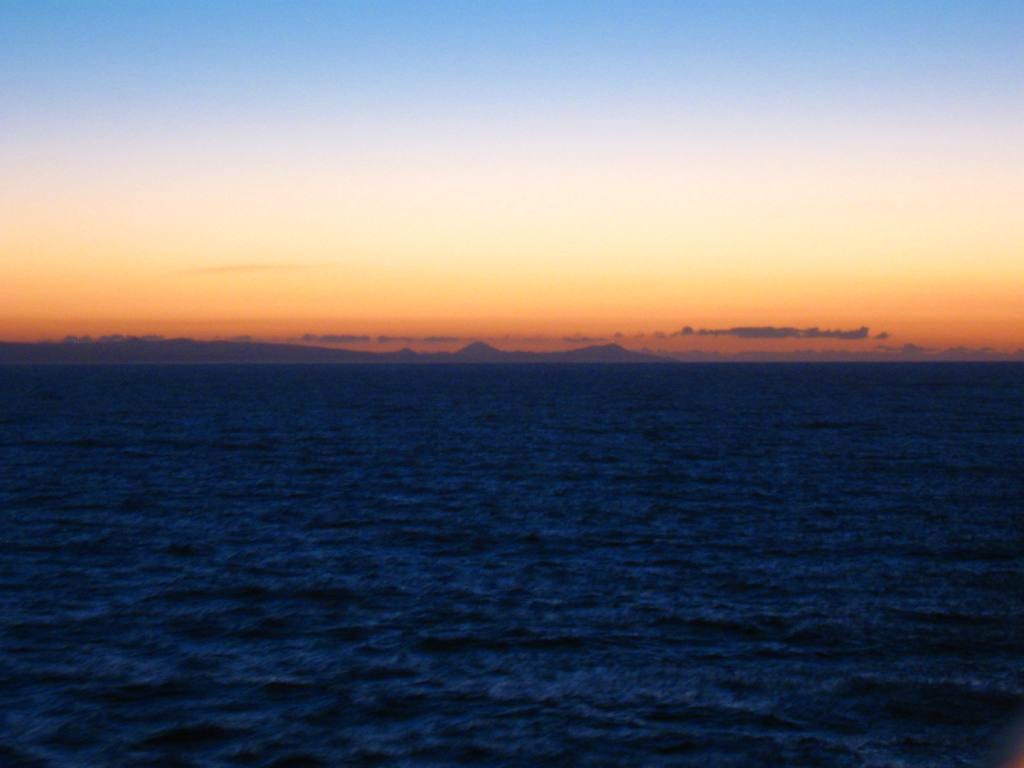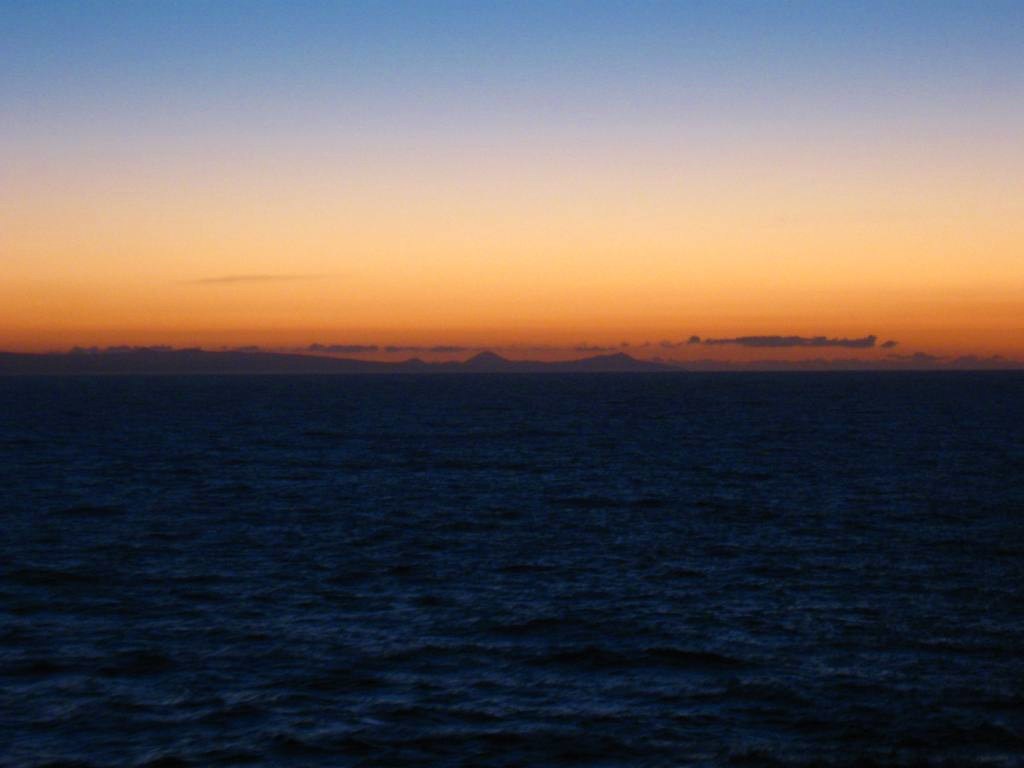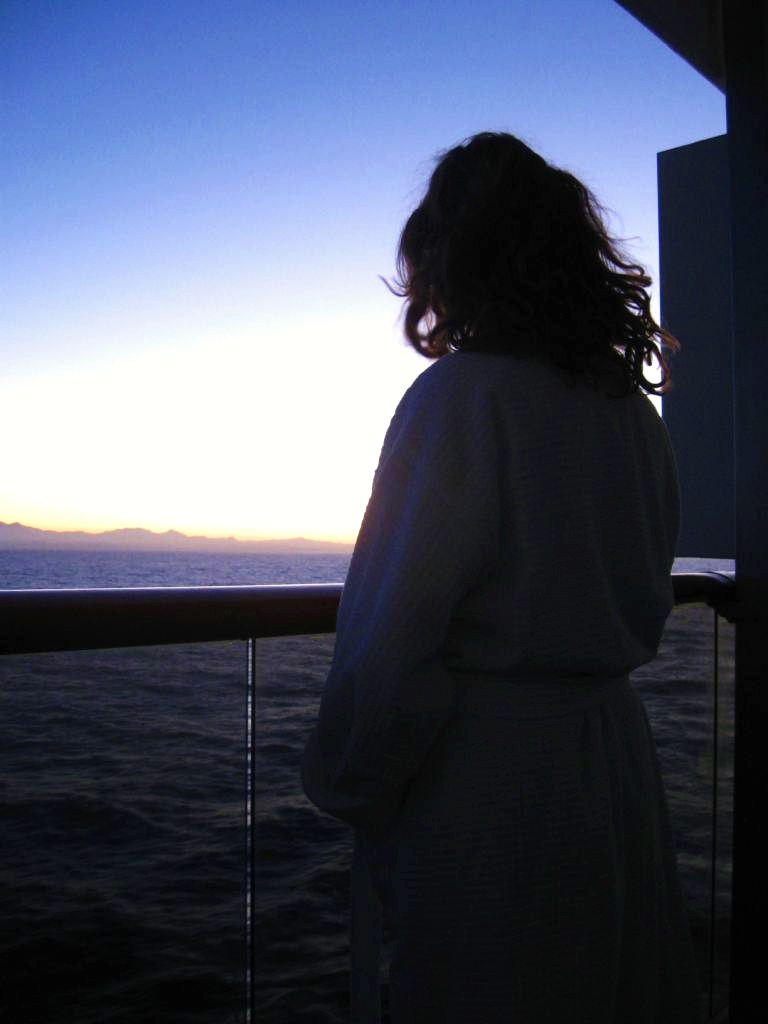 Ondine went to the gym for a couple classes (body conditioning and yoga), and John took Roy and Leo to the buffet then walked around the upper decks. He showed them the red glass atrium roof looking straight down past the steakhouse and buffet to the main floor 12 decks below. Once again they saw whales and dolphins (and here you see why they didn't bother taking photos). They returned to the buffet for brunch, and ran into Barbara and Bill!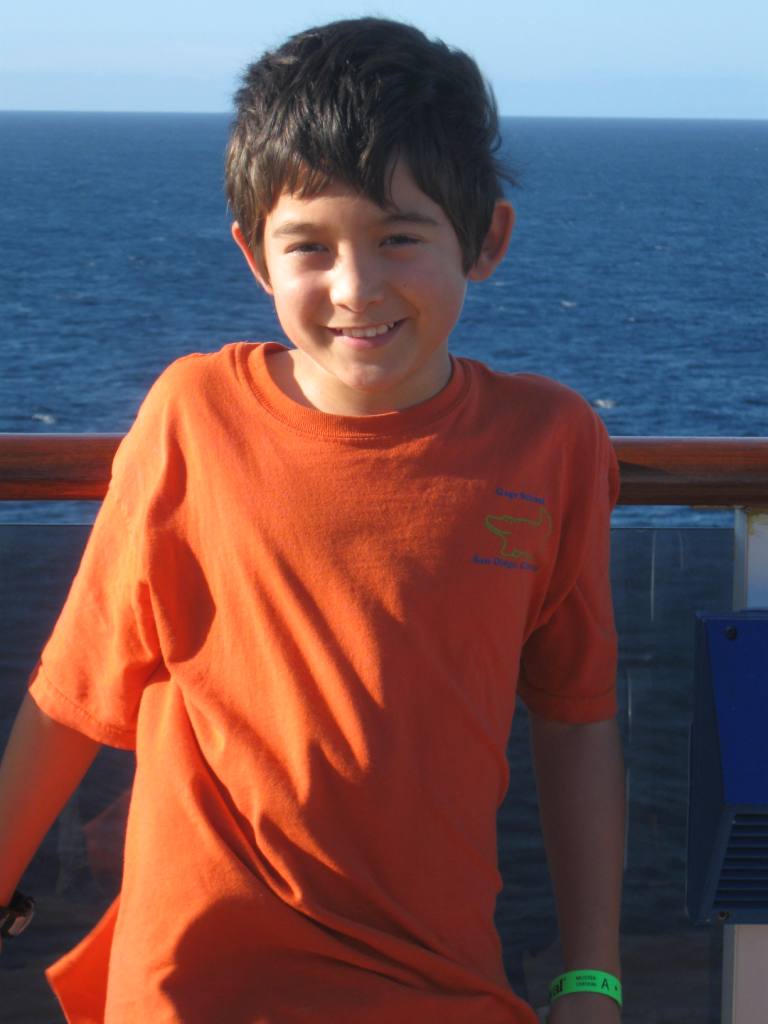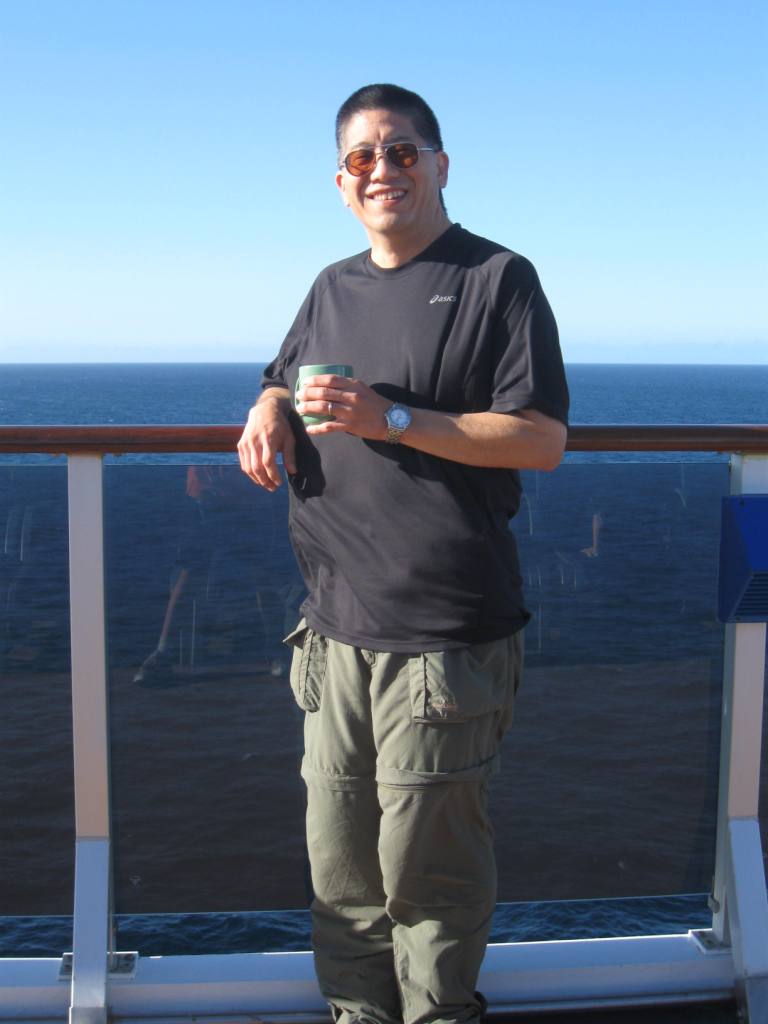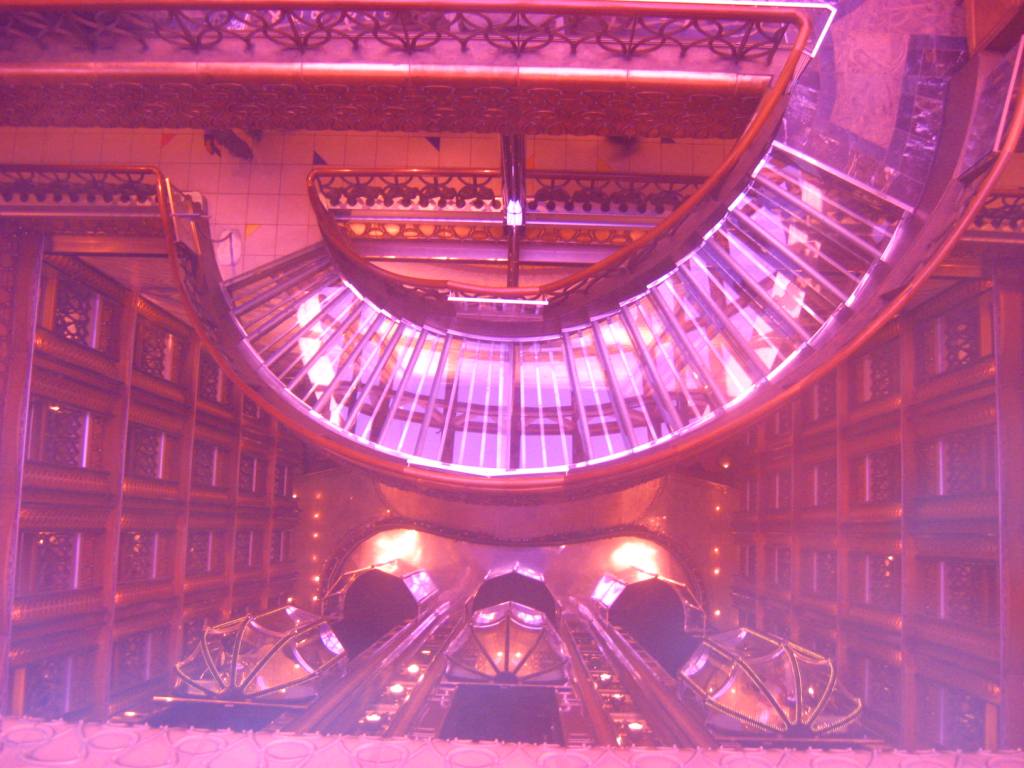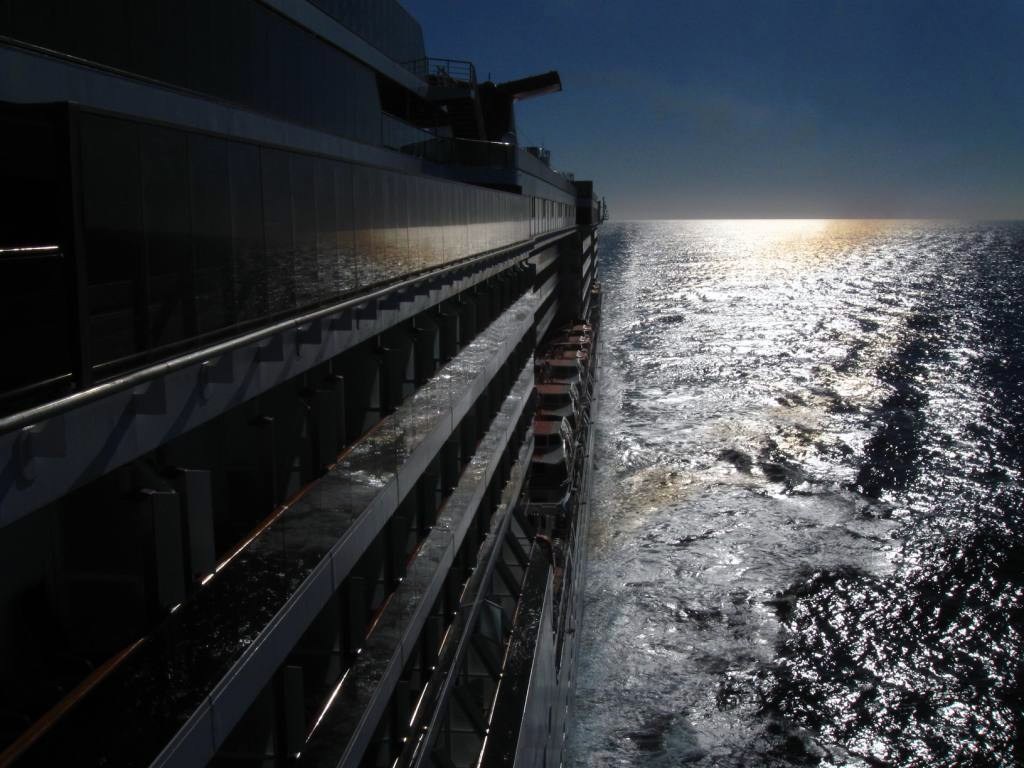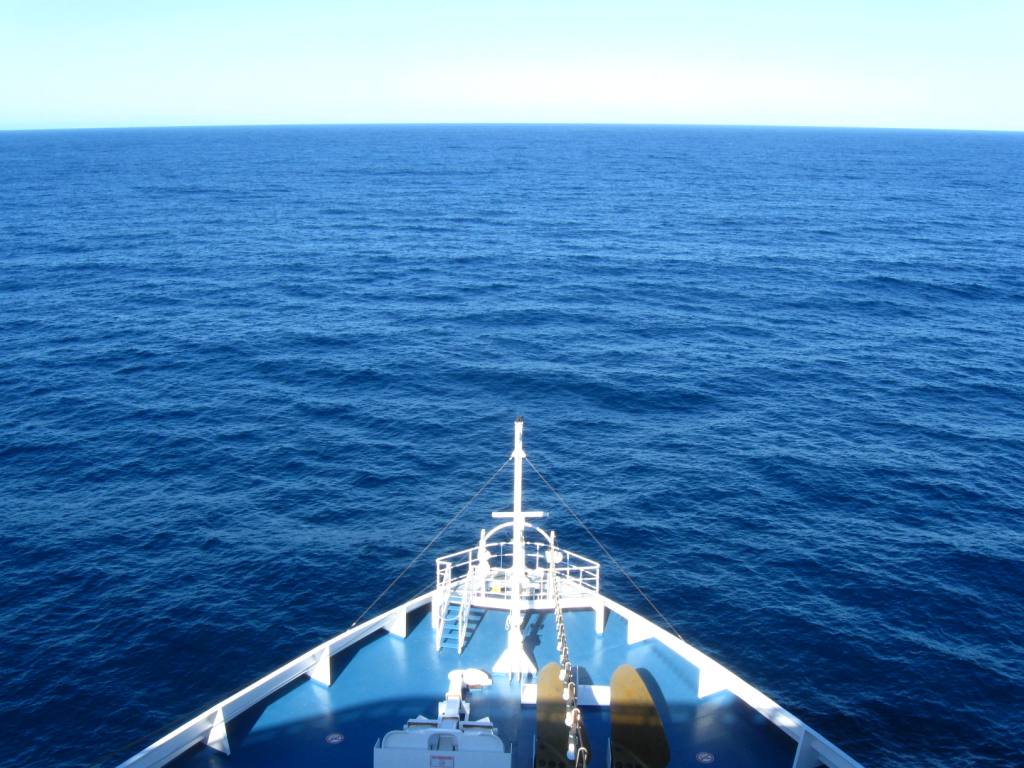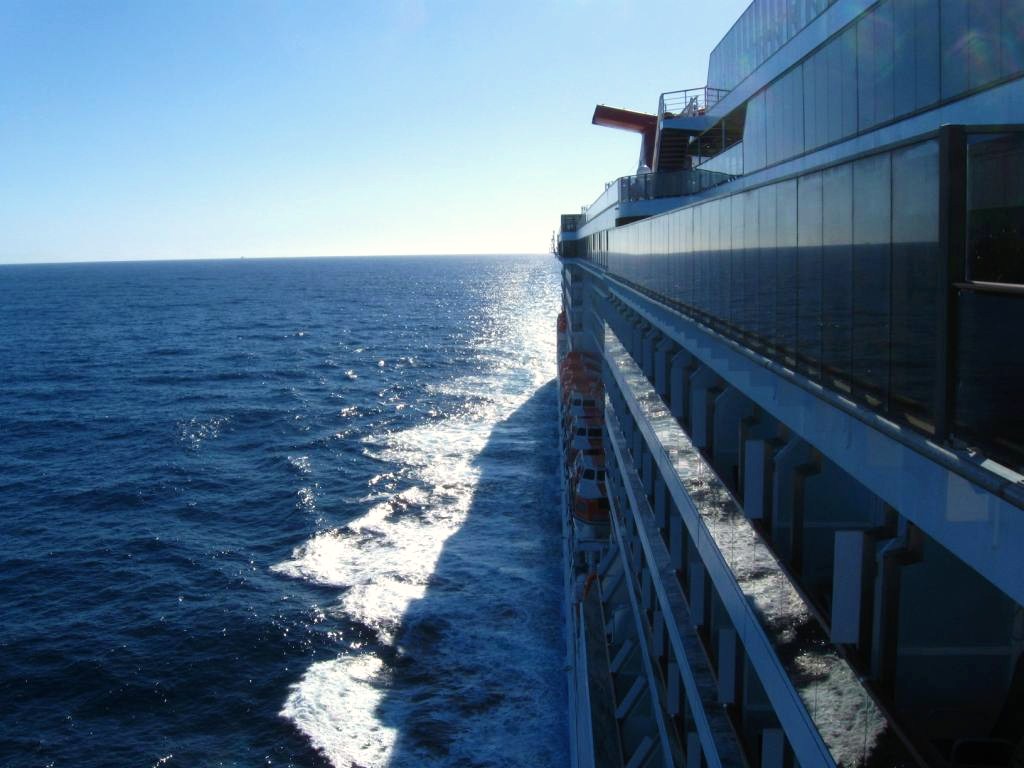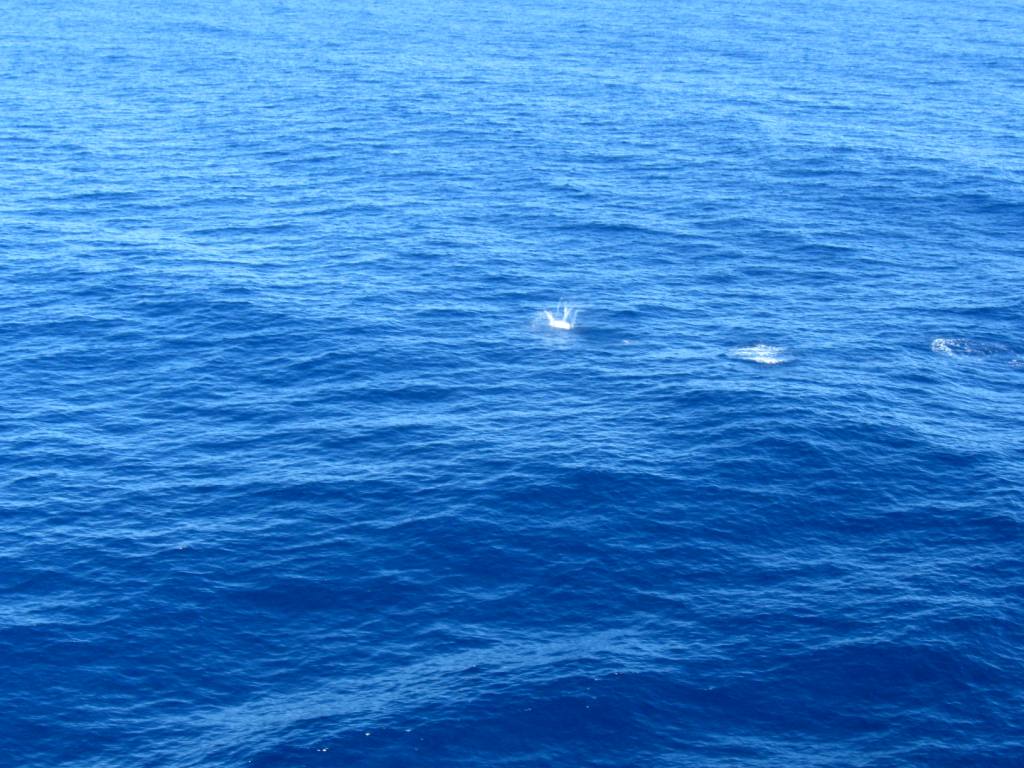 Our door decorations! We's spent many happy hours making decorations for our stateroom door, thanks to wonderful art kits assembled by Barbara. And here they are!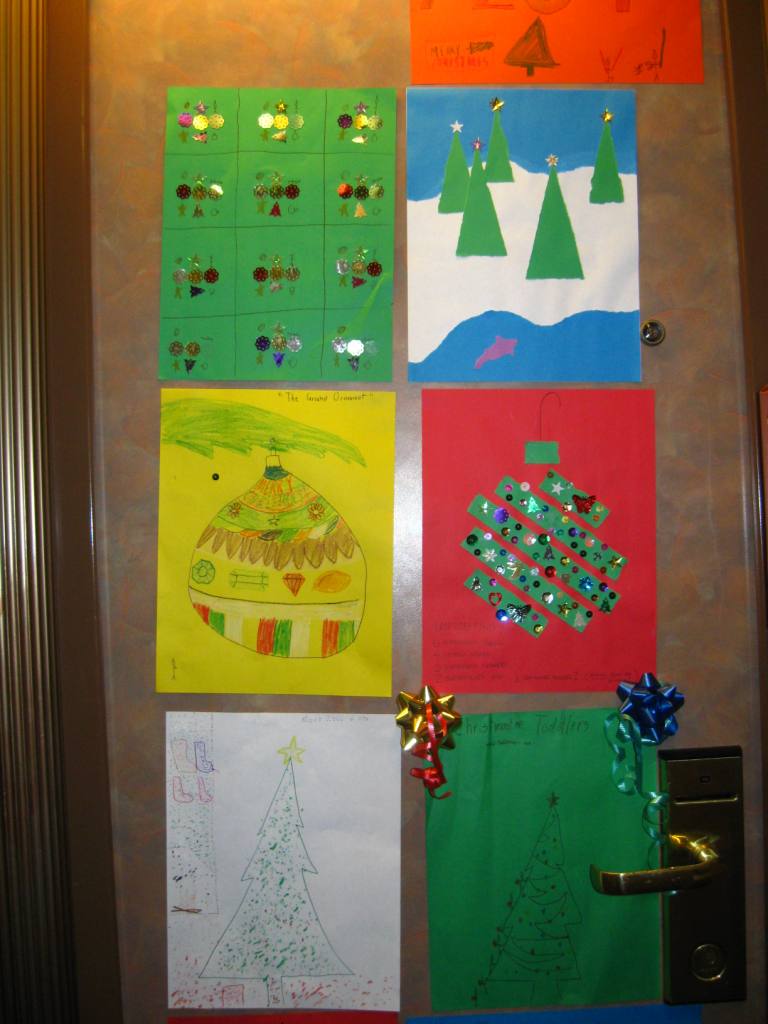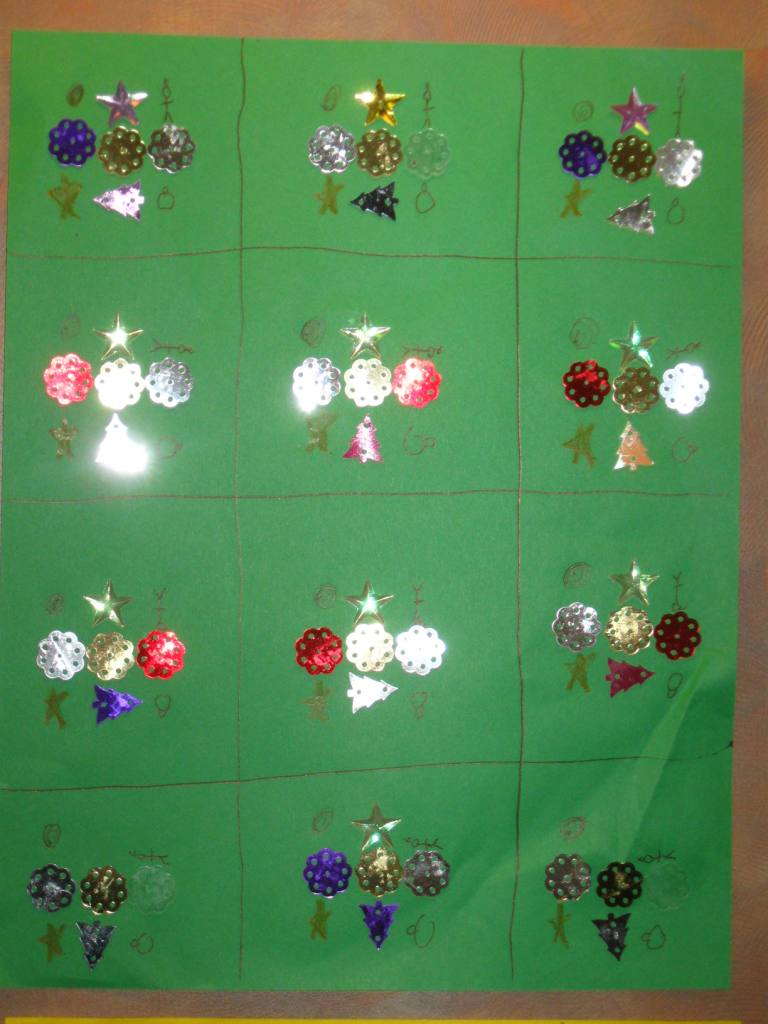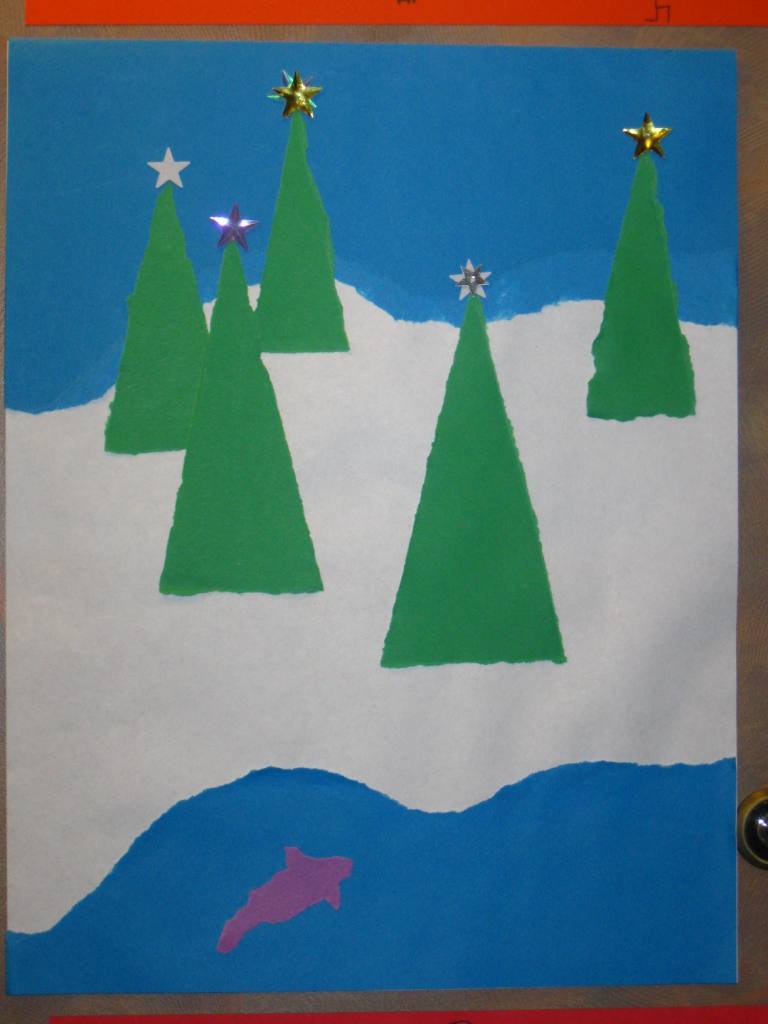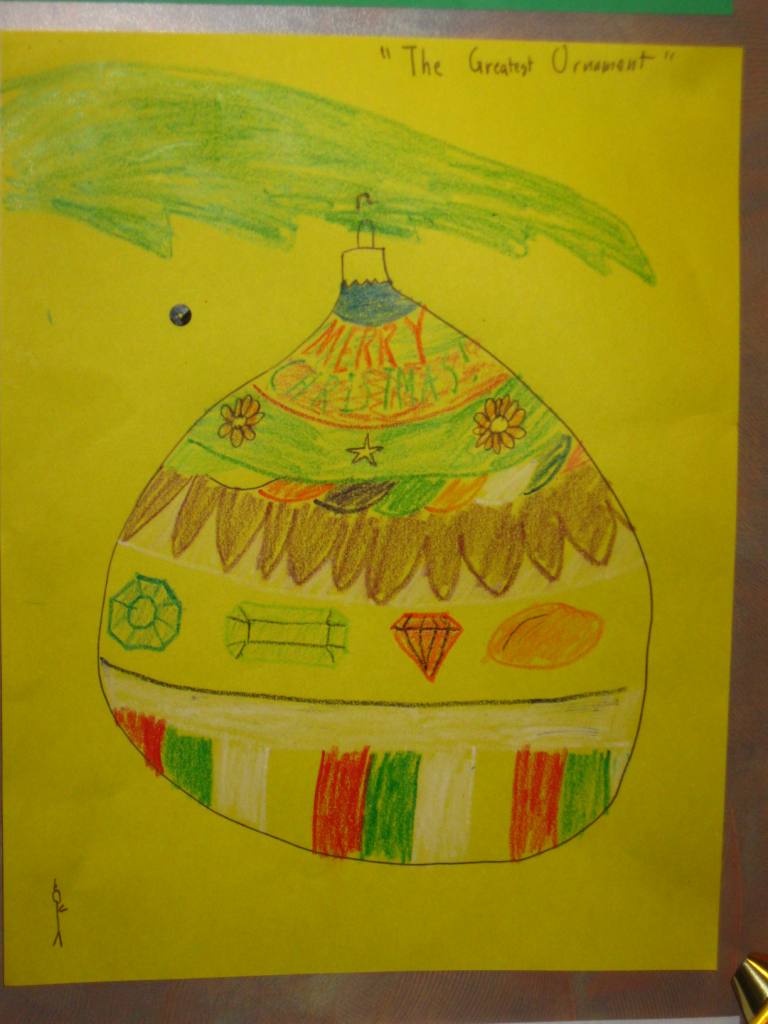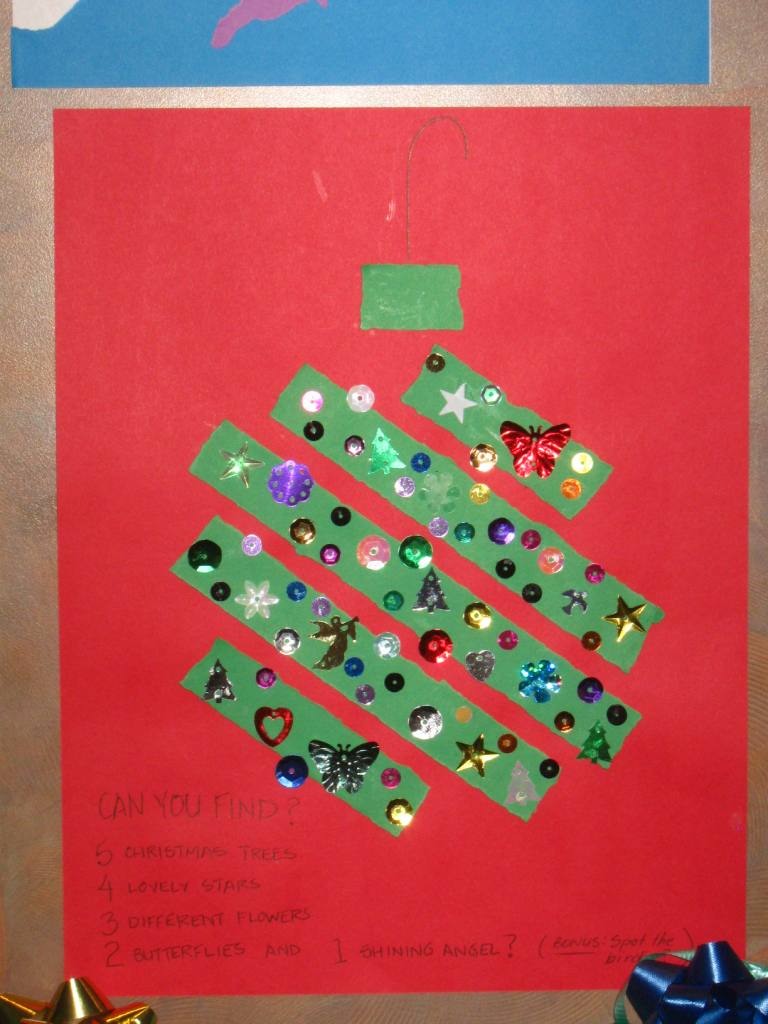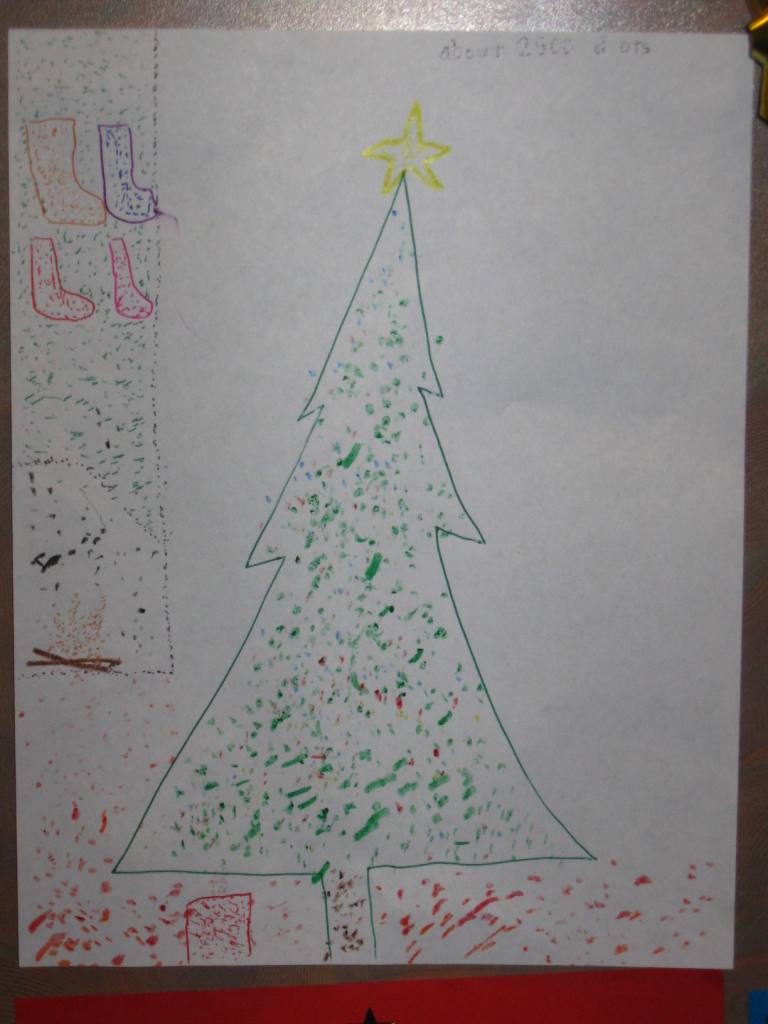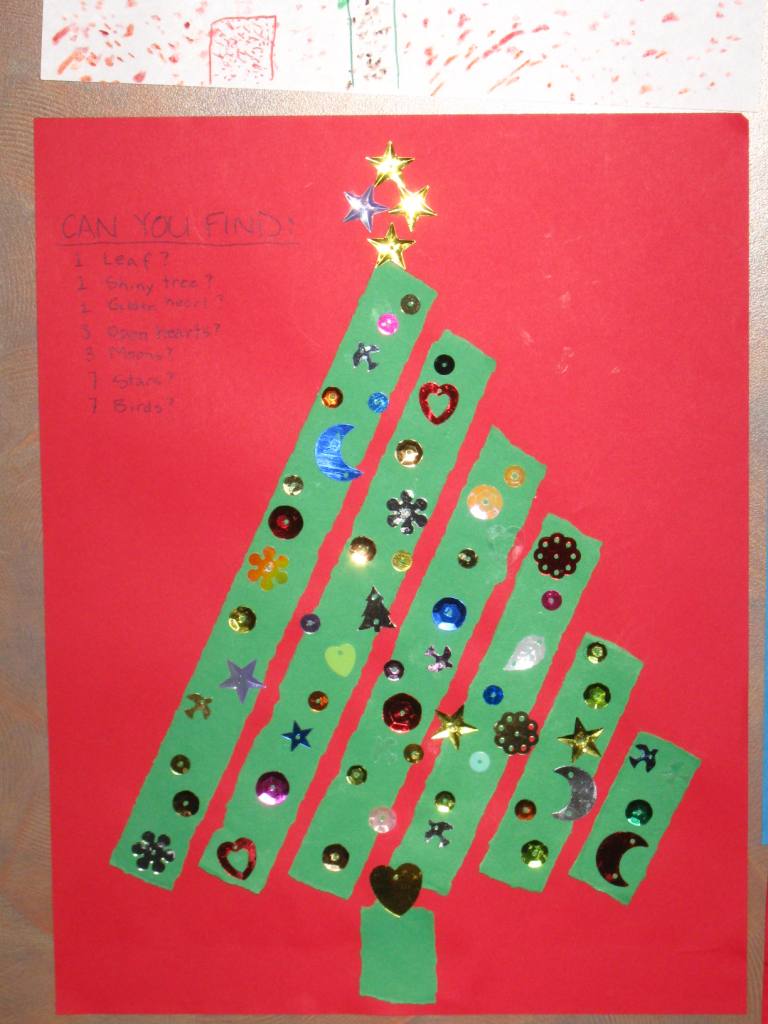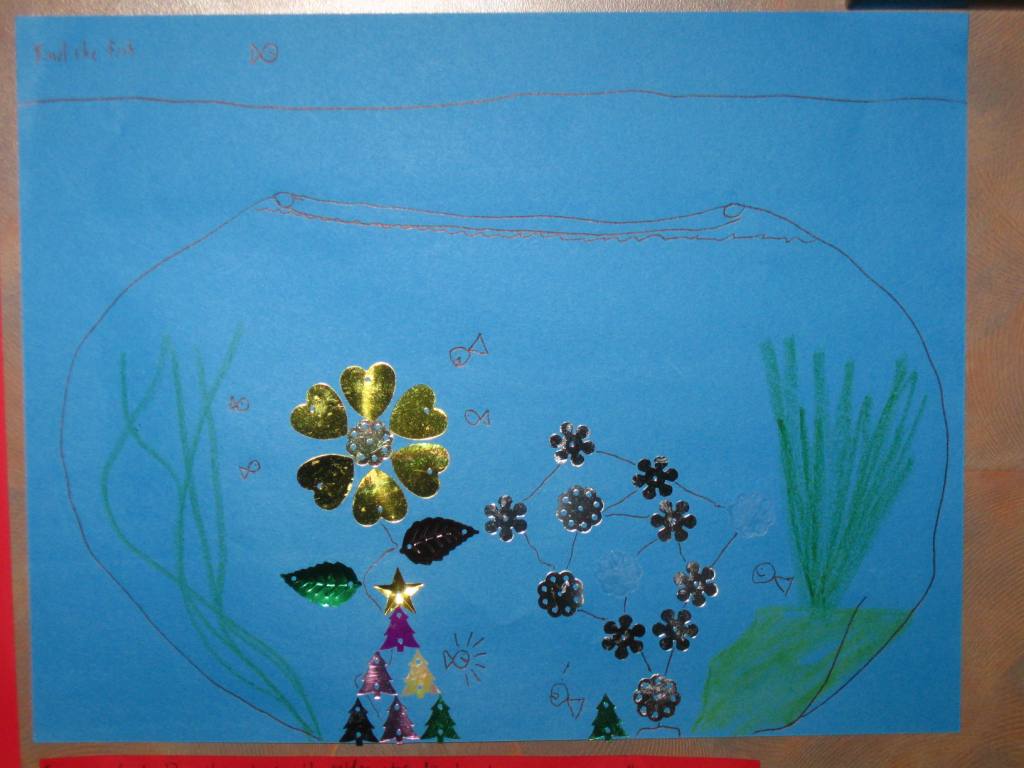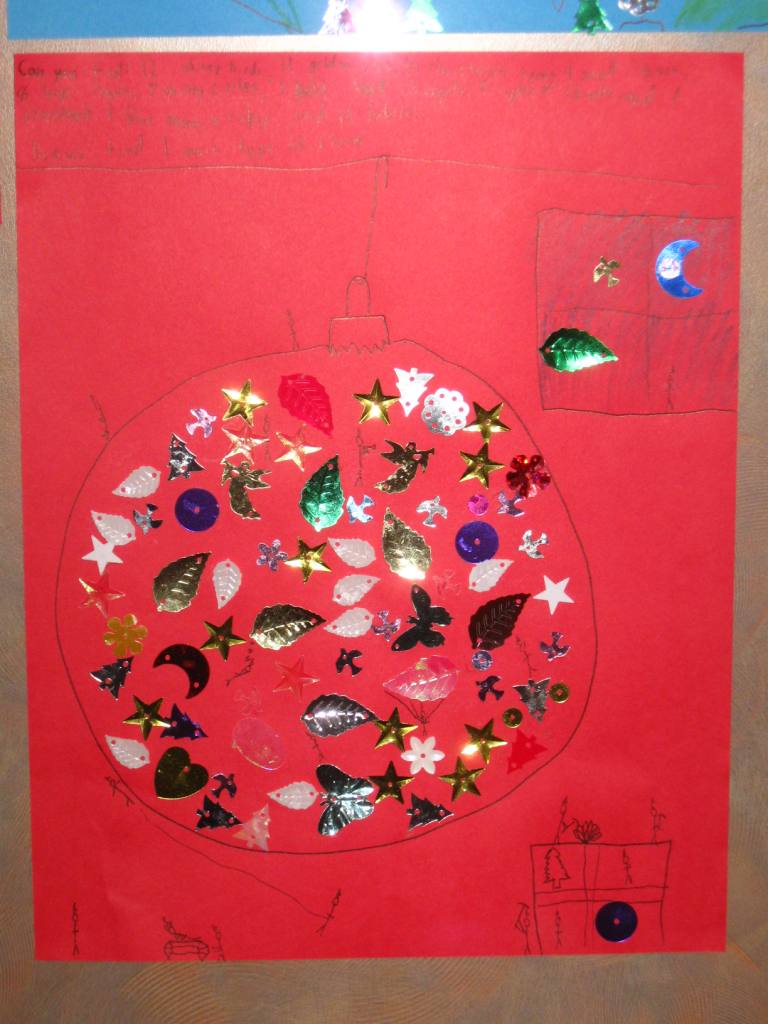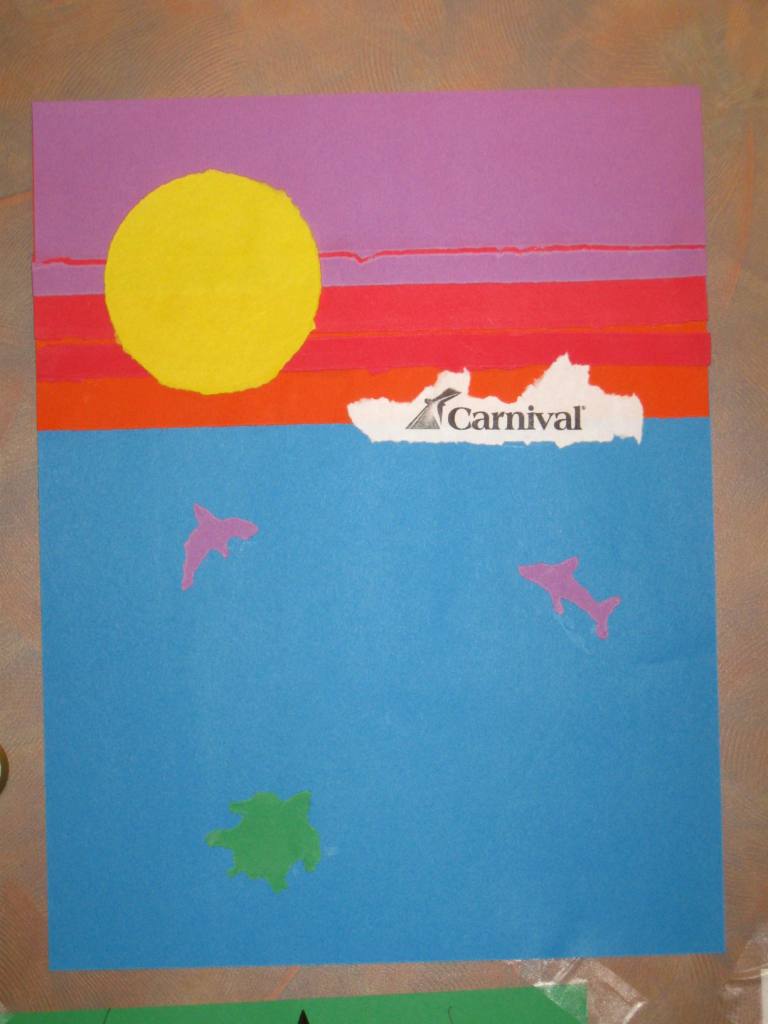 Later that afternoon, Ondine took Roy and Leo to the water slide, and John relaxed and did some reading and writing.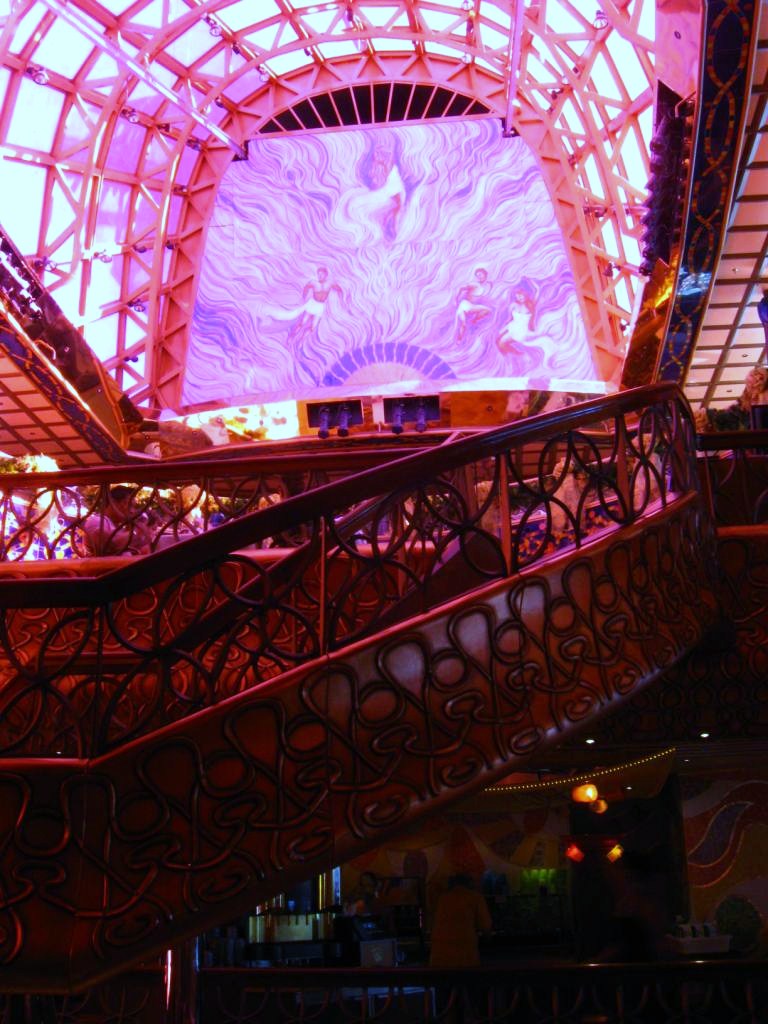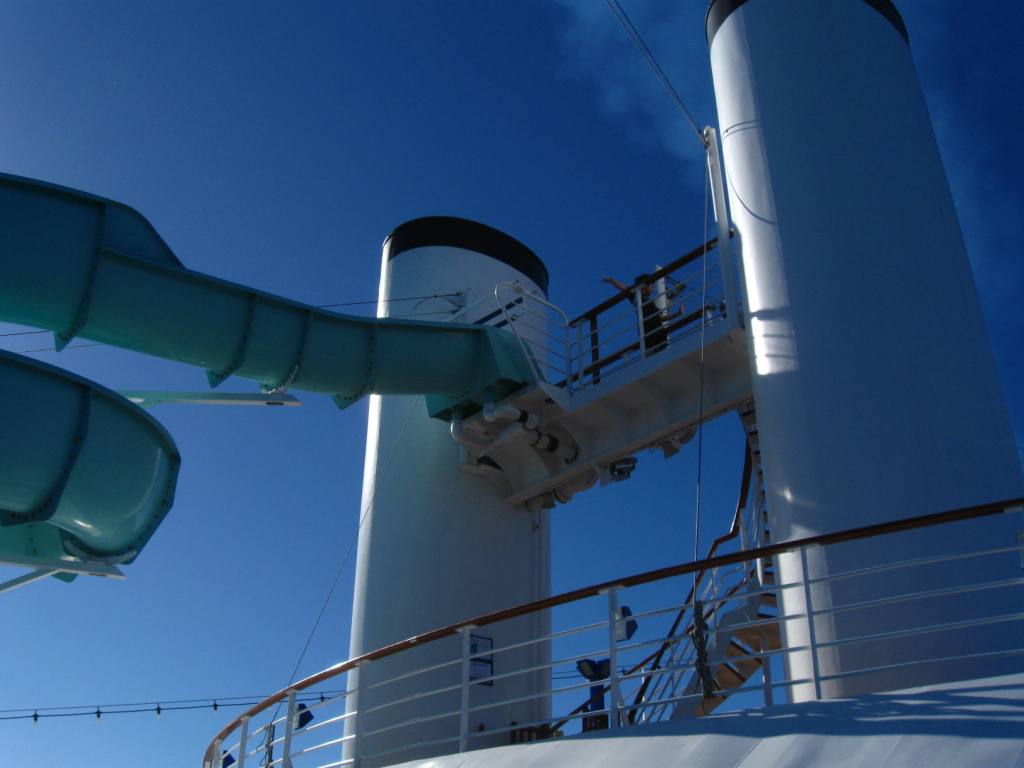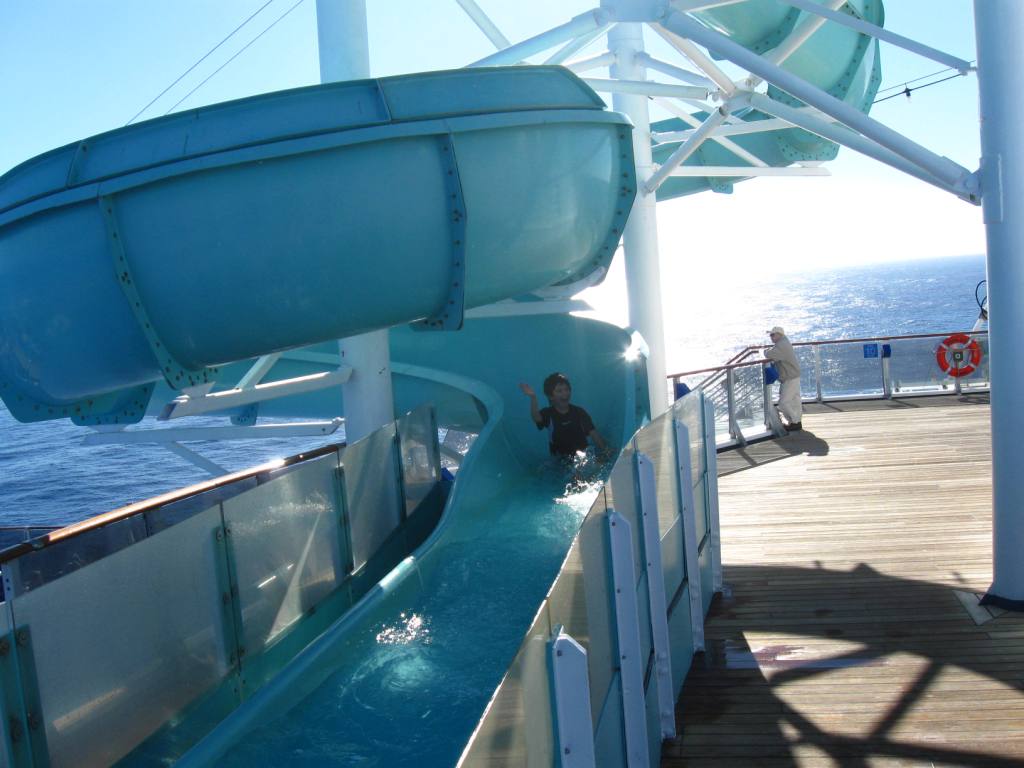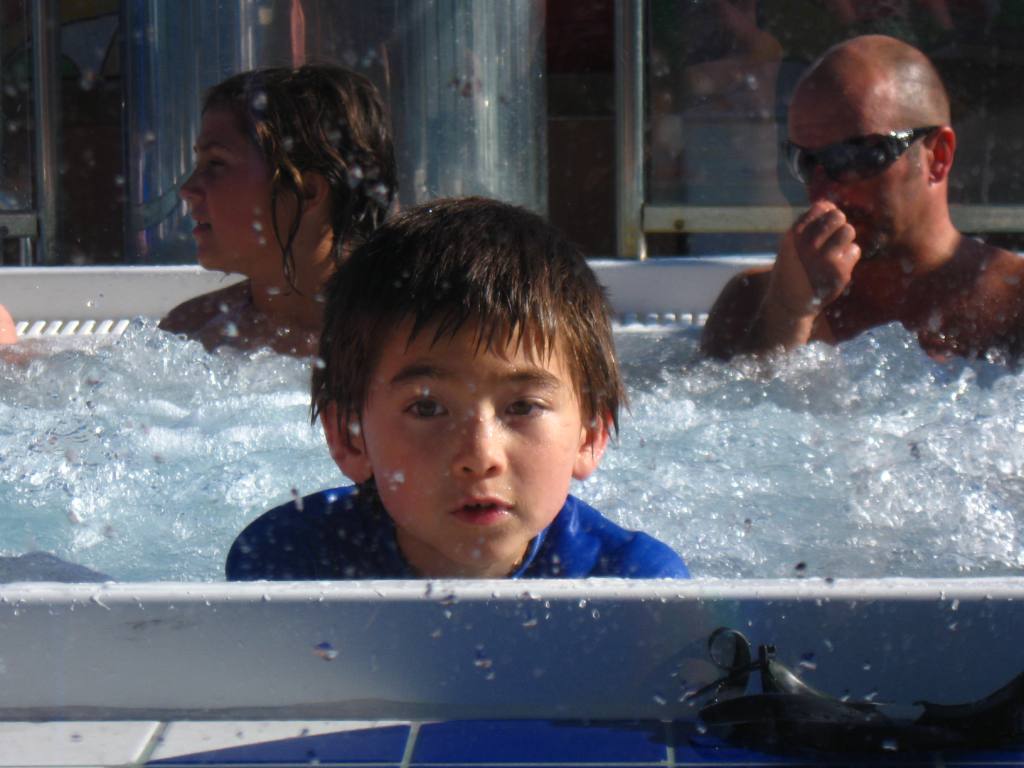 Dinner that evening in the Empire Room was a real treat! It was one of two "elegant nights," although dressing up was optional. We dressed in our usual scruff. The menu, though, was opulent - we had two orders of escargot – and Roy and Leo ate one! After Bill let on what escargot were, Roy claimed to feel queasy. Leo, though, had another. Yum! John was torn between the Bacardi award-winning basa fillet and the Chateaubriand. He chose the basa, but our waiter, Gabor, brought an extra chateaubriand for us to try. The fish was excellent, but the chateaubriand was superb!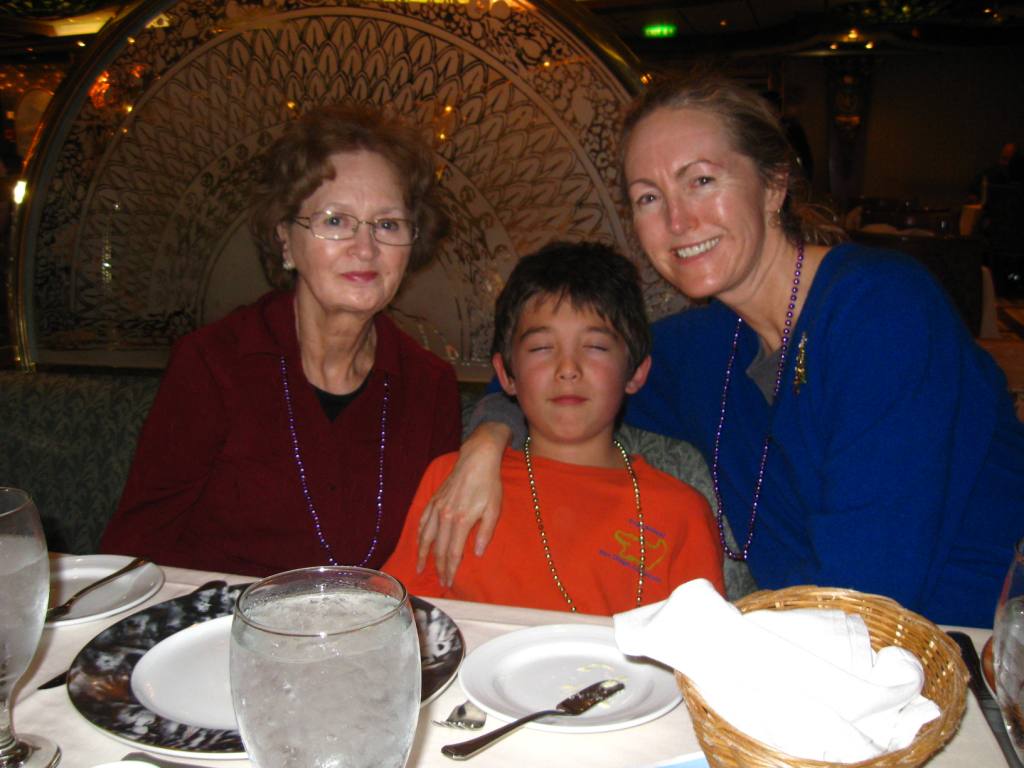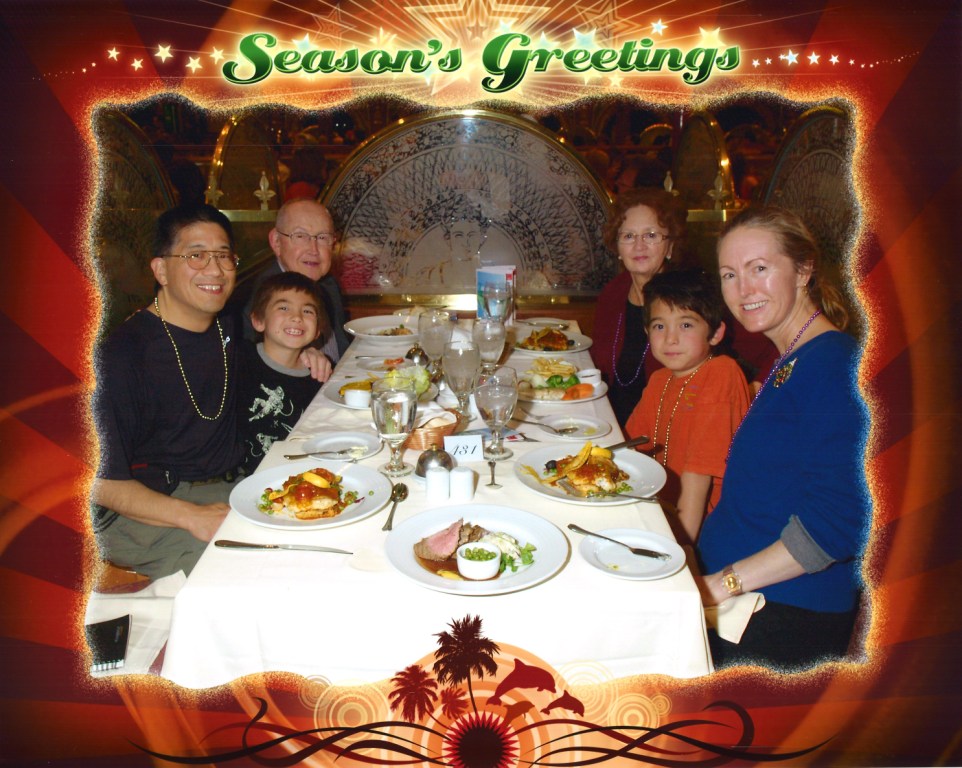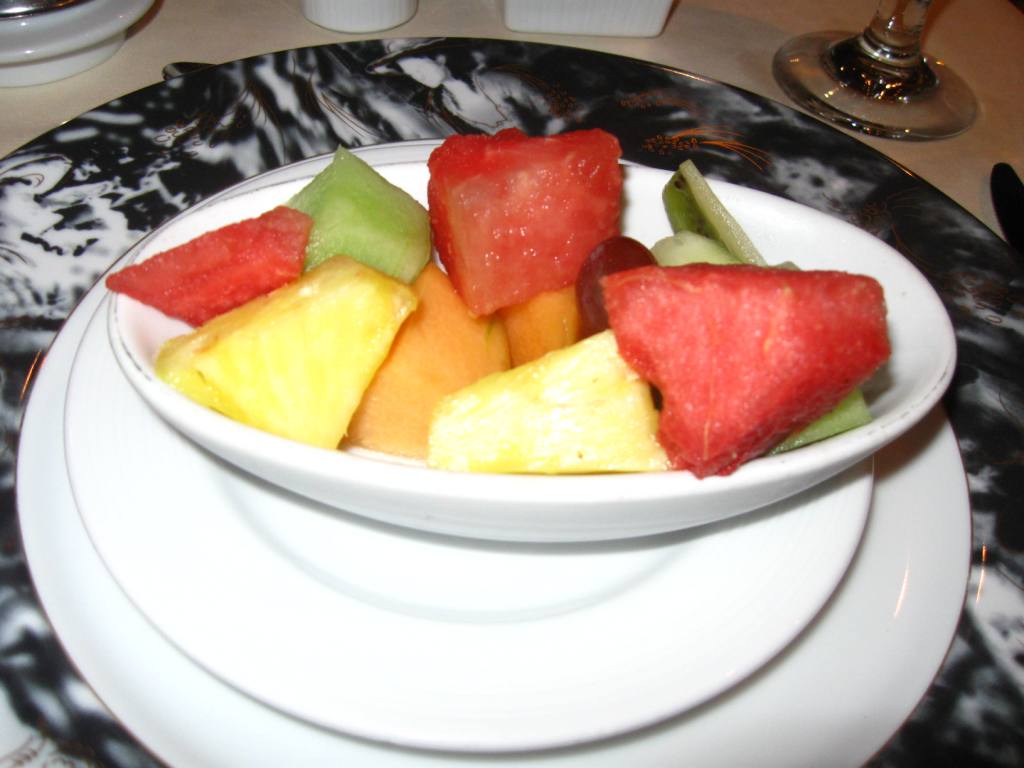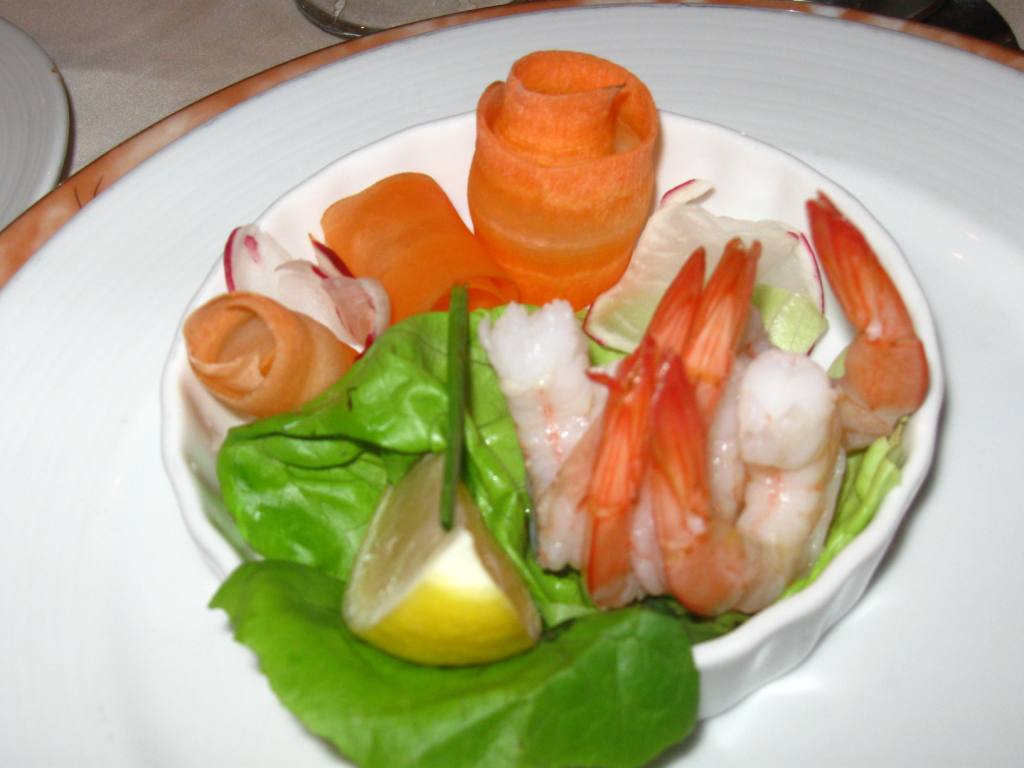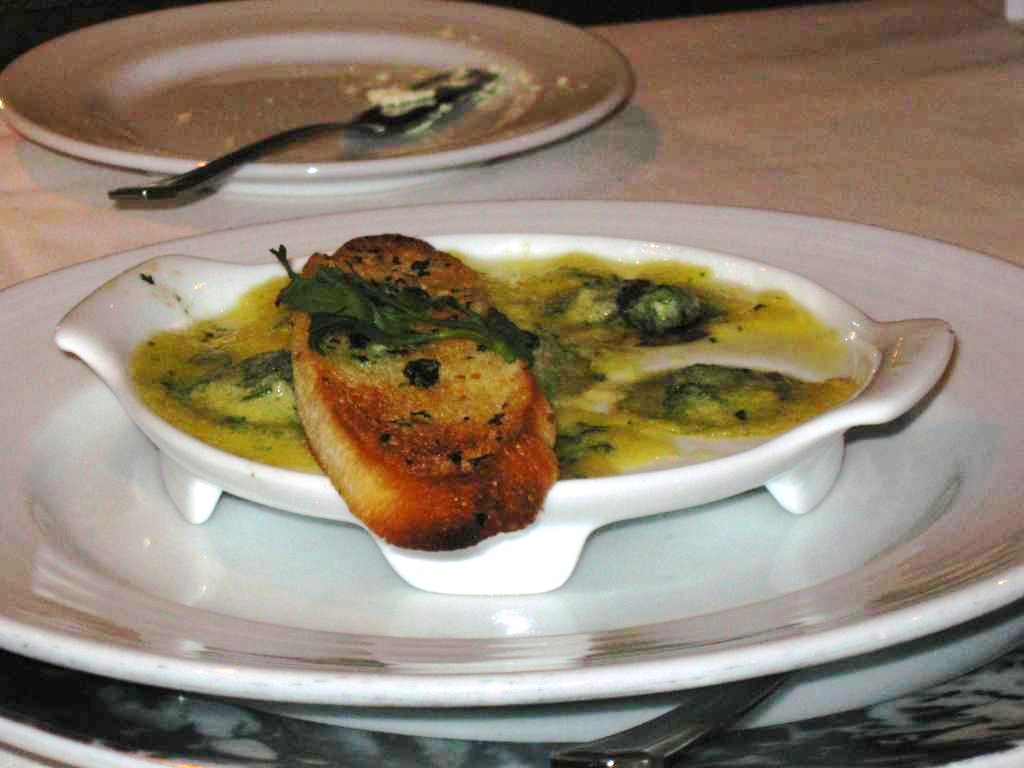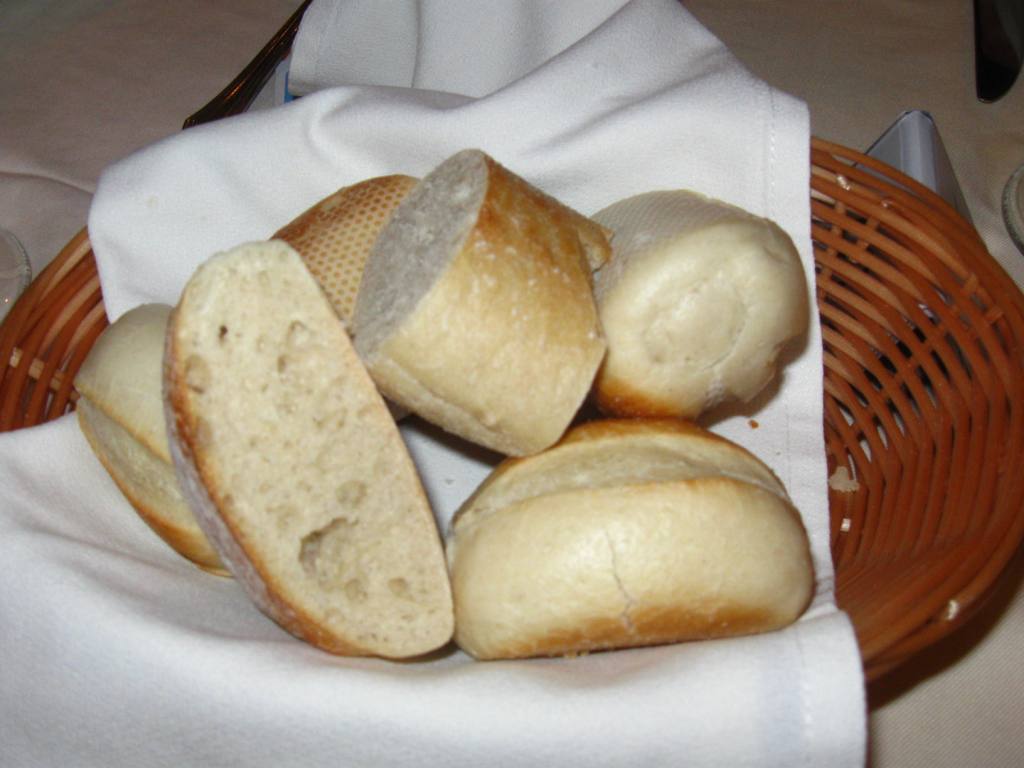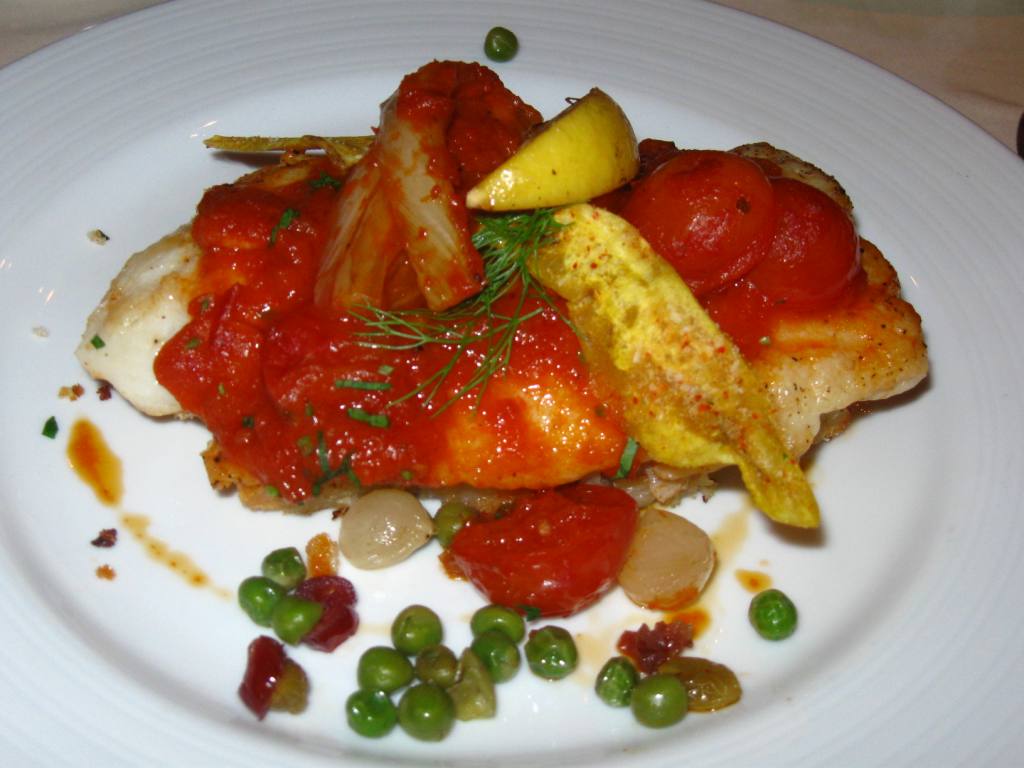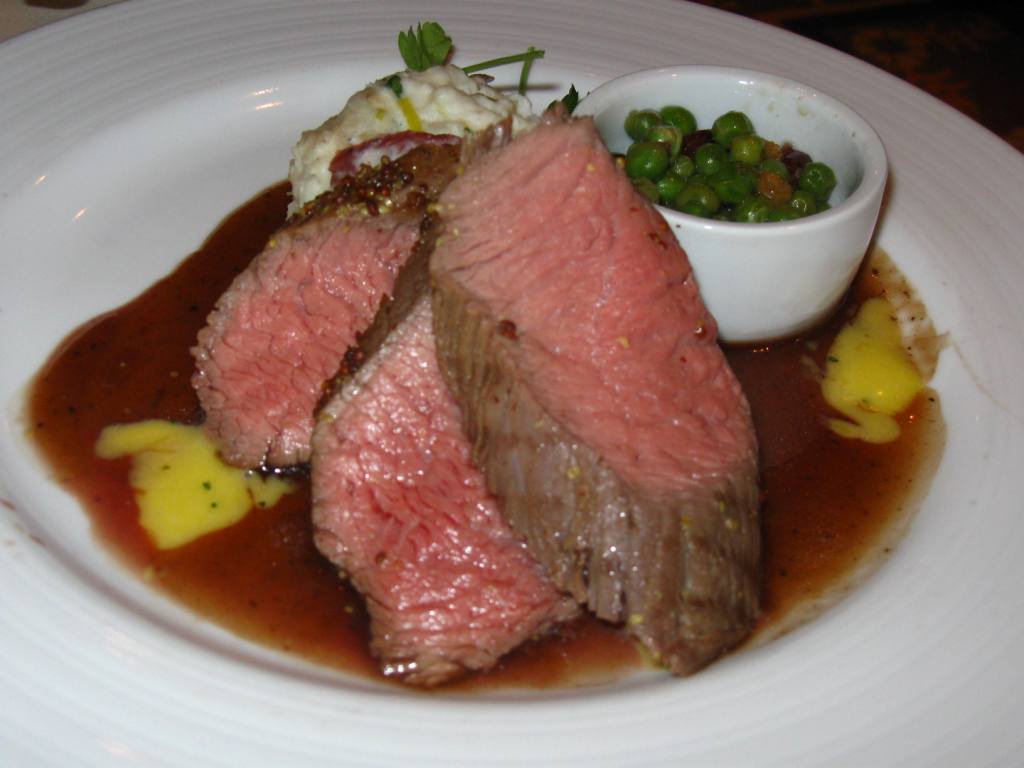 After we put the boys to bed, we had a night out on the town thanks to Barbara, who came over to watch over the boys while they slept. We got a glimpse of the onboard night scene, and saw "The Big Easy," a jazz and rock song-and-dance revue of New Orleans, at the Pharaoh's Lounge. It was excellent, and a wonderful break from the usual shipboard routine for us! Thanks, Barbara!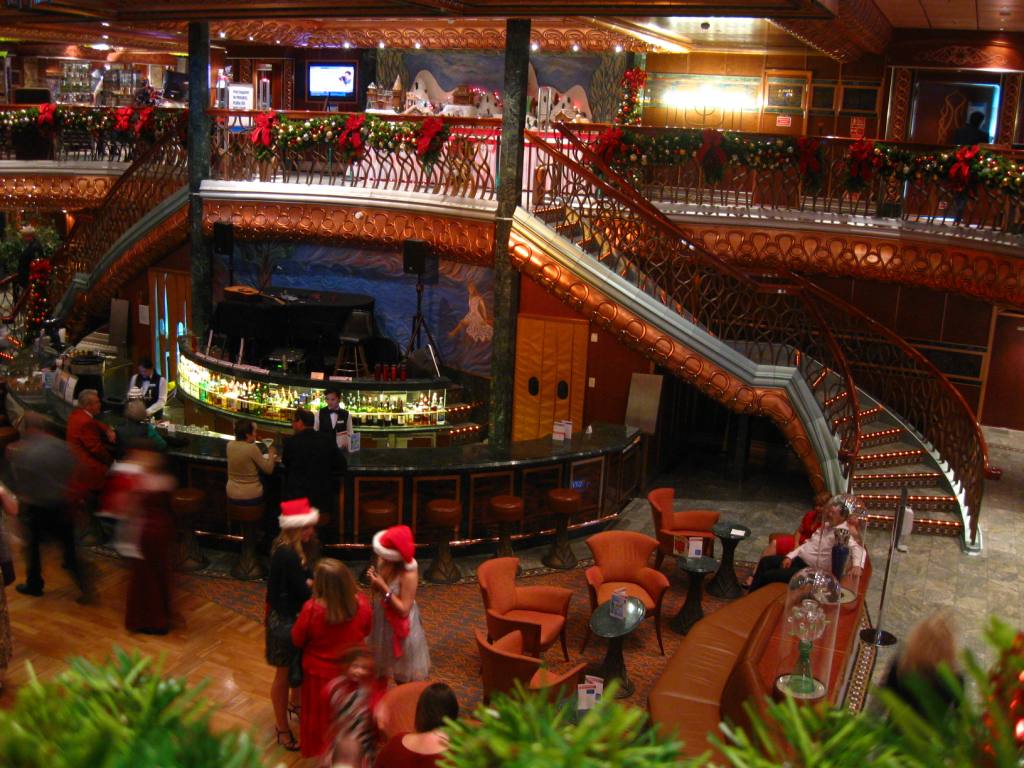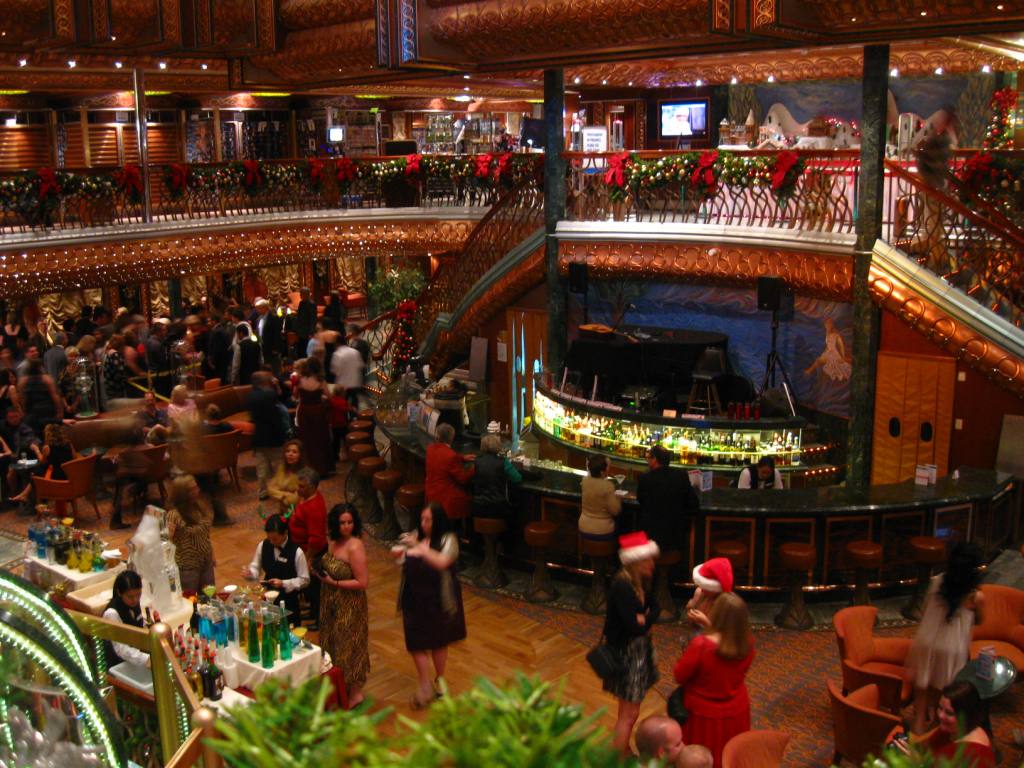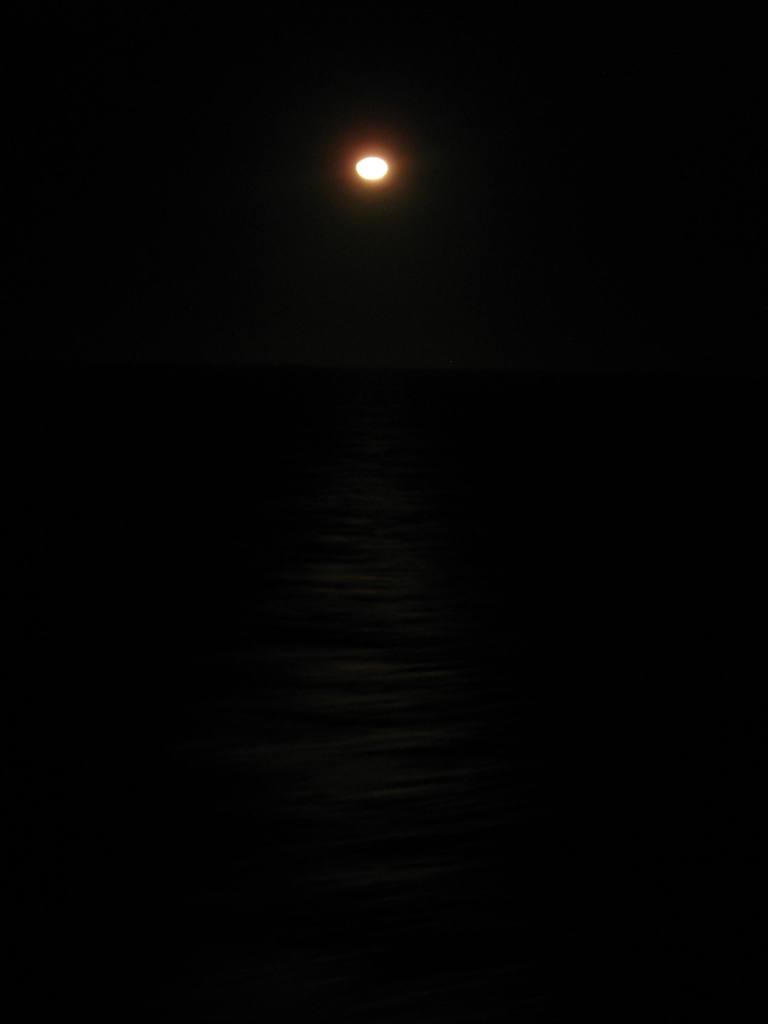 25 December - Saturday was Christmas Day! It was also our third and final full "Fun Day at Sea." John rousted the boys at 4 AM to get pizza, just because he could. They groggily joined him on the fantail for fresh-made pizza and a view of the sunrise. John and Roy played chess with oversized chess pieces, and then Roy and Leo played, Roy won both games. We ate a lot of pizza – Roy had three slices of cheese pizza and Leo had two and a half, and John had two slices of veggie. Yum!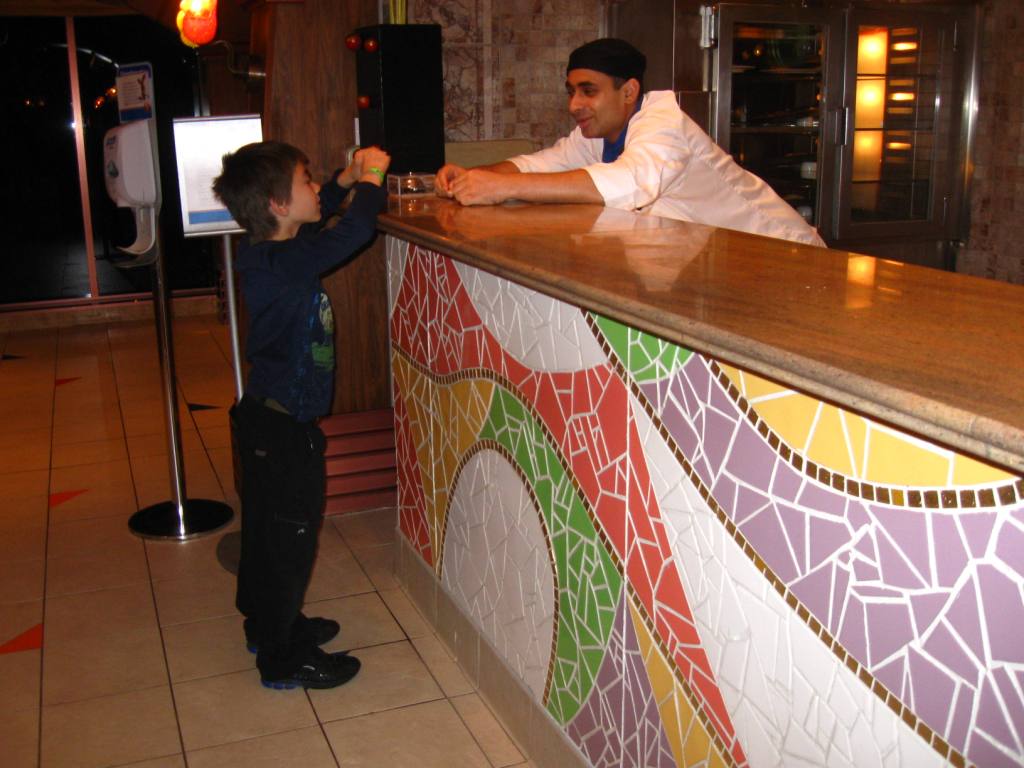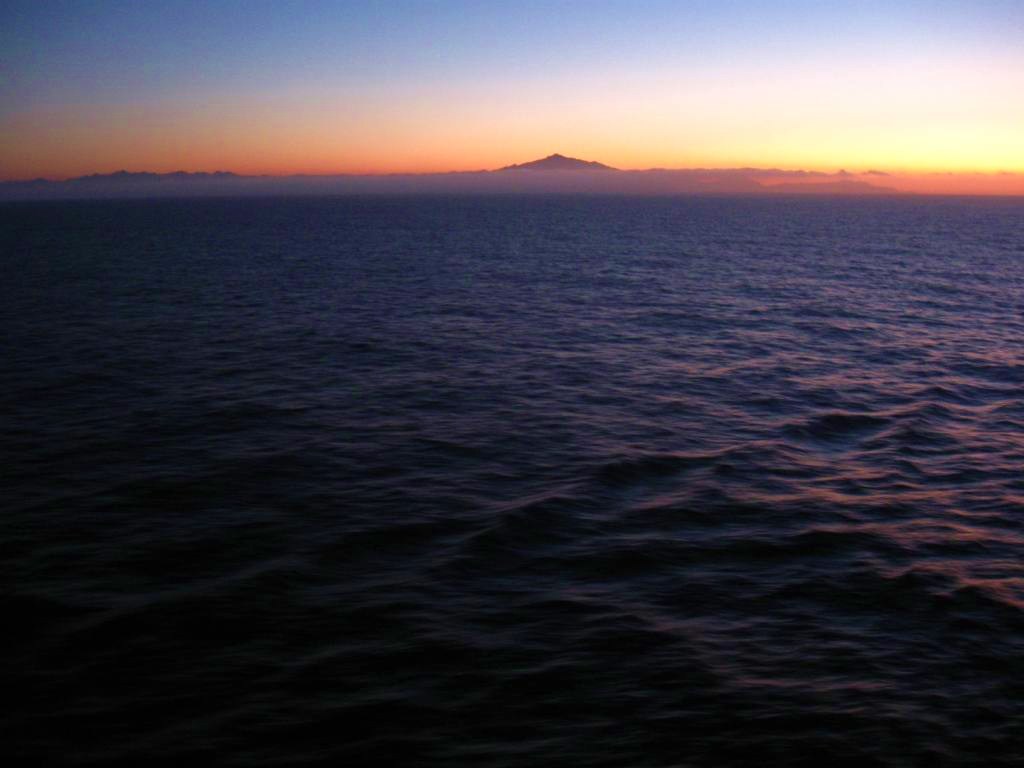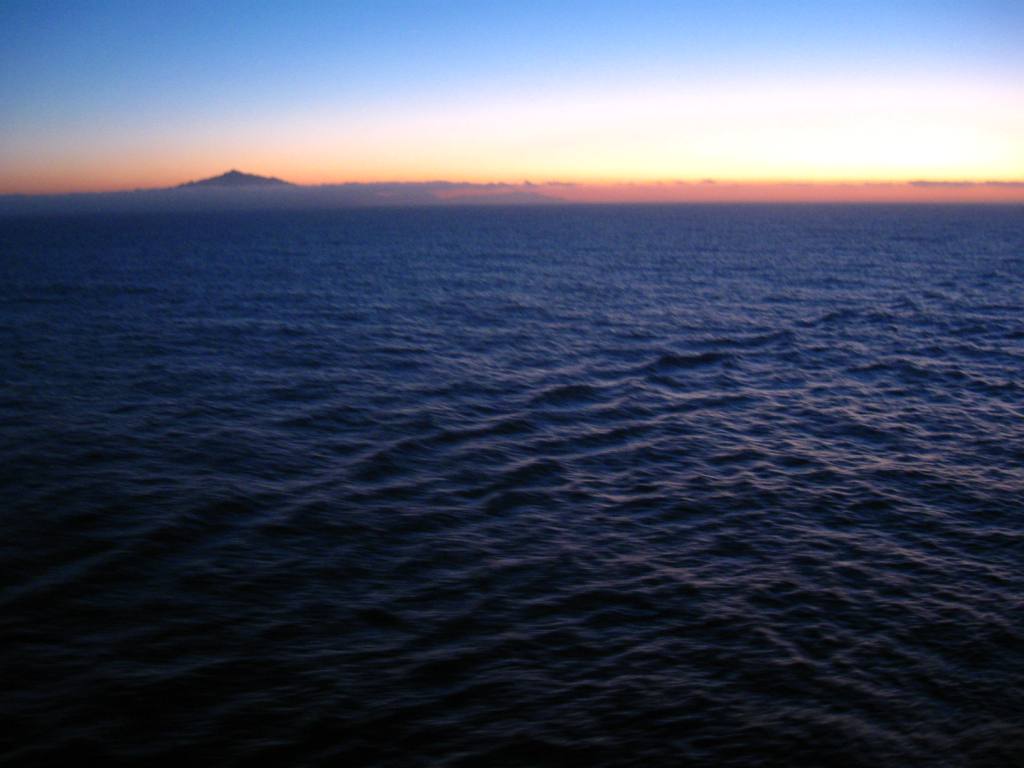 They returned to our stateroom at about 6:15, in time for the room service breakfast of fresh fruit, yogurt, and cereal. We watched Polar Express on the TV, and Roy and Leo tried to extract Auntie Elaine's gift, two envelopes inside a locked maze cube. Leo found the right path to take, but Roy finally unlocked it to find envelopes with cash!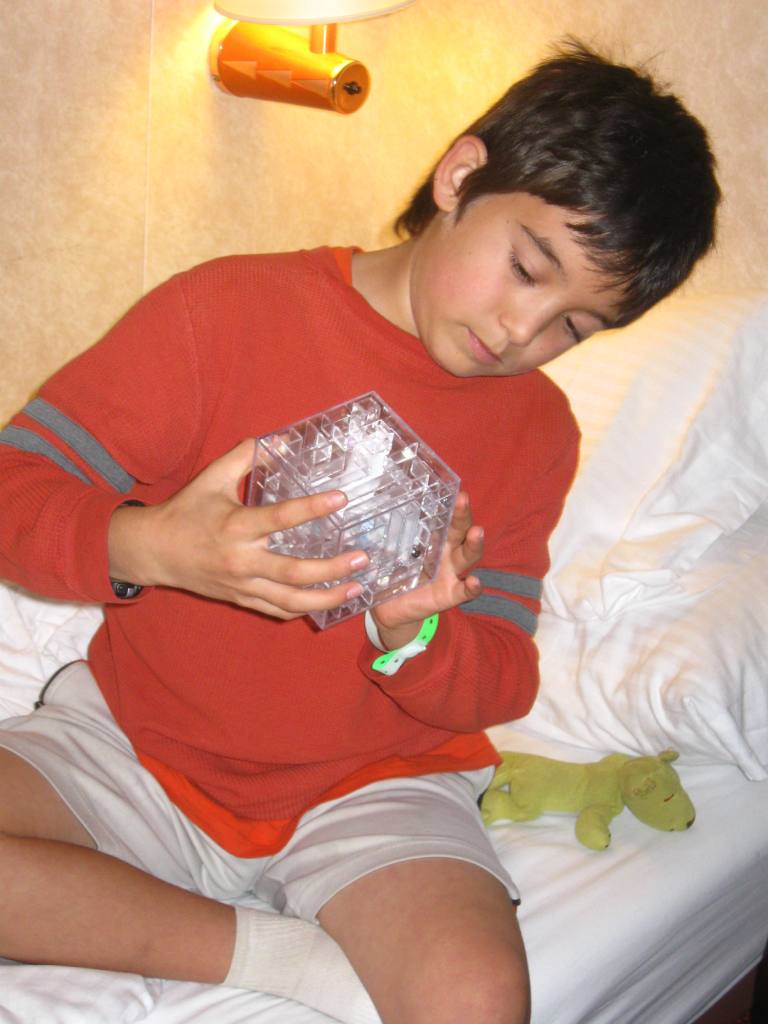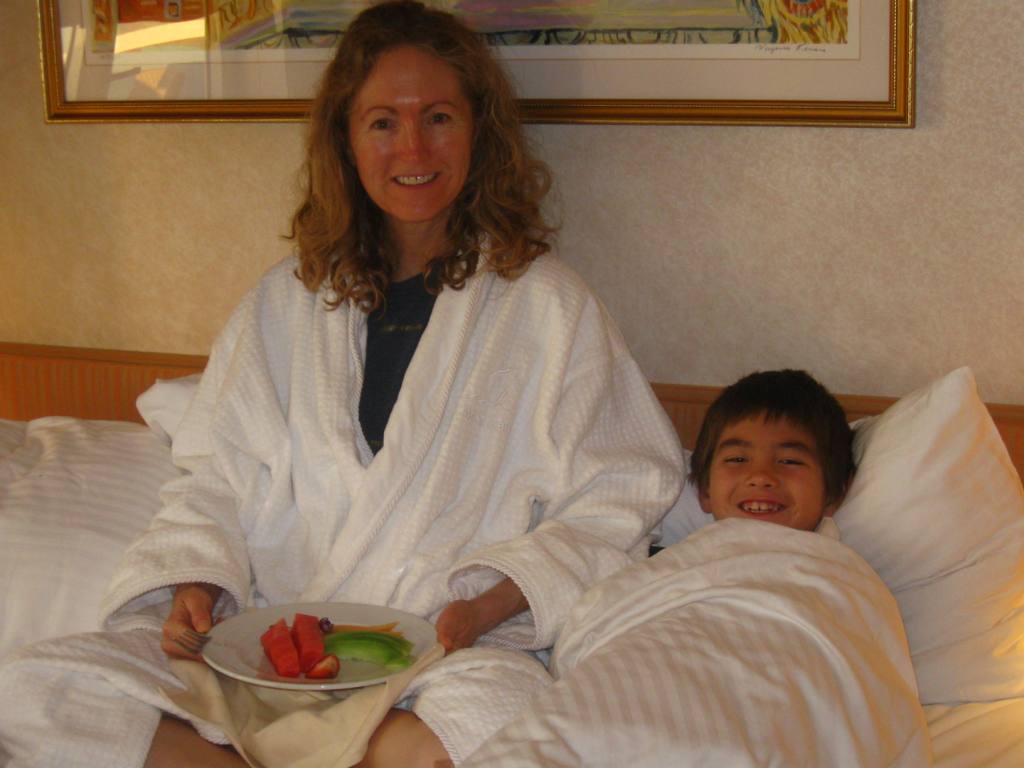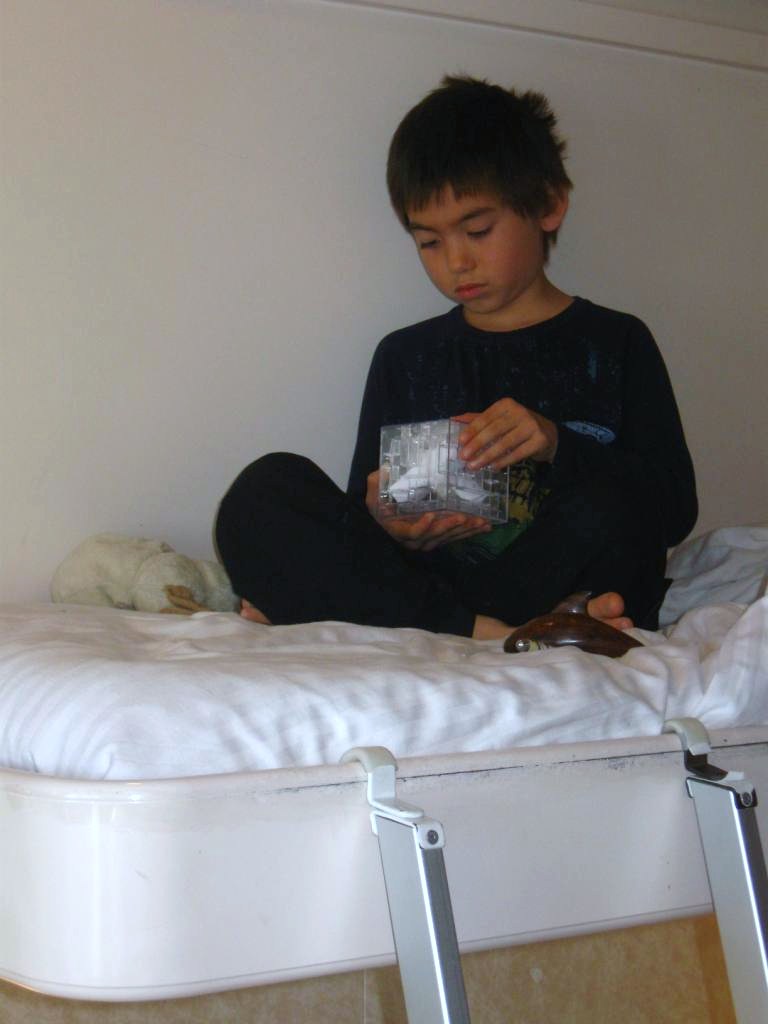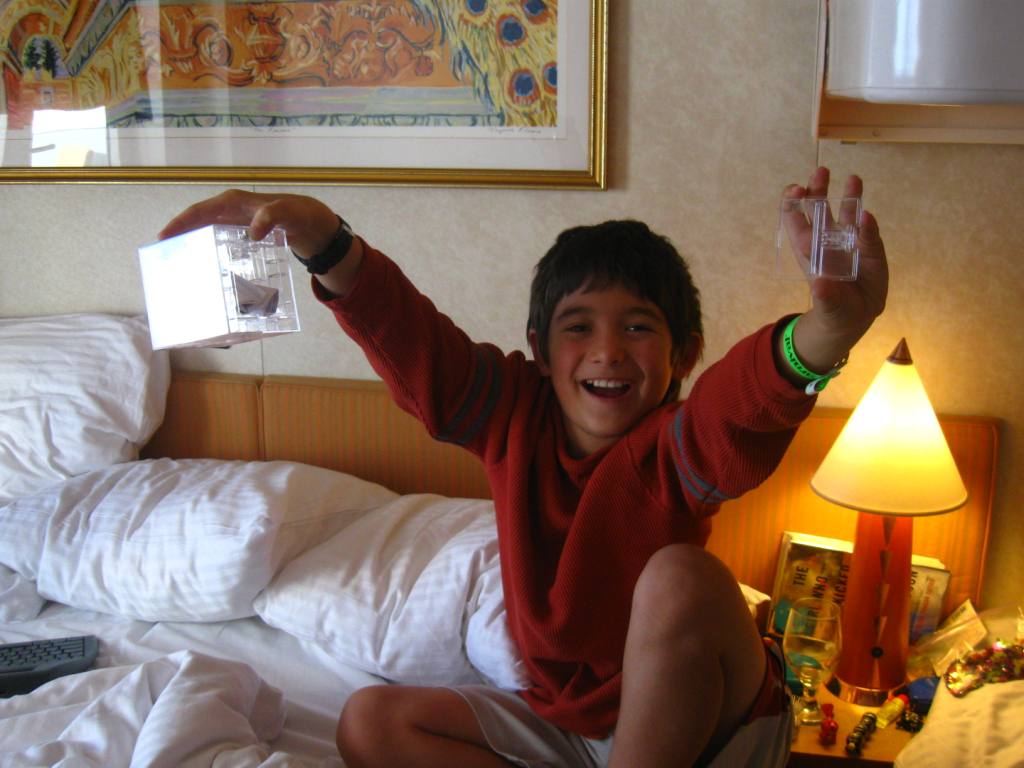 Roy and Leo also opened their shipboard Christmas presents!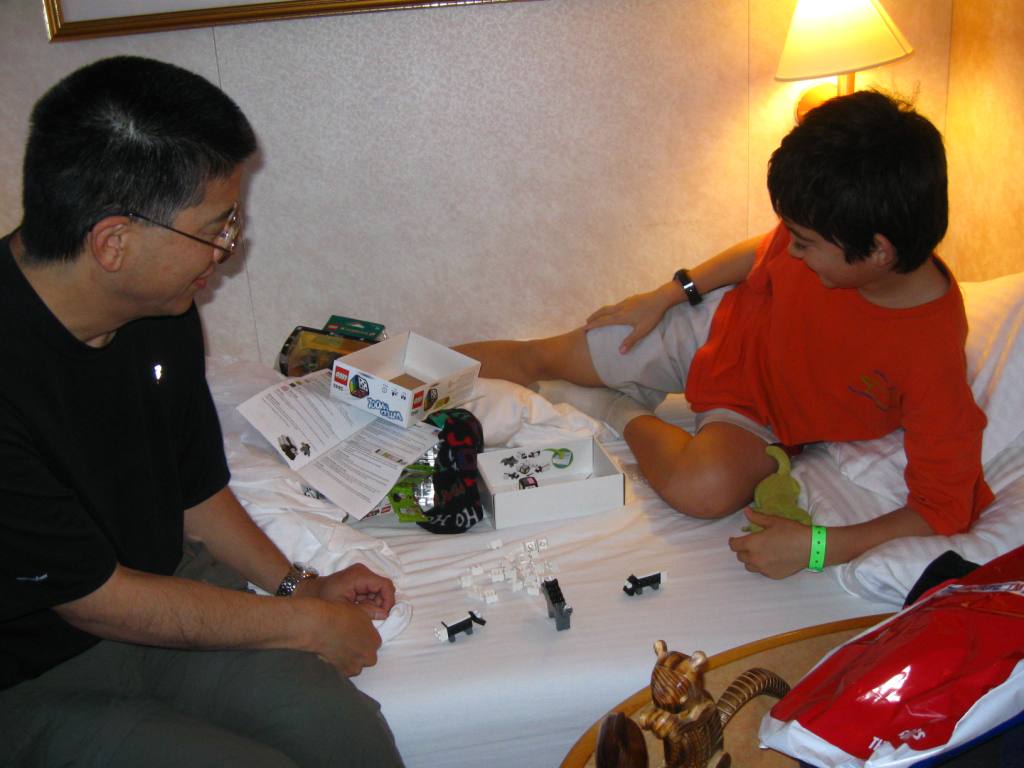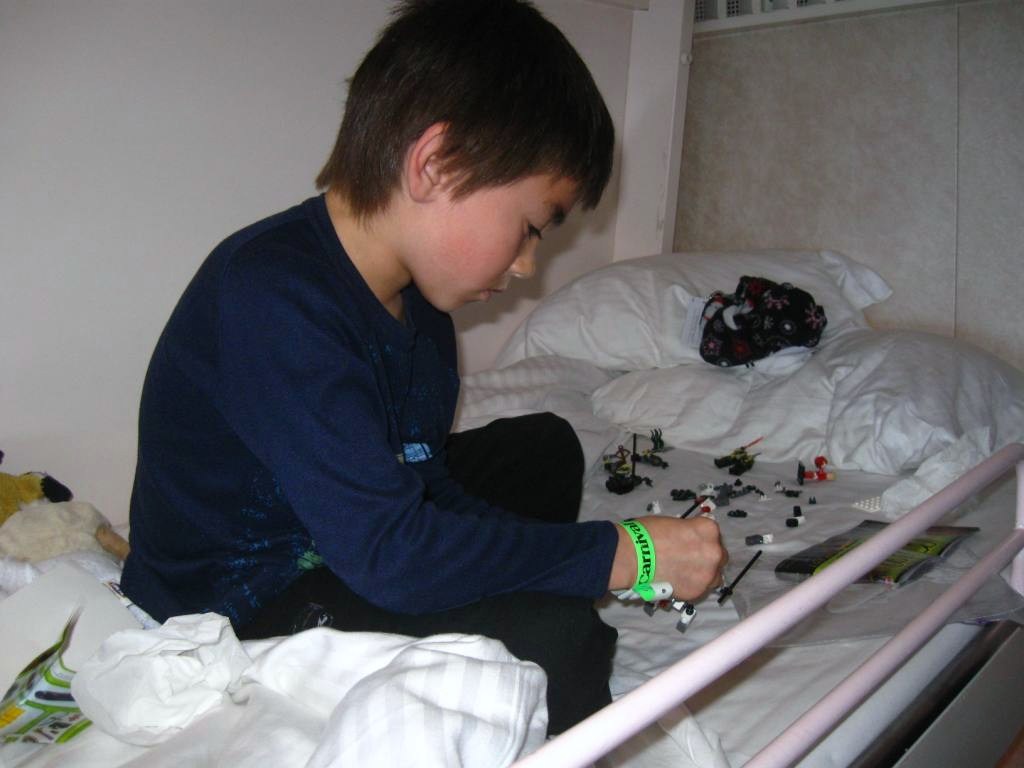 Ooo, and, we found in our stateroom mailbox a bumpy envelope from Carnival Cruise Lines. It was a letter notifying us that our door was one of the best-decorated doors on the ship! As a prize, we received two Carnival Spirit pins! (Later, Barbara tried to track down where to buy more of the pins, and was told that they weren't for sale – they could only be earned.)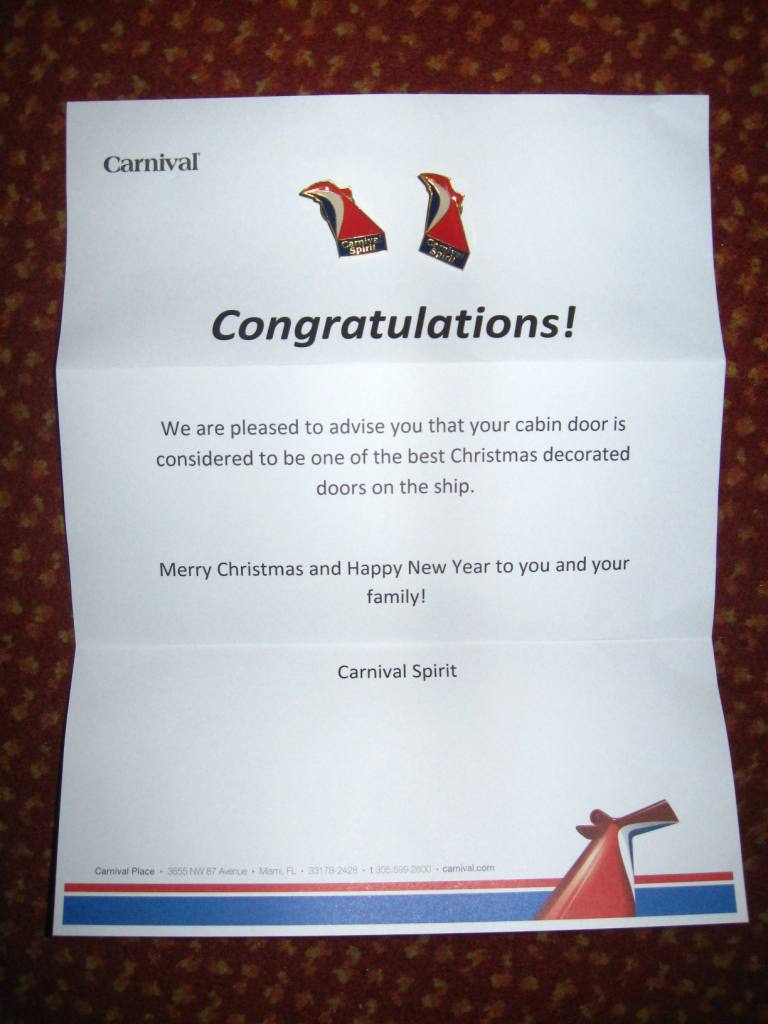 We went to the Empire Room for breakfast – this was the third breakfast of the day for John, Roy, and Leo!
After breakfast, John went to hunt down and buy our cruise photos, while Ondine took a nap in our stateroom. The boys got to watch cartoons on TV, a rare treat. The toy commercials were in Spanish!
We went to the art auction, leaving the boys in the stateroom by themselves to watch cartoons. The big raffle prize was a Peter Max painting of the Stature of Liberty! Ondine was dressed in her bathing suit and fluffy robe, because she'd promised the boys that she'd go down the water slide with them later. She felt a little out of place in her robe, though, and we left long before the auction got underway. So, we never found out if we'd have won anything in the raffle.
The water slide has warm salt water, like the whirlpools! So, the trip down was very comfortable, although once you got back out on deck to climb back up, the wind was bracing. Roy stayed at the slide, and Ondine went with Leo to the whirlpool. After she left to get ready for dinner, John hung out with Leo. He and Leo stopped on "The Boulevard," and Leo bought some glass figurines and a necklace at the Fun Shop.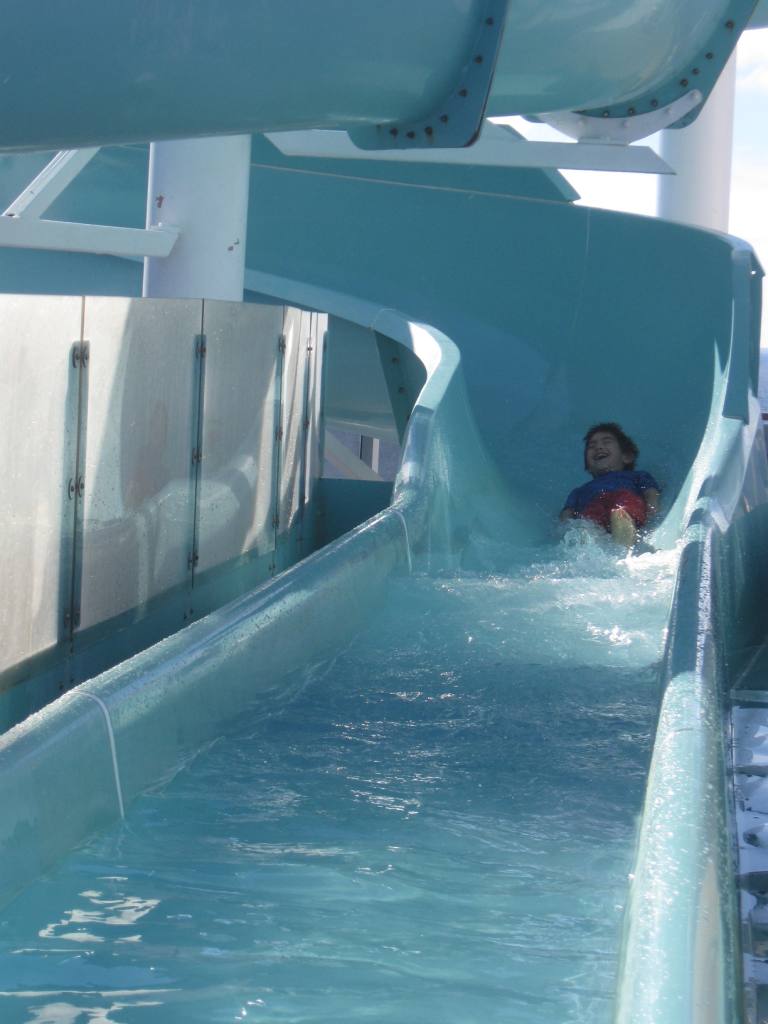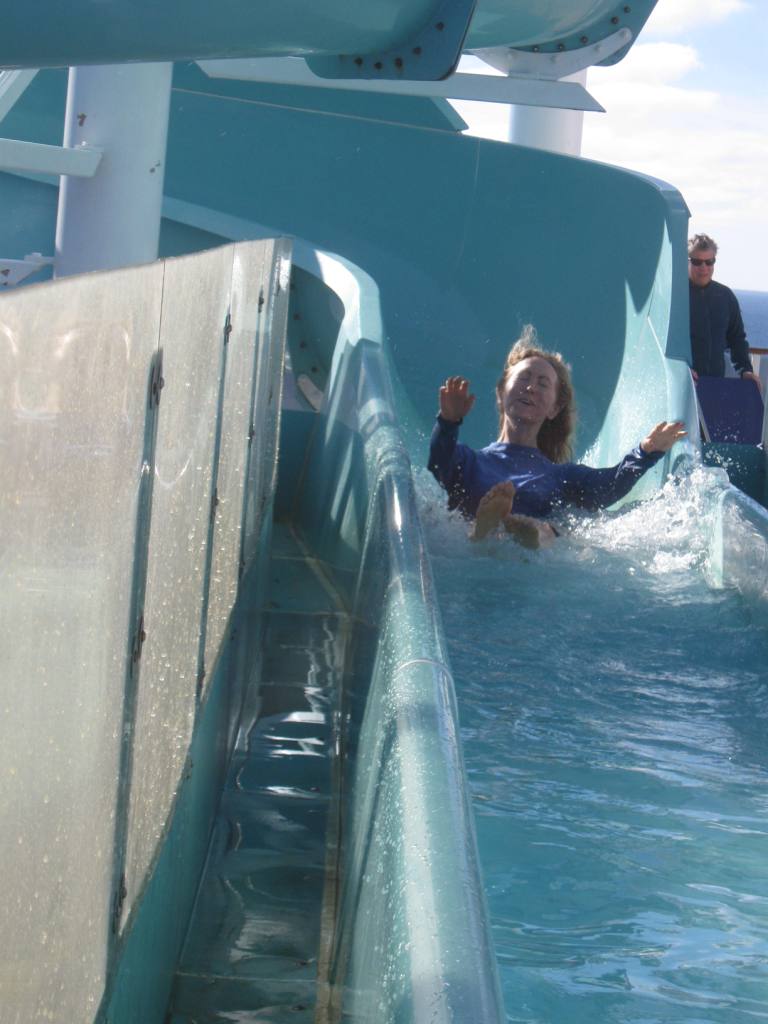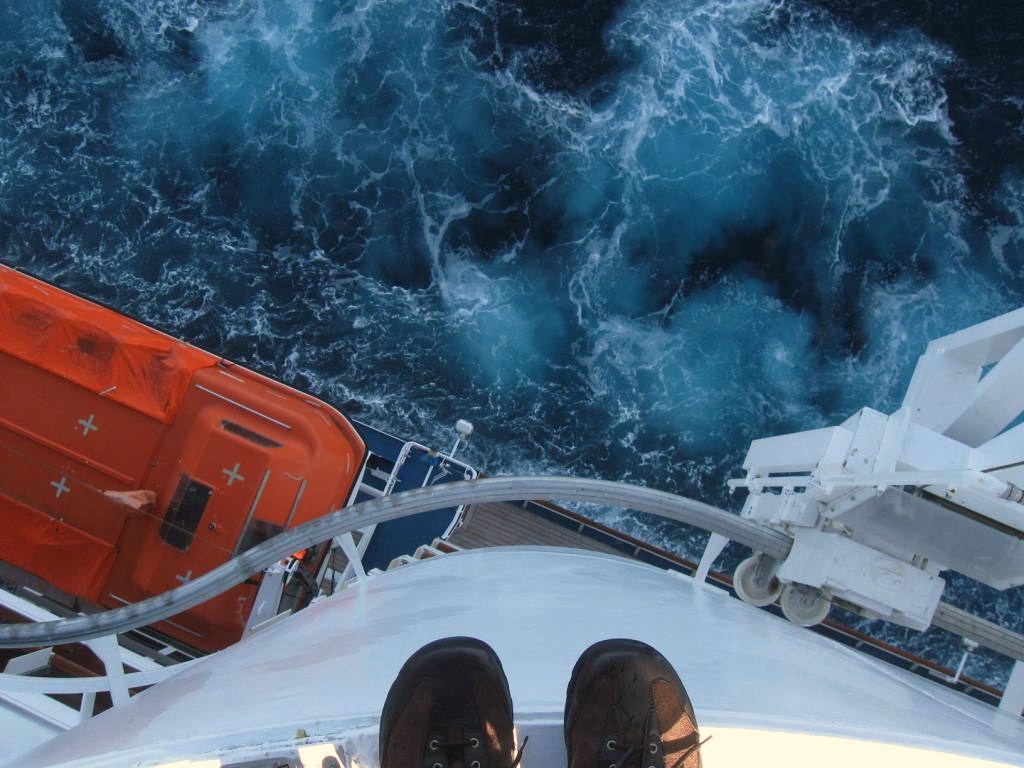 We went to a 5:00 holiday show at the Pharaoh's Lounge. The singers and dancers did a Christmas musical review, and then the Camp Carnival kids came on. The 9-11s did a dance, and the 6-8s sang. The whole thing culminated in our cruise director, Stu, reading a story, and then, at the end, Santa Claus arrived!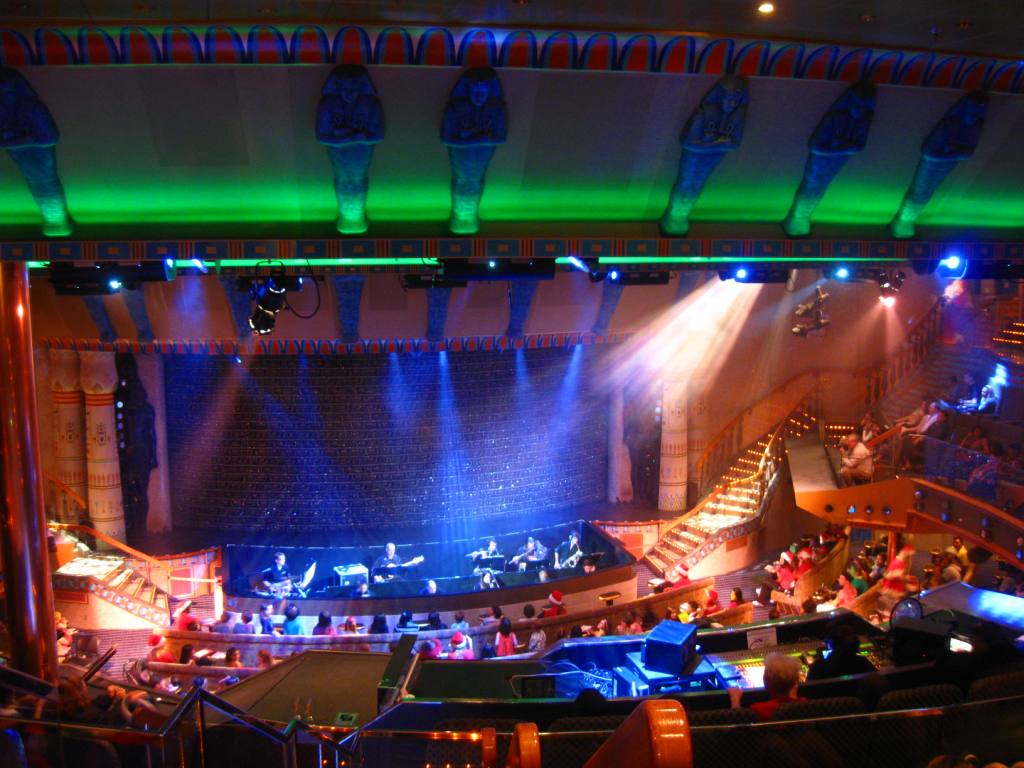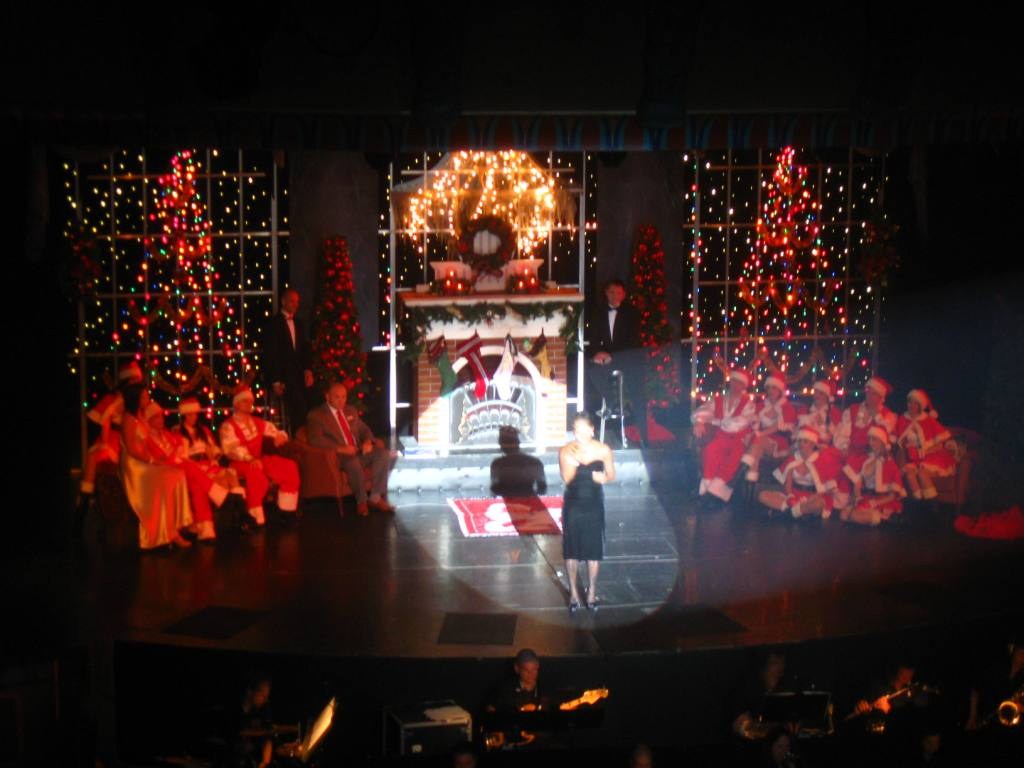 Our final meal in the Empire Room was memorable. There was "Christmas salad" that was so good, John had a second one as his dessert. Ondine's dessert was a spectacular pumpkin and mince pie with chocolate mousse and fresh raspberries – wonderful! The drink you see there is a "B-52," Ondine's first and only alcoholic drink of the entire cruise. This was one of the few meals in the Empire Room when we didn't have Gabor as a waiter – and we missed him!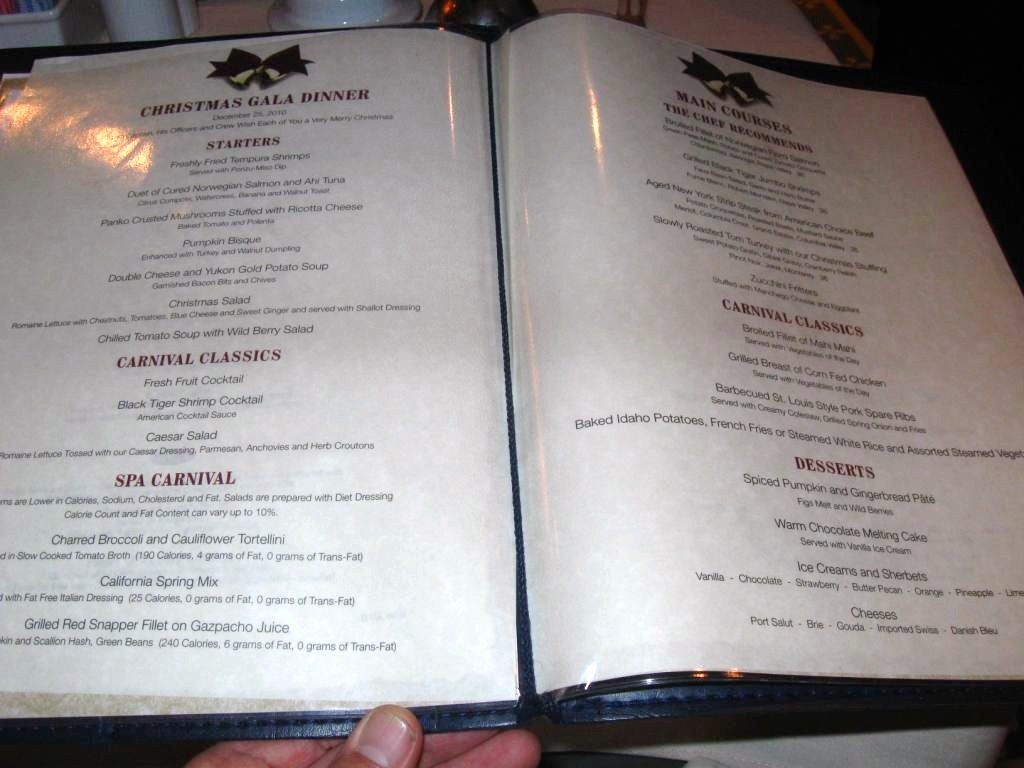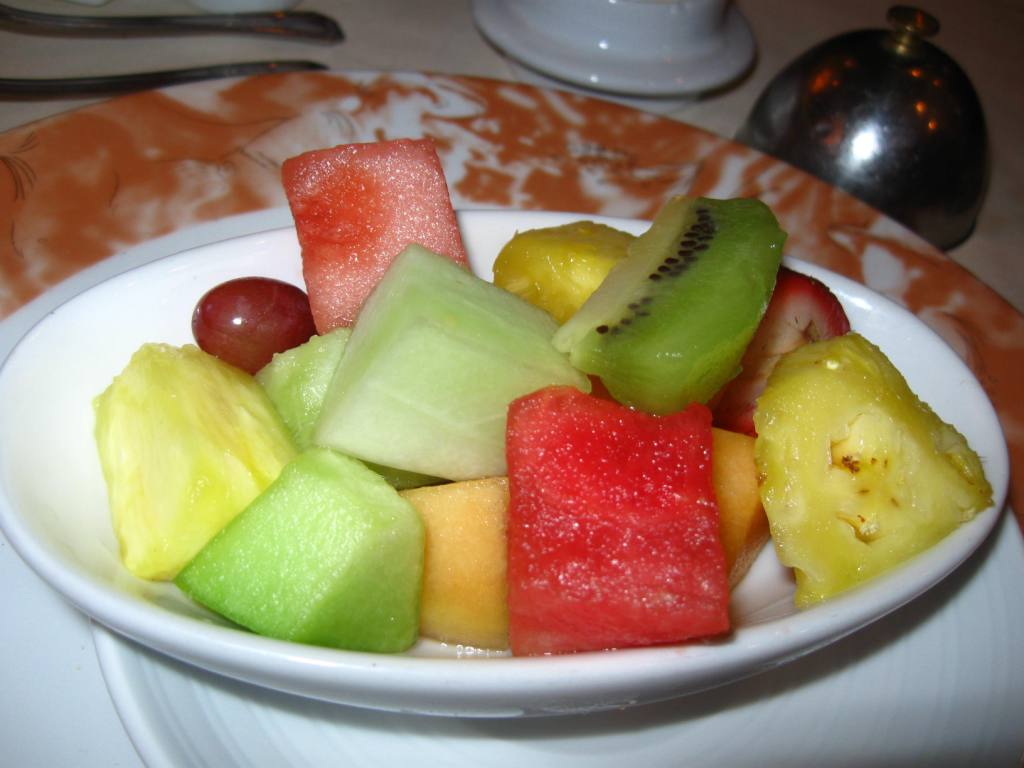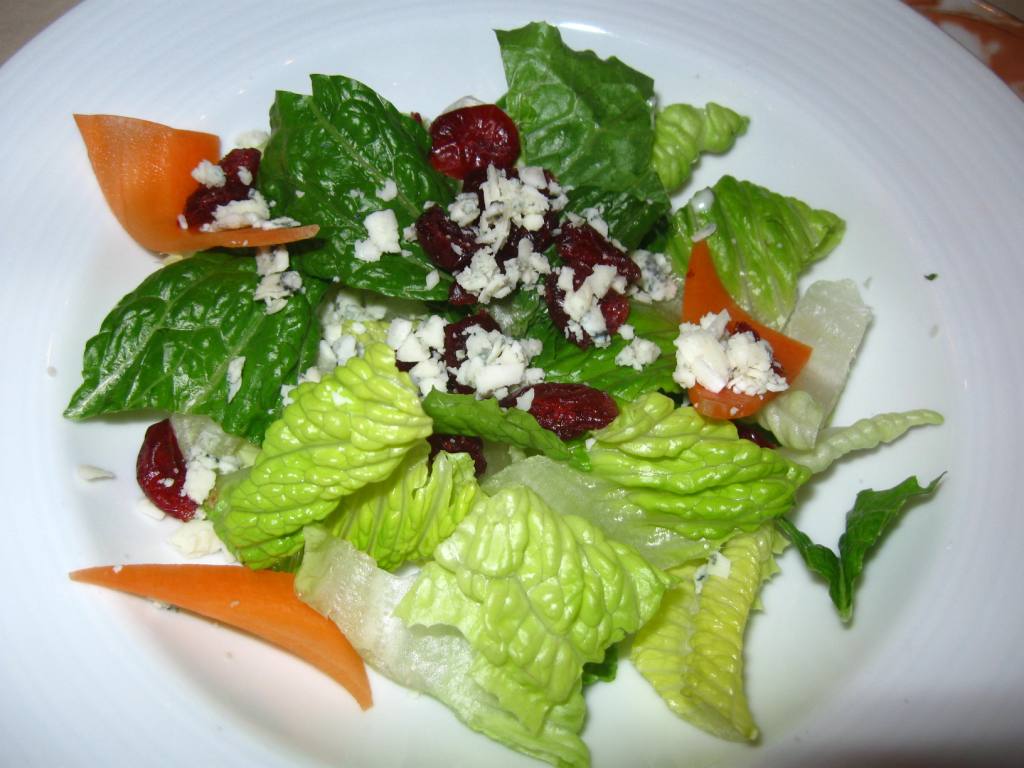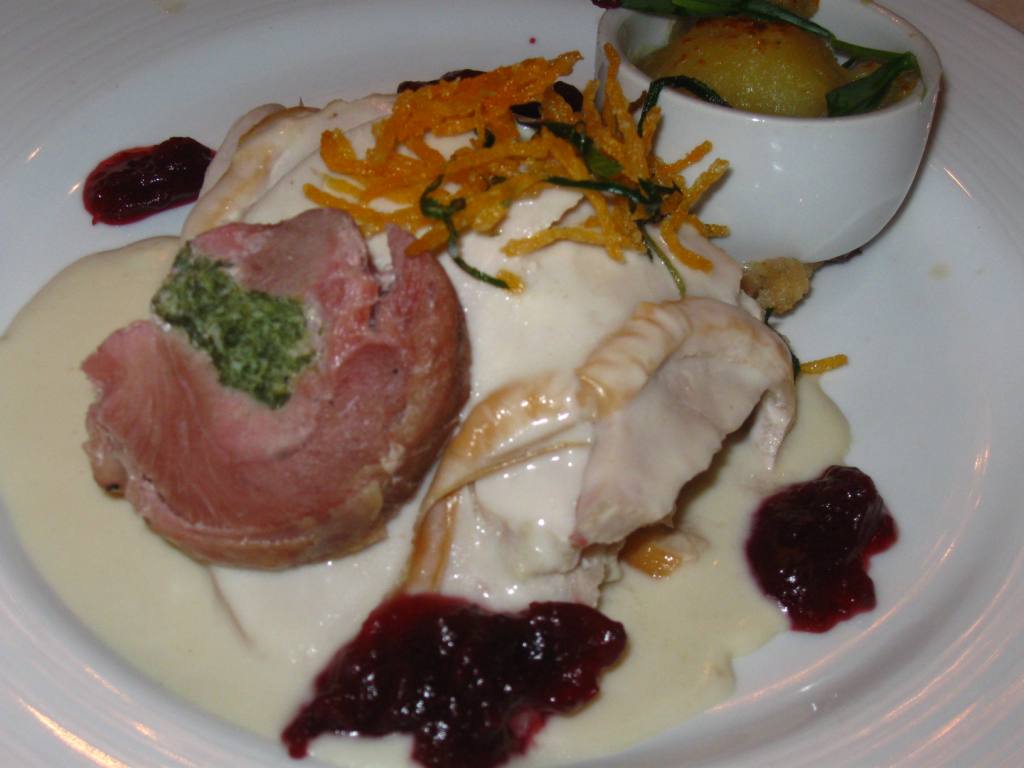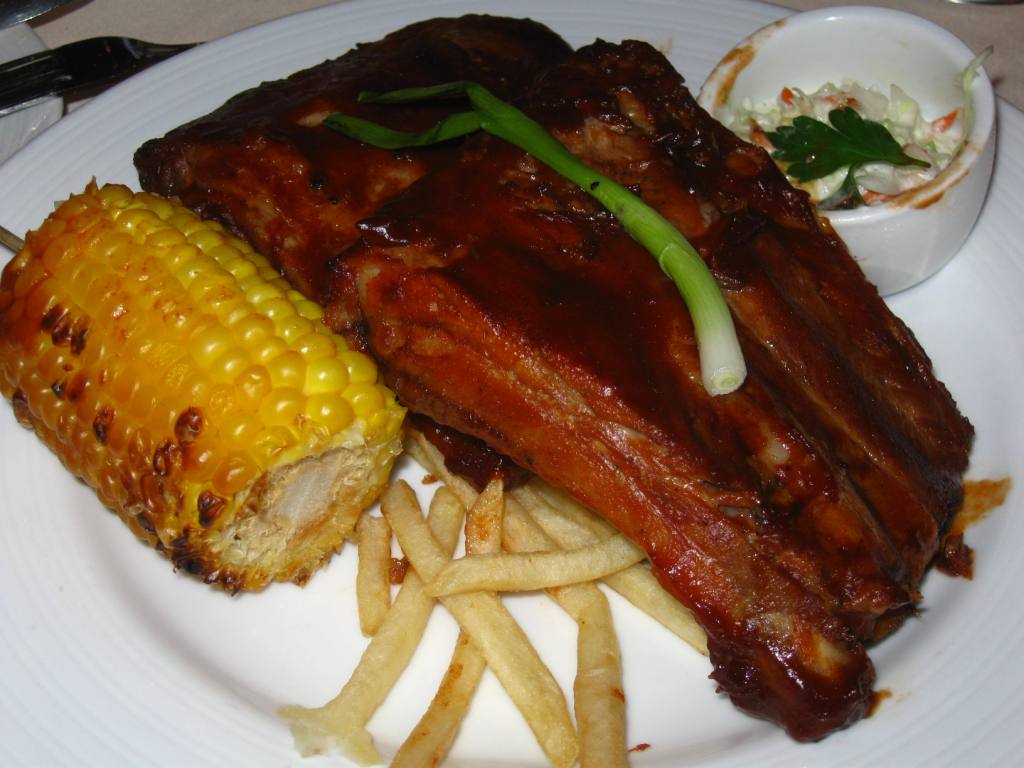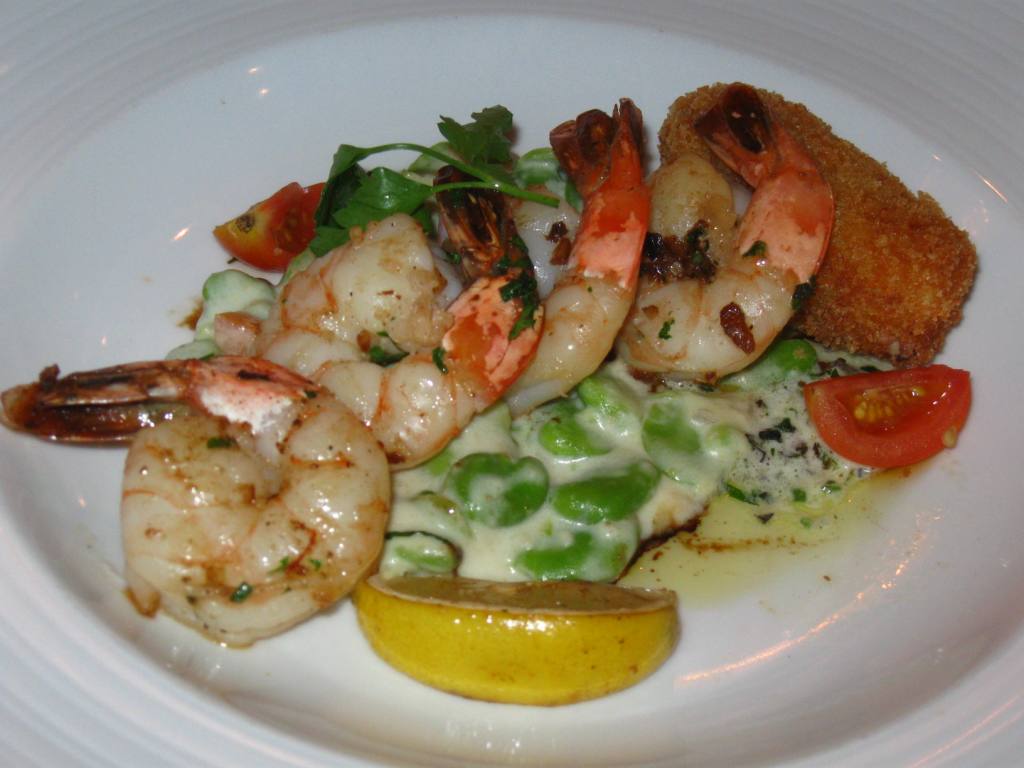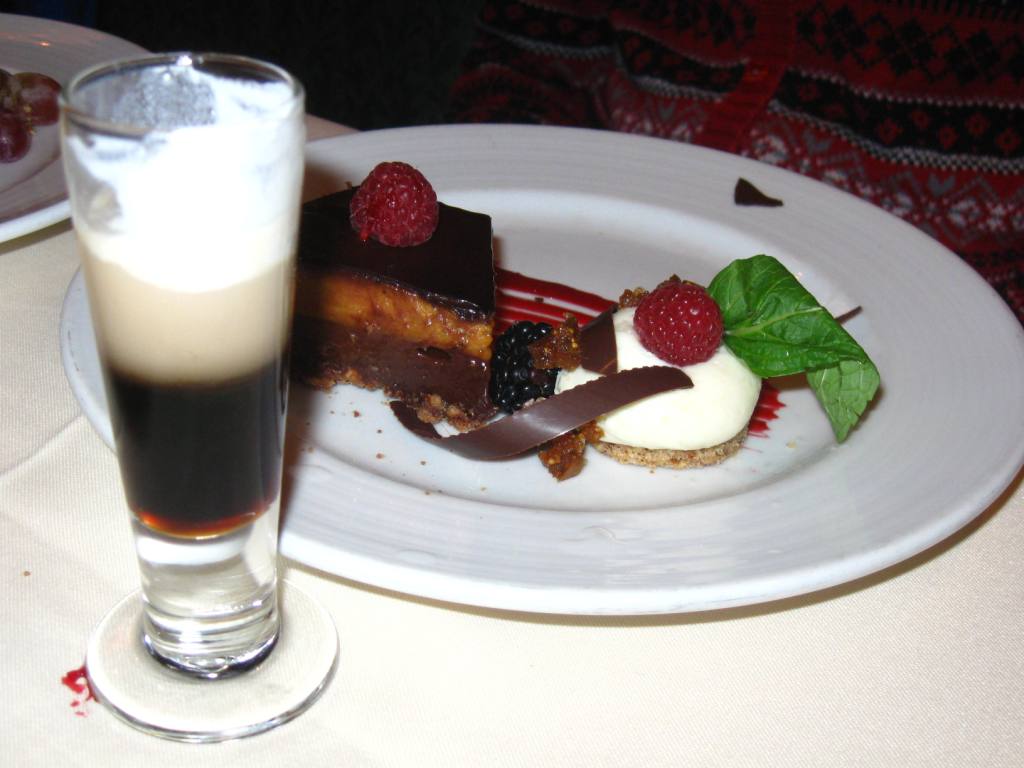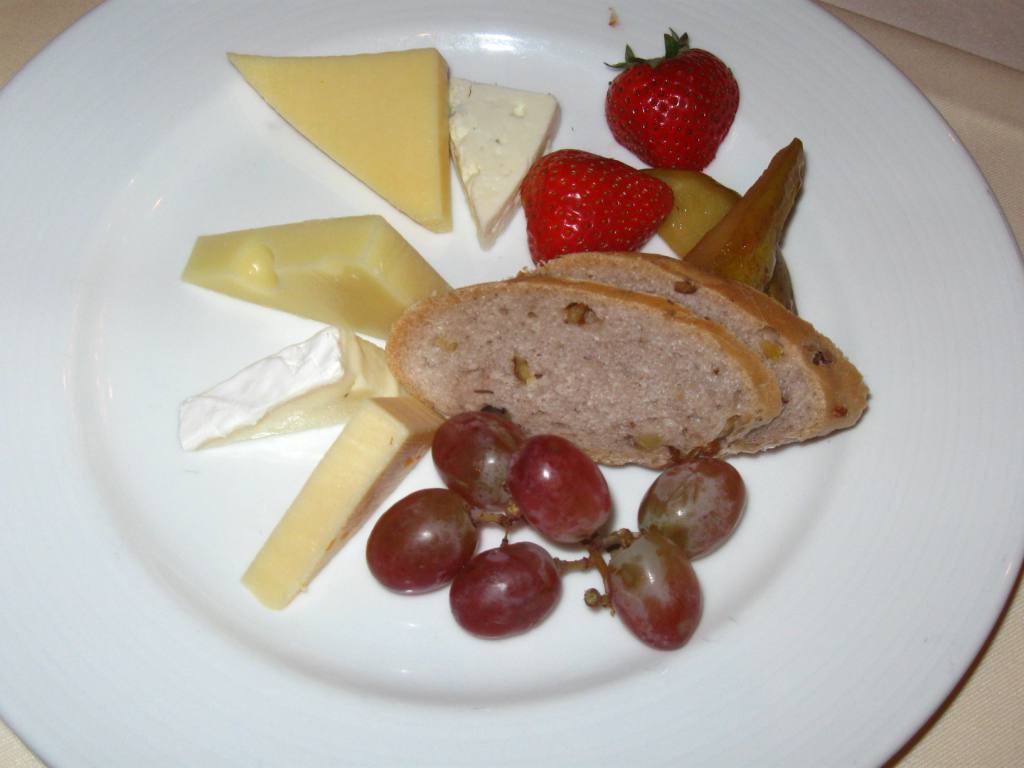 When we returned to our stateroom, we found the very last of the towel creatures: a swan. After we put the boys to bed, we stayed up until midnight organizing and packing. We planned to check several bags, putting them out by our door with our "debarkation number" tags attached. Our debarkation number was 19, so we'd be one of the later groups to leave the ship. John took one last walk around topside, already mourning leaving the ship. As we sailed northward toward San Diego, the air was colder, the wind more biting.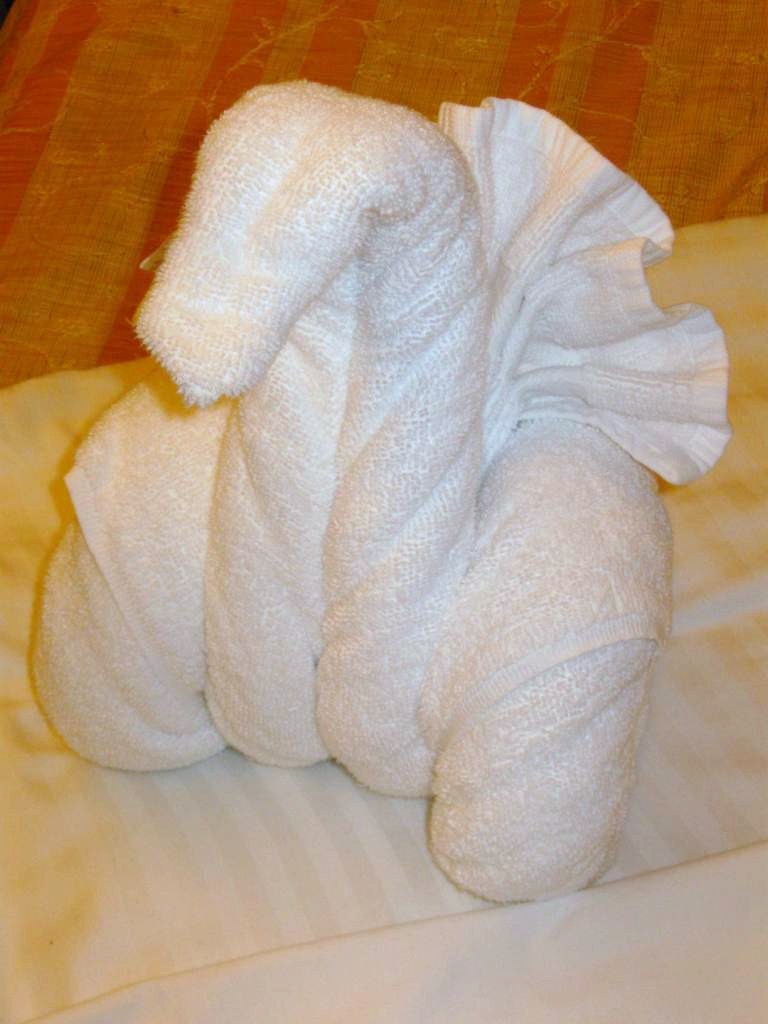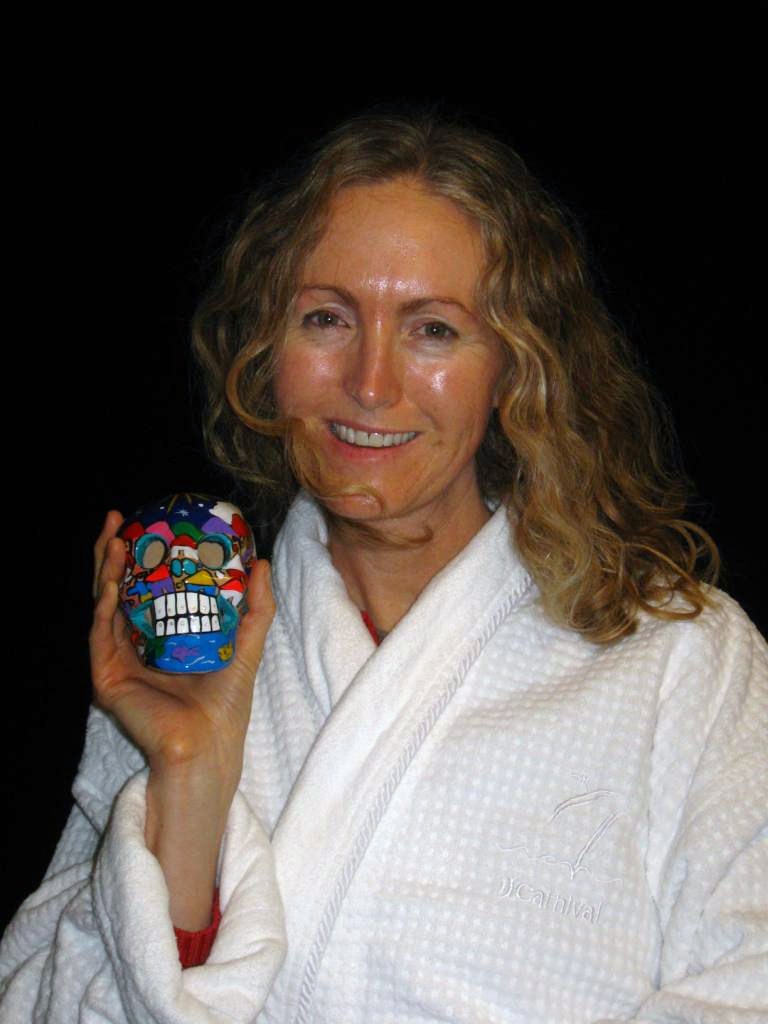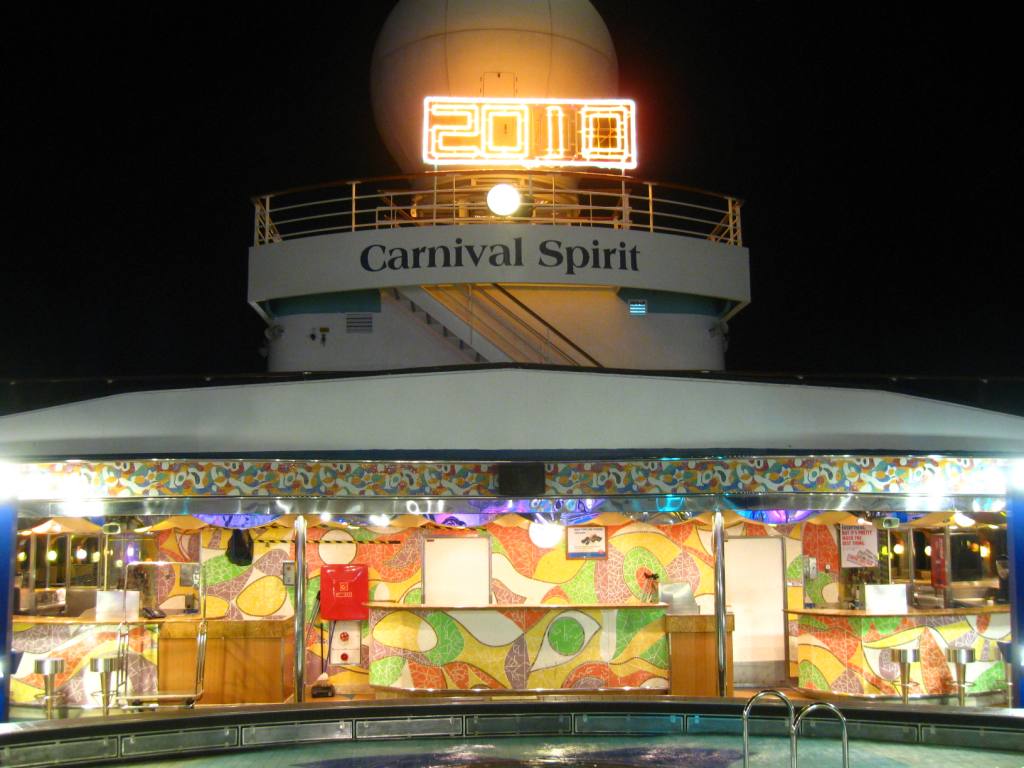 26 December - Sunday the boys were up at 5 AM. John got up with them and they went out on the balcony to watch San Diego draw nearer, embracing the ship in lights and a slight drizzle. We docked without so much as a bump; only a quiet squeak from the giant rubber bumper so much as hinted that we'd made contact with San Diego. The gangplank bridge inexorably extended toward the ship, connecting us to home.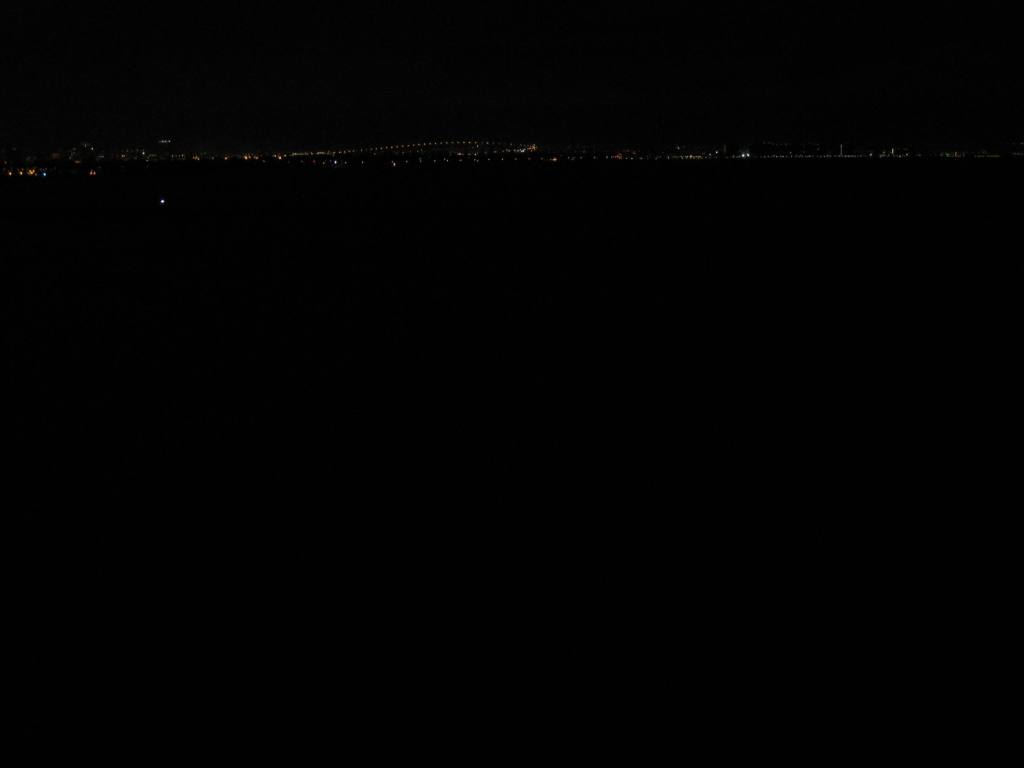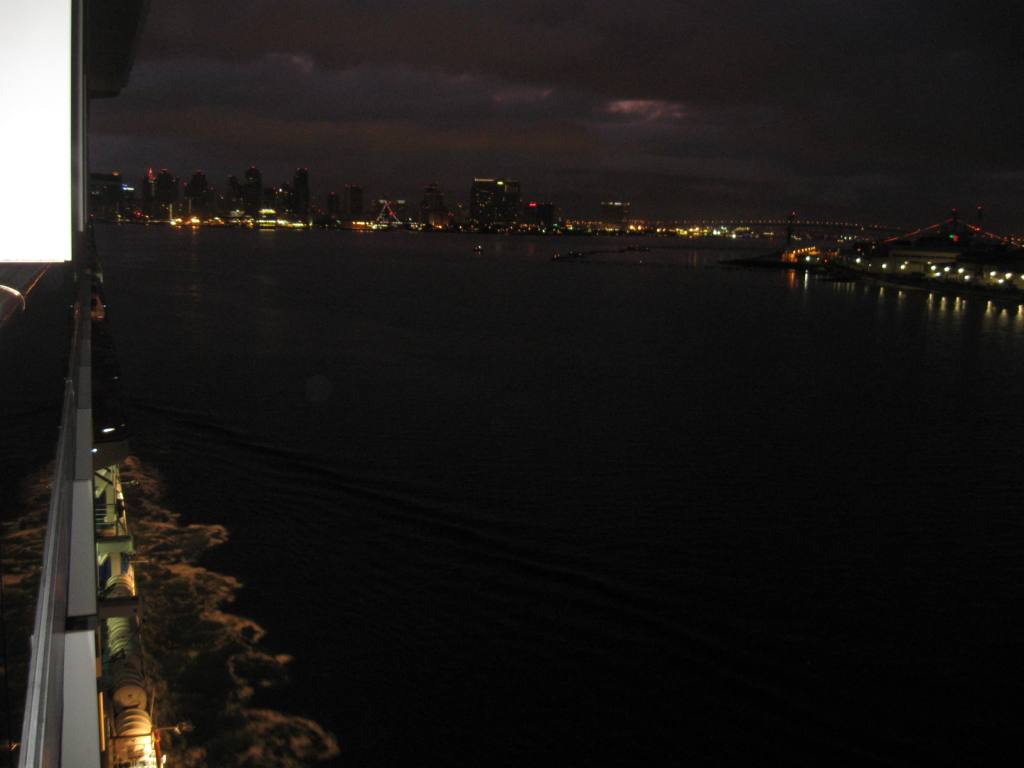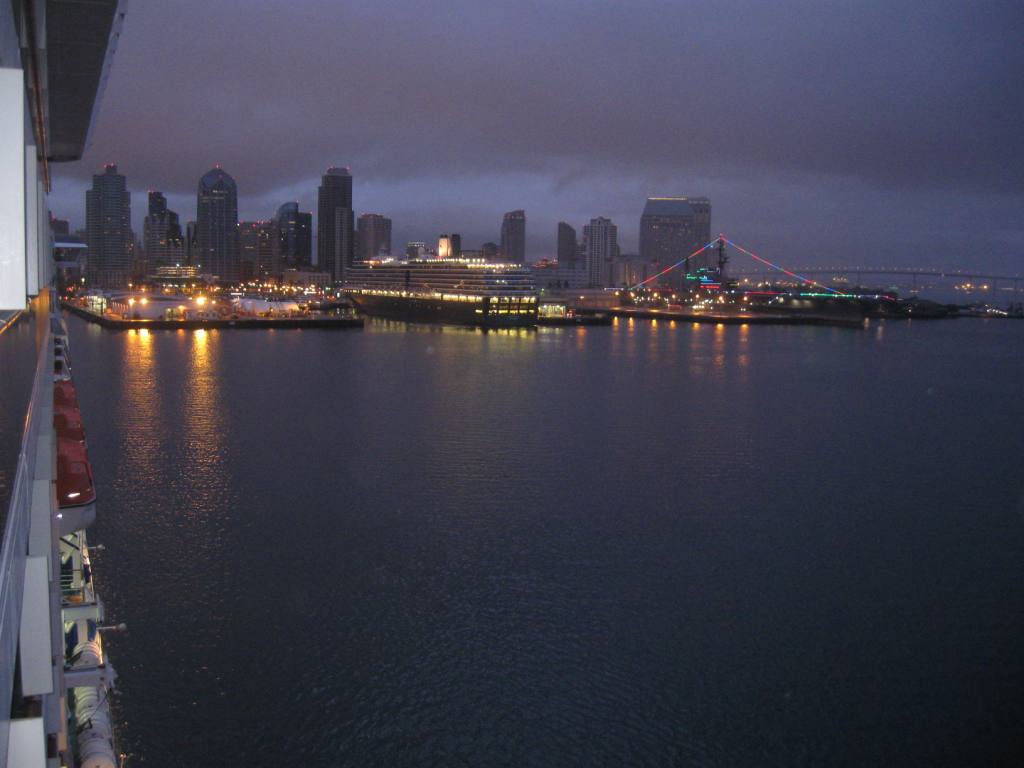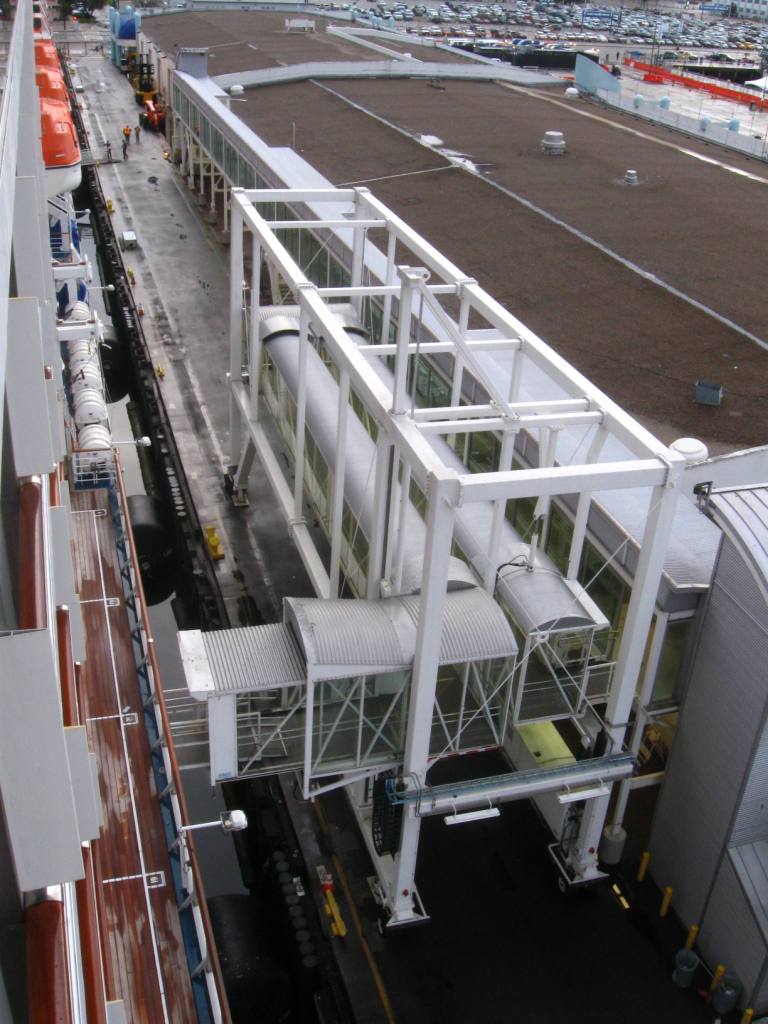 We were to be out of the rooms by 8:30. Since we'd checked most of our baggage, we took what little we had remaining and trotted up to the buffet at 7:00, bidding stateroom 7269 a fond farewell as we left for the last time.
We ate and watched the bustle of activity on the docks. We were thrilled to see Gabor, our Empire Room waiter, working in the buffet so we could say goodbye. The cruise director, Stu, made repeated calls for non-U.S. citizens to go to the Pharaoh's Lounge to go through immigration. First he asked for the people, then for help from people who knew the people, and at last, he called out specific people by name and cabin number!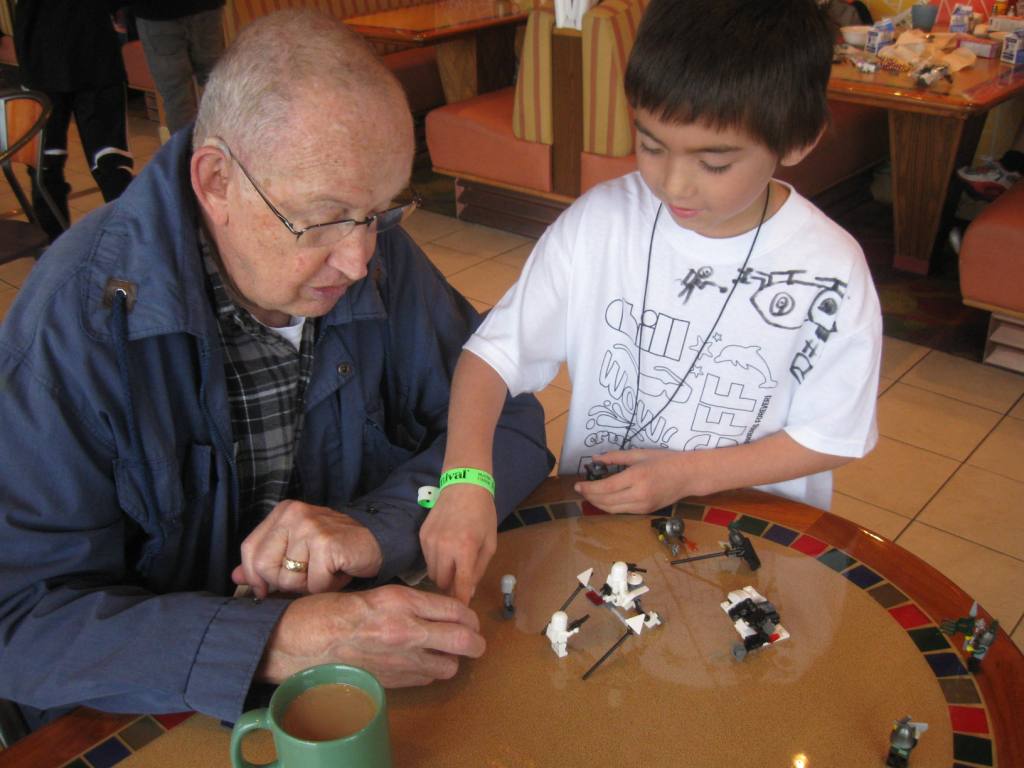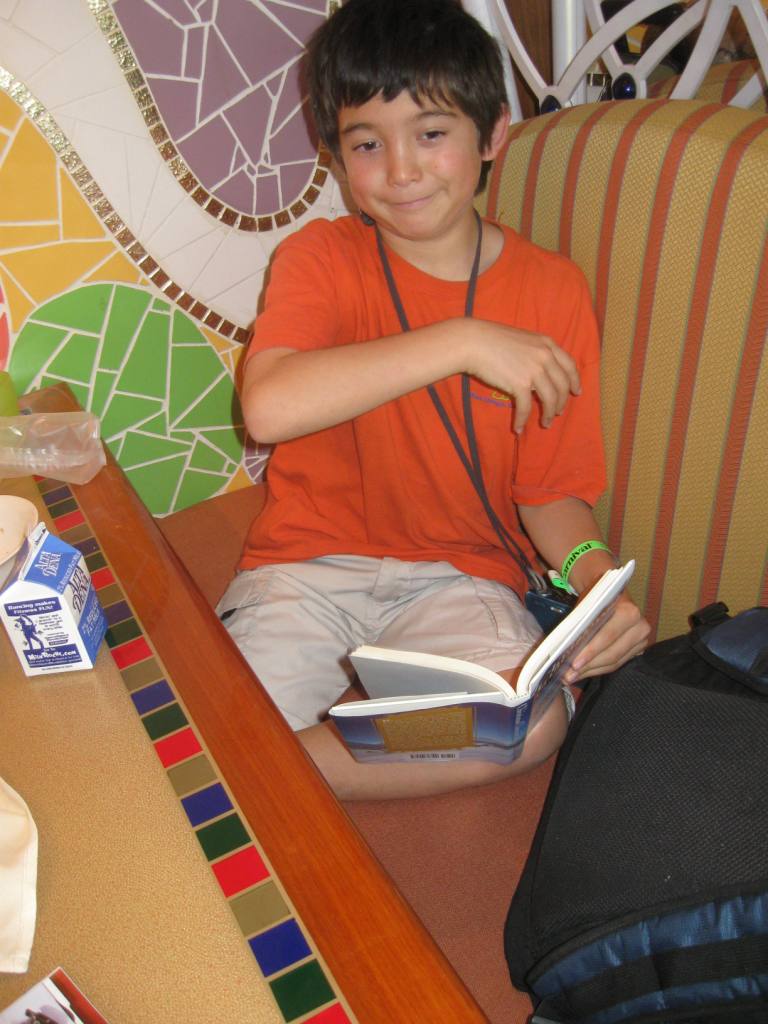 The estimated time of debarkation for those holding #19 was 10:00-10:15. We were called at 10:05. Debarkation went very smoothly – there wasn't even time to snap a final photo of the ship as we walked down the extended bridge gangplank to the baggage area where our bags awaited. Barbara and Bill had arranged for a Super Shuttle to pick us up; we were home by 11:00.
That night, after putting the boys to bed, we watched part of Titanic just to see the shipboard scenes. The next day, Monday, John went to retrieve Buddy from his mother's house in La Canada, and by Tuesday morning the family was completely reunited!
It was a great trip! We have nothing but wonderful things to say about Carnival and the staff and crew of the Spirit. Our cruise director, Stu Dunn, managed the toughest parts – embarkation and debarkation – so that the only thing we experienced was amazing ease. Gabor, "our" waiter, went above and beyond serving us.
We miss Stu's Aussie-hued morning announcements: "G'day! It's a cracking day in Cabo San Lucas!" he'd shout cheerily. We also miss the wonderful food service, with pizza and ice cream at all hours, wonderful French bread slices, and an array of teas and desserts.
We really appreciated being able to visit several places without having to pack and unpack at each destination. Although the kints didn't do the Camp Carnival thing as much as we'd hoped, there was plenty to keep them busy and we managed to take turns with them so we each got a break.
We're very glad we'd taken the "Colonial Villages" shore excursion in Mazatlan. Despite being tempted to leave the boys in Camp Carnival and enjoy the shore excursion with just the two of us, we're glad we stuck to our guns and "made" the boys come with us. They were the only kids in the bus, but despite their apparent apathy, they absorbed something and we saw Roy taking photos so we know he was engaged.
We'd packed for the trip in the midst of a cold snap in San Diego, with storms predicted. So among our clothes were no fewer than eight heavy parkas! Needless to say, those went unworn, as did, amazingly, John's swim trunks. John found himself wishing he'd packed some slightly more tailored outfits to wear for dinner. Fortunately, even in the Fun Ship's Empire Room, the dress code was relaxed: the only requests were no sleeveless shirts for men, no bathing attire, no cut-offs, and no flip-flops.
John had packed his laptop as he always does when we travel, as insurance, but he never used it. He did use his AlphaSmart though.
A few days after our return, John looked at the Carnival website. The same 7-day Mexican cruise in March 2011, with the same level of accommodations (Veranda Deck, with balcony) for our family of four would cost about $2,500 with our "previous cruiser" discount. Hmm …
Join us right now with our Weekly Journal, updated at least once a week since 1998!
Back to the Kuraoka Family main page