About our bit of San Carlos,
a neighborhood in San Diego, California
www.kuraoka.org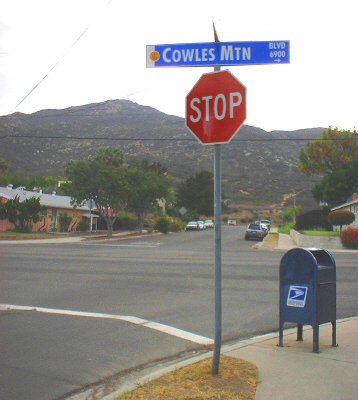 All photos and text (c) John Kuraoka except as noted

We live in a community called San Carlos, in California, 490 miles south of the other San Carlos, California, near San Francisco; 360 miles west of San Carlos, Arizona, near Mesa; and 725 freeway miles from San Carlos, Sonora, Mexico, near Guaymas. Oh, and 10 miles east of downtown San Diego.
Our San Carlos differs from those other San Carloses, in that ours was not named for a saint named Carlos or even Charles. According to the San Diego Union-Tribune (October 9, 2005, Section I, page 17), our San Carlos was named for the guy who developed the subdivision, one Carlos Tavares. The article further noted that Carlos' wife, Claire, lent her name to Clairemont. Tavares apparently had a fondness for nature themes, an unexpected thing in a developer: many residential streets in Clairemont are named Mount something, and many residential streets here in San Carlos are named Lake something (or something Lake).
San Carlos is bounded by Del Cerro and Navajo to the west, Fletcher Hills and the city of El Cajon to the east, and the cities of Santee and La Mesa to the north and south. Many San Diego residents consider our area to be "East County." Then again, many San Diego residents consider any area without a beach to be "East County." Most of East County was ranch land a century ago, and the area retains a rural, ranchero feel even in the new developments. But, we are in fact within the City of San Diego.
Our neighborhood is largely a rather ordinary, American middle-class tract-home suburban subdivision. Most of the houses on our street were built in the late 1960s and early 1970s, in the popular Ranch Style: single-story houses of 900 to 1,225 square feet with two, three, or four bedrooms and two-car garages. In the 40-odd years since, owners have added patios, room additions, and second stories, giving each house its own look. None of the original two-bedroom houses seem to have remained unmodified. Ours is a four-bedroom house, and in 2002 we added a family room/office area in back (see our room addition journal for more information). In 2004, the median price of a home in San Carlos went from $407,250 to $515,000, an increase of nearly 26.5% and above the county-wide median at that time of $500,000. As you'd expect, we've been through a few cycles since, but as of late 2016 the median price for a single-family home in San Diego again hit $500,000.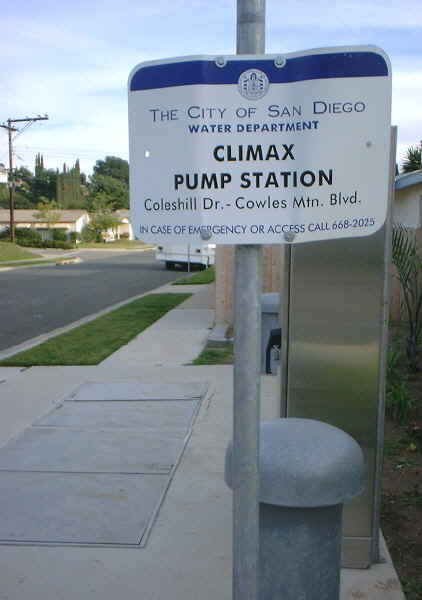 Our suburban San Diego neighborhood might be quiet, but this sign offers a hint at the roiling, unquenchable passion that surges relentlessly just beneath the surface. Either that, or it's for our local water system, the pressure of which could use a little, um, boost from time to time. Silliness aside, this is the pump station that shut down during the big power outage on September 8, 2011, causing some houses toward the top of the hill to lose water entirely. Once the system loses pressure, of course, then bad things can get in. So, we had to boil drinking water for a few days until the water authorities were sure the water was safe to drink. As far as we know, though, no one got sick. It failed again shortly afterwards, and we were again required to boil water for a couple days. As you can see, the station is much too small and close to houses to have a backup power generator.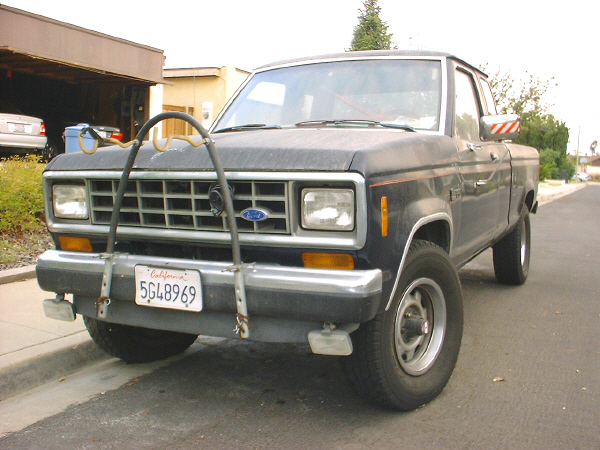 You can tell we have East County leanings by the ugly 4-wheel-drive FO'D pickup we used to have parked on the street in front of our house. It was, of course, a FORD, but the "R" fell off the tailgate. We did a lot of desert and mountain camping with it, pre-kids. It also became Ondine's primary vehicle after her old Nissan Pulsar developed the annoying habit of catching on fire. We sold it in late 2002 because we couldn't get two child safety seats into it. In our open garage you can just make out our two sensible, compact family sedans, Ondine's Mazda Protegé ES (since replaced) and John's older Infiniti G20 (that's a Nissan Primera to our visitors from Europe, and it's still humming along).
Public transportation: The closest bus stop is about a mile away at Navajo Road and Lake Murray Blvd. It's on the 115 line, which runs between the transit centers at SDSU and El Cajon. At the most-frequent, buses run about twice an hour.
The nearest trolley stops are either at Amaya Drive and Severin in La Mesa, or Grossmont Transit Center on Fletcher Parkway. Both serve the Orange Line and the newly opened Green Line, both have free parking lots, and both are about three miles away. The Orange Line runs between El Cajon and downtown; the Green Line runs between Santee and Mission Valley. To get downtown costs between $2.25 and $3.00 each way, and takes about an hour. Tip: carry small bills, as the trolley stations won't give more than $5 in change and the vending machines require exact change. By way of contrast, we can drive downtown in 20-30 minutes if we don't hit heavy traffic and not counting parking. Parking downtown can easily cost $10 or more, and the meters on the street typically require you to move your car after one or two hours.
Schools: From our house, Gage Elementary School is a pleasant half-mile walk away, as is Pershing Middle School. Our kids attended Gage Elementary, and we were very happy with the school and the teachers, and especially the morning Running Club program. Other nearby elementary schools are Green, Benchley-Weinberger, and Dailard. The nearest GATE/Seminar schools are Hearst Elementary in Del Cerro and Marvin Elementary in Allied Gardens, both of which feed into Lewis Middle School in Allied Gardens, all about 4.2 miles away. We had one kid at Hearst Elementary and Lewis Middle, and found them to be excellent. The other attended Pershing Middle School, which was OK. Both our kids now go to Patrick Henry High School, about 2.6 miles away. Grossmont College is 1-1/2 to 2 miles away, depending on your route. San Diego State University (SDSU) is just under six miles away.
In addition, there were a handful of public schools that were closed down in the 1980s as part of a major realignment, an event that threatens to repeat. One was sold to a developer who plans to build 50 single-family homes on the site. You can find out about those lost schools in our look at closed school sites in San Carlos.
Private schools within a few miles include Kinder-Care Learning Center (pre-K-3), Tifereth Israel Synagogue (pre-K-7), and, technically in El Cajon, Our Lady of Grace Catholic School (K-8).
Boy Scouts: The local Cub Scout Pack is Pack 951, which meets at Our Lady of Grace Catholic Church on Navajo Road, between Fletcher Parkway and Lake Murray Blvd. It serves boys from six through ten years old, with age-based programs from Tiger Cubs (first grade) through Wolf and Bear, to Webelos 1 and 2 (fourth and fifth grade). After that, there are two Boy Scout Troops in the immediate area. Troop 959 meets at the San Carlos Methodist Church at the intersection of Cowles Mountain Blvd. and Navajo Road. Troop 950 meets at Pershing Middle School and San Carlos Community Park and Rec Center.
Groceries and food: The nearest supermarket is just under a mile away, on the south side of Navajo Road, near Lake Murray Boulevard: an Albertsons. It shares its parking lot with a RiteAid and an O'Reilly's auto parts store on one side, and a Kahoots pet supply store on the other. On the opposite diagonal corner is a Walgreens and a brand-new OSH chain fancy-hardware-cum-home-decor store. They share the parking lot with San Carlos Automotive, Massage Envy, a fitness center, and a couple banks. Go a third of a mile farther down Navajo (on the right just past the 125 freeway overpass), and there's a recent Smart & Final (the biggest and best rotisserie chicken around and commercial-sized groceries and household products, but oddly light in personal care stuff like dental floss). Fortunately, there's a CVS drugstore right next door. There's also a Denny's, a Joann's fabric shop, a laundromat, a Hallmark store, a pretty good Chinese restaurant, and a recent sushi place. Head about two miles in the opposite direction along Navajo Road, and there's a thriving Keils's (a locally owned independent supermarket) on the left at Navajo and Jackson Drive, which shares its parking lot with a CVS, San Carlos Hardware (an excellent neighborhood hardware store that actually has hardware and a good selection of soil), The Trails Restaurant, and Mountain Mike's pizza (if you're new to the neighborhood, ask for your new neighbor discount). The nearest healthy-type market is the family-owned Windmill Farms in Del Cerro, about 4.2 miles away (just off College Avenue near the I-8); it has excellent fresh meats and the area's best overall prices on fruit and veg, but its organic selection remains surprisingly small. There are also two Sprouts markets, a smallish one in on Palm Avenue in La Mesa and a larger one on Mission Gorge Road in Santee. The nearest farmer's market is held every Friday in La Mesa. The closest Community Supported Agriculture drop site is also in La Mesa, at the La Mesa Community Center on Memorial Drive off La Mesa Blvd., every Wednesday afternoon. The CSA is run by Garden of Eden Organics.
Other community places: The field at Pershing Middle School is open for public use during non-school hours; it has excellent artificial turf soccer fields surrounded by a running track, a large dirt field, basketball courts, and tennis courts, none of which are lighted so they're really daytime use only. The San Carlos post office is a mile away, as is the San Carlos Community Park and Rec Center. The Fletcher Hills Community Center is about two miles away; it has a pool, which is open during the summer. Within a mile, there's a wide choice of fast food, including pizza and sandwich franchises, plus a Thai restaurant (Basil Thai) that's quite good. The Fletcher Hills branch library and San Carlos branch library are each about two miles away, but in opposite directions. The nearest booksellers are at the shopping malls, along with the department stores and movie theaters: Parkway Plaza to the east (but not in the actual mall proper), and Grossmont Center to the south, each about three miles away. Parkway Plaza is unique in San Diego because it is an indoor mall, which makes it a popular air conditioned retreat in the summer. The recreation areas of Lake Murray are about 3-5 miles away, depending on your route. Note that the walking and biking path around the lake does not go all the way around; you go maybe two-thirds of the way around and then you have to turn around and return the way you came. You can rent various small watercraft for fishing or just poking around on the water. The lake is stocked with fish; you need a valid fishing license, though. You can fish without a license at Santee Lakes, about a seven-mile drive away.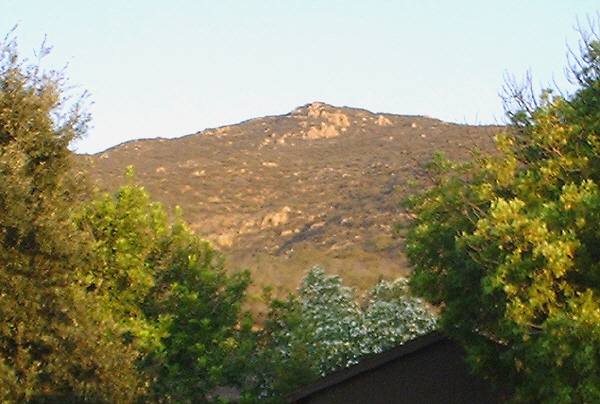 Cowles Mountain: San Carlos has the City of San Diego's biggest natural feature besides the beach. If you turn away from the ocean, on a clear day, you can see it; we are lucky enough to live right at its base. It's Cowles Mountain, and at 1,591 feet it's the highest point within San Diego city limits. From the summit, on a clear day, you can see the ocean. You also can see into Mexico and the rest of San Diego County, both of which have peaks that dwarf Cowles Mountain. But, for a city peak, Cowles Mountain is terrific. It has miles of hiking, mountain biking, and equestrian trails on it.

By the way, if you pronounced it "Coals," then you are correct. However, most of the locals mispronounce it "Cowls." Let's take a moment to pity George Cowles. He was a great San Diego pioneer, a man of vision and industry and wealth and success; a mover and shaker in everything from farming and ranching to banking and railroads. But, he died childless, and his widow married a fellow named Milton Santee, who systematically renamed much of Cowles' holdings after, well, himself. Today, pretty much the only namesake old George has left is Cowles Mountain.

under our patio cover, and discovered a rattlesnake in our garage.

Cowles Mountain anchors one corner of the Mission Trails Regional Park, which includes the Old Mission Dam and Lake Murray. Mission Trails Regional Park is the largest urban park in the U.S., encompassing some 6,000 acres. It is seven times larger than Central Park in New York City. Recently, the bobcat population has started a tentative rebound, and even a mountain lion has been spotted.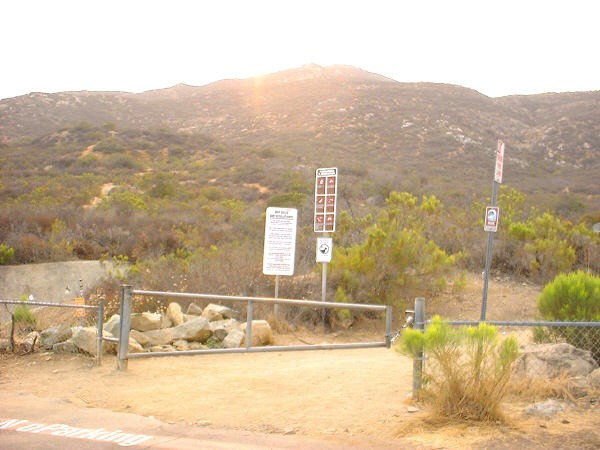 The main trailhead is a mile and a half away, at Navajo and Golfcrest, which has a parking lot and restrooms. From there, a trail goes up the western slope of Cowles Mountain. The parking lot, restrooms, and trail were renovated in early 2013. However, we walk to this trailhead just down Barker Way, and go up the eastern slope, choosing from a trail with views to the south or a closed-off dirt road with views to the north. Mountain bikers and equestrians typically use this route up the fire road. Some large groups of hikers also choose our street as a staging area, too, perversely to get away from the crowds at the main trailhead. From either trailhead, it's a three-mile round trip to the summit and back, with about 1,000 feet of elevation gain and loss. The trails cut through brushy, rocky chaparral; on a clear day you can expect no shade but exceptional vistas. Take lots of water and sunscreen. It was a major achievement when our son, who had just turned four, hiked all the way to the peak and back.
In May 2013, after much discussion, the city installed a four-way stop sign along Cowles Mountain Blvd. The thought was to reduce traffic accidents at a much-used intersection, but pedestrians report that the main positive effect of the stop signs has been that people don't block the view by parking their cars all the way up to the curb corners. One natural outcome, though, has been a marked increase in hiker parking and traffic on this side of the mountain, thereby contributing to the problem the sign was intended to solve. Still, traffic flow seems to have improved, at least for some of us. Here are the stop signs being installed.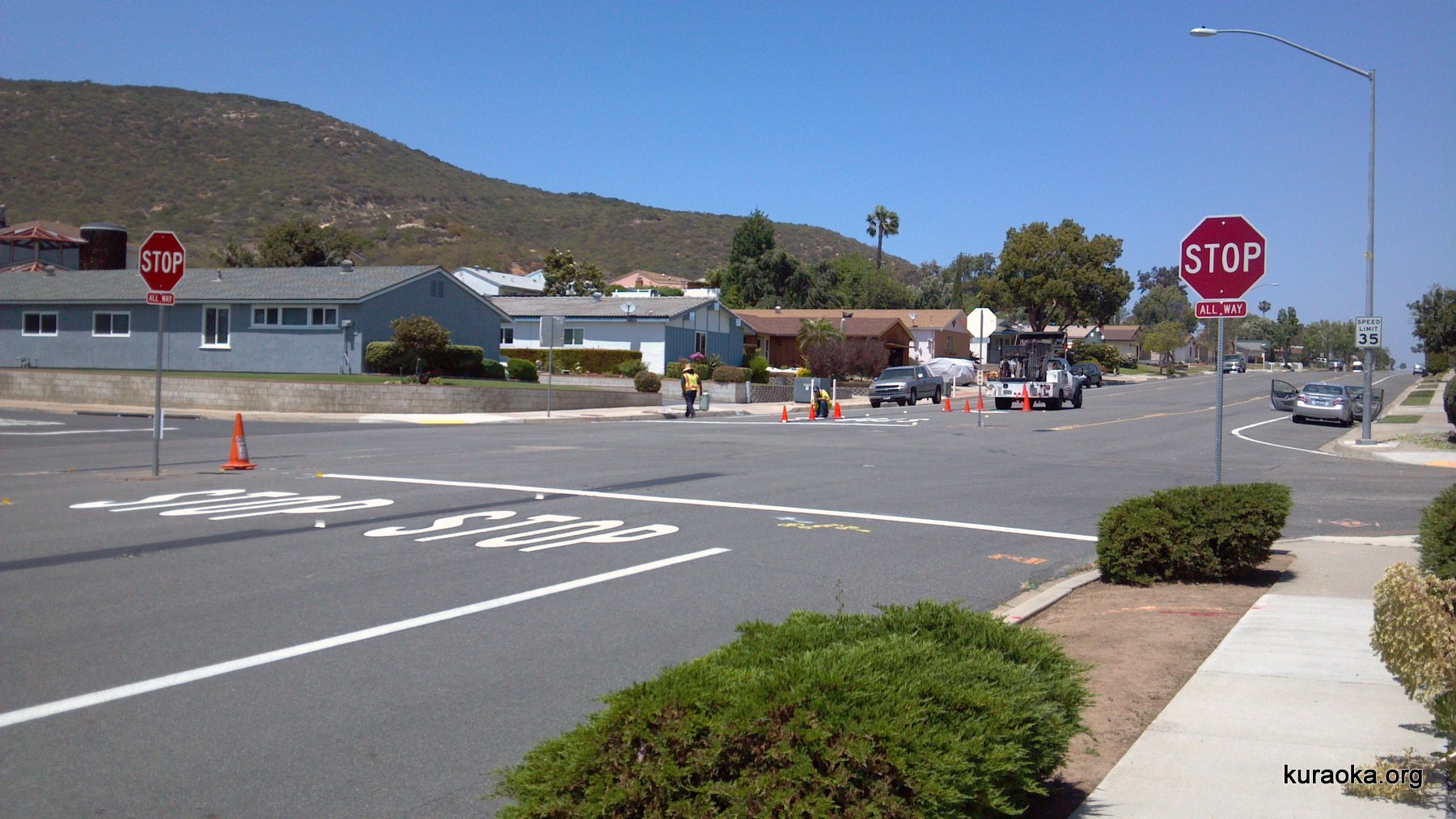 Every few summers, one group of teenagers or another gets the bright idea to lug a keg of beer deep into the brush, and party long into the night. They think no one would bother looking for them, and they're right. The police officers just park around the corner and nail the revelers as they drive away, one, two, three.
The Fires: We had some excitement in late 2003, when the San Diego fires caused our street to be evacuated for the second time in its history. At the time, it was thought that the fire might cross Mission Gorge Road and blast over Cowles Mountain, where there was lots of brush and no significant firebreaks. We were lucky; the Cedar Fire never got closer than a couple miles from our block. If you want to read more about that week, look at our 2003 fire journal, which was written as events happened. A brush fire broke out in early 2006, again thankfully on the other side of the mountain from us. And, in 2007, fires again raged throughout the county, but didn't come anywhere near us so we weren't evacuated. You can read about that week in our 2007 fire journal.
It's a quiet neighborhood otherwise, even more so because we live on a cul-de-sac. It's a stable neighborhood too. About half our neighbors are original owners; they've lived in these houses since they were built in 1972. And, two are second-generation residents, including Ondine, who grew up next door. There is a new generation being raised in the neighborhood, ten kids (eight boys, two girls), including our two boys. We love it here, and will never move.
Back to the Kuraoka Family main page