The Kuraoka Family Weekly Journal
www.kuraoka.org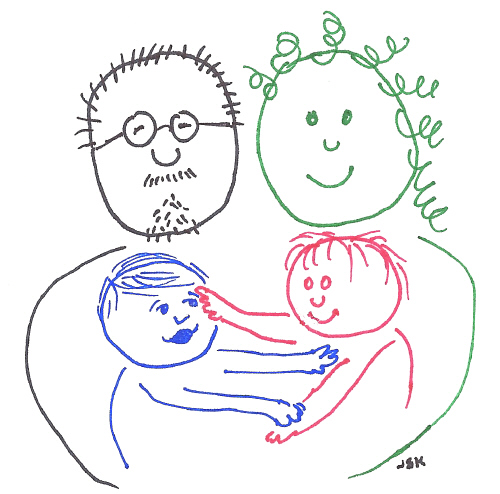 Us: John, Ondine, Roy (at 3), Leo (at 15 months)
San Diego Fires, 2003
The San Diego wildfires have made life rather more interesting than we'd have liked, this past week. We were evacuated Sunday, October 26th, but returned home Monday the 27th, and are well out of danger. To keep our friends and family up-to-date on what's going on with the wildfires, we've flipped our family journal to be more blog-like, so the latest news is at the top. Click here to start with the first entry, then work your way up. And here is our family journal from the San Diego fires in 2007.
Fire update addendum: The Paradise Fire and Cedar Fire were finally declared officially out at 6 p.m. Friday, December 5, 2003. With more-complete data, the size of the Cedar Fire was adjusted downward to more than 273,250 acres, still the largest fire in California history. Sadly, the number of homes lost in the Paradise Fire was adjusted upward to 221. Causes of the fires are still under investigation.
---
(November 2) Sunday update: as the heavy firefighting winds down, more-accurate numbers are becoming available. They will probably continue to change over the next few days, even though the fires are now largely contained. The Cedar Fire burned more than 281,660 acres and 2,230 homes. It is still burning north of Julian, about 40 miles northeast from our house as the crow flies, or about an hour and a half's drive away by car. It is 90% contained, with full containment expected tomorrow, November 3. The Paradise Fire has burned about 56,700 acres and 173 homes. It is 65% contained, with full containment expected tomorrow. In Big Bear, where Barbara and Bill have their cabin, the Old Fire is stalled at about 95,000 acres and residents are being allowed back. This morning the ground was wet, and it has been drizzly, but by afternoon the sun was breaking through the clouds and it was just another gorgeous San Diego Fall day, with a crisp clarity to the air and a warmth to the light. This afternoon, John and Roy will go to Chuck E. Cheese for a birthday party for Roy's friend Cameron. At Leo's water adjustment class yesterday, one of the moms mentioned that her house still doesn't have electricity. This evening, we may try to go for a walk for the first time in over a week.
---
(November 1) Saturday morning update: some new numbers on the San Diego wildfires, reflecting more-accurate estimates rather than significant additional fire activity. The Cedar Fire burned more than 275,880 acres and 2,200 homes. The current fire line is about 40 miles long. It continues to burn to the northeast of Santa Ysabel and Wynola, south of Volcan Mountain, and to the east generally toward Mount Laguna. It is 68% contained, with full containment expected Monday, November 3. The Paradise Fire has burned about 56,700 acres and 169 homes. It was kept away from Palomar Mountain. It is 50% contained, with full containment expected Monday, November 3. Meanwhile, near Big Bear, where Barbara and Bill have their cabin, weather has helped the firefighters slow the 95,000-acre Old Fire to a crawl. We awoke to rain early this morning, but it has stopped. The weather forecast calls for less rain over the next couple days, but continued cool weather. Things have pretty much returned to normal here, with John and Leo's water adjustment class this morning and a birthday party to attend tomorrow at Chuck E. Cheese. Hey, that's exactly the same schedule as last weekend!
---
(October 31) Friday night HALLOWEEN: the San Diego wildfire situation has not changed much. Both the Cedar Fire and the Paradise Fire are on their way to containment, aided by weather and firefighters from all over the West and Southwest. We went trick-or-treating tonight, in the crisp night air, the first time Roy and Leo have set foot outside for any length of time since last Saturday. We went door to door around the cul-de-sac, ending next door at Barbara and Bill's. Roy was a very cute elephant, and Leo was a very cute cow. This was the first year Roy was sort of into the candy, and he kept fiddling with the colorful, crinkly packages asking us "what's this?" in a tone that belied his fervent hope that we might suggest that he try it and find out. We (mean parents) held firm to a one-piece candy limit tonight, and for upcoming days too. Later, Athena and her kids, Nicholas and Alyssa stopped by, along with Athena's mom Betty. They are leaving for Salt Lake City in just a few days! Jeff was still packing up their U-Haul for the long drive up. It was hard saying goodbye because we love them dearly, and this will be the last time we see them for too long to think about. We will miss them terribly, but we hope they find in Salt Lake City the success and happiness they so much deserve!
---
(October 31) Friday morning: The cooler, moister weather has significantly slowed the fires over the last few days. There is a chance of rain showers late today and tomorrow, and even a chance of a snow shower in the mountains. That's a typical pattern in California - big fires then big rains, as if one causes the other. John remembers, as a Boy Scout, taking part in sandbagging, erosion control, and reseeding efforts in L.A. immediately after fires there in the late 1970s. So, while damp weather is welcome, we sure hope things don't turn too wet. That said, here are the latest San Diego wildfire statistics. The Cedar Fire has burned more than 275,800 acres and more than 1,670 homes. The active front is moving slowly northeast toward Volcan Mountain. The Cedar Fire is 65% contained, with full containment expected Wednesday, November 5. The Paradise Fire has burned 56,700 acres and more than 160 homes. The active front is stopped at the base of Palomar Mountain, on the south side of Highway 76. The Paradise Fire is 38% contained with full containment expected Monday, November 3. Evacuated areas still include Julian, Santa Ysabel, Lake Henshaw, and Palomar Mountain. Open areas include Descanso, Pine Valley, and Guatay.
Meanwhile, here at our house, Roy and Leo are just going stir-crazy this morning, not having been able to play outside for more than five days straight. We've been trying to conserve water, but we really need to get out and hose down the back yard today so everyone can get out and run around. Thanks to the winds, the air quality today is good. For the first time in days, the primary air pollutant today was not particulate matter, but ozone, but even that is low. So, a very HAPPY HALLOWEEN for San Diego! Trick-or-treating tonight may be Roy's and Leo's first time outdoors this week. Roy will be an elephant, and Leo will be a cow. Also, HAPPY BIRTHDAY to John's sister Elaine who for Halloween is an old person! Ha!
---
(October 30) Thursday night: Good news! Both the Cedar Fire and the Paradise Fire have seemed almost pinned in position all afternoon and evening, with no significant change in burned area or containment. Although Julian and the surrounding areas are still under evacuation orders, residents of many mountain communities, including Pine Valley and Guatay, have been allowed back to their homes. What's more, it appears that the air quality though the city of San Diego and even much of the county will be good tomorrow evening for door-to-door trick-or-treating!
---
(October 30) Thursday afternoon fire updates: The Cedar Fire has covered 275,000 acres (nearly 430 square miles, or 1,113 square kilometers), and is still heading northeast toward the desert. Barring a major shift in wind or luck, the main part of Julian appears saved. The Paradise Fire is burning on a parallel course, so even though the two fires are as close as five miles apart, they are not expected to merge. The cooler, moister weather is definitely helping, but high winds are expected to develop in the mountains later today. In other local news, the political finger-pointing is heating up on the issue of why San Diego had no firefighting air support of its own, even though in this case it may not have helped (because whatever we would have had would have been deployed to fight the other California wildfires, which broke out earlier). And, the grocery store strike seems to be making a major push in an effort to recover lost momentum, with lots of placard-wavers out today. HAPPY BIRTHDAY today to our friend Carey! She is sick with the flu, and Ondine is dropping off a meal today of homemade vegetable soup. Also, HAPPY BIRTHDAY to Ondine's adopted brother, Jeff! We were glad to hear yesterday morning that Jeff and his family are safe and sound.
---
(October 30) Thursday morning fire updates: The Cedar Fire has covered 272,000 acres and destroyed nearly 1,500 homes. Julian is still under siege from several directions as the fire circled around to the north and wind gusts reached 50 mph. The "100 fire engines encircling downtown Julian" story from yesterday evening was urban legend: the actual number was about a dozen, with about 500 firefighters deployed in the defense of Julian (out of more than 3,600 for the whole fire). The current active fire line for the Cedar Fire is some 98 miles long, but the fire itself is heading northeast into fairly unpopulated areas. The San Diego Wild Animal Park, in Escondido, seems secure today, as is the Ramona area. As of this morning, the Cedar Fire is about 38% contained, with the estimated date of full containment pushed back to November 16. The Paradise Fire has covered about 56,000 acres, burned 117 homes, and is 25% contained. It is currently heading northeast, away from heavily populated areas. About 1,400 firefighters have been deployed on the Paradise Fire. County-wide, there have been at least 16 fatalities, including, yesterday, the first firefighter killed in the line of duty fighting the current wildfires throughout Southern California. The weather this morning is cool, with heavy, mid-height gray clouds - regular clouds, not smoke clouds for a change. The forecast calls for these clouds to linger today, with the possibility of drizzle tomorrow, while in the mountains there is the possibility of showers and a lessening of winds tomorrow. That's a change from the forecast last night. For the first time in days, the air quality index in our area is "moderate" (60 micrograms of crud per cubic meter in El Cajon today) instead of "very unhealthy" (210 micrograms per cubic meter in El Cajon yesterday). Still, most people with kids are planning indoor activities for Halloween tomorrow, and minimal door-to-door trick-or-treating. Carey has the flu; Ondine plans to take over some soup later today. Fire factbite: The area of land burned by the fires throughout Southern California so far (nearly 650,000 acres, or more than 1,015 square miles or 2,629 square kilometers) is about the size of the state of Rhode Island (775,680 acres, or 1,212 square miles, or 3,139 square kilometers - which includes more than 400 square miles of inland water).
---
(October 29) Wednesday evening fire update: the Cedar Fire, the largest fire in California history, has burned more than 1,500 homes and 250,000 acres, but so far has been beaten back several times from the center of Julian. At one point today I heard a report that more than 100 fire engines from all over California formed a protective circle around the historic center of Julian, and some 3,300 firefighters were deployed in total to fight the Cedar Fire. Julian is a small town to look at it on the map, but - beyond its historical significance as an early California mining town - it is one of San Diego's key tourist attractions, pulling in both local and non-local tourism dollars. If it has been saved - and, right now, things look cautiously optimistic - then all of San Diego owes those brave men and women a tremendous debt of gratitude. The Cedar Fire is about 20% contained. The Paradise Fire has burned some 50,000 acres and nearly 120 homes, but has been kept away from the communities around Palomar Mountain and Lake Henshaw. It is 20% contained. Also, the two fires were prevented from merging, despite proximity and winds earlier today that made that scenario look increasingly likely. Within the city a military training exercise had helicopters dropping water on a few isolated hot spots. Most of the city of San Diego is getting back to business-as-usual-as-possible. John had a meeting with a new old client, Indyme Electronics, this afternoon. The striking picketers are back in force in front of the grocery stores. Schools will remain closed this week, but are expected to open Monday. We saw blue sky for the first time in days, and the air was decidedly clearer and less smoky smelling. Locally, most of Mission Trails Regional Park will be closed until at least Monday, November 17. The section of park that includes Cowles Mountain (which is right outside our front window) will reopen this Saturday, November 1 (Bill said that he saw someone hiking up it a couple days ago, who had to be shooed off via helicopter loudspeaker). The Visitor's Center off Mission Gorge Road will reopen Sunday, November 2. And Lake Murray appears to be open to the public now. The weather forecast is not good: dryer air and gustier winds blowing the fires back toward the southwest.
---
(October 29) Wednesday early afternoon fire update: the Cedar Fire has now burned more than 250,000 acres and more than 1,400 homes. It continues to burn around Julian, and also has extended northward around Santa Ysabel. The Paradise Fire has fingers reaching eastward as far as Lake Henshaw, but so far has not reached Palomar. Winds in the mountains are gusting as high as 40 mph. Meanwhile, there are no active fires within the city of San Diego, and we can see blue sky - the same winds that have fanned the flames to the east have also broken up the banks of smoke and ash. Earlier today, Barbara heard from Ondine's adopted brother, Jeff - he and his family are safe and sound so that's good news.
---
(October 29) Wednesday morning fire update: the Cedar Fire is now the largest in California history, covering more than 233,000 acres and destroying some 1,300 homes at last count, including more than 200 near Julian. The fire is now within a quarter-mile of Julian's historic main street. There does, however, appear to be an evacuation route open to the north and east to the desert. The Cedar Fire is 15% contained, with full containment expected next Wednesday, November 5. One concern, is that the Cedar Fire will merge with the Paradise Fire to the north, since they are only five miles apart - and this is five miles of largely open wilderness area, including the southern part of the Cleveland National Forest. The two fires seem to be converging on the area between Lake Henshaw and Santa Ysabel, a crossroads town perhaps best-known locally for the Dudley's Bakery there. The Paradise Fire has covered 40,000 acres, and destroyed more than 100 homes. It is 20% contained, with full containment expected Saturday, November 1. The Otay Fire near the U.S.-Mexico border is 100% contained, and has covered nearly 46,000 acres with no homes lost. The weather this morning is cool, and the air is a mix of fog and smoke. The sunlight is gray, but casting shadows. The lower temperatures and higher humidity should help things closer to the city of San Diego, although the weather in the mountains, where the Cedar and Paradise Fires now rage, can be much dryer and windier - in fact, wind gusts up to 30 mph are predicted today in the mountains.
---
(October 28) Tuesday night fire update: the big Cedar Fire headed east, destroying 90% of the community of Cuyamaca including more than 100 homes, early this afternoon. The entire community was described by the California Department of Forestry (CDF) as being "totally destroyed." On the plus side, it sounds like most, if not all, of Descanso has been saved. The historic little town of Julian (population 3,000) was closed off this afternoon, with the fire threatening all routes out. Many locals know Julian for its apple pies, bed-and-breakfasts, and quaint antique shops - an idyllic mountain retreat for weekend getaways. We had considered honeymooning there. As of 8:30 this evening, the fire was within a half-mile of Julian. The Cedar Fire has covered 215,000 acres so far, and containment is not expected until Monday. To the north, the Paradise Fire (also being called the Valley Center Fire) is heading toward Palomar Mountain, and residents there are being evacuated. We hope that the night-time weather brings about some positive change. The Otay Fire may have turned south into Mexico, although no news may be good news as far as it heading into heavily populated areas. Schools throughout San Diego County remain closed for tomorrow and Thursday. Locally, the air worsened dramatically from just before noon until about 6 p.m., becoming thick and depressingly yellow-gray. Now, in the early evening, the air is cool and much less smoky, but we still can't see any stars. Chris and Carey in Santee have their power back on. Unfortunately, Chris and Cydney have the flu (which Carson had a few days ago). And, Ondine wasn't feeling too well - she took a nap while Roy and Leo went next door. We were glad to hear from Athena that Nicholas is feeling better. Barbara and Bill have a cabin in Big Bear, which is being threatened by the Old Fire near Lake Arrowhead. Boy, isn't it a good thing they didn't go there after being evacuated Sunday? They'd have to evacuate all over again! There was actually a fire this week called the Happy Fire.
---
(October 28) The update on the fires as of Tuesday late morning. The Paradise Fire to the north has covered 32,000 acres and destroyed nearly 60 homes. It is the most active fire right now, about 15% contained, with full containment expected Saturday. The Otay Fire to the south has covered 45,000 acres but so far no homes have been lost. It is 90% contained, with full containment expected this evening. The big one is the Cedar Fire, which is now the largest fire in San Diego County history, covering about 207,000 acres, including 36,000 acres within the city limits, and destroying 600-800 homes. Within the city, it is 60% contained, with full containment (also just within the city) expected tomorrow. However, its path yesterday took it eastward into Julian, causing Descanso and Julian to be evacuated. Those areas are far to the east of us, so our neighborhood in San Carlos remains in no immediate danger: Descanso is probably almost an hour's drive to the east, and Julian a little over an hour and a half to the northeast. Also, it seems to have turned away from Robyn and Dan's area too. It appears, though, that Chris and Carey, in Santee, may be without gas or power until later this week.
---
(October 28) Tuesday morning, we can see sunlight. It became apparent that the weather has really helped out. The Santa Ana winds, which were predicted to remain high and gusty, driving the fires west into heavily populated areas, simply didn't gather strength on Monday like they did on Sunday. We're supposed to continue to get gusts today, but apparently the heat and soot from the fires did in fact knock the winds down. What's more, our temperatures are cooling down, with a cold front expected by the end of the week, and the humidity is up by 15-40% today in some areas. We may even see some drizzle late this week, all of which are good signs. The air quality, of course, remains unhealthful everywhere. Leo's bedroom is the worst-sealed in the house, and therefore the smokiest-smelling. We put a Norelco HEPA room air filter that Athena had given us in there, and we taped off the gaps in the window frame; it seems to be helping. We ordered more of the HEPA filters.
However, we heard from Athena that Nicholas is very sick, wheezing and throwing up, so they may need their filters back today. Jeff is out of town on a business trip, so it's hard on all of them - Athena is in San Diego by herself with Nicholas and Alyssa. They still plan to move to Salt Lake City the first week of November. Boy, with all this, we bet they can't wait to get out of San Diego! Fires are one of our seasons in Southern California, our four seasons being Fires, Floods, Riots, and Earthquakes. Pre-school is, of course, cancelled, so the boys will be rattling around indoors all day today and probably tomorrow and the next day as well. Without Virg and Dag or the novelty of a new place to provide entertainment, cabin fever is hitting. Ondine taped up windows and vacuumed, since our vacuum cleaner has a HEPA filter. By noon, the sun was once more blotted out by a heavy blanket of yellowish smoke and ash creating a sickly, jaundiced twilight. We think this means the winds have shifted again.
---
(October 27) Monday morning things settled enough that we can sort out the local fires. There are also major fires burning in Ventura, San Bernardino, and Los Angeles counties; these are just the ones here in San Diego. There are three main fires, each of which consists of several fires. There's the Paradise Fire to the north, near Escondido, having burned 15,000 acres and nearly 60 homes as of Monday morning. The Otay Fire to the south, near the border, about 35,000 acres but no homes. And the Cedar Fire, which swept from Ramona and Alpine well into central San Diego County, as far north as Poway, west into Tierrasanta and Scripps Ranch, and south into San Carlos. This is the fire that was threatening the northern base of Cowles Mountain last night, maybe a mile away as the crow flies. As of Monday, this fire covered 150,000 acres, including at least 25,000 within the city limits, and burned more than 500 homes. All of these fires were converging on more-populated areas last night, but today the weather seems to have unexpectedly played a positive role, and by about 3:30 we saw on the news that we had an all-clear to return home. Many of our neighbors had returned before then anyway. A quick survey showed that the fire didn't get near Mission Gorge Road, let alone across it onto Cowles Mountain, so it stayed on the next mountain over, perhaps two miles away. Even the air is fairly clear right now, albeit very smoky smelling. So, we're back home, safe and sound.
Evacuation is a catharsis of sorts. We saw people loading up trucks and calling friends with pick-ups. Several of our friends kindly offered their trucks to us. However, we were out of here with a backpack per person, a diaper bag, and very little else. It's odd because, speaking strictly for myself here (and this is John writing), I've always considered myself rather materialistic - I have some good stuff, and I enjoy having it. But, when it came down to making a choice, I'd rather have the journals than an extra camera body or studio lighting equipment. I took my Dad's old Nikon F with his 50/1.4 and my all-purpose N65 with a 24/2.8 and 28-200. After a day or so to ponder it, I think just about the only material goods I'd have mourned the loss of, would be our hodge-podge but meticulously selected assortment of kitchen knives. Well, that and my Mom's sofa (which we just had restored), but at nearly nine feet long it'd be too big and heavy to easily evacuate anyway.
It's also something of a relief to return home after a fairly significant life event, check your email, and find 85 messages offering to boost the size or performance of one's naughty bits, with or without Russian amateur co-eds. Ah, yes, Spam. Life does indeed go on, doesn't it?
Much, much gratitude goes out to Virginia and Dag for putting us up at a moment's notice. Leo got very attached to Dag, and loved bringing him cars and plastic horses. He cried when Dag went outside, and tried to follow him out the door. John hoisted Leo up and held him to a window, so he could see Dag moving around in his back yard. Then, Dag disappeared behind a corner, and Leo howled until he came back into view. Also, thanks to Barbara and Bill, who acted as our own private conduit of information as we hunkered down at Virg and Dag's. They prowled back and forth between their hotel and our neighborhood, calling us with the inside scoop, which was most reassuring. We came home to a hosed-off front entry, thanks to them. Our neighbors all pulled together and looked out for each other. The playgroup exchanged worried phone calls, but as of this moment everyone is all right. Chris and Carey were without power Monday.
---
(October 26) Sunday morning, Daylight Savings Time ended. This was the day of the big fires: multiple major fires throughout San Diego County. When John went out at 5:30 in the morning, the light was oddly incandescent on the mountain, as if it were lit by floodlights at its base. Almost all the light was reflected upwards, with very little light filtering down through the ash-blackened sky. Just walking to get our newspaper, you could feel the ash falling on your face, like a feathery, dry drizzle. Soot and ash were everywhere, and our shoes were black by the time we got back into the house. We were amazed to learn that Bill actually ran in a race early this morning!
In the afternoon, Ondine, Roy, and Leo went to Zachary's birthday at Chuck E. Cheese near Grossmont Center. John had a meeting in Carlsbad, but with all the freeway closures he wasn't sure if he got out that he'd be able to get back home. The fires crept closer in zigs and zags, stabbing into Clairemont Mesa, Tierrasanta, Kearny Mesa, and Santee. As it turned out, it was a good thing John didn't go to his meeting, because he'd have been stuck up North: all the freeways coming South were closed for a time, as well as the nearest freeways running East-West. When Ondine, Roy, and Leo came out of Chuck E. Cheese, they could barely see their way to the car, which was parked around the corner from the entrance. Because of all the smoke and ash, Ondine tried to keep her hand over Leo's mouth. Leo, of course, kept angrily pushing it away. Roy had a good time, though, and enjoyed the pizza and games.
At one point, sometime in the afternoon, Roy was talking about the room addition, and commenting that R.W. built it. Then he paused. "If our house burns down," he asked, "will R.W. build it back?"
By 3 in the afternoon, we were told that our block was under a "mandatory evacuation." Some people had been packing steadily through the day; we had been busy with the kids and trying to preserve a sense of normality for them, so we really hadn't. We're fast packers, though. The only things we added to our usual load, were several shelves of photo albums and these journal hard-copy archives going back to 1998. Roy had gone down for a nap shortly after returning from Zach's birthday party, so we let him sleep.
Sunday evening, preliminary reports showed over 100,000 acres and 300 homes burned; 3 fatalities, and numerous injuries.
We called Virginia and Dag, who graciously said we could come to their home in Talmadge for an undetermined amount of time. Roy continued to sleep, so we didn't leave our house until about 6 p.m. Virginia and Dag fed us rolled tacos, and we crashed on their couch. Leo was so exhausted - no nap all afternoon - that he fell asleep immediately and stayed asleep. Roy was well-rested and excited about seeing pictures of "the long fire" on television, so he was restless until the wee hours of the morning. Barbara and Bill booked a room at the Holiday Inn Express Sea World, near Sports Arena.
---
Visit us often - our online family journal has been updated at least once a week since 1998!
Up to the top of the page
Back to the Archives page
Back to the Kuraoka Family main page
Forward to the current Weekly Journal.