The Kuraoka Family at Sand Pond 2007
www.kuraoka.org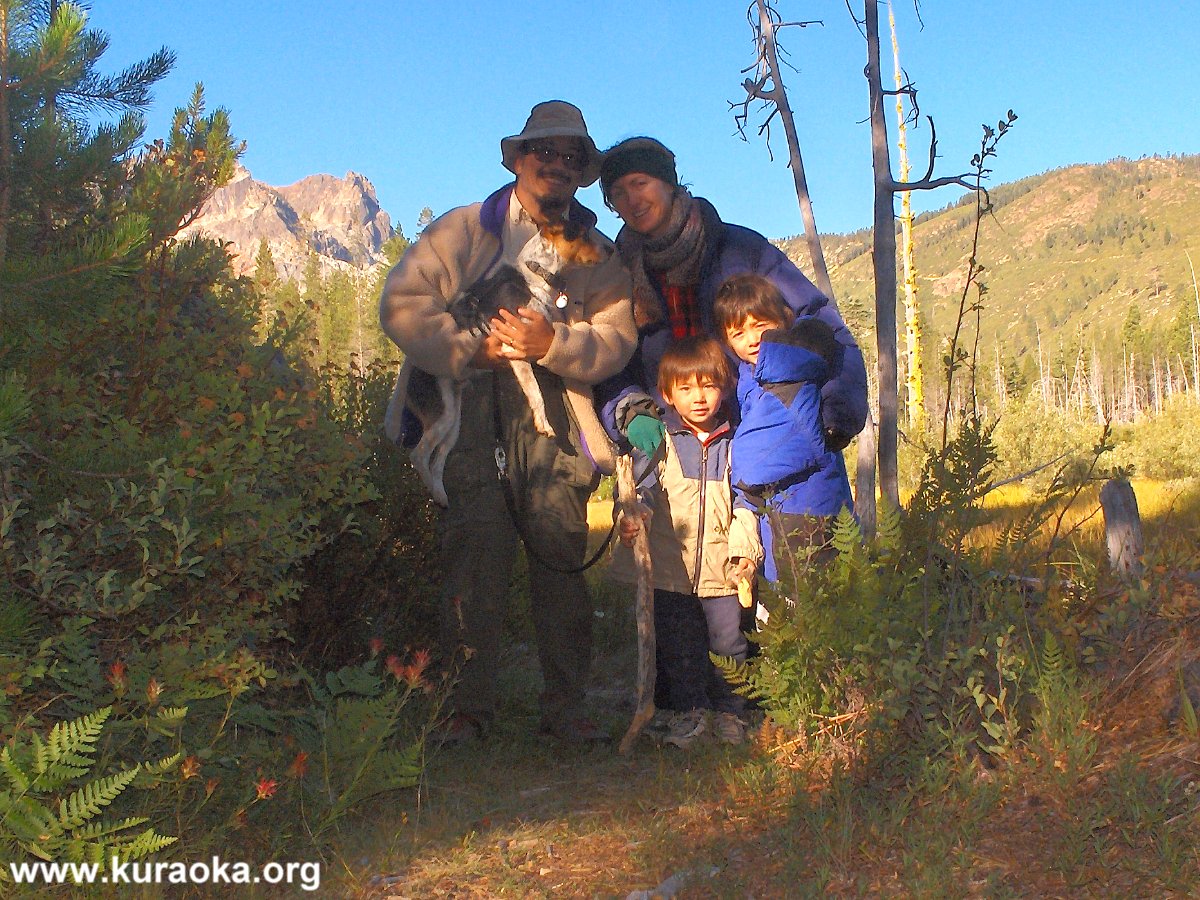 Us, August 10 2007: John, Ondine, Buddy (being held), Leo (5), Roy (7)
August 4-12 2007
Another year, another Sand Pond adventure. The boys are now seven and five, and this trip gets easier as the kids get older! Of course, we're getting older too …
Photos are thrown to the end of each section, typically by day, to give you something to read while 50-something photos load up. There are also three short videos. For the record, here are our two earlier trips with the kids:
2003: (kids are 3 and 1, no dog)
2006: (kids are 6 and 4, we'd just gotten Buddy)
We started out from San Diego at 7:25 Saturday morning (August 4), having stayed up past midnight to pack the Piggy Pack and the trunk. Our compact Mazda was stuffed full. We were actually ready to go at about 7:00, but our phone call caught Barbara and Bill by surprise and they had to scramble to cram an hour's worth of last-minute tasks into 25 minutes. That's the way it works for us: we can either get out of the house around 7 or around 9:30.
After a few minutes on the road, though, we realized that we'd forgotten a bag filled with sliced apples in the refrigerator! And, Barbara and Bill had left bananas and hard-boiled eggs! Oh well, better than forgetting to turn the water off or something of that ilk.
We paused at Grammy's house on the way up – she wasn't home but we helped ourselves to her hospitality anyway, getting food from Panda Express and enjoying some run-around time for the boys and dog.
We left La Canada around 12:15, drove over the Grapevine, and arrived at the Holiday Inn Express in Westley at 6:05. So, a total of ten hours and 40 minutes on the road. Fortunately, the boys and dog are very good travelers.
After dinner, we went for a walk in the vacant field behind the hotel. Buddy was very excited to see rabbits! He and John leapt to the chase, while Roy and Leo followed in hot pursuit. Buddy thinks he can actually catch a rabbit while on a leash! The rabbits outdistanced everyone with ease, but did not return so we obviously showed those rabbits what for. It was a good run/walk.
Sunday we had breakfast at the hotel and were packed up and out the door at 9:20, caravanning over Donner Pass to the McDonald's in Truckee for lunch. It has three shaded outdoor tables, making it ideal for people traveling with dogs.
We arrived at Sardine Campground at 3:05, five hours and 45 minutes after leaving Westley. Total mileage from San Diego to Sardine was 678 miles. We had campsite #24, and Barbara and Bill had #22 right next to us.
We made a BIG DECISION when we set up camp. In the past, we all slept in one tent and used a second tent as a storage/changing tent. This time, we decided to set the boys up in the second tent so they had a tent all to themselves! They were very excited to learn that, squealing with delight and overcome by hysterical glee. Uh-oh … would they sleep at all?
Of course, it was only after putting them to bed the first night (and listening to them giggle and frolic until nearly ten), we learned that there were "active bears" in camp. All our food and stuff that might smell like food to an animal go into the bear box as a matter of course – good protection from marauding squirrels and aggressive jays – but we wondered if a bear would think a child smelled like food? We decided that the bear would probably be grossed out by kid-odor, especially after a few days of camp living, but the next day we reminded them to not bring food into their tent.
And, what a luxury to have a tent to ourselves! We savored the nighttime solitude, not knowing whether it would last.
PHOTOS (click to enlarge): Below you can see the back seat of the Mazda, packed (to the gills) for travel, our campsite, and the boys in their very own tent. Also, our first night's dinner.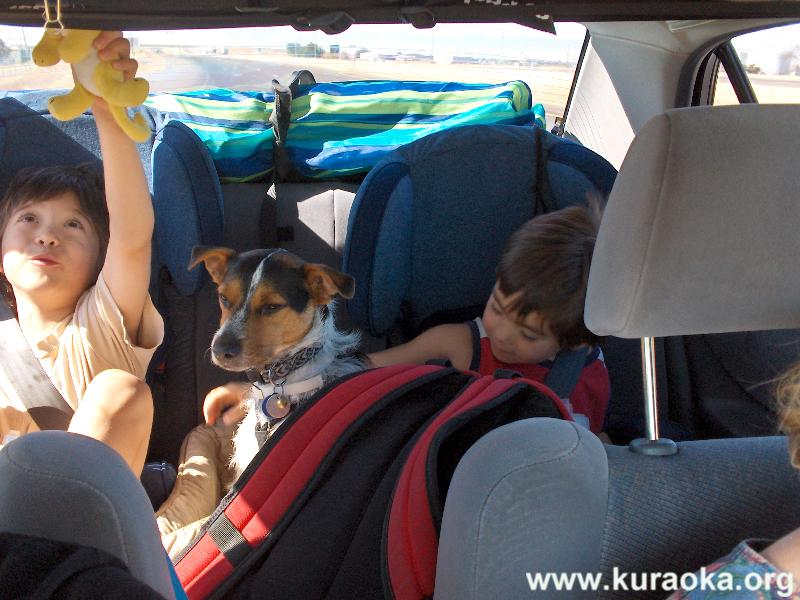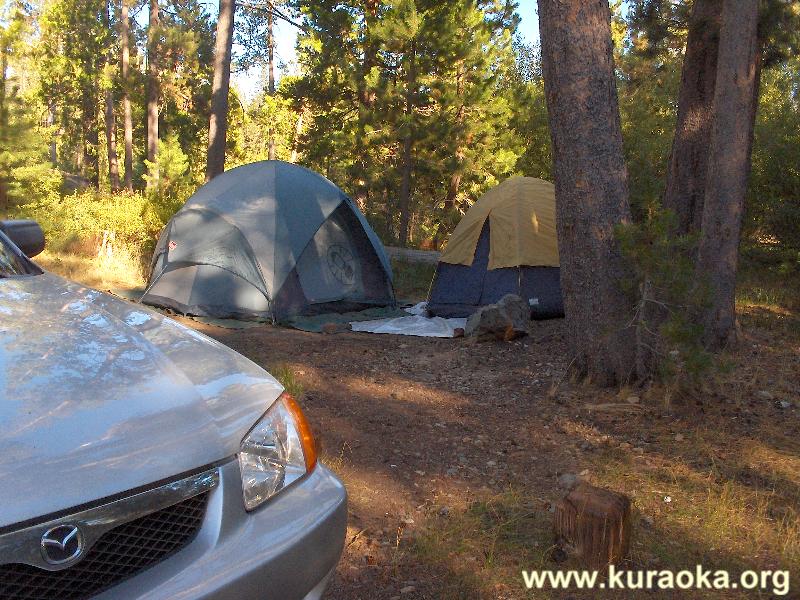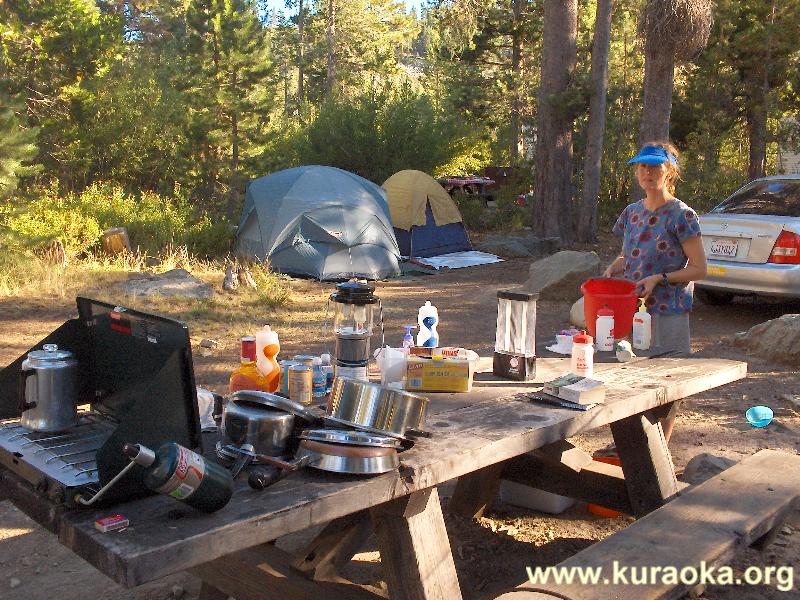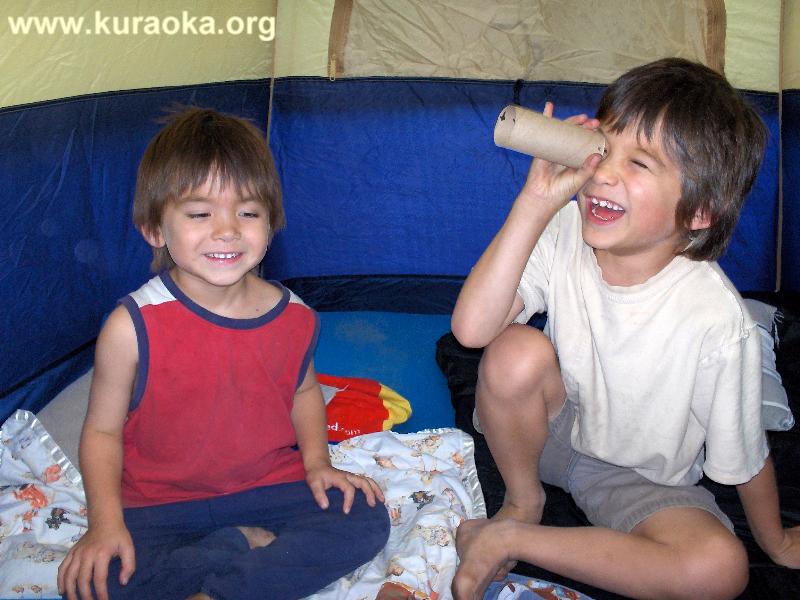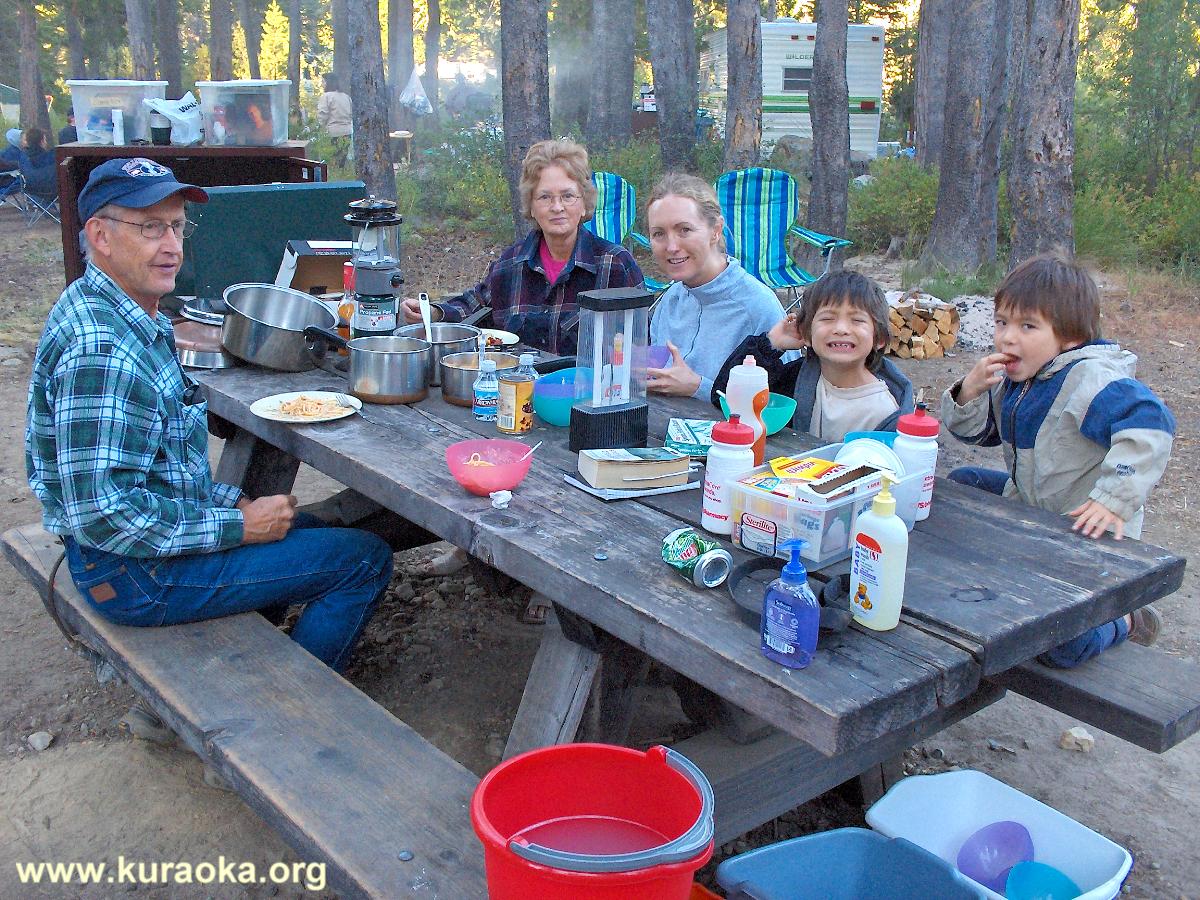 They boys were awake the next morning at their usual 5:45, a pattern that holds no matter when they get to sleep.
After breakfast, John took the boys and Buddy to Sand Pond along the plank walk, a twisting, golden path through the beaver dam area. At Sand Pond, the boys tossed pebbles, skipped rocks, and made up games. Roy said that the winner got "water rock fireworks," a spray of pebbles hurled triumphantly into the pond to shatter the rising sunlight into billions of sparkles. John noticed that the big dumpster was overturned; Buddy seemed anxious, perhaps because of the scent of fresh garbage for him to snout through.
We all went to Sand Pond later in the morning, leaving Buddy with Barbara and Bill in #22. John retrieved several logs, and the boys played in the water until they got cranky. John and the boys returned to the campsite, while Ondine lingered at Sand Pond to continue reading Harry Potter and the Deathly Hallows, the final book in the Harry Potter series. John's reading material is Theodore Dreiser's An American Tragedy.
Since the boys seemed tired, we put them to bed early (or, actually, regular-time), and amazingly they fell asleep fairly promptly. On the other hand, Roy emerged a couple hours later and started putting on his shoes; he thought it was morning! He went back in without a fuss.
We took a walk in the twilight with Buddy, both Buddy and Ondine spooking at imagined bears rustling through the bushes. Buddy barked at a parked car that loomed up at him in the dark. As we walked by the car, he growled threats and grumbled under his breath, as if peeved and embarrassed.
Around midnight, we awoke to a terrific clatter! Glass bottles clinking, metal grinding and clanging, as if an entire dumpster filled with drinking glasses and railway iron was being lifted and hurled to the ground, repeatedly. Louder than a car crash, with more rattles and bangs. This went on for at least an hour, until, at last, the whole bin went over with a climactic, lingering, decisive crash.
Ondine did not sleep well that night, imagining bears thumping through our campsite and breathing heavy, warm bear breaths on our faces.
SAND POND PHOTOS (click to enlarge): Below you can see four shots at Sand Pond and Leo working in his "office" in Barbara and Bill's campsite. Wouldn't you like an office like that?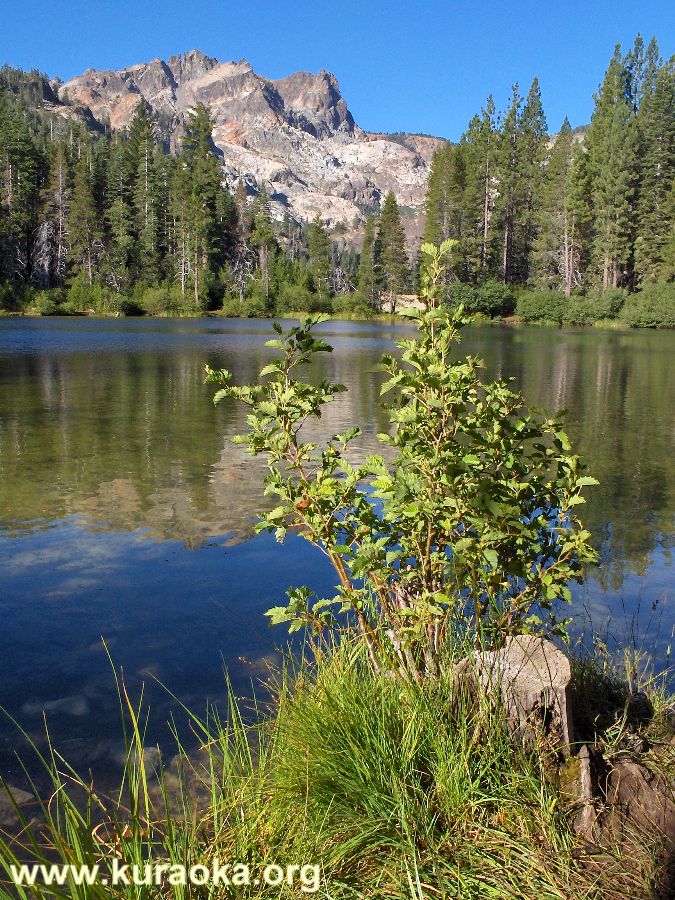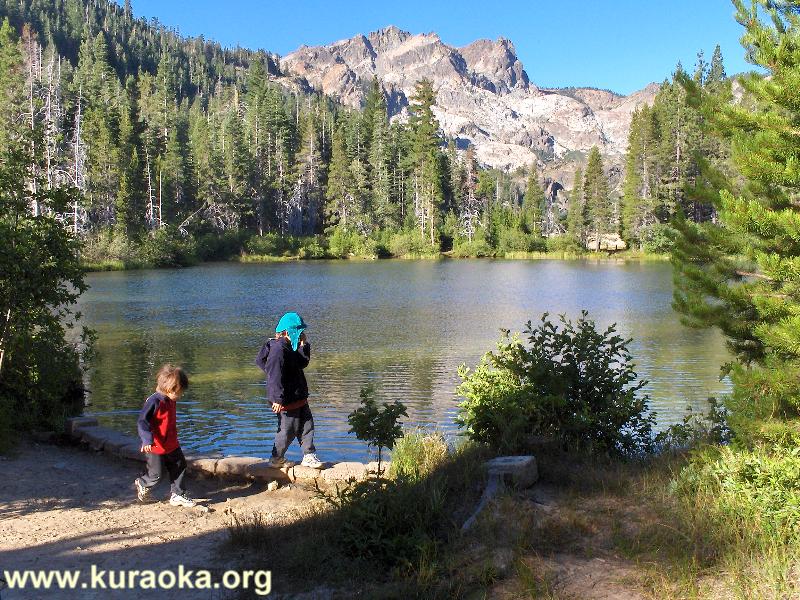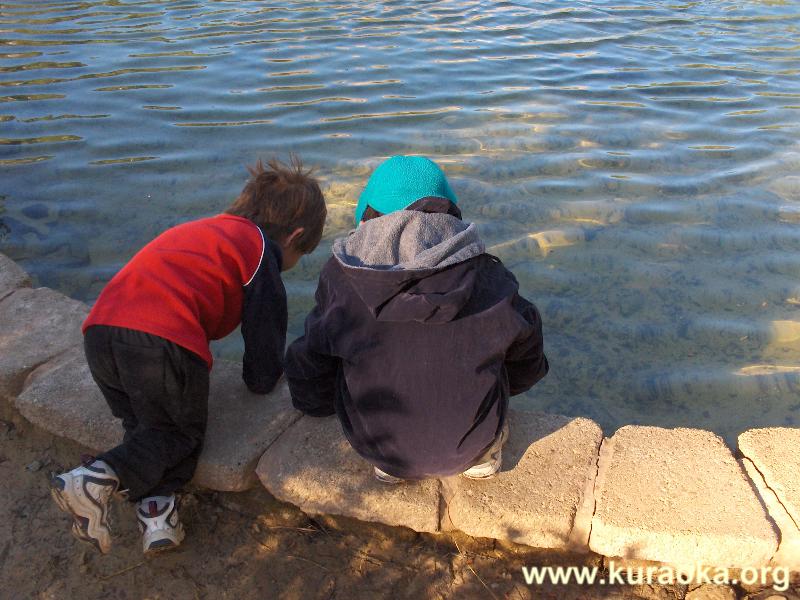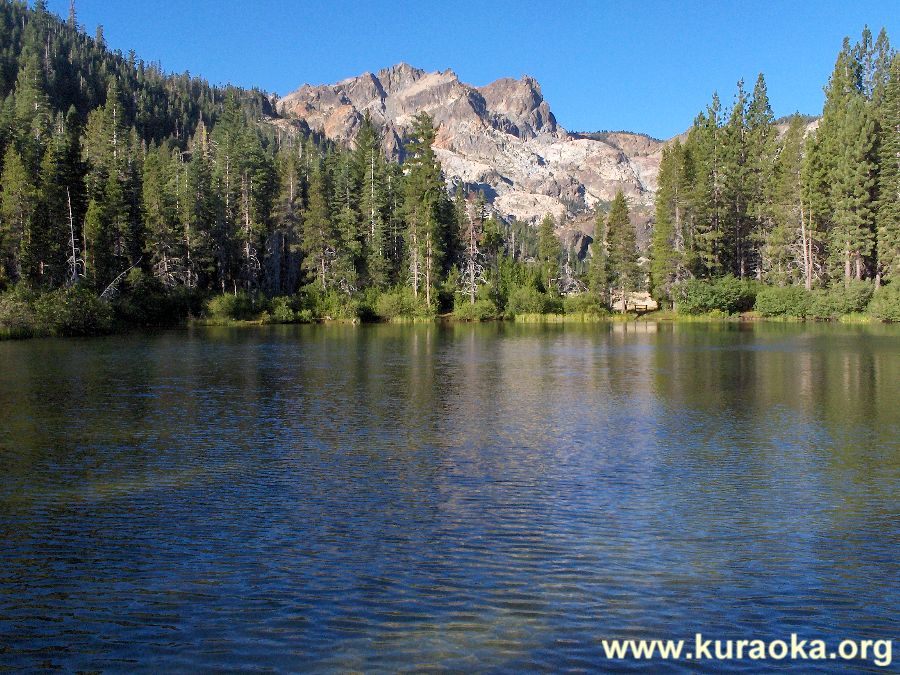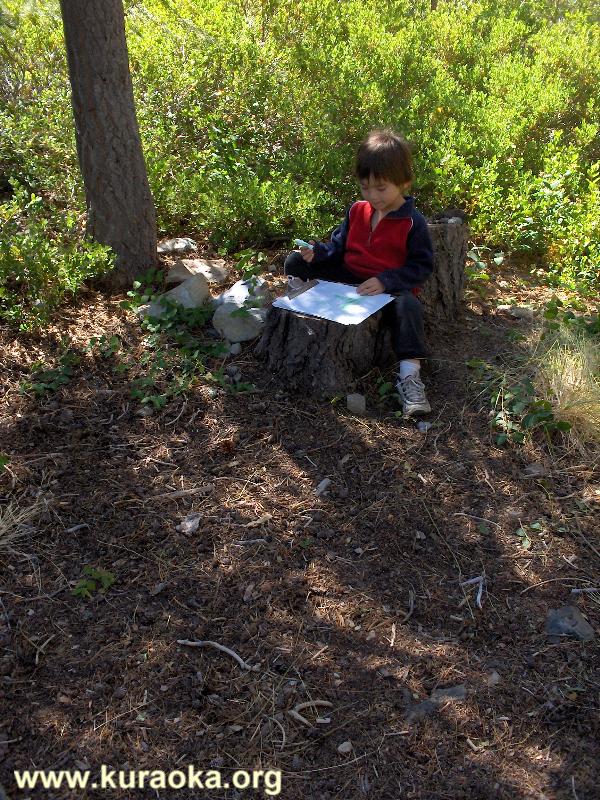 Tuesday, after breakfast and taking the boys to Sand Pond and Lower Sardine (where they ate the snacks Grammy had left them at her house), John drove into Downieville to check his email and keep some projects moving along. He also bought nearly $70 of groceries at Downieville Grocery, a terrific little store that seems to have one of anything you might need. The fresh fruit there is always superb, and fairly priced as well. John got some apples, nectarines, peaches, a watermelon, plus bratwurst, sauerkraut, and ice. On his way back to camp, he topped off with gas at Bassett's, always a wise precaution.
We prepared a special welcome dinner for Ondine's Aunt Ulli, who was driving down from Brookings: bratwurst, garlic mashed potatoes, sauerkraut, brown rice, beans, and corn. Yum! Dinner was ready before Ulli arrived, so we had the dinner in her honor without her! Ulli and her little dog Diego arrived around 7:15, having driven ten hours straight. Ulli enjoyed some dinner while Bill and John set up her tent and helped unpack her car.
That night, we let the boys stay up late, making s'mores (John had gotten chocolate bars at Downieville Grocery) and gazing up at the stars. Just before bed, we found a dark place, sheltered from the light of lanterns and campfires, and enjoyed the view of the heavens. Roy was the first to spot a satellite, and pointed it out to the rest of us.
We put the boys to bed around 9-ish, Leo first, then Roy a bit later. As for us, we turned in a little later, to be serenaded to sleep by a child in a nearby campsite tantruming for hours. Since it wasn't our kid, we could really enjoy that, admiring the kid's stamina and lungpower – a healthy kid, that was – while at the same time extending our mental sympathy to the parents. Oh, we've been there, we have.
PHOTOS (click to enlarge): Below you can see more views of Sand Pond, the boys at Lower Sardine Lake, the three brothers on a stump-chair, and Roy gleefully laughing with Auntie Ulli.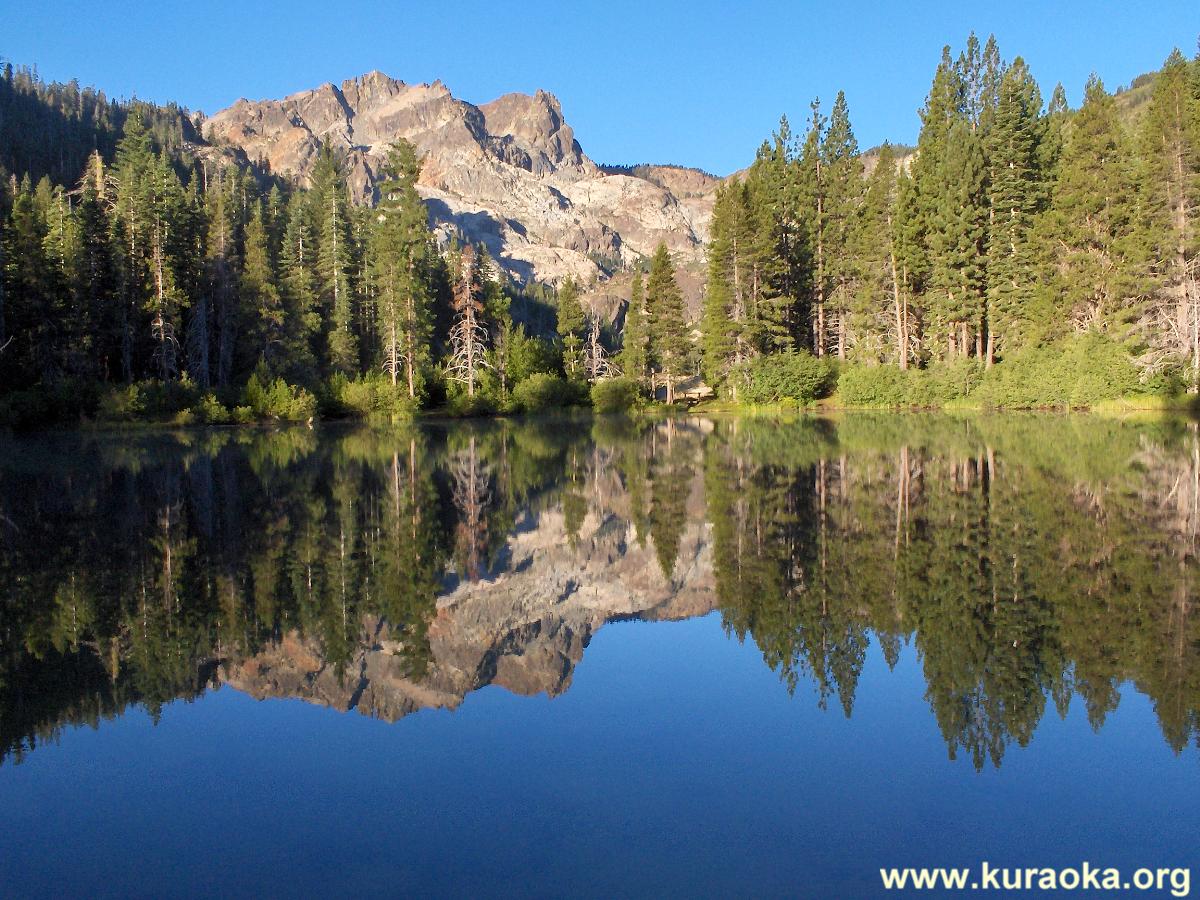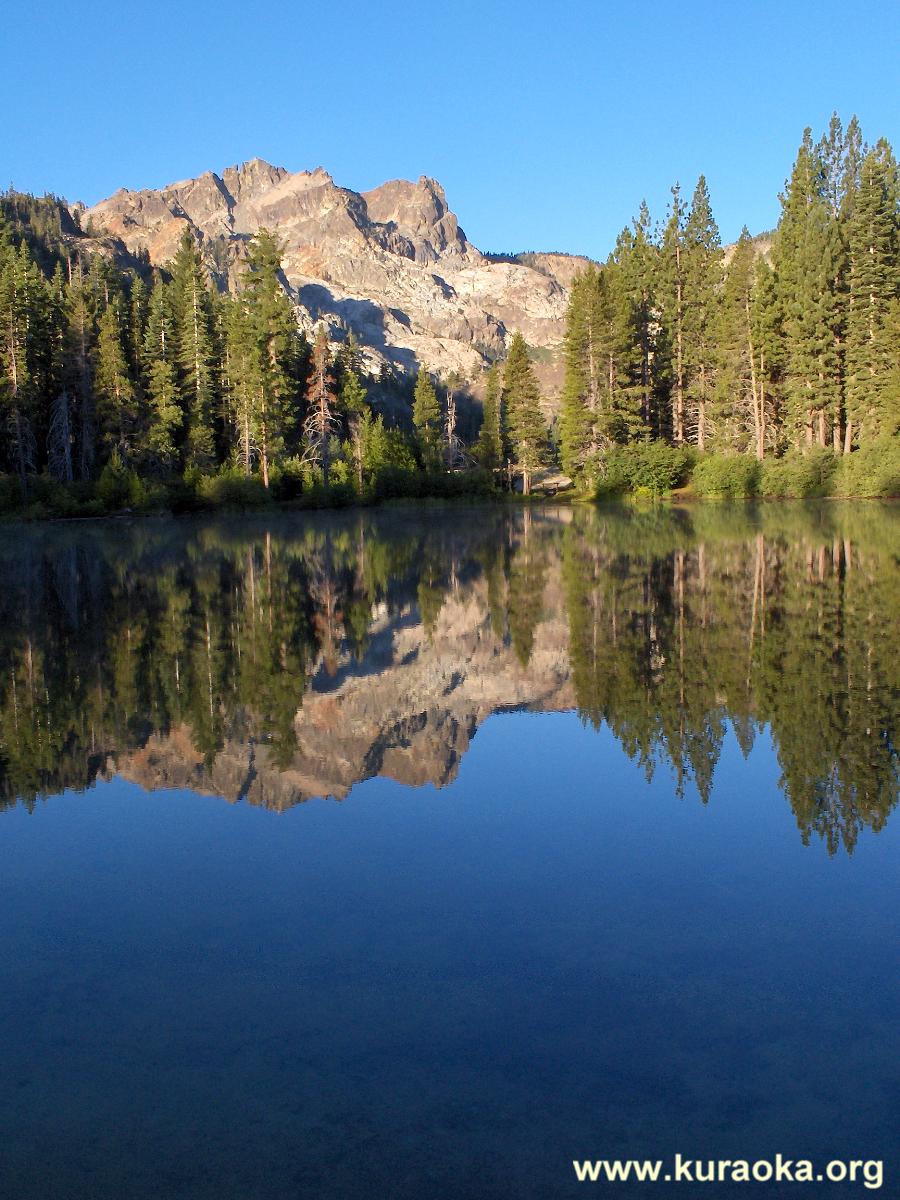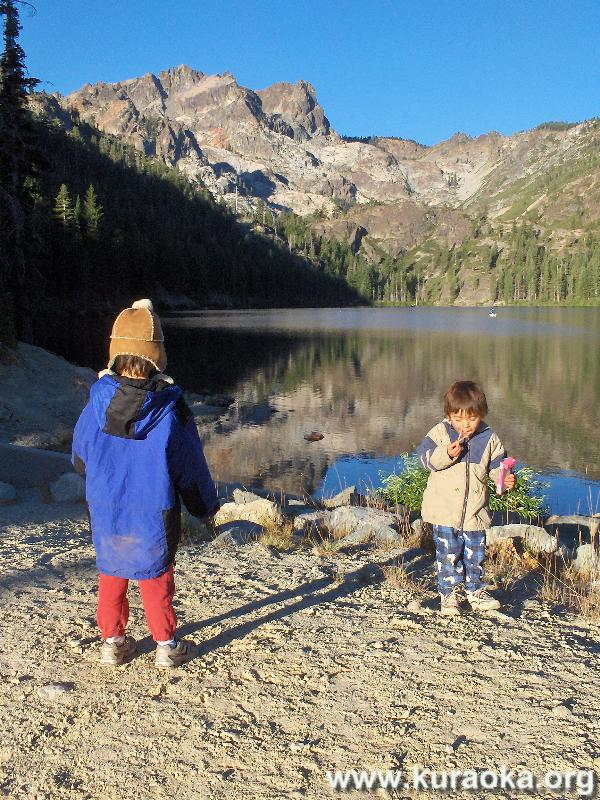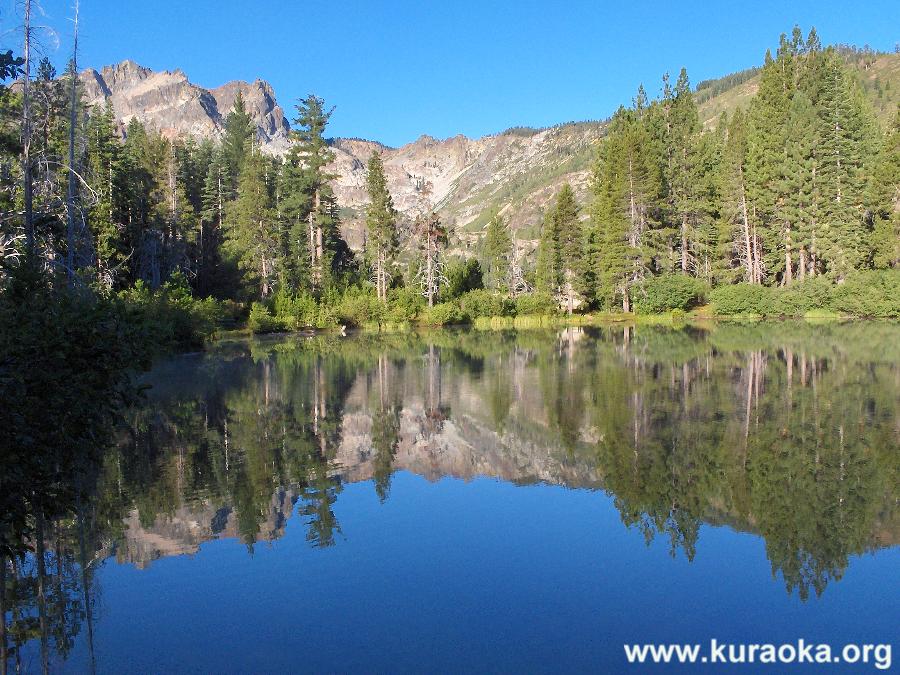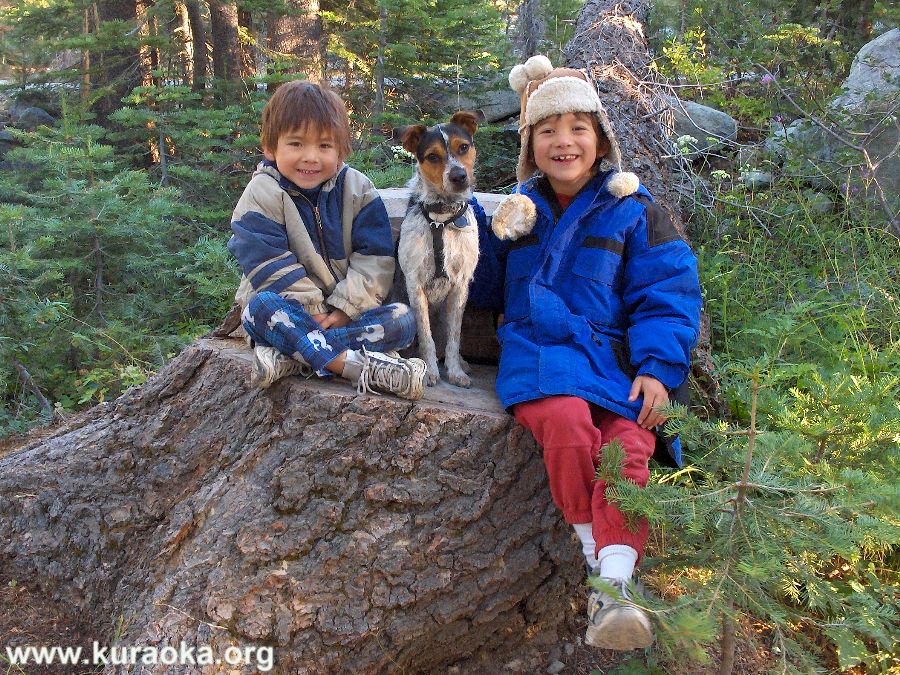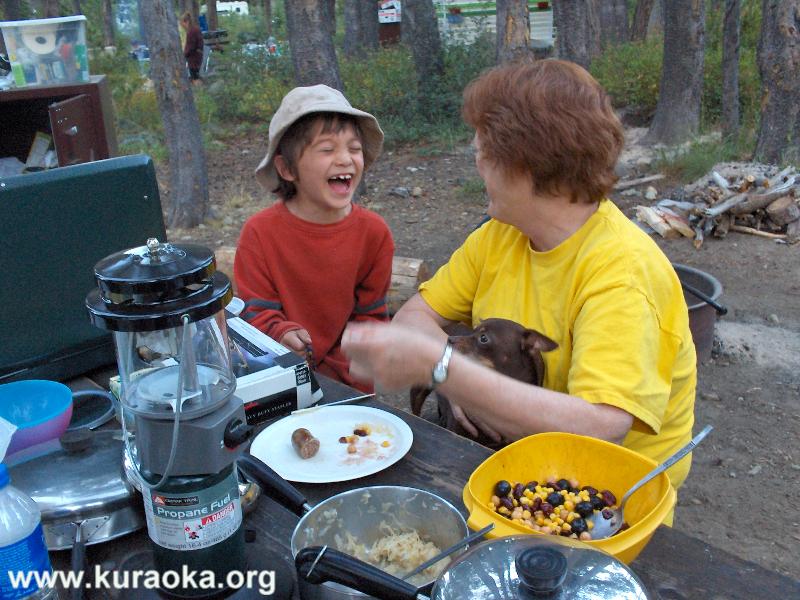 Wednesday morning dawned cold and hard. John got up with the boys (promptly at 5:45, as usual, despite the late bedtime) and built a nice fire.
As John got the breakfast things ready, he noticed a well-picked watermelon rind on the ground near our campsite. Hmm, someone lost a watermelon. Hey! Where's our watermelon?
We'd packed our watermelon in the bear box, but it was an unhandy thing to have lolling and rolling around in there so when we brushed the kids' teeth we must've taken it out, to get it out of the way. And forgot to put it back in.
This was karmic payback for the watermelons little Deen used to "find" cooling in the stream. Anyway, whoever took our watermelon had done a clean job of it. Except for the one bit of rind, there was nothing left.
Leo was coming down with a cold. Despite that, he joined Roy in running laps around the campground on their own – yet another step toward independence! Later, we walked to the amphitheater, a short walk, where the boys created a game out of pinecones and sticks.
PHOTOS (click to enlarge): Below you can see Barbara with Leo, Roy, and Bill (sacked out on the chaise longue); Ondine with Leo and Roy enjoying some Downieville Grocery nectarines (or maybe they're peaches); and Barbara with Leo.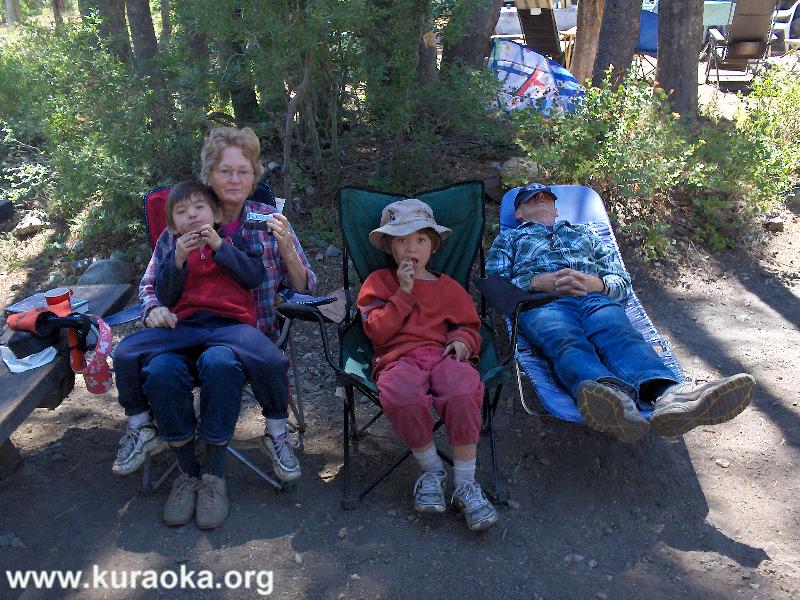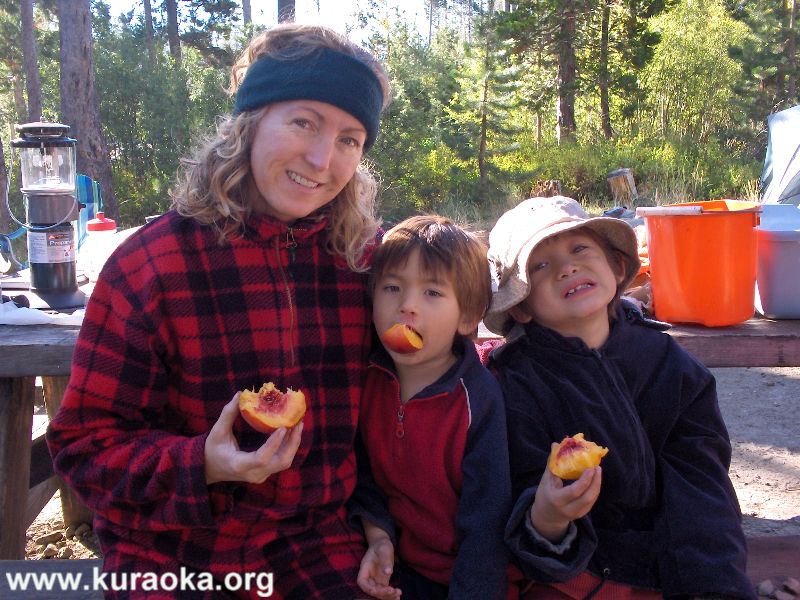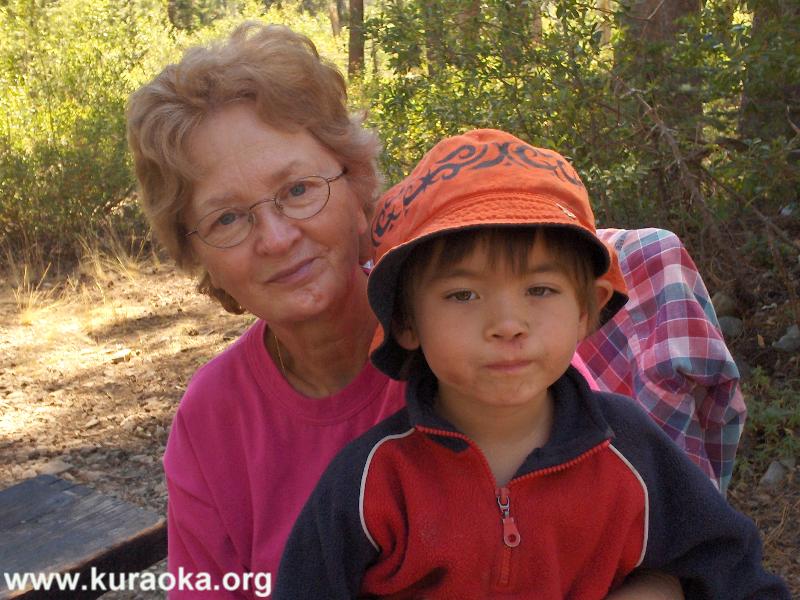 Gold Lake. John's niece Amanda had been to Gold Lake camping with her boyfriend Joe, so we thought we'd take a look at it. Gold Lake is the biggest lake in the Lakes Basin. There are several primitive campsites – no running water but porta-potty facilities – and a boat launch ramp. This is the last year of free camping at Gold Lake, by the way; effective 2008 there will be a camping fee.
We found a sheltered cove to sit. It was fronted by a stretch of what looked like mulch or sawdust; the boys set to work building a jetty out of rocks extending over the squishy mud to the water. There were several small islands to look at, some tiny and rocky and others big enough for a group of campers, with plenty of trees and good fishing beaches. It wasn't long before the boys headed out into the water, while John raided an abandoned campsite for firewood. Scavenger!
Ondine and Buddy napped in the shade, while the boys searched for gold at Gold Lake. They are always looking for treasure! And, being closer to the ground, they frequently find it in the form of old buttons, interesting rocks, feathers, and bits of old rope.
We took a walk around part of the lake, wobbling out onto a rocky jetty, cracked and tumbled with boulders – craggy granite and jagged basalt. The basalt looked like a rock riddled with wormholes, its volcanic origins plain to see. The smoother granite had colorful patches of lichen, mineral oxidation, and decomposition, a veritable life cycle in stone, glinting in the waning sunlight.
The spirit of adventure lives large in our two little ones, and they charged off, clambering cheerily over boulders with their aging parents threading carefully behind. Buddy was anxious to catch up with his littermates, and strained at the leash.
Oh, the discoveries we made! A rock with a crack in it that gurgled and bubbled as the windswept waves surged through the opening – audible only on top of the rock and no where else. An occasional waterfall as the wind piled up waves against an angled chunk of black basalt; the waves reach higher, and higher, then crest and overflow in a wide, arcing stream.
Of all five adventurers, who fell in? The one with four feet! A misstep, a misjudged leap dropped Buddy into the cold water of Gold Lake. He scrambled out, wet paws scuffling for traction on a slick boulder, looking surprised and a bit put out. The plunge must've been complete, a baptismal totality of dog immersion. He shook himself off, scattering water and fluffing his wiry fur. He looked sheepish, but a bit cleaner!
Leaving Gold Lake, we spotted some downhill roller skiers!
GOLD LAKE PHOTOS (click to enlarge): Below you can see Roy and Leo enjoying Gold Lake. We walked out to the end of the rock jetty, where, on the walk back, Buddy fell in.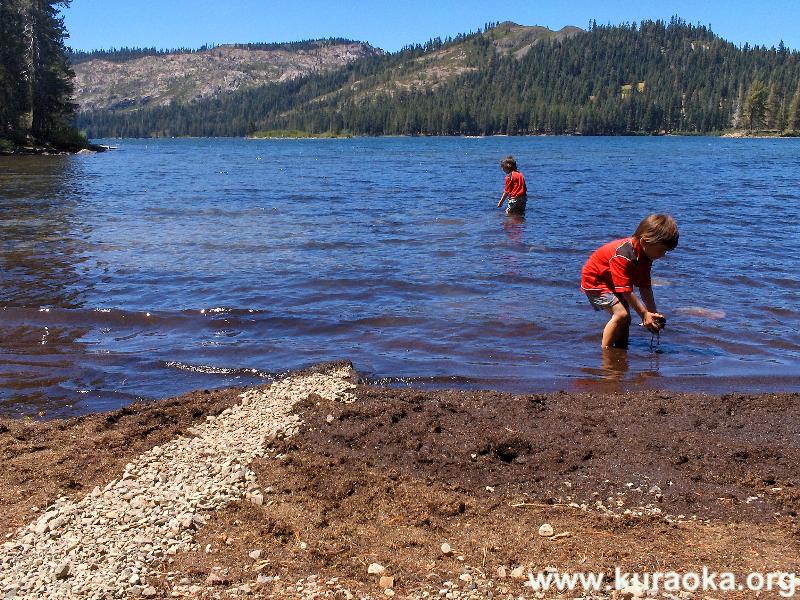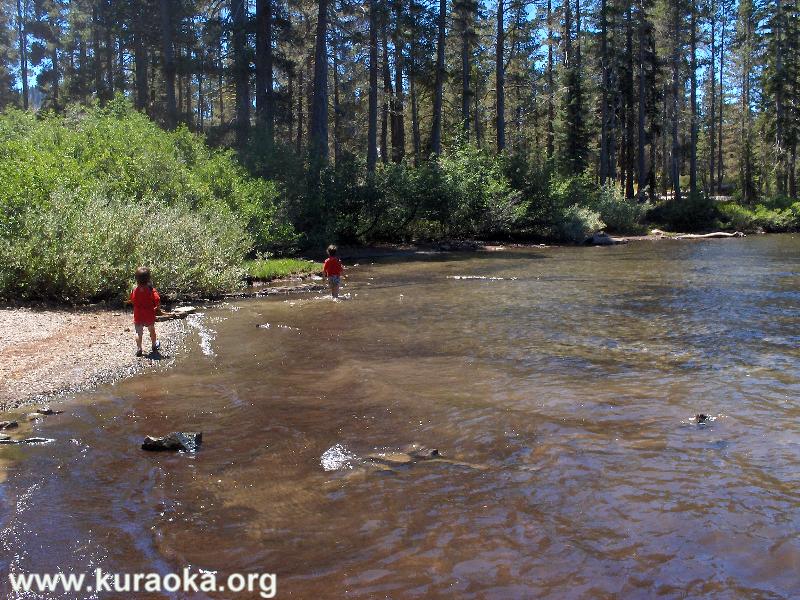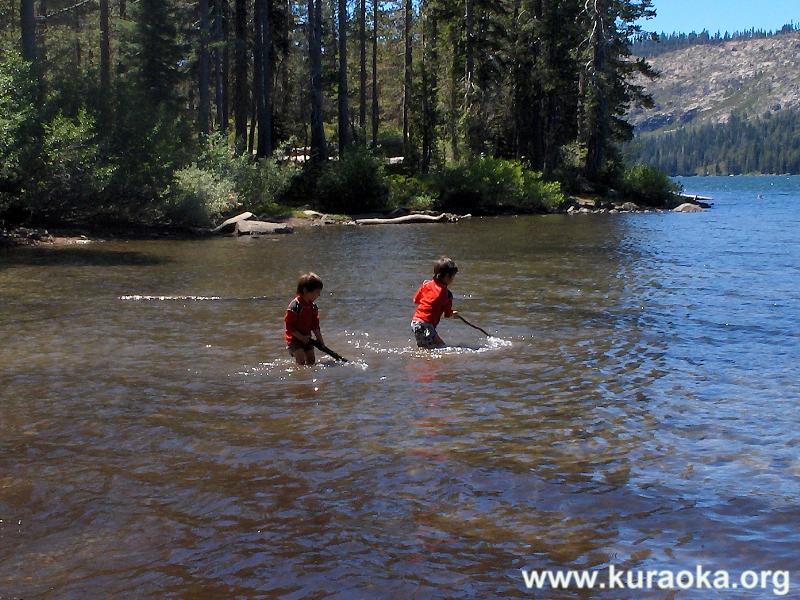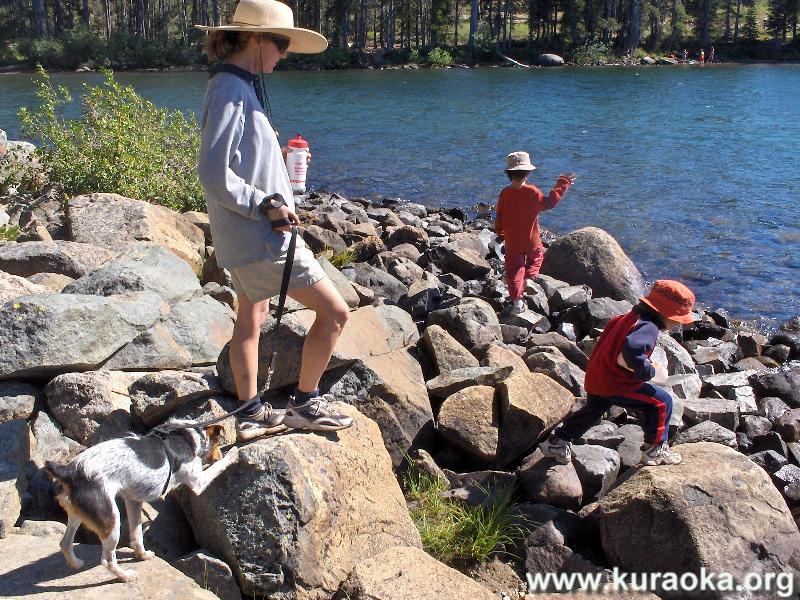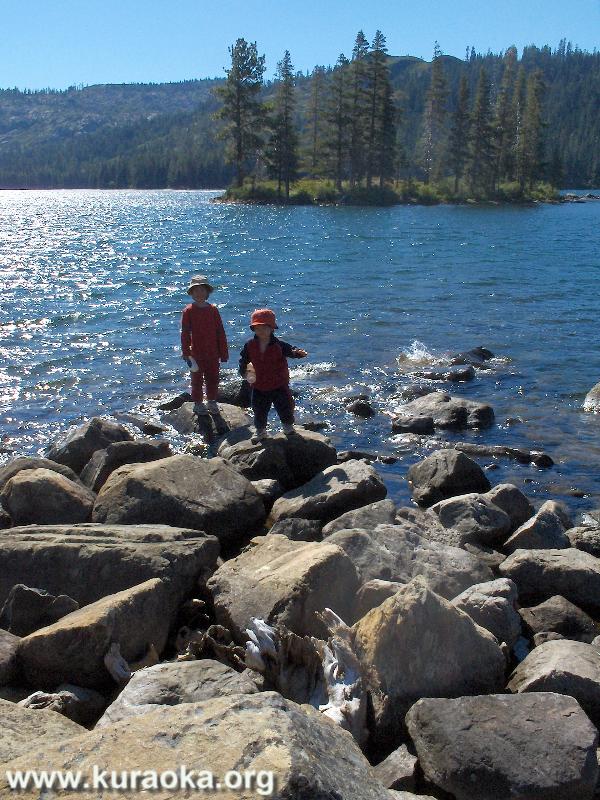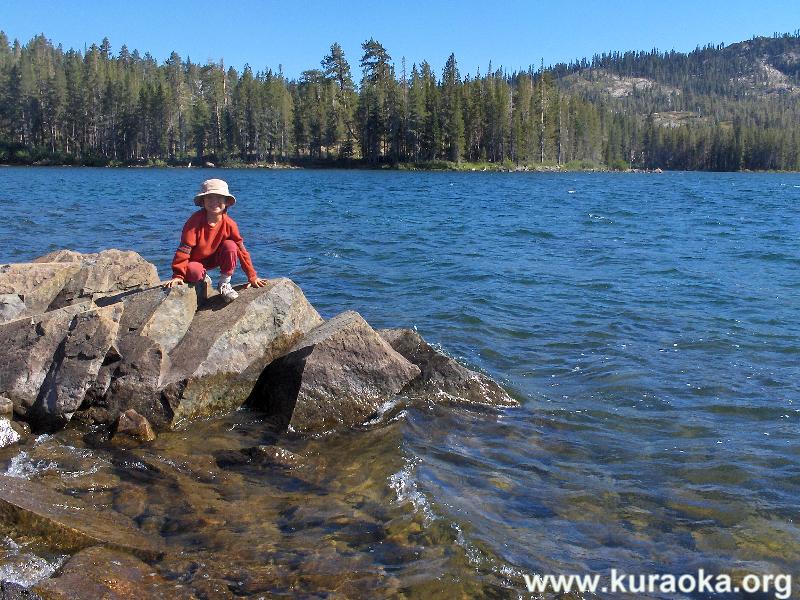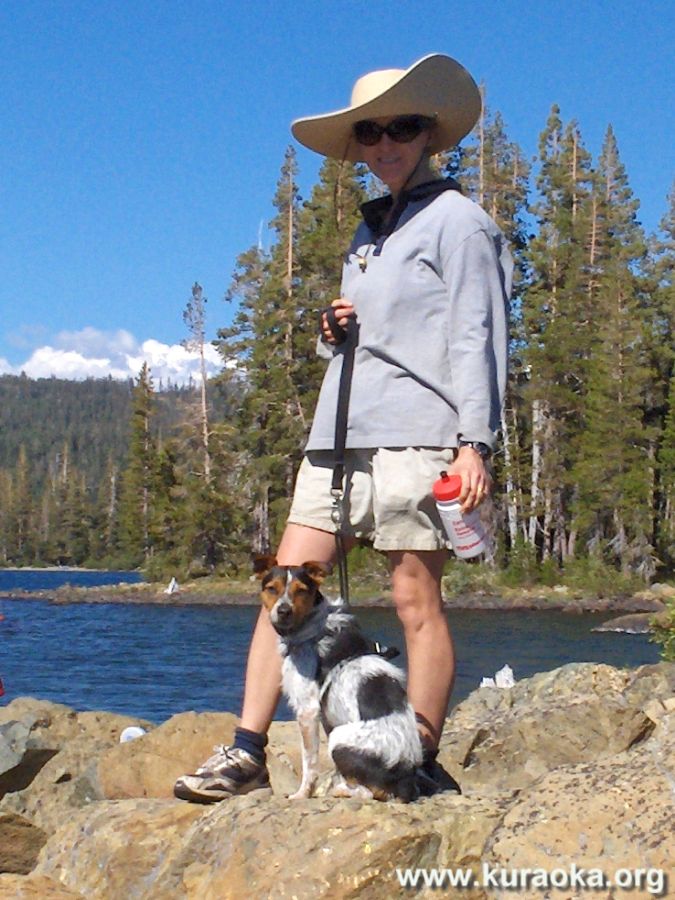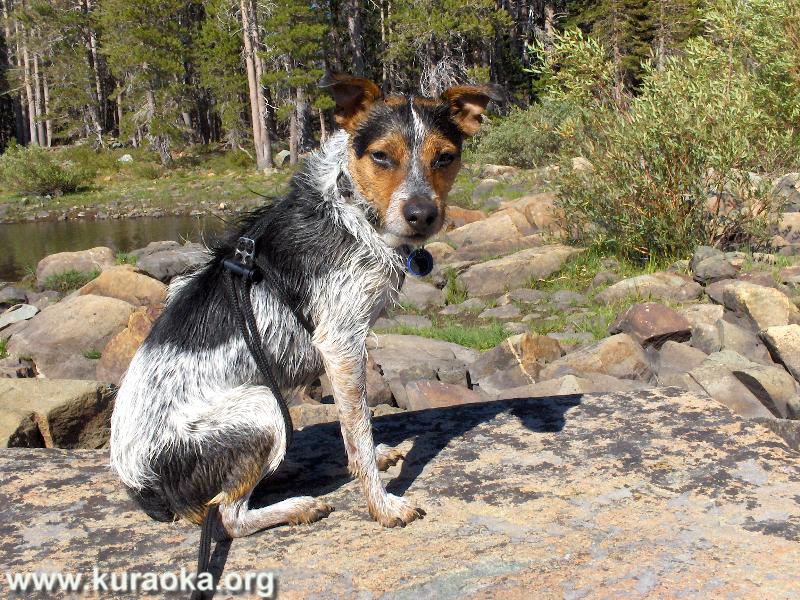 Click for a 20-second video showing Gold Lake. (4.00 MB)
Liz and Les came down, but by the time we'd returned to camp they'd already been and gone. Liz is Ondine's aunt, Barbara's younger sister. They came down, in part, to see Leo, since they hadn't met him yet. They returned a bit later, and the boys immediately took to them. Liz showed them little plant galls with bugs inside them. They went from plant to plant, plucking galls and cracking them open. And, Roy lost a tooth! You can see where it came out in the picture below, his upper left tooth. Ulli showed off a project she'd been working on, a lovely quilt. Together, everyone made plans for a walk to Upper Sardine Lake the next morning.
PHOTOS (click to enlarge): Below you see Liz cracking open galls for Roy and Leo; three sisters, Ulli, Barbara, and Liz; Roy's missing tooth; and Ulli's quilt project.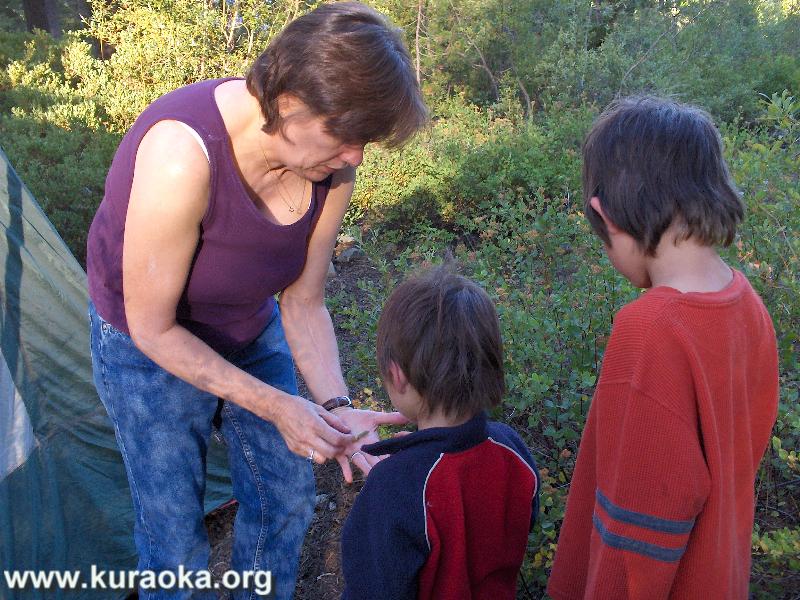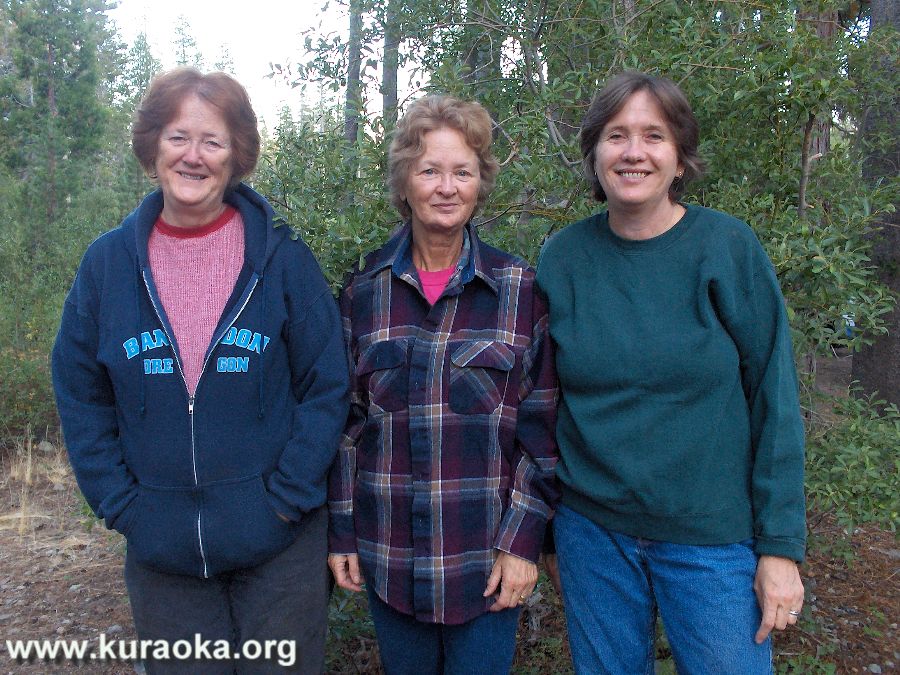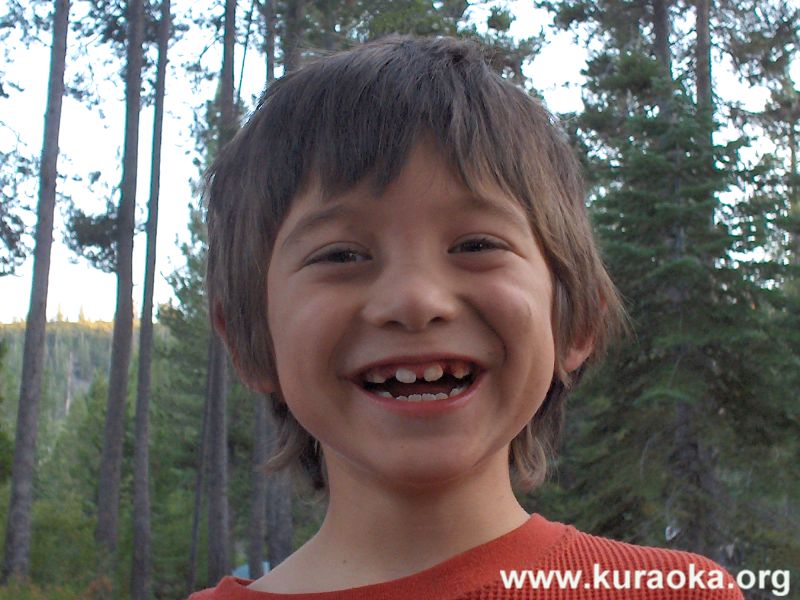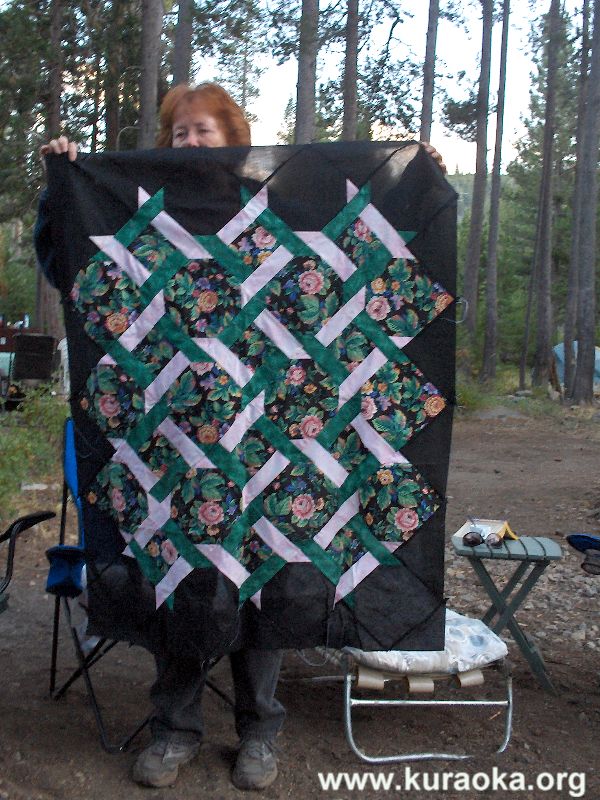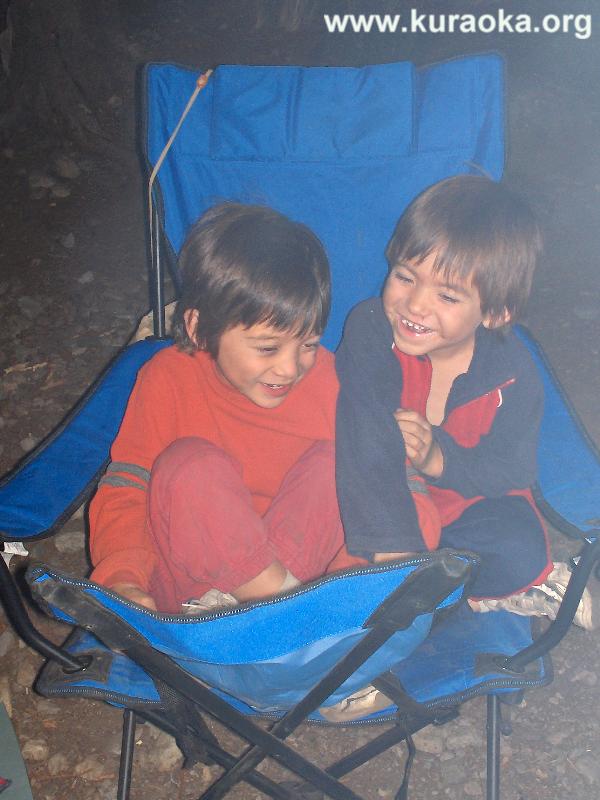 That night, the Tooth Fairy made a visit to the boys' tent, leaving a whole dollar, a special something extra from someone special. In the silence of midnight, we were again awakened by animal sounds. Something was crunching something heavy and plastic. John peered out at the camp boxes, sitting atop the steel bear box, but couldn't see anything. He decided that perhaps a marmot or porcupine or something was chewing through the back of the box, the side he couldn't see from the tent. He opted not to go out and investigate directly, a good thing because a little later we heard someone walking through the brush right behind our tent! It sounded like a person, trying to walk quietly. Buddy barked and growled from inside his crate, his threats somewhat muffled by the many layers of foam pads and towels we had put over his crate to keep him warm at night.
Then, at 3 in the morning, we were awakened again by one of the boys throwing up! We staggered out of bed, thinking Leo's cold had taken a turn for the worse. But it was Roy, sitting up in a pool of slimy, corn-laden vomit. Leo was fast asleep. John padded to the bear box for paper towels and a bag, and Ondine cleaned up the mess as best she could. The vomit-laden paper towels went into a bag, the vomit-soggy clothes went into another bag … and should we take a trip to the dumpster now? No way! We stashed the two bags, smelling of bile and retch, in the bear box and tried to get back to sleep.
Thursday morning Roy threw up again, several times. The hike to Upper Sardine was out for him. Leo, too, was still under the weather. Instead, Ondine joined Ulli and Liz for a hike while John nursed the boys. Leo spent a lot of time on his favorite rock lookout, behind our campsite, and Roy lay low, first in the tent and then, as the day warmed up, on a folding chaise longue in the shade. John sat and read, finishing An American Tragedy. What a great book! (The central murder, by the way, takes place on a small, isolated lake ...)
Oh, and our camp boxes were ... intact. Hmm, wonder what all the noise was, then, after all?
Bear in camp!
Bill went to the campsite next door to see why, every night so far, he'd heard them yelling "get out of here" to someone.
It turned out that, every night so far, there'd been a bear in their campsite. Not just the sounds either – they'd seen it, every night. It made a regular round, walking behind their tent, checking their cooler (which they kept open and empty, because it was too big to fit in their bear box), and climbing a tree right next to their tent! So, every night, they'd have to emerge from their warm sleeping bags to wave flashlights and yell at the bear, which blinked at them bearishly before trundling off into the darkness. Good to know that yelling at the bear drives it away!
So … the noise we'd heard in the middle of the night ... was a bear! Our watermelon thief … was a bear! The crunching and chewing of plastic ... was a bear, two campsites away! The person that Buddy drove away with his threatening, albeit muffled, barks and low growls … was a bear, padding along right behind our tent!
Ulli brought out several pieces of family embroidery and cross-stitching that were almost discarded in a storage unit. The plan was to share them out with Barbara and Liz. They reminisced over the linens. Les made a present of his cap to John: a Slam'n Salmon Ocean Derby cap for the 2007 event in Brookings. It's the world's largest ocean salmon-fishing derby, and Les is one of the people in charge of it. It takes place every Labor Day weekend.
The Kentucky Mine
Later, we went to the Kentucky Mine with Liz and Les. Les was part of the crew that restored the mine, all by hand, back in the 1970s, as part of a publicly funded work project. Funding ran out and work stopped in December 1975, just a couple weeks after Jason was born. Shortly afterwards, Liz and Les bought the Ore House in Sierra City and ran it as a restaurant. It's now the library.
Anyway, the Kentucky Mine has a ten-stamp mill that, while on the small side for a stamp mill (there was a 40-stamp mill further down the valley), has the unique feature of being intact and original. In fact, with a bit of TLC the whole thing could be put back in operation. The purpose of the stamp mill was to pound the quartz rock into a fine powder, so that it could be sluiced over an "amalgamation table" which trapped the gold particles on a molecular level, using mercury. The mine and the mill were used, off and on, from 1853 to about 1953.
There were two primary owners: Judge Galloway and the Kentucky Consolidated Mining Company, which built the stamp mill (at a cost of about $4,500), and then, from about the 1920s until 1944, the Loeffler family. Loeffler was a butcher in Sierra City, and he ran the entire operation with his son. The whole set-up was so efficient that two men could run it. The younger Loeffler died in a mining accident, after which the elder Loeffler apparently lost interest. Various people worked the mine until the early 1950s.
It's what's called a "hard rock" mine, which means the tunnel goes straight back into the mountain through solid rock. It goes back some 1,800 feet, of which only about 50 feet are cleared today. It runs straight back for about 1,000 feet, then takes a jog to the left, causing one tour guide to wonder if the younger Loeffler had picked up on something. If so, the secret died with him.
In the early days, they drilled and blasted, but later used air-powered tools. The air compressor was run by a water wheel – a Pelton Wheel.
The Pelton Wheel was invented by Lester Pelton, who was a miner who decided there had to be a better way to get rich than laboring away in the dirt. So, he invented a more-efficient water wheel. Waterpower was plentiful throughout the gold country, and harnessing it was essential. The Pelton Wheel is an undershot wheel, which means that the water flows under it. But the real key to Pelton's design was in the cup – he created a cup with a divider in it, so the backwash was diverted to the sides of the wheel. This kept the backwash from slowing down the wheel.
Legend has it that Pelton got the idea from a cow's nose. Seems there was this pesky cow, and he tried to shoo it away by spraying water at its face. He noticed that a jet of water directed straight at the cow's nose simply sprayed out to the sides, leaving the cow wet but otherwise unfazed by the onslaught. Well, that's the story, anyway.
However, it is cold hard fact that the Pelton Wheel improved the power situation dramatically. It was 90% more efficient than previous water wheels, achieving a still-remarkable 85% total energy efficiency. The Pelton Wheel is used today in hydroelectric generators.
And Lester Pelton became rich and famous.
Anyway, after the rock was dug out, it was put into carts to be sorted. Rose quartz indicated the presence of gold; everything else was shunted off to a tailings pile. The quartz then went over that high trestle you see and into the stamp mill.
KENTUCKY MINE PHOTOS (click to enlarge): Note the high ore cart trestle in that first photo - the fourth photo shows where we crossed it to get to the top level of the stamp mill. You also can see Les with Ondine and Leo in the mine tunnel, and the Pelton Wheel at the entrance to the tunnel.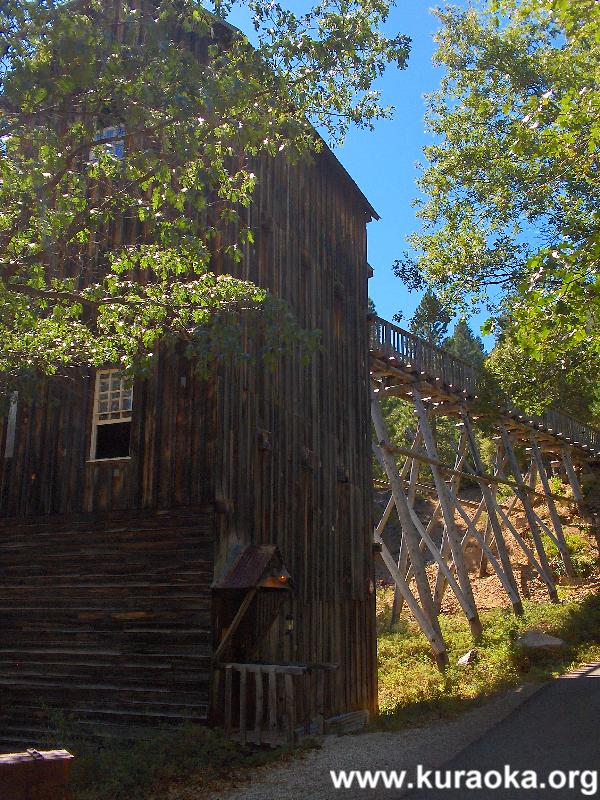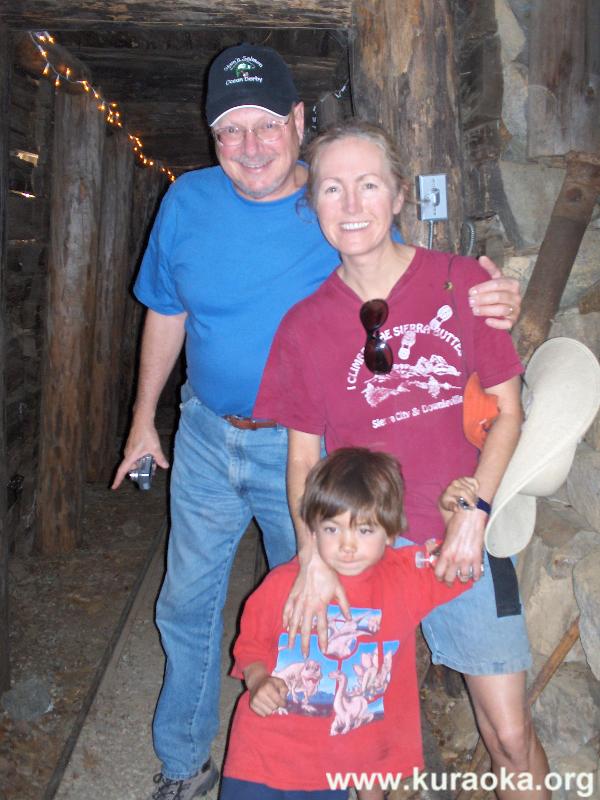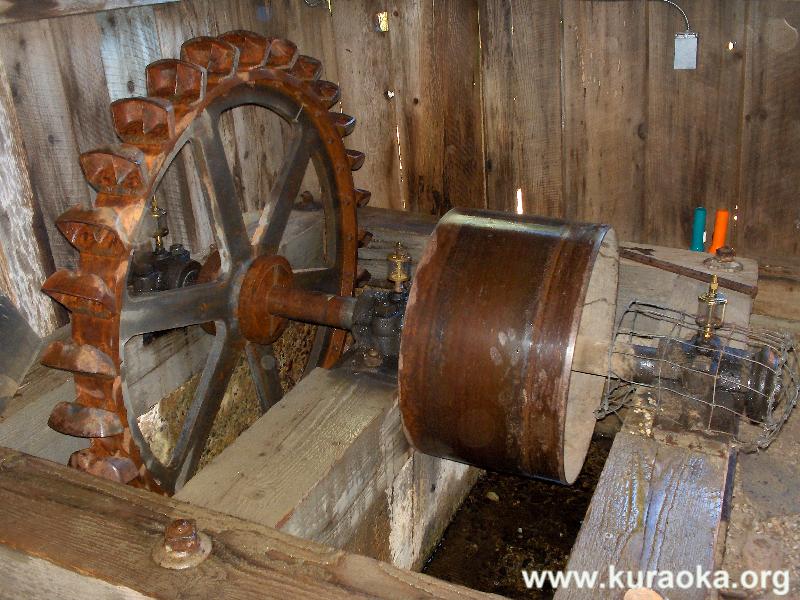 Click for a 15-second video showing the Pelton Wheel in action, driven just by the water pressure from a small spring. (3.02 MB)
At the top of the stamp mill, the quartz was dumped into a hopper room, where it was sifted – golf-ball-sized rocks dropped straight down to the stampers, while larger chunks ran through a "jaw crusher" to crunch it down to size. Still larger chunks were caught in a steel lattice of "grizzlies." When that happened, a worker would descend on a ladder to hammer on the rock until it fit through the open slots.
At the bottom of the mill were the stamps, connected to a camshaft that was spun by a second Pelton Wheel. Each stamp weighs 1,000 pounds, and there are ten of them in two batteries of five each. Nine of the stamps had been locked by "fingers" made of stout wood beams, but one stamp remains free for a demonstration: a volunteer turned the Pelton Wheel and the cam lifted the stamp … then dropped it. Dust flew, and any rock under the stamp was pulverized.
When the mill was running, a continuous stream of water carried the slurry through a fine mesh screen (100 holes per square inch) to the amalgamation table, which used mercury to trap the gold. Gold molecules fit into mercury molecules quite well, but something was needed to hold the mercury in place. That substrate was a sheet of copper. The copper held the mercury like paint, and the mercury trapped the gold. From there, the sludge of mercury/gold could be scraped off and heated to evaporate the mercury, and what you were left with was pure gold.
In its heyday, with crews of miners bringing out rock, the Kentucky Mine produced 6-8 ounces of gold per day; when the Loefflers ran it as a two-man operation it probably produced two or three ounces of gold every few days, not a bad payout even when gold was controlled at $20.67/ounce. Nowadays, with gold hovering over $650/ounce, a person could make a pretty decent living – but boy, you'd have to work hard at it.
MORE KENTUCKY MINE PHOTOS (click to enlarge): Now we're in the stamp mill, which is the tall building. The fourth photo shows where we crossed that high ore cart trestle to enter the top level of the stamp mill. You can see some of the belts and wheels that were powered by a Pelton Wheel at the bottom of the stamp mill, and the massive lifter cams that each lifted and dropped stamps weighing 1,000 pounds each.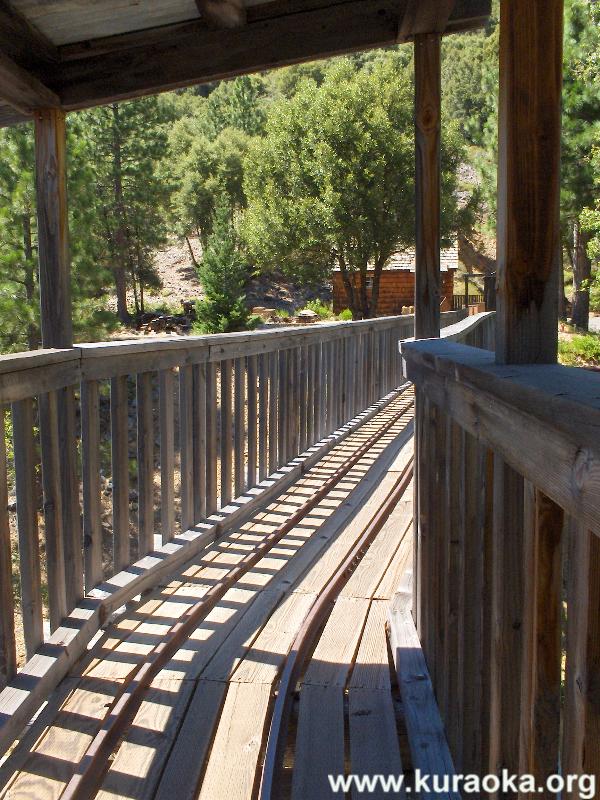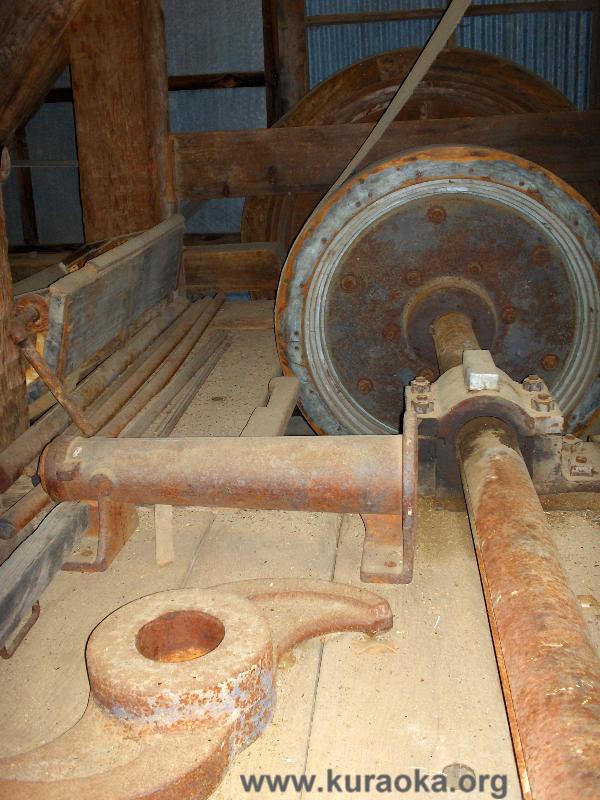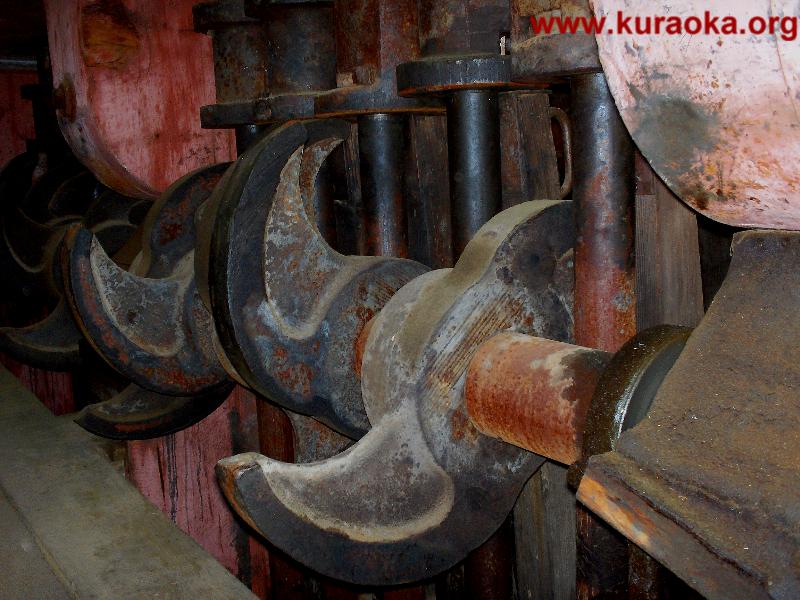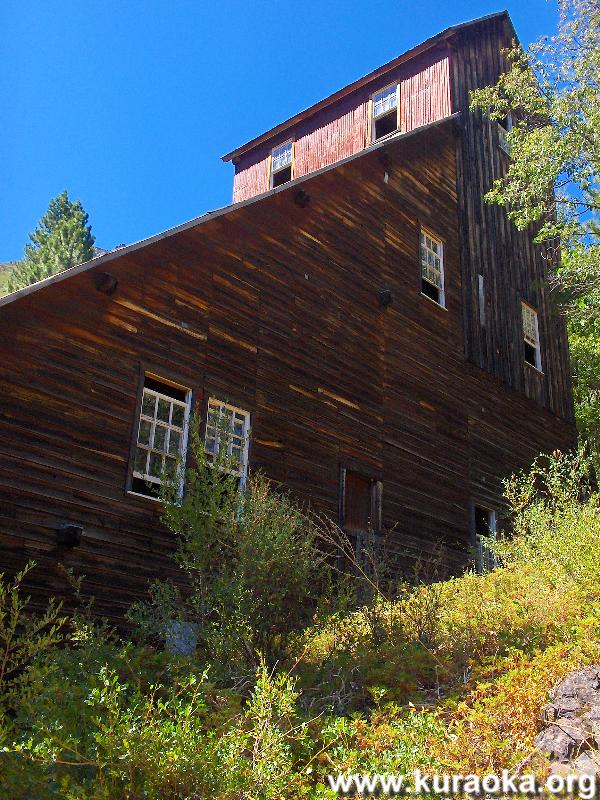 Click for a 15-second video showing the operation of a single stamp. (3.11 MB)
Sierra City cemetery
One of Liz's favorite hangouts in Sierra City is the cemetery. There you can find old graves from California's history; people coming from all over the world to make a life here during the gold rush – and many losing their lives in the process. Gravestones call out the nationalities: "Native of Cornwall, England" … of France, of Germany, Italy, Ireland, Mexico, Norway … one by one, the world came through Sierra City. We found the Loeffler's family marker, with fresh flowers and a cheery flag.
Liz and Les found markers of people they knew, more-recent passings. It's a nice place to be, in the shade with the breeze blowing, the acorns dropping, and the seasons rolling by.
One of Les's first jobs in Sierra City was clearing the weeds from this very cemetery, to polish it up for a celebration. That was before landing the job at the Kentucky Mine, meeting Liz … getting married … it was the start of a whole life, there, that cemetery.
SIERRA CITY CEMETERY PHOTOS (click to enlarge): It's a peaceful place of rest for people who worked hard and, in many cases, died young.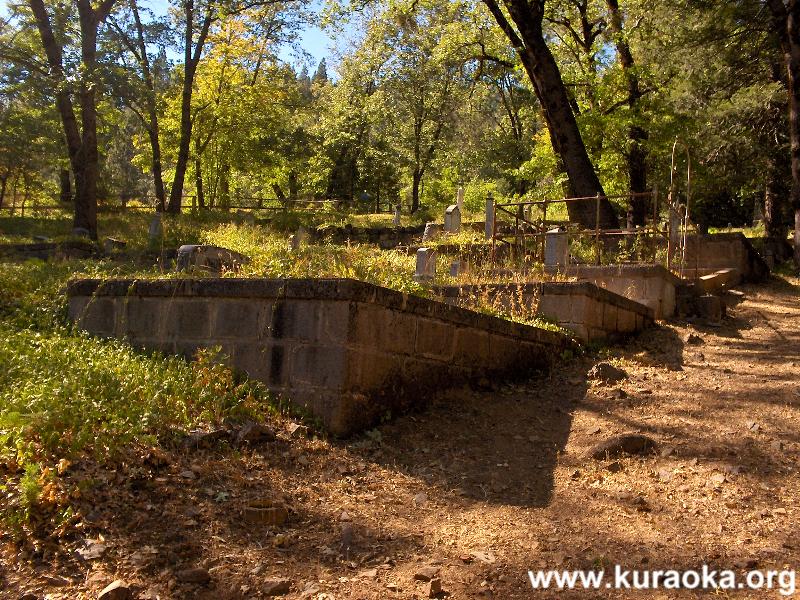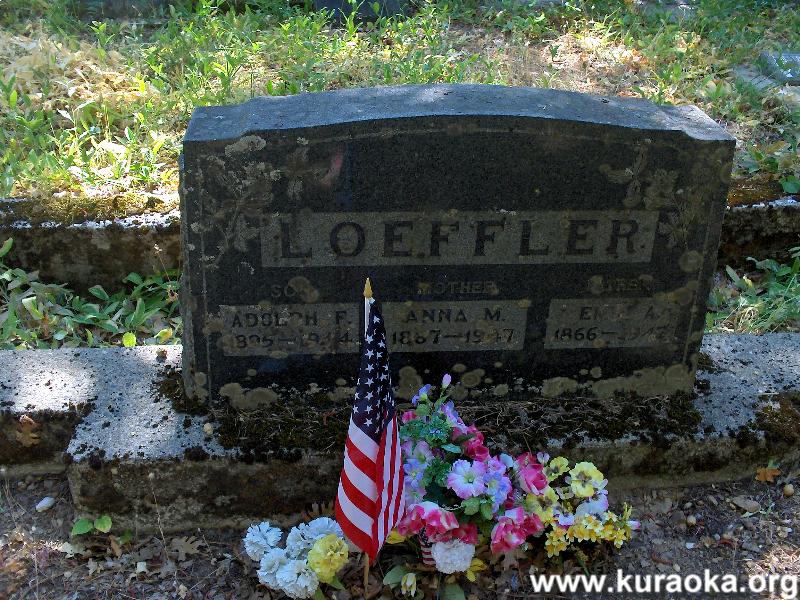 Les went off to meet up with some locals, while we set off for the Ore House, now the public library. John, having finished An American Tragedy, bought two paperbacks from the book sale: The Sound of Music and Antigone. Sort of in a tragic mood, apparently. When we returned to camp, Roy was feeling better. He ate a good dinner, and was excited about seeing the Kentucky Mine the next day.
Dumpster Department
Departing campers had loaded the camp dumpster with their carpet remnants, leftover food, tarps, and even a sleeping bag and some pads, which left no room for everyone else's garbage. So, as the day wore on the dumpster overflowed, and more garbage bags were laid carefully on top of it and beside it.
Bill, visions of another bear episode running through his head, was nonplussed at the excess trash. When nothing seemed to be happening to resolve it, he went to the camp host to advise them. The camp host thanked him, and went on sipping his wine.
But, later that night, the camp hosts gathered the excess trash bags and loaded them into their pickup truck. John overheard one exclaim, upon peering into one bin, "it's all raw food!" So, someone did an icebox purge before heading down the hill.
Anyway, so it was all cleared out and there was no bear activity that night.
Friday morning, both John and Ondine confessed, but only to each other, quietly, to being mildly disappointed. It turned out both had been looking forward to the primitively satisfying crash and bang of a dumpster being knocked over by a bear. You could hear the pleasure of a job well done in it, and visualize the rewarding contentment in a set of fuzzy bear ears. Happy ears on a happy bear, before snouting through the wreckage.
We walked to Sand Pond via the plank walk again, and took the family photo you see above. Ondine gave Barbara a little present: a succulent cutting from Upper Sardine Lake! Then, John took Roy to the Kentucky Mine, where Roy got a front-row look during the stamping demonstration! John and Roy stopped for ice cream in Sierra City, but by then Roy was looking beat. They returned to camp, where Roy curled up in a ball on a folding chaise longue under Ulli's eye, while John went to Sand Pond to hook up with Ondine and Leo.
John paddled a log across the pond, and took Leo out on a log for a while. It was our last few hours at Sand Pond for the year, and we savored it.
PHOTOS (click to enlarge): Below you can see us enjoying Sand Pond one last time before saying goodbye, concerned people gathered around Roy, and Leo on his rock.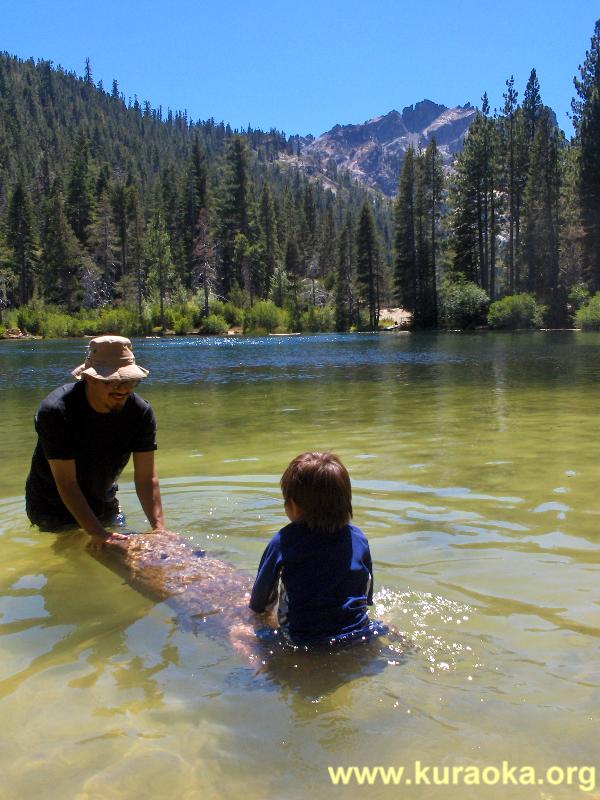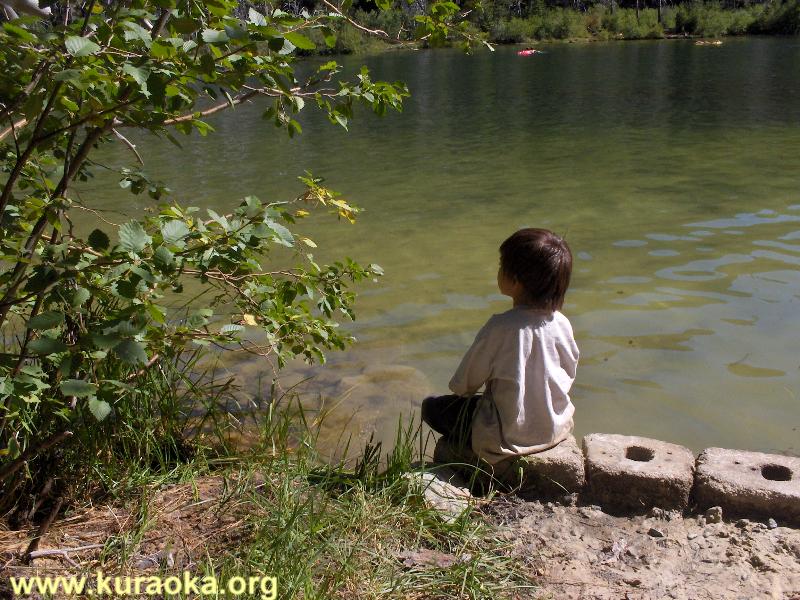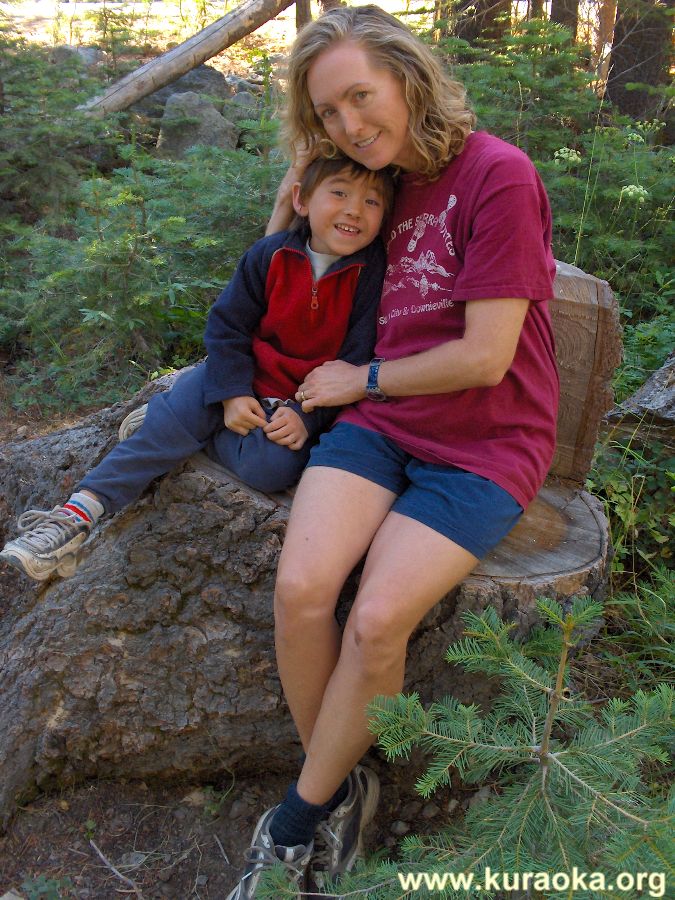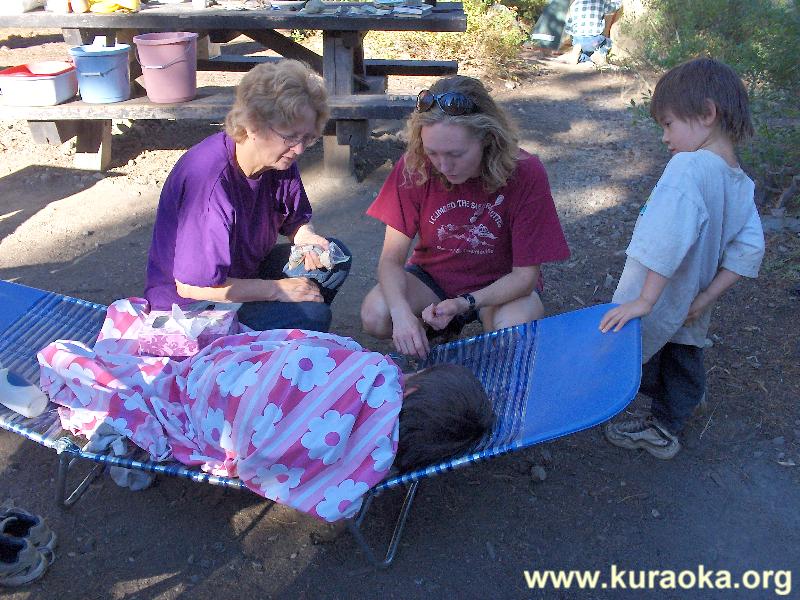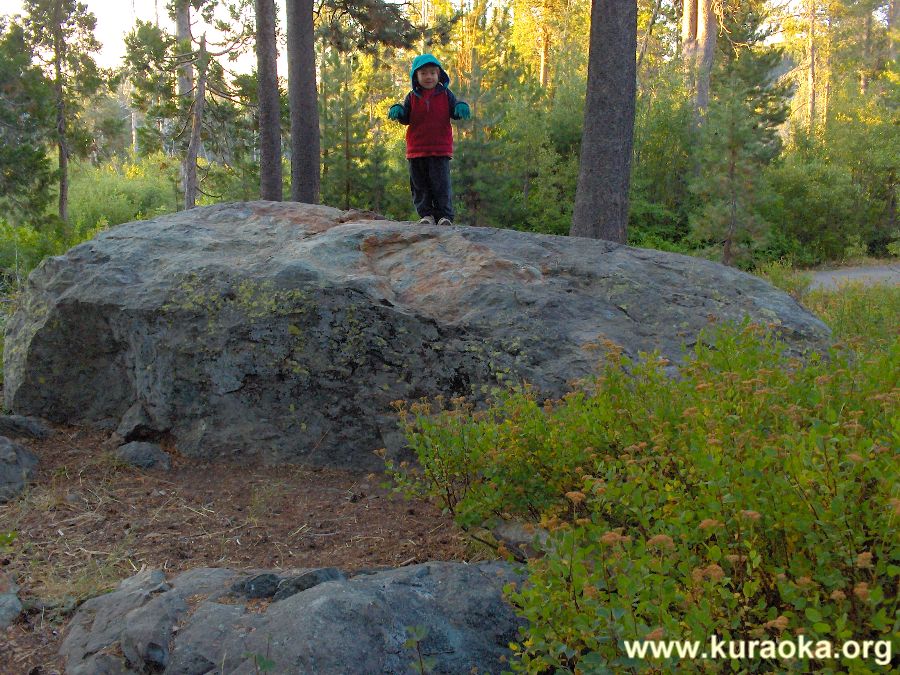 Saturday morning, we packed up and managed to get out at 11:55. We drove 258 miles to Santa Nella, where we stayed at a Holiday Inn Express, then, on Sunday, made the long drive, arriving home in San Diego at 6:10.
PHOTOS (click to enlarge): There's an actual (temporary) traffic signal near Bassett's! Here you also see the boys, cleaned up and in a real bed at the Holiday Inn Express, and another view of the crowded back seat on the drive home.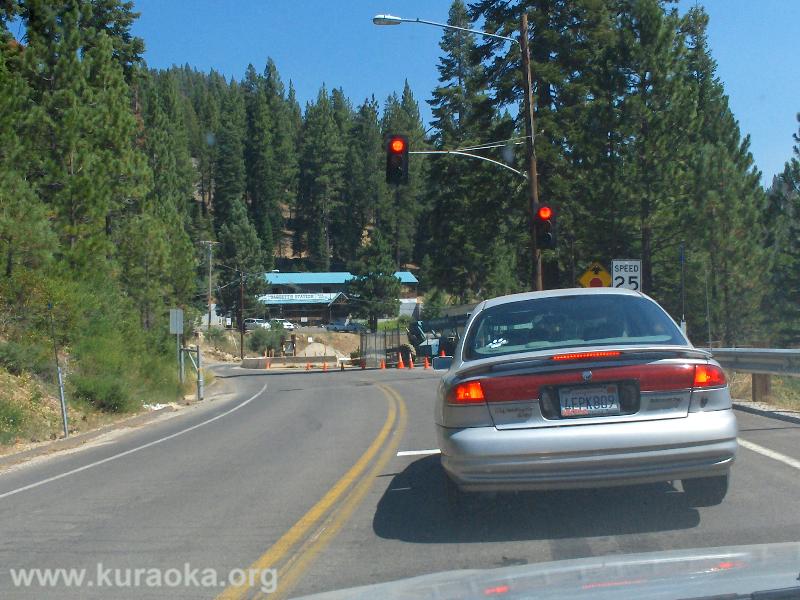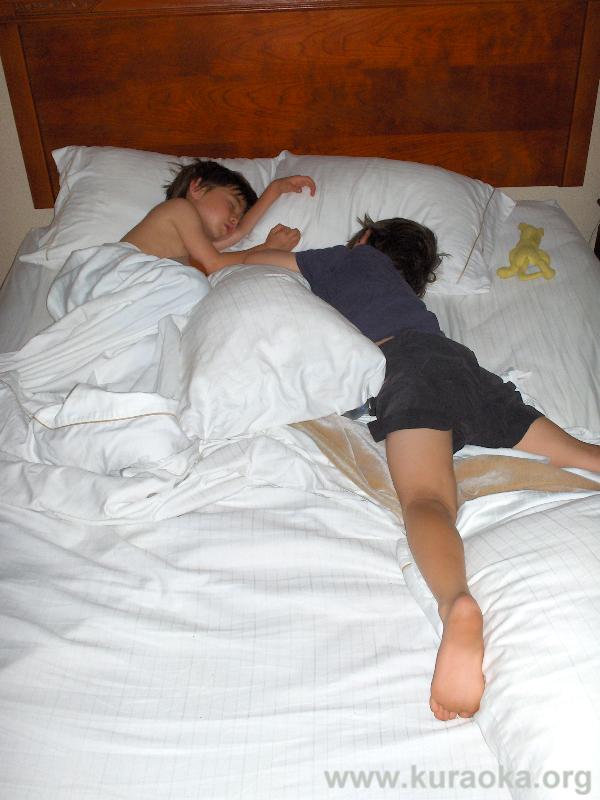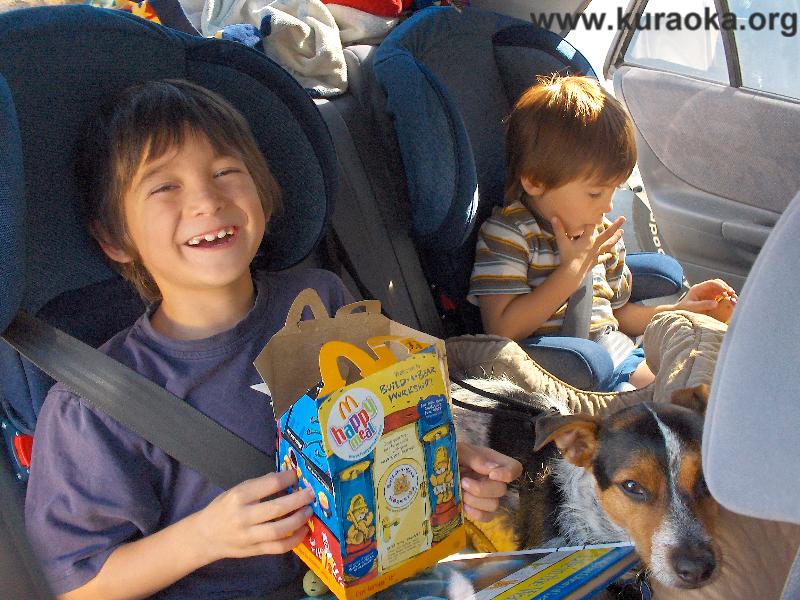 Here are some things that worked:
Putting the kids in their own tent!

The small, folding cooler. Remember, larger coolers may not fit in the bear box.

VitaSoy light vanilla soymilk in aseptic quart packages. These tasted much better than the Westsoy stuff we tried last year. We took eight packs, but used only six, in part because the boys were sick for part of the week and not eating as much.

Bean Mix: one can low-salt kidney beans, one can low-salt black beans, one can no-salt diced tomatoes, one can no-salt corn, and a hefty dollop of Italian dressing. Quick, easy, satisfying, and relatively healthful.

Among other staples, we went through three pounds of raisins, two pounds of Cheerios, a 32-pack of string cheese, and a one-pound pack of sliced salami.

The in-season fresh fruit at Downieville Grocery is fairly priced and really, really good.

For road food, the grilled chicken salads at McDonald's are very good. And, for a dose of fast food grease/salt antibodies, you'd be hard-pressed to beat the "Six Dollar" burgers at Carl's Jr.
And here are some things that didn't work:
Next time, we won't bother packing our Teva sandals. It's just too dusty for them.

Wasa crackers – it's just too darn dry for Wasas. The crackers we ate were the low-salt Ritz and the Milton's.

We didn't eat any canned tuna, canned salmon, or peanut butter. Probably because of the difficulty managing the fixings to go with them, like mayonnaise and jam.
Neighborhood gas prices are about $2.89 per gallon, although we paid as much as $3.49 at some places along the way.
What are we up to now? Check out our weekly family journal, updated twice a week since 1998!
Back to the Kuraoka Family home page, with lots more stuff, including more travelogues and photos!