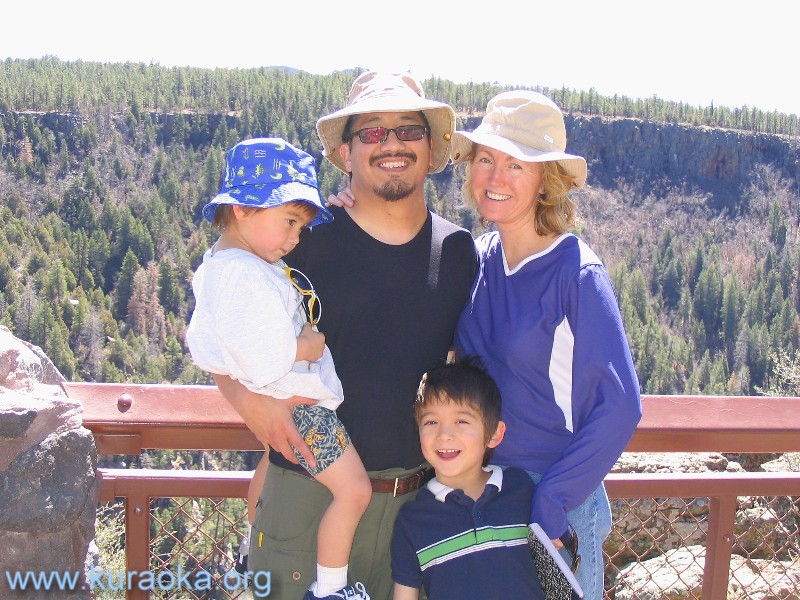 Us: Leo (3-1/2) John, Roy (5-1/2), Ondine
Saturday, 15 April 2006
We had a full week in Sedona! Over the weekend, we visited Montezuma Castle, Sunset Crater, and the Wupatki National Monument. Walking through Wukoki Pueblo ruins at Wupatki was a stirring experience; you walk through doorways and enter the realm of imagination in every room. Very fun – and we wonder how long visitors will be allowed to walk through the ruins. It made for a more tangible, satisfying experience than Montezuma Castle, which you can look upon as an outsider, but you can't peer out of as an insider. You can't feel the rock, warm with the sun and worn soft from the ages. You can't enter the coolness of an inner chamber, rich with the scent of red dust, blown into high piles in every corner. We liked Wukoki, and wish we had more time there.
Monday John went to the laundry room to do laundry and work. He worked in the laundry room? Well, the lobby was being renovated, and an irate contractor stormed around spewing venom and threats of a $2,500 back-charge for something about tilework; that and the drilling and hammering made the laundry room a quieter place to work for an hour. The boys went to a crafts class, where they made authentic Native American tom-toms out of coffee cans and felt, just like the real things. Well, they enjoyed the activity and their new drums. Roy drew lots of arrows on his, and Leo made a series of strata-like formations. The instructor commented on that because it was so unexpected and evocative of the surroundings. After lunch, John checked his email, while Ondine took the boys to the pool.
In the afternoon, we took one of the shorter scenic drives through the Red Rock country, Red Rock Loop Road. Day use passes cost $5, with the proceeds going to help preserve and maintain the area.
Clouds made for shifting light on the distant rock formations – beautiful! John, who had only ten rolls of Kodak Portra 160 VC for the entire trip, had to restrain himself and shoot carefully. Here are some views. The first, we think, is of a formation called Gibraltor. The second is Courthouse Butte. Then, there's a shot of John, Roy, and Leo at one of the overlooks along Red Rock Loop Road. The darker formation in the background is Cathedral Rock, one of the most-photographed formations in Red Rock Country. The last photo was the set-up sample for what was to have been a family photo – but the person we handed the camera to didn't get the shot and we didn't realize it until we were in the car again, so all we have is this rather harried-looking moment in time.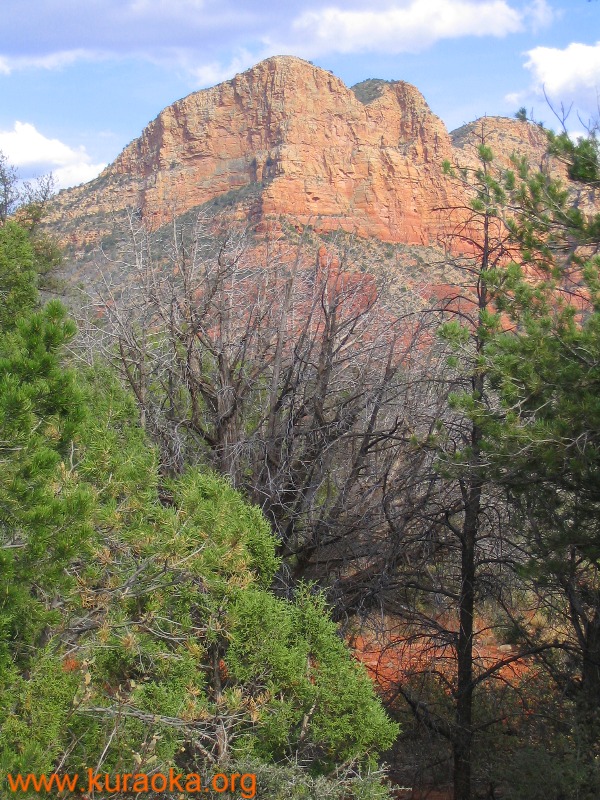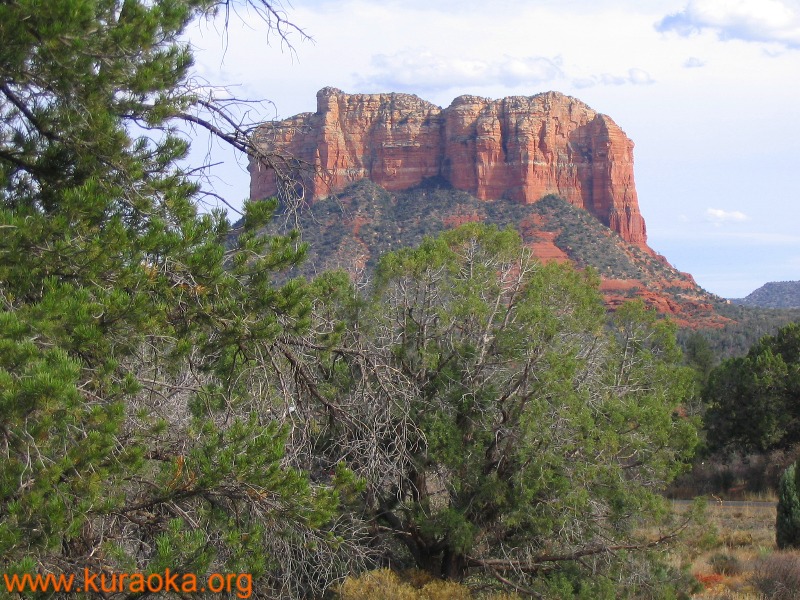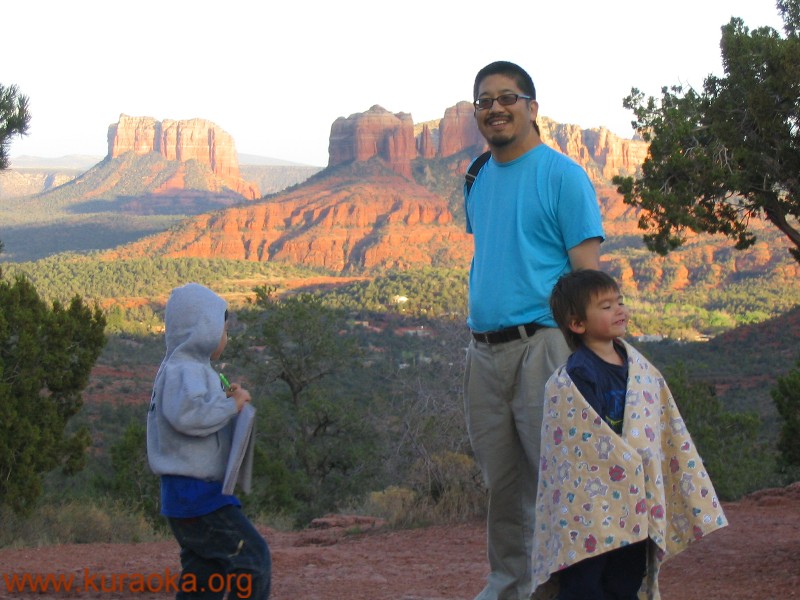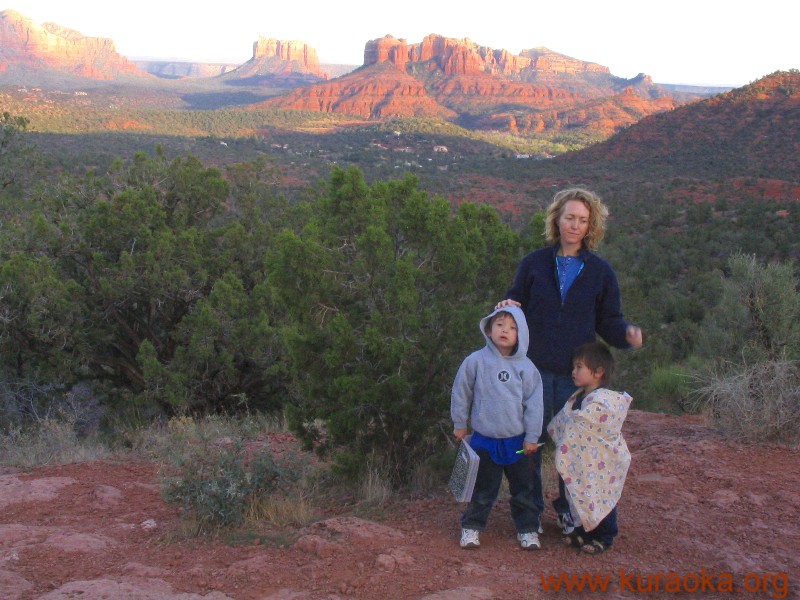 On the way home, we stopped at Weber's IGA grocery store for milk and bread, and Ondine also picked up a disposable camera for the kids to take to Meteor Crater. She came up a bit short of cash, though, and was about to reverse shop the camera when the man behind her in line handed over the $2 she needed. When she got to the car, she retrieved $2 and tried to pay the man back, but he waved it off. "I've been short so many times," he said. "Just pass it on." Thank goodness for the kindness of strangers!
We got a message from John's shuttle driver, Bruce, saying he'd be at the lobby at 4 a.m.
Tuesday John was up and out of the flat at 3:50 in the morning for his shuttle ride to the airport in Phoenix. It was $95 round trip (cash or check only) on Ace Express (1-800-336-2239), the only shuttle service that would pick up that early. Two people were already in the van, and two more got on after John. They arrived at PHX at about 6:15.
John flew to Burbank to Mike's funeral; Mike Machkowsky was his brother-in-law, married to John's sister Patty. Mike's funeral was attended by more than 300 co-workers, friends, relations, neighbors, students, and former students. Five dear people shared personal memories in their eulogies. It was a wonderful celebration of Mike's life.
After that, John caught his flight from Burbank back to Phoenix and the Ace Express shuttle to Sedona. A long day!
Ondine took a jewelry class with the boys, in which they worked very hard making beaded lizards. Then, they all went to Bell Rock, which many believe to be an "electric vortex." Well, Leo seemed to channel something, spinning and lurching and growling and leaping about. He was a vortex troll! Of course, he always acts that way, so maybe he has his own, personal vortex. Here is the approach to Bell Rock, Roy seeming to meditate, and Leo being a growly troll. Note the graffiti scratches on the rock; those are not ancient petroglyphs but recent vandalism. Ondine was careful to tell the boys to not harm the mountain. So, they didn't, and were rewarded by being able to look askance at a small boy who immediately set to work chipping away at the base of Bell Rock with a chunk of sandstone.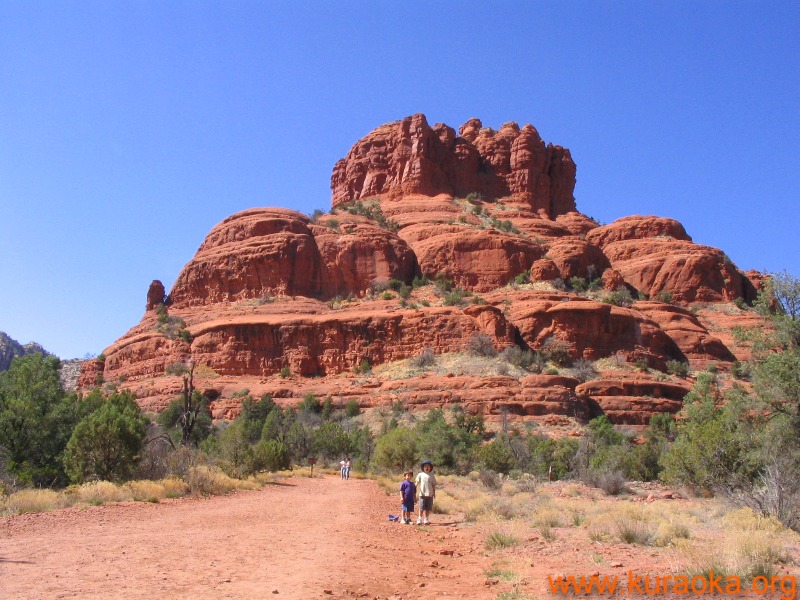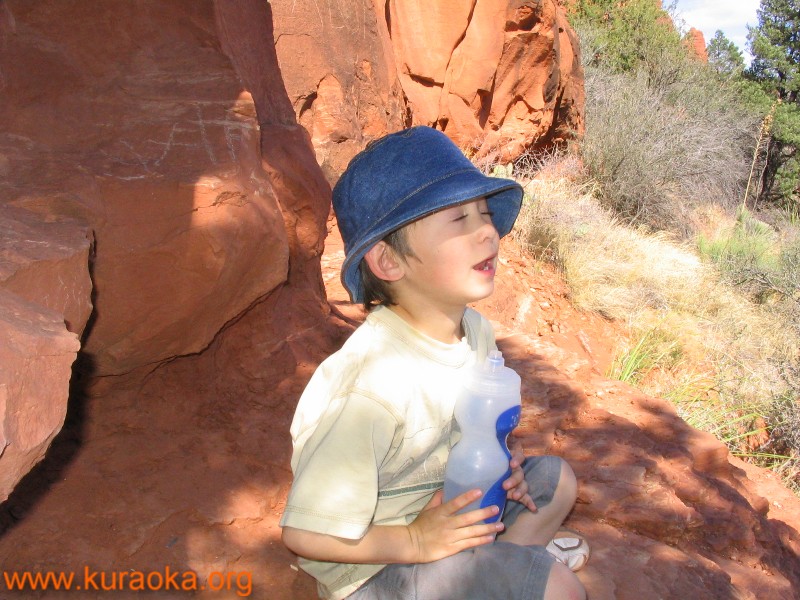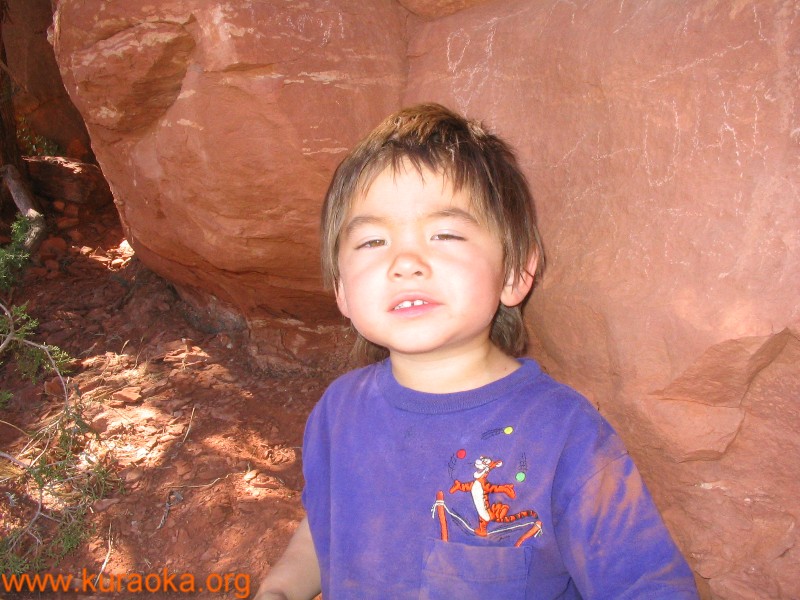 When they got back, they went swimming in the pool. Roy really swims pretty well now, and Leo is getting braver about jumping in and kicking. They also enjoyed going into the whirlpool again and again. By the time John got back, at about 8:00, the boys were in bed asleep and Ondine was just sitting down for the first time all day.
Wednesday we had a quiet day. John did two loads of laundry and some work. Ondine went back to the activity center by herself to make her bead project, a beaded watch. Roy and Leo had chosen the beads for the bracelet; it's a very pretty watch.
We went to Montezuma Well in the afternoon, following a tip from a woman at the pool with her grandkids. She said there were ruins that kids could explore, like Wukoki – it sounded amazing!
The ruins were actually off-limits. But, it was an amazing thing to climb up a low, dry rise and suddenly find so much water in the middle of the desert. Note the small cliff dwellings, upper left.

Montezuma Well is like a sinkhole. It was formed by underground water dissolving a huge cavern out of the limestone. The roof of the cavern caved in, creating a continually replenished pond. The CO2 level is so high, that fish can't live in the water; it has its own uniquely evolved ecosystem. Bubbles fizzed and blorped to the surface. The water in the "well" percolates out through openings in the limestone – a swallet, we learned – to an outlet on the other side of the cliff, where the ancient Sinagua Indians dug canals for irrigation. They built houses into the cliffs, and around the rim of the "well." We descended to the outlet and marveled at the canal, filled with flowing water and brightly colored roots. Clearing out those roots was a constant chore for the people who lived here. The canals joined Beaver Creek in a junction shaded by sycamores and walnut trees. Here is the shaded passage alongside the canal, Roy working on his journal (which accompanied him everywhere, for sketches and notes), and Roy and Leo at the end of the trail (Leo in motion, as usual).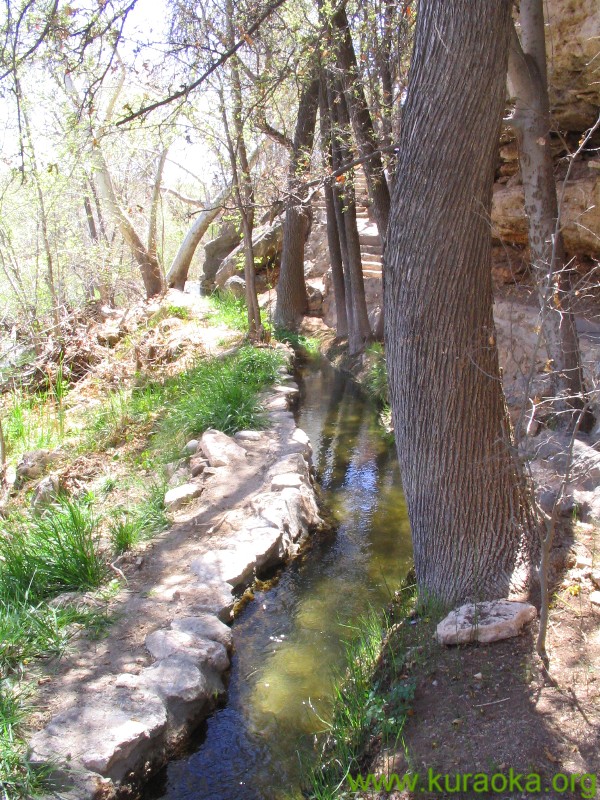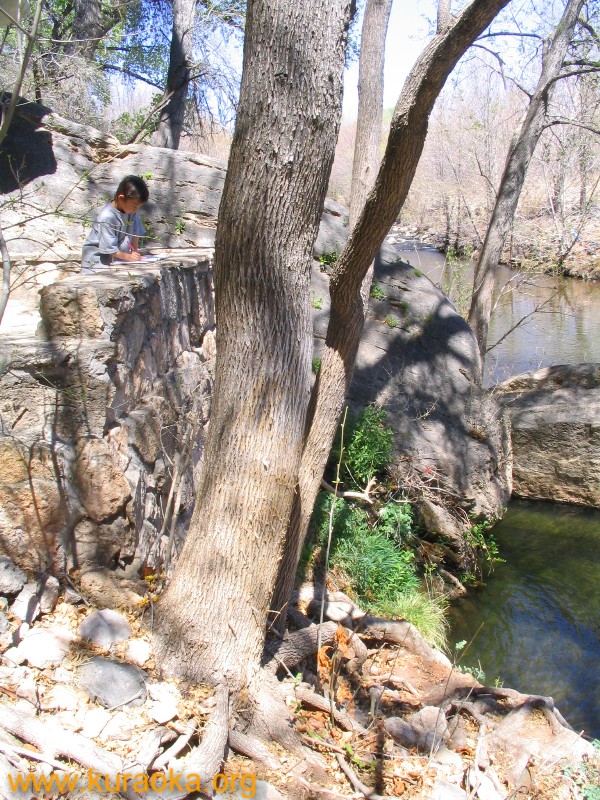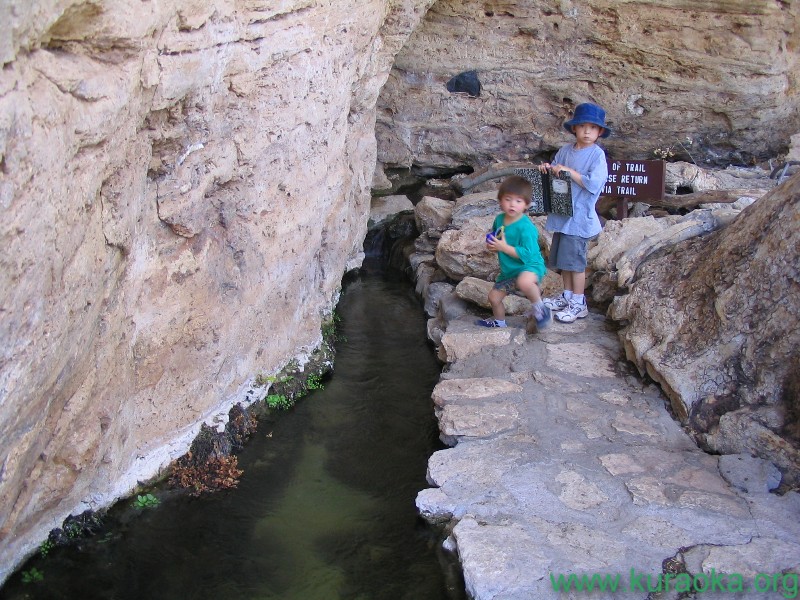 It was here that John dropped our Canon A70 digital camera into the river. Ploonk! So, there are no more photos to upload until he gets his film back. Fortunately, the memory card survived.
In the parking lot, John flagged down the ranger and bought, for 75 cents, the trail guide which reproduces all the interpretive signs around the site. He was glad he did; the ranger was out on patrol every time we checked, and was heading out again when John flagged him down.
On the way back, we marveled again at the beauty of the deep red rocks in the golden afternoon sun.
We went to dinner at the Javelina Cantina, a Southwest/Mex restaurant. The chips and salsa were great, always a good sign. Ondine had the tortilla soup (very good) and jalapeno poppers. John had the grilled salmon tostada (excellent). Leo had the kid's chicken taco (very good) and Roy had the cheeseburger. The food was very good, and the view was spectacular. And, it was a very kid-friendly place too. The man dining next to us complimented our boys on their behavior! They do behave reasonably well in public.
The kids' meals included a small hot fudge sundae, so the kids were buzzing on chocolate by the time we got back to the flat. It was a very late night for all.
Thursday morning, the boys slept in – to 5:45. We had oatmeal, then went to Meteor Crater, about 35 miles east of Flagstaff. We made the mistake of taking the scenic route to the I-17, so we had rather more beauty than we had time to appreciate. Especially since we'd already explored this stretch on our way to Sunset Crater.
Anyway, Meteor Crater is well-marked, about six miles off the I-40. It is privately owned, something reflected in its $15 per person admission fee (Roy and Leo were free, Roy just barely). However, it is really something to see. We first went through one half of the museum, where there's a great impact simulator. You choose the object (comet, asteroid, meteor), the object's size, composition/density, velocity, and angle of impact, and watch the scenario unfold in full-motion animated video. If you smack Earth with a 1,000 km-wide comet, the entire planet is demolished. A tiny object simply burns up in the atmosphere or (depending on the angle) bounces off the atmosphere. The fun is in the mid-range, where you can obliterate entire regions. Like the meteorite that created Meteor Crater, which caused destruction through much of the Southwest.
Meteor Crater was formed in about 10 fateful seconds, 50,000 years ago, when a 150-foot-wide meteorite struck the Earth. In a flash, a crater 700 feet deep and 4,000 feet across was blasted out of the desert plain. Entire layers of sedimentary strata were flipped like a pancake. Dust and meteorite bits, some the size of cats or small dogs, rained down for miles.
Not much has happened since, geologically speaking, so Meteor Crater survives as the best-preserved crater of its type on Earth. It's also the first terrestrial crater proven to be from a meteorite strike.
John and Roy took the one-hour walking tour, a half-mile stroll along the rim to the remains of an old museum building, then a half-mile walk back. They had the good fortune to have as their guide Eduardo Rubio, the head guide (and a former ad agency copywriter, by the way). He was wonderful, and really made the place and its history come to life.
Eduardo pointed out that Meteor Crater should really be called Meteorite Crater, because a meteor is, by definition, a space object. It was originally thought to be volcanic in origin, but a mining engineer named Barringer recognized it as an impact structure and, with dollar signs dancing before his eyes, immediately secured the mining rights. Unfortunately for Barringer, the meteorite did not simply bury itself in a single mass; it completely disintegrated. So, nothing came of the venture other than a terrific amount of science. Apollo astronauts trained at Meteor Crater, and spacesuit and equipment prototypes were tested here.
After a pause in the museum shop, we drove back to Sedona for dinner at Pago's Pizzeria. It was fair to good; we should have taken note of the name and ordered pizza, since those looked wonderful.
We arrived back at the flat, and Ondine packed while John did a load of laundry and some writing.
Friday morning we packed. John, Roy, and Leo took a walk while Ondine pulled the rest of the packing together including the food for the drive. We left right at the check-out time, 11:00, heading back home to San Diego.
The drive back was eventful! John got turned around a bit going through Phoenix, and we ended up heading to Tucson! Ondine took over at that point, with John navigating, and we made it back to the 85 to Gila Bend. We kept changing drivers every hour or so, because the winds were really strong., Sand blasted across the road in blinding bursts. Big trucks and motor homes weaved and swayed, so the passing lane was a rather more exciting place than we'd have liked. Near Gila Bend, at a place with a green steel-plate Apatosaurus out front, we stopped and had ice cream cones! Yum!
The weather changed as we came up from the Anza-Borrego Desert and ascended into a cloud. Rain, swirling winds, and fog made for a slow drive; we drove cautiously into a bright circle of glare surrounded by blackness, following about six feet of white stripes on either side. This happened at both mountain passes; things finally settled down to a steady rain as we dropped into the outskirts of the city limits. It was about 9:30 by the time we got home. Roy and Leo were asleep, so we just put them into their beds. John threw in a load of wash and checked to make sure our tax e-filings were accepted (they were), and we went to bed in our big house with each kid in his own bedroom. Ahhh!
Saturday morning, the kids were up around 6:30, so they slept in a bit. John has lots of work to catch up on. Plus, we have to unpack and there are several loads of laundry to do. The weather is cool and rainy, a refreshing change from the steady heat of Sedona. Our own Cowles Mountain looks gloriously green in the bright gray sky. No matter where we go, it's always great to come back home to San Diego!
Neighborhood gas prices – in our Sedona neighborhood that is (ha!) – were about $2.63 per gallon. Through Arizona we paid $2.72 and $2.77 per gallon. Back at home, local prices are about $2.99 per gallon. Fuel economy in our 2000 Mazda Protegé ran 22-34 mpg at each fill-up.
Back to Sedona Part 1.
What are we up to now? Read our weekly journal, updated twice a week since 1998.
Back to the Kuraoka Family main page, with lots more stuff, including photos!