The Kuraoka Family Japan Journal
www.kuraoka.org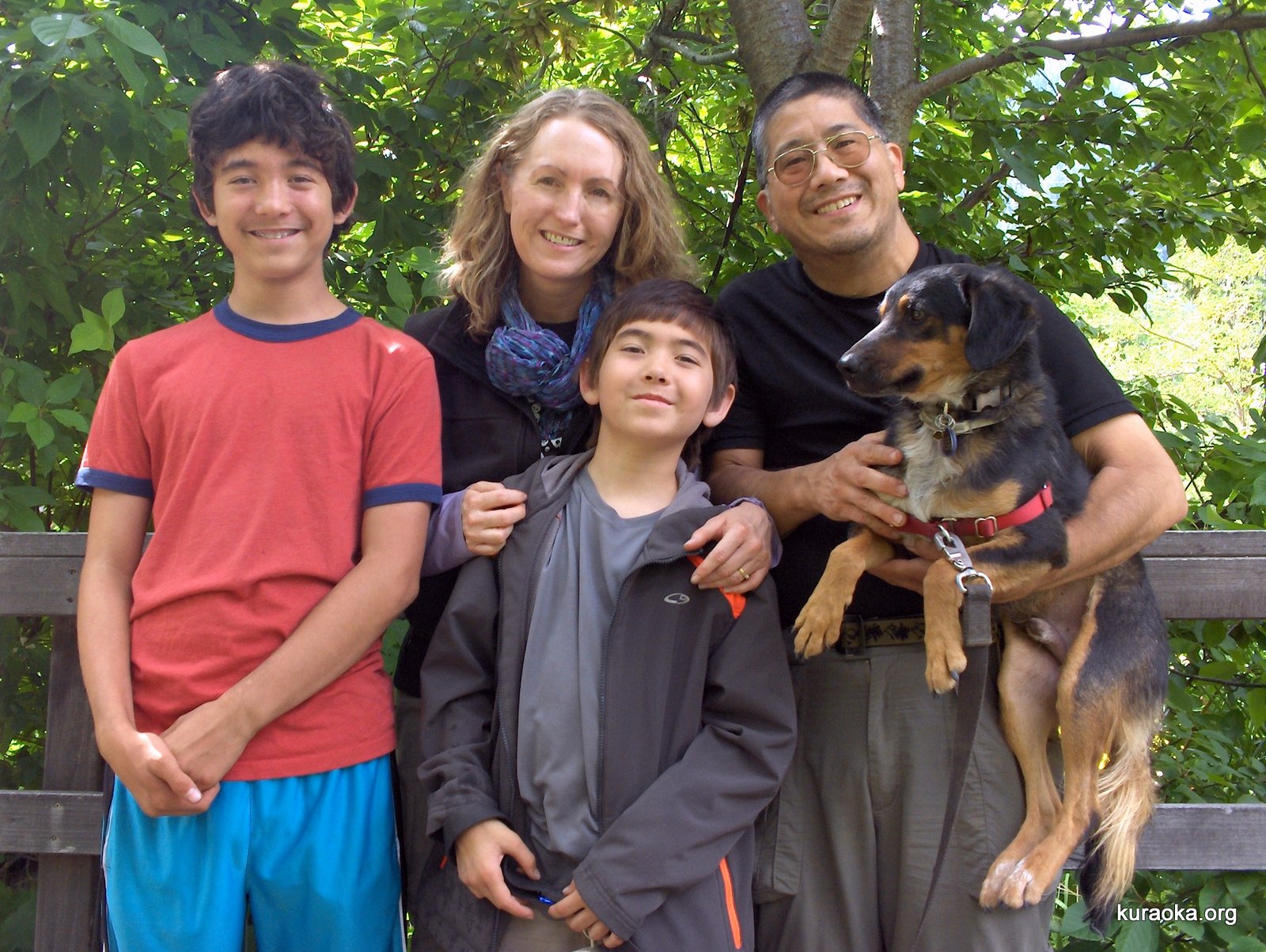 Us, August 8, 2013: Roy, Leo, Shadow, Ondine & John
Friday, January 10, 2014
A lot has happened since the last journal, including a two-week trip to Japan! So, first off, this is not our Japan journal. We have a couple thousand photos to sort through, plus several sets of notes to collate and corroborate, before we can start in on that project. Neither is this our annual Kuraoka Family Year In Review, which will have to wait until – oops, there it is! But, here's a quick revised summary of our trip to Japan!
Barbara was the one who really made this trip happen, with the primary purpose of connecting with John's relatives on the Ishida and Kuraoka sides. John's mother Frances came too (John picked her up at the train station downtown Friday the 20th), and the kids, of course, making it three generations traveling to Japan together over winter break. We left on December 21st, the day after school let out.
Arrangements were made by an old family friend, Peggy Mikuni, at Yamato Travel in Los Angeles. They specialize in Japan, and the firm's expertise and deep connections really showed in how smoothly everything went and the super-posh accommodations we enjoyed throughout the trip. Our local guides and interpreters, Shigehara-san and Masako-san, were amazing, and shepherded us along like good duck mothers.
Highlights included connecting with Ishida relatives in Amagi and Kuraoka relatives in Shiwa! Each clan rallied up lots of people to drive all of us around and show us the sights.
In Amagi, near Fukuoka, we met Masataka, who is John's mother's cousin and essentially the Ishida clan elder. John remembers him as "Uncle Johnny" from his stay in the U.S. and subsequent visits We met Masataka's brothers Shigemi and Kazu, and Masataka's son, Seiryu, and daughter, Yurika, along with her husband Hirofumi and baby girl Ichika. We visited the temple the family had built in Amagi, and the graves of ancestors going back many generations, including the founder of Iwataya, pharmaceutical providers to the Imperial family. And we had tea at Masataka's home, and a delicious dinner at Kirin Beer Farm!
In Shiwa, near Hiroshima, we met Tadaaki Kuraoka, who is John's father's cousin (we think), his wife Yoko, and his daughters Fumie and Yasue and their husbands (Hiroomi and Takashi) and children. There were lots of young Kuraoka cousins, and Roy and Leo found themselves in a snowball fight while their elders sat in the warmth of Tadaaki and Yoko's home and looked at family photos. We visited the gravesites of John's grandfather, Sakuichi Kuraoka, and step-grandfather, Tamiya Anan, nestled into a bamboo and cedar forest. Tamiya Anan donated a community center to the village, and we visited that as well; his contribution is commemorated in a stone memorial marker by the center entrance. And, we visited the ancestral Kuraoka home. Dinner in Saijo was a multi-course feast of local delicacies, enriched by much warmth and conversation, sometimes through our interpreter Masako and at other times in a loving blend of Japanese and English.
Other places we visited included Yoshinogari, a reconstructed Japanese town from 300BC-300AD, where the boys got to mill rice flour starting from fresh, unhulled rice. We took a daytrip to Miyajima, home to numerous wild deer and the famous Otorii gate in the water, where we had the local specialty for lunch: Hiroshima-style okonomiyaki. We visited the Golden Pavilion and the Imperial Palace in Kyoto, where our tour was momentarily delayed to make way for a caravan of dark-colored vehicles, one of which, it turned out, was carrying Caroline Kennedy. Our tour guide for a half-day tour in Tokyo was an actual ninja clan elder!
We went up the Kyoto Tower and the Tokyo Tower, and went up Fujisan to the fourth station, which was the highest point that was open. In fact, Fujisan really put on a once-in-a-lifetime show for us on our daytrip, dancing joyfully from one side of the coach to the other, decked from head to foot in glistening snow. We had views from many angles, including from the resort town of Hakone, where we took a ferry ride across a lake and then a gondola ride up a local peak to look across at Mt. Fuji, which was by then just beginning to cloak itself in modest clouds.
We took three rides on the Shinkansen, the bullet train, including two peaceful rides in reserved seats and one ride packed in and mostly standing up in an unreserved car during a heavy travel day.
In Hiroshima, we walked to the A-Bomb Dome and the Peace Memorial and Museum, an eye-opening, soul-broadening experience for everyone, but especially Roy, who has absorbed a warlike ardor from his friends. Yeah, there's a lot that isn't in the US history books.
Two particular culinary highlights were a meal of delicacies that included fugu (blowfish) skin and a close relative of fugu served in deep-fried pieces, and a very elegant Osechi New Year's Day breakfast. At both, Ondine and Barbara were the only whites in the room – and in fact, we were probably the only Americans as well.
Here are a few photos from Japan, out of the thousands we have to look at and edit. They include the Iwataya clan founder's grave marker (that's John's mother's side); John's mother and her cousins Masataka and Shigemi in front of the temple the family built in Amagi; all of us dressed in yukata in the family room of our hotel in Asakura-shi; the A-Bomb Dome in Hiroshima; the US and Japanese branches of the Kuraoka clan united in front of the community center Tamiya Anan, John's step-grandfather, built - that's Tadaaki Kuraoka next to John's Mom at center left, and his daughters Fumie and Yasue and their families; Sakuichi Kuraoka's (right)and Tamiya Anan's (left) grave markers and the Kuraoka mon (family crest); all of us in Miyajima; a super-elegant Osechi New Year's breakfast; Fujisan; and all of us in front of Mt. Fuji (more visible in real life than in the digital pic). The weather was wonderfully mild (we were lucky), and we had an absolutely fantastic time connecting with relatives and something of the spirit of Japan!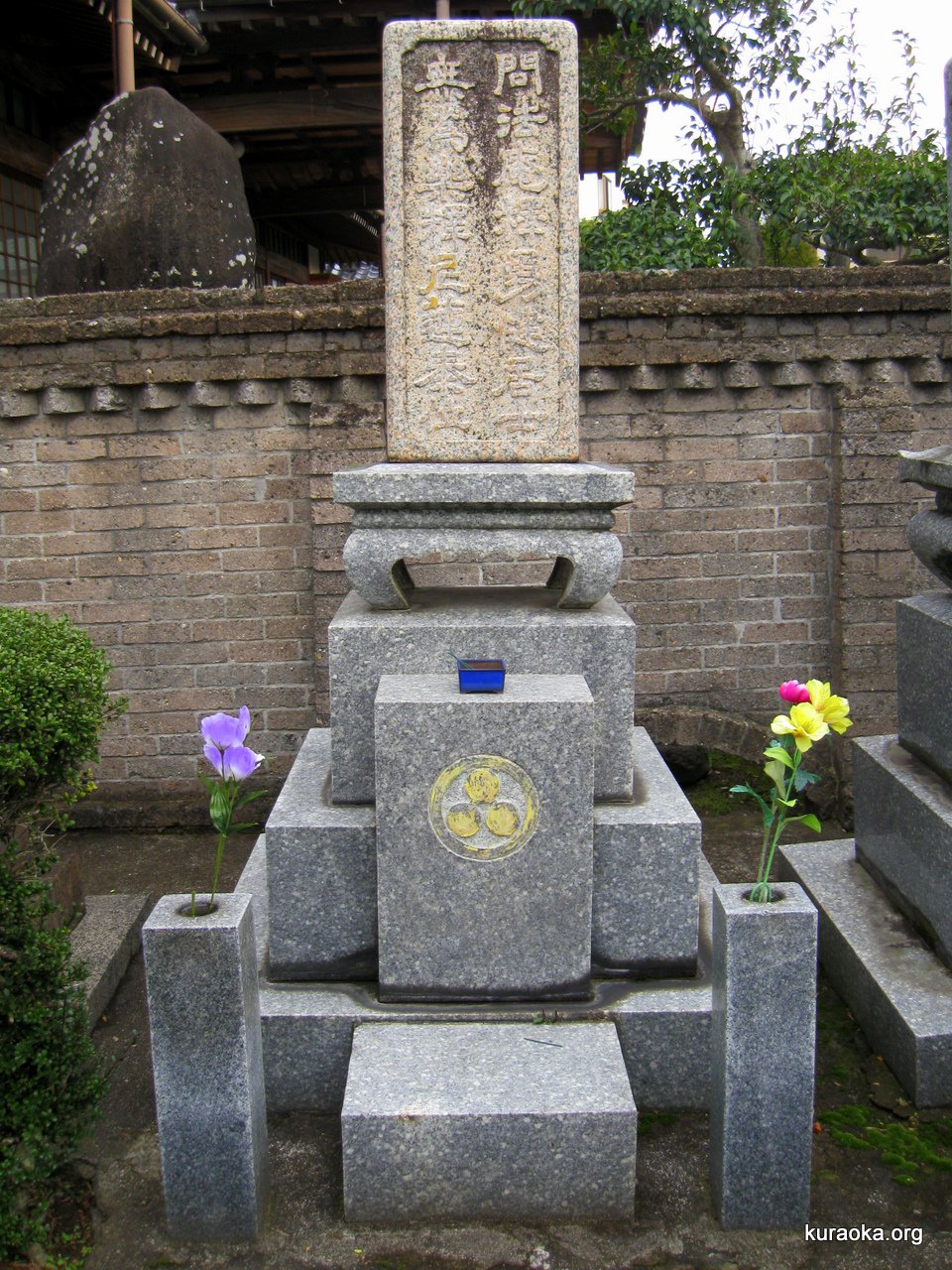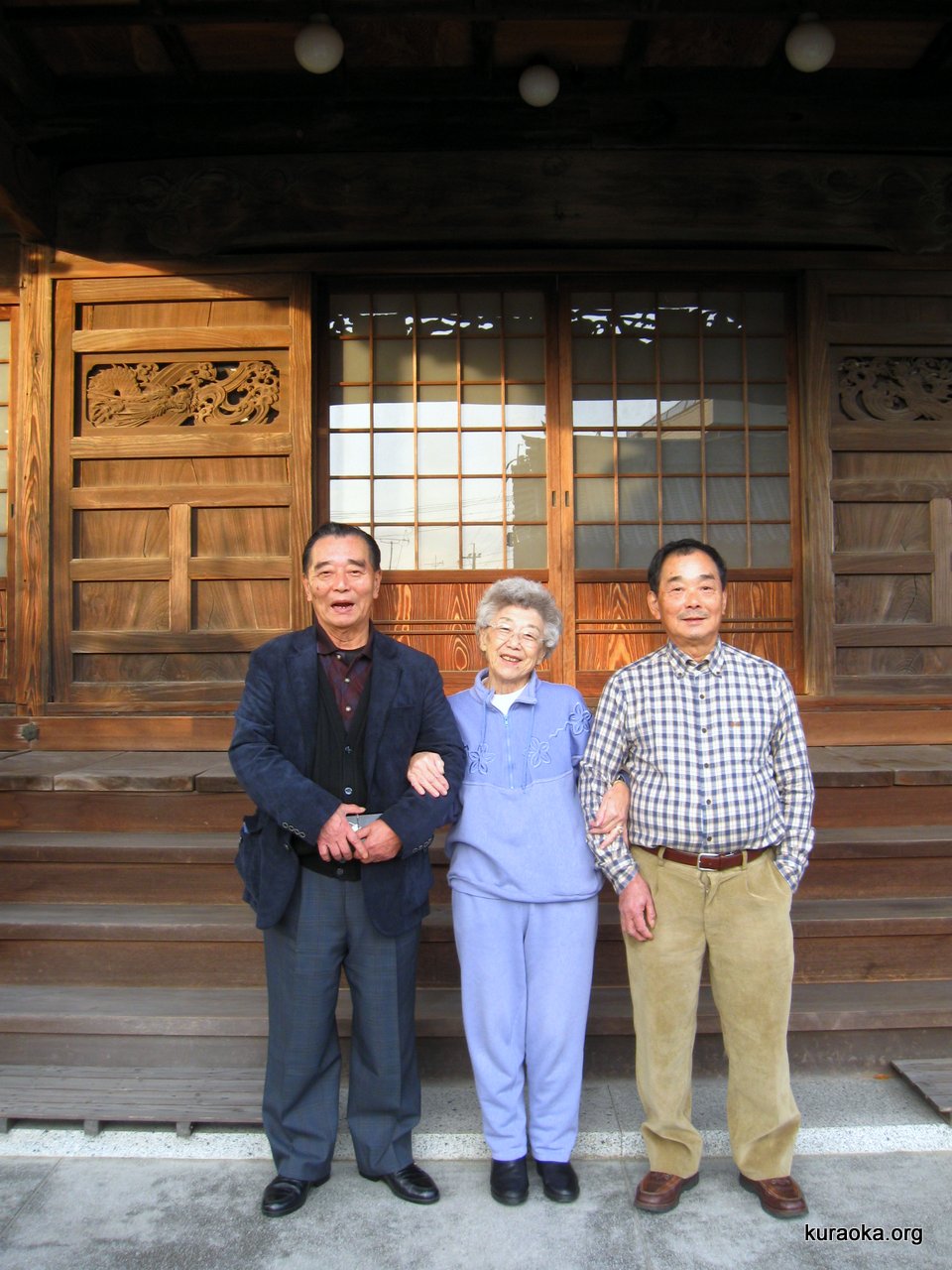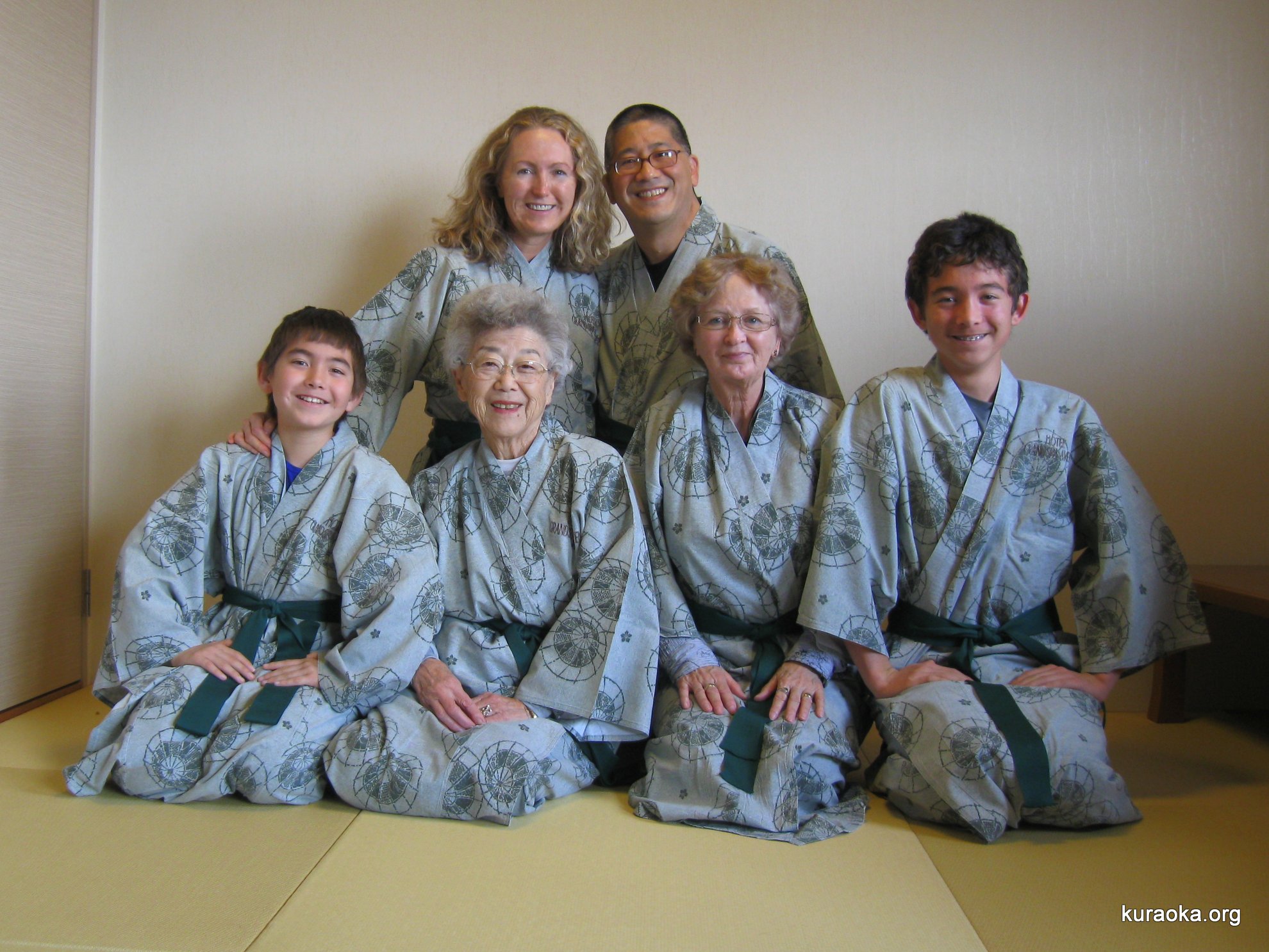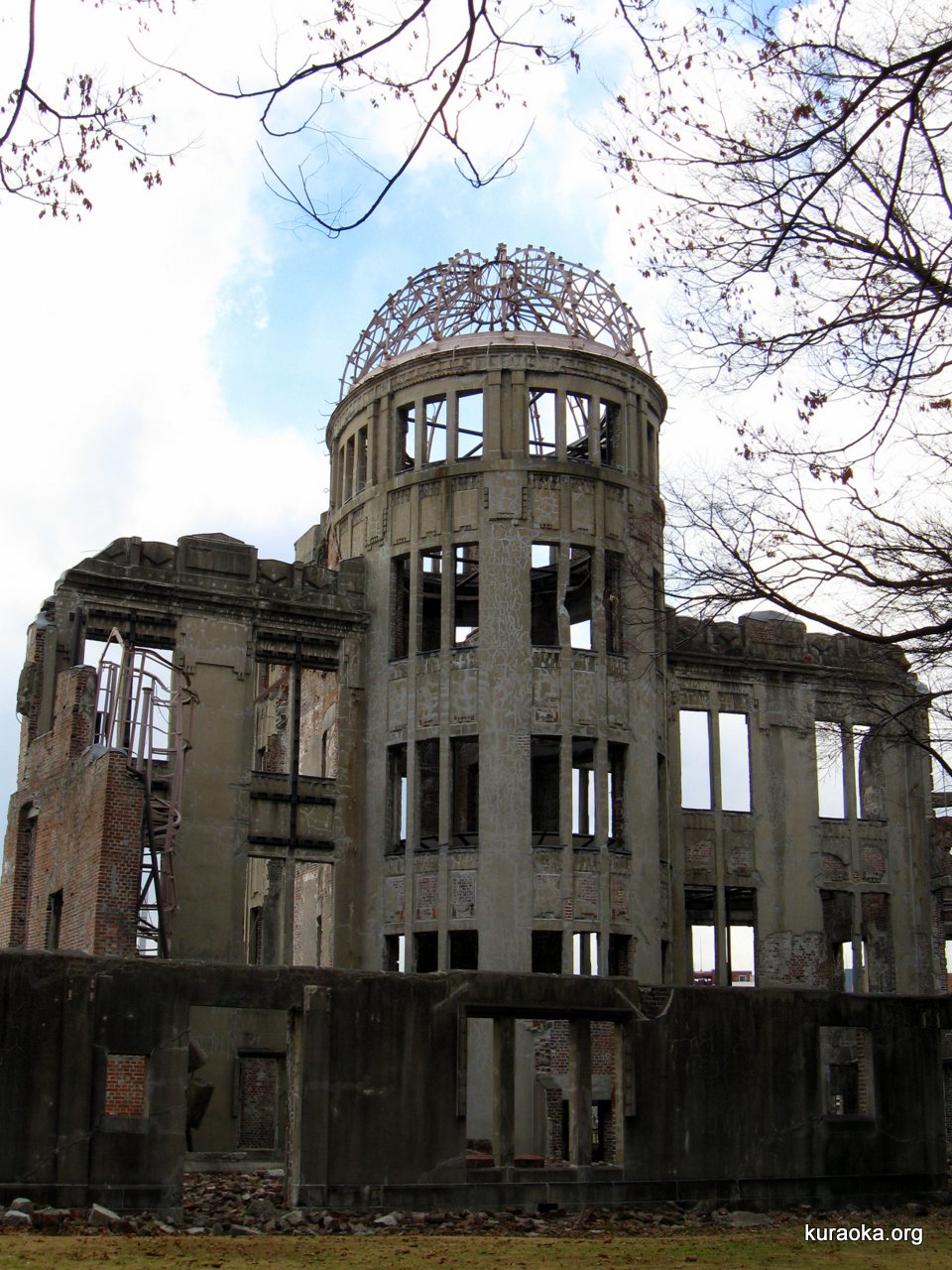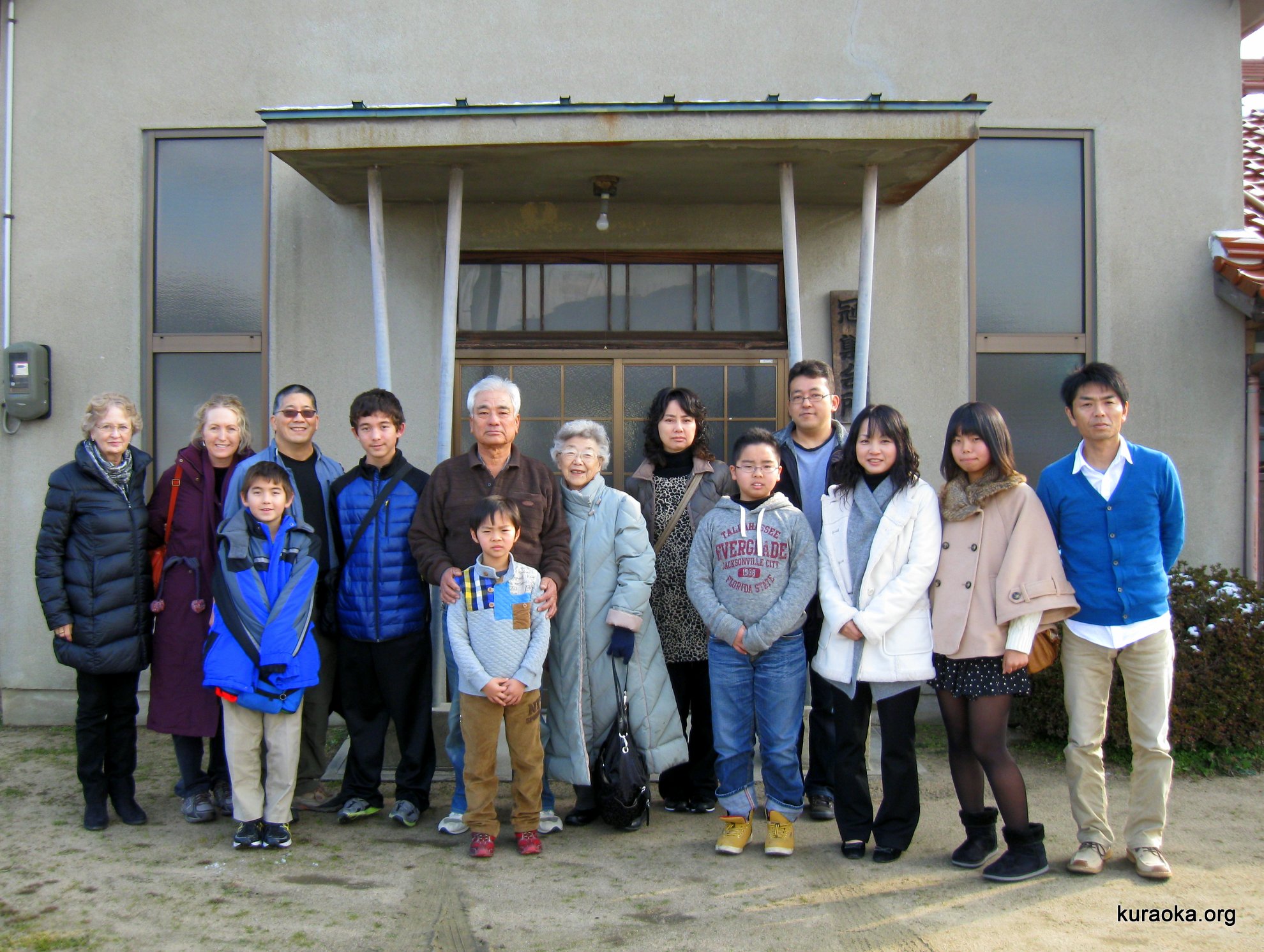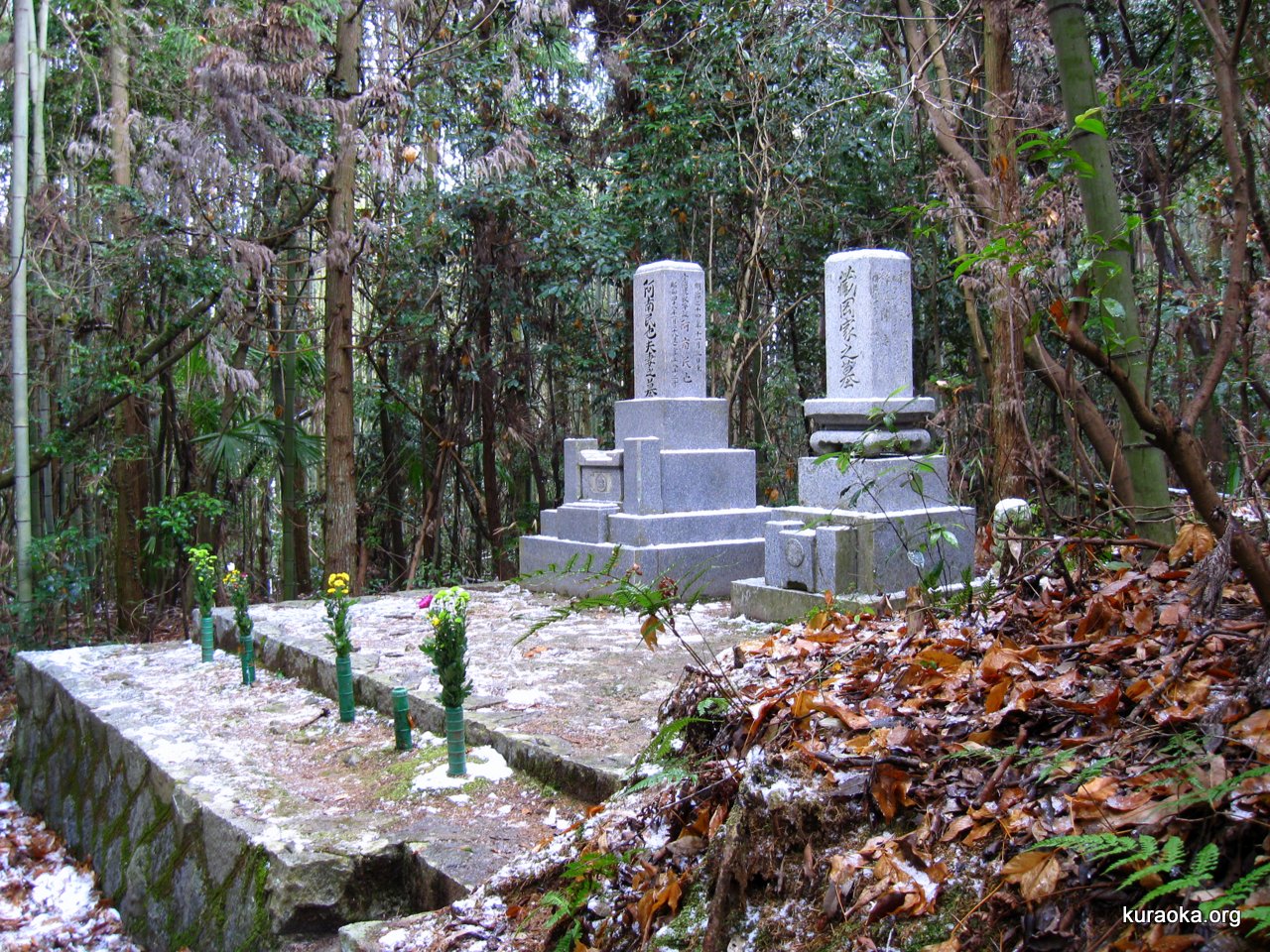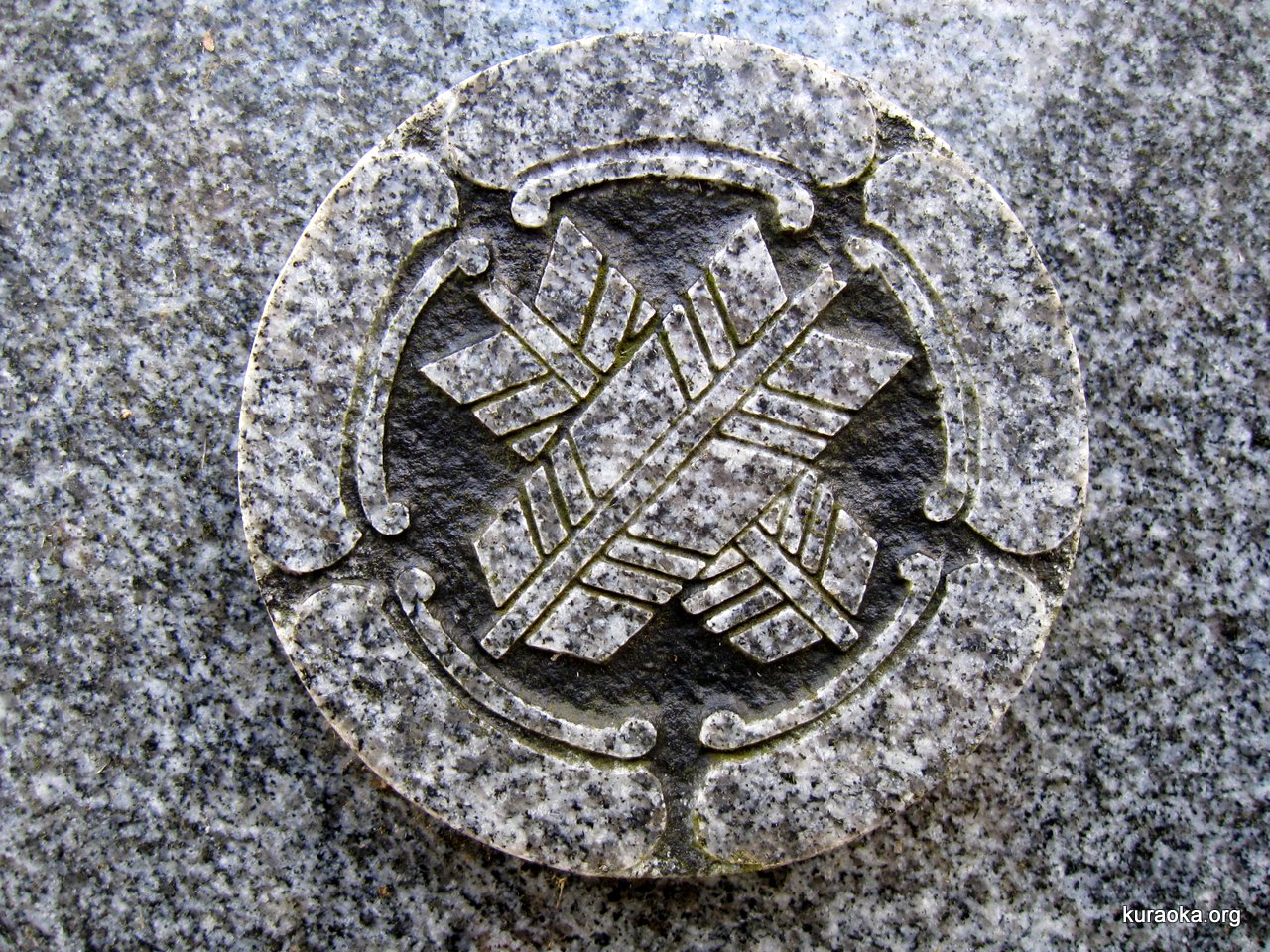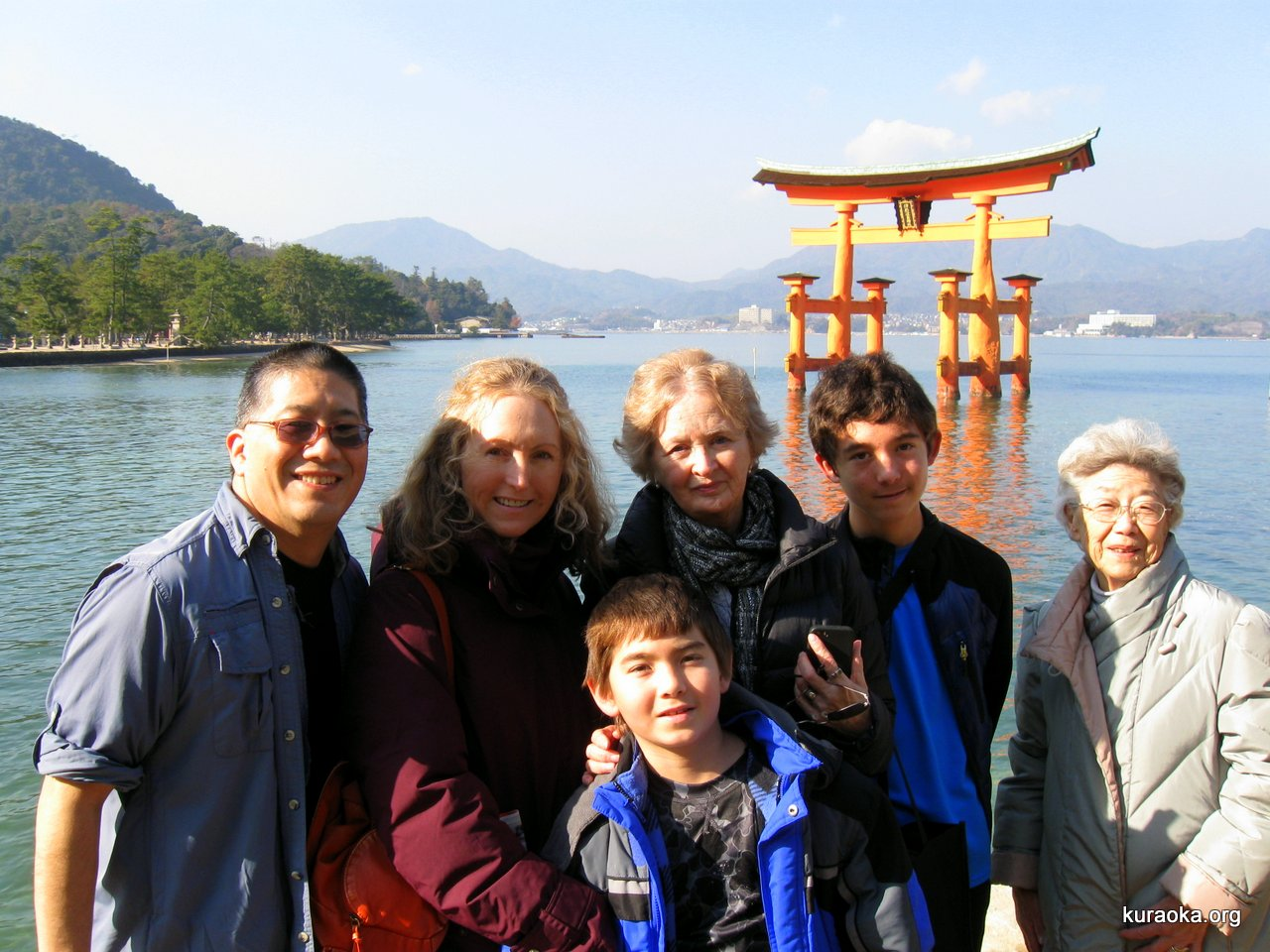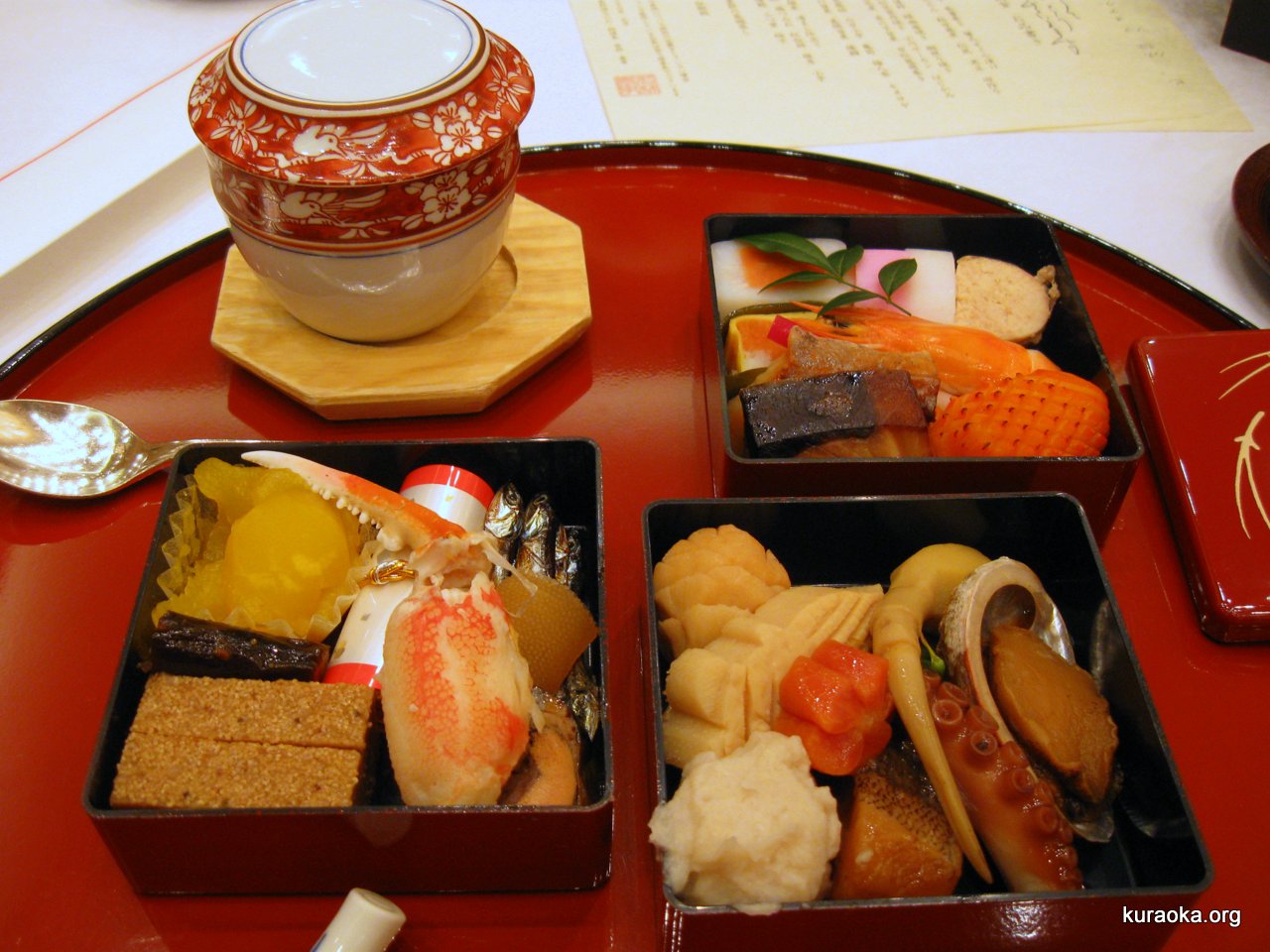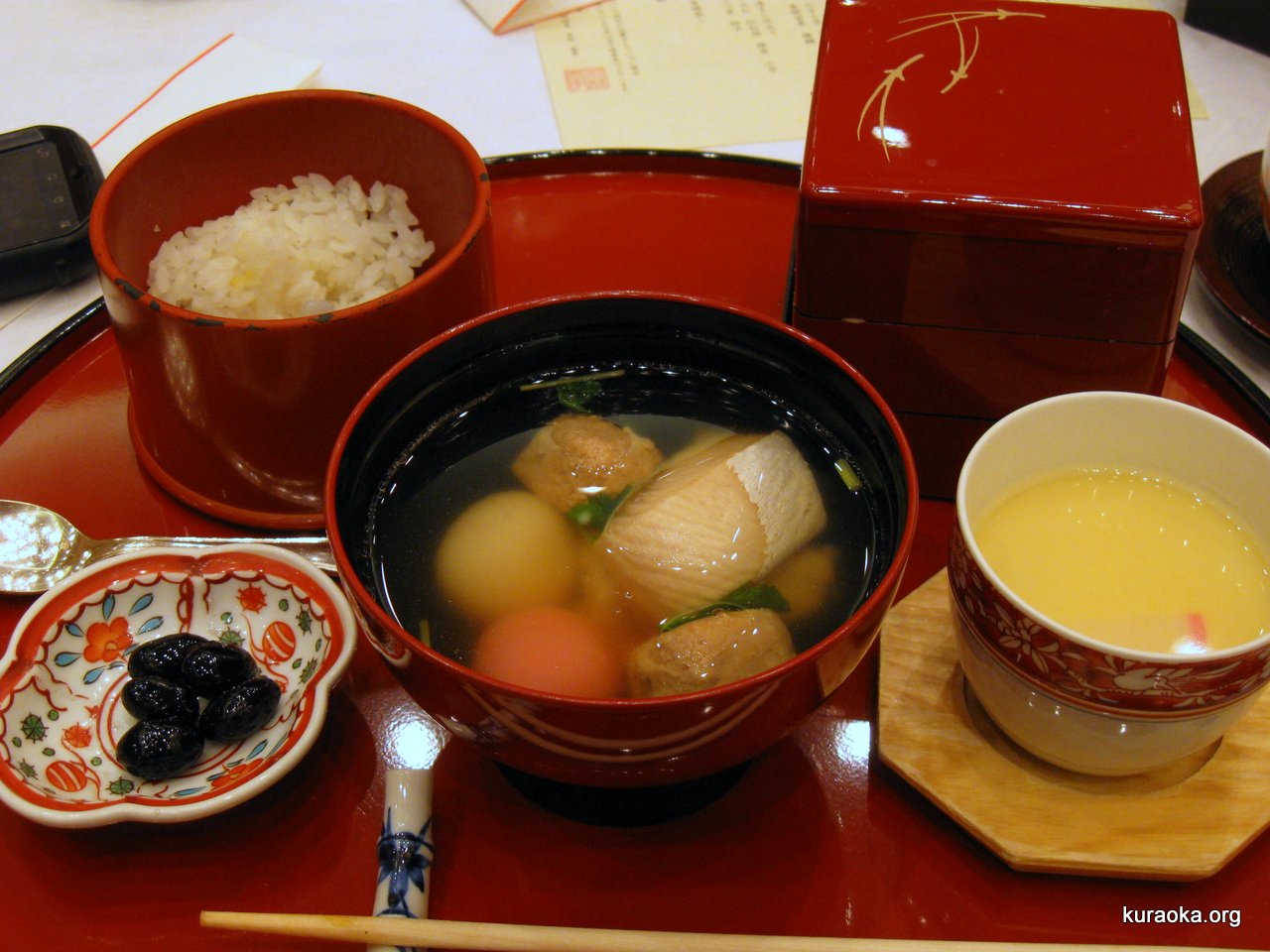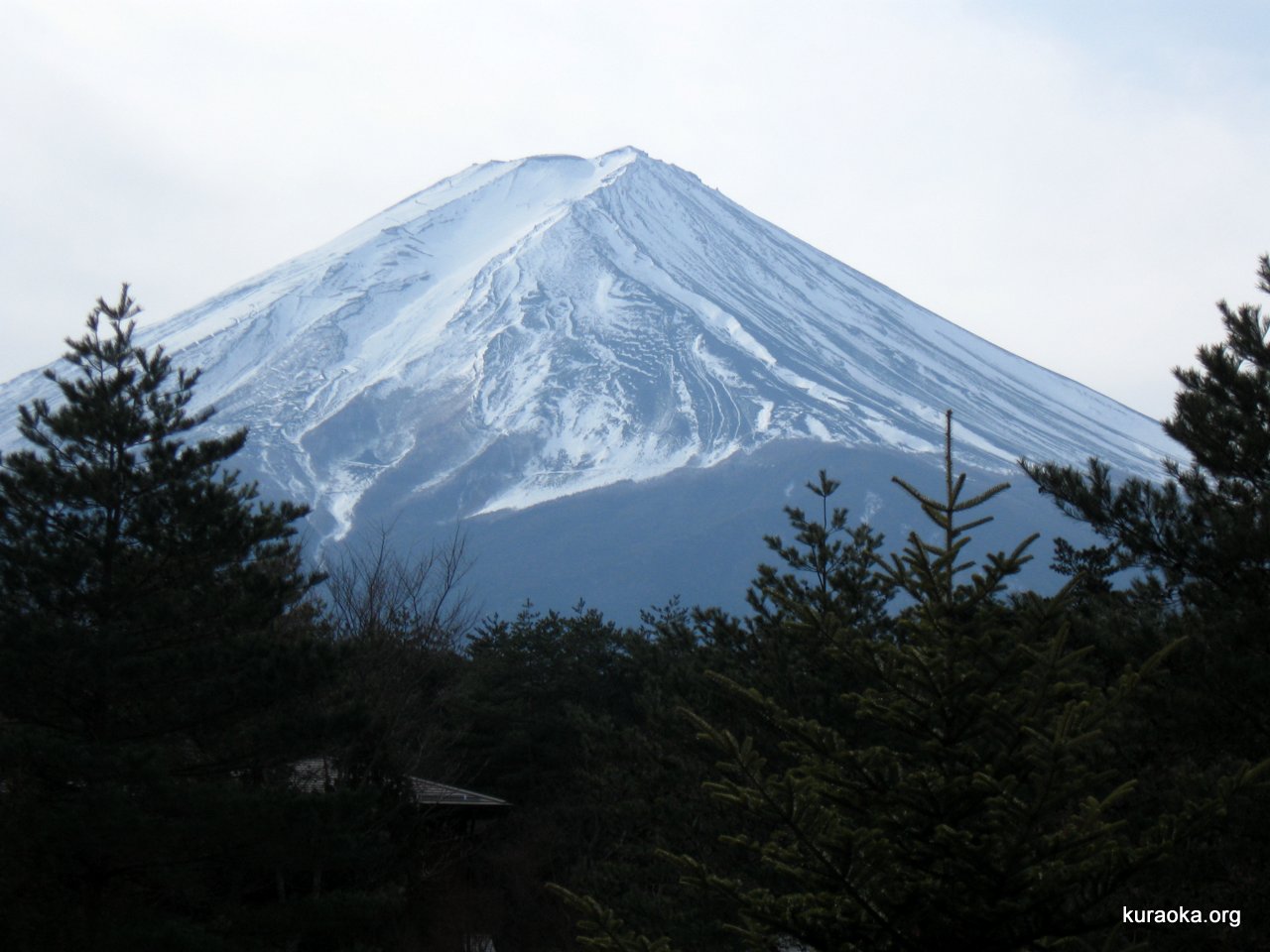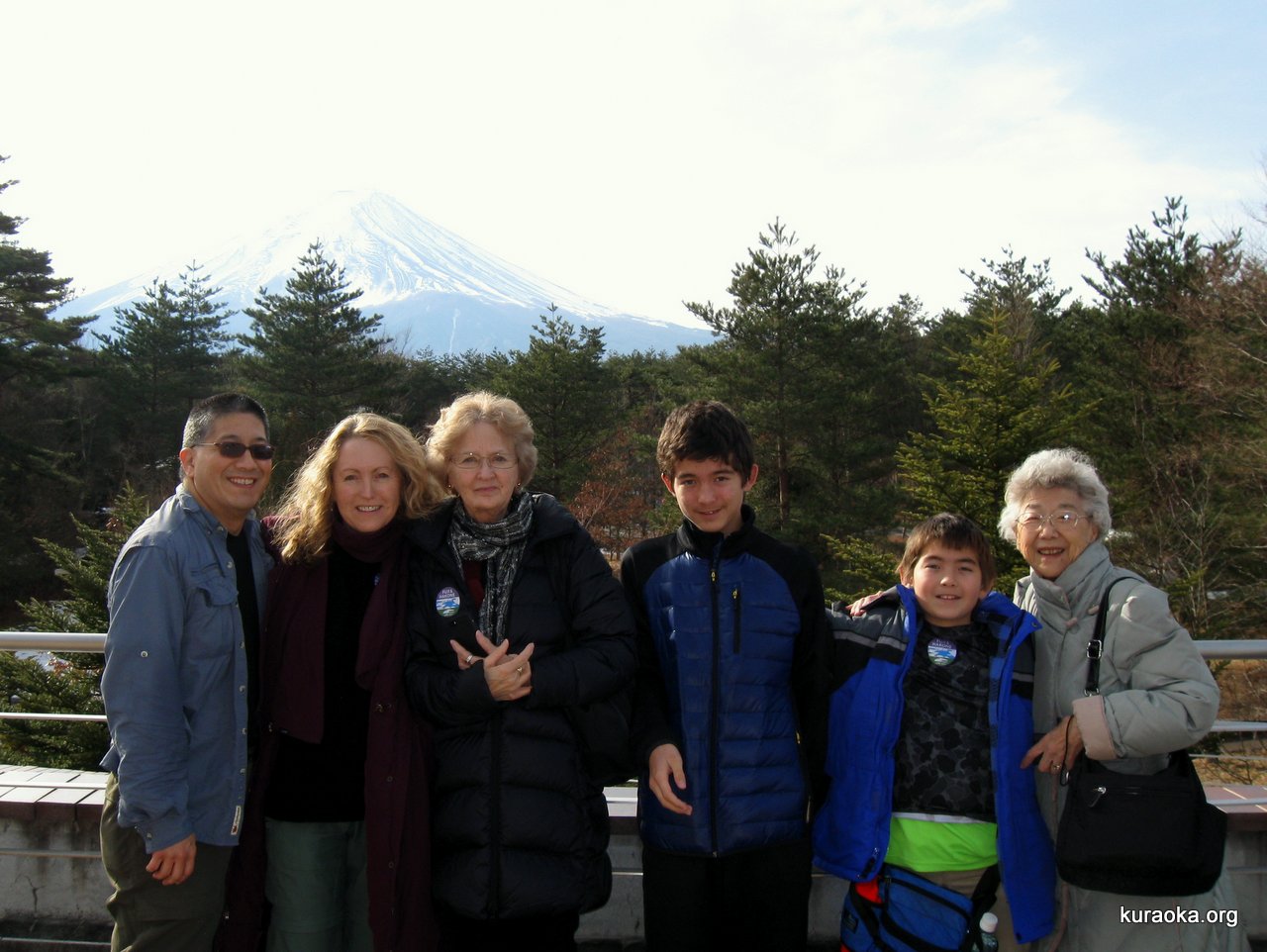 We left Japan Sunday, January 5, in the late afternoon, and got into San Diego earlier that same morning! We immediately went out and picked up Shadow from the PetSmart PetsHotel, where he'd enjoyed several days of Doggie Day Camp. He seemed happy and healthy, and certainly didn't seem in the least bit upset with us for leaving for two weeks. Maybe the t-shirt and sock we wore and left with him may have helped. We got Ondine's t-shirt back, clean but obviously much chewed and snuggled. John's sock, though, simply vanished! Yeah, probably just as well.
With just part of one day to recuperate, our return to school and work was more than a bit jet-lagged. John took Grammy to the train station Tuesday afternoon, and she got home safe and sound late that afternoon.
Surprises from Japan: Contrary to expectations, the weather was mild. Yes, we were fortunate with the weather and were prepared for much worse, but it seems that the Japanese feel the cold even more than we do judging by their heavy bundling even in heated subways and buildings.
Also, meals on our own were largely inexpensive and excellent. We never went wrong with a cheap local noodle house, and typically ate for about $8 per person. We also relied on convenience stores for hearty snacks like drinkable yogurts, prepared onigiri and noodles, and packaged nuts.
Grammy's Japanese language skills started coming back over the course of the two weeks, largely because she pushed herself into situations where she would speak it. Even more surprising, was that John, who'd paid little attention during Nihon-gakko Saturday school as a child, actually started picking out words on signs! His first Japanese word read in the wild: "ramen." Amazing feats of memory!
One last note about Japan: We want a Toto Washlet! It's a heated toilet seat with a built-in warm water bidet/spray washer, and it's omnipresent in Japanese hotels, railway stations, bus stations, and restaurants. They're pretty pricey here in the states though.
We've had an amazing start to 2014! We ushered in the New Year in Japan! And, one of the emails waiting for us upon our return was a notice that Ondine had won the "customer of the month" prize drawing at John's Automotive! Woo hoo!
Happy New Year to you – and best wishes for a 2014 filled with health, wealth, and happiness!
Neighborhood gas prices are about $3.75 per gallon.
Back to the Archives page
Back to the Kuraoka Family main page
Forward to the current Weekly Journal.