The Kuraoka Family Weekly Journal
www.kuraoka.org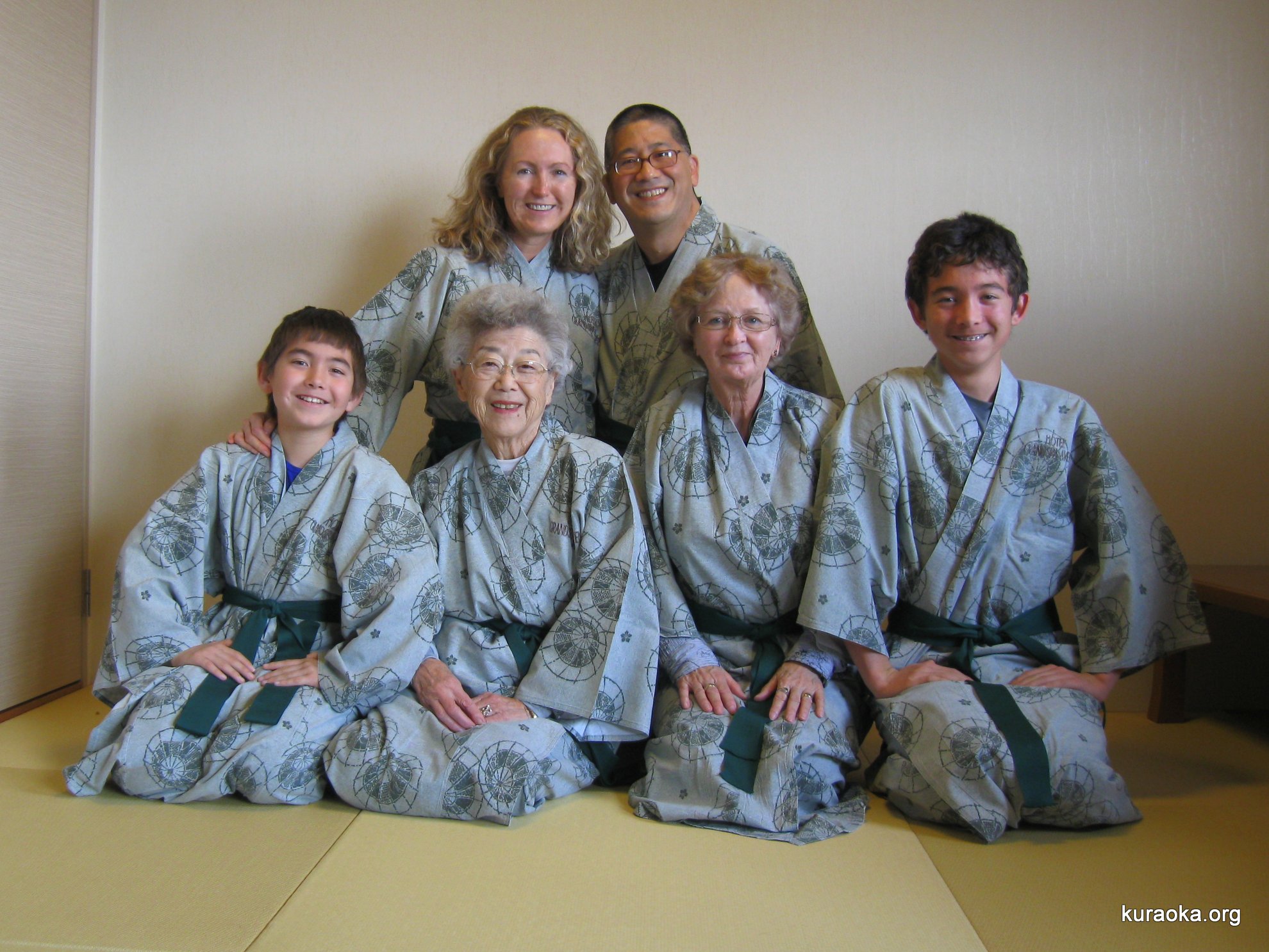 Us, December 23 2013, Amagi, Japan: (back) Ondine, John; (front) Leo, Frances, Barbara, Roy
December 31 2013 - January 1 2014
Happy 2014! This is being written after the fact because on New Year's Day, we were in Hiroshima enjoying a real Japanese Osechi breakfast! In fact, our three-generational two-week family trip to Japan over winter break is probably our Big News for both 2013 and 2014, so we'll start there.
Japan! Barbara spearheaded a drive to get us and Frances to Japan to connect with Ishida relatives in Amagi (near Fukuoka) and Kuraoka relatives in Shiwa (near Hiroshima). All six of us had an absolutely fabulous time together connecting with our Japanese cousins – and our Japanese heritage. The boys bonded with the Kuraoka kids there with a snowball fight and, later, over a very special Japanese feast! We stayed in Fukuoka, Amagi, Kyoto, Hiroshima, and Tokyo. Other daytrips included Yoshinogari, an on-site reconstruction of a Japanese city from 300BC-300AD, Miyajima, and Mt. Fuji, which was, in the words of our guide, "not shy" that day. All our knees and feet withstood all the walking and stairs and lugging daypacks. It was a once-in-a-lifetime trip – thanks to Barbara for making it happen!
Other travel in 2013 included a week-long summer camping trip to Sand Pond, where we connected with Liz and Les, Ulli, Kani, and Bea! It was a regular family reunion in the mountains! It was Shadow's first time at Sand Pond, and his first time up the Buttes.
In the spring, John and the boys took a four-day trip to Arizona to visit his sister Patty. They went to the Casa Grande Ruins, the Titan Missile Museum (the antithesis of the A-Bomb dome in Hiroshima if ever there was one), the Pima Air and Space Museum, Kartchner Caverns, and the Yuma Territorial Prison. A couple other all-guys getaways (because Ondine worked) in 2013 included Santa Barbara and Stearns Wharf, the Santa Monica Pier, Ports O' Call, and the USS Iowa.
We went camping with the Fernandez and MacDonald families in the desert. We spent a weekend at the cabin in Big Bear. And, in winter, we all enjoyed a posh weekend getaway to La Casa Del Zorro in Borrego Springs, courtesy of San Diego Family Magazine, where we also took a backcountry off-road tour and spent an evening stargazing with famous astronomer Dennis Mammana.
We also went to Legoland and Disneyland, which included an overnight stay at the Candy Cane Inn!
Other people's travels included Grammy's trips to Hawaii with her sister Grace and Mike, and back East with Patty and Daryl. Barbara visited her sibs in Brookings, took a Holland America cruise to Turkey and Greece, visited the Bay Area for Anastasia's wedding, and more!
Thanksgiving this year was an event to be truly thankful for, with Ulli and Martin coming down from Brookings and our neighbors Ron and Kathy joining us from up the street!
Leo wrapped up fifth grade at Hearst Elementary School. During his last year of elementary school, he had after-school math tutoring, Spanish class, piano/keyboard class, and occasional sessions of Mad Science, as well as a morning violin class and an EduDance class in which students were taught ballroom dancing and etiquette! He played violin in the last Hearst orchestra concert of the year - it's amazing how much progress the kids make with only 15 hours of total instruction time. Also, he was part of the inaugural Hearst Elementary School Safety Patrol, working every morning greeting kids. At the end of his fifth-grade term, he was recognized for his daily participation in Safety Patrol, and received the President's Education Award honoring Outstanding Academic Excellence, the top academic award!
Leo is now 11 years old. His current classes at Lewis Middle School include Seminar-track English, advanced Pre-Algebra, Seminar-track social studies, and an engineering elective that alternates with PE. After school, he's done the math study hall twice a week with his pre-algebra teacher, and received tutoring at the library.
Leo joined Troop 950 as a Boy Scout. He went on a couple dayhikes and his first backpacking trip with the troop, as well as the Silver Strand beach campout. He earned his Tenderfoot rank.
In judo, Leo became a life member in USJA, earned his fourth-degree orange belt, and competed in the California State Games and Veteran's Day tournaments.
Roy worked tech crew on the Pershing Drama Department's production of Bye Bye Birdie. At the end of seventh grade, he received a special award for Outstanding Performance in Technical Theater, as well as Honor roll 3.5 and Citizenship. He's now in eighth grade, a senior! It's amazing to think that in 2014, he'll start high school.
Roy is now 13 years old. His current classes include Geometry, which carries high school credit.
In judo, Roy became a life member in USJA, earned his fourth-degree orange belt, competed in the California State Games (finishing with a bronze medal), and helped out with scorekeeping at the Veteran's Day tournament.
Summer programs for the kids included the three-week SEEK (Summer Engineering Experience for Kids) program, "Mummies Zombies and Vampires" at the Museum of Man, and Media Arts Camp. We also took the boys to see The Tempest at the Coronado Playhouse.
Ondine co-facilitated a support group for the Alzheimer's Association, in partnership with Silverado Hospice. She has a new supervisor and administrator at work. And, she started taking the mandatory pre-licensure classes for her LCSW.
John judged the 2013 EVVY student advertising awards for Emerson University. His plantar fasciitis has improved, although he still wears a brace to bed almost every night.
Shadow the dog is now about three years old; we figure we've now had him for half his life. He had his first doggie day camp experience, and did great! In all, he had several positive dog camp experiences, all practice leading up to his two-week stay at the Petsmart PetsHotel with "Camp Play-All-Day" while we were in Japan. He did great!
Our cars had a fair amount of work done. Ondine's 14-year-old Mazda got a new radiator, timing belt, and catalytic converter, and John's 18-year-old Infiniti got new rear brakes and four new struts.
New acquisitions in 2013 included a family laptop, a 15.6" Gateway NE-series with a Pentium B960 dual-core processor running at 2.2 GHz with 4 GB of RAM and a 500 GB hard drive. We got a new remote control for the garage door for Ondine's car. Leo got a basic mobile phone for calling and texting on an AT&T pay-as-you-go plan. Roy got a smartphone, a Samsung Galaxy Victory 4G LTE and a student's contract with Sprint, which means free calls and texts and very limited data for a year. It's not really her phone, but Ondine was issued an iPhone 4S for work. John got a new crown.
You won't notice, but we changed web hosts in June. That was a big job made a lot easier by automated file handing.
Passages: Our dear friend from the watch and clock club Earl Starr died. Christoph Ripchen, Ondine's grandfather's cousin, died. Pam Wilson, a family friend, died – she was one of John's sisters' closest friends. Our friend Dave retired after 29 years with the city.
End of an era: Barbara sold the Big Bear cabin!
Neighborhood news: We got new greenery cans, bringing our total number of automated trash pick-up containers to three: trash, recycling, and greenery. Our neighbor Sue sold her house, and we have new neighbors across the street. The city installed a stop sign at Cowles Mountain Blvd and Boulder Lake, which has led to a massive increase in the number of cars parked along our street every morning and evening.
San Diego news: San Diego mayor Bob Filner resigned amid lawsuits and allegations of sexual harassment. Now Kevin Faulconer and David Alvarez are in a run-off election.
National news: The "sequestration," a pre-negotiated series of mandatory across-the-board budget cuts, was enacted, and later the government shut down for 16 days when Congress failed to agree to raise the debt ceiling to fund the budget it had approved. The stock market gathered strength, with the DJIA going from about 13,400 at the start of the year to just over 16,500 at year-end. The Boston Marathon bombings on April 15 killed three and injured dozens, and an accidental fertilizer plant explosion and fire in West, Texas destroyed two (evacuated) schools and hundreds of homes. A monster twister hit Moore, Oklahoma with 295-mph winds. The Affordable Health Care Act ("Obamacare") went into effect with mixed results so far. NSA contractor Edward Snowden leaked information and documentation revealing the NSA's spying and data-collecting activities on world leaders and ordinary citizens. The Boy Scouts of America passed a resolution ending discrimination against gay boys in Scouting. And, the U.S. Supreme Court ruled the "Defense of Marriage Act" unconstitutional, paving the way for gay married partners to receive the same federal benefits as their straight counterparts. It also declined to hear the defense of California's Proposition 8, leaving in place a lower court ruling that overturned a voter-approved ban on gay marriage after it had been legalized.
International news included the resignation of Pope Benedict XVI (the first papal resignation in 600 years) and the election of a new Pope, Argentinian bishop Jorge Mario Bergoglio, now Pope Francis, the first Pope from South America and the first from the Jesuit order. An estimated 10,000-ton meteor exploded 20 miles over Chelyabinsk, Russia, leading to massive power outages and destruction. Super-typhoon Haiyan, possibly the strongest storm ever to hit land, devastated the Philippines. Egypt's first democratically elected president Mohammed Morsi was ousted by the military after just one year in office. Margaret Thatcher, former UK prime minister (and the first and only woman to hold the post), and Nelson Mandela, South Africa's first black president and former political prisoner, died. And, to end on a cheerier note, British royals Kate Middleton and Prince Harry had a son, George Alexander Louis, who as Prince George is third in line for the British throne.
In News of the Universe, the Higgs-Boson (the "God particle") was confirmed to exist, explaining a theory as to why things have mass.
This journal went from about 38,300 on the counter, and ended with an even 40,000, for about 1,700 unique visitors over the year.
Remember, photos from 2013 can be seen on our 2013 photos page. To see what we're up to now, visit our regularly updated weekly journal!
Back to the Archives page
Back to the Kuraoka Family main page
Forward to the current Weekly Journal.