The Kuraoka Family Weekly Journal
www.kuraoka.org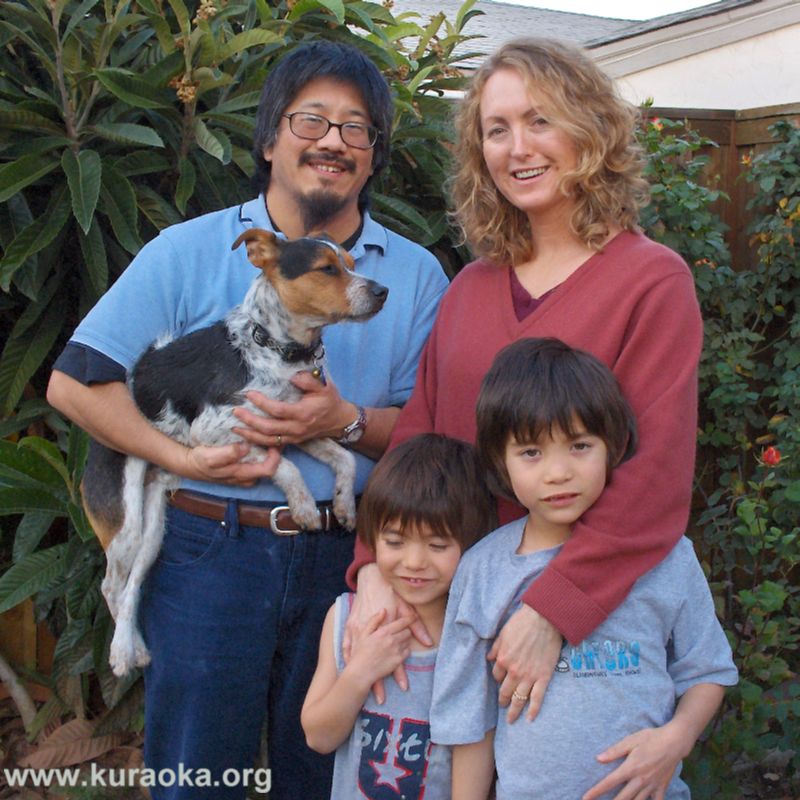 Us, January 1 2008: John, Ondine, Buddy (being held), Leo (5-1/2), Roy (7-1/2)
Friday, 29 February 2008
Hey, it's Leap Day! It's not very often we have a journal entry dated Leap Day – in fact, this is only the second time since we started this journal. Here's a look at our lives exactly eight years ago …
February 29 2000, Leap Day, and week 26 of our pregnancy. Our due date is still May 29, 2000, exactly three months away now. It amazes us that we are entering our last trimester! We're now trying to get the baby room prepared, but that is a big project. There is so much stuff stored in there, that we need another place into which we can move it all! So …

This weekend, John had a busy time laying plywood sheets in the attic … We now have 144 square feet of storage and we're looking for appropriately sized apple boxes…

We discovered why a visiting cat likes to investigate our bathroom … She hops up on the toilet and drinks from the toilet bowl! Ondine was appalled, but John, cat-lover that he is, was secretly delighted to see the cat with her head waaay down in the bowl, lapping away contentedly.

Ondine has several appointments for the Wedding Day Story Book … Today, two separate wedding coordinators had the exact same comment when they heard the idea: "I wish I had that at my wedding!" …

John finally got around to updating his website, stripping out the graphics and turning it into a stripped down, content-driven site…
Notes about that excerpt: the pregnancy was, of course, Roy, but we didn't know that until he was born. We still use the attic for storage. The cat, Minnie, belonged to a neighbor and was later killed by coyotes. The Wedding Day Story Book was Ondine's idea. It might have turned into a nice little earner had we not been busy raising the kints that have sprung up around us. John's business website remains stripped-down and content-driven.
A look back four years shows that around Leap Day 2004 (the journal wasn't exactly on the day), we'd bought our airline tickets for our six-week stay in Germany at Dax und Jürgen's house! Oh, and neighborhood gas prices were around $2.21 per gallon. They're up over $3.39 per gallon now, and headed higher.
At the Blue and Gold Dinner Monday evening, Roy got his Wolf badge and four arrow points – his gold and three silver. And, he got a Pinewood Derby patch as well, so he's amassing quite the tidy patch collection. We voted for our favorite cakes, and enjoyed a wonderful Chinese New Year feast put on by the Pack. It was thoroughly enjoyable!
Tuesday morning at school, Roy got a special recognition award! We went to the presentation at 9:00. We saw much of the old crew there: Stephen's parents, Zackary's parents, Kelly's parents, Michael's Mom, Emma's parents … That really was an exceptional group in K-2 three years ago.
In the evening, Ondine went out to Mimi's Café with Lucy and Jennifer. Yum!
Wednesday morning, at the Running Club, Roy, Leo, and John were all running laps when suddenly the fire alarm started ringing! It was cute to see all the kids stop running and trundle over to their designated line-up areas, the older ones sauntering casually while grumbling over missed laps and the younger ones jumping with excitement because they knew what to do.
The lines got formed up – they're on the running field, not on the blacktop, and after a minute the bell rang the all-clear and everyone scrambled to get back to running again! Stampede!
Ondine went to help out in Leo's Kindergarten class, and then went shopping for bedding plants. Roy reported that during school there were a couple more fire alarms, but, thankfully, no fire. It was a minimum day. Leo earned a Popsicle for running, which he enjoyed immensely. After school, the boys went to Mad Science, where they made a battery-powered spinning color wheel!
After that, Ondine picked them up and took them to McDonald's to meet Leo's friend Hunter and his Mom Teri. Leo's friends Jaden and Jake also came, with their moms. McDonald's is such an treat for Roy and Leo, and Ondine let them get chocolate milk so it was an extraordinary treat for them! All the kids had a great time running around in the play area outside while the moms chatted.
In the afternoon our plumber, Victor, came to fix the bathroom faucet and replace all our toilet shut-off valves while Ondine planted flowers in the front yard. We also asked him for an estimate on redoing our shower enclosure as inexpensively as possible, which won't be nearly as inexpensive as we'd like, we think. The problem is, it's not a standard size.
Thursday John had an early morning telephone conference with people in Birmingham and Atlanta, so Ondine took the boys to school, ran a mile with them, and then went hiking up the mountain with Nancy. In the afternoon, she walked Buddy. A big exercise day for her!
Friday John walked the boys to school and ran as usual. He's coming down with a cold, but the running seems to help a bit. He just got a new unlimited business long distance plan from AT&T, which should save a few dollars a month with all the calls he's been making back east!
Bill returned home from his ski trip to Alta, Utah with his cousin David! He enjoyed a lot of snow: 516" of snowfall this season, and a 145" base! Wow! By the way, don't confuse Alta, Utah with Alta Ranch, the vacation ranch in western Montana owned by Ondine's Uncle Peter and Aunt Katrin.
Here the weather has been warm and sunny – in fact, the last few days have been short-sleeves and sandals weather. Then, today, it's overcast and cool despite the forecast calling for sunny skies, and we're back in layers and long sleeves.
In other news, John is going to be a featured marketing expert in an upcoming issue of Entrepreneur magazine! He was interviewed month or so ago, and the fact-checker just emailed him to confirm his details and information about his Tightwad Marketing website. So, you might see his name in the March or April issue!
Weekend Preview includes work for John, a visit with Alice in Wonderland and maybe, just maybe a trip up to the snow!
Back to the Archives page
Back to the Kuraoka Family main page
Forward to the current Weekly Journal.