Germany Album 2004, Page 1
www.kuraoka.org
Our six-week house swap in Mülheim an der Ruhr.

A bit of background. From late July to early September 2004, we swapped houses (and a car) with Dax und Jürgen, Ondine's relatives through her mother, Barbara. Jürgen and Barbara are cousins. These pages contain all the photos and video clips we've uploaded. Please wait for the photos to load up; these are image-intensive pages.
Most of the video clips are configured as executable files complete with a self-contained ArcSoft player module. Click "open" or "run" when prompted, unless you really want to have the clip saved to your desktop. A few videos are also available as full-screen, 640 x 480 resolution .avi files. Note the video file sizes, as some of the clips can take a half-hour to download on dial-up.
This page was originally designed as a single massive image index page, but ended up getting both journal-like and cumbersome. So, it was broken into several smaller (but still quite large) pages. The weekly journals linked to contain more information, most of it relevant only to friends and family members, and, of course, ourselves when we wish to relive these wonderful days.
A bit more background while the photos load up. This was no six-week vacation. John continued to work via email and the internet, and we signed the boys up for two half-day classes a week. Our intent was to immerse ourselves not in a tourist version of Germany, but in a real family/suburban life. We knew it would be a big change, with a lot of adjustments to be made. One huge adjustment, was that Roy and Leo (ages four and two) would be sharing a bedroom for the first time. Another, would be that we would be driving a stick shift; neither John nor Ondine had ever owned a car with a manual transmission, so we took lessons beforehand.
All the same, we eagerly looked forward to everyday life here, from buying groceries to learning our way around our adopted hometown to making new friends. We also looked forward to connecting with relatives here.
So the photos won't be the usual tourist landmark/attraction/event photos, but will show our family, the things we did, and the people we were fortunate enough to meet during this wonderful time.
---
Relevant weekly journals:
July 30, 2004: arrival.
August 2, 2004: John turns older.
August 6, 2004: getting settled.
Our arrival. Here we are after a ten-hour flight, direct from LAX to Düsseldorf on LTU. Photo by Jürgen. We don't look bad for parents of a two-year-old (Leo, in the stroller) and a four-year-old (Roy, standing) who just got off an international airplane flight with said children (who did not sleep the whole flight).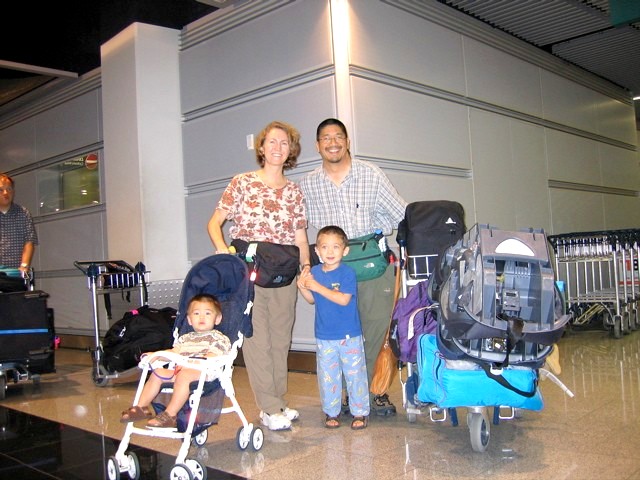 Exploring the neighborhood. Dax und Jürgen took us around. We walked down the street to a little neighborhood park tucked away down a pedestrian alleyway. In the first photo, Jürgen and Roy make their way down Langensiepenstrasse. In the second, Dax, Leo, and Roy enjoy a play bus.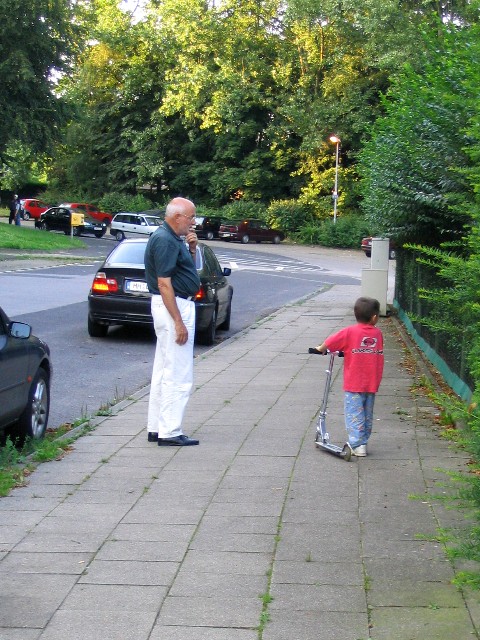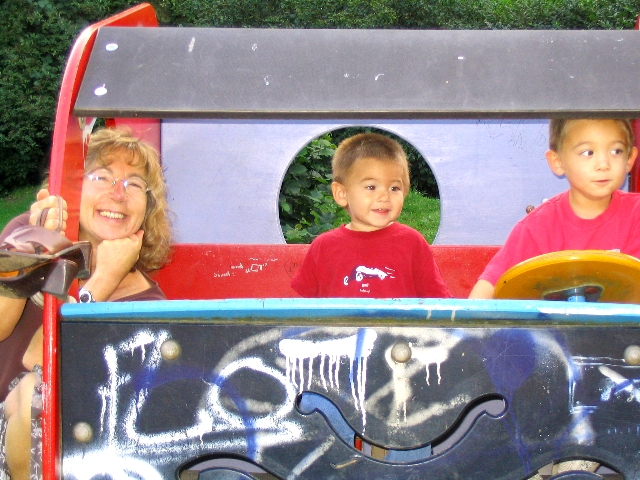 Our boys are the wurst. They love sausages. Of all kinds and sizes. The mini-brats were especially amusing to pick up with toothpicks. The shot of Roy was taken by Dax or Jürgen.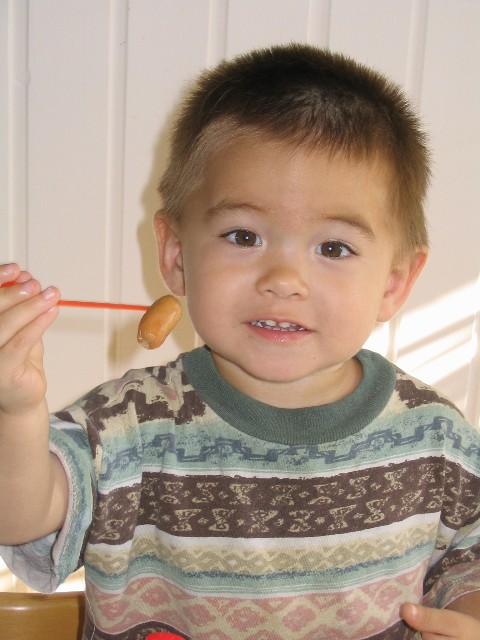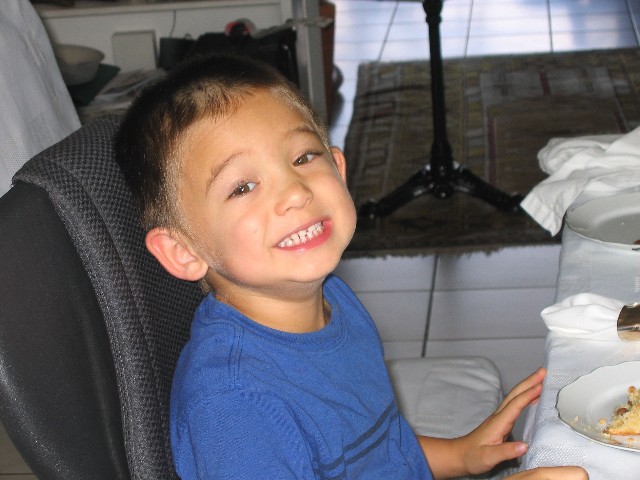 Click here for a video clip of Roy being a kitchen rat, explaining his diet (carrots, flowers, and crayons). (2.71 MB)
The MüGa. This was a great place, a large riverfront park with convenient (and free) parking to go into the city. The boys enjoyed the matsch spielplatz (mud area). Roy dove right into the fun, and can be seen in the first photo, left of center, wearing a hat; Leo couldn't quite believe his luck and stayed pretty close to us. The third photo, taken by Dax, shows John and Roy at one of the many interactive sculptures in the MüGa. The fourth photo shows Ondine, Leo, und Roy at one of the MüGa's many fountains.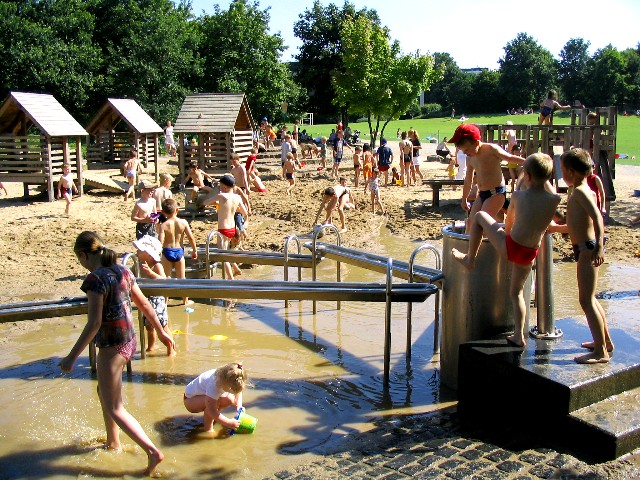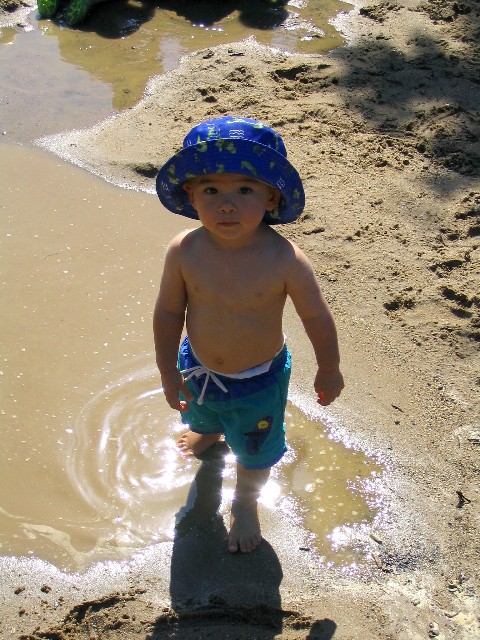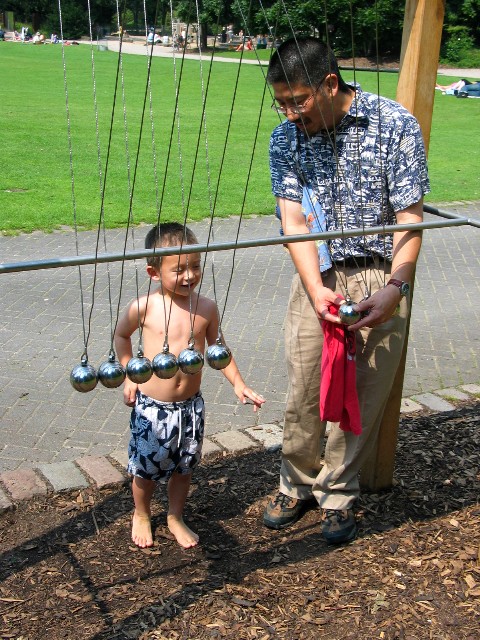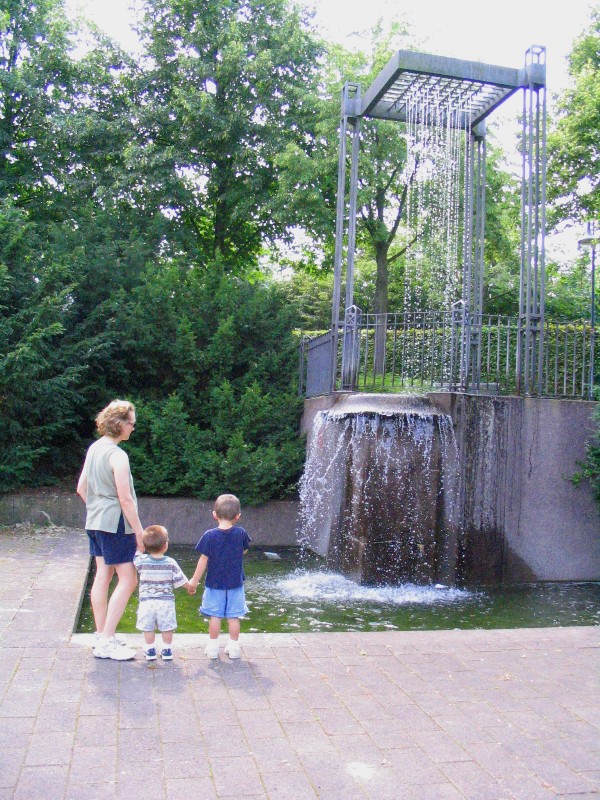 Everyday life. Here is a slice of everyday life. The first shot shows Dax's white Nissan Micra, the second shows Jürgen's silver 1997 VW Passat 1.8T (which was to be our daily driver), and third shows the inside of the Passat. Both have 5-speed manual transmissions. Driving in Germany, you come to realize that the Passat is a big car. Especially compared to a tiny car like the Mini. And what could make a Mini look big? Check out the smart car in the last photo. The video clips show more unique (to us) slices of everyday life.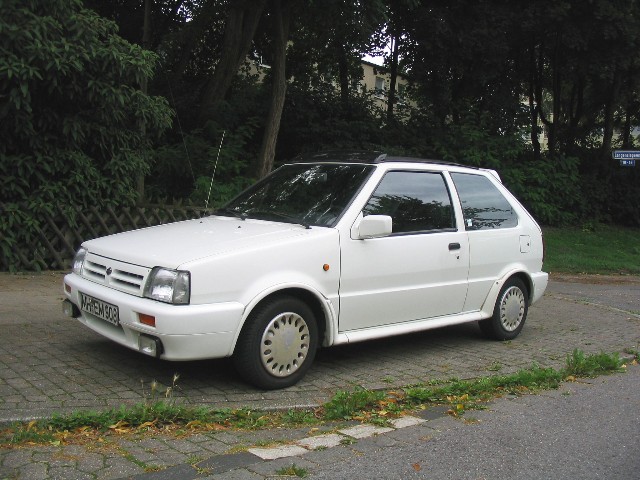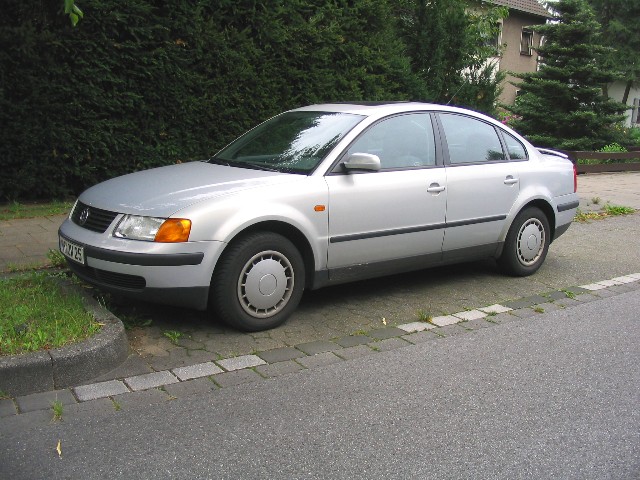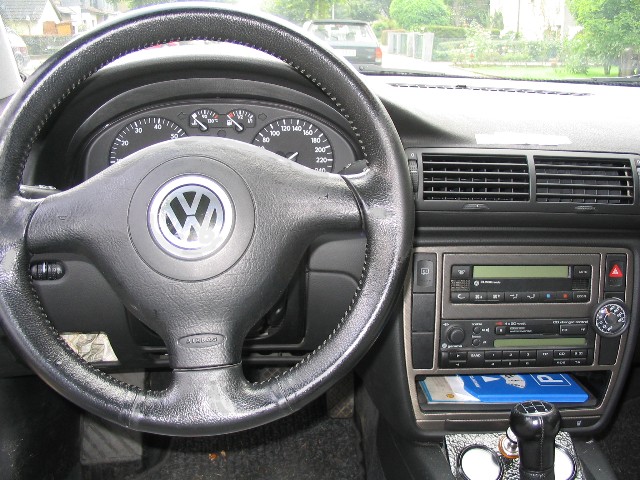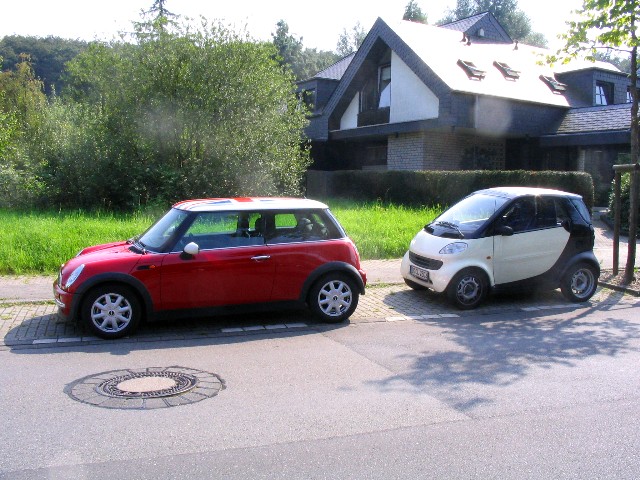 Click here for a video clip of the telephone ringing, with its lights and distinctive trill. The T-Net voice mail box calls to tell you that someone left you a phone message. And calls you, and calls you, and calls you until you finally give in and check your darn messages. (1.76 MB)
Click here for a long-ish video clip of the water meter in the shower. You can stand in the shower seeing exactly how much water you're using, broken down by cold water (the meter shown) and hot water (a second, almost identical meter next to the one shown). You can see how just flushing the toilet makes the meter spin! This is why our showers are both scarce and quick. When the boys become teenagers, we want to install meters like this in their bathroom. (2.94 MB)
Groceries and food. Here are some typical but unique items from Real (pronounced Ray-al). Milk (top left) comes in one-liter aseptic paper cartons, unrefrigerated (but, of course, you have to refrigerate it after opening). It opens with a plastic flip-top. The item in the upper right is a container of Kraut-Salat, which we mixed with lettuce and other vegetables to make a wonderful salad. Then, there are four different kinds of sausages, just a small sample of what's available both packaged and fresh. Next is a photo of Ondine in the kitchen, whipping up some lunch.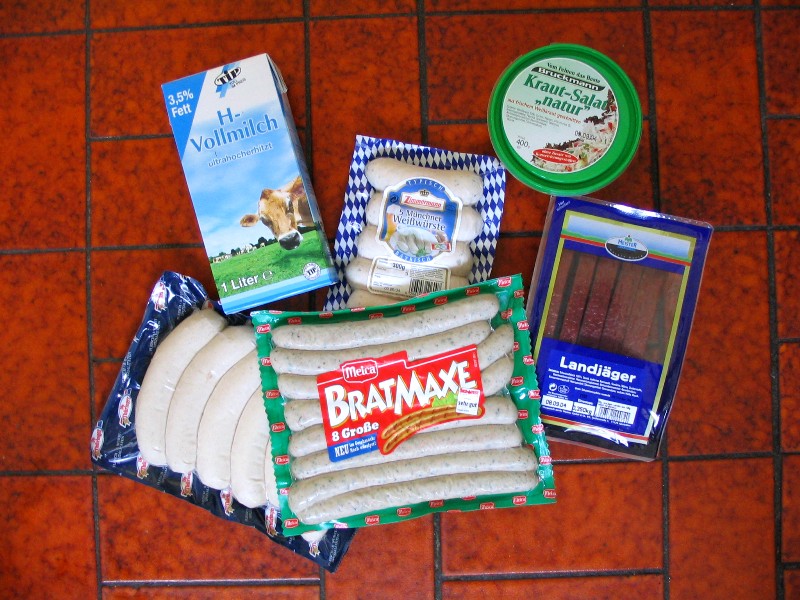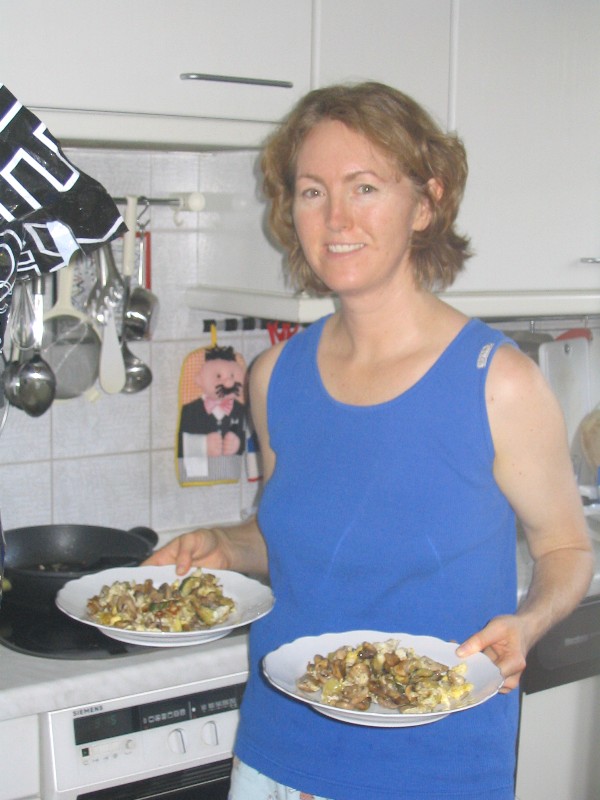 Dax und Jürgen in San Diego. We were so frazzled upon arriving and settling in, that we forgot to take photos of Dax or Jürgen! So, here are a couple of their photos, taken shortly after their arrival in San Diego. The first shows Jürgen and the second shows Dax.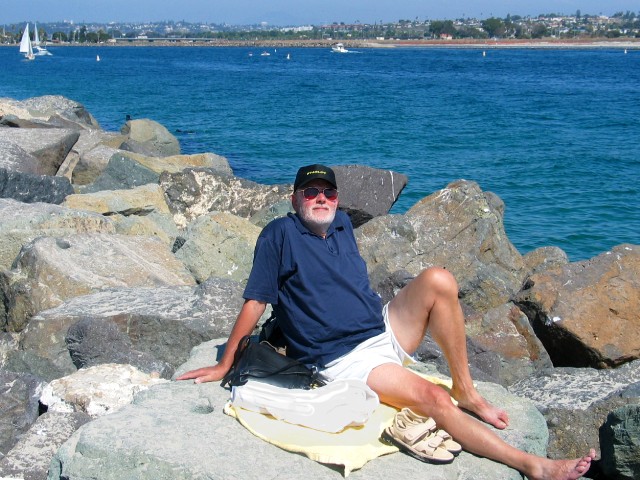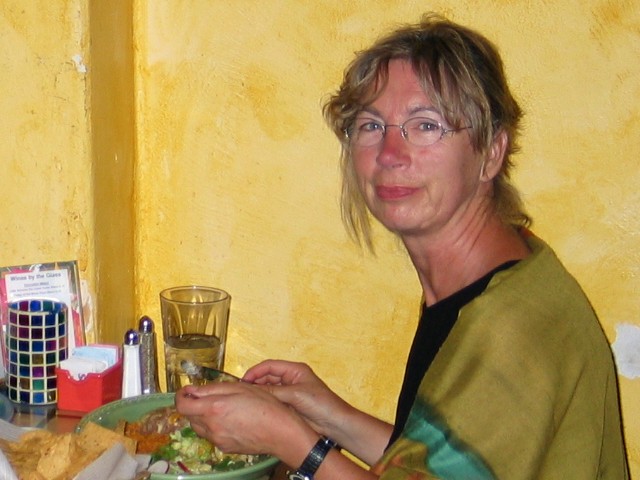 A walk along the Ruhr. Here's a photo of the fountain we saw many a time on the Mülheim webcam! And, a photo of John, Roy, und Leo along the Ruhr.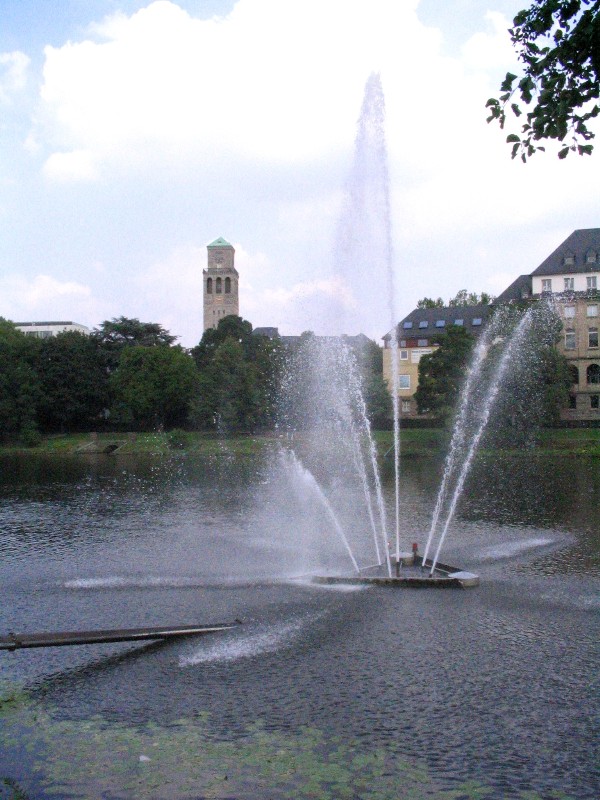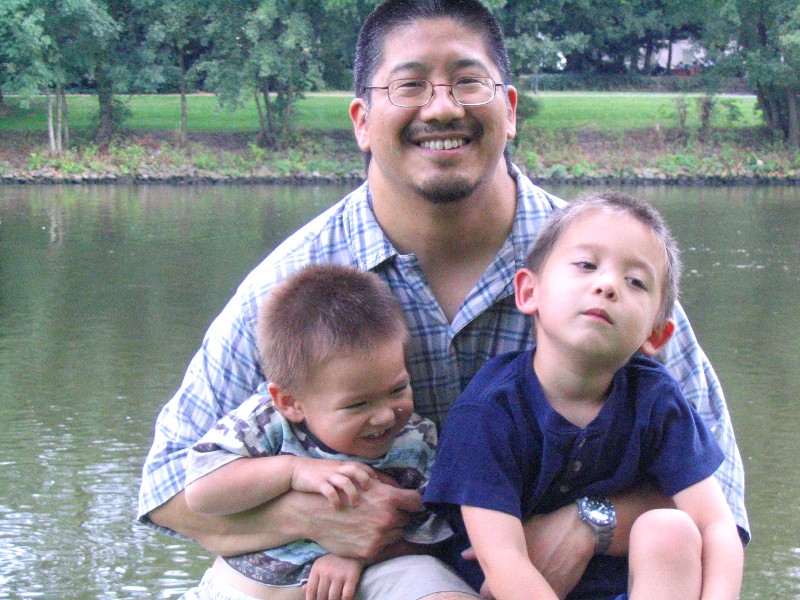 Virginia and Dag visit. It was a five-hour drive from near Stuttgart, but since we were all in Germany, Virginia und Dag came for a visit. Here are Ondine und Virginia, Virginia und Dag, and Dag's parents with Roy.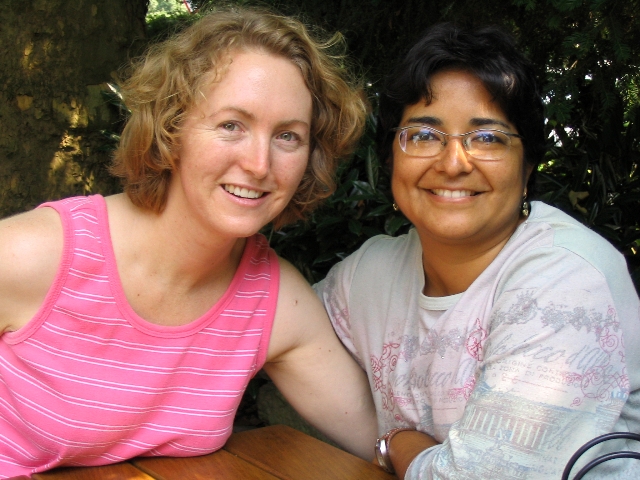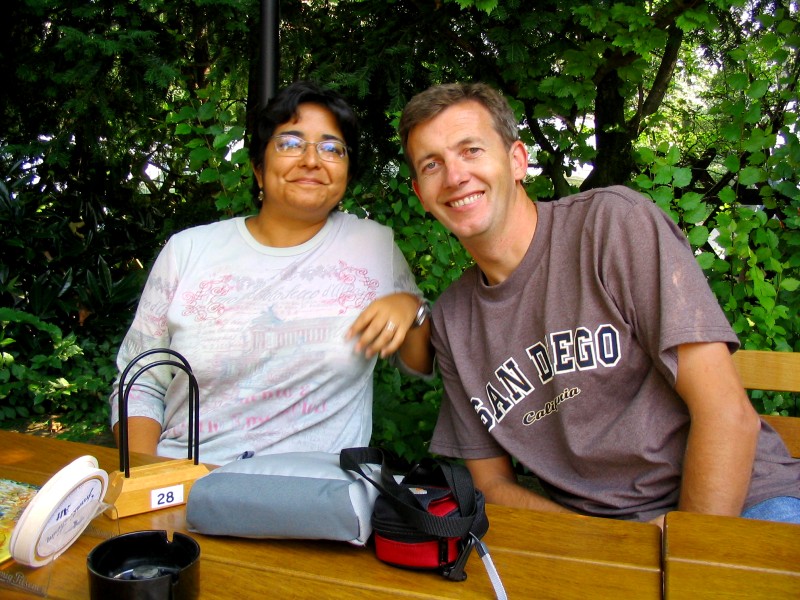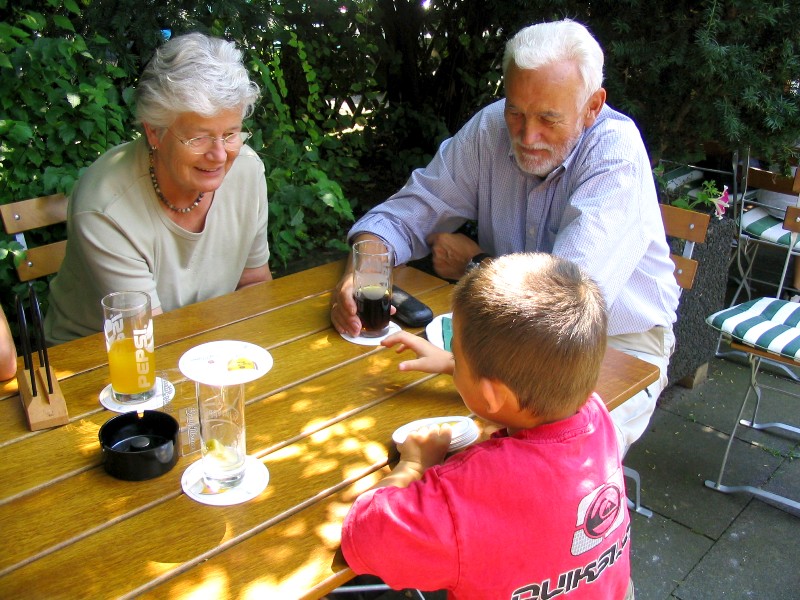 Onward to the second photo page
Back to the Kuraoka Family main page