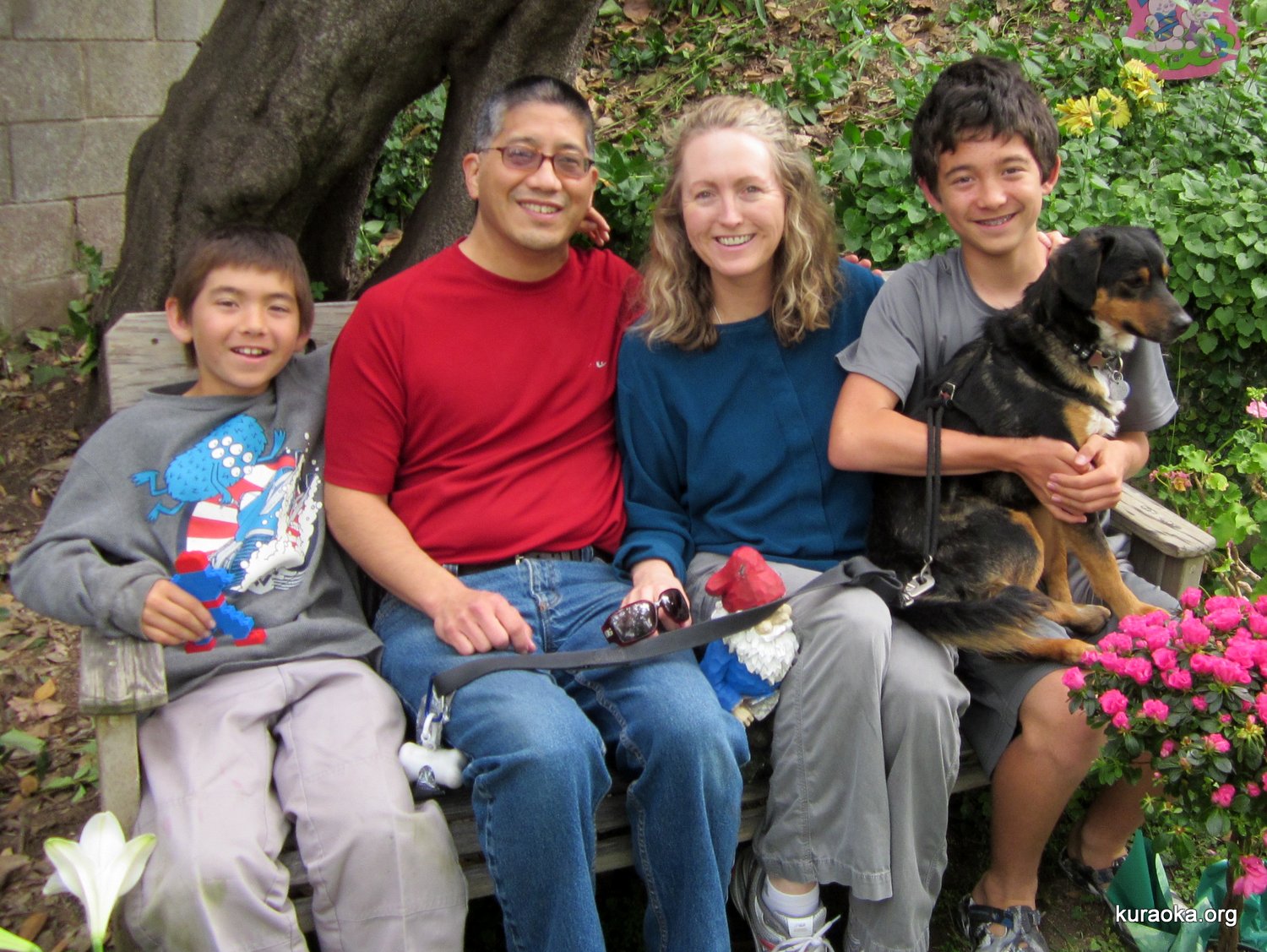 Us, March 31, 2013: Leo, John, Ondine, Roy, and Shadow
Monday, April 8, 2013
A recap: When we left off, John and the boys had just returned from several days with Grammy in La Canada, a trip that included the clan Easter gathering and outings to Santa Barbara and the Space Shuttle Endeavour exhibit at the California ScienCenter. Ondine joined John and the boys for the weekend. If you missed it, here's Spring Break Part I.
Oh, and the garage door opener had just broken down.
Now we continue with Spring Break Part II. John's cursory examination of the garage door opener revealed that a tiny wire spring on a cut-off switch had corroded and broken, leaving the switch's plastic lever dangling loosely with no way to close the electrical contact. John bodged together a solution with a carefully folded paper clip which worked once, but didn't have enough springiness to operate correctly after sitting for a bit. So, he called a repairman, thinking that it would be a matter of replacing the switch. The earliest appointment was Friday afternoon.
Backtracking a bit, John and Leo had dropped off Roy at Alex's birthday party Wednesday on their way home from Grammy's. Roy's present, a bunch of stuff he'd chosen himself on the trip, was wrapped in an old baby potty box! Roy came home Thursday mid-morning. The baby potty box had been the hit of the party!
Amidst all this bustle, our plans included a weekend desert camping trip with two other families! John spent most of Thursday with the kids underfoot, unpacking and putting away from one trip and preparing to pack for another. Friday he packed the car.
The garage door repairmen arrived Friday late afternoon. They replaced the switch and moved both cut-off switches to better positions on the track, which meant installing a longer arm, which apparently puts less strain on the motor and track and makes the whole thing run quieter. They checked everything, made a few adjustments, told John that the opener and springs were sound and decently mounted, and presented a bill for $200. Yow! John rather wished he'd spent a little more time fiddling with springy wires, although it was very nice to have a professional job done.
At any rate, we had a working garage door opener again.
John loaded up the kids in the car, and they headed out to the desert with Subway sandwiches for dinner. (The boys, by the way, can each eat one and a half foot-longs!) They'd be setting up their tents after sunset, IF they could find the place quickly despite never having been there before!
Well, the GPS directed them to a fancy RV resort! John took a shot in the near-dark and trolled the fast-dimming roads looking for the right turnoff. Astoundingly, he found it quickly! The other families had started the campfire for the evening when John and the boys pulled in. His arrival was a total surprise!
Saturday everyone took a hike up one of the canyons to a palm oasis. They spotted several Peninsular Bighorn Sheep. Here's what appeared to be a pregnant ewe sunning on a boulder.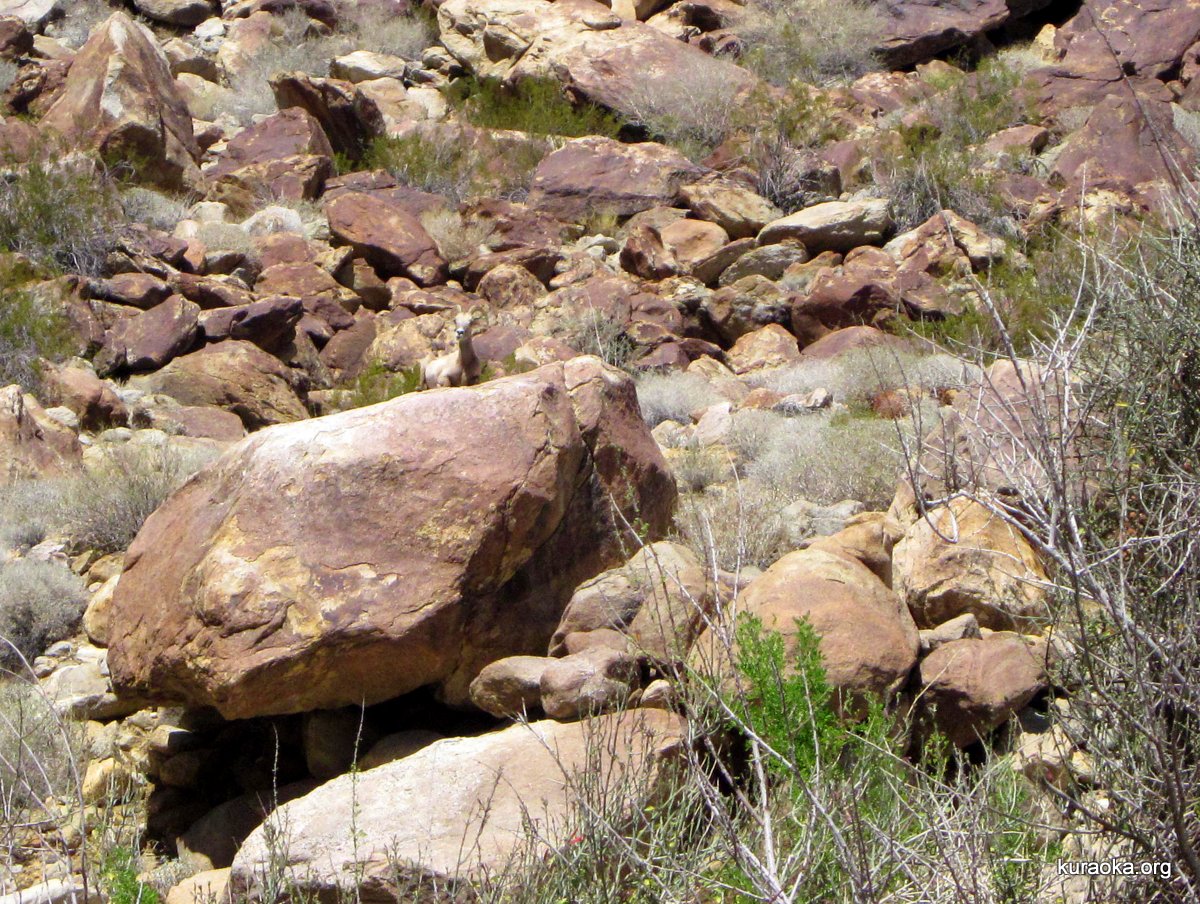 As he sat in the palm shade by the cool flowing water, John scanned the mountainsides with his binoculars. He was rewarded with a thrilling view of a small herd of sheep picking their way up a distant ridge!
Ondine drove out to join them. She left Shadow with Barbara because the desert is an inhospitable place for pet dogs, with scorpions, rattlesnakes, and cholla; plus, the scent of dogs stresses the native sheep so dogs are forbidden on many trails. Ondine decided to stay the night with Leo, and John came home with Roy and collected Shadow from Barbara. Here's Leo Sunday morning.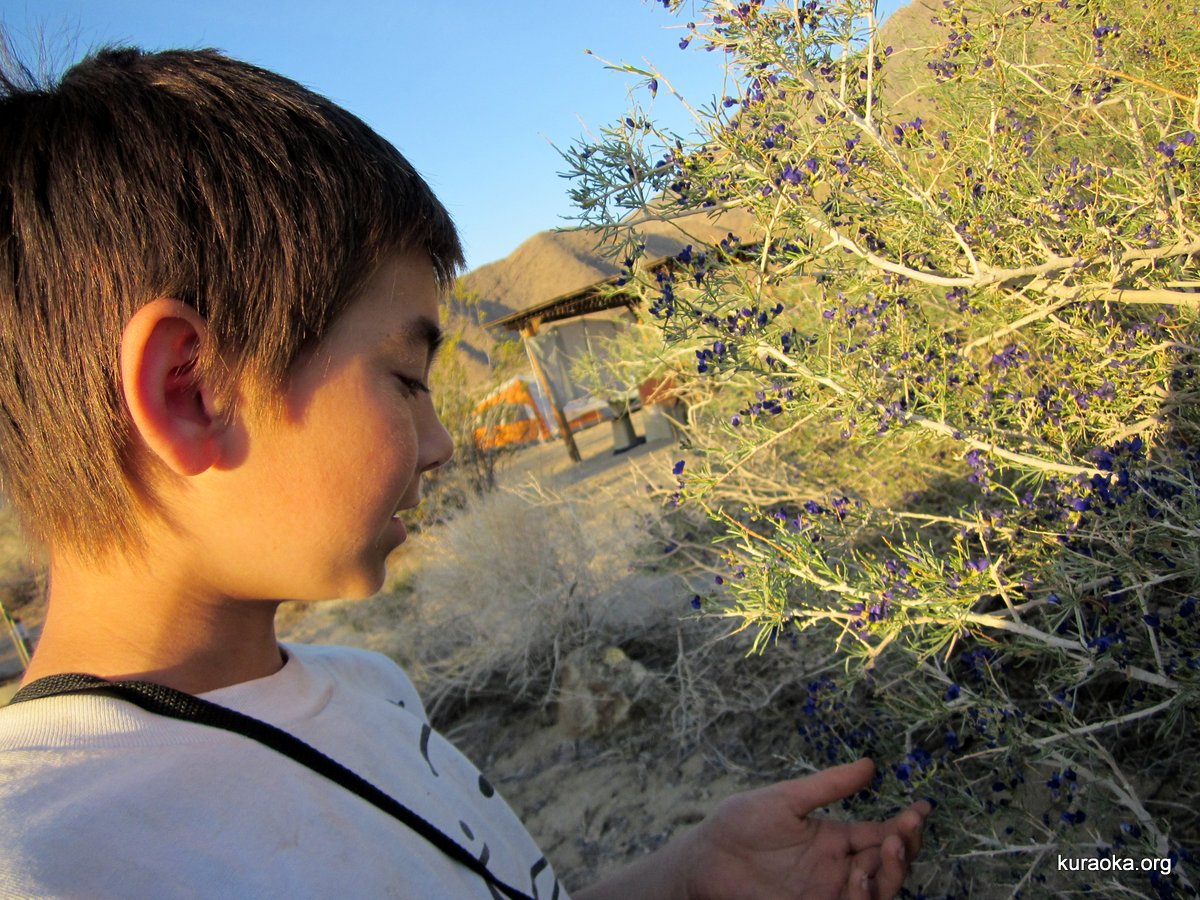 So the whole family wasn't reunited until Sunday late morning! Barbara came over and we had our at-home Easter celebration. Then the boys went next door for a little while. We all reconvened for an early dinner at Ami Sushi, a Japanese restaurant in El Cajon that had recently been recommended.
The meal was very good, and reasonably priced. The sushi, while attractively priced for happy hour, was somewhat tasteless. But the other entrees were a definite hit! While we were there, our friend Ed walked in with his family!
Monday Roy and Leo went back to school for the first time in 10 days. John breathed a big sigh of relief! He spent most of the morning running housekeeping errands and neglecting the looming tax deadline until it was time to pick up Leo at school.
Leo now has only one after-school activity, Spanish, on Wednesday. Roy has tech crew rehearsals most Tuesdays, Wednesdays, and Thursdays.
Neighborhood gas prices dropped again to about $3.99 per gallon.
Back to the Archives page
Back to the Kuraoka Family main page
Forward to the current Weekly Journal.