The Kuraoka Family Weekly Journal
www.kuraoka.org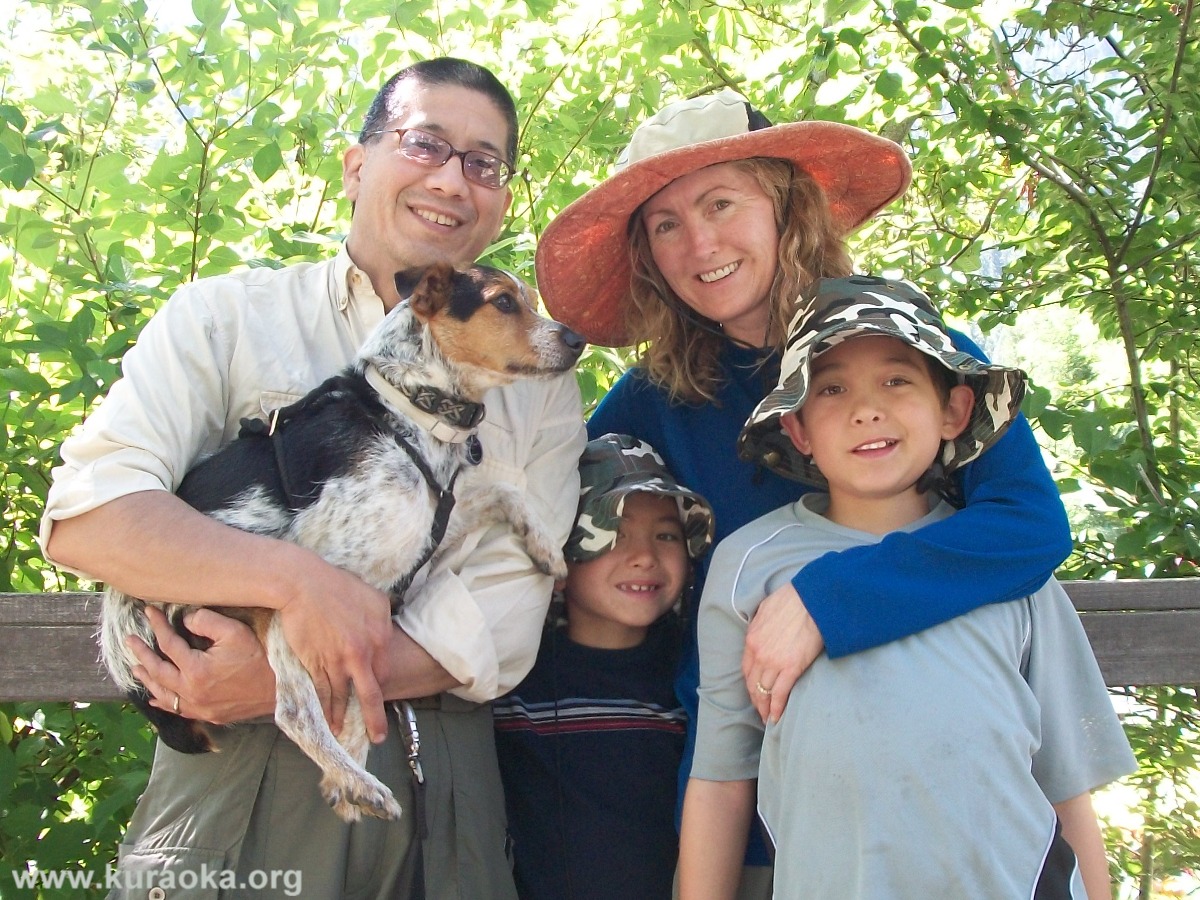 Us, August 11, 2010 (clockwise): John, Ondine, Roy, Leo, Buddy
Friday 10 June 2011
Yes, we missed posting on Friday. That's because we were busy getting ready for this last weekend, as you'll see. But first …
Old Business Dept. The scary Doctor Who episode ("The Empty Child") resolved in a second part with one of the rare "everybody lives" endings. But the story itself was residually spooky enough to frighten Roy into sleeping with the light on for a couple nights afterwards, and as for Leo, Ondine had to sleep with him one night and the next night Leo slept in Roy's room. It was three days before Leo was back to sleeping alone in his room.
Still continuing last week's news, Roy received a recognition award from Ms. Elrod, the Gage Elementary PE coach, for all his participation over the years. He's run over 150 miles every year he's been at Gage (even Kindergarten), making it into the Top Runner's field trip every time, plus he was usually one of the top runners in the Gage Walk-Jog-A-Thon. He got a certificate and a coupon for a free personal pizza at Shakey's!
We have no photos because Roy assured us that his award would be given at 9 am, with the fifth-grader group but it was in fact given at the fourth grade time of 8:30 because his class is a combo fourth-fifth. We arrived ready to applaud him at the appointed time, only to have Henrieta intercept us and tell us that Roy had already received his award! So, we got a bonus half-hour that day but missed seeing the award ceremony.
Roy also was officially and honorably discharged from the School Safety Patrol with the rank of private. So, last week was his final week of Safety Patrol duty!
Leo was off his Metadate medication all last week, and will likely continue unmedicated through the end of school. This is an experiment to see how he does, now that testing is all finished. So far, his teacher has reported no change for better or worse – so it'll be interesting if he's outgrown the need.
However, Mr. Guadarrama's classroom is right in Leo's wheelhouse, with no assigned seats and a high expectation of independent work. Leo's fourth-grade classroom will be much more traditionally run, so all bets are off! We still don't know who his next teacher will be; apparently there may be three Seminar fourth-grade groups, a third-fourth combo, a fourth-only, and a fourth-fifth.
(By way of background, third-grade Seminar usually creates a bump in enrollment because Hearst is one of only two local elementary schools with a Seminar program. Seminar testing first takes place in second grade, for placement in third.)
Roy's birthday just kept on going. Last last Friday he had his birthday sleepover, with Alex, Michael, and Steven. (Photos on our virtual refrigerator door.) Then early last week we gave him his big birthday present, a new Fuji AX250 digital camera. (That camera, by the way, is so good that John wants one for himself.)
Then, Thursday, we had a combined birthday celebration for Bill and Roy with rocky road ice cream cake and presents! Yum! Alex came over to join in the celebration, and played "Happy Birthday" on the keyboard!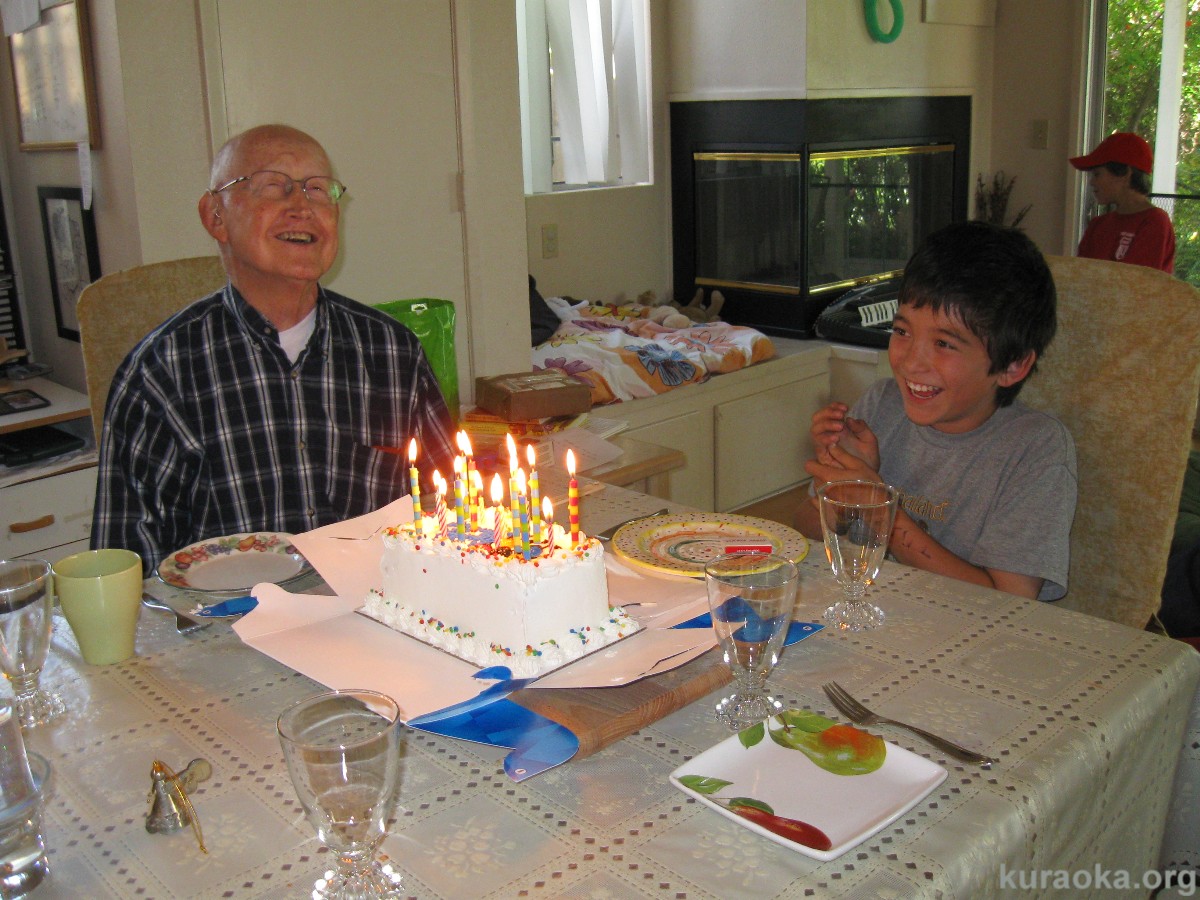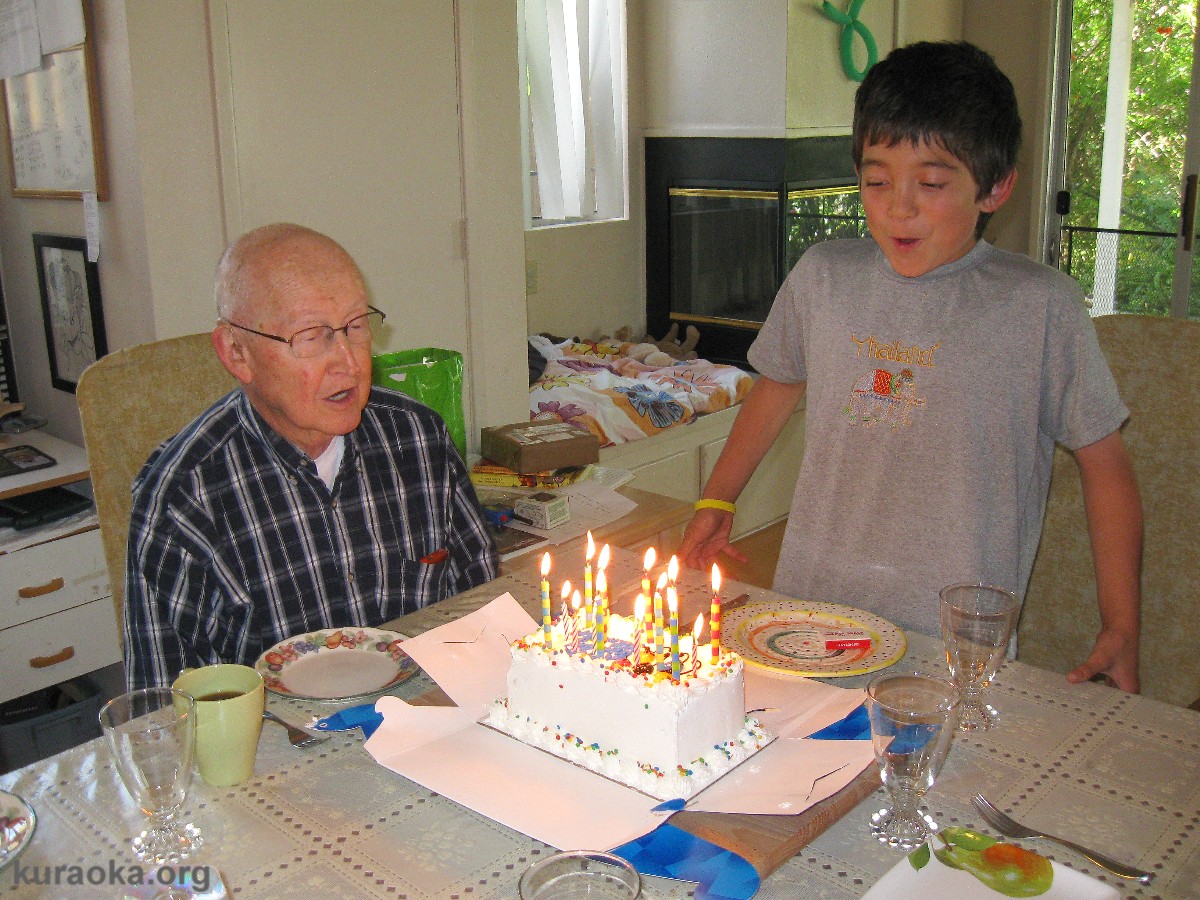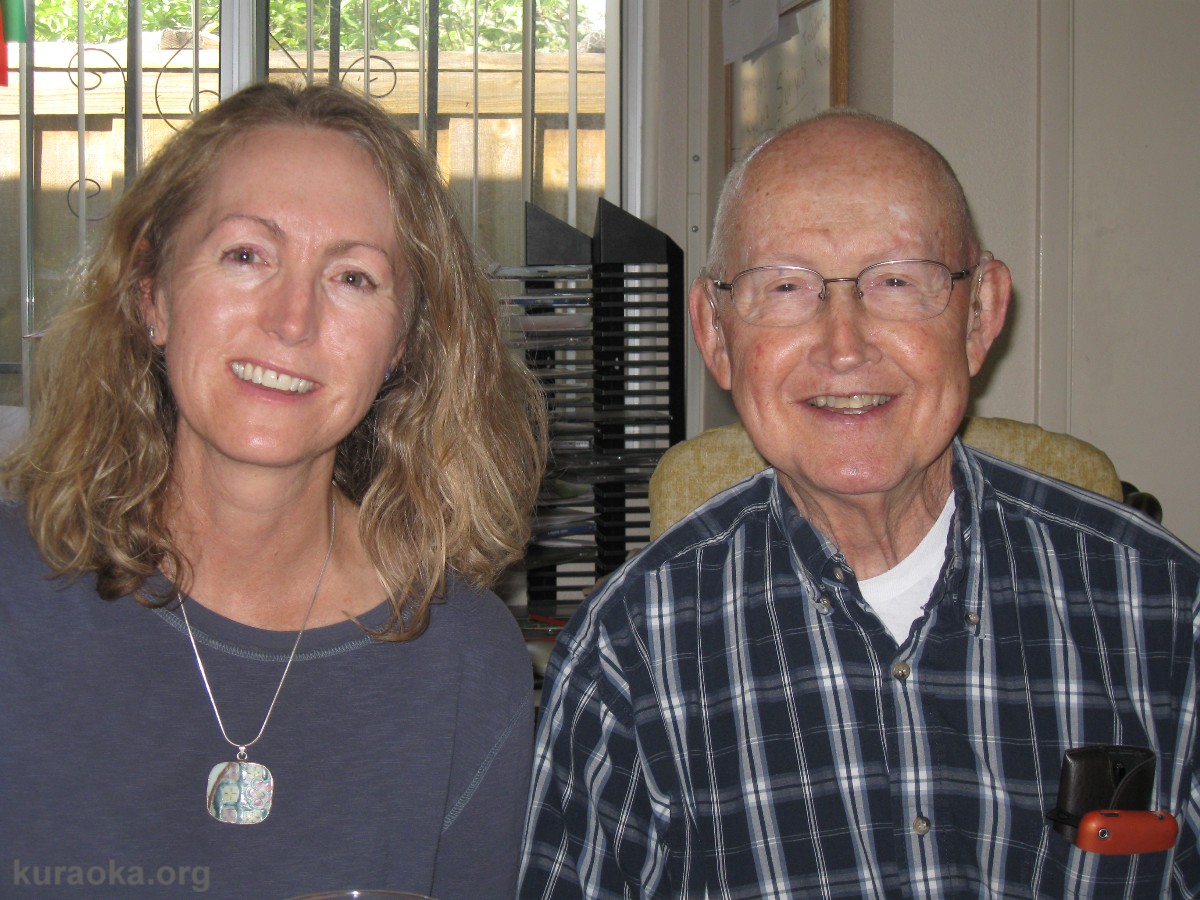 Then, on Roy's actual birthday Sunday, we were camping at Cibbett's Flat, and had Chips Ahoy cookies to celebrate! Roy's birthday celebrations spanned two weeks!
What else happened last week. John had a meeting to get ready for a major presentation, and was gone all day Wednesday. Leo had friends over Wednesday and Thursday, first Ben and then Charlie.
Friday John put his head down and wrote, still trying to catch up from the Memorial Day weekend. Ondine put her head down and wrote, too, completing and uploading her critiques for the novel class. As for her submission, she wrote this section in first-person, on the suggestion of the teacher. She's looking forward to the online class session Monday evening!
Then, we scrambled to pack up the car for a weekend camping trip to Cibbett's Flat with familie Fernandez. It takes nearly as much stuff to go to Cibbett's Flat for the weekend as it does to go to Sand Pond for a week.
We arrived at Cibbett's Flat (I-8, left on Kitchen Creek, and the campground is on the right) at about 5:00. Familie Fernandez was already encamped in site 18, which was one of the last available sites when they pulled in. The place was packed, something we'd never seen before in a local campground. Two large groups were in camp – what appeared to be a father-son church group, and a younger mixed set in orange shirts called the "Junior Woodchucks." Despite the population density, the night was quiet. Alex opted to bunk in with Roy and Leo. There was no moon, and the sky was riddled with stars.
Saturday morning the father-son group left camp, leaving the campground back to normal. After a leisurely breakfast, the kids played in the creek while the grown-ups just sat in the shade. Ahhh!
It was late morning when we took off for our hike to the deep pool farther upstream. When we arrived there was a small crowd, so Ernesto and John pushed on to another deep pool we'd found last year. Someone had suspended a rope over the pool. No one was there. They pushed farther, until the trail petered out in scratchy brush.
So, we packed up and moved from the madding crowd to the empty shaded pool. Ernesto returned to camp for more rope to extend the swing so the kids could swing out over the water. They all took turns, thrilling to the speed and the height and the danger. Later Carmen and Alex swung out and took the plunge into the cold, deep water below.
That evening everyone was tired, and we all turned in early. Here are photos from the day!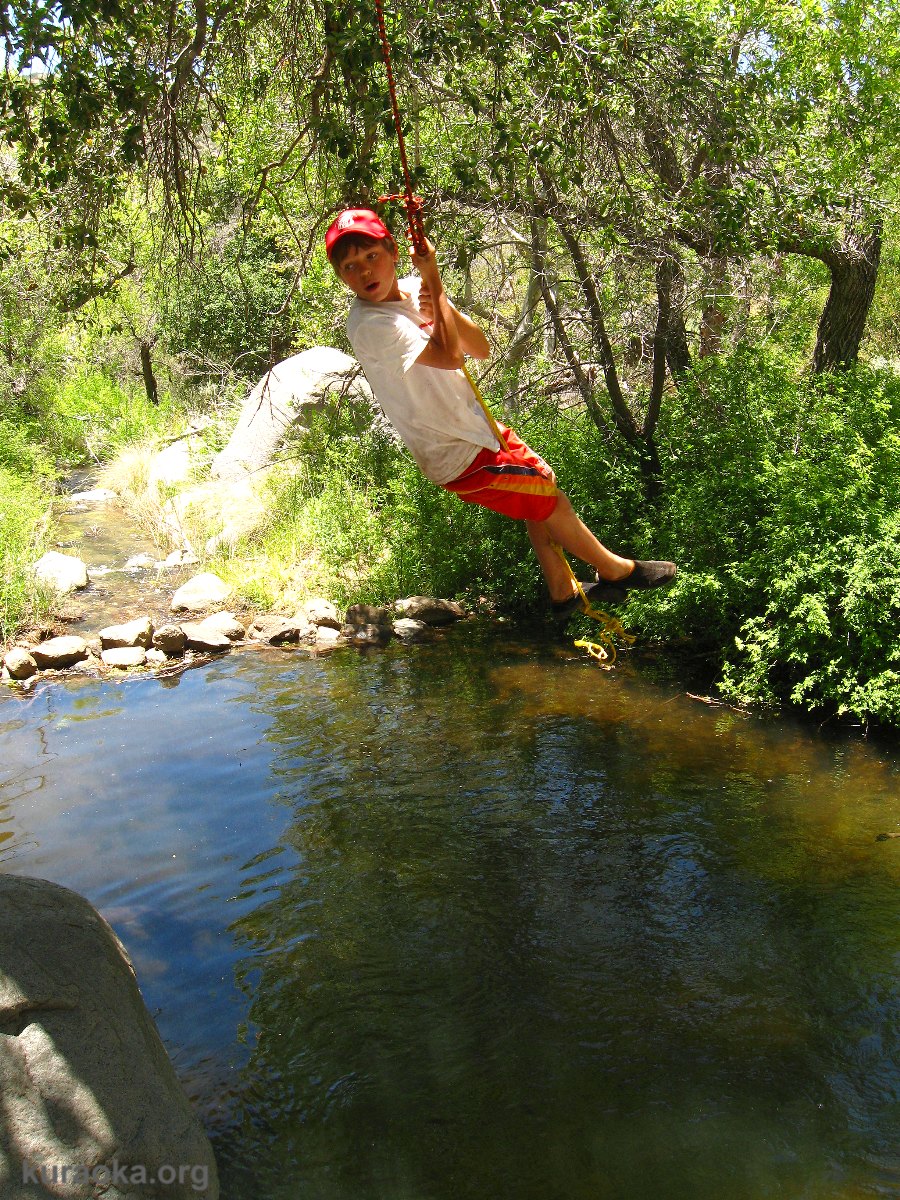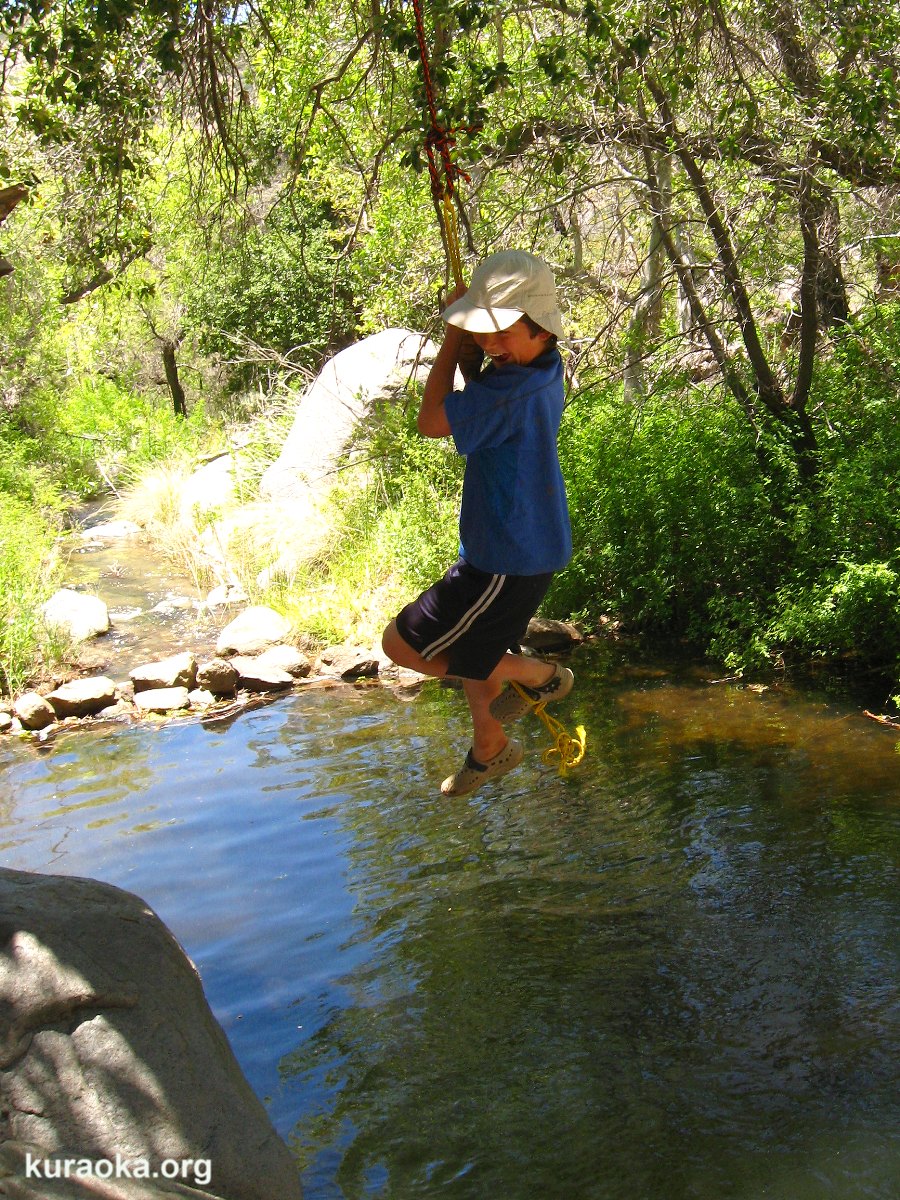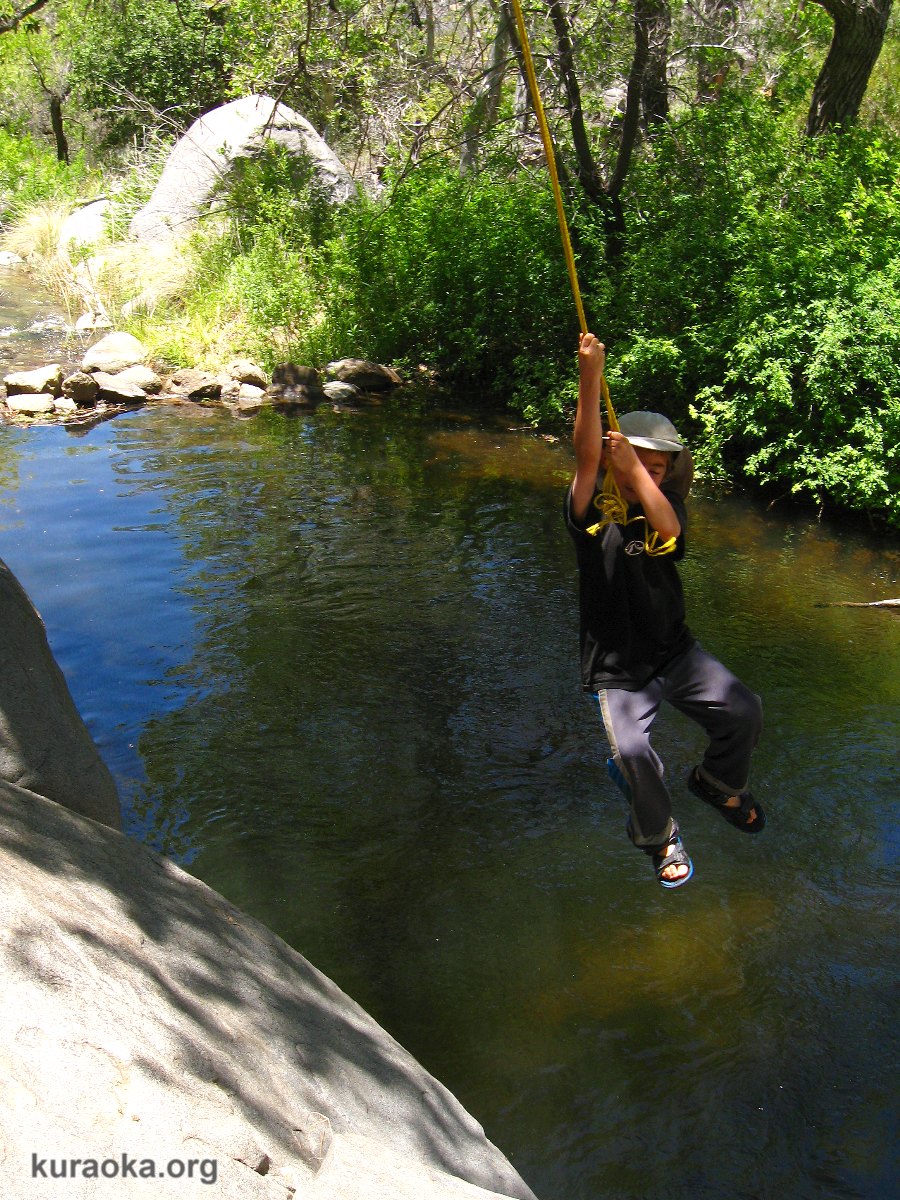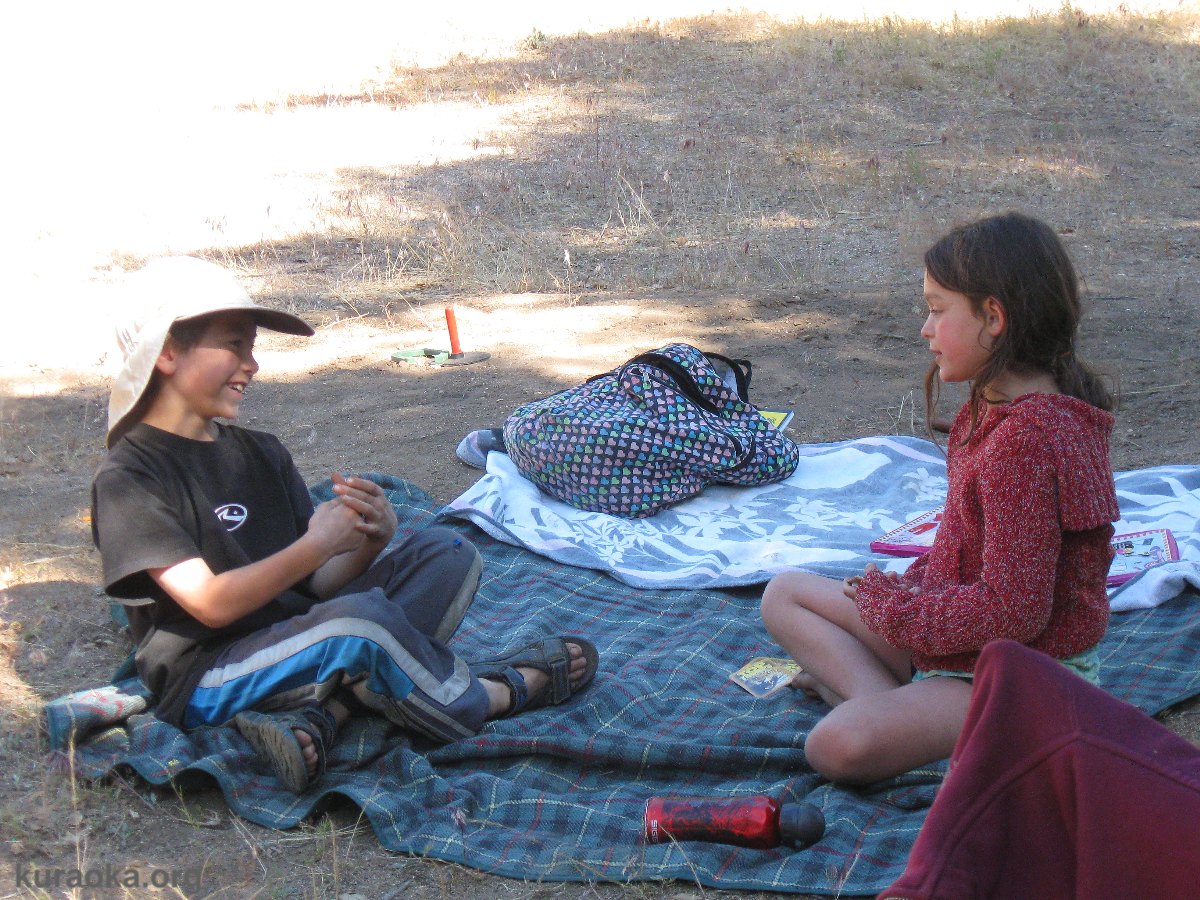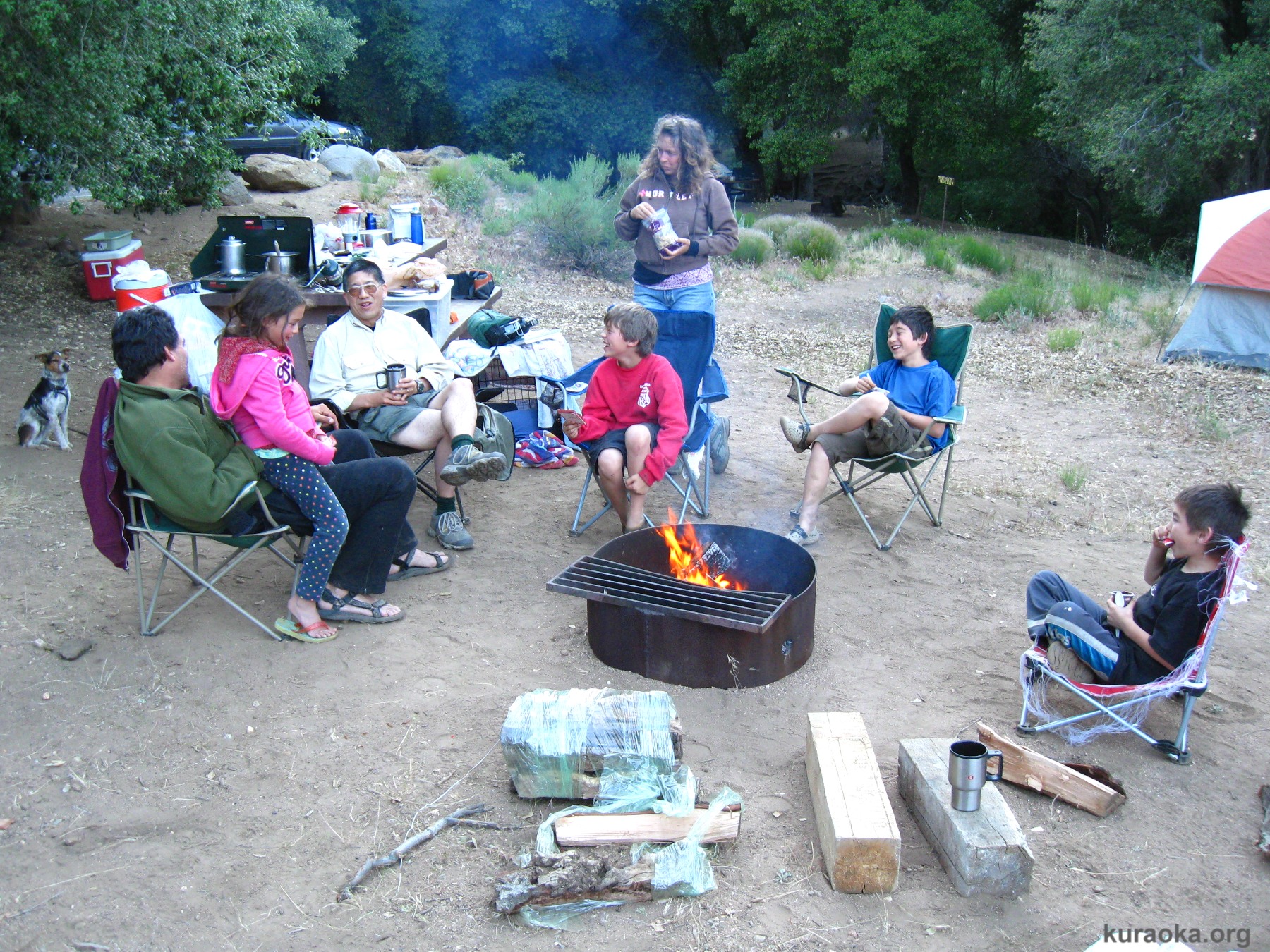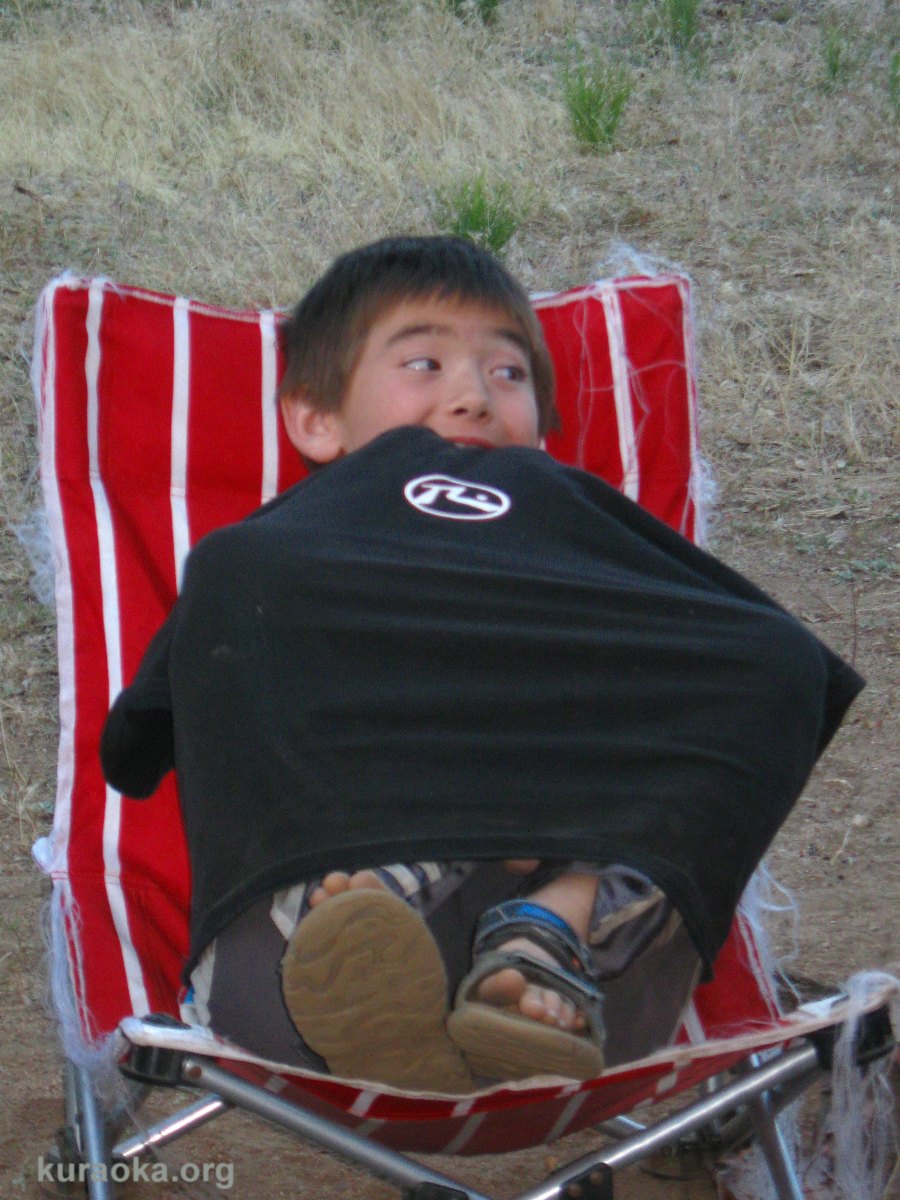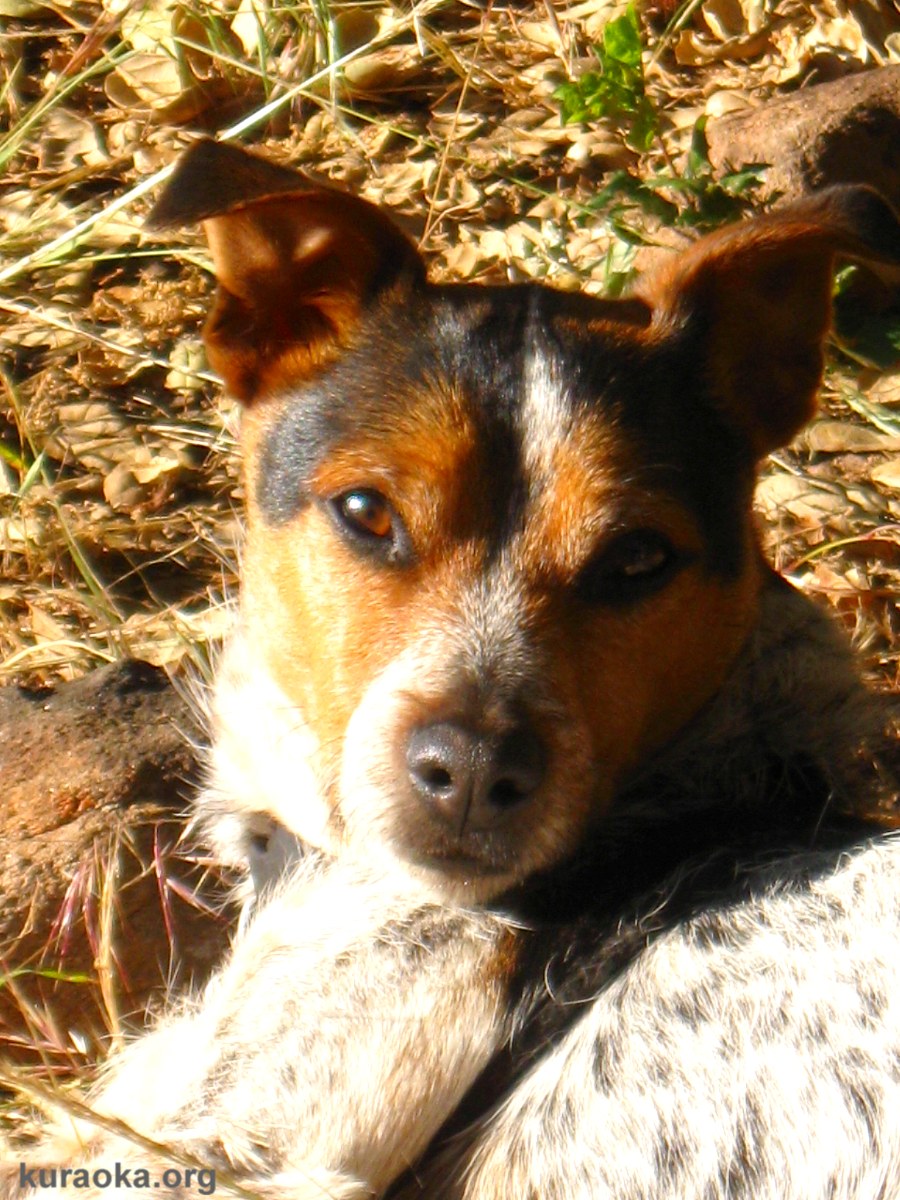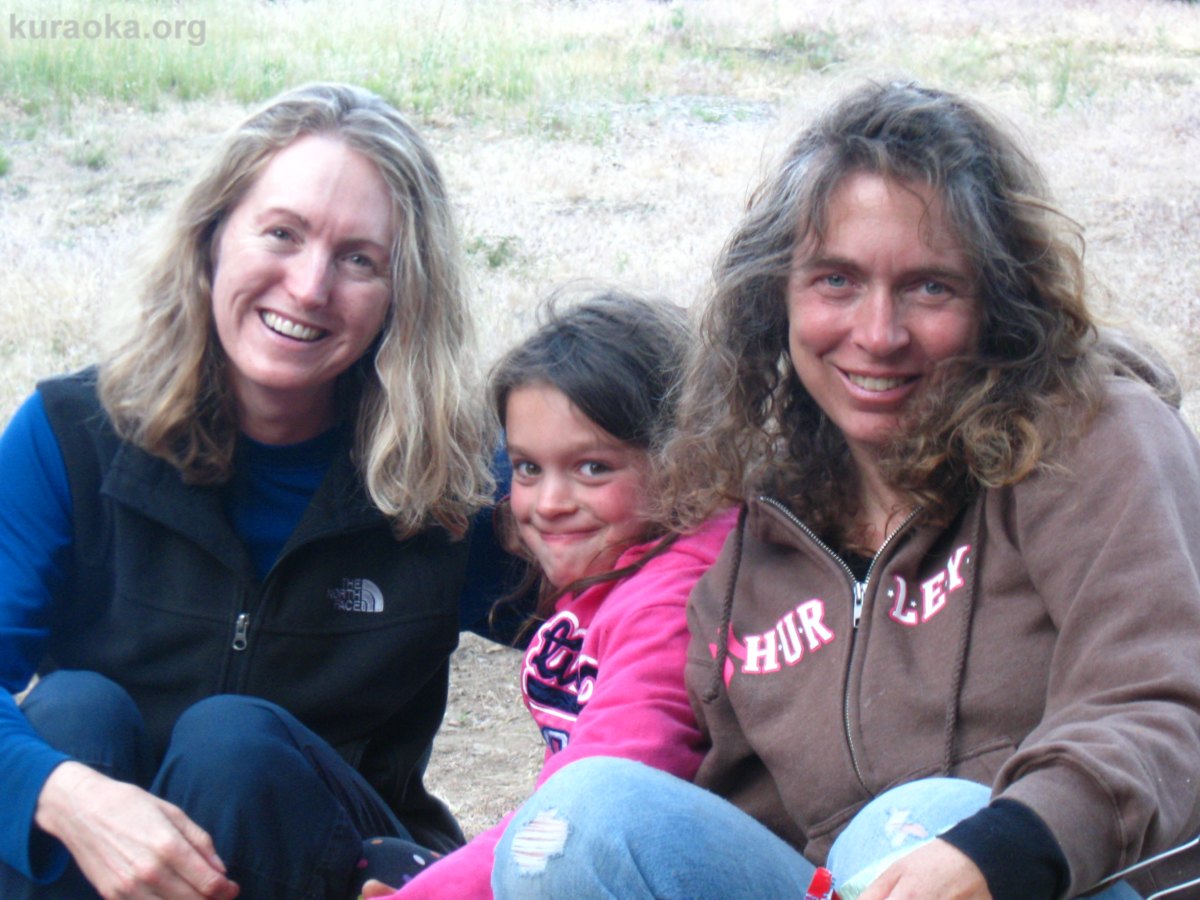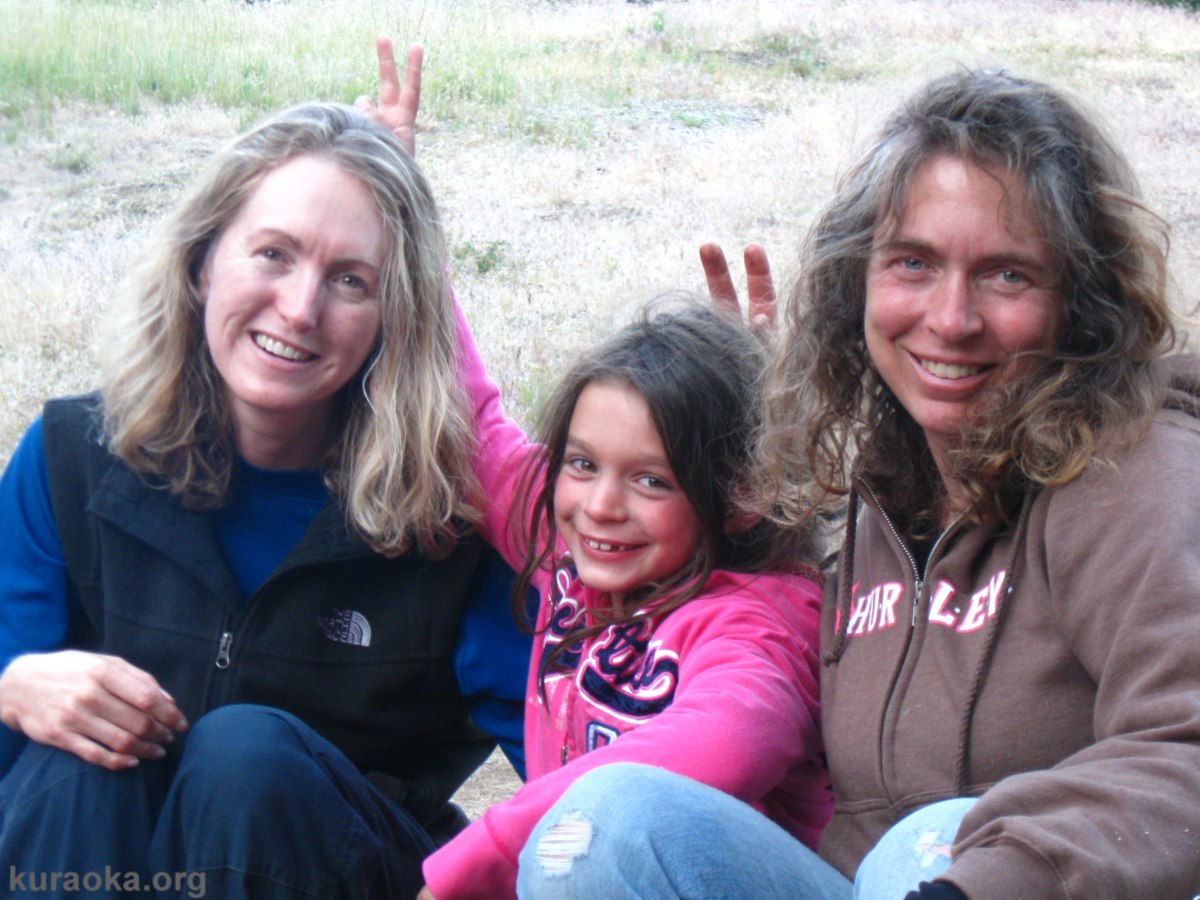 Sunday was Roy's birthday! Yes, he is officially, legally 11 years old. After breakfast we had Chips Ahoy cookies and Alex read a wonderful poem he'd written about the weekend in Roy's honor. Lucy took the kids to the deep pool, while the rest of us packed up camp.
On the way home, we joined the Fernandez' in stopping at Major's for milkshakes, which turned into lunch! We sat outside, with the dog, while they sat inside. The kids volleyed between tables.
We got home, unpacked, and John started the long laundry process. We all had baths or showers. Then, we settled down in front of Raiders of the Lost Ark and a huge fresh fruit salad. Meanwhile, Ondine gave Buddy a bath, her first time bathing the dog. He's pretty easy to wash, actually, and he gets so fluffy afterwards!
Monday it was back to school for the last full week. Roy didn't have Safety Patrol, but wanted to see how the fourth-grade Monday squad was faring on its first full day of duty without the fifth-graders to guide them.
Leo received an award from Hearst for perfect attendance for the period from May through June! At the same ceremony, he also received his 50-mile ribbon and his 100-mile T-shirt! He was the only one in his classroom to receive a running award, and is one of the few students to earn the 100-mile T-shirt in just one school year! As you can see, there were special refreshments for the award winners in the lunch arbor.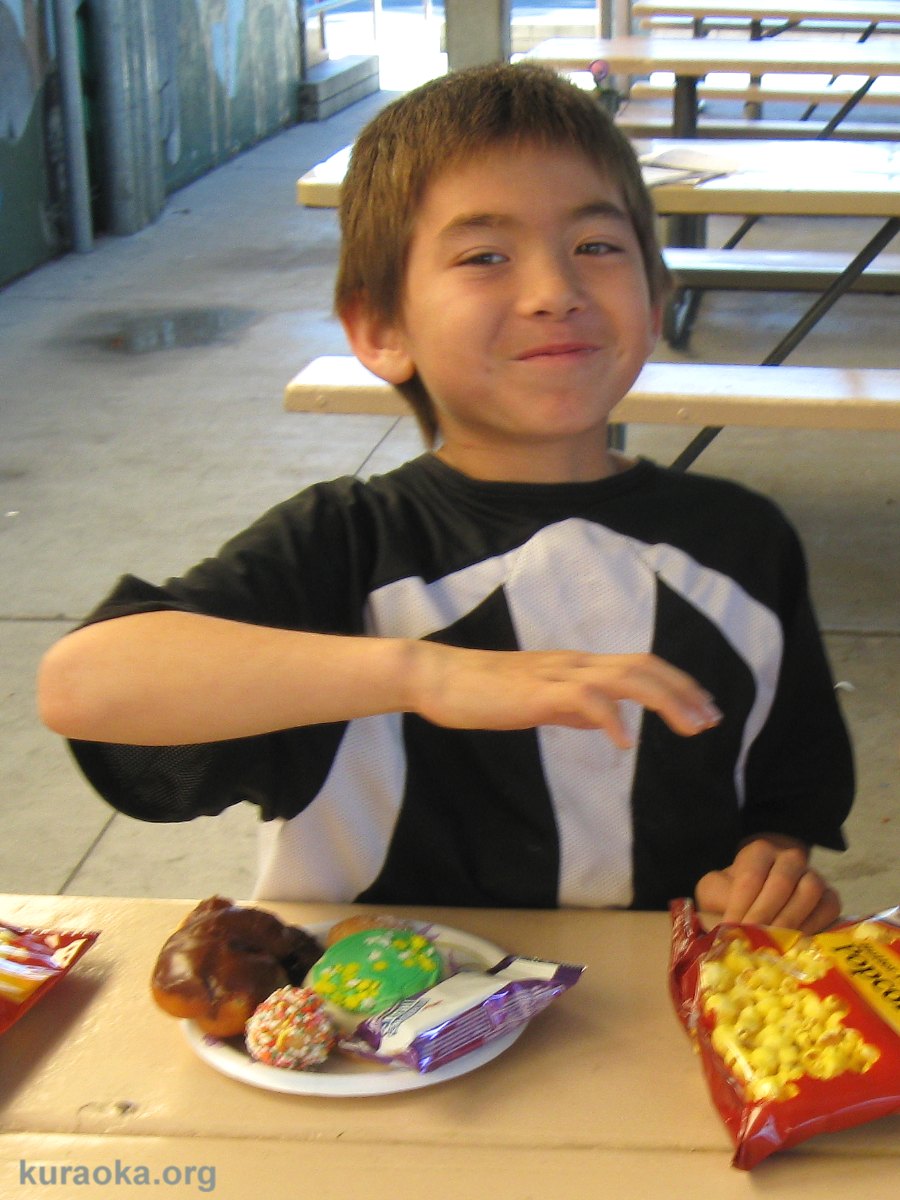 After school, Leo went to Charlie's house.
John had a presentation today with a potential client downtown and another presentation due by email in the afternoon.
Ondine has her online novel writing class this evening, while the boys are at judo. She'll find out what the class thought of first-person vs. third-person for the novel.
Neighborhood gas prices dropped to about $3.99 per gallon for regular, dipping below $4 a gallon for the first time in a while. Prices are expected to rise before summer, though, and may hit $5 per gallon by the time we take our road trip. Good thing we have an economical car!
To see what we're up to now, visit our regularly updated weekly journal!
Back to the Archives page
Back to the Kuraoka Family main page
Forward to the current Weekly Journal.