Our Virtual Refrigerator Door
www.kuraoka.org
Just odds and ends that we had to post.

01-18-18: Student of the Month honorary breakfast. Roy was invited to a special breakfast for being Student of the Month, along with his tech theatre friend Malcolm who was Student of the Month for January. What we didn't know, was that it was a regular Kiwanis breakfast, so there was a big audience and group singing!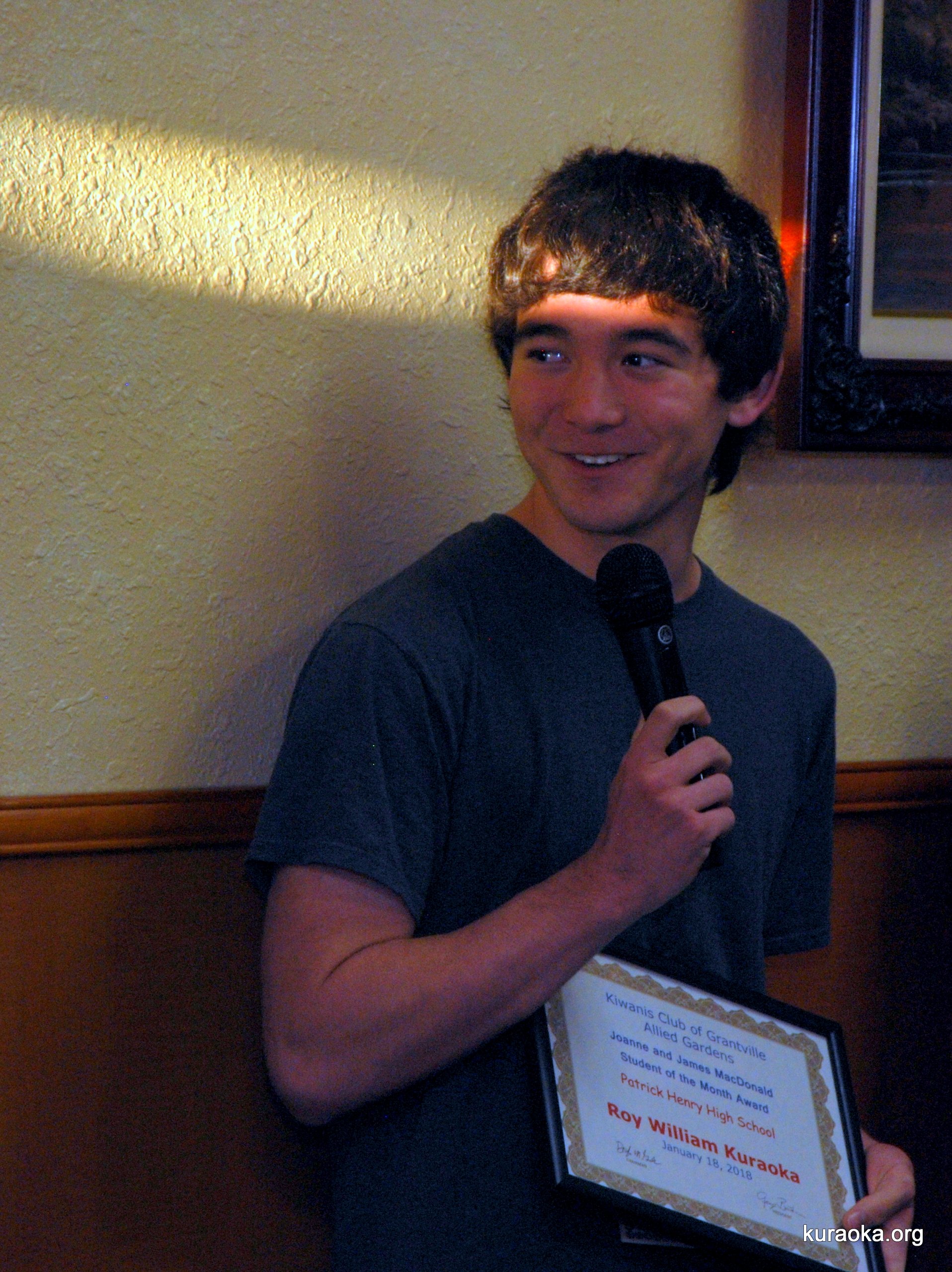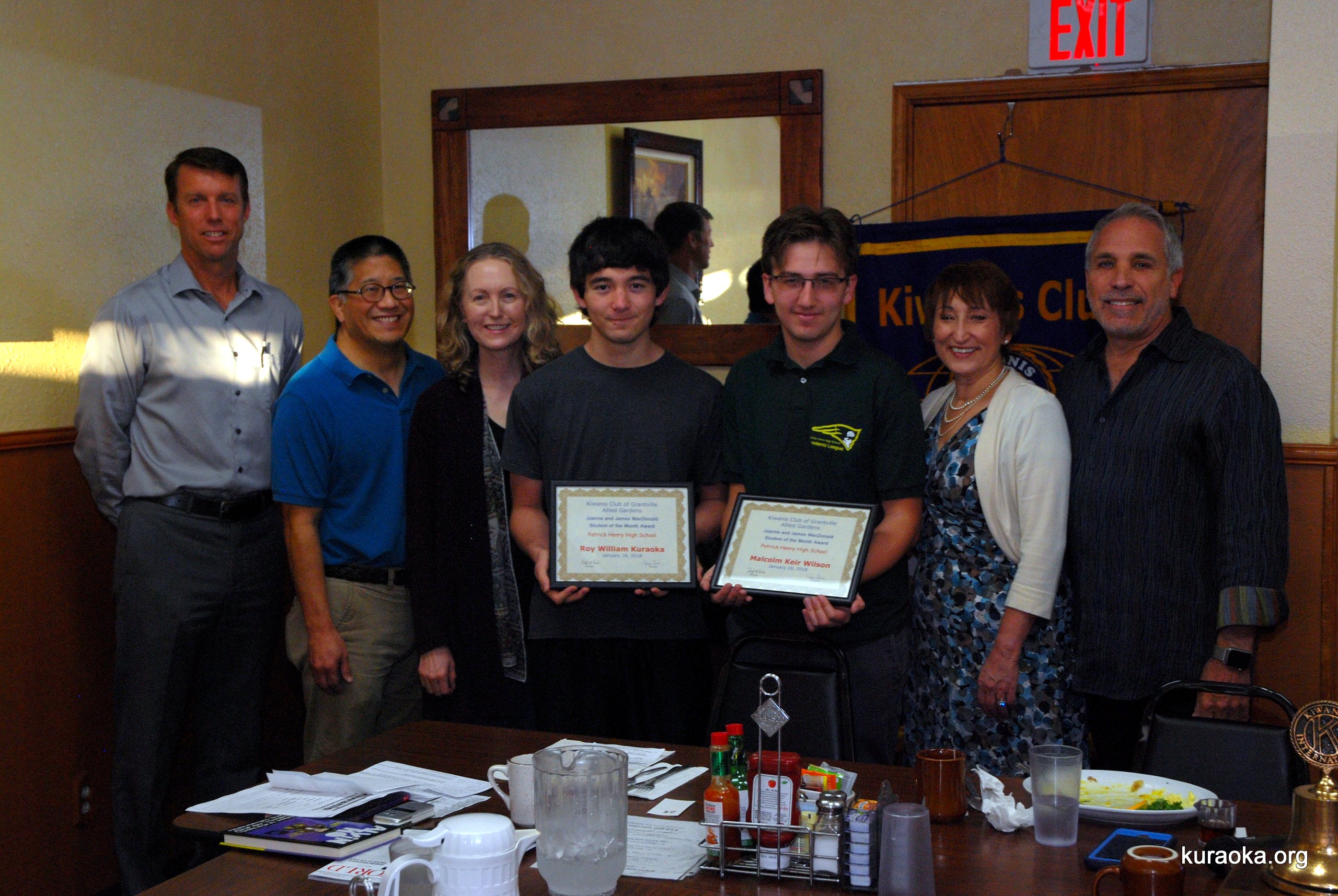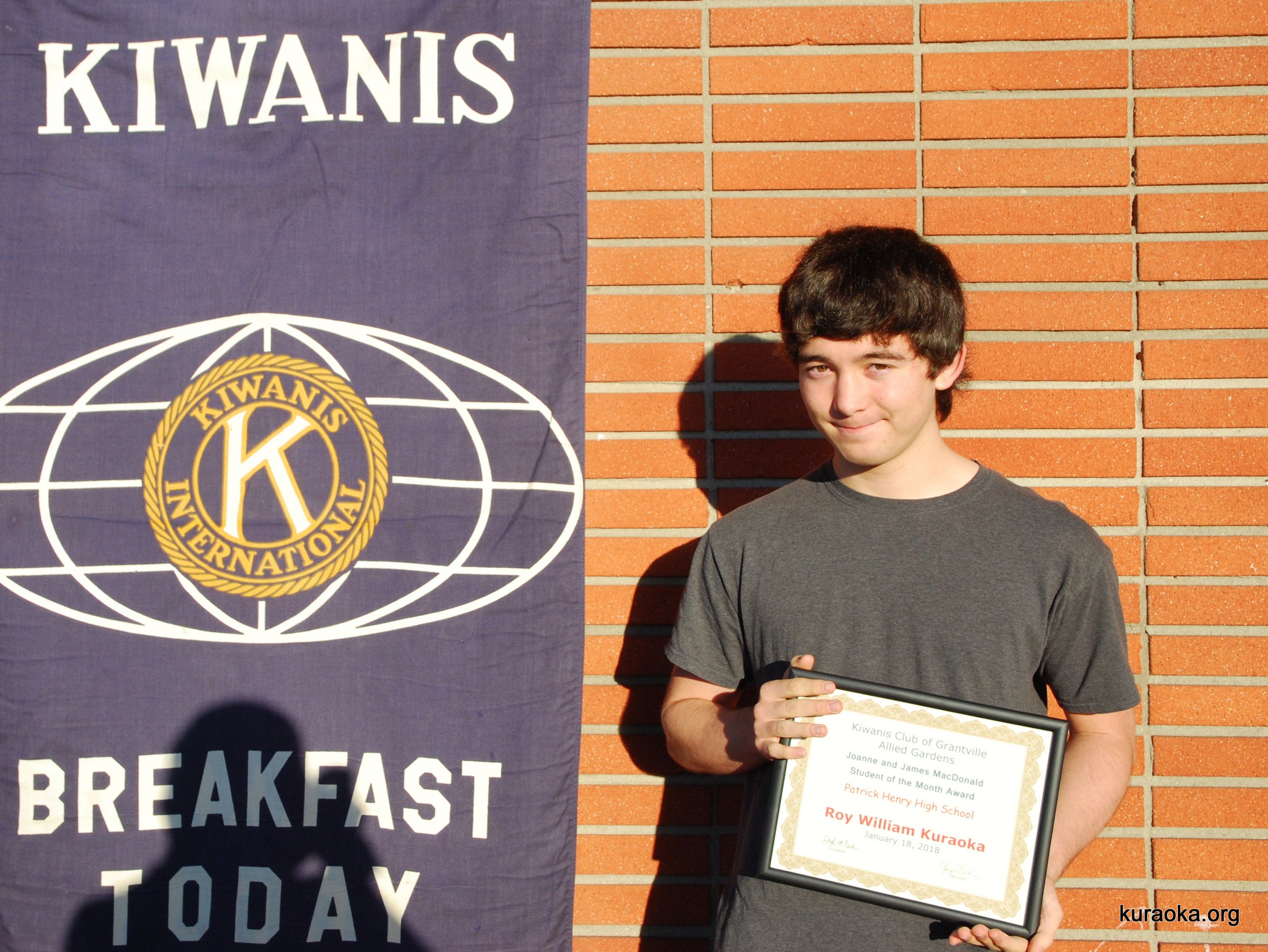 01-14-18: Roy is Student of the Month! Roy was Patrick Henry High School's Student of the Month for December 2017. (His friend from tech theatre, Malcolm, was Student of the Month for January 2018, so it was something of a sweep for the senior PHAME crew.) Name in lights time!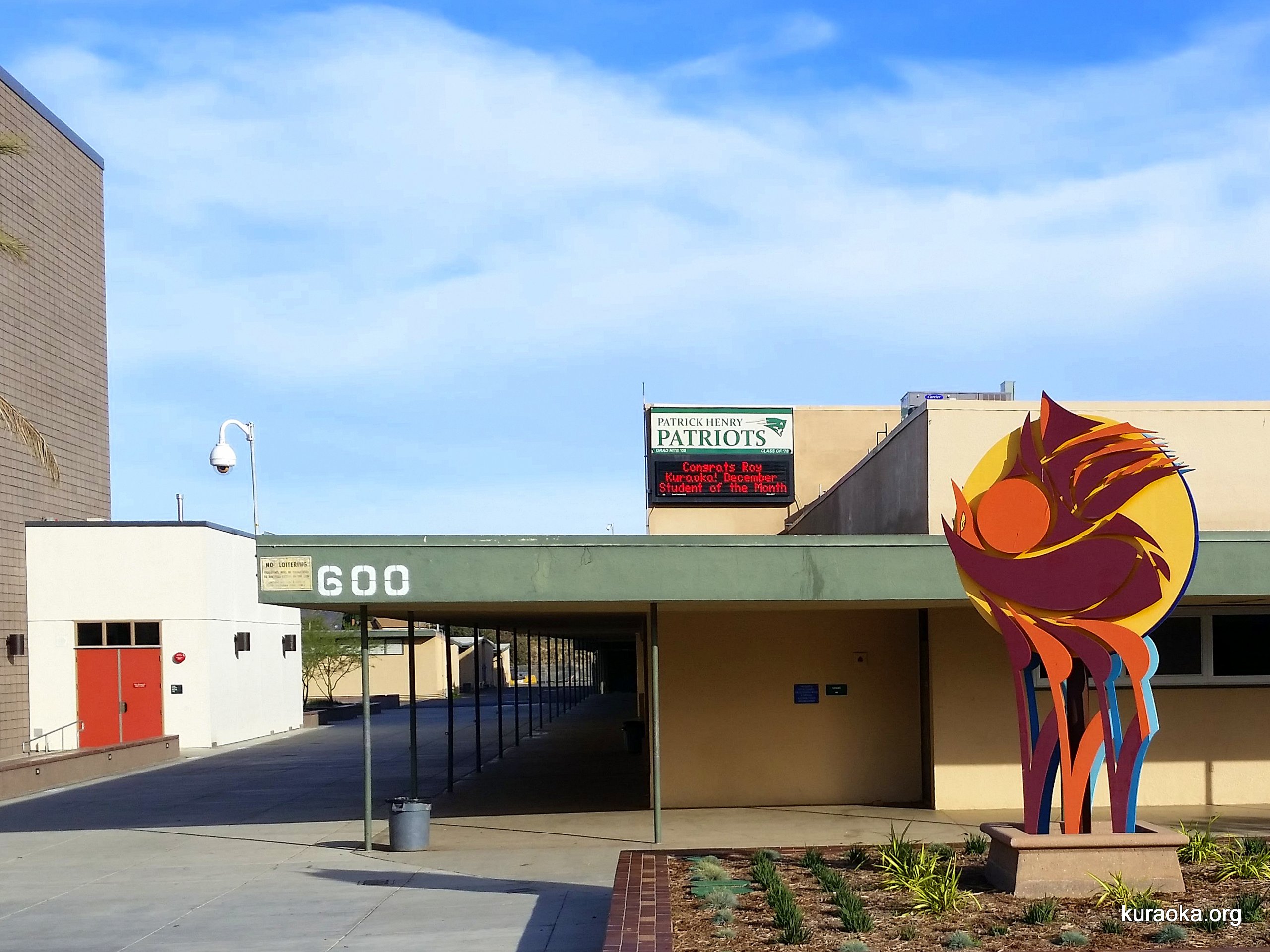 01-06-18: HAMILTON OPENING NIGHT! We got four tickets to see Hamilton on opening night at the San Diego Civic Theatre. We could afford only seats in the way-back-way-up sections (two in the mezzanine, two in the balcony), but we had plenty of binoculars. What a spectacular way to kick off our 2018 theater experiences!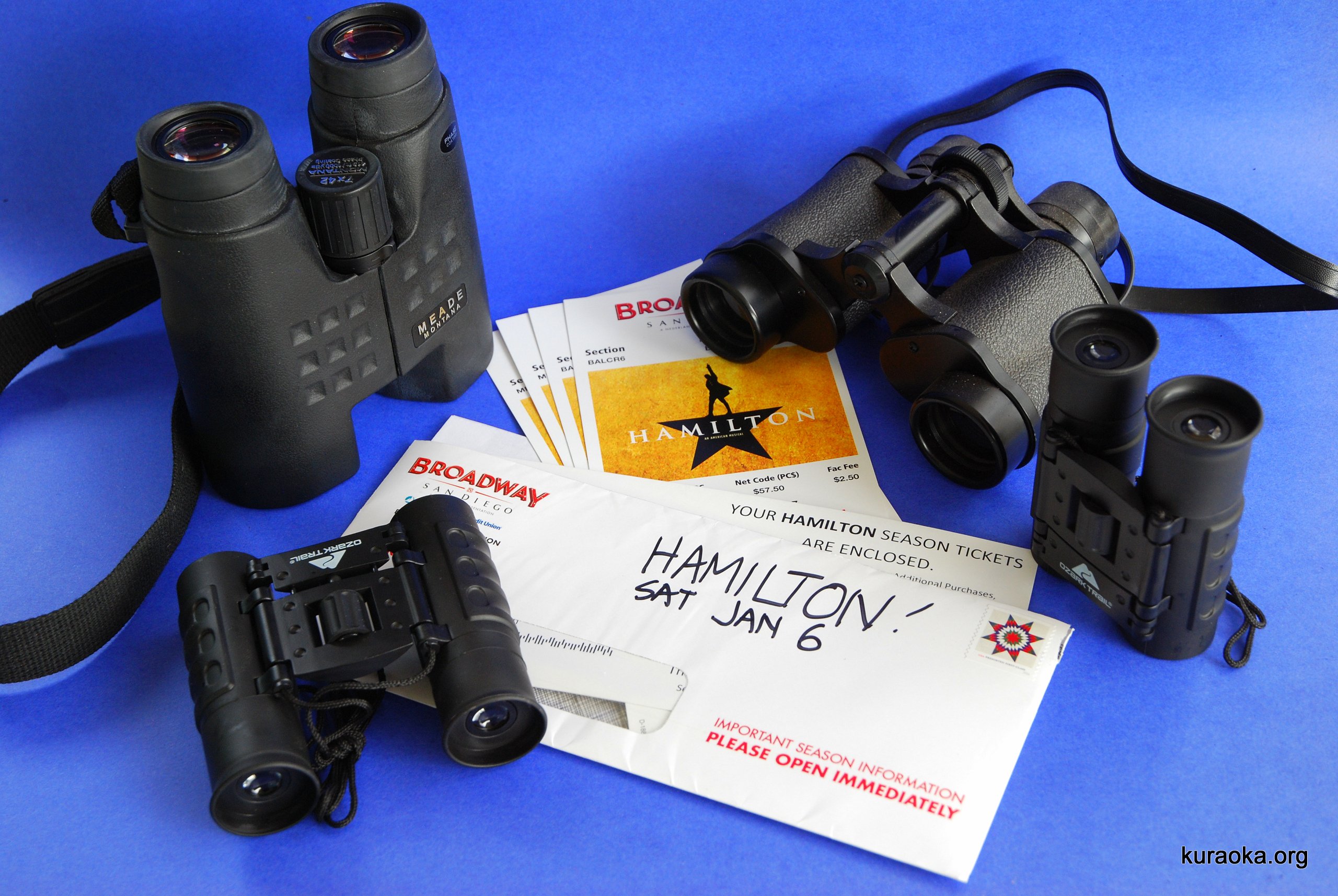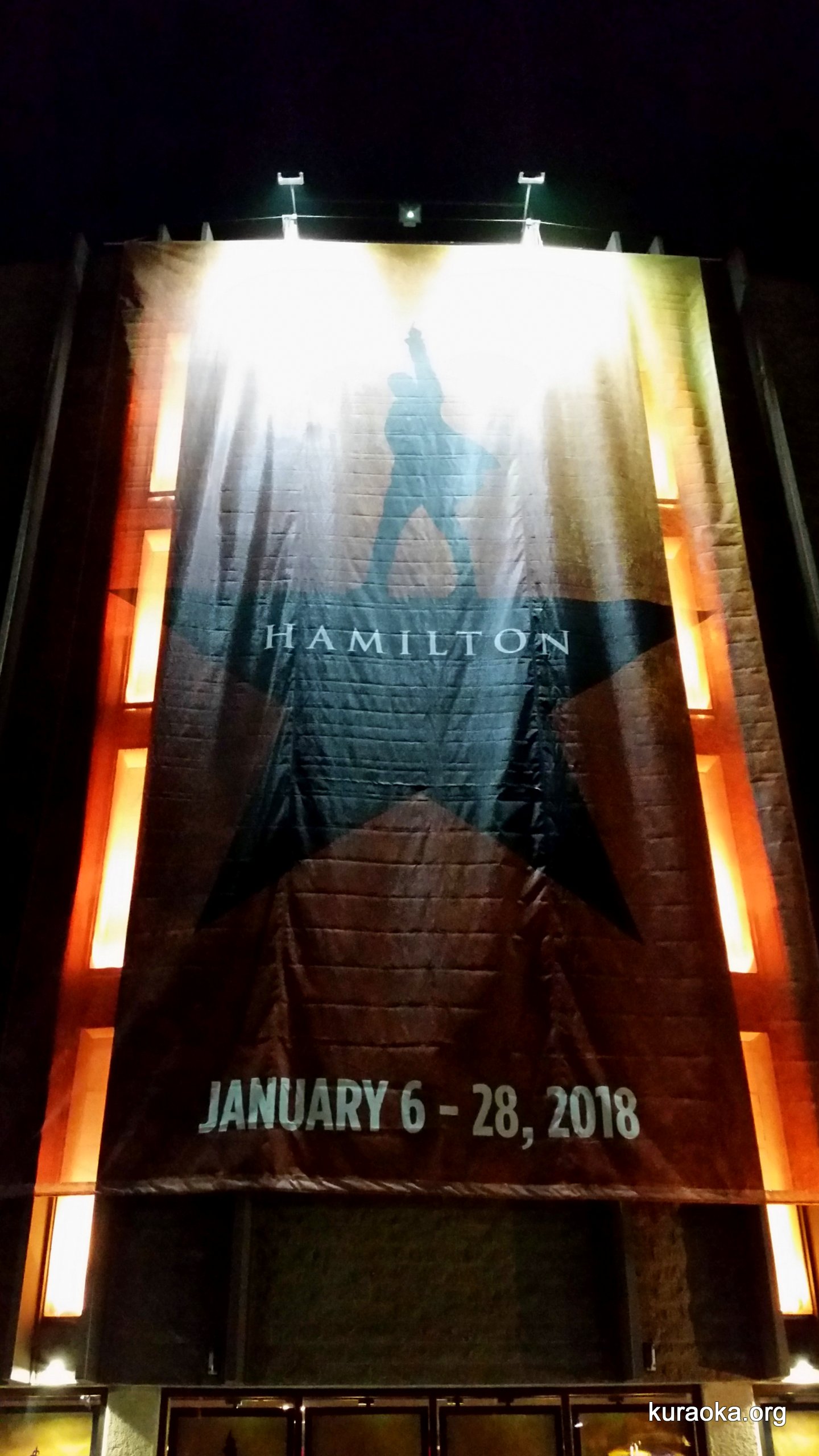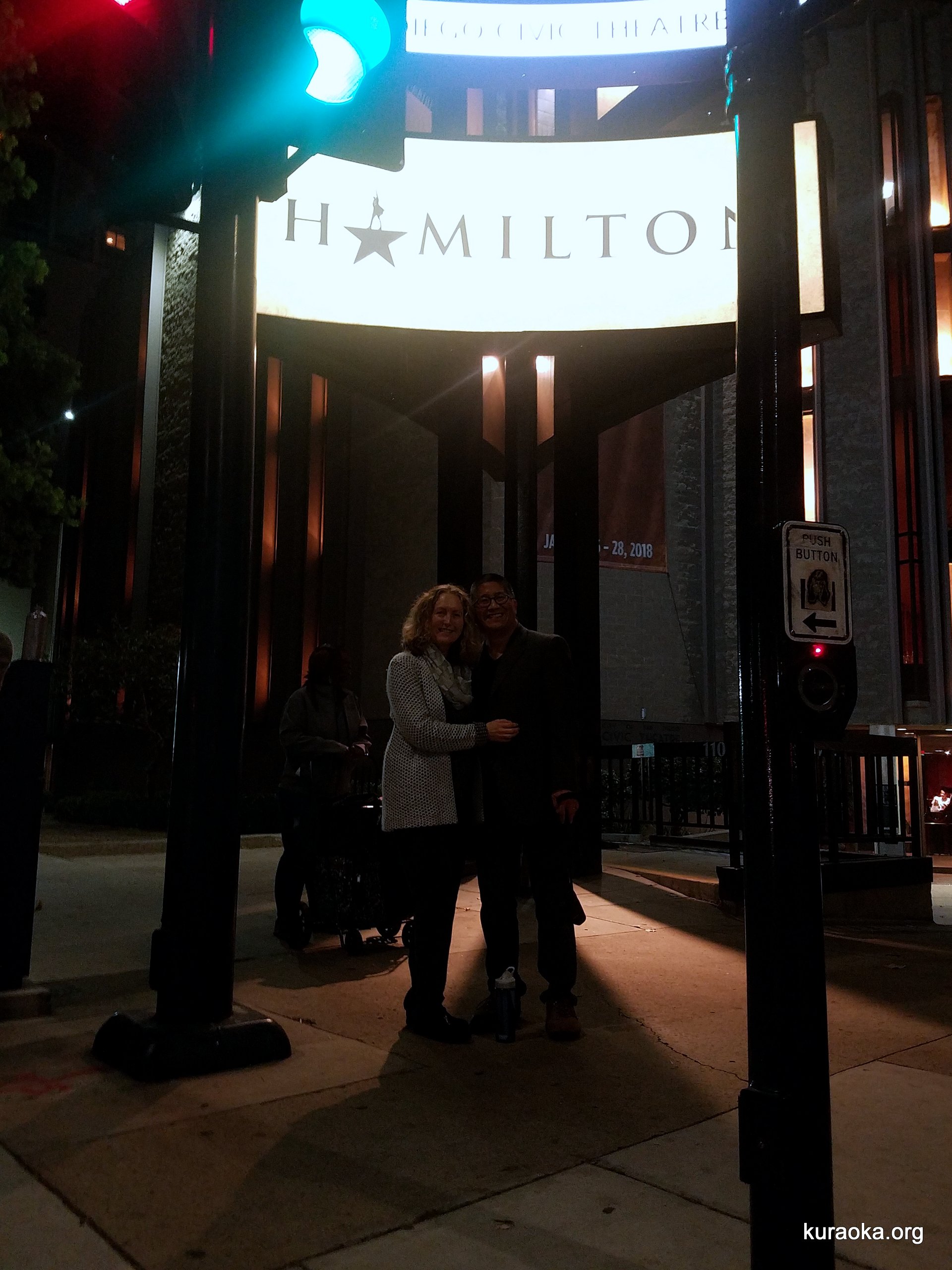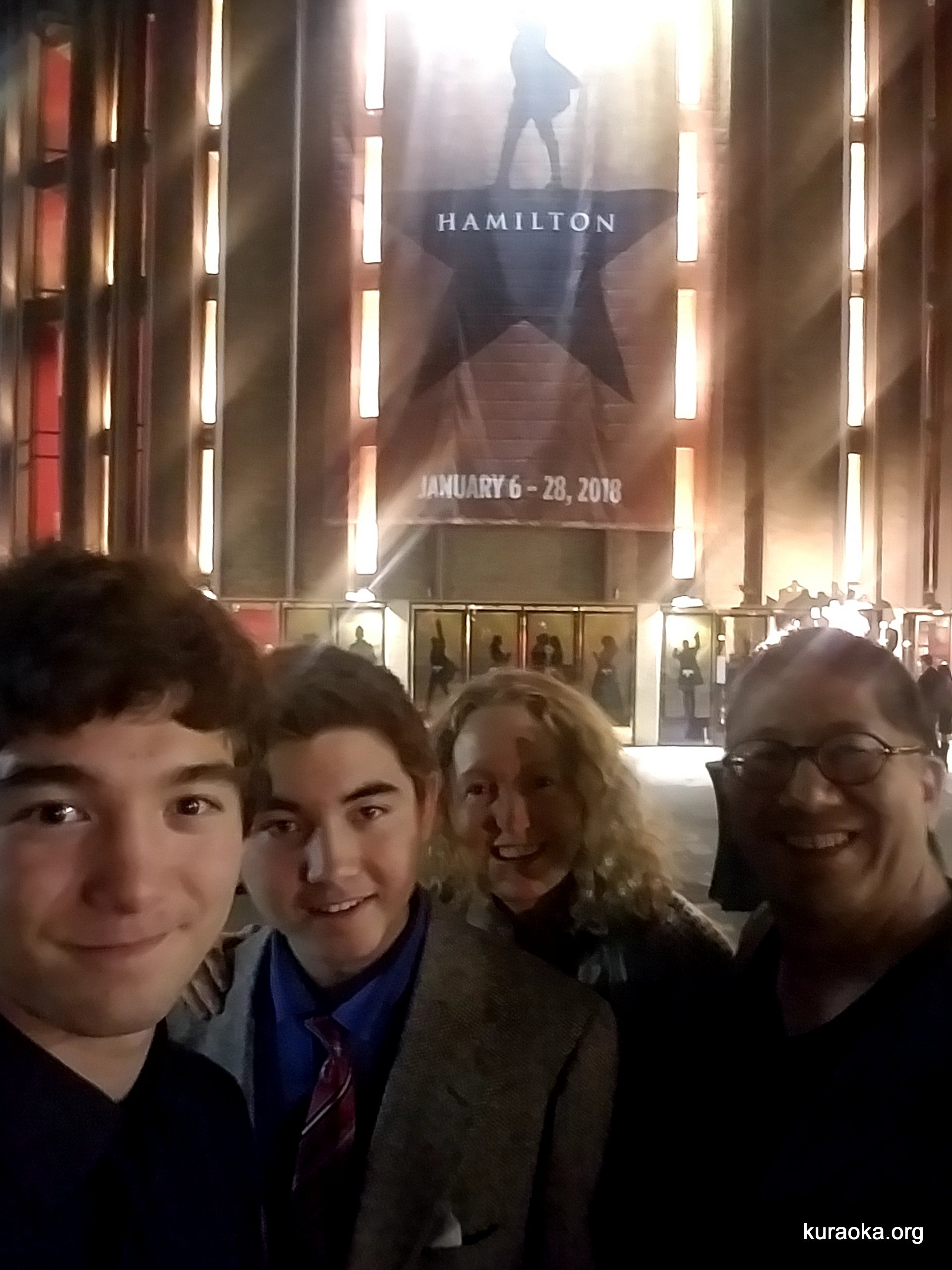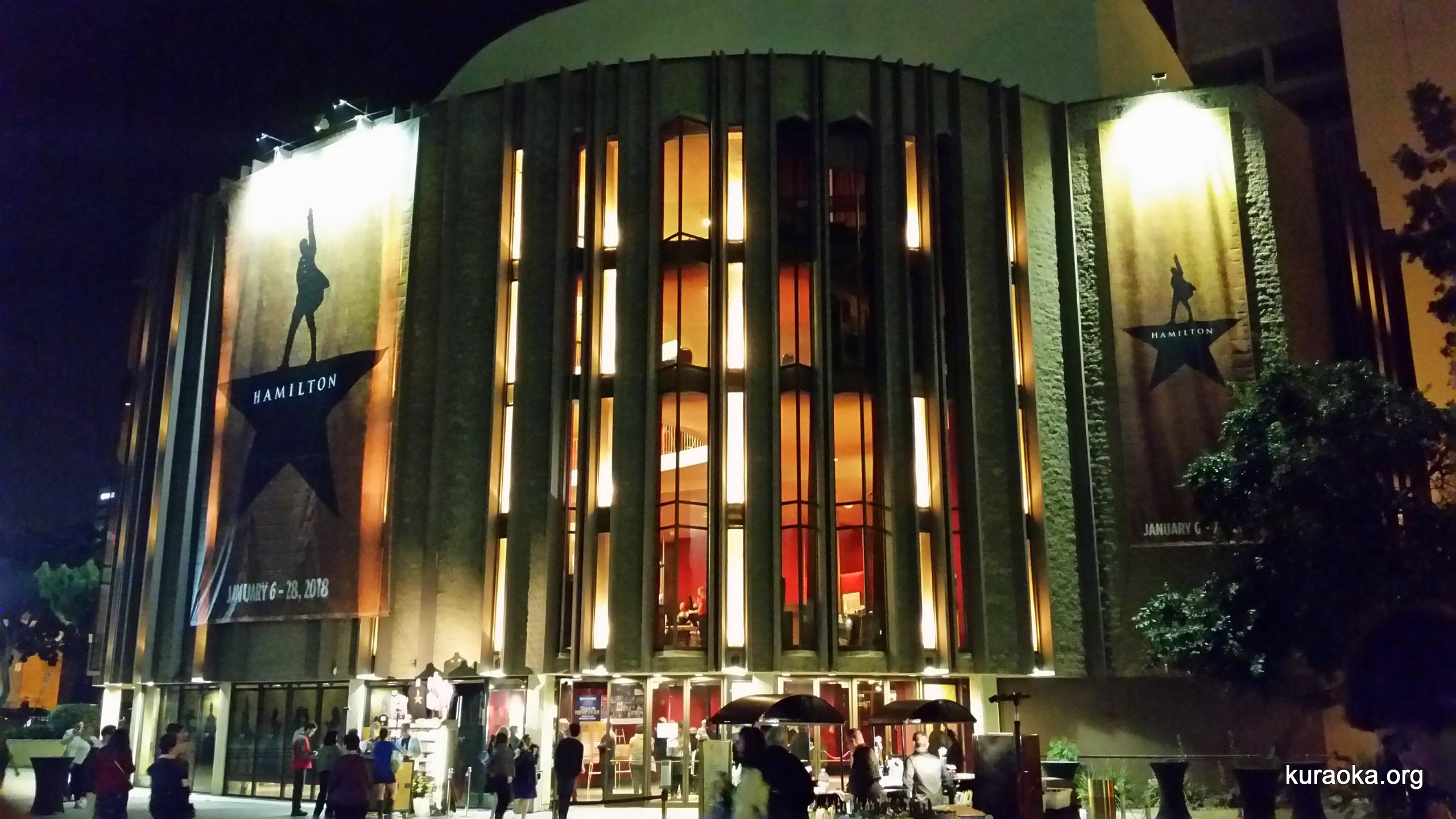 01-01-18: Oshogatsu! And, Happy New Year! The dog looks hopeful as we prep the lunch plate. The little twisty things are konyaku (yam cake, which is sliced, twisted, then cooked and seasoned). We started with ozoni and the Rose Parade (livestreamed from KTLA naturally), then later in the day moved on to this spread. You can see the teriyaki chicken and lots of goodies on a tray, and the sushi on a separate tray. There's also tako (octopus), two kinds of kinpira gobo (the made-from-fresh has a better crunch and takes seasonings better), daikon-carrot salad, various sunomonos and tsukimonos, and kuromame (sweet black beans). As we understand it, the gobo and the daikon-carrot salad represent deep family roots, the renkon (lotus root, which is the stuff with holes in them) represents foresight or seeing into the future, the octopus tentacle represents stick-to-it-iveness, the kuromame represents hearty good health, and the sheer abundance of the spread represents wealth - all wishes for the upcoming year.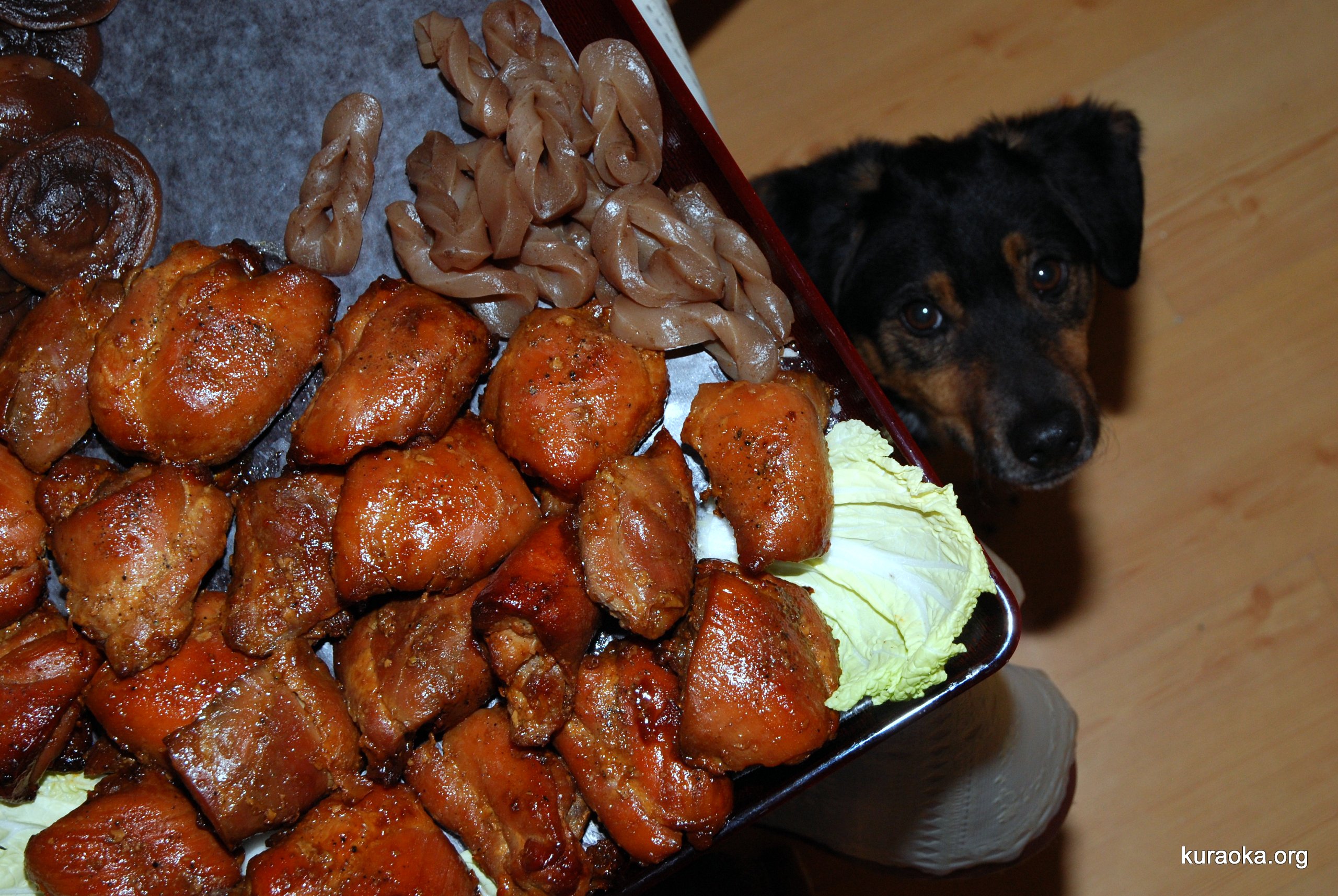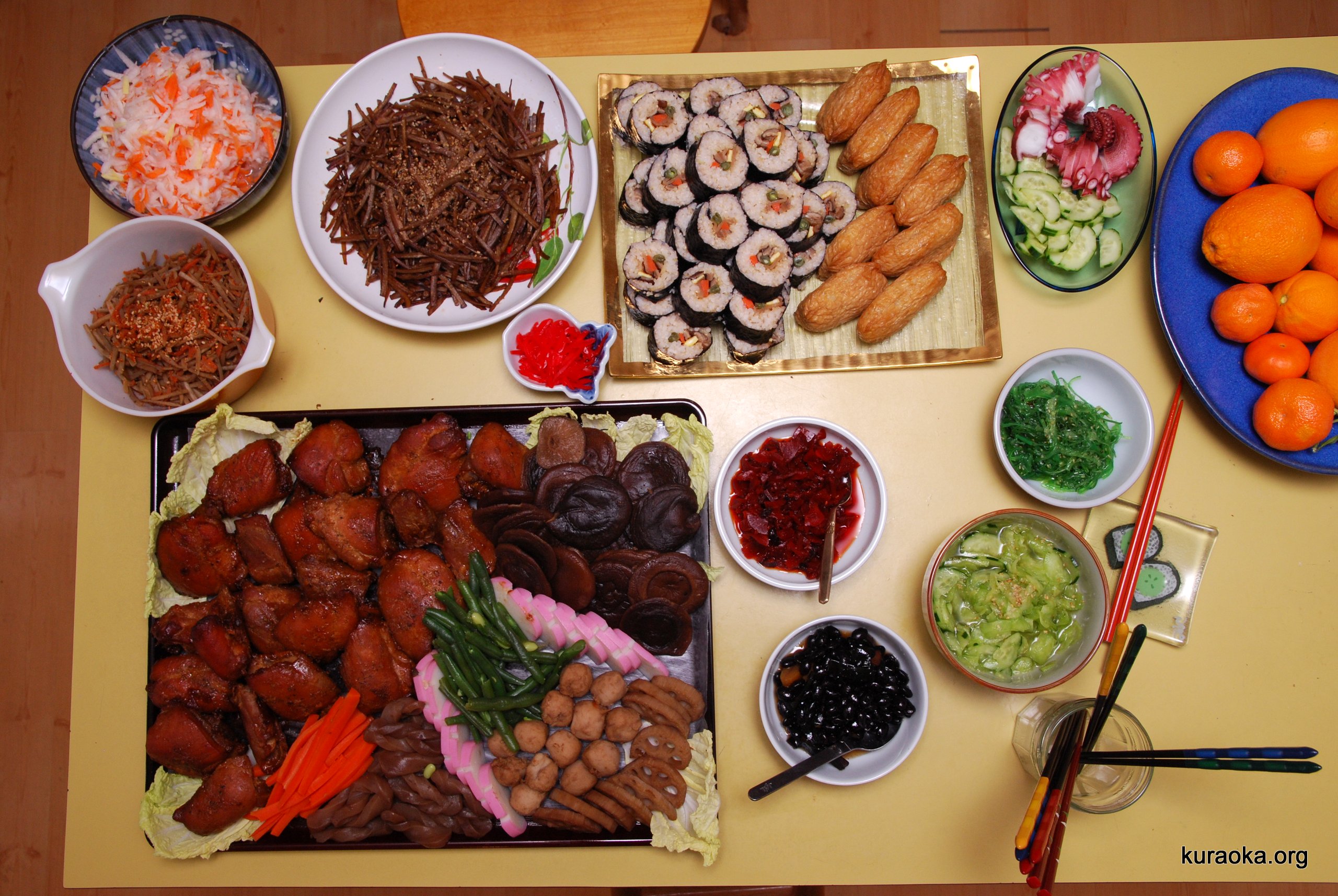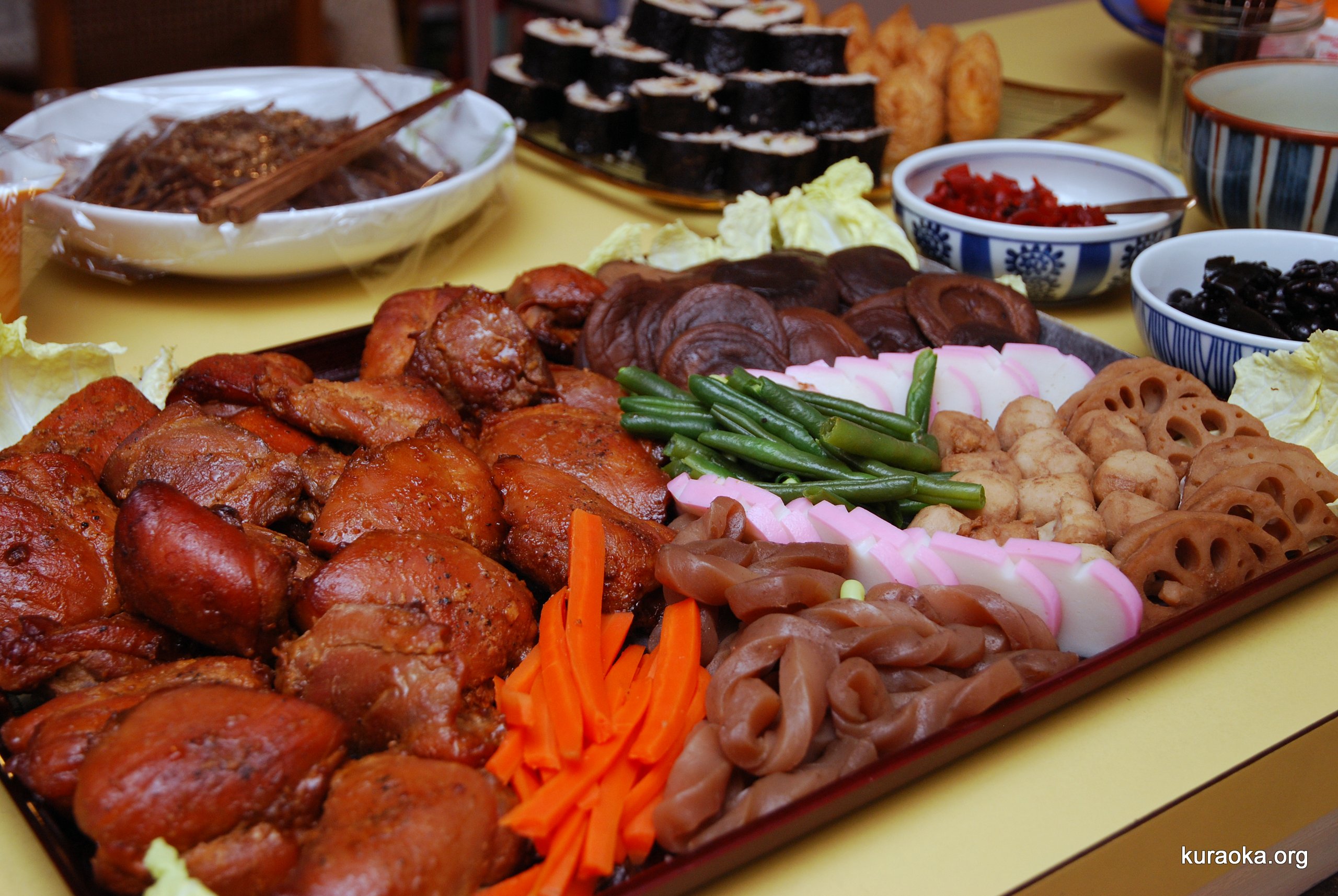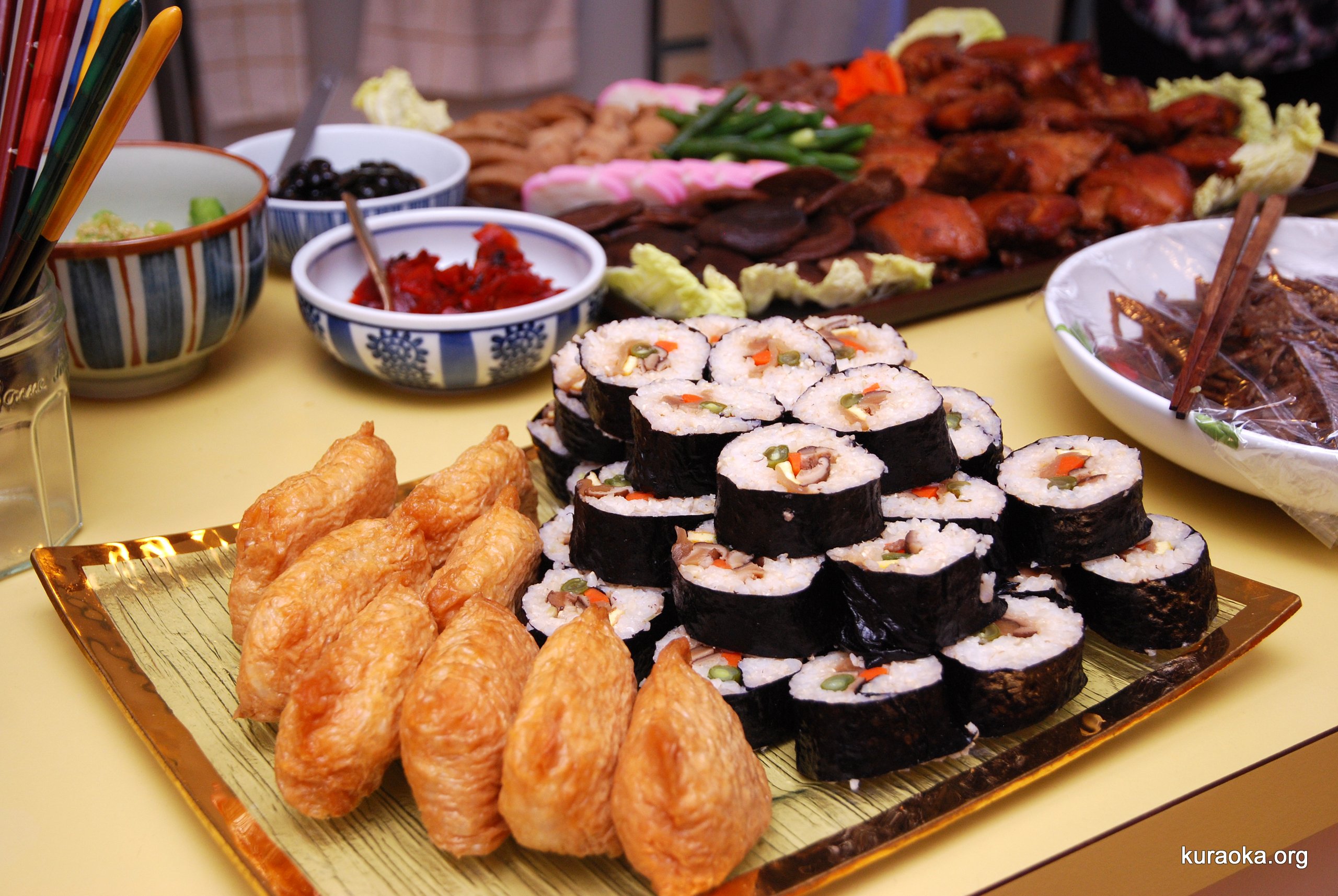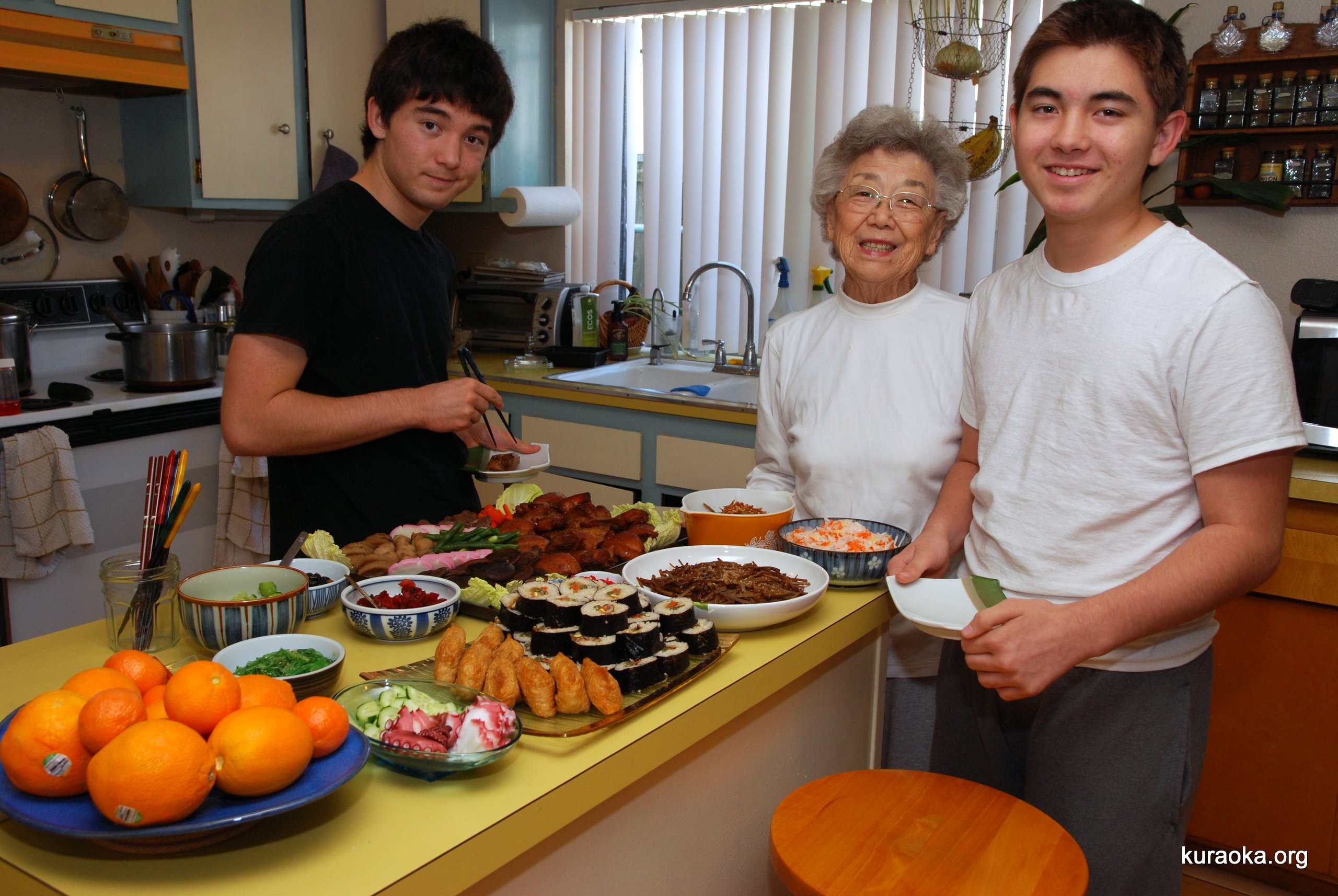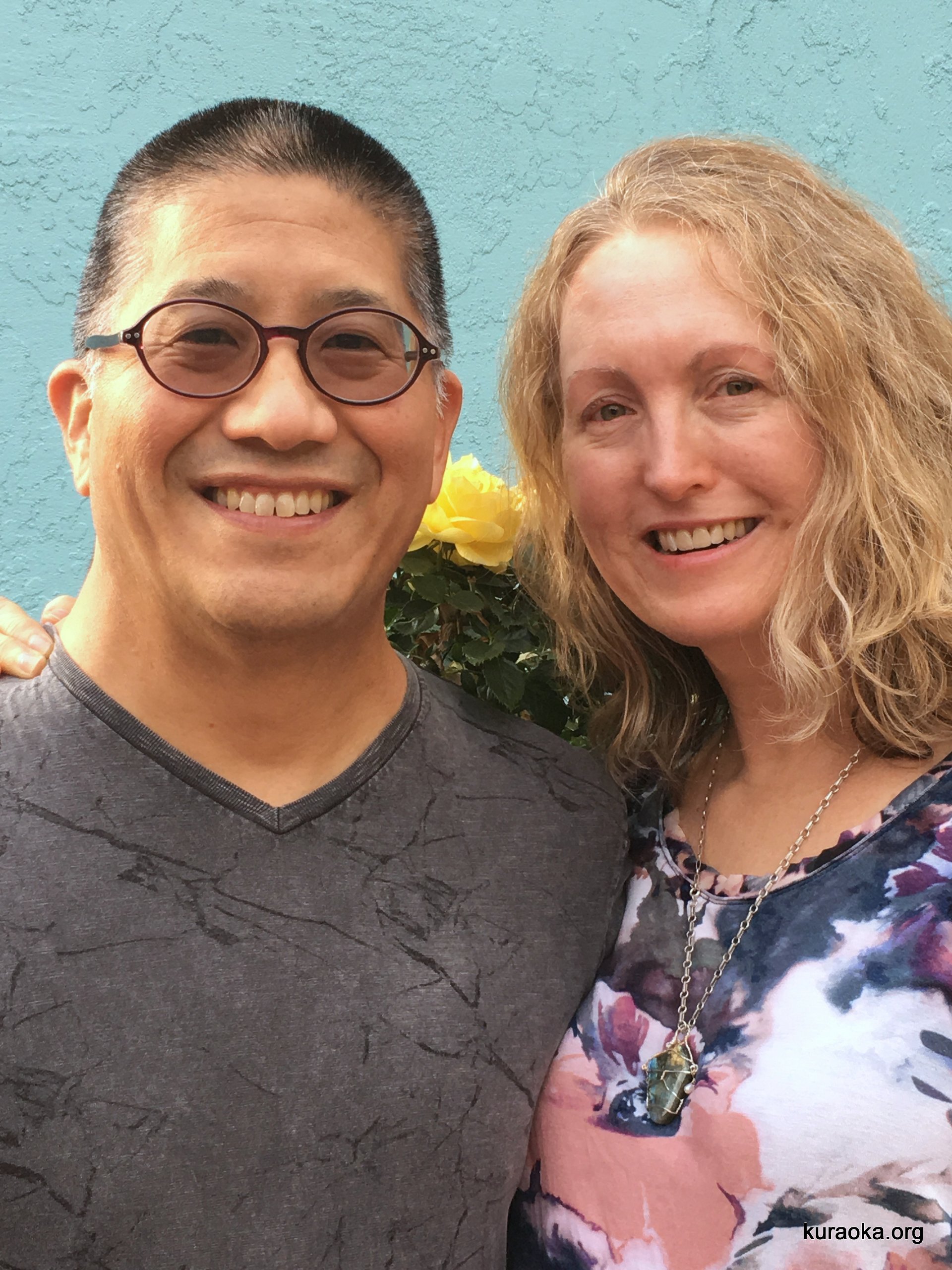 12-31-17: Oshogatsu prep day 2 and New Year's Eve! Grammy already started cooking the kampyo and shiitake mushrooms in seasoning (mostly tamari and dashi with some salt and sugar). The kampyo are dried gourd strips which have to be rinsed in water and rehydrated a bit before cooking. (You don't want them too rehydrated, or the seasonings won't soak through.) Kampyo is used in strips in the makizushi; the shiitake is sliced into strips for the same purpose. We also used parboiled green beans, carrots, and scrambled egg, making five ingredients total in the sushi. You can see Roy cooling the seasoned rice with a blow dryer. Roy and Leo rolled the makizushi while we filled a few agesushi (footballs). Age (pronounced with two syllables and a hard G: "ah-geh") is fried bean curd. Then we went next door for our traditional German New Year's Eve feast (which is actually both the Christmas and New Year's Eve feasts in one). That meal includes landjaeger with bohnensuppe, poached carp, weissworst mit kartoffeln, obst, herringsalat und kartoffelsalat, and, on the stroke of midnight, barbecue potato chips and onion dip, accompanied by lots of banging of pots and pans to shoo away the old year and herald in the new! No one goes hungry here!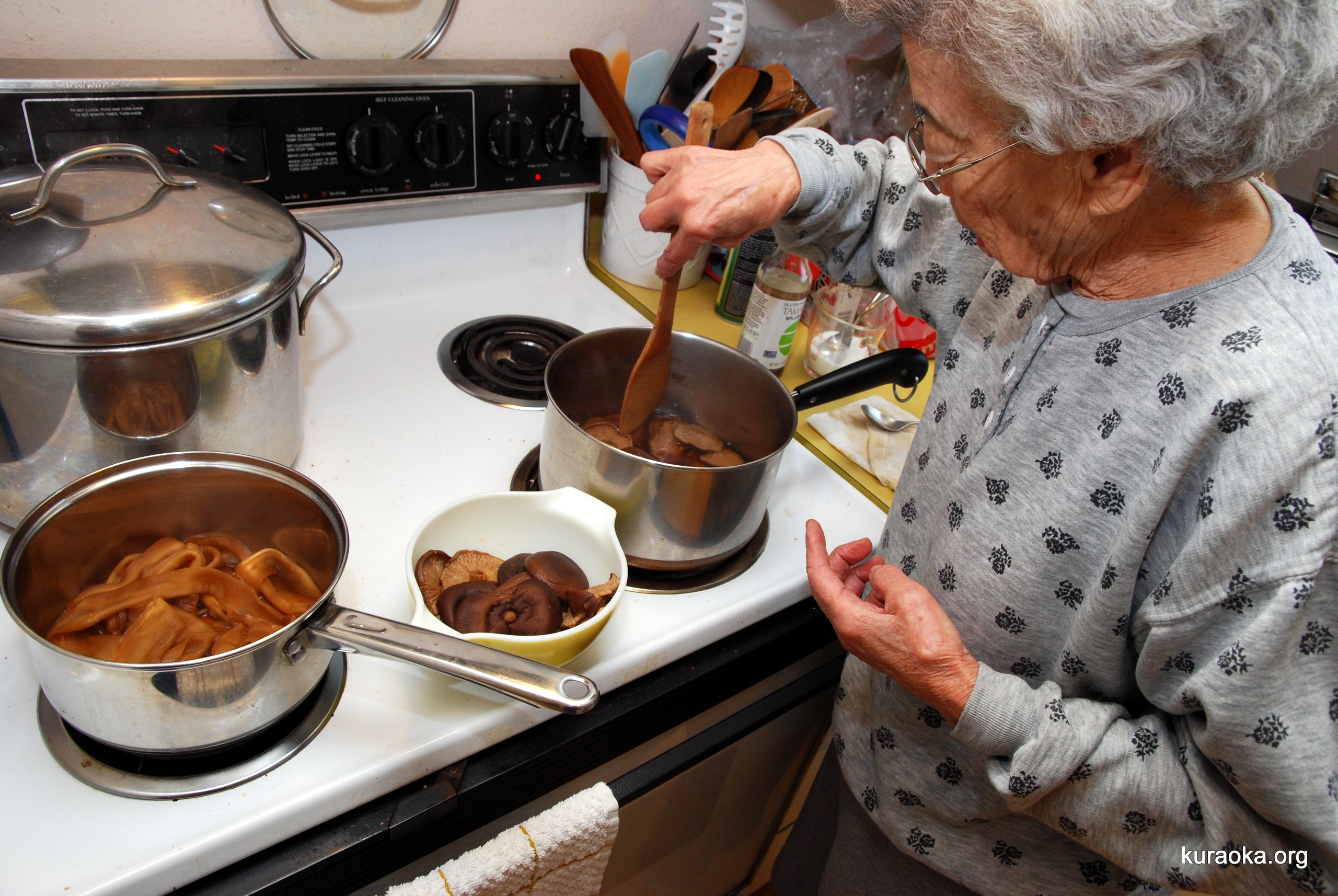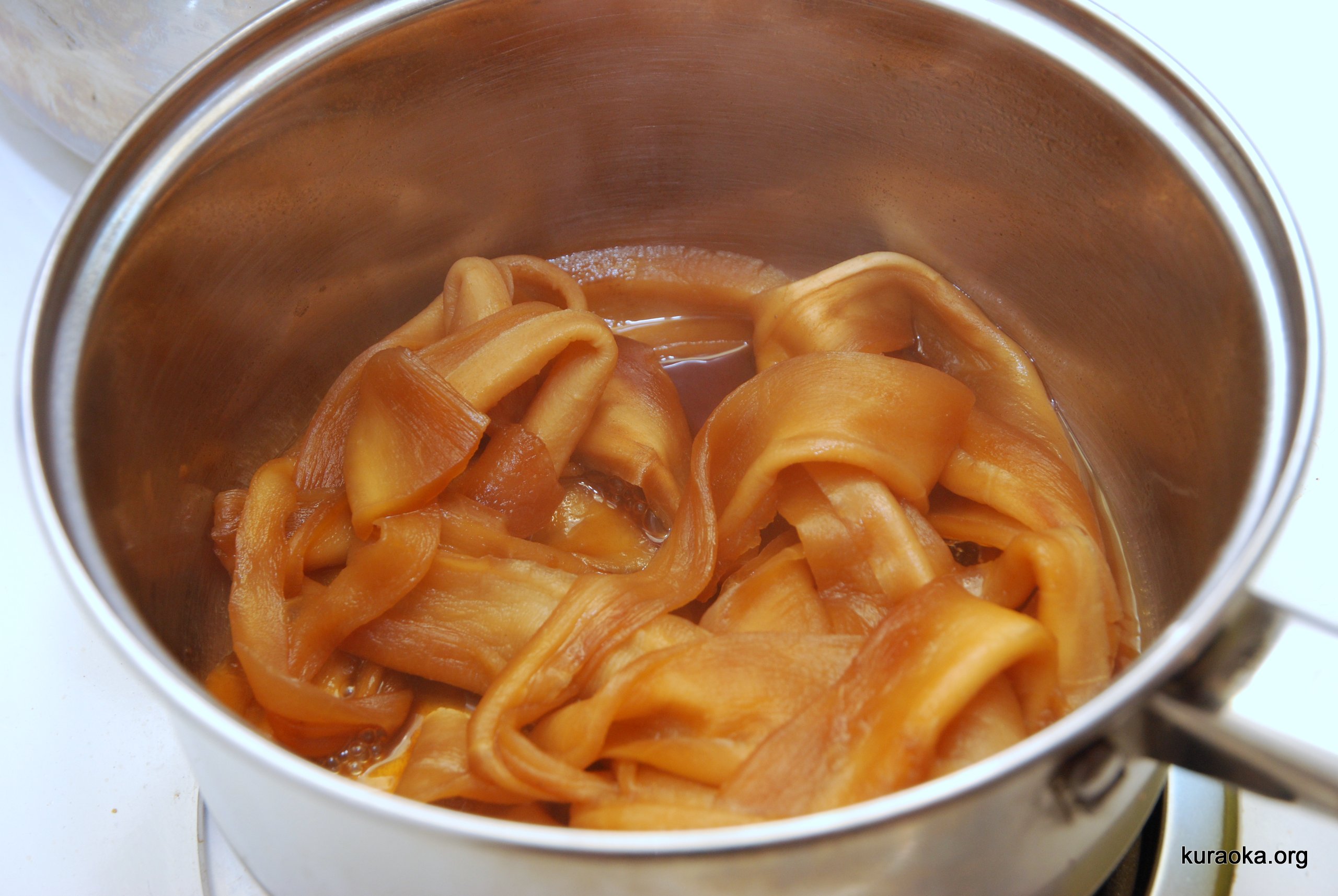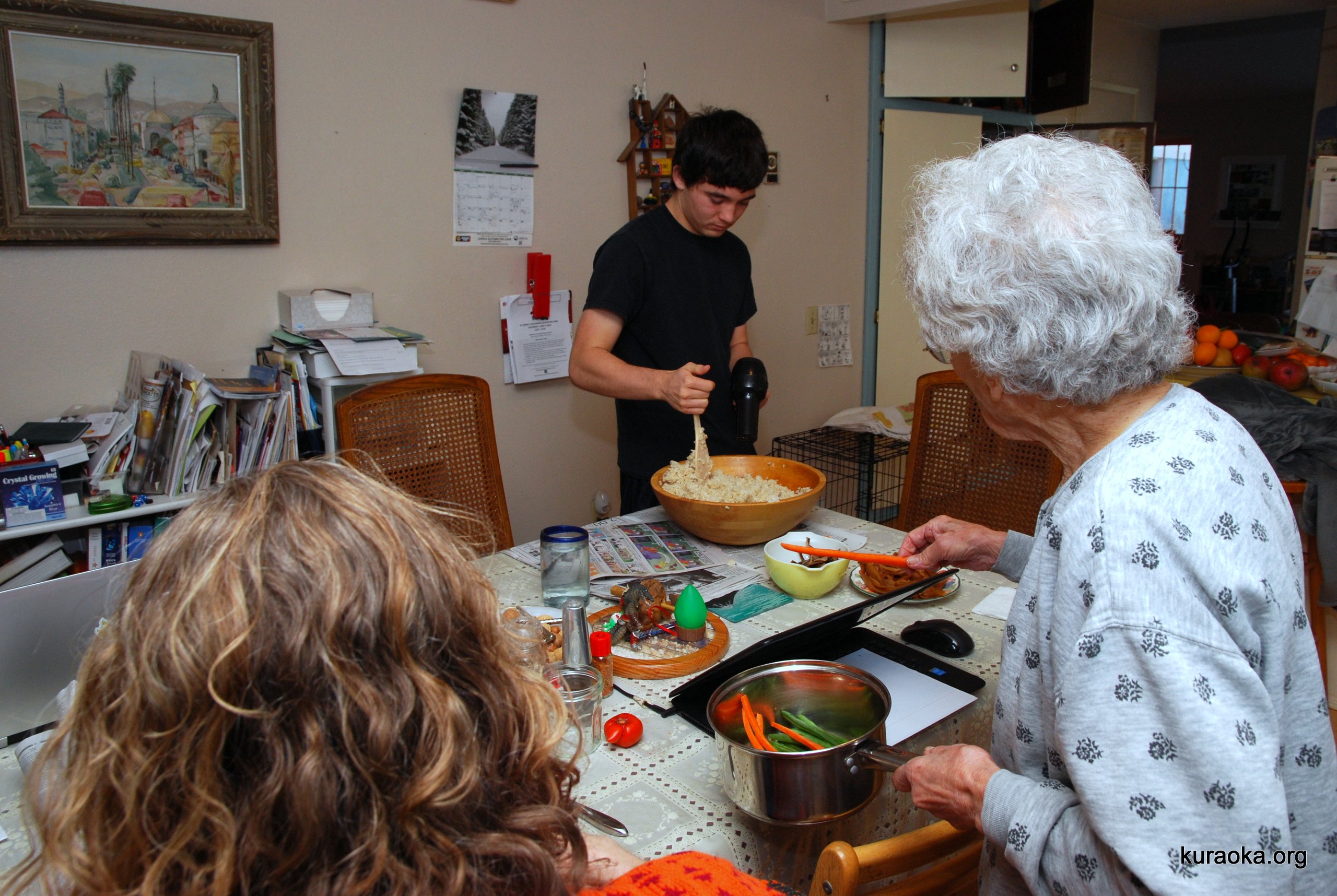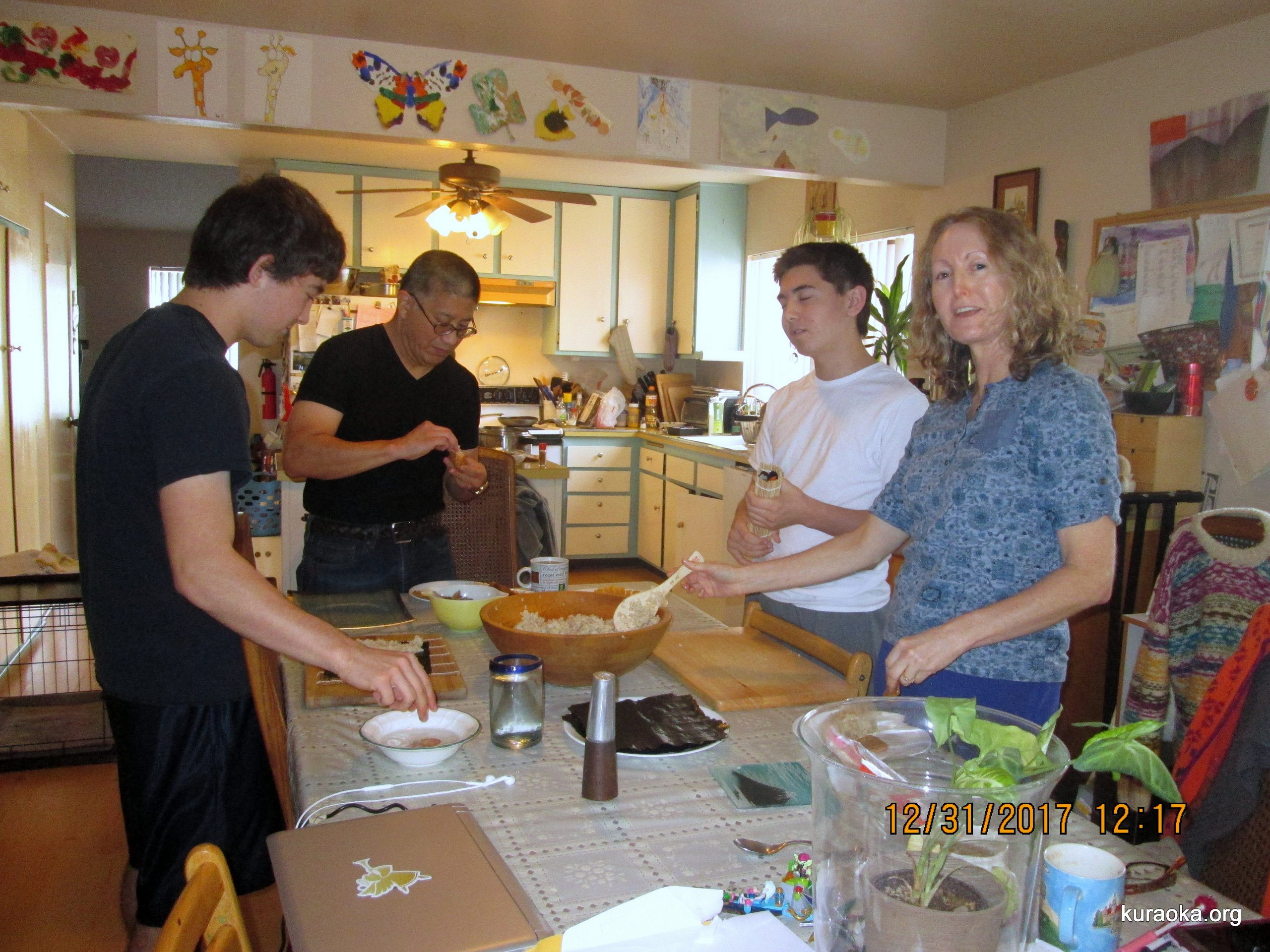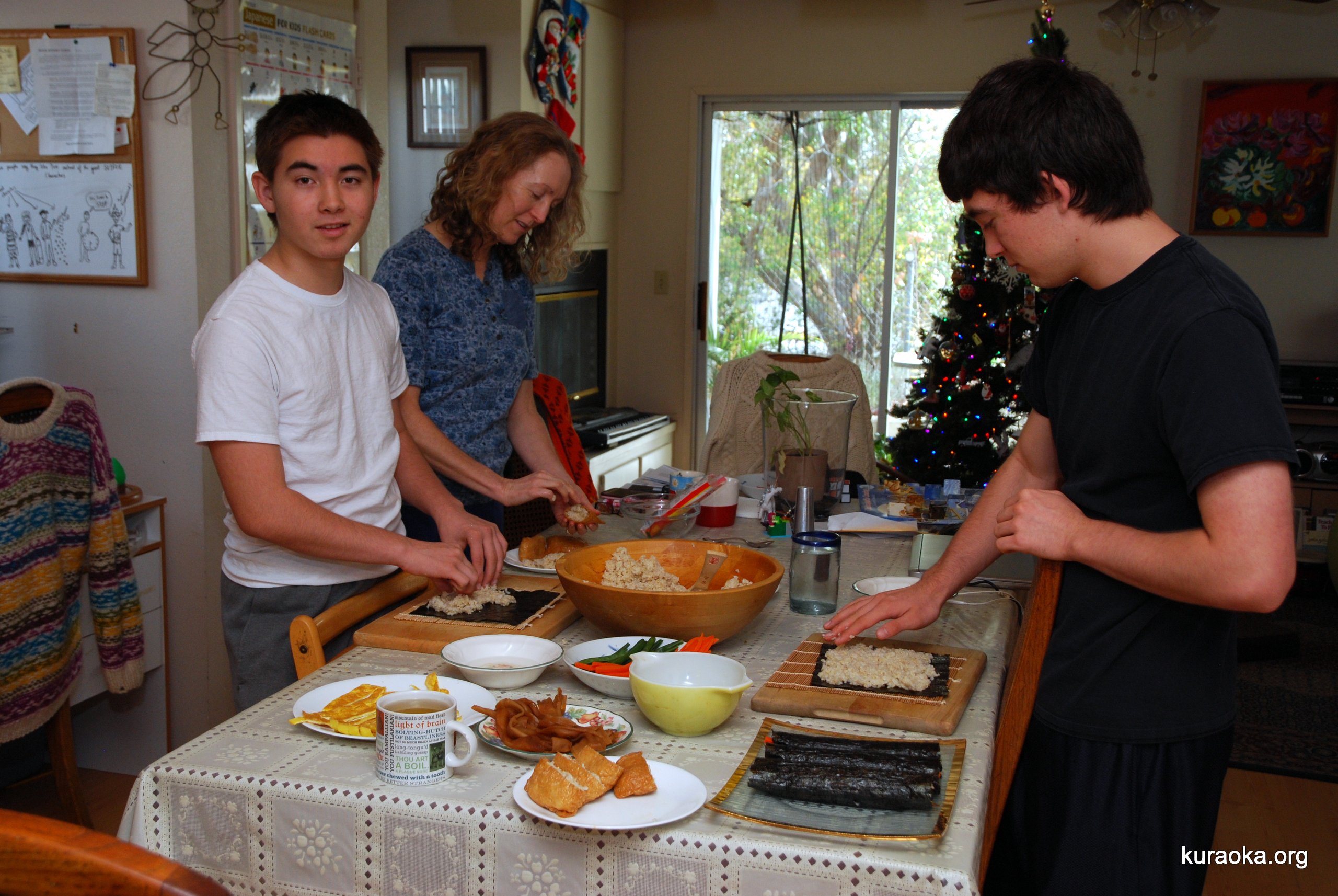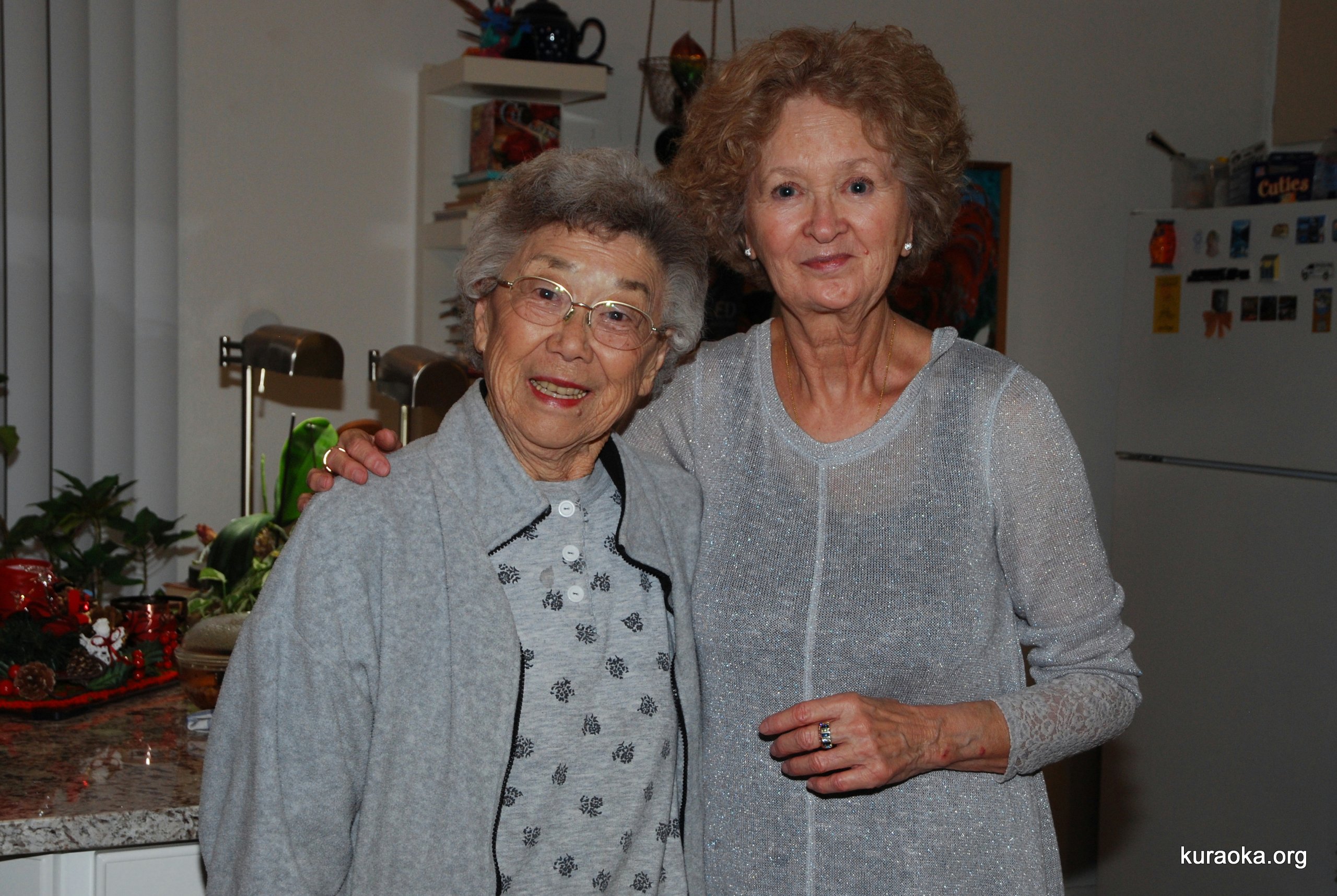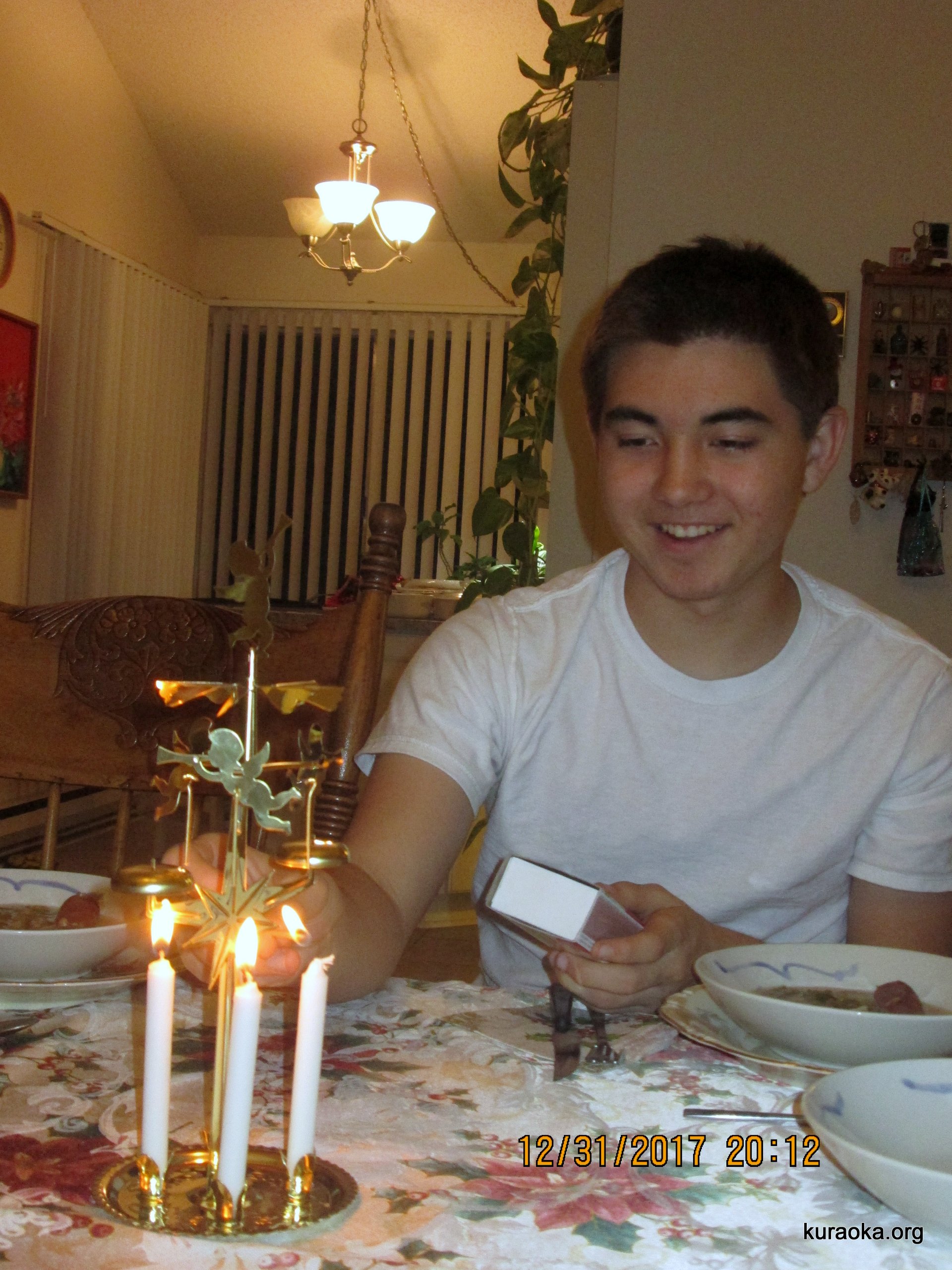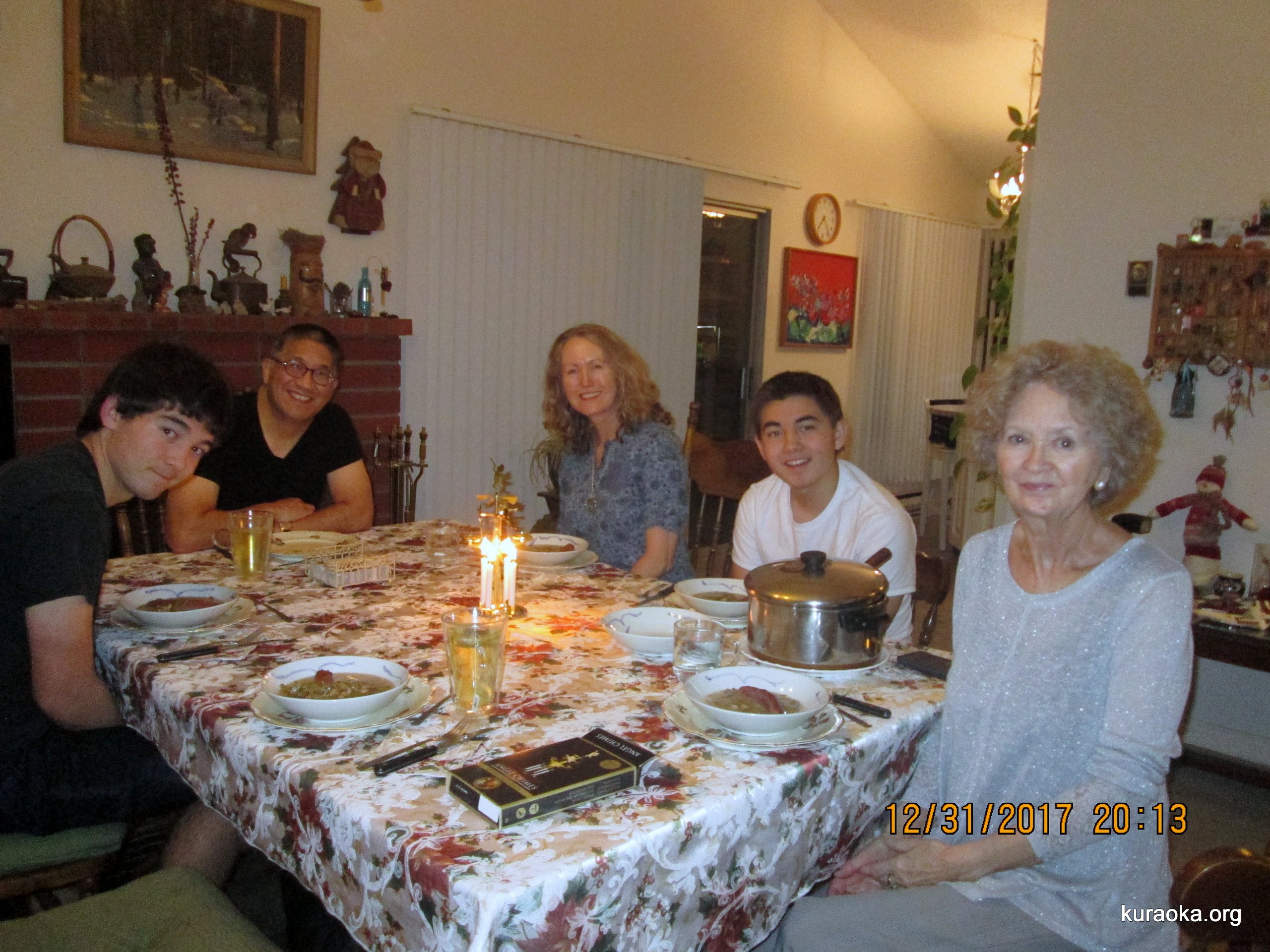 12-30-17: Oshogatsu prep day 1. This is gobo (burdock root). We bought four of them and probably could have used more because we also ended up using a bag of the frozen stuff, which doesn't cook up as crunchy. Anyways, the root is scraped clean, then cut into matchstick-sized pieces. The pieces are rinsed and then soaked in warm water for a few hours to remove the astringency, changing the water every now and then. Some people put lemon or vinegar in the water, but we just use plain water.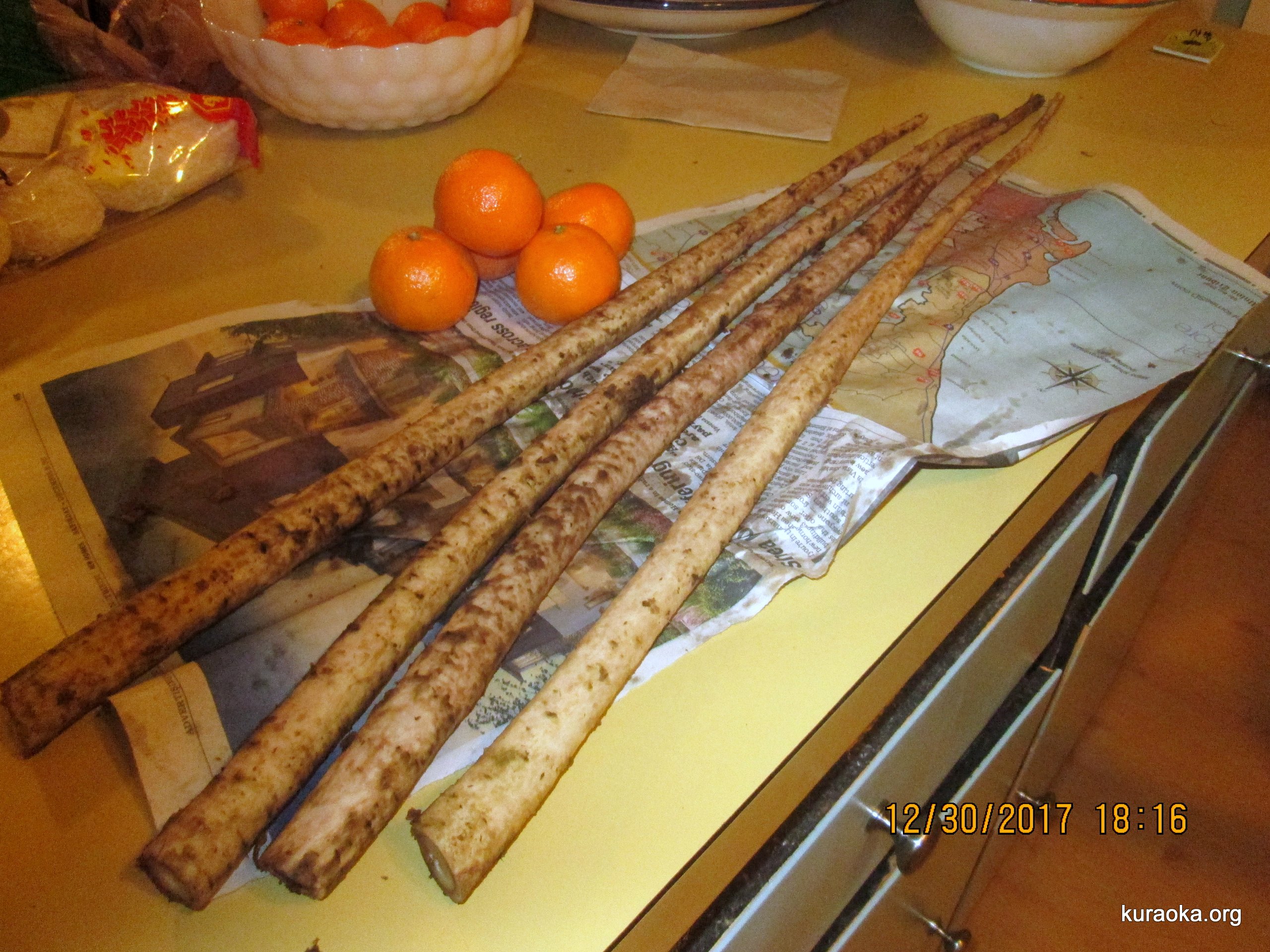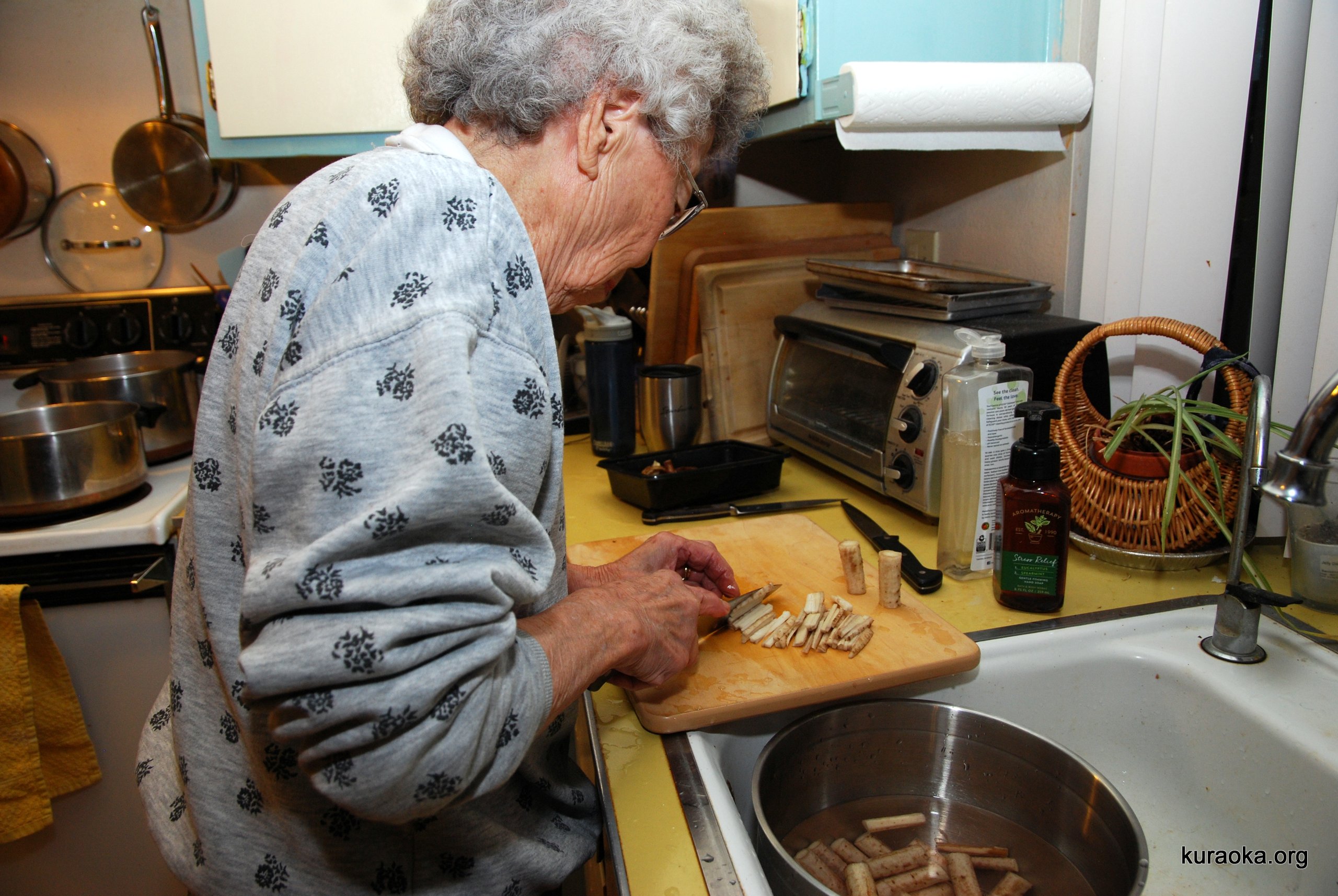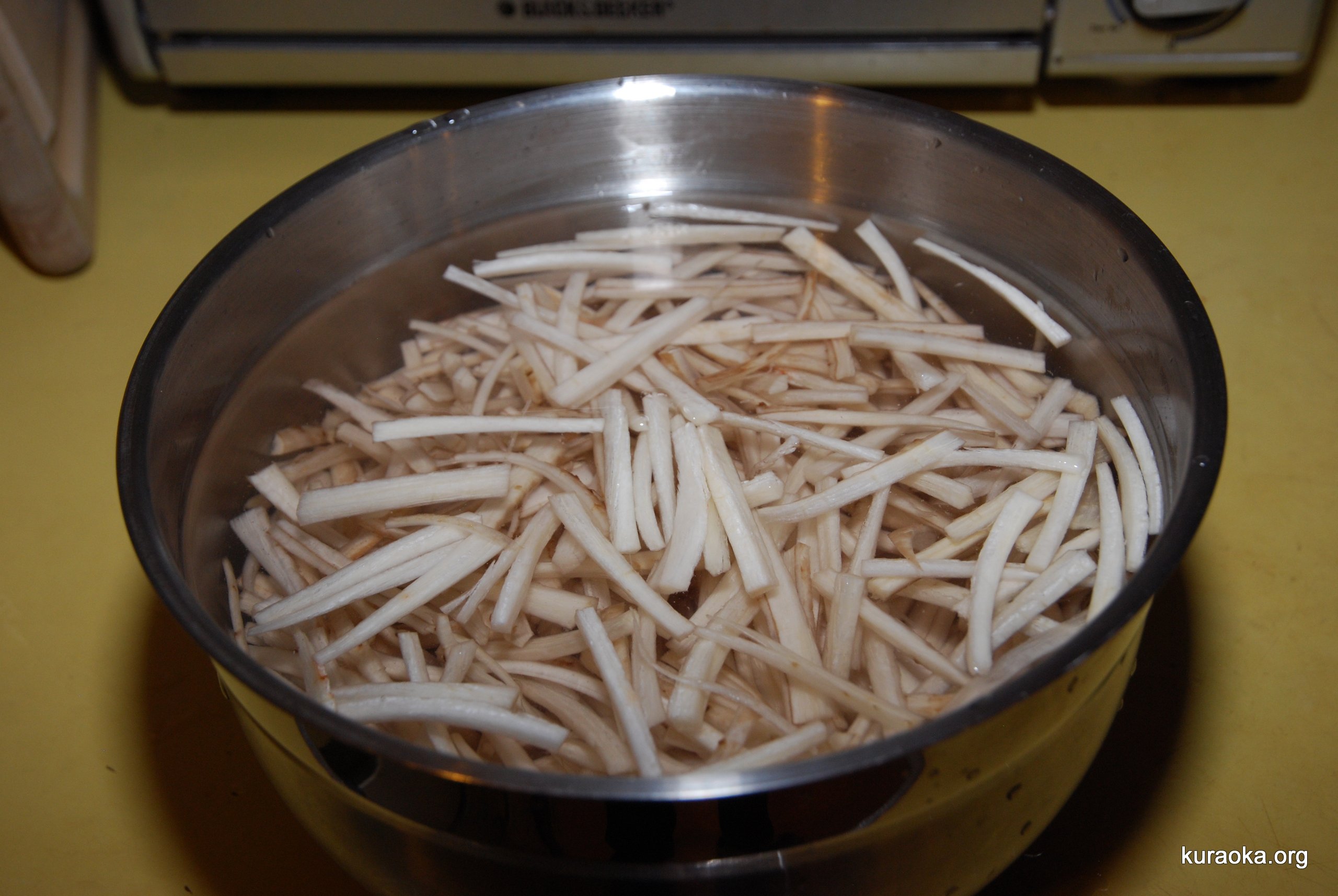 Archived Photos from 2017
Archived Photos from 2016
Archived Photos from 2015
Archived Photos from 2014
Archived Photos from 2013
Archived Photos from 2012
Archived Photos from 2011
Archived Photos from 2010
Archived Photos from 2009
Archived Photos from 2008
Archived Photos from 2007
Archived Photos from 2006
Archived Photos from 2005
Archived Photos from 2004
Back to the Kuraoka Family main page