Archived Weekly Journal: Camp Balboa with Pack 951
www.kuraoka.org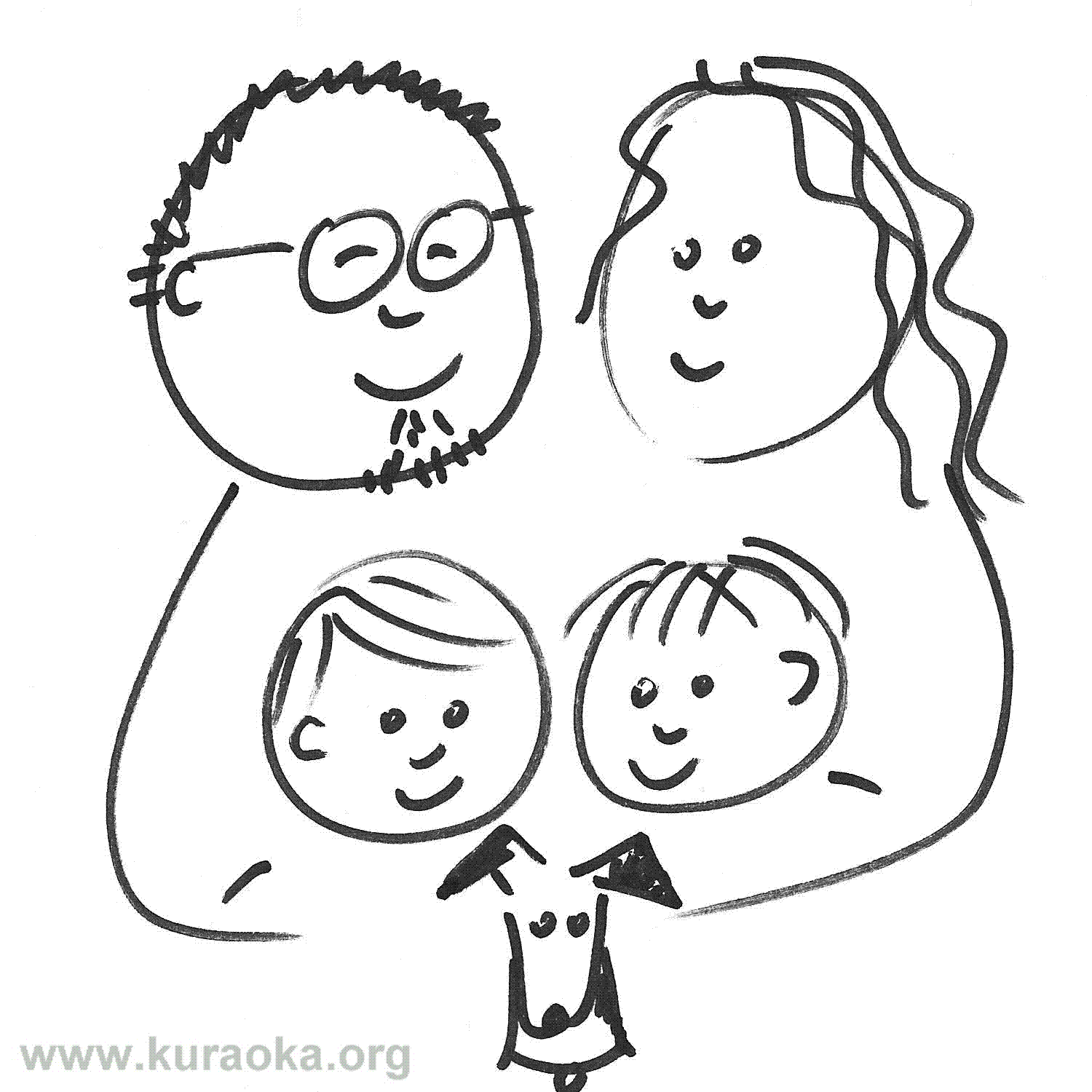 Us, March 9, 2009: John, Ondine, Roy, Leo, and Buddy
Archived from Monday, 15 June 2009
Happy tax day for those who pay quarterly! We got ours in the mail this morning.
Friday after school, we packed up John's car and he and Roy and Leo headed off to Camp Balboa for the weekend! This was Leo's first time at Camp Balboa! Roy had been there twice before, once for the weekend camp and once for the Mission Day Camp.
We tried to leave early, but by the time we'd laid in provisions it was close to 4:00; we arrived in camp at about 4:30. As usual, John set up his tent on the outskirts; Roy and Leo set up their tent right in the middle of everything. As more people arrived the campsite filled in. In all, there were 23 Cubs kids registered, and 20 adults, a record for Pack 951!
As night fell, the boys circled the fire ring, waving burning marshmallows on sticks like villagers preparing an assault. For a moment, the charred sticks rested, abandoned, their pointed ends cold and sticky. Then, sugar-fueled boys again descended on the loose thatch of sticks, leaping and pirouetting in a wild dance of boyhood.
As the kids spun away into the dimming light, the men hunkered around the fire; it was now their time to roast marshmallows, relive boyhoods. The moms sat at a table away from the fire, in a smaller cluster. Boys darted through the circle of men to roast more marshmallows. All the kids had a very late night.
Unfortunately, Leo had a rough night, getting up several times with coughing fits. John staggered out of his tent to dose Leo with Mucinex and, once, Benadryl. It helped, but only for a couple hours. John was very happy that he'd brought the entire pharmacoepia with him.
Saturday morning was damp and drizzly, but not cold, Roy and Leo were up at 5:00, as usual. John made oatmeal and raisins for breakfast. The morning officially kicked off at 8:00 with "The Chicken Dance" blaring over the loudspeakers, the signal to gather for the flag ceremony. More than 100 Scouts were in camp, so the shooting range orientations were held in the amphitheater.
Pack 951 bagged an early slot for shooting, and by 9:00 we were gathered at the archery range. It started to rain! Leo went, but Roy and Alex – who'd both already earned the belt loop and the arc segment patch – opted to stay in camp. Leo struggled through archery, managing to get a few arrows to the target. But, he proved to be a regular deadeye with the BB gun, keeping all ten of his shots within the target circle. His shooting would have scored a respectable 49 (out of a possible 80), which is pretty good for the first time ever shooting a BB gun!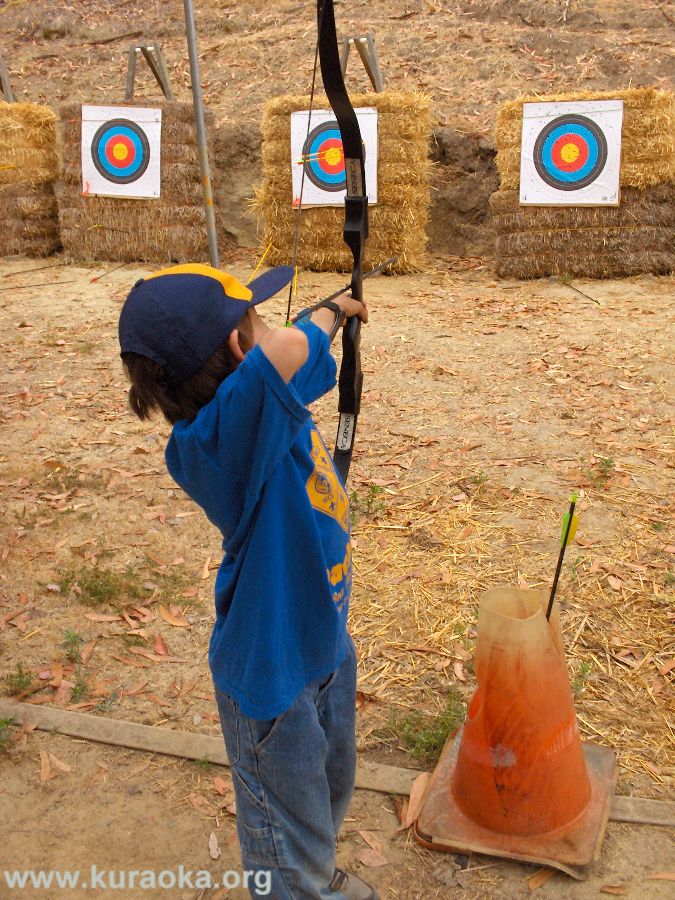 Afterwards, the kids were divided into two groups – Camp Balboa newbies and veterans. The veterans worked on achievements for arc segments that they hadn't earned before, while the first-timers bagged a handful of easier achievements.
John went to the Scout Shop to buy Roy's new Webelos uniform and patches. He also bought a Cub Scout shirt for Leo, choked on the total price ($132+!), and returned it. The tab was still well over $100, though, even with Leo using Roy's old shirt and patches. Not only that, but when John got home, he found that the set of shoulder loops he'd paid for hadn't gotten into his bags! They're tiny things, and probably just got scooped off the counter onto the floor when the clerk bagged everything up. Sigh. So now we have to get a set of those again.
Big Stephen, who was in charge of the outing for the pack, prepared a terrific activity/contest. The boys were evenly divided into four teams, and then given a "secret" task to build marshmallow catapults! Roy's team managed to finish second, and Leo's team third.
After lunch, some of the kids went swimming; Roy and Leo hung out at camp riding and giving rides in the great wagon Joel brought to lug firewood and gear. What fun! John got the boys ice cream, which triggered an ice cream run among the boys.
After that, a dozen Scouts and a handful of adults went on a hike to Balboa Park – another arc segment and achievement. It was a great hike along the shady path beside the 163 freeway. John was delighted to see several closed-off freeway onramps – he loves that sort of abandoned urban site. Here's the Richmond Street overcrossing, first looking up toward Richmond Street and then looking down what used to be a freeway onramp to the 163 southbound. The onramp is now thickly carpeted in a thick layer of pine needles.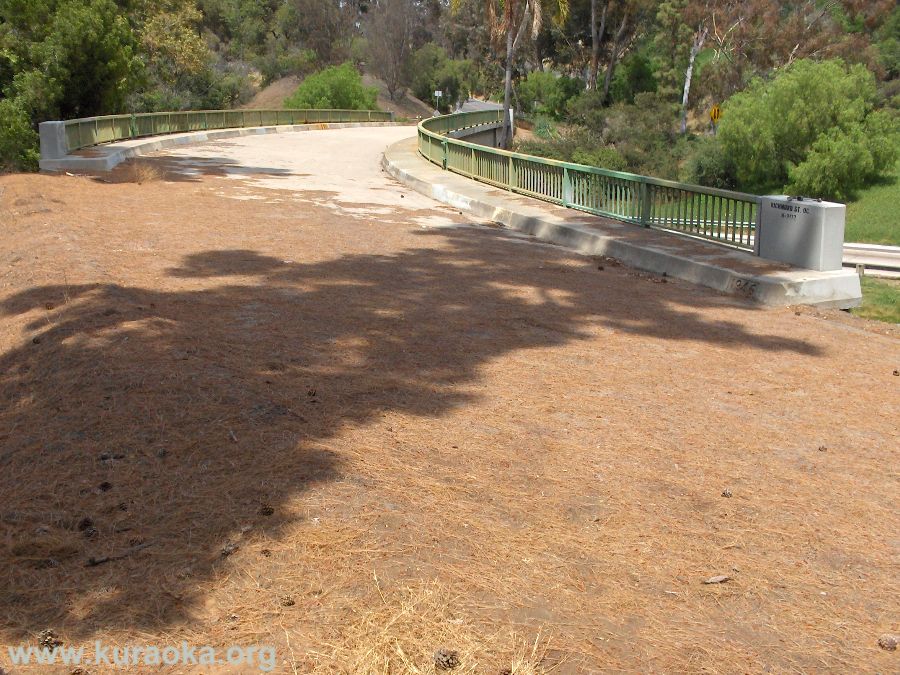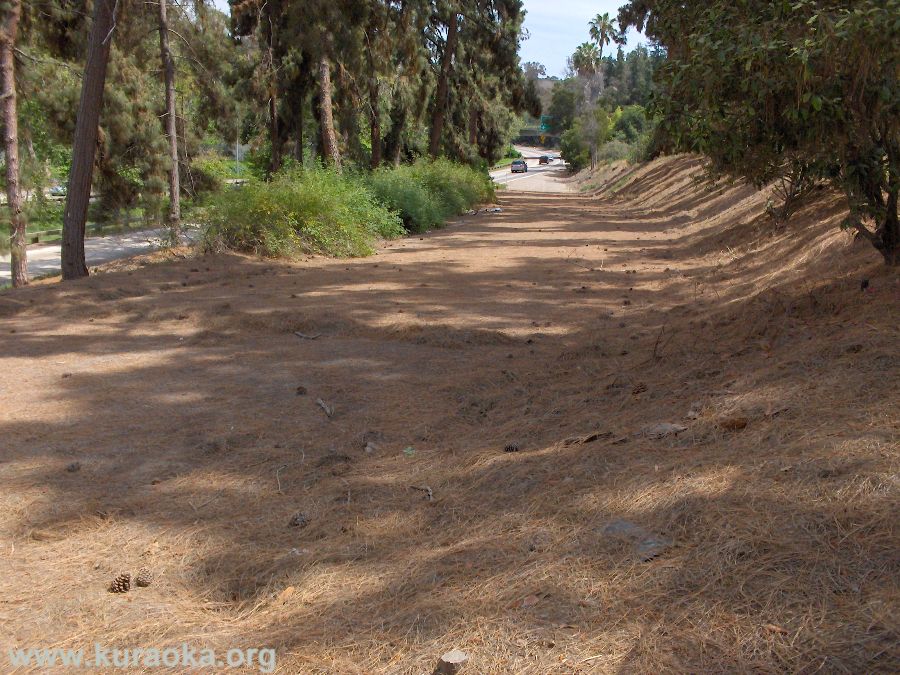 And, here are our hikers, in front of the Museum of Man! Leo - upper left, Roy - lower right.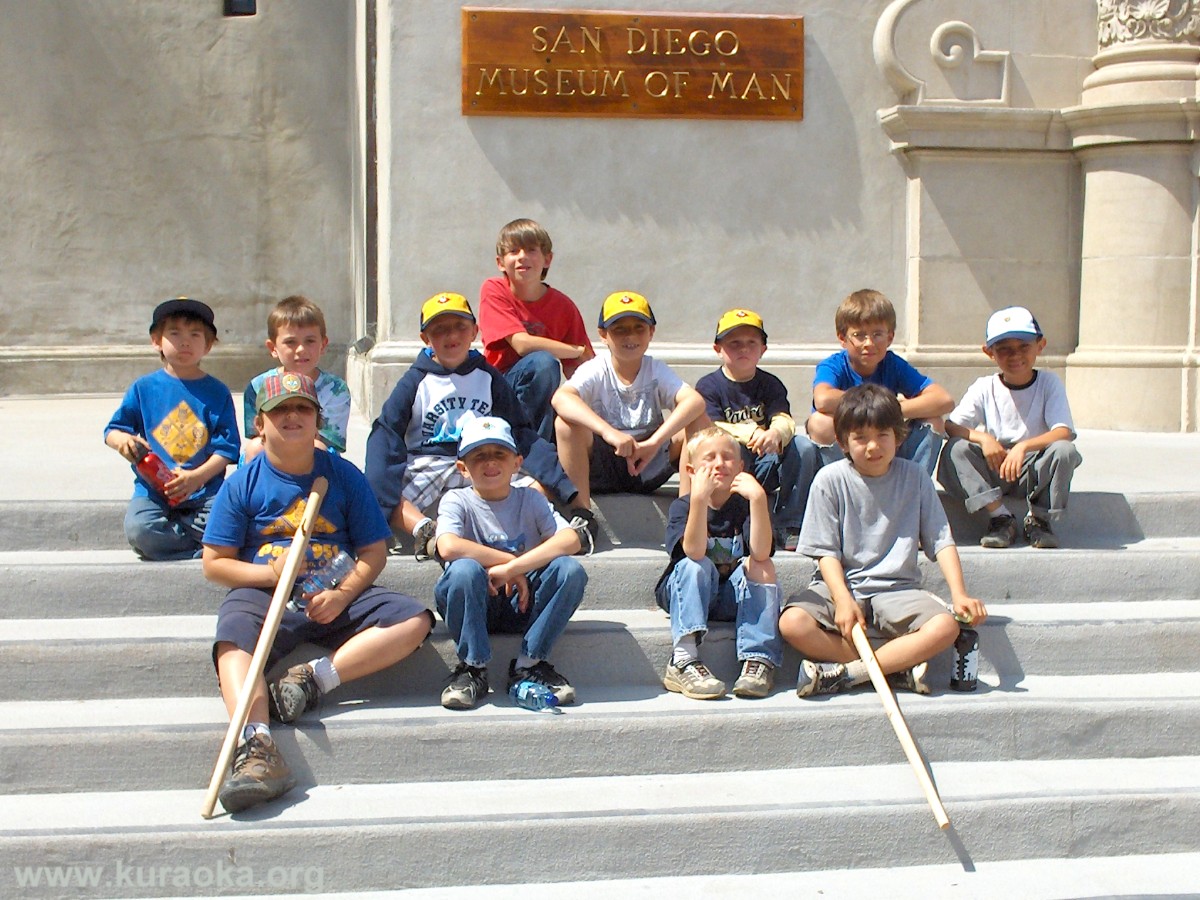 Big Stephen led a fire-starting demonstration using flint and steel. He had brought several kits of flint – in rock form – and steel, plus a bow drill for fire starting that way. He actually nursed up a fire using flint and steel! That became our campfire, while other adults and a few kids kept at the bow and the other flint and steel sets. Several came close to starting a fire, but no one else managed to get a flame going.
The Pack potluck that evening saw some wonderful dishes in addition to the usual hot dogs and fixings. Pete made a Dutch oven stew, and Rob made (get this) fresh-caught thresher shark wasabi teriyaki and rosemary marinated elk! Whoa, that was good stuff!
Roy crashed before the campfire, going to bed at 7:30. Leo, though, was still going full-tilt, and joined the Pack at the central campfire. He even joined the whole pack in leading the camp singing "Grand Old Duke of York!" John stayed in camp to monitor Roy and the fire.
The campfire ended just after 9:00, and the flashlights came bobbing into camp. Leo crawled into his tent and fell asleep. Several people had already packed up, and said their goodbyes.
Sunday morning, we packed up and headed home! Here's a short video clip of a "pop-up" tent!
After unpacking the car and taking baths, John and the boys headed to the Chinese buffet for lunch. Ondine was out at Bill's church to hear him sing in the choir, but joined us afterwards.
Ondine had a relaxing weekend at home alone. Alyssa came over Saturday evening and they cut out fabric to make bags. She also worked on her assignments for Living In Style magazine.
Monday is the last day of school! Roy's classroom had an end-of-the-school-year auction where they kids can spend all the "Dalton Dollars" they earned through the year, and a water fight! And, in Leo's classroom, he got to wear the crown and be classroom king on his last day in first grade!
To see the photos from the last three journals – including the Gage Elementary Running Club assembly, Cub Scouts, and Legoland – they're hanging on our virtual refrigerator door.
Neighborhood gas prices shattered the $3 barrier and are now about $3.03 per gallon.
Back to the Archives page
Back to the Kuraoka Family main page
Forward to the current Weekly Journal.