The Kuraoka Family Weekly Journal
www.kuraoka.org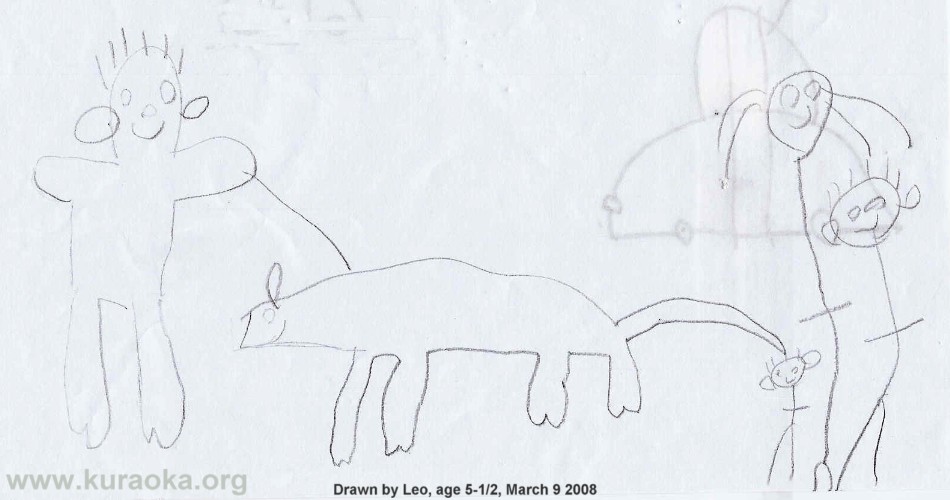 Family portrait by Leo (hurriedly), March 2008: John, Buddy, Leo, Ondine, Roy
Monday, 16 June 2008
It has been another busy weekend! Roy went with John on a Cub Scout camping trip to Camp Balboa, and Leo stayed home with Ondine and went to Balboa Park. We have a lot of photos today – June has been the month of photo-journals!
Camp Balboa is right behind the Boy Scout Service Center, on Upas Street near North Park, Hillcrest, and the San Diego Zoo. In fact, the camp offers a five-mile hike to Balboa Park, and the peacocks from the zoo kept people awake last year.
John and Roy stopped at Fresh&Easy for food and ice. They arrived at Camp Balboa promptly at 4:00. Ranger Bob looked our Pack up – we were supposed to check in at 5:00! We were the first ones in! Ranger Bob grumped a bit for show ("so, what proof do I have that you're supposed to be here?"), but confirmed our campsite number (#5) and told us about the carts to lug stuff back and forth.
Campsite #5 is about the best site in camp, and we toured the others before settling in. It's beneath one of the larger stands of eucalyptus trees, and right next to a restroom. While it has the 163 freeway on two sides of it (as it sits on a spit of land that the freeway skirts), it is about as far from the zoo's wailing peacocks as one can get. Campsite #4 is a bit further along the narrow spit, and has the freeway on three sides. Campsites #4 and #5 share a water faucet. We were grateful for the cart, as the campsite is one of the more distant sites from either of the two parking lots, the most distant probably being #4.
Roy helped set up his tent, then John set us his tent and got dinner on. Hot dogs! People started trickling in, as scheduled, at 5:00, so we were glad that we'd commandeered a cart.
That evening, our leaders went to a meeting to plan the activities for Saturday, while the rest of us had a campfire and s'mores.
Saturday was the big busy day. They did BB gun shooting – Roy's very first experience shooting any kind of gun. His BB gun happened to be doubly loaded, so while everyone else got 10 shots, he got something like 20. The pack also did archery, made rope and learned knots, and swam in the pool. They played baseball with another pack; Ernesto pitched a wiffle ball for both sides so the boys could usually get hits. Roy proved himself to be a consistent base hitter, and even smacked a home run! Our pack won, 21-20.
Here are some photos! First up, we have Roy's shooting a BB gun. Next, the Cubs making rope – behind Roy is Alexander; in front of Roy are Stephen, Michael, and (barely) Donovan. The Cubs went swimming in the pool, which was cold, but no one turned down ice cream afterwards!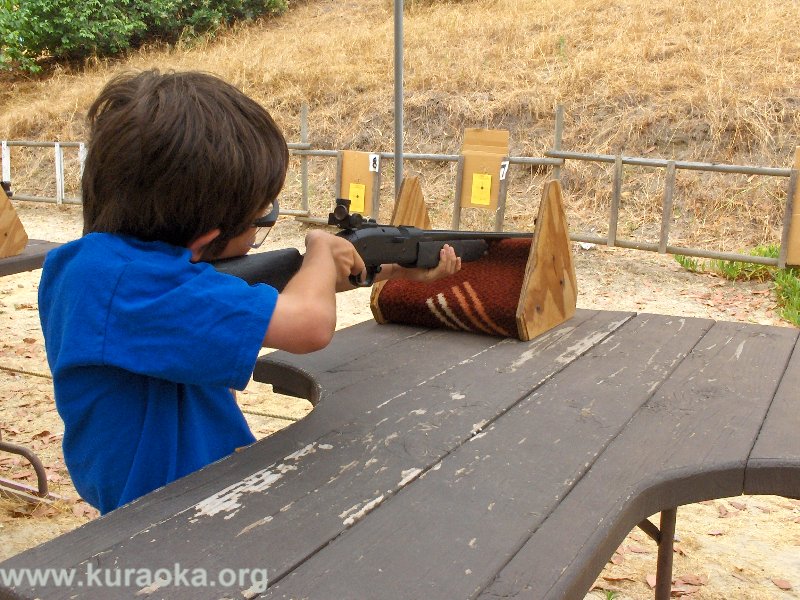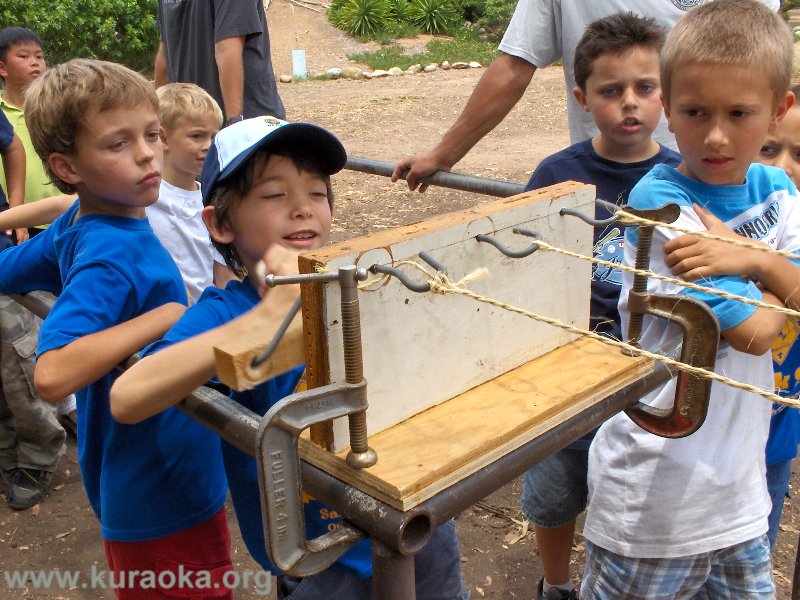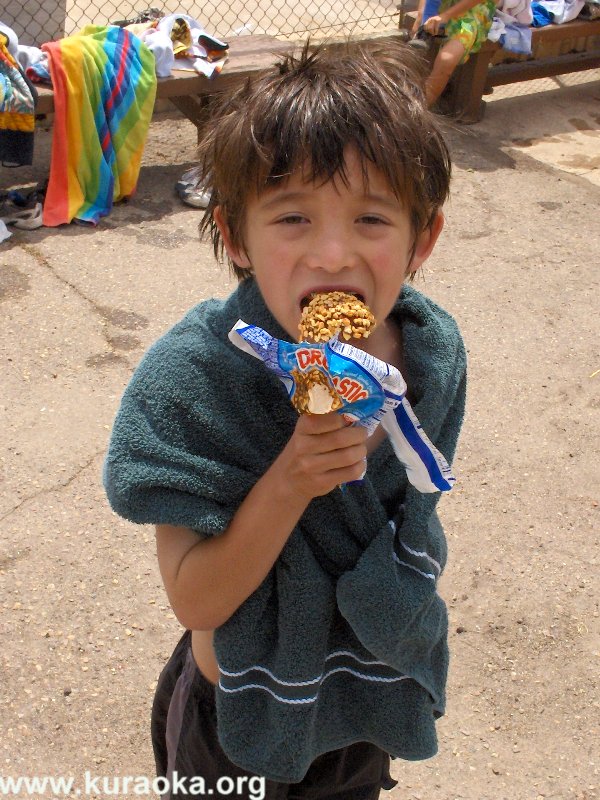 Here are all our Cubs up a tree! In the branches, from left to right, are Donovan, Alex, Roy (lounging), Stephen, and Michael. On the ground: (front) Alexander, (back) Evan. For dinner that evening, the Bear Cub den did some foil cooking. Here you see Roy, Big Stephen and Stephen, Alexander, and Ernesto making pigs in blankets. The last photo shows the entire Pack performing the "Yaputcha" skit for the big Saturday night campfire! From left to right: Michael, Edward (who arrived that evening), Donovan, Roy, Evan, Alex, Stephen, and Alexander. The pack performed two skits and a song for the whole camp! The song was connected to the "Yaputcha" skit. What was the song, you ask? It was … well, let's look at those photos first, shall we?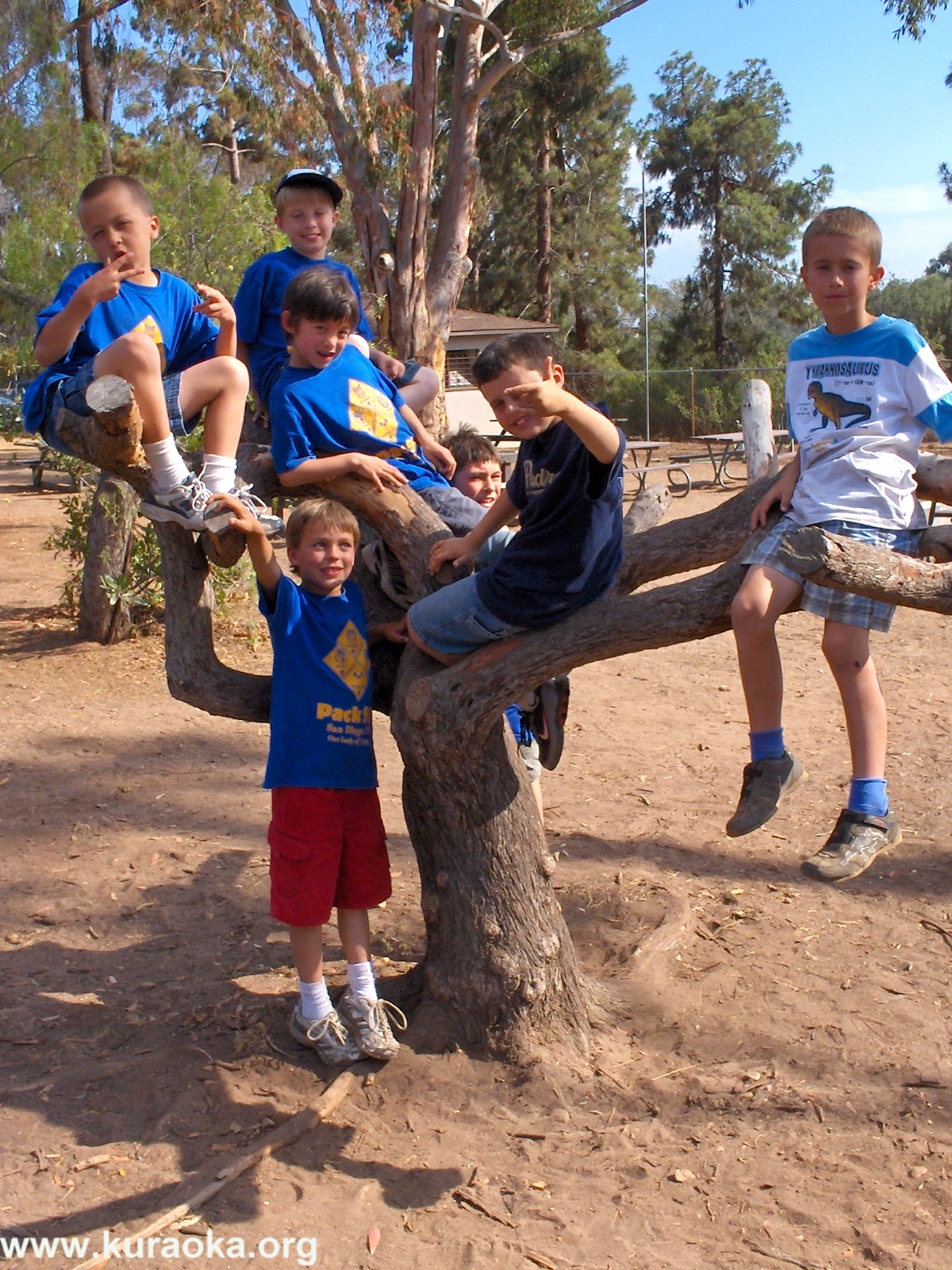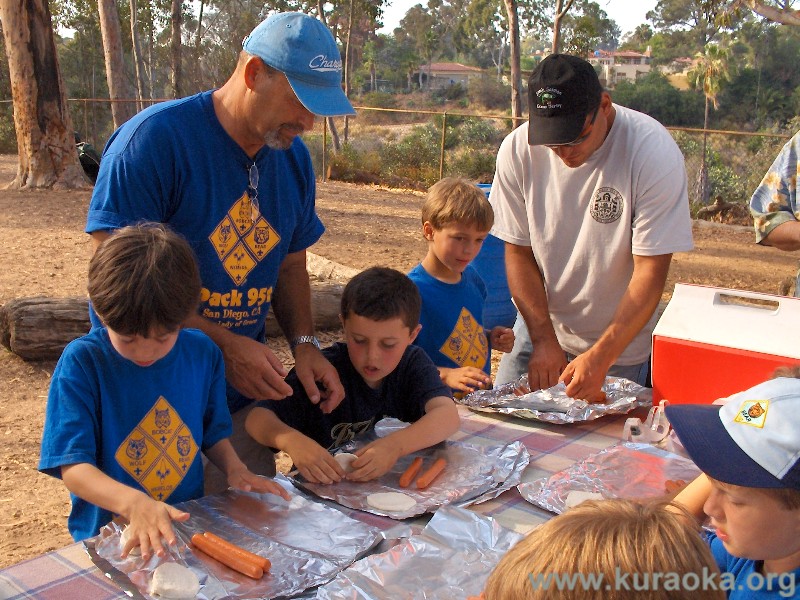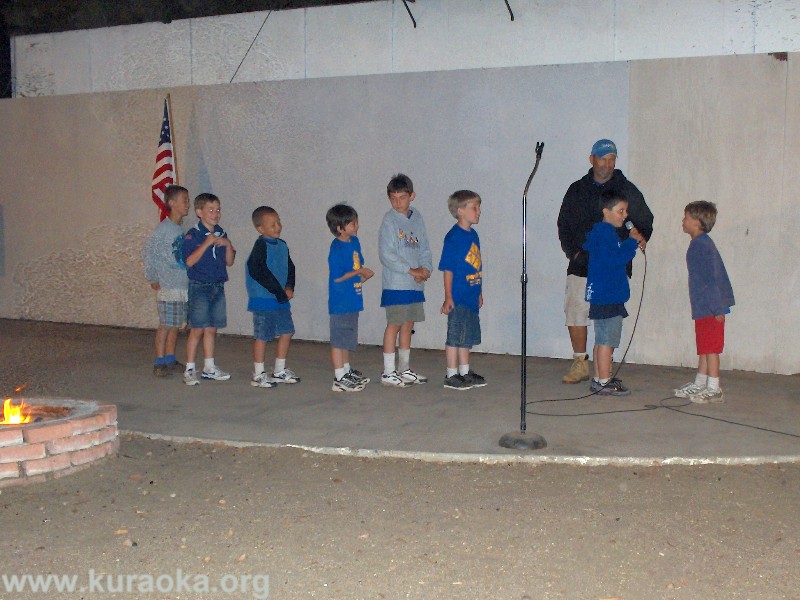 And the song connected to the "Yaputcha" skit was … "Yaputcha right foot in, yaputcha right foot out, yaputcha right foot in and you shake it all about …"
Yeah, well, you asked.
After the big campfire, we had our pack campfire, and the boys made s'mores. Edward's father, Brian, brought his telescope, and showed the kids the Moon and Saturn. Donovan and Roy couldn't get enough of planet gazing. You could see Saturn's rings! It was one of Roy's favorite activities of the weekend. Brian and Edward left Saturday evening, as did several other families.
Sunday we ate breakfast, packed up, policed the campsite, and left. We were amazingly fast and efficient – we were out of there by 8:30! John decided that it was too early to go home, so he and Roy went to Denny's for a second breakfast.
Meanwhile, at home, Ondine and Leo went to a story time at the Timken Museum of Art in Balboa Park. The storyteller was Harlynne Geisler. She told a story about treasure and there was even a pirate's ghost in it! Leo was entranced, and soon just lay down on his stomach to listen, his chin in his hands.
After story time, they walked to the botanical building. Leo was excited to see a bird's nest in it! They knew they were close to Camp Balboa, but decided not to drop in – a good thing, since John and Roy were on the go all day long.
Monday was the last day of school for Gage Elementary! It also was Leo's Kindergarten Promotion ceremony – sort of a graduation from the small, separate yard and cozy rooms to the big wide yard and the whole rest of the school. Barbara came with us, enjoying her first weekday of retirement!
The Kindergarteners performed some songs, including our favorite ("I like school and school likes me") and Leo's favorite ("Oh what a miracle I am"). In the photos below, Leo is in the front row, with the dark blue over light blue shirt. While everyone else sings and dances, Leo looks like he's Dance Security, all poe-faced and glary. And cute.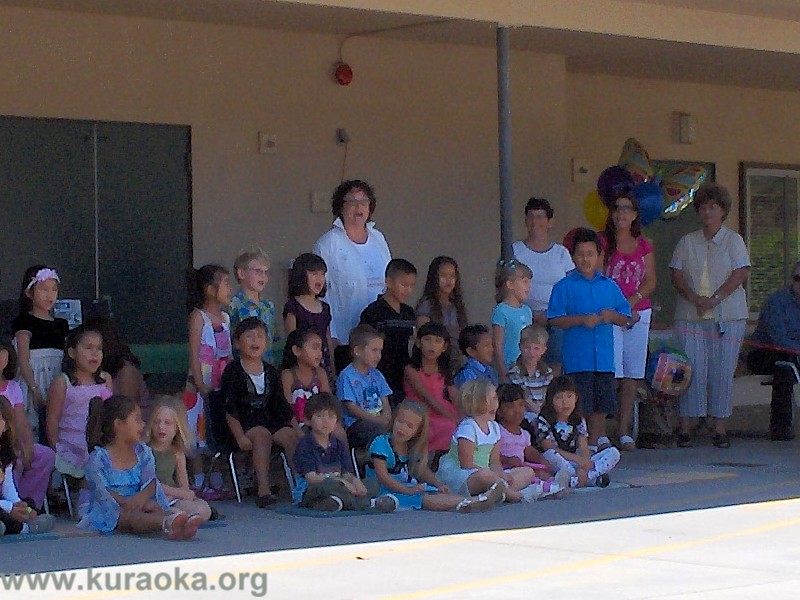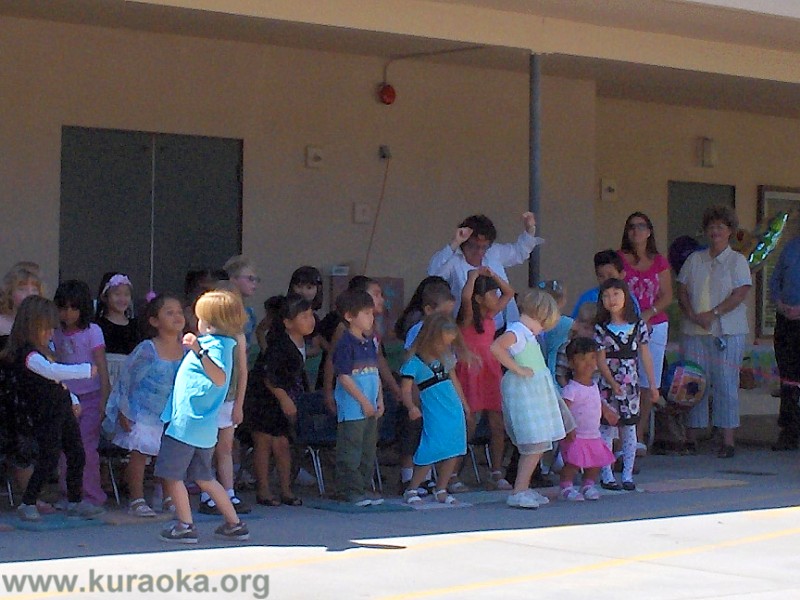 Next, we have Leo with his Kindergarten teacher, the wonderful Mrs. Youngman. Then, Leo with his "other brother" Antonio. (They insist that they're brothers.) Last, a photo of Ondine with Mrs. Youngman. We can't believe it's over, and wish we could send the dog to Kindergarten for one more year of Mrs. Youngman!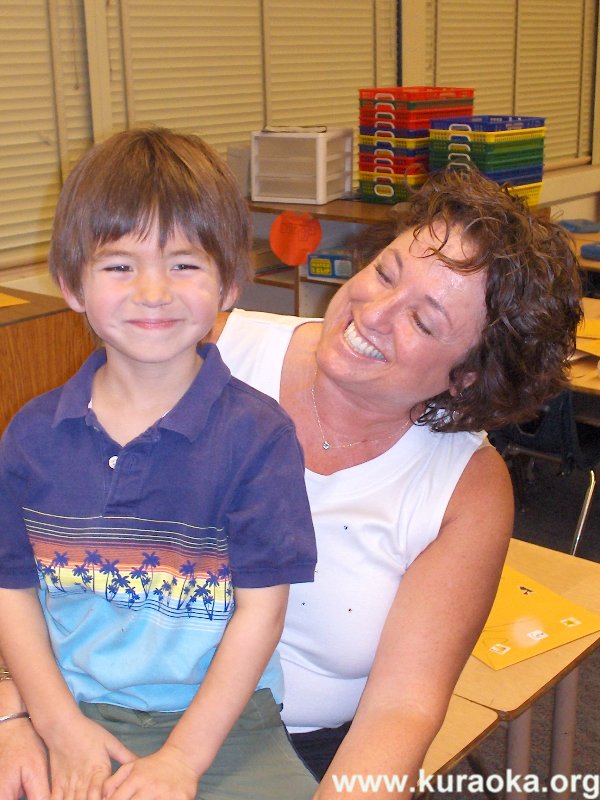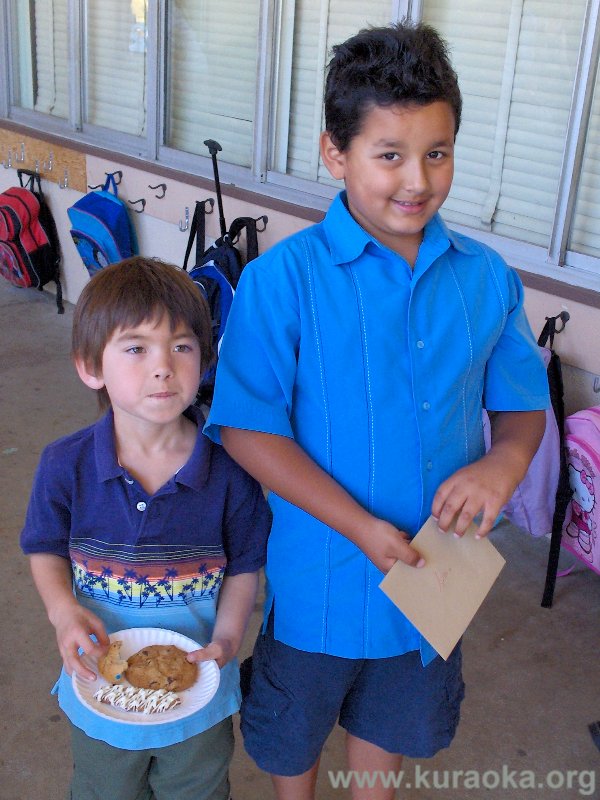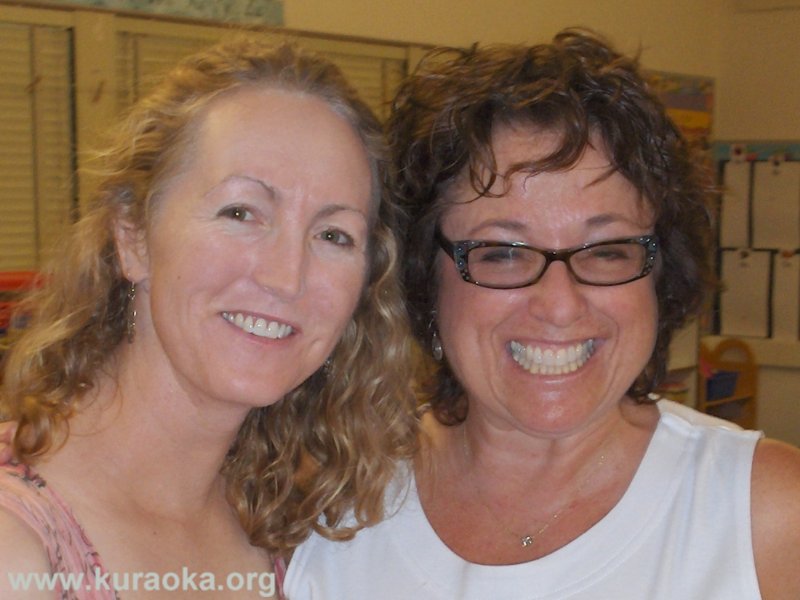 Summer plans include swim classes, Cub Scout activities and day camps, camping at Sand Pond, and more! As always, you can see previous photos from the journal on our virtual refrigerator door!
Neighborhood gas prices are about $4.69 per gallon.
Back to the Archives page
Back to the Kuraoka Family main page
Forward to the current Weekly Journal.